​​The online popularity of the best luxury car brands in the world is a reliable predictor of future sales and the trends that are shaping the global automobile industry. But bringing new vehicles to market is an endless pursuit of perfection. Years of research, development, and testing are required, even for models leveraging past iterations. The bar is even higher for new luxury electric models, where consistent progress is a prerequisite and must be paired with extreme comfort, performance, and something to stand out from the crowd.
As the world begins to take responsibility for our environmental impact, people demand innovative new options. Technology for a more sustainable lifestyle and future races ahead. And luxury electric vehicles (EVs) are leading the charge. Most luxury car brands are now well into the full electrification of their entire vehicle lineup and a select few add carbon-neutral production targets.
$665B

size of the global luxury cars market by 2027.
The global luxury car industry is much more dynamic than luxury fashion, watches, and jewelry, and changes since last year are extreme. At the top, European car manufacturers continue to dominate with BMW, Audi, Mercedes-Benz, and Porsche grabbing over 60% of total search interest. Volvo holds strong near the top as Sweden's only appearance on the list. Japan makes one showing as well, with Toyota's luxury division Lexus gaining two spots. Italy experienced a significant shakeup with Ferrari jumping up ahead of Lamborghini for the first time on our list, and Alfa Romeo climbed up to join these powerhouse rivals. The United Kingdom stays strong with Land Rover and Jaguar moving upward, while France's Bugatti retains its position. The United States surprises us by adding Chrysler to the mix, joining Cadillac near the bottom. Tesla took a nosedive down nine spots, showcasing the brutal EV market competition paired with some Twitter-fueled erasure. Surprisingly, Rolls-Royce falls off the list, but perhaps deliveries of the long-awaited electric Rolls-Royce Spectre will change things for next year.
Take what you know about the best car brands and throw it out the window. It's time to get you up to speed on the best luxury car brands. This article will help you understand what is coming down the pipeline and the brands positioned to be part of it.
This is the third year that we have applied our rigorous online popularity ranking to the car market. The methodology has indeed proven its usefulness with our list of the best luxury brands online.
The 15 Most Popular Luxury Car Brands Online
Questions? See our methodology, definitions, and frequently asked questions at the end of this article.
1. BMW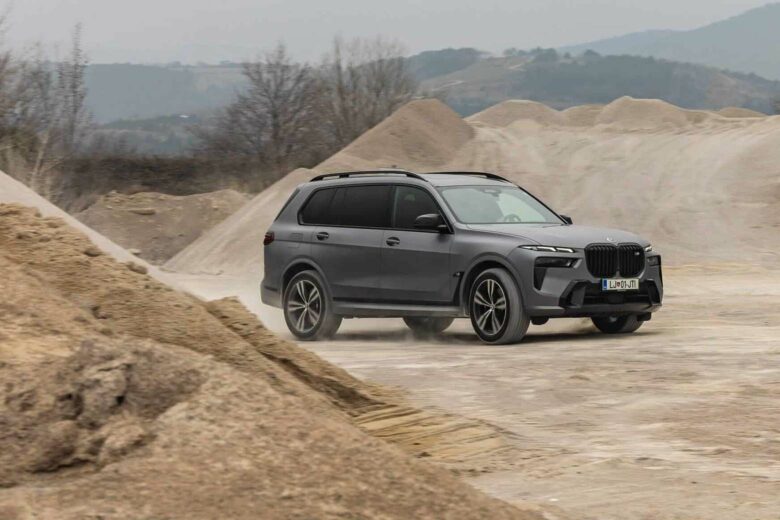 After dropping two spots last year, BMW brings out new punches and ramps up the stamina of its lasting models to regain the title spot. Exciting advancements in its EV offerings generate buzz, including the impressive new BMW i7 electric executive sedan and the brand's first electric SUV, the BMW iX.
But the extensive lineup of hybrid and ICE vehicles, such as the X1 and X5 SUVs, continue to build a cult-like following. The new BMW G310RR motorcycle also adds a global popularity boost by providing a race-focused menace with a smaller displacement engine.
Other BMW 2023 highlights include the XW Label Red, the most powerful M car ever made with a hybrid 4.4L twin-turbo V8 that dishes out 748 horsepower. Many are also keeping an eye out for the release of the electric 5-Series, hitting a new EV segment for BMW's long-standing midsize sedan lovers.
| | |
| --- | --- |
| Country of origin: | Germany |
| Most popular models: | BMW 3 Series, BMW X5, BMW X1, BMW G310RR |
| Average starting price: | $46,400 |
Online interest for BMW over time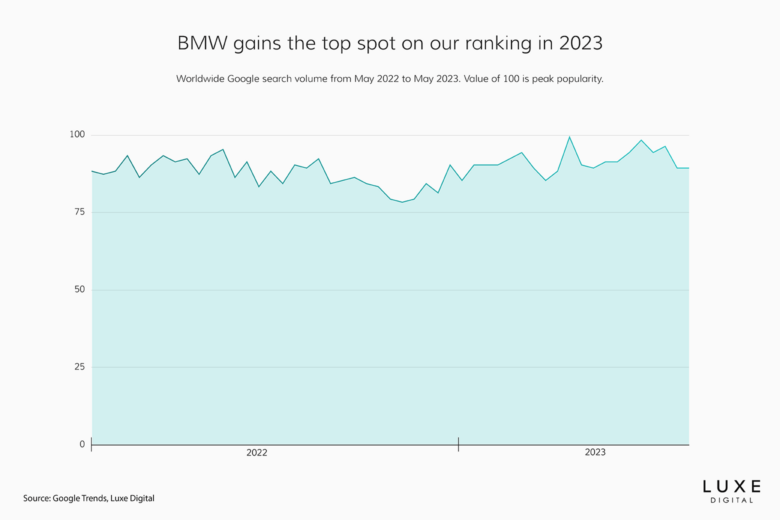 2. Audi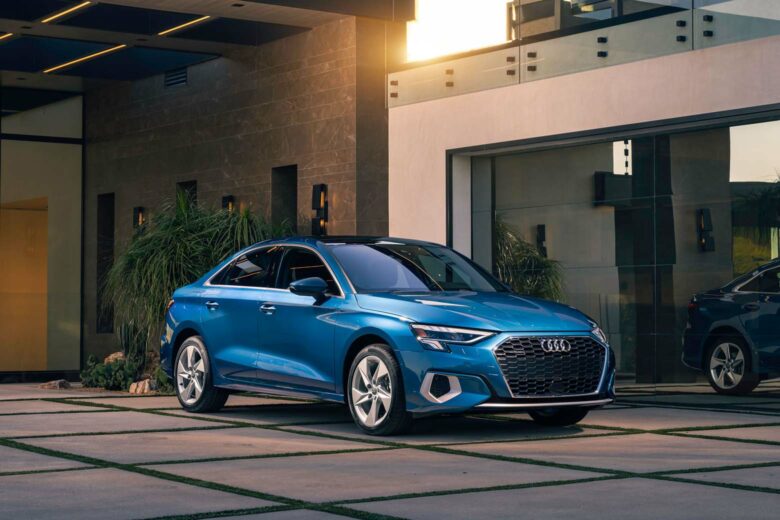 Audi has no trouble making up for lost time. After dropping two spots last year, Audi doubled its online search interest year-over-year to leapfrog over talented rivals up to second place. The EV offerings with innovative tech features continue to grow, but the luxury brand is also providing heaps of joy to its entry-level buyers.
Audi's e-tron lineup is now a household name. And as 2023 moves past us, the highly anticipated Q8 e-tron SUV is breaking through ceilings of online search trends for the luxury brand. The world can't wait to get its hands on the new full-size electric SUV.
The most luxurious models are still able to shine above the crowd with industry-leading improvements like the RS5 Competition package's sleek style and the SQ7's dual-pane windows.
But the beloved small family cars, such as the A3 and A4, have not been neglected. Improvements in their standard equipment such as LED headlights, wireless charging pads, and improved entertainment systems come at a time when others continue to strip base-model features away.
| | |
| --- | --- |
| Country of origin: | Germany |
| Most popular models: | Audi A3, Audi A4, Audi Q8 e-tron |
| Average starting price: | $70,000 |
Online interest for Audi over time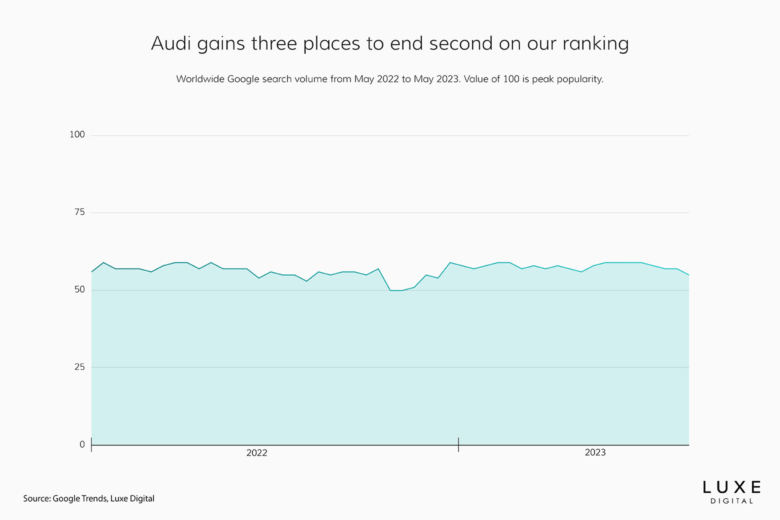 3. Mercedes-Benz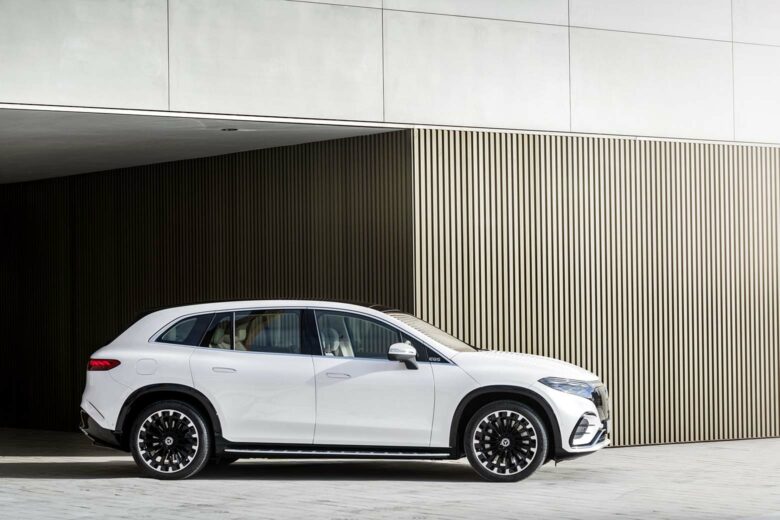 Even though Mercedes-Benz no longer rests in the number one spot, it's still soaking up a whopping 14% of search interest and shines brilliantly in the spotlight. The rapid expansion of its electric lineup rushes forward, with a fully-electric EQ variant available across every body style. The only things lagging behind are the internal combustion engines.
The electric flagship Mercedes-Benz EQS SUV draws up quite the crowd by providing S-Class luxury with up to 516 horsepower and 631 lb-ft of torque. It's no wonder this made it to the top of our list of the best electric cars. Even the long-running E300 still claims popularity contest wins.
But that's not nearly enough for one of the top car brands in the world. Mercedes-Benz pushes the limits of futuristic designs yet again with a new Vision Maybach 6, a sensational concept bringing back the aero coupe design from the past with a modern twist. The exterior makes your heart skip a beat, while the inside is a cloud-like dream.
Learn more about Mercedes Benz.
| | |
| --- | --- |
| Country of origin: | Germany |
| Most popular models: | Mercedes-Benz C-Class, Mercedes-Benz E-Class, Mercedes-Benz A-Class |
| Average starting price: | $60,000 |
Online interest for Mercedes-Benz over time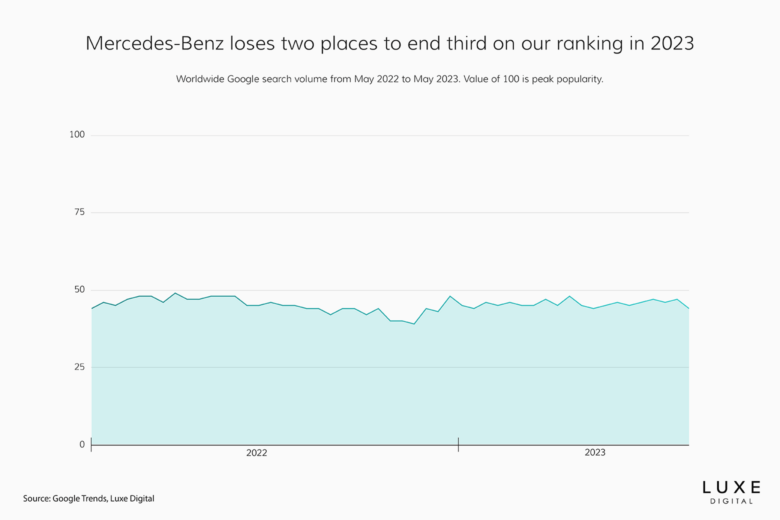 4. Volvo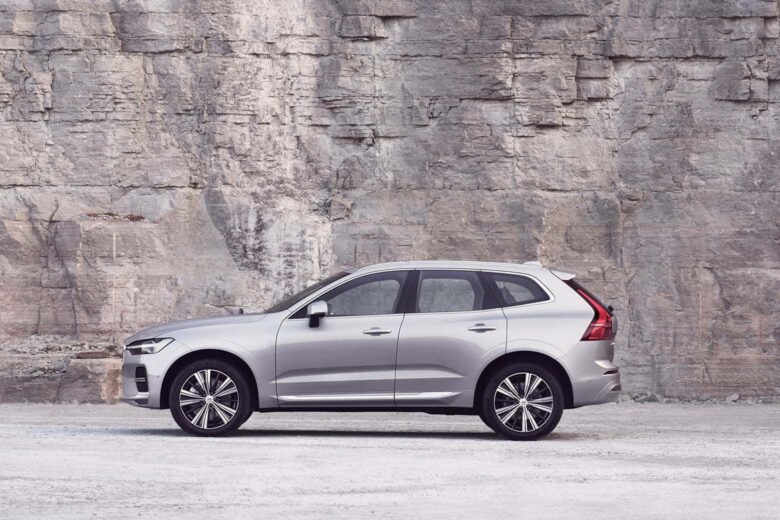 If there's one brand that showcases the insane demand for automotive electrification, it's Volvo. The Swedish icon stays true to its dedication to safety and minimalist design, but as it cranks our more electric SUVs, online attention shoots through the roof.
The XC40 Recharge was the first electric model, and after perfecting that for the last three years, the luxury brand is set to release the electric EX90 flagship SUV. But even the smaller EX30 compact SUV and the midrange XC60 are at a level of internet fame that makes other luxe brands jealous.
It's safe to say that Volvo is ticking all the boxes when it comes to starting conversations online and putting its product where its mouth is by getting closer to becoming fully electric well ahead of its 2030 goal. As Volvo aims to increase its market share in the electric vehicle industry alongside its sibling brand Polestar, it also boosts talent acquisition through a range of encouraging new company policies.
| | |
| --- | --- |
| Country of origin: | Sweden |
| Most popular models: | Volvo XC60, Volvo EX90, Volvo EX30 |
| Average starting price: | $45,000 |
Online interest for Volvo over time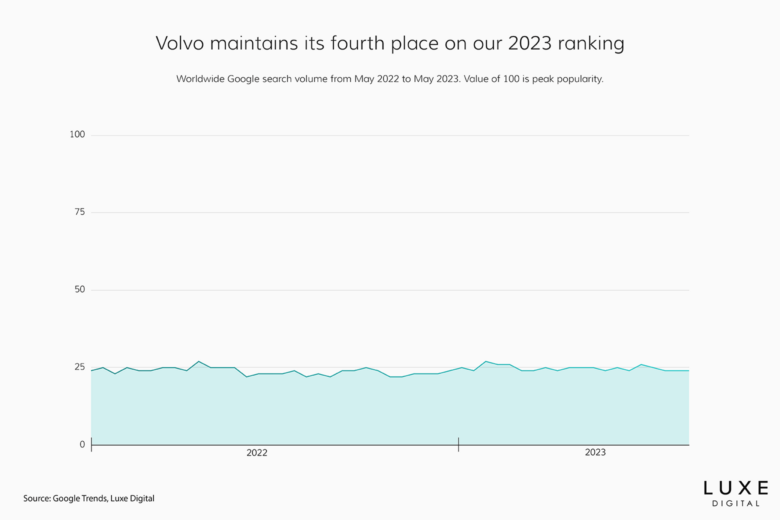 5. Lexus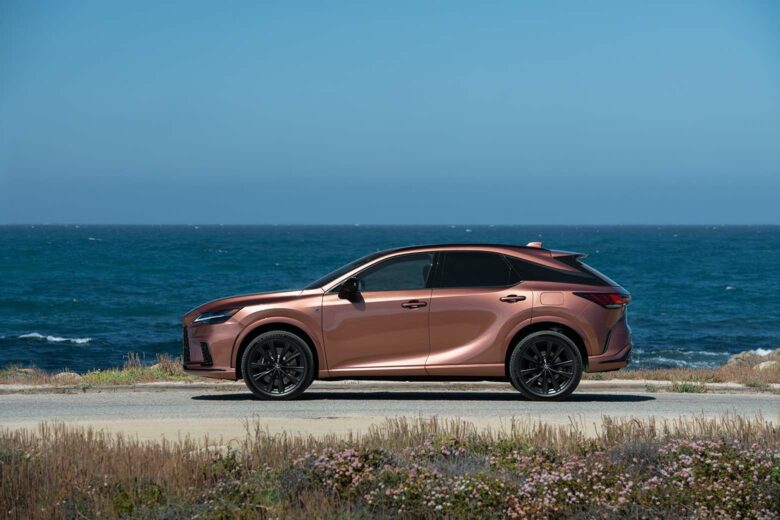 By grabbing more than 5% of online search interest, Lexus moves up an impressive two spots from last year. The rise is fueled by a long-awaited update to the full-size Lexus GX SUV and a major update to the practical RX 500h crossover SUV.
Bucking the trend from other luxury automakers, Lexus is still barely making a dent in the electric market. Although the brand has a rich history with hybrid platforms delivering spectacular fuel efficiency, the RZ 450e crossover SUV remains its sole electric model. Even the upcoming release of the all-new Lexus TX mid-size SUV is expected to have internal combustion and hybrid options without a confirmed electric model.
In a sea of electrification from established brands and newcomers such as Lucid and Rivian, Lexus holds onto the reins of popularity without making dramatic changes. The luxury brand rides its well-known reputation for longevity, efficiency, and luxury, while also providing amazing F Sport performance packages for those looking for something special.
| | |
| --- | --- |
| Country of origin: | Japan |
| Most popular models: | Lexus RX, Lexus GX, Lexus NX |
| Average starting price: | $63,000 |
Online interest for Lexus over time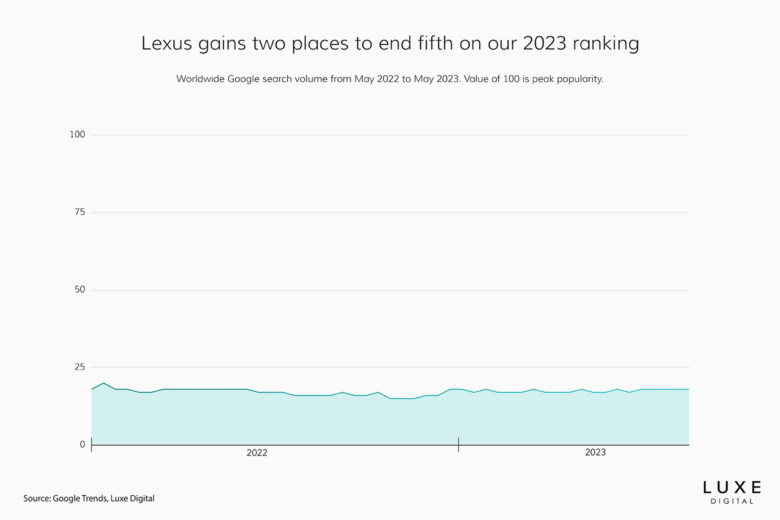 6. Porsche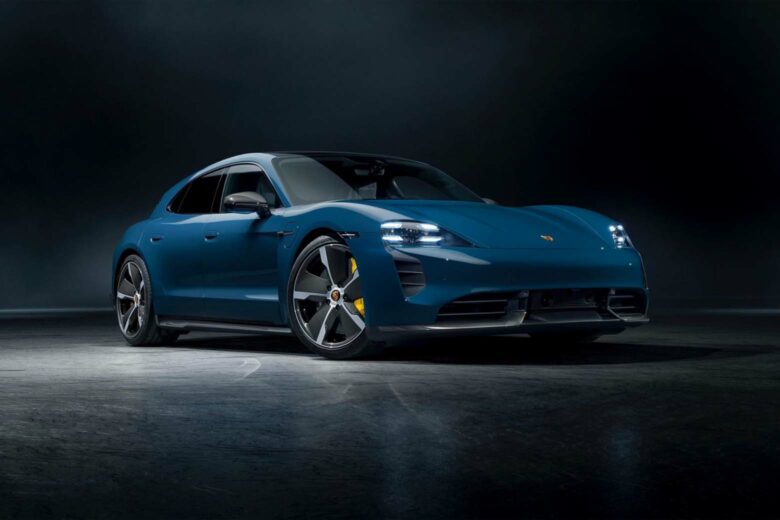 Some luxury car brands stick to cookie-cutter practices. Porsche, on the other hand, provides the ultimate customization across its host of thrilling sports cars, electric vehicles, and SUVs, keeping the brand high on the list and holding strong at number six.
How does Porsche do it? We're all familiar with the brand's ability to produce street rockets and the 2023 Porsche 963 hypercar is yet another example that's sure to please performance enthusiasts. But the new Porsche 911 Dakar goes another direction entirely, bringing the rally-focused desert adventures to a production model. Now you can have your lightweight, high-power platform on the roads less traveled.
Porsche wouldn't stay on the list of the top 15 luxury car brands in the world without incorporating technology and EV updates. The German automaker has confirmed an all-electric Cayenne SUV will be roaming the streets soon, with an all-electric version of the popular Panamera following closely behind.
| | |
| --- | --- |
| Country of origin: | Germany |
| Most popular models: | Porsche Macan, Porsche 911, Porsche Cayenne |
| Average starting price: | $175,000 |
Online interest for Porsche over time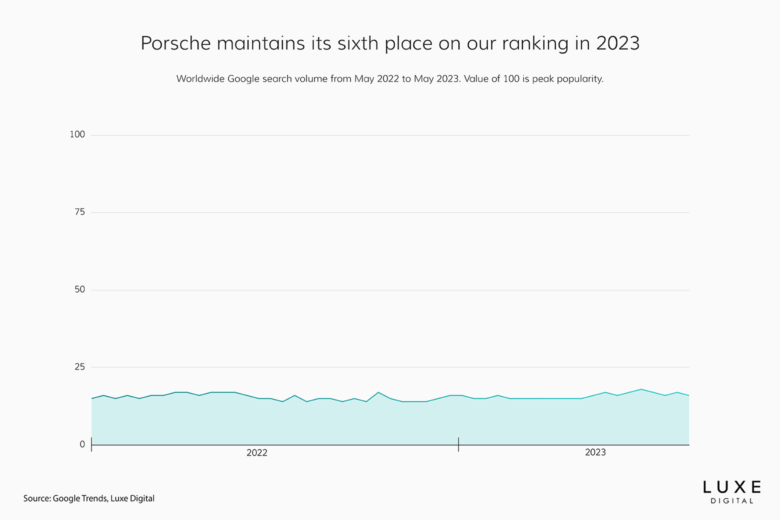 7. Ferrari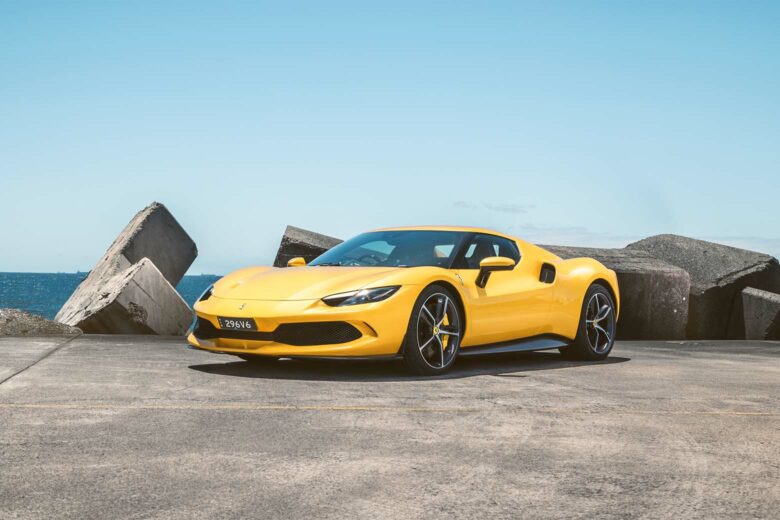 For the first time on our list, Ferrari jumps ahead of its fierce rival Lamborghini. Fueling the rise is the brand's return to Le Mans racing in the FIA World Endurance Championship after a 50-year hiatus. The stunning and powerful Ferrari 499P is poised to lead the way back to glory.
Ferrari also grabs the world's attention with the release of the first-ever Ferrari luxury SUV. The Purosangue is taking iconic Ferrari performance to a four-door elevated platform and stepping far outside the box while doing so. Yet Ferrari isn't ready to let go of some things, such as the massive V-12 powerplant that sits under its hood.
Ferrari still hosts lofty green goals, including a battery electric vehicle by 2025 and carbon-neutral production by 2030, but the high-displacement empire isn't going away yet, including the most expensive car in the world. Ferrari expects to release fifteen new models before 2026, ensuring that the Ferrari name will meet market demands.
Pushing forward with innovation while placing sustainability at the forefront is likely to pay dividends for Ferrari, one of the top car brands in the world. Check our in-depth Ferrari price list and cars collection to learn more about the Italian luxury car brand.
| | |
| --- | --- |
| Country of origin: | Italy |
| Most popular models: | Ferrari Dino, Ferrari 365 GTB/4 Daytona, Ferrari F40 |
| Average starting price: | $410,000 |
Online interest for Ferrari over time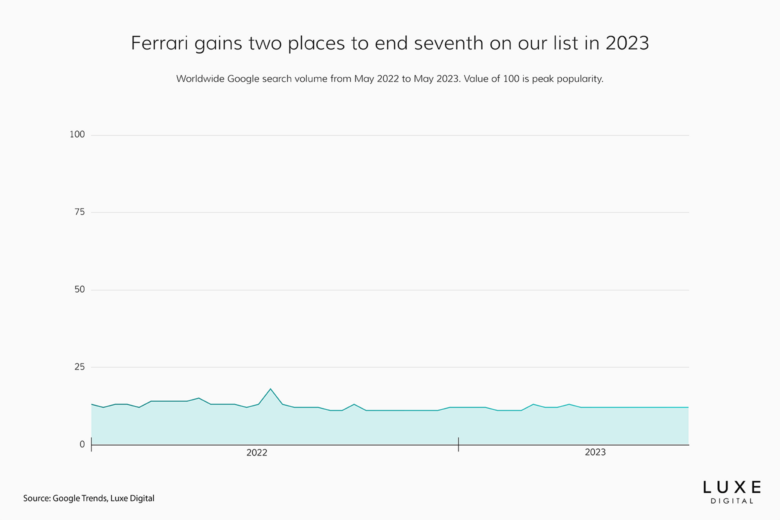 8. Lamborghini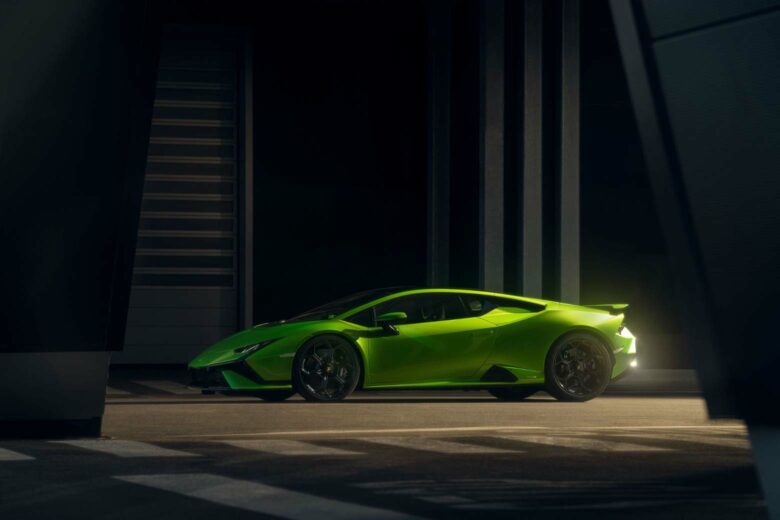 Oversized engines are fading like denim from the 80s. And despite the giant V10 and V12 engines remaining the focus of most Lamborghini offerings, electric models are also nudging their way forward. And we don't just mean electric cars for kids. Lamborghini has announced that it won't get left behind, keeping it at number eight on this list for the third year running.
The new Lamborghini Revuelto ushers in a new era for the Italian supercar maker, using the mid-mounted V-12 as usual, but now mated to a trio of electric motors to deliver 1,001 horsepower combined. It's sure to shake up the supercar world and make even the best electric motorcycles seem tame in comparison. The Revuelto also comes with a serious jump in price, now reaching well above Bentley price levels and nearing Pagani territory.
Lamborghini search interest is also jumping due to its appearance on the silver screen as Lamborghini: The Man Behind the Legend, as well as the growing popularity of singer, model, and TV personality Ginevra Lamborghini, the granddaughter of Ferruccio Lamborghini.
| | |
| --- | --- |
| Country of origin: | Italy |
| Most popular models: | Lamborghini Revuelto, Lamborghini Gallardo, Lamborghini Aventador |
| Average starting price: | $340,000 |
Online interest for Lamborghini over time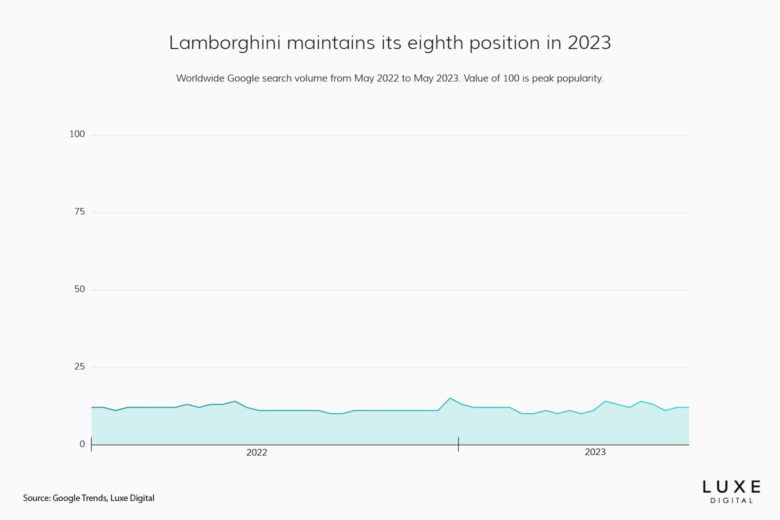 9. Land Rover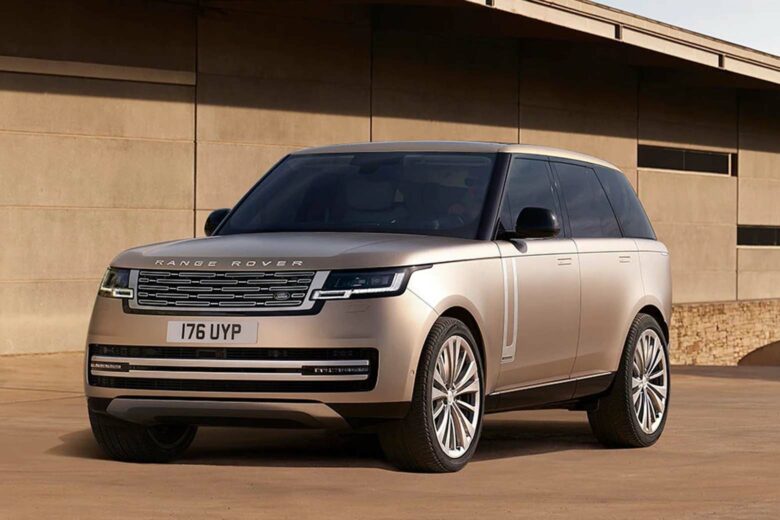 When you think of luxury vehicles, off-road capable models might not be the first thing that comes to mind. Unless you're talking about Land Rover.
This luxury car brand has made a name for itself as the leader in vehicles that can conquer the world while filling the interior with opulence and comfort. And like many other top car brands, Land Rover is preparing for the future with a host of electric and hybrid models, allowing it to move up one to the number nine position.
Interest is still divided among its top models including the trail-focused Defender, more practical Discovery, and opulent Range Rover. As usual, the Range Rover leads the pack, but this time it's doing so with electric power. The UK company will soon be accepting reservations for the first-ever electric Range Rover model.
Fans of the iconic Defender are brimming with excitement as Land Rover introduced the larger Defender 130 with room for eight passengers plus the exclusive Carpathian Edition trim for the smaller variants.
| | |
| --- | --- |
| Country of origin: | United Kingdom |
| Most popular models: | Land Rover Discovery Sport, Land Rover Range Rover, Land Rover Defender |
| Average starting price: | $145,000 |
Online interest for Land Rover over time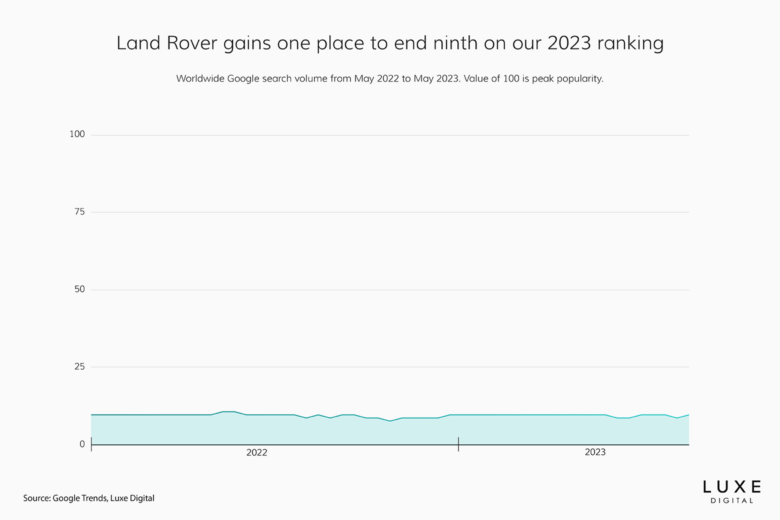 10. Jaguar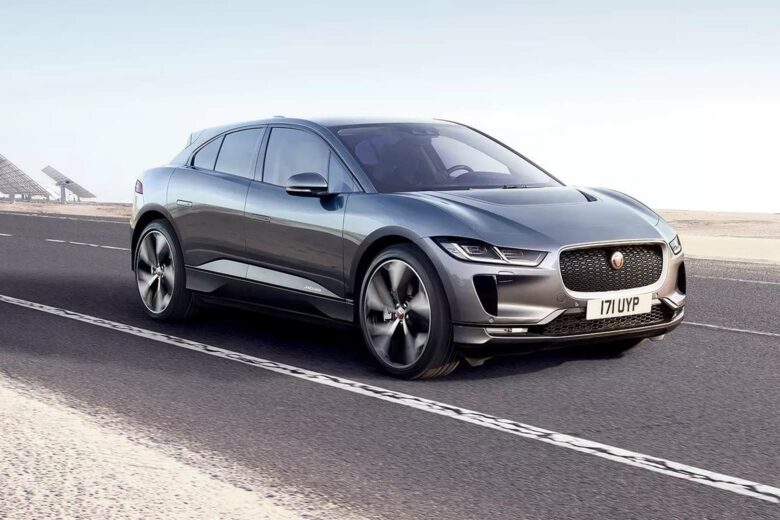 Climbing up two positions from last year, Jaguar continues to fine-tune its lineup of sophisticated cars and SUVs without taking too many risks. And it seems to be paying off.
While the Jaguar I-Pace is a modern EV crossover SUV that pleases in performance and design, the internal-combustion-fueled Jaguar F-Pace midsize SUV is the star of the show attracting the most online attention. It leverages the athletic style of the F-Type sports car and includes an impressive 550-horsepower F-Pace SVR variant for those who want to burn rubber.
Jaguar executives have indicated their desire to reach upmarket and compete with more luxurious brands such as Maserati and Aston Martin, but for now, the changes have been fairly subtle and the Jaguar prices remain more affordable. Can Jaguar keep up this popularity without reaching too far ahead, or should we expect to see some major shakeups soon? Only time will tell.
| | |
| --- | --- |
| Country of origin: | United Kingdom |
| Most popular models: | Jaguar F-PACE, Jaguar XF, Jaguar E-Pace |
| Average starting price: | $65,000 |
Online interest for Jaguar over time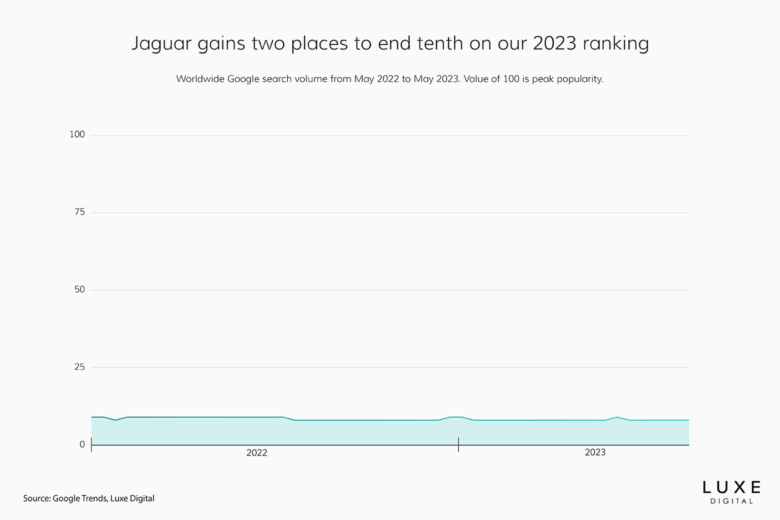 11. Tesla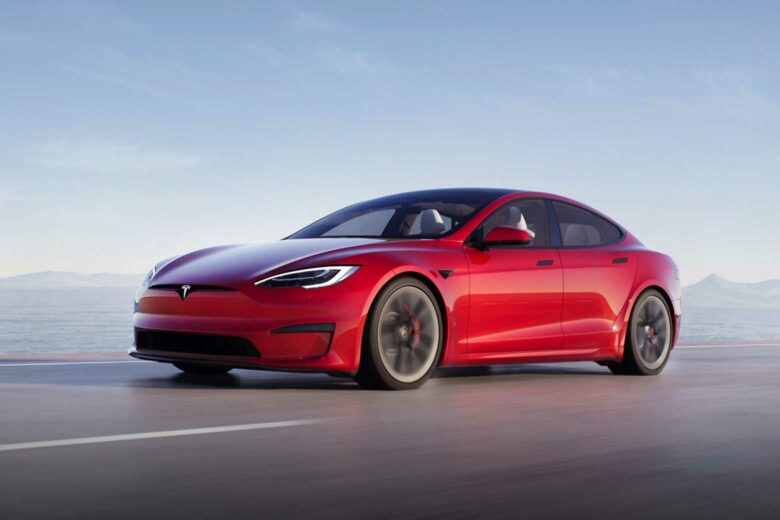 If you like roller coaster rides, then strap in. Tesla's online search interest has been a wild experience, shooting up to second place in 2022 and now falling nine spots in one of the biggest year-over-year changes we've seen to date.
Tesla vehicles continue to dominate the EV market across the globe, selling more vehicles than ever before and crushing the closest competitors. The performance figures remain sickeningly impressive, beating even the fastest cars around from brands like McLaren and Lotus.
But it's not all fun and games at Tesla. The stock price fell a whopping 65% in 2022. Analysts report it could be a much-needed correction, yet it also shows investor disappointment with the lower Tesla selling prices and matching decreases in profit margin.
Tesla's online search interest has also dropped due to Elon Musk's transition to X (formerly Twitter). Even though he remains Tesla CEO, his actions are now more closely tied to his new platform, taking a lot of juice from Tesla's search volume. Nevertheless, Tesla is the first American car brand featured on our ranking, so there's still cause to celebrate!
| | |
| --- | --- |
| Country of origin: | United States |
| Most popular models: | Tesla Model 3, Tesla Model Y, Tesla Model S |
| Average starting price: | $115,000 |
Online interest for Tesla over time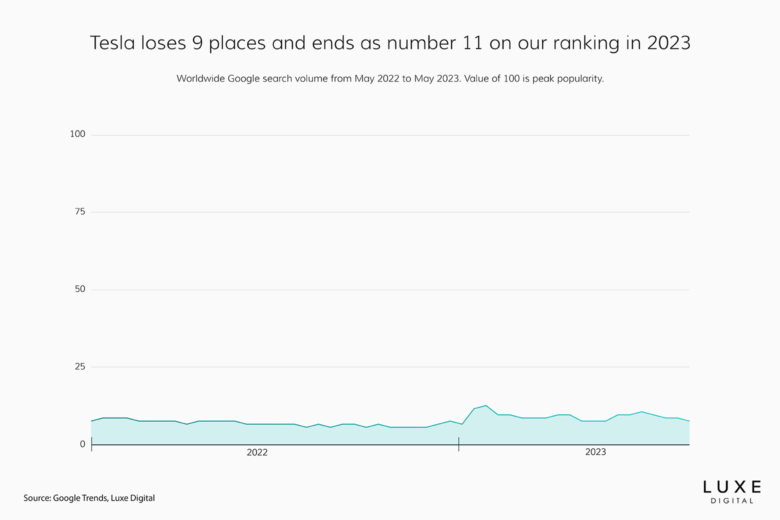 12. Cadillac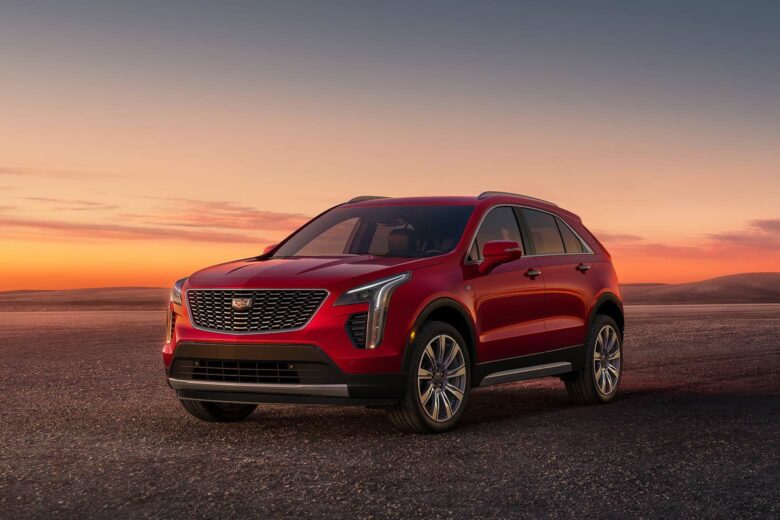 Once known for its soft-riding sedans, Cadillac has transformed away from sedans into the SUV segment. The introduction of the Cadillac Lyriq, a five-person electric SUV, has exemplified its desire to push forward, but a lot of this luxury brand's search interest comes from its iconic Escalade and other internal-combustion SUVs.
Cadillac is still moving toward a green future with battery electric vehicles like those from Karma, Nio, and Faraday Future. The Celestiq is inching toward production as the brand's most expensive and luxurious model ever, fusing a bespoke assembly with an innovative EV platform. And confirmed reports of an electric Escalade IQ have started to pique the interest of many.
For now, Cadillac still brings some gasoline-fueled power to the table in nearly every model. The rambunctious CT5-V Blackwing packs an enormous 6.2L supercharged V8 with 668 horsepower and 659 lb-ft of torque.
| | |
| --- | --- |
| Country of origin: | United States |
| Most popular models: | Cadillac XT4, Cadillac Escalade, Cadillac Lyriq |
| Average starting price: | $55,000 |
Online interest for Cadillac over time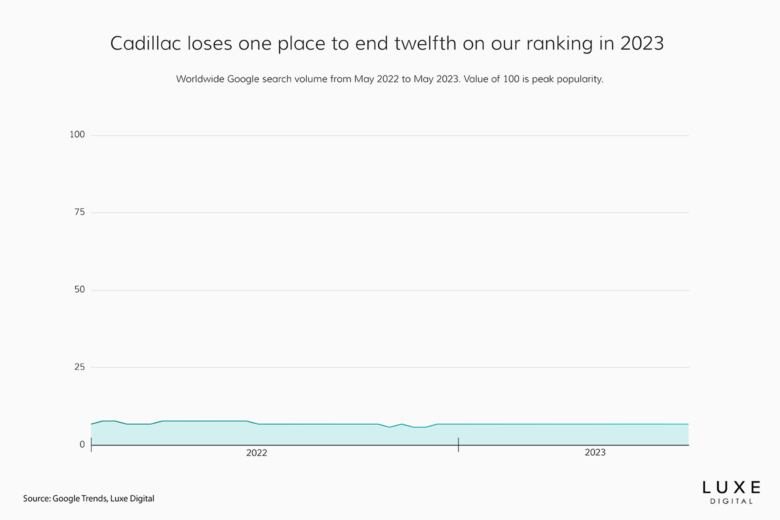 13. Chrysler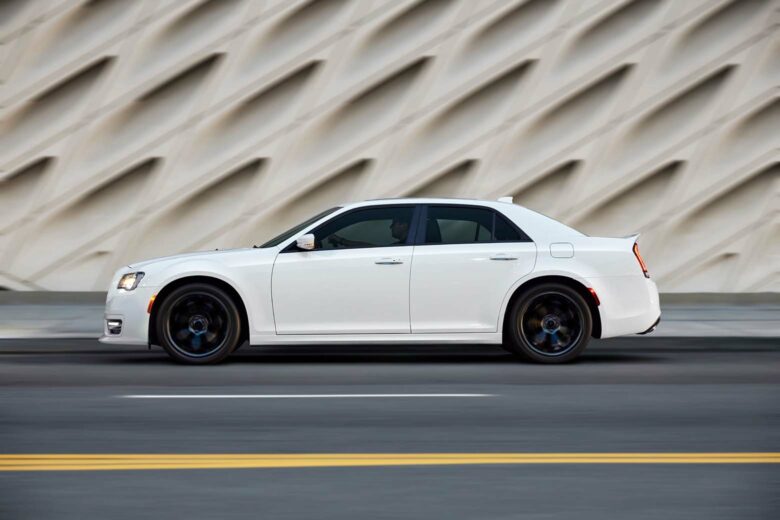 It would be hard to guess that Chrysler is jumping up in search interest without looking at the numbers. But the American car brand has been sliding under the radar without making major headlines or serious design shifts.
Chrysler focuses on just two models, the 300 sedan and the Pacifica minivan. While an unlikely match for this list packed with extreme luxury and seriously high-performance vehicles, these Chrysler cars seem to find the right balance between comfort and affordability.
With this promising seat at the table, Chrysler forges a path forward with a new electric SUV called the Airflow, expected sometime before 2025. Parent company Stellantis continues to indicate a revival for this well-established brand, but maybe it doesn't need much saving after all.
| | |
| --- | --- |
| Country of origin: | United States |
| Most popular models: | Chrysler 300, Chrysler Pacifica |
| Average starting price: | $36,000 |
Online interest for Chrysler over time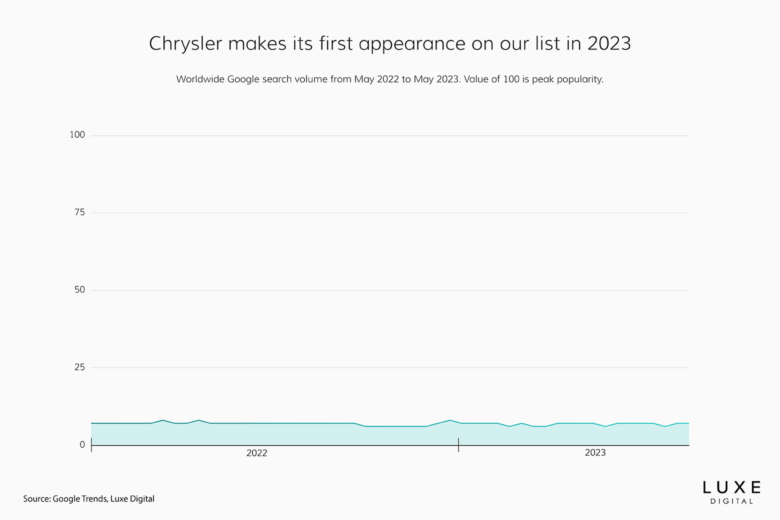 14. Bugatti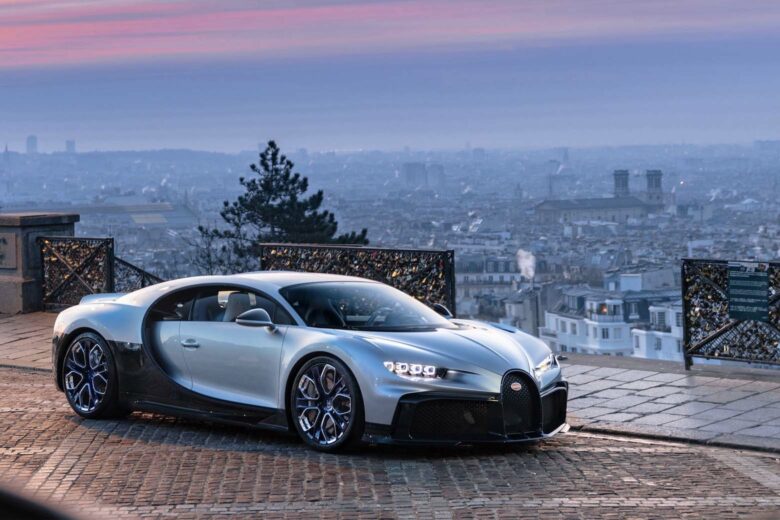 Something special is brewing. Bugatti's rich history has merged with Rimac, an electric car manufacturer making one of the world's fastest cars, the 1,900+ horsepower Rimac Nevera. The result is sure to be spectacular and details are finally trickling out.
Mate Rimac, CEO of the Bugatti Rimac joint venture, has indicated that even though he is an electric supercar specialist, the Chiron successor will not use a fully-electric propulsion system. It also won't be carrying over a single part from the past, opting for an entirely new bespoke hybrid power plant to accelerate forward.
Bugatti will long be known for its awe-inspiring quad-turbo 8.0L W16 engine in the Veyron and Chiron models, and their popularity is not to be understated. Reports say Bugatti has sold its final pure combustion vehicle, a one-off special development vehicle known as the Bugatti Chiron Profilée, for a whopping $10.7 million at auction. Although the gasoline-engine Bugatti production is coming to an end, you can still review the full Bugatti price list to get some material for your wildest dreams.
| | |
| --- | --- |
| Country of origin: | France |
| Most popular models: | Bugatti Chiron, Bugatti Veyron, Bugatti Divo |
| Average starting price: | $7.4 mil |
Online interest for Bugatti over time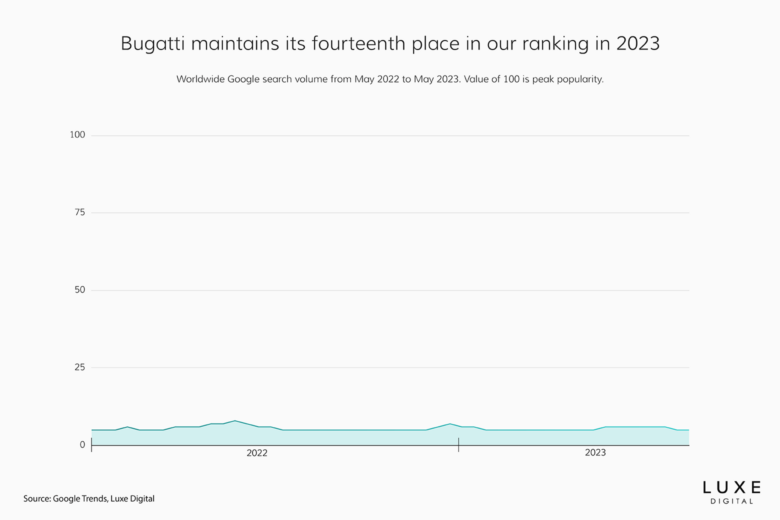 15. Alfa Romeo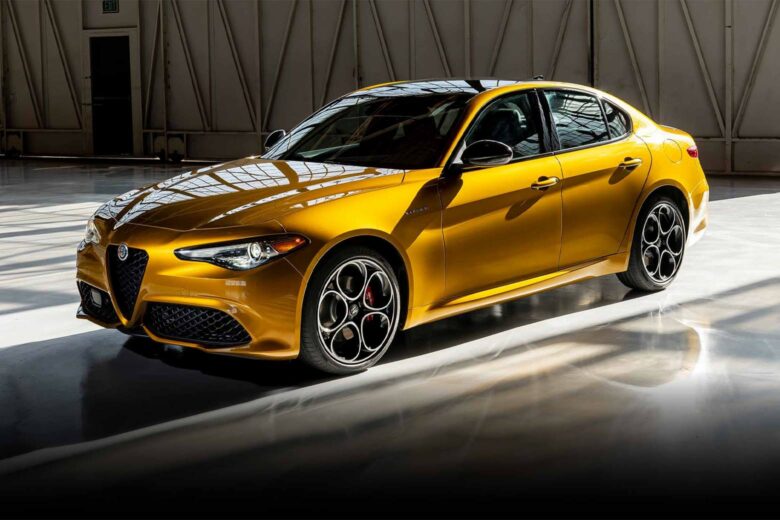 Through its stunning designs and driver-first experience, Alfa Romeo elbows its way onto this list of the 15 best luxury car brands online. The Alfa Romeo Giulia executive sedan draws the most interest, followed by the Stelvio large SUV.
Although mind-blowing changes are absent from the Alfa Romeo car and SUV list, the reputation continues to grow in the right direction. It's hard to deny the impeccable Italian style, and with options like a 505-horsepower Stelvio Quadrifoglio SUV, you know the luxury brand is serious about performance.
In the upcoming years, Alfa plans to slightly extend its array of models with another C-segment vehicle serving as a sibling to the Tonale crossover SUV and a larger E-segment vehicle. They're reported to be the brand's first fully electric models, showing it won't get left behind.
| | |
| --- | --- |
| Country of origin: | Italy |
| Most popular models: | Alfa Romeo Giulia, Alfa Romeo Stelvio, Alfa Romeo Tonale |
| Average starting price: | $44,000 |
Online interest for Alfa Romeo over time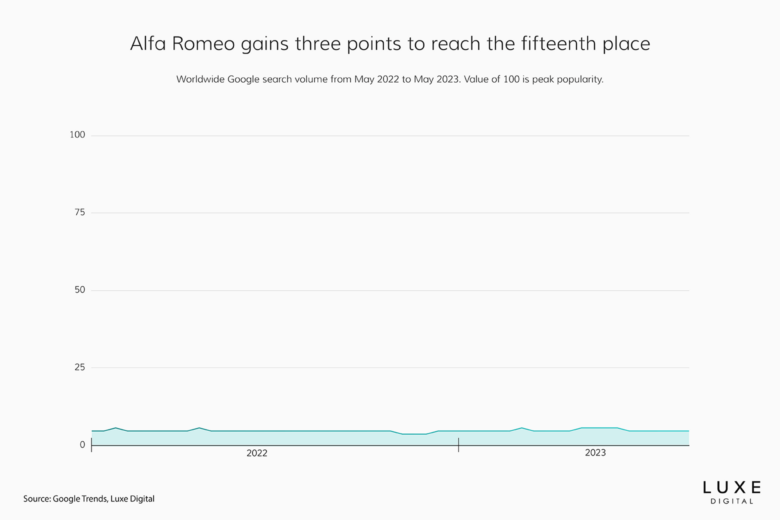 Methodology and sources: How we rank the best luxury car brands of the year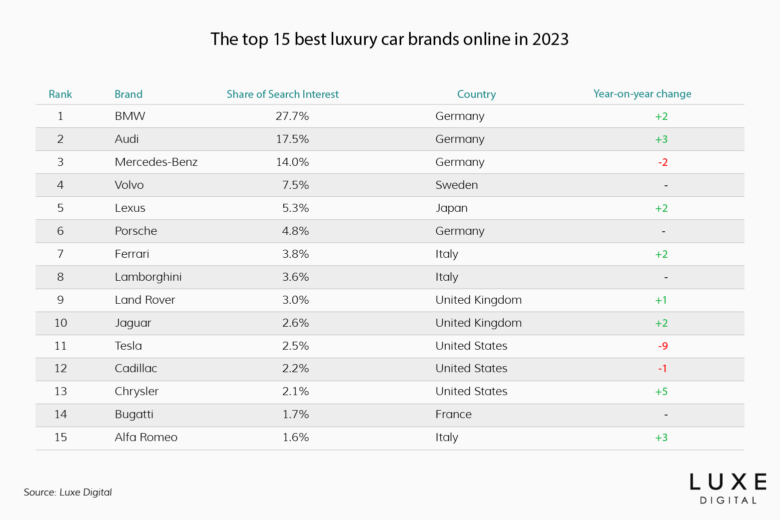 Luxe Digital's luxury car brands ranking aims to provide a real-time and insightful analysis of the most popular luxury automobile brands online. Our ranking clearly shows how each brand performs online and can help predict future growth.
To create this ranking, we start our analysis by using Google Trends to compare online search interest for all the luxury car brands in the world. This year, BMW dominates the share of search, so we use the brand as the standard against which we measure all the other brands to have a single comparison point.
After observing a significant concentration of the share of search interest among the top 15 luxury car brands on our list, we summed up their individual score to get a baseline of the total search interest across all brands combined. We then calculated a ratio for each brand against that total to get their share of the total search interest.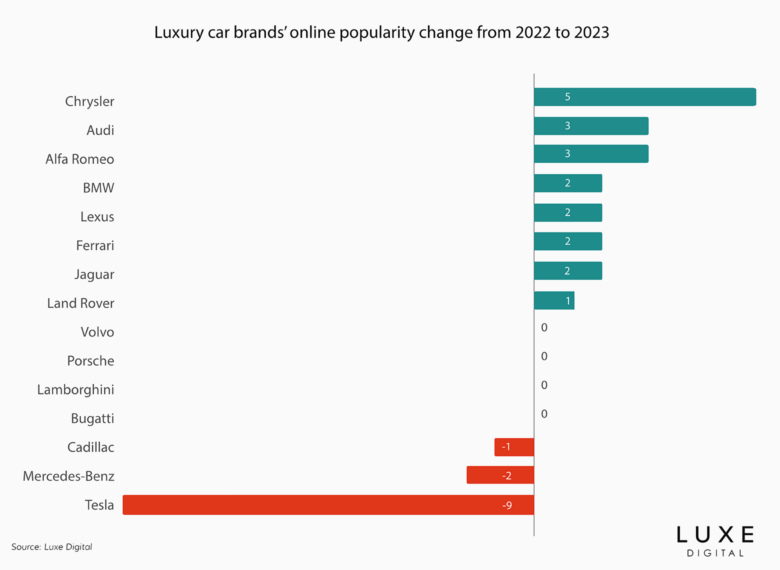 Definitions
Our summary table at the top of this article refers to the following terms:
Share of search interest is calculated based on worldwide Google Trends data. We measure the absolute search interest for each of the top luxury car brands during the period, then calculate how much attention they receive compared to the other brands in our ranking as a percentage of the total search interest for luxury brands.
Social media audience is calculated based on Rival IQ reports for each brand as of July 2022. It represents the sum of Facebook Fans, Instagram Followers, Twitter Followers, and YouTube Subscribers.
Social media engagement rate is calculated based on Rival IQ reports for each brand as of July 2022. It represents the total number of engagement actions across all tracked social channels, combining comments, likes and shares, and divided by the total audience.
Best luxury car brands: Frequently asked questions
What is the number 1 luxury car brand in the world?
BMW is the number one luxury car brand in the world by popularity in 2023. Mercedes-Benz, however, is the most valuable luxury car brand and number one in terms of vehicles sold in 2023.
What are the top 10 luxury car brands?
The top 10 luxury car brands are BMW, Audi, Mercedes-Benz, Volvo, Lexus, Porsche, Ferrari, Lamborghini, Land Rover, and Jaguar. See our full ranking of the best luxury car brands in the world to see what makes them so popular online.
Which luxury car brand is most reliable?
Mercedes-Benz, BMW, Lexus, and Volvo are the most reliable luxury car brands. Reliability ratings vary by model and engine, but these automotive brands consistently rank at the top of the charts in terms of reliability.
What is the best luxury car for the money?
The best luxury car for the money is the BMW X3. The BMW X3 sDrive30i starts at $43,000, and it's outfitted with a 248-horsepower engine and an eight-speed automatic transmission. It's considered to be one of the best value for the money luxury cars, from the brand that tops our ranking. The X3 is also a versatile and reliable car.