When you're out and about in the colder months, there's only one thing standing between you and the elements: the best women's winter coat.
Selecting a warm, durable (and not to mention, totally stylish) winter coat is of the utmost importance, so you can glide through the cooler months in a warm, wrapped-up cocoon of comfort.
There's a vast array of warm fashionable winter coats for women on the market. So, there's simply no excuse to be underprepared. Start thinking warm, and be ready for the chilly days and blustery nights that lie ahead.
So, whether it's going to be a parka, a long down coat, or a fluffy-hood affair, we've got you covered. Literally.
Ride winter out in style, comfort, and rosy-cheeked warmth with our ultimate guide to the best winter coats for women. Because, news flash ladies, winter comes around every year. Whether you're ready or not.
The 19 best winter coats for women of 2021
To help you find the jacket that's best for you, check our style guide to choose the best winter coats for women after the list.
Axel Arigato Rhode Down Jacket: Overall best women's winter coat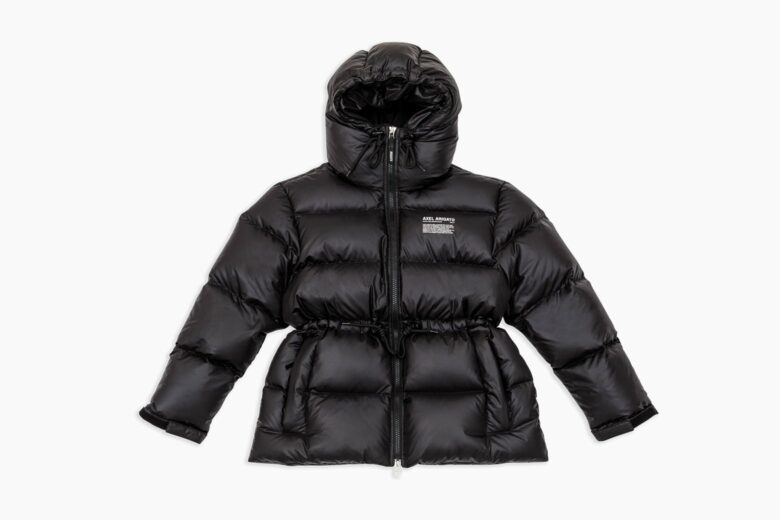 Axel Arigato may be best known for its luxury sneakers (we are obsessed with the brand's minimalist white sneakers), but we must say, you definitely shouldn't sleep on the rest of the Swedish label's offerings. 
Proof that the best puffer jackets for women shouldn't make you look like the Michelin Man, the Rhode Down Jacket by Axel Arigato is easily one of the season's most stylish women's winter coats. 
The drawstring ties at the waist make this fashion-meets-function number looks surprisingly polished, while the hood and the quilted silhouette feel like you are taking your coziest duvet to the streets—it's that comfortable and warm. 
This black puffer jacket is also sustainable: it's made from lightweight recycled polyester filled with reused down and feathers.
Best for: Feeling on top of the world amid bitter temperatures.
Colors: Black, Pale Beige, Grey, Brown
Saint Laurent Wool-twill Coat: Best designer winter coat for women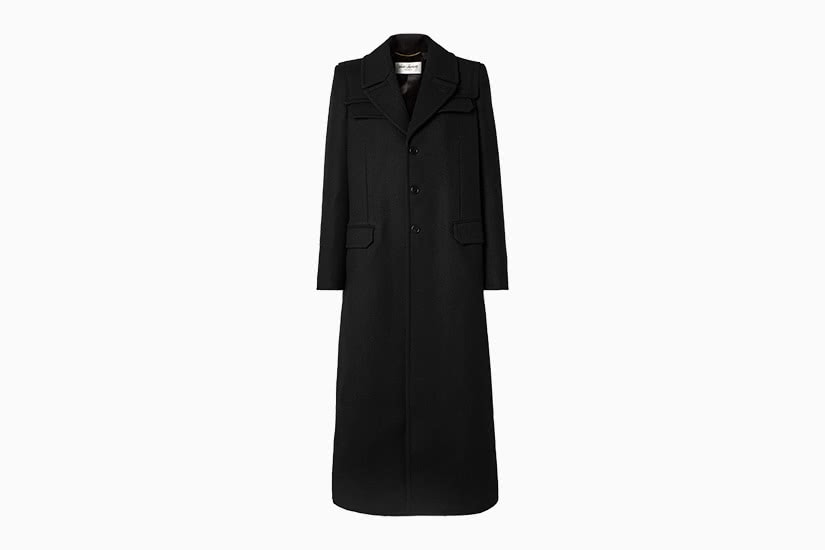 The Wool-twill Coat by Saint Laurent means business. A nod to vintage styles favored by military officials of times bygone, the longline coat is the epitome of modern military chic.
The boxy silhouette complete with padded shoulders will complement even the floatiest of dresses, giving a sense of structure to any outfit. All while keeping you warm and cushty on a blustery winter's day.
Slightly loose-fitting, the weighty material goes a long way to make you feel protected from the elements. Plus, the subtle androgyny is offset by the sumptuous silk lining which gives the Saint Laurent Wool-twill Coat a medal of honor for layering potential.
Best for: Those seeking a structured coat that embodies true sophistication, while cutting no corners on comfort.
Color: Black.
Columbia Heavenly Long Hooded Jacket: Best value winter coat for women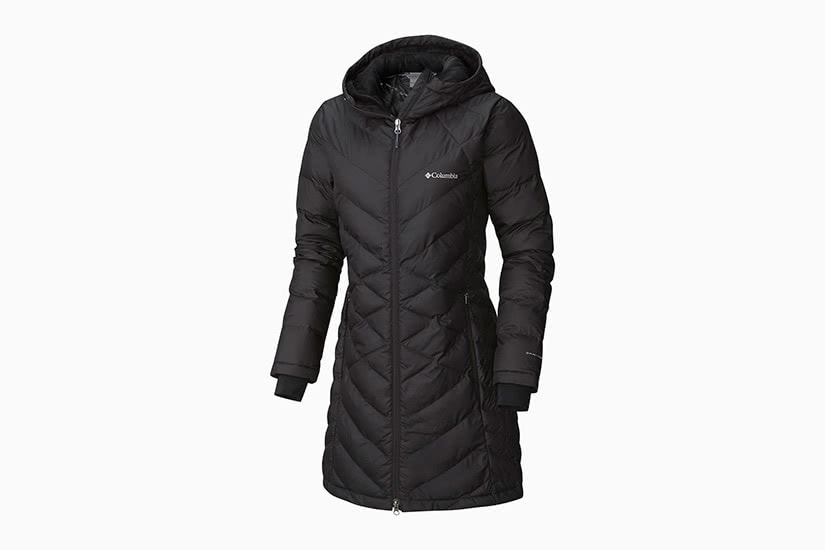 Columbia winter coats need no introduction. The Pacific Northwestern outdoor experts have been keeping shivers at bay since 1938.
As such, the Heavenly Long Hooded Jacket is a product of decades of refinement, resulting in one of the best women's winter coats on the market. And, unlike severe frostbite, it won't cost you an arm and a leg.
The long jacket features an Omni-Heat Reflective 100% polyester lining, which works to reflect your body's heat keeping you cozy and dry.
Of course, the Columbia Heavenly Long Hooded Jacket is water-resistant (these guys are from Oregon, after all). Plus, the hood, comfort cuffs complete with thumb-holes, and zipped pockets work together to ensure you're protected from the chill of the Great Outdoors at all times.
Best for: Women seeking a fantastic winter coat which will keep you snug whether you're hiking a mountain, or taking a trip to the store.
Colors: Black, Chalk, or Camel Brown.
Theory New Divide: Best women's wool winter coat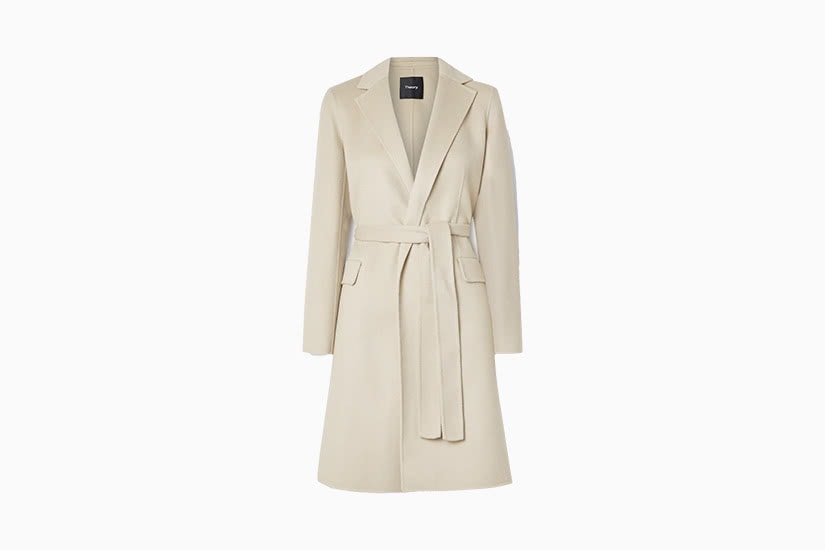 There's a reason wool has been a go-to for keeping us warm and dry for centuries. It's naturally breathable so you won't overheat, and makes for an excellent insulator.
With the New Divide Wool Coat, Theory has taken this ancient knowledge and transformed it into something streamlined, modern, and beautiful.
Unlined for a light feel, the wool and cashmere-blend coat can be worn unbelted for an oh-so-casual feel (not to mention allowing a peek of your smoking outfit underneath), or belted to create a more cinched-in silhouette.
The slight tailoring, striking lapels and decorative pockets make for a classic style, while the longline creates a streamlined, lengthening effect. The Theory New Divide Wool Coat is a little bit Breakfast at Tiffany's, in the very best of ways.
Best for: Those seeking a winter-warming wool coat which is super soft to touch, and classic in style.
Color: Beige.
Columbia Mighty Lite Hooded Jacket: Best women's winter coats for extreme cold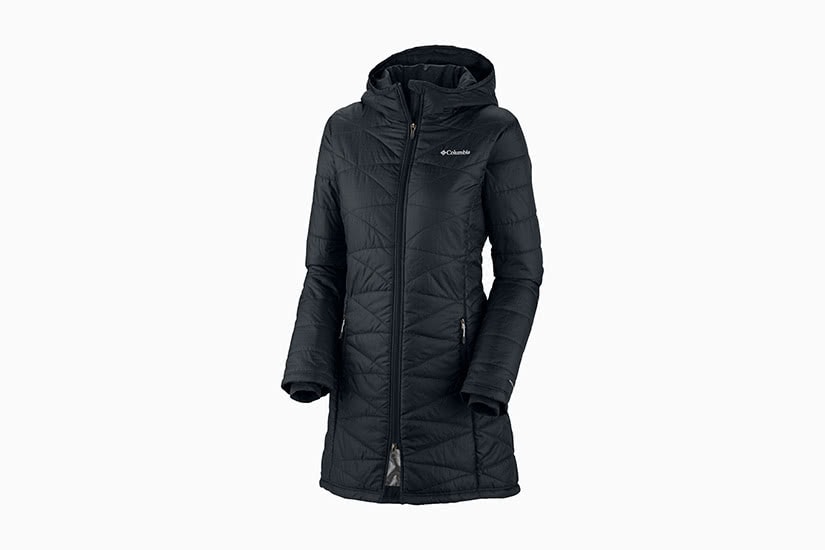 With the Mighty Lite Hooded Jacket, outdoors brand Columbia channels everything they know about keeping the cold out, and warmth in. And they know a lot.
Featuring Omni-Heat thermal insulation, reflective Micro-tex, and Omni-Shield advanced water-repellency, the snug coat wards off the cold with its impressive repertoire of cutting edge technology.
Plus, though it's a heavyweight when it comes to its resume, the geometric baffling and longline silhouette ensure you'll feel ultra-feminine, as well as super toasty even on the most biting of winter days.
Versatility is the name of the game with the Columbia Mighty Lite Hooded Jacket: As one of the warmest winter coats for women, it'll happily protect you on a snowy jaunt through the woods, or on a city mini-break.
Best for: Those on a search for the best women's winter coats for extreme cold, so nothing stands between you and the raw beauty of a wintery day.
Colors: Black, Beet, or Dark Seas.
Canada Goose Alliston: Best women's long down winter coat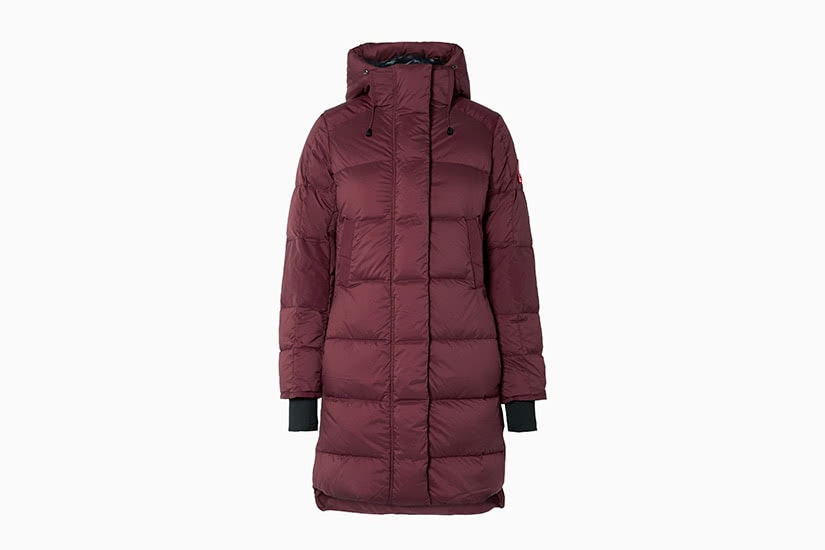 Just one look at the Canada Goose Alliston down coat is enough to reassure you of its warming capabilities. It's like wrapping your winter duvet around you, but like, with heaps more style.
Crafted from reinforced Cordura shell which is quilted and padded with super-insulating down, this coat doesn't give winter freeze a fighting chance.
The internal drawstring waist allows you to adjust the coat so it fits as snugly, or as loosely as you prefer. To top it off, the extended cuffs feature a hand-guard, so there's no risk of chilly hands. For extra cosiness, pair the Canada Goose Alliston down coat with a decadent mug of hot chocolate to warm those fingers.
Despite its robust appearance, this coat is designed to fold into its own front pouch pocket. So, it's perfect for those trips into the mountains, when the weather's a little on the sporadic side.
Best for: Women seeking a plush long down coat with innovative technologies to keep you gorgeously toasty through the winter months.
Color: Plum
Orolay Thickened Down Jacket: Most popular women's winter coat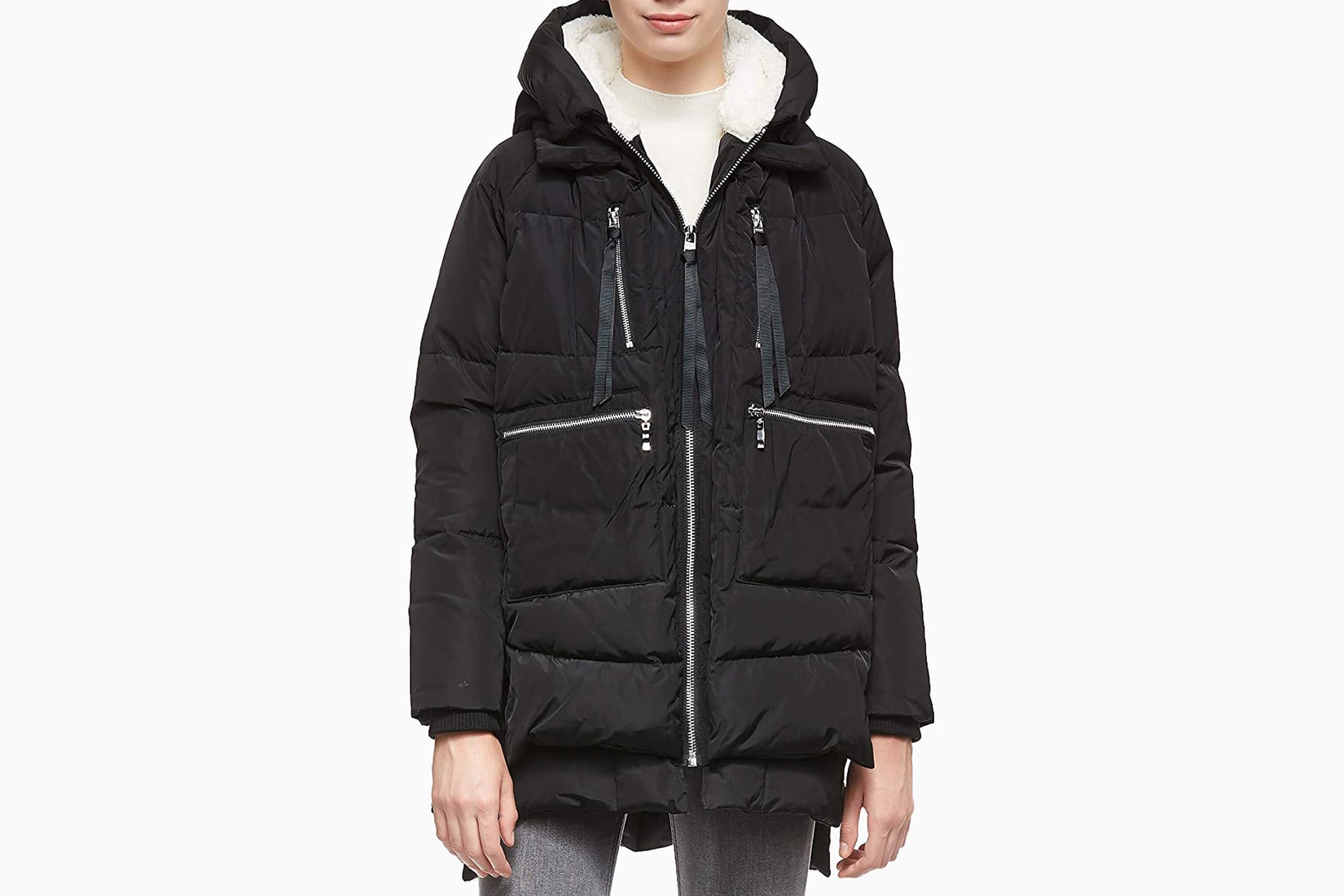 Although crafted by Chinese outdoor brand Orolay, the Thickened Down Jacket has affectionately become known as 'the Amazon coat'. Yep, when a coat has earned a nickname amongst its fans, you know it's a winner.
The 90% duck down, 10% duck feather coat is both windproof and water-resistant, complete with a fleece-lined hood and six large pockets for ultimate practicality. The shell lining with ultra-dense polyester (60% higher than most on the market) ensures you'll stay toasty, no matter the weather.
Perhaps the most unique feature of the Orolay Thickened Down Jacket is the side-zips: For optimal freedom of movement, you can adjust for a close or lighter fit, depending on your needs of the day. So, whether you're trekking the Andes or kicking back on a ski lift, you can make the Amazon coat work for you.
Best for: Women seeking a tried-and-tested duck down winter coat with a solid global reputation for warmth, style, and comfort.
Colors: Green, Black, or Beige
Moncler Quilted Shell Down Jacket: Best women's winter down jacket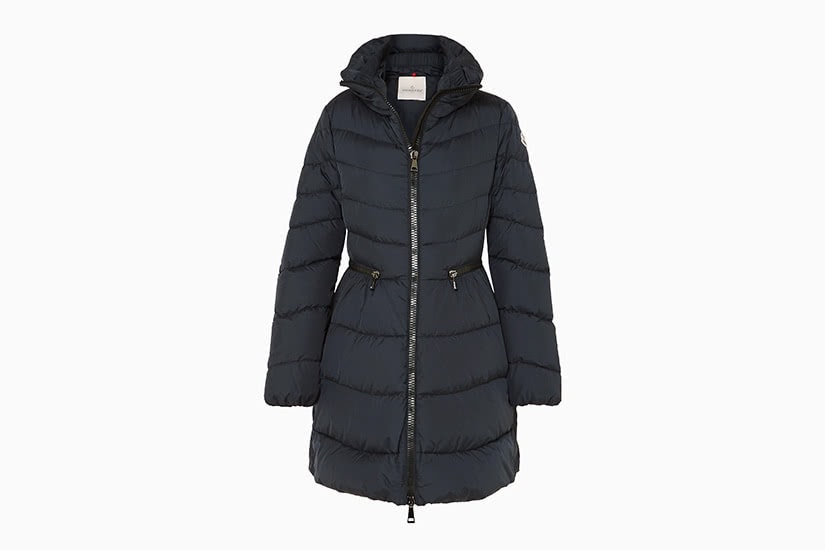 As one of the best winter jackets for women, the Quilted shell down jacket by Moncler is everything a good winter coat should be, and much more.
Filled to the brim with insulating down and goose feathers, Moncler's down coat will have you feeling like you're sat near a roaring fire– even when you're out on the slopes. Plus, the funnel neck is perfect for encapsulating your body's warmth where you need it most.
Far from sacrificing style for functionality, the Moncler Quilted shell down jacket is cleverly crafted with zipped pockets at the waist to create a feminine silhouette. As winter-faring women will know– body contours have a devious way of getting a little lost under padded jackets. Thankfully, not with the Moncler jacket.
Best for: Those seeking the best down jacket on the market that achieves incredible insulation, a defined silhouette, and classic winter style.
Color: Navy.
Totême Annecy Coat: Best long winter coat for women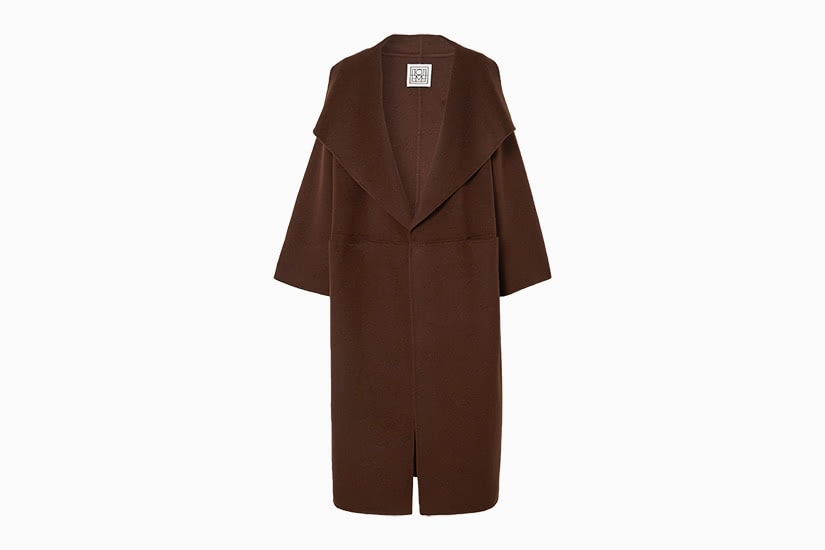 What's the use of half measures in winter? If you're investing in a brand new winter coat, you'd better make sure it's long enough to encompass as much of you as possible in rosy warmth. The Totême Annecy coat hits the spot exactly.
So timeless, this cashmere-wool blend coat would look equally at home dressing the high society of Dickensian London, as it would on the streets of modern-day Moscow. It's loose-fitting, minimal, and demands nothing from you. Simply throw it on, and you're immediately a perfect 10.
The whole vibe is just so very nonchalant, you're guaranteed to look effortless. Staying warm will be effortless, too. The Totême Annecy coat flows down to the calves, so you become a happy bundle of wool and cashmere.
Best for: Those on a mission to discover the finest long winter coat which oozes finesse and pure, unadulterated style. All while keeping you warm from head to– um, calf.
Color: Brown
Cuyana Classic Trench: Best women's winter trench coat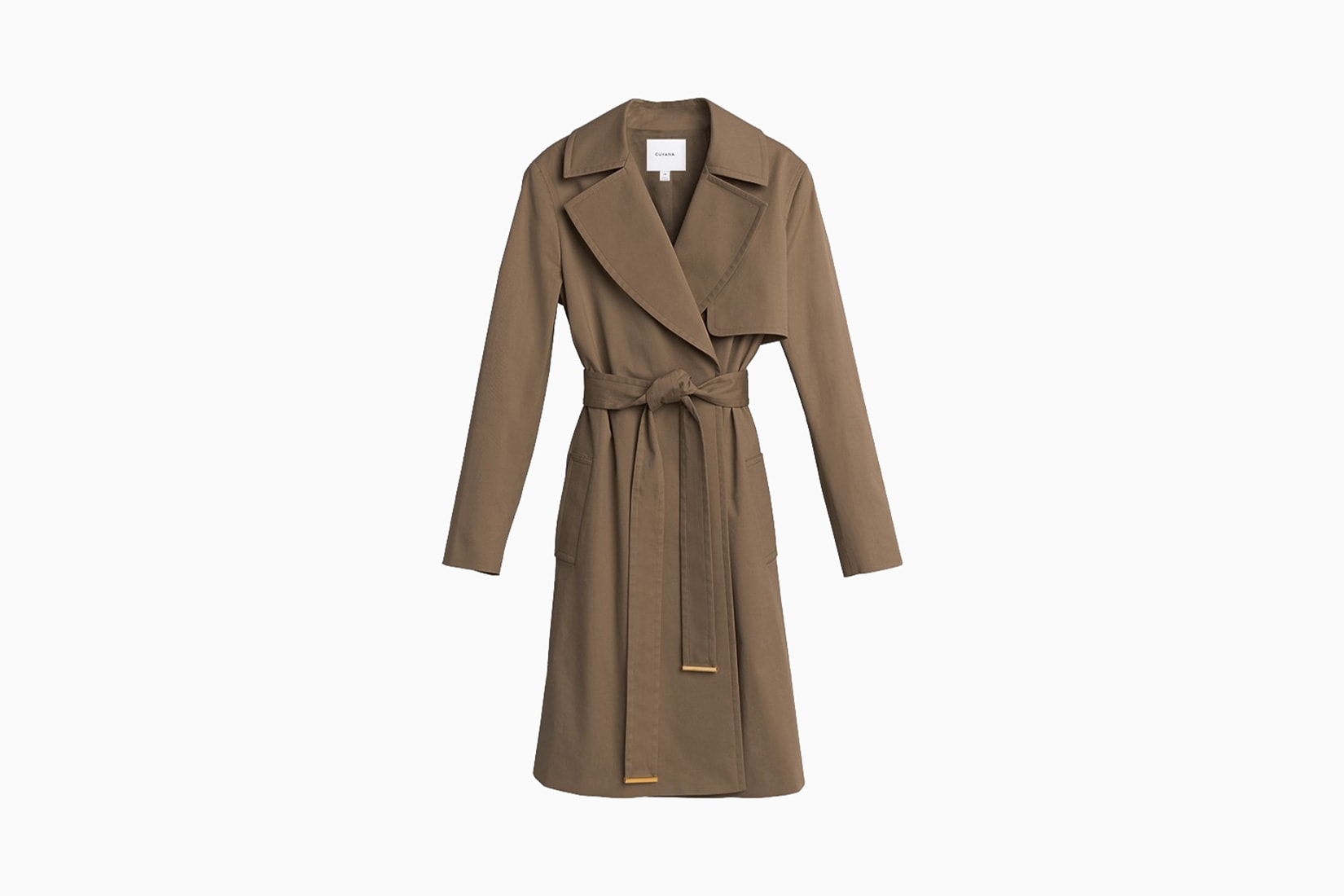 Is a wardrobe truly complete without the presence of a classic trench coat? The short answer is no. So, if your wardrobe is pointedly lacking in the trench department, head to Cuyana and take a peek at their ultimate Classic Trench.
All right, on Arctic days you might want to layer a woolly jumper under it. But for mild winter walks, when the air is cold but the sun is bright, the Classic Trench is perfect.
Featuring that beloved fit-and-flare silhouette which is key in any good trench coat, the focus is on the classic shape, quality fabrics, and versatility. You can wear a trench coat with just about anything, which is the true beauty of the style.
Wide lapels, belted waist and large pockets on the Cuyana Classic Trench work symbiotically to create a structured look. Although, you're one undone belt away from a more relaxed, casual vibe.
We have an entire round-up dedicated to the best trench coats for women, take a look if you want more inspirations.
Best for: Those who desire the ultimate classic trench coat for instant style points, that's perfect for layering.
Colors: Olive, Navy, or Wheat.
Sportoli: Best puffer winter coat for women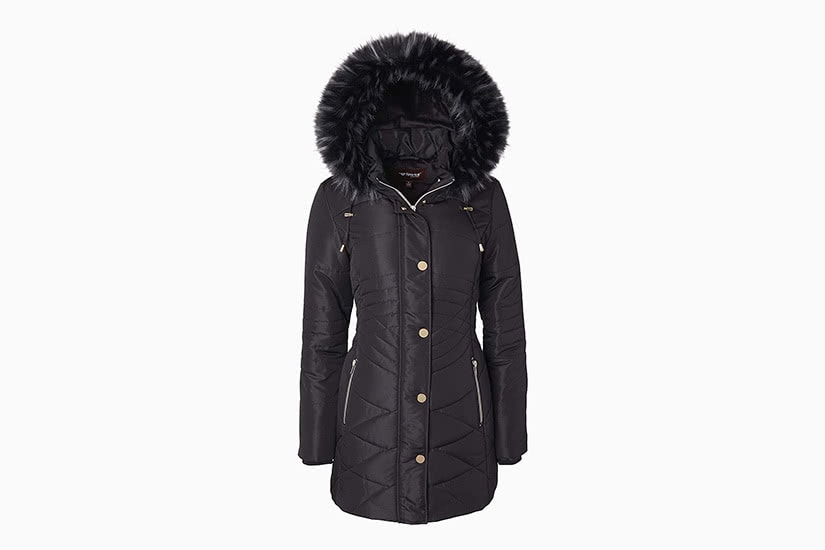 For a gorgeous everyday toastiness-guarantee, it doesn't get more snug than the Puffer coat by Sportoli.
You'll make everyone else feel totally underprepared when you show up in this plumpest of warm jackets. It's filled with a down alternative, and the detachable hood is lined with faux fur.
The quilted design features striking buttons, which aside from looking slick, also help you feel 100% wrapped up when you're rocking the Sportoli Puffer coat.
The cuffed sleeves also keep that precious warmth in, and the built-up neck and hood will keep your neck cushty, and your ears from going numb. Result.
Best for: Those seeking a down alternative Puffer coat which offers everything you need to traverse a frosty day out.
Colors: Black, Angora, or Hematite.
Deadwood Payne: Best women's winter parka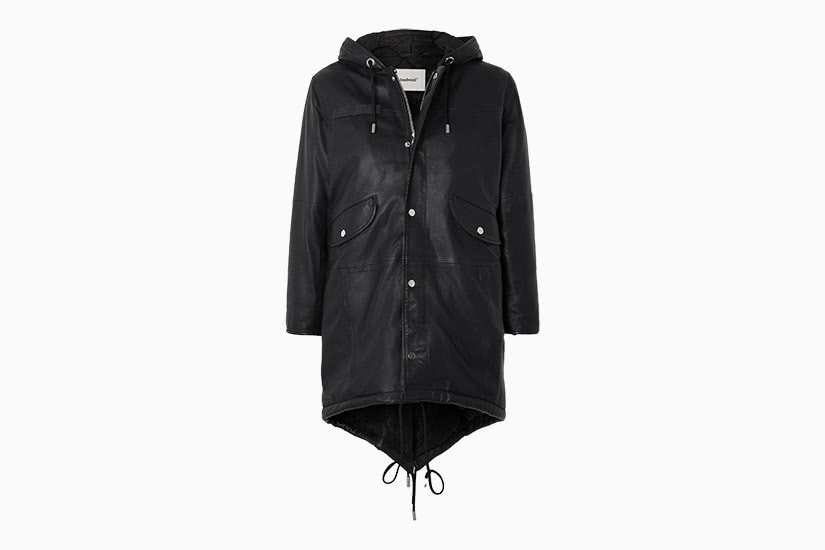 The Payne hooded leather parka by Deadwood goes where no parka has been before. A striking twist on the classic style, this parka will have you standing out from the crowd.
Cut from the brand's signature recycled leather, the 100% lamb leather brings new life to the beloved parka. Crafted with repurposed vintage pieces, this women's parka is as sustainable as it is chic.
The Deadwood Payne hooded leather parka features a light quilted lining which keeps warmth nicely inside, while the slightly dipped hem provides a little extra coverage. The shorter sleeves and drawstring detail makes this piece a real statement, and it's versatile enough to match with your winter wardrobe staples.
Best for: Those seeking to transcend the average, run-of-the-mill parka, who wish to inject a little biker-chic into their winter wardrobe.
Color: Black
The North Face Carto Triclimate Jacket: Best women's winter coat for hiking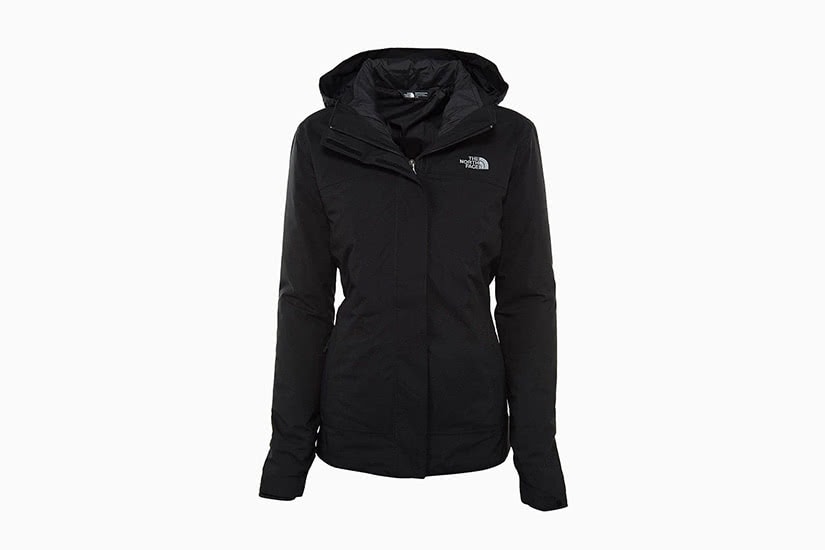 Okay, so not everyone's idea of a memorable winter is scaling up mountains, or navigating undulating hills. But if that sounds like you, who else to trust with your warmth and comfort, than the very best of winter jacket brands: North Face.
North Face winter coats have been at hand to help adventurers achieve their trekking goals since 1966. So yes, they know a bit about keeping people warm at high altitudes.
The PrimaLoft Black Insulation is on hand to keep that cherished body heat in, while the DryVent shell will keep the rain out.
North Face achieves uniting practicality with minimalist style. As such, the North Face Carto Triclimate Jacket is complete with secure zip hand-pockets for easy access to your hiking essentials, and the exposed zip allows you to cool off if things get a little too hot to handle.
Best for: Everyone stepping foot on a mountain (or hill) — From occasional hikers, to those who've completed 5 of the 7 peaks.
Colors: Black, Tin Grey, or Flag Blue
London Fog Peacoat: Best winter peacoat for women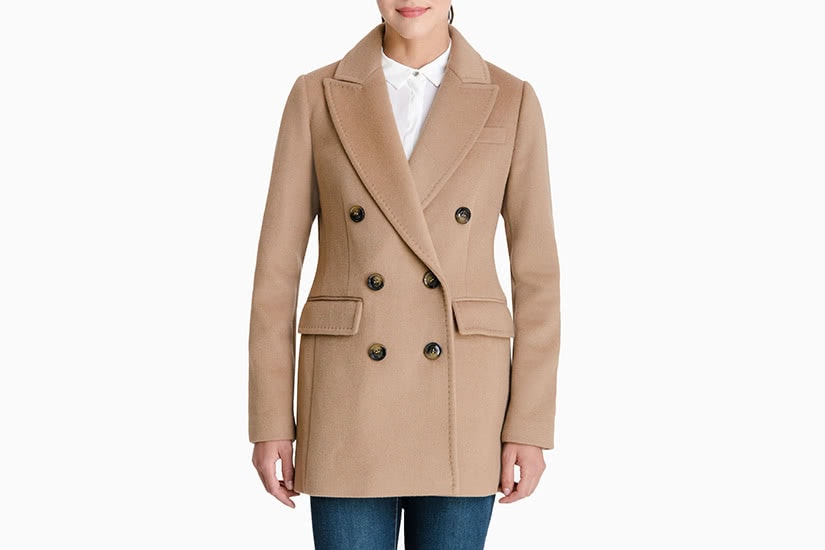 Perhaps you're a perennial peacoat buyer, or this is the first time you're trying out the style. A well-made peacoat simply suits everyone, no matter what their body type.
The London Fog Peacoat is the epitome of greatness when it comes to this classic style. With a wide collar, double-breasting, and statement buttons, this coat will complement any and all outfits, whether it's a grand occasion or a walk in the park.
Crafted from 60% wool and 35% polyester, the London Fog Peacoat takes its job of keeping you cushty extremely seriously.
As if you need any more convincing, the coat includes a gorgeous tartan scarf too. So, the London Fog Peacoat truly kills two birds with one stone, truly setting you up for a frosty winter. So, when it comes to warm, fashionable winter coats, look no further than London Fog.
Best for: Women who desire a flattering, versatile peacoat which will endure winter after winter.
Colors: Black, Charcoal, or Red.
Cuyana Soft Wool Hooded Cape: Best winter cape for women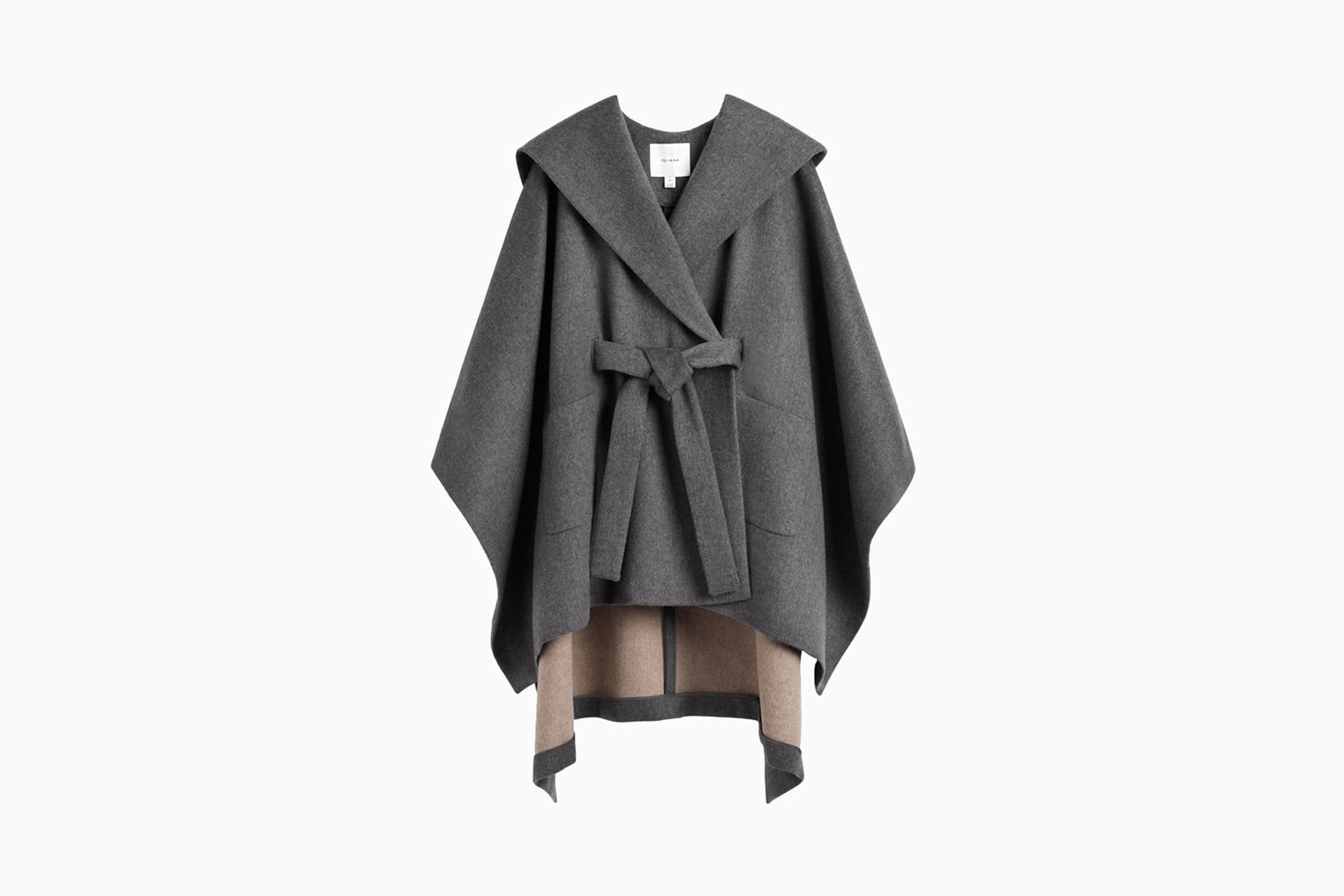 The cape coat has been ubiquitous in haute couture for many years. If you haven't tried this timeless style yet, it's high time you embraced it.
The Cuyana Soft Wool Hooded Cape manages to ooze drama, while being totally understated. Like the best winter coats, it's somehow minimalist, while inexplicably possessing the ability to turn heads. Now, that's what you want from a good winter coat.
The exaggerated hood and tie-belt create a distinctive silhouette, while the pronounced high-low hem just adds to the drama.
Pure style aside, the Cuyana Soft Wool Hooded Cape, with its wool-cashmere blend, will genuinely keep you as toasty as a warm, buttery slice of sourdough when you're out and about.
Best for: Those seeking a beautifully-made winter cape which breaks the mould, will pair with anything, and embodies ultimate chilly chic.
Color: Grey.
Steve Madden: Best plus size women's winter coat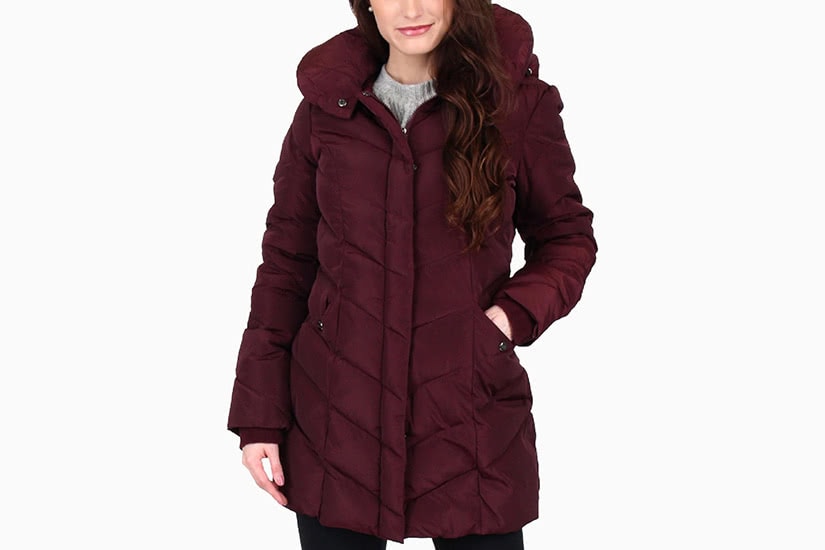 From Steve Madden's Madden Girl outerwear collection, the Maxi Puffer coat will keep you well and truly safe from even the most biting of winter chills.
Complete with a soft, fleece interior, snap-closure hand-pockets, and a removable hood, the Maxi Puffer coat creates a formidable barrier between you and the elements. You can be as wrapped up as you want (or need) to be, while looking gorgeous at the same time.
There are even cute gold toggle ties to add a little glitz to the Puffer situation, elevating the Steve Madden Maxi Puffer coat to a whole level of wintery glamour with the subtle embellishments.
Best for: Women seeking a plus size coat which is the ultimate protector from bleak winds, snowfall, and torrential rain, with a dash of luxe for good measure.
Colors: Merlot, Olive, or Black
Cuyana Fleece High-Low Jacket: Best women's winter fleece jacket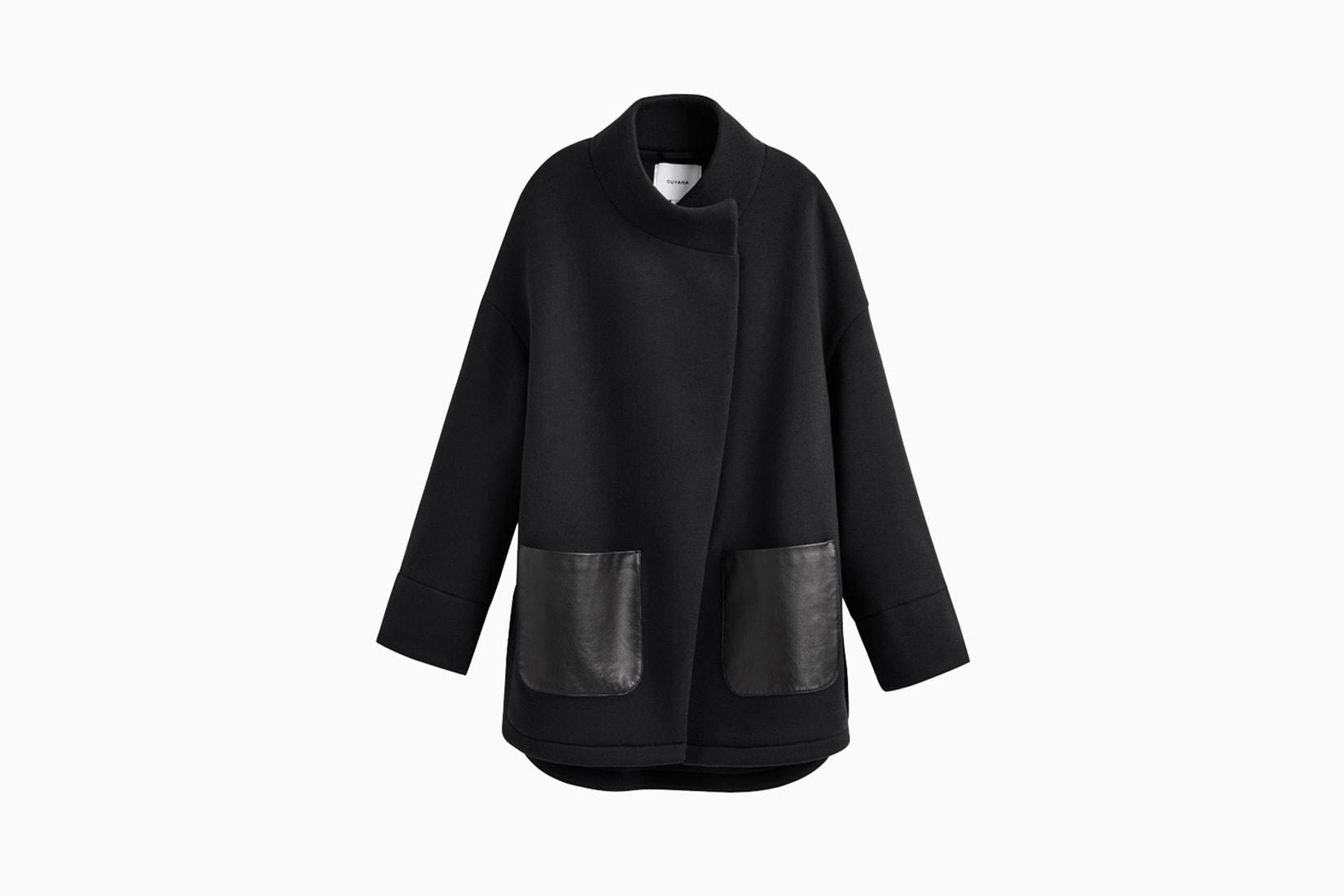 A true example of what Cuyana does best, the Fleece High-Low Jacket takes a classic style, and makes it so much better.
Truly a statement piece, this unique design is expertly crafted from virgin wool and cotton, creating a super soft touch and cosy feel. With an oversized, boxy silhouette, it creates a striking shape, while the wide sleeves and plain black keep things nicely understated.
The leather patch pockets and eye-catching collar work incredibly well whether you choose to wear it open, or closed. In fact, each way constructs a totally different vibe.
Of course, High-Low in name, high-low in design: the subtly undulating hem keeps cements the ultra-modern feel of the Cuyana High-Low Fleece Jacket.
Best for: Women seeking a statement fleece jacket with subtle hints of luxury, a unique shape, and gorgeous detail that simply sets it a cut above the rest.
Color: Black
Wantdo Down Jacket: Best budget winter coat for women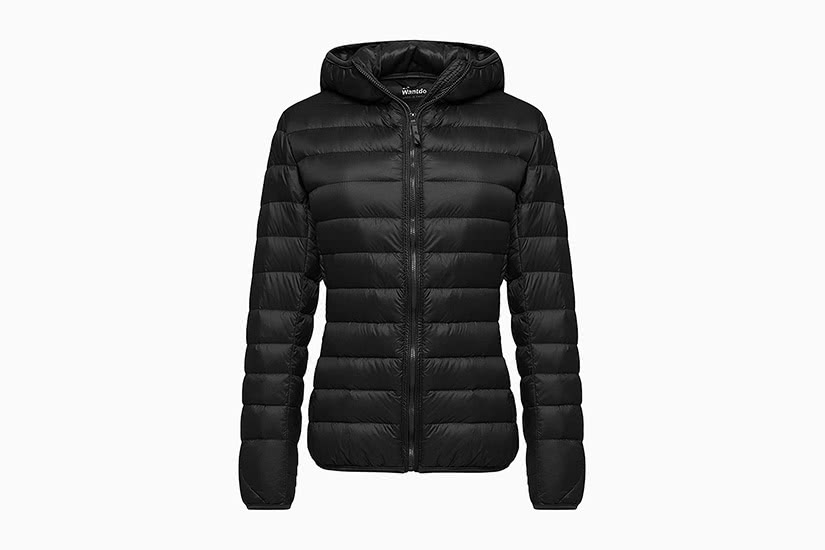 The Wantdo Down Jacket proves that you don't have to settle for second best, even if you're on a budget.
Offering a durable water repellent finish that can rival even its highest-end counterparts, the Wantdo Down Jacket easily steals the prize for best down jacket on the market.
You only have to take a glance at this jacket to be sure of its warming abilities. It's super lightweight, and the highly compressible down can be packed into the most spartan of luggage allowances.
The windproof hood on the Wantdo Down Jacket will keep your head and ears snug, and the deep zip pockets work as multi-talented hand-warmers alongside their conventional use as key/phone/purse holders.
Maybe you're a committed runner throughout the cold season (hats off to you), or you cycle to work. Either way, there's a helpful media port for your earphone cable. So, your iPhone cable will stay neatly tucked away for ultimate fuss-free jogging.
Best for: Those seeking the best down jacket encompassing all the desirable features of a more expensive version, without burning a hole in your pocket.
Colors: Black, Acid Blue, or Dark Green
Tom Ford Shearling Coat: Most expensive women's winter coat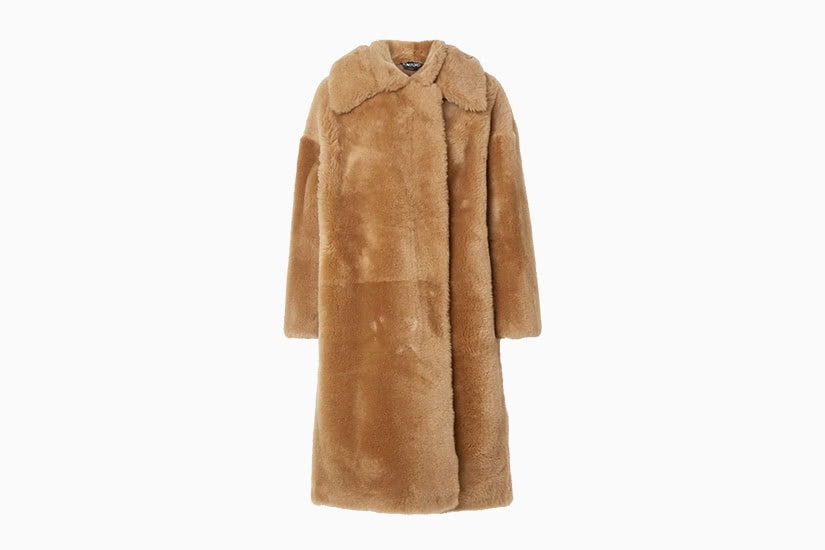 Encased in Tom Ford's 100% shearling coat, you'll be the belle of the winter ball. Taking opulence to dizzying new heights, this luxurious coat will have you feeling a million dollars.
But, it's not just a pretty (well, absolutely beautiful) face. No, it's super practical, too. The camel shearling coat features a concealed two-way zip fastening through the front, and the deep side pockets allow you to have your essentials on hand.
The loose fit, drop shoulders, wide collar, and long sleeves, work like a charm to create an ultimate luxe feel. Even the trim is pure elegance, crafted from 100% calf leather.
The elongated hem of the Tom Ford Shearling Coat ensures you'll feel gorgeously cushy, wrapped up in piles of incredibly soft, silky fur.
Best for: Women seeking a brand new fur winter coat that radiates pure luxury– those who desire to saunter around in the best coat in town.
Color: Camel.
Style guide: Finding the best winter coats for women
It's that time of year again. Yes, it's time to trawl the shops for your new winter coat.
This is not a decision to be taken lightly– after all, along with holiday gifts, winter is guaranteed to deliver a sizable helping of cold weather.
So, safe to say you're going to spend rather a lot of time in your winter coat. Make sure you choose wisely and take these pointers on board:
Winter coat vs winter jacket
Admittedly, coats and jackets are similar in nature. However, while the terms have become a little interchangeable, there are a few key differences to be aware of when it comes to coats vs jackets.
A jacket will typically cut off at the hip, while a coat tends to be more elongated (although this is not always the case– for example, a Puffer can be either a coat or jacket, depending on the length.)
While the winter jackets on our list are selected due to their balance of style and functionality, jackets tend to be more about aesthetics than warmth. Coats, on the other hand, are categorically outerwear, and therefore are inherently warm.
Jackets are great for hiking, skiing, and general outdoor adventures. They're made for movement. Coats are wonderful for meandering through town in style and warmth, but due to their length, tend to allow a little less freedom of movement.
Best material for winter coats
Arguably the most crucial element of the success of your winter coat, the fabric of a coat can make or break it:
Wool
If money is no option, opt for a pure wool coat. Wool is naturally breathable, and contrary to popular belief, it's actually highly water-resistant. So, although a soft wool looks like it'll absorb every drop of the next downpour, you're actually going to stay drier than you'd expect.
Similarly, a wool-cashmere blend is a brilliant choice. If pure wool is out of the question, you can select a coat which is wool-polyester or wool-rayon for a similar effect.
Nylon
Nylon is an excellent choice for the outer-lining of a good winter coat. It's very dense, and therefore is a great barrier against persistent gushes of winter winds and rain.
Down
Down is a filler material. Made from the feathers of ducks or geese, down is a hugely effective natural insulator. Thick down creates miniscule air pockets, which trap and retain warm air, keeping you oh-so-snug no matter what the weather's up to.
Cotton
Providing it's fully-lined, cotton can be an excellent choice of fabric when you're deciding on a winter coat. The beauty of cotton is that it can be thin and lightweight for summer weather, or thick, yet very much pliable, for the colder months. Both durable and breathable, you won't regret choosing a cotton winter coat.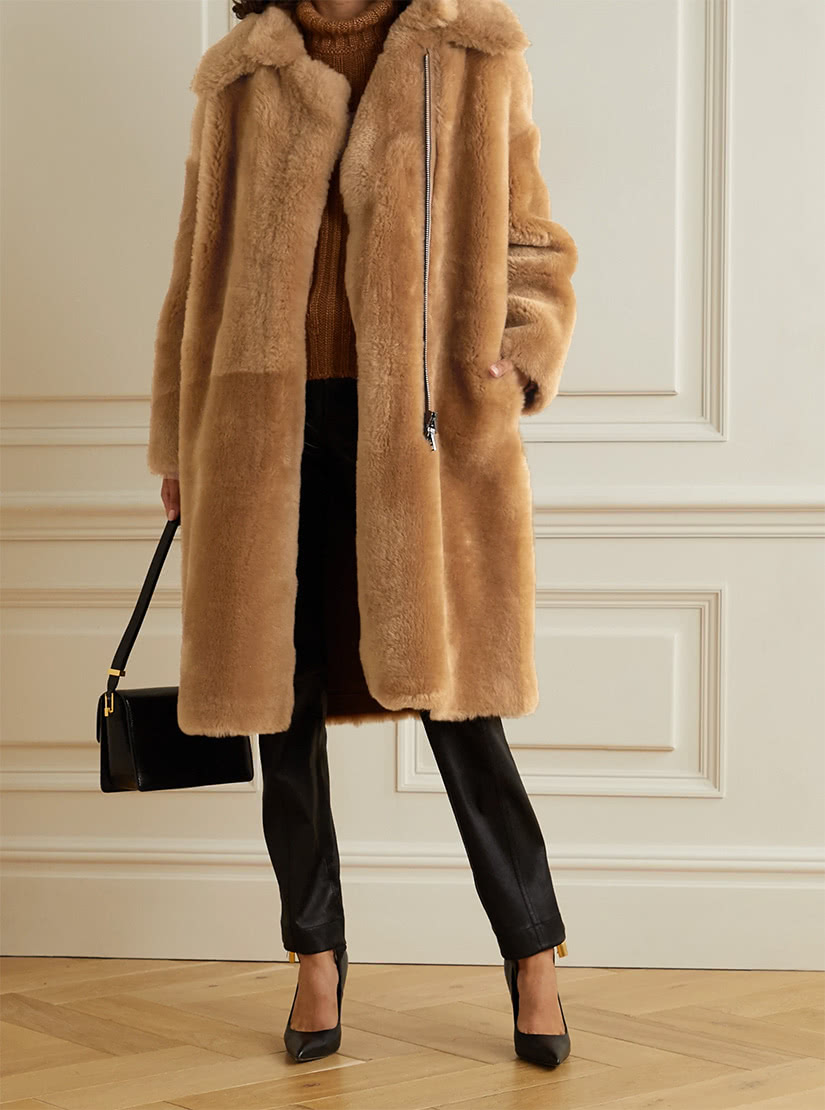 Frequently asked questions about women's winter coats
Which type of coat is best for winter?
While there are heaps of cozy options out there, we've concluded that Axel Arigato's Rhode Down Jacket ticks all the boxes for the perfect winter coat.
What is the best color for a winter coat?
Remember, you'll be wearing this coat a lot during winter. So, it's best to pick a versatile color like black, beige, camel, or navy. If you prefer to make more of a statement, there are plenty of plum, scarlet and red options on the market, too.
What is a parka?
Sometimes referred to as an anorak, a parka typically features a long hem, a fur-lined hood, great insulation and a waterproof shell outer. While they typically come in khaki, you can find them in an array of colors.