Ever heard of "at the very least, wear earrings"? That's something we live by. Statement earrings need no other pieces of jewelry to finish off the look, they deserve their own moment to sparkle. A perfectly stylish earring is the right pick-me-up to any outfit. With more top jewelry brands designing ear jewelry to sit comfortably without the need for piercings, there's no excuse not to own your perfect pair.
Earrings make the best gift for women or teenage girls, you don't need to worry about buying the wrong size, and with so many designs coming with poignant messages, you're sure to find one that resonates with you or your loved one.
As the old saying goes, "life's too short to wear boring jewelry", so let us take you through some interesting pieces of ear jewelry to adorn your every look.
The best stud earrings for a touch of simplistic elegance
Stud earrings are every girl's daily go-to earring style. Depending on the design, they can be a simple everyday staple piece or a bold option for those days when you want to pull back your hair and let your earrings do the dazzling.
Cuyana Circle Stud Earrings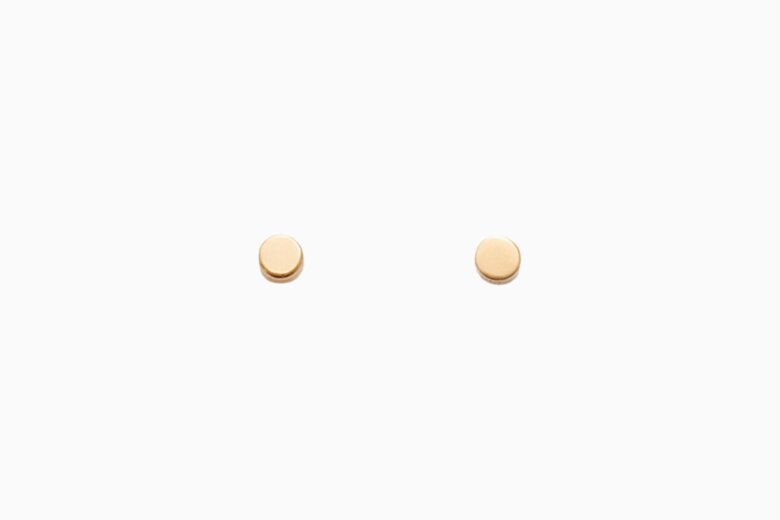 When one of our favorite brands for elevated essentials also happens to offer a jewelry line, we're all ears. These stud earrings by Cuyana are designed with elegant simplicity and a modern touch. They also pair well with earrings in a second piercing or a more dramatic ear cuff. Bonus points for their sustainability practices.
Ariel Gordon Birthstone Spotlight Studs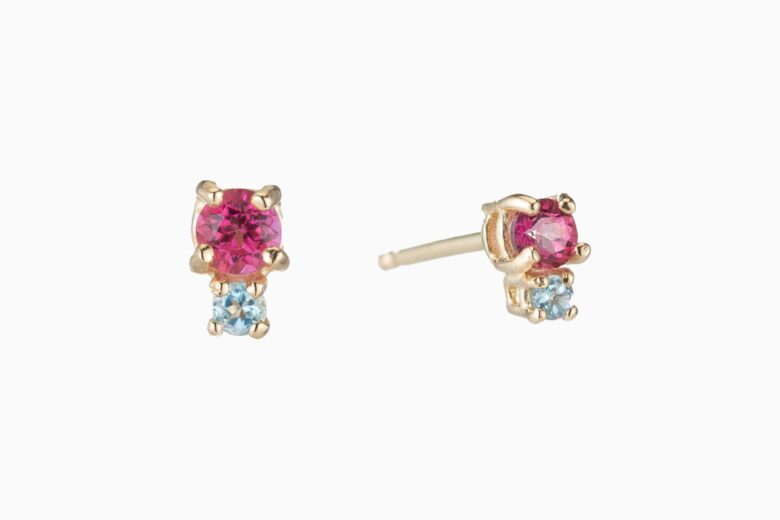 Birthstones hold special significance for the month in which you were born. It's not set in stone, though, so go with your heart and inner style goddess when making your choice for these gorgeous double stud earrings. With options for every month of the year, you're spoiled for choice.
Gorjana Diamond Trinity Studs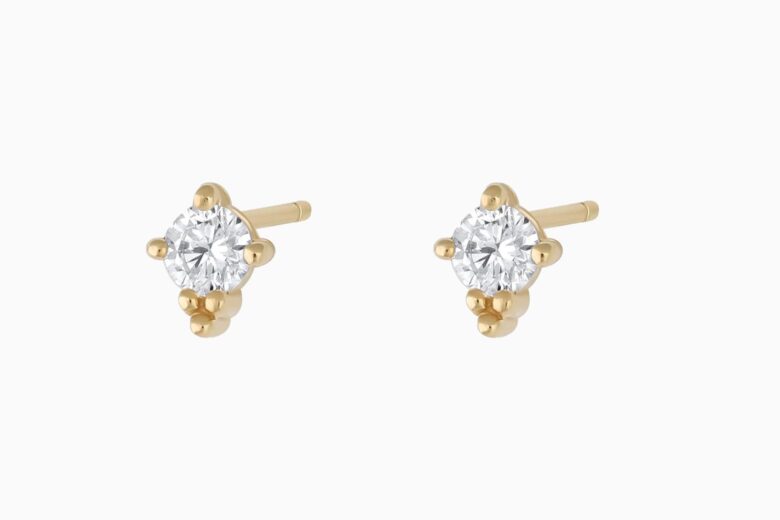 Diamonds add the perfect amount of sparkle to any accessory, and these trinity studs by Gorjana are no exception. The classic design pairs well with other golden earrings. If you love the design of these studs but don't want to splurge on diamonds, there are other gemstone options to choose from at more modest prices.
Tory Burch Logo-plaque pearl stud earrings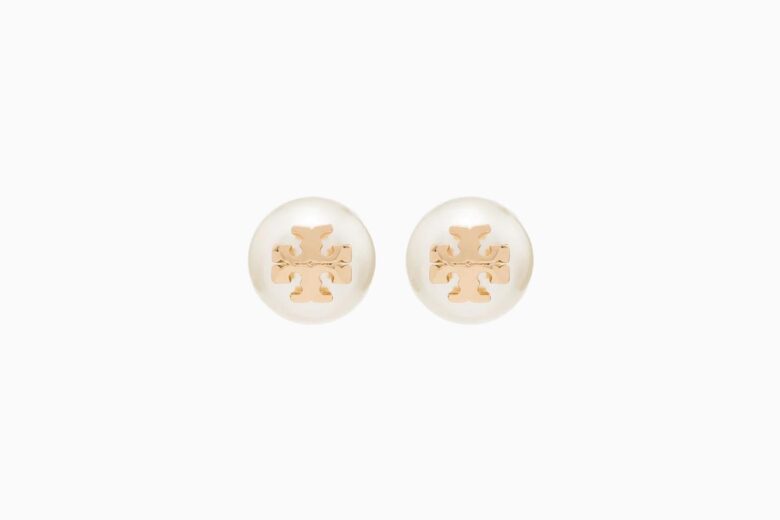 The dramatic double T logo-plaque design etched onto the front of these pearl studs is part of Tory Burch's signature style. These are not anything like the traditional pearls your grandma used to wear. The T logo adds a bit of modern glam to an otherwise classic staple.
Swarovski Millenia drop earrings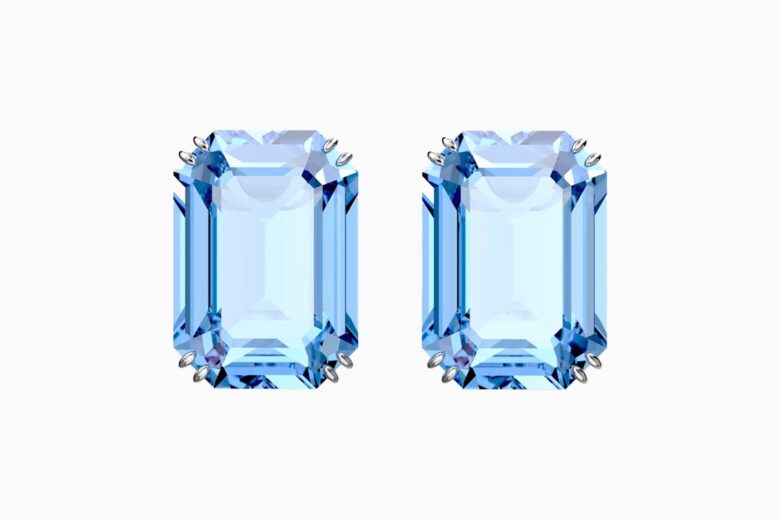 Swarovski is synonymous with eye-catching crystals that steal the show. These octagon-shaped blue crystals do just that. Style them with your best all-white outfit for a glamorous day look, or add them as a striking contrast to your favorite little black dress for a sultry evening out.
Bryan Anthonys Beautifully Broken Stud Earrings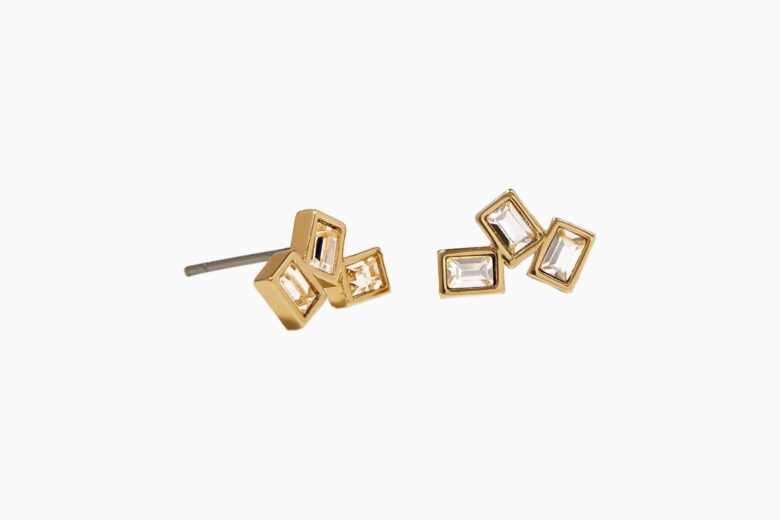 Bryan Anthonys Beautifully Broken Stud Earrings
The beautifully broken collection from Bryan Anthonys has been designed as a reminder for us to let go of our ideas of perfection. It comes with an inspiring message postcard which makes it the perfect gift for that special girl or woman who deserves such a reminder—yourself included.
The best hoop earrings and huggies
Hoop earrings and huggies have been the popular jewelry style choice for many women. Often updated to match the trends of the season, these style classics should be given a place in every earring collection. Hoops and huggies are a surefire way to make any outfit effortlessly stylish.
Cuyana Mini Hoop Earrings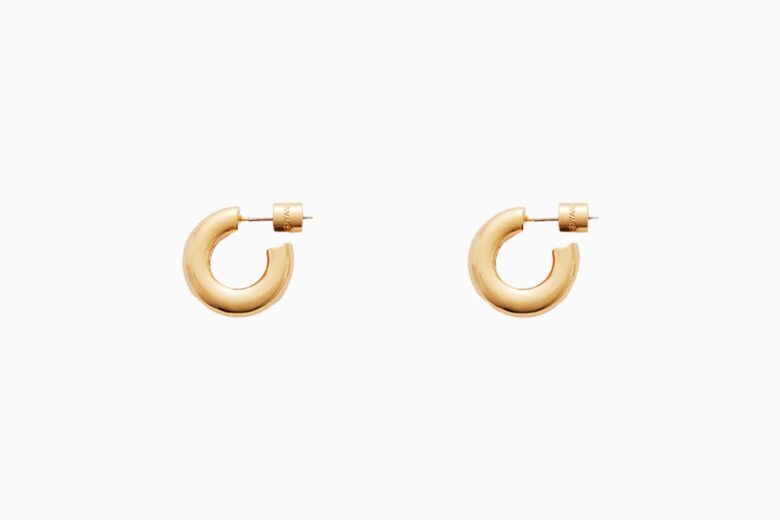 Nothing beats an uncomplicated round gold hoop to take away those indecisive moments of "what to wear today". The Cuyana mini hoop earrings are perfect for daily use and even more perfect to mix and match with other styles. You'll want to add these to your stash of style staples.
Oliver Cabell Croissant Hoops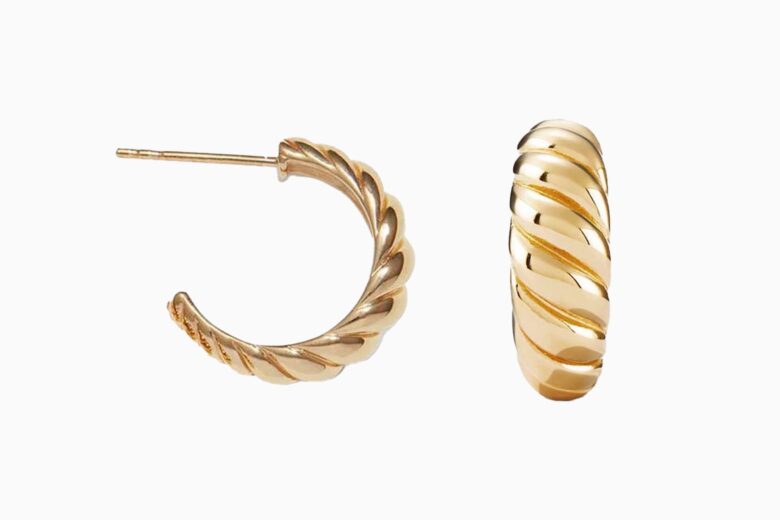 Oliver Cabell might be one of our favorite brands for premium women's sneakers, but the brand doesn't put a foot wrong either when it comes to stylish jewelry pieces. Croissant cravings? Make your French dreams come true with this tasty treat. The croissant hoops look tres chic in yellow gold and will be sure to keep you en vogue.
Check our in-depth review of Oliver Cabell's sneakers and our profile on Oliver Cabell's brand.
Missoma Claw Twisted Mini Hoop Earrings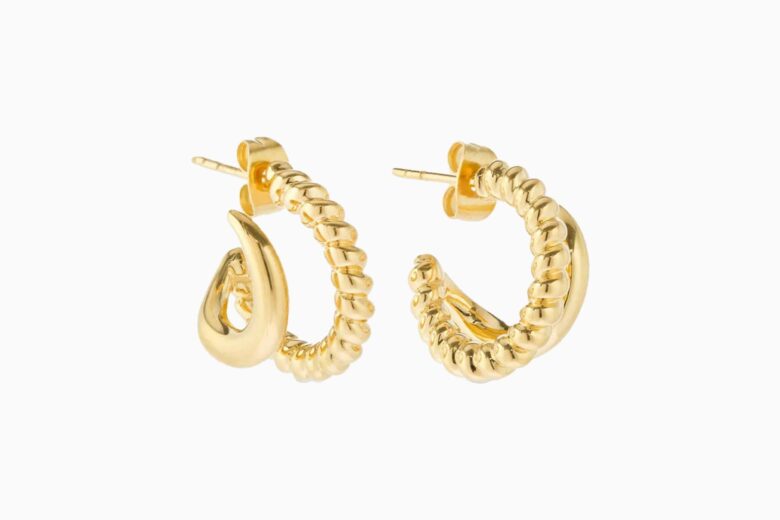 Add a bit of interest with these claws twisted hoop earrings. These earrings look like you are wearing two hoops on each ear thanks to the clever claw-like design. You get the best of both worlds with this design, a twisted hoop linked to a smaller smooth hoop.
Tous Hav Hoop earrings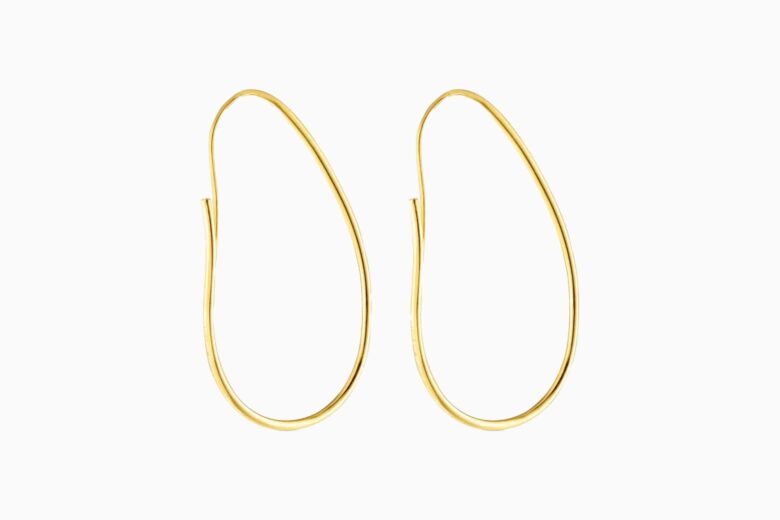 Tous is a jewelry brand that's gained recognition for its progressive, funky designs. Influenced by the shape and movement of water, the Hav hoops will have you making waves of your own. These hoops are ideal for those days when you need to add a little bit of quirkiness to your style.
Gorjana Crew Hoops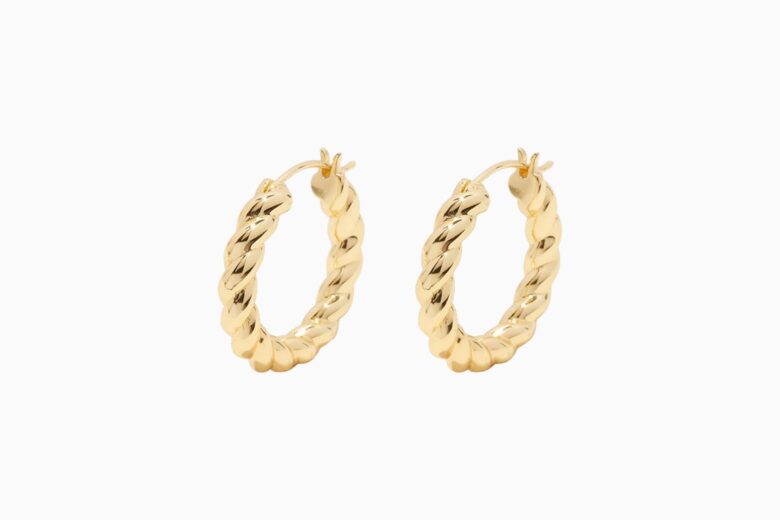 The Gorjana crew hoops offer a little bit of shimmer and texture that make it one of the best everyday earrings. Whether you're out and about running errands or in and out of meetings, these hoops are a lovely companion to any outfit.
Bonito Essential Medium Hoops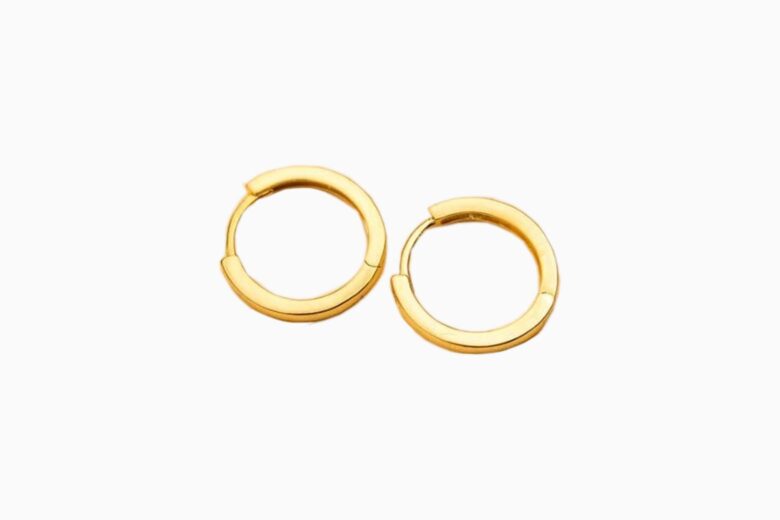 As the name suggests, the essential hoops have been designed with everyday wear in mind. For those who usually shy away from hoop earrings, these are the perfect size to get you started on your hoop journey. A classy addition to any women's jewelry box.
Capsul Small Pave Huggies Earrings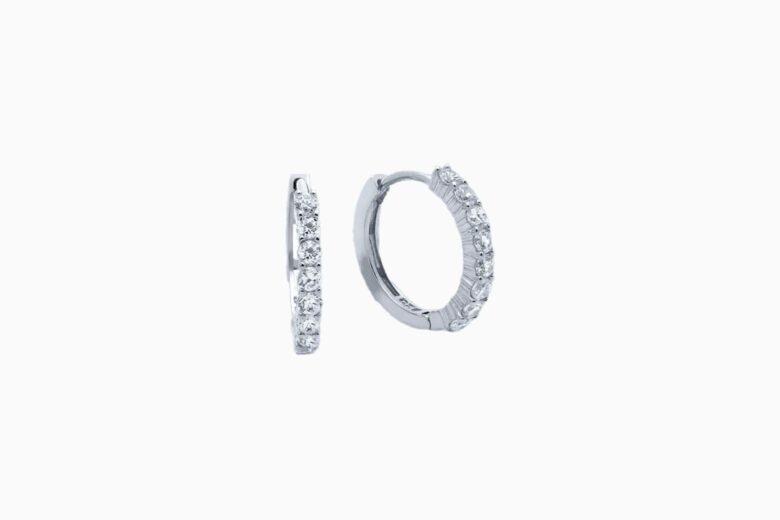 If minimalism and bling seem like contrasting ideas to you, think again. The Capsul pave huggies are the ideal balance of minimalistic bling. As with most of the Capsul jewelry collections, these earrings can be matched with other pieces to create a completely unique tailored look.
Dorsey Vivi, Pearl & Gold Huggie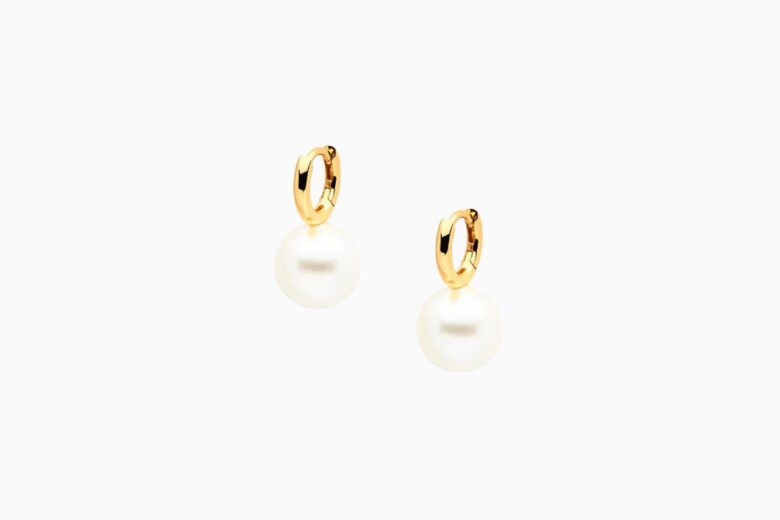 The gold and pearl combination of these loop earrings makes them a classic must-have. There are different hoop sizes to choose from depending on whether you like a snug fit or something with slightly more room. You can't go wrong with elegant pearls day or night, whenever, wherever.
Best drop, dangle, and threader earrings add glamor when you need it most
Drop, dangle, and threader earrings are all about elegance and glamor to elevate even the most simple look. When you're at a loss for how to add interest to your everyday basics, threader earrings are your best choice. While a night out on the town calls for a sparkly drop or dangle earring.
Gucci Interlocking G earrings with pearl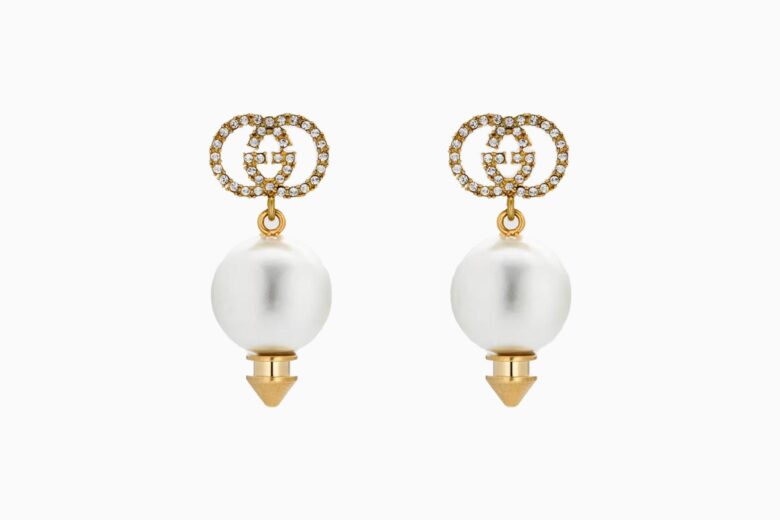 As with all Gucci designs, the unmistakable interlocking Gucci "G" makes a bold statement and takes center stage in these earrings. This time it's encased in crystals and gold. These earrings are finished off with a classic pearl drop and spiked gold stud to give them an edgy feel. Everything we expect from Gucci…and more.
Mateo 14-karat gold, malachite, and diamond earrings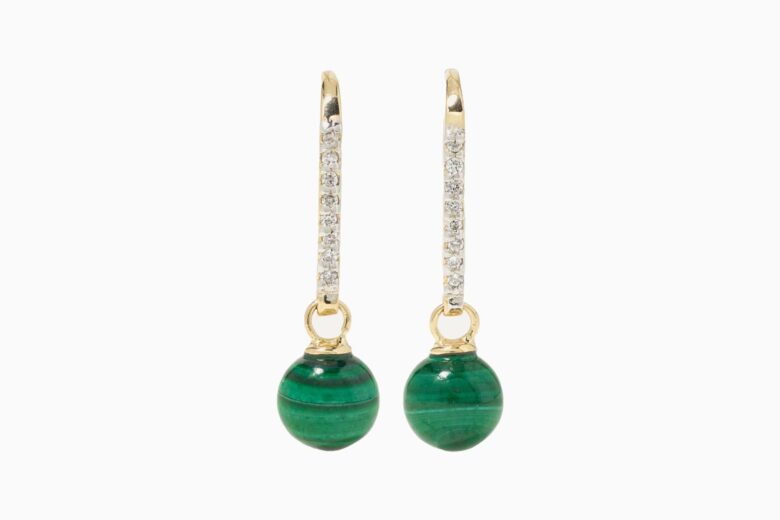 Add a bit of mystique to your earrings with this stunning design from Mateo. These vibrant malachite earrings will leave everyone green with envy, and if that's not enough, shimmering diamonds will ensure you outshine everyone in the room, without even trying. These drop earrings work well next to gold or diamond studs. While on their own, they're simply chic.
Bryan Anthonys Grit Threader Earrings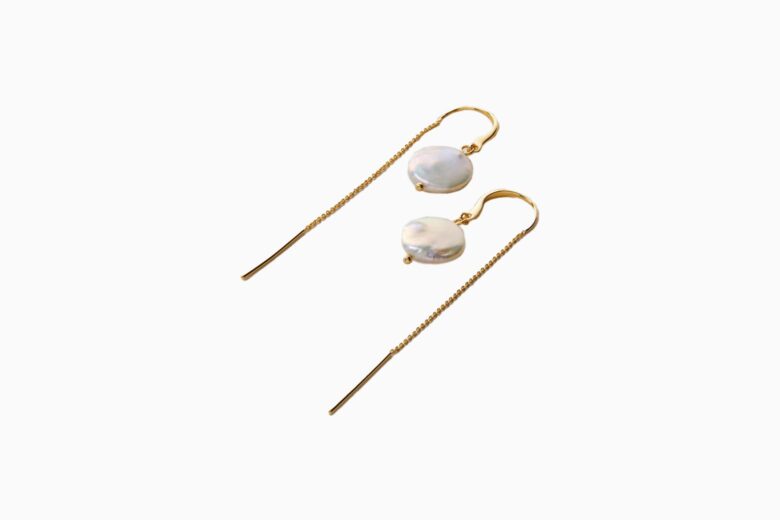 These stunning threader earrings from Bryan Anthonys form part of their "Grit" collection. The message behind this collection is perseverance. Just like you, these threader earrings are unstoppable—"made from grit but full of grace". The baroque coin-shaped pearl takes the simple design to an elevated height.
Capucinne 14K Gold Heart Threaders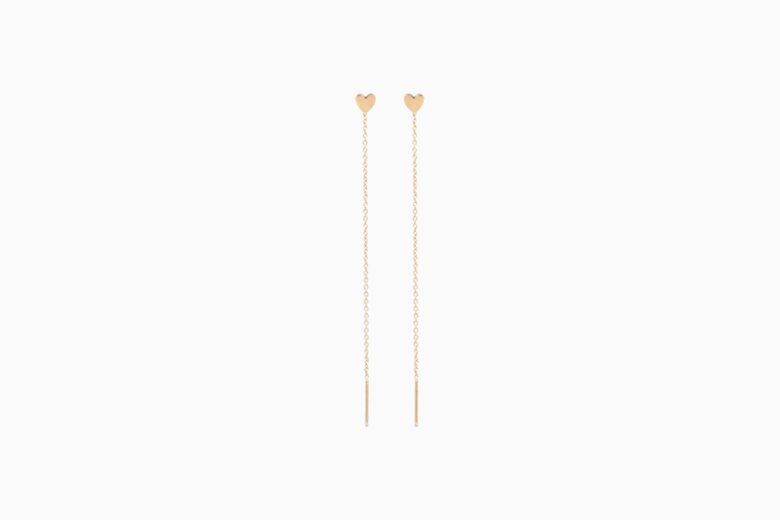 These earrings are the epitome of charm. The dainty gold heart studs and uncomplicated threaders are perfectly curated works of art. Wear your heart on your ears, on a special night out, or when you simply need to feel extra special. With the option of yellow, white, and rose gold, finding one that suits your taste is an easy task.
Dorsey Lee, Pearl & Silver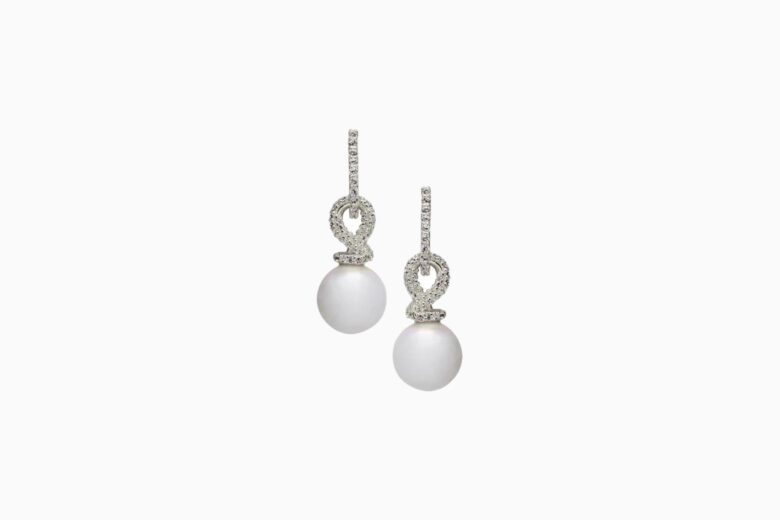 The Lee earrings from Dorsey are attractive drop-style earrings that add sophisticated finesse to your outfit. Made using lab-grown white sapphires and mother of pearl, this is a brilliant alternative to natural pearls and sapphires, minus the shiny price tag.
Best statement earrings for when that's all that needs to be said
Statement earrings always have been, and always will continue to be striking pieces that are the talking point of women's outfits. Made to stand out from the rest, trust us, you'll know a statement earring when you see one. This type of jewelry often doesn't require any accompaniment.
Saint Laurent Asymmetrical Curb Chain Earrings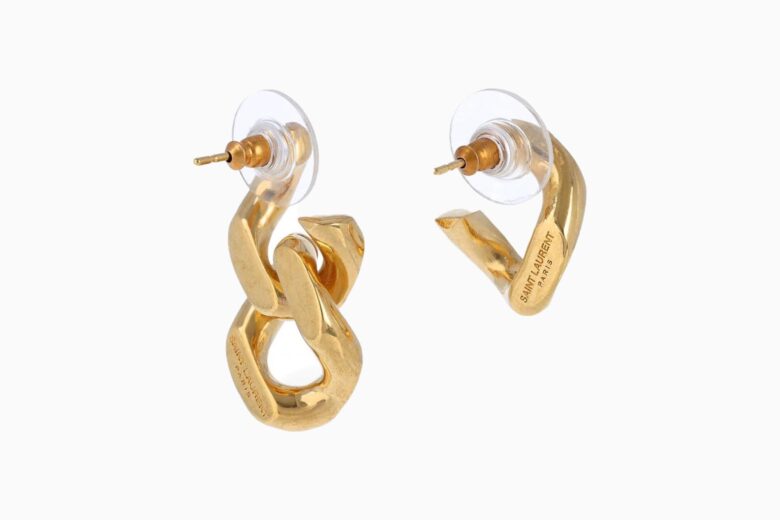 One look at these mismatched asymmetrical earrings from Saint Laurent and you know they're there to add a unique pop to any look. Resembling chunky sculpted pieces of gold, these statement earrings are sure to get tongues wagging for all the right reasons.
Swarovski Millenia Ear Cuff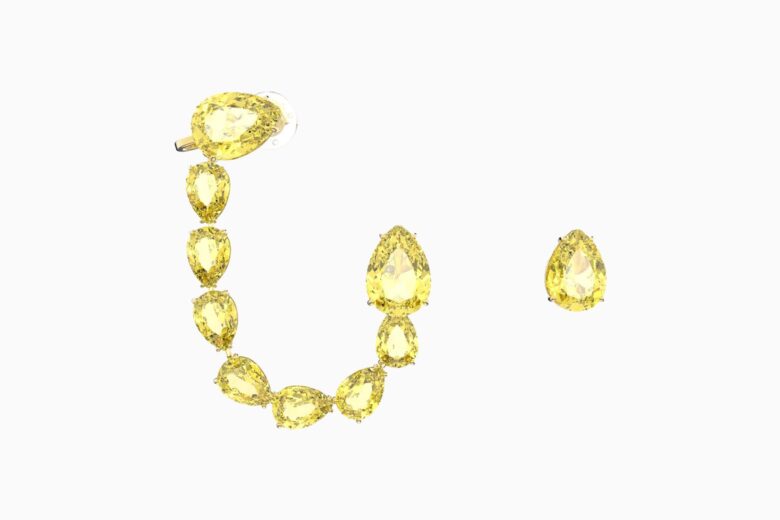 Yellow pear-shaped Swarovski crystals bring a dramatic flair to these statement earrings. With a single stud for one ear and a bold cuff for the other, this style will have admirers looking twice. Plus, yellow gemstones and crystals have long been used for their mood-boosting properties in alternative therapies.
Barkev's Aquamarine and Diamond Earrings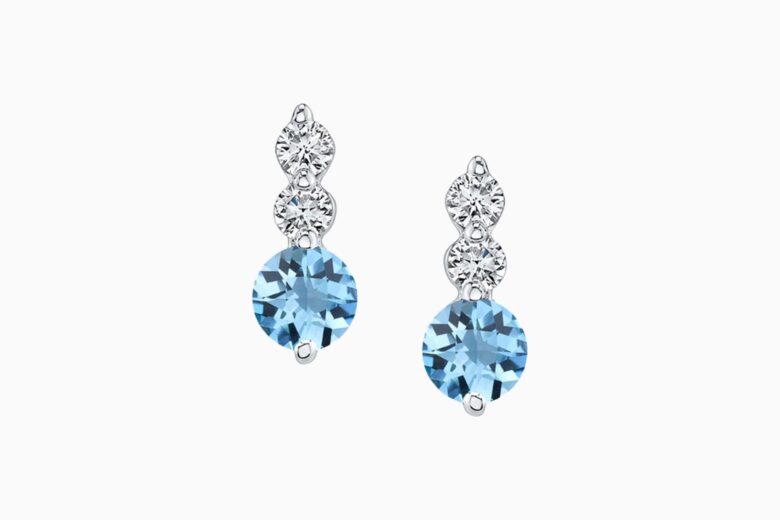 You'll be feeling everything but blue with these aquamarine earrings. Accompanied by white gold and diamonds, these statement earrings are an exceptional piece to splurge on. The subtle blue hues of aquamarine are sure to keep you mesmerized while dreaming of lazy days at sea.
Alighieri La Jetée earrings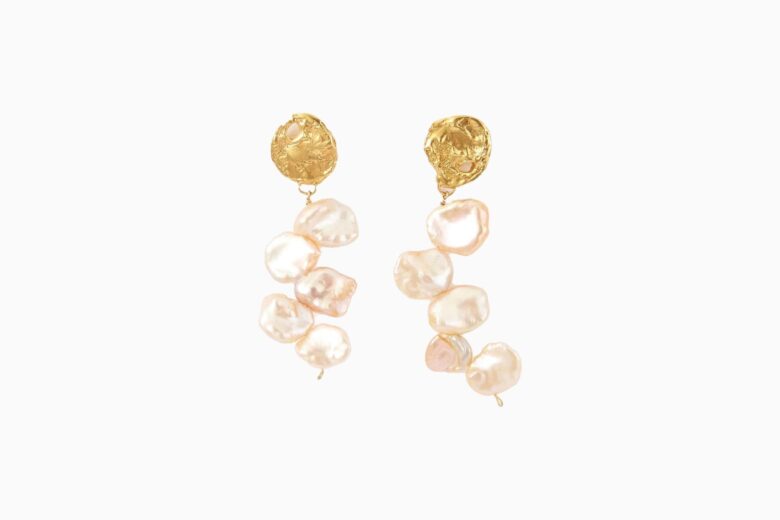 Inspired by Dante's inspirational poetry, La Jetée earrings are every bit as dramatic as the Italian poet's masterpieces. These earrings invoke a vintage feel that's set to captivate and enchant even the most traditional jewelry wearers. You may even be inspired to pen your own piece of art.
Ariel Gordon Linked Helium Hoops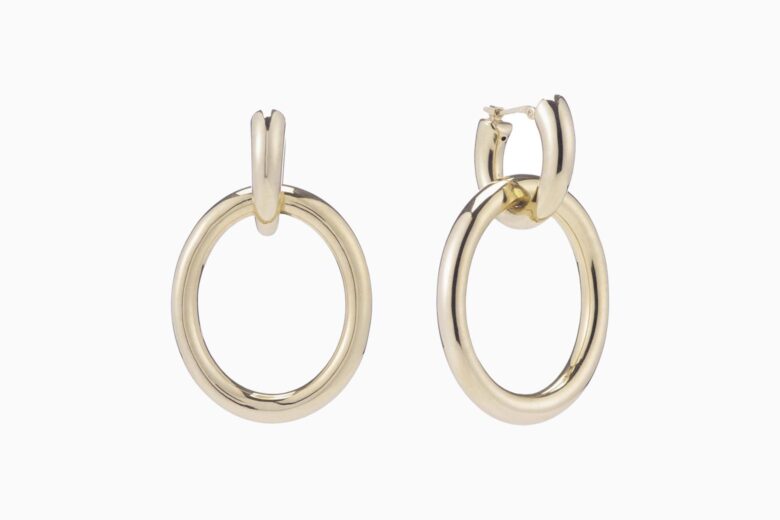 The linked helium hoops from Ariel Gordon are the brand's best-selling earrings for good reason. Bold and beautiful, these statement hoop earrings add pizazz to any getup. Add these to your next night on the town getup and take it as a foolproof invitation to join the circle of style winners.
Dorsey O'hara, White Sapphire Bow Ear Jacket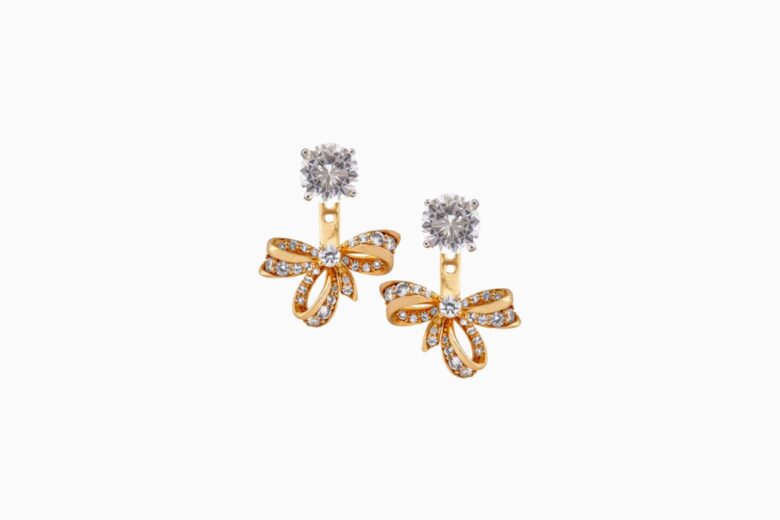 Dorsey is committed to selling ethically produced jewelry. The lab-grown white sapphires on these earrings are as good as the real thing. This piece is so versatile, you can swap out the solitaire stud for another one of your favorite studs to change up the look.
Fernanda Sibilia Amazonia Three Pebble Earrings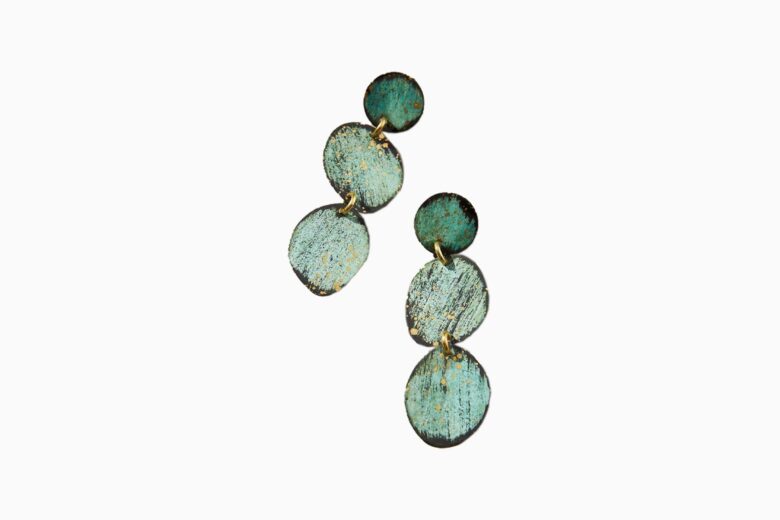 The Amazonia earrings are handcrafted brass statement pieces that add a gorgeous green pop of color. These earrings were inspired by travel through lands of rich culture, thriving nightlife, and stunning scenery. Take them with you on your next (imaginary) trip to Latin America and experience the beauty for yourself. If you're in search of a unique gift this is it.
Sterling King Hammered-Effect Statement Earrings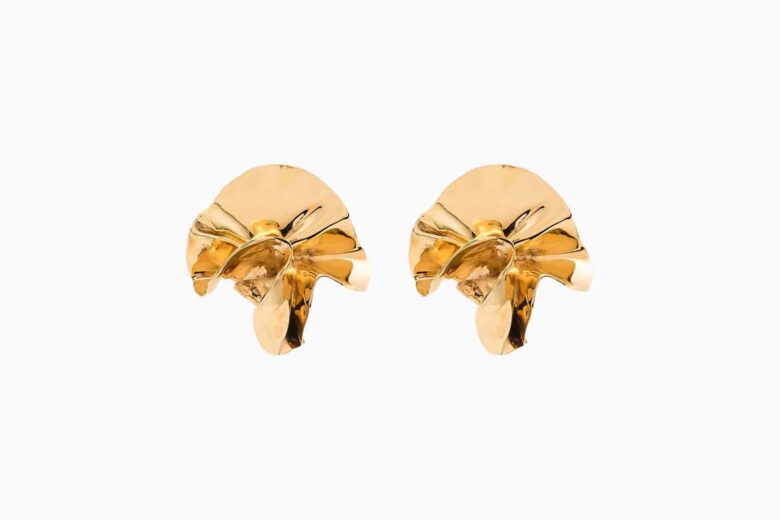 If today's the day you wish to make a statement, then these hammered effect earrings are sure to do just that. The quirky style of New York-based ballet dancer Sterling King has pirouetted through to each of her jewelry designs. These earrings are your golden ticket to all the fancy soirees.
Best ear cuffs, climbers, and crawlers for when you need to add a bit of character
Climbers and crawlers are the best way to add layers without the need for multiple ear piercings. Ear cuffs come with options for gripping onto your ears without the need for any piercings. These are the perfect accessories for those thinking of getting a second or third piercing but are not quite ready to commit.
Tous Vibrant Colors Earcuff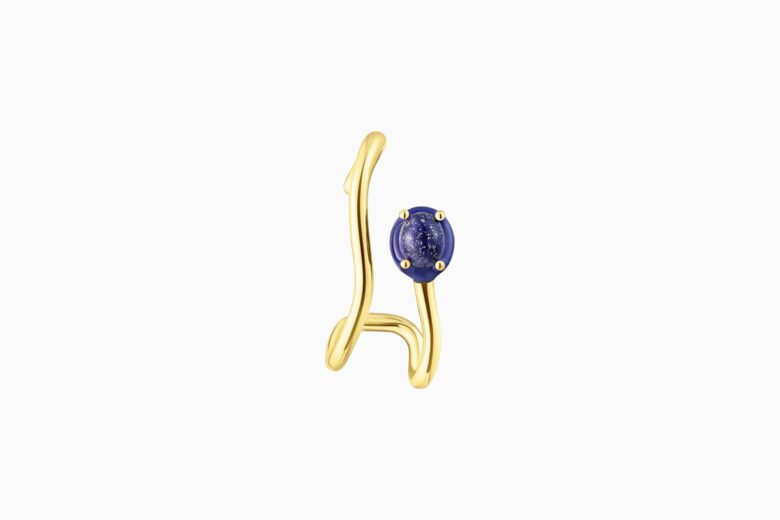 The contemporary design of the Tous ear cuff is what does it for us. The understated gold glam with a vibrant blue lapis lazuli stone is all the accessory you need to take any plain jane outfit to funky new heights. Lapis lazuli is said to inspire confidence, and we can certainly see why.
Bonito Namib Moon Climbers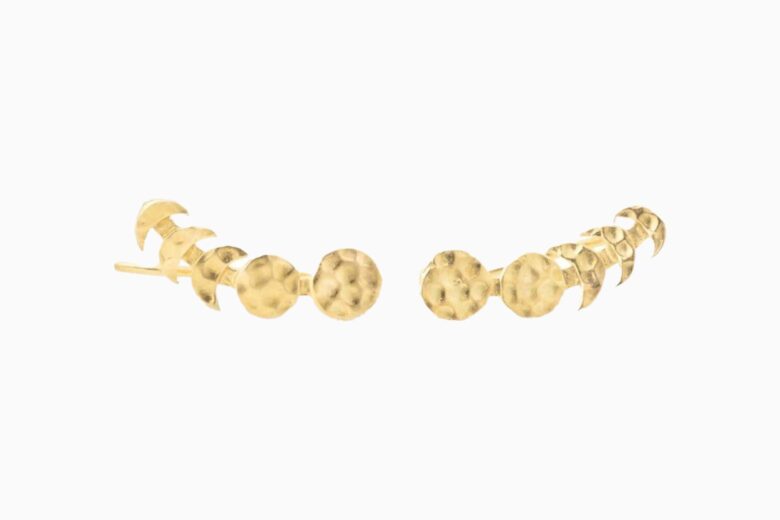 Picture the phases of the moon as seen from the clear night skies of the Namib desert. These ear climbers from Bonito are exactly that—magical! They also make the perfect gift for moody teens, each phase representing the ever-evolving nature of their lives.
Dorsey Jacques, Silver Ear Climbers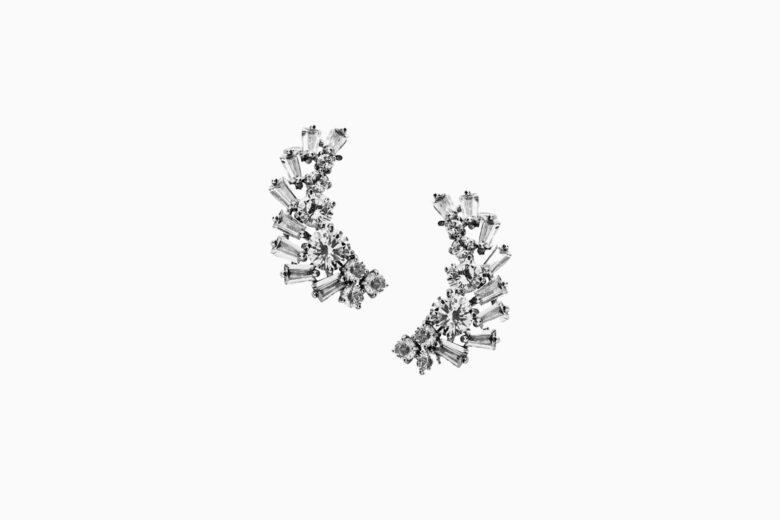 This statement ear climber from Dorsey is shaped to follow the curve of your ear, bringing with it every bit of swank and sparkle you deserve. The mix of round and emerald-cut crystals adds dimension and makes these climbers the best go-to accessory for when you can't get enough bling.
Kimai 18kt yellow gold diamond ear cuff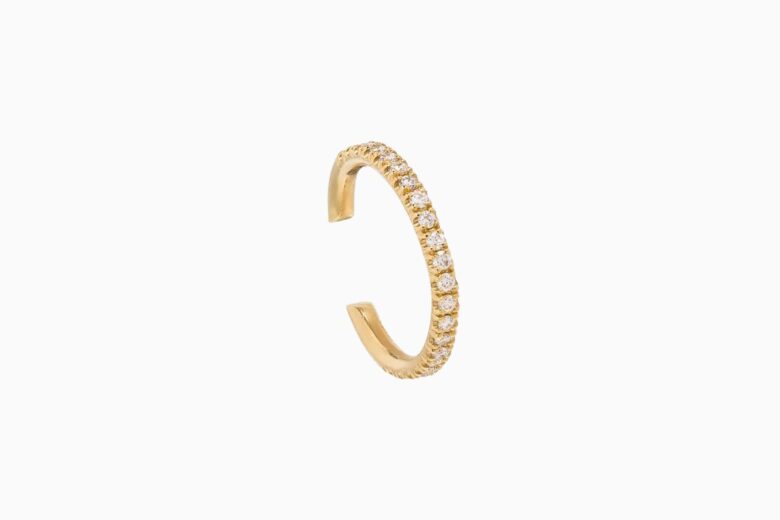 We love that Kimai is focused on producing ethically created pieces of jewelry. The brand uses lab-grown diamonds and recycled gold to craft the most dainty pieces of jewelry. This single diamond-encrusted gold ear cuff design is a true reflection of less is more…no piercings needed.
Frequently asked questions about the best earrings for women
What is the most popular earring?
Hoop earrings are a popular classic style of earrings and one that continues to be among the most trendy styles of earrings every season. Another popular style of earrings is the timeless pearl stud, simple yet chic and trendy.
What are the best types of earrings to wear?
The best types of earrings to wear (including for those with sensitive skin) are made of hypoallergenic metals like platinum, stainless steel, and gold (14k and higher).
What earrings are best for everyday wear?
The best everyday earrings are studs. They are simple and minimalistic earrings that pair well with everyday ensembles. Take a look at our selection of the best earrings for women to find the perfect inspiration.