It's obvious but bears repeating: Appearances do matter—and perhaps more so in the workplace.
As the adage goes, one should dress for success. But dressing for modern work environments is tricky territory—you are reading this, so chances are you've been down this bumpy sartorial road, too.
Not quite business professional and not exactly casual, the business casual dress code can require a little thought.
Full suit or sweats? The answer is neither.
Where one company embraces the business casual dress code with a more laidback norm (t-shirts and jeans allowed), another would veer more towards the more formal look, expecting nothing less than a dressy blazer and shiny shoes.
Not helping? Hitting the sweet spot between professional and casual is no small feat.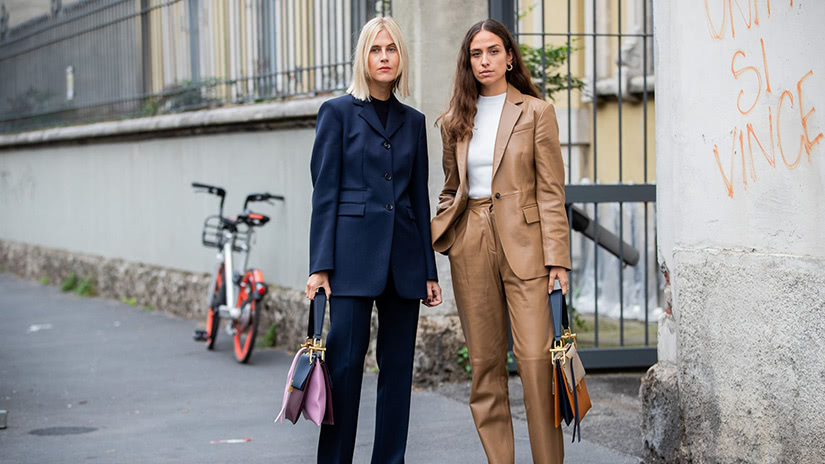 In this definitive guide to business casual for women, we've decoded the business casual dress code, so that you can focus more on being the boss girl you are.
Where to wear business casual? We've got you covered. How to dress business casual? We've got style tips to make you fit right in. Still can't picture it? We've compiled a list of garments to add to your online cart. But where to buy them? Our favorite luxury brands are a masterclass in achieving the business casual look.
We have a feeling (and it's no illusion) your Monday to Friday mornings are about to be a lot smoother.
Let's get down to business, shall we?
What is business casual for women
Business casual. What an overwhelming oxymoron, right?!
In essence, business casual is a semi-formal professional dress code commonly seen in modern office environments. While specific interpretations may differ among companies and cultures, the term typically refers to a polished and professional appearance that is still somewhat comfortable and relaxed, rather than overly formal.
A general rule of thumb is to pair relaxed items with more serious items, although some casual garments are strictly out of bounds (flip flops, hoodies, and ripped denim, to name a few.)
Dress down a blazer with skinny jeans and loafers. Or dress up a cardigan with pleated slacks and office shirts.
Basically, the business casual dress code requires an element of approachability, while maintaining an organized aesthetic. Just like the name implies, remember that business casual is about business first and casual second.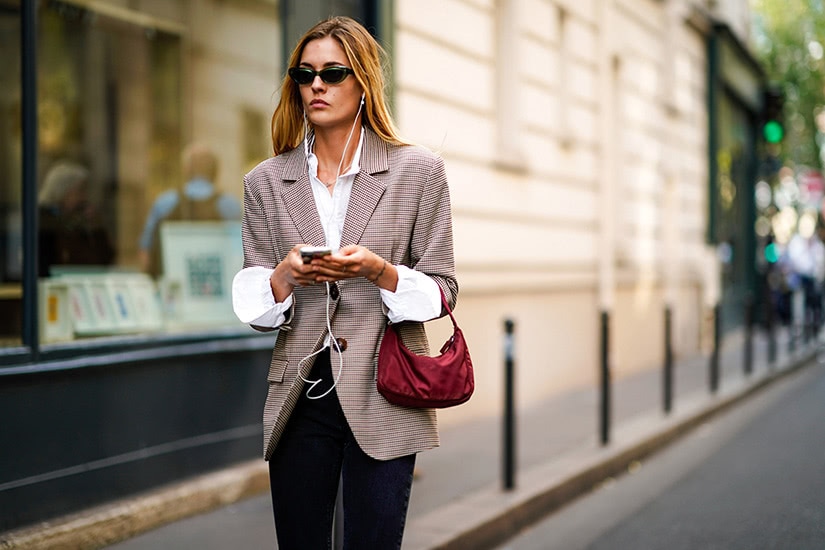 When to wear business casual attire
Obviously, if the dress code says "business casual," you wear business casual attire. However, not every event comes with a dress code and these scenarios require a little dress code discernment to fit in. In general, any work-related occasion that doesn't mandate formal attire, is likely a "business casual" moment. This is most common in more modern workplaces and less-corporate environments.
Besides day-to-day office wear, business casual attire is a failsafe for most job interviews, as well as networking events and client meetings. If you work in a more formal "suit and heels" office environment, casual Fridays are your opportunity to roll out that more relaxed—yet still below-the-knee—dress. Or those dark—strictly unripped—denims.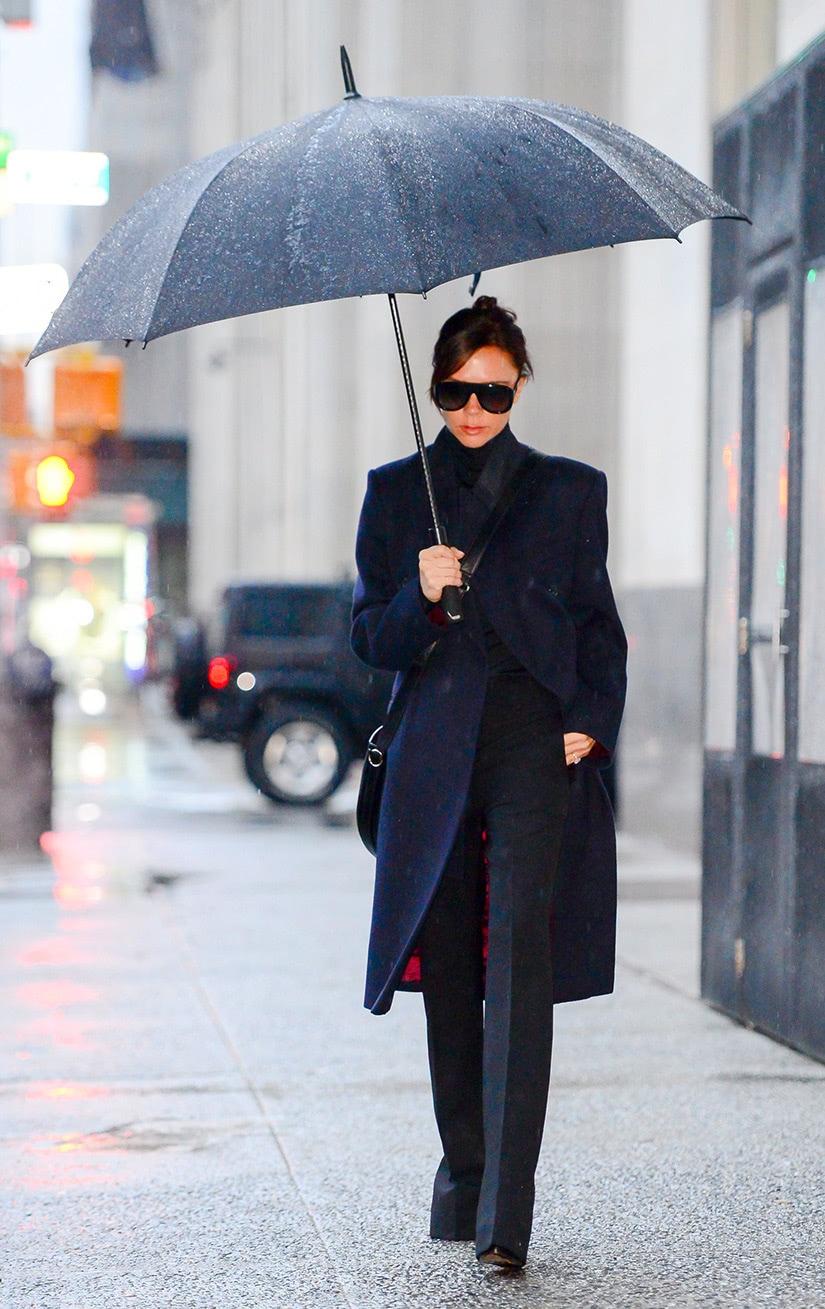 How to dress business casual: Style tips
While some companies have their own set of rules regarding business casual attire for women, we recommend sticking to these foolproof do's and don'ts to play it safe.
Business casual attire don'ts
Like most dress codes, nailing the business casual brief is more about the don'ts than the do's.
Don't wear anything too revealing or tight-fitting: business casual clothes should still be conservative.

Avoid plunging V-necks—they should not show too much cleavage.
Avoid anything overly tight, low-rise, too flowing, or sheer.
Make sure that bra straps aren't visible.
Avoid spaghetti straps, sleeveless shirts, and tank tops; always cover bare shoulders with a blazer.

Don't wear athletic wear: sweatpants, t-shirts, gym tights, and trainers are a no-go.
Don't wear clothing with offensive graphics or slogans: this isn't the time to send a controversial or political message. Business casual clothes should always be respectful.
Don't go overboard with print mixing. Remember: If you want to wear a bold trendy piece such as floral or leopard print, balance it with minimalistic business casual items, like a crisp white blouse.
Don't wear flip-flops or sandals: when in doubt, closed shoes are best.
Don't wear excessive amounts of jewelry or accessories: instead, stick to undistracting classical pieces.
Don't wear wrinkled or stained clothing: kind of a life rule, but especially important when it comes to work clothes for women. Make sure your clothing is clean, pressed, and in good condition.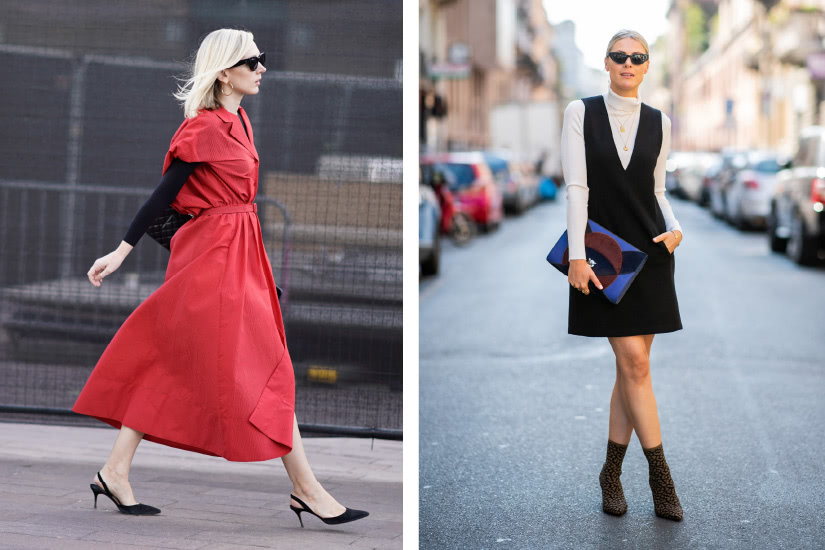 Business casual attire do's
Here are some tried-and-true business casual examples to satisfy the criteria and still look stylish.
Wear collared shirts or blouses: it's difficult to go wrong with collared shirts and blouses for a business casual look, especially if they are a more muted shade or print.
Wear slacks or dress pants: ah slacks—the unofficial business casual uniform. Loose-fitting and soft, slacks can be just as comfortable as sweats. But details such as pleats and pockets add a more formal edge.
Wear knee-length skirts or dresses: if they're below the knee, toned-down skirts and dresses are a business casual wardrobe hero. The length of a skirt or dress should appropriately cover you so you can comfortably get up and down out of chairs and walk up the stairs or on an escalator.
Wear closed-toe shoes: in some work environments, you could get away with classy sandals. But if you're unsure, closed-toe shoes are the most risk-free.
Wear conservative jewelry and accessories: think smaller earrings, neutral leather bags and simple delicate chains.
Dress in layers to adjust to changing temperatures: flushed cheeks and goosebumps don't do much for a polished aesthetic.
Pay attention to grooming and personal hygiene: the best way to appear put together is to feel put together. Clip back loose hairs, trim your nails and remove chipped nail polish.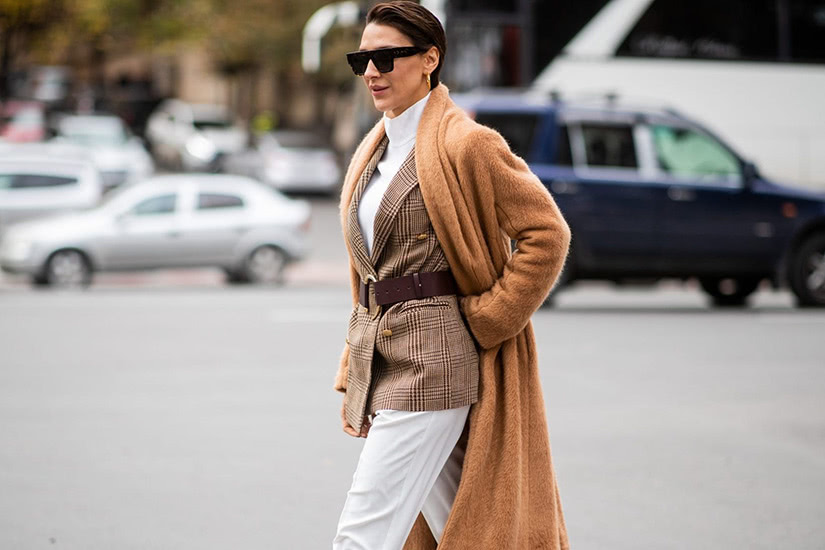 Business casual capsule wardrobe for women: Business casual examples
The first order of business every morning is deciding what to wear to work.
When planning the perfect business casual wardrobe, think professional wardrobe, but deconstructed. In other words, try mixing tailored and traditional business staples such as dress pants, khakis, blouses, and tailored blazers with more relaxed and fashion-forward pieces.
The best thing about business casual attire? Toned-down hues and subtle details make business casual clothes easy to mix and match.
Life hack: Build a capsule wardrobe and dress for work faster than you can say "OOO".
Don't know where to begin? The essentials below should serve as an excellent primer for building up your workwear wardrobe.
Business Casual Blazer
Women's blazers are wardrobe heroes when it comes to business casual outfits. Blazers come in a myriad of cuts and fits—from tailored double-breasted to oversized androgynous (see our favorite women's blazers). And as the more formal component of your ensemble, they lend themselves to endless styling options. Blazers scream "business" so by throwing on the office classic, you can already tick off the business part of "business casual" and focus more on the casual part.
How to dress down a blazer? An oversized tweed blazer with a neutral feminine blouse, black straight jeans and kitten heels is a classic business casual look. While a more tailored fit looks fantastic with wide leg pleated slacks and a more relaxed top. The magic of a blazer is that you can almost make any ensemble "business casual" by popping one on. So feel free to get creative with any of your knee-length skirts and dresses.
Pro styling tip: Cuff your blazer sleeves to soften the look.
Business Casual Shirts
If it has a collar and buttons, it's likely to be a business casual win. As an easy way to make an ensemble more business than casual, the right business casual shirts add an air of formality to more relaxed bottoms and shoes. In order to achieve this, business casual shirts should be made of good quality fabrics such as cotton, linen or silk—avoid anything too shiny or cheap-looking. Business casual shirts are also usually not too tight or loose, striking the perfect balance between baggy and figure-hugging. We personally love the versatility and effortlessly chic nature of a high-quality white shirt (see our curated list of the best women's white shirts for all our favorites) and the timeless elegance of black silk shirt.
While shirts with subtle stripes, checks and polka dots are a simple way to spruce up your outfit without getting too carried away.
The beauty of business casual shirts is that, like blazers, you can wear them with almost anything. However, our top business casual shirt look is a pinstripe shirt with loose-fitting pleated white wide-leg slacks. Think: Meghan Markle on match day.
Business Casual Dresses
There's nothing quite as satisfying as achieving an entire look with a single garment. The business casual dress is an office staple for oversleepers and last-minute dressers. And while finding the perfect business casual dress is not quite as simple, once you've acquired it, it's likely to make a boardroom appearance at least once a week.
Don't know where to start? Look for monotone dresses made of natural fibers such as linen, cotton and wool. Naturally, a business casual dress should be completely non-transparent and fall well below the knee. Avoid anything too revealing, flashy or beachy. And if you're unsure of whether it fits the criteria, throw on a belt, blazer and kitten heels for good measure. Or grab a coat, stockings and heeled boots—especially in transitional seasons.
Women's Business Casual Pants
When it comes to business casual pants, there are fewer rules. It's more about how you pair them than anything else. And like most things business casual, pairing business casual pants is all about balance. If your pants are tighter, opt for a longer, looser-fitting top. And if your pants are looser, opt for a shorter, tighter-fitting top.
Business casual pants vary in style from straight-leg slacks to wide-leg palazzos to somewhere in between. If the choice is too overwhelming, wide-leg pleated pants in black or neutrals are always a failsafe. Not only are they stylish, but they also work well with a plethora of tops, shirts and blazers. Our top look: black pleated wide legs with a ruffled chiffon blouse and pointed pumps. See our curated list of the best women's work pants for our favorite options that are both beautiful and boardroom-ready.
Pro tip: Show off your favorite shoes with cropped pants for a modern yet pulled-together business casual look.
Business Casual Jeans
First things first: are jeans business casual? They can be, however if it's your first day on the job, we would opt for something safer, such as straight-leg slacks or pleated wide legs. On the other hand, if you've been at the office for a while and you know that jeans are deemed appropriate, go for it (see our favorite denim brands if you need some inspiration).
Jeans are usually considered more casual than business, so in order to make them more formal you'll want to dress them up. The most common way to do this is with a longer, tailored blazer and loafers. But tucked-in silk shirts or blouses and kitten heels are also a great way to achieve the look. When it comes to the style of business casual jeans, consider dark tones such as black or navy. Naturally, rips and tears are off-limits. And we would avoid fades or embellishments to play it safe. Like business casual shirts, you also don't want your jeans to be too baggy or tight—instead, opt for a polished straight-leg cut.
Business Casual Blouses and Tops
Business casual attire for women can often take on a "borrowed from the boys" aesthetic. And while androgyny is totally on-trend, pretty blouses and tops are an effortless way to add an air of femininity to your wide-leg trousers and tweed blazers.
What to look for? Pleated silks and ruffled chiffons strike the perfect balance between elegant and understated. While high necks and flowy sleeves are equally subtle and sophisticated. Again, avoid flashy, shiny fabrics. Make sure that your neckline isn't too low. And if florals are your thing, opt for discreet two-toned prints.
When it comes to styling, we love to pair feminine tops with flowy bottoms, such as high-waisted palazzos. Below-the-knee pencil skirts also lend themselves to ruffled detailing. And if you're dressing up denims, we recommend a Tully pleat blouse in neutral tones.
Business Casual Sweaters
Business casual sweaters are a tough one. Because they err on the side of casual, you have to be cautious not to make them appear unprofessional. The most obvious way to do this is to stay away from oversized, baggy fits and synthetic materials. Instead, opt for high-quality natural fibers such as cashmere (these are our favorite women's cashmere sweaters) and fine wool. Steer clear of bright, bold colors, keeping it clean and simple with discreet neutrals. And when looking for an office-appropriate print, a Parisian-inspired Breton stripe is always a classic.
When it comes to styling, choose dressy pants such as pleated trousers and straight-leg slacks. Try layering a light crew neck sweater with a buttoned-up collar shirt. Or pair a soft turtleneck sweater with an oversized blazer or coat. More sophisticated shoes, such as heeled Chelsea boots will also help to formalize the look.
Business Casual Cardigans
As one of the most versatile closet staples, the best cardigans can be worn more formally or more informally. When it comes to a business casual dress code, you want to make your cardigan appear more formal. To do this, avoid slouchy fits and relaxed materials. Alternatively, reach for more tailed cuts and high-quality fabrics. Business casual cardigans can be long or short, so it's hard to determine exactly what qualifies and what doesn't. But if it looks more like loungewear, keep it at home and save it for the couch.
Styling business casual cardigans are quintessential to achieving that polished-yet-approachable aesthetic. In general, darker tones are easier to style for the office, while lighter shades come across more relaxed. To get the look, try pairing a tailored navy cardigan with a white collared shirt and black slacks. Or try a black long cardigan with a black pencil skirt and beige turtleneck.
Business Casual Skirts
The most obvious rule of thumb when it comes to business casual skirts is that they should never be too short. Keep your minis for the weekend and take your longer iterations to the office. Think: knee-length pencil skirts or more flowy maxis. But try to avoid anything too boho or busy.
As an office staple, skirts lend themselves to a myriad of styling options. Take your cues from Victoria Beckham and pair a high-waisted black and white checkered skirt with a more androgynous black collared shirt and black pumps. Go more Kate Middleton with a polka dot maxi and fitted blazer. Or opt for a more relaxed aesthetic with a dark green suede belted skirt, a white chiffon blouse and black ankle boots—as would Bella Hadid.
Business Casual Suits
As one of the biggest fashion trends, you needn't confine your matching suit to the office. But it does make for a failsafe business casual outfit. Suits are intrinsically deemed office-appropriate and require very little styling effort to make them boardroom-ready. Instead, this is your chance to play around with different fits, fabrics, and colorways.
An oversized fit is slightly more slouchy and relaxed. It achieves an organized aesthetic, whilst still coming across as casual and comfortable. If you prefer a more tailored fit, try a longer blazer that cinches in at the waist, paired with flowy wide-leg bottoms. Because you're wearing a full suit, feel free to play around with trendy hues such as Millennial pinks and Gen Z greens. You've also got the full license to enter the office wearing more casual shoes and accessories. Basically, nobody can say no to a matching suit.
Business Casual Shoes for Women
Shoes have the power to change the entire attitude of an ensemble. And so, they can be used as a tool for balancing out business casual outfits. If your attire tends towards casual, opt for more formal shoes. And if your attire tends towards formal, casual shoes can help to relax the overall aesthetic.
More formal business casual shoes for women include kitten heels, pointed-toe flats, block-heeled pumps, leather Oxfords, loafers, and heeled Chelsea boots. While more informal business casual shoes include suede drivers, chukka boots, ballet flats, and leather sneakers.
The only real business casual shoes taboo is the flip-flop. To err on the side of caution, we would avoid all sandals—unless your office stipulates otherwise. Soaring stilettos or flashy silhouettes are also generally considered an office no-no.
Check out our curated lists of the most comfortable heels, most comfortable flats, best chelsea boots, best sneakers if you need more inspiration.
Business Casual Women Accessories
Accessories add the finishing touch to your business casual outfits and shouldn't be underestimated. Just as the right accessories can complete a look, inappropriate accessories can send the wrong message. Generally, statement pieces or fashion accessories are considered too blingy or glitzy. Rather, we suggest investing in timeless pieces and luxury brands that ooze sophistication and class.
Classical watches are always a good call for the office. Not only are they practical for time-keeping (keeping those mobile phones pocketed during meetings), but they also speak to an organized aesthetic. In the same way, designer belts are a business casual failsafe. Adding a professional edge to any ensemble, belts can make an outfit seem more polished. Elegant cashmere or silk scarves are also an office classic. Quintessential for battling out office air conditioning, scarves are the ultimate transitional staple.
Business Casual Jewelry
A general rule of thumb for office-appropriate jewelry: less is more. Keep your oversized hoops for cocktail hour. And leave your chunky necklaces at home. Similarly, avoid excessive bangles and refrain from stacking too many rings on one hand.
So what should you wear? Simple, fine jewelry is a great way to add personality to your ensemble without being too distracting. Think: delicate chains, classic pearl necklaces, unobtrusive pendants, small hoop earrings—basically anything that doesn't demand attention. Timeless and versatile, this also makes accessorizing for the office each day relatively easy. And instead of splurging on once-off statement pieces, you can invest in high-quality classics (we personally recommend solid gold or gold vermeil) from the best designer jewelry brands.
Business Casual Bags
A bag says a lot about a woman and what she carries inside. If it's too small, it could look like you don't have important things to hold. And if it's too big, you could appear unorganized and chaotic. The best work bags are somewhere in between. Clean and compartmentalized, they speak to a structured and efficient personality. But at the same time, they imply that you have important files to carry.
Simple and sophisticated, our best totes for women are perfect for a business casual aesthetic.
Or opt for one of our favorite work bags. They come with laptop sleeves and pocketed interiors to prevent last-minute bag scrambles. Neutral tones and timeless hues are versatile enough to complement any ensemble. While durable handles and sturdy materials are prepared to take on the daily haul.
Business casual colors
Business casual attire calls for more muted tones, softer shades, and subtle prints. This is great for building a capsule wardrobe, where all garments work well together to create multiple outfits from fewer pieces.
Neutrals: blacks, whites, browns, grays, and creams are considered understated and elegant.
Muted tones: instead of bright, bold shades, reach for toned-down hues such as burgundy, navy, olive green, and burnt orange.
Pastels: lighter hues such as dusty pink, duck egg blue, pale yellow, and lilac are a more professional way to incorporate color into your business casual look.
Subtle prints: you don't have to avoid prints altogether, just make sure they aren't too eccentric. Our tip: tweed and houndstooth prints are almost always on-trend and office appropriate.
For more on how to mix and match your capsule wardrobe classics, see our complete color matching style guide.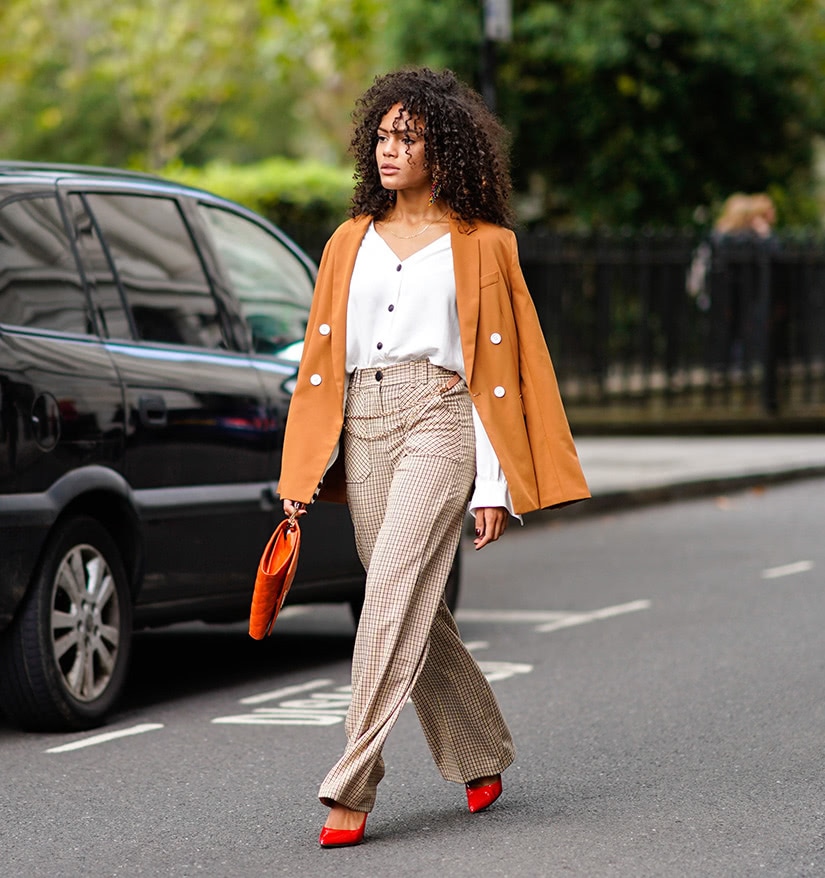 Where to buy business casual outfits and business casual brands women need to know
From eco-chic sustainable fabrics to designer work bags, here are the best women's online stores for business casual attire:
Cuyana
As the queen of capsule wardrobe classics, Cuyana is a one-stop shop we love for business casual outfits. With the belief that we all need "fewer, better, things," the conscious brand strives to offer good quality, versatile apparel that is both relaxed and refined. From tailored linen suits to everyday wide-leg pants to neutral ruffled sleeve dresses, Cuyana has plenty of options when it comes to business casual attire.
Is love at first wear a thing? It is now. Cuyana (meaning 'to love') urges us to love our curated closet now and forever. Read our dedicated Cuyana brand story to learn more.
LilySilk
Harnessing the natural elegance of organic silks and impossibly soft cashmeres, this brand is a masterclass in understated sophistication, making them our go-to for business casual attire. Dress up a striped silk shirt with belted white tailored trousers. Or make your black double-breasted blazer more relaxed with a beige cashmere turtleneck. Either way, LilySilk is interview-ready and boardroom-approved.
WHBM
Inspired by the contradiction of black and white, White House Black Market is a brand of perfect opposites. Subtle yet strong, it is sophisticated without dominating the space. Contemporary but timeless, it plays with the unwavering versatility of modern minimalism. And hard-working but easy-going, WHBM designs speak to a boss girl attitude that is also approachable.
Read our dedicated WHBM brand story to see how they embrace the facets of feminity.
Anine Bing
As an edgy professional woman herself, Anine Bing understands the nuances of power dressing in an office-appropriate manner. And so does the eponymous label. Designed to marry function with fashion, the Scandi-American brand plays with straight lines and clean colorways to create clothing that is suitable for everyday wear. Our tip: an Anine Bing oversized blazer paired with straight dark denims is a casual Friday classic.
Learn more about this Scandinavian-meets-Cali-cool brand in our dedicated Anine Bing story.
For greater variety, you can also shop many of our favorite business casual brands on reputable online retailers like Luisaviaroma, Net-a-Porter, and Farfetch.
Frequently asked questions about business casual attire for women
What is business casual attire?
Business casual attire is a dress code that is typically less formal than traditional business attire, but still maintains a professional and polished look. This is usually achieved by combining more formal components with more casual ones. A business casual dress code is often adopted in workplaces that require a more relaxed dress code, such as tech companies or creative industries.
What is the difference between business attire and business casual?
The main difference between business attire and business casual is the level of formality. Business attire is typically more formal and conservative, while business casual allows for more relaxed and comfortable clothing options. An example of male business casual is chinos and a dress shirt. And an example of female business casual is a loose-fitting knee-length dress and closed shoes.
Are jeans OK for business casual?
Jeans can be ok for business casual. In modern work environments, jeans are more commonly accepted as part of the business casual dress code. Straight-cut jeans in darker monotone hues are often deemed business casual appropriate. While jeans that are ripped, distressed or faded should always be avoided when it comes to a business casual dress code.
What is the difference between business casual and casual?
The main difference between business casual and casual attire is the level of informality. Both dress codes allow for a level of comfort, but business casual or dressy casual also requires a level of formality, while a casual dress code doesn't. For example, sneakers, sweats and tees would all be considered casual attire, not business casual attire.