Appearances do matter. From the job interview to the corner office to networking events, the business casual dress code is a great way to dress for success. 
Now, we know that striking the right balance of professional and casual styles can be tricky territory — With no black and white rules to be adhered to, business casual is one of the most confusing, mixed-signal dress codes out there.
Trying to decipher what constitutes business casual for women can be overwhelming in modern work environments. A business casual dress code can indeed vary depending on which part of the world you live in, the industry and company you work for, your profession, your career level, and even the season. 
Where one company embraces the business casual dress code with a more laid-back norm (t-shirts and jeans allowed), another would veer more towards the more formal look, expecting nothing less than a dressy blazer and shiny shoes.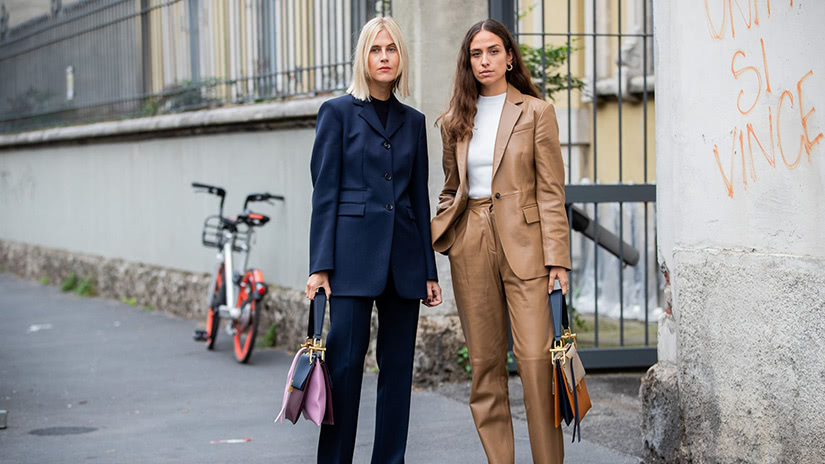 Either way, your women's business casual outfits should always be clean, pressed, and well-fitted (more on sartorial do's and don'ts below).
Still, you've likely found yourself at one point or another wondering what you should wear to work today.
Fret not. If you read this style guide, you'll have a clearer understanding of what business casual actually means and get specific examples of stylish nine-to-five looks. There is something to suit every sartorial taste.
So if you are ready to master the business casual look and make your Monday to Friday mornings a breeze, read on.
What is Business Casual for women?
Put simply: Business casual is a semi-formal professional dress code that is typically found in modern office settings. Although the term can vary between companies and cultures, business casual traditionally denotes a polished, office-appropriate look that appears smart but is still somewhat comfortable and relaxed rather than overly formal.
Not too business; neither too casual, business casual is a delicate balancing act. The easiest way to think of the business casual dress code is a hybrid of business professional and casual wear.
Note that business casual is different from smart casual. While business casual traditionally includes classic business staples, smart casual usually combines a professional attire with trendy clothing pieces.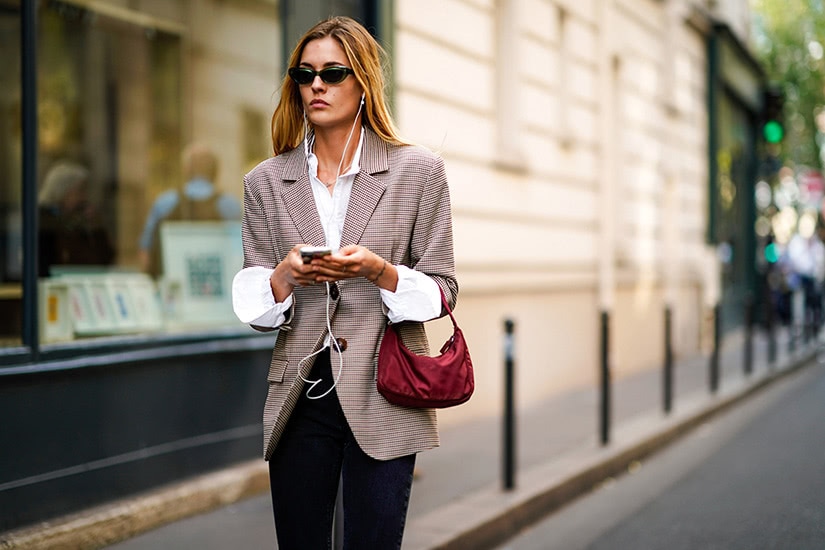 Women business casual examples
Wearing a full-on suit is overly formal. For business casual, it is more like the outfits you would wear when meeting your best client for lunch.
When planning the perfect business casual wardrobe, think professional wardrobe, but deconstructed. In other words, try mixing tailored and traditional business staples such as dress pants, khakis, blouses, and tailored blazers with more relaxed and fashion-forward pieces. The business casual look should always make you feel stylish and confident but should not raise any eyebrows at your next meeting.
Just like the name implies, remember that business casual is about business first and casual second. So be sure to check your employee's handbook for more clarity on your company's dress code before going on a shopping spree.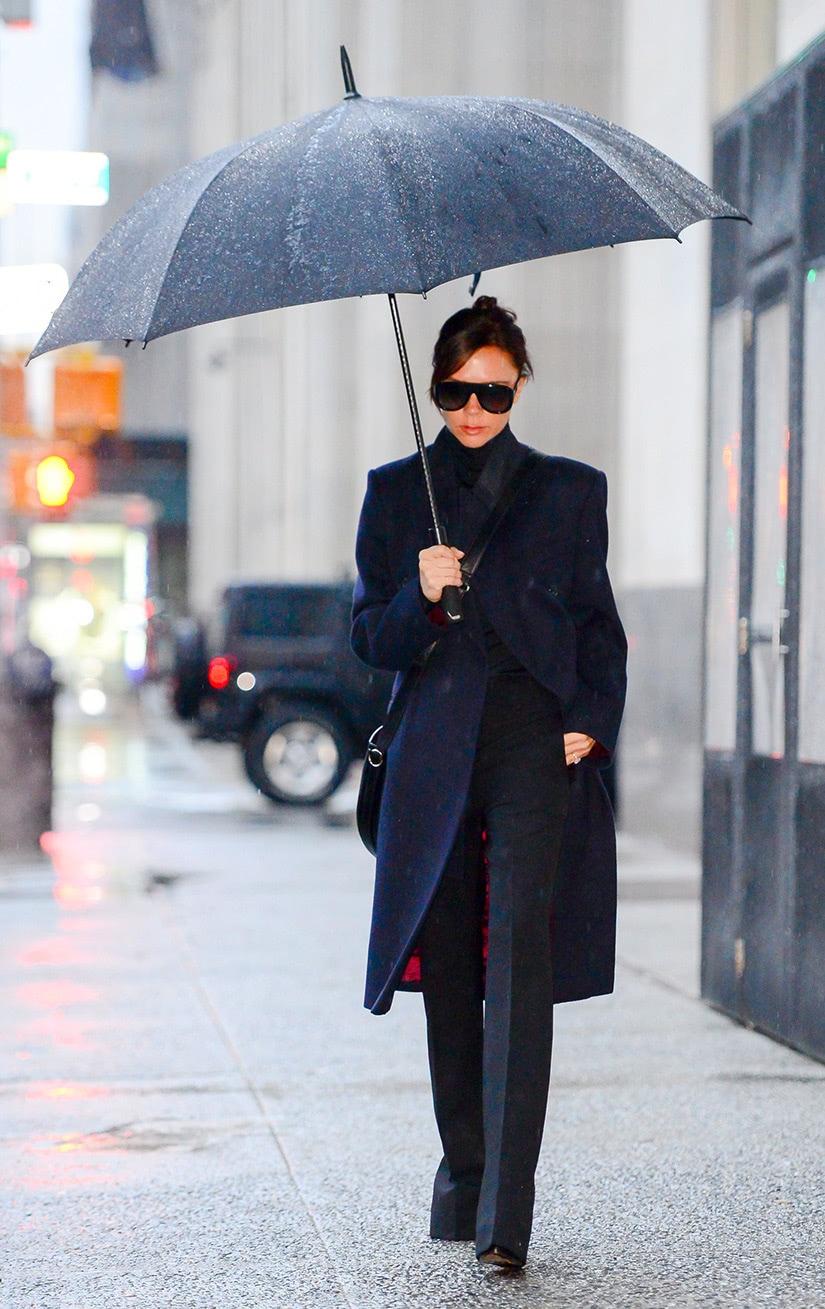 Business casual women attire basics
Depending on the season, business casual options for women usually vary quite a bit.
Winter business casual women's outfits
For fall and winter business casual attire, be sure to opt for thicker fabrics and warm styles, such as long sleeves and knitted sweaters, boots and sock booties. Business casual for the cold weather also calls for layering.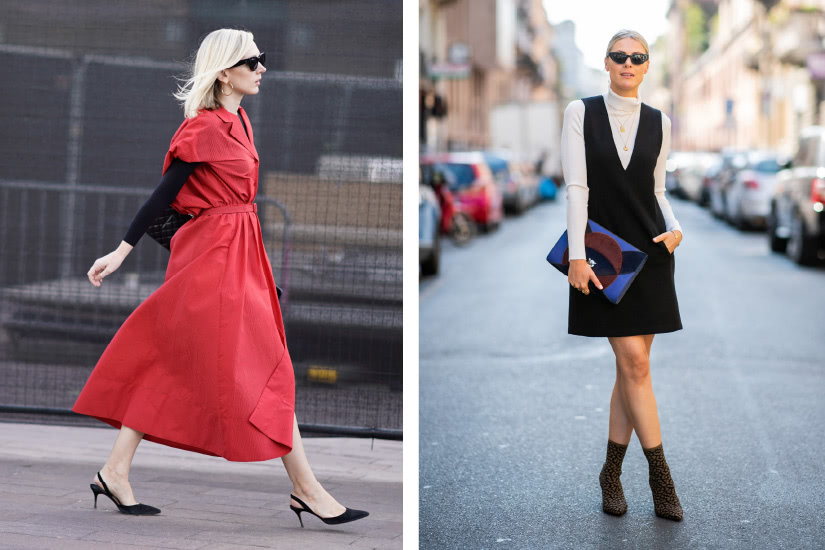 A (cashmere) turtleneck is the ultimate, versatile starting point of your 9-to-5 winter business casual look, working with everything from pants to midi skirts and beyond.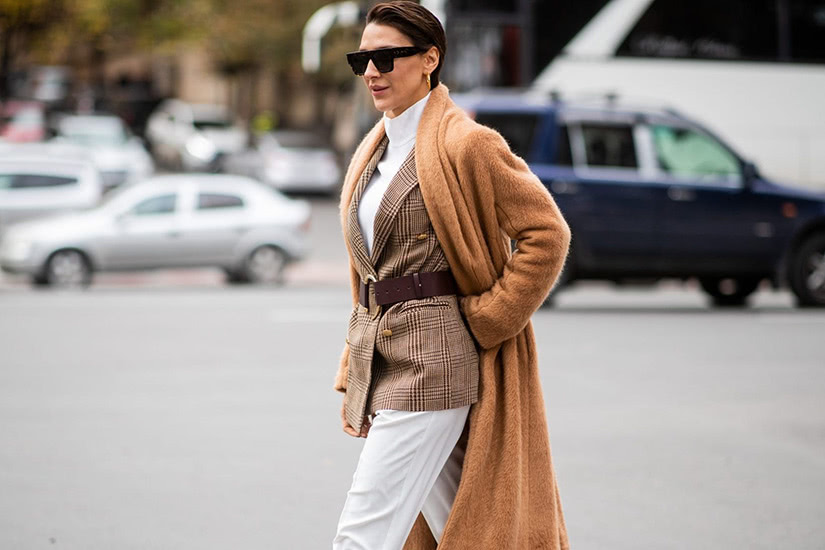 Pro style tip: Belt a jacket to accentuate your waist and avoid bulky-looking layers.
Cropped tweed pants and a long coat are also must-haves in your effortlessly chic winter business casual capsule wardrobe.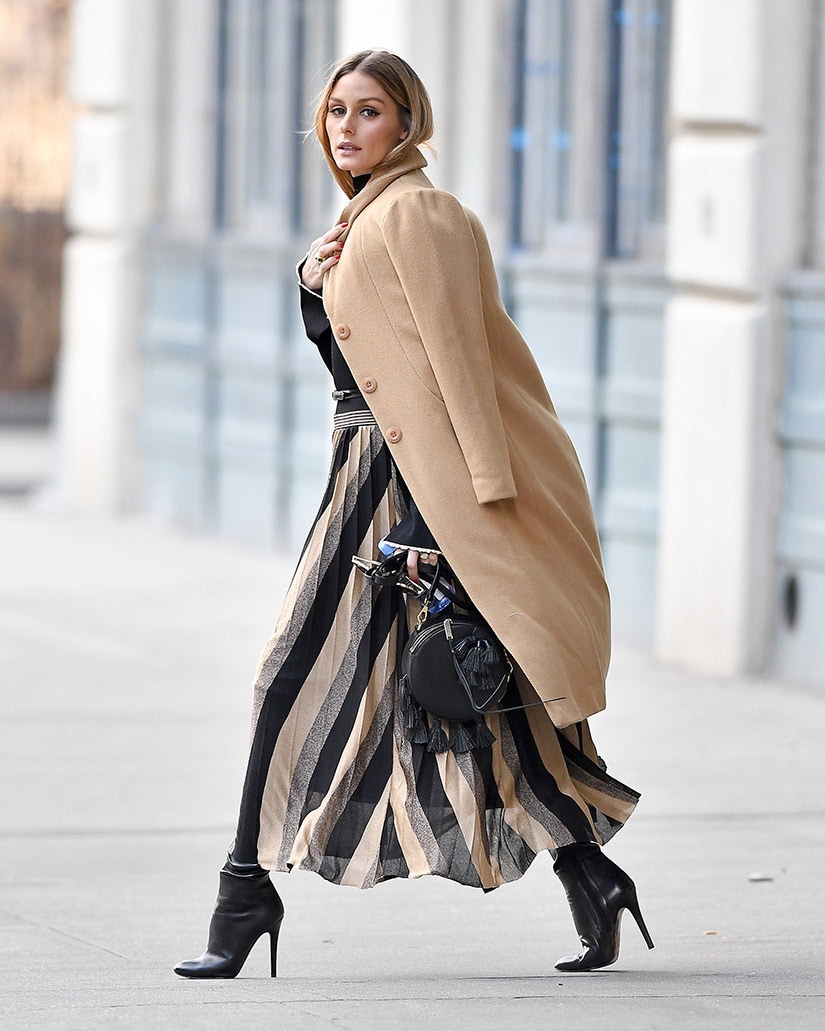 For a trendy touch, also invest in a leather midi skirt and a pair of white trousers.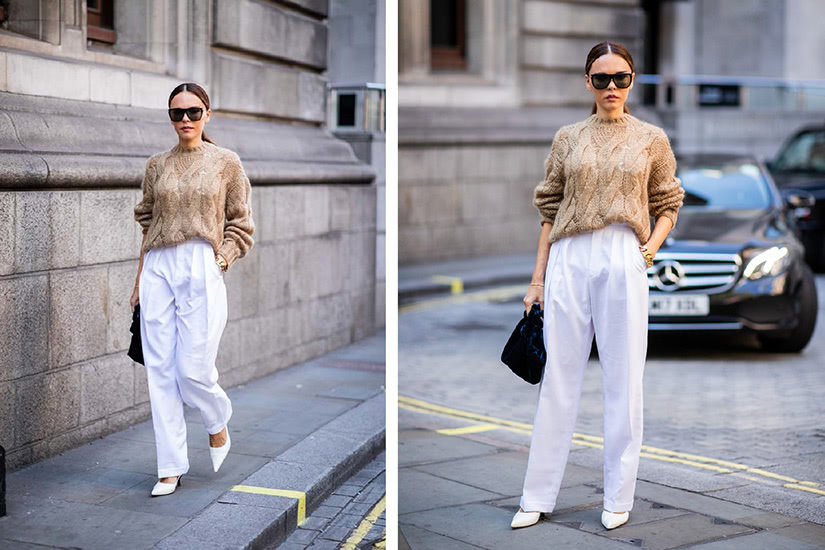 A winter closet staple, tights are one of the easiest ways to transition your favourite dresses and skirts into the colder months without losing any sense of style. Make sure to stock on some timeless, versatile black tights in sheer opaque or super opaque. For a bolder look, add colored and printed versions (which are back on the radar as a fashion statement) to your winter closet.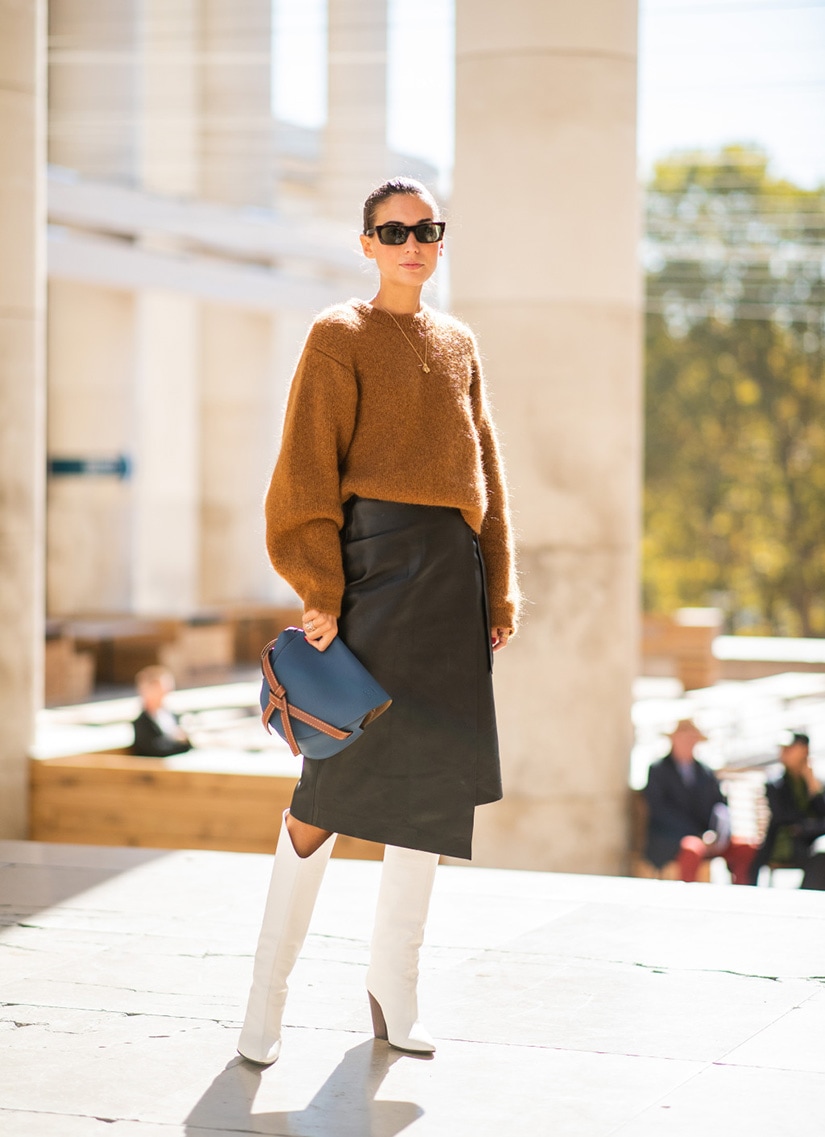 Pro styling tips: Mix the fabrics and textures to make any winter look stand out.
Summer business casual women's outfits
The warmer months usually introduce a refreshing colour palette and lightweight, breathable fabrics (such as cotton, linen, and silk) into your wardrobe. 
During summer, the challenge when choosing business casual outfits is to find just the right balance between work-and weather-appropriate.
Although dresses and skirts are fabulous for keeping your legs fresh, avoid body-hugging, overly tight styles when temperatures rise.
Business casual women outfits: these are precisely what you need to look effortlessly polished at work
The first order of business every morning is deciding what to wear to work.
Business casual is a very versatile dress code. An excellent assortment of basics is the foundation of your business casual wardrobe. 
To help you get your workwear wardrobe on track, we've compiled here all the business casual essentials your nine-to-five style needs, according to fashion experts. 
Mix and match the more dressed up pieces to look more put together, or add more casual pieces for a more laid-back vibe.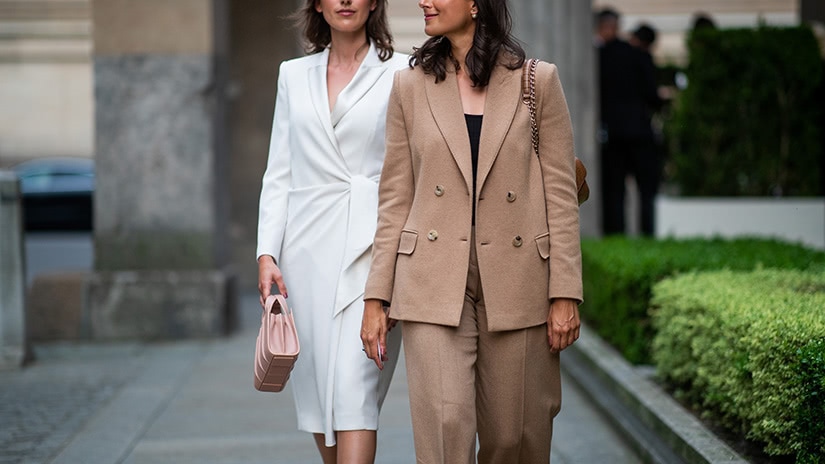 Business casual shoes
Put your best foot forward with stylish business casual shoes that will effortlessly take you from the workplace to happy hour.
There are a ton of fantastic business casual footwear options to achieve a business casual look. From flats that don't fall short in the style department (like loafers, brogues, and ballet shoes) to heels that mean business (such as comfortable kitten and block styles and boots). 
If you had only to buy yourself one pair of office-appropriate shoes, make it a chic pair of leather pointy-toed pair of heels in black or nude. These classic women's business casual shoes can literally be worn with anything and everything in your work wardrobe. And luckily, you can still pull off a killer look with pumps in modest height (sorry, stilettos).
If you're comfortable ditching heels to work, opt for a pair of comfortable flats like a pointed-toe d'Orsay or menswear-inspired Oxfords, Brogues and loafers. These flats are just some of our favourite go-to shoes for walking around the office all day or for commuters running from the subway to the office and back home again.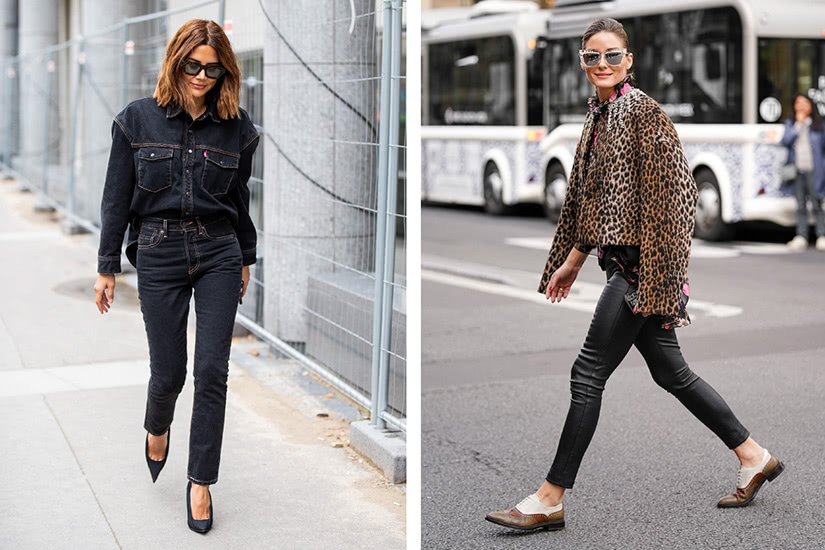 Cushy booties or knee-high boots without over-embellishment are business casual staples during colder months. Keep buckles and studs to a minimum for a more timeless look. Pick your boots in leather (or vegan alternative) or suede in a neutral colour that will go with anything.
Remember: Between commutes, meetings, and after-work events, what you really need is a pair of shoes that are not only stylish but equally comfortable.
Business casual women jeans
Once a big no-no in the office, denim jeans at the office are becoming more and more common as workplaces are increasingly adopting more relaxed dress codes. 
Super versatile, seasonless, and comfortable while still looking put together, denim jeans are in vogue.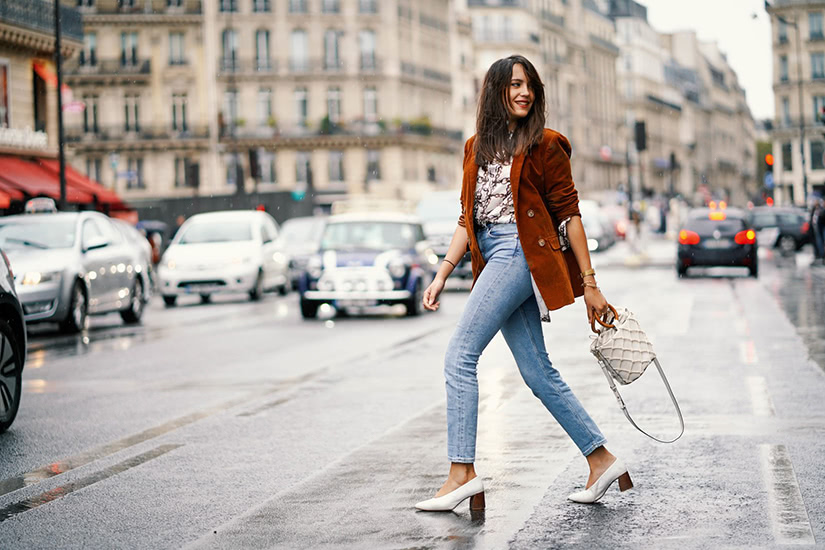 So know that yes, you can wear work-appropriate jeans as business casual attire—as long as they are well-tailored and your ensembles remain polished. Dressing up your denim (with, say, a pair of heels or a blazer) is de rigueur.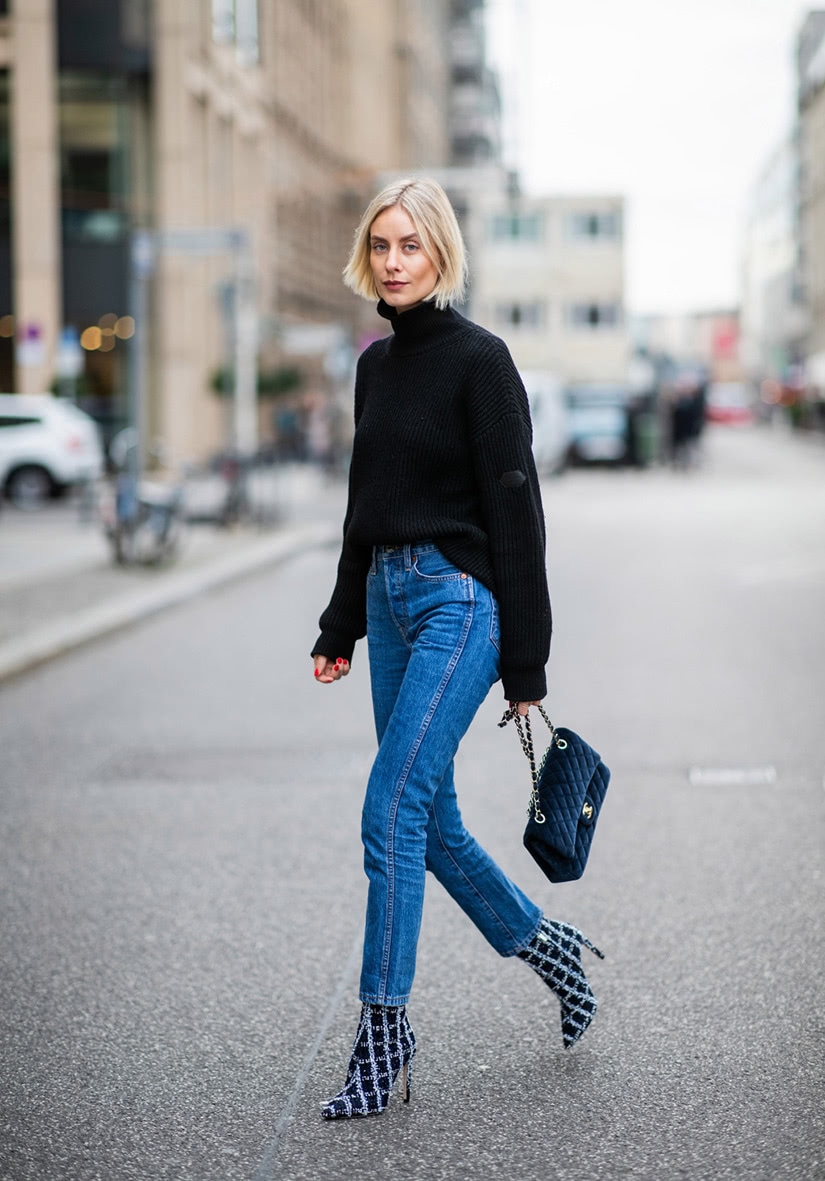 Style tip: Opt for a pair of timeless skinny or boot cut jeans. As a general rule, go for jeans that have a darker wash with little to no distressing for a more polished look. Also, denim with a bit of stretch tends to be more comfortable for sitting for long periods.
Business casual women shirts
A chic button-down white shirt in classic cotton style or more feminine silk is a business casual staple.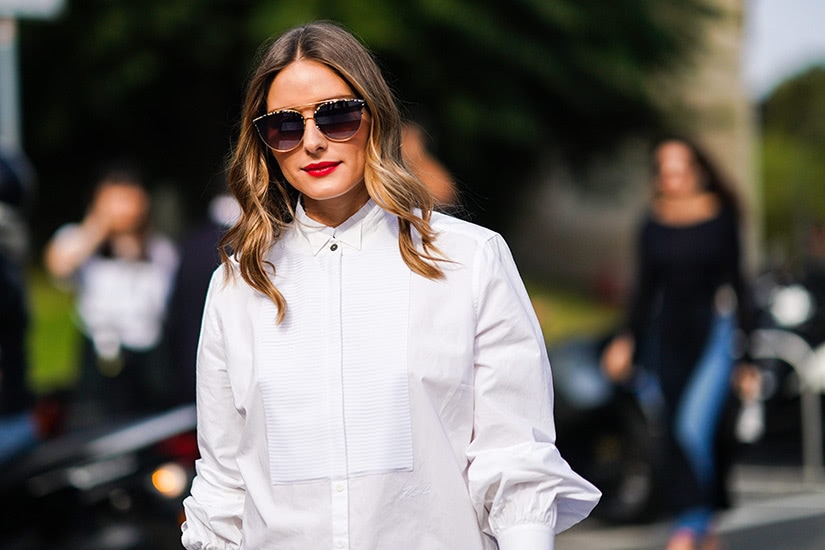 For a slightly more trendy business casual vibe, go for a button-down with a little bit of feminine flair, like ruffles, or a studded collar.
Business casual blouses and tops
Shirts aren't the only business casual tops of choice. The beautiful thing about the business casual dress code is that it allows for a bit more fun with your work everyday wardrobe than some other, more formal corporate dress codes.
You can branch outside of primary neutral colours for your tops. Experiment with stylish blouses in a variety of sleeve lengths in pops of pastels, jewel tones, plaids, muted florals, and subtle prints. Don't get too trendy with over-the-top patterns, though, and avoid anything too revealing or sheer.
To master the delicate balancing act of business casual, pair your trendy blouses and tops with classic trousers or skirts.
Business casual dresses
Business casual dresses are an office staple for both summer and winter days.
Beyond structured, business-suit-like dresses, business casual dresses come in many other polished forms that are ideal for the office. From shift dresses to mock turtleneck dresses, wrap dresses, silk dresses, and midi dresses, business casual dresses are super versatile, figure-flattering, and easy to wear and layer. Just ensure that they are in an appropriate length and fit for the office.
Business casual skirts
Both stylish and versatile, pencil or A-line skirts with appropriate length are another undeniable business casual wardrobe staple.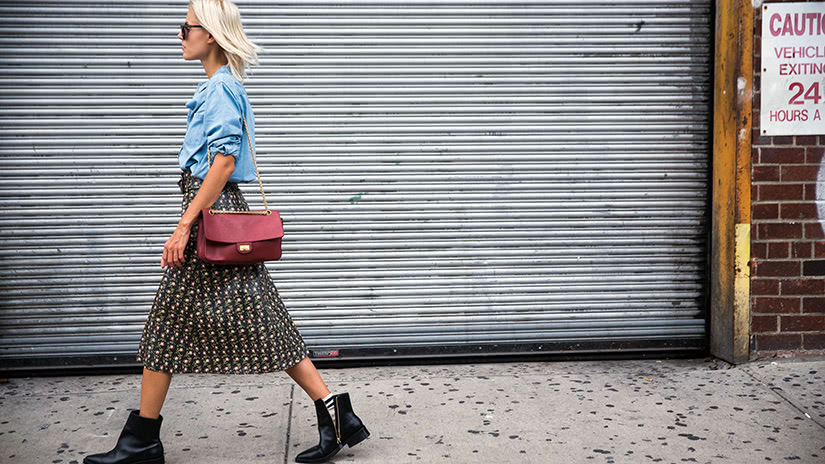 These classic skirts are easily paired with a rotating cast of dressy blouses or button-down shirts.
Business casual women pants
Mid- or high-rise, wide-leg, straight or slim, business casual pants are the first option for most women in the workplace. 
A pair of elegant black trousers is a timeless essential. Pick office pants with a little stretch for maximum comfort when sitting down.
Pro tip: Show off your favourite shoes with cropped pants for a modern yet pulled together business casual look.
Business casual sweaters
Perfect for the colder months and to keep you warm in an air-conditioned office, basic sweaters are an excellent addition to your year-round business casual wardrobe. 
Wear them tucked into your skirt or smart pants, with jeans and heels or layer them over shirts and dresses.
Pick up sweaters in a range of basic neutrals, but don't be afraid to also play with fashion colours and patterns.
Business casual jackets and blazers
The right blazer or jacket has the power to elevate any business casual outfit instantly.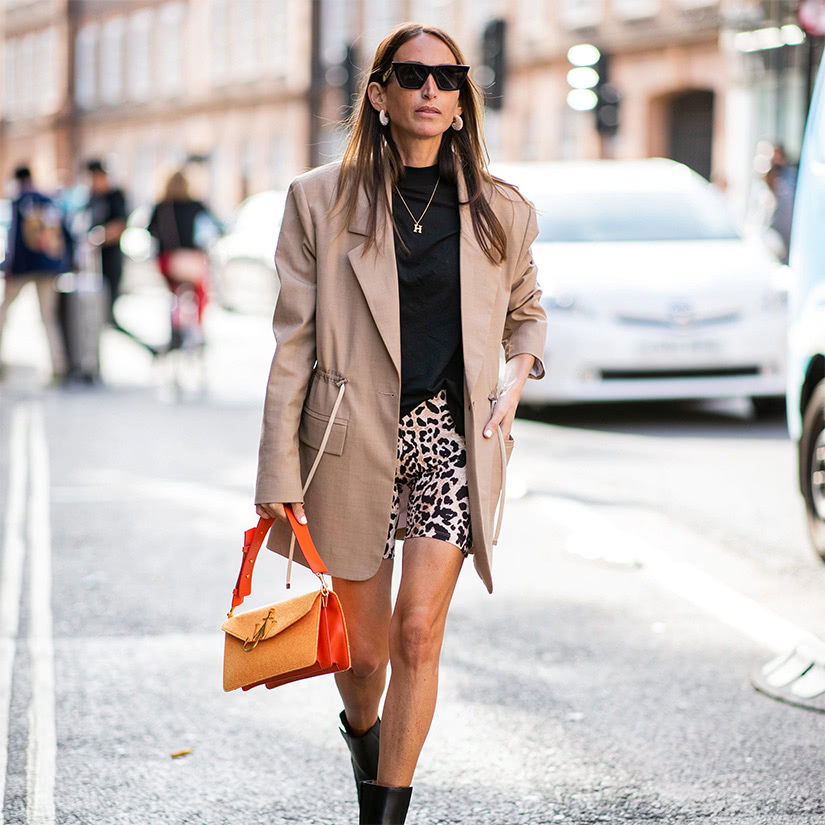 Pro styling tip: You can cuff your blazer sleeves to soften the look.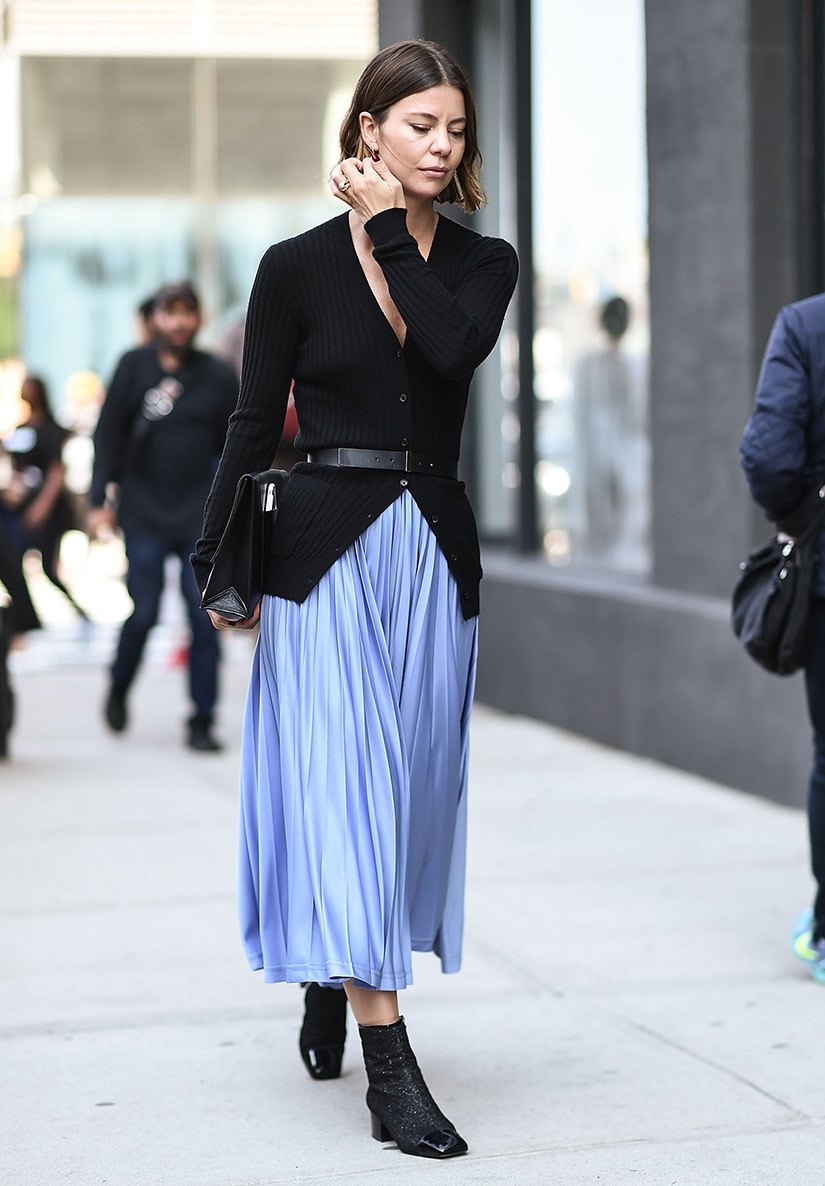 Business casual women cardigans
You can never have too many cardigans. A staple in business casual attire, your basic cardigan will pull together any outfit while keeping you warm.
Business casual women accessories
The finishing touches to your business casual outfit: accessories.
Jewelry, watches, belts, and scarves can instantly change your overall office look.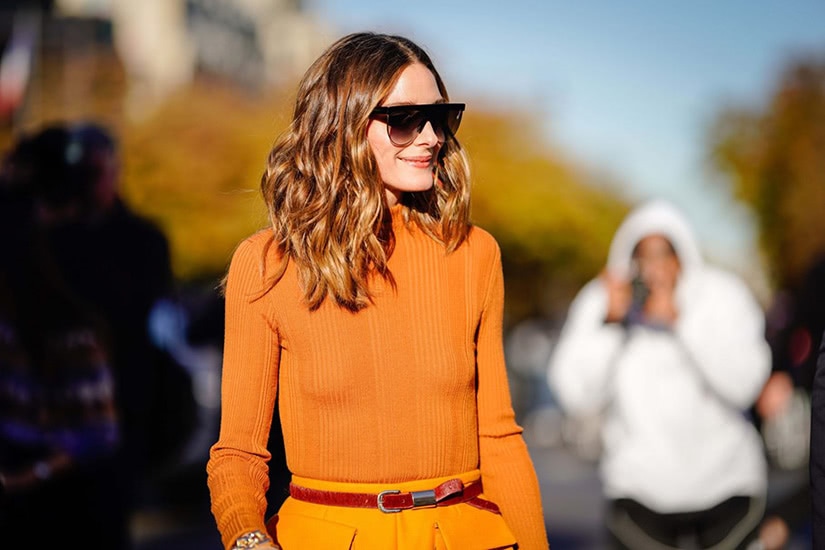 To accessorize a simple office outfit, think about adding a silk scarf in a subtle print or trendy pop of colour.
Business casual women bags
Stylish and functional, with plenty of space and pockets, a polished leather (or faux leather!) tote bag is perfect for carrying all your work essentials.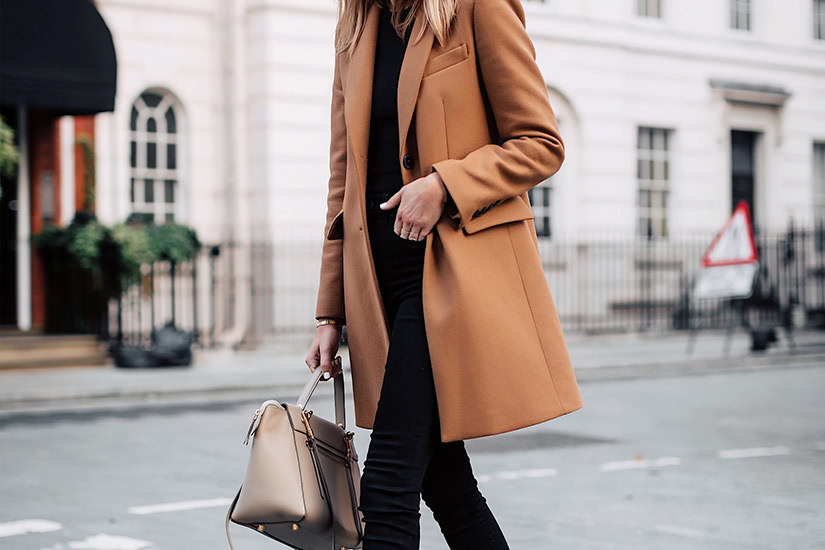 For maximum mix and match potential, go for a neutral colour.
Business casual for plus size women
There are plenty of beautiful business casual outfits for women with full hips and thighs.
If you're curvy, look for structured fabrics and dark shades that downplay curves and select pieces with a flattering fit for your shape.
For pants, consider opting for mid-rise styles with straight or wide legs.
Style tips: Business casual for women do's and don'ts
We've compiled the do's and don'ts of choosing the right business casual dress code outfit.

It is worth investing in quality business casual basics that can be worn year-round and complement them with more affordable, on-trend seasonal pieces.
All business casual garments should be clean, pressed, and wrinkle-free.
Generally speaking, business casual for women should never be revealing. 

The length of a skirt or dress should not be too short – it should appropriately cover you so you can comfortably get up and down out of chairs and walk up the stairs or on an escalator.
Necklines of blouses and dresses should not be too revealing either. Avoid plunging V-necks — they should not show too much cleavage.
Avoid anything ill-fitting, overly tight, low-rise, too flowing, or sheer. 
Make sure that bra straps aren't visible. 
Avoid spaghetti straps, sleeveless shirts, and tank tops; always cover bare shoulders with a blazer.

Avoid jewelry pieces that are too distracting. 
Yoga and athletic clothing, workout wear and beachwear are a big no-no in the office. 
When it comes to your colour palette, stick to neutral-coloured business casual essential pieces — black, grey, navy, cream, and white are always a safe bet. You can then accent your muted neutral office outfits with pops of colour or printed pieces. 
Don't go overboard with print mixing or risk a fashion faux pas. Remember: If you want to wear a bold trendy piece such as floral or leopard print, balance it with minimalistic business casual items, like a crisp white blouse. 
Avoid clothing with political or potentially offensive words or graphics. 
Keep your makeup natural and low-key. 
Observe how your colleagues are dressed to see what's considered appropriate or check with HR to determine the degree of business casual dress code. 
In doubt, It's always wiser to opt for the more formal version of business casual, even more so during job interviews. 
Your office outfit should always be formal enough that you can comfortably attend an unexpected professional meeting.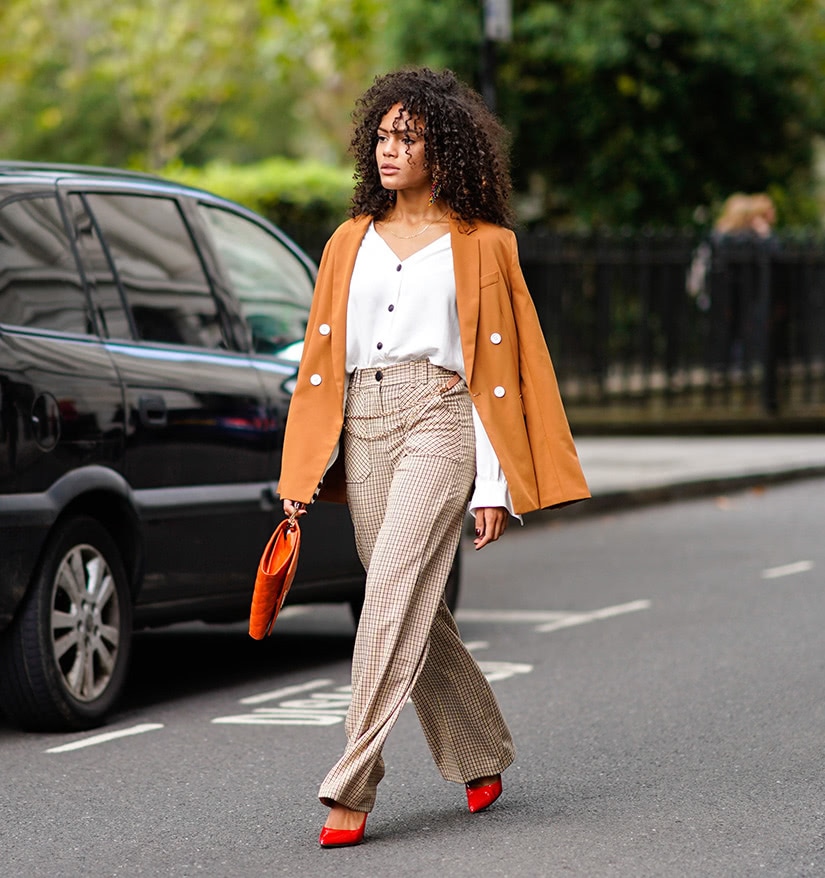 Business casual for women dress code: Frequently asked questions