Curious to know what the birthstone for your month is? Find the perfect gemstone for your birth month with our illustrated chart guide. You'll learn about birthstones by month, their meanings, and their origins.
As the name infers, there are distinct birthstones for each month. These symbolic gems can be associated with a person according to their birthday. But, like most things these days, nothing's set in stone when it comes to choosing the stone that speaks to you.
Some play by the rules. While others opt for a more flexible approach. 
At the end of the day, the choice is yours. And this article will leave no stone unturned in giving you the information to make it so. 
OK, that's enough with the puns. Let's get the stone rolling.
What are the birthstones by month?
The birthstones by month are garnet for January, amethyst for February, aquamarine for March, diamond for April, emerald for May, alexandrite for June, ruby for July, peridot for August, sapphire for September, tourmaline for October, topaz for November, and tanzanite for December.
As you'll see below, the exact list of birthstones by month changed a little bit over time. As a result, some months nowadays have two or three different stones assigned to them.
Monthly birthstones are a way to connect your birth month with a significant stone. Each stone has a distinctive symbolic significance and is said to offer unique protection.
While today many people don't necessarily attribute special powers to the stones—we love that they embody positivity and prosperity. And for countless reasons, they're a meaningful gift for significant milestones (it's time to start hinting). 
Birthstones table
Here's a helpful table illustrating all the birthstones by month to help you find yours more easily.
You'll find below the list of birthstones by month, a short story explaining the origin of birthstones if you want to learn more.
Birthstones by month
These enchanting gems could melt a heart of stone with their significant charms…
January Birthstone: Garnet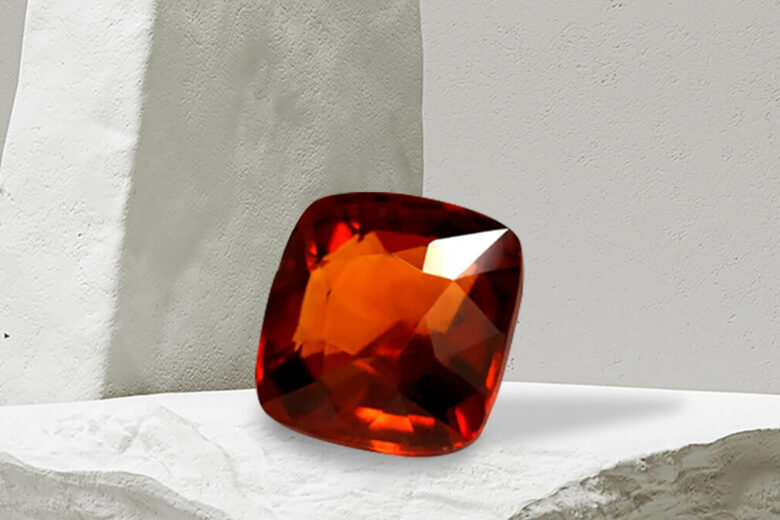 Looking to add passion and happiness to your life? This fiercely romantic rock should do the trick. Originating from the Latin word for pomegranate, the name "garnet" perfectly describes the deep red hue as it radiates a devoted intensity. 
The symbolic stone dates back to Ancient Egypt and Rome, as pharaohs and clergymen were known to adorn themselves with these fervent gems.
Today, the diverse stone comes in a range of inconceivable colorways—from yellow to purple to vibrant green. Garnet is associated with protection, particularly when traveling. And while it carries a deeper meaning, the vibrant hue is the perfect way to spruce up your accessories.
February Birthstone: Amethyst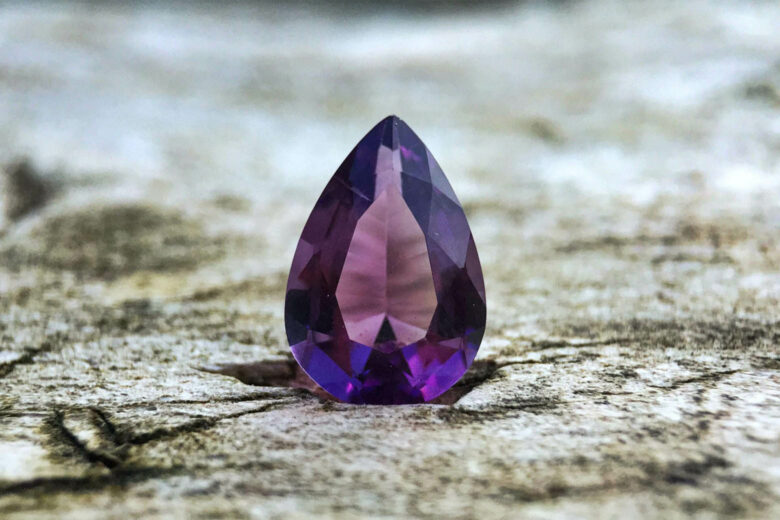 Ever considered buying jewelry to be a business decision? This quartz is associated with intuition in the workplace. And whether you believe it or not—this is your excuse to splash out.
The name Amethyst derives from the Greek term for a "remedy from drunkenness," which ties into the idea of clear-headed and sober-minded decision-making. The rich, purple hue exudes an air of royalty. It speaks to a sense of empowerment and inner strength. And while once only worn by the wealthy, the sumptuous stone has graced the rest of us with a more affordable accessibility. 
March Birthstone: Aquamarine or Bloodstone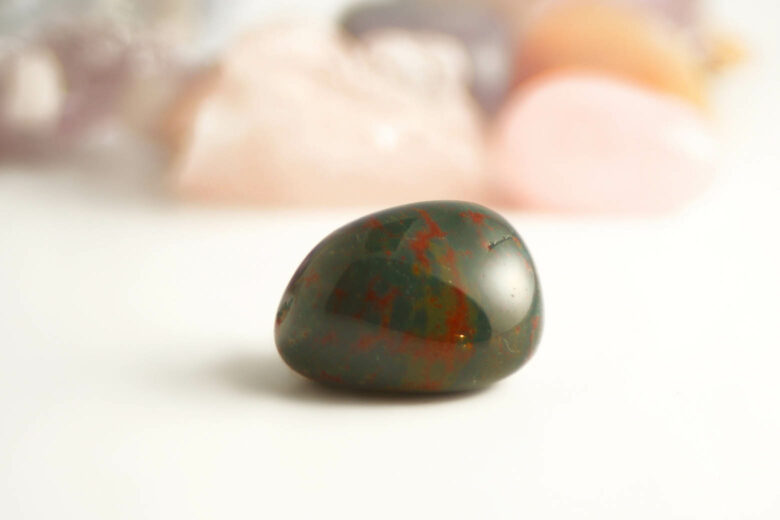 Although different in appearance, aquamarine and bloodstone share the reputation of protecting your prosperity. While the clear blue hue in the aquamarine speaks to clarity and communication. The bold, dark green bloodstone confers confidence and courage onto its wearer. 
The aquamarine is named after the Latin term for seawater. It was worn to keep sailors safe at sea as it was said to calm the waves.
On the other hand, the bloodstone's alternate name heliotrope derives from the Greek term for "to turn the sun." This red-bespeckled was said to have the strength to turn the sun red when placed in water.
Either way, if you're looking for calm security or courageous protection—these beautiful blues have got you covered. 
April Birthstone: Diamond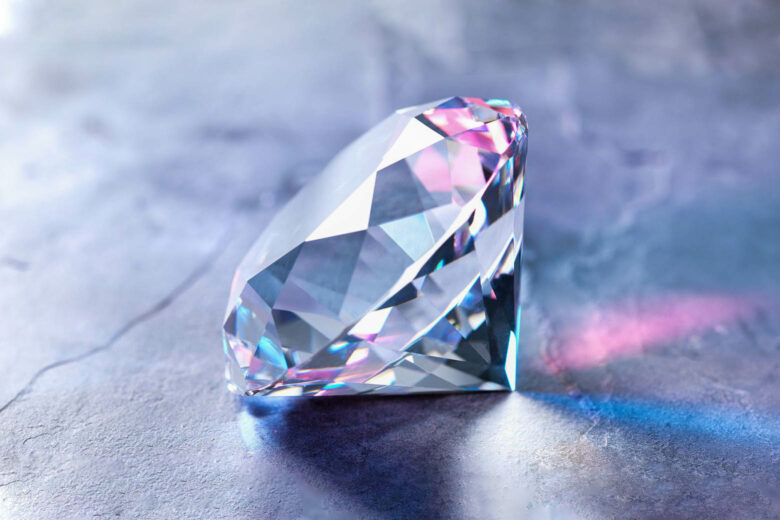 Adored by all for their scintillating performance—it's no surprise that the popular engagement rock is a symbol of longevity. Diamonds are timeless classic oozes strength and sophistication. And can be customized in a variety of cuts and colors.
Named after the Greek term adamas, meaning unbreakable—the stable stone stands testament to matrimonial vows. And while it's best known for its self-efficient sparkle, the native mineral also embodies self-empowerment and an invincible tenacity.
So what we're saying is that there's really no reason for you to wait around for a significant other to put a diamond on your finger, especially if you're born in April.
Need some inspiration? Check our ranking of the most expensive diamonds in the world and the most expensive engagement rings ever bought. And when you're ready, check our selection of the best jewelry brands.
May Birthstone: Emerald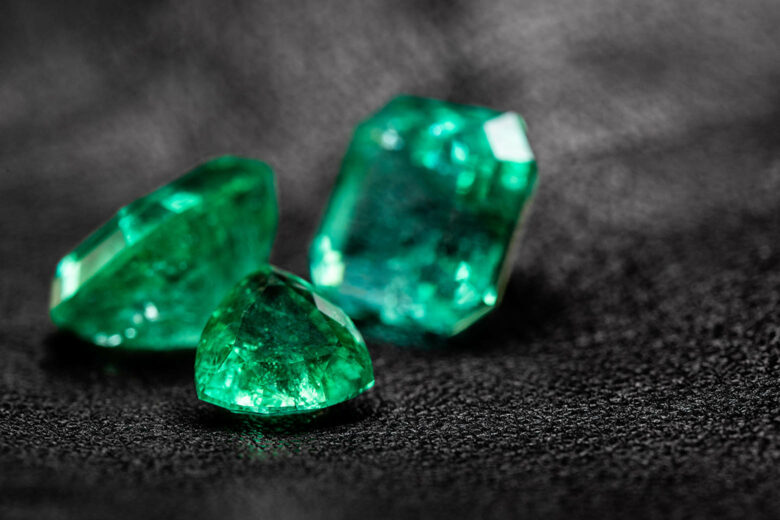 Shades of green celebrate revival and rejuvenation in this tantalizing gem. This birthstone flawlessly captures the exuberance of Spring. And while Emerald whispers tones of love and kindness, the selfless symbolization encourages growth and maturation.
Named after the Greek term for green (no surprises there), our color-enthusiasts are likely to have a field day with the enchanting hue. And we can see why Cleopatra was so enamored by the stone during her rule. 
We all love a fresh start. And what better way to do it than with an exquisite accessory to bring new energy to our day to day? Check our round-up of the best necklaces, earrings, and bracelets if you want to wear your new stone in style.
June Birthstone: Pearl, Moonstone or Alexandrite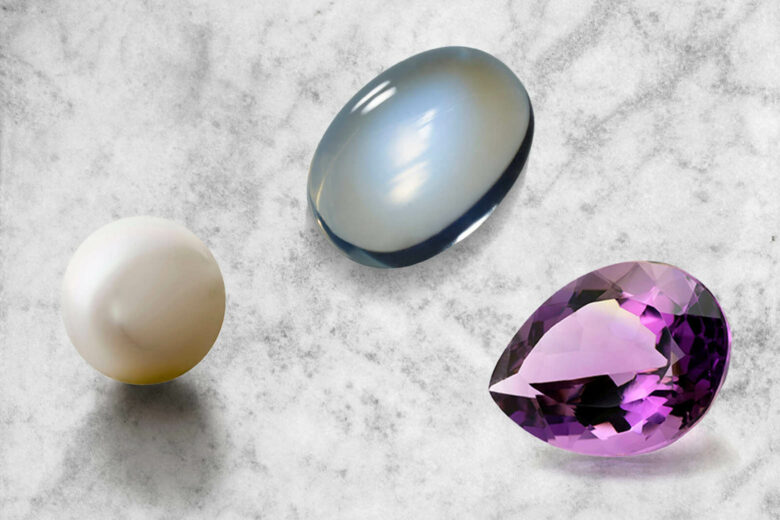 June babies are spoilt for choice, with three birthstones to call their own. While each stone is completely different in color and appearance, they all exude a certain feminine finesse. 
Associated with purity and humility, the timeless pearl speaks to a sweet simplicity. And they were traditionally given as a wedding gifts.
Moonstones, on the other hand, are renowned for their special glow. And they symbolize fertility and femininity.
And alexandrites are versatile stones that change color according to the light they're in. While daylight brings out a bluish-green hue, they are quick to turn a purplish-red in dim, incandescent lighting.  
July Birthstone: Ruby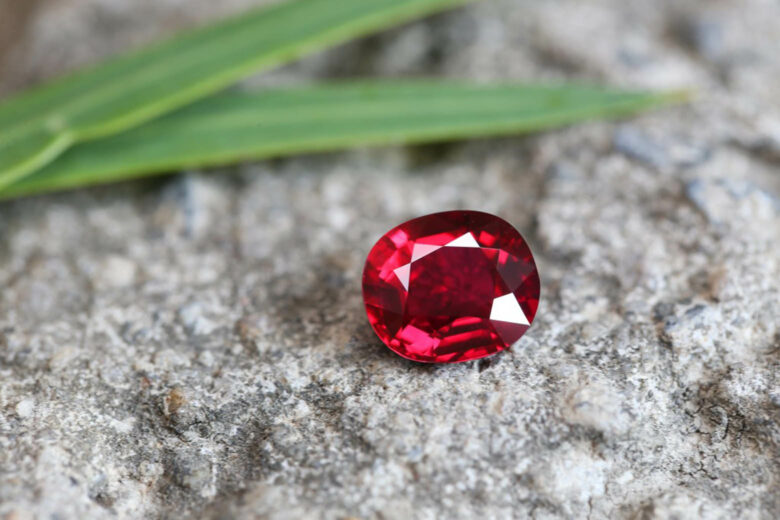 Derived from the Latin word for red—we all know the deep ruby hue that timelessly transcends trends. But this stone is believed to do more than capture hearts with its flaming colorway.
Known as the 'king of precious stones' in Ancient India—the mystifying jewel was renowned for its rare beauty. And associated with blood as a life source, the ruby has become a symbol of youth and vitality over the years. Some even think that it can predict danger and cure disease. Either way, we're pretty sure that the youthful stone will inject new vitality into your life with its alluring charm.
August Birthstone: Peridot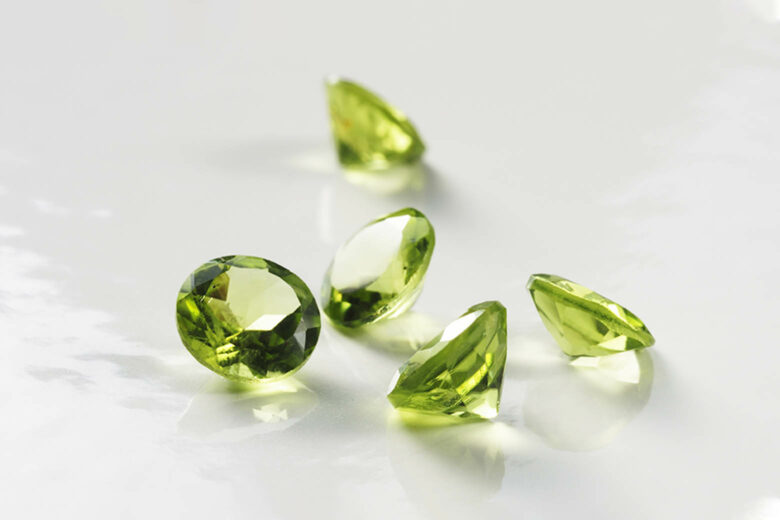 Light and protection are embodied in the vibrant green glow of this birthstone. The Peridot's electrifying hue is enough to make us all wish we were born in August. Thankfully, a contemporary attitude gives us the freedom to decide. And we're all for it.
Not only is it alluring in appearance, but this gem also comes rich with mythological meaning. While the name peridot is derived from the Greek term for giving plenty—Hawaiian folklore believes that they are the tears of the volcano goddess, Pele.
September Birthstone: Sapphire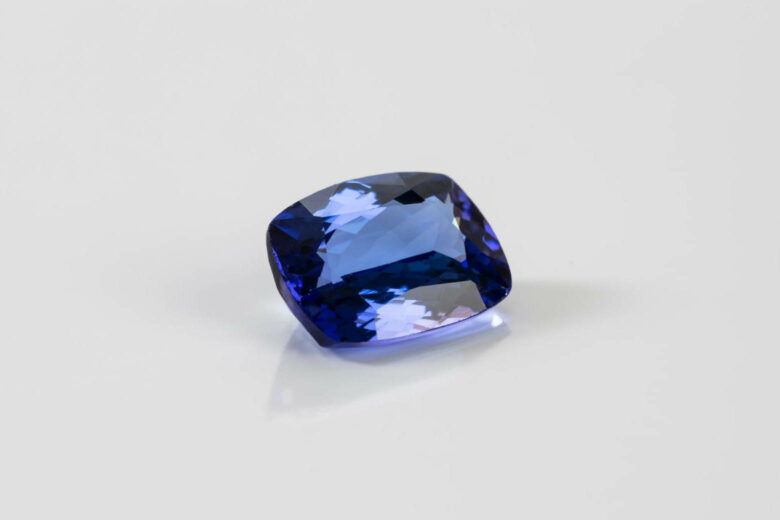 The sapphire has become a symbol of self-expression and sincerity. And we wouldn't mind voicing our individuality with this royal blue gem. 
This stone is associated with integrity and focusing the mind. It has been worn by nobility over centuries. And the iconic sapphire ring adorned by Princess Diana and Kate Middleton is probably the most famous example of its noble reputation to this day. The standout stone was also flaunted by clergymen in the Middle Ages to symbolize Heaven. And we can see why.
October Birthstone: Opal or Tourmaline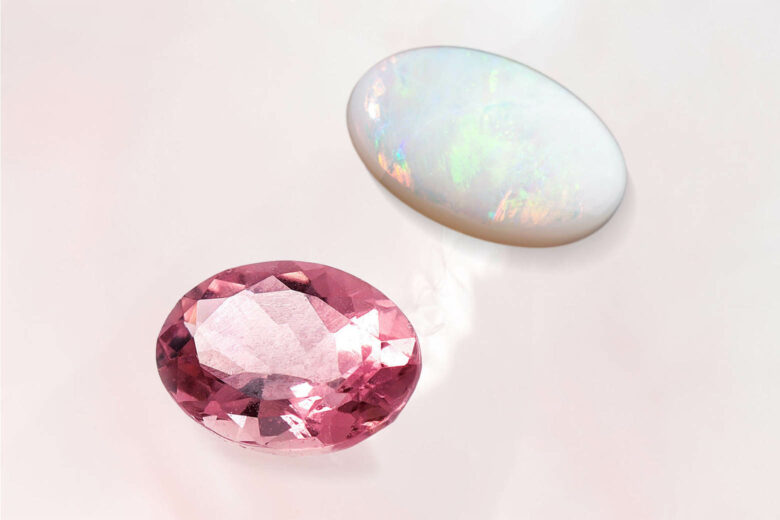 While opal is associated with truth, tourmaline is the creative gem. But both of these October birthday stones exude playful energy through intriguing color combinations.
Opal is best described as birthed from rainbows and fireworks. The multicolored stone reflects radiant hues to create dramatic effect when held up to light. Centuries ago, it was believed that this stone held the same power as every colored stone combined.
Tourmaline, on the other hand, plays with color in a different way. Its name translates to stone of mixed colors. And the unique gem comes in a variety of vibrant colorways—each said to have its own healing power.
November Birthstone: Topaz or Citrine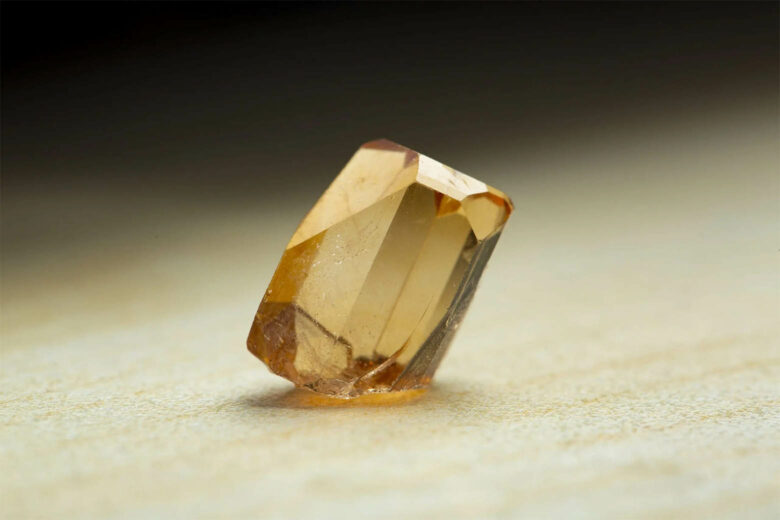 While topaz is renowned for transferring intelligence and citrine for abundance—both of these November birthstones' meanings and colors exude calming properties with yellow hues.
Topaz is the more common birthstone. And for centuries, people in India have worn the fiery stone to ensure prosperity, beauty, and brainpower. 
Its less common counterpart, citrine, is named after the French word for lemon. The luminous stone is often referred to as the merchant's stone and is believed to bring wealth to its wearer.
Both stones are relatively abundant and can be acquired for affordable prices. So there's really nothing to hold you back from soaking up their special properties and dazzling aesthetics.
December Birthstone: Tanzanite, Zircon, or Turquoise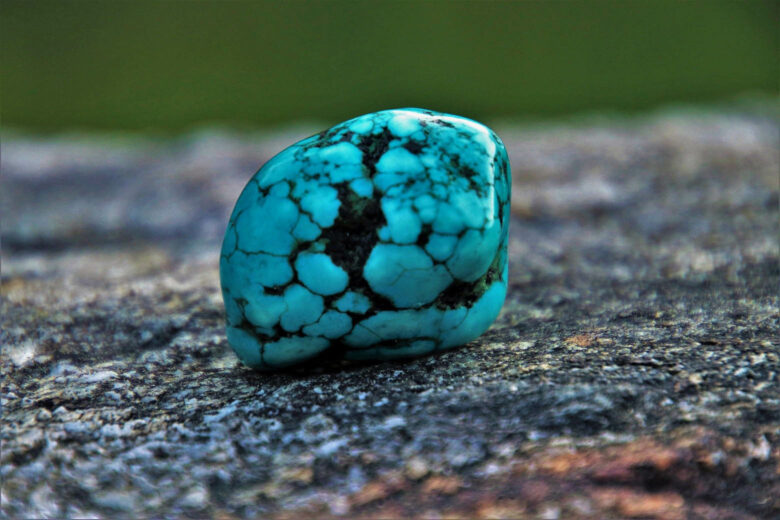 All three of these December birthstones have their own interpretation of the color blue.
The most popular of the three stones is probably the Tanzanite. After it was discovered by Masaai herders in Tanzania, Tiffany & Co realized the sensational stone's international appeal and launched a major campaign to promote it. Tanzanite is a dark purplish blue and is associated with spiritual awakening.
Zircon's color palette goes from brown to blue. The gemstone is believed to bring wisdom.
And Turquoise is an intense greenish blue known to relegate good fortune. 
Whether you decide to treat yourself to Tanzanite, Zircon, or Turquoise—the breathtaking blues never disappoint. 
Birthstones by month summary
Here's the list of each birthstone by month to give you a quick summary:
And here's a visual birthstone chart: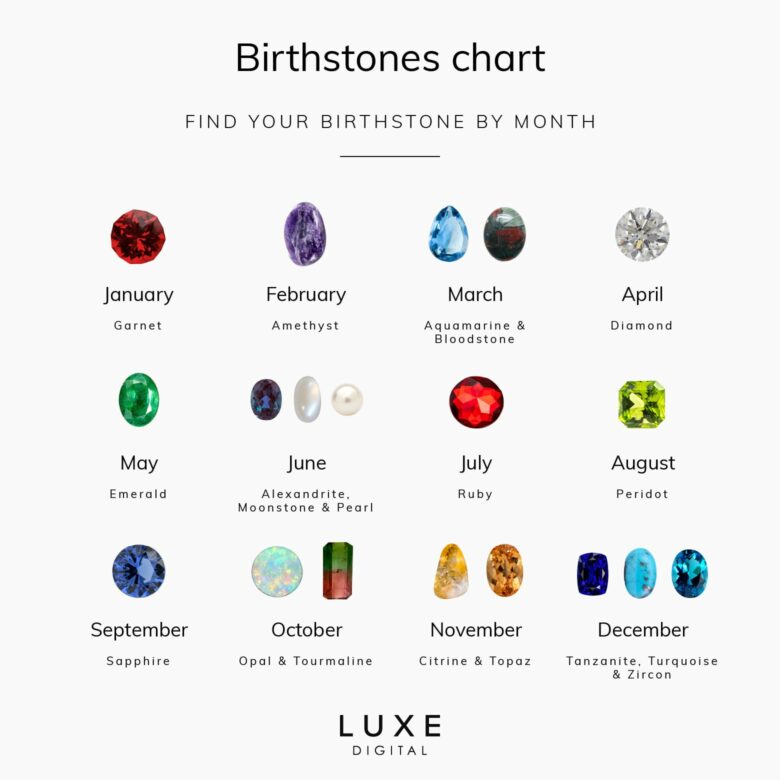 Birthstones by Zodiac Sign
Your zodiac sign is another way to determine your birthstone.
Although the astrological birthstone chart features some of the same stones, they don't always correspond with your monthly birthstones. And their meanings differ slightly. So if you believe that your fate lies in the stars—these significant symbolisms are bound to mean something special.
Aries (March 21 to April 20): Bloodstone
The bloodstone is believed to bring action and vitality to match Aries' confident characteristics.
Taurus (April 21 to May 21): Sapphire
The sapphire embodies self-expression and truth that speaks to Taurus' love for luxury.
Gemini (May 22 to June 21): Agate
The agate birthstone brings balance and stability to supplement Gemini's spontaneity. Learn more about fire agate and moss agate gemstones.
Cancer (June 22 to July 22): Emerald
The emerald exudes love and kindness to meet Cancer's empathetic mannerisms.
Leo (July 23 to August 22): Onyx
The onyx birthstone manifests strength and calm to balance Leo's infamously dramatic personality.
Virgo (August 23 to September 23): Carnelian
The carnelian symbolizes confidence and passion to accompany Virgo's systematic approach to life.
Libra (September 24 to October 23): Peridot
The peridot is believed to bring radiance and purpose to enrich Libra's sense of justice.
Scorpio (October 24 to November 22): Topaz
The topaz represents strength and intelligence to entice Scorpio's elusive energy.
Sagittarius (November 23 to December 21): Turquoise
The turquoise birthstone is known to bring well-being and good fortune to accompany Sagittarius' quest for knowledge. 
Capricorn (December 22 to January 20): Ruby
The ruby radiates protection and vitality to complement Capricorn's tenacious perseverance. 
Aquarius (January 21 to February 19): Garnet
The garnet gem symbolizes vitality and passion for matching Aquarius' progressive attitude. 
Pisces (February 20 to March 20): Amethyst
The amethyst birthstone represents calm and rejuvenation to complement Pisces' sensitive nature.
Birthstones by Days of the Week
According to astrology, each day has a planetary ruler. And each of those planets is connected to a birthstone.
This is the perfect list for those looking for a different stone for every day of the week (aren't we all?).
Monday: Moon
The moonstone represents intuition and purpose.
Tuesday: Mars
The ruby brings about passion and energy.
Wednesday: Mercury
The emerald embodies calm and balance.
Thursday: Jupiter
The yellow sapphire manifests happiness and prosperity.
Friday: Venus
The diamond exudes love and beauty.
Saturday: Saturn
The blue sapphire is known for sincerity and faithfulness. 
Sunday: Sun
The citrine symbolizes radiance and abundance. 
What is the origin of birthstones?
The idea of connecting a stone to a month is a relatively contemporary idea. However, the origin of the meaning assigned to different stones dates back to Biblical times.
The stones are said to have come from the twelve stones on Aaron's breastplate. Each stone represented a specific tribe of Israel. And the distinct stones supposedly offered the different tribes a special form of protection. But that isn't how we know them today.
In the first century, the birthstones' meanings and colors were linked to specific zodiac signs. They were said to carry unique powers according to their association with astrology. And people believed that they could receive therapeutic benefits for wearing a particular stone during its corresponding time period.
To benefit fully, many took to wearing a new stone each month. This practice evolved into wearing the same stone throughout the year, according to one's birthday stone.
Later on, a modern birthstone chart was released. And while they don't always correlate with their zodiac signs, the birthstones' meanings and colors remain similar. This more contemporary approach to the stones accommodates different color preferences while maintaining a sense of symbolic significance. 
Frequently asked questions about birthstones