The best women's gym bags are designed to be efficient and dependable workout companions. Because who wouldn't like a friend to get sweaty with?
While we may do our best to treat our bodies as temples, our gym bags don't often get the same treatment. What if we traded our ancient and grubby hold-all for a high-quality and stylish workout bag?
The best women's gym bags have been created to make the task of staying in shape simple and streamlined. They offer features to make getting ready for a workout pain and hassle-free. Plus they look cute and sophisticated—because who knows who you might run into.
Whether you plan to dash straight from work to the studio, squeeze in a couple of lunch-break burpees, or dedicate a whole Saturday morning to sweating, we've compiled a list of the best women's gym bags that are set to be your new workout buddies.
From small and public-transport-friendly totes to larger duffels that can double as travel bags, these are the smartest, most stylish, and most durable gym bags out there.
Some have shoe compartments, some have laptop sleeves. Some are all about fashion, others are all about function. Have a browse and choose the one that's best for you.
The 13 best women's gym bags
Check our buyers' guide after the list to see exactly what you should pay attention to before purchasing a woman' gym bag.
Puma Evercat Dispatch Duffel: Best overall gym bag for women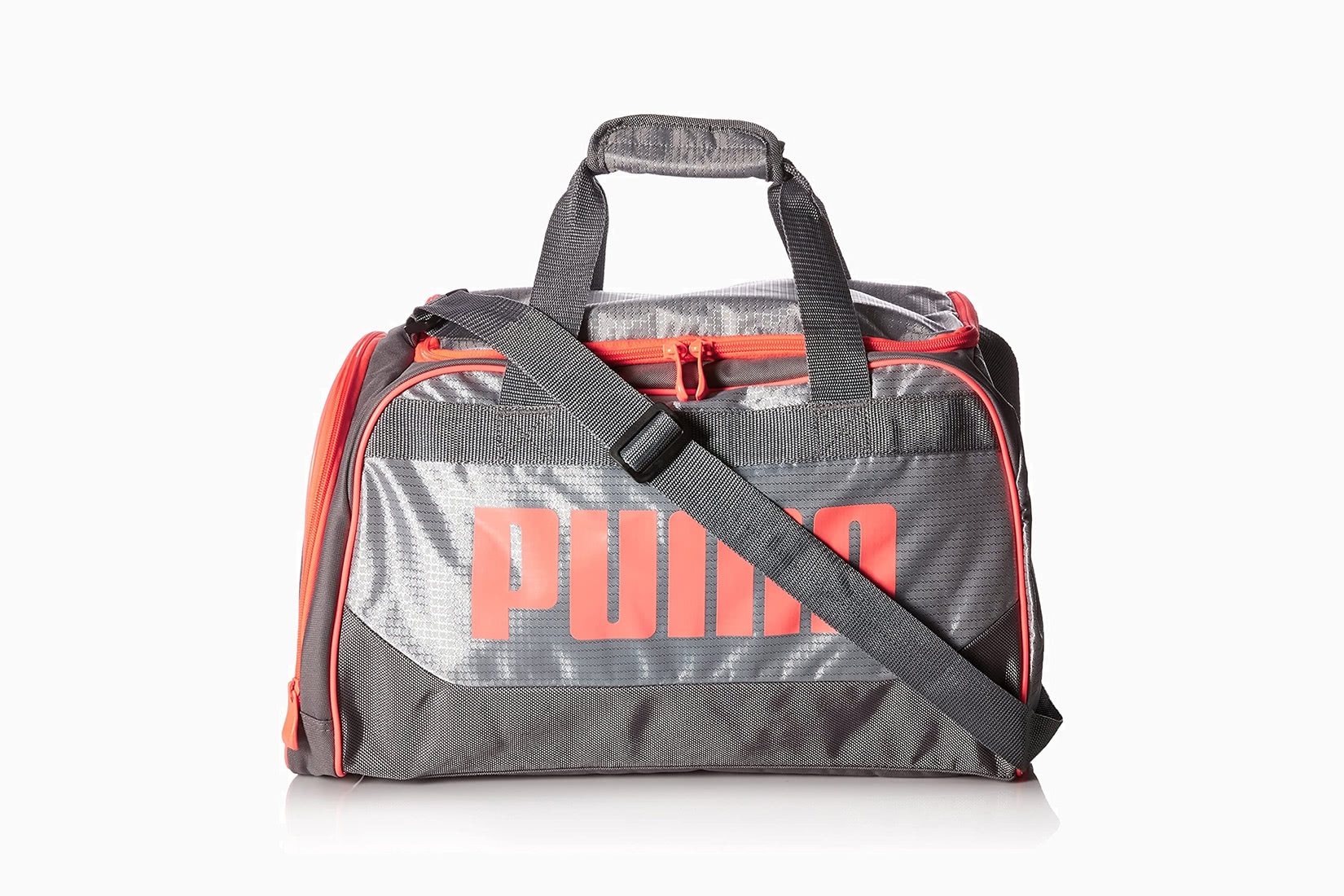 Puma's Evercat Duffel makes working out feel like a piece of cake. Or at least gets you onto that treadmill and one step closer to getting home to enjoy a piece of cake.
Puma is known for making strong style statements with its line of iconic sportswear and this top-rated gym bag is case in point. We dig its compact and chunky profile and there is an endless choice of colours. We particularly like the Grey and Coral combination.
The bag is also a friend to those of us with countless gym accessories. Shampoos, conditioners, hairbrush, deodorant, perfume. Whatever it is, this bag has a pocket for it.
Dual top handles make for easy carrying but there's also a detachable and adjustable shoulder strap if you prefer. The lightweight but durable polyester secures Puma Evercat's position as a true gym bag champion.
Whether it's for a fitness retreat or daily sessions on the StairMaster, this is the bag to see you through even the most gruelling and sweatiest of workouts. When you're done being a total badass, this bag will be waiting in the changing room with a towel, toiletries, and a fresh set of clothes to reward you.
All you need now is a good pair of women's running or walking shoes.
Best for: reaching peak fitness with an all-purpose and all-round great gym bag
Alo Yoga Stow Backpack: Best high-end women's gym bag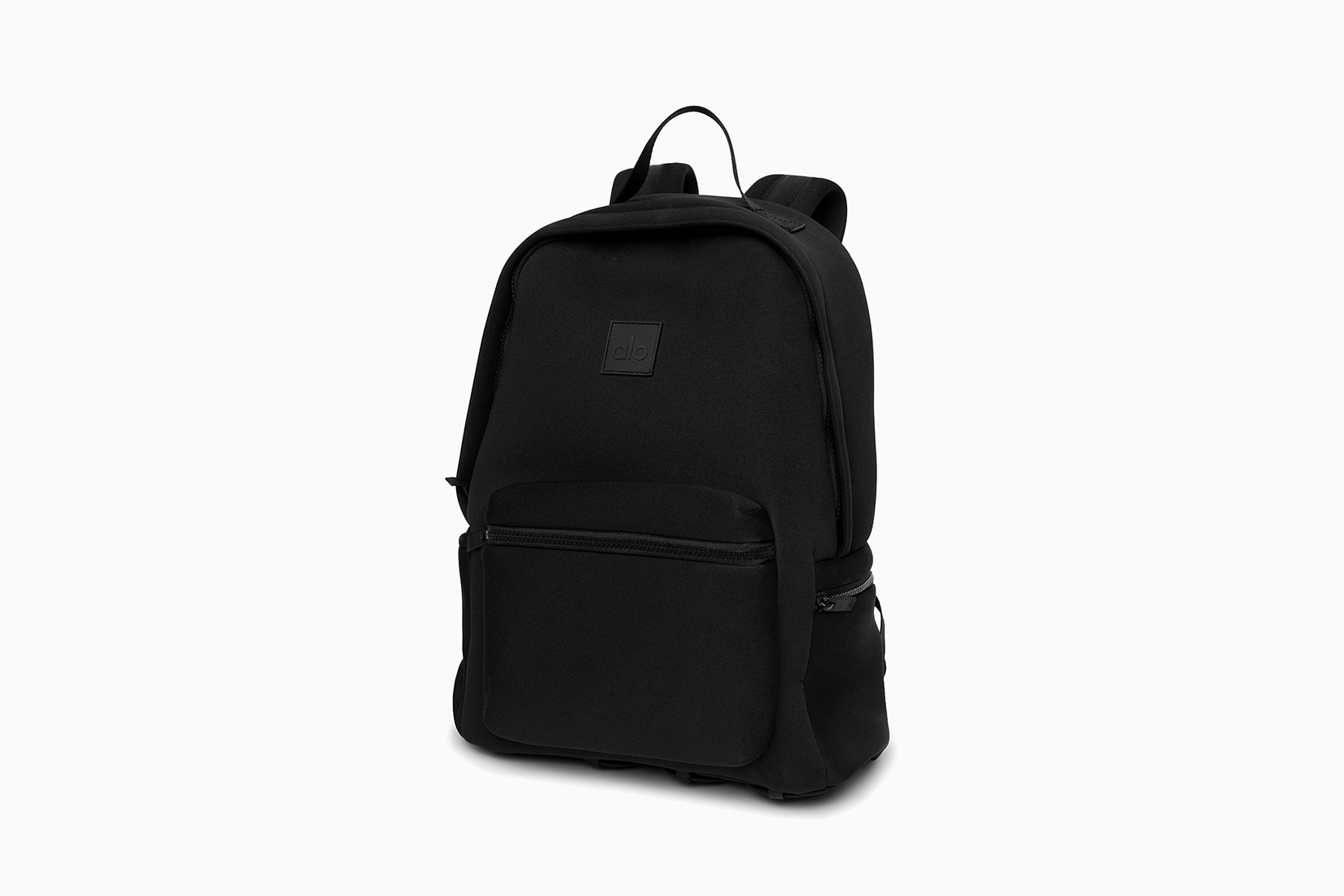 If only the cream of the crop will do, then Alo Yoga's Stow Backpack is the high-end, high-quality, and high-impact gym bag you've been waiting for.
The bag is designed for taking to yoga class, with bungee straps at the bottom to hold a yoga mat. This means no more trying to juggle a mat, phone, and takeaway coffee on your way around town.
But the Stow Backpack would work just as well as a gym bag for those who prefer their workouts to be a little less zen and a little more Zumba.
The bag looks small but has no shortage of cool features. First, the three exterior pockets, for easy access to gym cards, padlocks, or snacks to power you up before aerobics. The interior pocket can be used for valuables like your phone or purse.
There's a removable inner pouch, perfect for storing make-up for sprucing up after class. And the fabric moulds to the curves of the back, making for exceptionally comfortable carrying.
It's not the cheapest gym bag on our list, but with that higher price-tag, you get seriously good craftsmanship and a guarantee the bag will last. And, being a commuter-friendly shape and size, it could easily double as an EDC backpack.
Learn more about the Alo Yoga brand.
Best for: premium quality and design excellence from a bag that's pretty close to perfect
Boost Sports Bag: Best value women's gym bag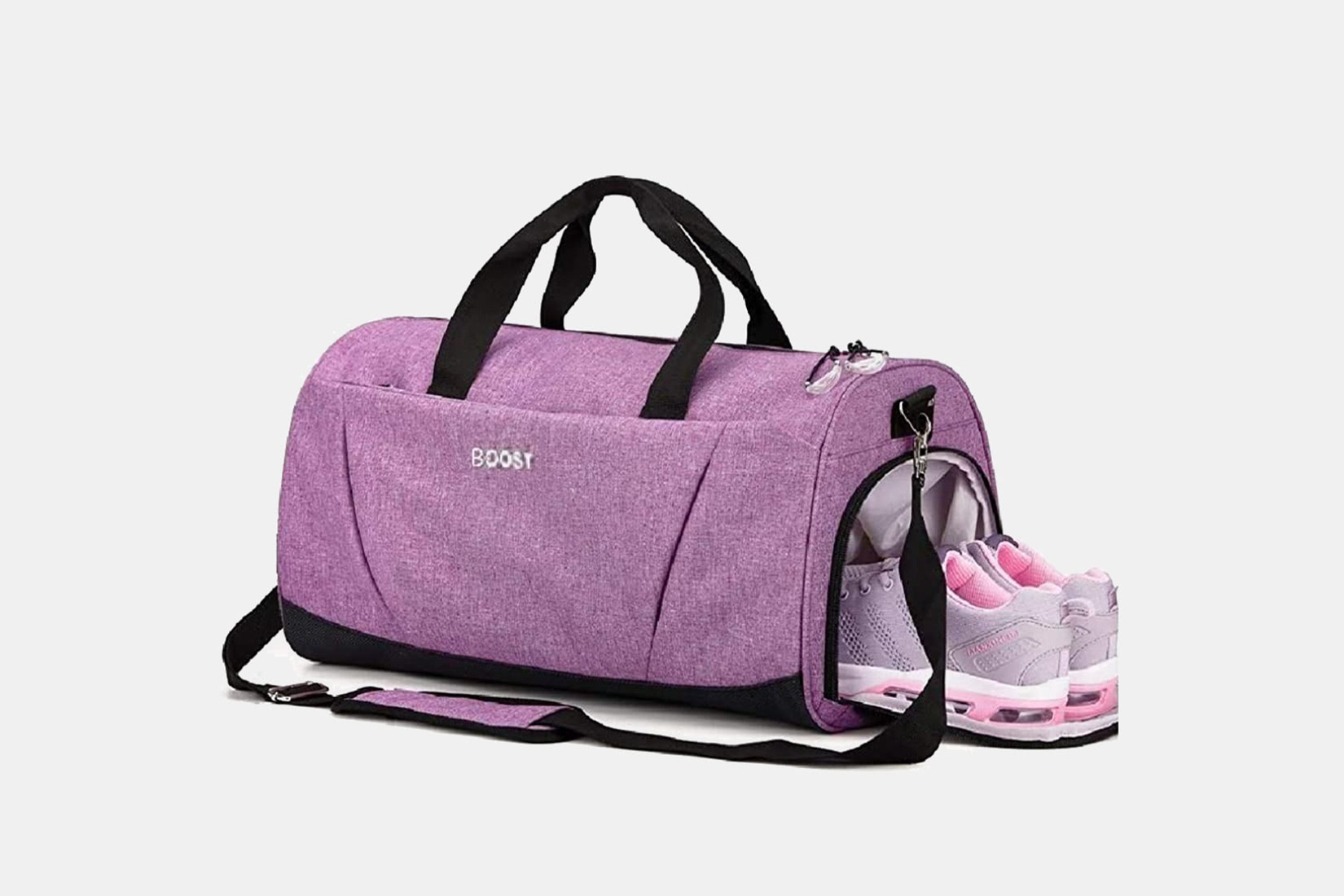 If you're not sure how long your fitness hype is going to last, you don't want to splash out on an expensive workout bag. And so, if you're looking for a good value gym bag, it doesn't get better than this Boost Sports Bag.
Boost's Sports bag kicks off with a main compartment for all your standard gym apparel—plus protein shakes or packed lunch if you fancy. There's also a shoe compartment at one end, so no more mixing smelly trainers with your cocktail bar get-up.
For carrying, you can go handbag-style or use the strap to wear it across your body.
And, aesthetically, it's back-to-basics and no-frills, but if you want to take it up a notch, why not opt for the pink or purple model? That way your personal trainer will definitely remember you.
We all know exercise puts you in a good mood but this bag will get there first, putting you in the perfect positive mindset for getting sweaty.
Best for: a good-quality and cute gym bag that doesn't cost megabucks
Adidas By Stella McCartney Backpack: Best small gym bag for women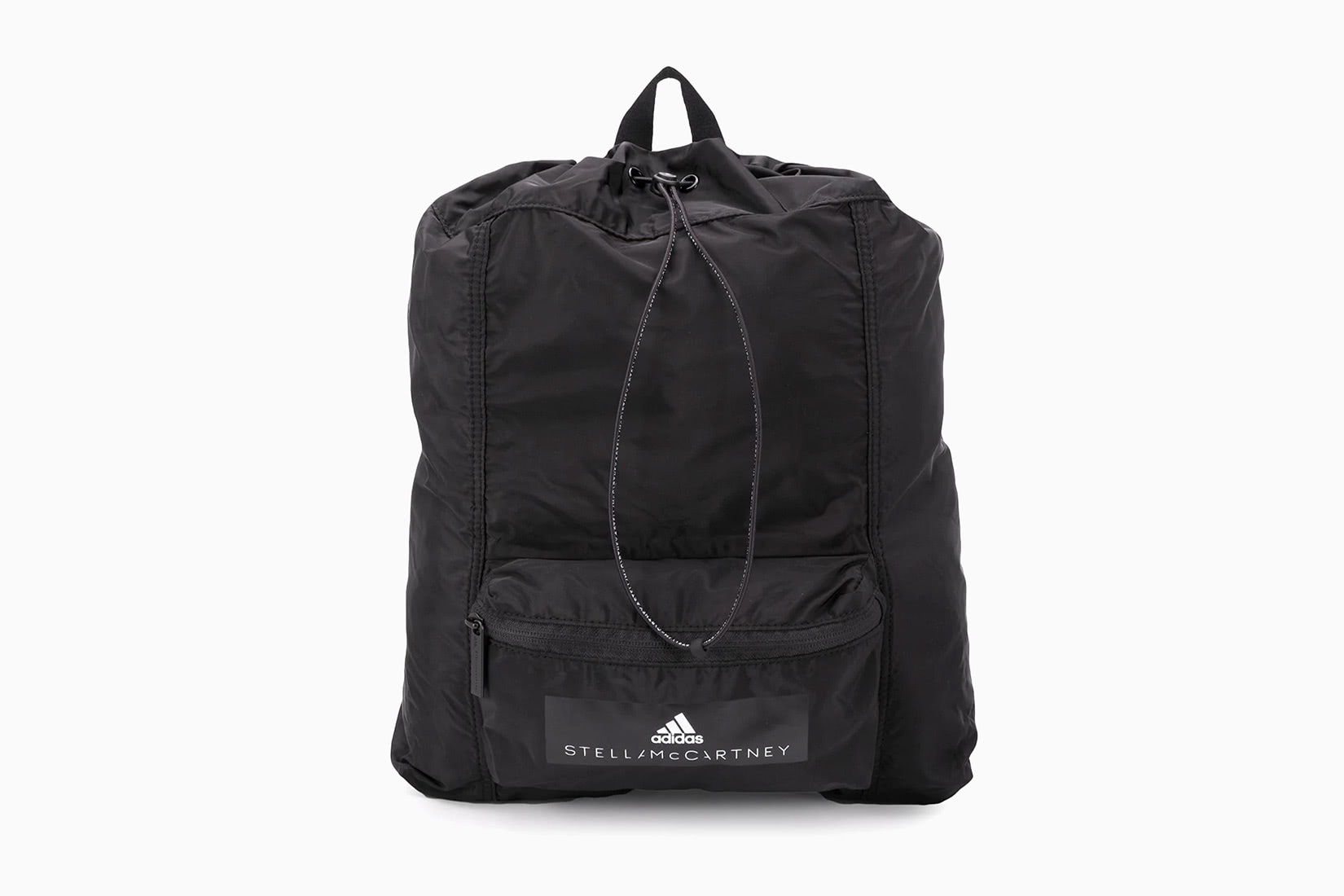 This backpack from Adidas by Stella McCartney may be small but it will make you feel at the top of your fitness game. It's the ideal compact gym bag to give you a head start on reaching those goals you set back in January.
The draw-string fastening makes for easy access to all your kit while the minimal black colour scheme is simple and pared-back. It's perfect for carrying on public transport or to the office without telling everyone in the vicinity that you're about to hit the gym.
A backpack-style gym bag is great for those seeking a comfortable and streamlined carry, and who only need to transport the bare minimum: gym apparel, a water bottle, and maybe an energy bar for after.
Oh, and your wireless earbuds. You can store those in the front pocket on this snazzy little rucksack.
Adidas uses eco-friendly materials, sources sustainable cotton, and tries to use as much recycled polyester as possible. So you can feel morally superior as well as physically superior as you swan in through the sliding doors at the gym.
Best for: playing it cool with a compact, low-profile, and stylish gym bag
Alo Yoga Run Away Tote: Best large gym bag for women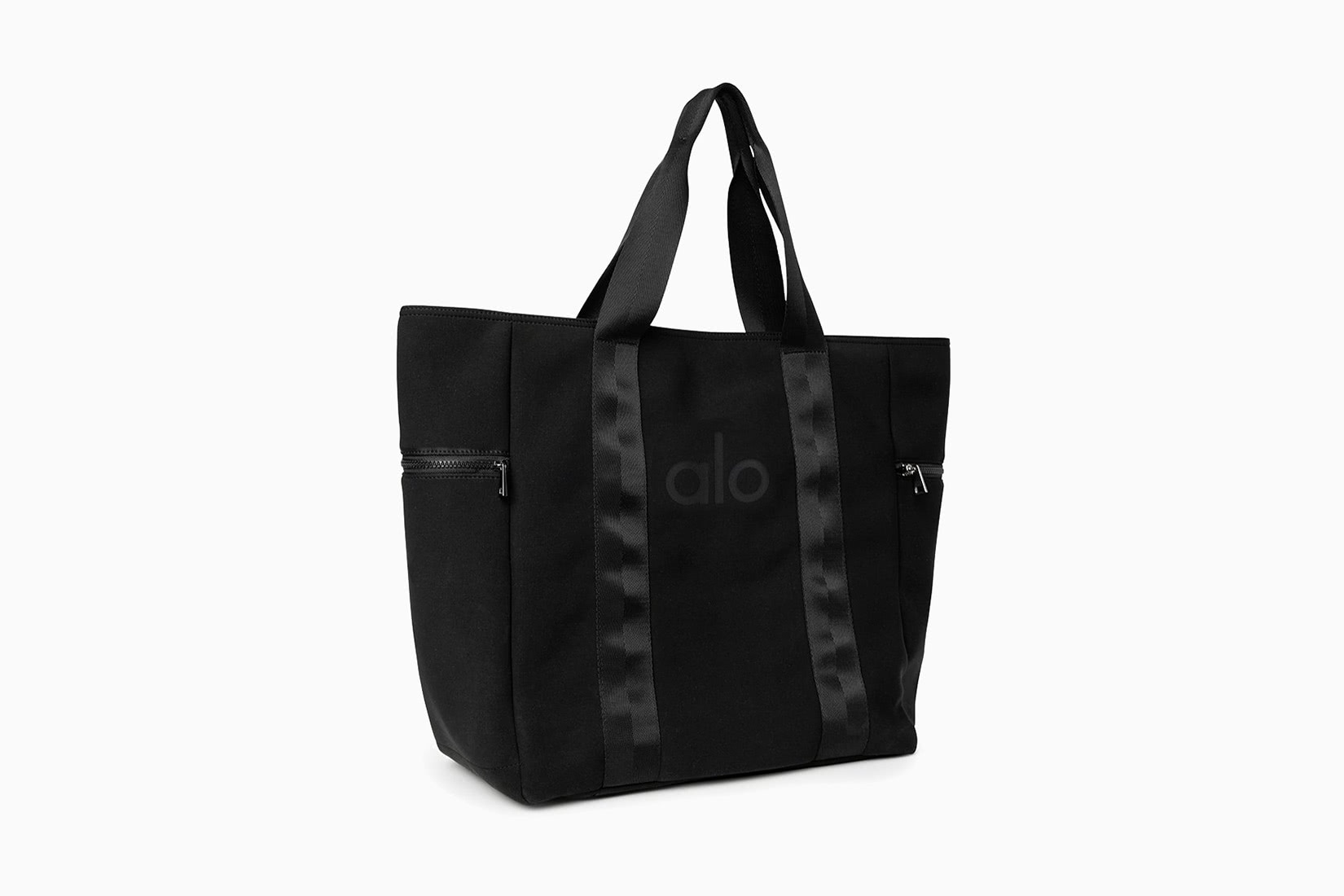 We love a tote. Hard to imagine a more versatile bag. Totes function just as well carrying groceries as they do work supplies or workout essentials.
And so this Alo Yoga Run Away is the perfect large gym bag but could also double up as an overnight bag if necessary. Or even a work bag, with plenty of space for a laptop.
Made from neoprene, it's tough and weather-resistant. Plus, with its sharp black colour scheme, if you want to take it to the office, it wouldn't look at all out of place with smart trousers and a shirt, providing the perfect work-to-workout carry-all.
There's a small pouch that hooks inside for keeping valuables, as well as two mesh pockets for a change of clothes or your water bottle. The bag zips shut to keep your belongings safe and secure while the heavy-duty straps are unlikely to break with frequent use.
And there are more pockets on the outside for those things you need quick access to.
This Run Away tote is aptly named. It will have you into the gym and racking up the miles on the treadmill no problem.
Best for: a generous-sized women's workout bag that merges function and form
MZ Wallace Metallic Yoga Mat bag: Most stylish women's gym bag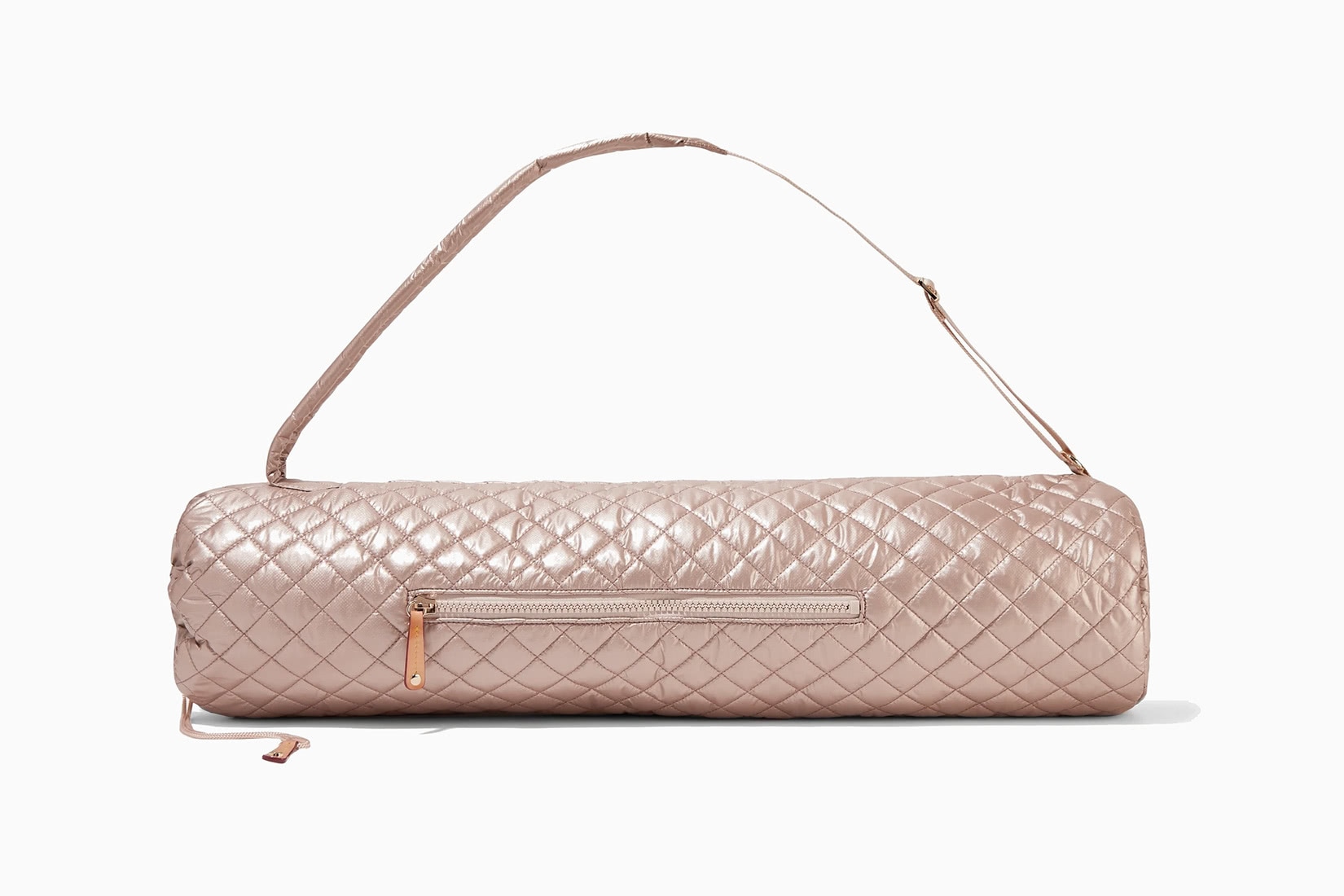 Looking good makes you feel good and that applies just as much at the gym as it does elsewhere. What better way to stay motivated and feel excited about a workout class than to pack up a gym bag that looks like it's been swiped straight from the catwalk? A gym bag, in other words, like MZ Wallace's Matt?
This yoga mat bag is made from rose-gold shell—one of the hottest colours of the last few years. We also love the quilted-effect, also a major obsession among the fashion set, adding a bit of unconventional glamour to the bag.
This bag is the perfect size for fitting mats of all thicknesses, with a drawstring to open at the top. It's ideal for yoga and pilates fans, but also anyone who likes to take their own mat to the gym for hygiene and convenience reasons.
You also get a zippered pocket for putting your phone and keys. And, on your way to and from the studio, make use of the cross-body strap to keep your hands free to grab your favourite Matcha tea. Or, even better, a high-nutrient green smoothie.
Best for: lovers of high-end couture who refuse to choose between fashion and function
Under Armour 4.0 Hustle Backpack: Best gym backpack for women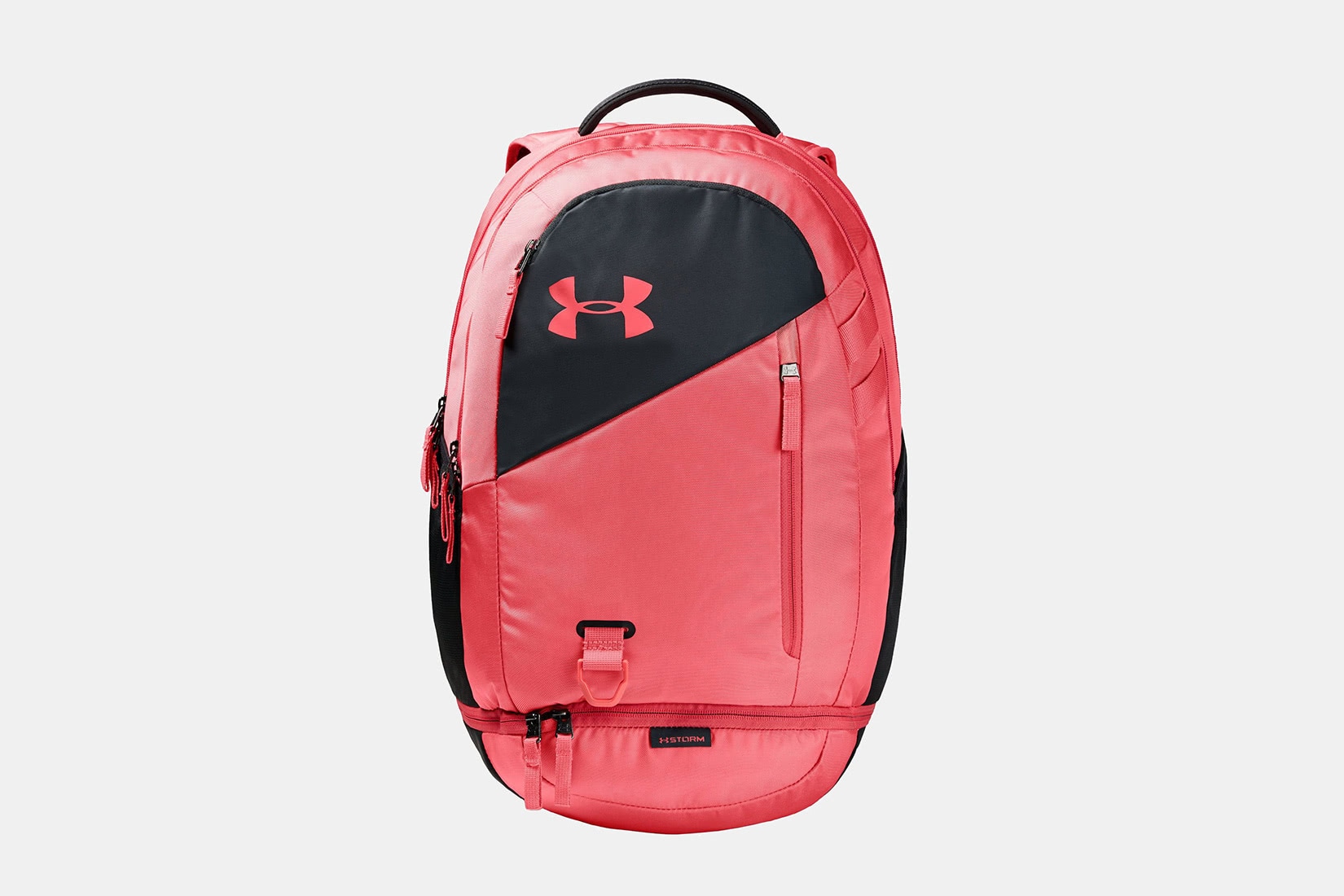 If your daily routine feels like one long race against time, then you need a gym bag that's action-ready and built for speed. Under Armour's 4.0 Hustle Backpack has been designed to help keep you on the move and to take you seamlessly from work to the studio and home again.
Few other gym backpacks can boast the same level of durability and robust construction as the UA's Hustle backpack.
This bag really hits it out of the park with its polyester and elastane exterior featuring UA Storm technology—a finish that keeps the wind out and stops water seeping in. The bottom panel is abrasion-resistant, ready to take on all kinds of conditions.
HeatGear shoulder pads keep you cool and dry—so no excuse not to start off with an easy jog down to the studio. And no more hiring towels and padlocks at the gym. This bag has space for both, plus a laundry or shoe pocket and two water bottle side pockets.
As if that wasn't enough, there's also a soft-lined laptop sleeve so you can go straight from the office to a sweat session.
Best for: a bag for high-paced workouts and getting the adrenaline pumping
Alo Yoga City Zen Duffle: Best women's duffel gym bag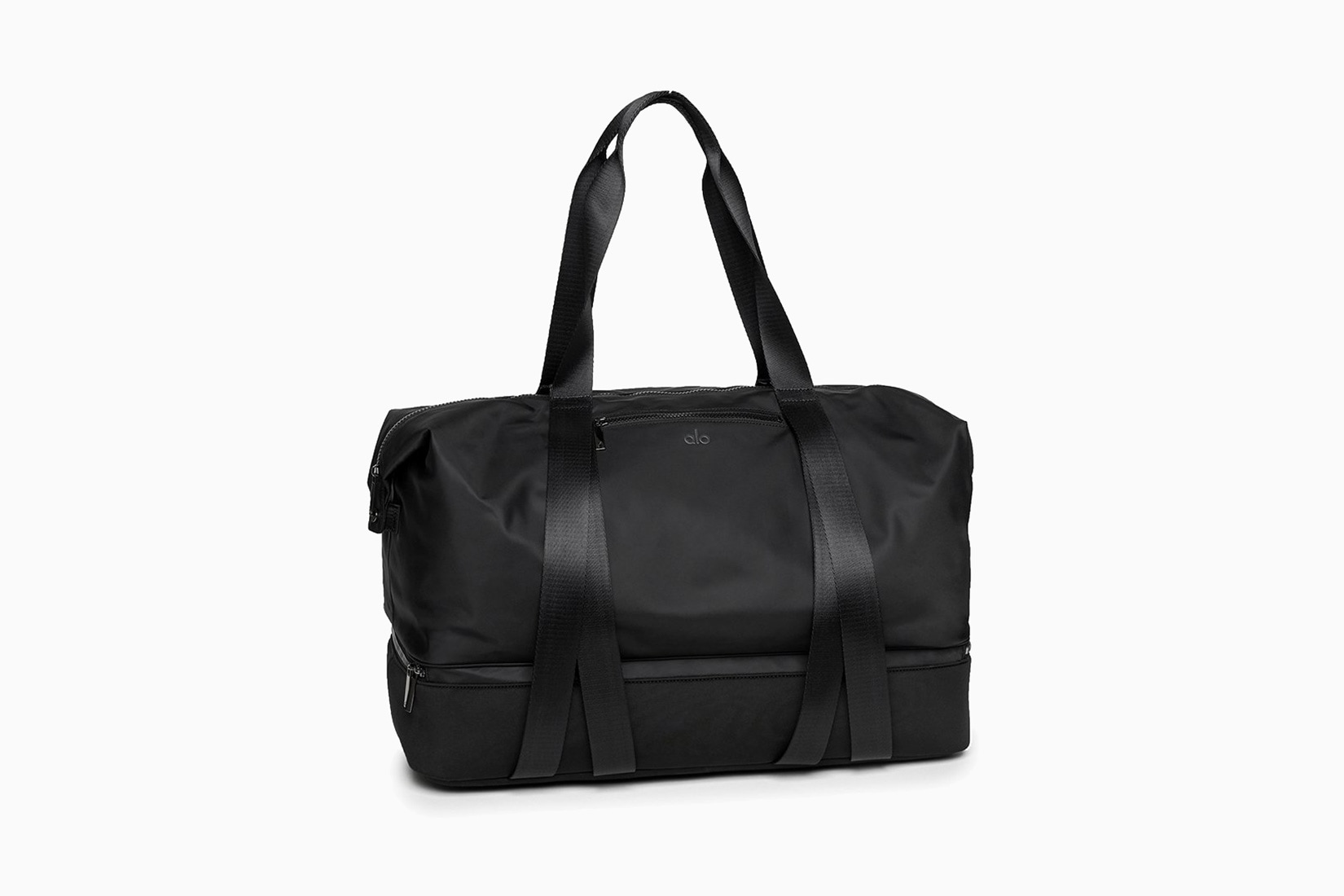 21st-century women can do it all, whether it's holding meetings with clients, whizzing down to the studio for a spinning class, or picking the kids up from school. And so we need a bag that can do it all too. Alo Yoga's City Zen Duffle is the answer to every busy girl's prayers.
This cool gym bag for her has space for everything. And we mean everything.
It's got two sections: 27 litres and 11 litres. So whether it's resistance bands and a jump rope, or a wide selection of toiletries and skincare and a change of clothes, you can fit it all in this bag no problem. The bottom compartment is neoprene for damp towels or sweaty exercise apparel.
This high-functioning carry-all also features stretchy straps for holding a yoga mat, plus interior pockets for valuables. It's RFID protected so you can feel confident all your essentials are safe.
All that—and it's still a super cute gym bag. So cute, in fact, that it wouldn't look out of place as a weekender bag on a spa break.
No excuse for not getting beach-body-ready now.
Best for: being prepared and keeping all gym accessories within easy access
MZ Wallace Metro Tote: Best tote bag for the gym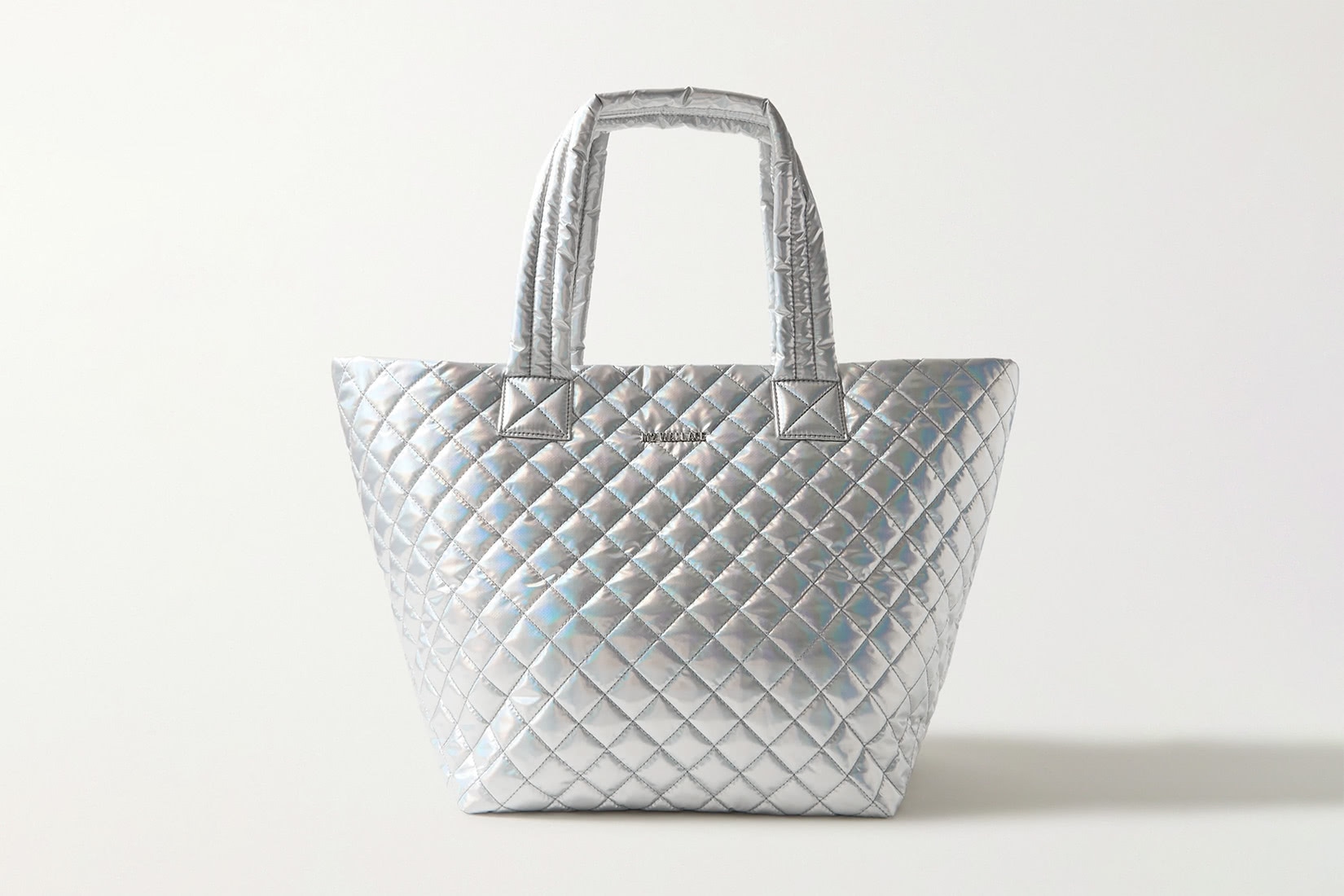 Not only is the MZ Wallace Metro the best tote gym bag on our list but it's also one of the most stylish women's gym bags we've come across, a definite front runner when it comes to the best fashion-savvy carry-alls. Just look at that yellow lining, for one thing.
If you want to get people's attention in the locker room, this is a good place to start. Check out the dazzling iridescent quilted exterior. Punchy contemporary glam at its best while the leather-trimmed straps make carrying a breeze.
Inside are compartments for all your kit. Dashing out to grab a salad at lunch, keep your phone and wallet in the removable pouch instead of taking the whole bag with you. It's essentially a gym purse.
This bag is easily spacious enough for workout clothes, a bottle of water, make-up, and toiletries for freshening up afterwards. Oh, and don't forget to pack a tasty treat as a reward for all that hard work.
Putting in the necessary hours on the cross-trainer may be hard—but trying to resist this paragon of high-fashion might be even harder. It would even fit into the aeroplane overhead compartments no problem.
Best for: an easy office-to-gym transition
Adidas Alliance II sackpack: Best women's gym bag for school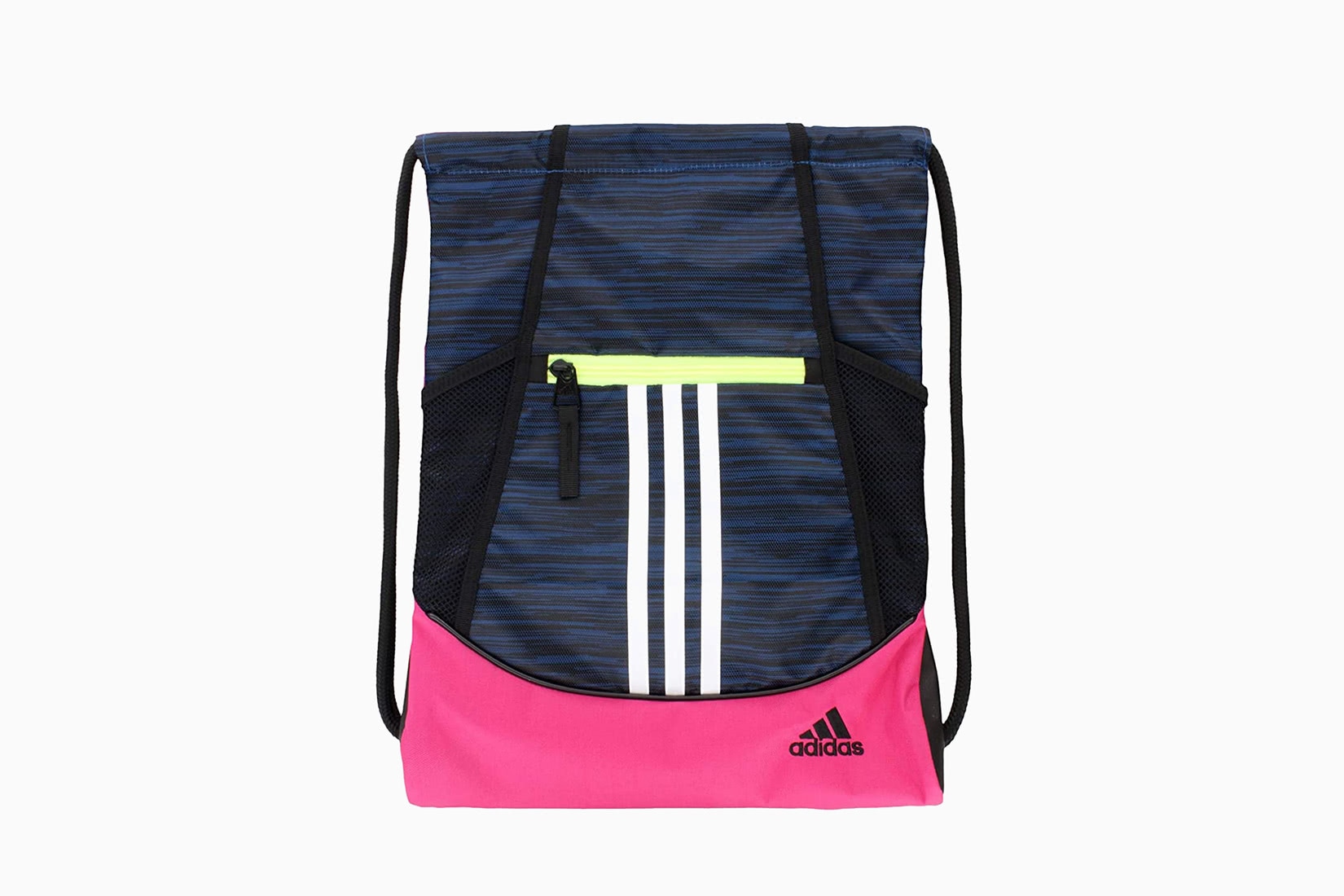 From long hours at the library to late nights cramming for exams, it's hard to stay in shape as a student. Adidas' Alliance II can help get you back on track.
If this bag looks familiar, then it's because it's one of the most iconic gym bags of all times. The genius is in the simplicity. The only thing complicated about this bag is choosing from one of the many colour combinations.
It's a drawstring sackpack with enough room for all the basics: change of clothes, water bottle, and something high-energy and delicious for afterwards.
Made from water-resistant and durable polyester, it's also ultra-versatile. Use it when you're strolling down to the courts for basketball practice or for carrying your towel and headphones to the gym. Or take it on short treks with your friends and be the only one who remembered to bring water.
Indeed, with two water bottle pockets, there's no chance of you getting dehydrated. Meanwhile, a zippered outside drop pocket is ideal for easy access to essentials like keys or ID cards.
If you don't need something as bulky as a duffel bag, why not keep it simple and streamlined with the Adidas Alliance? It's one of the most popular gym bags of all time—and for good reason.
Best for: carrying you and your stuff from campus to exercise class
Adidas By Stella McCartney Shell and Mesh Duffel: Best women's gym bag for the office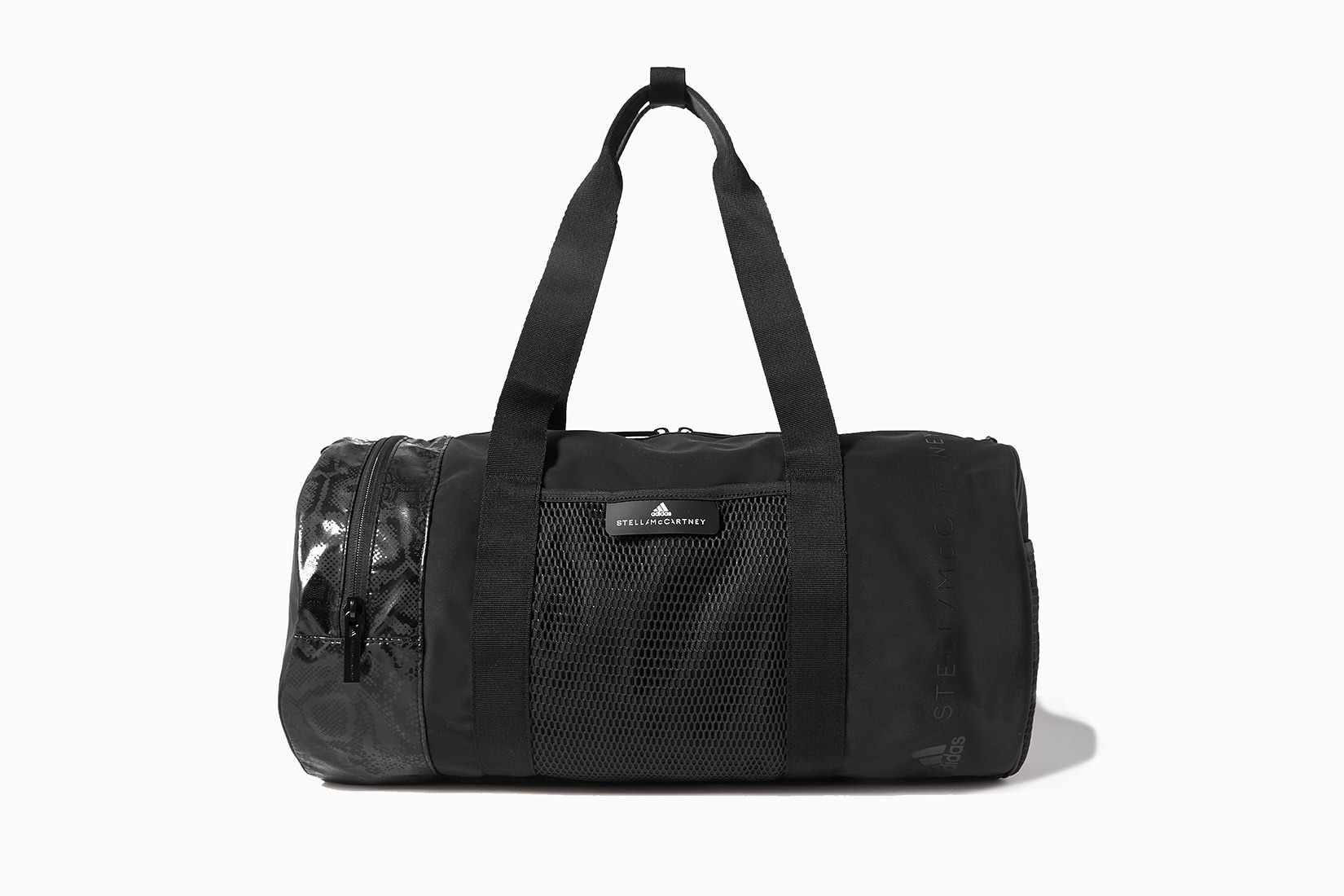 Stella McCartney's Shell and Mesh Duffel, designed for Adidas, is made from a durable and water-resistant mixture of polyester, nylon, and mesh, with the subtlest of snake prints.
The result is a dynamic take on a classic duffel bag—one that could fit casually under your desk at the office before being slung on your shoulder as you whizz down to the gym to burn off all that pent up energy.
The rules of athleisure have changed and rocking activewear outside the gym is the new contemporary cool. So channel that fresh and vibrant sporty aesthetic with this Adidas duffel. Whether you're someone who lives at the gym, or who needs a push to get excited about exercise, this bag will power you up.
Inside you've got plenty of space for gym apparel, as well as a change of clothes and a towel. And even if you refuse to do any workout more strenuous than an afternoon stroll, this bag would make a great travel hold-all with a detachable and adjustable shoulder strap for carrying.
Sling it in the back of your SUV and you're good to go.
Best for: taking to the office for a cheeky lunch-break workout
Under Armour Undeniable Duffle 3.0: Best budget gym bag for women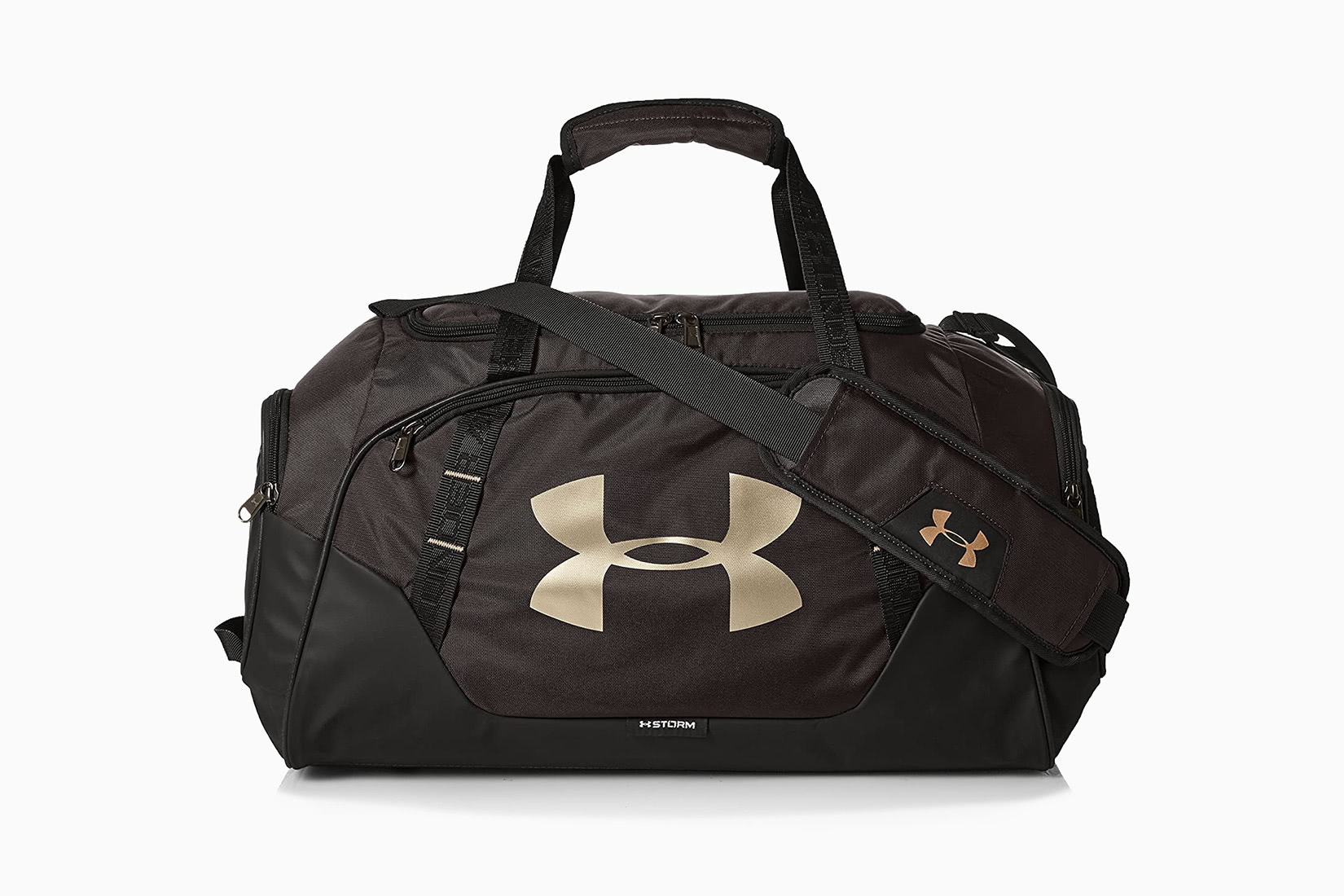 The Undeniable 3.0 Gym bag by Under Armour offers a great workout bag for anyone who's trying to tighten their purse strings.
This cool gym bag for her is all the evidence you need that you don't need to spend a lot of money to get yourself a high-quality and ultra-functional gym bag.
UA Storm technology has created a bag that's ready to battle anything nature throws at you with a top-quality water-resistant finish. The bottom and side panels are abrasion-resistant so you can drag this bag along the platform and onto public transport when necessary.
A padded shoulder strap and grab handle allows for two different carrying styles. Meanwhile, there's both a mesh pocket and a zippered pocket to keep things organised.
From its exceptional durability to its range of attention-grabbing colour combinations, plus its ample size (56 litres), this bag does most of the heavy lifting, leaving you to put in effort just when it counts.
Whether it's transporting dance gear to the studio for rehearsals, or multiple changes of outfit for after your pre-date-night workout, this bag makes staying fit and healthy as easy and straightforward as possible.
Best for: burning calories without burning cash
VeeCollective Vee Tote bag: Most expensive gym bag for women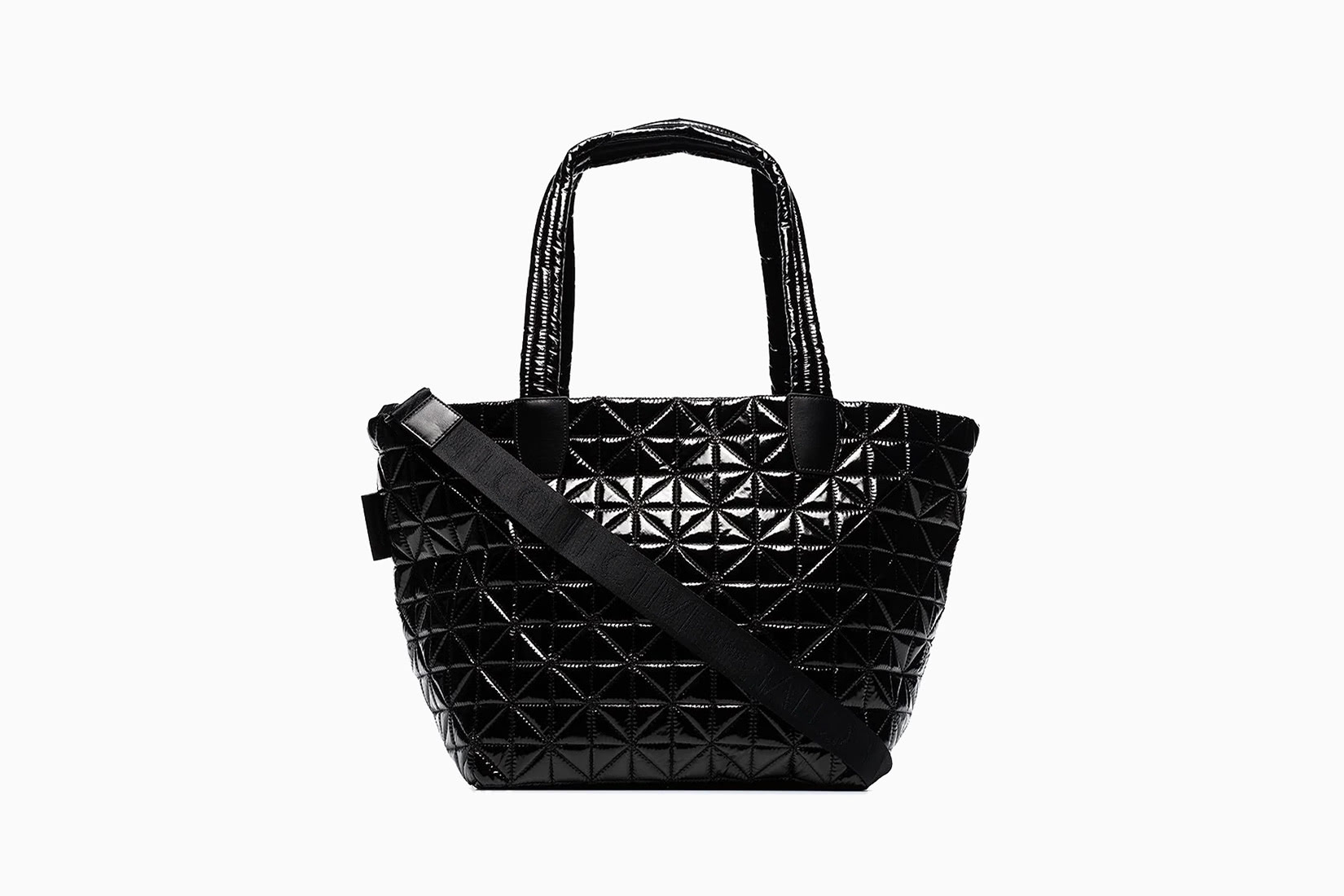 With a higher price-tag comes a new level of sophistication and glamour. Say goodbye to dreary sports duffels. VeeCollective's Vee tote bag could be taken anywhere: hot yoga class, HIIT session with your favourite trainer, or even brunch with friends. Because talking burns calories too, right?
This is a seriously elegant carrier that scores highly across the board. It's made from a durable leather and nylon combination with a quilted exterior that gets lots of attention, whether it's in the changing rooms or the office, as you swan in with that post-workout glow.
The bag is extremely spacious with enough room for exercise clothes as well as all other necessaries (phone, wallet, lipstick, perfume, and a healthy snack). There's also space for a towel in case you want a sauna session after your class.
For those who want to be stylish first, and sweaty second, this is the bag for you. VeeCollective has demonstrated that gym bags are not just about function and practicality. They're about looking impeccably on-trend at the same time.
Best for: a top-quality investment to carry you to the finish line and beyond
Buyers guide: what to look for when buying a gym bag for women
When choosing a gym bag, you want to browse through the different options and pay attention to a few key aspects: size, style, materials, organisational features, and price. There are different models on the market to suit different fitness enthusiasts. Choose the bag that's right for you.
Size
The size of the gym bag you choose will depend on how much gym gear you typically need to carry around. This, in turn, will depend on what kind of exercise you do.
Swimmers, for example, will need a different workout kit from bodybuilders or yogis. Make a list of what you generally need at the gym and choose a bag that can comfortably accommodate all these things.
Bear in mind that the bigger the bag, the more versatile it is, able to also function as a travel hold-all. However, if the bag is too big, it might be a nuisance to take to the office or on public transport.
Style and carry-comfort
In terms of style and shape, you have a few options.
The standard gym bag is a duffel-style bag. These are perfect if you need a lot of space and don't plan to carry your bag very far. They also make good travel bags.
A backpack is another option. Rucksacks are comfortable and easy to carry, and are ideal if you are a minimalist who only needs a change of clothes and a water-bottle at the gym.
Tote bags are another favourite. These are very versatile, as they can double up as beach bags or work bags, if needed, and wouldn't look out of place in a restaurant, cafe, or bar. They are fine to carry a short distance but if you overpack them, they can be bulky and uncomfortable under your arm.
Finally, yoga and pilates fans might need a mat bag. These often feature additional pockets for phones and keys.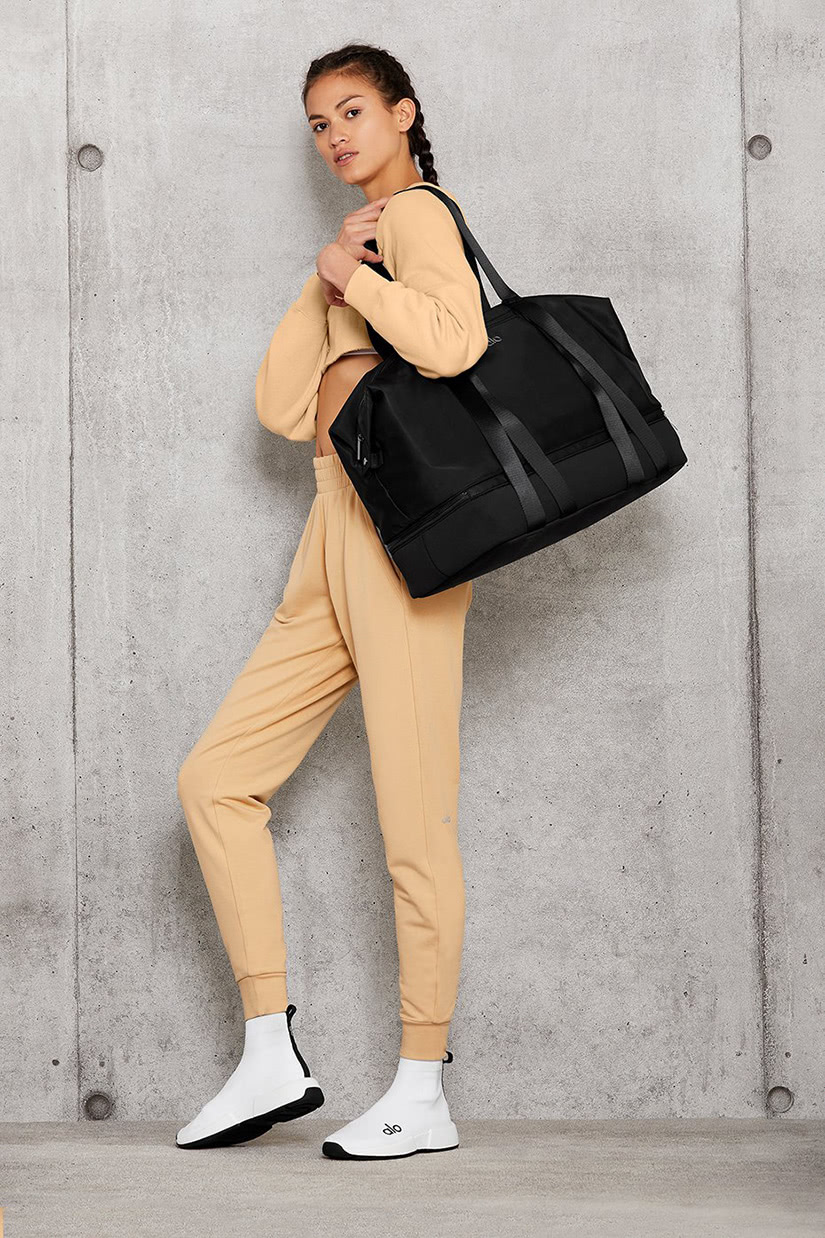 Materials
Most gym bags are made of canvas, polyester, or nylon. All are durable and hard-wearing. You can also find leather gym bags but these are more high-maintenance and less practical.
Neoprene is a less conventional but great alternative. Neoprene is water-resistant and machine-washable as well as being lightweight and long-lasting.
Organisational features
Pockets, compartments, and mesh dividers are ideal for organising your gear at the gym or studio. By dividing your stuff up, you can stop clean clothes mixing with sweaty workout apparel. Shoes can also have their own compartment—great if you exercise outside.
Also look for secure internal pockets for storing valuables while easy-access outside zippered pockets are perfect for putting essentials like keys or your gym membership card. Finally, mesh side pockets are great for slotting in water bottles.
Price
Gym bags range in price. Luxury gym bags can cost over $100 but there are also budget-friendly options that cost as little as $20.
Other things to look out for when buying a gym bag include:
Abrasion-resistance – some gym bags feature reinforced bottom and side panels to make them more robust.
Weather-resistance – some gym bags are more water-resistant than others. Under Armour's bags all feature specific technology to allow the bags to survive more challenging weather conditions.
Opening – most gym bags have a zippered opening but you'll also find drawstring options.
Handles and straps – gym bags typically feature a cross-body strap that is adjustable and detachable. Straps and handles should be padded for additional comfort.
Frequently asked questions about women's gym bags
What is the best gym bag on the market?
The best gym bag for women is the PUMA Evercat Duffel. This gym bag features lots of pockets for organising all your gym gear and essentials. It's comfortable to carry and made from lightweight and durable materials. It also looks good, with a chunky profile and lots of colour combinations. For other options, check out our list of the best women's gym bags.
What should a woman pack in a gym bag?
In a woman's gym bag, you should pack your exercise clothing, a water bottle, a padlock if you want to use the lockers, a towel if you plan to shower afterwards, and toiletries. You may also want to pack a change of clothes, headphones if you like to listen to music, and a post-exercise snack. And don't forget a hairband too.
How do I choose a gym bag?
To choose a gym bag, you should consider four main aspects: size, carry comfort, durability, and price. You want a bag that will comfortably accommodate all your gym gear. The bag should also be comfortable to carry and durable and weather-resistant. Finally, choose a bag that's in your price range.
Can I use a backpack as a gym bag?
Using a backpack as a gym bag is a good idea if you're looking for something compact and easy to carry around the city, especially if you plan to work out in your lunch break. Backpacks are comfortable to wear, and, depending on the design, you can fit in a change of clothes, water bottle, and maybe even a pair of sports trainers too.