They say that life is all about perspective. But finding the right one may not require hours of therapy. Perhaps all you need is the perfect pair of sunnies. Rose-tinted lenses will see you heading to the beach without a care in the world. Prescriptive lenses bring more clarity. And your reflective sunglasses are a masterclass in mirroring good vibes only.
But gaining a new perspective isn't just about the lens through which you see life. It's also about how you frame your experience. Oversized frames impart a bold, charismatic personality. And delicate metallic frames reveal the beauty of simplicity. Slick, wide rectangular frames immediately infer it-girl status. Whilst sporty wraparounds encourage us to just do it.
From clubmasters to rectangles, there are many different shades of cool when it comes to sunglasses. Some elusive. Some sultry. And some are straight-up visionaries—quite literally. But the real question is, what kind of cool are you going for? Audrey Hepburn's picture purrfect cat-eye? Elton-John eccentric experiment with geometry? Or John Lennon's signature round accessories—now popularized by festival-goers and hipster fashion.
Of course, gaining a new perspective isn't just about looking cool and fitting in. It may be more about your inner confidence. In which case, we recommend finding a pair of sunglasses for your face shape. Round faces suit more angular silhouettes. Square faces are the perfect canvas for aviators. And oval faces—well, they suit just about everything. But we won't hold that against them.
Instead, we'll pour our energy into finding your perfect pair.
Anatomy of sunglasses
We wear them most days for protection. We wear them most days for fashion. But when it comes to sunglass anatomy, many of us struggle to know what to look for. Here are all the terms you need to know to pick your perfect everyday accomplice—and then to describe to a friend what makes them so much better than your last pair.
Top bar
The top bar of sunglasses is the bridge, which sits between the two lenses and helps to hold them in place.
Bridge
The bridge is the part that connects the lenses and sits on the top of the nose of sunglasses. It provides support for the frame and helps to keep it securely in place.
Nose pads
Nose pads are small pieces of metal or plastic that are attached to the temples or frames of the sunglasses and rest on your nose to help provide a comfortable and secure fit. They also help reduce slippage by creating friction between the frame and your skin.
Frame rim
The frame rim is the part of the sunglasses that encircles the lenses and usually sits on your nose and ears. It is typically made of metal, plastic, or acetate, and can come in a variety of colors and styles.
Temple
The temple extends over the ears and rests on the sides of the head. It is usually made from plastic, metal, or other materials to provide comfort and stability.
Temple tip
The temple tip is the curved end piece of the frame that rests behind your ears. It is designed to be comfortable and secure on your head, while also providing support for the lenses.
Hinge
The hinge connects the lenses and the temples and allows them to open and close. The metal joints are often spring-loaded for easy opening.
Joint
The joint of a pair of sunglasses is where the two lenses are connected to the frame.
11 popular types of sunglasses
From aviators to wayfarers—each pair comes in a different shade of cool.
Aviator sunglasses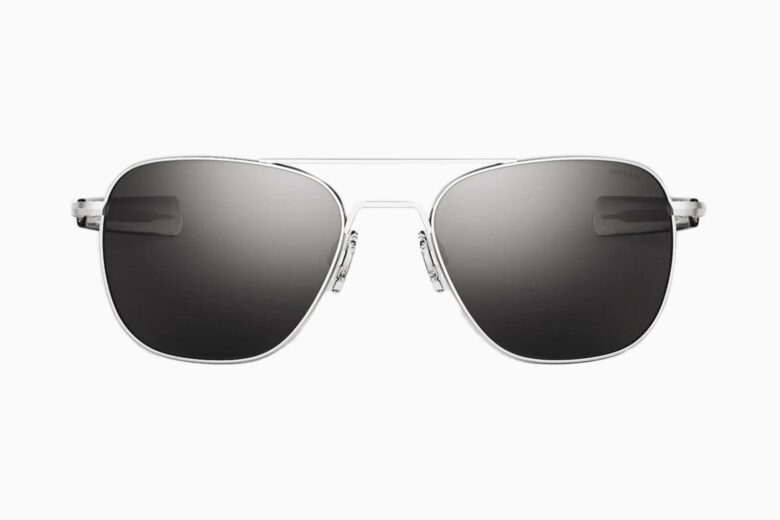 Created for military pilots in 1935, aviators are designed for (Tom) Cruising from life. Since its inception, the iconic teardrop lens has been popularized by shows like Hawaii Five-0. While the clean, delicate frame makes aviator sunglasses easy to wear without overwhelming the face.
When it comes to looking at different types of sunglasses, the effortlessly chic style of aviators is a failsafe choice for most face shapes. And flying high above the rest, Randolph's aviators, in particular, are our best sunglasses for men and women.
Cat Eye sunglasses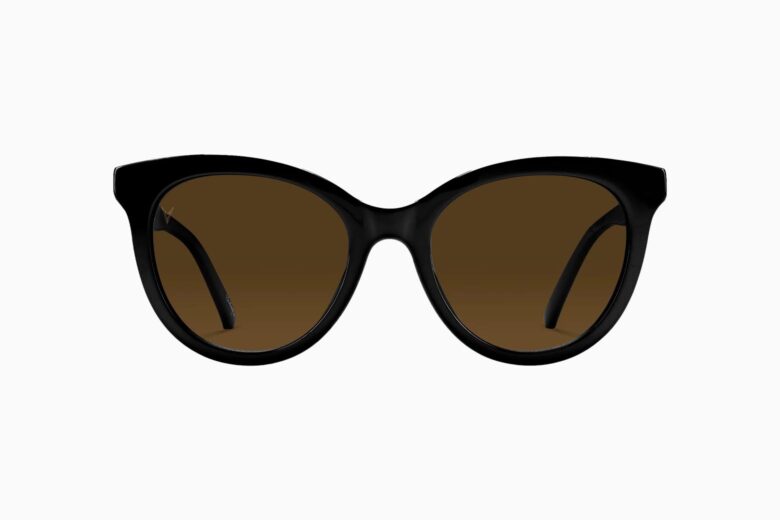 Cat's out of the bag: this upswept silhouette may just be the secret behind Marilyn Monroe's sultry style. Made famous in the 1950s and 1960s, the retro-style shape is distinguished by an exaggerated, upward-sloping frame, resembling the eyes of a cat. The lens typically extends beyond the sides of the face, making them a flattering fit on various face shapes.
Pair your cat eye sunglasses with a red lip, headscarf and Ford convertible to purrfect the 1950s Hollywood look.
Rectangle sunglasses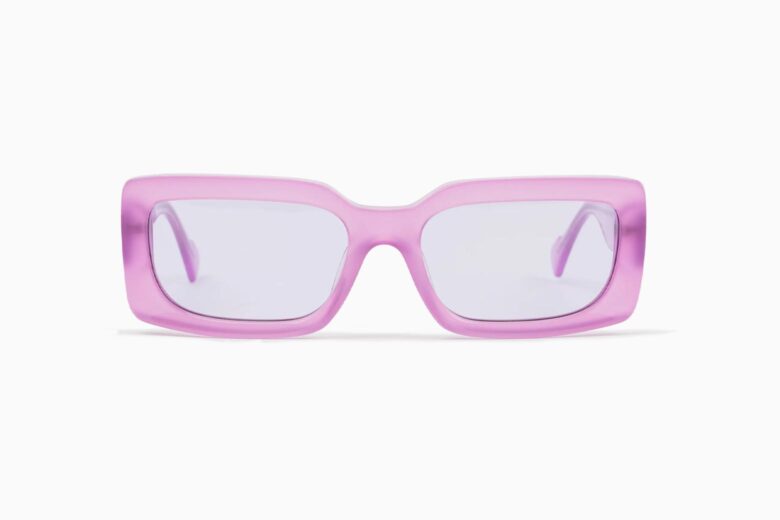 If the coalition of Hailey Bieber, Kendall Jenner and Gigi Hadid is any indication of what cool is, rectangle sunglasses are the definition of drip. Whilst rectangle sunglasses range from bold to industrial, the key to nailing a trend is to find a pair that is more wide than tall.
The angled silhouette is flattering on round faces. Whilst the chunky, versatile style adds an effortless edge to any ensemble—be it an oversized white tee or a sophisticated suit.
Round sunglasses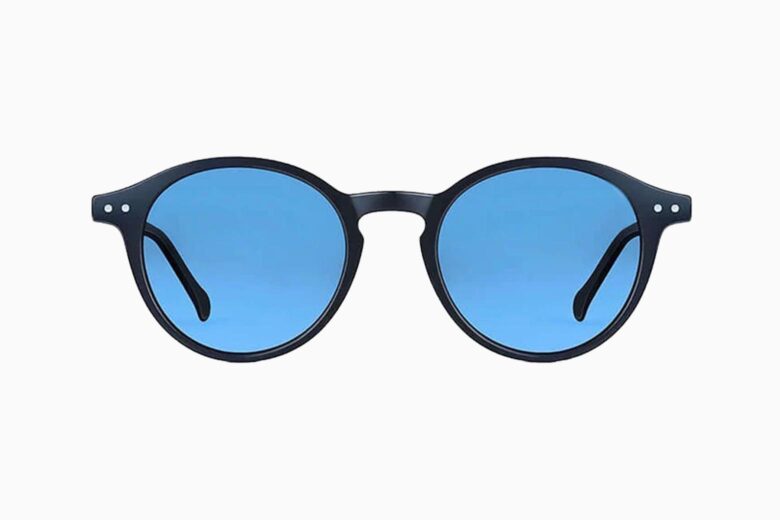 Here comes the sun—and we're well prepared in our Lennon-inspired sunnies. Made famous by the Beatles' lead singer, round sunglasses are significant of the 1960s counterculture movement. While the statement style remains relevant amongst hipsters and festival-goers today.
Play up to the vintage look with thin, metal frames—and a colorful tint of course. Or keep it contemporary with chunky, plastic iterations. Either way, we can totally see you floating through the desert in your round sunnies, pink plaits and sequin-embellished playsuit.
Wayfarer sunglasses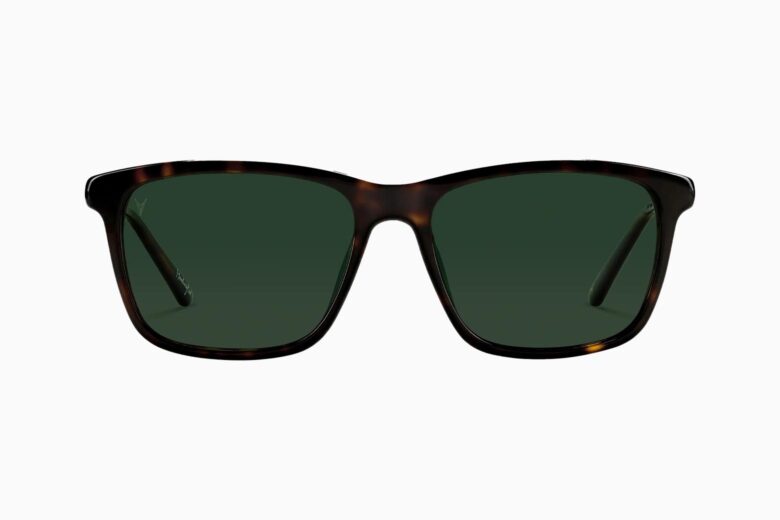 Originally created by Ray-Ban in 1952, Wayfarers were made famous by Audrey Hepburn in Breakfast at Tiffany's as well as by James Dean in Rebel Without a Cause. The frames are usually made of plastic and have a distinct square shape. The lenses can be either solid, gradient, or mirrored. And the effortlessly versatile style lends itself to a plethora of casual or sophisticated styling options.
Wayfarer sunglasses are the perfect "troubled teenager" addition to a tight white tee and relaxed denims for men. And for women: they also add an elusive air of mystery to a classical LBD and sting pearl accessories.
Square sunglasses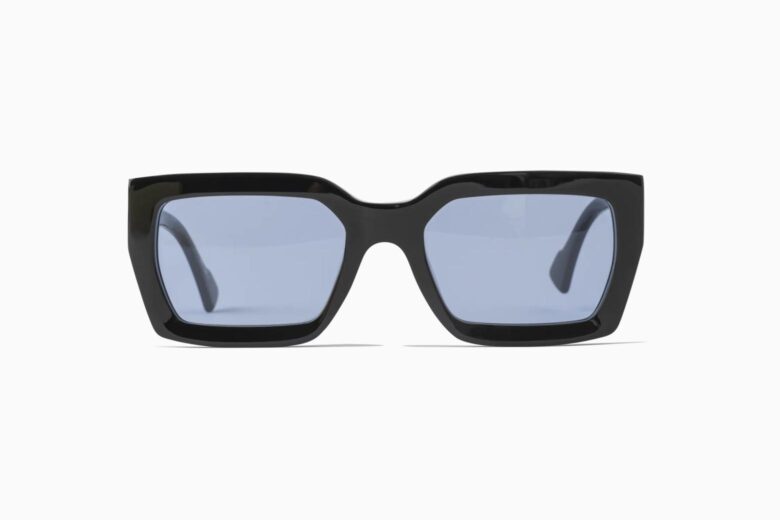 More is more—a fashion aficionado's mantra when it comes to choosing square sunglasses. Whilst square sunglasses can have rounded edges, the classical silhouette is more angular, making them one of the best sunglass styles for round or oval faces. And the large, exaggerated frame plays double duty as a sun protector and fashion statement.
According to our Instagram feeds, the time-honored, traditional shape is totally on-trend. But I guess that makes sense. Because as we all know: it's hip to be square (sorry, we had to.)
Browline or Clubmaster sunglasses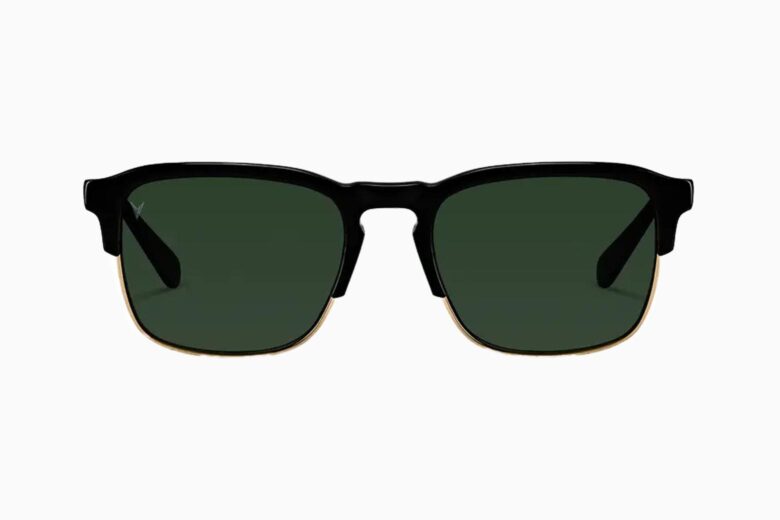 Cool and classy, clubmasters recall images of successful businessmen in private clubs. The retro style was first produced by Ray-Ban in the late 1950s and is characterized by a bold browline on the upper frame. Clubmaster sunglasses have a round lens. And metallic top bars are often included to add an extra rebellious edge.
As one of the most flattering sunglass styles, browline frames are designed to enhance facial features and define the eye line, making them a favorite amongst A-listers such as David Beckham, Beyonce, and Robert Patterson—not a bad circle from which to draw inspiration.
Geometric sunglasses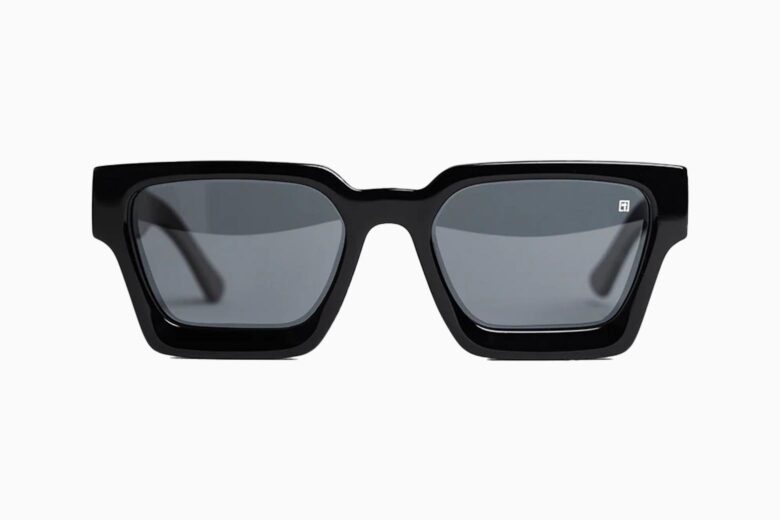 Just take it from Sir Elton John: the sky's the limit when it comes to geometric sunglasses. From red-tinted heart silhouettes to less-eccentric hexagons, an array of unique options leave ample opportunity for your personality to shine through. And whilst we won't expect our minimalist sartorialists to adopt the unconventional trend, they're a favorite amongst those who love to experiment with shape and color.
Just think of rose-tinted trapezoid sunnies with your Y2K bootleg denims and rhinestone-embellished crossbody.
Wraparound sunglasses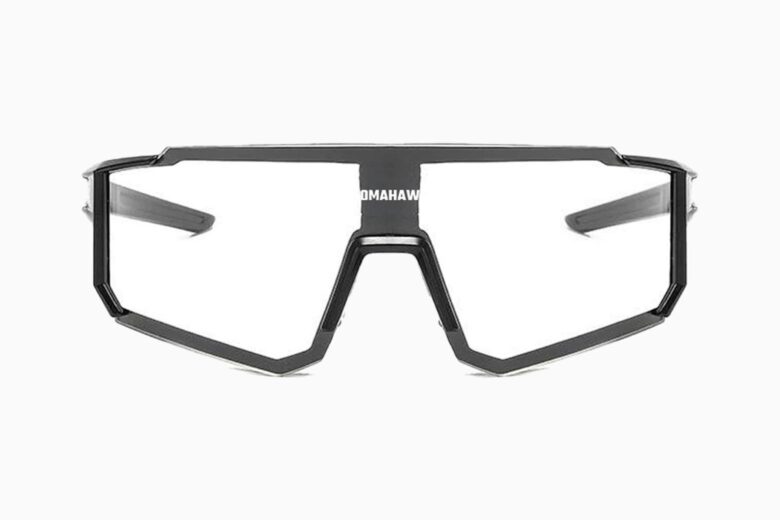 These functional shades were originally designed for sportsmen. But they've recently become a quintessential accessory for martian-inspired festival looks and street-style aesthetics. Wraparound sunglasses fit close to the face and provide extra protection from sunlight and debris, making them the perfect choice for skiing, hiking—and traipsing through the Burning Man desert.
Yes, neon-tinted wraparounds were once considered taboo (unless you were a professional cyclist.) But according to Kim K, function is fashion and sporty shades are actually a style statement.
Oval sunglasses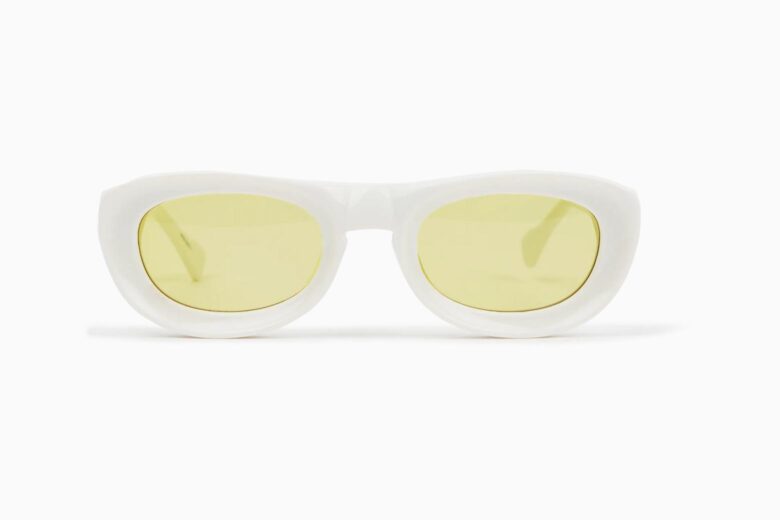 Ok, we don't need any more style icons to remind us that slim and wide sunglasses are in. We're sold. But whether to go rectangle or oval is the big question. Both silhouettes are wider than they are tall, highlighting the cheekbones with a striking effect. But if you have a slightly more angular face, you'll want to opt for oval sunglasses for a slightly softer finish.
Like all things Y2K, oval sunglasses come in an array of brightly colored plastics. While more toned-down iterations are perfect for any modern minimalist with a slightly cheeky edge.
Oversized sunglasses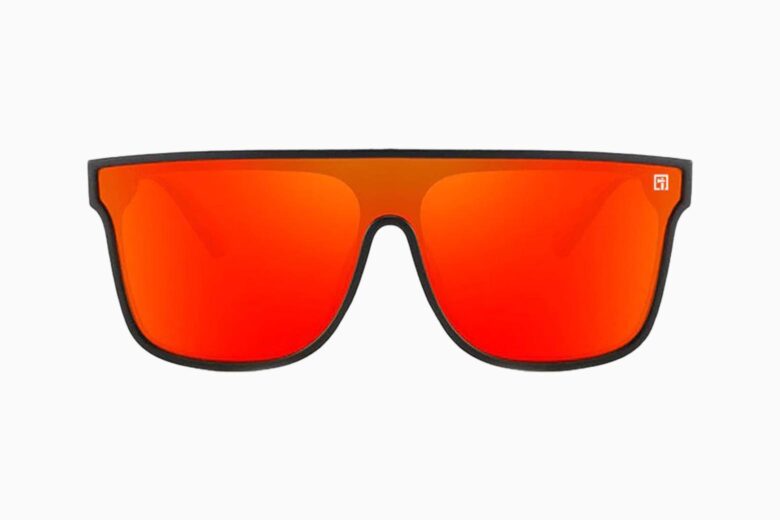 Looking for shades as big as your personality? No problem. Oversized sunglasses come in many different sunglasses styles—with the common thread being their statement-making size. As wide as they are tall, the exaggerated silhouette often covers the eyebrows with a frame that extends past the edge of your face.
According to J-Lo, Victoria Beckham and Khloe K, when it comes to oversized sunglasses, bigger is always better. And styled with chic blacks and neutral hues, we tend to agree.
How to choose the right sunglasses for your face shape
Oval? Square? Heart-shaped? Triangular? Or Rectangular? These are the things you need to know to find the perfect pair.
Determine your face shape
When it comes to choosing the right sunglasses for your face shape, the first step is to determine what exactly your face shape is. You may already know whether you have a round, oval, square, heart-shaped, triangle or rectangular shape. But if you don't, stand in front of a mirror and consider your dimensions. Is your face longer or wider than most? Is your chin pointed or square?
If you're still struggling to see what shape you have, it can be helpful to measure and compare the distance between your cheekbones with the length of your forehead, jawline, and the distance between your hairline and chin. Map them out on a piece of paper and see what shape you get.
Best sunglasses for round faces
If your cheekbones are the widest part of your face, your shape is likely to be round like Selena Gomez and Leonardo DiCaprio. Frames with sharp angles are good for round faces as they balance out a less-angular silhouette.
Sunglass shapes with distinct edges include rectangular, square, cat-eye, and wayfarer styles. We also recommend trying on oversized sunglasses and wider frames. They'll make your face appear longer and thinner.
Best sunglasses for oval faces
Got an oval face? You probably won't struggle to find a pair that looks fantastic. Oval faces are defined by slightly longer faces with balanced features. A slightly rounded forehead and chin, and gently curved, high cheekbones mean that you suit just about every sunglass style.
To us, that's just an excuse to stock up on a variety of different sunglasses styles. From square to aviator to wrap-arounds, every new ensemble calls for a new shape.
Best sunglasses for square face
Finding the right sunglasses for your face shape is all about balance. If you've got a round race, you'll want more angular shades. And if you have a square face, rounder silhouettes can help soften your look.
Square faces are characterized by a strong jawline and broad forehead. The width of the face is usually the same as the length. If this is you, we recommend opting for round, browline, oval or aviator sunnies. Hint: Randolph's aviators are our best sunglasses for women and men.
Best sunglasses for heart shaped faces
A heart-shaped face has a wider forehead and tapers down to a narrow chin. When styling a heart-shaped face, the key is to look for silhouettes that elongate the face. Look for frames with lower, rounded edges that draw attention downwards.
Cat-eye, round, and wayfarer silhouettes are all good options. But if in doubt, you can never go wrong with cat-eyes.
Best sunglasses for diamond shaped faces
Got a narrow forehead, wide cheekbones, and tapered chin? Join the diamond-shaped face club. And counting sultry celebs such as Jennifer Lopez and Meghan Fox amongst its members, it's not a bad club to be a part of. It's also one of the most exclusive as only 5% of our population is made up of diamond-shaped-faced-beauties.
How do you compliment those all-hailed high cheekbones? Take your style cues from J-Lo and opt for rimless shades. Go funky with geometric shapes. Or keep it more conventional with oval and round sunnies.
Best sunglasses for triangle face
Distinguished by a very prominent jawline and narrower forehead, styling triangle faces is all about balance. Triangle faces are usually more angular, making them a great canvas for rounder sunglass shapes.
Frames that are wider at the top and narrower at the bottom, such as aviators, look fantastic on triangle faces. And oversized round silhouettes are a good way to have fun with your accessories whilst still complimenting your angular face shape.
Best sunglasses for rectangle face
It's a common misconception that rectangle faces are very angular. Because of their length and narrow width, they actually have very few edges to work with. Therefore, oblong faces should avoid very small or very round frames.
Instead, we recommend looking for thick, angular frames that contrast your rounded features. Look for square, rectangle and wayfarer styles. And when it comes to size—well, you can never go too large.
Frame style types
More than just a frame of mind, different frame styles flatter different faces.
Full frame
Full frame sunglasses have a full-size frame that completely encircles the lenses. The frame typically covers the entire area around the eyes, including the bridge of the nose and temples. Full frames range from chunky plastic iterations to the dainty metallic frames, typically found on aviators.
Half frame
Think of your classic wayfarer style with a frame that only covers the top half of the lens. These are the most popular illustrations of half frame sunnies, but you can get less-conventional versions, where the frame only covers the bottom half of the lens.
Frameless or rimless
A favorite of Priyanka Chopra and Brad Pitt, frameless shades are the pinnacle of chic sophistication. Without a frame, the elegant accessories are best for diamond and square-shaped faces as they emphasize your natural angular features with a minimalist, clean aesthetic.
Frame material types
Fabric is everything.
Injection molded plastic
Most commonly found on wayfarers and square frames, injection molded plastic frames have a glossy finish very similar to traditional metal or acetate iterations. They are lightweight, highly durable and usually more affordable, making them a popular choice for outdoor lifestyles and sporty aesthetics.
Acetate
Lightweight and durable, acetate frames are super comfortable. The plastic material has a glossy finish. And as one of the most popular materials used for sunglasses, acetate frames come in an array of colors and styles. Think of the iconic Ray-Ban wayfarers and your favorite it-girl-approved cat-eyes—they're almost certainly made from acetate.
Metal
Metal frame sunglasses have a classic, minimalistic look. They are typically made of lightweight metal materials such as stainless steel, aluminum, titanium or a combination of these metals. They are a popular choice for round silhouettes and aviator styles and are usually a lot thinner than other frames. Metal frames are also more malleable and easier to adjust to your face.
Genuine tortoise shell
Genuine tortoise shell sunglass frames are typically oval or slightly rectangular in shape, with a subtle marbled pattern. The color of the frame is usually a warm brown and can range from light tan to dark brown. Made from cellulose acetate—a material derived from cotton pulp and wood fibers—genuine tortoise shell is a timeless, classical choice for cat-eyes and more angular sunglass styles.
Wood
While wood frames are less common than other materials used for sunglasses, they are becoming increasingly popular. A favorite amongst vegan yogis and eco-conscious consumers, they are often made from sustainable materials such as reclaimed wood or bamboo. They are also naturally hypoallergenic, lightweight, durable, and come in a range of neutral hues, making them versatile and easy to wear.
Types of sunglass lenses
Polarized or anti-reflective? We're looking at every situation through the right lens.
Polarized lenses
Polarized sunglass lenses have a special filter applied to them which eliminates most of the reflected light from the sun and other sources. This helps reduce glare and allows for better visibility in bright conditions. Polarized sunglasses can also help improve contrast, so colors will appear more vibrant. However, they make it harder to see LED lights like those on your phone, so choose another pair for scrolling through Insta.
Mirror-coated lenses
Highly reflective and decidedly fashionable, mirror-coated lenses are no longer just a cyclist staple. The coating is usually made up of several layers of dielectric material that reflect a portion of light. And used to reduce glare and reflections from the sun, they practically protect your eyes from UV rays, whilst adding a cheeky flair to any ensemble.
Anti-reflective coated lenses
Whilst mirror-coated lenses are great for combatting glare, you may not like the sun bouncing off your lenses while you're having your photo taken or talking to someone.
Enter: anti-reflective coating. The optical coating applied to the surface reduces glare from light sources such as the sun, headlights and computer screens. It also reduces reflections from the front and back surfaces of the lens, allowing more light to pass through the lenses and into your eyes. This eliminates eye strain, making it easier for you to see clearly in all types of lighting conditions.
Gradient lenses
Gradient sunglasses lenses are tinted from the top down. The tint is usually darker at the top, and gradually fades to a lighter shade toward the bottom. Curtailing glare while still allowing plenty of light to pass through, gradient lenses improve clarity and contrast, making them both functional and fashionable.
Double gradient lenses
Like gradient lenses, double gradient lenses fade from top to bottom. However, the fade is a lot more noticeable with a heavily tinted top and bottom. This style of lens allows you to have full protection from the sun while still having enough visibility in the lower portion of your vision. Plus, it's an A-list-approved style statement.
Photochromatic lenses
The chameleon of sunglass lenses, photochromatic lenses adjust to our surroundings. Designed to protect our eyes from harmful rays, the adaptable lenses respond to the amount of UV light that reaches them. They become darker when exposed to bright sunlight. And they become lighter with fewer UV rays, whilst still providing a comfortable level of vision clarity.
Prescription sunglasses
Yep, you can ditch your regular reading glasses when you go outside. Prescription sunglasses are both cool and corrective. And the sky's the limit when it comes to style as you can fit almost any type of sunglasses with lenses that match your optometrist's prescription.
Read our guide to the best places to buy glasses online for more information.
Lens colors and tints for sunglasses
Rose tinted or not—life just got a whole lot more fun.
Gray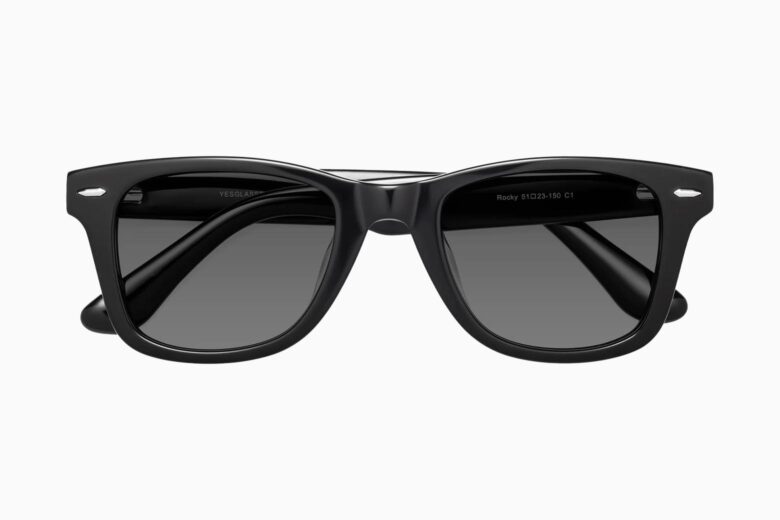 Not too dark and not too light, we enjoy living life in the gray. The neutral hue is great for everyday wear. And it makes objects even clearer, making gray lenses a fantastic choice for outdoor sports.
Yellow/Orange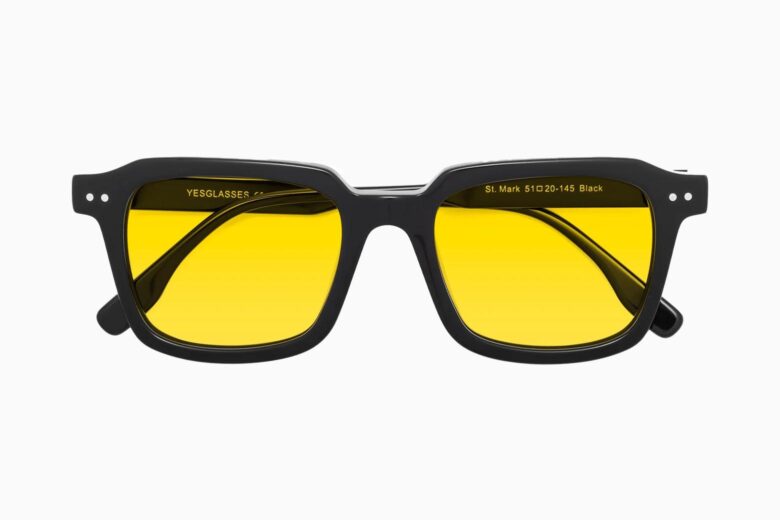 And it was all yellow—we think we know what sunglasses Coldplay members were wearing when they wrote these lyrics. Besides the trendy color tone, yellow lenses also provide increased contrast, making them a favorite amongst pilots and gamers.
Brown/Amber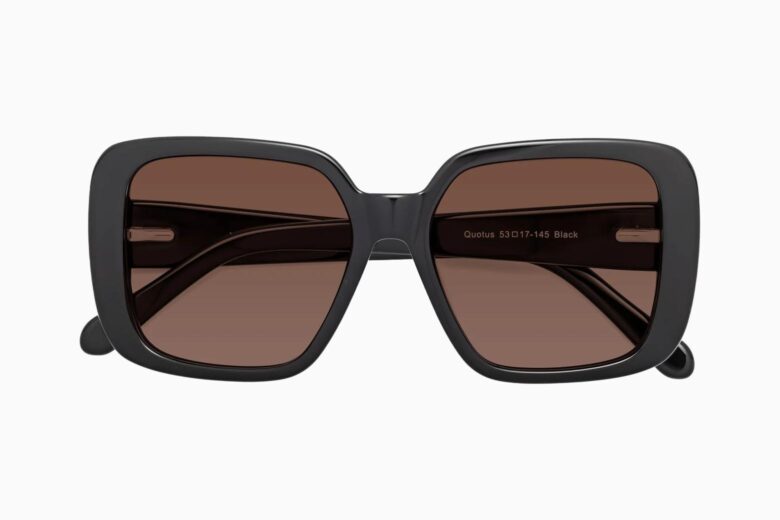 Versatile and understated, brown or amber sunglass tints are a failsafe choice for our minimalist at heart. Improving contrast against blue and green, they're also our go-to for driving, golfing or sailing.
Green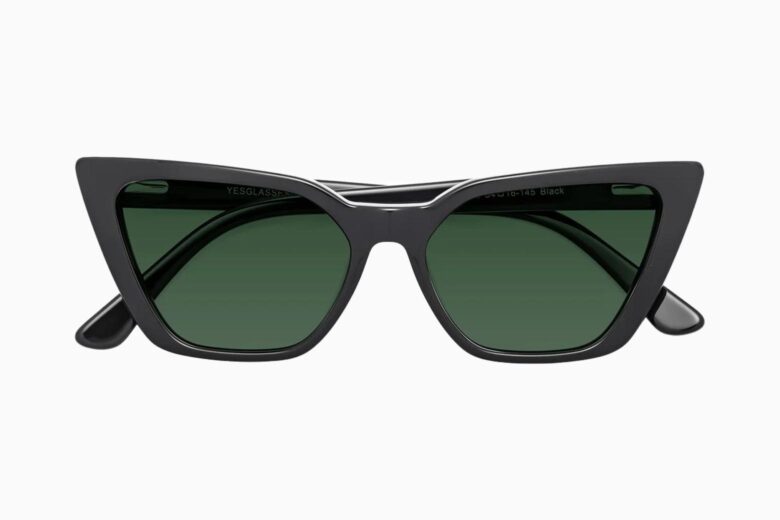 Life isn't always greener on the other side if you're wearing green tinted sunnies—a proven antidote for misplaced pessimism. Of course, green lenses aren't as versatile as brown or gray. But when it comes to utility, they do everything better.
Purple/Red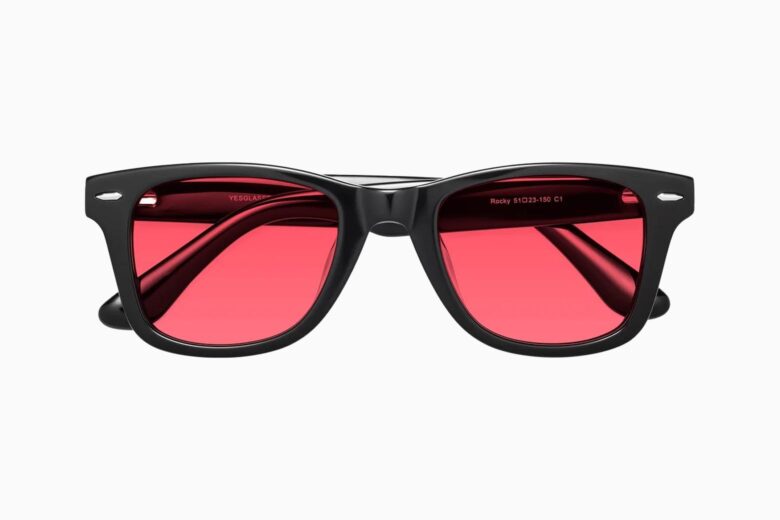 Seeing red? That may not be a bad thing. If you're wearing purple or red tinted shades that is. Otherwise, we suggest anger management. And if you are wearing red lenses, we recommend getting the most out of them on the slopes. Reducing glare dramatically, purple or red lenses are fantastic for Winter sports.
Blue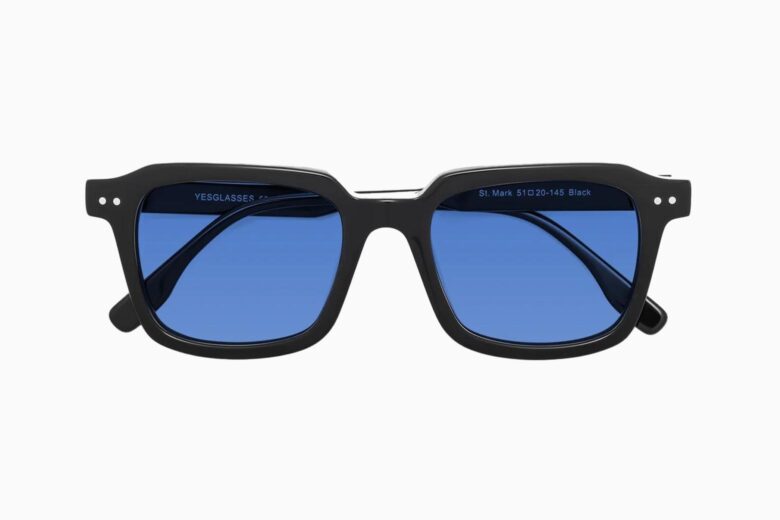 Blue tinted lenses? They're the only Sunday blues we know. And trust us, there's nothing bleak about seeing everything from this kind of blue perspective. Especially if you're putting green or building snowmen. Blue lenses contour objects, have increased UV protection, reduce glare, improve color perception and have a calming effect on the eyes.
Frequently asked questions about sunglasses