Move over, high heels. Flat shoes for women are having a welcome resurgence, and we're right there behind them, stylish loafers in one hand and dainty mules in the other.
Cushioned insoles, supported arches and flexible soles might not be the sexiest descriptors for stylish footwear. But when paired with dressy embellishments, soft leather, and pointed-toe silhouettes, you're on your way to discovering your new favorite flat shoes.
The tide has well and truly turned, and the humble commuter flat (a comfortable alternative to wearing the classic sneaker) is now our go-to shoe for sightseeing, drinks at the bar, and everything in between. And, whether you opt for statement slip-ons, dressy pointed-toe flats, or classic ballet flats, our guide breaks down everything you need to know before shopping for your next pair of comfortable flats. 
And, of course, comfort is key here, which means no more bandaids hastily put in your purse before a night out, no more pinched toes after too many steps, and you can wave goodbye to aching arches the following morning.
No matter which flat shoe in our list you choose, no doubt your feet will thank you later. So you're welcome.
The 15 most comfortable flats
Check below our listing to see exactly what to look for when shopping for your next pair of comfy flats.
Koio Penny: Overall most comfortable flats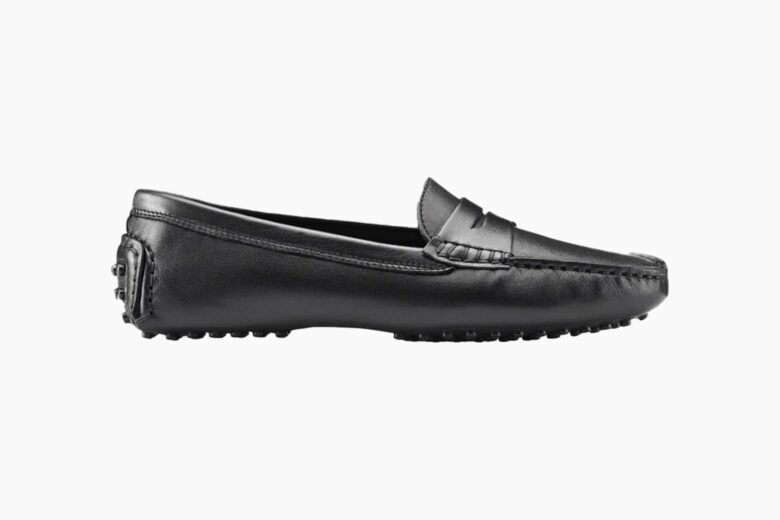 The Pavia Penny by Koio helps you to put your best foot forward with a fashionable take on the driver shoe that's both stylish and supportive. None of us has got the time for thin soles, pinched toes, or painful skyscraper heels and these upgraded essentials, handcrafted in Italy – from LWG-certified sustainable Italian leather may we add – promise to avoid all of the above.
The Pavia Penny is a chameleon of a shoe: Whether you want to add a polished touch to your holiday strolls or need a failsafe staple shoe for throwing on in the morning, it'll simplify your day-to-day life with a pair of shoes that blend in to every occasion. Good quality leather (check), versatile style (check), guarantee of no need to break them in (check). These cushioned flats rest on flexible gommini-embedded soles and fit like a glove and act as a smart, understated addition to your wardrobe and airport-ready look that'll carry you through whatever or wherever you're taking them.
| | |
| --- | --- |
| Best for: | A great all-round shoe that doesn't compromise on style. |
| Colors: | Black, white, biscotto |
Christian Louboutin: Most comfortable luxury flats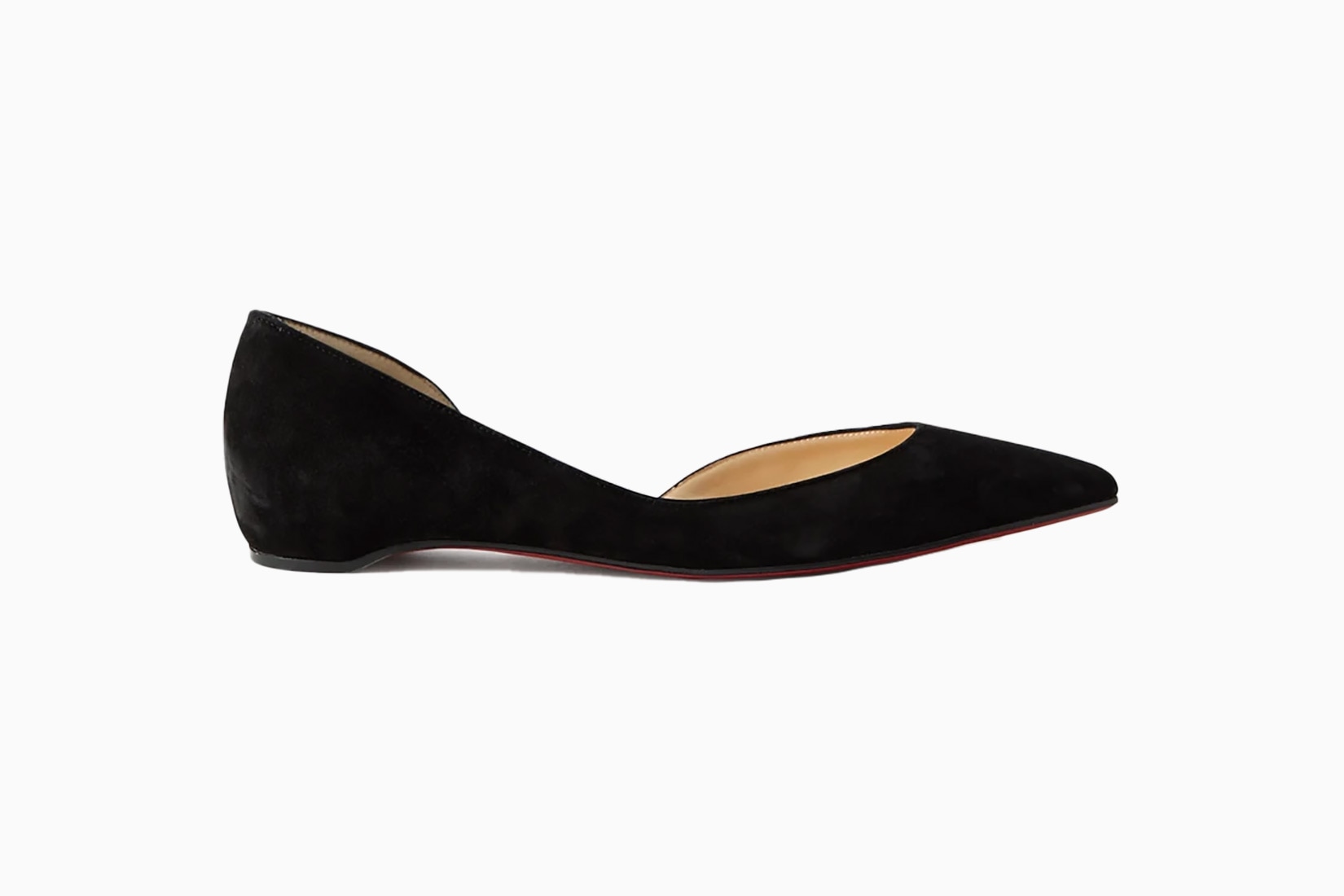 We all need an excuse to treat ourselves every so often, so, for a worthwhile purchase that'll support you long after you've stopped thinking about the price, opt for a premium quality pair of luxury flats. Christian Louboutin's Iriza pointed-toe flats breezily feature everything from stylish design to incredible comfort and a brand name that you'll love to bring up in conversation. 
Velvety black suede is soft enough that you'll want to pull these on just to wander around the house and the classic style is one you'll reach for no matter what's on the cards. Christian Louboutin is one of our go-to brands for combining comfort with luxe style and the half d'Orsay silhouette of these pointed-toe flats makes them just as effortless as they are comfortable.
Not all flats are comfortable but these ones win our seal of approval with their timeless appeal and versatility — pair them with everything from jeans to midi skirts.
| | |
| --- | --- |
| Best for: | A classic and timeless flat shoes for "ladies who lunch". |
| Colors: | Black, beige |
Hush Puppies Chaste Ballet: Best value comfortable flats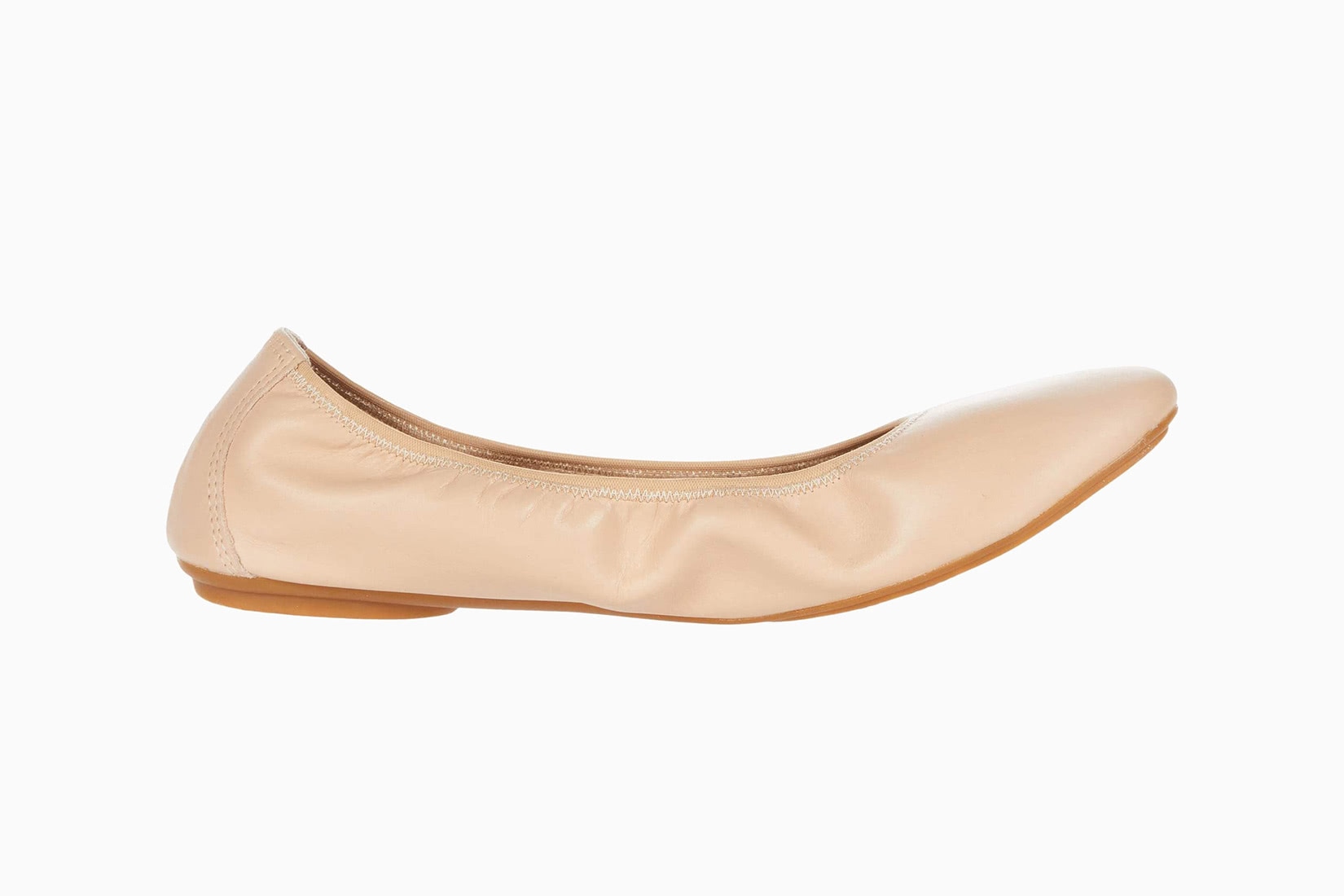 Hush Puppies are one of those brands that scream comfort. Or rather, instead of screaming comfort, they'll gently envelop both of your feet with comfort, one by one, taking the stress out of a long day and throwing in a quick foot massage for good measure. What we're saying is, if you consider comfort to be the prime reason for your purchase, Hush Puppies are the best ballet flats around.
Hush Puppies' Chaste Ballet is a great allrounder that comes in at an equally comfortable price point. Plenty of color variations (from refreshing white flats to classic black flats) also means that, once you've been converted, you can stock up on complementary colors too. Sometimes the classics are classics for a reason and you'll never doubt your decision buying a pair of these ballet flats.
| | |
| --- | --- |
| Best for: | Ensuring top-notch comfort levels without breaking the bank. |
| Colors: | A range including black, white, nude, leopard |
Tory Burch Minnie Travel Ballerina: Most comfortable designer flats for travel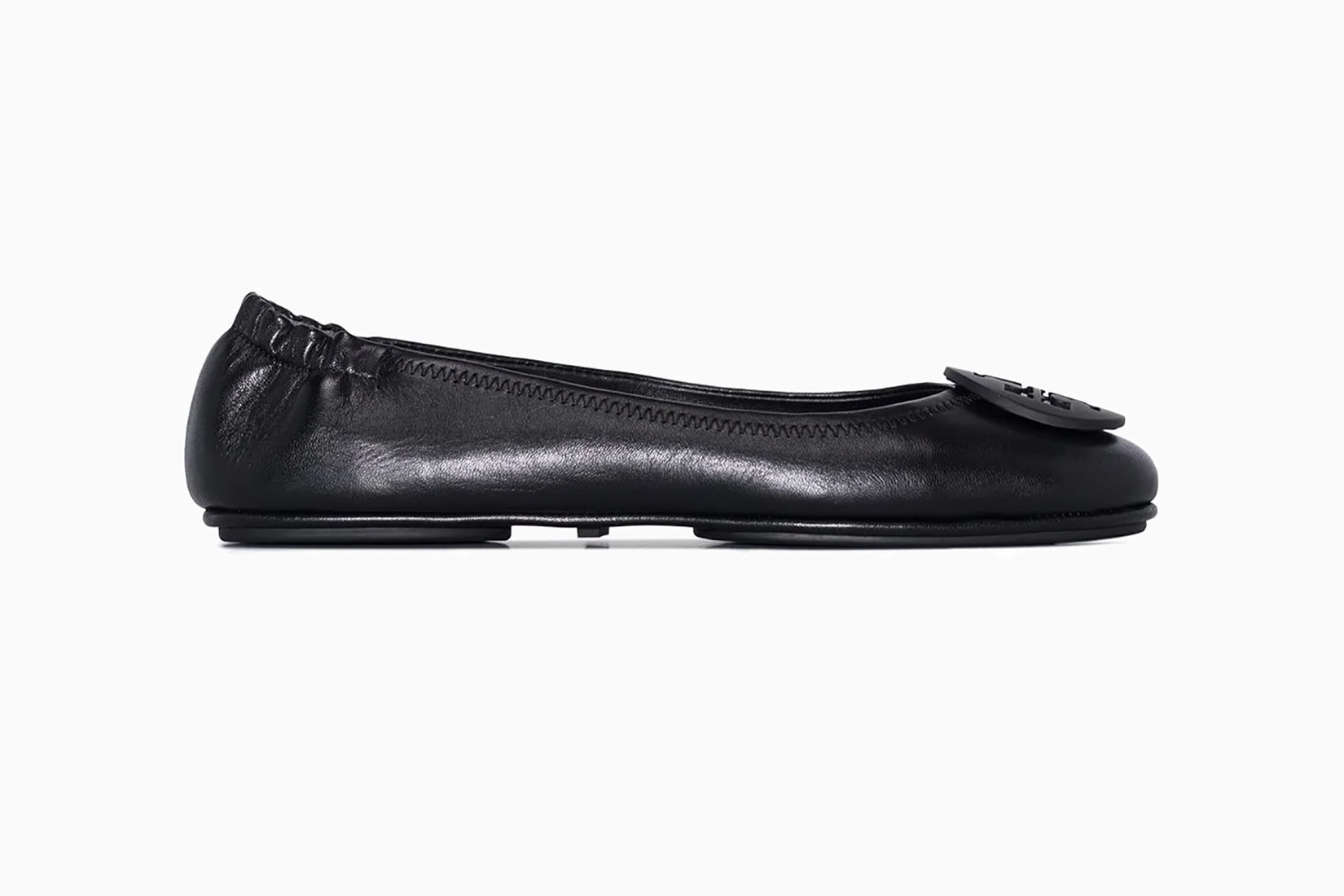 The saying goes "you can't put a price on happiness" but we would beg to differ with Tory Burch flats. If we had to guess, we'd put a price on happiness (in the form of) comfortable flats at around $205. Which, coincidentally, happens to be the exact same price as the Minnie Travel Leather Ballerina shoes. By no means the cheapest on our comfortable flats guide but promising the most street cred, these ballerina flats by Tory Burch combine holiday chill, weekend shopping trip, Saturday morning brunch, and everything in between. 
The slip-resistant rubber sole offers excellent grip and traction, while the flexible, cushioned insole adds extra comfort. Even better? The shoes fold up, making them super convenient to pack.
Tory Burch's Minnie Travel Leather Ballerina will sit proudly at the front of your wardrobe or folded and tucked into your favorite travel tote, confidently waiting for the next occasion when you bring them back out. Which, spoiler, will likely be in a matter of hours. No break-in time needed.
| | |
| --- | --- |
| Best for: | 5-star comfort on the go. |
| Colors: | A range including black, nude, snake print |
Manolo Blahnik Gelista Ballet Flats: Most comfortable flats for work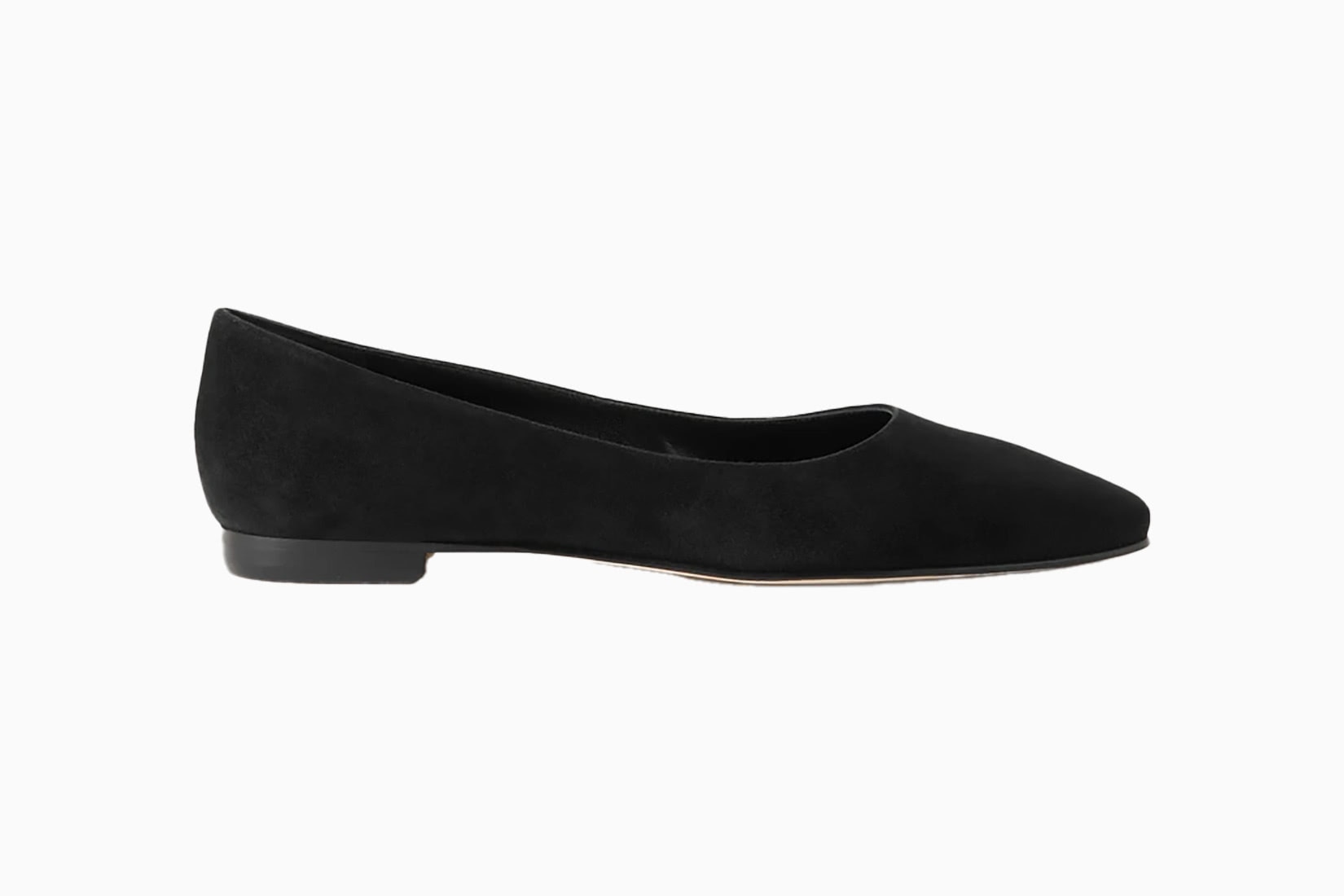 If you need any persuasion to swap out your office heels for a pair of comfortable flats: this the pair of ballet flats that'll seamlessly make the transition. Warning: you might even find yourself skipping to work.
Manolo Blahnik's Gelista flats are chic and polished enough to throw on in the morning on days when you really can't face high heels, but are also timeless and versatile enough that you'll even reconsider swapping out your go-to flats for them. Think of it as the adult equivalent of wanting to wear your shiny new school shoes even when it's not a weekday.
With elongated almond toes and a promise of comfort, these comfortable black ballet flats will easily become your new staple work shoe. Long day ahead? Pair your work-appropriate-but-still-incredibly-comfy outfit with Manolo Blahnik's black suede Gelista flats to make it just a little bit easier.
| | |
| --- | --- |
| Best for: | Suddenly positioning you as the super fashionable colleague. |
| Colors: | Black |
M.Gemi Felize Moccasin: Most comfortable flats for walking all day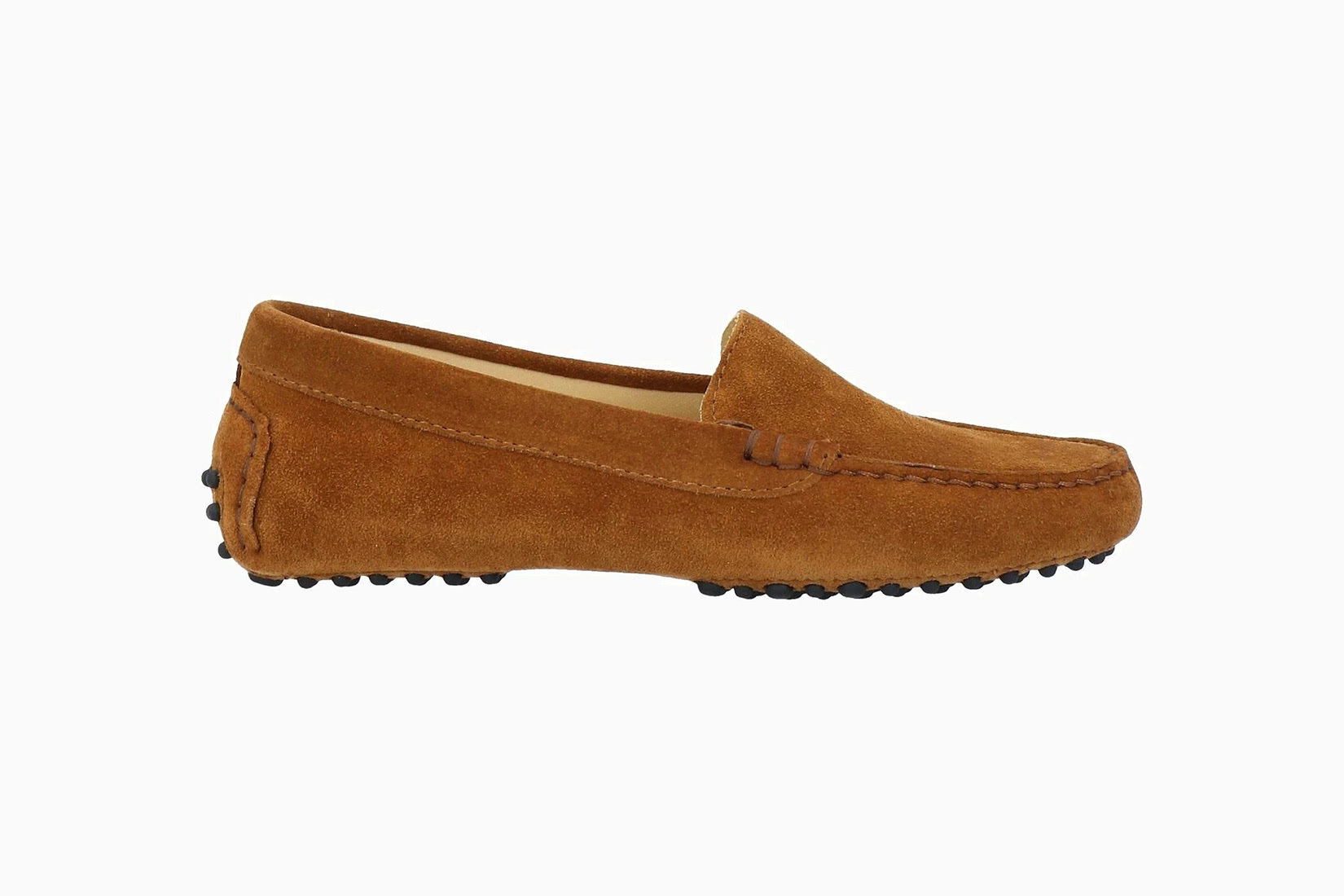 Nothing sends a beautiful pair of shoes to the Wardrobe Graveyard faster than ending the day with blisters, red toes, and more pain than you'd ever feasibly anticipate from a shoe. No matter how intricately detailed, painstakingly crafted, or fabulously colored, only the most reliable shoes will earn their place as a regular after a long day of walking. It might seem easier just to throw on a pair of trainers if you know you'll be on your feet all day but, if you'd rather stay comfortable and chic, there are still flat shoes that'll fulfill both sides of the deal. 
A pair that's definitely earned our respect comes in the form of M.Gemi's Felize Suede Moccasin, handcrafted at a tiny Tuscany workshop.
With a sock-like fit, flattering oval toe, and durable—and scratch-resistant​—Gommoni rubber pegs, this suede loafer is a plain-sailing year-round staple. Simply slip them on and go about your day. The leather will effortlessly mold to the shape of your foot after a few wears.
Learn more about the story behind M.GEMI.
| | |
| --- | --- |
| Best for: | Italian driver shoes you'll reach for again and again (and again). |
| Colors: | A range including black, blue, sage, camel |
Mansur Gavriel Dream Ballerina: Most comfortable leather flats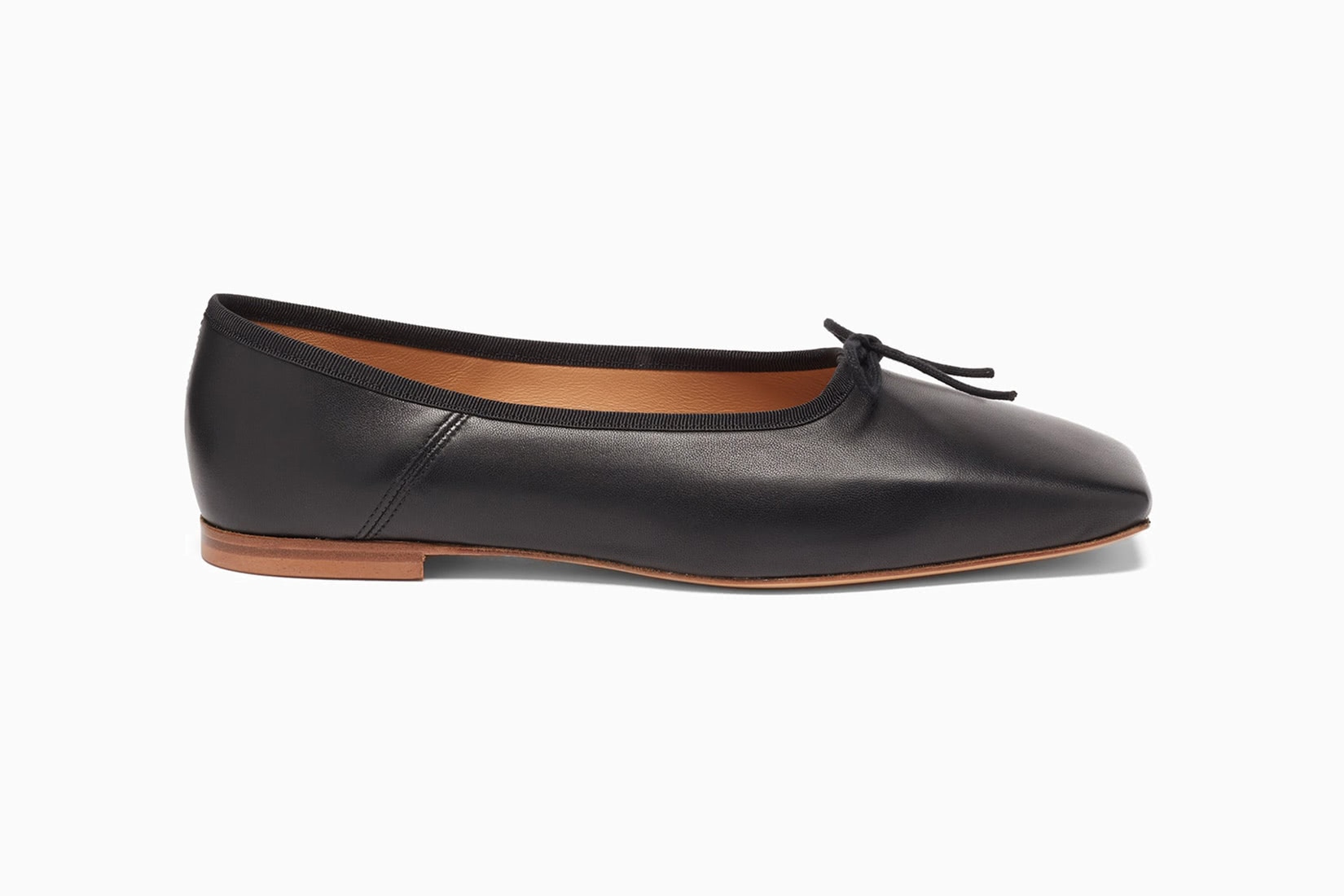 Ask any elegant French girl — a classic ballerina is an effortless chic staple shoe. And this dream pair by Mansur Gabriel is case in point.
A grown-up take on the iconic feminine ballerina silhouette, the square-toe ballerinas are the kind of timeless flat shoes you will gladly wear on repeat.
Skillfully crafted in Italy from buttery-soft breathable leather decorated with a graceful bow, these Mansur Gavriel's Dream Ballerina flats will pay dividends wear after wear — both in terms of versatility (pair yours with everything from your favorite jeans to feminine skirts) and serious level of comfort.
Plus, they can also be worn with a folded heel for a laid-back slipper-like effect. And let's not even get started on how thankful you'll be to Past You for remembering to bring such shoes along each time.
Learn more about the story behind Mansur Gavriel's brand.
| | |
| --- | --- |
| Best for: | The perfect Parisian look. |
| Colors: | A range including black, beige, blush-pink |
AEYDE loafers: Most comfortable dressy flats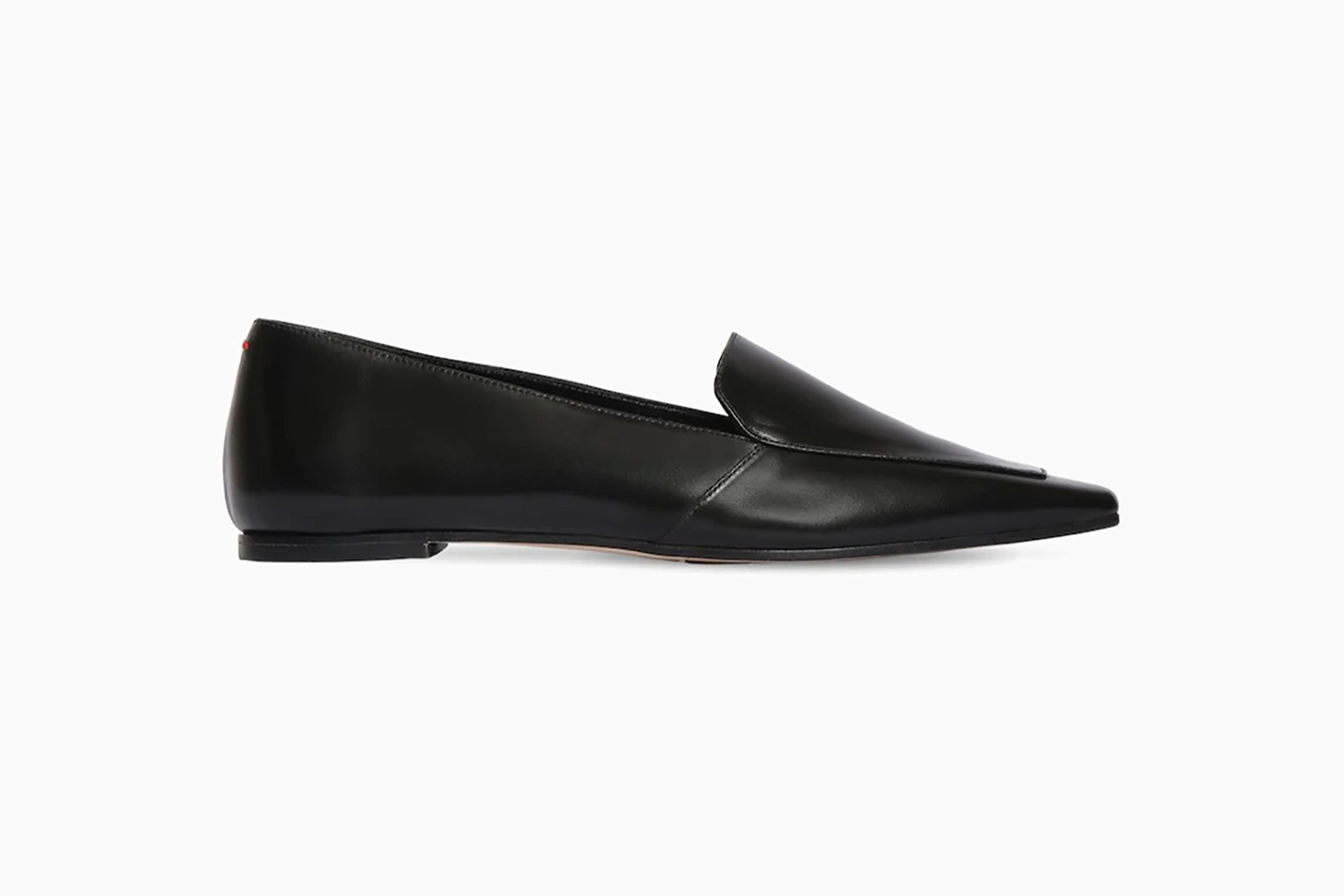 We'll say it one more time for the people in the back: you don't need to wear high heels to feel or look dressy. In fact, the confidence (and, likely, expression) you wear when you're comfortable far exceeds any added style points gained from wearing heels.
A pair of black loafers worn alongside a crisply ironed outfit is a true sign of officially Having Everything In Life Together.
So take this as a chance to add a new favorite pair of dressy flats to your wardrobe that will walk you from a morning meeting to after-work drinks effortlessly and we promise you'll never look back. 
Enter: AEYDE's sleek, slender, and seriously chic loafers. 
An essential addition to any well-curated wardrobe, you'll never feel underdressed with your secret weapon in the form of comfortable — yet uber-stylish — loafers. If anything, you'll likely be on the hunt for more social occasions.
| | |
| --- | --- |
| Best for: | Bringing an outfit together when you've got no clue what to wear |
| Colors: | Black, tan |
Cole Haan Tali Bow Ballet: Most comfortable ballet flats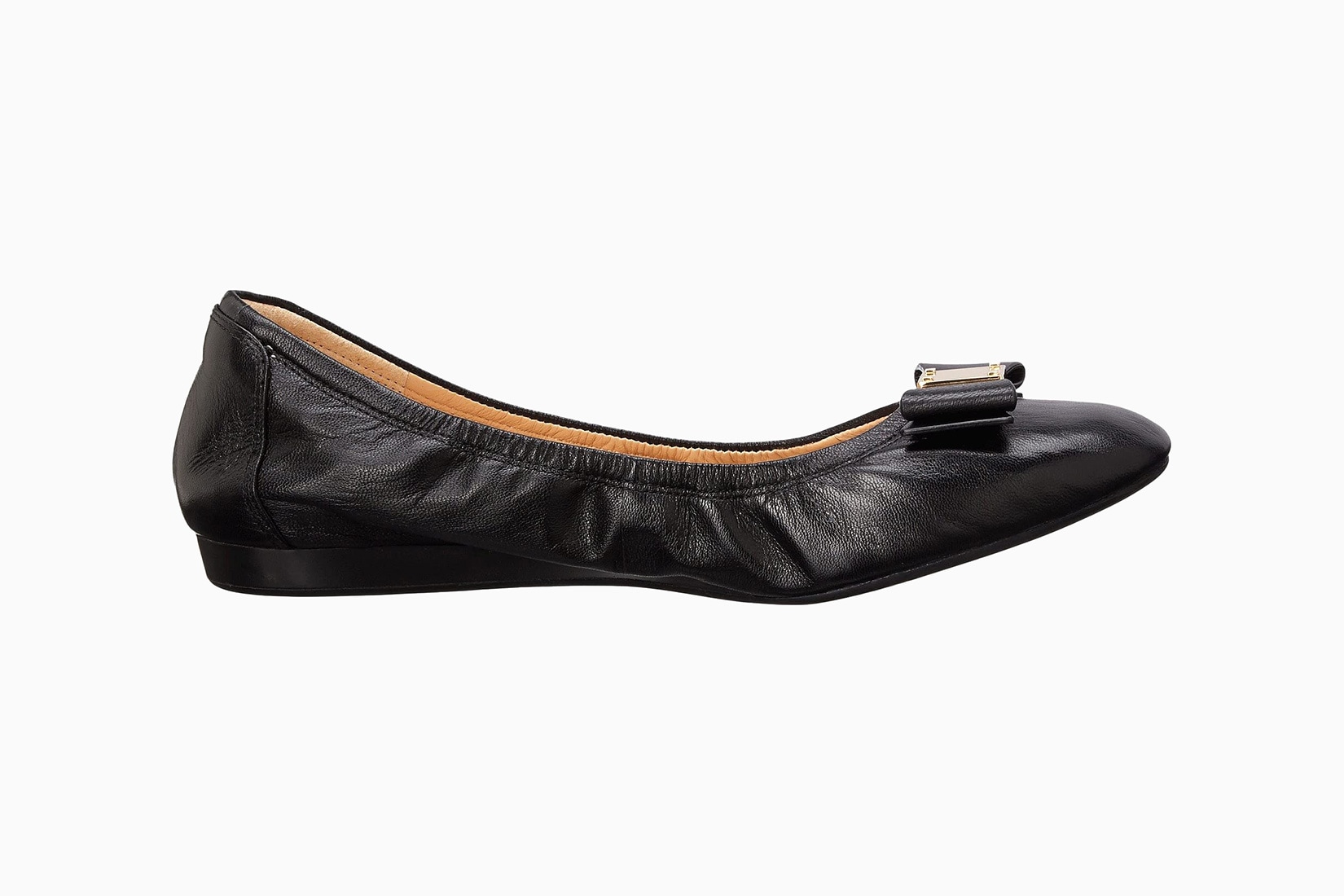 Ballet flats never go out of fashion — so you can't go wrong by keeping a pair of ballerinas tucked away in the closet. The difference in modern-day shopping is that there's less pinching of the feet and curling up your toes to avoid pain, and more looking for opportunities to pull out the ballet flats with their new-found comfort level. If you were never allowed to wear a pair to school, now's the time to shine.
Either you kept the ballet flat trend going over the years or you're ready to bring it back into your life again now. Either way, Cole Haan's Tali Bow Balle with their classic leather bow are a sure winner when it comes to perking up your outfit. They're a great pair to act as a throwback to simpler times while enveloping your feet in a gentle hug.
| | |
| --- | --- |
| Best for: | No-regrets-no-blisters comfort. |
| Colors: | Black, cream |
Naturalizer Samantha: Most comfortable breathable flats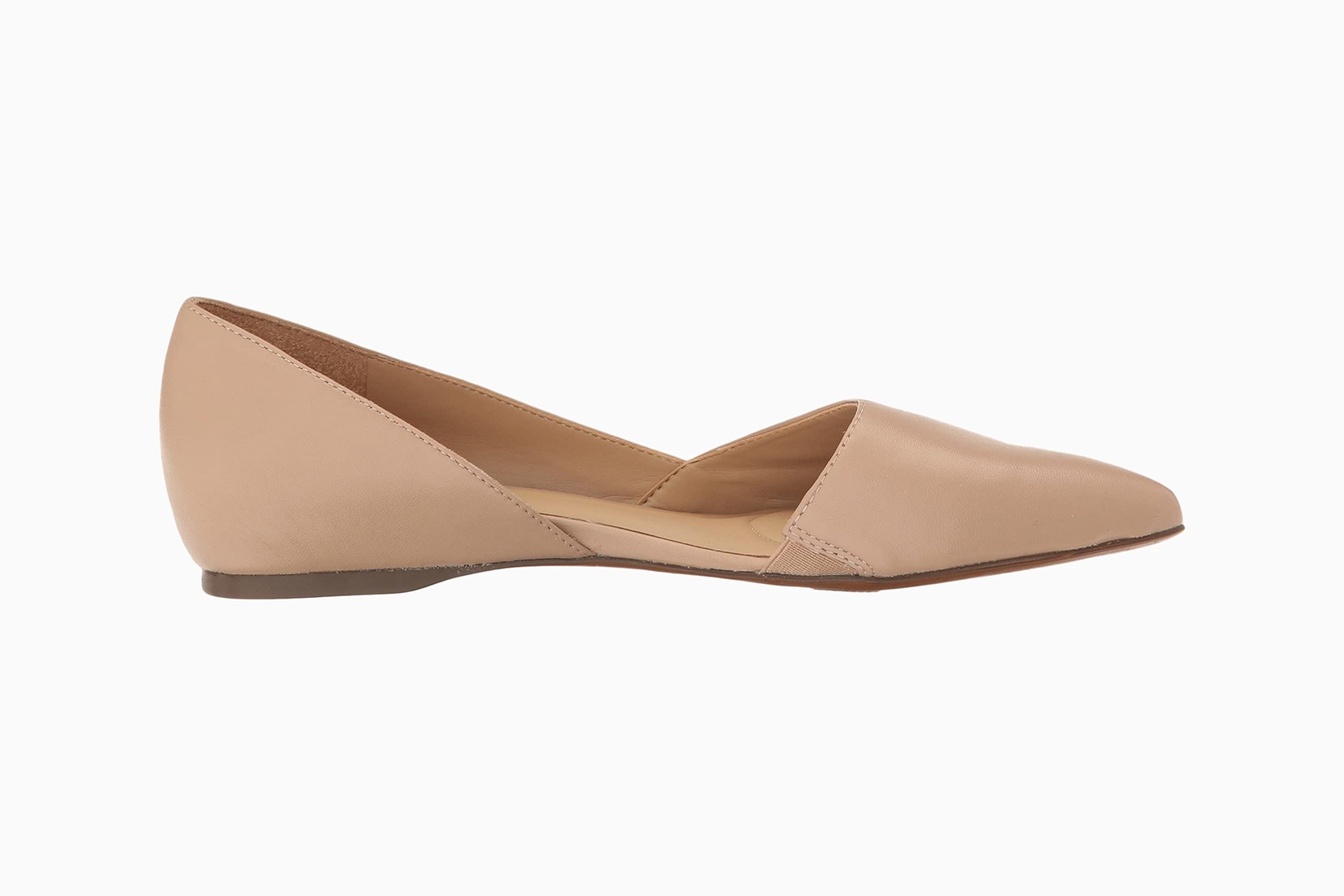 A standard summer's day is filled with the clinking of glasses, the rolling up of sleeves, and the occasional comment of "wow, it's quite warm today, isn't it?" Plan accordingly, and this latter comment will be the extent of your summer woes, without having to worry about exceeding the point of being just too warm or approaching levels of being most definitely Quite Hot. So it's important that, alongside a floaty dress, lashings of suncream, and a fruity cocktail, you remember to pull on your most breathable flats.
Of course, there's always the option to surreptitiously slip them off under the table, but a better way to beat the heat is to just pick a pair of flats that'll keep you cool. Naturalizer's Samantha flats combine sophisticated style with comfort and support. Wear them to picnics or summer BBQs when you need to look cool and feel cool.
| | |
| --- | --- |
| Best for: | Hot summer days when you want to wear the bare minimum. |
| Colors: | Black, yellow, taupe |
Gianvito Rossi Ballerina: Most comfortable pointed-toe flats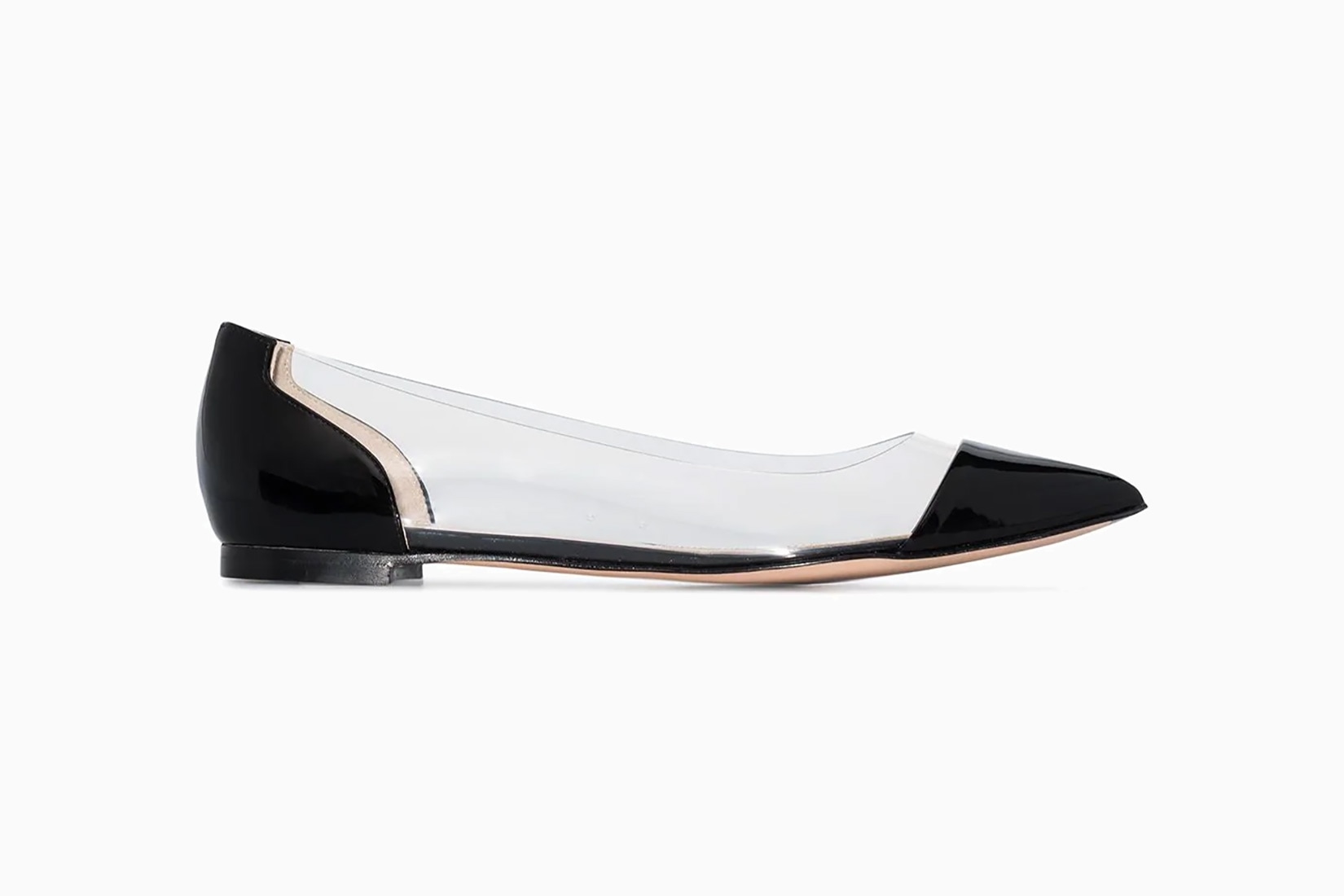 It's a common misconception that pointed-toe shoes are uncomfortable. Make sure you're buying a premium quality pair of pointed-toe flats in the right size, and you'll be able to effortlessly stroll from A to B without pinching your toes or regretting any comfort-based decisions. With that in mind, as any pointed-toe lover will know, it's almost crucial to ensure that the pair you're investing in are worth their money when it comes to looking good and feeling good.
Gianvito Rossi Ballerina flats do just that. You might even go as far as to say that this is the ultimate sartorial all-rounder to wear with virtually all wardrobe outfits and occasions, thanks to their sleek style and almost unbeatable level of comfort. Got a wedding or fancy evening occasion on the horizon?  Take a closer look at these pointed-toe flats.
| | |
| --- | --- |
| Best for: | A wardrobe mainstay to whip out at any moment. |
| Colors: | Transparent-black, transparent-snake, transparent-pink |
Skechers Cleo Ballet Flats: Most comfortable flats for wide feet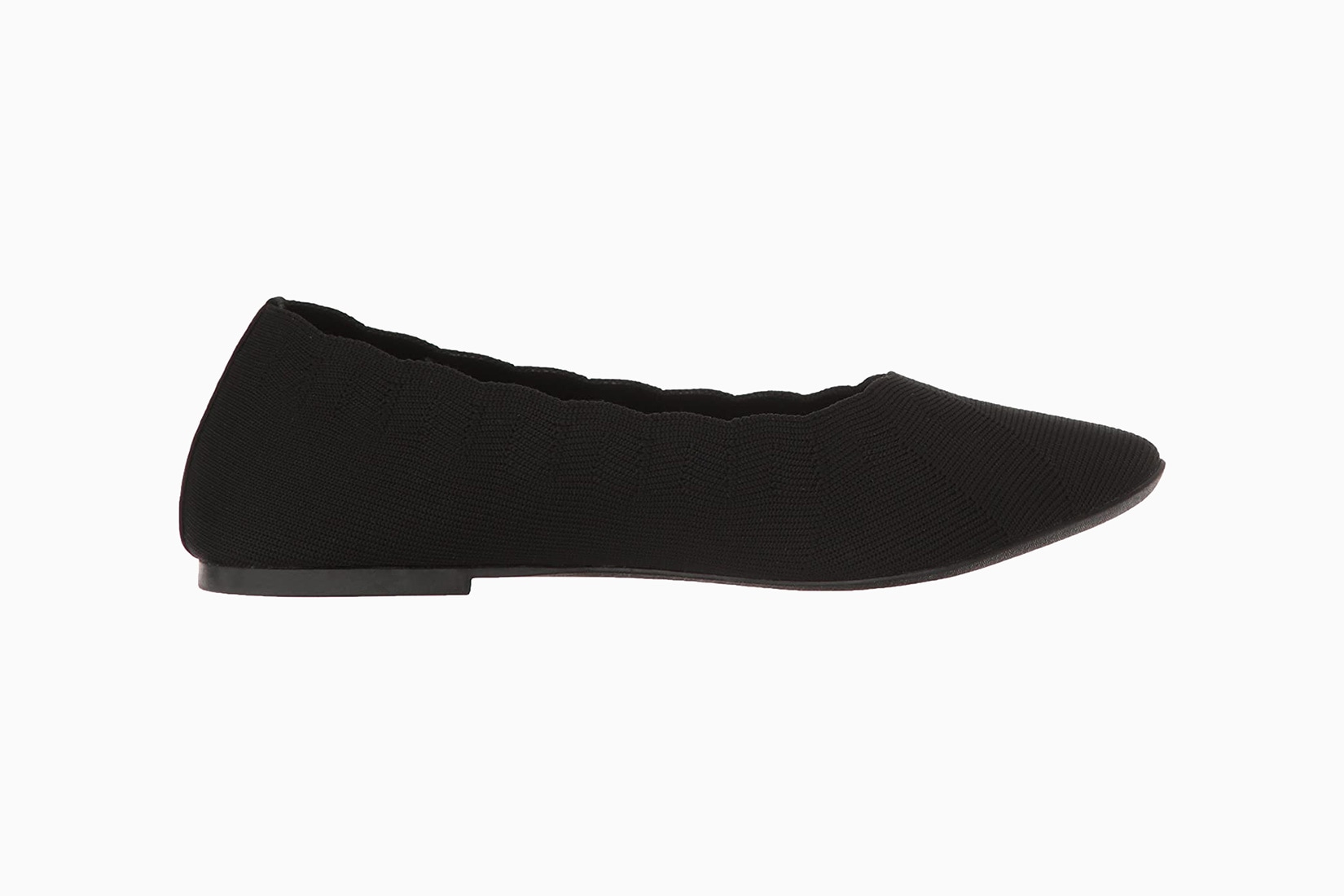 Stretchy, soft and filled with memory foam soles: Skechers Women's Cleo Bewitch Ballet Flats could easily be made of the same material you're used to cozying up in bed with. As trusty as an old pair of shoes, these ballet flats are incredibly gentle, allowing you to slip your feet inside and feel like they were handcrafted for your feet alone. There's no need to wear these ones in, either: Skechers' flats mold to your feet so even that risky first adventure wearing a new pair of shoes never materializes. 
The lightweight nature allows your foot to effortlessly tackle any journey, while the Air Cooled memory foam is the cherry on top of the cake for enhanced breathability. Plenty of support means you'll buy these flats as a good rotation pair in your wardrobe before quickly reaching for them again and again.
| | |
| --- | --- |
| Best for: | Magically slimming feet while looking sleek. |
| Colors: | A range including black, grey, and navy |
Vionic Crystal Jade Flats: Most comfortable flats for arch support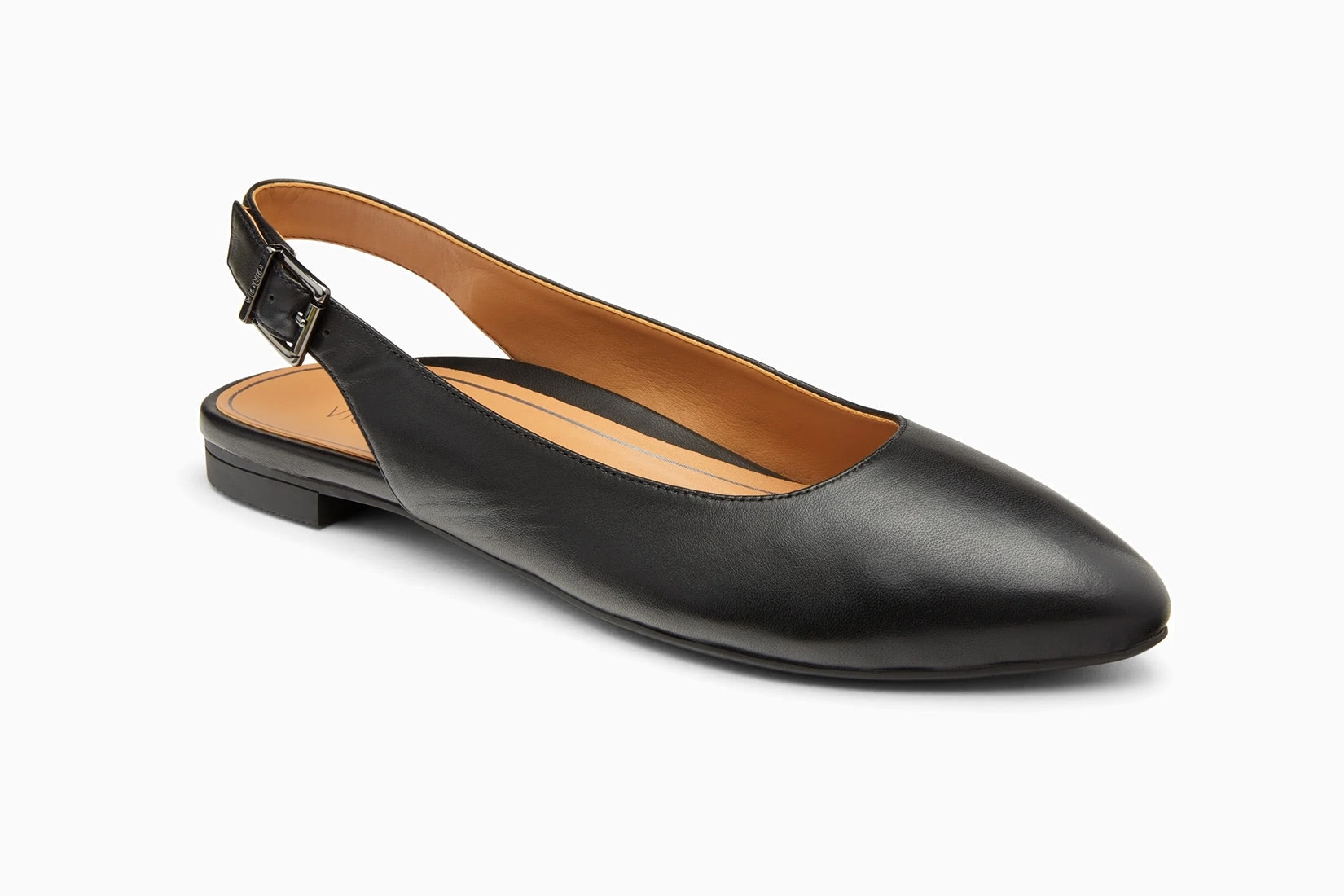 As well as being amazingly comfortable — you'll be able to walk for hours and feel almost like you're barefoot with these Vionic shoes.
Supportive yet stylish, the comfy flats feature a rounded pointed toe and a classic design that will ground everything from casual jeans to your favorite little perfect black dress.
The slingback silhouette adds enough to justify wearing a plain outfit without stealing the attention away. Almost deceptively simple, they hit the mark for comfortable flats with arch support.
| | |
| --- | --- |
| Best for: | The best support your feet could ever dream of. |
| Colors: | A range including black, dusty pink, leopard |
Allbirds Tree Breezers: Most comfortable eco-friendly flats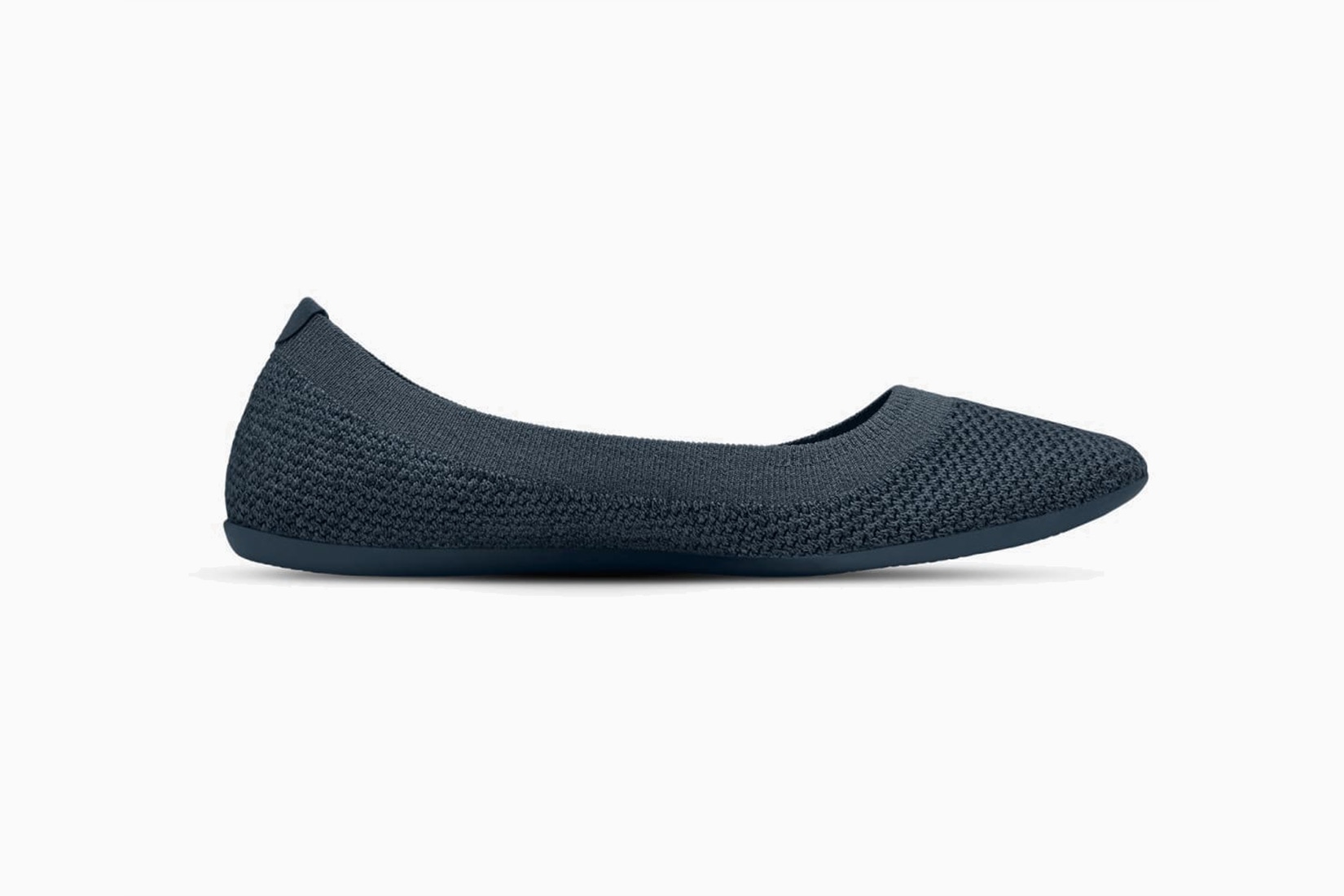 Can eco-friendly be both stylish and comfortable? These ballet flats by Allbirds definitely make a convincing case.
The beauty about Allbirds Tree Breezers is that they're a) machine washable b) they can be as casual or as formal as you want and c) they are made of renewable materials — Think Brazilian sugarcane outsole and silky-smooth eucalyptus tree fiber upper.
The simplistic style adds comfort to your outfit without being overbearing, and a cushiony, moisture-wicking, and odor-reducing insole acts as your new best friend as the hours pass by.
Slip into comfort and seize your day, night, and everything in between. These ballet flats are some of the comfortable flats for travel, too.
| | |
| --- | --- |
| Best for: | Planting your feet in comfort with minimal footprint.  |
| Colors: | A range including navy, black, brown |
Gucci Princetown Slipper: Most comfortable mule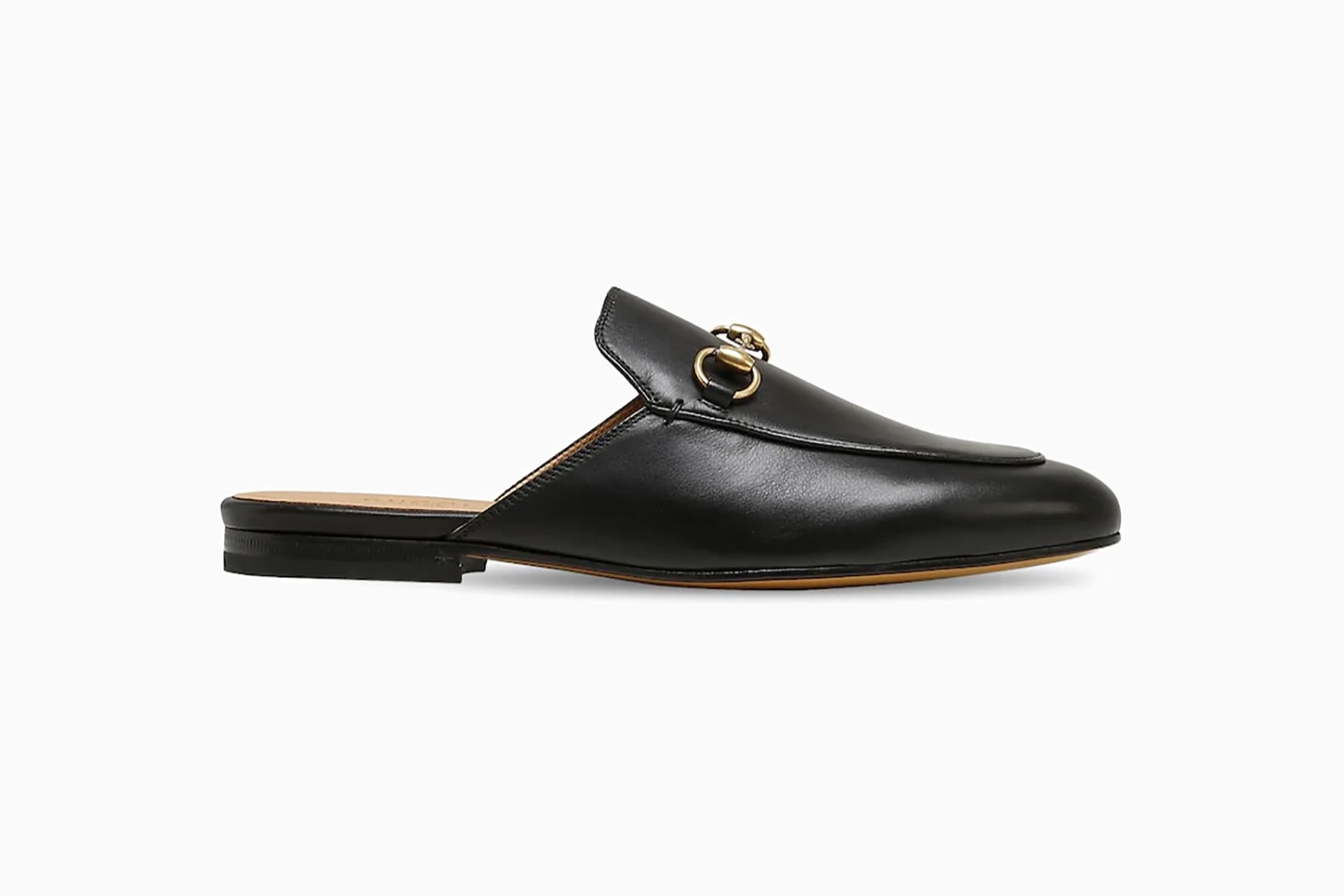 Few things exude laidback luxury quite like these loafers-meet-slippers — a winning combination of luxurious comfort and timeless appeal.
A versatile option for the office or evenings out, Gucci's Princetown slipper is a sleek pair of a slip-on and a fashion mainstay.
The classic mule is crafted from the finest Italian leather and is embellished with the distinctive equestrian-inspired gold-toned Horsebit and an almond-toe. Stepping into comfort doesn't get chicer than that.
| | |
| --- | --- |
| Best for: | A failsafe footwear staple that'll blend effortlessly with the rest of your wardrobe. |
| Colors: | Black |
Buyers' guide to comfortable flats for women
Well-made, comfortable, and beautiful are our three pillars when it comes to selecting the best comfortable flat shoes for this guide. Endless options in more shops than you could ever visit means it's easy to find the perfect pair for you but here's everything to take into consideration before clicking "checkout".
Padding
Memory foam, cushioned footbeds, and supportive insoles are the buzzwords to look out for when choosing your new favorite flats. Opt for pairs that detail the millimeters of support under your feet, and stay away from flats that don't mention any kind of support. If in doubt, read the reviews.
Material
High-quality materials like leather or suede will mold to the shape of your foot and provide more comfort long term. These options might come at a higher price point but will likely last for years to come. When selecting your next pair of flat shoes, choose natural materials or those that provide flexibility for optimum comfort levels.
Toe shape
It's still possible to elongate legs without a heel. Flats with a pointed toe add a tapered edge to your silhouette and can often be the best choice for workwear or formal occasions. Round or almond toe flats might be just that tiny bit more comfortable but you can overstep any issues of pinched toes by ensuring you're buying the correct size.
Style
There are plenty of different styles of comfortable flats around including ballet flats, loafers, ankle ties, slip-ons, mules, sandals, and Oxfords. Some of the most versatile are ballet flats and mules, offering plenty of outfit choices to help you merge from daytime to nighttime without changing shoes. 
Ballet flats are great for adding a feminine touch to any outfit, while loafers are the perfect addition to your work wardrobe. Ankle ties can add a playful hint to a summer's day, while Oxfords will smarten up even the most casual of choices.
Frequently asked questions about buying comfortable flats