What was life like before leggings? We can't even imagine. The best women's leggings are the kind of clothes that change your life. As silky smooth as a second-skin but with that street-meets-sporty aesthetic that we can't get enough of.
There's just nothing else in our wardrobes quite as comfortable or as versatile.
You can wear leggings to the gym for a sweat-heavy and high-impact workout. To the studio for a hot yoga session. To the grocery store, or to the office teamed with sneakers and a shirt. Or simply as a transition outfit before you finally decide what to wear.
Yet with so much choice on offer, picking the best leggings for you can be impossible. Conveniently, we've done the research and rounded up our favorites below.
So whether you're on the hunt for some classic black leggings, gym leggings, squat-proof leggings, the most flattering leggings—or whatever else your legs are calling out for—these are the best leggings for women based on brand reputation, design, and customer reviews.
The 29 best women's leggings
Check our special leggings buyers' guide after the list to see exactly what you should pay attention to before purchasing a new pair of leggings. We also share our pick of the best leggings brands on the market today.
Alo Yoga 7/8 High-Waist Airbrush: Overall best women's leggings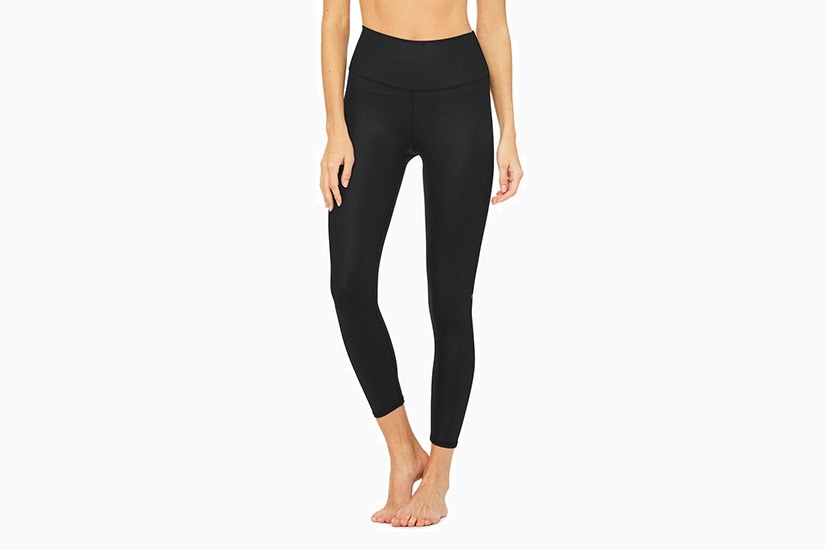 In this world, there are good leggings, great leggings, and then these Alo Yoga 7/8 High-Waist Airbrush Leggings. They offer everything you could ask for: high quality, a perfect fit, and a massive selection of colors.
These yoga pants lift, smooth, and sculpt your legs into the pair of pins you've always wanted. They hit just above the ankle in that perfect cropped silhouette that so many designs attempt but not many master. And the front-smoothing panel is a bonus feature that you'll definitely be thankful for if you prefer to go commando.
Flat-locked seams mean no rubbing or uncomfortable lumps and bumps. The high-waist is flattering and functional: no more pausing on the treadmill to readjust. And the 4-way stretch material is so flexible and comfortable that you'll feel like you're naked from the waist down—in a good way.
Plus they're moisture-wicking and antimicrobial, so your legs will leave the gym both sweat and bacteria-free.
Learn more about the Alo Yoga brand.
| | |
| --- | --- |
| Best for: | all-purpose, everyday, and every-occasion leggings |
| Color: | a wide range including black, grey, and blue |
Cuyana Ponte Legging Pant: Best premium leggings for women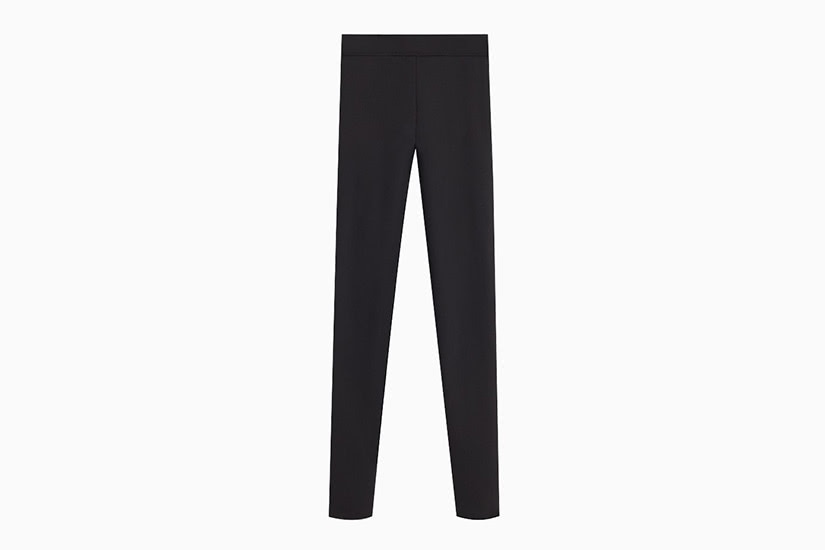 Not all leggings are created equal. Some leggings are miles above the pack when it comes to quality, style, and general high-end panache. Cuyana's Ponte Legging Pant is case in point.
Cuyana has elevated the basic legging to something worthy of the catwalk with this luxury-level design that can carry you straight from work into your weekend plans without breaking stride. If you're looking for smart yoga pants—something easy-going but elegant—then these are perfect.
The material is heavyweight Ponte: a combination of rayon, polyester, and spandex, with two-way stretch. It's body-conforming, comfortable, and stylish. Once you've discovered the power of Ponte, there's no turning back.
The vertical seaming will make your legs look extra long and slim and the leggings hit just above the ankle with a notched hem, completing the office-appropriate aesthetic.
We can imagine these teamed with stilettos and a blazer or working some effortless elegance with a tunic and sandals.
| | |
| --- | --- |
| Best for: | the comfort of leggings combined with sleek tailored sophistication |
| Color: | black |
Alala Compression 7/8 Captain Tight: Best value women's leggings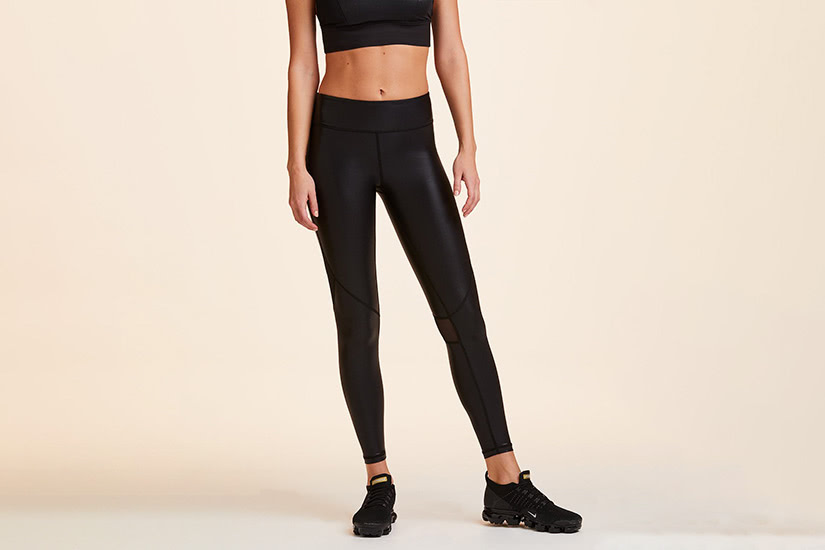 Looking for good-value leggings? Quality plus affordability? Alala's Compression 7/8 Captain Tight Leggings are our top contenders. They're comfortable, versatile, and aesthetically pleasing too.
Feel supported—both mentally and physically—with these figure-hugging and super-stylish leggings that are the brand's best-selling tights for a reason.
There's the sheer mesh panels for breathability and street-style cool. And the snug fit that allows for compression, oxygen flow, and muscle recovery, while flatlock seaming maintains the smooth profile. An inside key pocket is another feature we love.
Did we mention that they're also made from 100% sustainable recycled nylon?
You can wear these anywhere—and we mean anywhere. Lounge on the sofa, jog to the shops, rack up the miles on the treadmill, or challenge yourself with a HIIT session. Whatever it is, these yoga pants are the perfect companions.
| | |
| --- | --- |
| Best for: | leggings that deliver on both style and quality |
| Color: | black |
Alo Yoga High-Waist Airlift Legging: Best black leggings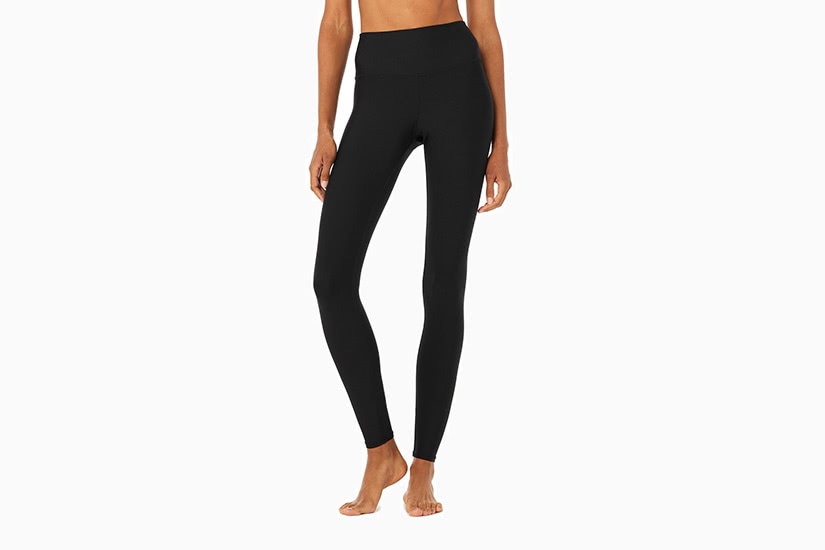 Never underestimate the multi-purpose power of black leggings. Whether you pair them with chunky knitwear, a boyfriend shirt, or a workout top (after all, leggings are technically for working out), they meet all the necessary fashion requirements.
But what makes Alo Yoga's High-Waist Airlift Leggings better than the best leggings? The huge choice of colors—13 shades to be precise.
As for practicalities, these yoga pants are designed to feel like a second skin in terms of both fit and feel. The Airlift fabric sculpts and lifts to create what the brand has termed 'the airbrushed version of you.' That's a version of ourselves we're excited to meet.
They're also moisture-wicking and anti-odor. So you can leave class with no worries about sweat patches or smells.
| | |
| --- | --- |
| Best for: | stylish and soft black leggings that you'll never want to take off |
| Color: | a wide range including black, brown, and jade |
Wolven Onyx Pocket Legging: Best leggings with pockets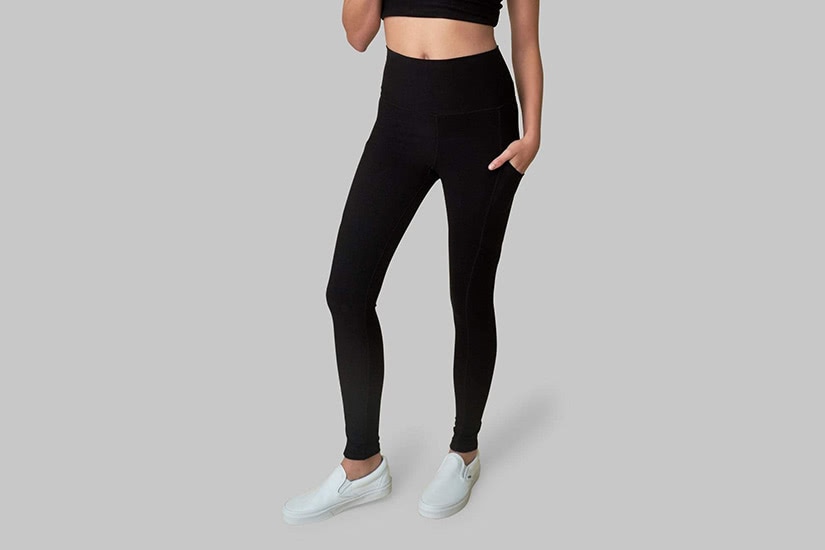 You've worked up the necessary energy and motivation. Now you're about to head out on a run. But where to put your keys? Your phone? Your credit card so you can get a coffee on the way home?
You need a pair of leggings with pockets. The best ones? Wolven's Onyx Pocket Legging.
Wolven calls this model the LBD of workout wear and it's true. These leggings are as versatile, classy, and timeless as your favorite little black dress and should be a staple in any wardrobe.
These yoga pants have a flattering high waistband, making them some of the best leggings for women with tummy pouches. They are also perfectly opaque, made from recycled plastic that's both soft and breathable.
Most importantly, the deep side pockets are perfect for storing workout essentials like earbuds or a locker key. Or your money when you dash out to run errands.
| | |
| --- | --- |
| Best for: | those who are fed up of stashing valuables in their bra |
| Color: | black |
CakCton Fleece Lined Leggings: Best fleece-lined leggings for winter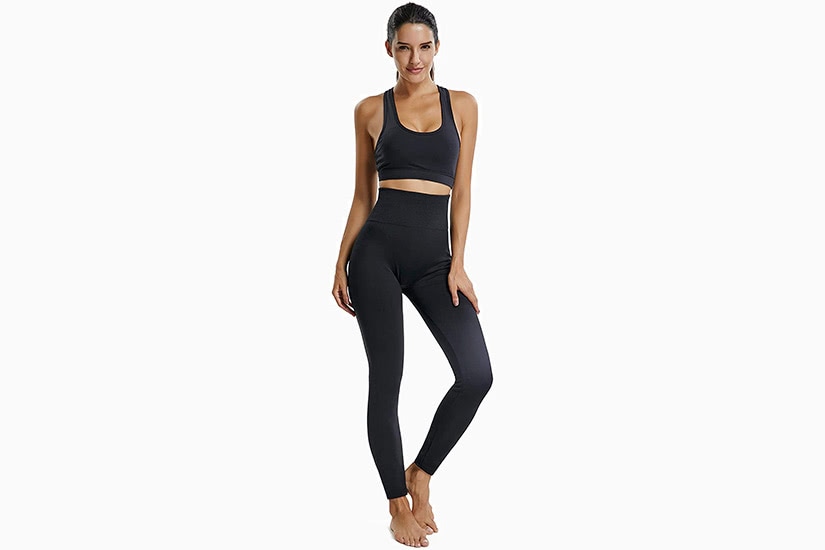 Whether you use them as an extra layer for your morning commute or under ski pants when you're hitting the slopes, fleece-lined leggings are God's Christmas present to the modern woman.
Our favorite winter leggings? CakCton's Fleece Lined Leggings. Inside you've got a cozy fleece lining, but from the outside, these leggings look straight, sleek, and not at all bulky.
These thick leggings can also go through the wash cycle multiple times without losing their shape or piling. They stretch to fit perfectly, and they're not see-through either. Plus, the high waist provides perfect tummy control.
That extra insulation is ideal for keeping out a brisk wind—so even when there's a snowstorm going on outside, your legs will stay snug and cozy. With a price like that, why not stock up on multiple pairs?
| | |
| --- | --- |
| Best for: | winter warmers to see you through the coldest months |
| Color: | a wide range including black, brown, and blue |
Alala Heroine Tight: Best leggings for running
Whether you go jogging on your lunch break, are attempting your first 5K, or are a veteran marathon runner, you need a pair of leggings to see you over the finishing line. True to name, these Heroine Tight Leggings by Alala are made for 21st-century warrior women.
Alala is one of the best exercise leggings brands and these ones are snug enough to look good and stay up without cutting off your circulation or making you feel suffocated.
They're breathable, hug you in all the right places, and show off your curves, with no re-adjusting or tugging to get them to stay in place.
The Heroine Tight leggings also nail it on the sustainability factor, being made of recycled Italian compression fabric. And the seaming is anti-chafe.
We also love the athletic aesthetic: sleek and smart with a refreshing swipe of vibrant lime. The mesh panel on the back is another cool detail.
| | |
| --- | --- |
| Best for: | feeling like Wonder Woman when you're out pounding the pavement |
| Color: | black |
Alala Blocked Crop Tight: Best workout leggings for women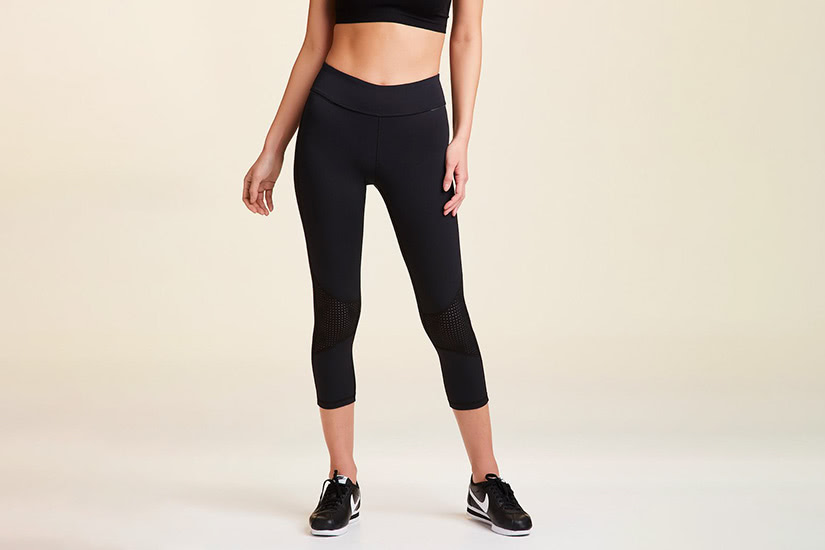 If you're a fitness fanatic—or just on a mission to get in shape—a good pair of workout leggings, like Alala's Blocked Crop Tight, are the perfect sidekick as you start burning those calories.
They're made of a quick-drying combination of nylon and Spandex, so if you fancy two workout sessions in one day, no problem.
The anti-chafe flat seams are a necessity, and the Powermesh waistband offers extra control, ensuring these leggings stay put. No more adjusting after every jumping jack and burpee.
Whether it's a strength and conditioning class, circuits, or a mammoth spinning session, these workout leggings will keep you feeling comfortable even while your heart is racing. They're also some of the best workout leggings for lifting.
Plus, with their cute cropped cut, these gym leggings could carry you straight from your workout to a cafe for a pick-me-up. We're heading online to pick up a pair right now.
| | |
| --- | --- |
| Best for: | working up a sweat and staying stylish |
| Color: | black |
Glyder Charge Leggings: Best leggings for hiking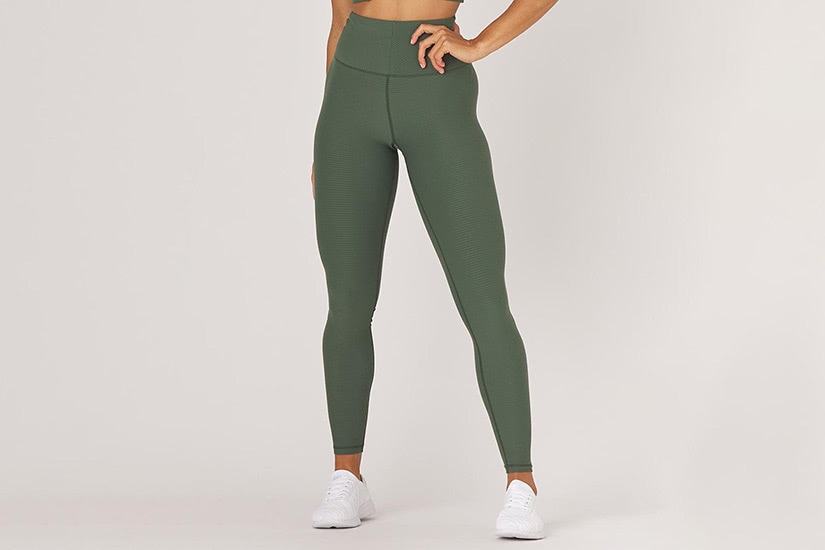 If your kind of exercise is the kind that happens outdoors and preferably includes a beautiful mountain vista, then you need a good pair of hiking leggings. Glyder's Charge Leggings are the ones for the job.
Glyder is also known for its high-performance line of athleisure wear, offering women multi-functional, affordable, and fashion-forward designs. This pair, in particular, is ideal for hiking, whether that's racing up hills or a leisurely stroll in the park.
The first thing to catch your eye with these trail-friendly tights is the cool texture. Made from the brand's signature nylon and spandex combination known as Formatex, they have a unique ribbed stripe which adds to their slimming effect.
The high waist is ultra-flattering. Go straight from a weekend wilderness trip to drinks with the girls with just a quick change of top and shoes.
| | |
| --- | --- |
| Best for: | hitting the trails with a pair of lightweight and long-lasting leggings |
| Color: | black, white, and green |
Lysse Taylor Seamed Legging: Best leggings for the office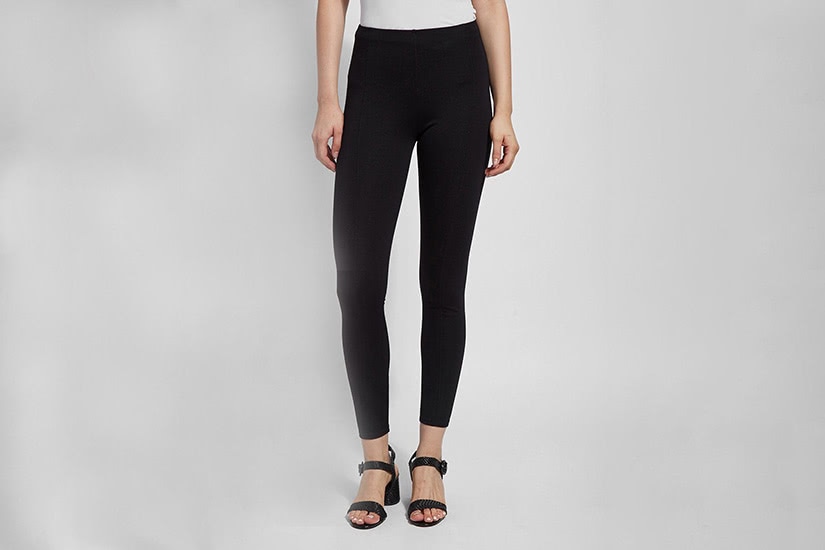 Today, activewear is totally acceptable in the majority of workplaces—and thank goodness. Lysse Taylor Seamed Legging is one of the few things that make Mondays bearable.
After all, why force yourself into a pair of skinny jeans or pencil skirt when you can look just as elegant in a pair of super comfortable but aesthetically pleasing leggings?
In their sophisticated blue hue, these leggings can easily be teamed with a blazer and heels to fulfill the requirements of corporate style. The brand's patented concealed waistband creates a polished profile while the body-hugging fit and center seam detail accentuate all your best body parts.
These leggings will certainly elicit compliments from your most fashion-savvy colleagues. And you'll be happy, too, thanks to the four-way stretch material: optimum comfort on even the most demanding of workdays.
| | |
| --- | --- |
| Best for: | heading from office to studio and bypassing the changing rooms in between |
| Color: | navy |
Alala All Day Tight: Best everyday leggings for women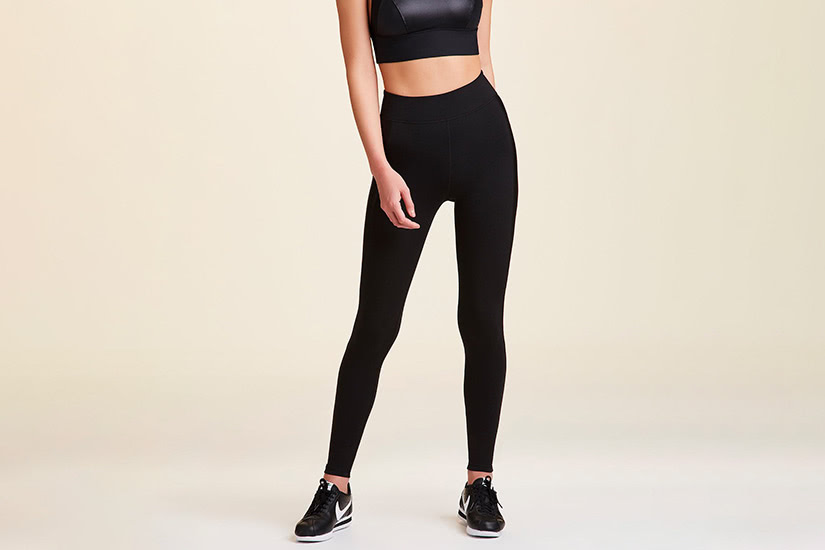 Nothing is as comfortable and flattering as the best quality leggings. Such as Alala's All Day Tight. You'll put them on in the morning and you won't want to take them off until last thing at night.
What makes this pair the best all-day-everyday leggings? Firstly, they look fabulous with their shiny black side panels, which pack a rather glamorous punch. Two, the athletes among you will appreciate the Powermesh waist panel, providing extra support no matter what you're putting your body through.
But even if the only time your blood starts pumping is when you catch sight of a Bugatti, you'll appreciate the compression aspect, which is flattering as well as functional. And the cozy polyester-spandex combination makes them ideal for colder days too.
These are the dream leggings to take you from dawn to dusk and to everything in between. Because casual dressing is the only kind of dressing we're interested in these days.
| | |
| --- | --- |
| Best for: | leggings to face whatever life throws at you |
| Color: | black |
Cuyana Seamless Leggings: Best leggings to wear as pants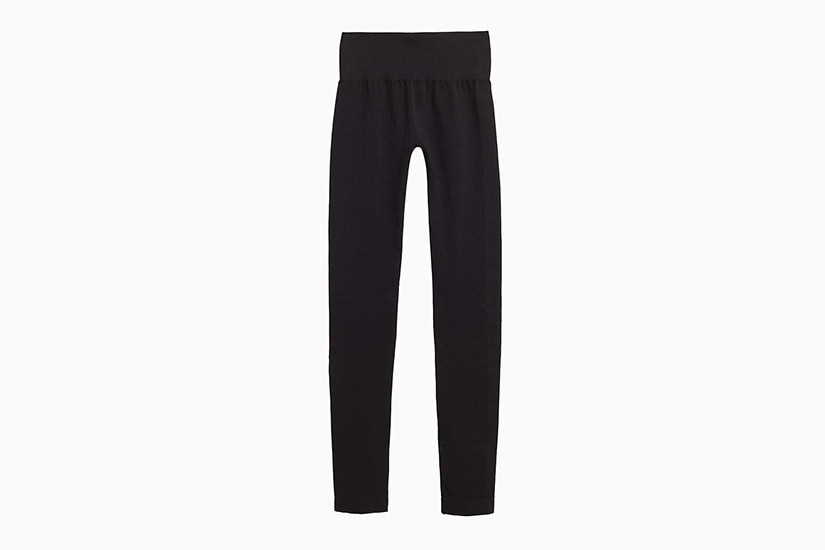 This is the 21st century and wearing leggings to work is totally fine. But if you're going to wear leggings to the office, you want a pair that offers comfort and coziness —and also look like pants.
We present Cuyana's Seamless Leggings. Versatile, snug-fitting, breathable, and stylish, they look as good as your favorite pair of tailored trousers or skinny jeans—but they're a million times more comfortable.
Banish all your fears of see-through leggings with Cuyana's super high-quality design. This pair is totally seamless. Not only does this make them like a second skin to wear, but they also look impeccably sleek and slick.
Silky smooth and available in a classic and crowd-pleasing black, these leggings have a body-contouring effect, perfect for slimming your silhouette without being too constricting.
| | |
| --- | --- |
| Best for: | super comfortable loungewear pretending to be smart and serious |
| Color: | black |
Versace Crystal-embellished Leggings: Best designer leggings for women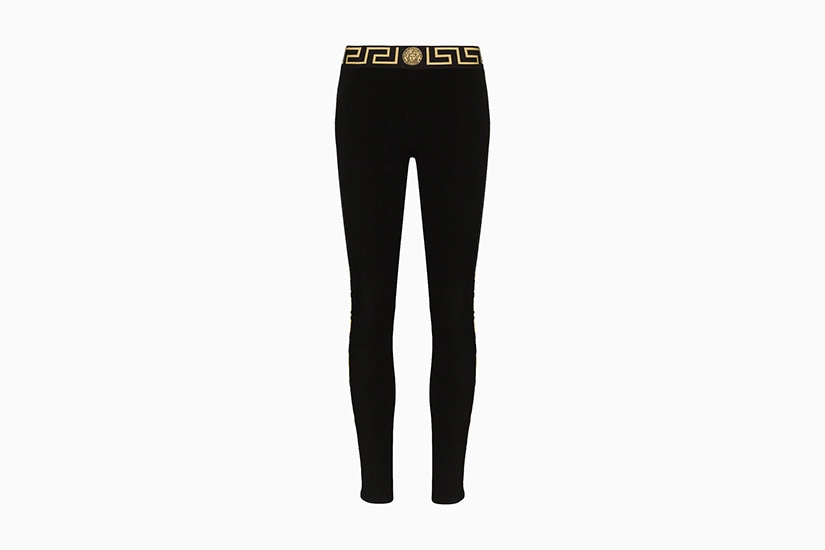 Sure, you could buy a pair of plain black leggings. But you could also buy a pair of Crystal-embellished leggings by Versace. Same level of comfort but with the glam factor amped up to one hundred.
Let everyone know where your fashion loyalties lie by declaring it all over your legs. These black designer leggings have the Versace logo emblazoned all over them in the form of tiny crystals. If that isn't the epitome of luxury, we don't know what is.
These leggings are also comfortable, slim-fitting, and with an elasticated waistband that keeps everything held in, completing the overall look of sleek sophistication.
You could wear them under a skirt and channel a bit of 80s club couture. Or team with heels and a smart white shirt at work to dazzle your colleagues as you swan into the office.
Or why not wear them as you lounge around your home office? Relax in true A-lister style.
| | |
| --- | --- |
| Best for: | high-fashion leggings for looking catwalk-ready |
| Color: | black |
Glyder Street: Most comfortable leggings for women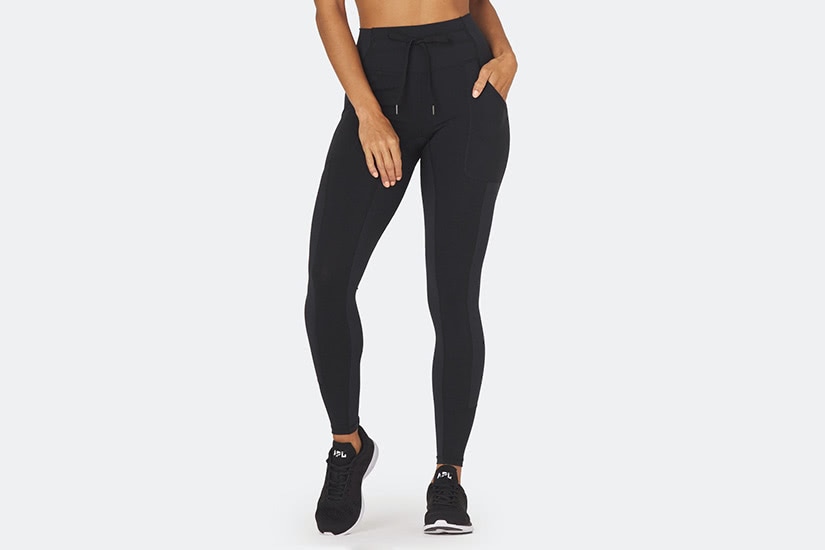 The main reason we love leggings is because they're just so exceptionally comfortable. And the snuggest and softest pair we've come across? Glyder's Street Leggings.
These leggings put every other pair of trousers to shame in the cozy department. Glyder describes them as 'utility pants meet leggings'—because they're seriously functional but also seriously comfortable.
Pockets are useful for storing any essentials when you're out and about—running errands or going for brunch with friends. The drawstring waist will remind you of your favorite pair of tracksuit bottoms but with a high waist and compressive fit, these leggings are way more aesthetically pleasing.
The contrasting side panels add a bit of textural intrigue with a ribbed stripe that also has a slimming effect. The fabric is moisture-wicking—so no need to worry about sweat marks—and includes a 4-ways stretch that lifts and squeezes.
Against your skin, these leggings are luxuriously smooth and soft. Maybe order multiple pairs so you never have to wear anything else?
| | |
| --- | --- |
| Best for: | leggings that are as comfortable as pajamas |
| Color: | black |
Lysse Laura Legging: Best fitting women's leggings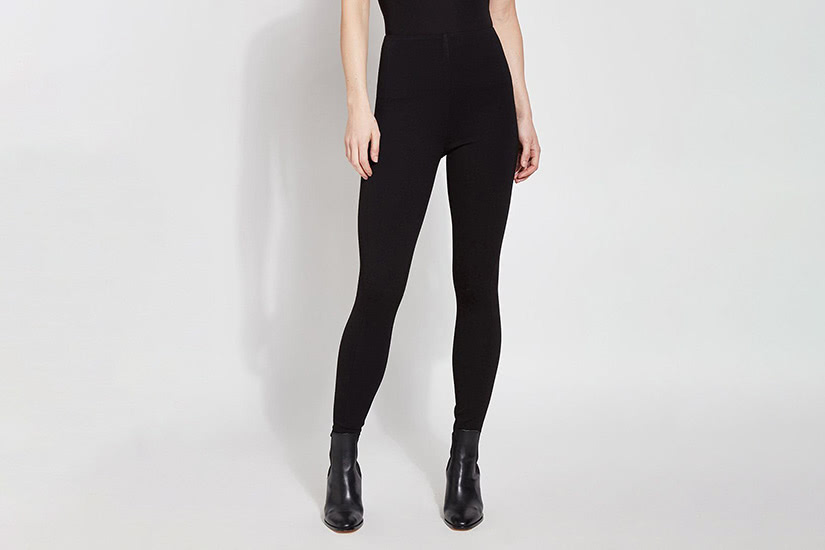 Finding a pair of well-fitting leggings is easier said than done. Whether it's baggy ankles, saggy crotches, or wrinkly knees, there are a million ways leggings can fall short.
Not so with Lysse's Laura Legging, some of the best quality leggings. The brand's patented concealed waistband provides invisible support and that 'tucked in' feeling, ensuring everything stays put.
The front-seaming enhances all your curves as does the 4-way stretch, creating a body-hugging fit that sculpts your figure. They'll lift and contour all the right parts, and don't sag or bag at the knees.
And it's not just appearances. These top-rated leggings are long-lasting, made of durable Ponte material, and are soft and comfortable against your skin.
| | |
| --- | --- |
| Best for: | figure-fitting leggings that draw attention to all your best bits |
| Color: | black and midnight blue |
Sweaty Betty Power 7/8 Gym Leggings: Best opaque black leggings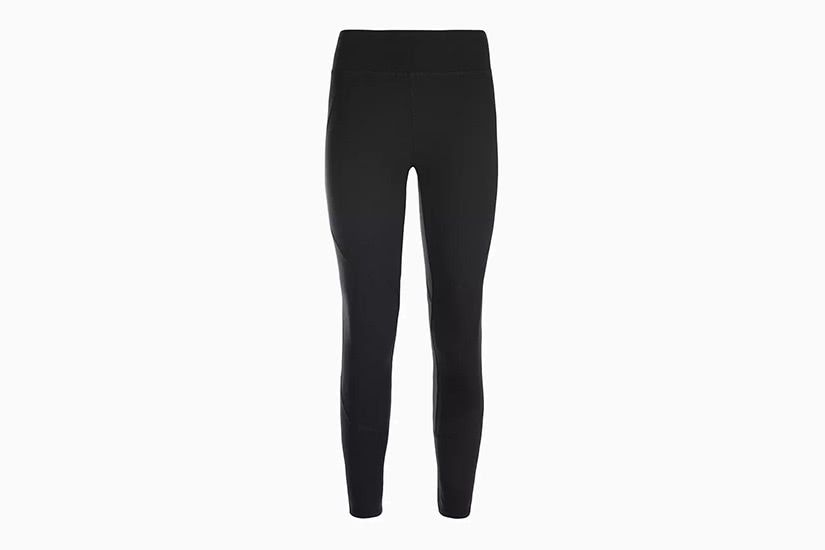 This list would be incomplete without at least one mention of Sweaty Betty, a brand pretty much synonymous with high-quality and cutting-edge activewear.
Sweaty Betty's Power 7/8 Gym Leggings are a perfect example. For anyone seeking a pair of classic black leggings that aren't remotely transparent—even in those risky squat or downward dog positions—then these are a must-have.
These squat-proof leggings also have a side and back pocket—and the latter even has a zip for valuables. The high-waist compliments all figures and the adjustable drawcord ensures a supportive fit.
If you have a passion for fitness, you'll appreciate that these leggings are sweat-wicking and quick-drying. But even if your idea of exercise is yin yoga followed by a nap, they're comfy enough for that too.
| | |
| --- | --- |
| Best for: | avoiding a major fashion faux-pas with verified opaque leggings |
| Color: | a range including black, grey, and blue |
Wolford Estella Faux Leather Leggings: Best fashion leggings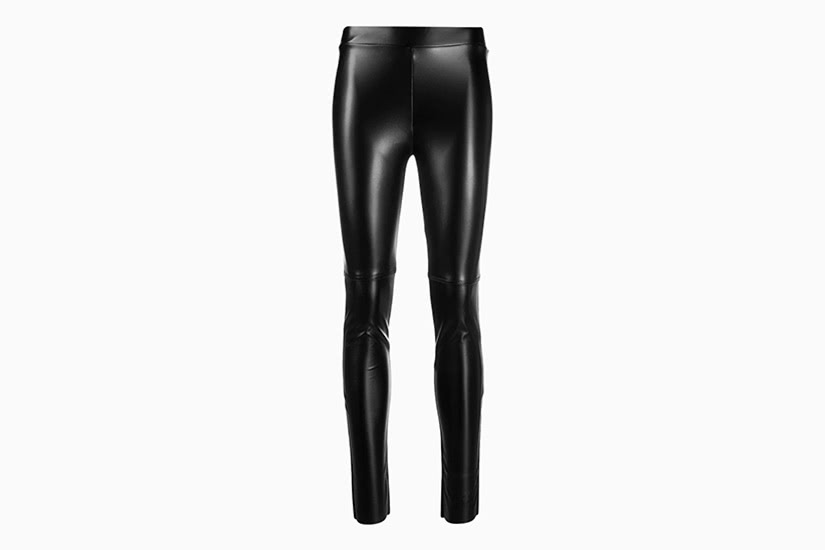 Faux leather leggings have been trending for a few years now and Wolford's Estella Leggings are all the evidence you need that these comfy classics can also be stylish and fashion-forward.
These leggings are made from faux leather with a deluxe sheen that will have all eyes on you as you enter the bar. The super snug fit hugs your figure in a way that's just impossible to achieve with normal trousers and will make you feel tall and slim.
Team with heeled boots and a chunky statement sweater and you wouldn't look out of place at Paris Fashion Week. Or opt for something more casual with a pair of comfortable flats and a puffer jacket.
Leggings like these create the effect of a perfectly polished outfit when in reality you threw them on minutes before walking out the door. If there's a better example of laid-back luxury, we're yet to find it.
| | |
| --- | --- |
| Best for: | channeling an off-duty model vibe |
| Color: | black |
SYRINX High Waisted Leggings: Best affordable leggings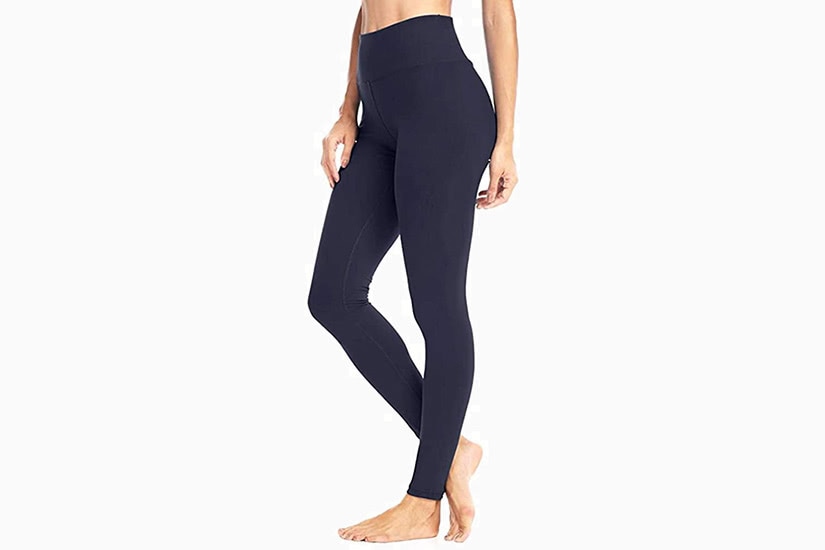 Looking for a pair of reasonably priced leggings that still deliver when it comes to fashion and comfort? Take a look at these leggings by SYRINX, some of the best leggings on Amazon.
Why splurge hundreds of dollars on leggings when you can get an ultra-functional pair for a fraction of the price?
But beyond their very pleasing price tag, these buttery soft leggings also boast a flattering high-rise fit. The wide elastic waistband offers welcome tummy control and they're made from a combination of polyester and spandex for ultimate freedom of movement and skin-friendly softness.
These versatile leggings come in a whole range of colors and there's the option to buy a pack of three. Opt for dark colors for working out and something brighter for summer.
| | |
| --- | --- |
| Best for: | saving money on your leggings so you can splash out at the spa later |
| Color: | a range including black, blue, and pink |
Alo Yoga 7/8 High-Waist Airlift: Best high-waisted midi leggings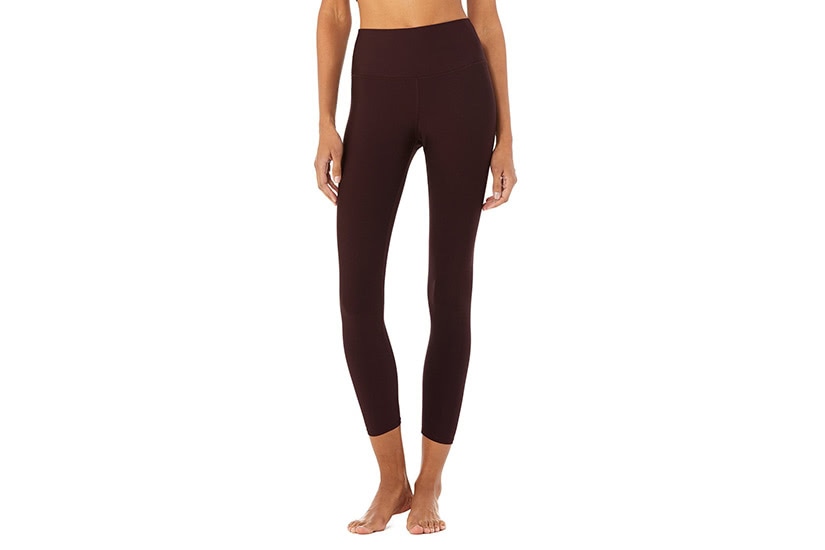 If you don't already know about them, allow us to introduce you to the 7/8 legging, such as Alo Yoga's 7/8 High-Waist Airlift Legging. 7/8 leggings are all the rage, and for good reason.
7/8 leggings are leggings, but 1/8th shorter than your standard full-length pair. They're longer than cropped leggings, coming to just above the ankle. You might also call them midi leggings.
People love them because they have a magical power to elongate your body and make you look taller. With a little bit of ankle on display, suddenly your legs seem pretty much endless.
Alo Yoga's 7/8 Airlift Leggings with the high-waist are some of the best 7/8 leggings. Not only are they moisture-wicking, anti-odor, and with a 4-way stretch, but you couldn't ask for a more flattering piece of activewear. They lift, sculpt, and smooth your figure, and look great with walking shoes, sliders, or sandals.
| | |
| --- | --- |
| Best for: | looking leggier than you actually are |
| Color: | a wide range including black, beige, and burgundy |
Lysse Flattering Cotton Legging: Best cotton leggings for women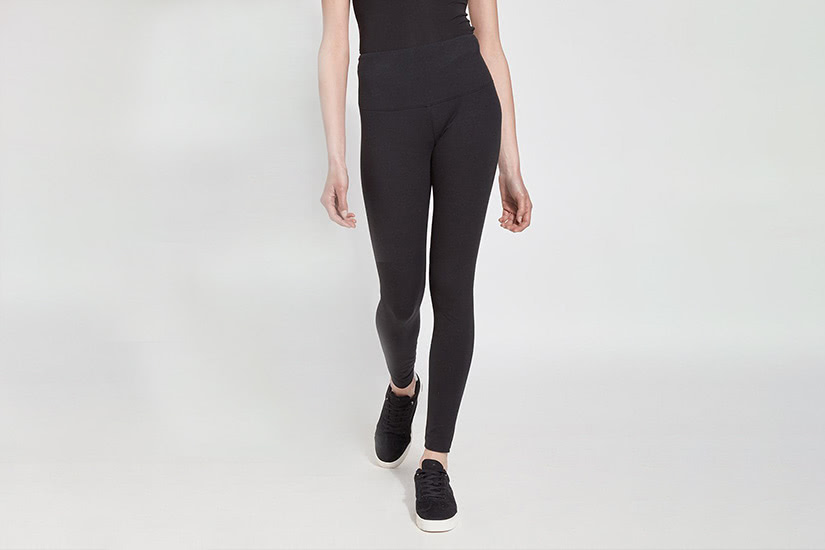 If comfort is your priority, then you need these Flattering Cotton Leggings by Lysse. Cotton is breathable, super soft, and able to withstand a fair amount of wear and tear.
Perfect for lounging, these Lysse leggings are made from 4-way stretch cotton, offering plenty of airflow as well as body-hugging style from waist to ankle. The wide inner waistband is sturdy and strong, perfect for holding everything in.
Need more convincing? Just check out the leggings reviews. People are raving about everything from the perfect fit to the softness, cute patterns, and great quality.
These are the ideal leggings for those of you who think hot yoga sounds like hell and who see leggings as something more to wear around the house or for running errands. Last-minute dinner plans? Simply add ankle boots and a denim jacket and you've got an outfit.
| | |
| --- | --- |
| Best for: | ultra-comfy leggings if the only marathon your planning is a Netflix one |
| Color: | black, blue, brown, and white |
Mothers Essentials Maternity Leggings: Best maternity leggings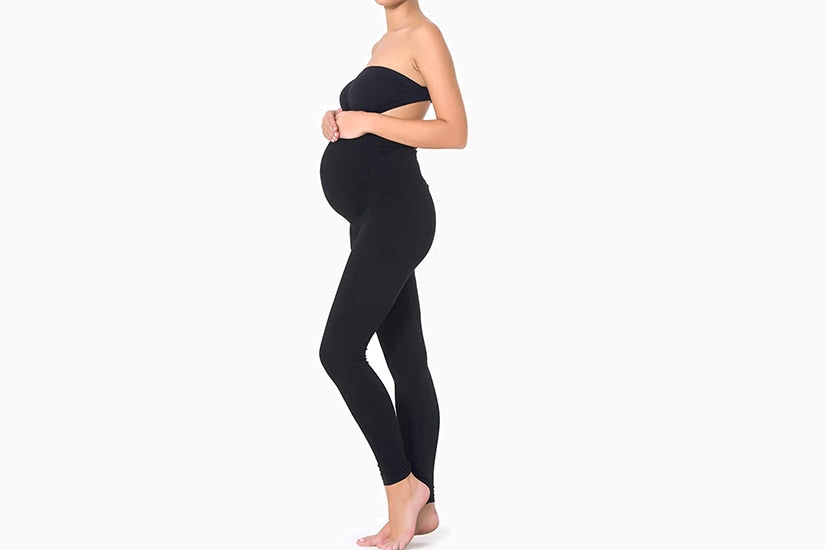 When you're pregnant, staying comfortable is of prime importance. And, as we've established, nothing does comfort quite like the best leggings. These Mothers Essentials Maternity Leggings are some of the best leggings on Amazon, offering high-performance and pleasing aesthetics all at a very affordable price.
The fabric is very elastic, offering non-constricting but reassuring support for that growing belly. These over-bump leggings never slip down and are not at all see-through.
The reasonable price point is another major bonus. After all, why spend lots on maternity clothes when you're only going to wear them for nine months?
Whether your bump is only just starting to appear or you're fit to bursting, these maternity leggings are some of the best available and will ensure both you and baby-to-be look and feel great.
| | |
| --- | --- |
| Best for: | bump-friendly leggings for soon-to-be-mothers |
| Color: | black, brown, and grey |
Alala Captain Ankle Tight leggings: Best leggings for plus size women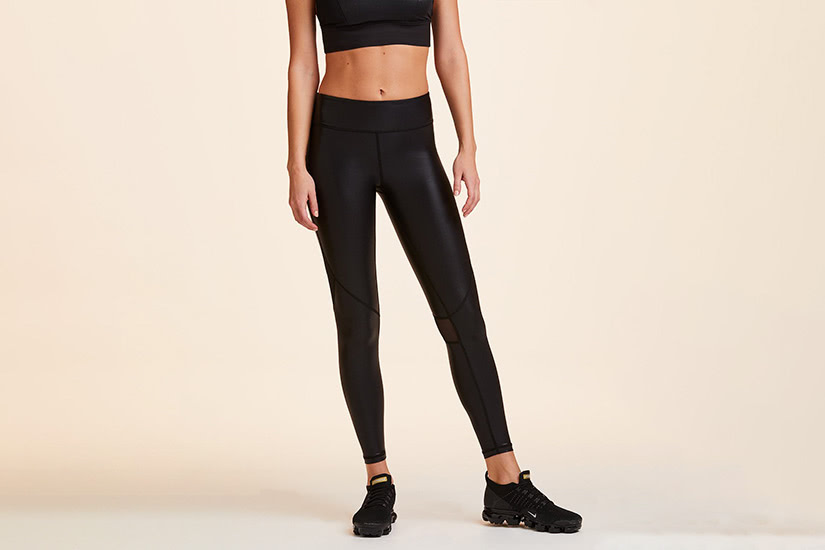 Leggings are for everyone and there are tons of size-inclusive brands offering great leggings for plus size women. But Alala's Captain Ankle Tight Leggings? They do it best.
Just check out that combination of textures. A fabulous medley of sheer and shine. Not only do the mesh panels look cool but they provide breathability. The fabric is also quick-dry, which means minimal sweating, while the anti-chafe flat seams offer ultimate moveability.
And even if you don't plan to wear these yoga pants on the StairMaster or to pilates, the Powermesh in the waistband provides welcome control, so you can feel all tucked in, whether you're at lunch with the family or on a long-haul flight somewhere exciting.
If you're still harboring secret doubts about joining the leggings brigade, these are the ones to convince you. The perfect balance between dependable and daring.
| | |
| --- | --- |
| Best for: | an inclusive design for the curvier women |
| Color: | black |
Alo Yoga Extreme High-Waist Airlift Leggings: Best leggings for women over 50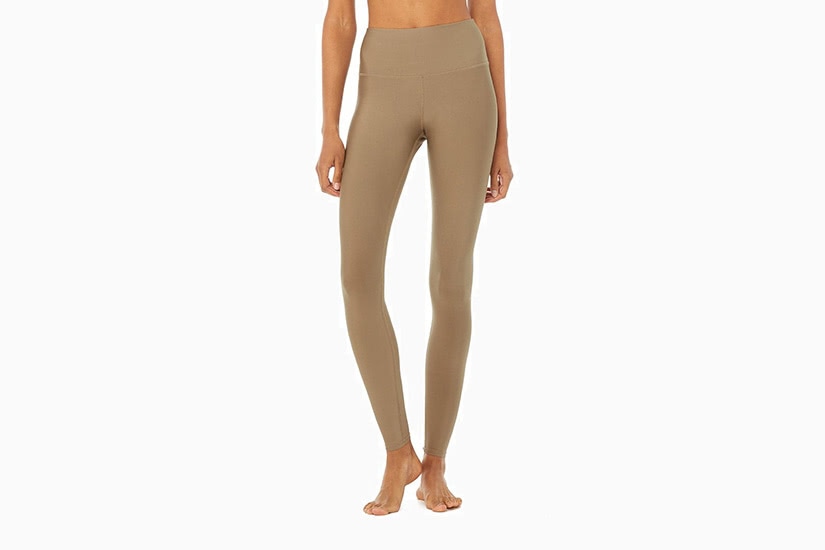 You don't need us to tell you that leggings can look great on anyone, no matter their age. Alo Yoga, in particular, is one of the best brands for leggings if you're over 50 and seeking high-quality and flattering designs.
Check out the Alo Extreme High-Waist Airlift Leggings, for example. Whether for working out, layering with jumpers, or lounging, these leggings are the fashion staple you've been searching for.
Staying in shape is key to a healthy and happy life and one way to make exercising easier is investing in a pair of leggings like these. They're designed to fit and flatter every size with double-knit Airlift fabric that stretches and moves with your body, lifting, sculpting, and hugging your figure just as you'd like it to.
Flatlock seaming means no rubbing or chafing and the moisture-wicking and anti-odor technology makes getting sweaty less of a hassle.
Finally, the legging reviews claim that you'll experience no bobbling (or pilling, if we're being technical)—yet another perk.
| | |
| --- | --- |
| Best for: | leggings with timeless style for women of all ages |
| Color: | black |
Alala Eclipse Tight: Best leggings for curvy women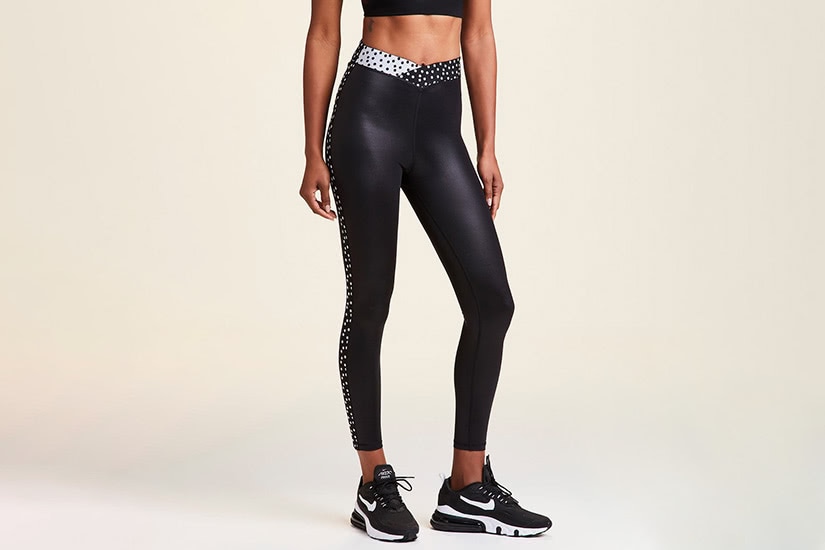 There's good body-hugging and bad body-hugging. There are places we want to accentuate, and places we don't. Alala's Eclipse Leggings understand this perfectly.
The USP of these unique leggings? The polka dot waistband and side stripe. Fun and quirky, the design strikes the perfect balance between fashion and function with an aesthetic that is bang on-trend.
For plus-size bodies, these top leggings are ideal, with a cross-over waistband that sucks everything in, a streamlined fit that hugs your figure, and a magical ability to make your bottom look extra perky. Flatlock seaming ensures optimum comfort and the side strip also has a slimming effect.
All in all, a size-inclusive design that's practical too, whether you intend to wear these to a weekend hang-out with friends and family or to a grueling gym session. All you need is a chic gym bag to complete the look.
| | |
| --- | --- |
| Best for: | highlighting your curves with a body-positive brand |
| Color: | black |
Alo Yoga Airlift Airbrush Legging: Best leggings for women with fibromyalgia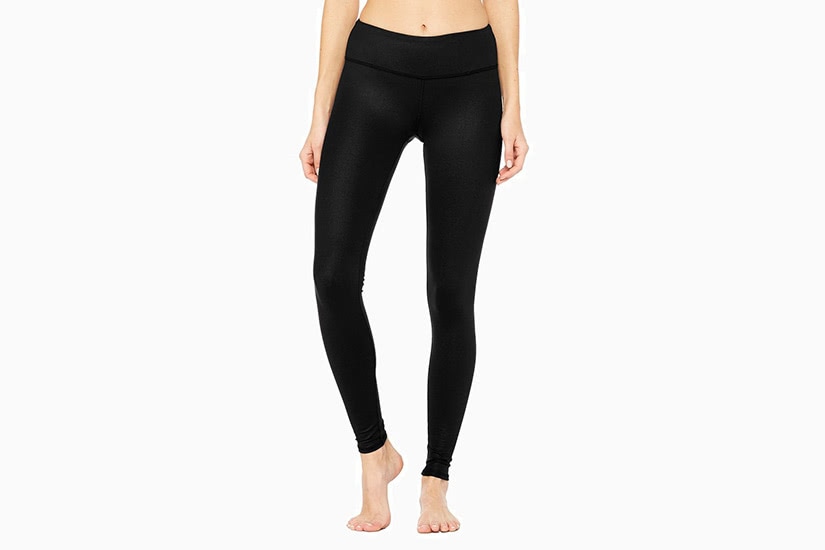 For women suffering from fibromyalgia, which causes chronic pain and fatigue, staying comfortable is imperative. When daily tasks are challenging anyway, clothes that are cozy and easy to put on and take off are extra important.
High-quality and durable leggings like Alo Yoga's Airlift Airbrush Leggings are a good option for women with fibromyalgia. The Airlift double-knit fabric is the lightest material offered by the brand and is also moisture-wicking and silky soft, avoiding any irritation against your skin.
The compression aspect of leggings like these also provides relief to some people with fibromyalgia by increasing oxygenation and blood circulation.
Fibromyalgia often comes with an increased sensitivity to temperature change. Layering clothes is a good way to cope with these shifts. Add a chunky jumper in winter or wear these leggings under a tunic on summer days.
| | |
| --- | --- |
| Best for: | a comfy alternative to jeans for women with fibromyalgia |
| Color: | black |
Alala Horizon Crop Leggings: Best leggings for tall women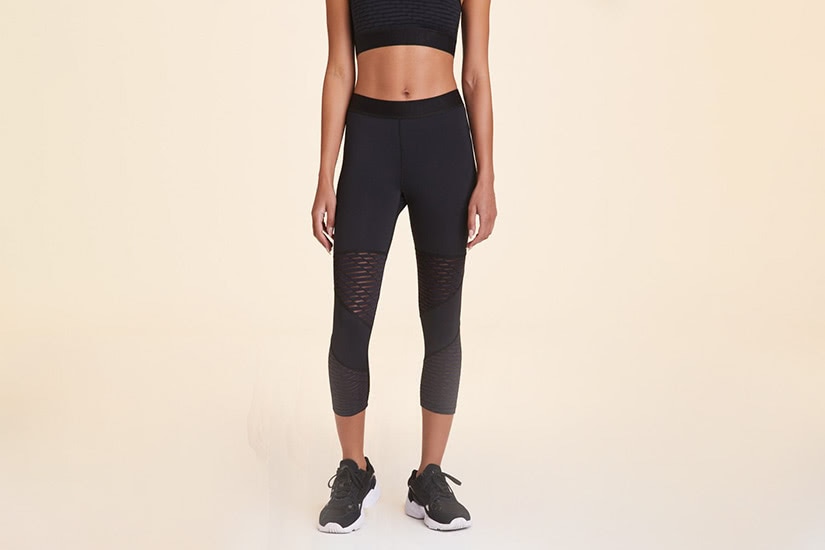 One of the many advantages of being a tall woman is that you can get away with cropped leggings, like the effortlessly cool Horizon Crop Legging from Alala.
Aesthetically, these leggings are understated but still impressive with unique sheer panel detailing. And thanks to their cropped length, your lower calf gets to enjoy the fresh air.
Get your body moving with this combination of spandex and polyester: stretchy, durable, lightweight, and breathable. The flatlock seaming means no rubbing or irritation against your skin while the elastic waistband sucks everything in and looks great with a cropped top.
These top leggings give you the confidence to take up position at the front of the Zumba class and show everyone how it's done. Or take position in front of the TV. The choice is yours.
| | |
| --- | --- |
| Best for: | a great pair of cropped leggings for long-legged women |
| Color: | black |
Alo Yoga High-Waist Shine Legging: Best leggings for short women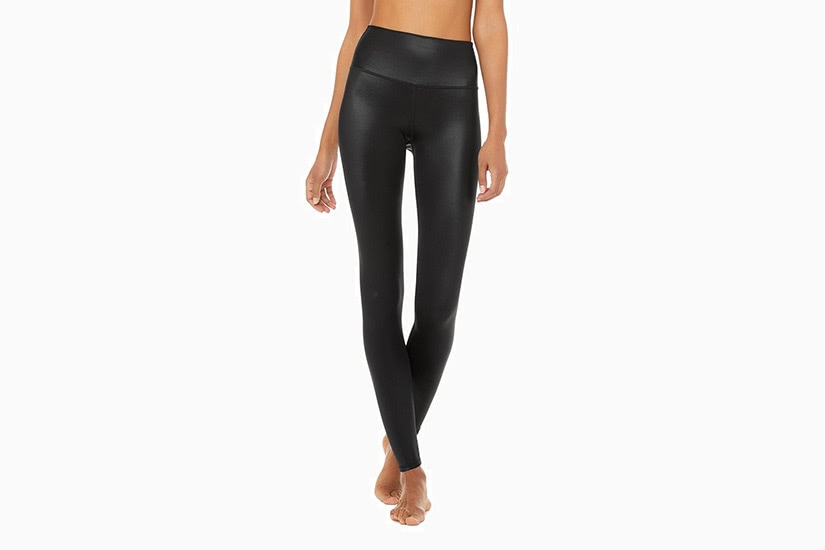 For those of us who aren't so vertically blessed, searching for flattering leggings can be hard. They can bunch up around your ankle, gather around your knee, or force you to fold over the waistband multiple times. Not a good look.
Luckily, Alo Yoga has us covered with their High-Waist Shine Legging. There's a reason why so many celebrities have been spotted rocking liquid-look leggings like these. Not only is the high-shine finish the last word in edgy, but these leggings are also incredibly flattering for petite body types.
The brand promises that the sculpting and smoothing design will make your legs look basically Airbrushed. What's not to like about that? These durable leggings also have a 4-way stretch so you'll barely notice them as you glide from one yoga pose to another—or from kitchen to couch.
All in all, the ideal leggings for those at the shorter end of the height spectrum.
| | |
| --- | --- |
| Best for: | ultra-flattering leggings for petite women |
| Color: | black, grey, and burgundy |
SATINA High Waisted Leggings: Best budget leggings for women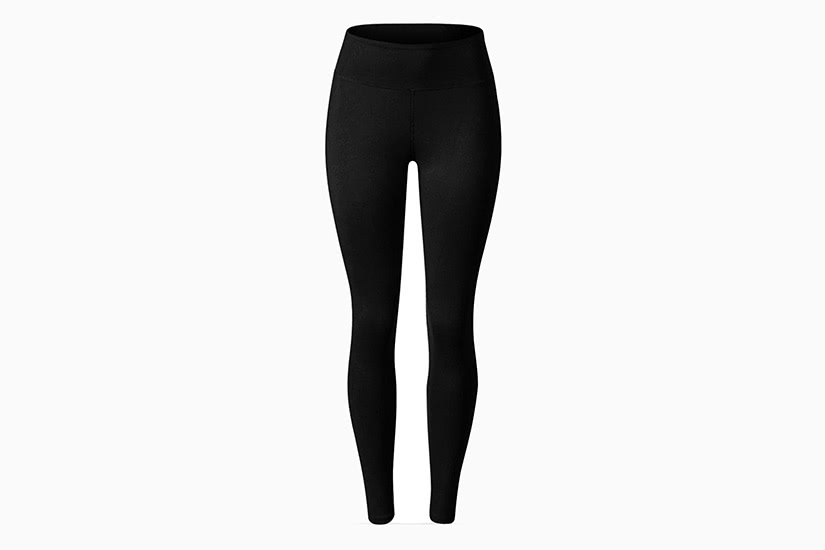 No, you're not dreaming. The Satina High Waisted Leggings really do cost less than $15, making them the best cheap leggings on our list.
For that price, you'd be forgiven for thinking that there must be compromises somewhere. But these leggings offer the full package.
The fabric is so soft the brand has named it 'peach skin', which definitely catches our attention. Meanwhile, the high waist elongates your torso, making it a flattering and supportive choice.
They come in full length, with or without pockets, as well as a Capri cut. And there are endless color choices, so you can pick a pair according to your unique preference, mood, taste, skin tone, or body type.
Experiment with coordinating with your crop top. Suddenly working out is a whole lot more fun.
| | |
| --- | --- |
| Best for: | working out on a budget with cool and cost-friendly leggings |
| Color: | a wide range including black, navy, and pink |
Gucci GG Supreme Leggings: Most expensive leggings for women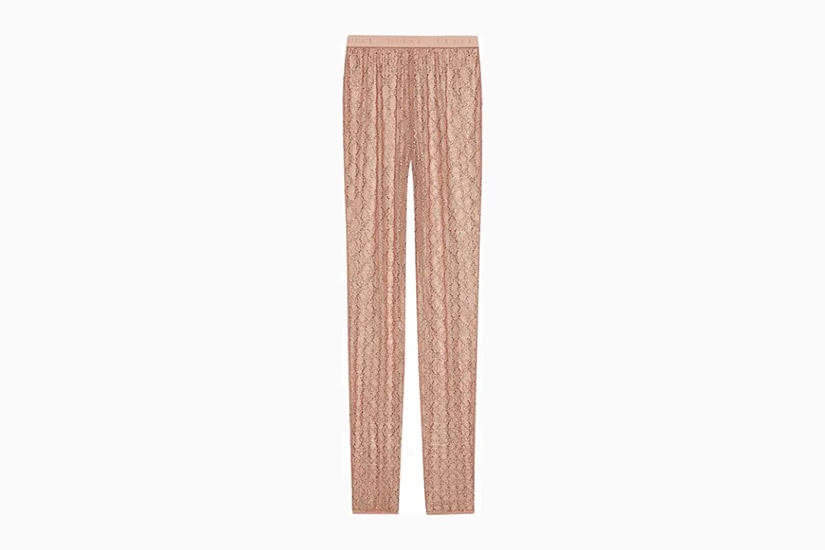 These GG Leggings by Gucci are better suited to glamorous red-carpet events than running or cardio. But if you're more about delivering the wow factor than weight-training or power walking, then these are the ones for you.
These leggings are the very apex of designer style. Just look at that glitter detailing. Why settle for ordinary when you can have extraordinary?
Sow the seeds of sartorial success with these designer leggings. Made from a cotton blend with an elasticated waistband, they're a low-effort wardrobe addition that look anything but low-key. And you can let everyone know the details of your impeccable taste with that Gucci logo across the top.
Comfortable to dance in and designed to draw attention, there's no need to dress these leggings up. They're already evening-ready. Just add lipstick and you're off.
| | |
| --- | --- |
| Best for: | treating yourself with some ultra-indulgent Instagram-worthy leggings |
| Color: | pink |
Top five best legging brands
The top five best legging brands are Alo Yoga, Alala, Cuyana, Glyder, and Wolven. These brands offer some of the best women's activewear and are top-rated by women thanks to the quality and comfort of their leggings and their fashion-forward aesthetics.
1. Alo Yoga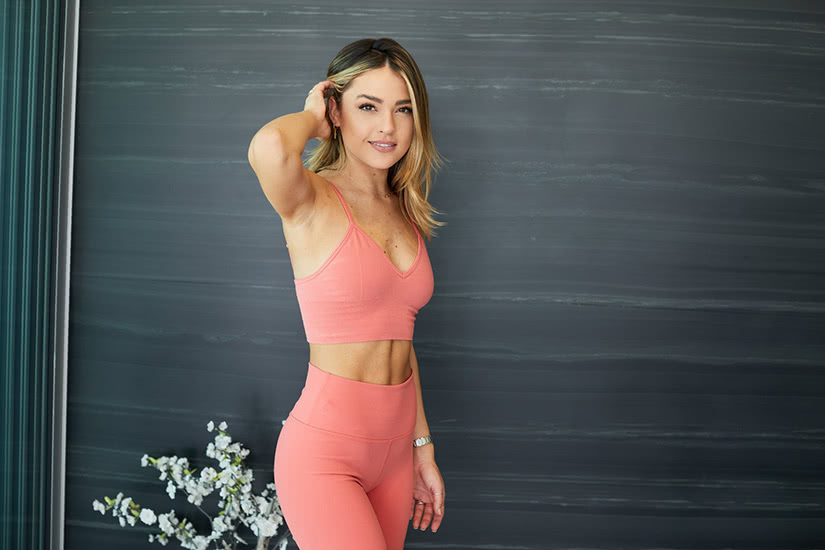 Alo Yoga is one of the best-known and most popular legging brands. The company's line of activewear is a favorite among celebrities and Instagram yogis. Alo Yoga's leggings, in particular, definitely live up to the hype, with a huge range of options—from high-waisted to cropped styles—and a broad spectrum of color choices.
Their Airlift collection is especially worth checking out. The fabric is designed to sculpt, lift, and feel like a second skin. What more could you ask for?
2. Alala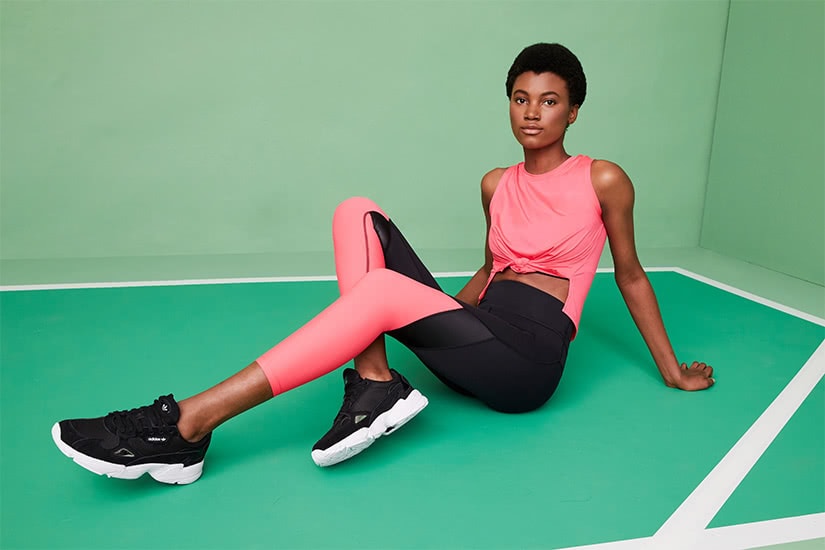 Alala is a luxury athleisure brand named after a Greek Goddess—just one reason the company appeals to empowered modern women seeking to conquer both the street and studio. The brand's leggings combine edgy designs with high-performing fabrics that are a hit with women of all sizes.
Most of the brand's leggings feature Powermesh in the waistband, creating an enjoyable 'tucked in' feeling. The compression aspect helps to improve blood flow and has a slimming effect.
3. Cuyana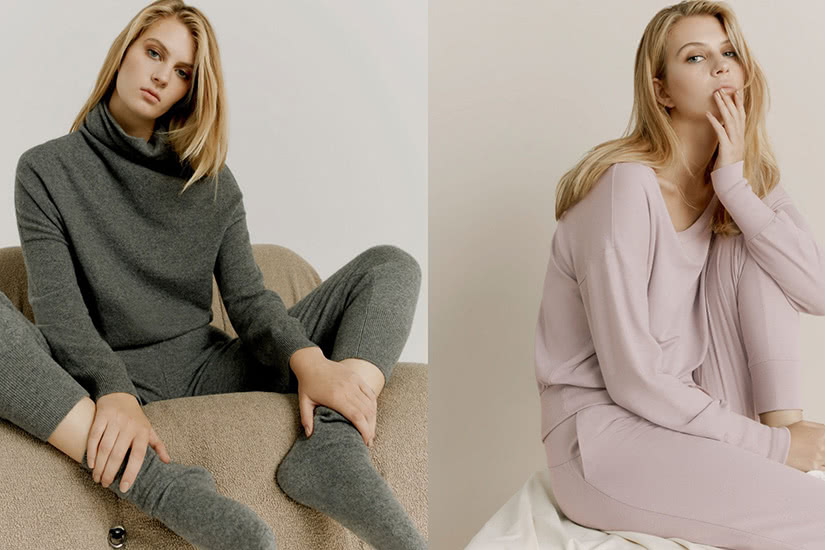 If sustainability is a priority for you, then it's definitely worth exploring Cuyana's website. The brand embraces the philosophy of slow fashion and believes we are better off owning fewer pieces of clothing, each of better quality.
Cuyana leggings, for example, will last you for ages, without bobbling, stretching, or sagging. Their seamless leggings, in particular, have many devoted fans. Once you've experienced the quality of their leggings, you can explore the rest of their collection, such as their work bags or travel tote bags.
4. Glyder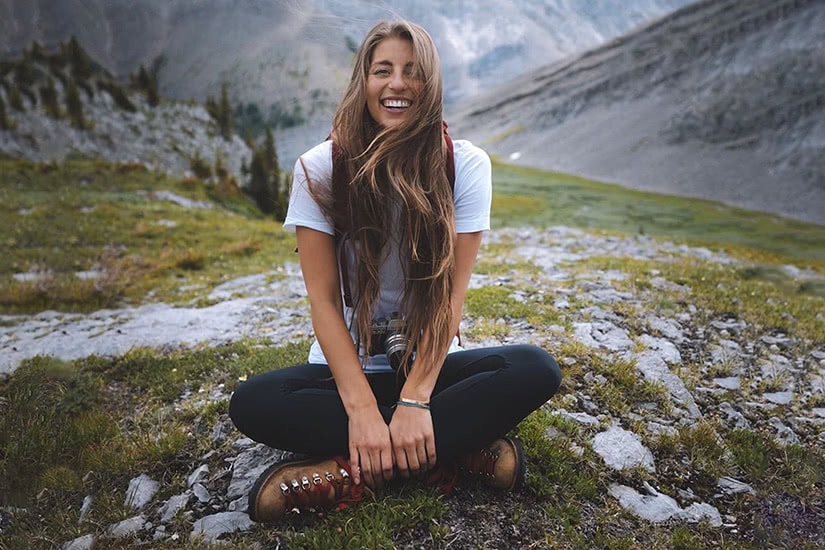 Glyder's line of activewear has a major following thanks to its commitment to high-quality exercise apparel at an affordable price. Their leggings are super functional, often featuring moisture-wicking and antimicrobial fabrics, while the aesthetic is the perfect mix of understated chic and streetwise cool.
The brand is also pioneering innovative fabric technology, such as FORMA101™, designed for superior stretch and fast recovery. The leggings also feature flat seams and a 4-way stretch, as well as fade-resistant and sweat-wicking materials.
5. Wolven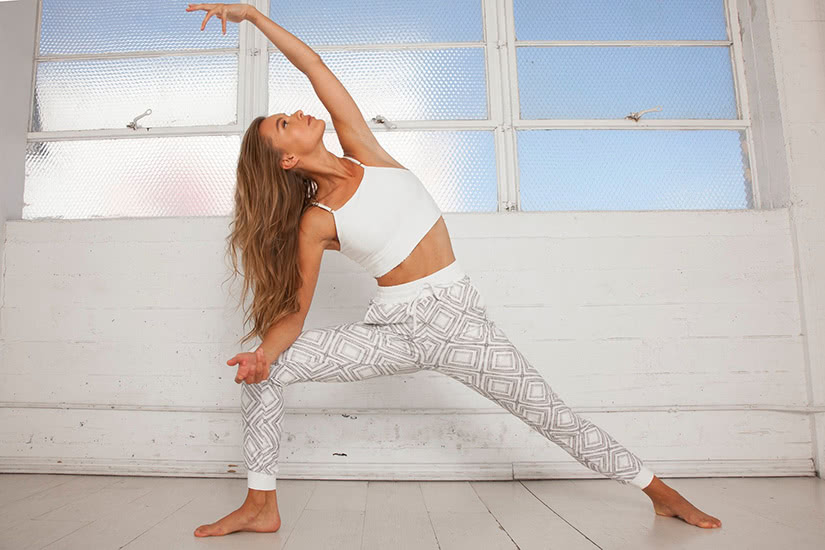 Wolven is a brand that puts nature front and center. The designs are inspired by the patterns and colors of wilderness and wildlife, while sustainability is a number one goal: all garments are made from recycled plastic water bottles.
Whether you want leggings for aerial yoga or a hiking adventure, Wolven's collection offers wearers high-quality and stylish pieces that are as versatile as they are comfortable.
Buyers guide: how to choose a pair of women's leggings
When choosing leggings, there are a few important things to consider. Leggings might be some of the simplest things to wear but picking a pair is far from straightforward.
Features and functionality
When will you generally be wearing your leggings? Do you need them for exercising? What kind of workouts do you prefer?
Runners will want leggings with pockets for a phone or keys. Yogis will want super stretchy leggings for maneuverability between poses. Are you seeking a pair of leggings for hiking? The best leggings for walking are those that are breathable and sweat-wicking.
Or maybe you want a pair of leggings as a casual option for running errands, hanging out with the family, or lazing around the house. In that case, comfort will be the highest priority and you might also want an adjustable waistband and pockets.
If you plan to wear your leggings out and about on a regular basis, fashion appeal might be your biggest concern. Check out the faux leather or high-shine leggings if you want to make an impact.
And, if you live somewhere with harsh winters, then fleece-lined leggings are definitely worth considering.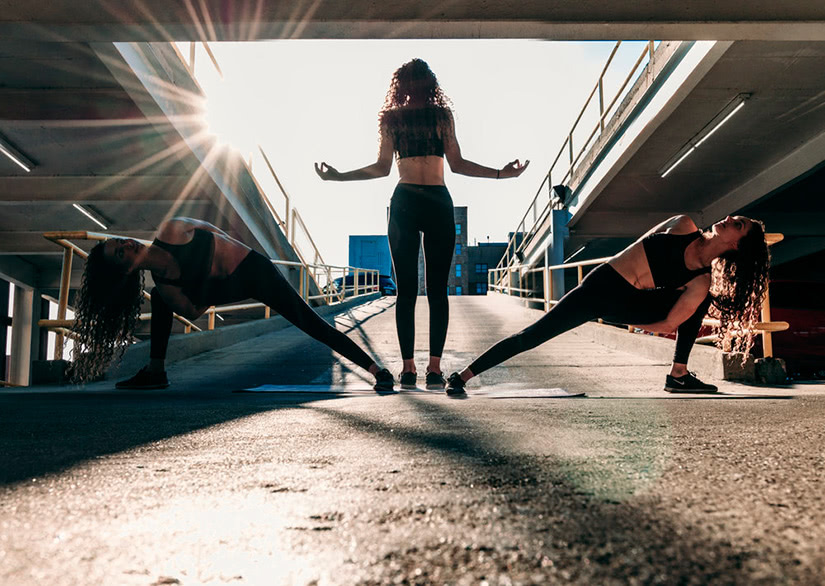 Materials
If comfort is imperative, cotton is a good option. It's strong, soft, and breathable, and our skin loves it. However, it does tend to lose its shape over time.
Another popular option is a synthetic blend such as polyester and spandex, or nylon. These materials are stretchy, durable, water-resistant, and sweat-wicking. Some brands have developed their own unique materials that have anti-odor and anti-microbial properties.
Wool is great for the winter months. Or, if you're concerned about sustainability, bamboo is a good alternative. Some brands, like Wolven, also make use of recycled materials.
Check the reviews before you buy to see what people say about piling and fading.
Size and fit
Another good reason to check the reviews is to see whether the leggings are true to size. With Alo Yoga leggings, for example, some people recommend getting a size below your normal one to ensure that perfect body-hugging fit.
Common legging pitfalls: what to check and what to avoid
The most important thing to check when buying a pair of leggings is whether or not they are see-through. This is best done in person but if you're buying online, check the reviews to see if anyone has mentioned the leggings having an unfortunate degree of transparency.
You also want to look for flat seams as raised seams can cause irritation as well as ruining the streamlined effect. A gusset will stop your leggings riding up and a wide waistband is less likely to dig into your stomach.
Frequently asked questions about women's leggings
Who makes the best leggings?
Alo Yoga and Alala make the best leggings for women. Their designs are versatile, comfortable, and flattering, perfect for working out but also for casual everyday wear. Cuyana, Glyder, and Wolven also make some of the top leggings for women.
What are some good quality leggings?
Alo Yoga, Alala, and Cuyana are all brands that make good quality leggings for women. Their leggings are thoughtfully designed to offer wearers timeless style with durable materials that will survive heavy rotation and regular washes.
What are the best everyday leggings?
The best leggings to wear every day are Alala's All Day Tights. These leggings are true to name: they are perfect for wearing all day, every day, thanks to their supportive structure and comfortable material. The addition of the shiny side panels means you can even wear them to the office or cocktail bar. Check out our list of the best women's leggings for more inspiration.
Which leggings are most flattering?
The most flattering leggings are Lysse's Laura leggings. They are the best fitting leggings on our list, with a concealed waistband for support, front-seaming to enhance your curves, and a body-sculpting fit that compliments basically all female figures.
Is it better to work out in leggings?
The best women's leggings are perfect for working out. They're made from breathable materials that are designed to wick away any moisture. They also have flat seams to prevent rubbing and chafing when moving around.