Born in the '90s, the iconic slip dress has remained quintessential to the capsule wardrobe ever since. The risque decade may have transformed the undergarment trend into sultry evening wear. But our top brands are continuing to revolutionize the look with statement styling and decadent detailing.
Although this may go against your dress mantra, wearing the same versatile slip to two big occasions is deemed perfectly acceptable. And with so many styles to choose from, we doubt anyone will notice. Contrast the shimmering satin with a rugged black leather jacket or oversized trench coat. Or complement a cowl neck with chunky accessories and cute kitten heels. Flexible neutral hues lend themself to a host of differing styles. While vibrant tones speak to the dopamine dressing trend.
Either way, the satin slip is no longer confined to fancy evening wear. And the silky silhouettes are making a more casual appearance. Pair them with a classic white tee for a relaxed Summer outing. And whip out your knits when the sun starts to drop early. That being said, don't be afraid to try something completely out of the box. Our best slip dresses lend themselves to unexpected layering and unique color clashes.
Let's get slipping.
Cuyana: Overall best slip dress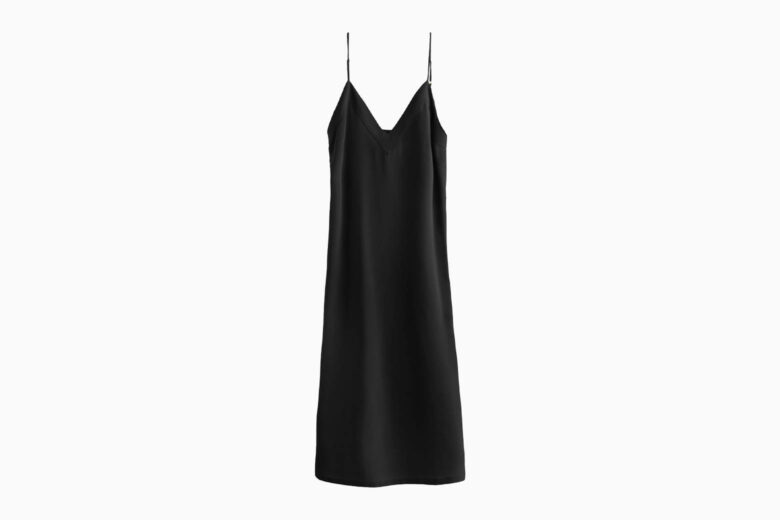 Once again, Cuyana is effortlessly slipping into our capsule wardrobe with this simply chic slip. Relaxed yet elegant, the versatile slip dress epitomizes fluid styling. Dress it up with kitten heels for the evening. Or hit the town running in your staple white sneakers. Either way, the timeless neutral palettes are effortless to dress. And they pair well with absolutely any accessory.
This flowy mid-length fit eliminates any tucks and pulls. And it allows you to float through any occasion without a care in the world.
Gucci: Best designer slip dress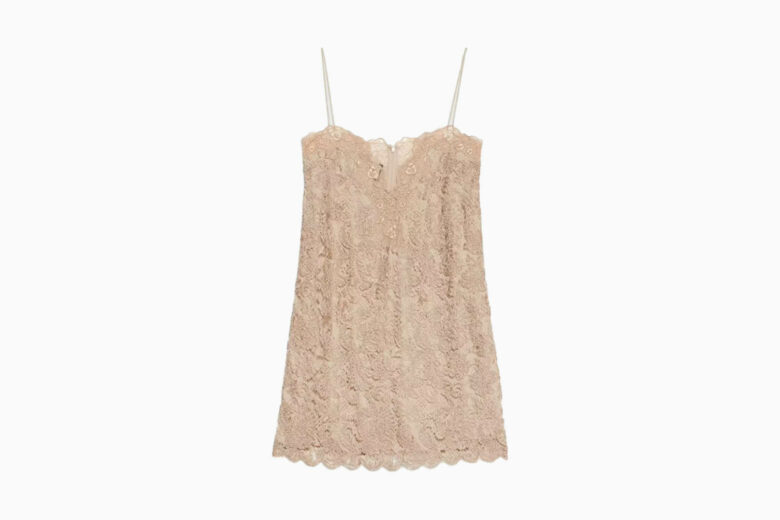 This Gucci piece stays true to the historical style. The decadent floral guipure lace speaks to the luxury inherent to the brand. And the soft pink hue alludes to virtuous femininity. While the barely-there straps add a risque touch to the innocently spicy ensemble.
This sumptuous slip reminds us of why we are grateful to the decade that allowed a woman's best-kept secrets to be flaunted around the streets with subtle sophistication.
LilySilk: Best value slip dress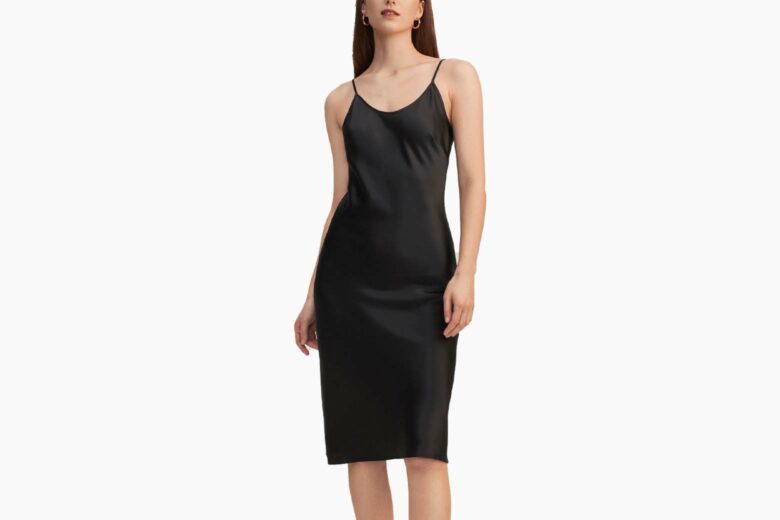 Slipping into any occasion with carefree confidence, LilySilk's black slip dress is as sensual as it is sophisticated. And don't forget the brand's trademark material. Made from LilySilk's signature Mulberry silk, this slip is impossibly soft, irresistibly smooth, and unrivaled in comfort. Plus, it's one of the most durable silk brands we've tried, so you know that this slip will last for seasons to come.
When it comes to styling, the options are endless. Dress it down with trendy sneakers and a jacket. Or dress it up with kitten heels and oversized earrings. Either way, you'll find it difficult to reach for anything else with this versatile slip in your arsenal.
Naked Cashmere: Best linen slip dress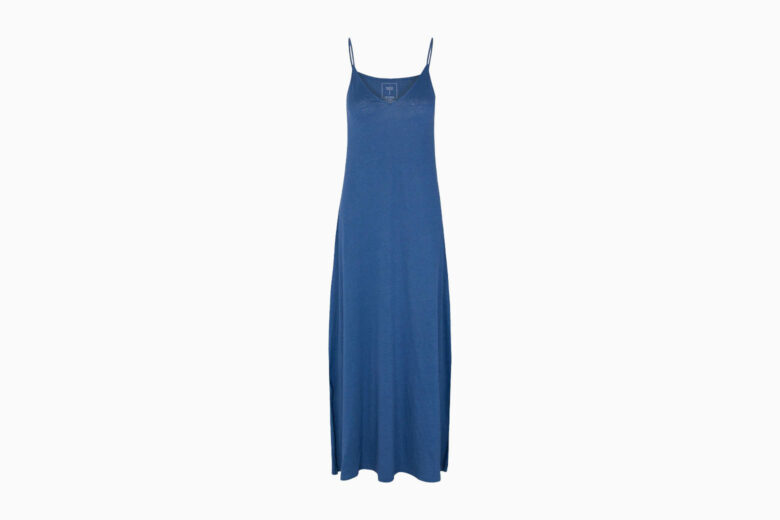 Naked Cashmere only uses the best quality fabrics. And this luxurious linen is case in point. The loose-fitting, neutral style makes it effortless to get-up and go. And the nonchalant dress is flawlessly finished by a feminine V-neck and spaghetti strap combination.
This relaxed rendition of the classic slip is the perfect piece for lounging or lunching alike. Pair it with your most convenient flats and you've got yourself a stylish ensemble—comfortable enough to sleep in.
L'Agence: Best silk slip dress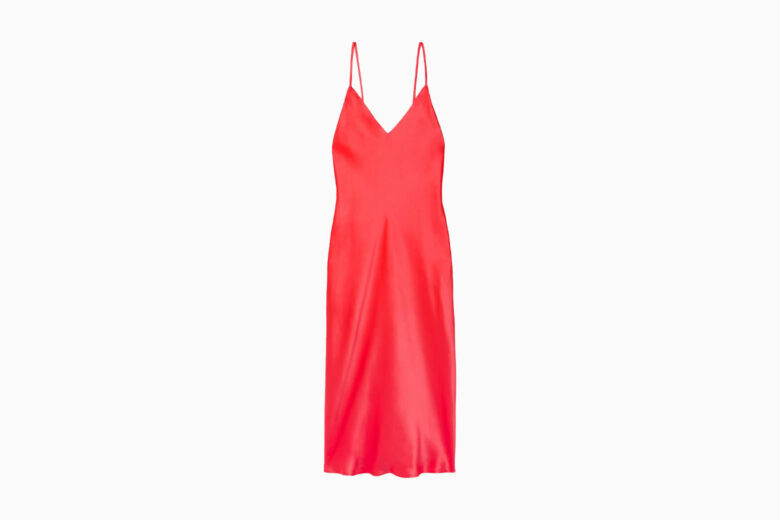 Live out your Jolie fantasies with this rich pink dress. The alluring slip is your evening silk Summer dress to captivate without trying too hard. The slim-fit closely skims your body without sticking. And the thin adjustable straps ensure that it hits all the right spots.
This affluent brand perfectly marries Californian style with a French attitude. And in doing just that, this scintillating dress will have you red-carpet (date night) ready in no time.
Vince: Best satin slip dress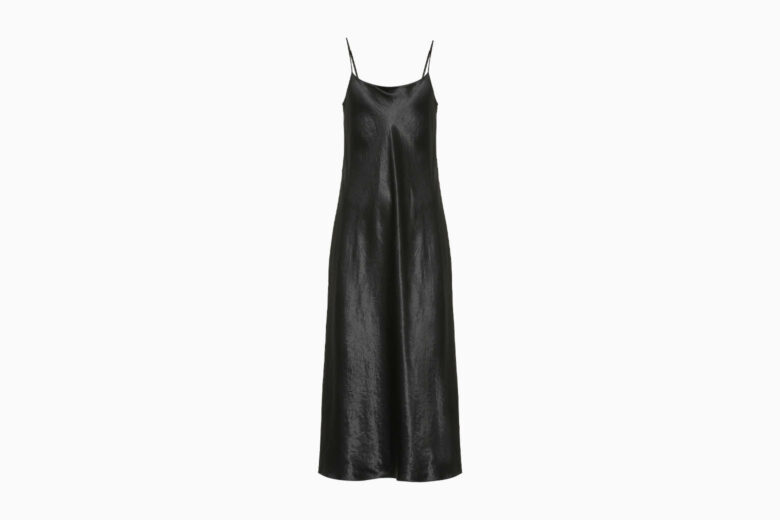 Known for its elegant yet elevated ensembles, Vince has done it again with this satin slip dress. Designed with endless versatility in mind, we think that you could wear it every day of the week in a completely new way. Pair it with your classic white tee for a casual day out. Or dress it up with heels and a touch of sparkle at night.
Every aspect of this black number lends itself to your unique styling.
Joseph: Best black slip dress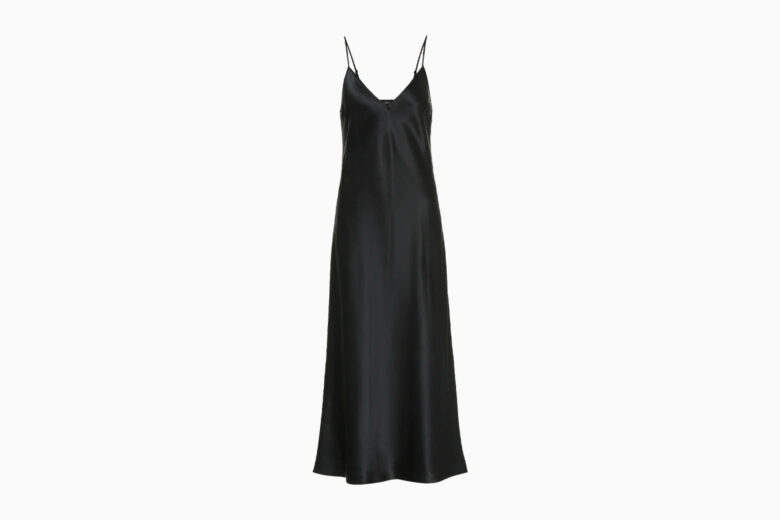 In true Joseph fashion, this silk satin black slip dress contours your body in all the right ways. The mid-length style hits the calf to show off a bit of ankle. And the V-neck is effortlessly elegant. The lustrous sheen works perfectly with your most comfortable heels or carefree flats.
This one-piece wonder is your black canvas for extravagant accessorizing. But it also stands alone confidently for a minimalist appeal.
Sachin & Babi: Best white slip dress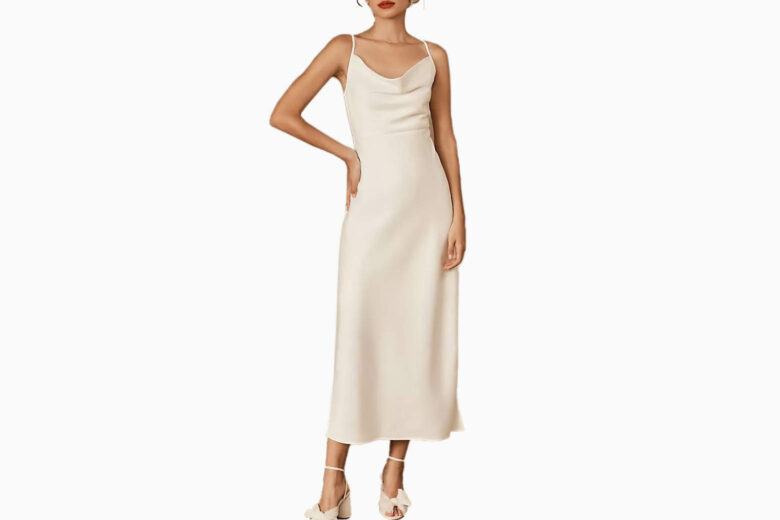 Elegant and simple—this white slip by Sachin & Babi will give your little black dress a run for its money. The minimalist design flaunts clean lines. And the cowl neck adds just enough detail to make it more formal. The midi dress with a back zip skims your figure flawlessly. And thin straps exude a less is more attitude.
Pair this stunning slip with matching white heels, pearls and a red lip for the ultimate Marilyn Monroe look.
Gilda & Pearl: Best red slip dress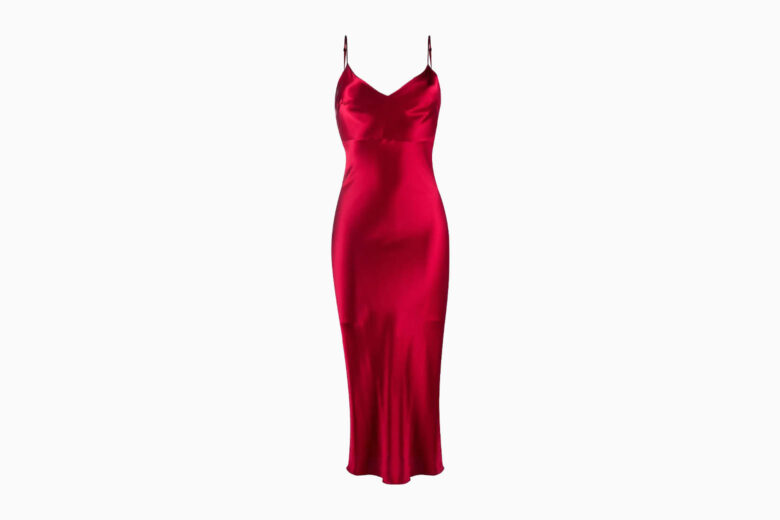 Embrace dopamine dressing with this fierce red satin. The simple silhouette pays homage to the iconic '90s style. The mid-length design makes it more wearable than your floor-scraping gown. And the impeccable attention to detail speaks to the brand's careful craftsmanship.
This tantalizing slip by Gilda & Pearl is made to be the life of the party with its smile-inducing hues. And you're sure to be swimming in compliments by the end of the night.
Asceno: Best floral silk dress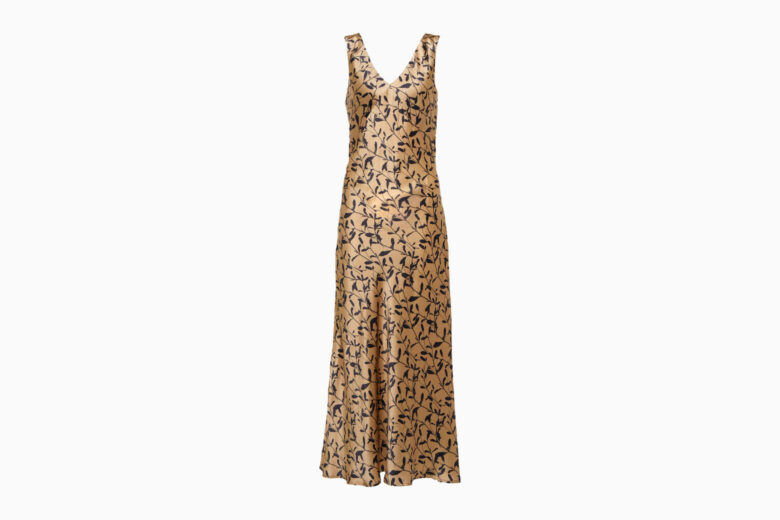 Best known for its exotic prints and unexpected use of color, it's no surprise that Asceno's Bordeaux dress is our favorite floral slip. The shimmering gold silk whispers tones of subtle sophistication. And contrasted with black contemporary flowers, it's a combination that just can't go wrong. The low-cut back continues to add a modern flair to the refined fluid-drape design.
Pair this silk Summer dress by Asceno with black kitten heels to get the complete look for any warm-weathered occasion.
Bec & Bridge: Best brown slip dress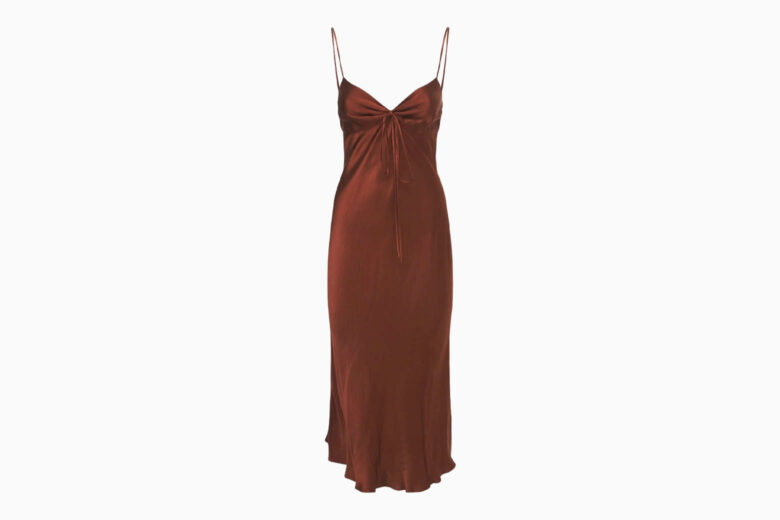 This brown satin and simple silhouette gives us a peek into the '90s style. And we're all for it. The sophisticated neutral tone is perfectly complemented by the lustrous satin shimmer. The dainty lace-up detailing in the front speaks to the femininity of the design. And this is only emphasized by the dainty straps and elegant neckline.
If you're looking to stand out with a less is more attitude, you can't go wrong with this Bec & Bridge slip. You'll feel like you know exactly what you're doing as everyone admires your effortless styling.
Jonathan Simkhai Standard: Best blue slip dress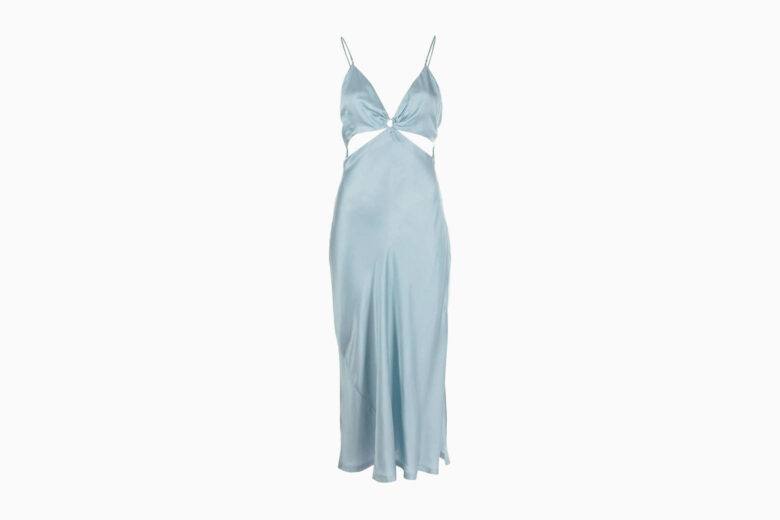 Sultry cut-outs are back. And we adore them in a '90s slip, especially when they're subtle enough to pass any sophistication test. This soft blue satin slip dress does just that. And the glistening fabric is only momentarily broken up by flattering slits. The retro style is perfectly complemented by a simple silhouette.
This romantic blue slip will make you feel like you're on your very own magic carpet ride. And you won't need to accessorize to feel like you've nailed the look.
Balenciaga: Best knit slip dress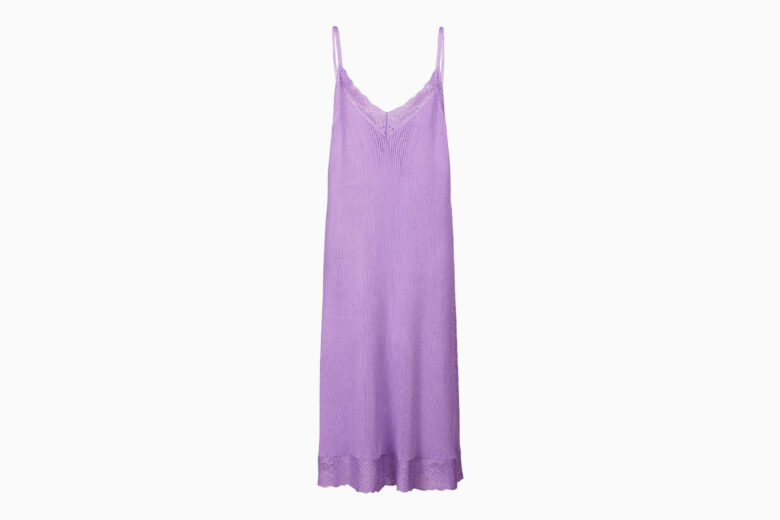 Famous for revolutionizing women's fashion, Balenciaga knows how to elevate everyday essentials. And that is exactly what they've done with this effortless knit slip. The relaxed woven silhouette lends itself to casual styling. While the lace details allow it to be dressed up with heels for a more formal affair.
The vibrant shade of purple flaunts a fashion-forward mentality. And the low back and neckline add enticing elements to the loose, mid-length fit.
Watters: Best slip dress for wedding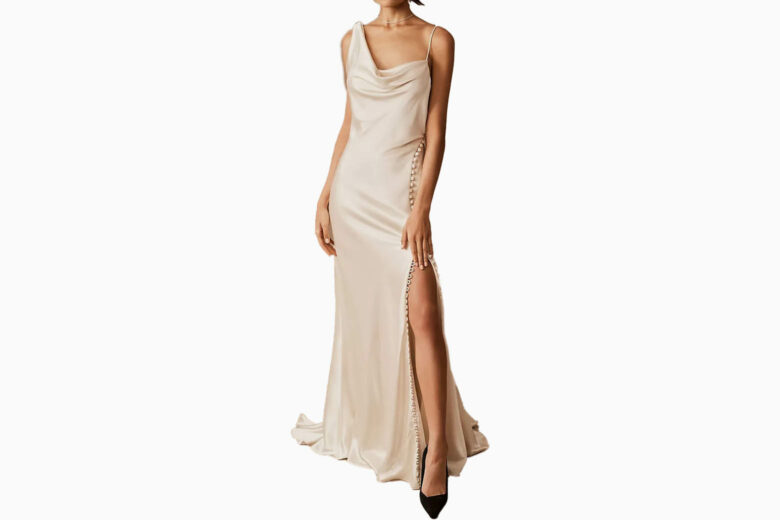 Many modern brides are finding The One amongst more contemporary designs. And we say yes to this asymmetrical style. The slimming silhouette skims your skin and drapes to the floor. While vintage buttons provide an adjustable slit (for later on the dance floor). The ivory charmeuse embodies the elegance inherent to the big day. And the one-shoulder detail completes the jaw-dropping design.
Inspired by Gatsby glamor, this Watters wedding slip is nothing short of mesmerizing.
Fleur Du Mal: Best cut-out slip dress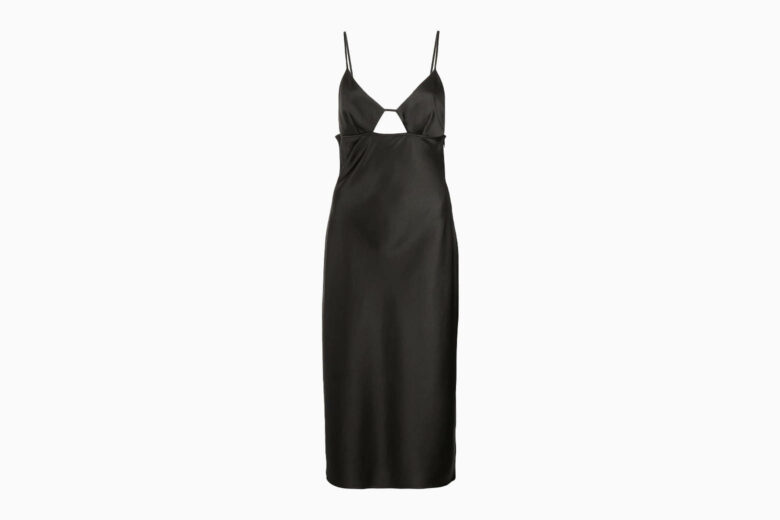 Fleur Du Mal first caught our attention with their luxurious line of lingerie. And since then, we've continued to fawn over their gorgeous new pieces. This black keyhole slip dress is one of our favorites. And when you see your figure in it, it'll be one of yours too. The clean lines and contemporary cuts speak to modern minimalism. And their avant-garde take on the retro keyhole is all you need to seal the deal.
Warning: you may struggle to wear anything else on a night out once you catch other people's reactions to this sultry slip-on.
Dries Van Noten: Best asymmetric slip dress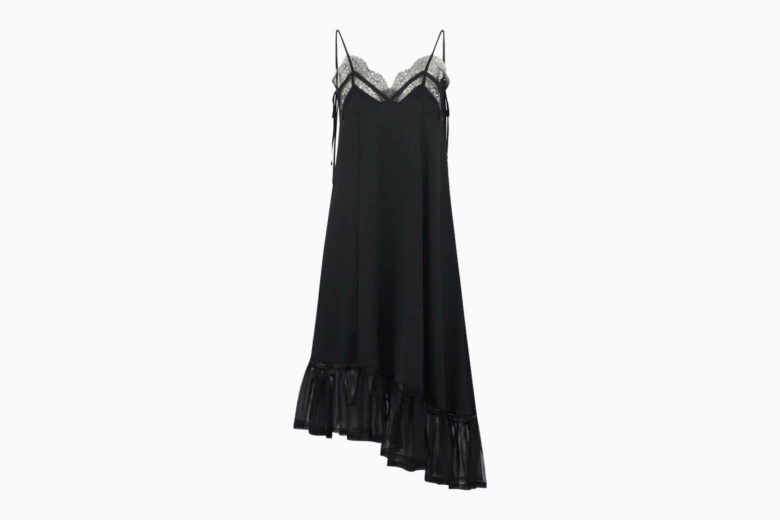 The Belgium designer is renowned for his delicate detailing. But this Danya slip takes his reputation to new heights. The contemporary clean-cut neckline is contrasted by vintage lace. And the empire waist is complemented by a pleated asymmetrical hemline. The dainty straps speak to the feminine accents. And the flowy, soft chiffon does little to detract from the distinctive design.
If you've fallen in love with Dries Van Noten's lavishly alluring slip, join the club and add it to your cart.
Rick Owens: Best V-neck slip dress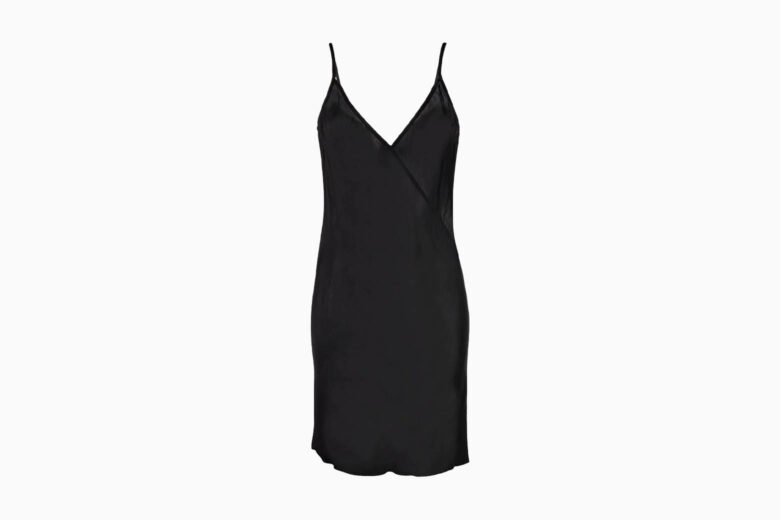 Let's be honest, it's time for a new little black dress. And we've got just the one to replace your overworked go-to. Made in Italy, Rick Owens' silky slip-on hits that elusive sweet spot between sexy and sophisticated. The V-neck slip dress glides elegantly over your figure without overexposing. And the thin spaghetti straps keep in line with the modern minimalist appeal.
Acne Studios: Best short cowl neck slip dress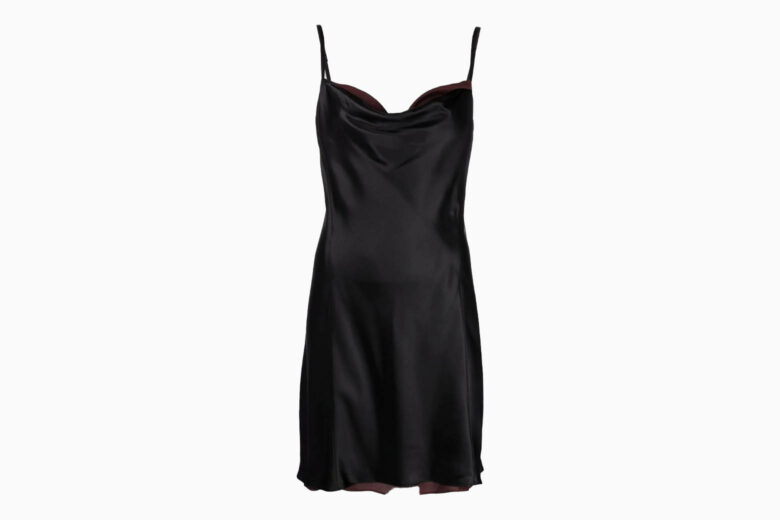 We've got good news—short slips are back. So you're given full license to show off your legs. And what better way to do it than with this slip dress by Acne Studios. The cheeky length is perfectly contrasted by a sophisticated cowl neck. While glimpses of chocolate brown peek through black satin for that luxe layered effect.
Reminiscent of the '90's style, this cowl neck slip is everything we love about the spicy era and more.
Materiel: Best slip dress with slit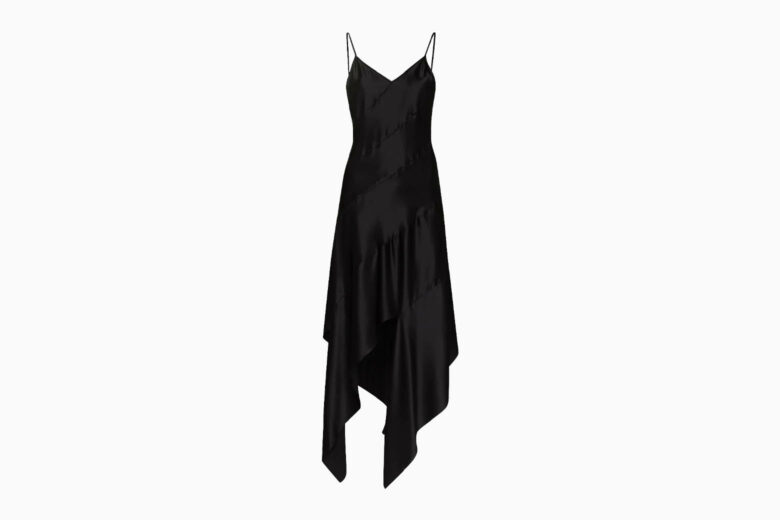 Slits can often be decisive. But we think that this one is impossible not to love. The asymmetrical style flaunts a distinctive open cut in the front and back. The opening is just enough to add a spicy edge to the exotic look but isn't too revealing. And it is perfectly complemented by the feminine fit and flair design.
This off-kilter slip is made from a sleek black silk satin blend to create that elegant allure. And the contrasting elements throughout the dress form a never-seen-before simple showstopper.
Khaite: Best long cowl neck slip dress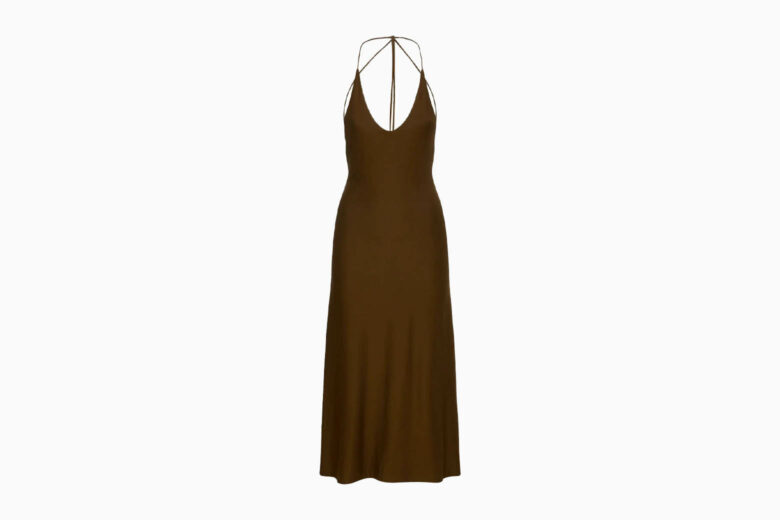 Crisp is the word that comes to mind when captivated by Khaite's flawless styling. The deep plunge round neck is designed for the minimalist at heart. Complemented by dainty ballerina straps, it's a combination that hits the sweet spot between refined and revealing. This contemporary design extends to the back with tantalizing ties.
Accessorize this brown clean-cut slip with your best Summer shoes for a look that'll carry you through the season with simple sophistication.
Reformation: Best silk slip dress with adjustable straps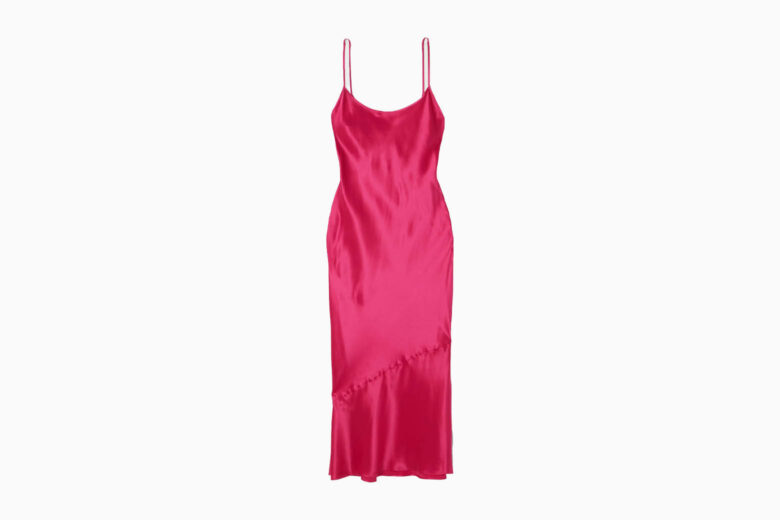 We're all for the dopamine dressing trend. And this fuschia pink dress is guaranteed to make you smile. But it's not just the color that'll have your head rushing with endorphins. It's very hard not to feel radiant when you're melting hearts one movement at a time.
Reformation's charmeuse slip doesn't put a foot wrong. Adjustable straps ensure that you slip in without slipping out. While the soft silk falls gracefully below the knee.
Saint Laurent: Best short slip dress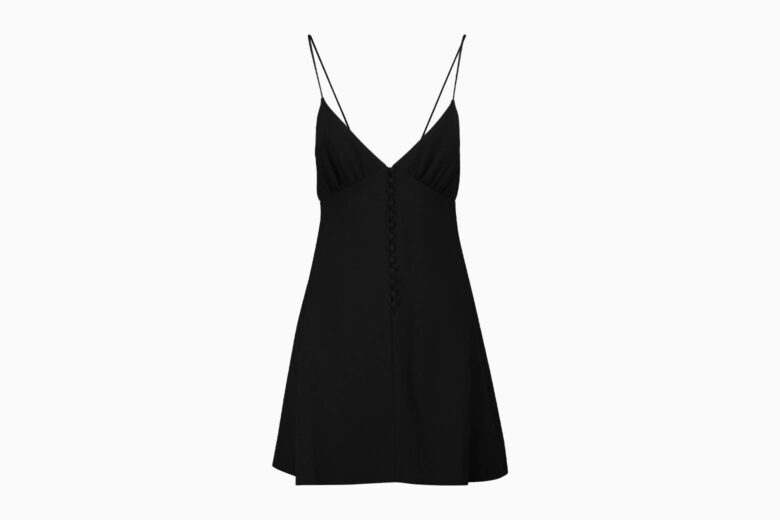 When you've got a minimalist silhouette, the difference between luxury and fast fashion lies in the details. Saint Laurent understands that and never fails to execute with perfection. This short black slip manifests the brand's attention to detail with subtle ruching, buttons down the front and barely-there ballerina straps. While the low back is perfectly contrasted by the cinched waist and babydoll skirt.
Pair this sumptuous slip dress with high black boots for an ultra-modern feel. Or keep it simple with cute espadrilles to embody the "comfort is key" mantra.
Max Mara: Best midi slip dress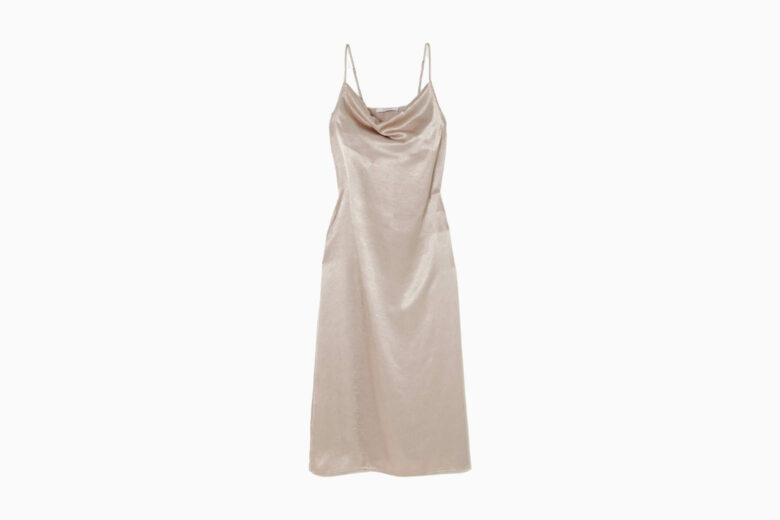 Max Mara ticks all our boxes with this refined fairytale dress. The lustrous satin shimmers in the light. While the soft pearly pink hue timelessly transcends trends. And the simple silhouette is designed to captivate every occasion. The adjustable straps fall gracefully into a cowl neckline that continues to drape the fabric further down the dress for a slightly looser fit.
If you love a satin slip dress that falls effortlessly without hugging your figure, this Italian style will fulfill all your fantasies.
Victoria Beckham: Best maxi slip dress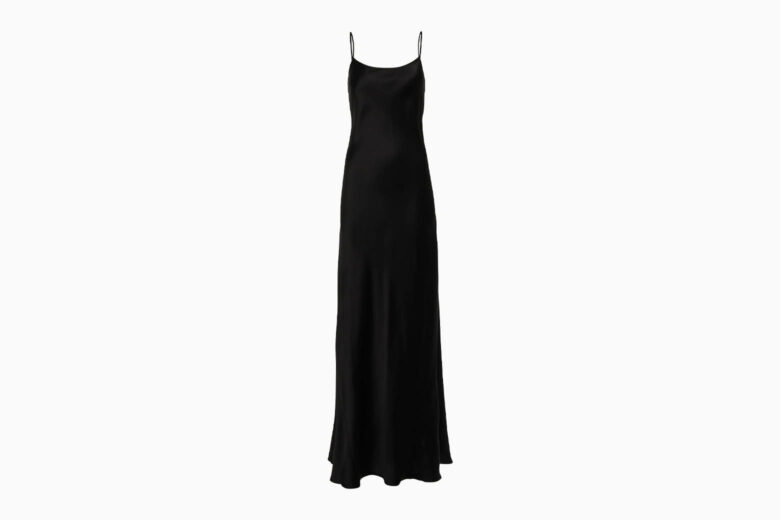 We'd be remiss not to mention the '90s singer in our list of top slips. Victoria Beckham has played a huge role in trailblazing trends. And it's no secret that the Spice Girls' singer loves a slip. This max slip in particular captures the designer's eye for elegant simplicity. And the open-back gown gracefully drapes to the floor.
Get this satin slip dress in a vibrant green to steal the limelight. Or opt for a sleek black tone to flaunt a sultry sophisticated attitude.
Asos Design: Best plus size slip dress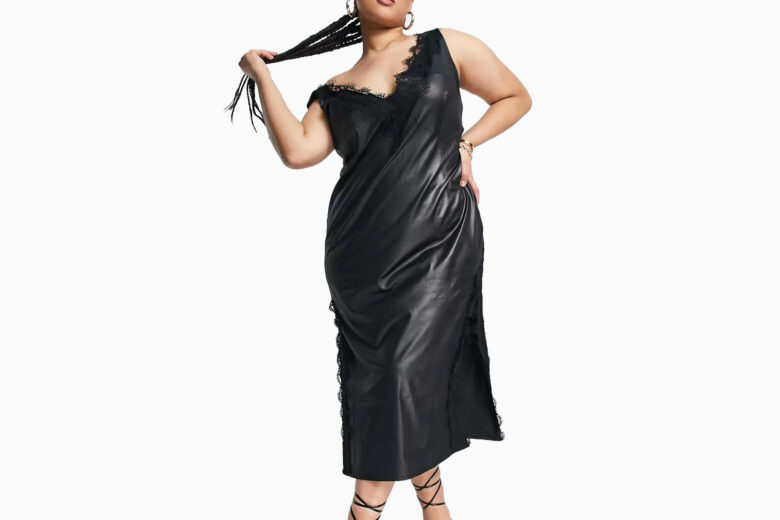 The secret to an exquisite slip is a balancing act between concealing and revealing. And that is exactly what this spicy black slip dress does so well. The deep plunge neck is effortlessly alluring. While a looser fit leaves something to the imagination. The mid-cut hits the calf in just the right place. And a subtle slip entices with a little more leg.
Complemented by lace accents, this plus size slip dress is all you need to be set apart.
How to style a slip dress
The simple slip epitomizes fluid-styling in every sense of the word. The same dress can be worn throughout warmer and cooler seasons. And the same satin ensemble that you rely on to dazzle in the evening, may also see you through many relaxed days on the street. At the end of the day, how versatile your slip is, all comes down to the different ways you style it.
Contrast the silkiness of the shimmering one piece with the ruggedness of a black biker jacket. This look speaks to an edgy style that'll take you from sophisticated luncheons to evening soirees. You can also relax the slinky slip with an oversized trench coat and chunky Chelseas for the ultimate fall look. Or embrace a cashmere knit for a layered effect that effortlessly transforms into a nighttime show-stopper. Another styling secret is to box it up with an office blazer and luxury sneakers for a powerhouse maneuver that'll have friends and accomplices begging you for fashion advice.
However, it's not just what you wear over the flexible slip that determines the occasion, but also what you wear under the spaghetti straps. Layer it with your classic white tee for casual daytime simplicity. Or add sleeves and boots to bare cooler climates. We love black and white contrasts that speak to timeless trends. But this is also your moment to manifest your mood with exotic prints and vibrant hues.
Frequently asked questions about slip dresses
Are slips making a comeback?
The '90s style never left in the first place. But slips are more popular than ever. And when it comes to choosing yours, the options are endless. You can go bold with vibrant fuschias and satiny greens. Or stick to the timelessly elevated essential in sleek black or neutrals. Whatever your choice, we've reviewed the best slip dresses for effortlessly chic styling.
Are slip dresses classy?
Yes, slip dresses are effortlessly classy. The iconic style is known to make its way from garden weddings to evening cocktail parties. Needless to say, a sumptuous slip-on will fit in at any sophisticated soiree. But it can also be styled with a cheeky attitude.
How do you make a slip dress look good?
Making our best slip dresses look good certainly isn't difficult. Wear them as-is for an evening modern minimalist mood. Or dress them up with standout accessories. You can also dress them down with a classic white tee. And for an autumn appeal, they pair perfectly with biker jackets, trench coats, cashmere knits and your chunky Chelseas. 
What body shape do slip dresses suit?
Slip dresses are often thought of as slinky pieces for petite figures. But our best slip dresses come in all shapes and sizes. While some of them sculpt your form with a sultry attitude. Others are more forgiving with flowy fits. And some hit that elusive sweet spot between fitting and loose as they graciously skim over any shape.
Why is it called a slip dress?
The secret is in the name. The iconic slip dress is appropriately named after its effortless dressing technique: all slip dresses flaunt a simple slip-on style. We also think that it could refer to the way that the silky materials slip over your figure in a carefree manner—but we'll leave that to you to determine.