The ultimate relaxed yet refined footwear, Chelsea boots are simple yet enduringly stylish. In fact, the best men's Chelsea boots can work their magic with just about any look, from a blazer and tailored trousers to rugged denim and a statement t-shirt.
First appearing on the fashion scene in 1837, these game-changing shoes were the invention of none other than Queen Victoria's cobbler and were intended for walking or horse riding. They were known originally as 'paddock boots'. But while you might not consider her Royal Highness much of a style icon, in the 1960s, Chelsea boots became a favorite of the cool crowds in London's borough of Chelsea (hence the name) where they were spotted being worn by the likes of the Beatles and Rolling Stones.
From budget-friendly designs that balance quality and cost to innovative creations featuring white suede or chunky soles, as well as timeless black Chelsea boots, here's our rundown of the best men's Chelsea boots to step your style game up.
The 21 best Chelsea boots for men
Check our special men's Chelsea boots style guide after the list to see exactly what you should pay attention to when shopping for a pair of boots online.
Check also our in-depth guide to all the best boots for men to discover other models such as the desert boots or the work boots.
Amberjack: Best overall men's Chelsea boots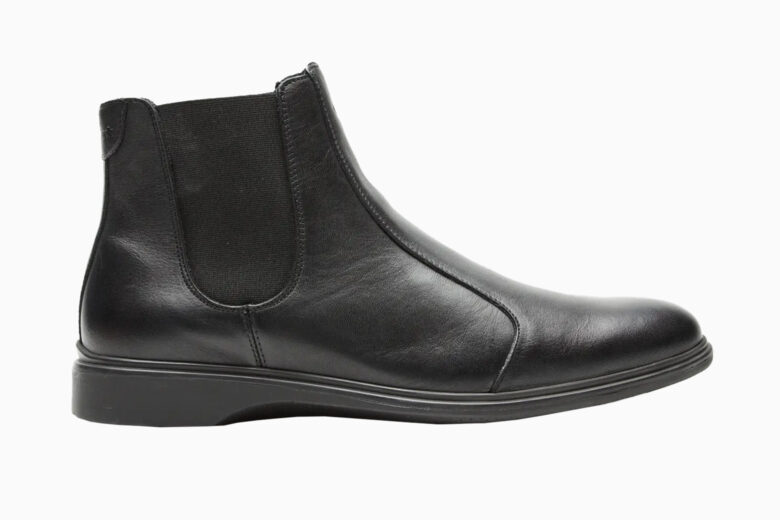 Ever since getting our hands on Amberjack's new pair of Chelsea boots, aptly named The Chelsea, we felt in love with them. We think this pair is simply the overall best Chelsea boots for men on the market today.
Available in Midnight Blue, Honey & Cream, and Dune, The Chelsea are the perfect mix between style and comfort, at an affordable price. Amberjack uses a special kind of foam that activates with the natural heat of your body to form to your foot for extra comfort. On the outside, the brand uses a proprietary outsole made from high-performance athletic technology in the front, for flexibility, and strong hiking boot material in the back, for support.
Check our in-depth Amberjack shoes review to learn more about The Chelsea and the brand in general.
| | |
| --- | --- |
| Best for: | Quintessential Chelsea boot cool.  |
| Colors: | Midnight Black, Honey & Cream, and Dune. |
New Republic: Best value Chelsea boots for men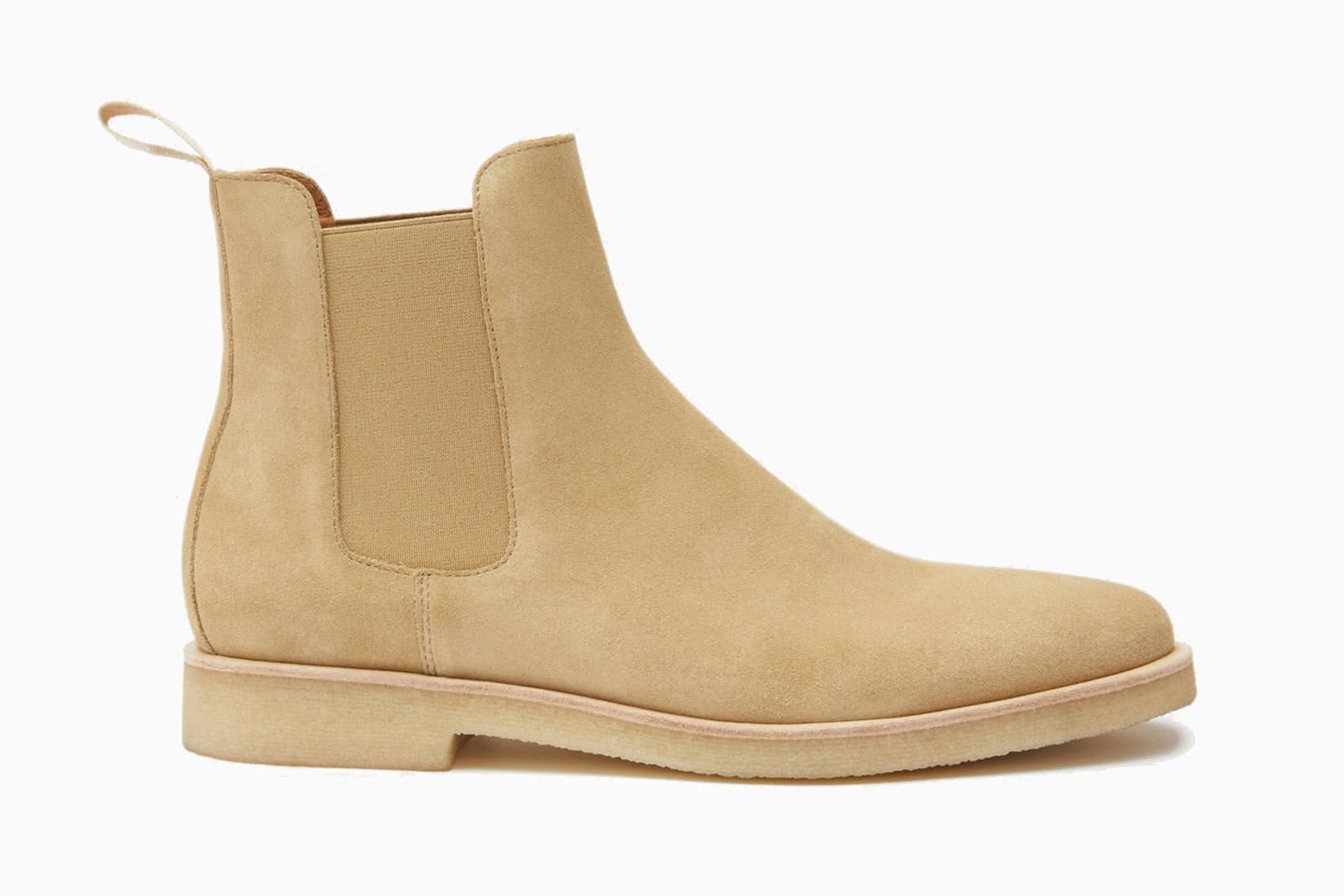 If your boot budget is slightly restricted, you want a pair of affordable Chelsea boots like these accessibly-priced ones from New Republic. They're available in both suede and leather so you can choose according to your style preferences or practical concerns.
The silhouette is refined and classic, balancing utilitarian pragmatism with timeless style. An elasticated gusset and a pull tab make for easy removal (for when you're hurrying home for dinner).
The natural crepe outsole, padded insole, breathable leather lining, and footbed will deliver the necessary all-day comfort whether you're wearing these New Republic boots to work or for a weekend with family or friends.
| | |
| --- | --- |
| Best for: | Boots that offer major bang for buck.  |
| Colors: | Tan and black.  |
Saint Laurent: Best luxury Chelsea boots for men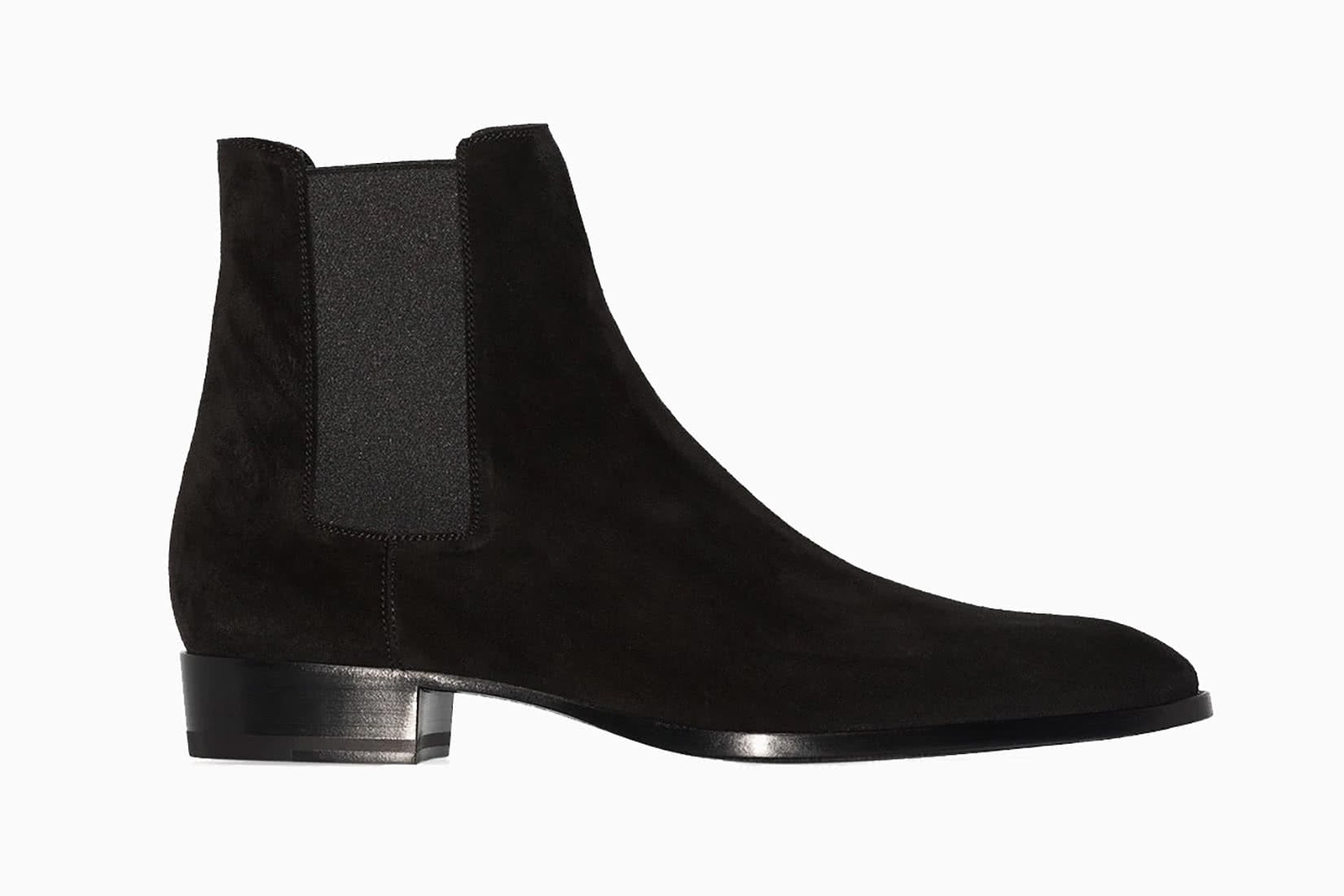 The basic rule for Chelsea boots is the pointier the toe, the dressier the boot. This is what makes these Saint Laurent creations the ideal choice for anyone seeking a pair of Chelsea boots that are more 'high-end nightclub' than 'cantering around on a horse.'
Saint Laurent's signature Wyatt boot is reinvented by the brand each season, available in a range of colorways and fabrications. But the black leather is our favorite, offering flexible fashion appeal that can be dressed up or down.
These designer Chelsea boots are made in Italy from black calf leather and feature elasticated gators that are a hallmark of all Chelsea boots. They are also set on a rather bold Cuban heel to add a little height and drama to your outfit, making these our favorite heeled Chelsea boots too.
Team these Saint Laurent Chelsea Boots with skinny jeans and a leather jacket for immediate streetwise sophistication or with tailored trousers to a more formal event.
| | |
| --- | --- |
| Best for: | Polished Parisian elegance with a hint of punk.  |
| Colors: | Black and brown.  |
Axel Arigato: Most comfortable men's Chelsea boots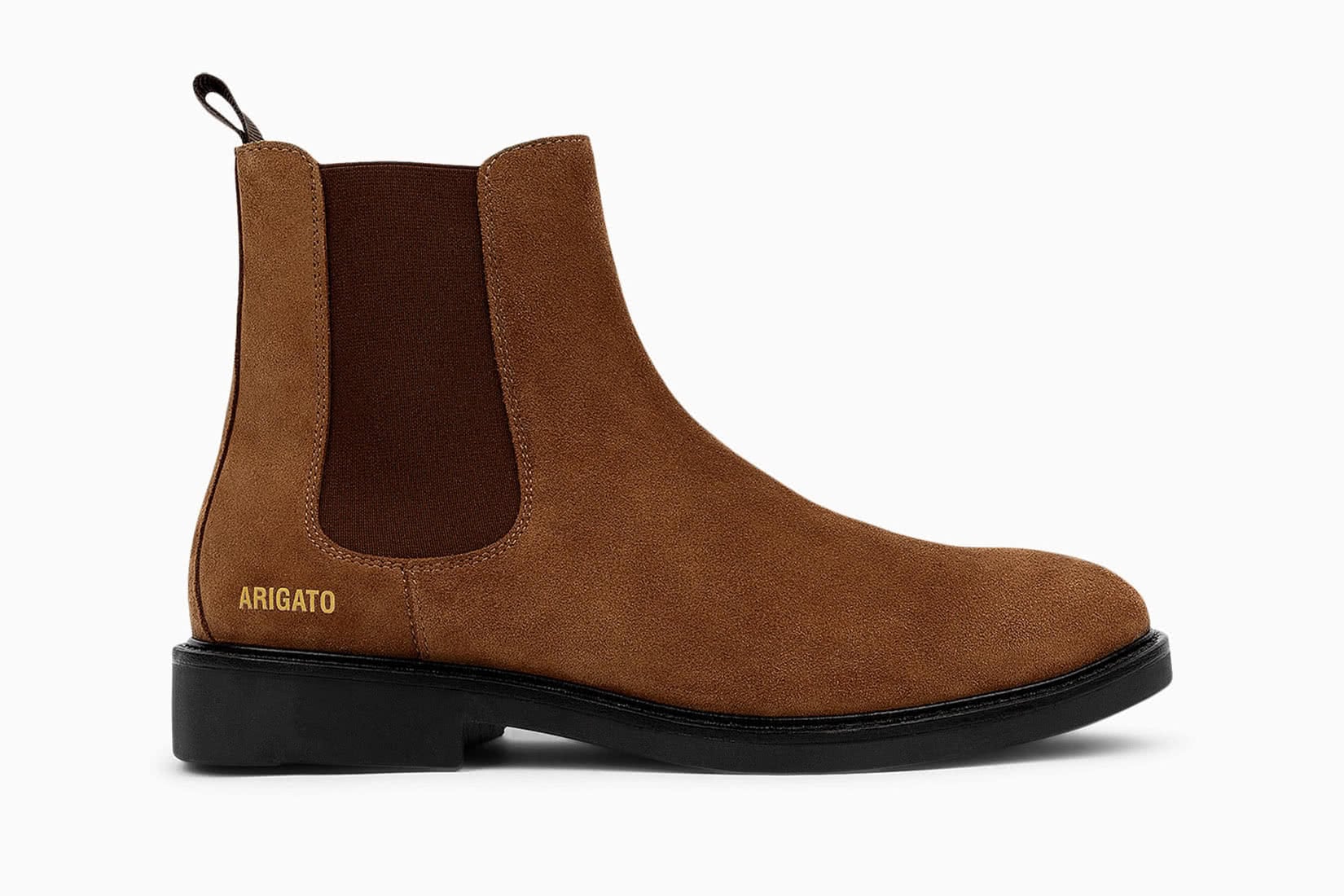 If you're on your feet all day, then check out these boots by Axel Arigato—some of the most comfortable Chelsea boots for men we've come across.
The main part of the boot is made of 100% black calf leather, the go-to material for high-end shoes, featuring a very fine grain and premium durability. Once you've worn them in—which doesn't take long—they'll surprise you with their levels of comfort.
Meanwhile, the soles are made of rubber for a flexible yet sturdy feel. These boots are also waterproof, shock-absorbing (perfect for pavement-pounders), and can withstand most elemental conditions. All this makes for footwear that will send your feet to seventh heaven.
Oh, and did we mention that these Axel Arigato Chelsea boots also look supremely stylish? Minimalist but impeccably elegant, best paired with an equally minimalist watch.
| | |
| --- | --- |
| Best for: | Style-savvy comfort to help you keep a spring in your step. |
| Colors: | Black.   |
Koio Trento: Best black Chelsea boots for men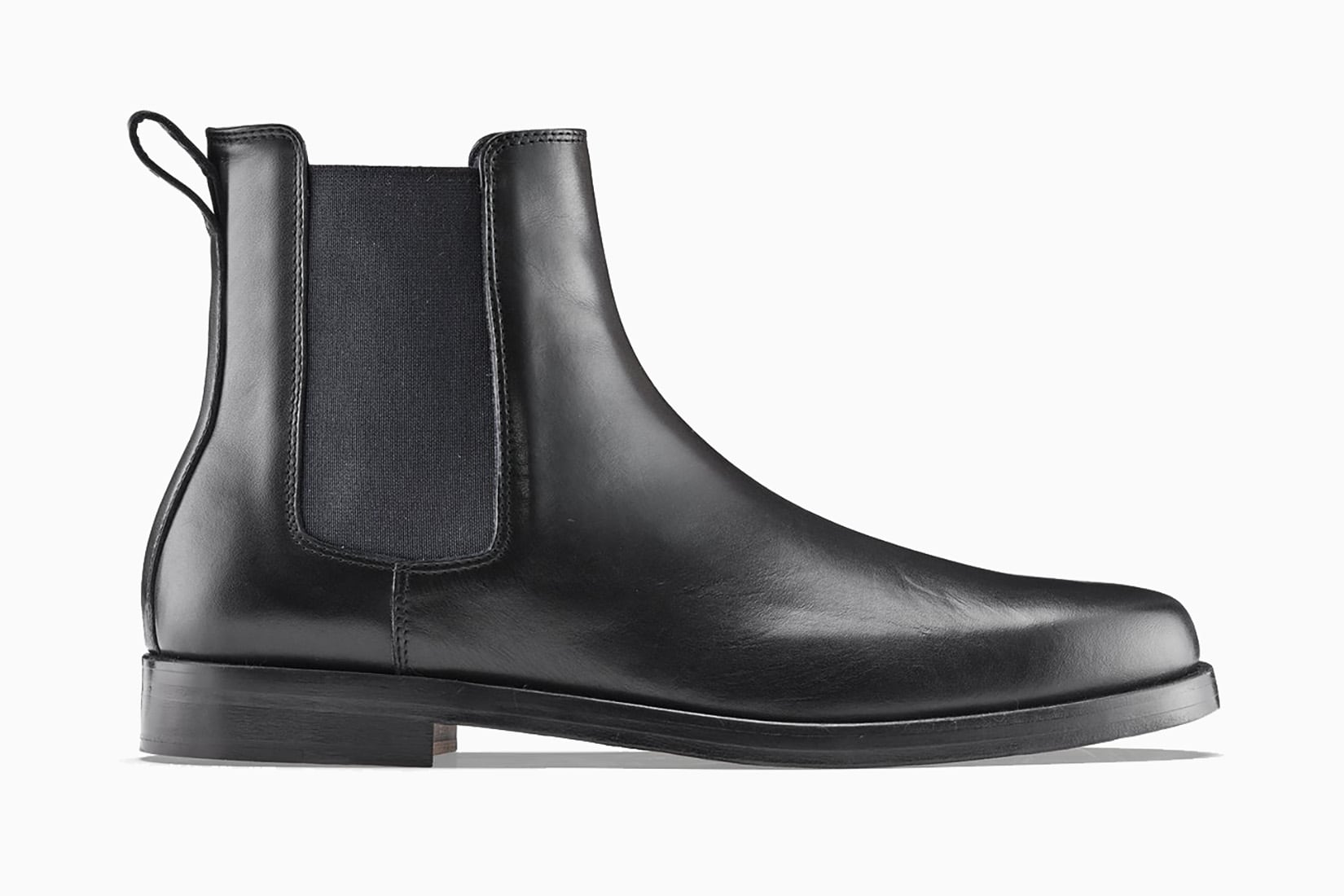 If nothing but the classics will cut it, then grab yourself a pair of Koio's Trento black leather Chelsea boots. These are pretty much exactly what we all think of when we imagine Chelsea boots so if you're a stickler for tradition, these are the boots for you.
These Chelsea boots feature elasticated sides and pull-tabs for straightforward entry and exit. They also have lightweight rubber soles for easy walking and traction on wet streets or polished floors.
We're picturing these black Chelsea boots with smart tailored trousers or slimline jeans. And a bit of scuffing will only add to the gritty rocker vibe.
| | |
| --- | --- |
| Best for: | A versatile and timeless version of an enduring fashion favorite.  |
| Colors: | Black. |
Common Projects: Best suede Chelsea boots for men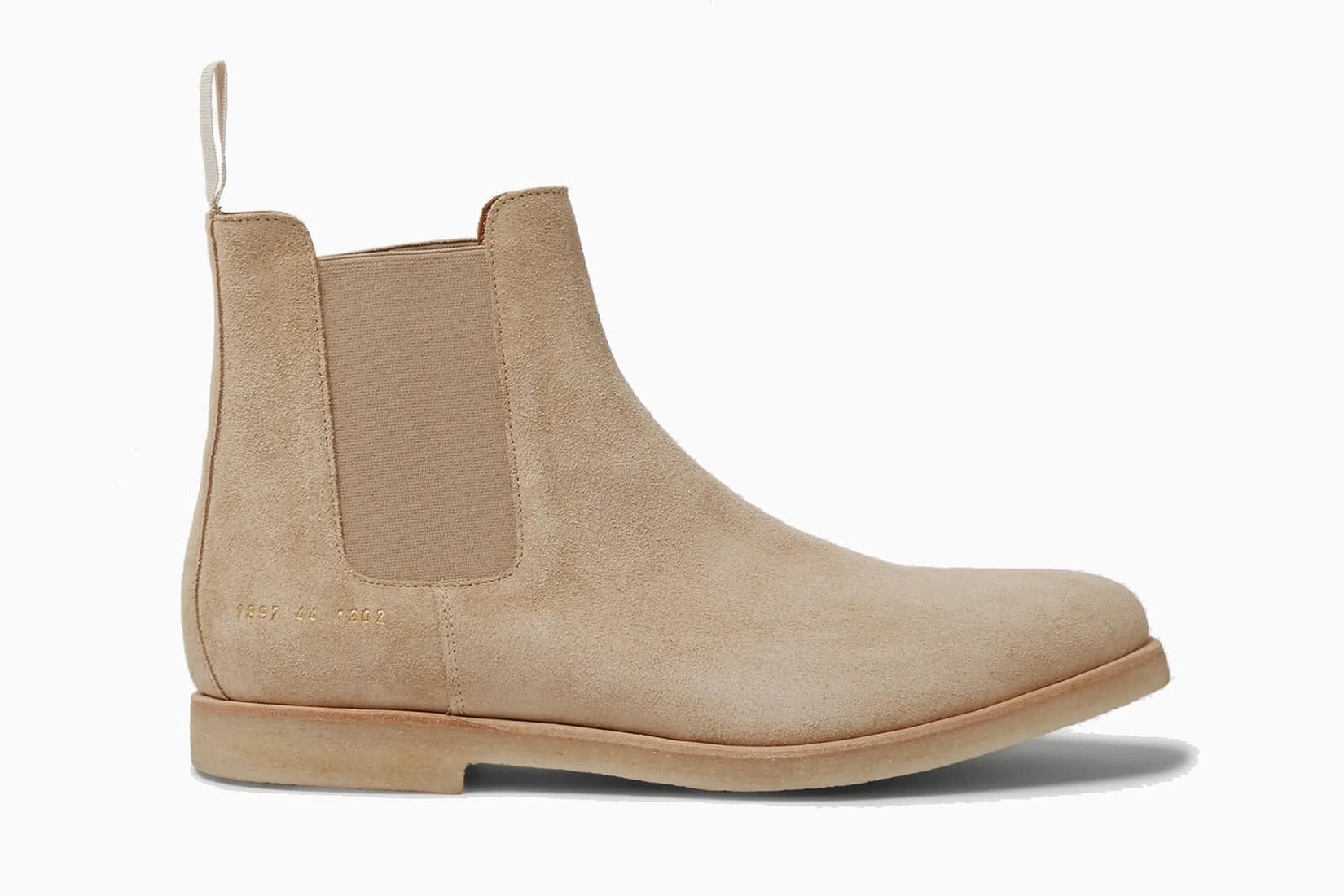 For the ultimate high-fashion twist on the standard Chelsea boot, check out these creations by Common Projects. They're made of delectably soft suede and come in a fashion-forward sand color that immediately has us thinking of warm evenings in the Balearics.
The gently tapered toes offer a slightly dressier vibe while the rubber-crepe soles are in a similar shade to the boot for a seamless aesthetic experience. The embossed gold serial numbers are the brand's signature and an indication to anyone looking that you're one discerning consumer.
This contemporary reboot of the classic Chelsea boot is perfect for gents looking for something Friday night date-worthy or even red-carpet-ready, should the occasion arise. Proof that Chelsea boots are not only incredibly practical and comfortable but also the epitome of chic, these Common Project Suede Chelsea Boots are shooting straight to the top of our boots-to-buy list.
| | |
| --- | --- |
| Best for: | A refined re-invention of the ultimate rock 'n' roll footwear.  |
| Colors: | Sand. |
M.Gemi: Best low top men's Chelsea boots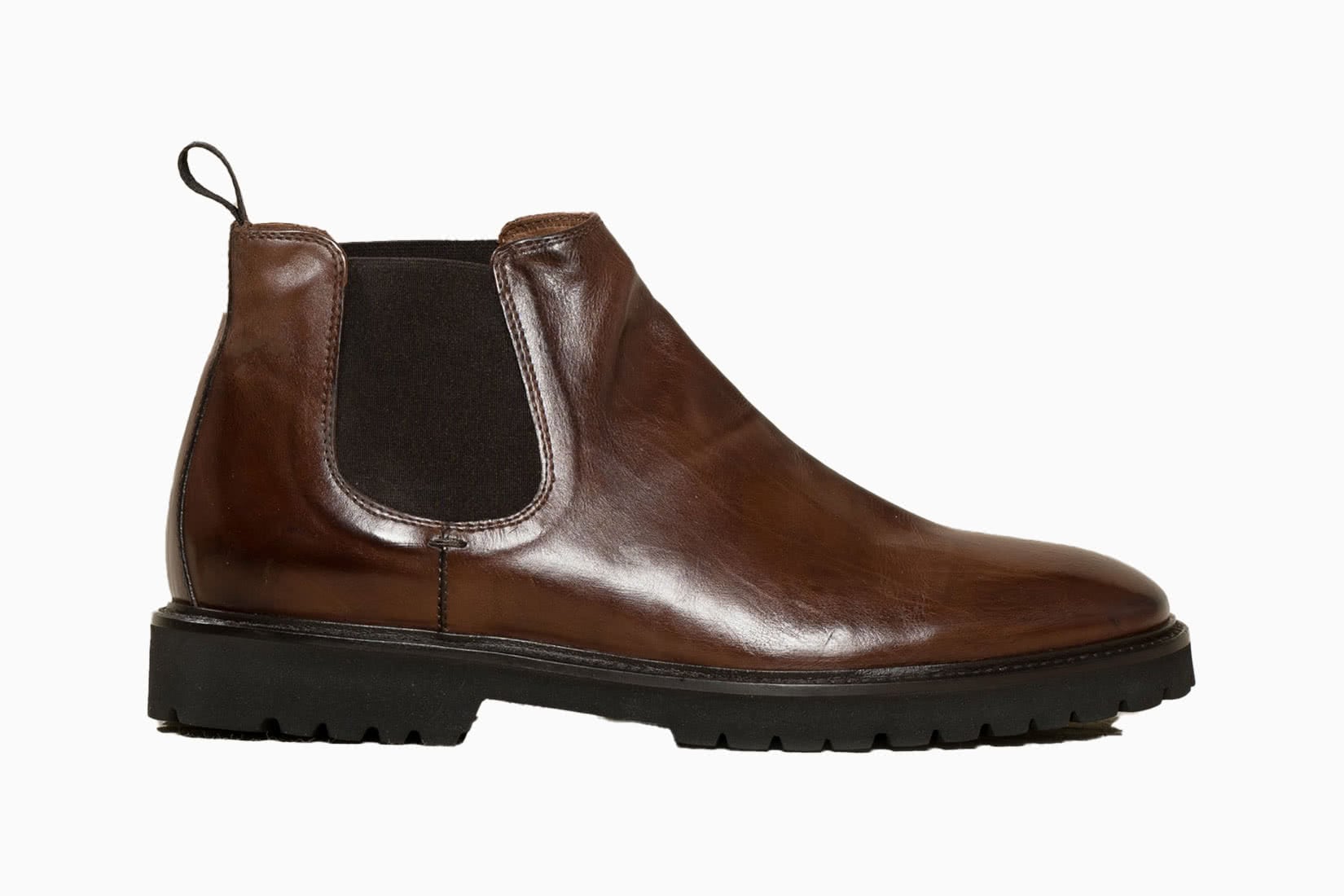 For a thoroughly innovative take on the classic Chelsea boot silhouette, we take our hats off to M.Gemi. This pair of low-top Chelsea boots are ideal for a more grown-up mood and can be worn both in the boardroom and the cocktail bar.
Whether you opt for leather or Capra suede (hand-washed for a charming vintage vibe), these boots would look fantastic as part of business casual attire, to dinner with your mates, or for picking the kids up from school.
These M.Gemi boots feature the elastic gore side panels of all Chelsea boots and the all-leather lining and footbed offer premium comfort. The low-cut style has the advantage of being able to be teamed with trendy rolled-up designer jeans. It also feels slightly smarter and less equestrian than some of the more traditional Chelsea boots.
| | |
| --- | --- |
| Best for: | Easygoing elegance to complement your smart-casual get-up.  |
| Colors: | Black, hickory, or grey. |
Bruno Marc: Best Chelsea boots on amazon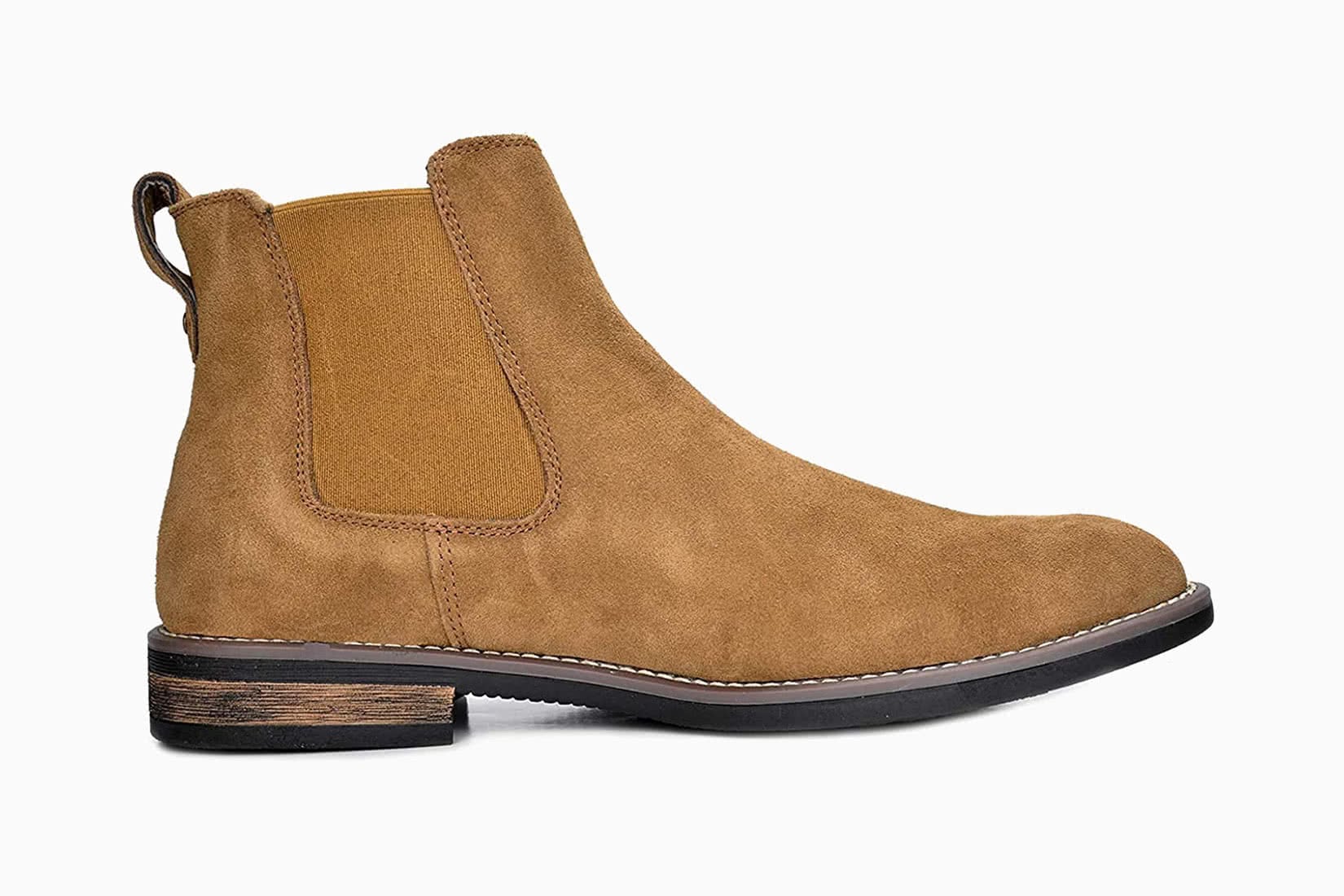 You can trust Bruno Marc to deliver the best Chelsea boots on amazon this year. Despite being just a little over $50, these boots are made from premium suede leather that's hard to distinguish from fancier models. Along with the carefully crafted leather lining, the suede will also serve to keep your feet warm when colder weather sets in.
The sidebands have good elasticity and, combined with the pull tab, make it super easy to get these boots on and off. You'll wonder why you bothered with laces for so long. Plus, the EVA foam footbed will keep you sprightly on your feet all day while the TPR outsole offers traction and tear resistance.
These Bruno Marc Chelsea boots are some of the best suede Chelsea boots around and a long-lasting addition to your wardrobe.
| | |
| --- | --- |
| Best for: | Budget-friendly style for everyone. |
| Colors: | A range including tan, camel, and dark brown. |
Axel Arigato Cryo: Best waterproof men's Chelsea boots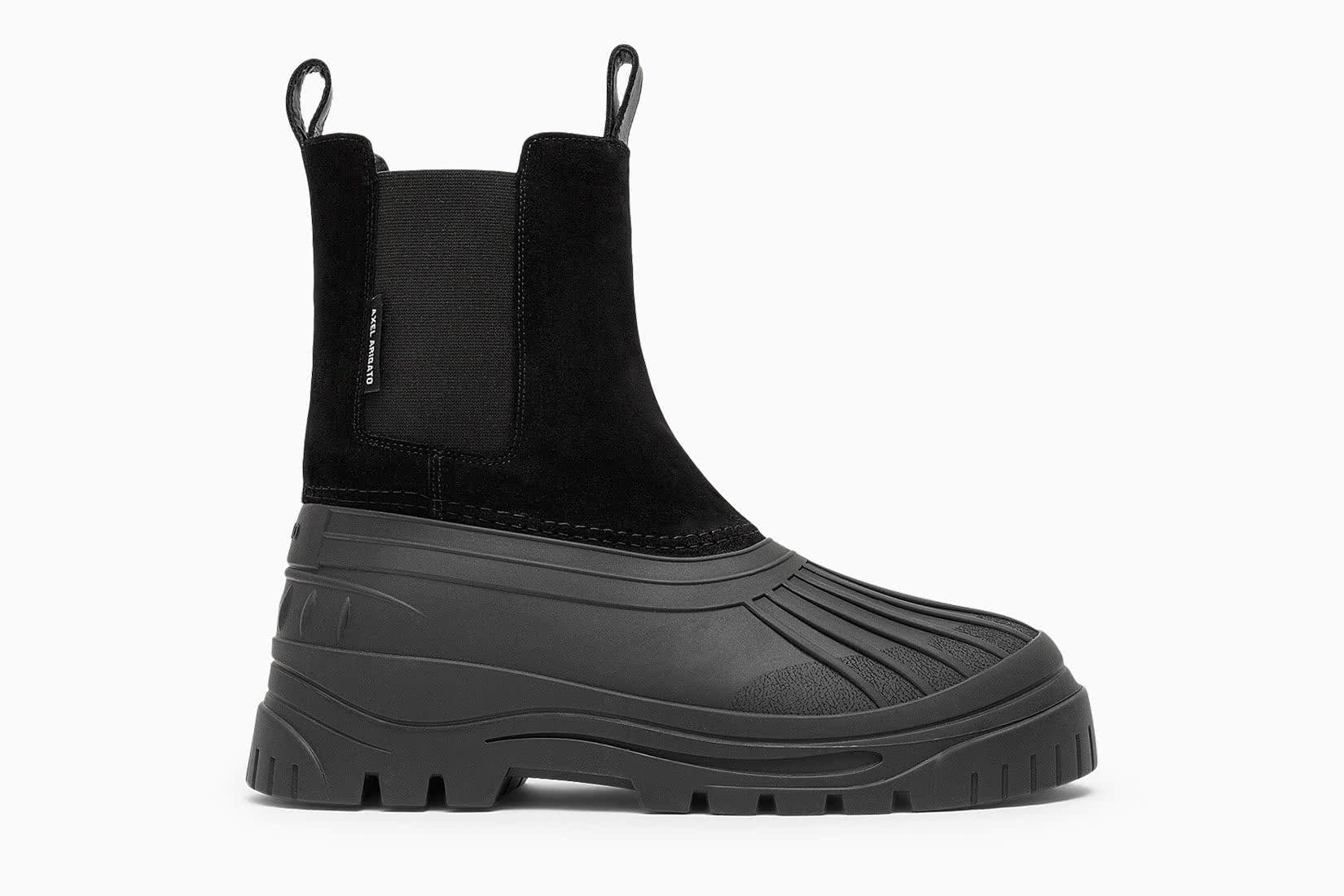 On the hunt for the best boots for navigating puddles and tackling wet winter streets? Our favorite waterproof Chelsea boots are the Axel Arigato Cryo. Combining premium soft suede around the ankle and waterproof rubber for the lower part of the boot, they're designed to survive the nastiest of weather.
We love the stompy no-nonsense silhouette of these boots. They've definitely got that counter-culture edge that we associate with Chelsea boots. And they're available in either gritty beige or luxurious black.
Axel Arigato Cryo's Chelsea boot is incredibly lightweight and wearable with a flexible jagged-edge sole to both absorb shock and provide traction when walking in extreme weather conditions. Double stitching further elevates the durability and ensures these boots will make it through season after season.
| | |
| --- | --- |
| Best for: | Fashionable storm-conquering footwear.  |
| Colors: | Black and beige. |
Blundstone Thermal Series: Best men's Chelsea boots for winter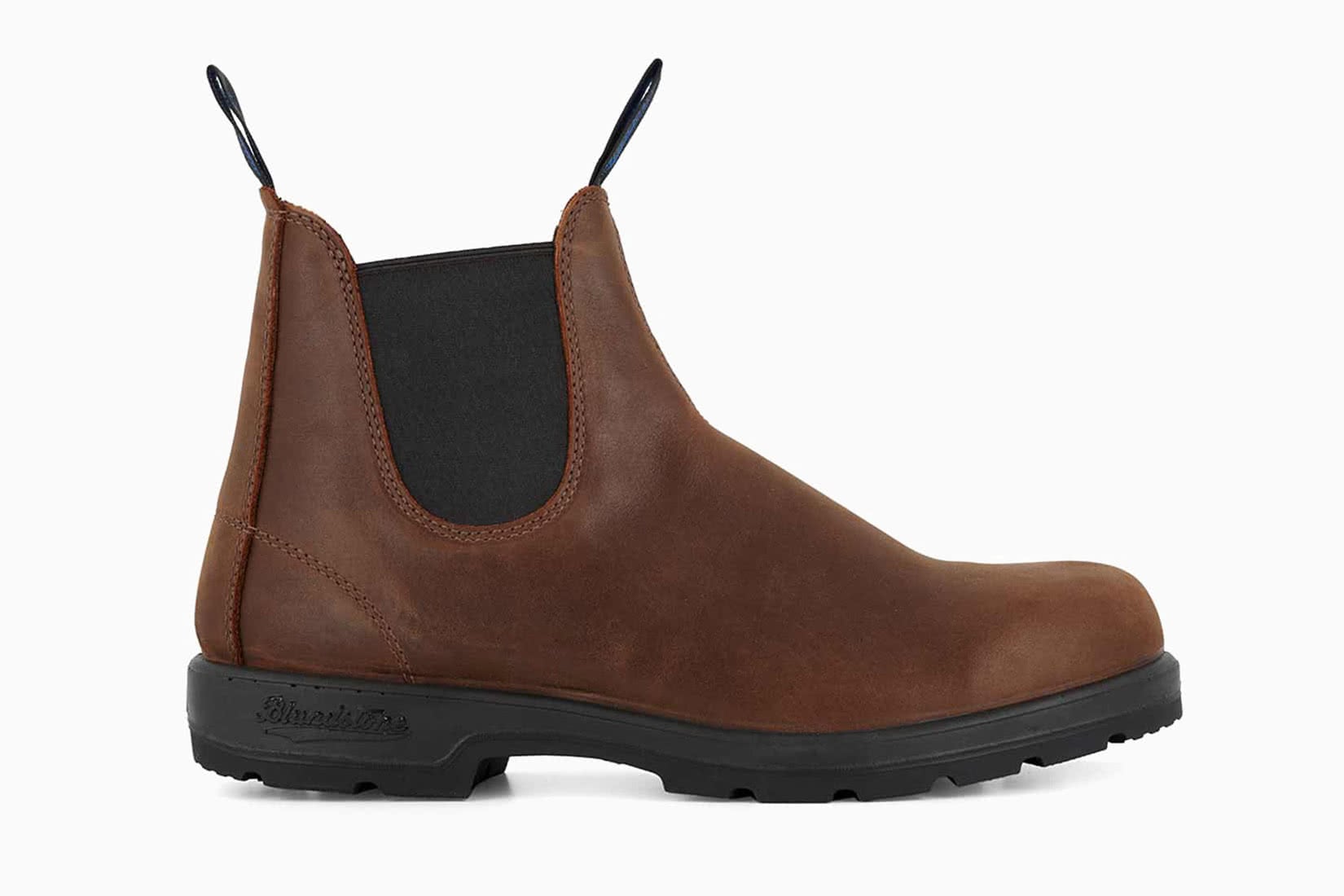 Another great option for waterproof Chelsea boots and cold weather, in general, are these Blundstone Thermal Series. They're packed with smart features to keep water out and your feet warm.
On the outside, you'll find latexed seams and treated uppers combined with water-repellent elastics. Inside, you'll find sheepskin insoles and leather lining to create extra layers of insulation designed to keep the warmth in.
| | |
| --- | --- |
| Best for: | Fashionable storm-conquering footwear. |
| Colors: | Black, rustic black, brown, and rustic brown. |
R.M. Williams: Best leather Chelsea boots for men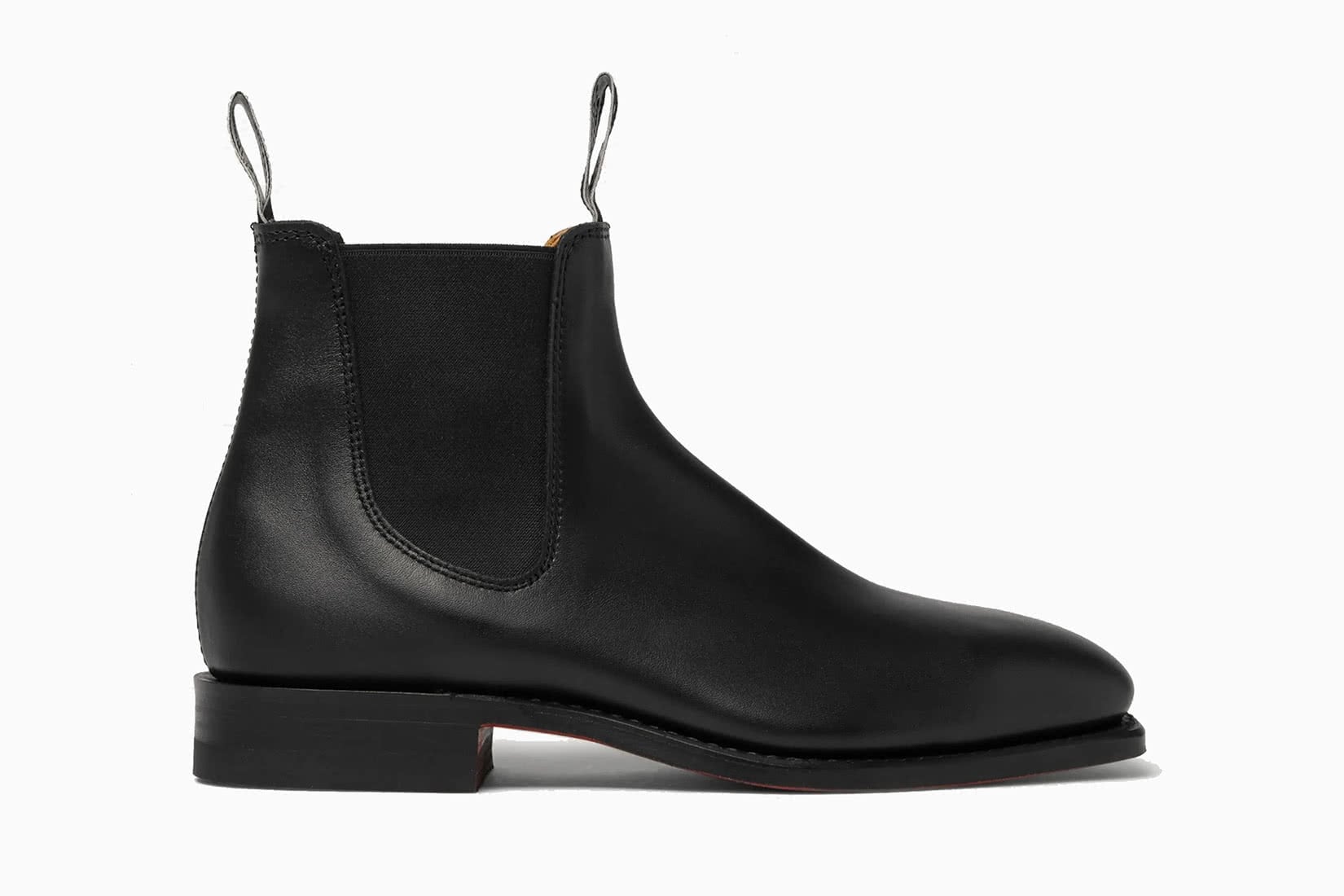 If only the finest leather will do when it comes to Chelsea boots, we have just the ones for you. These R.M. Williams Craftsman boots are made from black cow leather and hail from Australia where some of the country's most talented craftsmen (hence the name) ensure they meet the highest standards of quality.
As you break these boots in, the silky smooth leather will start to mold to the shape of your feet, offering figure-hugging comfort that you just don't get with cheaper models. The block heel also adds a little extra lift, giving you a bit of boost as your race through your day.
The bright red sole is one of our favorite features of these R.M.Williams leather Chelsea boots, ensuring that you leave a particularly favorable final impression as you walk away. Team with straight-leg jeans and a trench coat or selvedge denim and a bomber jacket for a more bohemian alternative to sneakers.
| | |
| --- | --- |
| Best for: | The dream halfway house between dapper and daring.  |
| Colors: | Black and brown.  |
Grenson: Best classic men's Chelsea boots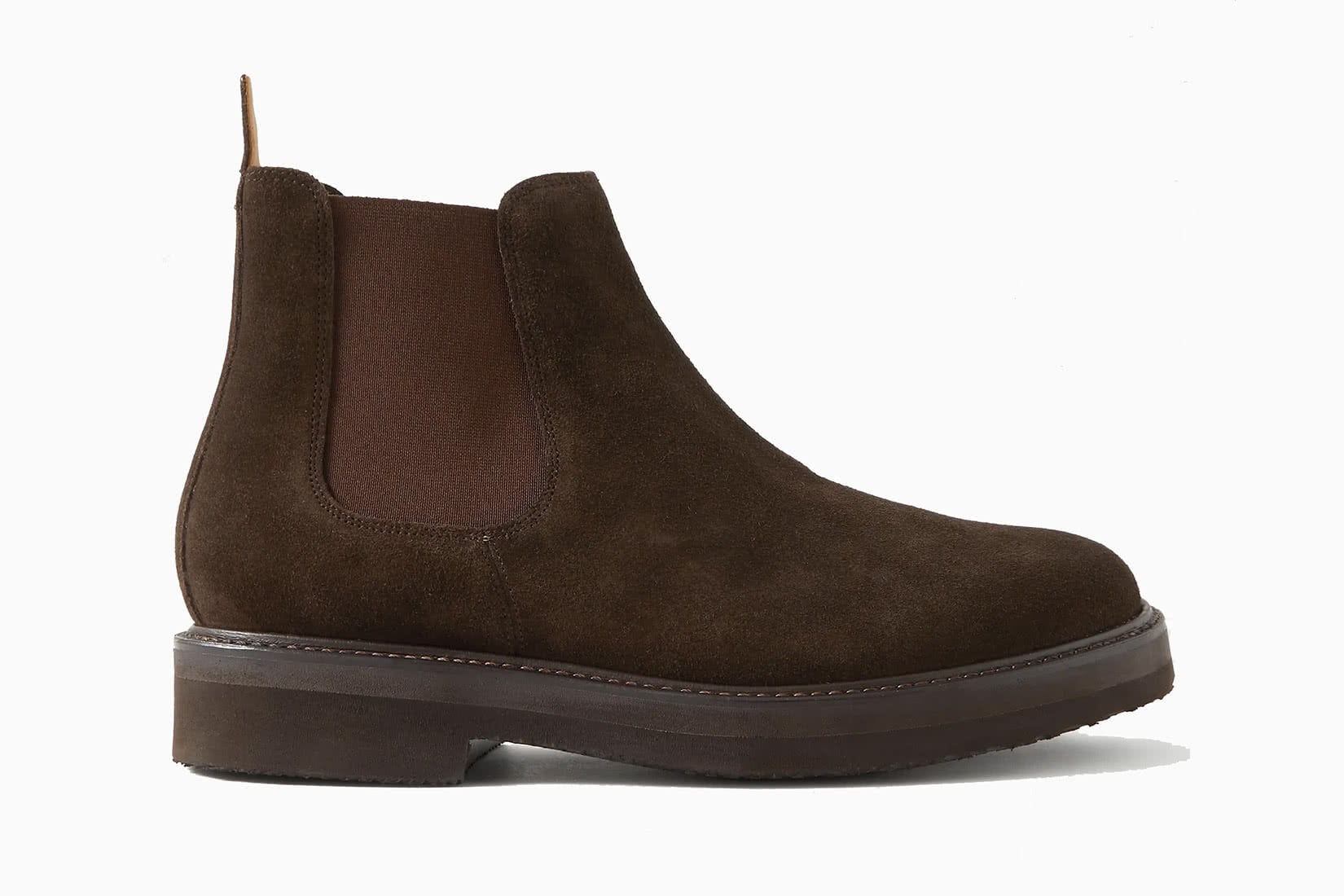 If you consider yourself a fashion connoisseur, you want a Chelsea boot that sticks to the rules and echoes the same silhouette as the original version of the shoe. The best classic Chelsea boots we've found are these ones by Grenson.
These boots are shaped to the classic Chelsea profile as invented by Queen Victoria's shoemaker and coveted by the fashion crowd ever since. They're exceptionally aesthetically pleasing with their beige color scheme, slightly contrasting midsole, and toe that's curved without being bulbous.
These boots are also long-lasting while the anti-slip rubber sole guarantees no tumbles or stumbles as you run around town.
Forget any associations of Chelsea boots with Western barn dances. These Grenson boots are some of the most cocktail-appropriate footwear we've come across and some of the best Chelsea boots for men.
| | |
| --- | --- |
| Best for: | An iconic boot that still feels fresh.  |
| Colors: | Brown and beige. |
Nike Manoa: Best men's Chelsea boots for walking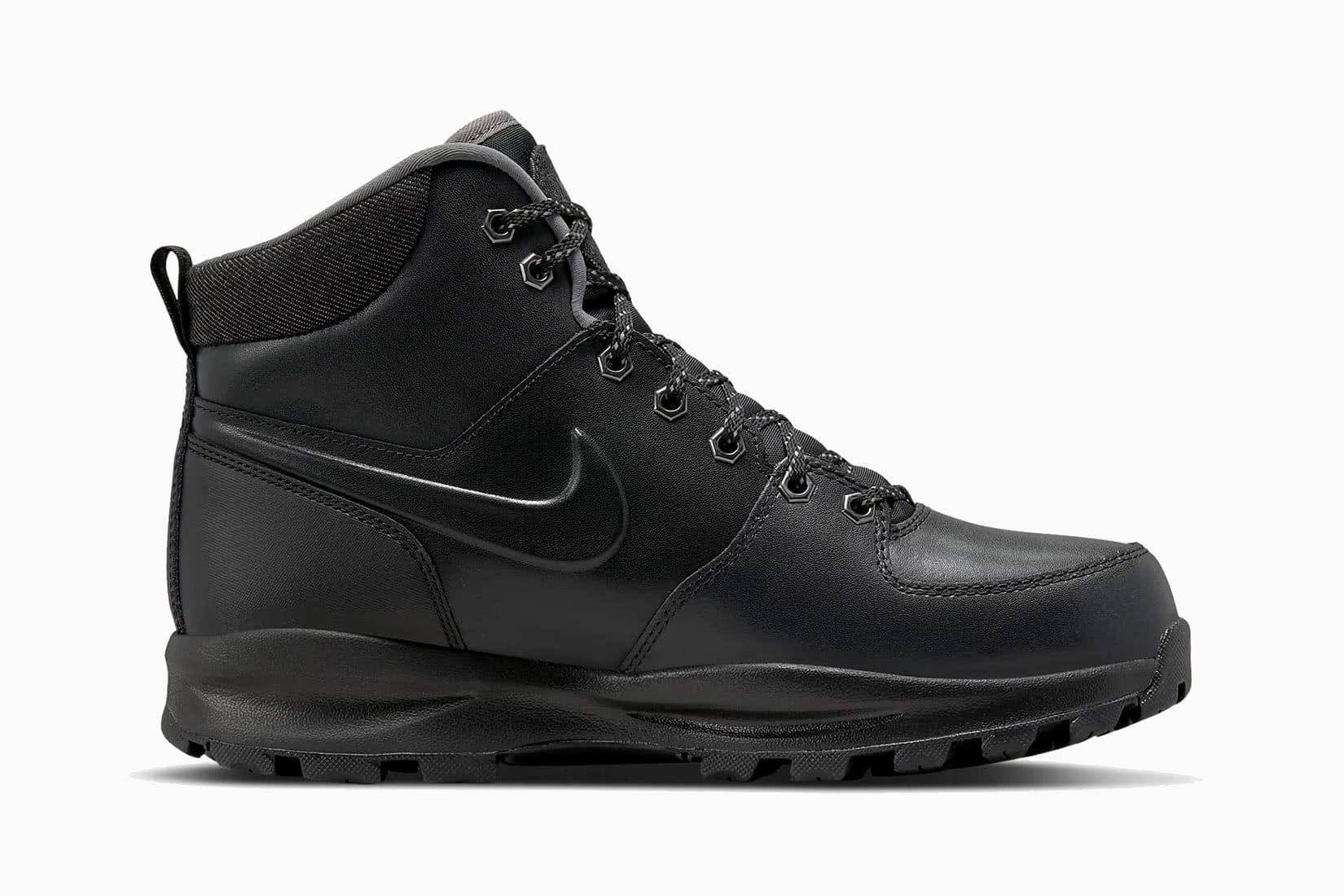 Ok, we're stretching the definition of Chelsea boots here, but if you want the absolute most comfortable boots for walking, this pair of Nike Manoa Leather SE is our favorite.
Made from durable leather, breathable textile, and rugged lugs, the Nike Manoa Boot is the perfect city-to-trail boot. The padded, mid-height collar is super comfortable for long walks. The pair also comes with heavy-duty details, including a webbing pull tab, hexagonal metal eyelets, and a durable rubber outsole.
| | |
| --- | --- |
| Best for: | Long walks in the city or the trail. |
| Colors: | Black. |
Church's: Best dress Chelsea boots for men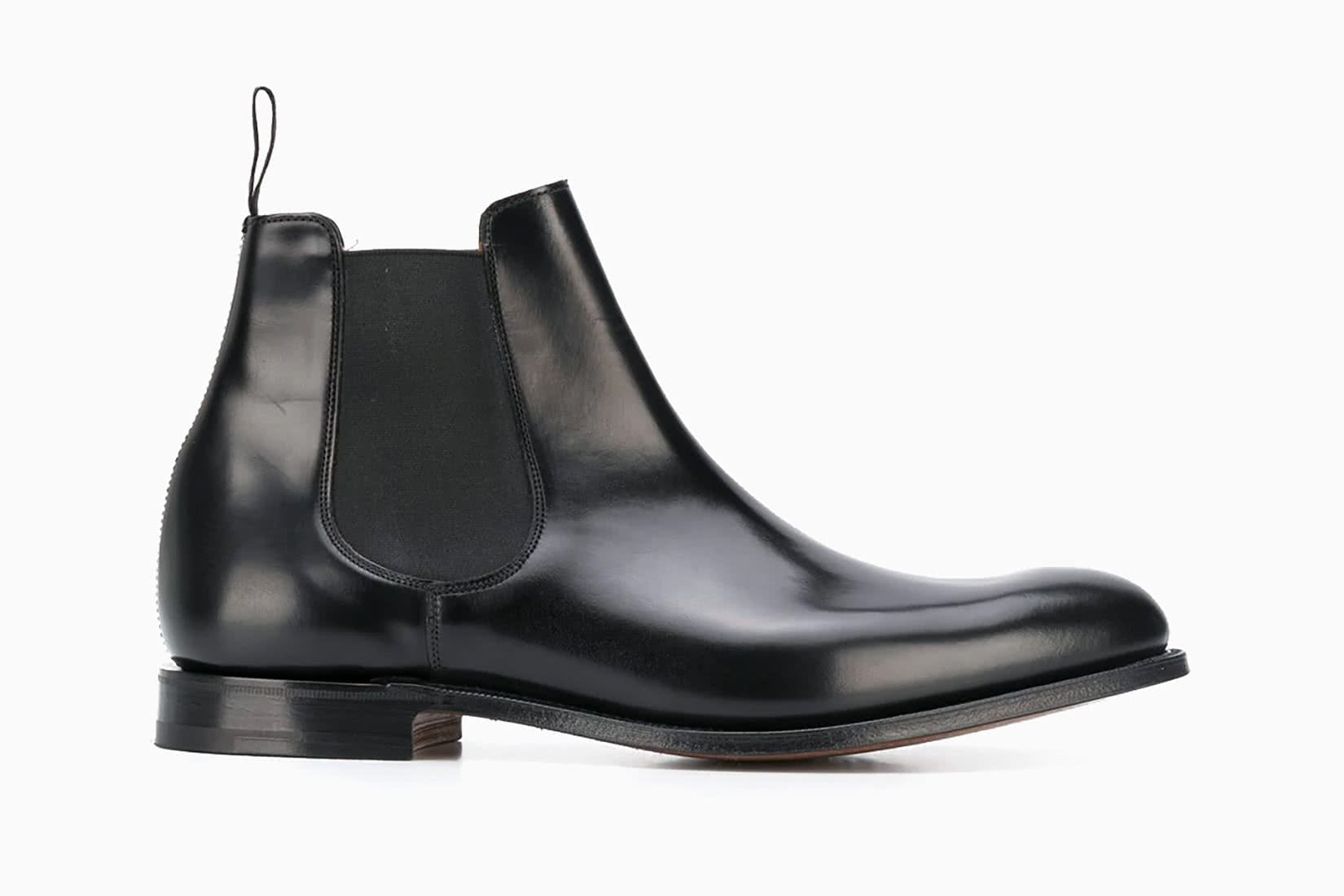 If nothing but a formal style will cut it, then grab yourself a pair of Church's Prenton leather Chelsea boots. These are pretty much exactly what we all think of when we imagine dressy Chelsea boots so if you're a stickler for tradition, these are the boots for you.
Unlike many of the Italian-crafted boots on our list, Church's black leather Chelsea boots are actually made in England by a brand that's been in the shoemaking business since 1873 and is considered one of the country's finest bootmakers.
Check our round-up of the best dress shoes for men if you want to see more options in this category.
| | |
| --- | --- |
| Best for: | A versatile and timeless version of an enduring fashion favorite. |
| Colors: | Black. |
UGG: Best men's Chelsea boots on Reddit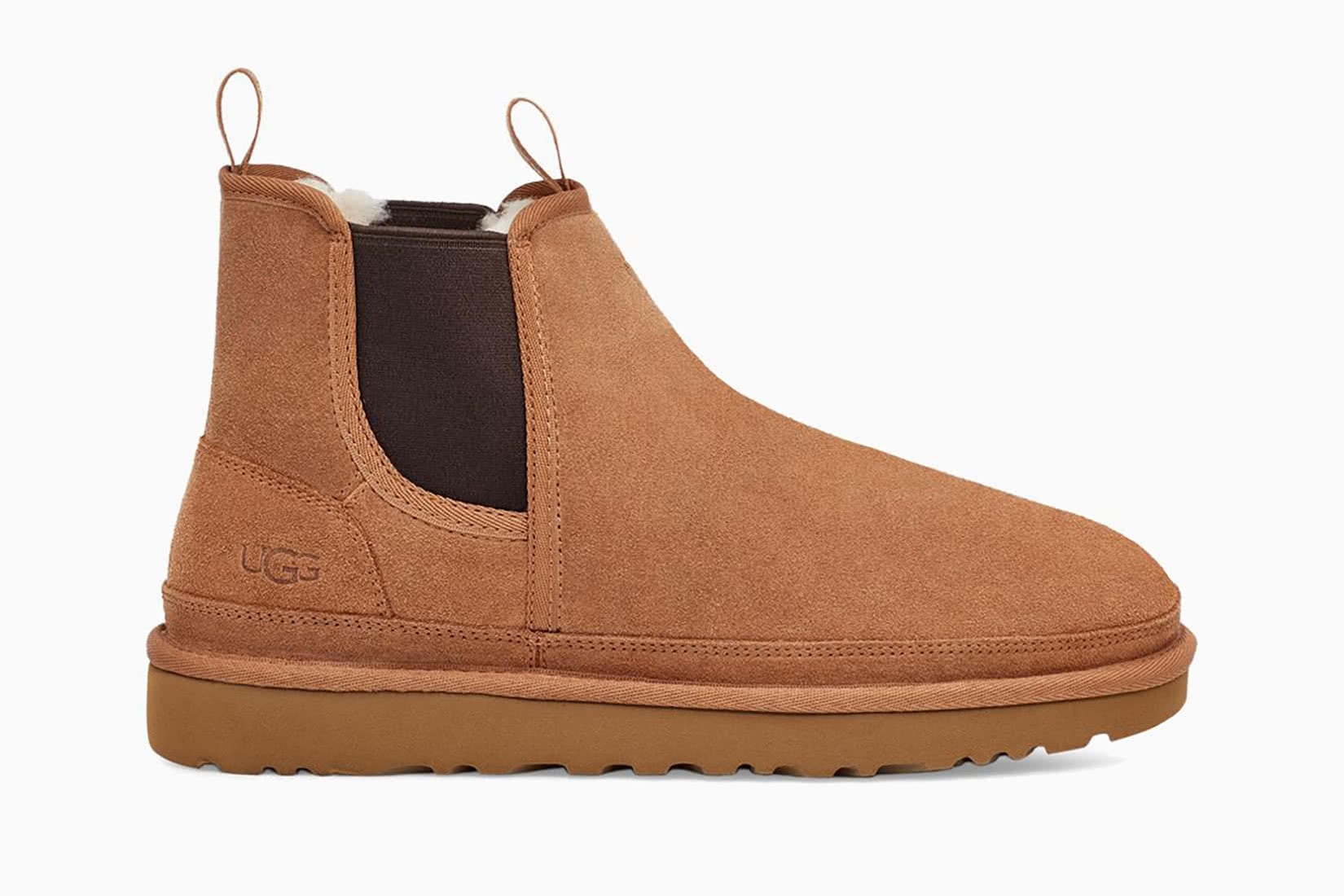 You can trust the Reddit community to identify the most up-and-coming brands you should know about. It's no exception for this pair of UGG Neumel sheepskin Chelsea boots. It's a bold interpretation of the Chelsea boot with twin gore for easy entry and a refined finish.
The Neumel Chelsea combines premium materials and effortless style. Made of rich suede, it's lined in UGGs plush wool blend and finished with a durable Treadlite by UGG sole offering lightweight comfort and a flexible feel wherever you go.
| | |
| --- | --- |
| Best for: | A modern take on the classic, best for cold weather. |
| Colors: | Black and tan. |
Dr. Martens: Best casual Chelsea boots for men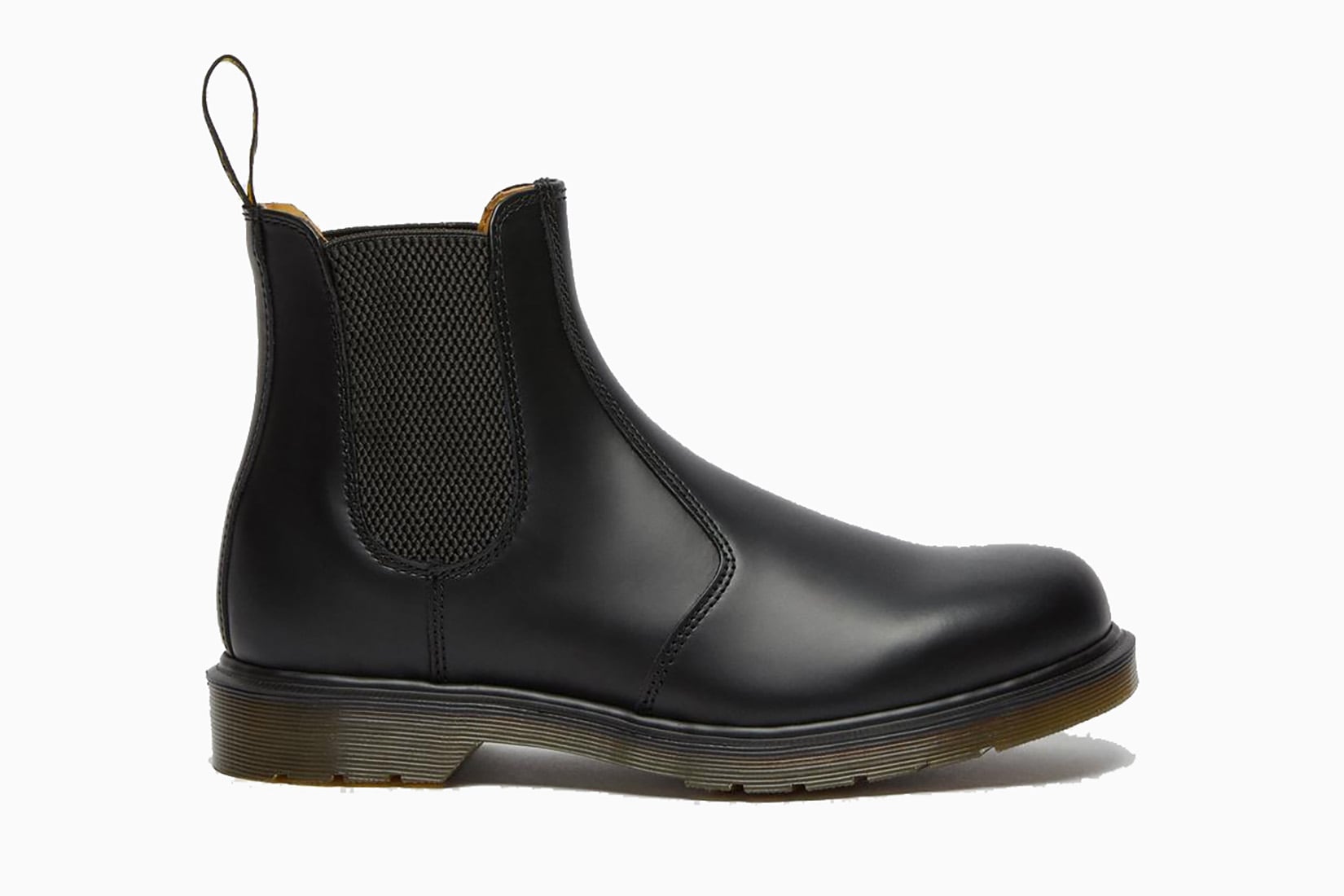 Arguable a real cultural icon, Dr. Martens' Chelsea boots offer maximum closet mileage. The brand's iconic boots have been at the core of culture for decades on end. Dr. Martens has designed a range of models over the year, but we pick the #2976 smooth leather boots for their versatility.
Dr. Martens created the #2976 Chelsea boot in the early '70s, taking inspiration from the shoes farmers loved to wear during the Victorian era. Spending all day working in the field made them appreciate the sure fit and easy-on, easy-off elastic ankle gusset. The kickass style was just a bonus side effect. Today, the #2976 is a slick and uncompromising boot.
| | |
| --- | --- |
| Best for: | A casual boot with style history. |
| Colors: | Black and cherry red. |
Adidas Terrex Free Hiker: Best men's Chelsea boots for hiking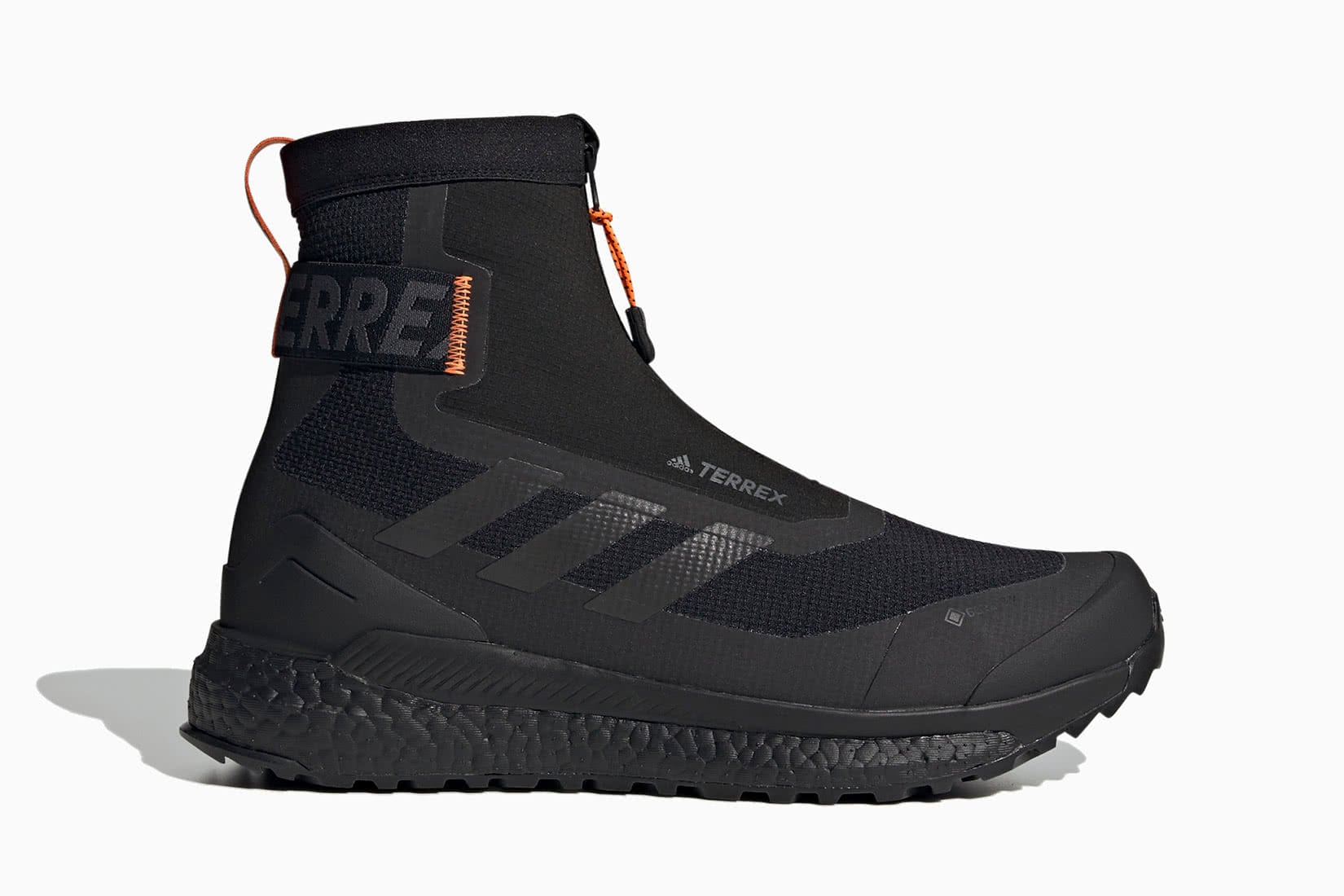 Can you wear Chelsea boots when hiking? Sure thing! Just pick a pair of Adidas Terrex Free Hiker boots and you're good to go. Are these really Chelsea boots? Well, it depends on your definition, of course. We think the high-top profile and elastic material around the ankles are sufficient to stretch the category because they're just so comfortable if you do need to go for a long walk on uneven terrain.
This Adidas Terrex Free Hiker shoe was specifically designed for ultimate comfort on long hikes. Its sock-like Primeknit upper, paired with Adidas' COLD.RDY technology and water-repellent insulation fit snugly around the foot for a comfortable, warm fit. The brand also added an extra GORE-TEX membrane to keep your feet dry all day long.
| | |
| --- | --- |
| Best for: | Fashion-forward streetwear style on the slopes. |
| Colors: | Black and blue. |
Maison Margiela: Most fashionable men's Chelsea boots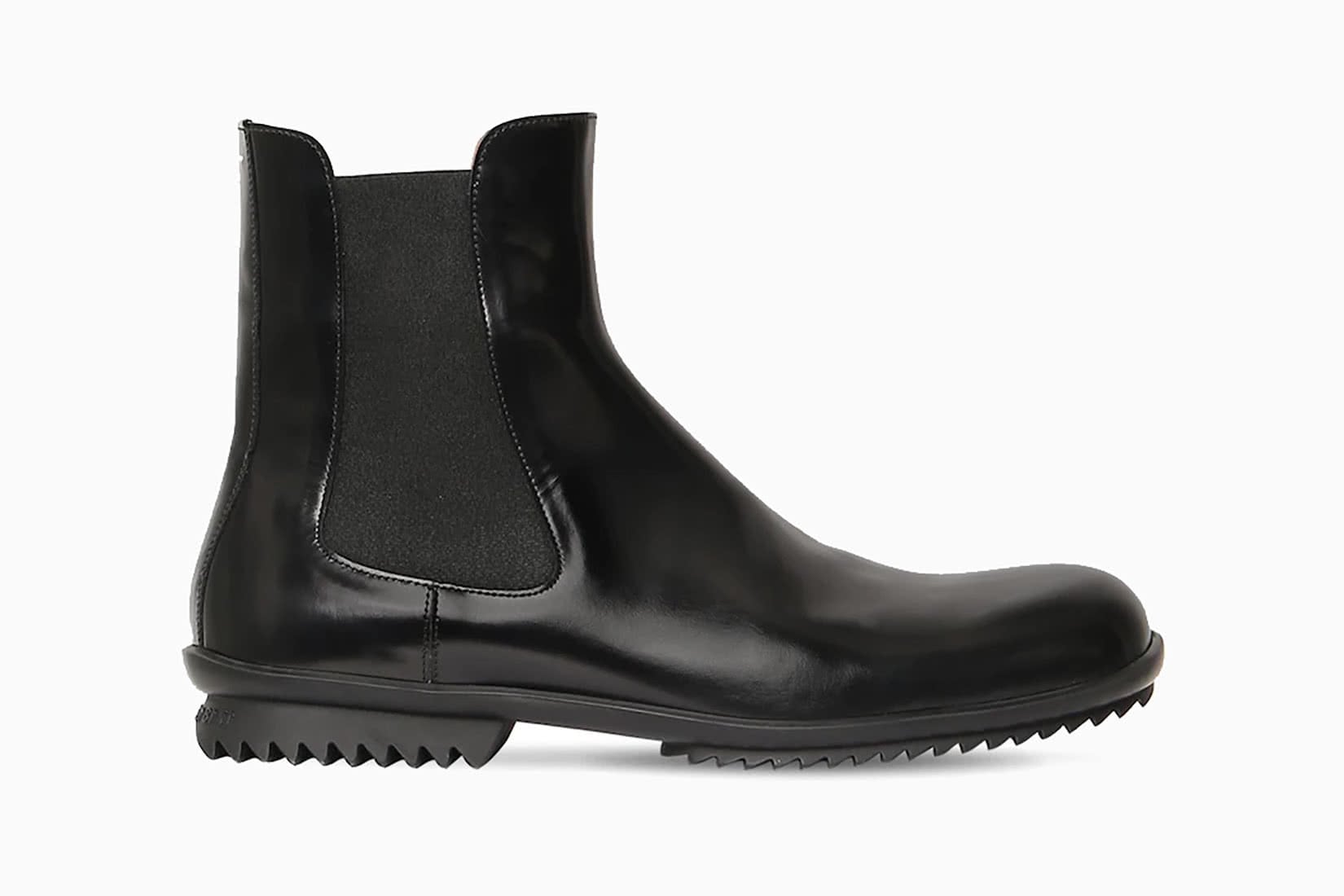 If there's one name synonymous with fashion and disruption this year, it's Belgian-born Margiela. Their edgy sneakers often made the list on our selection of the best sneakers for men. With this pair of premium Chelsea boots, however, Maison Margiela proves they're as proficient in designing classic staples. Crafted from black leather for a timeless look, the pair is set atop a ridged heel for a contemporary feel.
Other models from the brand include boots with higher heels, or even a split-toe design if you're confident enough to rock that style. We think this pair in classic black leather strikes the right balance between practicality and style, however.
| | |
| --- | --- |
| Best for: | Premium materials, premium design, premium price. |
| Colors: | Black. |
Red Wing: Best workwear Chelsea boots for men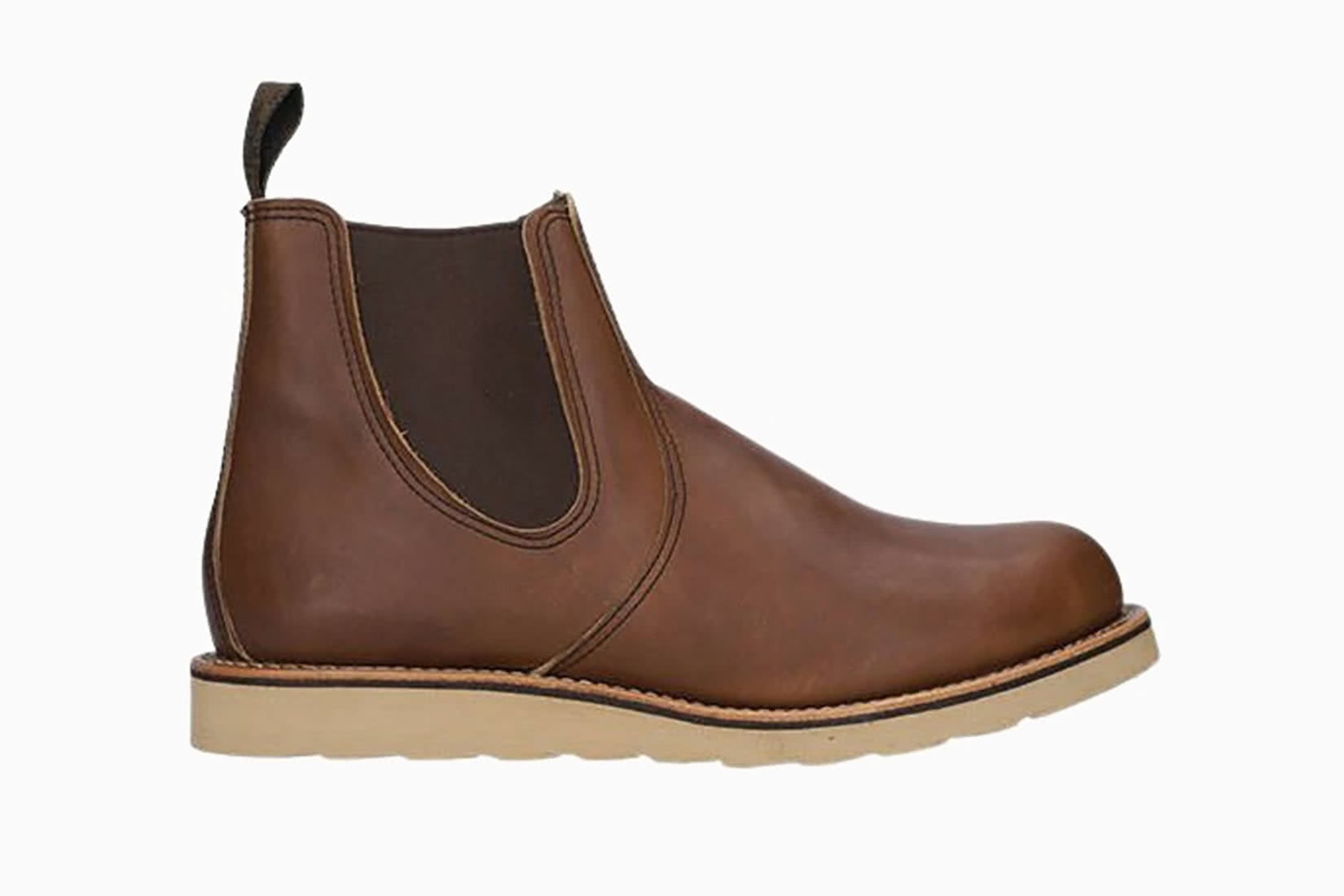 If you want a down-to-earth pair of Chelsea boots that are sturdy enough to do some serious work with, look no further than the Red Wing workwear boots. They're a bit on the pricey side, ranging from $250 to $500 depending on size, color, and availability, but they'll last you a lifetime.
Red Wing operates their own leather tannery to keep costs low and quality high. This particular model is wide enough to give your feet ample room, even if you're wearing a heavy pair of socks. The brand is known for its high-quality shoes handmade in the USA.
| | |
| --- | --- |
| Best for: | No frills and sturdy pair of workshoes. |
| Colors: | Ebony Harness, Amber Harness, and Hawthorne Muleskinner. |
Jousen: Best budget Chelsea boots for men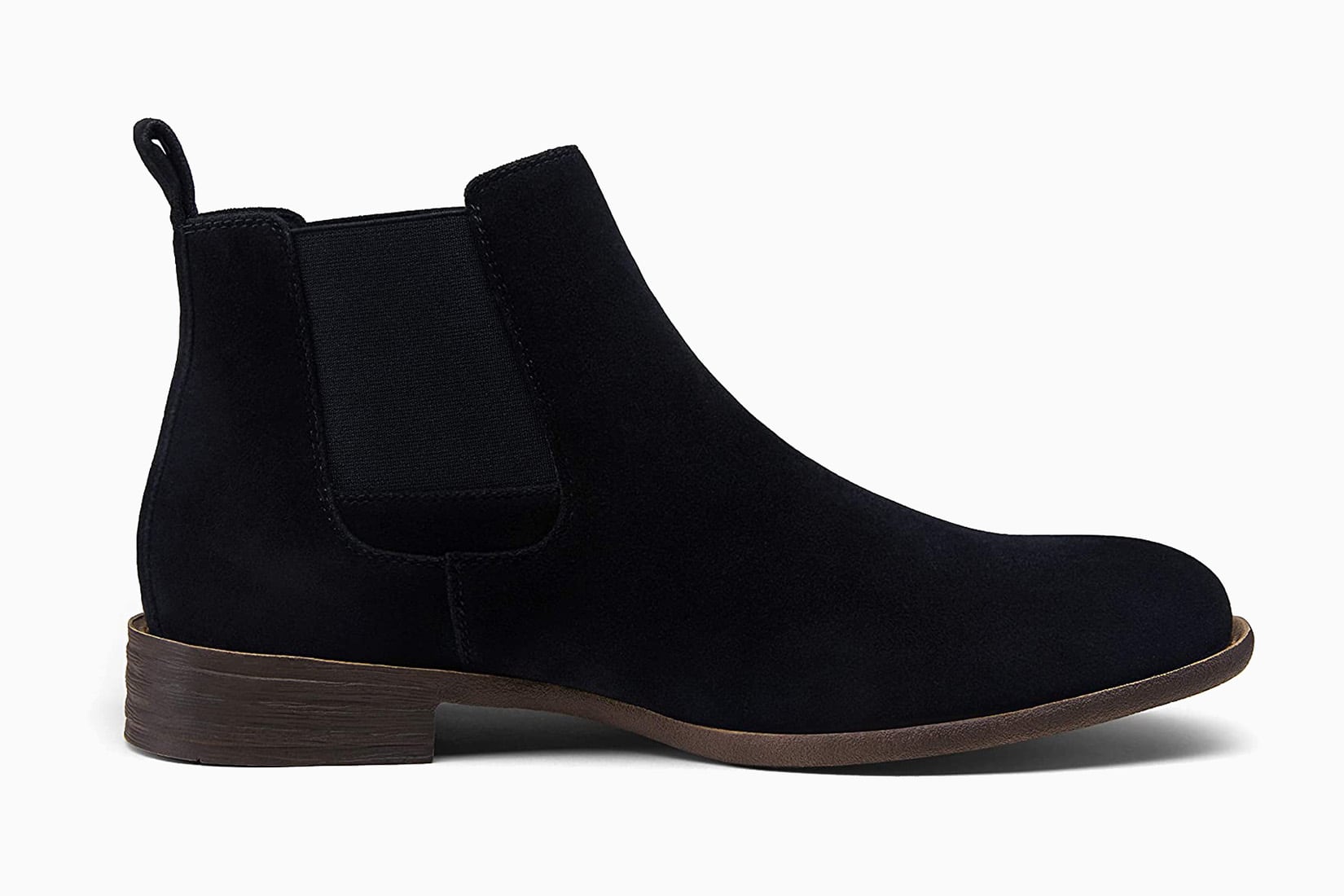 If you can't justify blowing your savings on the most upscale footwear, then Jousen has you covered with this budget-friendly take on the Chelsea boot classic, sure to become your go-to choice of footwear for Mondays, Sundays, and every day in between.
Made from vegan-friendly synthetic leather, Jousen's Chelsea boots for men are lightweight and durable. Their design is versatile and timeless, so you can easily dress them up or down to match the occasion. At less than $50, you'll be hard-pressed to find anything wrong with this pair.
| | |
| --- | --- |
| Best for: | Saving pennies while scoring style points. |
| Colors: | A range including tan, camel, and dark brown. |
Tom Ford: Most expensive men's Chelsea boots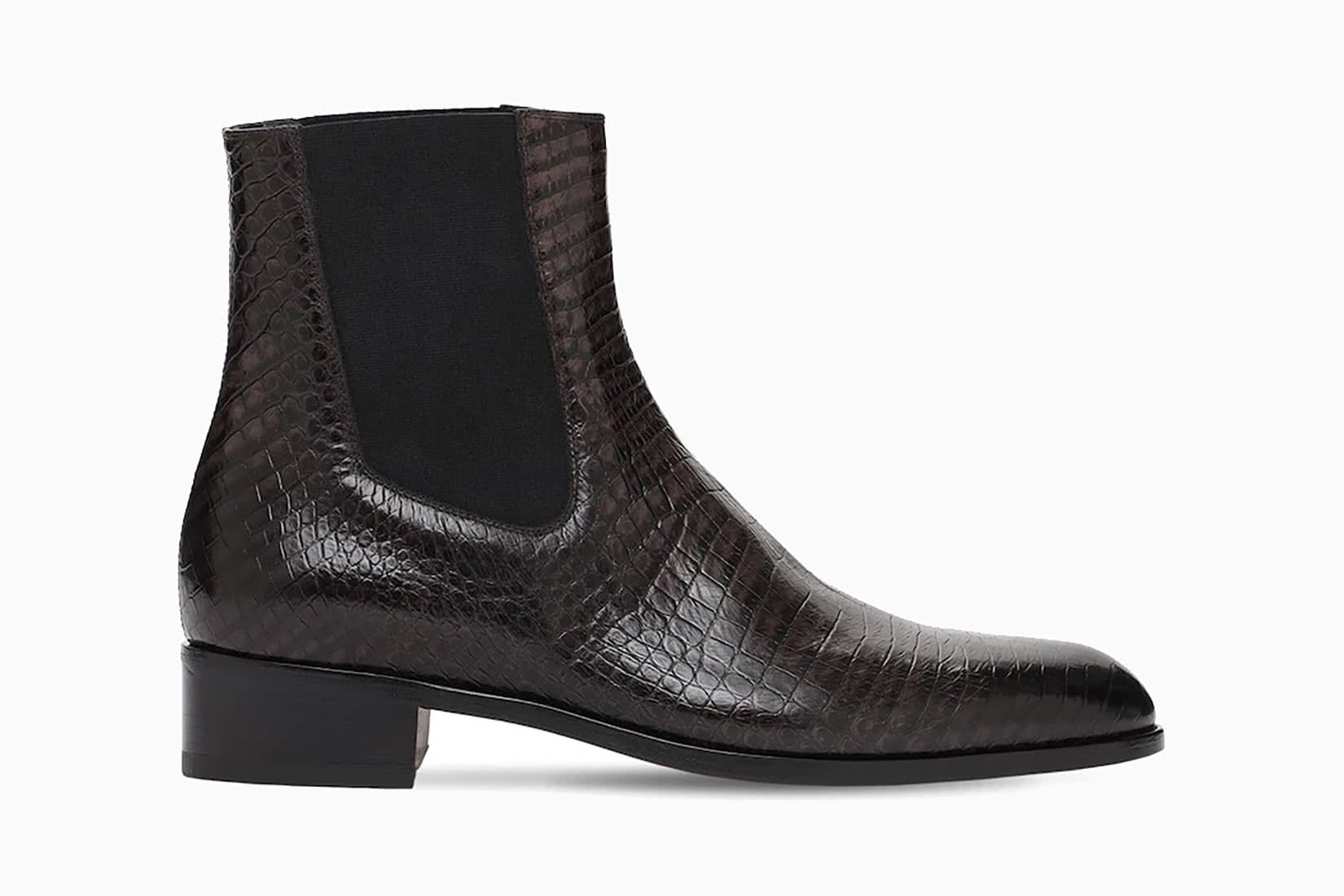 If only the crème de la crème of the world's Chelsea boots will do, then you want—no, you need these Tom Ford Herbert alligator-effect Chelsea Boots. Leave to a brand known for its combination of classic craftsmanship and modern design to create a pair of shoes that are pretty much your passport to the hottest events in town—as well as our favorite black Chelsea boots.
They're made from smooth leather with a gorgeous patina that will make it seem like you've been rocking these boots your whole life (trendsetter that you are).
The toe is just tapered enough for pairing with a suit but not so pointed that it would look strange with jeans. The elasticated sides and sleek leather lining make sure you'll feel perfectly comfortable in these Tom Ford Chelsea boots, even as the compliments start flooding in.
| | |
| --- | --- |
| Best for: | First-class flying feeling for your feet. |
| Colors: | Black. |
Style guide: how to choose and wear a pair of Chelsea boots
While the basic shape and style of a Chelsea boot are nearly always the same, there are different options on the market to suit different preferences and needs, from rugged weather-resistant models to luxury Italian leather designs.
Here are a few things to consider when picking from the best men's Chelsea boots:
Material
Chelsea boots are typically made of either leather or suede. Leather is a good option for durability and timeless elegance while suede is a contemporary, stylish, and more casual alternative.
Leather comes in a range of options, from ultra-fine calfskin to stiffer and tougher vegetable-tanned leather, as well as glossy patent leather. Leather also develops a patina over time that can give your boots that desirable vintage look.
Suede is more porous than leather and therefore less water and stain-resistant. However, it's very comfortable, with a soft and pliable feel.
For the soles, you have a choice of leather, rubber, or PU. Rubber and PU are a good choice if you want boots that can survive wet streets and that also offer non-slip traction and wear resistance. Rubber soles can also be more flexible so there's minimal break-in required. However, rubber won't mold to your feet like leather so, after a long day of wear, it might not be as comfortable.
Colors
The best colors for Chelsea boots are typically earthy and organic shades, including browns and greys as well as traditional black. Brown can feel more outdoorsy and rugged than black Chelsea boots, which have a more urban style. Lighter colors are a good choice for a casual summer get-up.
Ankle closure
Chelsea boots are instantly recognizable thanks to their U-shaped elasticated or vulcanized sides that were originally designed as a time-saving alternative to laces. The best men's Chelsea boots also feature a pull tab at the back to make getting these boots on and off quicker and easier.
Heel height
The most versatile Chelsea boots have a small heel that makes them comfortable to walk in. However, you can also find boots with chunky Cuban heels. This style was made famous by the Beatles and offers a glamorous rock 'n' roll mood.
Toe shape
Tapered Chelsea boots that end in a point typically feel more formal and better suited to smart occasions. You could even wear them with a suit.
More rounded toes are more casual. However, you don't want your Chelsea boots to be too bulbous. A bit of tapering is more flattering and elegant.
Styling men's Chelsea boots
Once you've chosen your favorite pair, you might be wondering how to style Chelsea boots? These boots are very versatile so, ultimately, it comes down to individual preferences. But here are our top styling tips:
Wear leather Chelsea boots for more formal occasions and suede Chelsea boots as part of a relaxed get-up.
At the weekend, wear your Chelsea boots instead of sneakers with skinny jeans, a classic white T-shirt, and a checked or denim overshirt.
Team black leather Chelsea boots with a black turtleneck and black jeans for a stylish (and slimming) semi-formal outfit.
Match with chinos and a blazer for an office-appropriate outfit.
Team black Chelsea boots with black or grey shades and brown boots with a navy or brown suit.
Your trousers should either fall just below the top of the boots or above the boot, revealing the ankle gussets for a more modern look.
Frequently asked questions about men's Chelsea boots
What are the most comfortable Chelsea boots for men?
The most comfortable Chelsea boots are by Swedish brand Axel Arigato and are made of black calf leather with a shock-absorbing rubber sole that's flexible enough for walking in. For more inspiration, see our guide to the best men's Chelsea boots. 
Are Chelsea boots masculine?
Chelsea boots are a masculine yet elegant footwear choice, offering classic style as well as comfort and durability. The best men's Chelsea boots come in a range of designs, from glossy leather with tapered toes to casual suede versions. 
Why are Chelsea boots so popular?
Chelsea boots are popular because they transcend fashion trends and never seem to go out of fashion. Since they were first invented in 1837, they've been a coveted footwear choice thanks to their comfort, durability, and style appeal. 
Are Chelsea boots still in fashion?
Chelsea boots are still in fashion and the trend shows no sign of abating. Chelsea boots offer timeless fashion because of their iconic silhouette, durability, comfort, and the fact that they can be worn with both formal and casual outfits.