Denim jackets were born in the mid-1800s, and have been a mainstay of men's fashion ever since. There are two main reasons for this. The first is that they are absolute beasts when it comes to durability. Jean jackets can take a pounding and still look fantastic. In fact, denim jackets actually start looking even better once they've been distressed.
The second reason that jean jackets are an evergreen fashion item for men is that they are versatile as heck. They easily merge with just about any casual outfit you can throw together. They'll match up well with dress shoes, work boots, or your favorite pair of sneakers. And the ladies in your life are going to look incredibly cute with a denim jacket thrown over their favorite summer dress.
And here's perhaps one of the best features of good denim jackets for men: they can last pretty much forever. You can wear the heck out of a jean jacket today, have it "borrowed" by your significant other tomorrow, and your offspring will be begging to wear it a generation from now.
So let's get you started on your jean jacket journey. Here's our cultivated list of the very best men's jean jackets. Grab one and get started creating some handsomely rugged outfits.
Axel Arigato West Jacket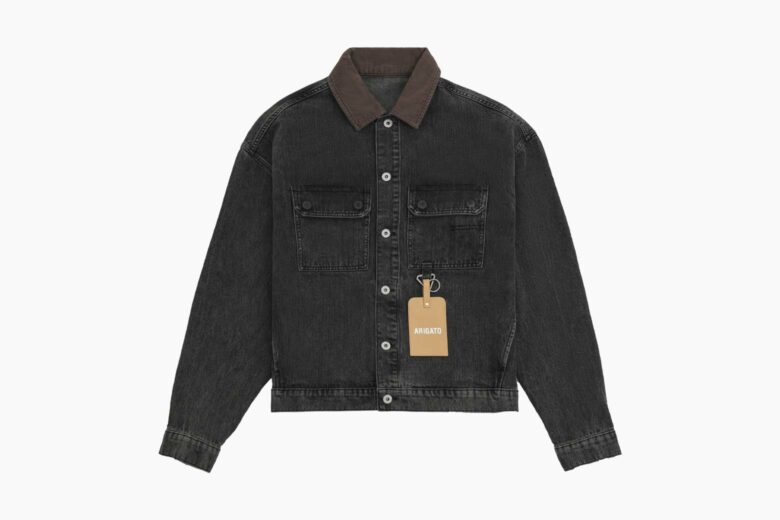 Be the best dressed in the west! The Axel Arigato West Jacket, to be precise. This men's denim jacket is full of frontier flavor, its styling a direct homage to the rugged Wild West looks of old. Paired with a set of brawny jeans, this jean jacket is going to have you ready to take on the Great Outdoors.
A.P.C. Denim Jacket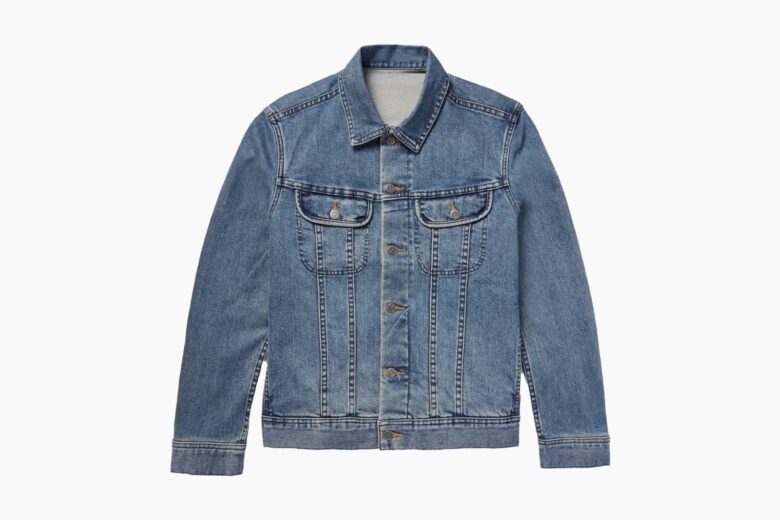 A.P.C.'s denim jacket boasts an old-school relaxed look that's going to be a great addition to your favorite lived-in t-shirt or broken-in hoodie. This jean jacket for men features stonewashed fading along the seams, giving your jacket a comfortable worked-in look right off of the virtual rack.
Balmain Logo Jacket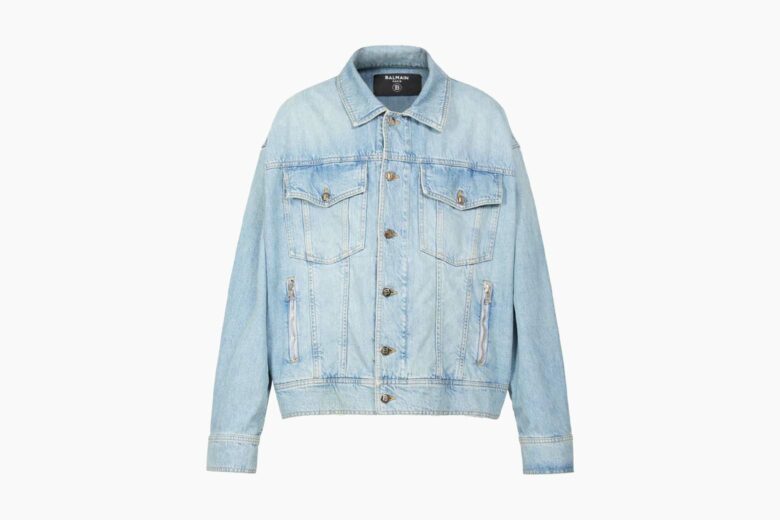 Let's take a stroll in statement-fashion country. At first blush, you'd be forgiven for mistaking Balmain's logo jacket as one of Levi's classic men's jean jackets. But upon closer inspection you'll find that this jean jacket for men is actually a 100% cotton top. It gets placed firmly in the statement-wear category thanks to the bold logo stamped across your shoulders. This jacket will work wonders with luxury shorts and a set of your best summer shoes.
Calvin Klein Trucker Jacket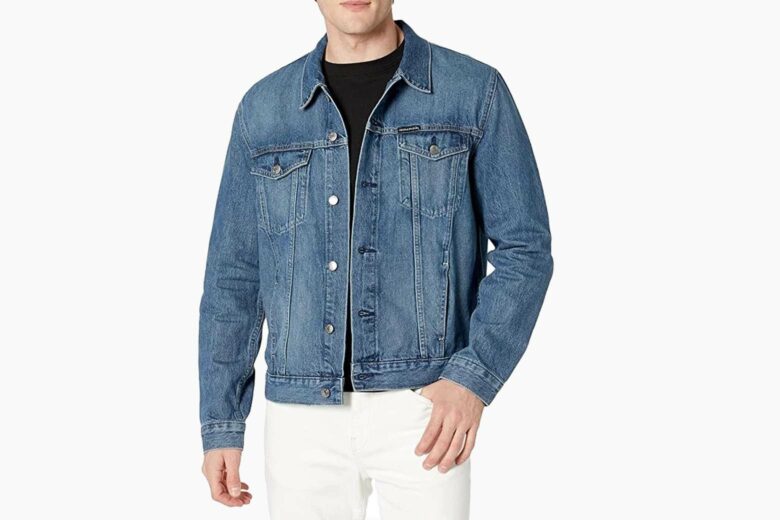 Mash your motor! "Calvin Klein" and "truckers" might not be a combination that would immediately spring to mind when discussing jean jackets for men, but the two actually end up going together like peanut butter and chocolate. Calvin Klein's denim trucker jackets have that old-school trucker forcefulness remixed with the brand's fashion flair.
Hugo Boss Lasered Artwork Jacket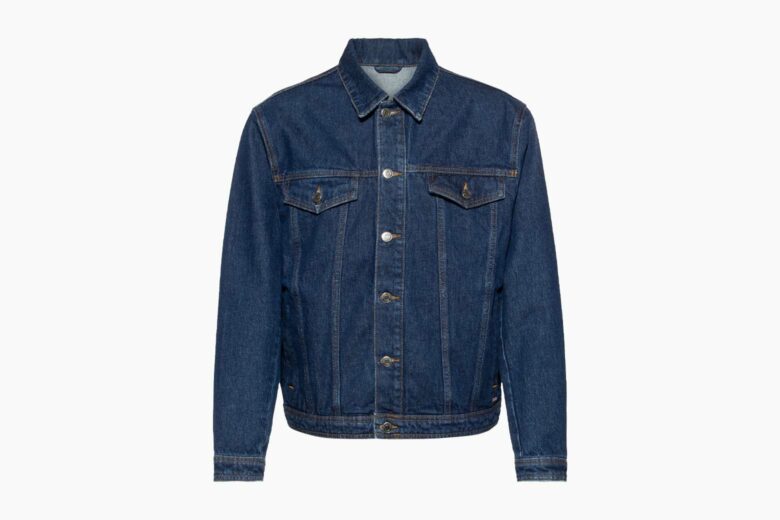 It's a testament to jean jackets' lasting popularity that big designer houses like Hugo Boss put their own unique stamp of approval on them. In the case of Hugo Boss' lasered artwork denim jacket, that stamp takes the form of the brand's name and bear lasered into the dark blue denim. A real head-turner, this one will match up nicely with a brightly-colored polo shirt.
Diesel Biker-style Jacket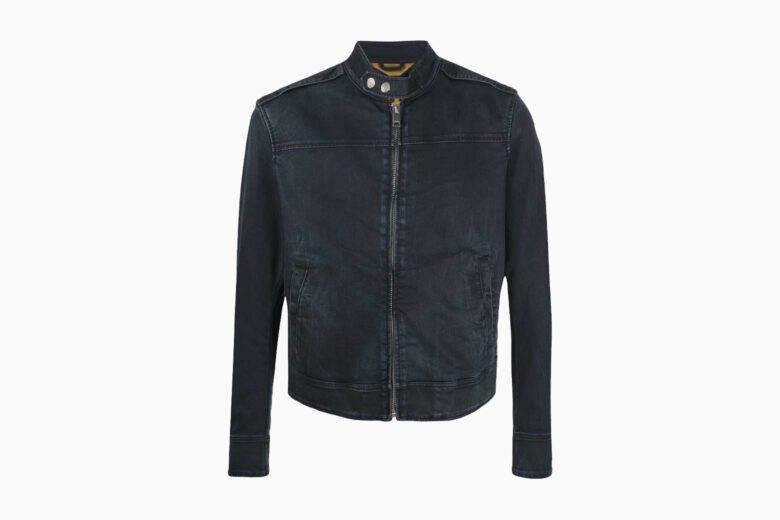 Let's switch gears and get into some biker-influenced jean jackets for men. Diesel's biker-style denim jacket is a good example of the breed. The front and back panels are broader and with less detailing than some of the other jackets we've seen. Additionally, the front features a zipper instead of buttons, and style-wise looks great done up all the way to the neck where a button-down collar takes over.
Gucci Eco Washed Jacket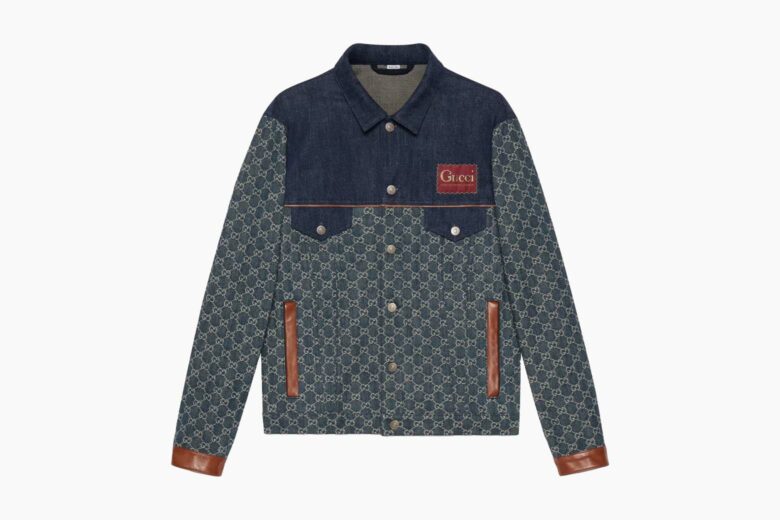 You're going to be hard-pressed to get a more statement-oriented denim jacket than this. Gucci's Eco washed organic denim jacket puts its famous name front and center on the breast, and grabs the eye of viewers with its patterned print and leather trim at the cuffs and pockets. The "Eco" part of the name refers to the brand's use of alternative and recycled materials, something we love to see from huge luxury labels like Gucci.
Levi's Trucker Jacket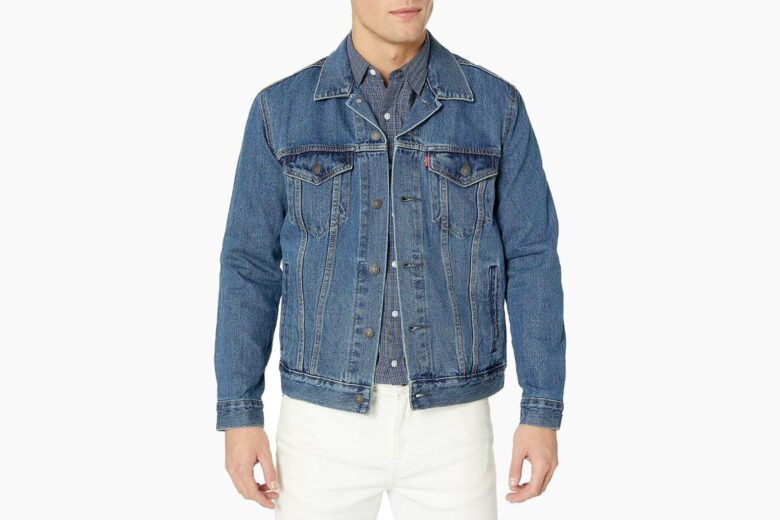 You just knew we were absolutely going to feature a denim jacket from Levi's in a list like this. To be specific, we're going with Levi's Trucker jacket, which defines the word "classic" in the denim jacket world. They're durable as all get out, and they look even better when they start to show signs of long-time love. What more can we say? It's a Levi's.
Brunello Cucinelli Four-pocket Jacket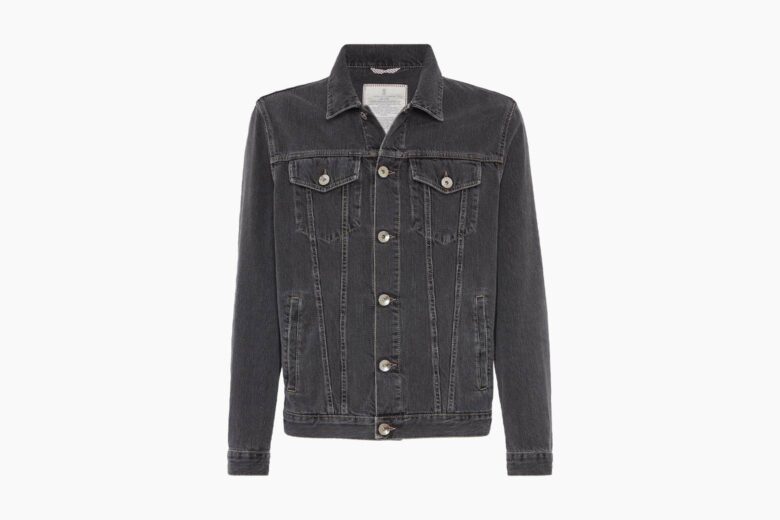 Leave it to Brunello Cucinelli to transform the denim jacket into something that is just shy of formal wear. The Brunello Cucinelli four-pocket denim jacket adds a whole lot of sophistication to a garment that is generally seen as casual working-man's gear.
Heron Preston Distressed Jacket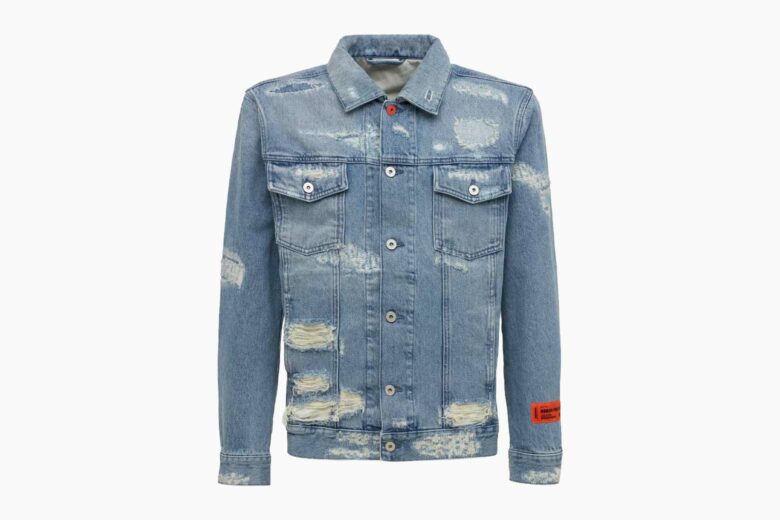 Everybody knows that denim jackets just get cooler-looking the more they're worked in. Some thoughtful designers go the extra step of doing the working-in stage for you. Take for example Heron Preston's distressed denim jacket with its pre-distressed patches. Against the blue of the material, the worn sections give the impression of fluffy white clouds against a brilliant cerulean sky.
Axel Arigato Crew Padded Jacket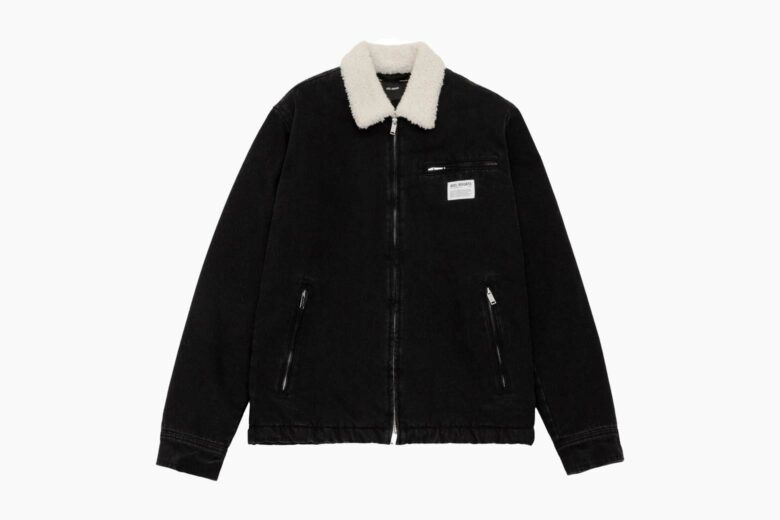 The one downside of most denim jackets is that they only take you so far when it comes to warmth. When colder seasons set in, if you demand that denim look you should consider something like Axel Arigato's padded denim jacket. The padding and pile collar are going to keep you warm and cozy well into the colder months of the year.
Ami Paris Logo-embroidered Jacket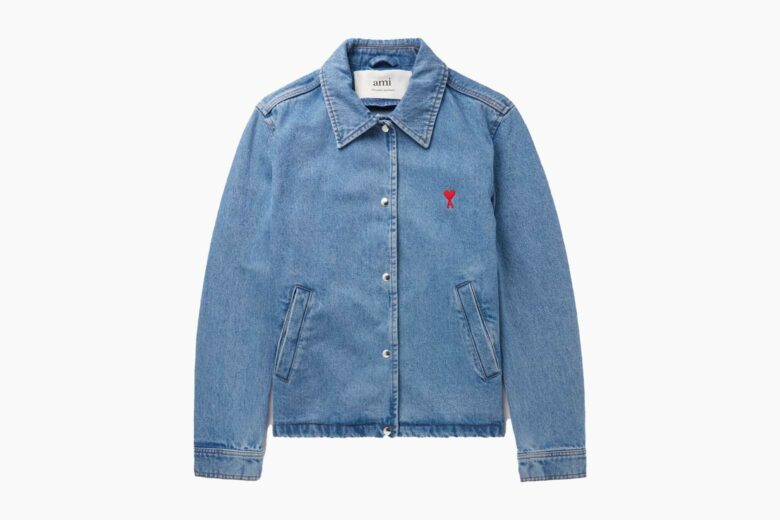 If you'd like a denim jacket with a fairly simple look so it poses less chance of overpowering the rest of your outfit, try Ami Paris' logo-embroidered denim jacket. Both the front and back hold back on the detailing, so this works more as an accompanying piece than as a focus for your outfit. Bonus points if you wear a red shirt underneath to work with Ami Paris' bright red logo on the breast.
Madewell Classic Jean Jacket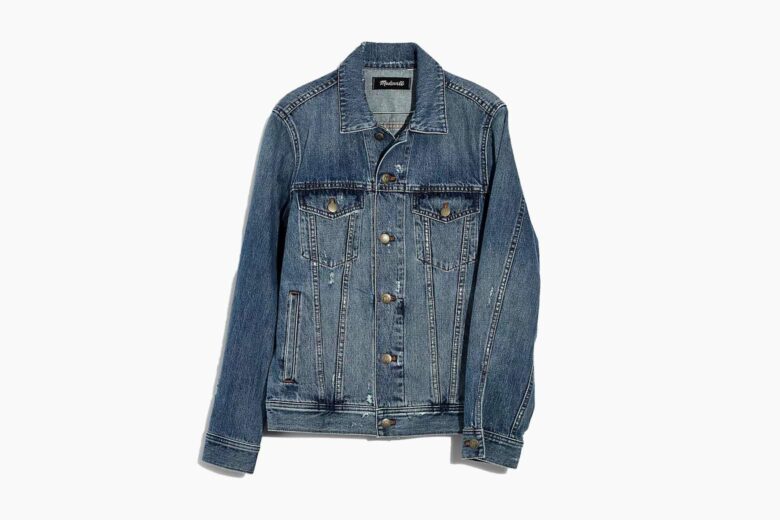 It's right there in the name. Madewell's classic jean jacket sports old-school lines and details to give you that classic denim jacket look. This denim jacket in particular is going to work exceptionally well with your favorite pair of worked-in sneakers to create a relaxed, kicked-back look. Or go with some tough-guy construction boots for a working-man's appeal.
Wrangler Blanket-lined Jacket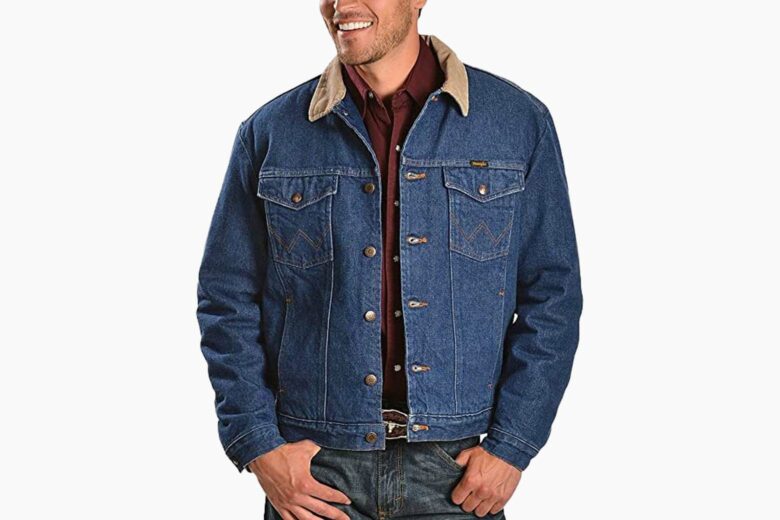 Wrangler is a brand that has built its name on making highly durable clothing, stuff that can take a thumping and keep asking for more. This Wrangler's denim jacket does all that and has the added bonus of a stitched-in blanket in the interior to keep you warm when working in chilly environments.
Balenciaga Distressed-effect Jacket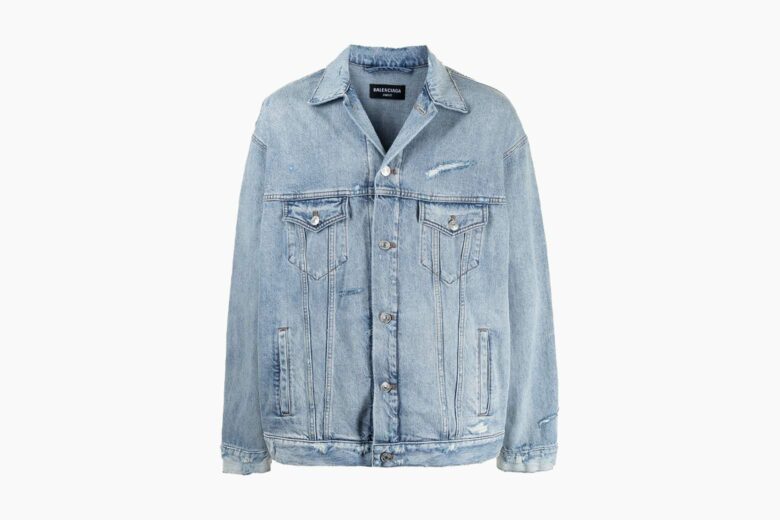 We're back in designer statement country with Balenciaga's distressed-effect denim jacket. Designed to be a unisex item of clothing (although all men's denim jackets look good on the ladies), this jacket takes the distressed element all the way to the logo on the back, which looks like it's been put through the ringer. If you want to be bold with the brands you wear, but enjoy the comfortable worked-in look of denim at the same time, this is the jacket to do it with.
Asos Design Skinny Jacket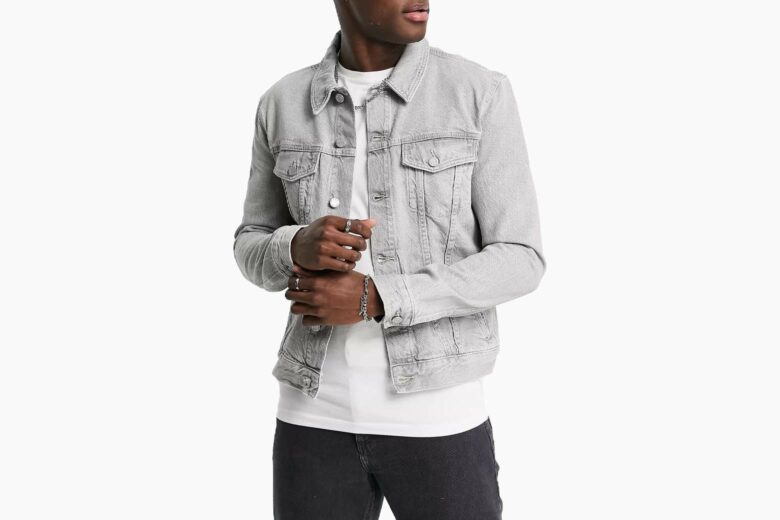 If you want to sport the slimmed-down look, definitely think about giving Asos' skinny denim jacket a whirl. You can boost the skinny look of this jacket by matching it up with pants and shoes with bulkier profiles, like cargo pants and construction boots or maybe some high-top sneakers.
Fendi Denim Jacket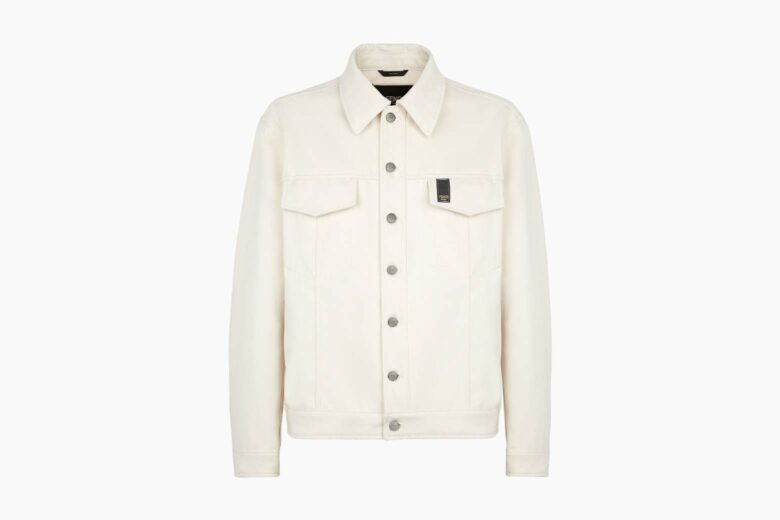 Let's take a break for the moment from all of the blues and blacks and try out something a little unexpected in the denim jacket world: white. Fendi's denim jacket is an eye-catcher with its all-white design, the detailing of the front breast pockets and ascending torso lines are crisp and precise. This jacket is really going to pop with a brightly-colored monotone or patterned top, and will be set off nicely with a dark pair of pants.
Acne Studios Classic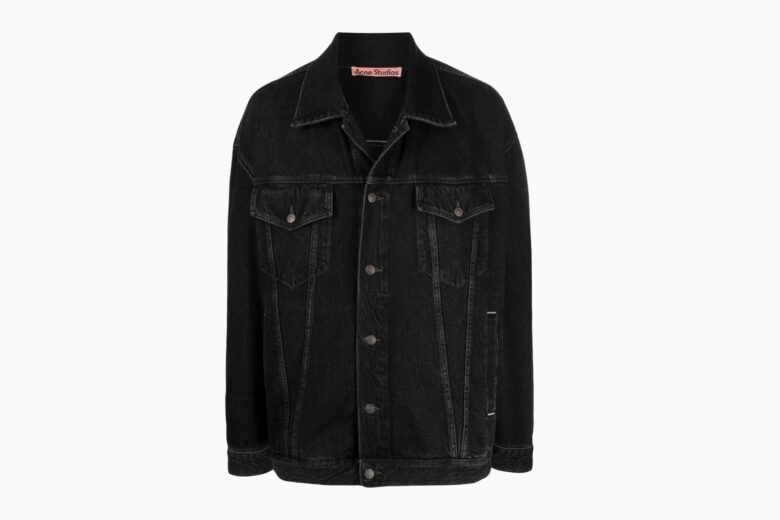 Acne Studios' classic denim jacket certainly follows old-school design lines, especially with its front breast pockets and descending stitched lines. Yet this jacket somehow also has a little something different, doesn't it? A formality that other jean jackets don't quite carry off. While it's certainly not a replacement for a suit jacket or blazer, this jean jacket wouldn't look out of place teamed up with chinos or even slacks and some formal dress shoes.
Tom Ford Selvedge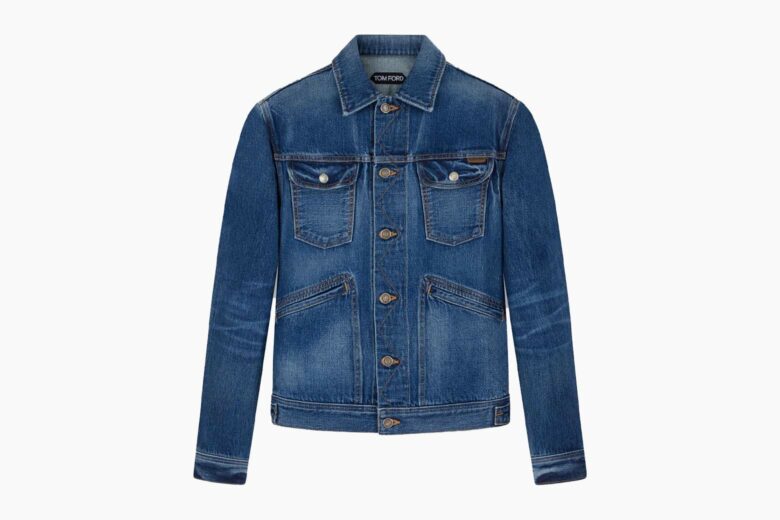 Tom Ford's selvedge denim jacket is a blend of old-school denim jacket styling mixed with a biker look, all whipped together to make something unique and fresh. Yet despite all that rugged tough-guy heritage, it still manages to come across as a dressier example of the denim jacket. A lighter jacket, this is a good-looking top to take with you on warm spring days, or as summer starts its inevitable turn to fall.
Celine Homme Denim Jacket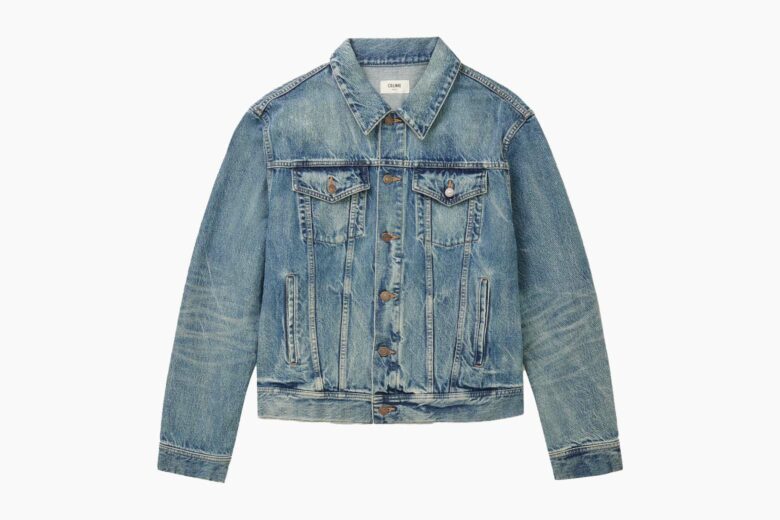 If you're looking for a designer denim jacket that has plenty of room underneath for a luxury hoodie on cooler days, Celine Homme's denim jacket has you covered. Cut with a built-in roomy fit, this jacket flourishes when you layer it with upscale additions. You can go completely casual with the jacket and your accompanying outfit, or you can add a dash of smartness, the choice is yours.
Lee Chore Coat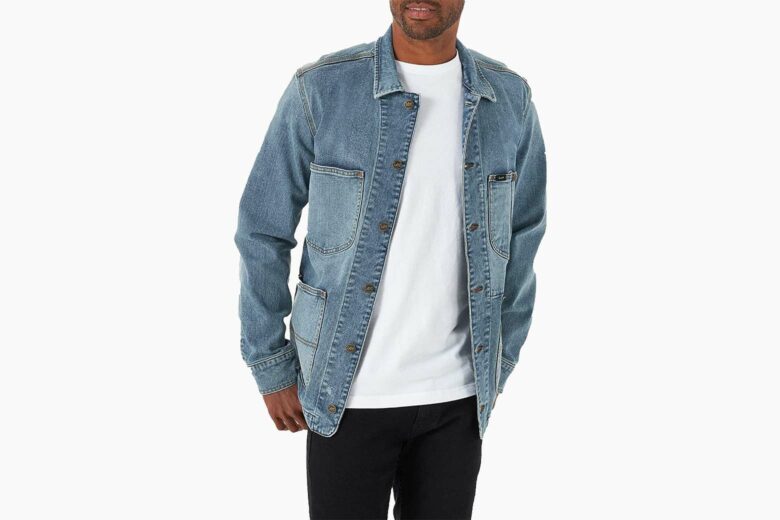 Made with a touch of spandex, Lee's regular fit chore coat is a little more forgiving in the flexibility arena than other jean jackets. Designated as a utility jacket, it comes with plenty of pocket space. Despite the designation, we think it looks pretty snazzy as a piece of your casual-wear wardrobe. Try it out with a pair of swank sneakers and a spiffy t-shirt, or go a little bolder and dress it up with a posh button-down.
Frequently asked questions about men's denim jackets
Which is the best denim jacket brand?
If you're going to be working out in a rugged and potentially chilly environment, we'd suggest you take a look at Wrangler's blanket-lined denim jacket. If you're more into denim jackets for the style, the most classic looks are by Levi's, like Levi's trucker jacket.
What should a guy wear with a denim jacket?
Denim jackets are very versatile, especially when it comes to casual looks. Up top, you can match denim jackets with your favorite hoodies, or a variety of t-shirts or button-down shirts. For pants, you can wear them with a pair of jeans, although we'd suggest that the jacket and the pants not be the exact same color.
Are jean jackets cool for men?
Absolutely. The coolness-factor for jean jackets for men started with James Dean and a young Elvis Presley, and has never gone away. Ryan Reynolds and The Rock have been seen wearing jean jackets in more recent years.
What is the best color denim jacket?
This is a matter of personal taste. The most classic color is of course blue, with black coming in second. However, designers have experimented with other colors, like the all-white approach of Fendi's denim jacket, or the patterned look of Gucci's eco washed jacket.