It's summer, and you're looking forward to a day out with your friends. There's just one problem—it's a scorcher. You want to look cool, but you don't want to be dripping sweat. Enter the almighty luxury linen shirts.
Men's linen shirts are a blessing. Linen (made from flax) has been around since at least the time of the ancient Egyptians and with very good reason. The breathability of men's linen shirts allows breezes in, evaporates moisture quickly, and allows your body heat to escape. 
But that's just the functionality. There's also the fashion aspect of linen outfits for men. Linen can be spun into fashions ranging from loose rock n' roll long-sleeve shirts to prim and proper business attire. Snag yourself a loose-fitting white linen shirt and match it with some luxury sneakers and your favorite designer jeans, and you've got an upscale casual look. Or venture into men's linen dress shirts, pair them with some more formal bottoms from designer Luca Faloni, and you're all set for a dressier affair.
There are a ton of approaches you can take when working with linen clothing for men. We've chosen the best of the best when it comes to men's linen tops; read on and find out which options work best for you.
The 21 best linen shirts for men
Luca Faloni Portofino: Overall best men's linen shirt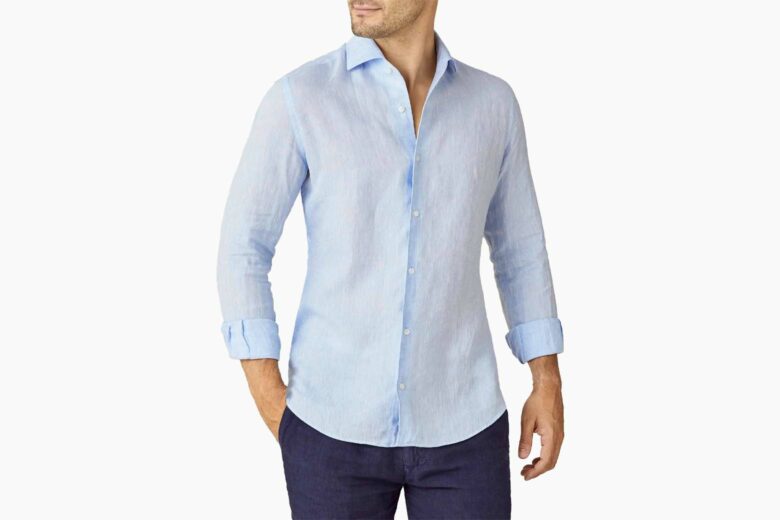 Made-in-Italy menswear brand Luca Faloni keeps making its way back onto our lists like our picks for the best men's shorts, and their Portofino linen shirt is a prime example of why. It's a simple silhouette… but it does so much. Leave it untucked and the neck open, and you've got a classy casual shirt. Tuck it in and button up the neck, and you've got a more formal shirt ready for a dressy belt and summer shoes.
| | |
| --- | --- |
| Best for: | Facing summer heat with a cool, calm, and classy demeanor. |
| Colors: | Sky Blue, Coral, Dusty Pink + More |
Loro Piana: Best designer linen shirt for men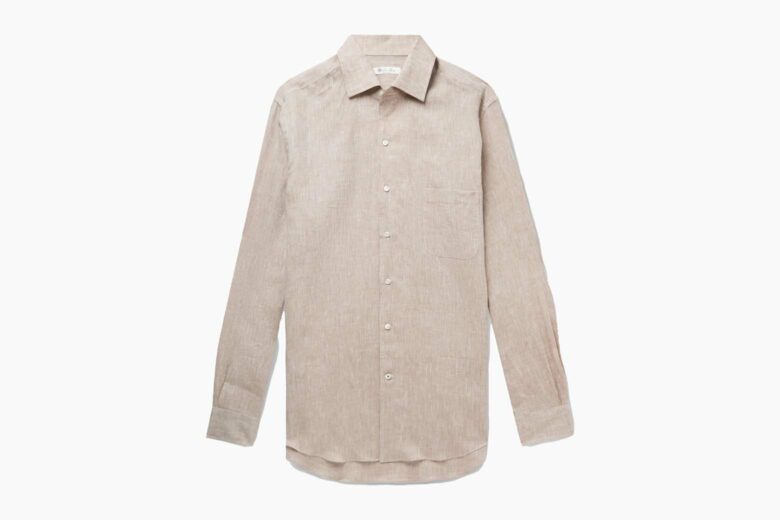 100% linen shirts don't come much more stylish than this. One of the best linen shirts online, Loro Piana's linen shirt has a nice relaxed fit to help you attain that laid-back feeling you deserve from your summers. Throw a bold pair of sunglasses into the breast pocket, and you've got it made in the shade.
| | |
| --- | --- |
| Best for: | Refined relaxation. |
| Colors: | Mushroom |
28 Palms: Best value men's linen shirt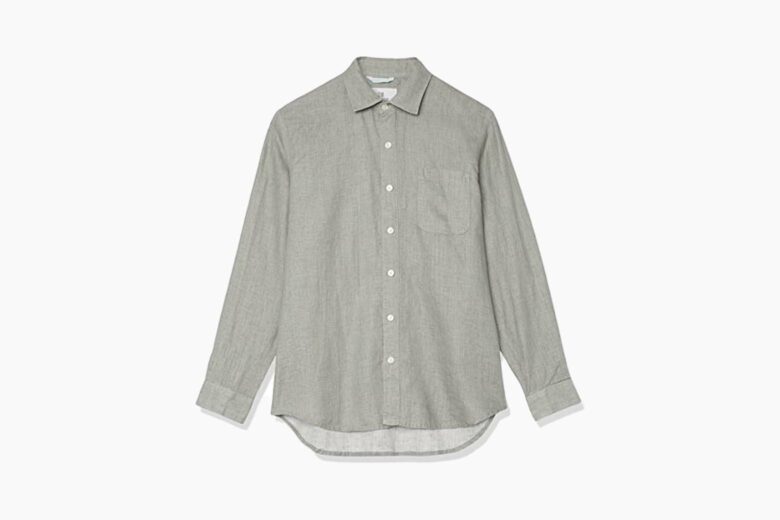 Sometimes it gets to be a bit much, kitting yourself out with a whole new wardrobe for every season. You just want to get out there and enjoy the warm weather without sweating your finances. 28 Palms' linen button up shirt is what you're looking for—an easy price coupled with plenty of casual style.
| | |
| --- | --- |
| Best for: | Saving your pennies for the ice cream truck. |
| Colors: | Grey, Blue Topaz, Coral |
Luca Faloni Versilia: Best long-sleeve linen shirt for men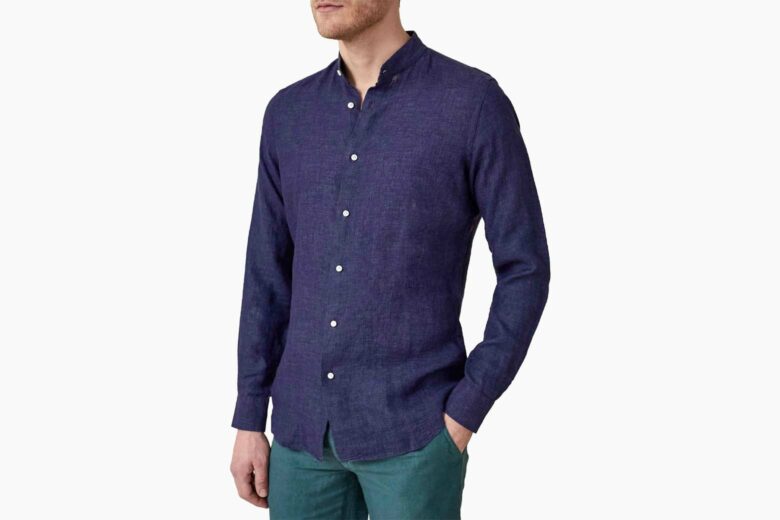 Sporting a more relaxed fit than many of the brand's other signature classic shirts, Luca Faloni's Versilia is built for lazy summer days inspired by designer Italian elegance. The band polo collar matches the best looks found on preppy polo shirts, and states that ties aren't welcome here. This is the linen button-down shirt that says that office hours are over.
| | |
| --- | --- |
| Best for: | Giving a polite "No thank you" to the offer of overtime at the office. |
| Colors: | Navy Blue, Light Pink, Payne's Grey |
Robert Graham Harpswell: Best short-sleeve men's linen shirt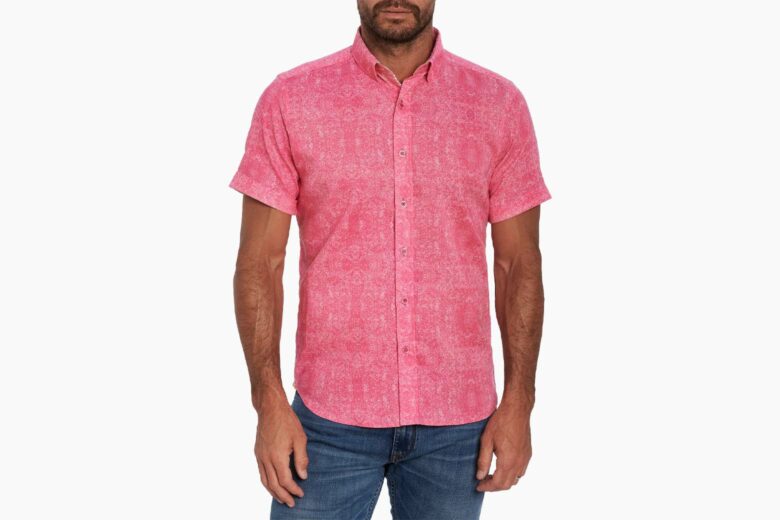 Not only is the Harpswell shirt handsome enough to someday pop up on lists of best casual shirts for men, it also blends in 24% plant-based Sorona to boost the shirt's eco-consciousness.
| | |
| --- | --- |
| Best for: | Doing good while looking good. |
| Colors: | Black, Coral, Teal + More |
Naked Cashmere Landon: Best polo linen shirt for men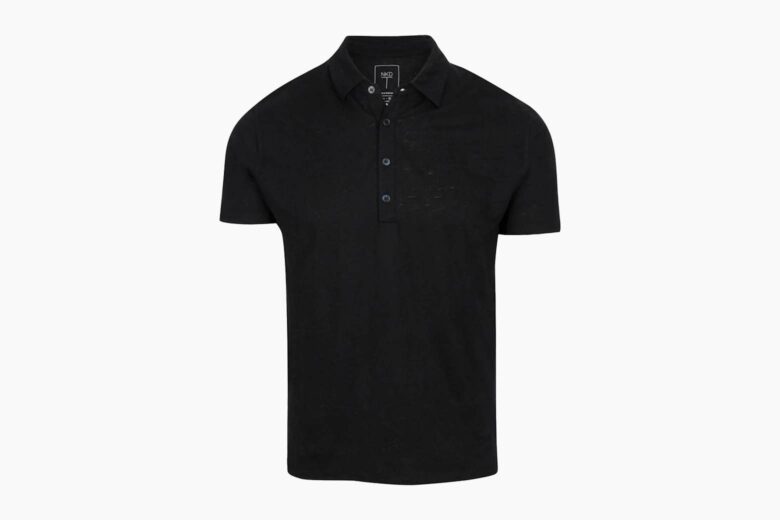 Naked Cashmere offers up a preppy look with their Landon linen polo. Picture yourself bouncing around town, grabbing lunch with friends, toting your best tote bag, hitting an outdoor patio in the evening, and all without breaking a sweat thanks to the breathable linen and elastane blend.
| | |
| --- | --- |
| Best for: | Popping preppiness into your everyday summer routine. |
| Colors: | Black, Graphite, White + More |
Brunello Cucinelli: Best men's evening linen shirt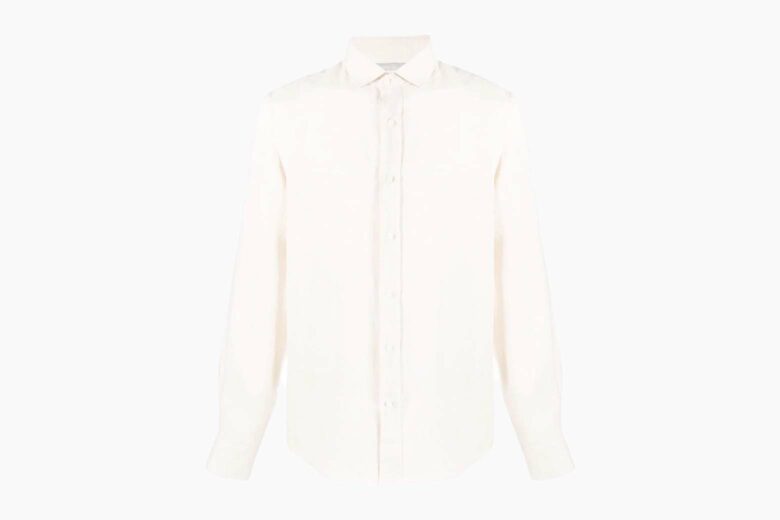 You're out for the evening, going somewhere nice, but you still want a top that is lightweight and breathable. Brunello Cucinelli's linen shirt fits the bill. Featuring a dressy spread collar and front button placket (the strip where your shirt-front buttons are located), this shirt will look quite tasteful matched with some tailored slacks and your most stylish espadrilles.
| | |
| --- | --- |
| Best for: | Dressing up your summer nights. |
| Colors: | Off-white |
Brioni: Best dress linen shirt for men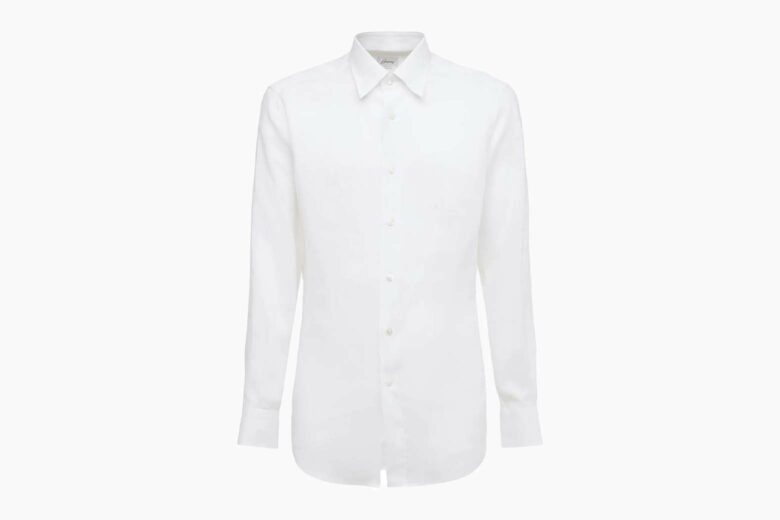 What's a fellow to do when he has a formal affair, but the thermometer is blowing its top? Brioni saves the day with this formal linen shirt. Made from 100% linen, this white shirt is going to let your body breathe while sheathing you in pure formality. This shirt is so stylish you can even wear it untucked with a pair of well-tailored shorts and you'll still look like a million bucks.
| | |
| --- | --- |
| Best for: | Looking like you're put together without sweating it out. |
| Colors: | White |
Zegna: Best casual men's lining shirt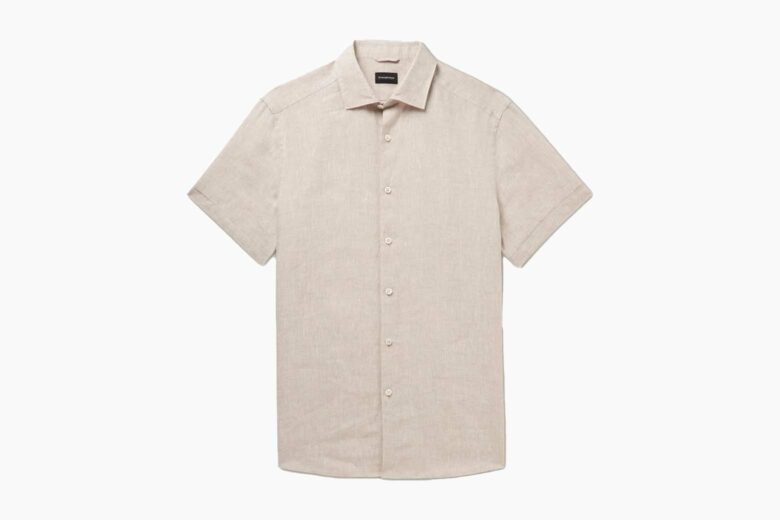 Zegna has put their more than 100 years' worth of experience into designing this beauty of a casual linen shirt. This Zegna shirt is actually a bit of a chameleon in that its relaxed fit and short sleeves come from the world of relaxation, but the spread collar (with removable stays) and overall shape allow it to fit in comfortably in dressier situations.
| | |
| --- | --- |
| Best for: | Becoming a casual chameleon. |
| Colors: | Beige, Blue |
Vilebrequin: Best white linen shirt for men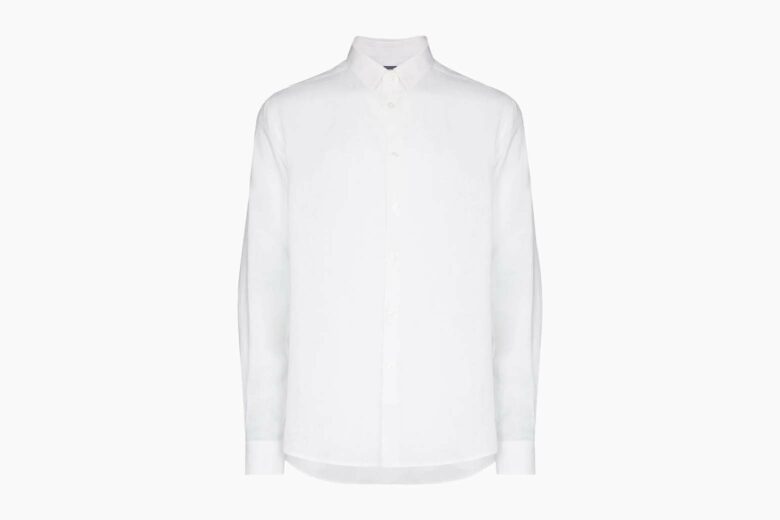 A top tier men's white linen shirt is always a great investment for summer. You can wear them with shorts, jeans, or tailored slacks, and look great. Vilebrequin's long-sleeve white linen shirt is a prime example—the real challenge would be to find an outfit this shirt didn't look great with.
| | |
| --- | --- |
| Best for: | Becoming a mixing and matching master. |
| Colors: | White, Black |
Burberry: Best checked men's linen shirt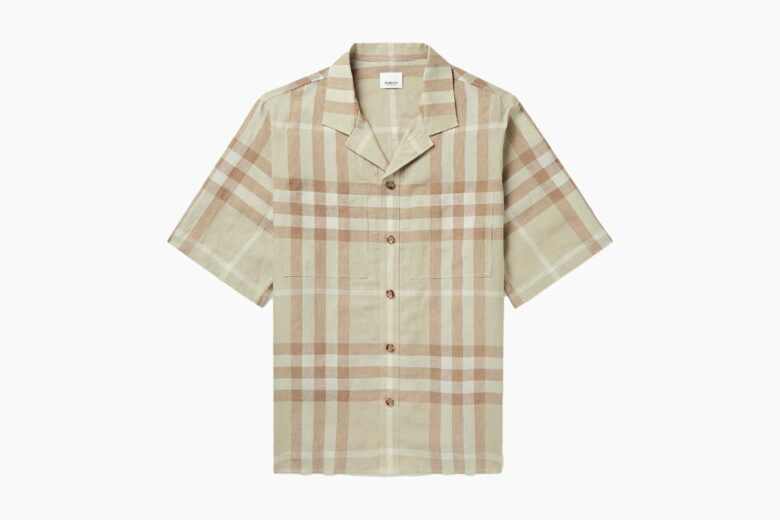 Here's a blast from the past that is never going to get old. The good old Burberry check pattern makes a triumphant return on this checked linen shirt. Featuring a fun wide camp collar, this shirt is going to look so boss when paired up with light-colored shorts and summer shoes.
| | |
| --- | --- |
| Best for: | Check celebrating old-school summer styles off your to-do list. |
| Colors: | Beige |
Polo Ralph Lauren: Best striped linen shirt for men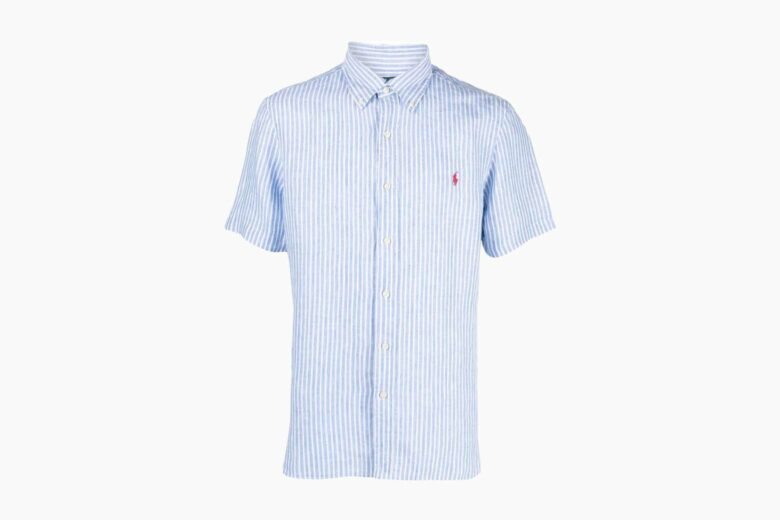 This striped linen shirt by Polo Ralph Lauren boasts a sharp vertical stripe pattern (which will make shorter gents look taller) that is going to look fine in the office or in the country club's clubhouse.
| | |
| --- | --- |
| Best for: | Going preppy pretty much anyplace. |
| Colors: | Light Blue, Light Pink |
Jacquemus Moisson: Best men's linen print shirt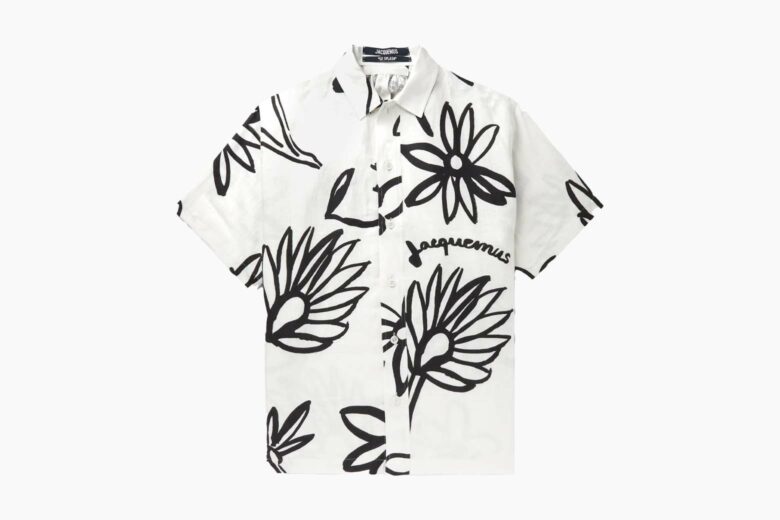 Let's dish up some all-out sartorial summer fun. To really celebrate the summer spirit, try out a cheerful print shirt, like Jacquemus' Moisson. The bold daisy print will make a great addition to your favorite bright summer shorts and a colorful cool cocktail in your hand.
| | |
| --- | --- |
| Best for: | Summarizing the summer spirit. |
| Colors: | White, Orange |
Sunspel: Best regular-fit linen shirt for men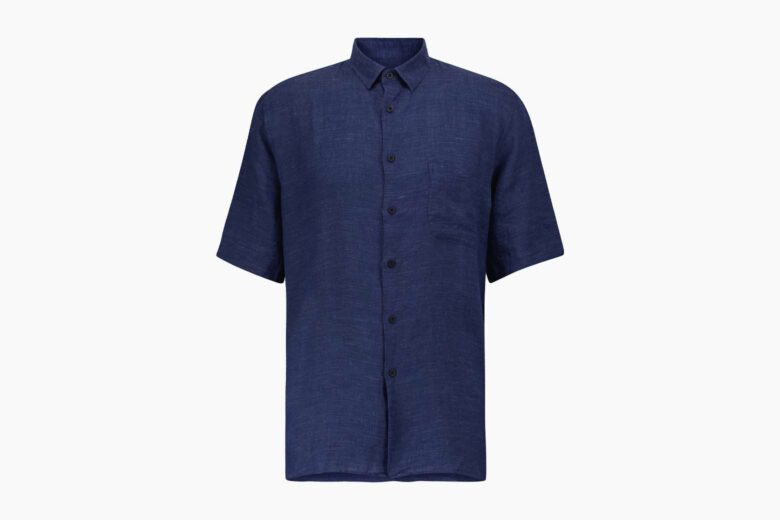 Sunspel's linen short-sleeved shirt is a classy number, cut neither too relaxed nor too slim. Made from 100% Italian linen, this shirt is wonderfully soft to the touch, and can be worn open with a t-shirt underneath for a fully relaxed look, or buttoned up when you want to go dressier.
| | |
| --- | --- |
| Best for: | Classing things up with a classic button-down cut. |
| Colors: | Ink Blue |
Tommy Hilfiger: Best men's slim-fit linen shirt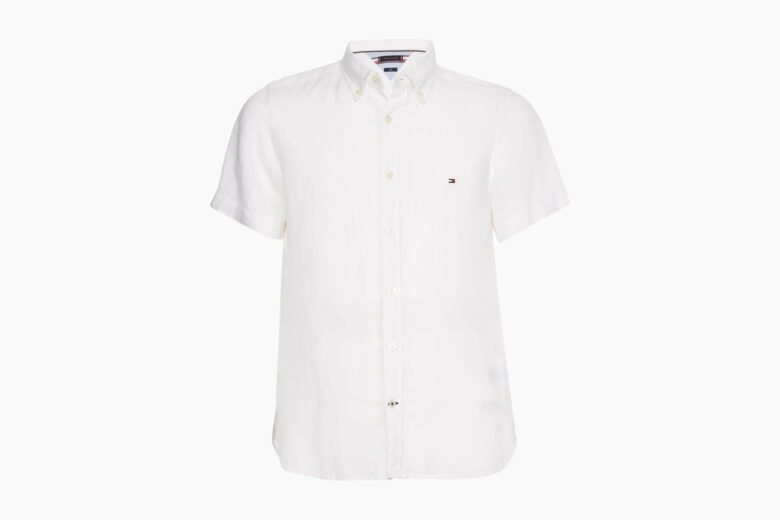 The Tommy Hilfiger brand always adds a little extra something to their casualwear, doesn't it? Take for example this icon logo short sleeve linen shirt. The combination of the slim fit cut, spread collar, and button placket are just sharper than what some other brands can manage.
| | |
| --- | --- |
| Best for: | Taking your casual wear to higher levels. |
| Colors: | White |
Tommy Bahama Sea Glass: Best linen camp shirt for men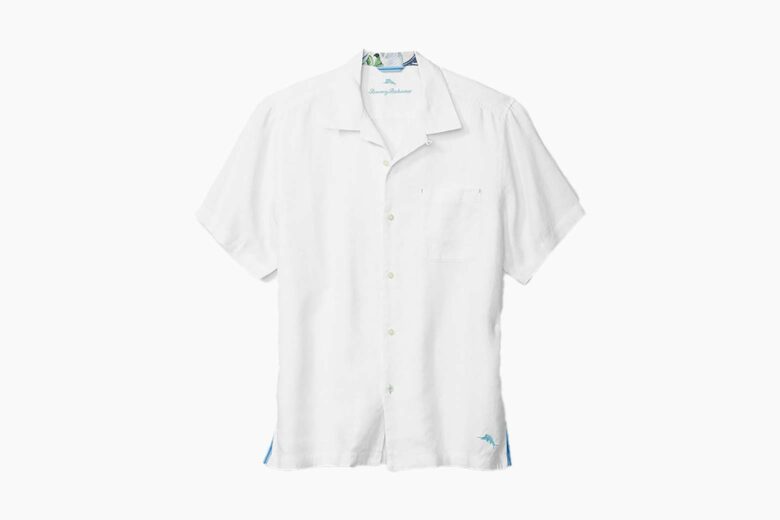 The camp shirt has carved out its own special little niche in the linen shirt world. If you want to look like old-school Sean Connery James Bond, or maybe writer Ernest Hemingway, then pull on Tommy Bahama's Sea Glass camp shirt to add a little bit of rebelliousness to your summer outfits.
| | |
| --- | --- |
| Best for: | When the summer sun glares down on you, you glare back. |
| Colors: | White |
Asos Design: Best men's V-neck linen shirt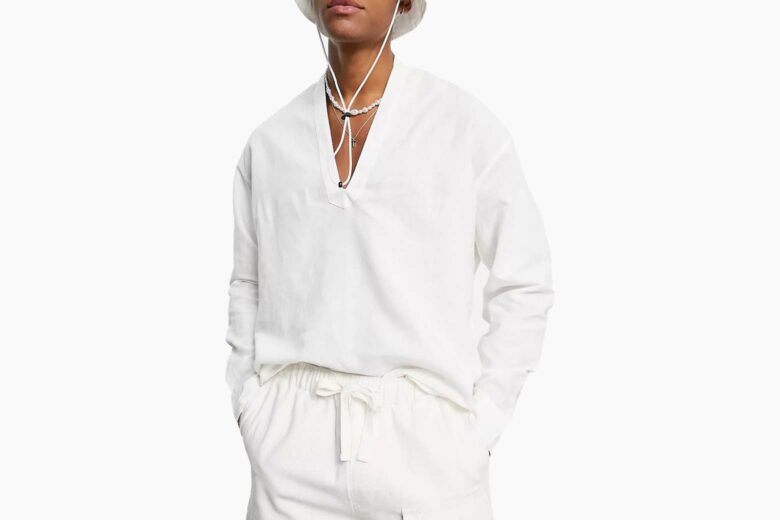 Prefer a pullover? Asos Design has you covered with this oversized v-neck linen shirt. The deep V cut is perfect for showing off your tan, and the overall look and oversized fit evoke thoughts of long, fun days spent sailing your way across the bright blue waters of a tropical locale.
| | |
| --- | --- |
| Best for: | Pulling on a perfect summer sartorial choice. |
| Colors: | White |
Frescobol Carioca Antonion: Best button-down linen shirt for men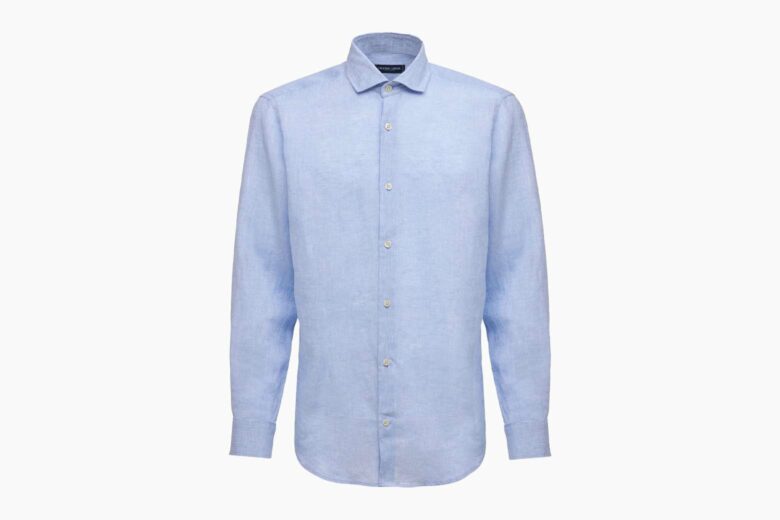 Frescobol Carioca's Antonion linen shirt is a quick-change artist. Button up the collar and tuck it into some work-appropriate pants, and you're all set up to swing some business deals. But unbutton that collar, pull out the hem, and match it with a more casual bottom, and suddenly you're all set to kick back and relax in style.
| | |
| --- | --- |
| Best for: | Having it both ways—business-ready and ready for relaxation. |
| Colors: | Light Blue |
Nanushka Bowling Shirt: Best men's linen shirt for the beach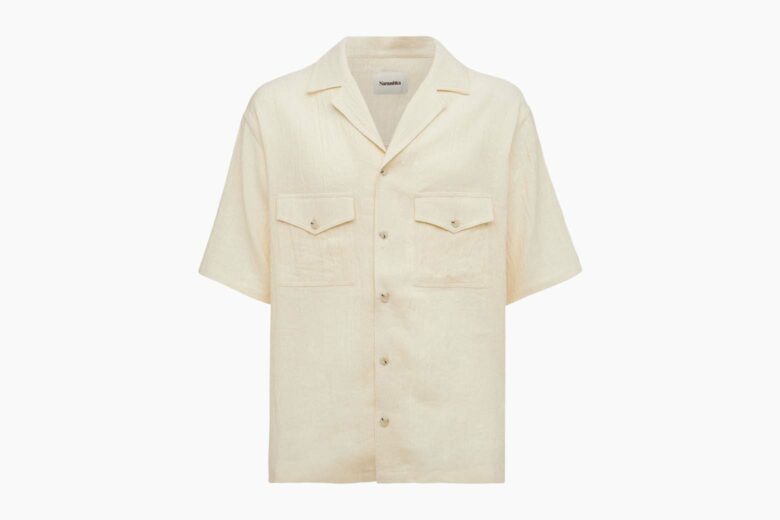 Men's linen shirts for the beach have to be all about relaxation, right? The designers at Nanushka certainly agree. This cotton and linen bowling shirt is the epitome of linen beach wear. With its safari-like design and short sleeves, you're all set to keep things cool on the hot sands.
| | |
| --- | --- |
| Best for: | Besting the beach heat. |
| Colors: | Creme |
Amazon Essentials: Best men's budget linen shirt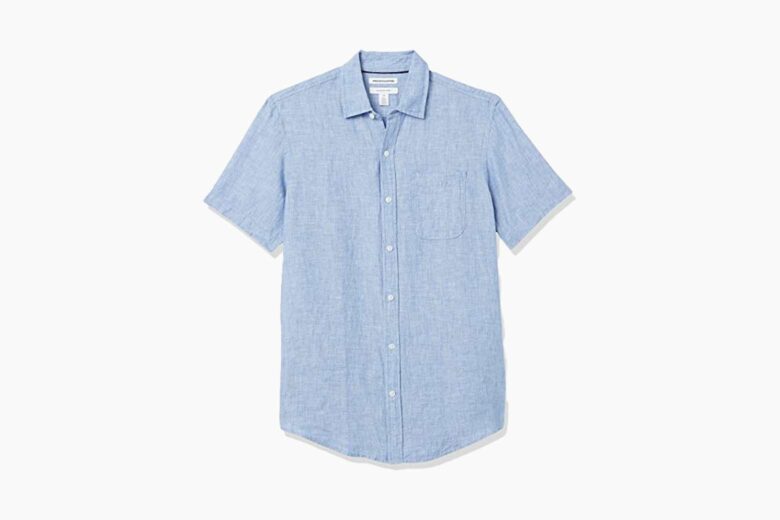 The Amazon Essentials clothing line takes its inspiration from thousands of reviews, so it's more than likely that the brand's short-sleeve linen shirt has been done up right. The fit is relaxed through the chest, but tapers down around the waist to give you a streamlined look. And since the cost is streamlined too, you can feel comfortable picking up more than one.
| | |
| --- | --- |
| Best for: | Stocking up on a whole range of light linen luxury. |
| Colors: | Blue, Lavender, Red + More |
Gabriela Hearst Nicolas: Most expensive linen shirt for men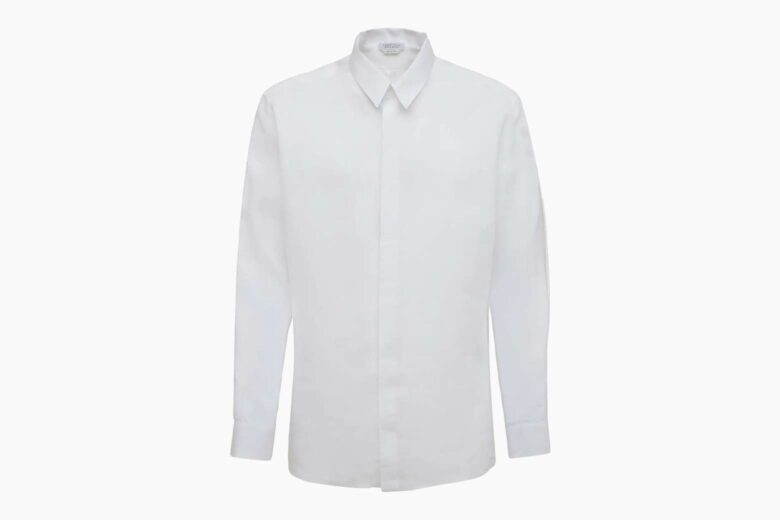 If you want to go all out on linen luxury, then Gabriela Hearst's Nicolas linen shirt is surely the way to do it. The Nicolas is dressy enough to function as a solo top at special events, but it will also look fantastic under a well-cut sports jacket or blazer. And since it's made from 100% Italian linen, you can count on it to cut down on the sweat-factor.
| | |
| --- | --- |
| Best for: | Pushing the linen luxury dial all the way up to eleven. |
| Colors: | White |
Frequently asked questions about men's linen shirts
Which brand is best for linen shirts?
Overall, we'd suggest you start your search with Luca Faloni's Portofino linen shirt. It's crisp style makes it useful in both dressy and more casual scenarios. The linen shirt comes in a wide variety of colors, making it easier for you to get what you need for your wardrobe. Check our list of the best men's linen shirts for more inspiration.
Are linen shirts good for men?
Linen clothing has been around since at least the ancient Egyptians, which is a good indication that it's a fine material. Linen shirts are ideal for men during warmer weather as the weave and the material itself lets your body breathe, helps evaporate moisture, and helps with temperature control.
Is a linen shirt more comfortable than cotton?
In terms of temperature, linen is the way to go during hotter weather. It's more breathable than cotton, and does a better job dealing with moisture. Linen is also more durable than cotton. Cotton feels less scratchy compared to a new linen shirt, but the linen scratchiness fades with use.
Should linen shirts be baggy?
Linen shirts can be a relaxed fit, but they should never go to the extreme of being too baggy. Here's a rule of thumb to keep in mind when trying out linen shirts: the shoulder seam should end at your actual shoulder. Iif the shoulder seam goes past your shoulder down your arm, try a half-size to one full size smaller for a proper fit.