Single-use plastic bags are fading into history, being replaced with reusable tote bags. But you can forget about the lame options sold at the grocery store and step into the growing world of incredible tote bags for men.
Tote bags are perfect for beach days, work commutes, gym routines, and grocery runs. They keep your things organized and secure while adding style to your look. This list of the best tote bags for men is packed full of top options that combine incredible versatility with superior design.
Whether you're looking for a waterproof tote bag for adventures, a durable men's leather tote bag for everyday use, or something between, we've included something for everyone.
The 13 best tote bags for men
Bellroy Tokyo: Best overall tote bag for men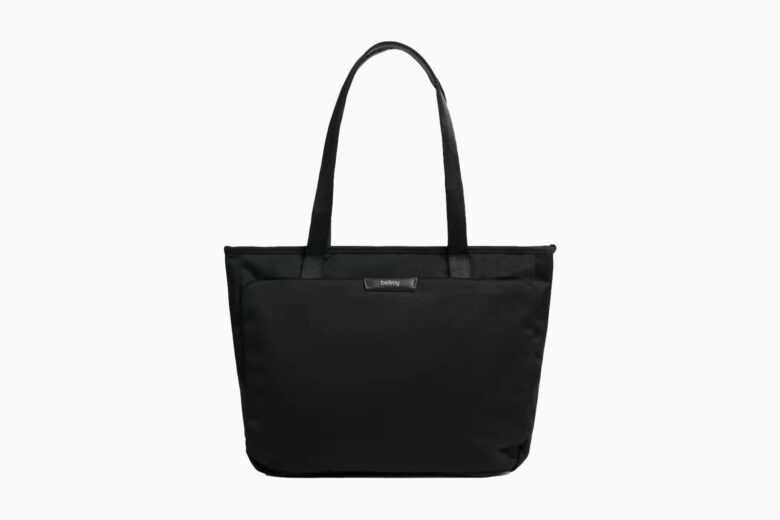 With the versatility of a Swiss Army knife and a stunningly fashionable look, the Bellroy Tokyo Tote Bag sticks out from the crowd. It is a carryall fit for nearly any occasion.
The wide-mouth main compartment features a padded laptop sleeve and a variety of pop-style pockets to keep your things secure. A small external zippered pocket puts valuables within reach.
Best for: The tote-al package.
Colors: Black, Bronze, and Ranger Green
Saint Laurent Rive Gauche: Best designer tote bag for men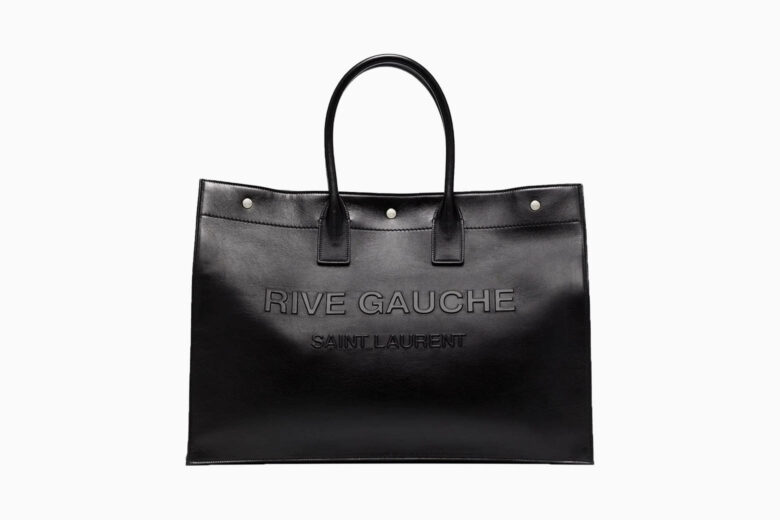 This men's tote bag is the perfect embodiment of understated elegance. Constructed from high-quality leather with a touch of metal hardware, this Saint Laurent Rive Gauche is ready to carry a lot of your things while maintaining an aura of confidence and style.
The roomy interior is paired with an embossed exterior logo to create an incredible high-volume addition to any designer bag collection.
Best for: Shouldering a fashionable way forward. 
Color: Black
Porter-Yoshida Tanker: Best men's tote bag with compartments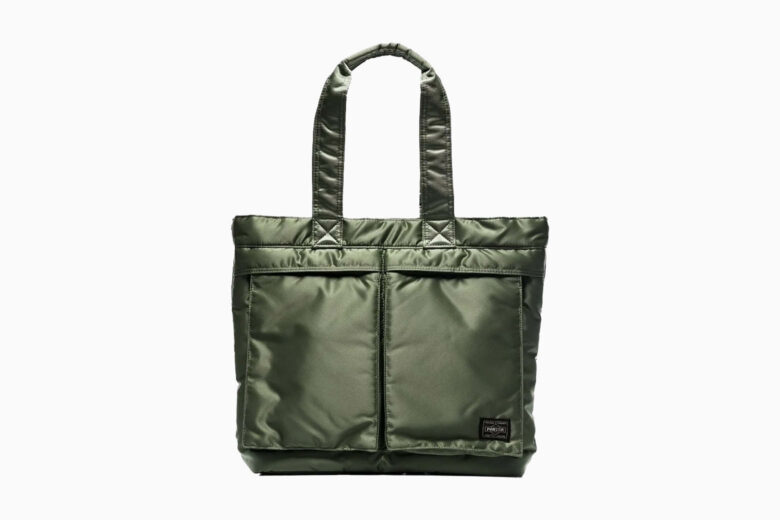 Organization is a key element to success. This amazing tote bag with compartments provides a place for everything so you can keep everything in its place. Plus, the water and dirt repelling nylon material is fit for any adventure.
An expandable zippered gusset running along the outside of the Porter-Yoshida Tanker Tote Bag allows more space when needed.
Best for: A Marie Kondo-approved tote, sure to spark joy. 
Colors: Black and Sage Green
Away Packable Carryall: Best men's tote bag for travel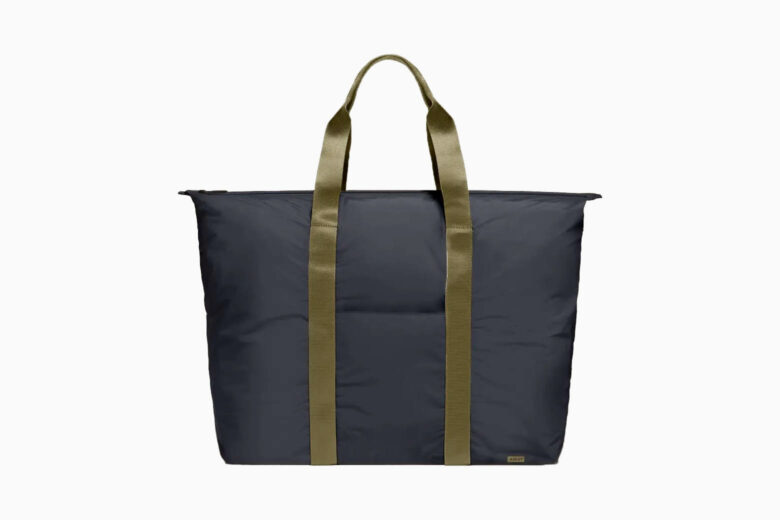 Forgetting an extra travel bag is a thing of the past with this packable carryall. By folding it down into a small zippered pouch, you can throw it in your car, in your carry-on, or anywhere that you might need help carrying items.
Lightweight nylon fabric is used to create this nearly waterproof tote bag. Coming from one of the best luggage brands, the Away Packable Carryall is a handy solution to keep nearby whenever you're on the go.
Best for: Unexpected shopping sprees.
Color: Navy
Filson Cotton-Twill: Most durable tote bag for men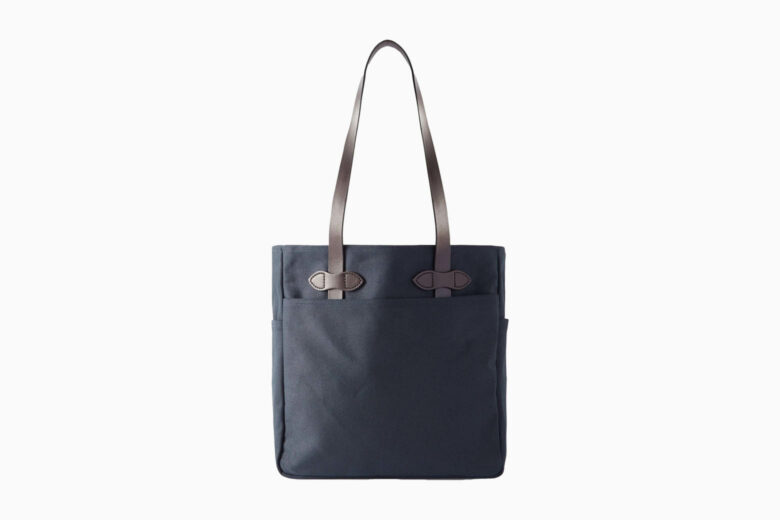 Being as tough as nails doesn't have to come with construction-site looks. Made from abrasion-resistant cotton twill, this tote bag for men still provides stylish appeal incorporated into a tough design.
The Filson Cotton-Twill Tote Bag is one of the best tote bags for men and will last through many years of torment.
Best for: Keep on going.
Color: Midnight Blue
Want Les Essentiels Dayton: Best men's tote bag for work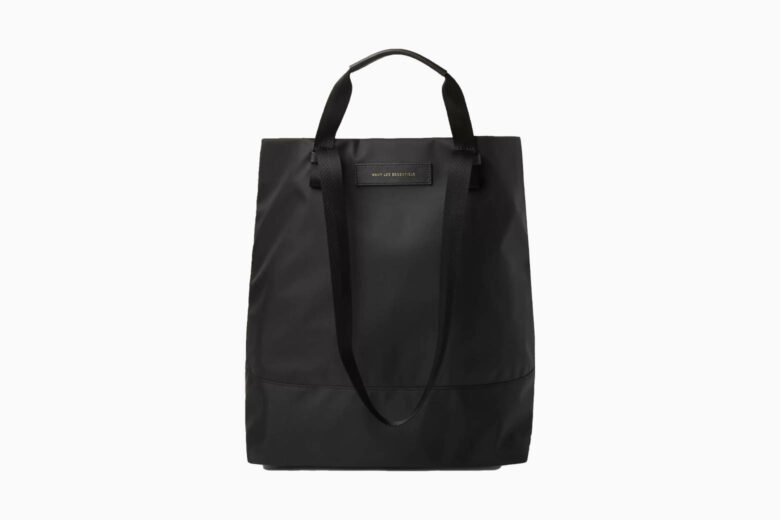 With the ability to carry everything you need for a long day of work, this men's tote bag has you covered. It's large enough to fit your laptop, chargers, and files without being overly bulky or burdensome.
The Want Les Essentiels Dayton Tote Bag for men is a great solution for those who want one of the best tote bags for work that will keep up with the demands of a tough day on the job.
Best for: The never-ending commute companion.
Color: Black
A.P.C.: Best denim tote bag for men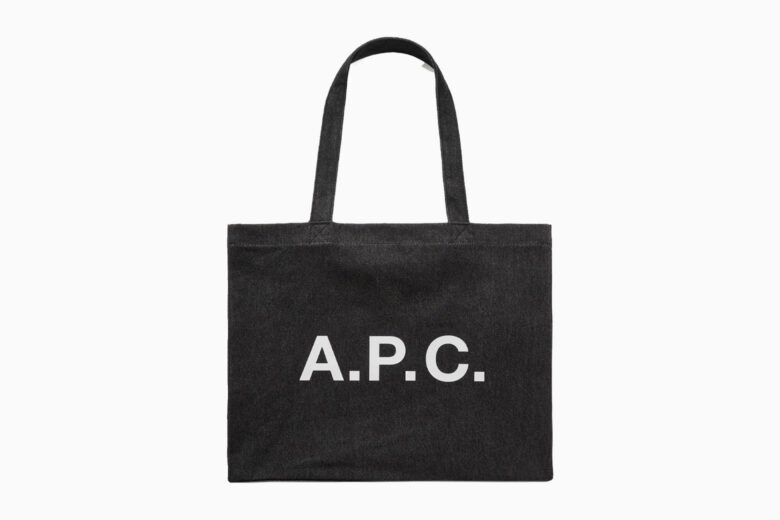 Like your favorite pair of denim jeans, the A.P.C. Denim Tote Bag looks great and gets more stylish with age. This men's tote bag features stonewashed black denim, two fixed handles, and an internal slip pocket to help bring your things around town.
Best for: A country look that'll age like a fine wine.
Color: Black
Belstaff Touring: Best men's leather tote bag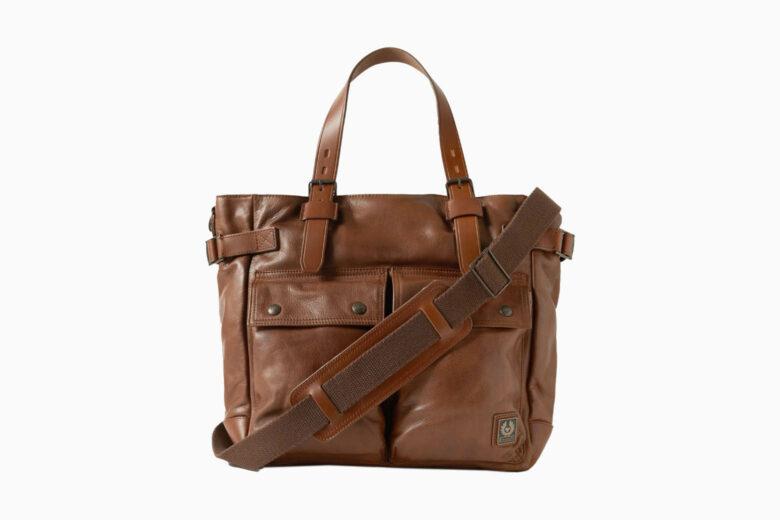 This men's leather tote bag features an eye-catching look reminiscent of vintage leather aviator helmets. The supple full-grain leather is paired with multiple exterior pockets, adjustable handles, and a detachable strap.
The Belstaff Touring Leather Tote Bag is an excellent choice for those who want a versatile tote bag made from leather.
Best for: The throwback king who wishes they were born decades ago.
Color: Brown
Mismo Herringbone: Best canvas tote bag for men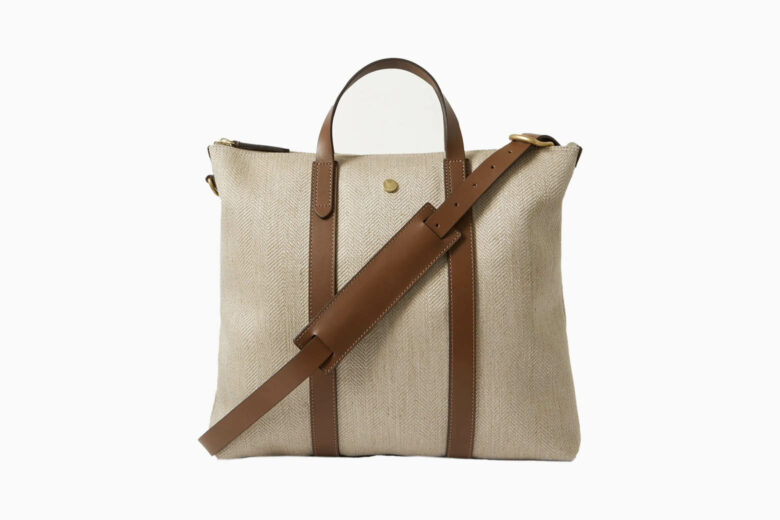 By combining a leather base and accents with beige cotton canvas, this tote bag for men brings style to the forefront.
The quality materials and craftsmanship of the Mismo Herringbone Cotton Canvas make for excellent use around town or a great carry-on tote bag.
Best for: If you have to have it all.
Color: Beige
Craighill Arris: Best nylon tote bag for men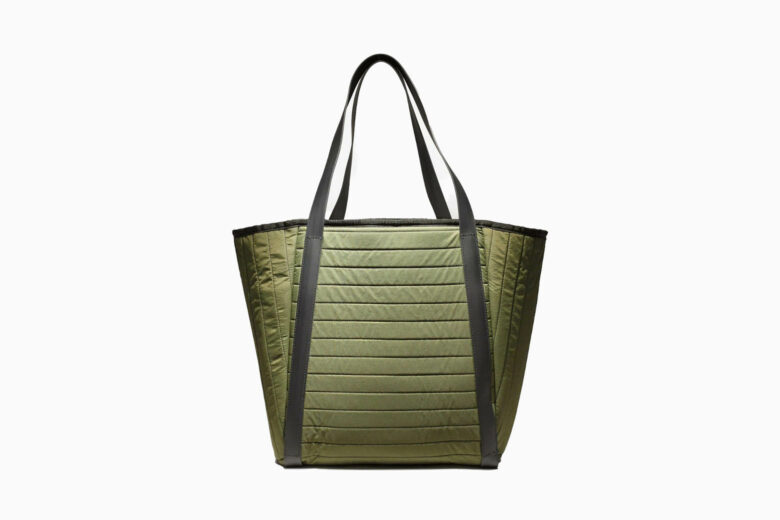 Are you an adventurous soul always plotting your next escape? Then this waterproof tote bag is for you. The quilted nylon provides a lightweight and flexible carry solution that is ready to tackle any outing from the beach to the corner store.
The Craighill Arris Tote is comfortable and roomy, making it one of the best tote bags for men.
Best for: The trail-blazing, rain-soaked adventurer-lover.
Colors: Black, Goldenrod, Moss, and Rust
Lululemon Nylon: Best sporty waterproof tote bag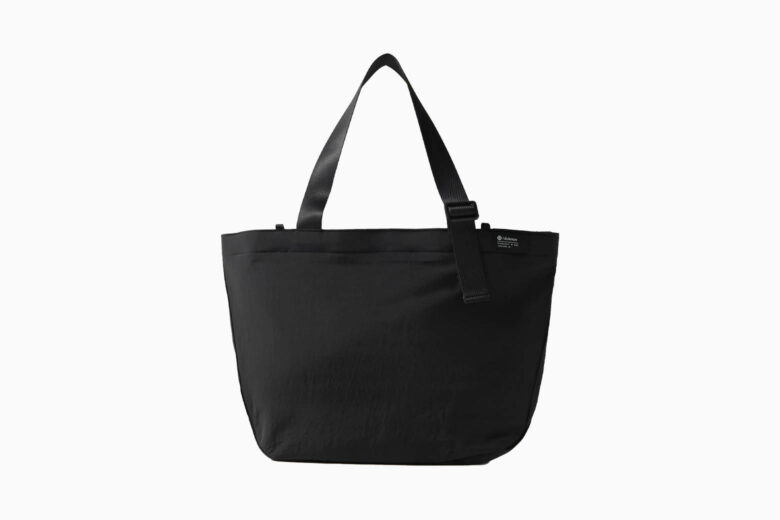 Gym rats know all about Lululemon's quality products. Now you can add another one to the list that's worth adding to your cart.
The Lululemon Nylon Tote Bag is our favorite sporty tote bag for men. It holds its own against our list of the best gym bags for men. The recycled nylon fabric provides a mostly waterproof tote bag that is perfect for the gym or for anywhere else around town.
Best for: The gym rat's gear holder.
Color: Black
Troubadour Bivy: Best tote backpack for men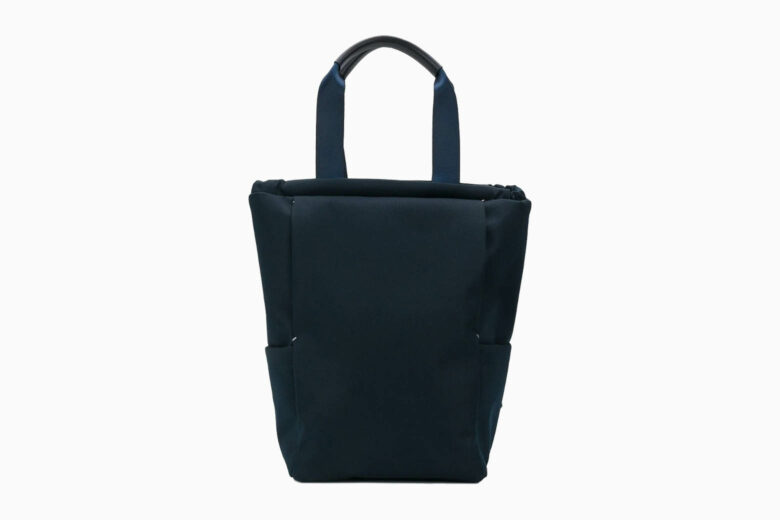 Sometimes you have to keep your hands free. That's when a tote backpack comes in handy. This one gives you the choice between handles when you want easy access or adjustable shoulder straps ready for the long haul.
Made from quality nylon, the Troubadour Bivy Tote Backpack comes from an ethical brand that you can be proud to support.
Best for: The Bluetooth of tote bags, now handsfree!
Color: Navy Blue
Calpak Compakt: Best budget tote bag for men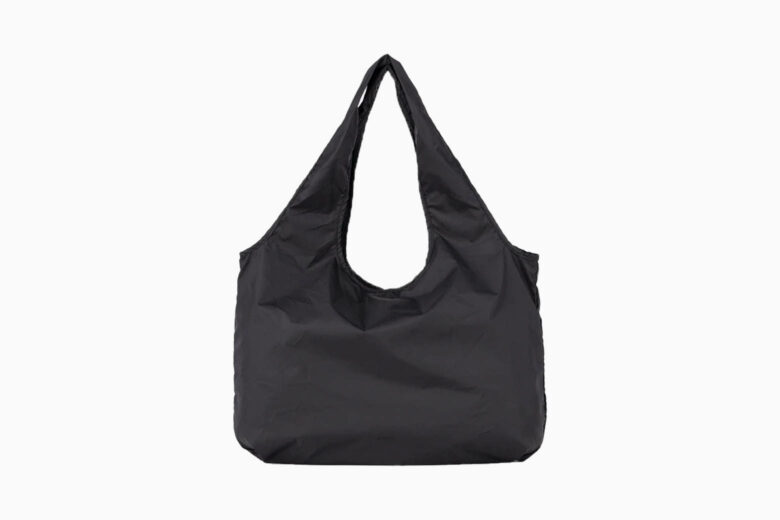 Keeping an extra bag on hand has never been easier. This affordable tote bag packs into itself and can fit in your pocket. Now you'll never have to buy another reusable bag when you're on the go.
The Calpak Compakt Tote Bag features a small interior pocket and is made using ripstop fabric.
Best for: Keeping your things, and your money.
Colors: Black, Mauve, and Cheetah
Frequently asked questions about tote bags for men