To say a tactical watch is useful is an understatement. The best tactical watches can save your life. If you're competing in an IronMan, lost in the Australian bush, or trying to navigate a mountain range in a blizzard, you need a watch that's up to the challenge. This is where tactical watches step in.
Tactical watches have countless features to keep you on the move at all altitudes, across all terrains, and in all weather.
These are the ultimate tough timepieces. Heavy-duty and highly specialized, they are designed for use by everyone from military professionals to amateur survivalists, marathon runners to first responders, and mountain climbers to mountain bikers.
Tactical watches put function first. They are the ultimate companions for extreme sports enthusiasts and crime fighters. They are military-grade, rugged, and resistant, able to withstand the harshest conditions, travel across the most unforgiving landscapes, and emerge at the end unscathed.
Despite being feature-heavy, the best tactical watches are also designed to not be too cumbersome or clunky on your wrist. They combine next-level durability and the best modern technology while looking sleek and serious on your wrist.
In a rush? Here are the absolute best watches on our list:
The 15 Best Tactical Watches
From the best budget tool watch to the most expensive military timepiece, here are the best tactical watches available today.
Check below our listing to see exactly what to look for when shopping for a military watch and how to wear a tactical watch the right way.
Suunto Core Military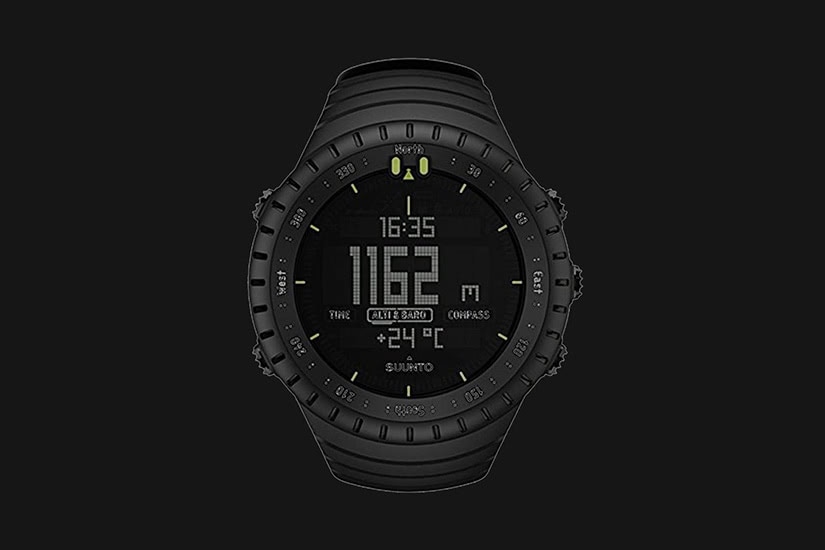 A tactical watch is just as much of an essential for adventurers and explorers as a penknife, first aid kit, or any other survival tool.
The Suunto is a great example of how wearing a tactical watch might ensure your mission's success—whether hiking remote mountain trails or cross-country skiing.
It features an altimeter to track your progress on mountain ascents and descents. The barometer detects changes in air pressure while the storm alarm informs you of any sudden drops and approaching bad weather. This is one of the best tactical watches with a compass too.
Finally, you can pre-set the sunrise and sunset times for over 400 different locations, so you can plan your activities and make the most of the light each day.
When you consider quality and price, the Suunto Core Military is one of the best value tactical watches out there.
Best for: best budget tactical watch for avid hikers.
| | |
| --- | --- |
| Case size: | 49.1 millimeters |
| Material: | carbon fiber |
| Movement: | quartz |
| Water resistance: | up to 30 meters |
Vincero's The Outrider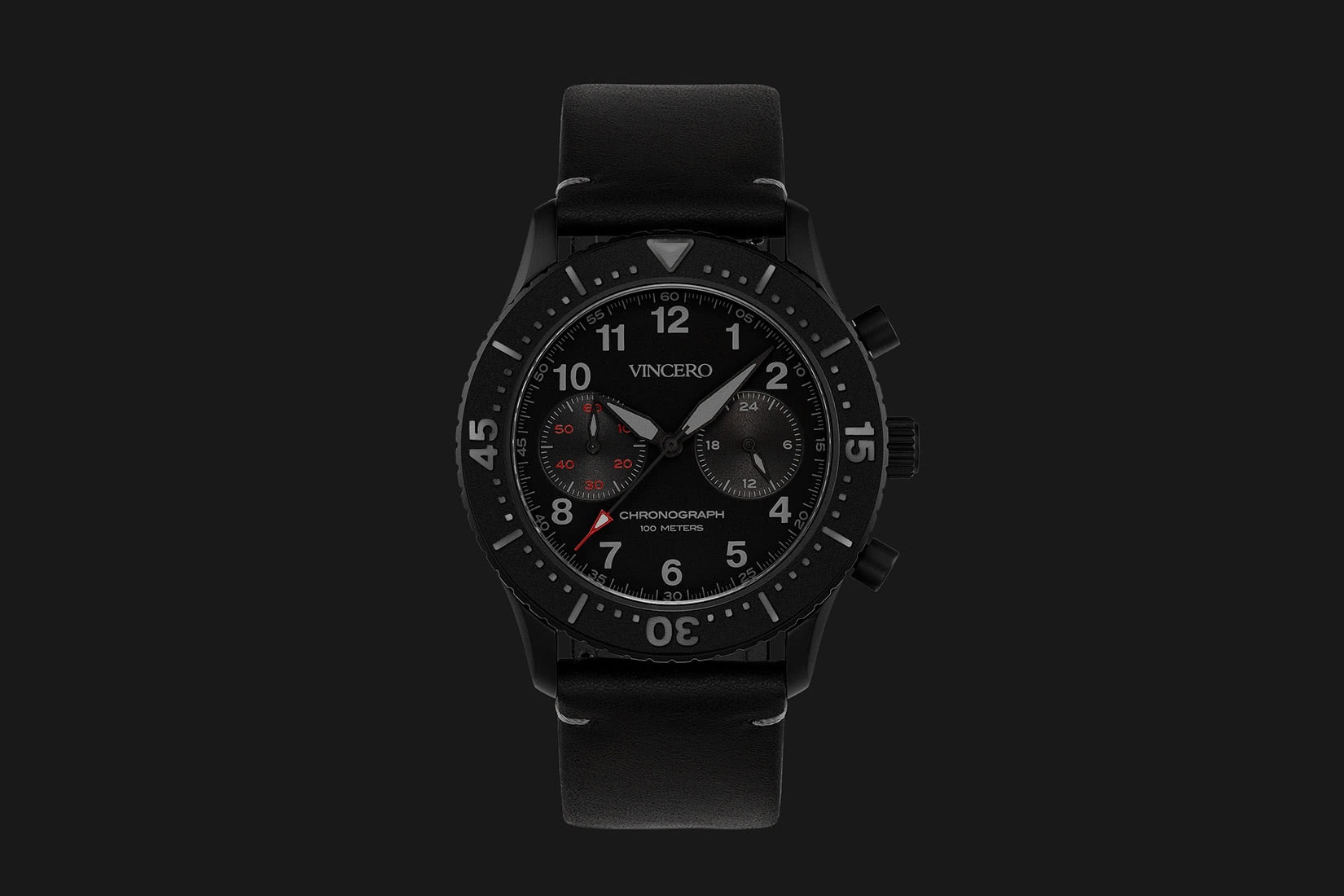 If your idea of the perfect tactical watch is something that is sleek and discreet yet functional and trustworthy, the Vincero Outrider is what you're looking for.
The case is made from durable surgical stainless steel with a light-absorbing matte black finish, so you don't attract any unwanted attention when moving in dark places. The hands, inner bezel, and dial numbers are all finished in dark grey with Swiss-made Lume coating so you can accurately tell the time, whatever the circumstances.
On the inside, you'll find a trusty Seiko Mechanical Quartz movement. It's silent yet highly effective. This hybrid "mecha-quartz" movement is used in many luxury watches retailing at premium price points. It offers one of the highest degree of time accuracy available on the market today. With Vincero, you get the same performance at a much more affordable price point.
The watch is water-resistant up to 100 meters and available in various color combinations. Other Vincero models like the Chrono S and the Altitude could also be a great match for you if you want a different look while maintaining a rugged aspect. Check our Vincero watches review to see how their different models compare.
Best for: serious survivalists seeking the best modern tactical watch.
| | |
| --- | --- |
| Case size: | 41 millimeters |
| Material: | 316L surgical stainless steel, the strap is made of single-stitch Italian top-grain leather |
| Movement: | Seiko Mechanical Quartz |
| Water resistance: | up to 100 meters |
IWC Schaffhausen TOP GUN Automatic Chronograph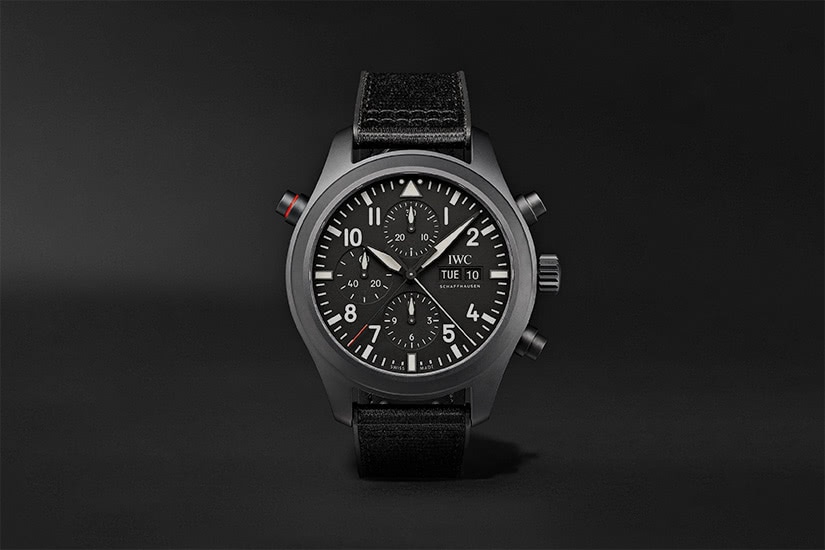 This tactical watch by pioneering luxury watch brand IWC Schaffhausen certainly looks the part. With its matte black case, black dial, and chunky fit, it's exactly the kind of watch you could imagine being worn by any of the cast of the 1986 riveting action classic after which the watch is named.
The Top Gun movie is famous for its exhilarating aerial footage, and, like the other models by aviation specialist IWC, this watch also draws its inspiration from fighter planes. It is designed to deliver precise and reliable timekeeping up in the skies.
This is the brand's first pilot's watch to be made with a Ceratanium case, a patented material that combines the lightweight durability of titanium with the scratch-resistant sturdiness of ceramic. It also has a soft-iron inner case to protect the movement from disruption by magnetic fields.
The caliber 79420 features the very best of Swiss craftsmanship, as well as a 44-hour power reserve. The IWC Top Gun also comes with a double chronograph allowing you to simultaneously time two separate events.
Best for: action movie fans seeking an equally adventurous watch.
| | |
| --- | --- |
| Case size: | 44 millimeters |
| Material: | Ceratanium case |
| Movement: | mechanical automatic |
| Water resistance: | up to 60 meters |
Bell & Ross Black Camo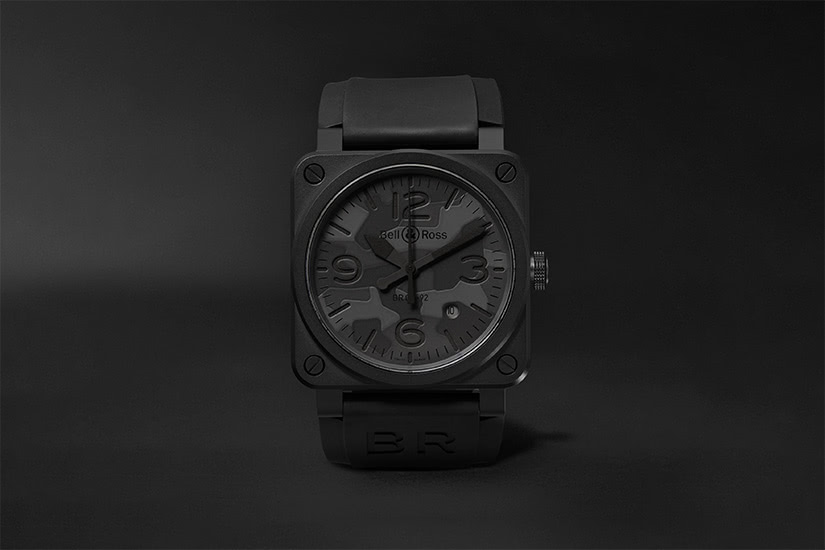 First impressions of the Bell & Ross Black Camo watch are impressive. Nothing says heavy-duty quite like that square black case, black dial, and black strap. It certainly has the no-frills and no-messing-around vibe you'd associate with a serious tactical watch.
And once you look closer, you'll discover that the Bell & Ross Black Camo really is the perfect package for any devoted outdoorsman. The team over at Bell & Ross has developed a military-type tricolor coating for the watch face that reduces the risk of reflection and therefore detection. Just in case you're undercover.
The watch also has a matte-black ceramic case. Ceramic is an unusual but perfect choice, being sleek, scratch-proof, and lightweight. Meanwhile, the display is a scratch-resistant sapphire crystal and the strap is rubber and synthetic—hard-wearing and long-lasting.
Finally, this model is one of the best minimalist tactical watches out there. You could probably get away with wearing it with casual or even formal attire. This is great if you frequently go straight from a workout to the office and want a timepiece to make that transition as effortlessly.
Best for: a survival-orientated watch that also feels high-end.
| | |
| --- | --- |
| Case size: | 42 millimeters |
| Material: | ceramic |
| Movement: | mechanical automatic |
| Water resistance: | up to 100 meters |
Casio G-Shock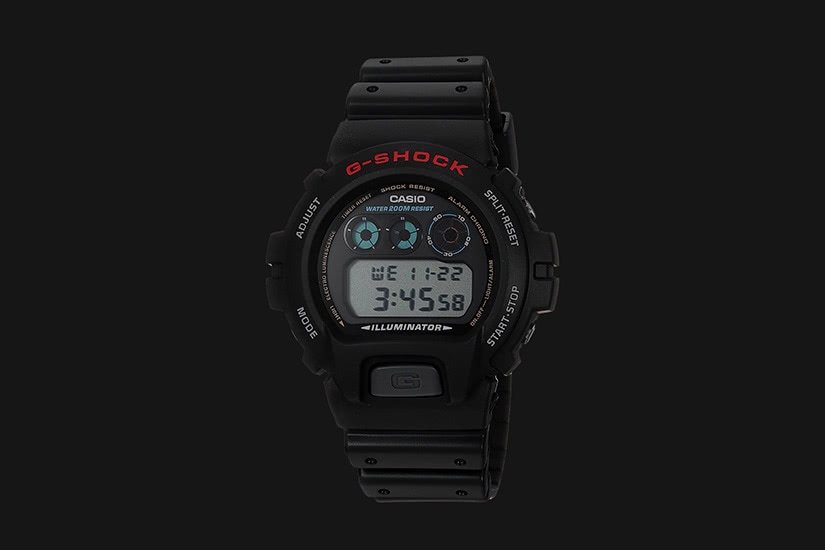 You're setting off for a weekend into the great outdoors and you need something on your wrist that you can rely on—whether you're heading out on a jungle trek, going skiing, or simply planning to enjoy an off-road ride in a luxury SUV. 
The Casio G-shock was born from a desire to create the most durable and robust watch in the world. As the name suggests, this watch is completely shock-resistant, and protected against any impacts and vibrations. It's also resistant to gravity, electrical shocks, and low temperatures.
This is one reason that it has become the firm favorite of military personnel and law enforcement agents around the globe. It's also water-resistant up to 200 meters, so you can wear it swimming and surfing—or just in the shower.
The EL Backlight with Afterglow function means the time is legible in the dark. The watch also has a 1/100-second stopwatch and a countdown timer.
The G-Shock 6900-IV is also a popular model thanks to its unobtrusive contemporary design which is highly versatile. Indeed, it wouldn't look out of place worn with a smart shirt and suit for a business meeting—an additional perk.
Thanks to its durability, high quality, and multitude of extra features—all at a great price—the Casio G-Shock is the best overall tactical watch on our list.
Best for: adventurers wanting something they can wear both in the bush and the boardroom.
| | |
| --- | --- |
| Case size: | 44.6 millimeters |
| Material: | resin |
| Movement: | quartz |
| Water resistance: | up to 200 meters |
Luminox Navy Seal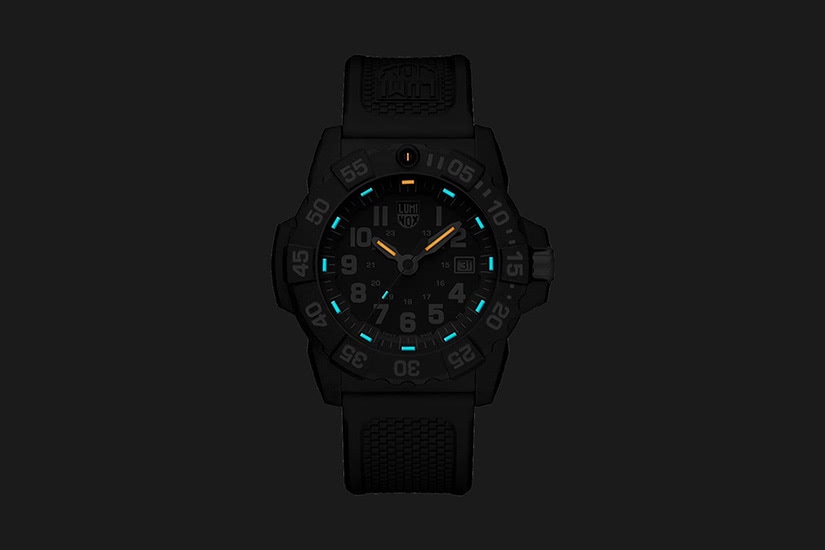 If there's anyone who knows about being prepared for all eventualities, it's a Navy Seal. These military professionals have to endure the most challenging conditions on their missions around the world. And so this Luminox watch's association with some of the toughest servicemen out there has already partly won our vote of confidence.
Need more convincing? What if we told you this timepiece features Luminox's cutting-edge self-powered illumination system, which doesn't require exposure to a light source or the pressing of a button. Instead, light comes from self-powering tritium gas capsules that last 25 years, making the watch readable in any situation.
The watch is made from a lightweight and sturdy carbon compound, rugged in shape, and has a rotating bezel like all dive watches. It's water-resistant up to 200 meters with a screw-on casebook and double-security gasket crown.
The Luminox Navy Seal series has created quite a fuss in the world of horology. But when you see what these watches are capable of, it's clear the hype is well-founded. You may not regularly be engaging in military warfare and enemy assaults, but even so, it's good to be prepared. With a Luminox Navy Seal on your wrist, you definitely will be.
Best for: anyone who dreams of exhilarating missions in remote and rugged terrain.
| | |
| --- | --- |
| Case size: | 45 millimeters |
| Material: | CARBONOX™ |
| Movement: | quartz |
| Water resistance: | up to 200 meters |
Tag Heuer Aquaracer Calibre 5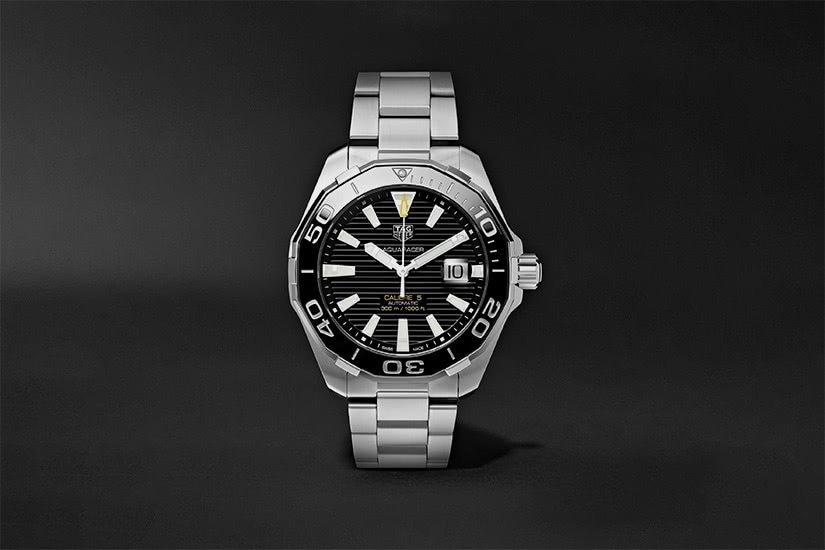 Tag Heuer's brand slogan is Don't Crack Under Pressure, which says it all really. This is the kind of tactical watch that will see you through every extreme scenario. Whether you're scuba diving in the tropics or motorbiking through remote wilderness, you can depend on the watch's reliable and robust Calibre 5 automatic movement to keep you on track.
It's a professional diving instrument, water-resistant to 300 meters, but even if you're more of a land-based sportsman, this is a great choice.
The display is made from scratch-resistant and anti-reflective sapphire crystal and the bracelet is steel, with a safety clasp to stop it from accidentally opening. Durable materials, a 38-hour power reserve, and luminous hands and markers for low-light visibility also make the Aquaracer a top tactical watch.
It's an intuitive timepiece to use, with all the functions necessary for an avid outdoors fan.
And it wouldn't look inappropriate paired with a suit. All in all, the Tag Heuer Aquaracer Calibre 5 is the perfect multifunction watch, and one of the best premium tactical watches on our list.
Best for: fashion-conscious outdoorsmen seeking a combination of form and function.
| | |
| --- | --- |
| Case size: | 43 millimeters |
| Material: | stainless steel |
| Movement: | quartz |
| Water resistance: | up to 300 meters |
Casio Pro Trek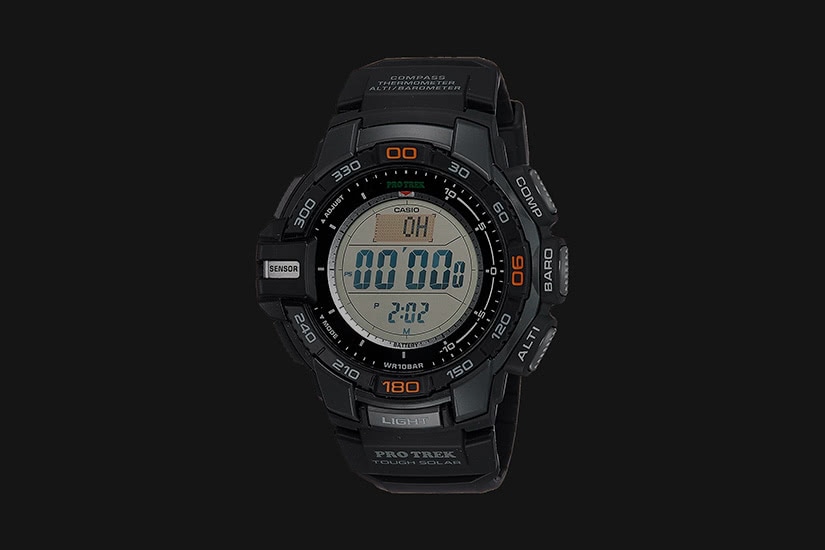 Consider yourself a bit of an adrenaline junkie? Happiest when you're out in nature, hiking, climbing, swimming, or engaging in any other heart-pumping pursuit?
Then you need a watch that can keep up with your own inexhaustible lust for adventure. Casio has you covered with the Pro Trek sports watch. This series of timepieces was designed especially for those who enjoy the rugged outdoorsy lifestyle.
The PRG270 incorporates Casio's TripleSensor Version 3 engine, which is more accurate and energy-efficient than previous models. It's battery-powered and the battery is recharged by a solar panel built into the watch face. But don't worry if you don't live in the sunniest of climes. These watches can stay fully functional for up to 23 months without exposure to light.
The buttons are large and easy to access so you can get all the information you need from your watch without any fumbling. The Casio Pro Trek also has a backlight, countdown timer, thermometer, digital compass, altimeter, and barometer. It's the full package, basically.
Best for: wilderness lovers looking for the ultimate wearable toolkit.
| | |
| --- | --- |
| Case size: | 52 millimeters |
| Material: | resin |
| Movement: | quartz |
| Water resistance: | up to 100 meters |
Garmin Tactix Bravo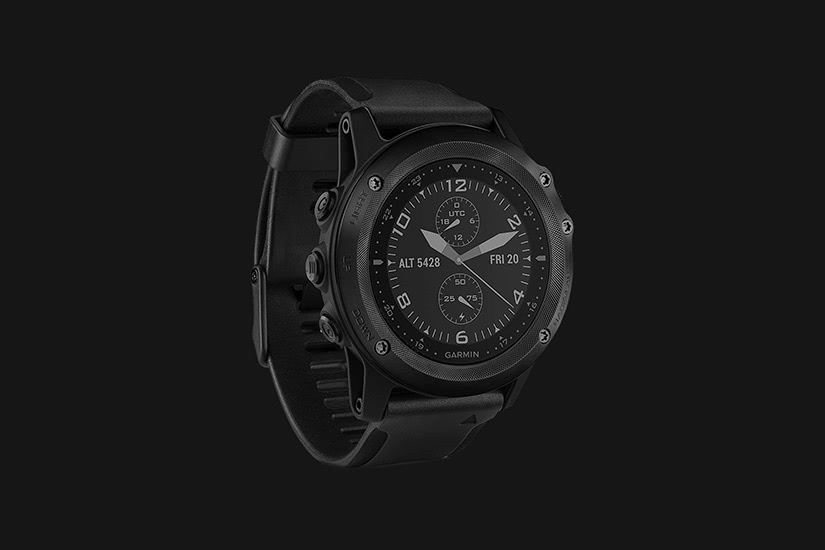 If your idea of fun is heading out into the wilderness with just a rucksack and your own cunning to rely on, then you need a watch that's just as resourceful to keep you company.
Garmin has stepped up to the challenge with the Tactix Bravo that has all the tactical features you'd expect with a name like that.
For example, navigation and tracking functionalities and a 3-axis electronic compass help you find your way. Sensors provide information on elevation and weather changes. Night-vision mode means it can be used alongside night-vision goggles. And Smart notifications mean you can receive any emails, texts, and alerts that come through to your phone.
More interested in training and fitness than explorations and expeditions? This is also a great sports watch, with the ability to track activities such as golfing, cycling, swimming, and hiking, and also to keep a record of your pace and calories burnt.
This is a multifunctional and extremely durable watch. And, when all's said and done, the Garmin Tactix Bravo also looks nice and is comfortable enough to be worn every day.
Best for: adventure lovers and outdoor pursuits fans looking for an everyday wear.
| | |
| --- | --- |
| Case size: | 51 millimeters |
| Material: | fiber-reinforced polymer |
| Movement: | quartz |
| Water resistance: | up to 100 meters |
Panerai Submersible Marina Militare Carbotech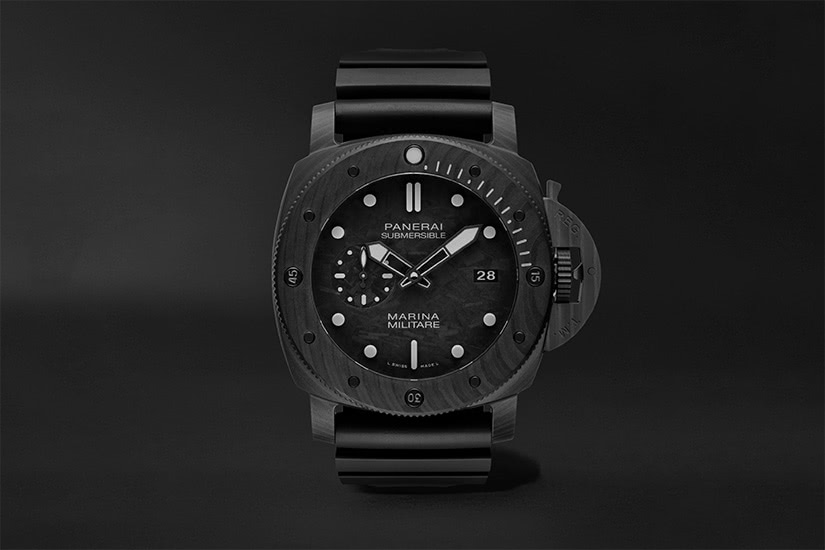 Panerai's Submersible is, like the name suggests, a dive watch. But even if you prefer to keep your feet on the land, this is an exceptional tactical watch for any outdoor pursuits fan.
Panerai used to supply watches to Italian Navy commandos, so they know what they're talking about when it comes to military-grade timepieces. The name Marina Militare is a nod toward the brand's nautical past.
But make no mistake, this is a thoroughly modern tactical watch with its eye trained on the future. Firstly, it's made from Carbotech composite, a material based on carbon fiber, lighter than ceramic, and also hypoallergenic and corrosion-resistant.
Meanwhile, the case back is lightweight titanium, and the strap is made from super durable rubber. The watch has luminous hour markers and dots for night-time legibility, and the rotating bezel allows your times of water immersion to be accurately calculated.
Although it's the most expensive tactical watch on our list, this is a function-packed timepiece for those who like to live life on the edge, and one of the best rugged watches available.
With its striking jet-black profile, we think the Panerai Submersible Marina might even look good peeking out from under a dress shirt.
Best for: the hardcore adventurist with a taste for life's finer things.
| | |
| --- | --- |
| Case size: | 47mm |
| Material: | Carbotech |
| Movement: | mechanical automatic |
| Water resistance: | up to 300 meters |
Timex Expedition Shock XL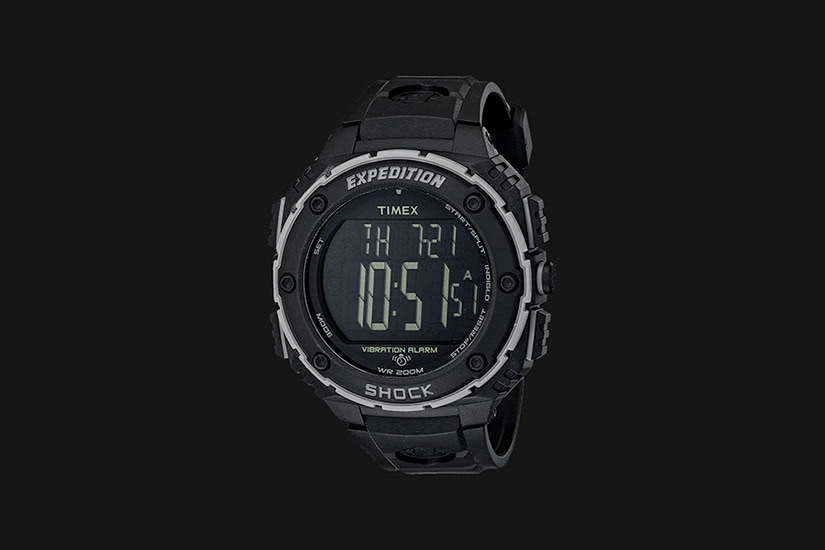 Planning a holiday exploring the remote countryside? Or perhaps an expedition up a mountain? Then you're the kind of amateur adventurer that Timex had in mind when it came up with the Expedition Shock XL.
This digital watch was built for those who enjoy getting off the beaten path and relish physical challenges. Made of a hardened resin, it's shock-resistant to I.S.O. standards, making it the perfect hard-wearing and long-lasting timepiece to accompany you on your pursuits.
For fitness fanatics, you can track your personal bests using the chronograph function. The Indiglo backlight, Timex's own revolutionary lighting technology, allows you to tell the time even after nightfall.
And when morning arrives, you can ensure you don't oversleep and miss your dawn mission using the customizable vibrating alarm. There are also two time zone settings, great for jet setters and backpackers.
The Timex Expedition Shock XL also boasts an incredibly reasonable price for a watch as packed full of functions as this, making this one of the best budget-friendly tactical watches available.
Best for: outdoorsmen looking for a tactical watch under $100.
| | |
| --- | --- |
| Case size: | 50 millimeters |
| Material: | resin |
| Movement: | quartz |
| Water resistance: | up to 100 meters |
Marathon TSAR Military Diver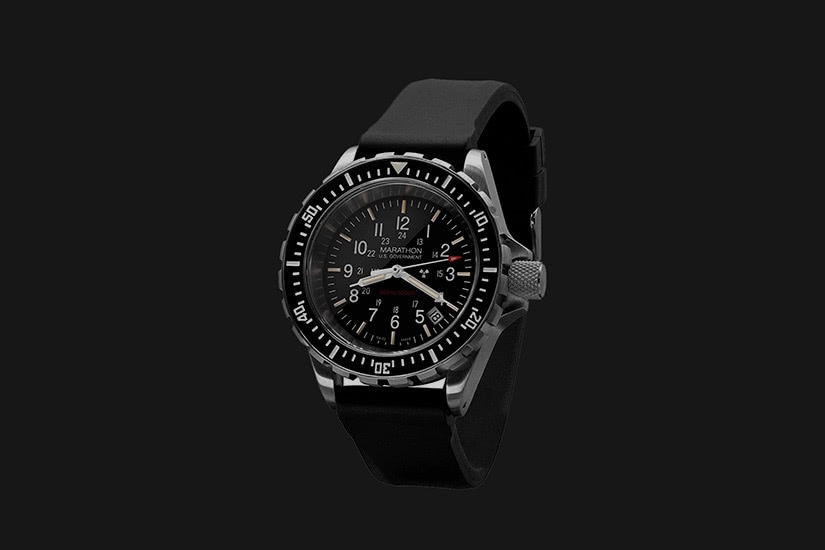 Looking for something that can withstand the laws of nature? Something as intrepid and daring as you? Marathon hears your pleas and presents to you this military-spec diver's watch to meet all your outdoor needs.
When we say military-spec, we mean it. The Marathon TSAR has been built to government specifications with the express purpose of being used by military personnel—Search and Rescue divers, specifically. It doesn't get any more serious than this.
Even if you're not a diver, this is a great tactical watch. It's made from 316L surgical grade stainless steel, the ideal rust, and corrosion-resistant material, while also being anti-allergic and hard-wearing.
The display is synthetic sapphire—the ultimate scratch-resistant material. The Marathon TSAR Military Diver also features self-illuminating technology with tritium gas tubes that glow without needing to be charged, enabling readability even in low light situations.
The high torque quartz movement is Swiss-made, offering the highest level of precision. Meanwhile, the end-of-life indicator means you'll get lots of warning before your battery dies, so no danger of it going in the middle of an important mission.
Best for: combining army-standard durability with impeccable Swiss craftsmanship.
| | |
| --- | --- |
| Case size: | 41 millimeters |
| Material: | stainless steel |
| Movement: | quartz |
| Water resistance: | up to 300 meters |
SMAEL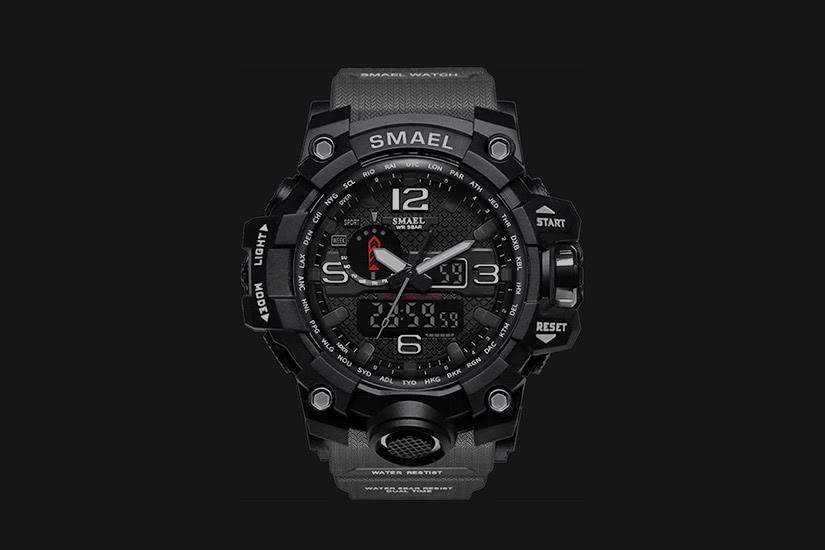 When you first see the price tag of SMAEL's quartz sports watch, you'd be forgiven for thinking it can't be any good. But on closer inspection, this budget-friendly tactical watch has everything you might need in a great military watch—without the price tag.
It's the perfect watch for fitness enthusiasts, with a 1/100 second stop-watch to help you beat your personal bests. And the alarm clock means you'll never sleep through a training session.
It's also the ideal tool watch, with a backlight for night reading, water-resistance up to 50 meters, and has a hard-wearing stainless steel and PU plastic case. It also has a 12/24 hour format and can track a second time zone, making it ideal for traveling.
This is a great everyday watch. With its ultra-masculine black profile, the perfect stealth color, the SMAEL tactical watch looks most natural with outdoor gear. But it could also look pretty cool with a casual bomber jacket.
Best for: multifunctional without the price tag.
| | |
| --- | --- |
| Case size: | 50 millimeters |
| Material: | stainless steel |
| Movement: | quartz |
| Water resistance: | up to 50 meters |
Suunto Traverse Alpha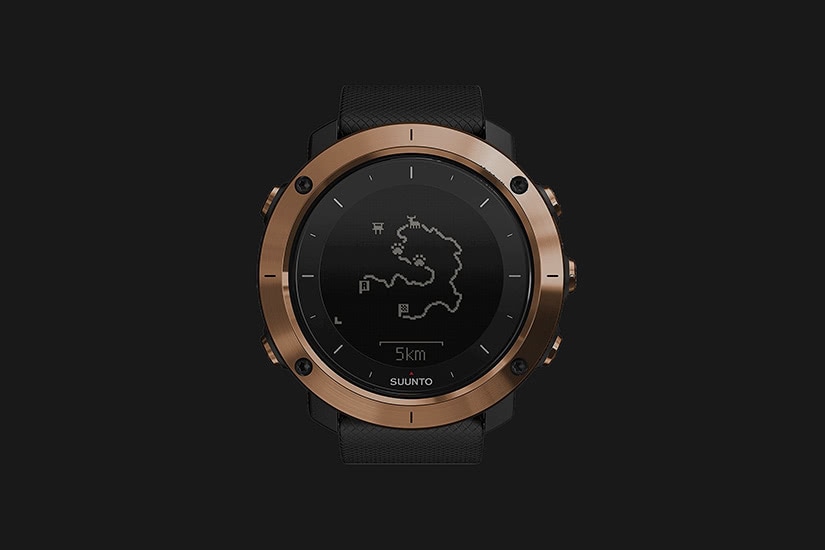 From Finnish sport and smartwatch manufacturer Suunto comes the Traverse Alpha. This is the ideal tactical watch for hunting and fishing with its automatic shot detection technology that keeps track of when and where you take a shot, tracking the GPS coordinates so you can check back later.
But even if you've never wielded a gun or held a fishing rod, this is a good choice for any adventurer who's happiest with their hiking boots on, out in the wild, far from civilization.
This is a tactical watch that takes its job seriously. GPS technology tracks your path. A location-based moon phase feature tells you the moon rise and set times. There's a red backlight that's compatible with night-vision goggles, and there's also a built-in flashlight for other night-time activity.
The timepiece is water-resistant to 100 meters and made of a hard-wearing composite with a sapphire crystal lens and durable nylon strap. And then there's that rugged and robust knurled stainless steel bezel. The Suunto Traverse Alpha is certainly a watch that means business.
Best for: hunters and anglers looking for a high-tech companion.
| | |
| --- | --- |
| Case size: | 50 millimeters |
| Material: | composite |
| Movement: | quartz |
| Water resistance: | up to 100 meters |
Luminox Recon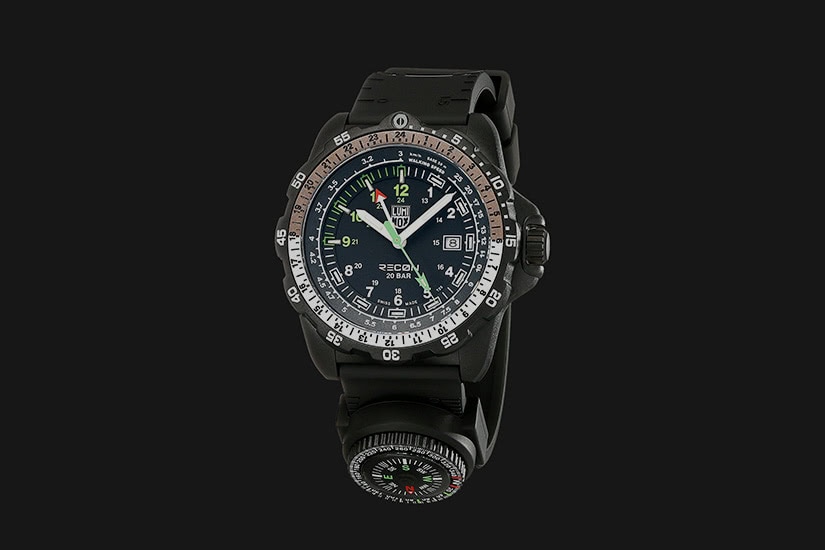 Another model by Californian watchmaker Luminox, this tactical watch with compass is part of a series designed for reconnaissance teams heading into enemy territory.
But whether you really are on a military mission or just simply out and about exploring, then this is the ideal tactical watch. It's impressively durable and boasts a two time zone function and a magnetic compass on the strap, which can be removed if necessary. The strap also has markings so you can use it as a ruler. Nifty.
The watch has a walking-pace tachymeter which can determine your walking speed. This is useful if you're out with your team in hostile territory and need to know how quickly you can get to a safe house. But it's also useful if you just want to know how soon before you get home for dinner.
While tactical watches tend to be on the bulky side, the Luminox Recon is fairly sleek and pared-back and could lend a bit of personality to a business casual attire.
Best for: wannabe servicemen looking for a military-style timepiece.
| | |
| --- | --- |
| Case size: | 46 millimeters |
| Material: | resin |
| Movement: | quartz |
| Water resistance: | up to 200 meters |
High-end tactical watch buying guide: What to look for when shopping for a military watch
When you're shopping for a military watch, there are a lot of features you want to pay attention to:
Barometer – measures atmospheric pressure, allowing you to predict changes in weather
Compass – invaluable tool for anyone in the wild
Altimeter – measures altitude, useful for navigating mountains or cross-country
Luminescence – does it self-illuminate or have backlighting?
Alarm – you don't want to sleep in late when you're on a dangerous mission
Thermometer – monitor external temperature so you know whether you're drinking enough water or wearing suitable gear
GPS – great for distance tracking if you're running, cycling, hiking, or skiing
Tachymeter – measures speed based on the time traveled over a certain distance
Bluetooth – allows your watch to connect to your phone
Stopwatch – ideal for tracking progress and beating personal bests
Solar charger – converts light into electricity so no risk of the watch running out of battery when you're out in the wild
For tactical watches, you want materials that can withstand shocks and are highly durable as well as waterproof. Movements should also be able to cope with extreme changes in temperature and altitude.
Water-resistant – all tactical watches should be water-resistant
Silicon rubber – comfortable to wear, waterproof, and lightweight
Titanium – very lightweight and incredibly durable, stronger than both gold and steel
Sapphire crystal – strong and scratch-resistant, less chance of shattering or breaking
Some of the top tactical watches are made by big-name brands like Panerai, IWC Schaffhausen, Breitling, and Casio. Others are designed by brands who create watches, especially with outdoor enthusiasts and military professionals in mind, like Suunto.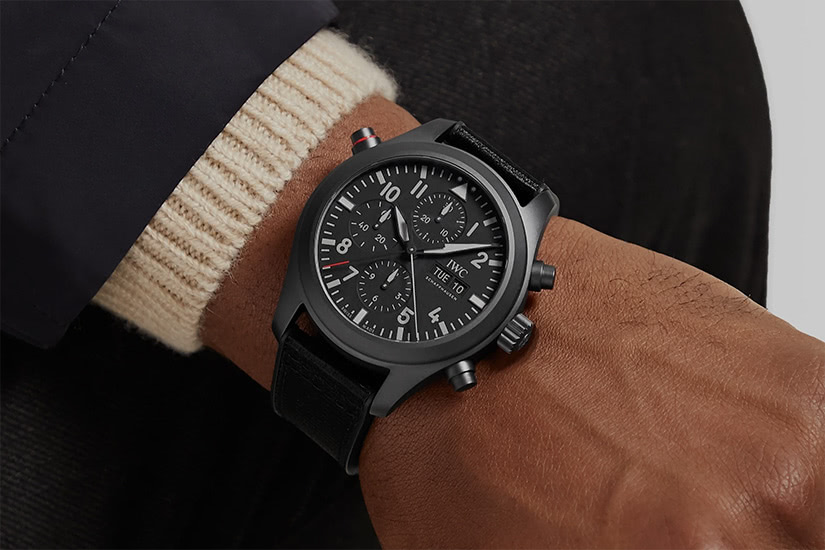 How and when to wear a tactical watch the right way?
You are most likely going to be wearing your tactical watch for certain activities and sports. Tactical watches are designed for use in extreme scenarios, such as up mountains, underwater, in blizzards, or out in the desert. They need to be almost indestructible, able to withstand shocks without breaking, and so their features are designed for use in the wild rather than in the office.
Tactical watches are designed for function, not formal appearance. Therefore, you probably don't want to wear your tactical watch with black-tie or cocktail attire. They are too bulky and conspicuous.
However, some tactical watches are relatively minimalist and could be worn with a suit if you wanted. For example, the Bell & Ross Black Camo.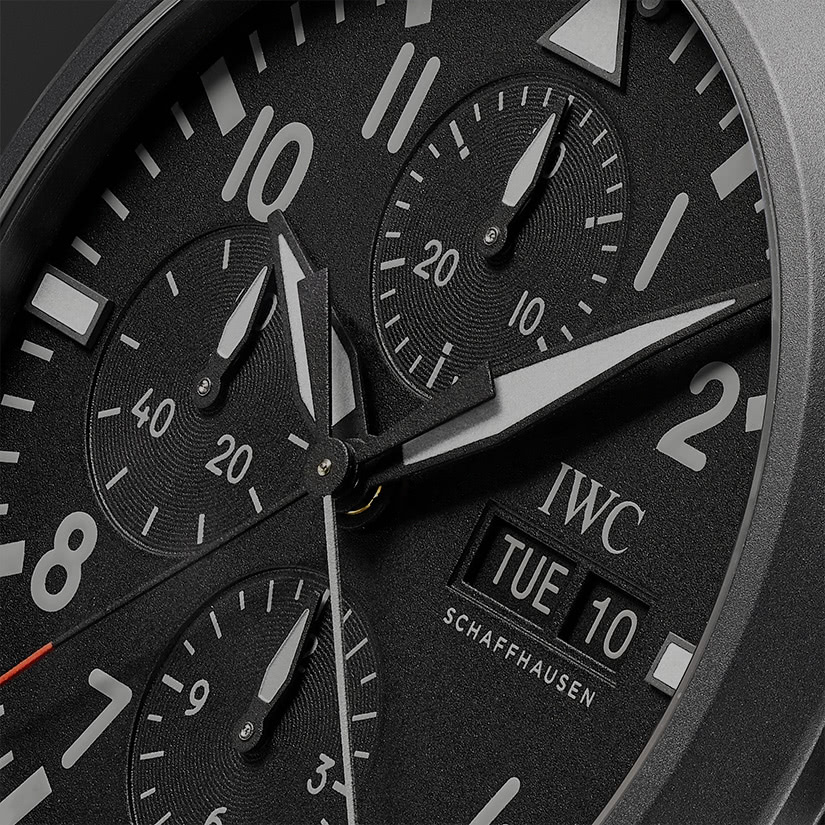 Tactical and military watches: Frequently asked questions