Who invented the trench coat? Two British brands—Aquascutum and Burberry—have both claimed it was them. We couldn't say. But what we do know is that trench coats are one of the most enduringly stylish wardrobe staples, and owning one is pretty much mandatory for any fashion-savvy man.
Originally designed for military wear, the trench coat is the ultimate raincoat, made of impermeable gabardine and with added features like throat latches and storm flaps to keep the water out. Not only are they incredibly practical, but they also capture the elegance and romance of the 1930s silver screen with their association with the spies and wartime heroes of black-and-white movies.
The best men's trench coats offer an aloof kind of cool with their casual tailoring and classic silhouette. Whether double-breasted or single-breasted, belted or unbelted, with or without epaulets, these coats are comfortable, refined, and effortlessly stylish. You can wear them in autumn, winter, spring, and even on cool summer days, and you can fit a blazer underneath for work or team with a hoodie for laidback weekends.
As you can tell, we consider a trench coat one of the best winter jackets around. So we put together a list of the best trench coats for men available today. We've included different types of trench coats, from the best men's Burberry trench coats to innovative offerings from the likes of Dries Van Noten and Gucci, as well as ultra-functional creations designed for the worst of the winter weather.
Channel your inner lieutenant, play at being a hard-boiled detective or capture some of the charisma of Humphrey Bogart as Rick Blaine in Casablanca with one of these timeless trench coats for men.
The 15 best trench coats for men
Check our special men's trench coat buyers' guide after the list to see exactly what you should pay attention to before purchasing a trench coat online.
Burberry Kensington: Best overall men's trench coat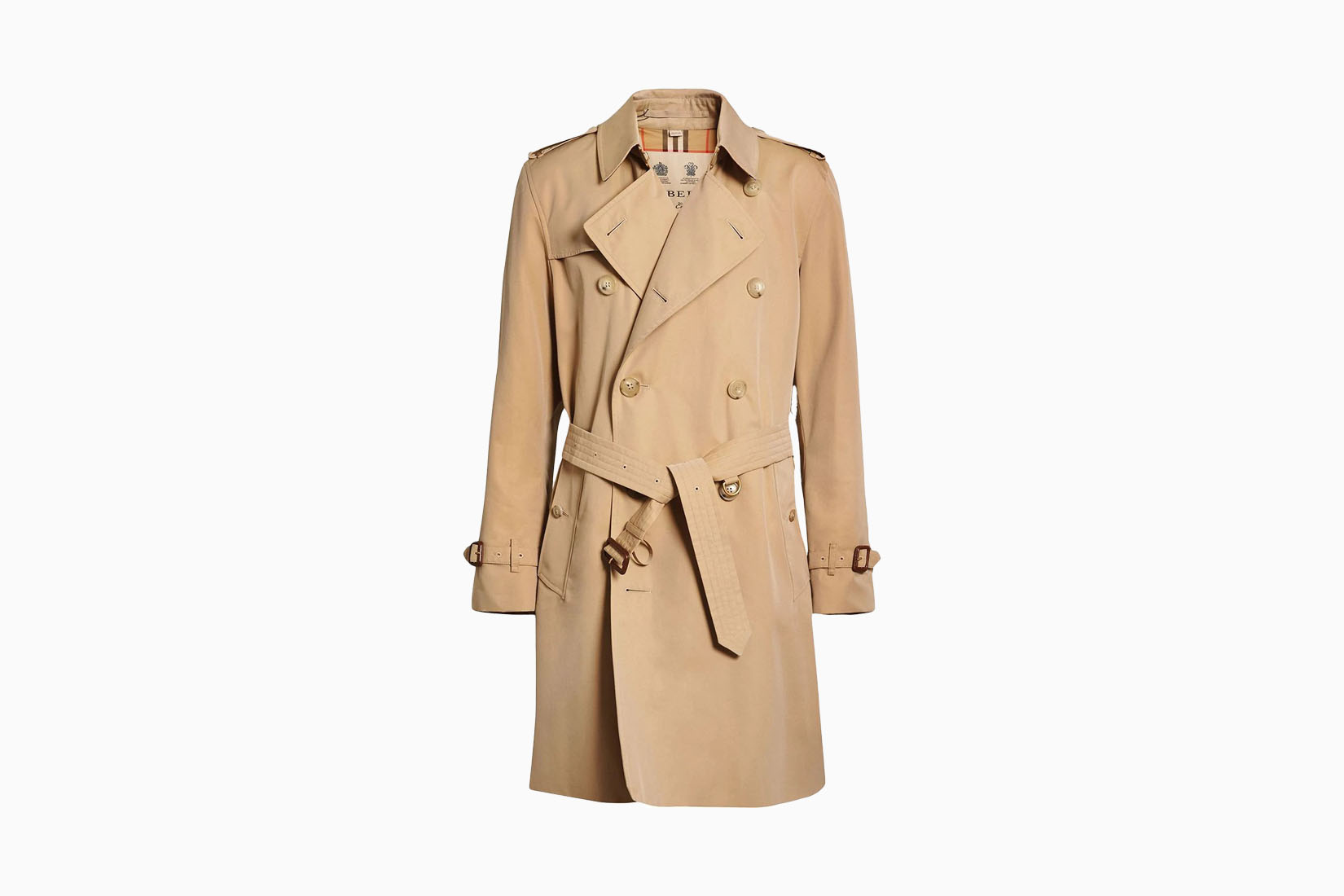 This isn't the original Burberry trench coat, but there's a reason we choose it as our all-time favorite. Without being too tight, this khaki trench coat hugs our figure nicely while still allowing for layering, and the waist is tapered for a cool modern feel.
This men's slim-fit trench coat is made from Burberry's signature gabardine—totally weatherproof. The squared shoulders with epaulets feel smart and professional, but you could equally pair this coat with a t-shirt, denim, and your favorite winter boots for something more easygoing. Pop the collar to reveal that instantly recognizable Burberry print.
This Burberry's fashion trench coat is also part of the Better Cotton Initiative, which aims to grow cotton in a more ethical and sustainable way. As though we needed another reason to buy this English trench coat immediately.
| | |
| --- | --- |
| Best for: | A timeless silhouette with added contemporary fashion flair. |
| Color: | Khaki |
Saint Laurent: Best high-end trench coat for men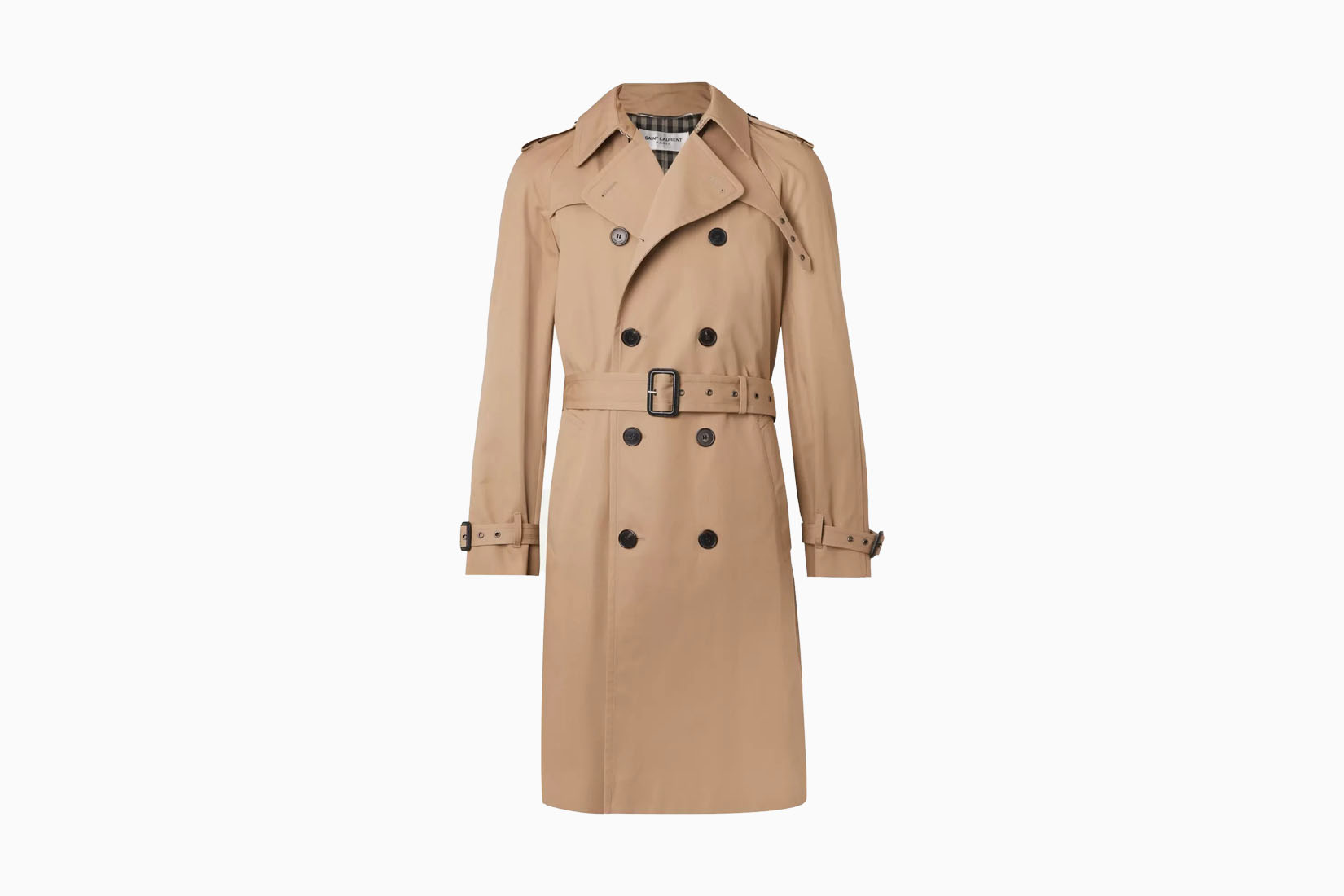 The trench coat is one of Saint Laurent's absolute signature pieces, and the brand nails the iconic style just as well as Burberry.
Back in the 60s, Yves Saint Laurent opened a boutique in Paris known as Saint Laurent Rive Gauche on the city's trendy Left Bank, and this trench coat was one of the brand's staples. So if you want to feel like you're starring in a French art-house movie, then this is the coat for you. Best teamed with a pair of desert boots.
Made from waterproof gabardine, this YSL khaki trench coat features all the essential elements of the best trench coats for men: a throat latch for added protection from the elements, a gun flap to keep the rain out, and buckled cuffs and epaulets for military panache.
| | |
| --- | --- |
| Best for: | Bringing designer decadence to drizzly days. |
| Color: | Khaki |
Springrain: Best value men's trench coat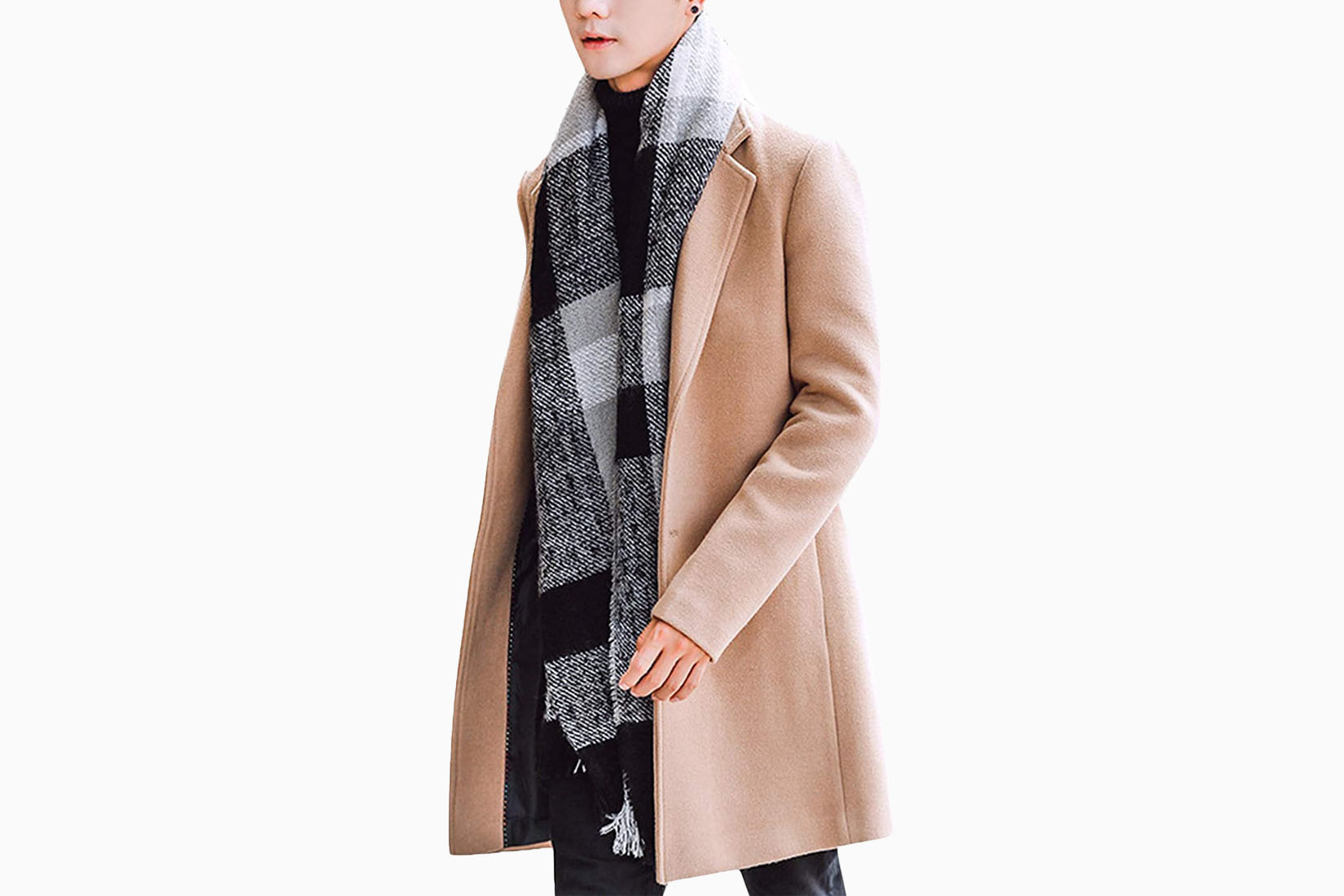 Capture the same cool and cryptic air of the best men's trench coats for a fraction of the price with Springrain.
This jacket is wool like a pea coat but comes in classic khaki, although there's also the option to get it in a number of other eye-catching shades, including a dashing red.
This single-breasted trench coat has a slim and flattering fit with a minimalist 3-button closure, great for a sleek and uncluttered profile. Two pockets are all you need, while the notched lapel is the final finishing touch on this charming vintage-style and budget-friendly trench coat by Springrain.
| | |
| --- | --- |
| Best for: | Channeling retro sophistication without spending your life's savings. |
| Color: | A range including khaki, grey, and black |
The Jacket Maker Royson: Best leather trench coat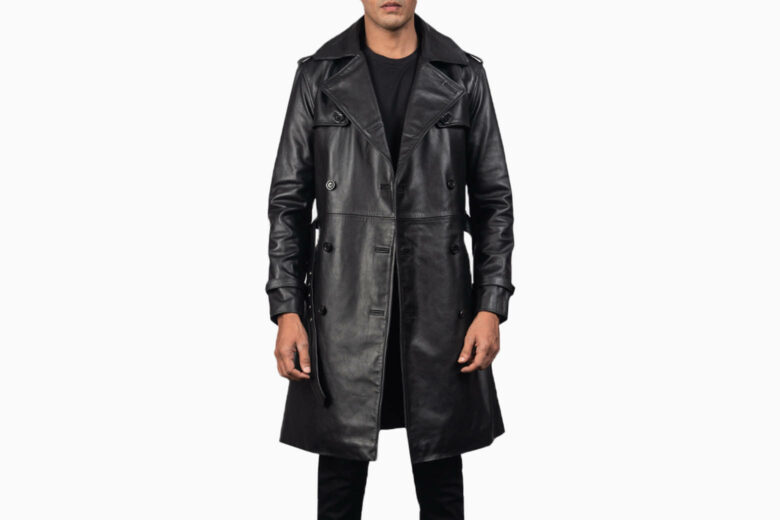 Whether they pioneered "affordable luxury" or merely followed the trend of accessible luxury labels, we can't get enough of this burgeoning brand. Cutting out the middleman, The Jacket Maker launched in 2016 with the sole purpose of creating jackets that were of the highest quality without the exorbitant price tag. And this is exactly what they achieved with the Royson trench.
The genuine cowhide leather is buttery soft, combining suave sophistication with a rebellious attitude. The double-breasted buttons and belt speak to the signature trench silhouette. While the plethora of pockets adds a utilitarian edge—you know how much we appreciate functional fashion.
The black and brown colorways are both effortlessly timeless and endlessly versatile. You can dress it up with a moody black-on-black-on-black ensemble. Or you can style it with relaxed denim and a scarf. Either way, this long leather coat will certainly take you out of the trenches of mundane dad wear.
| | |
| --- | --- |
| Best for: | Digging your way out of the trenches of dad fads. |
| Color: | Black and brown |
Fay: Best navy trench coat for men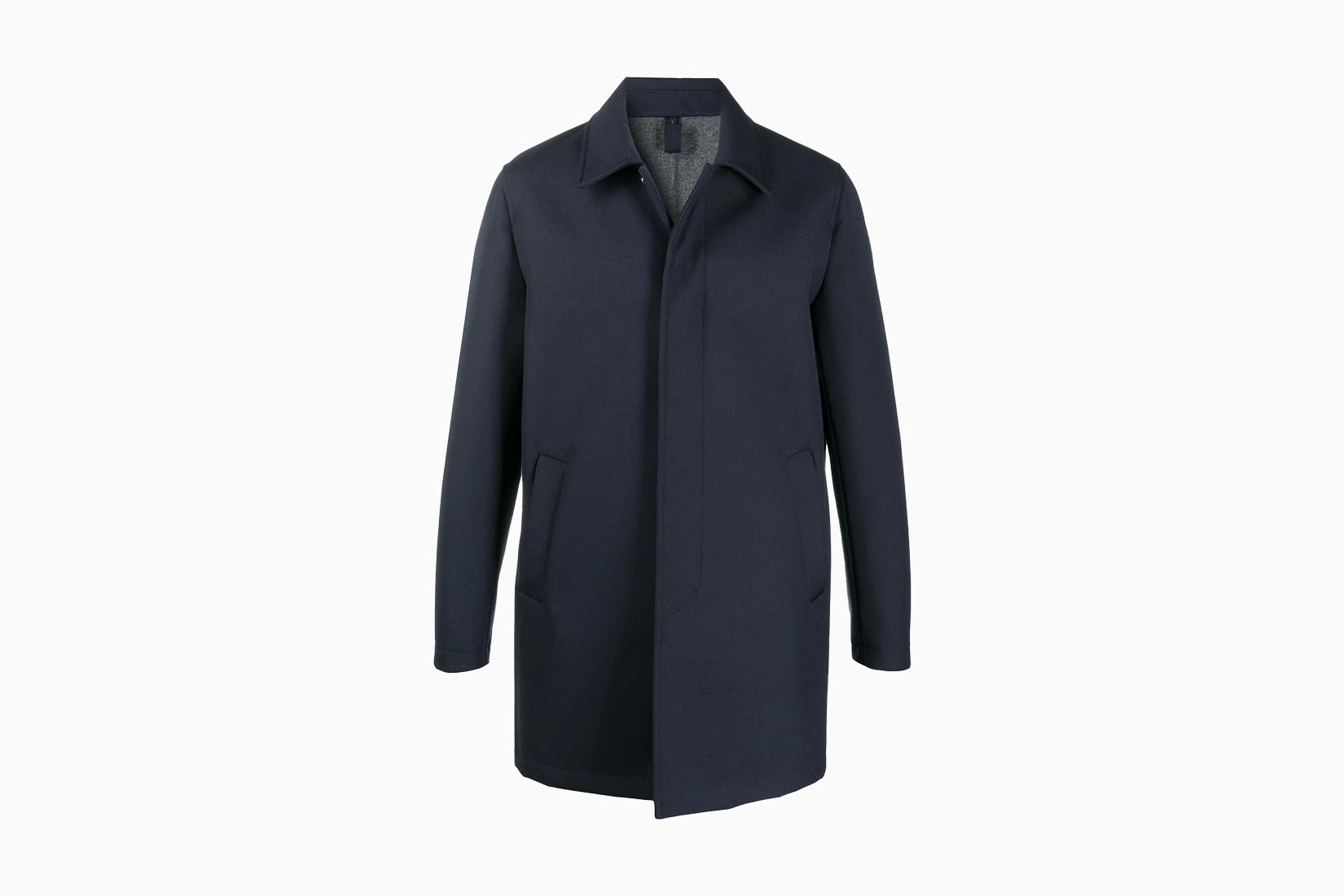 While we're suckers for a khaki trench coat, we have to admit we're tempted by the ultra-modern allure of this navy trench coat by Italian brand Fay. The label is known for its supremely elegant tailoring with a dash of streetwise edge, and this trench coat would look just as good at an upscale cocktail bar as it would at a DJ session in a warehouse.
The single-breasted design is ideal for smaller guys who find traditional trench coats too overwhelming for their slight figures. The choice of navy rather than classic khaki is also a smart move, offering modern freshness. We can imagine this coat looking particularly sophisticated with a luxury dress watch peeking out from beneath the cuff.
The front fastening of Fay's trench coat is concealed for minimal clutter, and we're pleased that the brand opted for the classic trench collar that you can pop up in case of heavy rain (or when you're trying to look mysterious).
| | |
| --- | --- |
| Best for: | A surprising yet superbly sleek twist on the traditional trench. |
| Color: | Navy |
Burberry Westminster: Best classic men's trench coat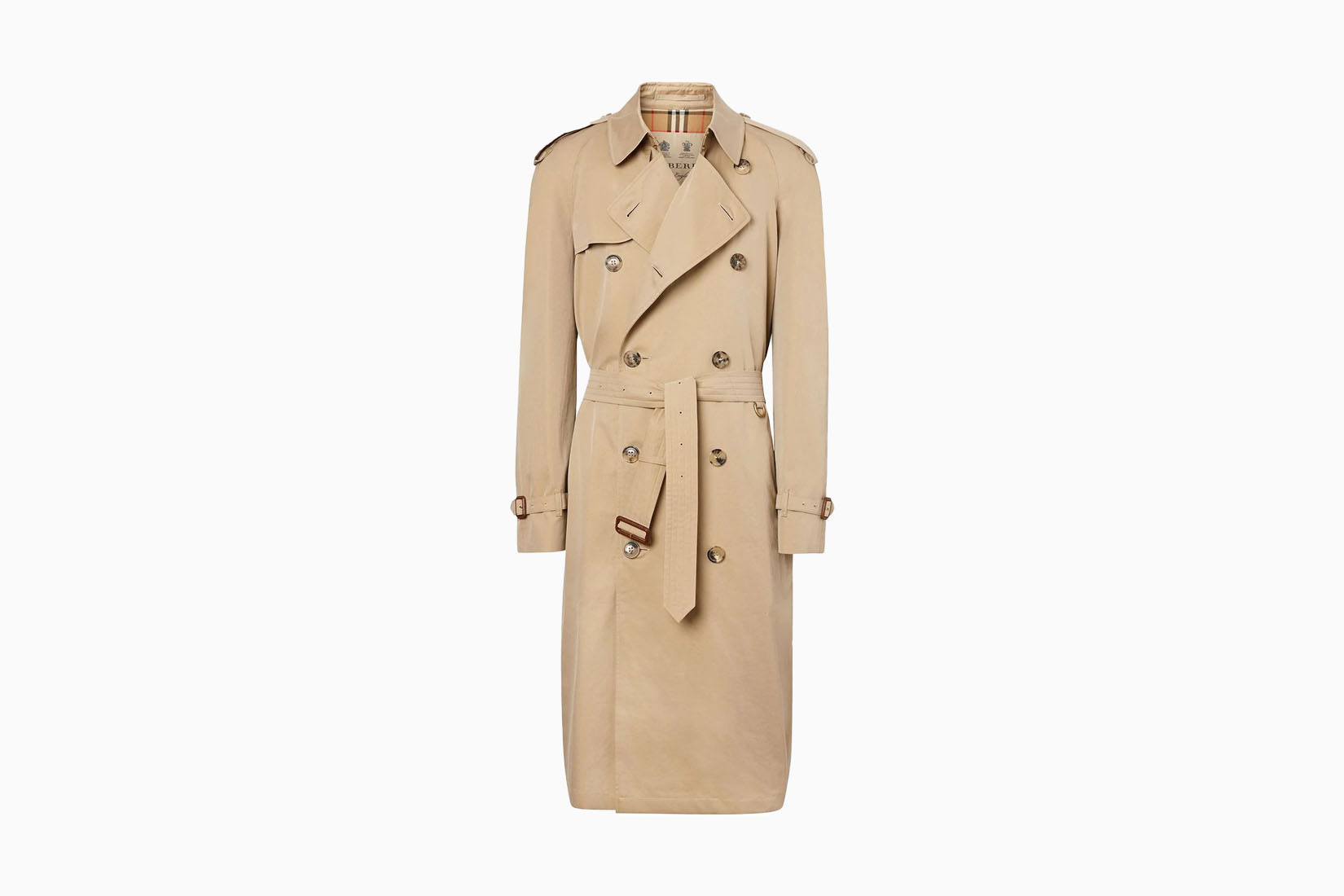 If you're looking for the real deal or the crème de la crème of men's trench coats, then there's only one thing for it. You've got to bite the bullet and get your hands on Burberry's Westminster Heritage Trench coat.
This belted trench coat is the reason why trench coats are as popular as they are. The ultimate trendsetter, this English trench coat has epaulets, a double-breasted front fastening, belted waist, long sleeves, and mid-length style—all the things that we've come to associate with iconic trench coats.
Whether you wear it with professional work attire or sneakers and jeans to elevate your weekend warrior get-up, you can't go wrong with this classic khaki trench coat by Burberry.
| | |
| --- | --- |
| Best for: | The OG trench coat made by the brand that has always done it best. |
| Color: | Khaki |
Lemaire: Best men's trench coat for spring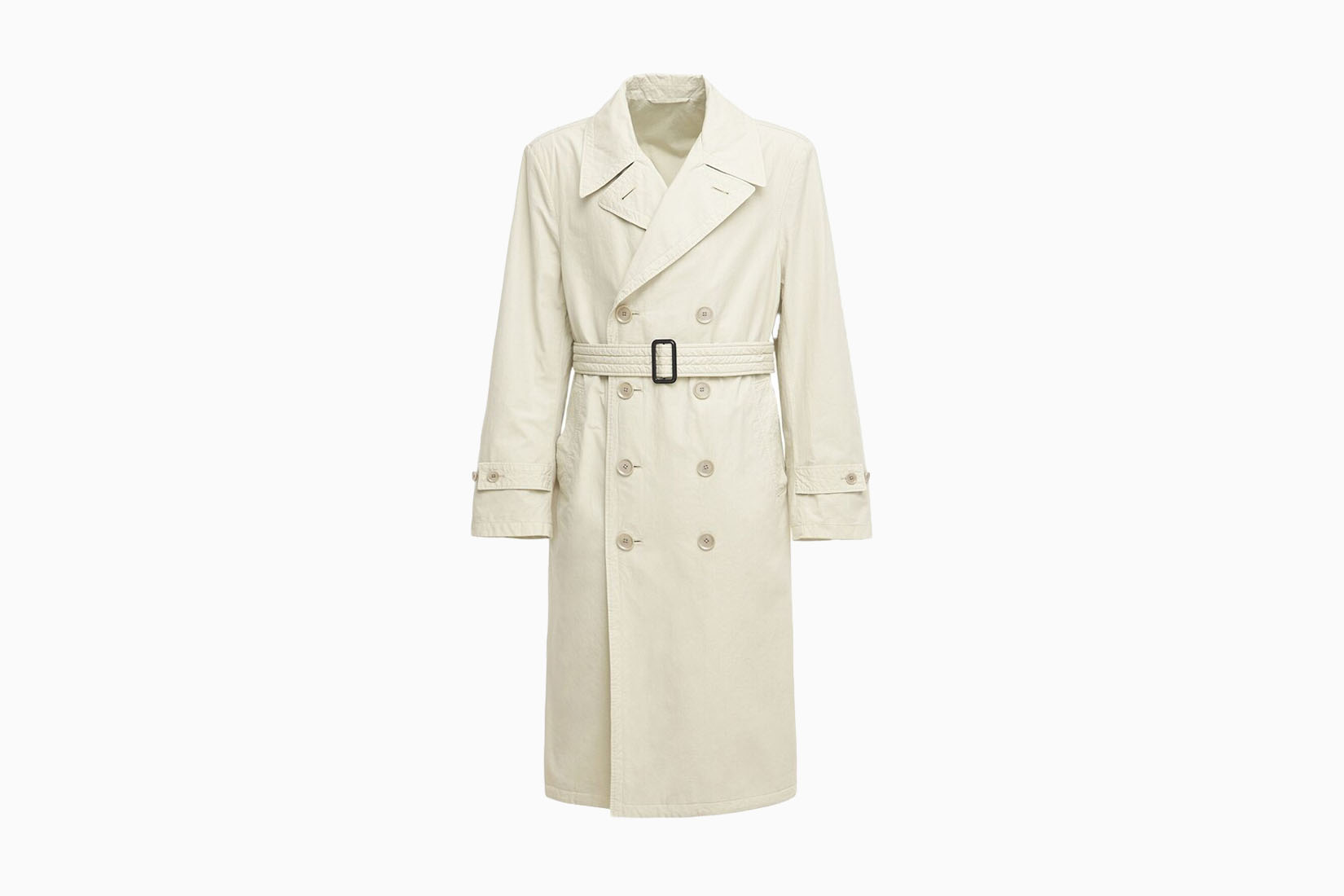 Dressing for spring can be a nightmare. One minute it's pouring rain, the next, the sun is out, and the birds are singing. Ensure you're prepared for all eventualities with a coat that can do both, like this one by Lemaire, one of the best men's white trench coats around.
Not only is this jacket made from cotton, making it the best men's lightweight trench coat that we've come across, but it comes in a traffic-stopping shade of off-white, or pelican grey, as the brand calls it. The perfect color for easy-breezy spring days and a great companion to a statement timepiece.
Lemaire is our go-to brand for practical all-day, everyday wear with a distinctly Parisian edge. They've succeeded in creating a totally original version of a classic with this lightweight trench coat, and we can't wait to shrug it on and hit the town.
| | |
| --- | --- |
| Best for: | Immaculate style for those tricky in-between seasons. |
| Color: | White |
Dries Van Noten: Best men's trench coat for autumn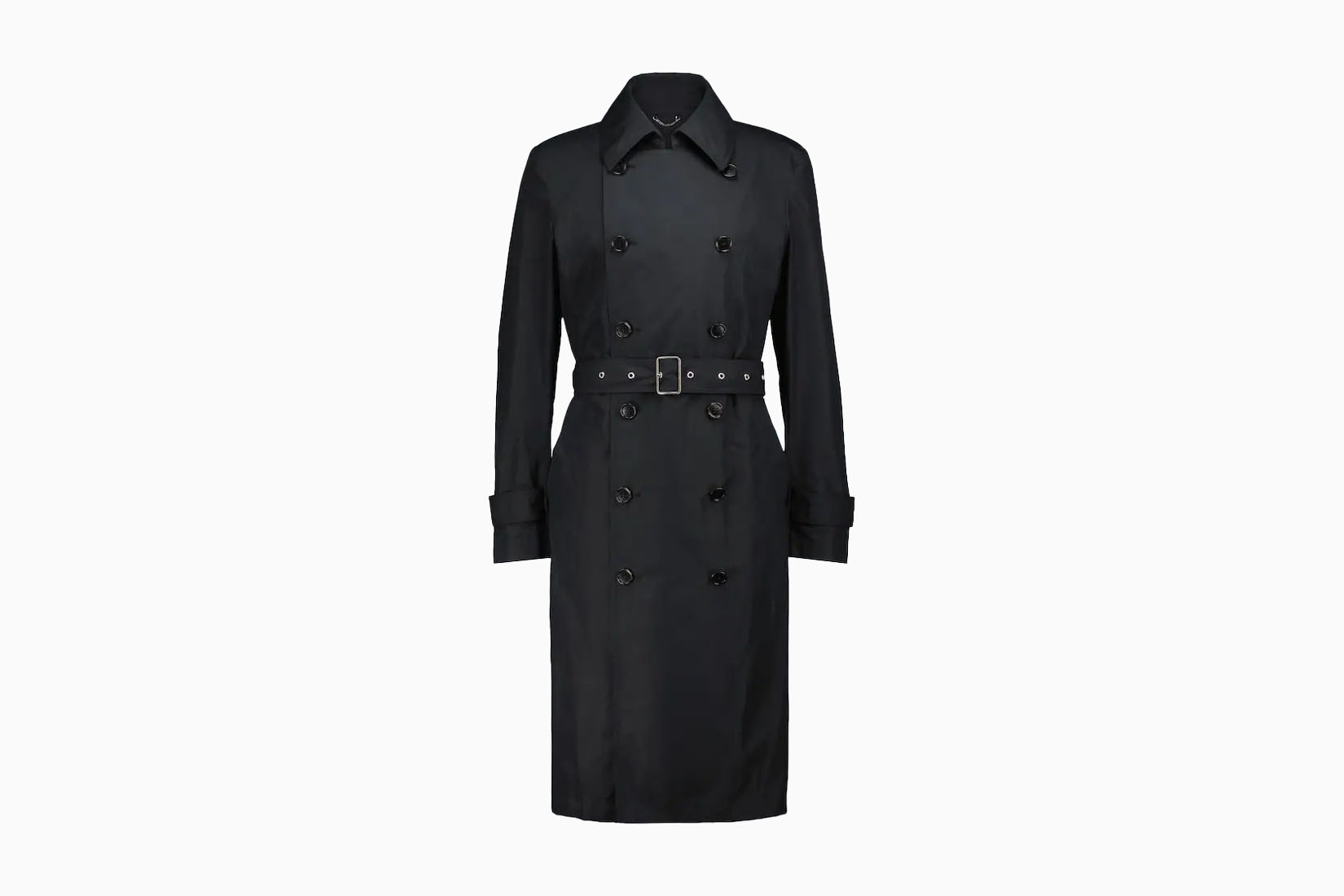 Belgian designer Dries Van Noten has a reputation for breaking style rules with subtle subversion and an intuitive sense of what's cool and what's not. Take this black belted trench coat, for example. You'd never have thought a long black overcoat is just what your wardrobe is lacking—but somehow it is.
Made of a blend of cotton and sustainable lyocell, this men's light trench coat is sturdy and durable. Perfect for blustery autumn days when the wind is whistling up and down the streets. Turn up the collar, pull the belt in tight, and you'll be ready for anything.
The double-breasted closure alludes to the classic trench coat design, while the choice of black over khaki adds grit and attitude. Meanwhile, the long coat's central back vent will allow you to hit your stride unhampered.
| | |
| --- | --- |
| Best for: | Successfully mastering the art of transitional dressing. |
| Color: | Black |
Canada Goose: Best men's trench coat for winter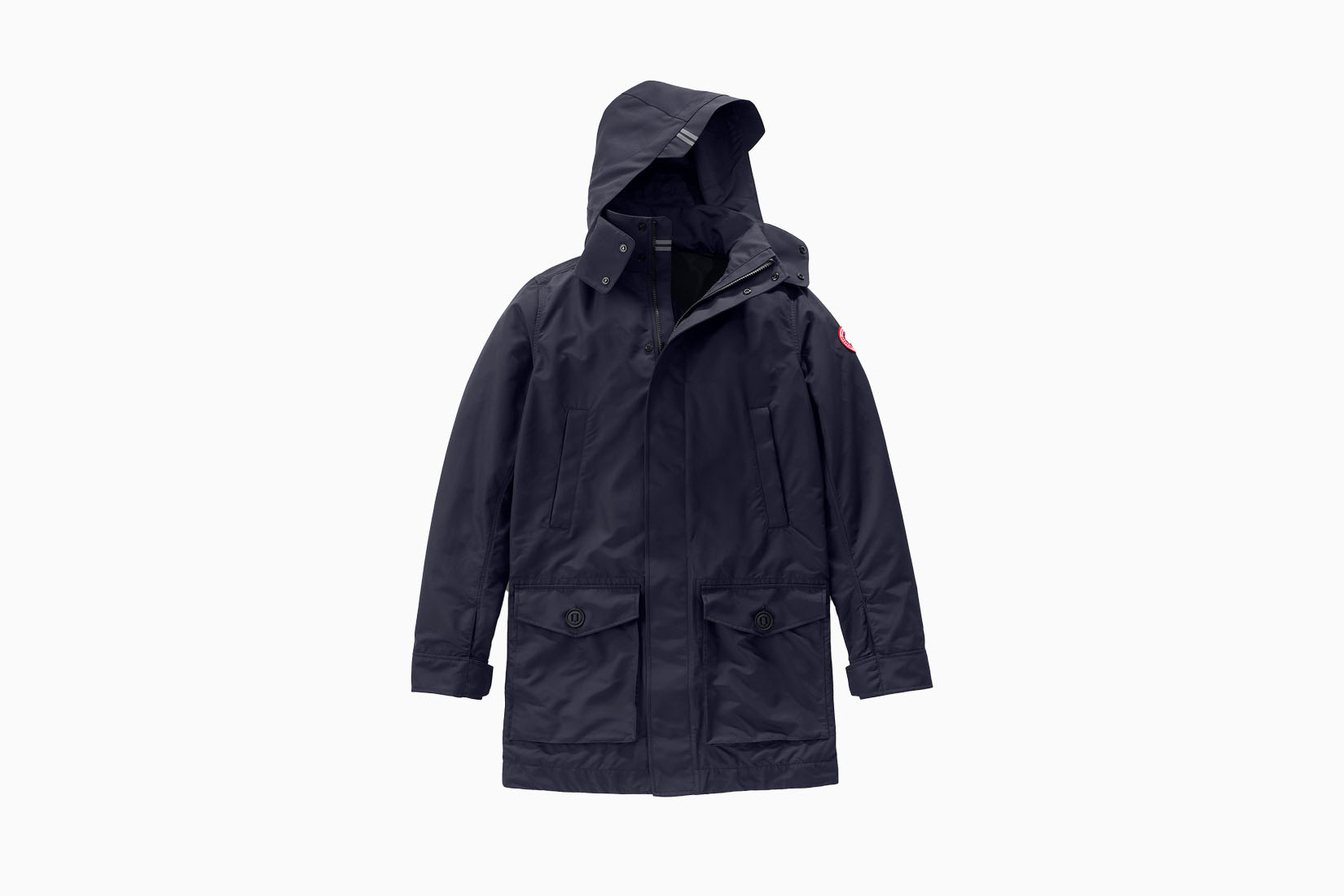 To say Canada Goose knows how to do winter is an understatement. The luxury outerwear label makes coats that will keep you toasty warm all while being stylish enough to allow you to pop into a fancy restaurant for dinner or attend a gallery opening.
Canada Goose are masters at balancing weight and warmth, and this jacket is no exception. It's made from the brand's Dura-Force Light fabric which is both windproof and water-resistant, perfect for keeping you warm and dry.
Night owls will appreciate the reflective details on the hood and collar for extra visibility in low-light conditions, and a removable hood is another bonus. The Crew Trench is available in a range of pleasing neutrals, the navy and sage being our favorites. A great winter coat for casual dressing.
| | |
| --- | --- |
| Best for: | Staying snug with a snowstorm-optimized spin on the trench. |
| Color: | A range including black, navy, and mid-blue |
Gucci: Most stylish trench coat for men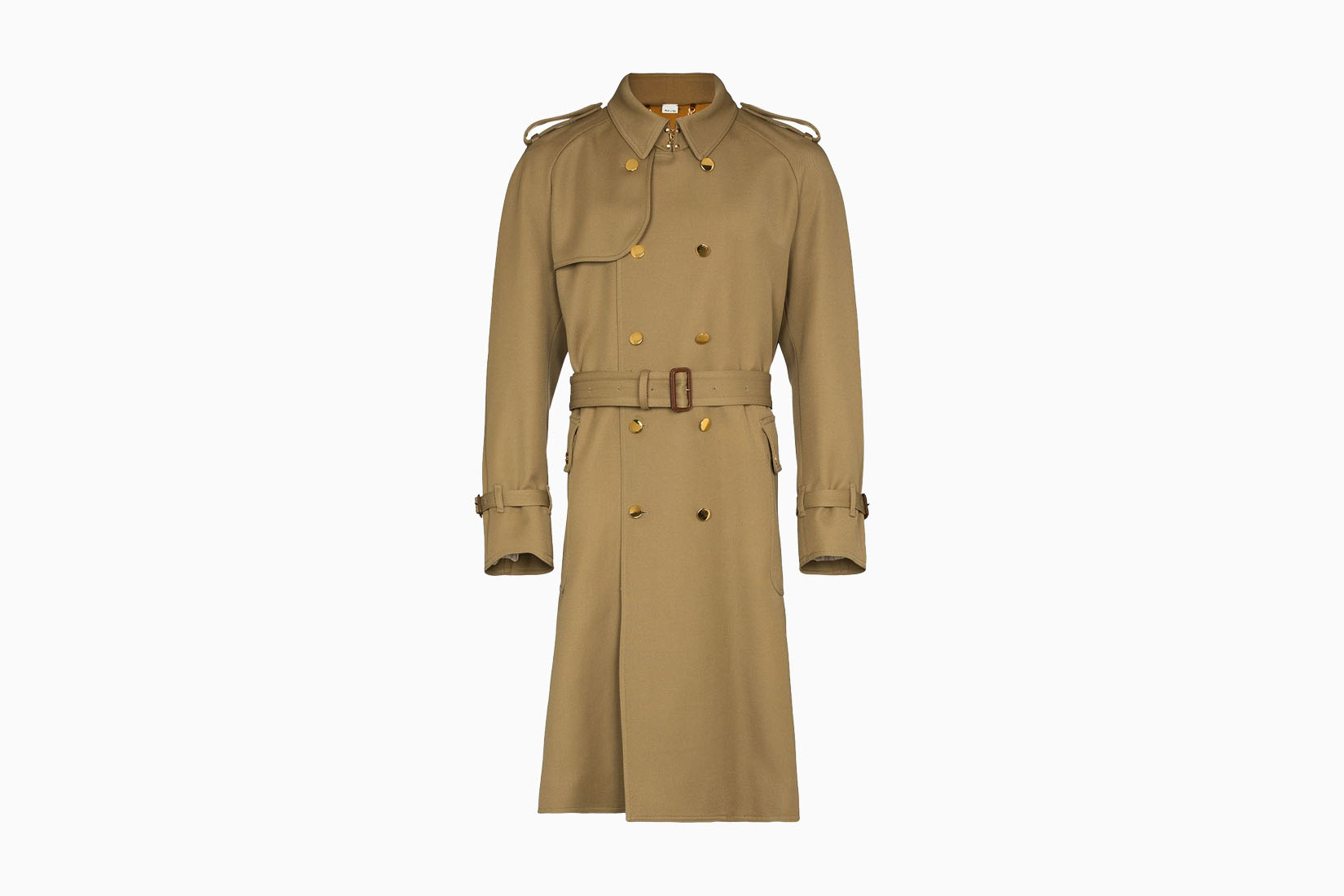 Leave it to Gucci to take the traditional trench coat and amp up the glam by a factor of at least 10. The ultimate fashion trench coat, this creation by the haute couture icon riffs on the jacket's military past to create something that harks back to the 1940s while simultaneously feeling very much of this moment.
Available in classic beige, it's made from wool for extra warmth. You've got the traditional trench collar and epaulets, while gleaming buttons on the double-breasted fastening are sure to catch people's eye.
Go all out and team this belted designer trench coat with a polo neck and statement trousers—or at least some impeccably polished Chelsea boots. Or keep it lowkey with a knit jumper and tailored trousers. Either way, don't forget to add a luxury watch to maintain your place in the style stakes.
| | |
| --- | --- |
| Best for: | Catwalk-ready cool from a brand that knows how to steal the spotlight. |
| Color: | Beige |
Canada Goose: Best waterproof trench coat for men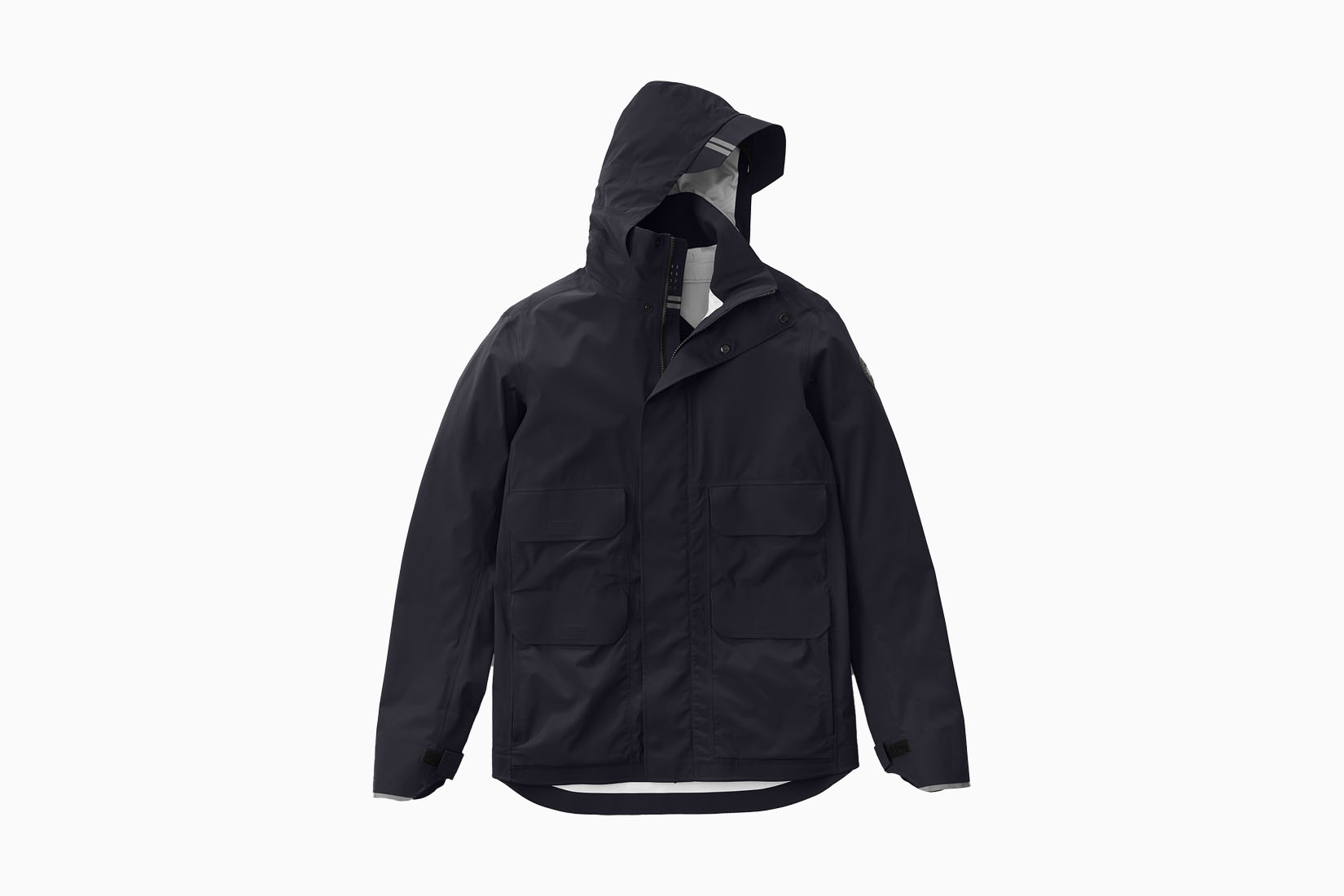 Sure, this coat doesn't technically count as a trench coat according to the mainstream definition, but if you're looking for a raincoat trench coat, then this design by Canada Goose is the best on the market.
The Meaford Rain Jacket is perfect for those who've got drenched by an unexpected deluge one time too many. Say goodbye to soggy shirts and damp jumpers with a versatile winter coat that's specifically designed to survive unpredictable weather.
It's made from Tri-Durance, the brand's 3-layer fabric that's waterproof, windproof, and breathable. Mesh venting enhances airflow (i.e. no sweat patches), while a reflective drop-down panel at the back adds visibility in low light. Plus, this rain trench coat can be stowed away into its own hood for easy transportation.
| | |
| --- | --- |
| Best for: | Surviving everything from downpours to drizzle unscathed. |
| Color: | A range including black, navy, and grey |
Thom Browne: Best short trench coat for men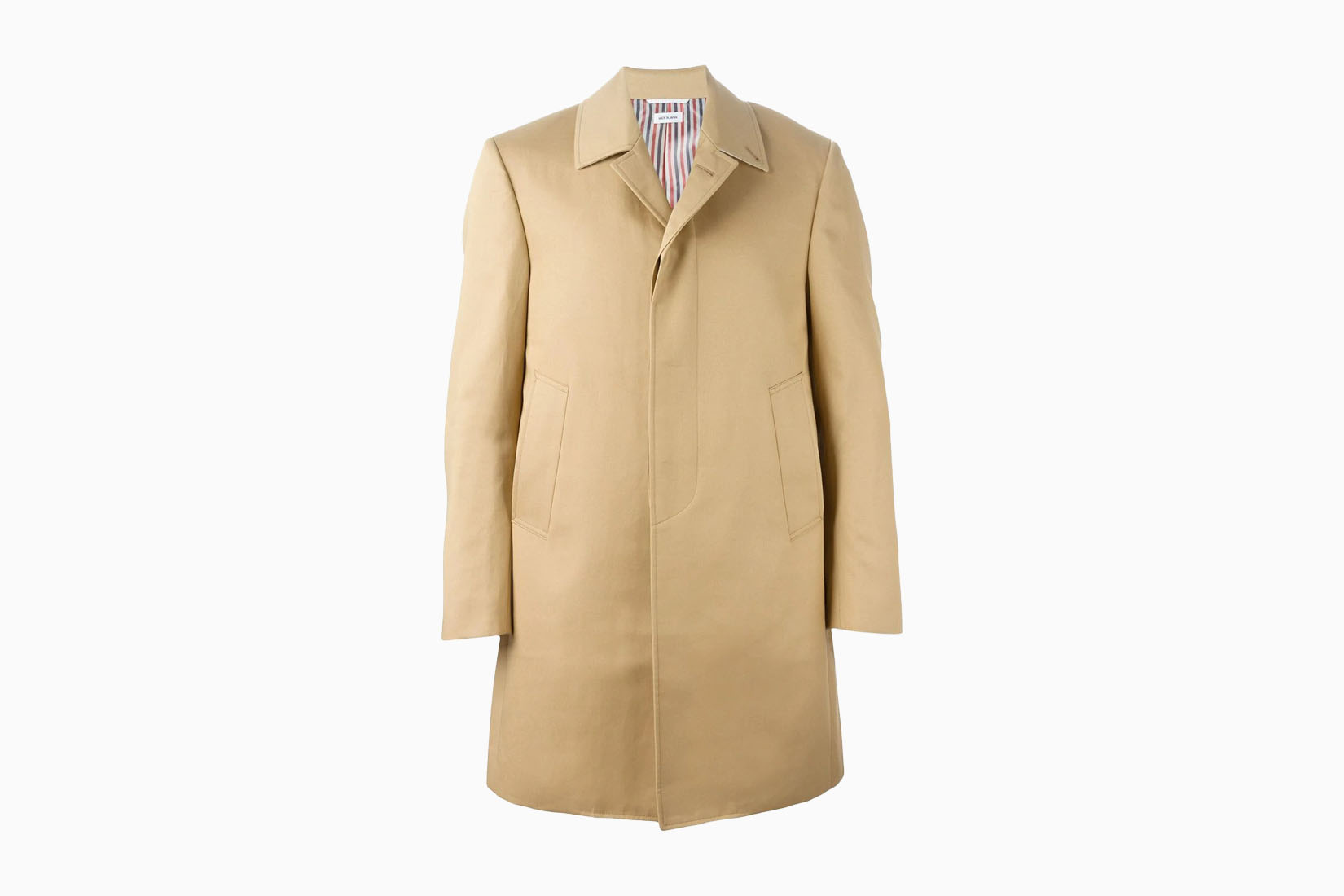 Smaller men might find that the traditional trench coat tends to swamp their figure and look too baggy. In which case, may we recommend this shorter style from Thom Browne?
This jacket is the last word in uncluttered sophistication with its ultra-minimalist silhouette. With a concealed fastening, almost invisible side pockets, and subtle buttoned cuffs, it's less Inspector Clouseau in the Pink Panther than an inscrutable movie star in an open-top sports car. Perfect smart-casual attire.
Thom Browne is a master of the preppy look and playing around with proportions—as demonstrated in this short jacket, a cool and contemporary spin on the classic trench.
| | |
| --- | --- |
| Best for: | Smaller guys looking for something flattering, fashionable, and winter-appropriate. |
| Color: | Beige |
Asos Longline: Best long trench coat for men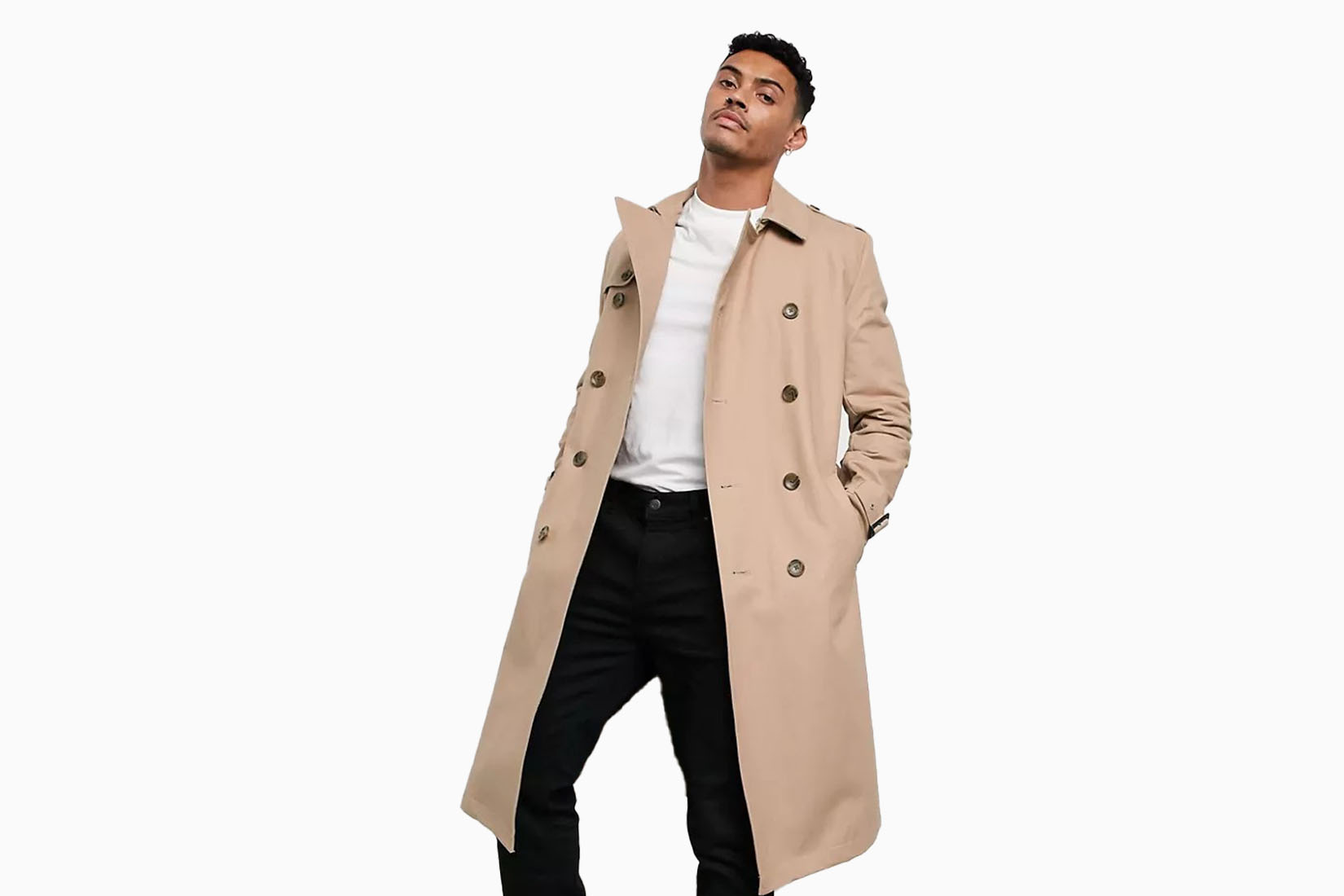 If you're at the taller end of the height spectrum, you can easily pull off a longer trench coat. In fact, a coat that reaches just below the knees will be more flattering—such as this 3/4 trench coat by Asos.
Traditionally, trench coats had 10 buttons. This one is almost there with 8, plus a double-breasted design that will look striking on taller gents. A quintessentially English spread collar is formal without being too fancy while the belted waist is practical (wrap it tight to stay warm in high winds) and looks as delightfully old-school as the original English trench coat.
We like the silk-feel lining of this belted trench coat as well as the internal pocket for our minimalist wallet. A great addition to your business casual wardrobe.
| | |
| --- | --- |
| Best for: | Taller guys seeking a handsome jacket to complement their extra height. |
| Color: | Beige |
Gafeng: Best budget trench coat for men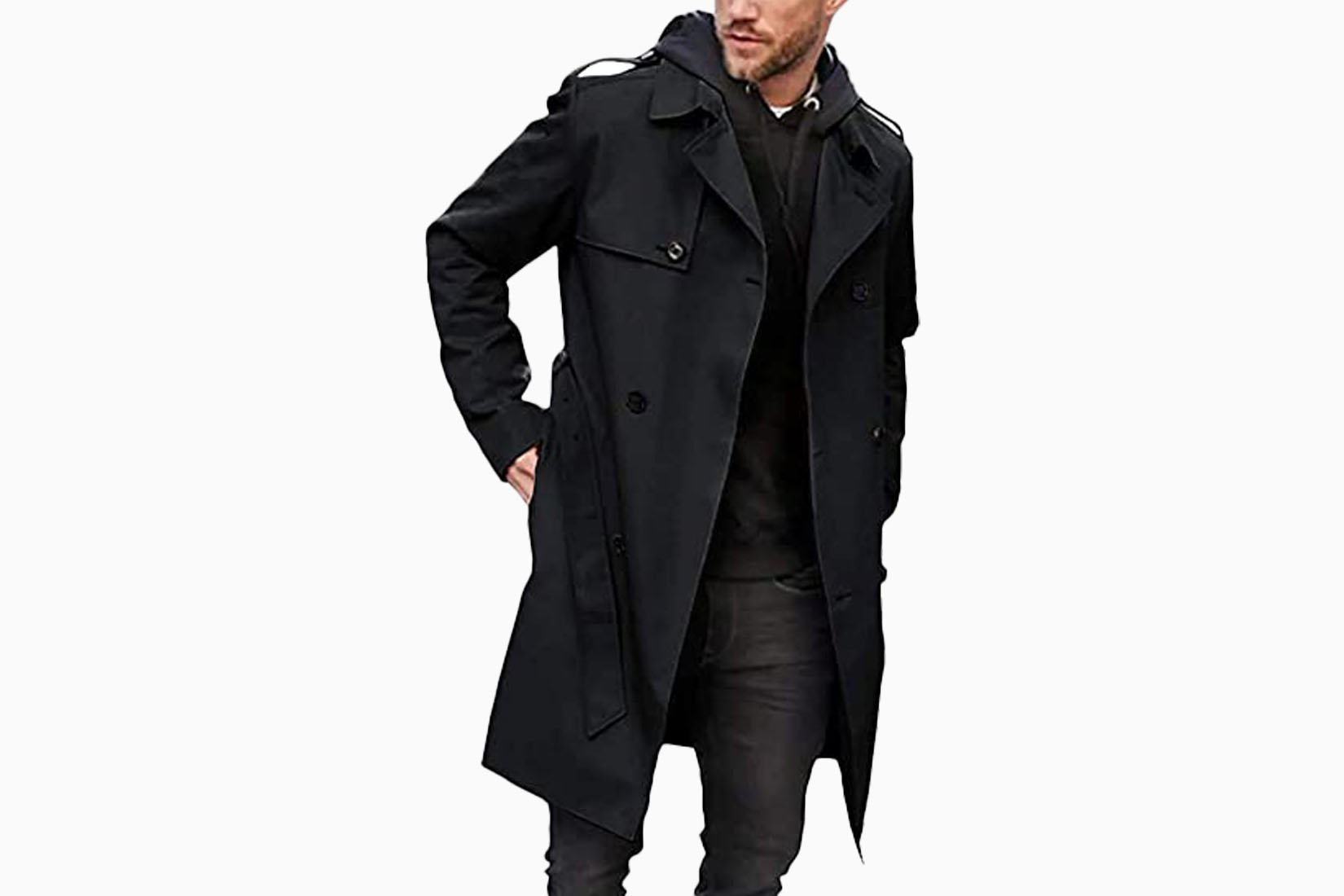 If you've strictly sworn that you won't splash out on any unnecessary apparel until your next paycheck but don't think you can make it that far without a trench coat (we've all been there) then check out this budget-friendly jacket from Gafeng.
The coat is made of a blend of polyester and cotton, combining durability and minimal weight. It's moisture-proof and offers a welcome windbreak.
Plus it features a double-breasted closure with notched lapels along with a belted-in waist. The budget-friendly coat is available in a range of colors, from army green for serviceman chic to brown for countryside jaunts and strolls in the park with the dog.
| | |
| --- | --- |
| Best for: | A refined and reasonably priced trench that doesn't compromise on comfort or quality. |
| Color: | A range including black, brown, and blue |
Celine Homme: Most expensive trench coat for men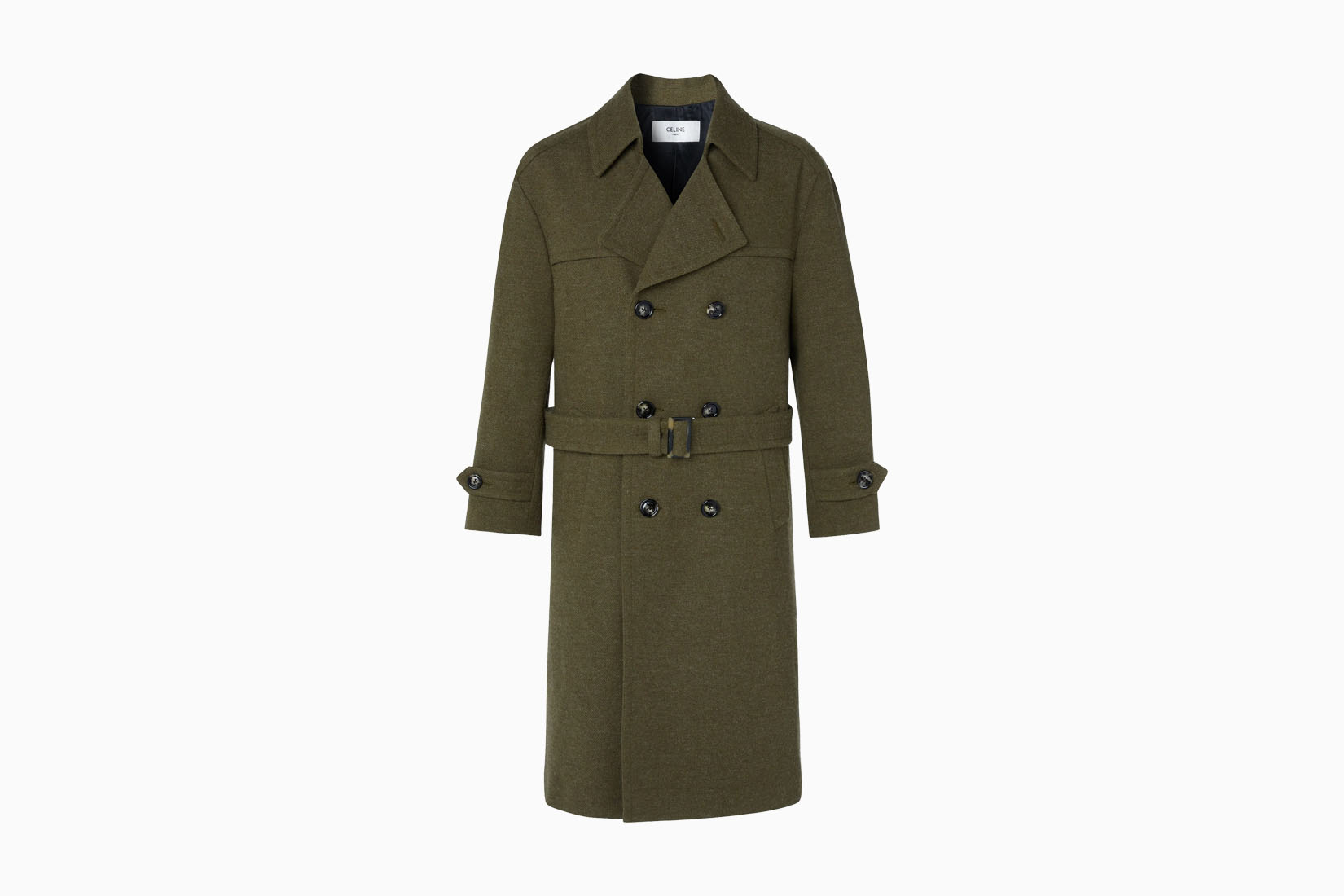 We didn't know it was possible to fall head over heels in love with a jacket—but that was before we laid eyes on this trench coat, masterfully crafted by Celine Homme. It has totally seduced us with its military-inspired silhouette and luxurious wool material.
Sure, it's not exactly cheap, but the quality of this wool trench coat for men is evident to even the least style-savvy passerby. It's also got all the features we know and love about classic trench coats, from the double-breasted fastening and belt to the notch lapels and buttoned cuffs.
The only thing this olive green trench coat is missing is epaulets, but we reckon there's enough soldier-inspired sophistication here to go without.
| | |
| --- | --- |
| Best for: | An undeniable indulgence that you can sneakily pass off as an investment. |
| Color: | Green |
Buyers guide: how to choose a men's trench coat
While it might initially appear that all trench coats are the same, in fact, there are various types of trench coats available to suit different figures and style needs. Here's what to consider.
Trench coat materials
Trench coats, as originally designed by Thomas Burberry, were typically made from gabardine. This tightly woven material is the classic choice for trench coats as it's totally impermeable, perfect for winter wear. Gabardine can be made from wool, cotton, or a blend of these with polyester.
Another option when it comes to trench coats for men is leather, offering the same biker-boy cool as the best leather jackets. It's thick, durable, and warm but can be damaged by water and isn't very breathable.
Or you might opt for cotton drill, a twill fabric with a distinctive diagonal pattern. It's very strong but can also be quite heavy.
You may also come across trench coats in wool, which is naturally water-resistant, lightweight, and warm but can be expensive, or Serge, a durable twill, once a common choice for military uniforms.
The best trench coat colors
Traditionally, trench coats have always been khaki, and these camel or tan trench coats are the most classic and iconic choice. However, black trench coats can also be striking, while navy blue offers a contemporary alternative.
Olive green trench coats capture the military mood perfectly, while brown is more rustic and conservative, perfect for a weekend in the country.
Other features of men's trench coats
In addition to color and material, you may want to consider the following features when choosing a men's trench coat:
Single or double-breasted – while a double-breasted trench coat is the traditional choice, a single-breasted trench coat is a better option for smaller men as it won't swamp your figure.
Belted – typically trench coats featured a D-ring belt where men could put their sword or pistol. Of course, that's not so necessary these days, so you'll find some trench coats with no belt at all. However, a belt can create a cinched-in look that is flattering and smart. Less belting creates a more informal silhouette. Smaller men should avoid a belt as it can make them look shorter.
Vents – most trench coats feature a vent at back to allow you to extend your legs properly when walking.
Storm flap – also known as a 'gun flap', this is an essential feature when it comes to a weatherproof coat, covering the right side of the trench to stop water from entering where the two sides meet.
Insulation – if you plan to wear your jacket in cold weather, look for one with an insulated lining. Some trench coats have removable linings so you can adapt them for different weather conditions.
Epaulets – these ornamental shoulder straps were originally designed for military insignia to indicate rank. These days, they're purely aesthetic but still a recognizable element of the classic trench coat.
Cuffs – you can opt for a trench coat with or without cuffs, buttons, or buckles.
Lapels – trench coats usually have wide lapels that are sometimes notched.
Throat latch – the classic Burberry trench coat featured a throat latch, sewn to the undercollar, serving as extra protection from the weather.
Sleeves – some trench coats will have raglan sleeves, which means they are attached to the main body of the coat diagonally over the shoulders. This creates more space and mobility when you're wearing a jumper or similar underneath.
How should a trench coat fit?
Ideally, a trench coat should fall just below or just above the knee. Taller men should opt for longer styles, such as a 3/4 trench coat, while smaller men should look for trench coats that come to mid-thigh. Mid-length trench coats are a good halfway house.
A trench coat should be loose enough to fit a suit jacket or heavy jumper underneath and not too tight across the chest. The sleeves shouldn't be so short that you can see your shirt cuffs, but neither should they come down so far that the coat looks too big.
Frequently asked questions about men's trench coats
What is the best trench coat brand?
The best trench coat brand is Burberry. Thomas Burberry is considered to have invented the original trench coat. However, Saint Laurent also makes elegant and high-quality trench coats. Check out our guide to men's trench coats for more inspiration.
Are trench coats fashionable for men?
Trench coats are definitely a fashionable choice for men. They offer timeless style thanks to their military heritage and association with silver screen stars. A trench coat is an investment that will still be stylish years from now.
What is a trench coat for men?
A trench coat for men is a style of overcoat that is waterproof and typically comes down to just below the knee. Originally designed for military officers, a trench coat was usually khaki and featured epaulets, a back vent, and a belt.
What is the best length for a trench coat?
The best length for a trench coat depends on your height. Smaller men should opt for something shorter while tall men can get away with a trench coat that comes down to below the knee. If in doubt, opt for a mid-length trench coat.