When you're ready to chill out, you have to find the right footwear to match the laid-back vibes. Men's espadrilles are like peanut butter to your summertime jelly. They're the perfect shoe for poolside fun, beach adventures, and rambunctious city outings.
This ultimate list of men's espadrilles includes something for everyone. So when the next invitation for relaxation comes your way, you can be confident that you have just the right espadrilles to fit the occasion in style.
The 15 best men's espadrilles
Hugo Boss: Best overall men's espadrilles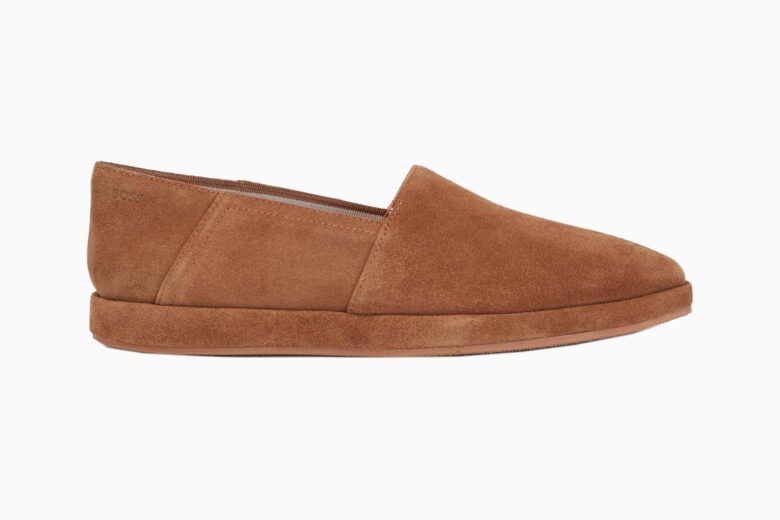 These incredible espadrilles are made with a luxurious suede that's softer than a baby seal's skin. Their brilliant styling is only surpassed by their comfort, which is why we're obsessed with these Hugo Boss Suede Espadrilles.
Best for: Being a step ahead style-wise.
Colors: Beige and White
Fendi: Best designer espadrilles for men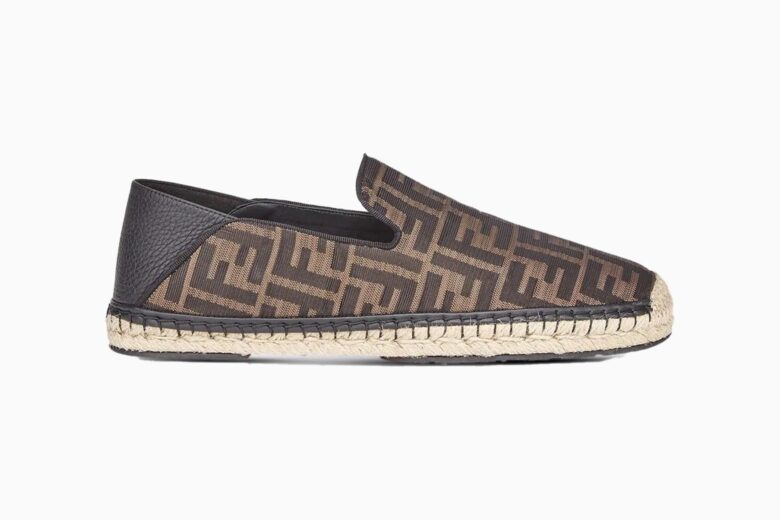 If you're staying by the pool and want to make a splash, these designer espadrilles are the right pick. Featuring a bold Fendi logo print design, they're certain to catch eyes and create ripples all around.
We love the collapsible heel cup on the Fendi FF Espadrilles, allowing you to use them as easy slip-on espadrilles or with a more secure fit.
Best for: Taking high fashion along for the ride.
Color: Logo print
Soludos Dali: Best value slip-on espadrilles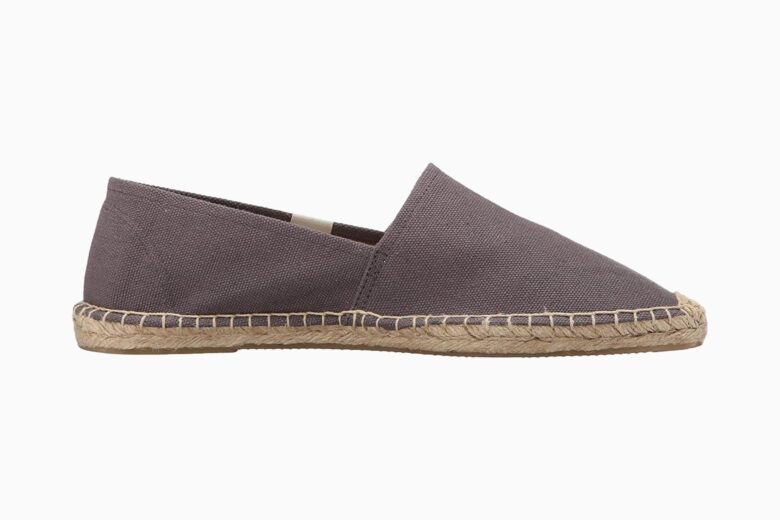 When the heat rolls in, the espadrilles come out. It's hard to find a shoe that's more fitting for summertime fun. With traditional jute-wrapped sole and lightweight fabric upper, these men's slip-on espadrilles make a great addition to your look.
Another great thing about the Soludos Dali Espadrilles is their price. Now you can arrive in style without emptying your wallet.
Best for: Keeping your retirement secure and your feet happy.
Colors: Charcoal, Black, Natural, and Navy
Gucci: Best men's lace espadrilles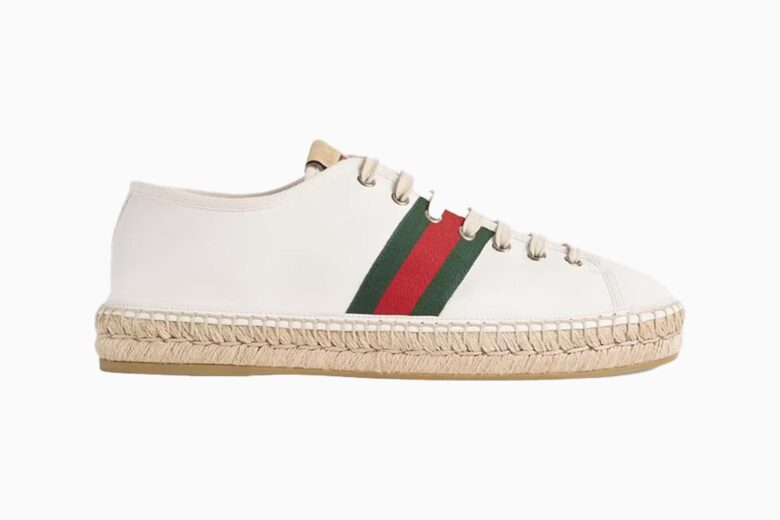 If you're looking to break the mold, you can always depend on Gucci to lead the way. These men's lace espadrilles have a more sneaker-like fit while the Gucci design maintains the ultimate appeal.
Constructed in Spain with Italian materials, the Gucci Web Espadrilles feature a bold green and red Web stripe along the side. (Check out the best men's luxury sneakers for more lace-up options).
Best for: Breaking the mold and staying ahead of the game.
Color: Green and red web
Castañer Pablo: Best casual men's espadrilles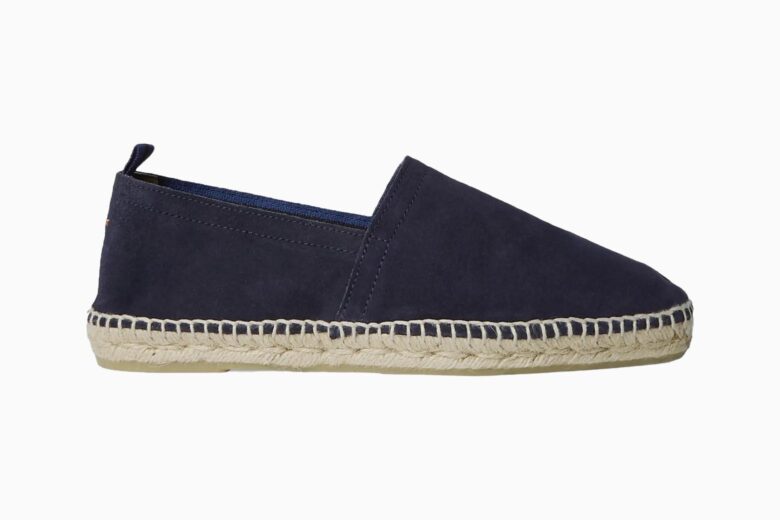 Castañer has been making shoes for nearly a century and it shows in these elegant men's espadrilles.
The Castañer Pablo Espadrilles feature a lovely suede upper and traditional braided jute soles, reinforced with a layer of rubber for added durability.
Best for: The safe bet with a classic look.
Colors: Navy and Black
Brunello Cucinelli: Best minimalist men's slip-on espadrilles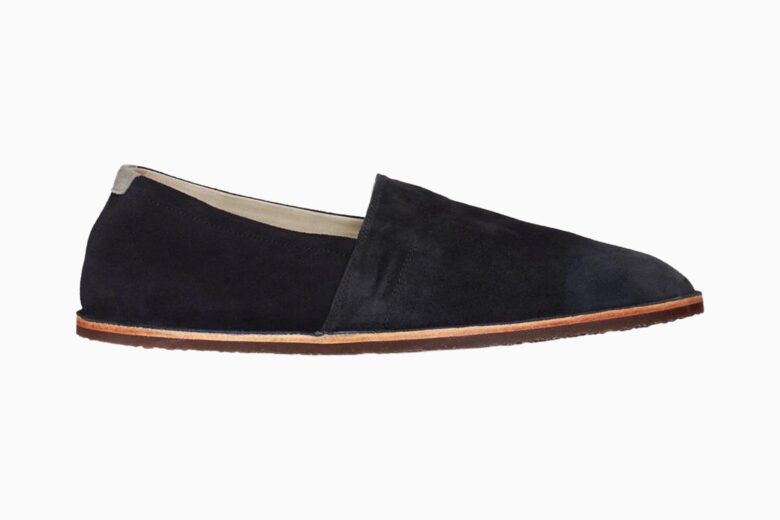 Leave clutter behind and embrace the serenity that comes with these minimalist men's espadrilles. They have a clean look that avoids distractions and provides a pure simplistic style.
The supple suede uppers are paired with a thin yet bold rubber sole, making the Brunello Cucinelli Espadrilles one of our top picks for your summer selections.
Best for: A clean fit.
Colors: Blue and Sand
Zegna: Best penny espadrilles for men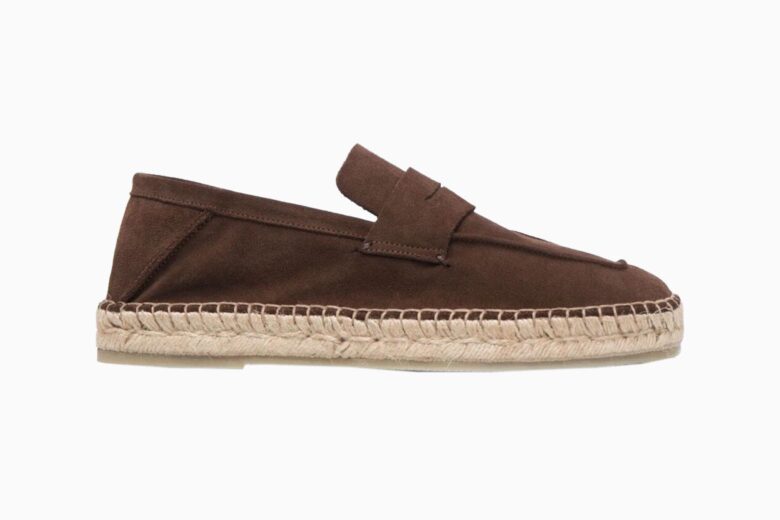 Relaxation doesn't have to mean drab looks. You can add a touch of sophistication while staying comfortable with these penny espadrilles for men. They feature a soft suede and traditional jute sole paired with an added penny slot.
Coming from an Italian luxury fashion house with more than 110 years under its belt, the Zegna Penny Espadrilles are sure to provide long-lasting love for your feet.
Best for: Shoes softer than a baby's bottom.
Colors: Brown, Blue, and Yellow
Manebi: Best round-toe men's espadrilles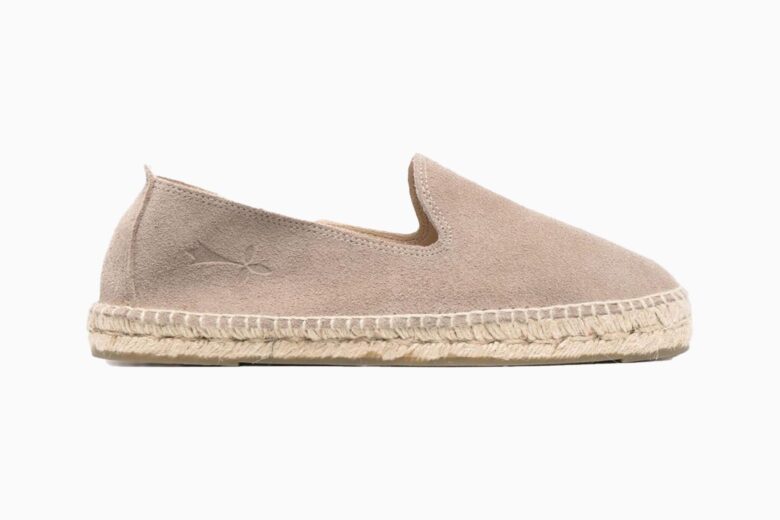 The Manebi Round-toe Espadrilles are an excellent take on the traditional summer shoe, with a single-piece wraparound design that provides comfort and style. Gear up for your next pool day with a new pair of the best men's sunglasses and these men's slip-on espadrilles.
Best for: Bringing a punch of style to your party-packed summer.
Color: Beige
Prada Gabardine: Best men's slip-on espadrilles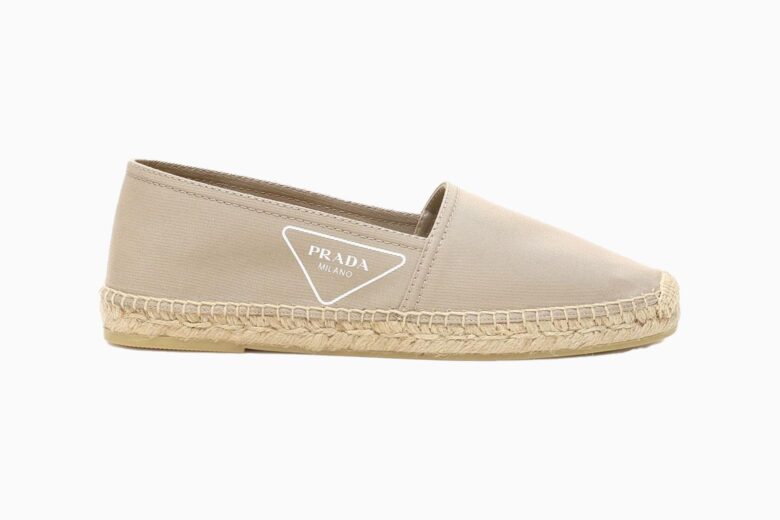 While no one wants to go overboard showing off, it's also important to make your presence known on deck. These laid-back shoes from Prada feature the brand's signature logo print on an understated look, providing a nice balance of sophistication and charm.
Made from beige gabardine, the Prada Espadrilles are lightweight and breathable. They're our top choice for men's slip-on espadrilles.
Best for: A breathable option to keep your cool.
Colors: Beige and Black
Tod's: Best leather espadrilles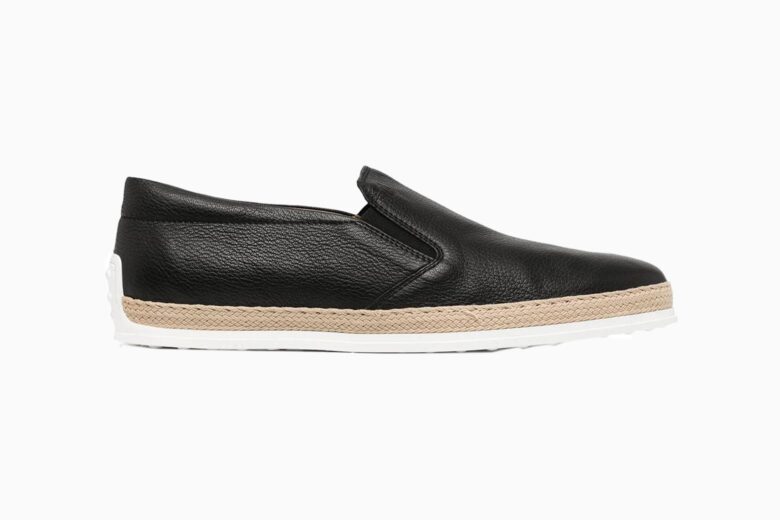 Just like fine wine, leather is a special material that gets better with age. If you're looking for a pair of leather espadrilles with added durability that is sure to withstand the test of time, we have just the treat for you.
Tod's Leather Espadrilles are crafted in Italy with luxurious leather and an embossed rubber sole. They will give you many years of a great summer look, and can even be worn on those cooler spring or fall nights when other men's espadrilles wouldn't hold up.
Best for: The commitment lover looking for a long-lasting option.
Color: Black
Saint Laurent: Best cotton men's espadrilles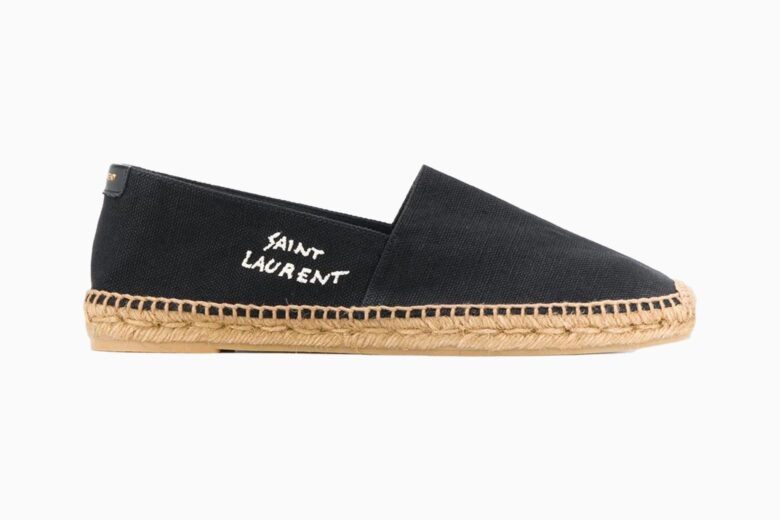 When it's time to have some fun in the sun, you're going to need some stylish shoes, like these lightweight and breathable cotton men's espadrilles from Saint Laurent.
The French fashion house has once again provided a brilliant look through a simple and elegant design. The Saint Laurent Espadrilles can be paired with many summer looks to create a dignified style paired with a laid-back ambiance.
Best for: When the only choice is the best choice.
Colors: Black and White
Loro Piana Seaside Walk: Best suede espadrilles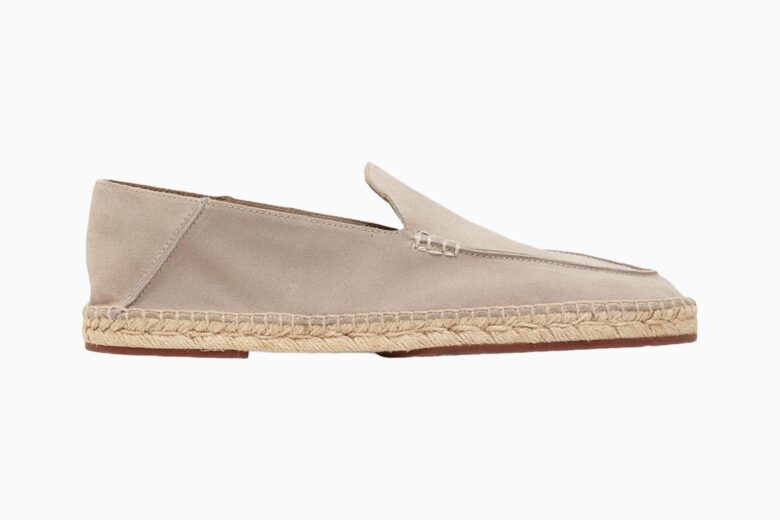 Art can come in many forms. Sometimes you need a giant mural to fill a blank wall, and other times you need the art to accompany you wherever you go. These charming men's espadrilles are just the artful touch you need for those warm summer days.
The suede uppers on the stylish Loro Piana Seaside Walk Espadrilles feature a water-repellent finish and finely stitched details.
Best for: Walking the (seaside) walk.
Colors: Beige and Summer Ilic
Tom Ford Barnes: Best mule espadrilles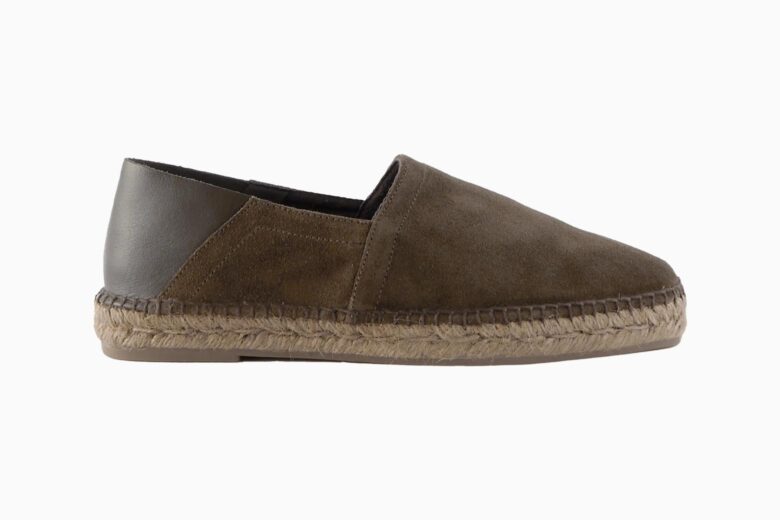 To get the most comfortable life, you have to seek out the cozy spots. The collapsible heel of these mule espadrilles makes them the perfect choice to end your search for comfort.
Tom Ford Barnes Espadrilles don't let you down with their rough yet polished look, constructed from a combination of suede, leather, and traditional jute-wrapped sole.
Best for: Bringing in luxury laidback vibes. 
Colors: Green and Gray
Mulo: Best linen men's espadrilles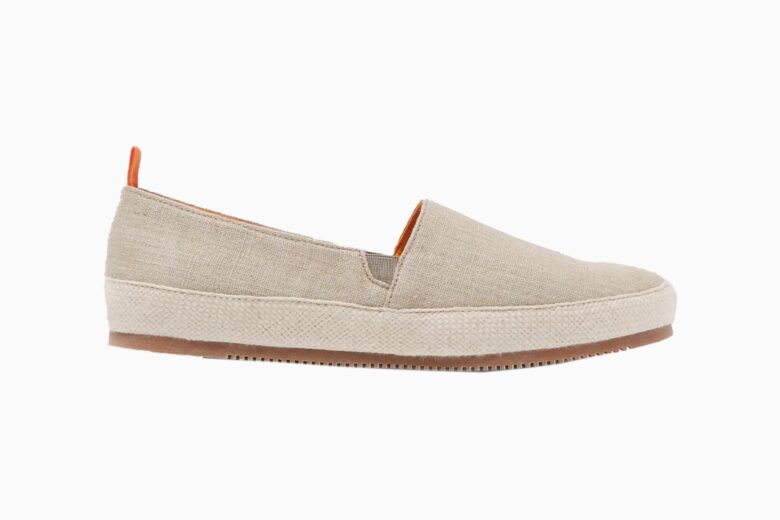 It's a challenge to think of anything more ubiquitous with summertime heat than linen. And it's not just a coincidence that you'll find this fabric everywhere in the warmest places on earth, it's a practical solution that doesn't sacrifice style.
The Mulo Linen Espadrilles are our favorite linen espadrilles option. The leather trimmings and rubber soles add the touch of support that will seamlessly blend into your feet over time.
Best for: A stylish shoe to tackle hot days in the sun.
Color: Beige
Havaianas: Best budget espadrilles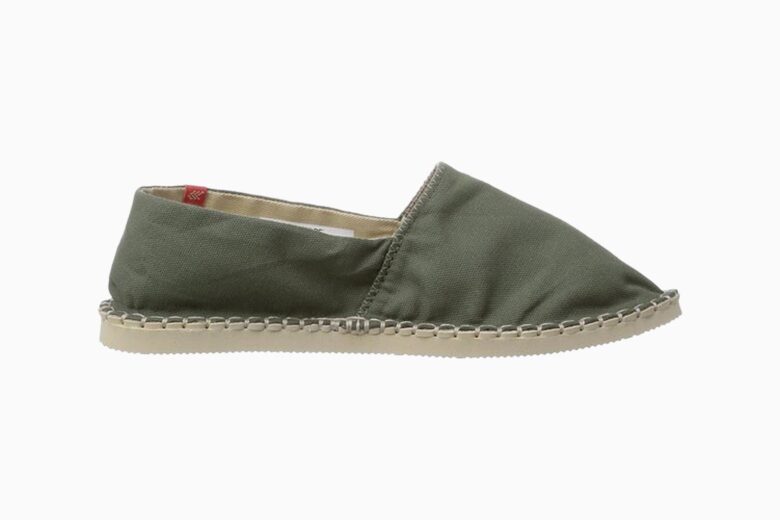 Sometimes setting down a stack of cash is the only way to get what you want. But thanks to these affordable men's espadrilles, you can keep the money in your pocket and still put style on your feet.
Havaianas Espadrilles use a textile upper and lightweight rubber sole to create a summer shoe that will get you ready for all the fun in the sun.
Best for: Adding some fun without losing too much cash.
Colors: White, Green, Black + More
Frequently asked questions about men's espadrilles
What are espadrilles?
Espadrilles are classic, casual summer shoes that usually feature a lightweight upper and braided rope sole. Formerly worn by the likes of Picasso and Salvador Dalí, espadrilles provide a canvas for you to express your style this summer. See our list of the best espadrilles for men for the latest styles.
How do men wear espadrilles?
Men's espadrilles can be dressed up or down to suit all types of summer adventures whether it's by the pool, at the country club, or around town. Some espadrilles feature a collapsible heel for maximum comfort, such as the stunning Fendi FF Espadrilles.
Are espadrilles masculine?
Men's espadrilles come in a wide variety of styles, including many masculine versions. The Tom Ford Barnes uses a combination of leather and suede to create especially masculine espadrilles.
Are espadrilles comfortable?
Espadrilles are extremely comfortable. Check out the Manebi Espadrilles which feature a single-piece wraparound upper for superior comfort.
What is the best color for espadrilles for men?
Espadrilles come in many colors, designs, and materials. Select natural beige for a classic style, choose navy for a timeless look, or go with brown for a smart touch.