Forget your dog. As far as we're concerned, man's best friend is, in reality, his favorite pair of boots. The best men's boots are loyal companions that see us through thick and thin and always have our back. Like our best buds, we admire them, are secretly impressed by them, and also feel relaxed and comfortable in their company.
But there comes a time in every man's life when his favorite boots finally give up the ghost. After the farewells have been said (and perhaps a tear or two shed), you find yourself on the hunt for your next pair of boots. And therein lies the challenge. With so many styles of men's boots on offer, how are you supposed to choose?
Chelsea boots, desert boots, jodhpur boots, brogue boots, sneaker boots, work boots, hiking boots, hunting boots, combat boots, rain boots, snow boots, dress boots—the list of the best boots for men is endless. And whether you're all about the fashion factor or preoccupied with practicality, choosing the right style can feel like a shot in the dark.
To make your life easier and speed you on the way to meeting your new favorite footwear, we've picked out the 55 best men's boots from the best boot brands in the world. 
Have a read, have a think. There may be a style you hadn't considered before. Do you know what a moc-toe boot is, for example? We promise you'll walk away knowing exactly what your next go-to pair of boots is going to be. Or at least with a long wish list.
The 55 best men's boots
To facilitate your navigation, we've organized our list of the best boots for men by category:
Check our special men's boots buying guide after the list to see exactly what you should pay attention to shopping for your next pair of boots online.
Chelsea boots for men
Ready to bring the necessary rock 'n' roll to your daily routine, Chelsea boots are a versatile style that can be worn throughout the year and to almost every event. Sitting nonchalantly somewhere between casual and formal, classically cool Chelsea boots are elegant and easygoing with their slip-on, slip-off style, and refined silhouette. Typically featuring elasticated side panels and available in both suede and leather, they've found favor among a few celebrities too, including The Beatles.
Axel Arigato Chelsea Boot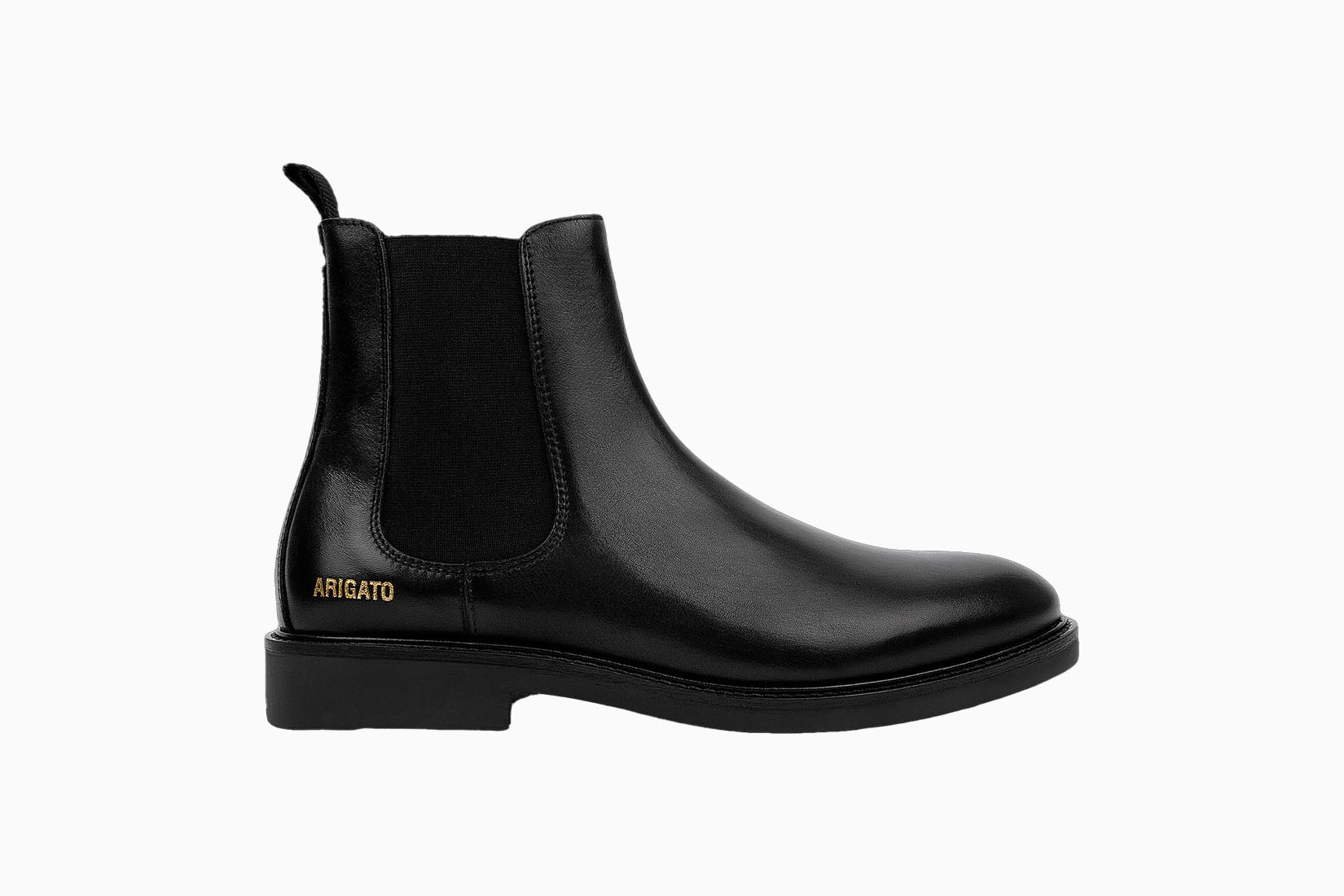 We can't get enough of Swedish brand Axel Arigato's sustainably crafted sneakers and now these Chelsea boots have shot straight to the top of our to-buy list too. They're made from premium suede with a subtle yet high-impact Arigato gold stamp on the heel. The round toe and a pull-on loop mimic the classic Chelsea boot silhouette and the sole has a thread pattern for added traction on wet streets. Also available in glossy leather.
Best for: A restrained style that still has classic rocker edge.
Oliver Cabell Suede Chelsea Boot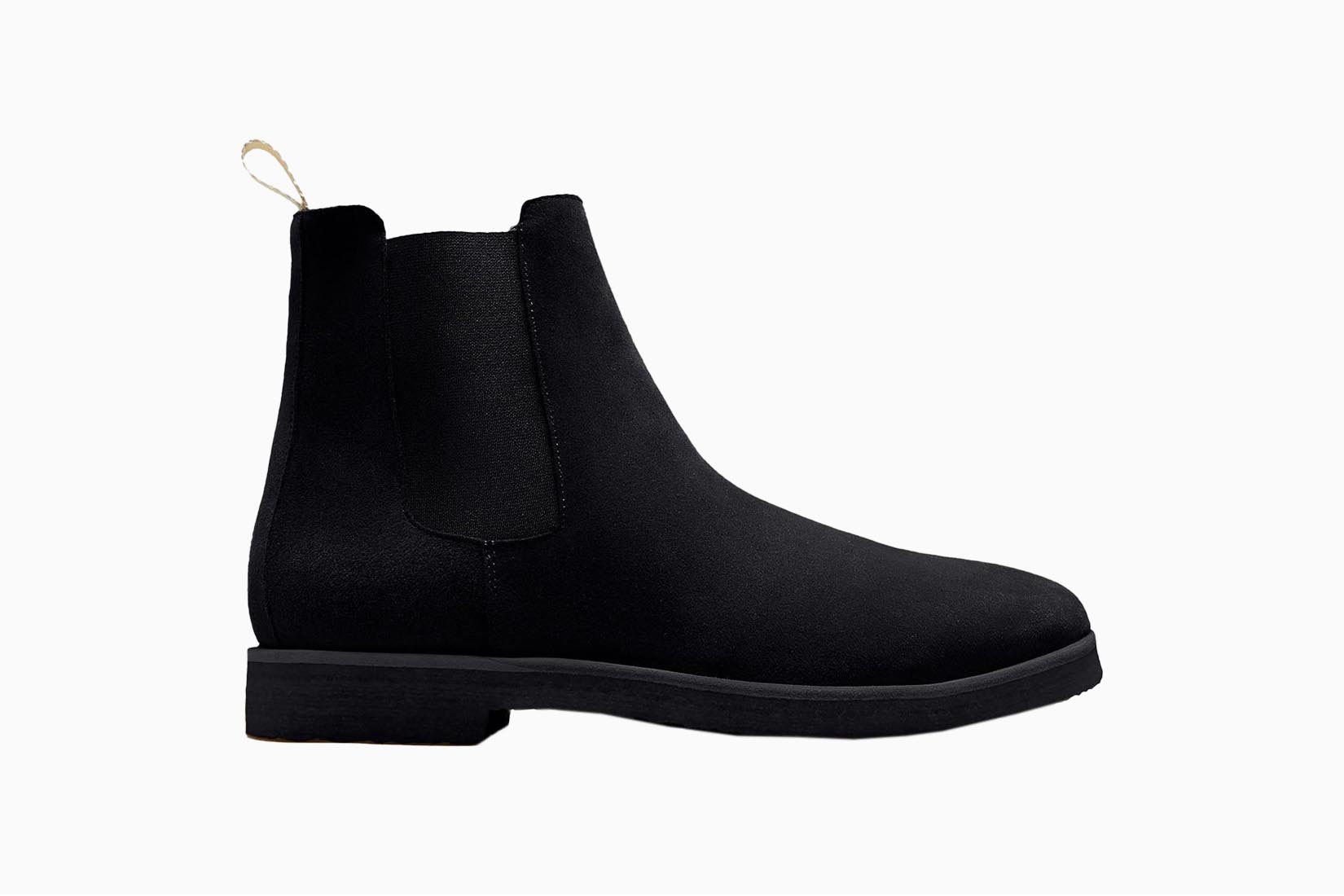 We already knew Oliver Cabell made great sneakers and so we weren't that surprised when we discovered that the footwear brand also creates rather covetable Chelsea boots for men. This pair of boots is made from soft split suede from Venice and has a custom Italian crepe sole. The footbed consists of vegetable-tanned leather with a removable molded insole.
Read our Oliver Cabell brand profile to learn more about the story behind the shoe maker.
Best for: Butter-soft sophistication for the suavest of modern gents.
Amberjack The Chelsea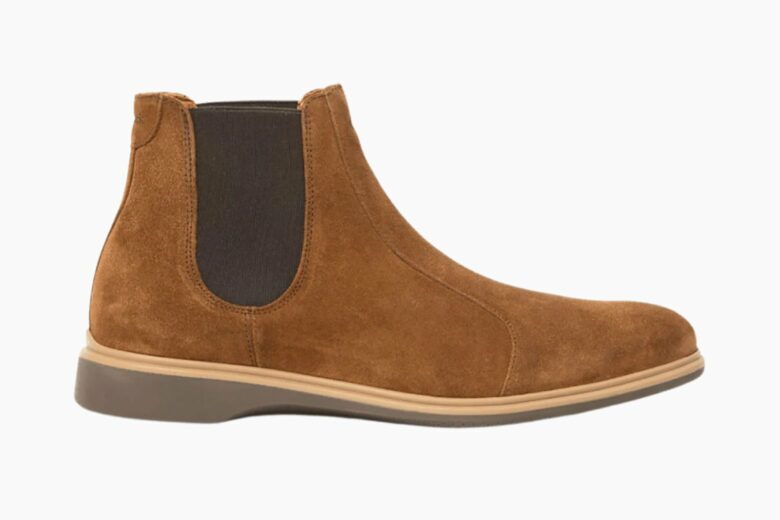 Amberjack makes some of the most comfortable dress shoes for men. With the aptly named The Chelsea, the brand applies the same level of care and attention to make their boots lightweight and comfortable to wear all day long.
The shoe is made from water-repellent Italian suede and the brand's high-tech heat-activated arch support sole to support you when out and about. The boot is available in a range of colors, in both leather and suede.
Best for: Authenticity, character, and a dash of kick-ass attitude.
Blundstone 550 Boot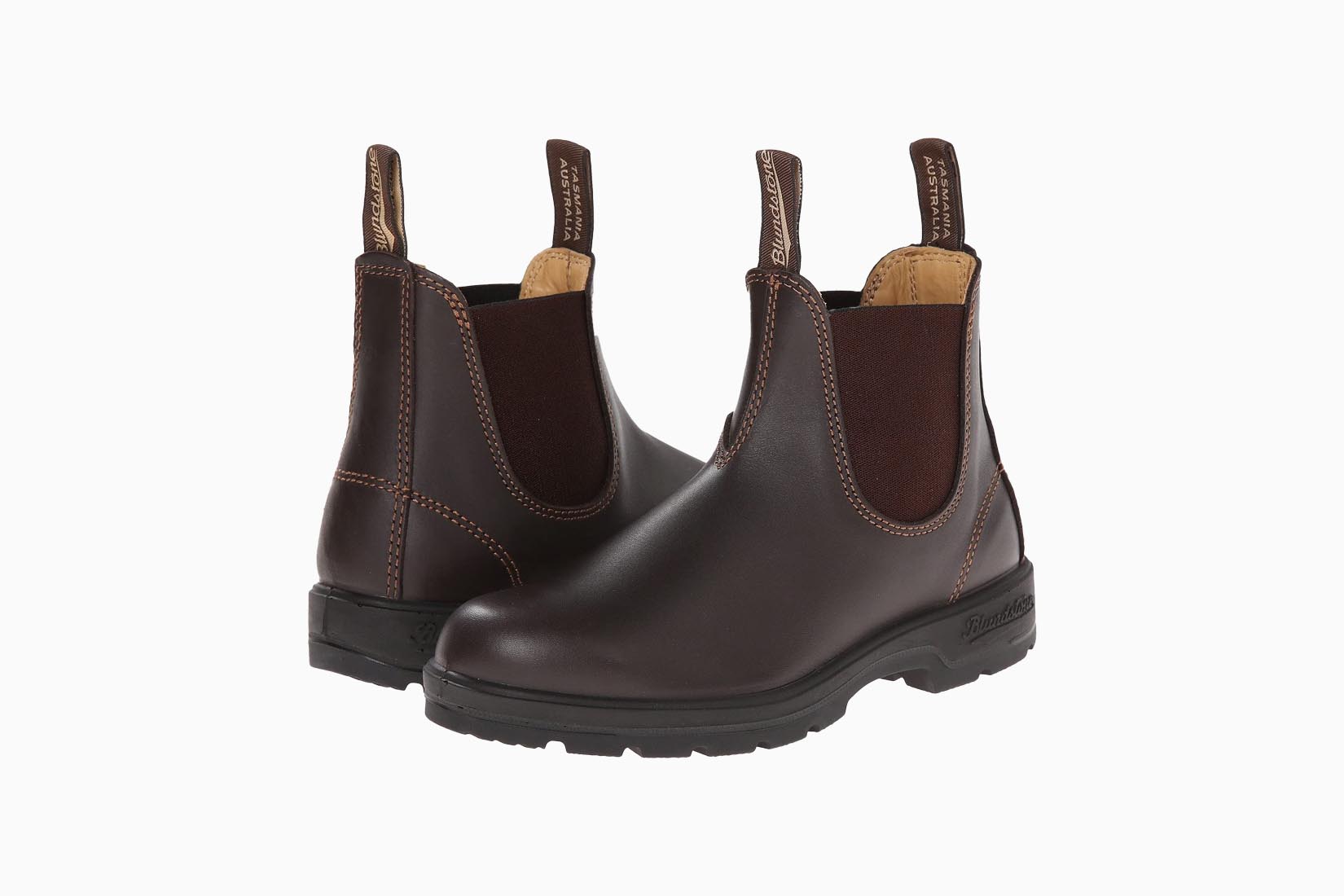 Blundstone boots have a cult following. Fans claim their comfort, minimal weight, and support is unparalleled. Originally created for industrial workers in Australia, they're not technically Chelsea boots but these slip-on boots feature the same elastic panel as well as a shock-absorbing design and weatherproof outsoles. Wear these Chelsea work boots for men for hikes, strolls around the shops, business meetings—or cattle herding, if the occasion arises.
Best for: Stompy boots bringing the ready-for-business mood.
Koio Chelsea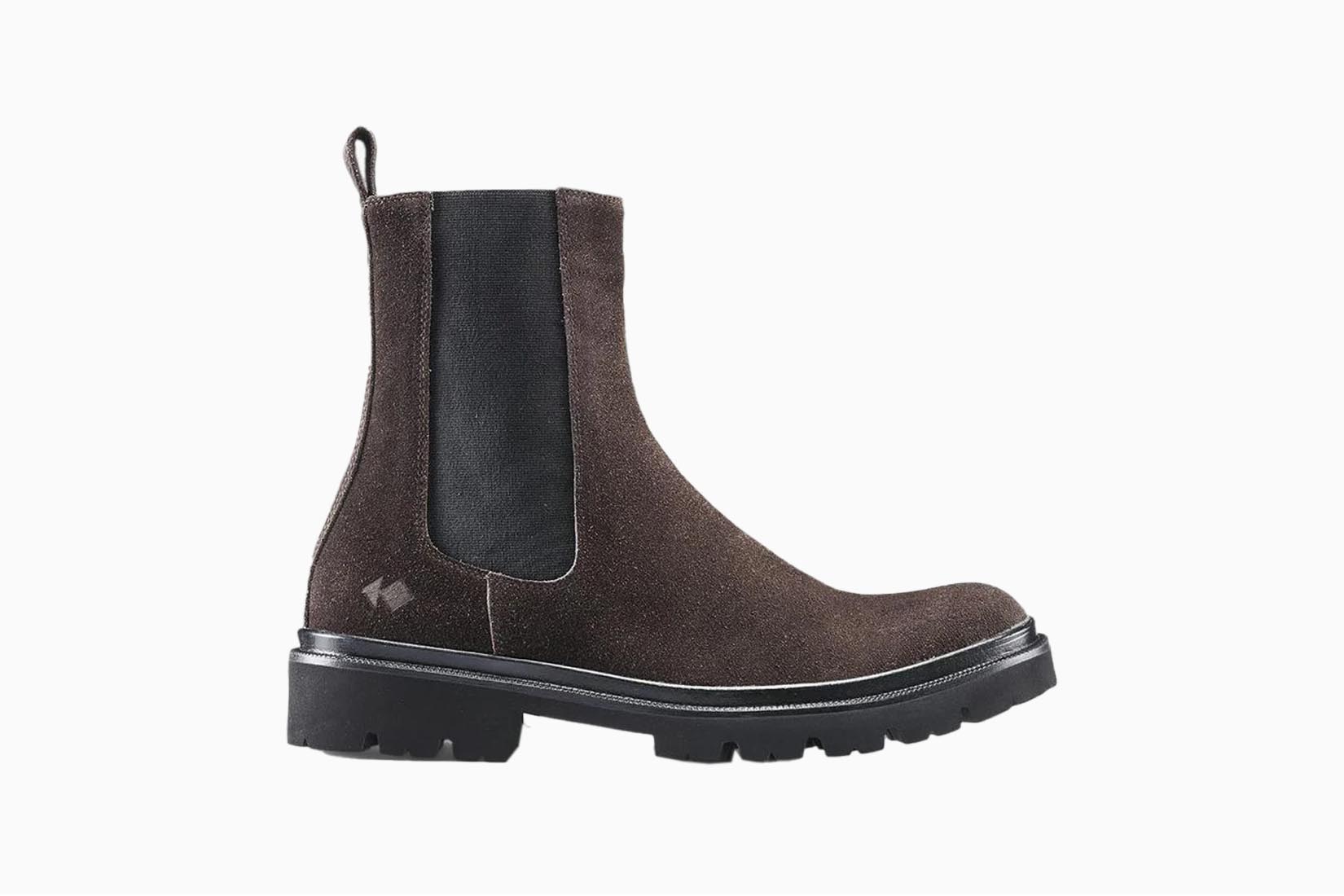 The kind of boot you'll find yourself wearing day in, day out, simply because none of your other footwear delivers the same kind of versatility, the Koio Chelsea boots would look as good with black tie as they would with battered blue jeans. They've got a dash of equestrian charm and are both practical and durable, with a sole designed to absorb impact and provide traction even on snowy streets.
Best for: Subtle polish meets straight-talking practicality.
Men's work boots and engineer boots
Do you work to live or live to work? The best work boots do both. Designed to be worn during your 9-5 and well beyond it, with their tough aesthetic and reliable construction, traditional leather work boots, aka engineer boots, were first created for railroad workers. These days, you're more likely to be wearing them on a cocktail terrace than a train track but the chunky old-school look still delivers results.
Timberland Waterproof Boot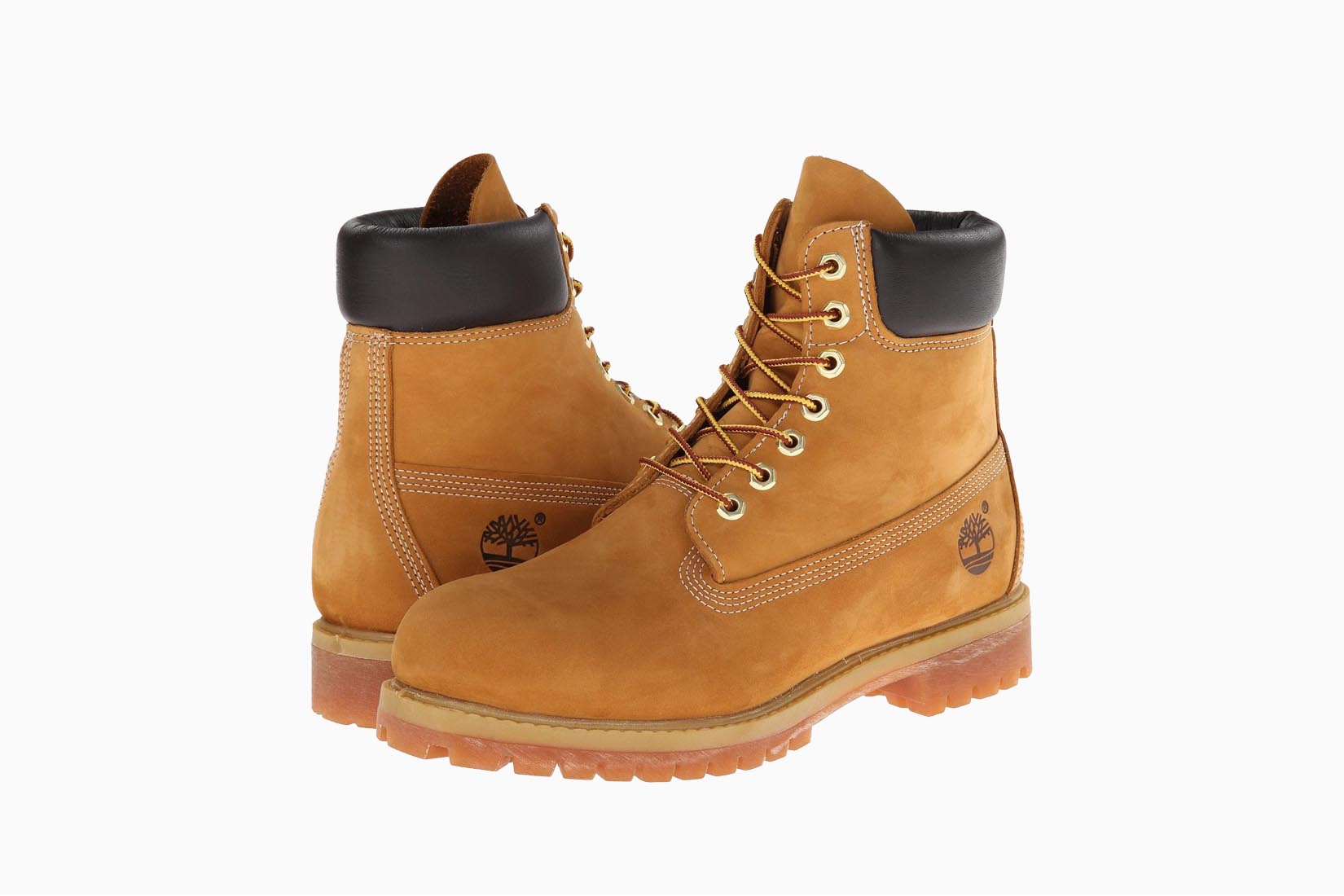 These iconic work boots for men are the brand's best-sellers, first hitting stores more than 40 years ago. No surprise really, given it's hard to find any other boot with the same level of flawless performance and classic work boot style. These Timberland work boots feature abrasion-resistant and durable waterproof uppers, rust-proof eyelets, insulation that balances warmth with minimal bulk, and a climate-controlled footbed. Some of the most comfortable work boots on our list.
Best for: Premium construction from masters of the work boot trade.
Carhartt Composite Toe Boot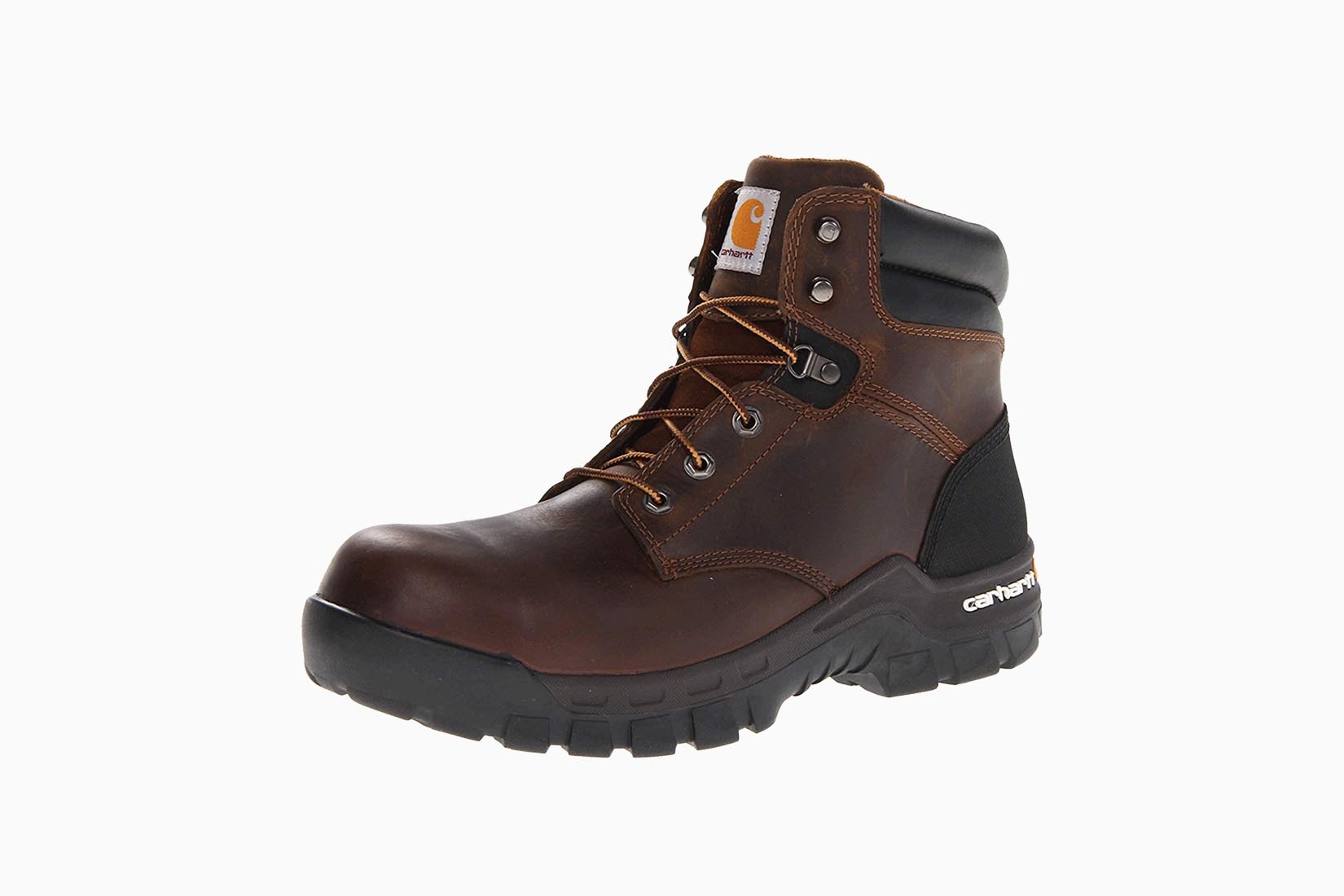 We're not sure when Carhatt became cool but we'll happily jump on the trend. These black work boots are the perfect halfway house between no-nonsense practicality and something you could wear to a posh cocktail bar with your date next Friday. As a pair of bonafide safety boots, they feature a composite safety toe for protection against impact, compression, and even electrical circuits of up to 18,000 volts. Because you can never be too careful.
Best for: A trending streetwise style that's also as tough as nails.
Red Wing Heritage Classic Boot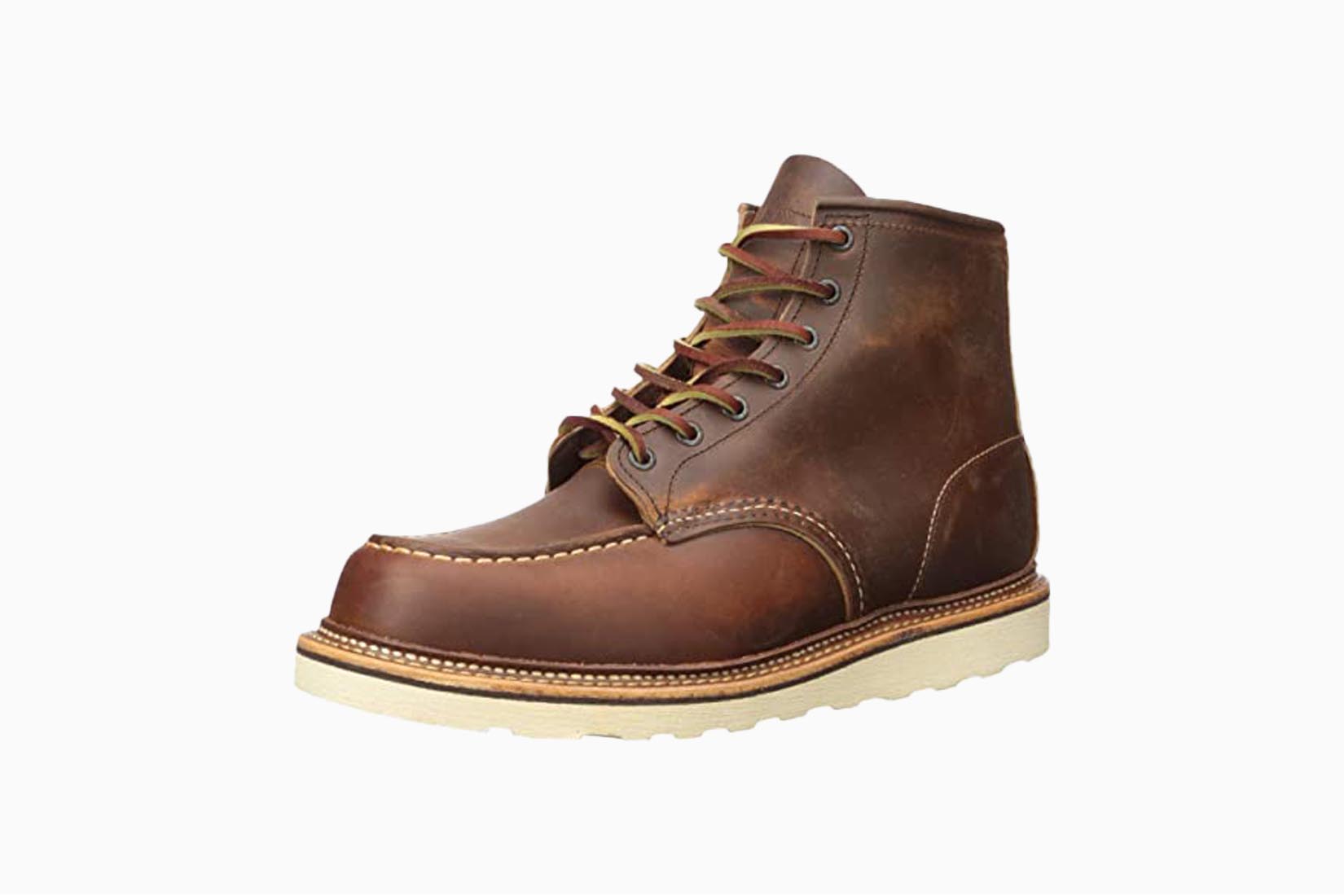 If you're looking for a pair of men's casual boots that deliver when it comes to functionality and durability, check out these waterproof work boots by Red Wing. They feature a moc-toe design, taking inspiration from moccasins to create a funky and distinct profile that would look great with a shirt and chinos. Unlike moccasins, however, these leather work boots also have a sturdy and reliable treaded outsole.
Best for: Cool and contemporary work boots equipped for both business and pleasure.
Skechers Work Boot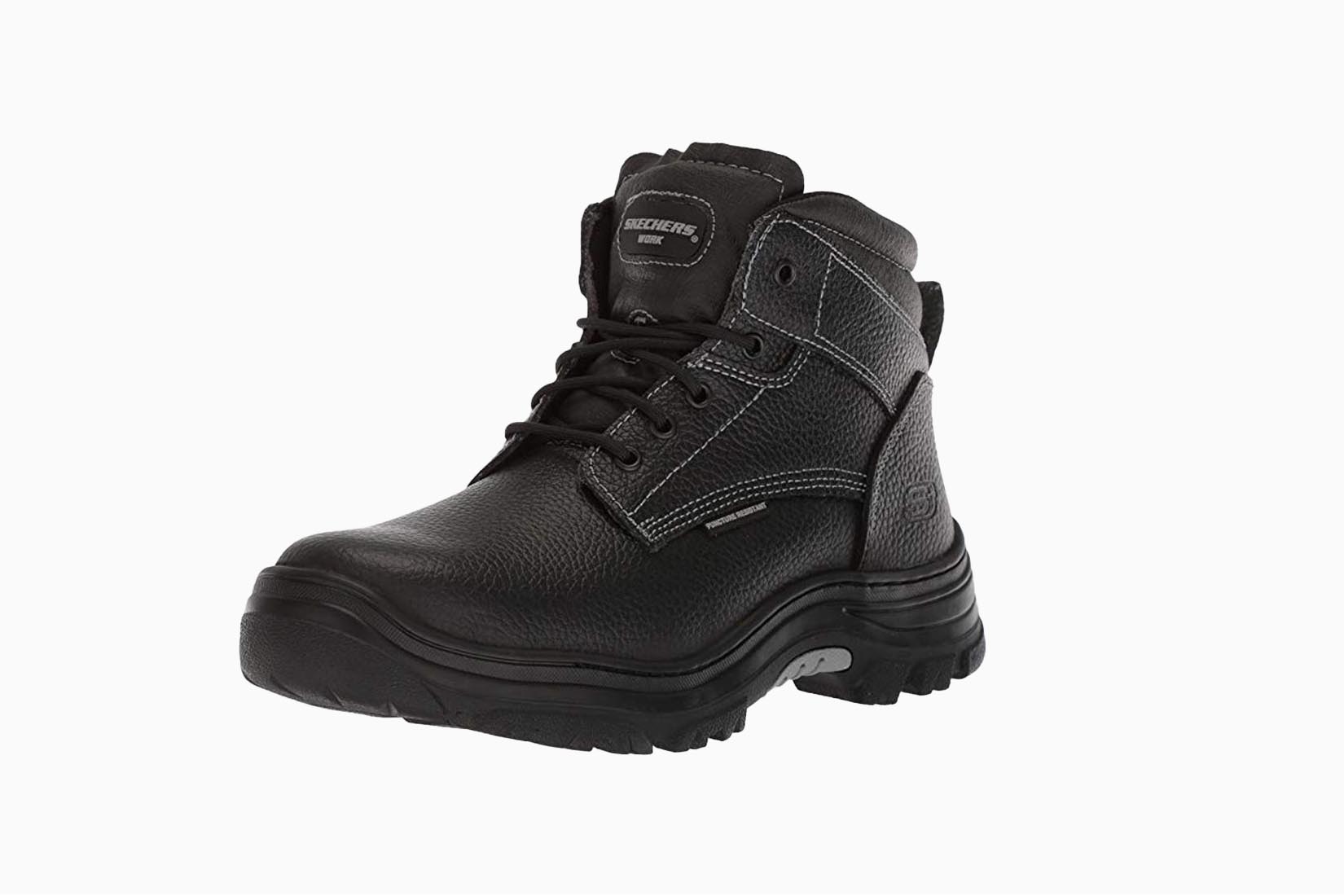 These steel toe work boots by Skechers are the real deal—proper industrial boots, tested and certified to meet the necessary standards, and resistant to impact, compression, and electrical energy. Wear these heavy-duty boots on the job, whatever your job, to keep your feet safe and secure. They wouldn't look out of place with a pair of black jeans and a bomber jacket either.
Best for: Casual men's boots with guts and grit, ready for the grind.
Caterpillar Second Shift Steel Toe Work Boot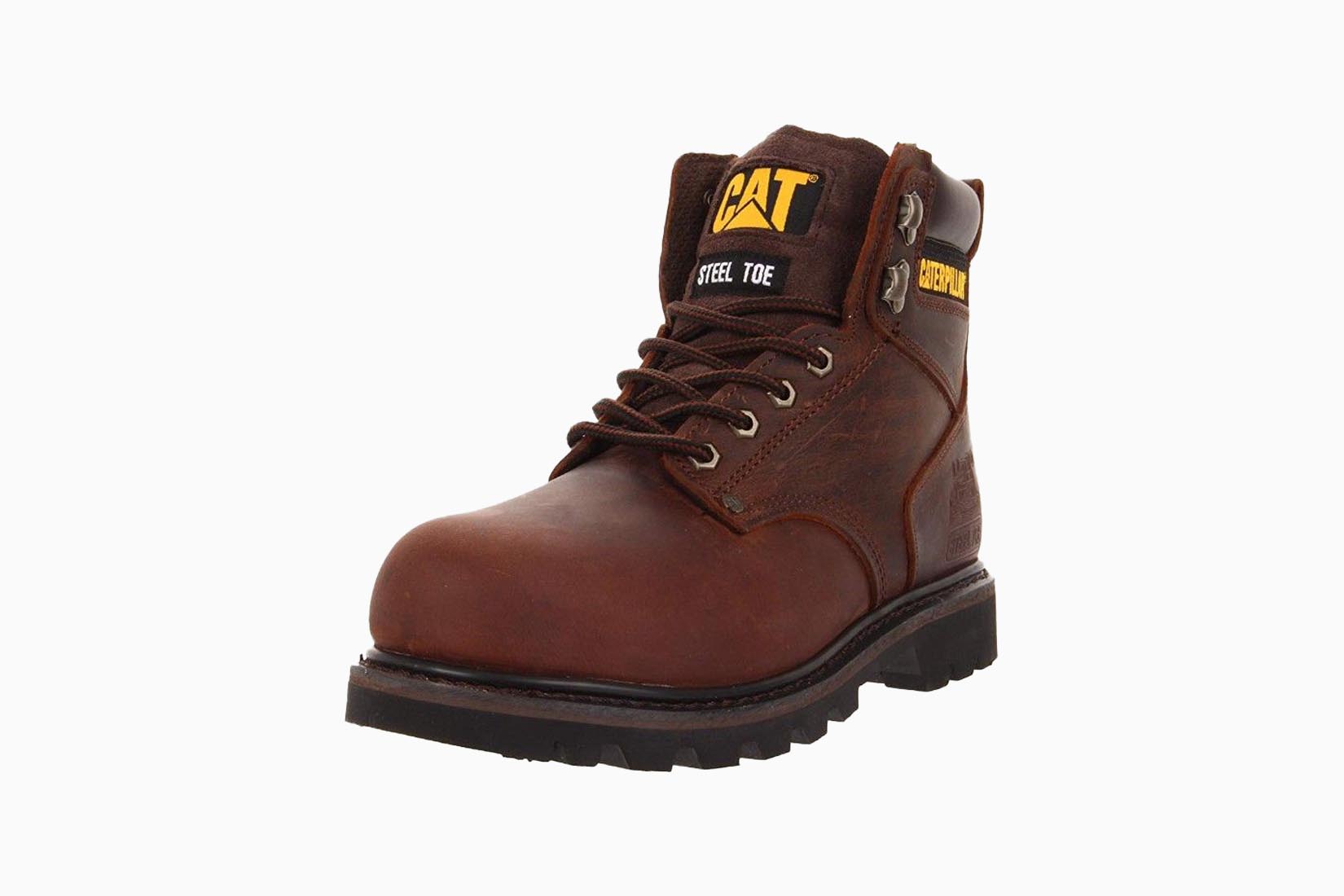 Some of the best steel-toed boots we've seen, these work boots from Caterpillar definitely take no prisoners with their rugged styling and solid construction. These are boots that know the meaning of hard work but also the importance of a work-life balance. They're handsome in a hefty and heavy-duty kind of way and we can imagine wearing them with selvedge denim and a biker jacket at the weekend.
Best for: A true beast of a boot, ready to bring home the bacon.
Frye Engineer Boot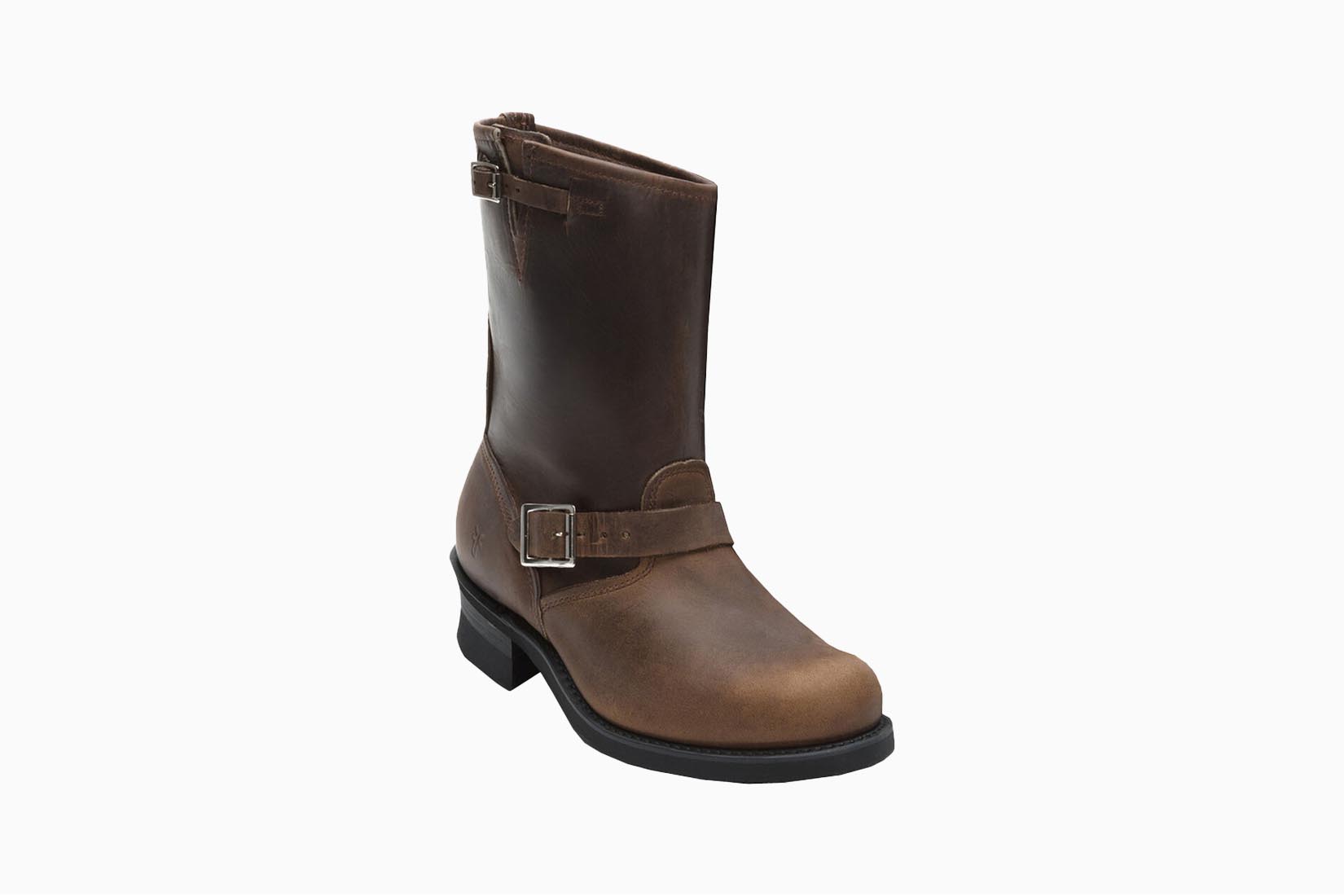 This traditional engineer boot has a pull-on style with an oiled leather upper and brushed silver hardware while two adjustable buckles allow for a custom fit. In appearance, they're identical to those originally worn for protection by workers in the engine room of steam trains—and later adopted as the unofficial uniform of motorcyclists around the world. These heavy-duty boots are a great choice for those who play as hard as they work, immediately adding off-beat style points.
Best for: The original engineer boot, primed for the railroad, the high road, and beyond.
Chukka boots/desert boots
The desert boot is the smart-casual shoe par excellence. Despite having its roots in the military (they were inspired by those worn by veteran soldiers in South Africa), desert boots or chukka boots evoke an easygoing and laid back mood with their thin sole, simple design (just two or three eyelets), and lightweight construction. These super cool boots are further elevated by their association with enigmatic movie star Steve McQueen, who couldn't get enough of them.
Clarks Desert Boot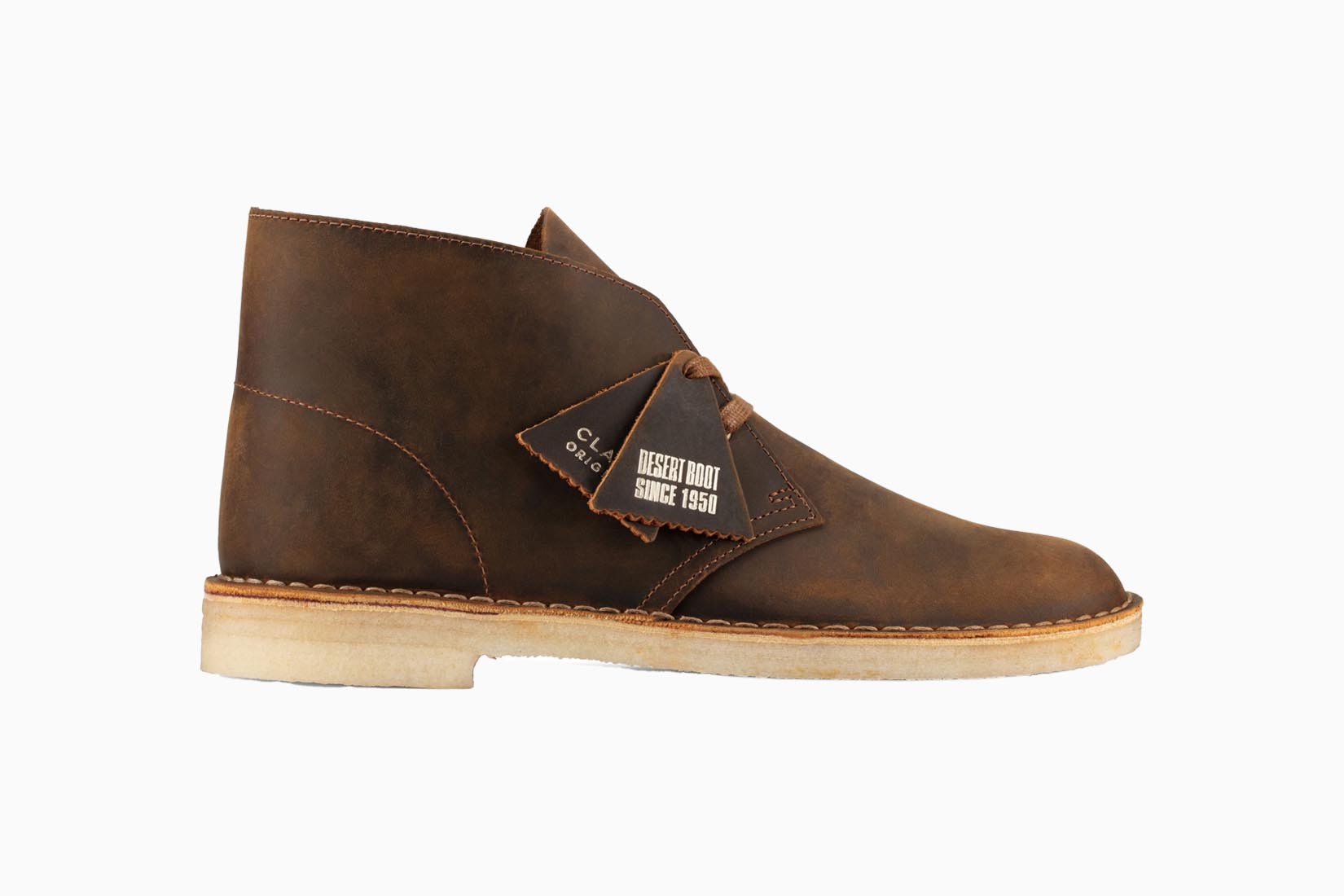 The Original Desert Boot by Clarks barely varies from the original design by Nathan Clark, dreamed up in Cairo in the 1950s, and which went on to win a legion of fans around the world. The silhouette is clean and simple with a straightforward lace fastening while the construction is top-notch—premium beeswax leather and a sustainably sourced crepe soul.
Best for: The archetypal desert boot by the original purveyors of the style.
Koio Chukka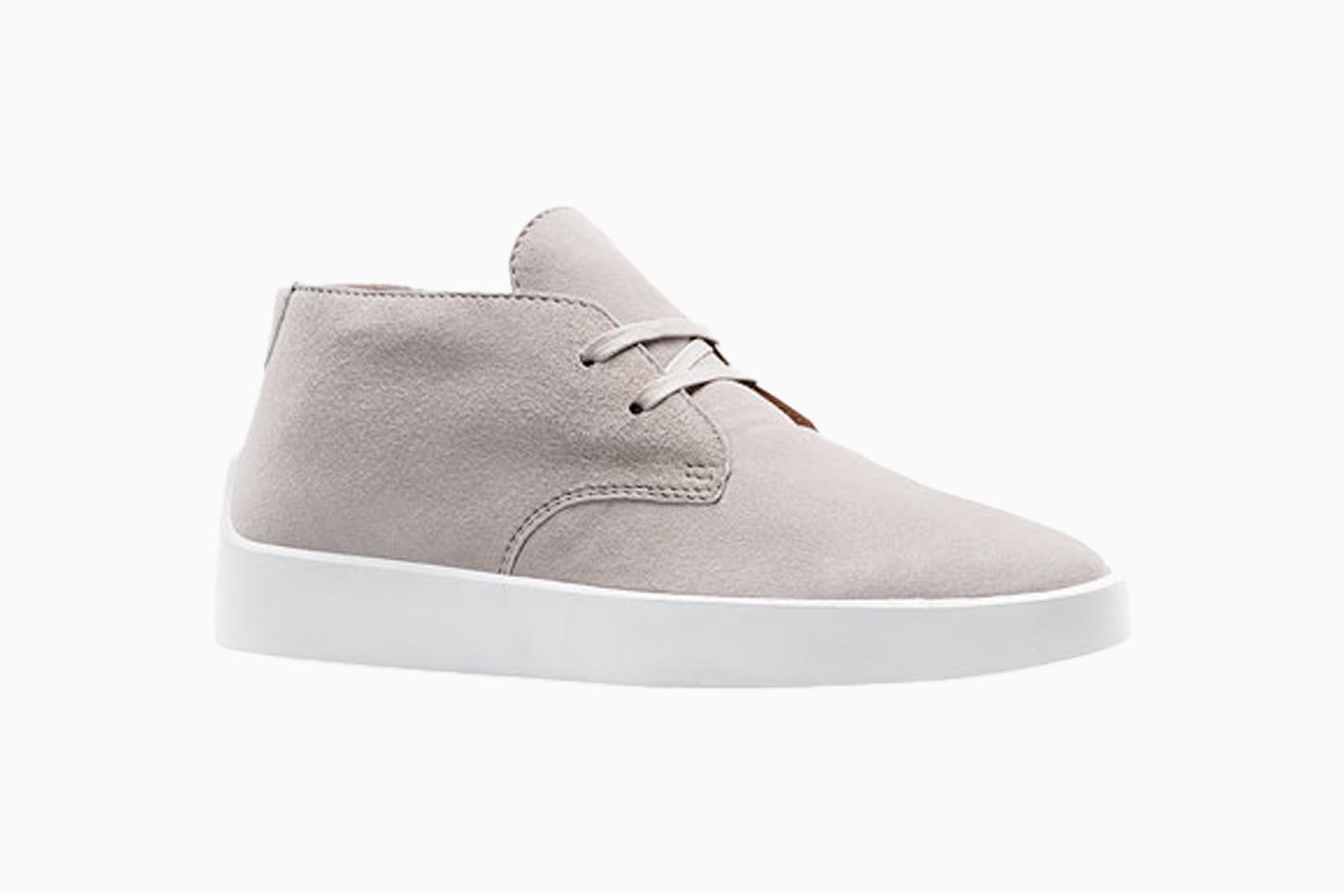 While we're besotted with the original desert boot style, this Chukka reinvention by Koio has definite appeal too, not least because it's so insanely comfortable. Handcrafted in Italy from ultra-soft suede, these men's casual boots feature a lightweight but hard-wearing sole made from 68% recycled materials. The extra eco points combined with the trendy urban vibe make these chukkas hard to resist.
Best for: A modern-day upgrade of the Chukka, ideal for inside and outside of office hours.
Cole Haan Grand Tour Chukka Boot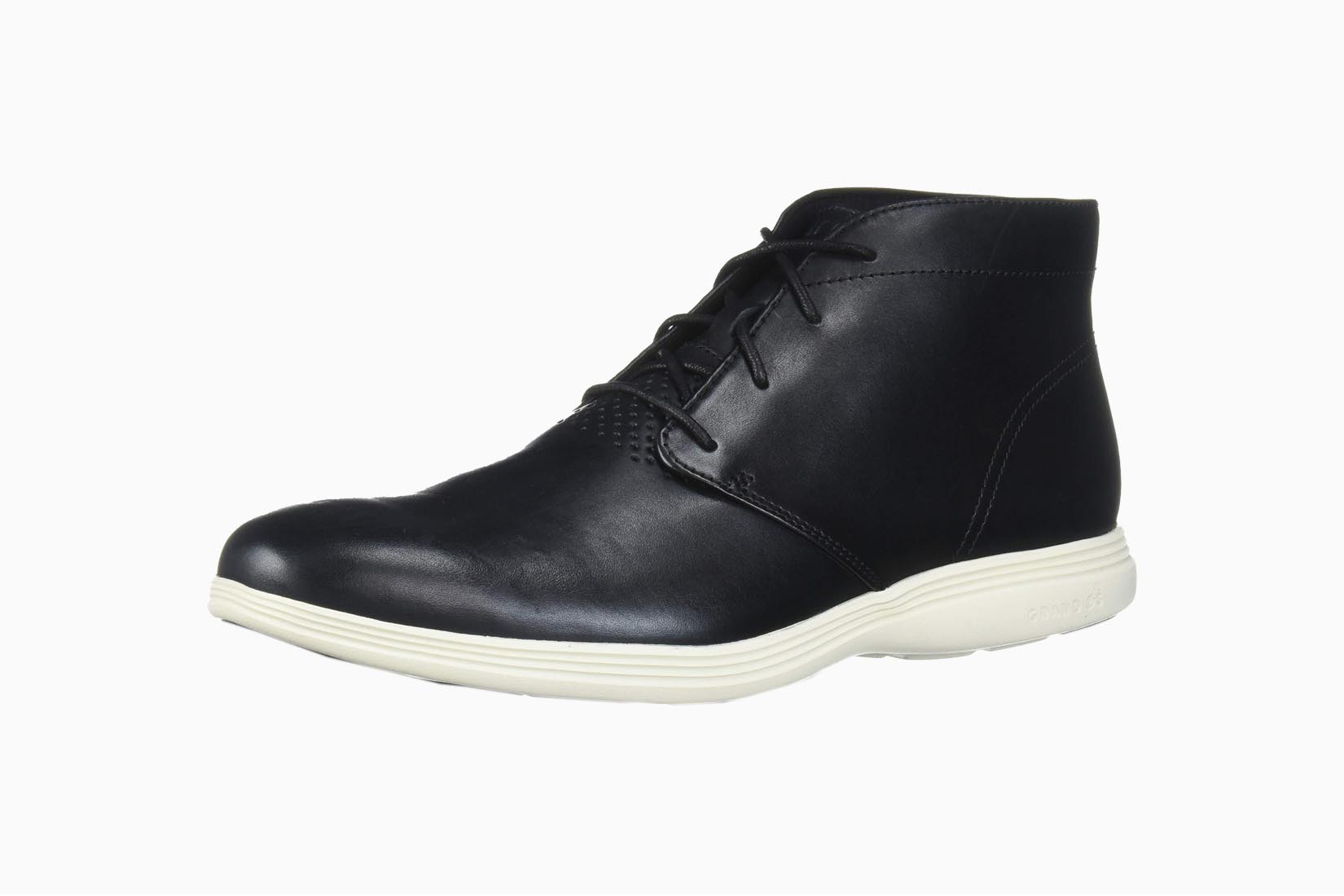 The aptly named Grand Tour by Cole Haan really does feel like a shoe you could wear on a trip around the world with its clean-lined versatile design and durable construction. These Chukka boots look a little different from the original style, especially in leather rather than suede, but they've still got that go-anywhere, do-anything vibe, plus a hint of the rebellious and unruly.
Best for: Adventure-ready Chukka boots.
M.Gemi Desert Bootie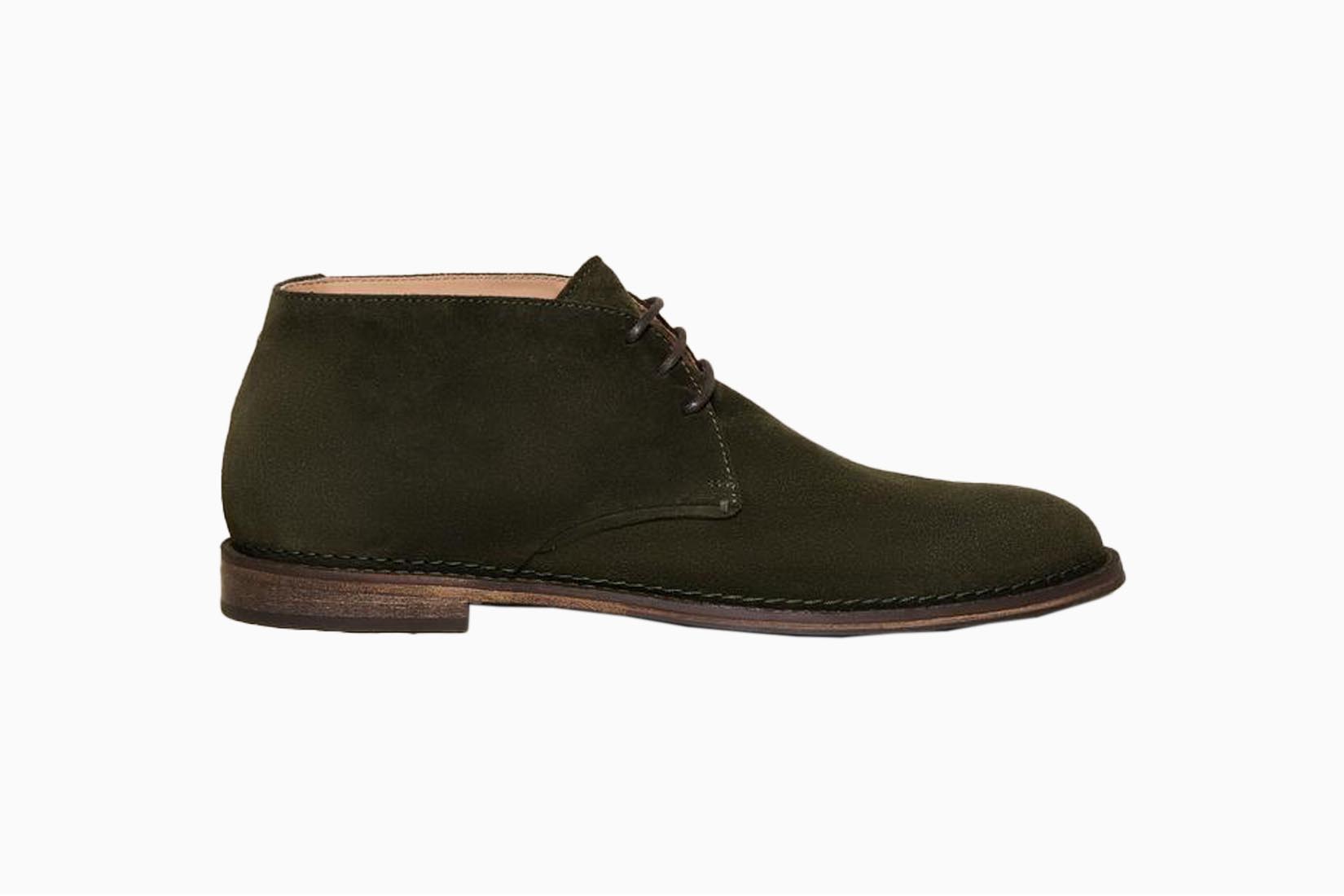 There's so much we love about this desert boot by M.Gemi. From the distressed suede (casual, cool, and classy) to the low cut (more like a shoe than a boot) as well as the impeccably high-quality materials (M.Gemi doesn't skimp or compromise), this classically Italian spin on the traditional chukka elevates it to new levels of sophistication. Shoes best worn with a Negroni in hand.
Learn more about the story behind M.GEMI.
Best for: Exquisitely elegant desert boots that may upstage the rest of your outfit.
Tod's Desert Boots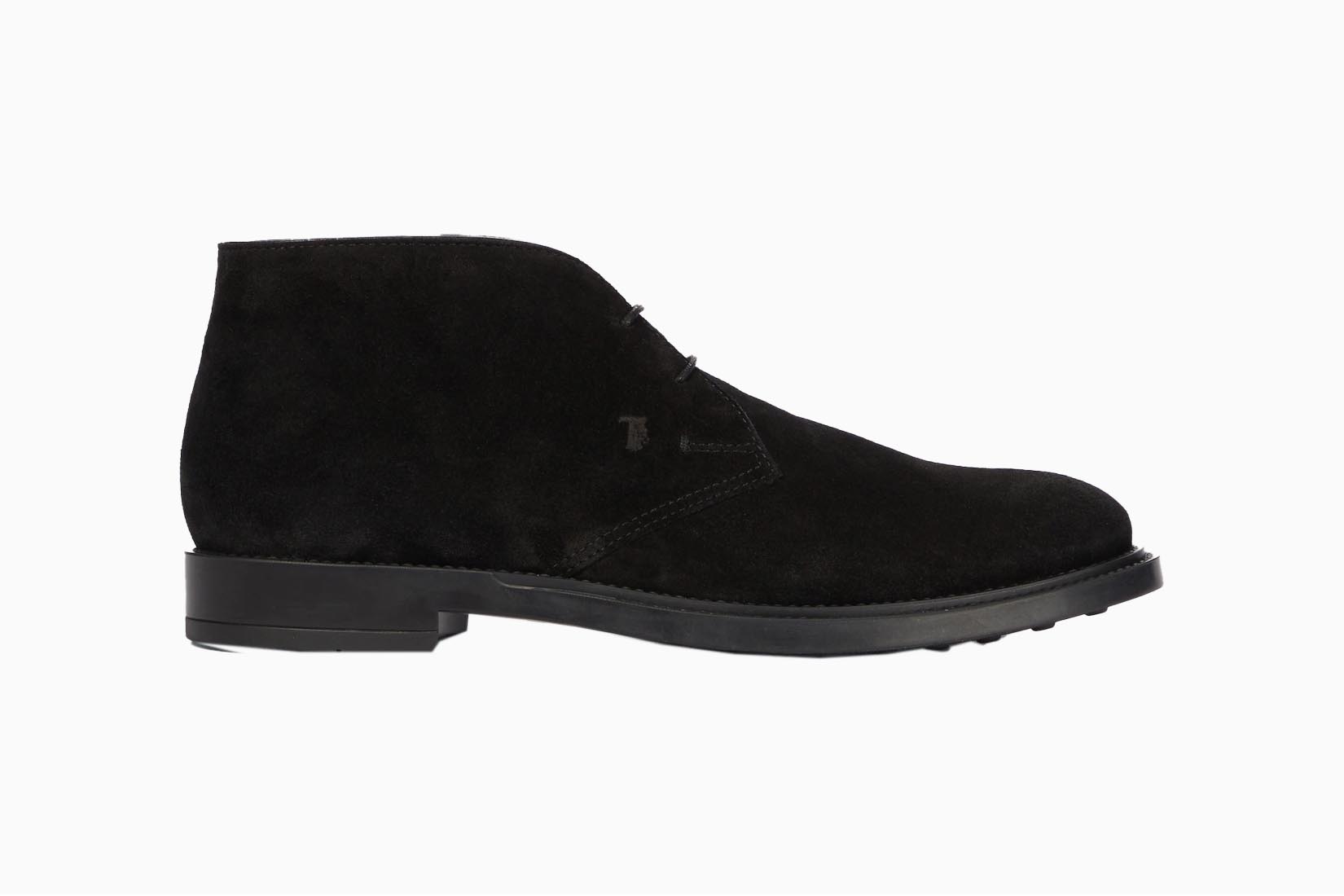 These superbly crafted desert boots by the icon of Italian design, Tod's, are the last word in laidback luxury. We love the oh-so-soft suede uppers, cut low in a flattering style, while the studded rubber soles are high-quality and long-lasting. Wear these desert boots with rolled-up jeans and a crisp white shirt. Or with a pair of pleated trousers and polo neck for something more formal.
Best for: Desert boots that manage to be both decadent and down-to-earth.
Hiking boots
If you're less interested in cool boots that will win you fashion points than footwear that provides protection from the elements, then you need a good pair of hiking boots. Luckily, the best hiking boots also look pretty stylish too—in a rugged and robust way. They combine stability, durability, support, and breathability to create the kind of shoes you'll never want to take off.
New Balance 3-in-1 Boots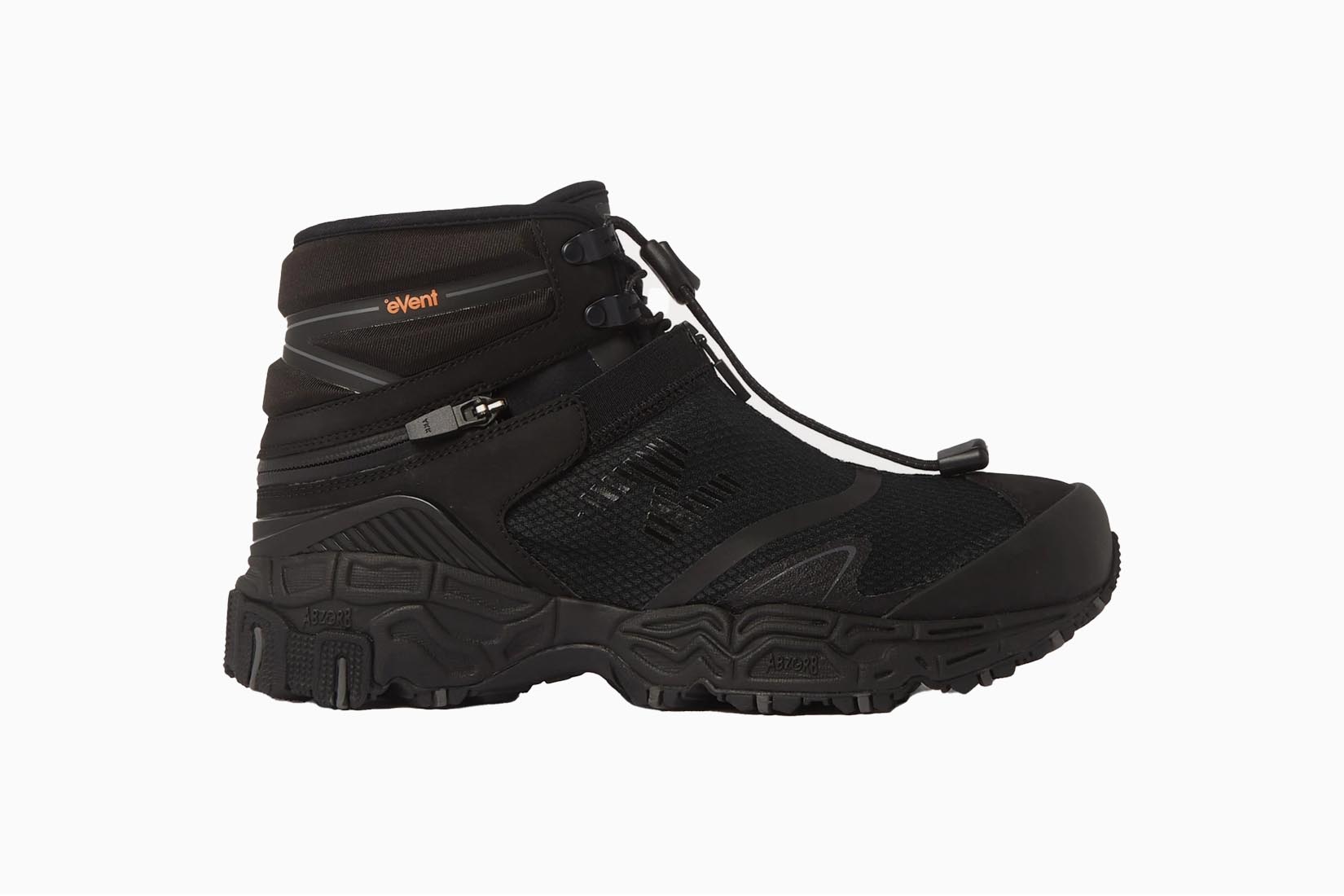 These Nobium hiking boots bust up boundaries and break the rules. They're convertible hiking boots, for one thing, and can be dismantled into mules to wear around the campsite and a pair of socks for inside the tent. They're made from heavy-duty rubber, suede, and mesh, and are the perfect footwear for trekkers and nomads. Oh, and they're seriously style-savvy too.
Best for: High fashion meets high performance.
Diemme Hiking Boots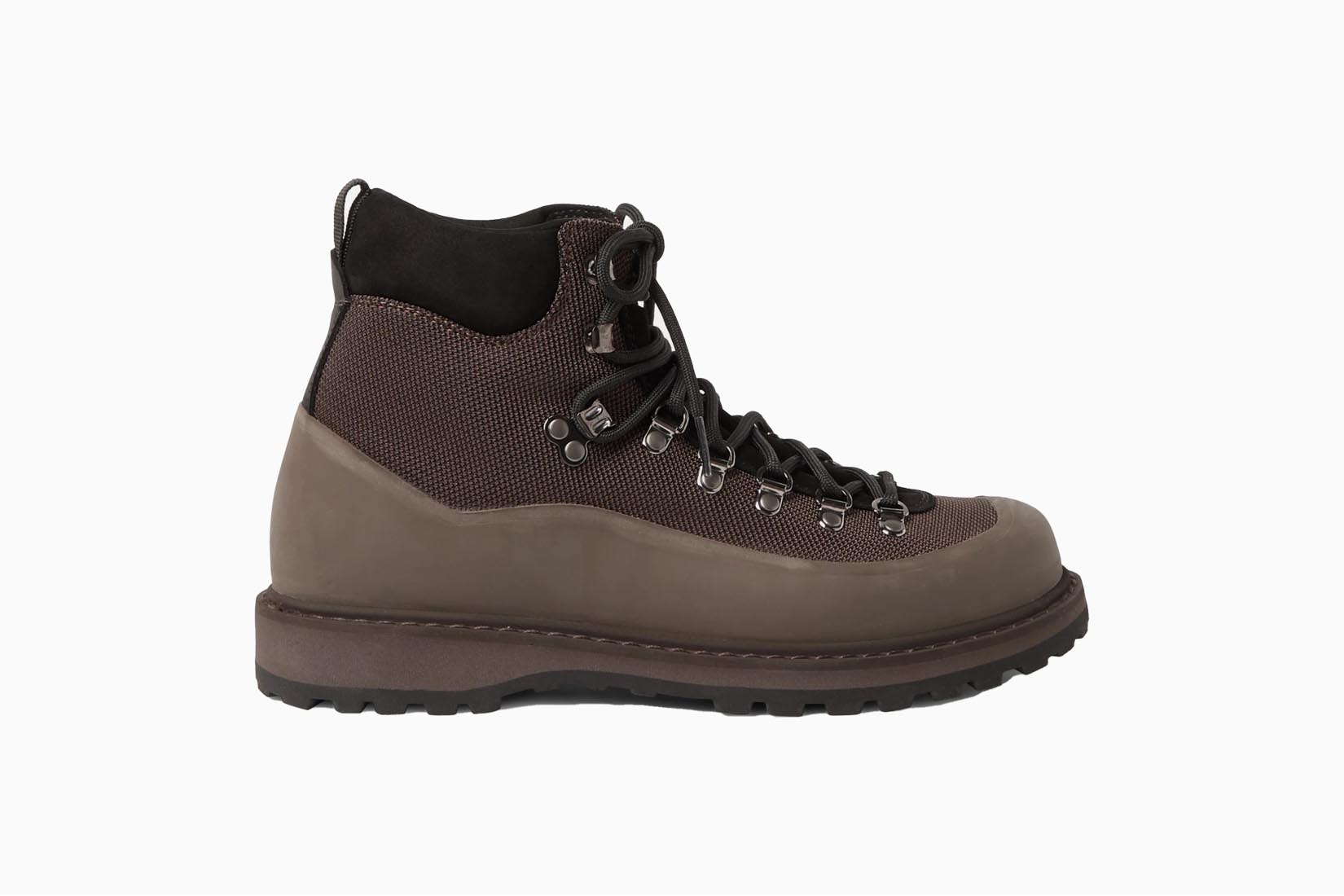 Diemme is known for its polished yet practical line of performance footwear, as demonstrated by these hiking boots. They're perfect for exploring trails but the soles are also light enough for city-wear by those who've had enough of blisters. The sturdy Cordura construction is long-lasting and abrasion-resistant while the nubuck collar is padded for extra comfort.
Best for: A trail-ready design with a touch of luxury thrown in.
Danner Men's Mountain Hiking Boots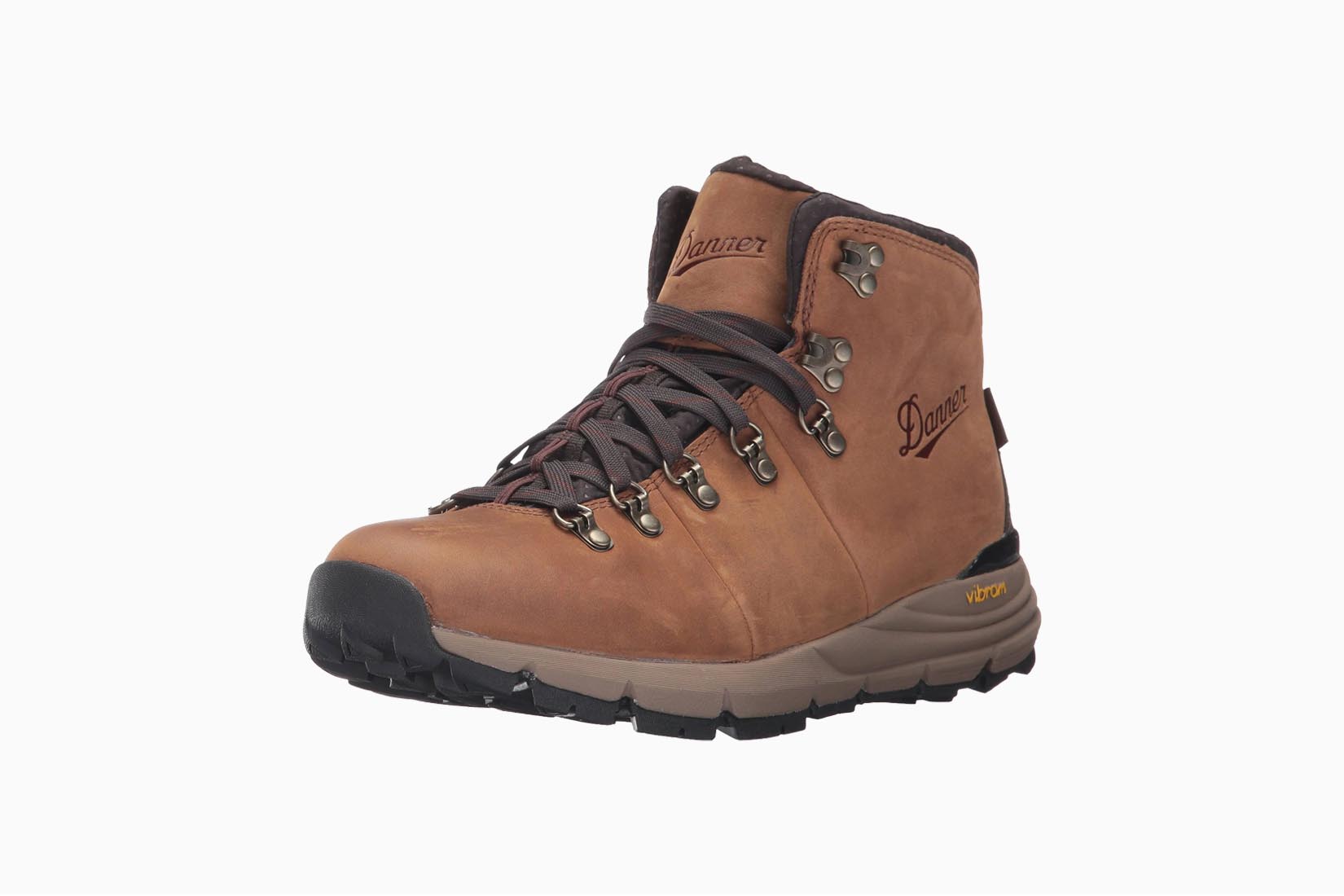 The Mountain 600 by legendary boot brand Danner is a shoe that's both classically elegant to look at and impressively comfortable to wear. The Vibram SPE midsole uses a combination of synthetic natural rubber and EVA for greater flexibility, resiliency, cushioning, and durability, but with no extra weight. And the Vibram Fuga outsole features a self-adaptive lug pattern to grip at multiple angles for superior traction on difficult terrain.
Best for: Classic hiking boot styling elevated with innovative new technology.
adidas Terrex Hiking Boot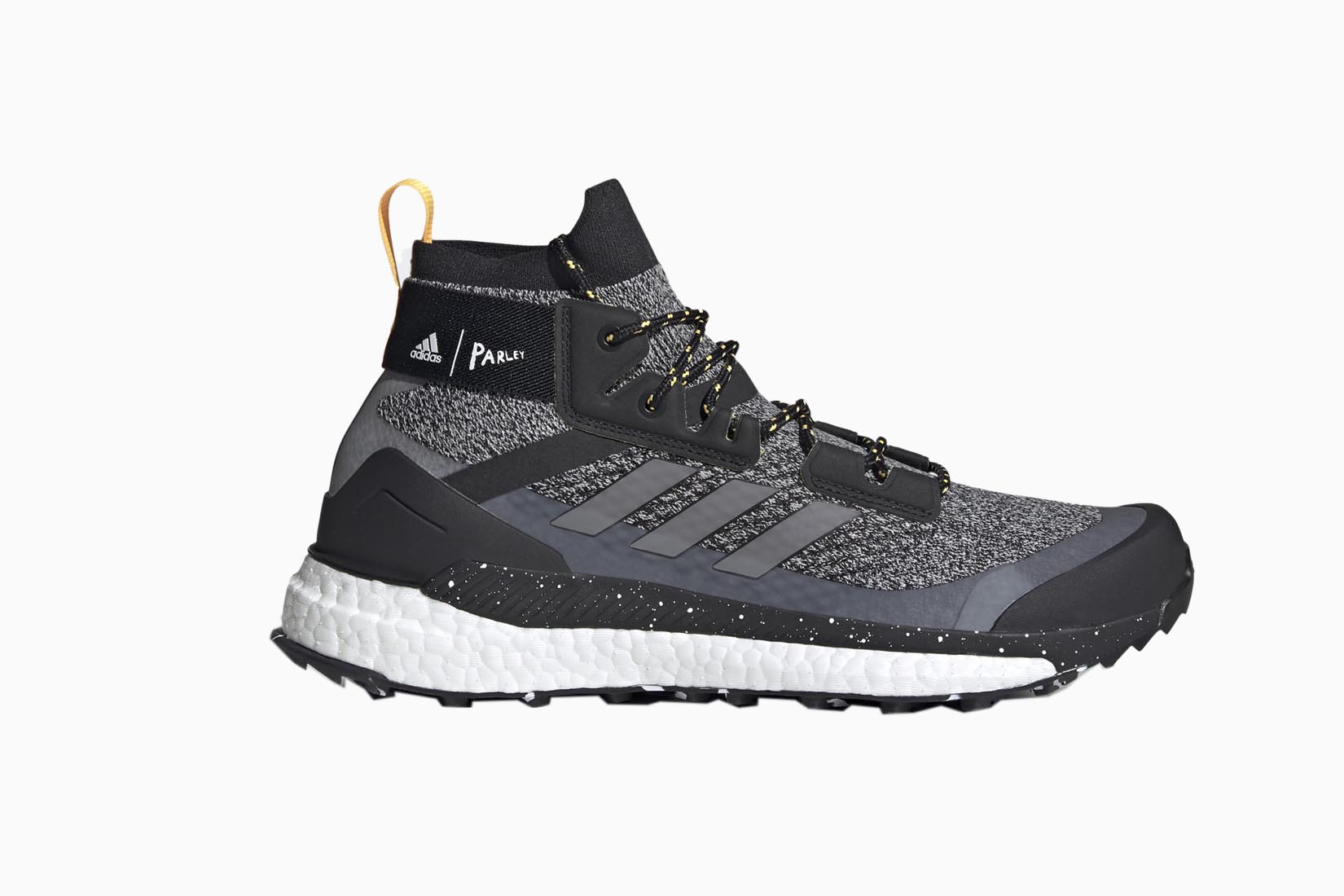 For a hiking boot that will do double duty as a stylish shoe for urban escapades, check out the Terrex by adidas. It features the brand's most responsive cushioning technology so far and is particularly adaptable to rocky surfaces. A rubber outsole offers next-level grip on uneven services while the Primeknit construction is lightweight and adapts to the shape of your foot as you hike. Plus, it's made from upcycled plastic waste.
Best for: A sporty-chic take on an outdoors-optimized boot.
Moncler Vancouver Leather Hiking Boots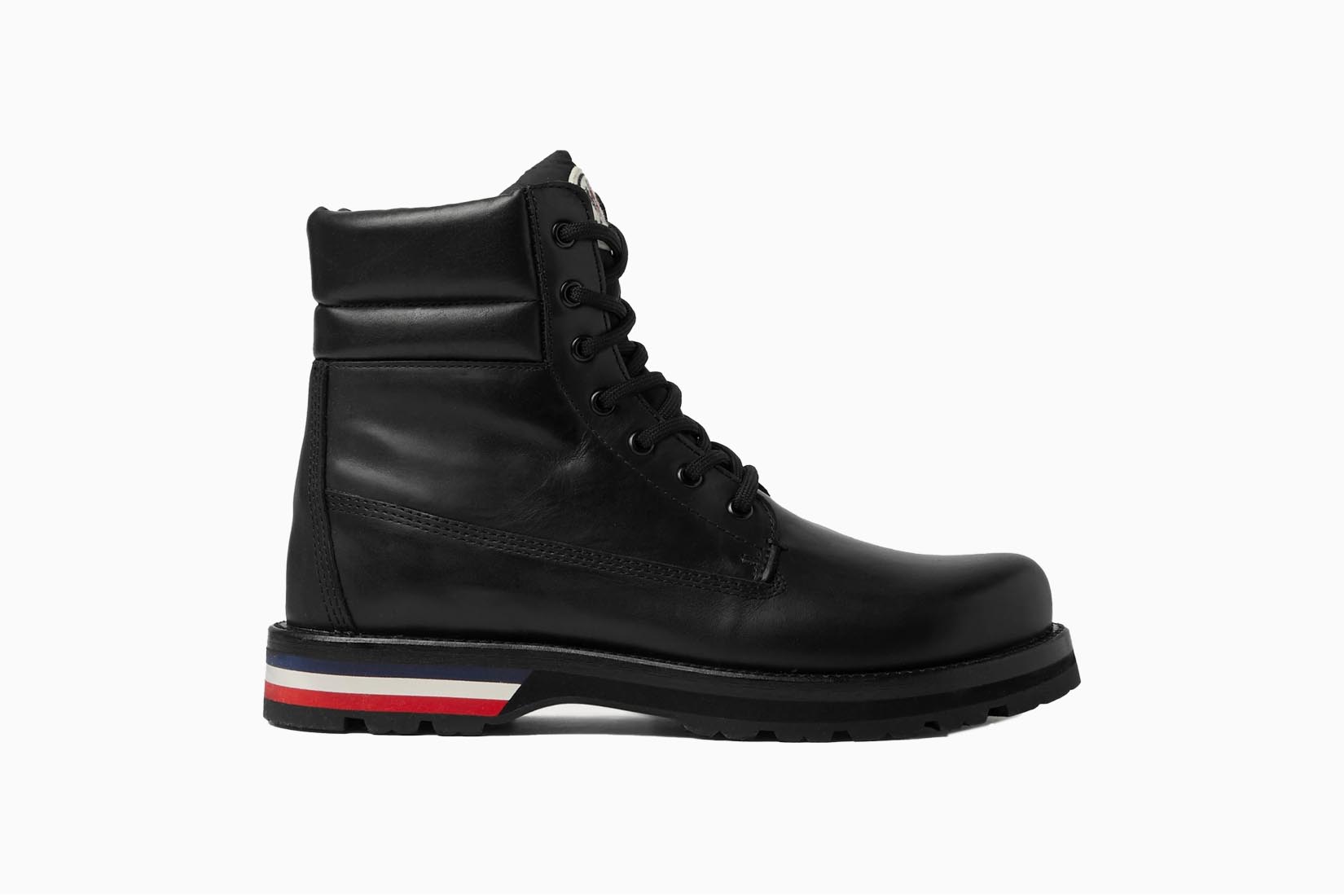 Alpine-wear specialists Moncler are our number one choice for sartorially-shrewd yet utilitarian outerwear. The brand's Vancouver boot offers an unconventional twist on traditional hiking boots. It feels indisputably luxurious while still being functional, featuring non-slip rubber soles for grip and traction, as well as the brand's recognizable red, white, and blue stripes on the heel. Wear from the chalet to the ski lift.
Best for: Footwear that feels like it's seen some mountain summits (even if it hasn't).
Dress boots for men
Got a black tie event in the diary and want to wear something a little more interesting than your standard lace-ups? Get yourself a pair of men's dress boots. This sharp footwear staple is like the cooler cousin of the loafer. Refined and sophisticated, these dress boots for men also offer a level of durability and robustness that means they're ready for any possibility.
Tom Ford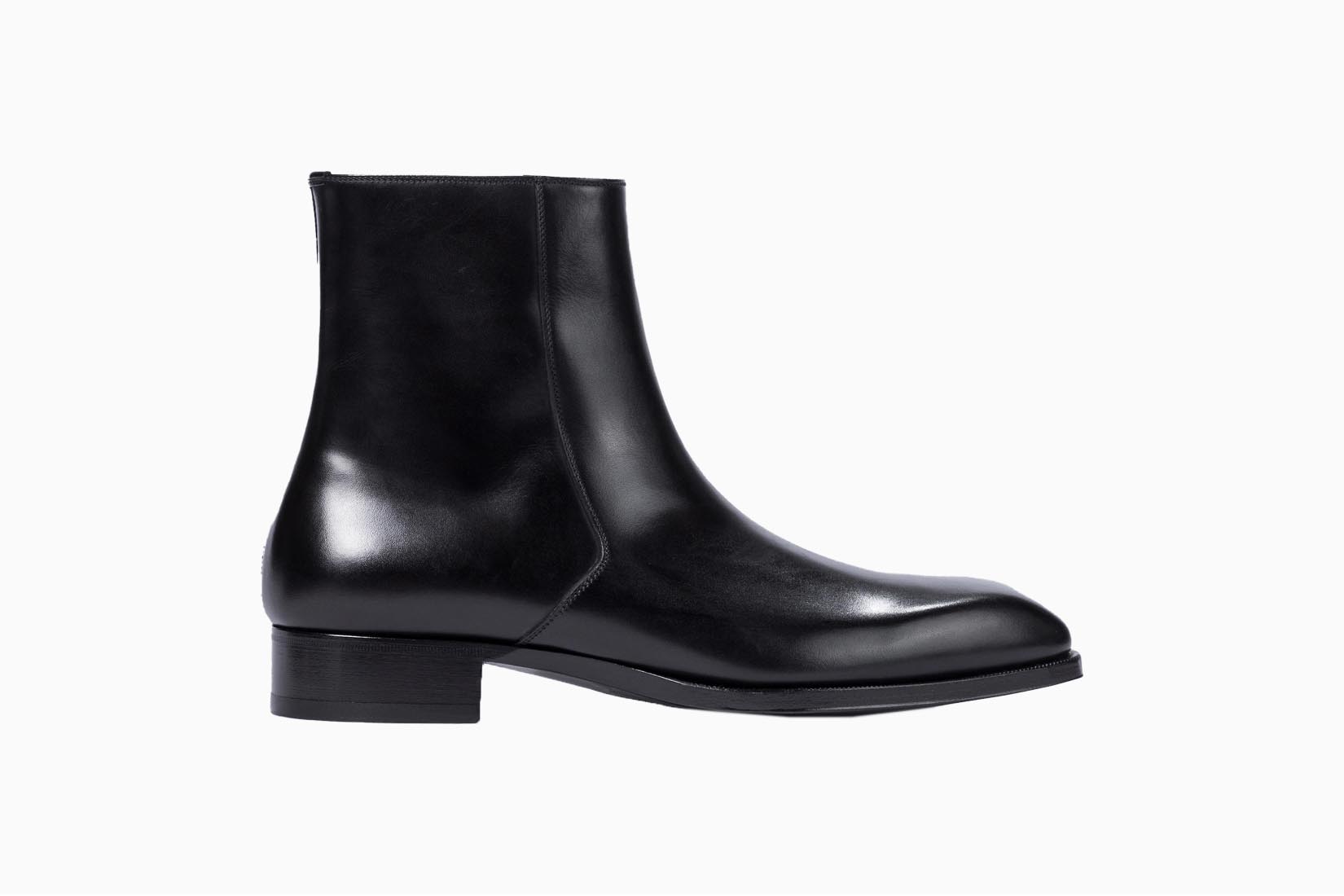 No one does contemporary luxury like Tom Ford, as demonstrated by these showstopping glossy black boots for men. Crafted from smooth calf leather, these designer boots are the dream accompaniment to a tuxedo, with a zipped fastening and stacked heel that's high enough to be intriguing without being flamboyant. Or wear these leather boots for men with tailored trousers and a slim-fitting cashmere jumper for something casual.
Best for: Dark drama and edgy intrigue.
Paul Smith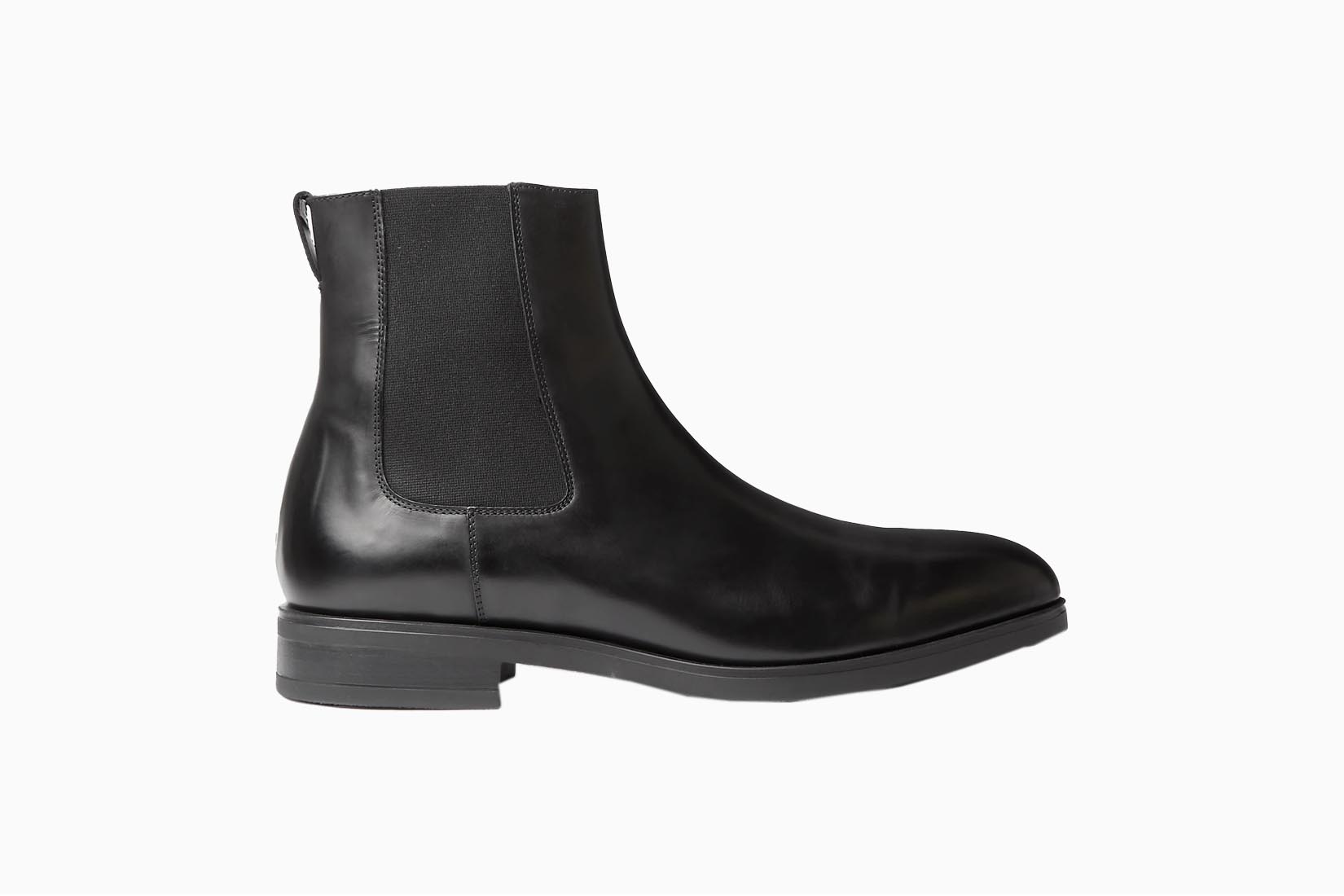 We've already discussed the inimitable appeal of Chelsea boots with their edgy rocker aesthetic. And these Chelsea boots by Paul Smith are on the right side of sophisticated to be worn with a suit and tie to a formal function. They're simple, sure, but that means they go with everything, and will still be in fashion in ten years time.
Best for: Spicing up a standard suit and tie.
Salvatore Ferragamo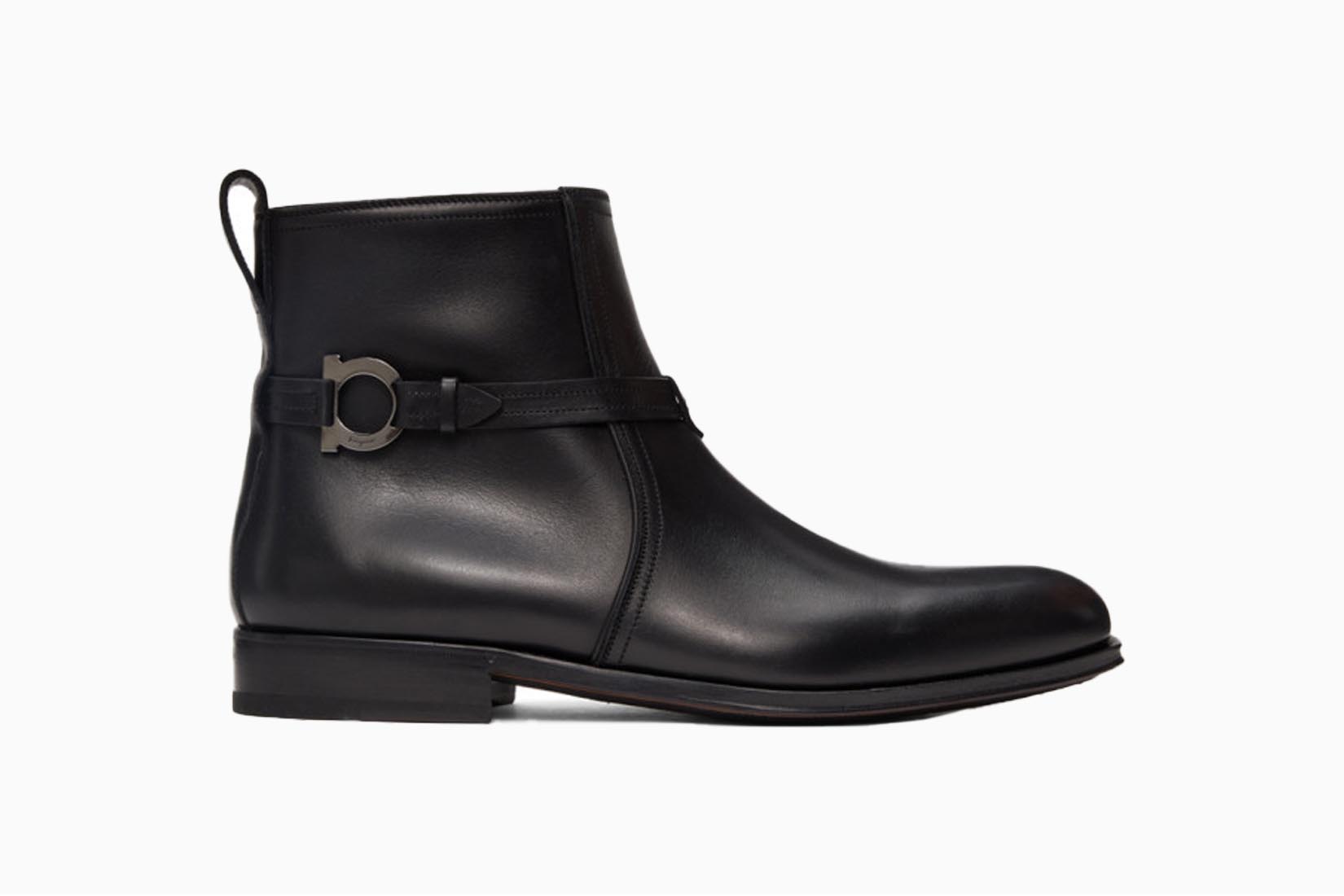 A sharp contemporary take on the traditional Jodphur boot, these designer boots for men are ideal for those seeking something a little more interesting and memorable to pair with their cocktail attire. Without being showy or extravagant, these leather boots for men combine timeless black with an edgy metal buckle (that makes us think of silver spurs) to deliver seriously understated allure.
Best for: Crisp cowboy cool for catwalk-calibre style.
Balmain Suede Men's Ankle Boots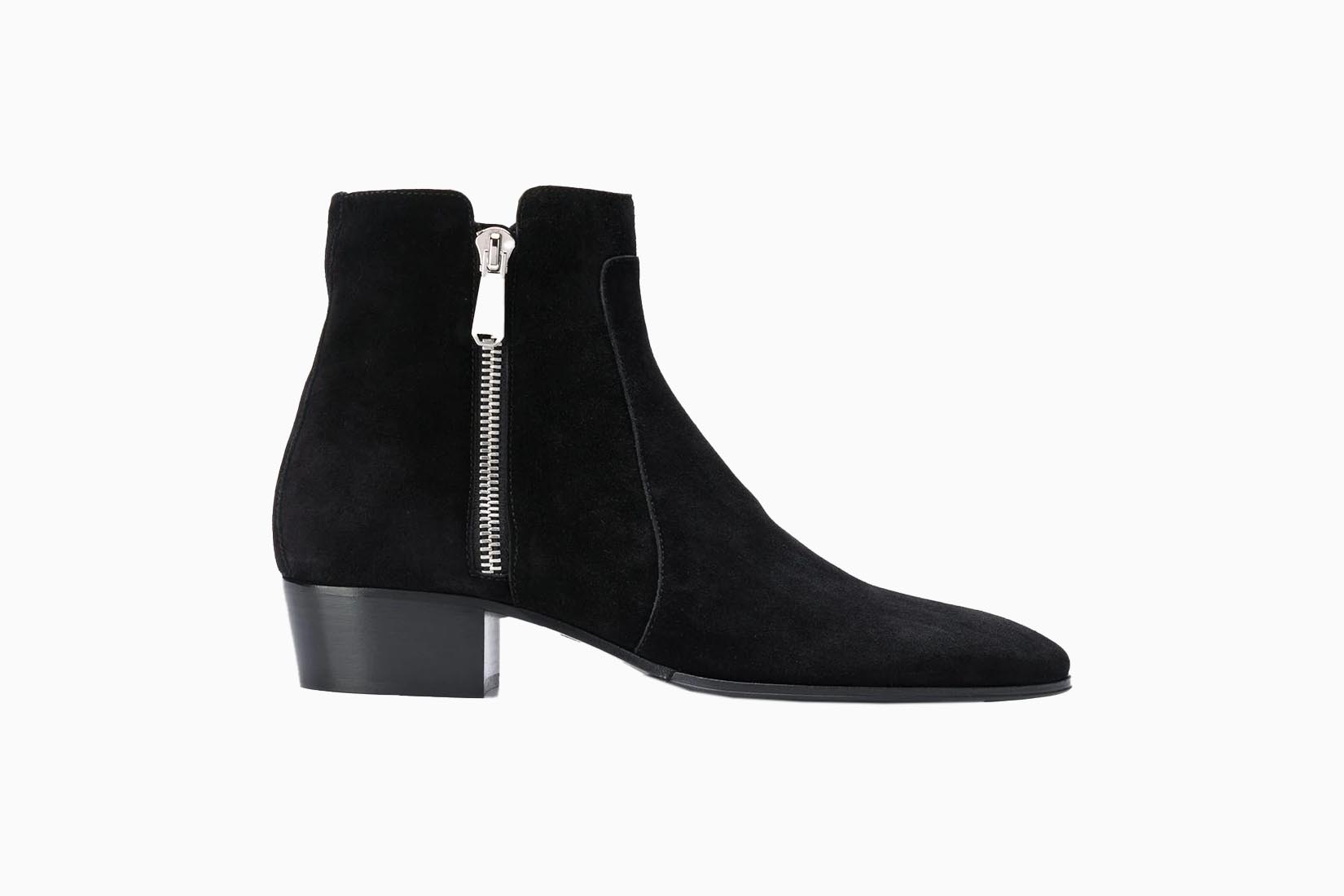 For those of you seeking something extra special for a uniquely important event, splash out on these Balmain suede boots, sure to stop any passerby in their tracks. Not a pair of shoes for the faint of heart, they're certainly bold and arresting. But if unforgettable is the vibe you're going for, then these black suede boots are perfect. A talking point—in the best possible way.
Best for: Proof that, boot-wise, it's better to go bold or go home.
Church's Leather Chelsea Boots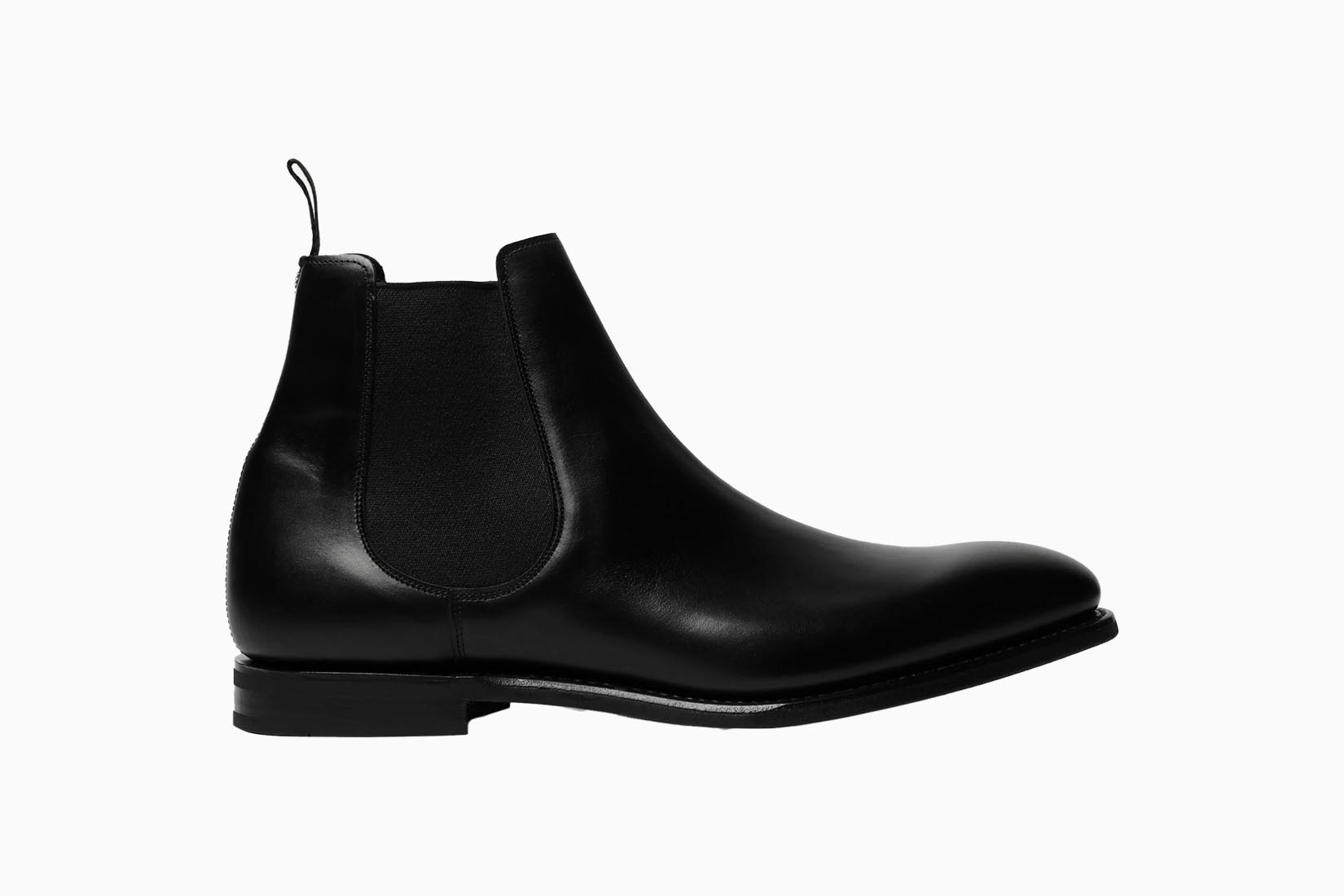 The kind of cool boots that are just asking to be worn to a dimly lit cocktail joint (jazz piano in the background, a martini on the bar) Church's Prenton Chelsea boots don't just look superbly sleek but also have lightweight rubber soles for improved traction on slippery streets (or the dance floor). They also feature elasticated sides so are easy to get on or off.
Best for: Gleam and glamour for all your after-dark antics.
Men's ankle boots and Jodhpur boots
The extensive category of ankle boots into which Jodhpur boots fall represents some of the most versatile and dependable footwear a man could ask for. Jodhpur boots were first worn by polo players in India in the 1920s and still offer some of that retro equestrian elegance. They, and other men's ankle boots, are perfect for pairing with skinny jeans or smart tailoring, bringing dapper decadence to any ensemble.
Our Legacy Camion Boots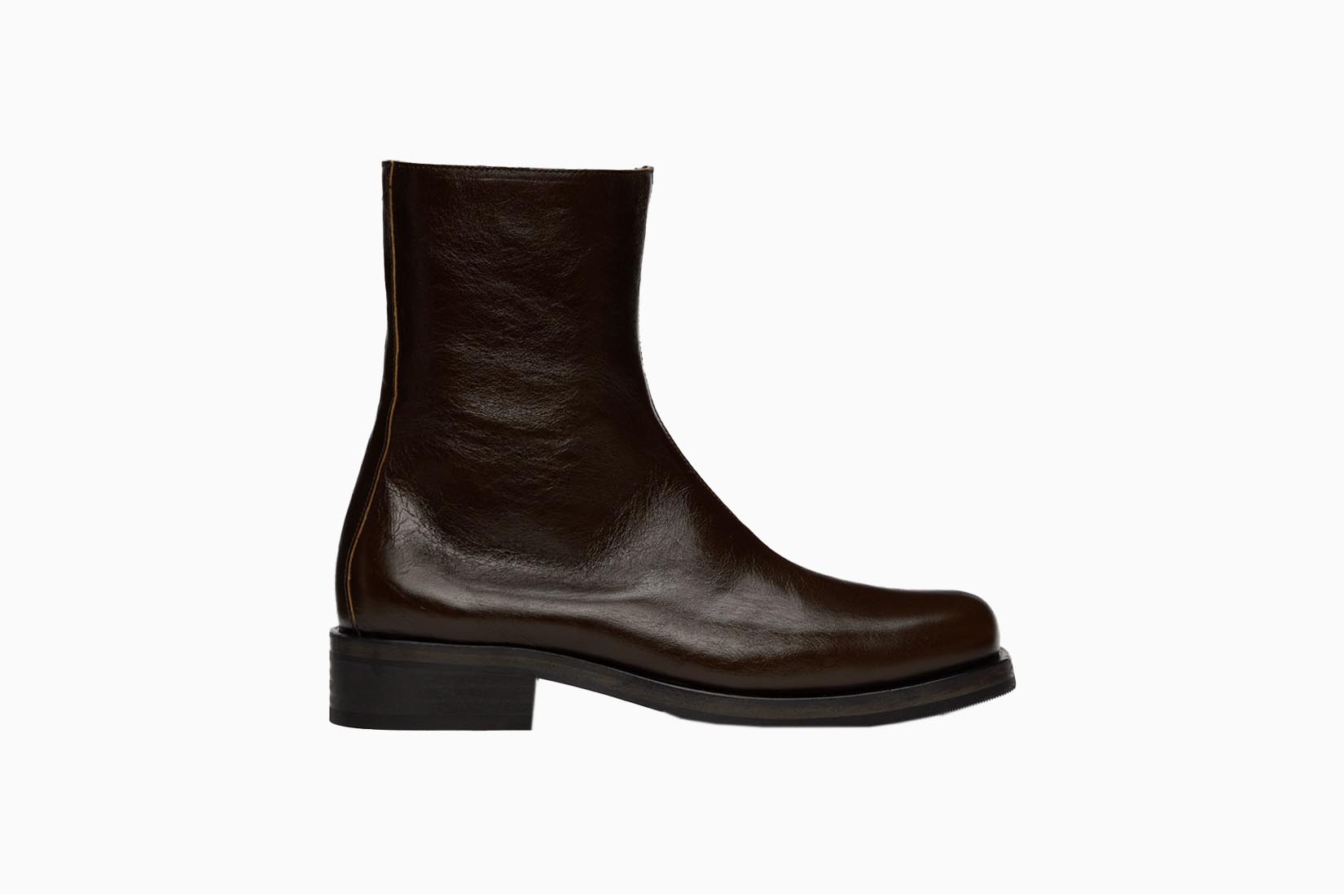 If this boot was a person, it would probably be that mysterious stranger that rocks up at a bar and somehow manages to spark the curiosity of every woman in the room. With an unusual grained brown leather, square toe, zip closure, and stacked heel, plus an unconventionally high upper, these Camion boots get your attention but don't hog the limelight.
Best for: Rugged refinement and unorthodox allure.
Yuketen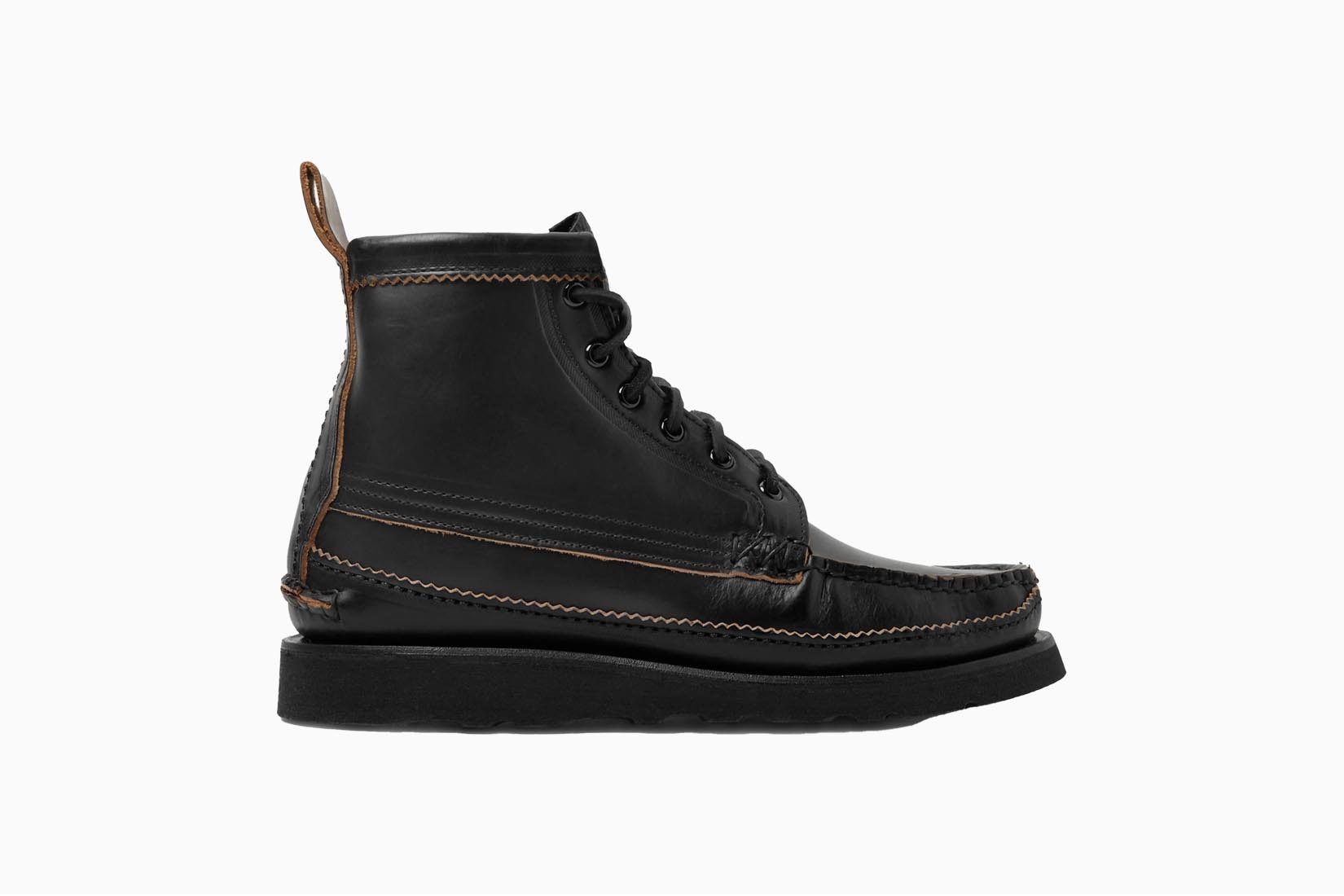 These Yuketen boots have a classic old-school Americana vibe. It apparently took around two decades to get the design right and we appreciate the attention to detail, which is evident in everything from the thick Vibram rubber soles to the flawlessly smooth full-grain leather. The steel shank reinforcements distribute your weight so you'll be able to spend extra hours on your feet, no problem.
Best for: Utterly unique ankle boots that are sure to get comments and compliments.
John Lobb Leather Boots For Men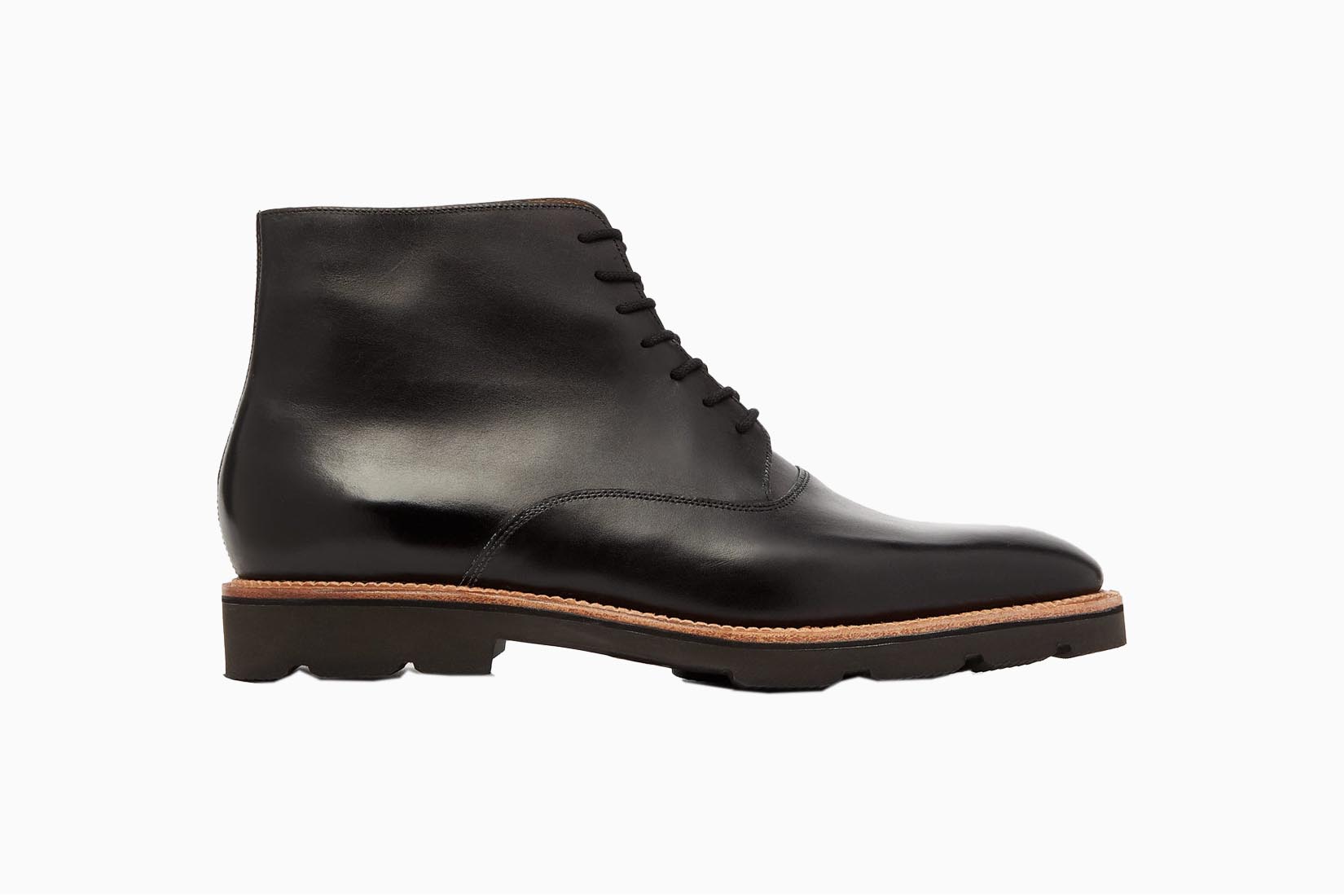 John Lobb is a footwear label that's been around since 1849 and is known for its dedication to traditional craftsmanship. Each pair of boots is handmade in the UK, which means you can guarantee a certain level of quality. These particular men's boots are modest in a charming way, featuring a pointed toe, beige leather lining, and sturdy hiking-style sole—so you can wear them on weekend wanders as well as to work.
Best for: Frill-free practicality with just the right amount of fashion factor.
Saint Laurent Wyatt Boot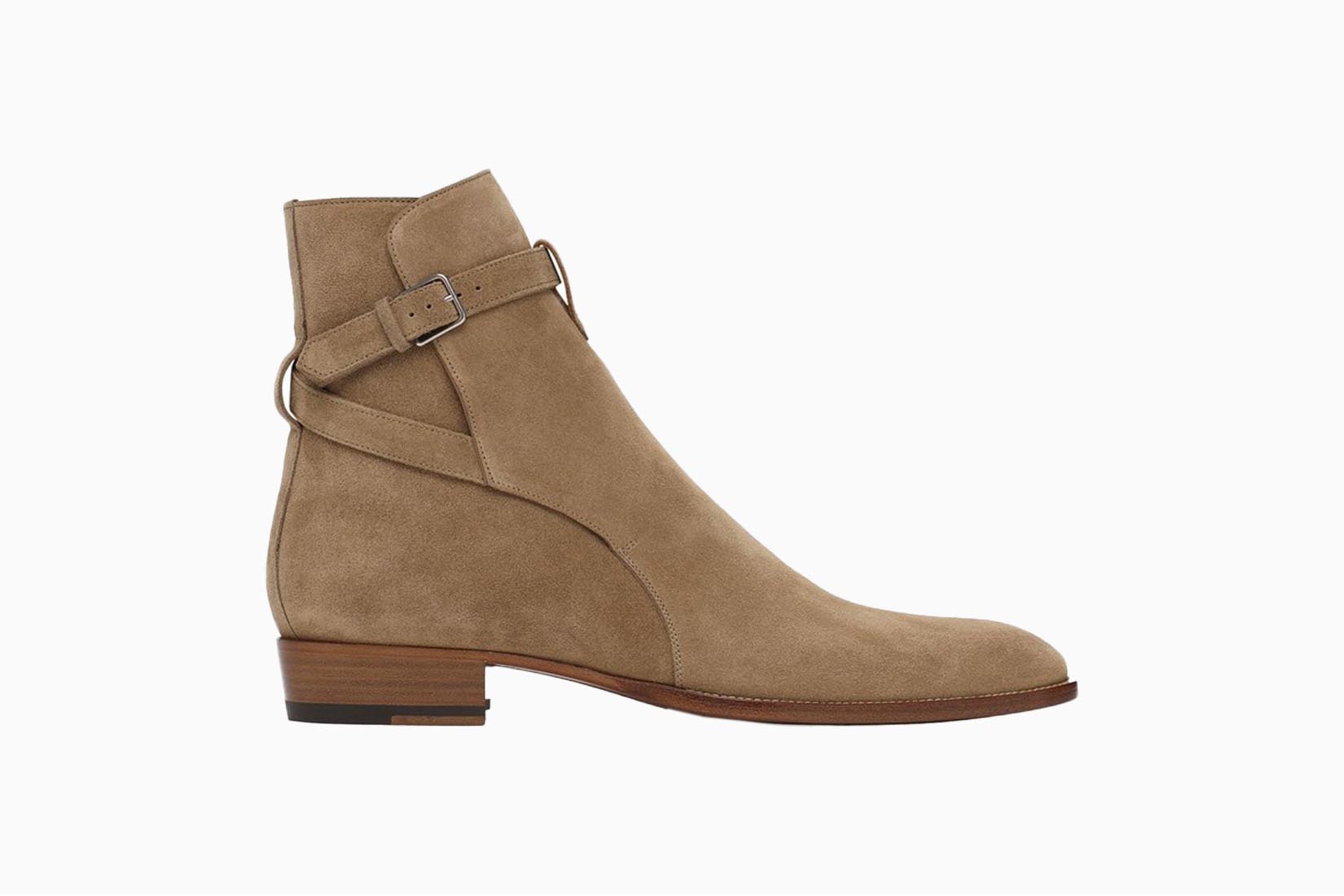 Saint Laurent manages to bring a unique kind of magic and magnetism to whatever wardrobe staple it touches and that's definitely the case with these Wyatt suede boots. This Jodhpur-style boot has a distinct retro feel to it—a hint of the 1980s with its sharp lines, pointed toe, and slightly showy heel, while the rich suede and strap point to the shoe's equestrian past.
Best for: Classic polo preppiness meets nonchalant 80s elegance.
Belstaff Trialmaster Leather Boots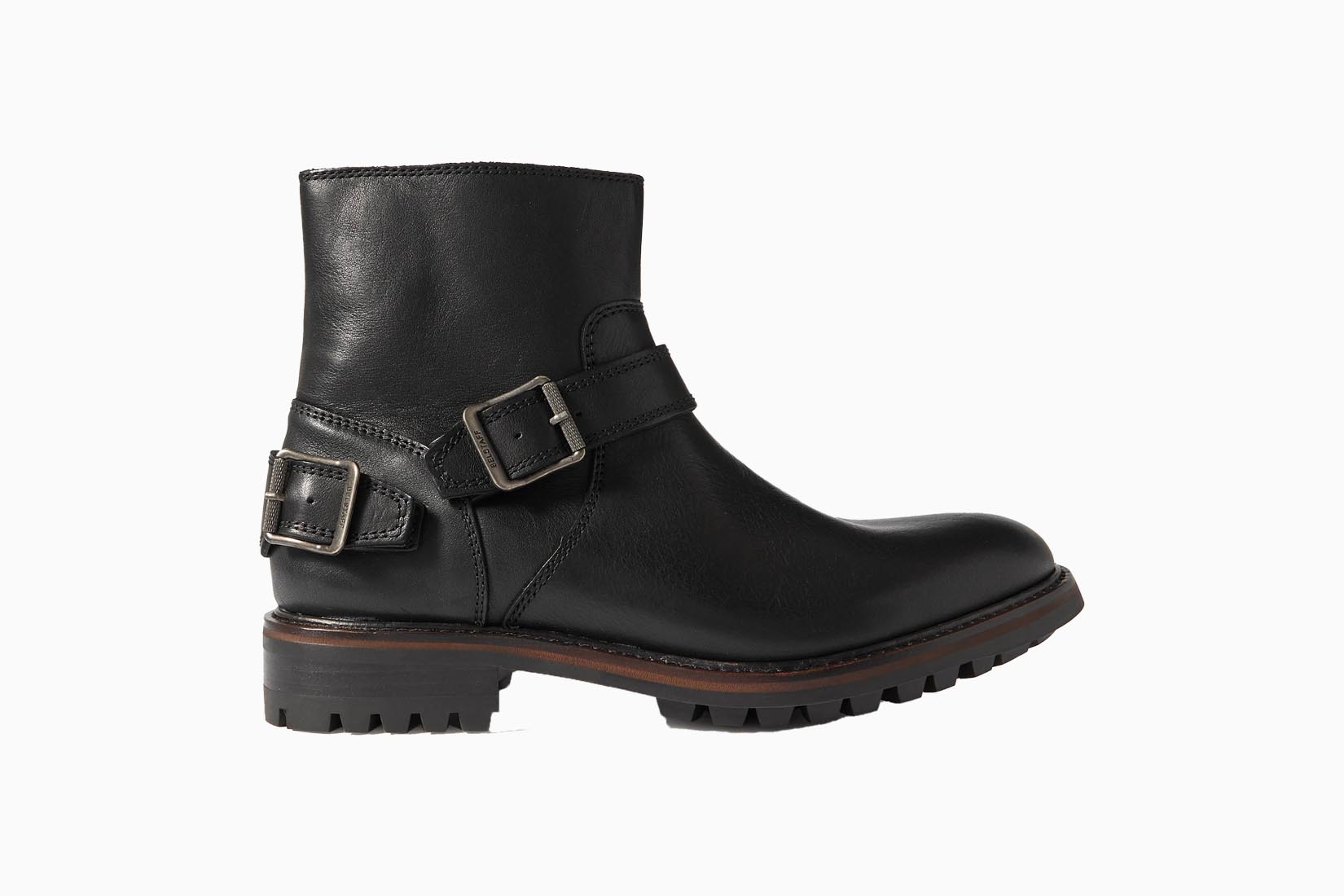 Hailing from British brand Belstaff, the Trialmaster boots are named after the label's well-known motocross jacket, worn by Mr Steve McQueen himself. In other words, these are a pair of leather boots that should be worn on the back of a Harley, going full speed down the highway, without a care in the world. Embellished buckled straps and black calf leather combine to create that desirable maverick glamour.
Best for: Authentic bad-boy biker vibes.
Wingtip boots and brogue boots
Once the remit of country gents, brogues have smoothly made the jump from rural chic to urban elegance and today can be found in all sorts of styles, including as brogue boots. Combined with the equally fancy wingtip toe style, the decorative perforations of brogues are a subtle way to dress up a casual outfit such as chinos or jeans and are also a great match for a suit.
George Cleverley Brogue Boots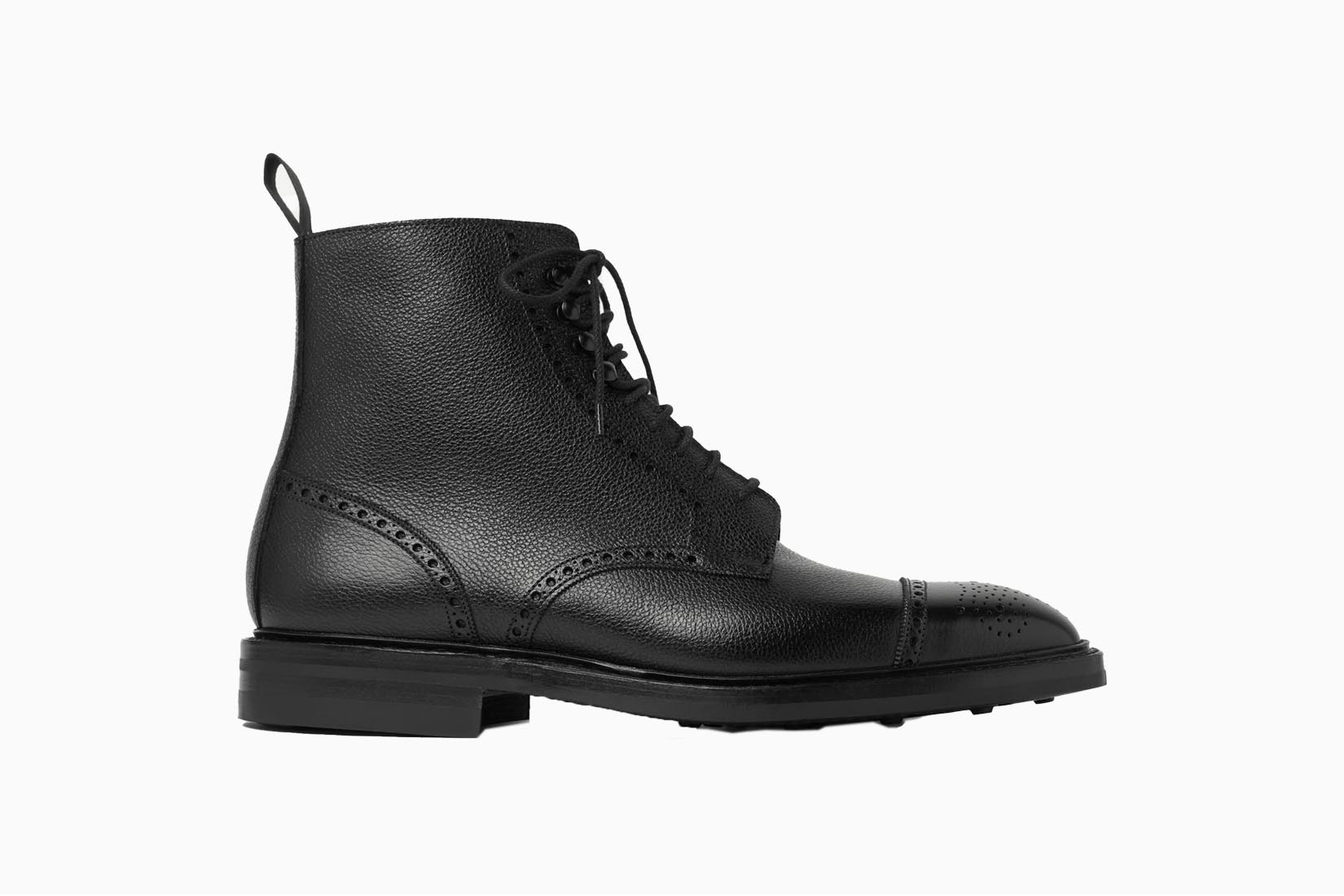 We've never seen a pair of brogues that are as indisputably British as these ones by George Cleverly. Known as the 'Toby' brogue boots, they're handcrafted from pebble-grain Cotswold leather and definitely possess some pastoral English charm. The durable Dainite rubber soles provide extra grip on slippery terrain.
Best for: Quintessentially English elegance.
Grenson Wingtip Boots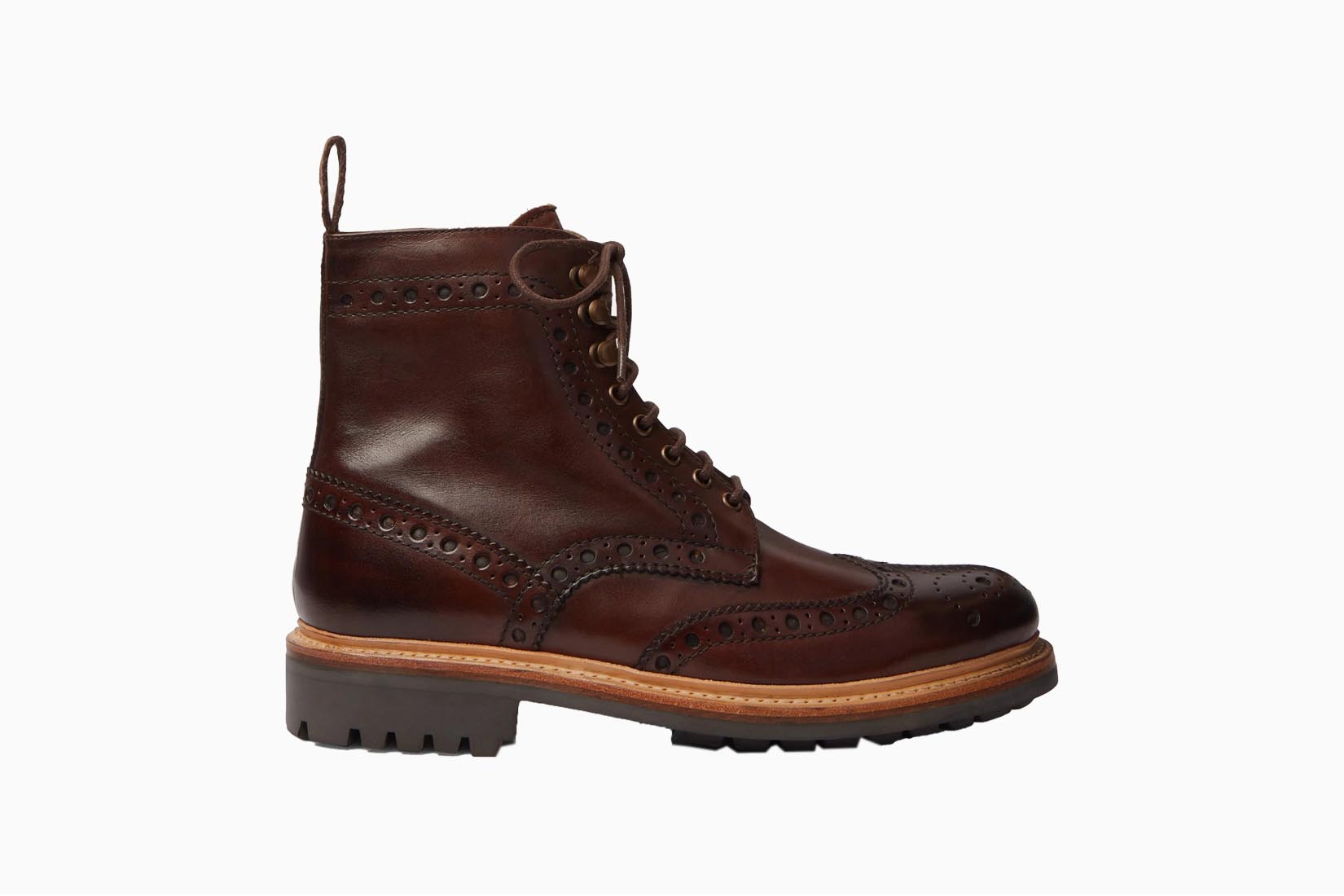 The Fred boot by Grenson manages to marry hard-working and hard-wearing practicality with the elegance and refinement of wingtip details. Hand-painted the most glorious and rich dark-brown, the eyelet lacing takes inspiration from traditional hiking boots while the Goodyear-welted rubber lug soles are the best in the business.
Best for: A tougher, sturdier, but no less stylish take on a classic brogue boot.
Tricker's Brogue Boots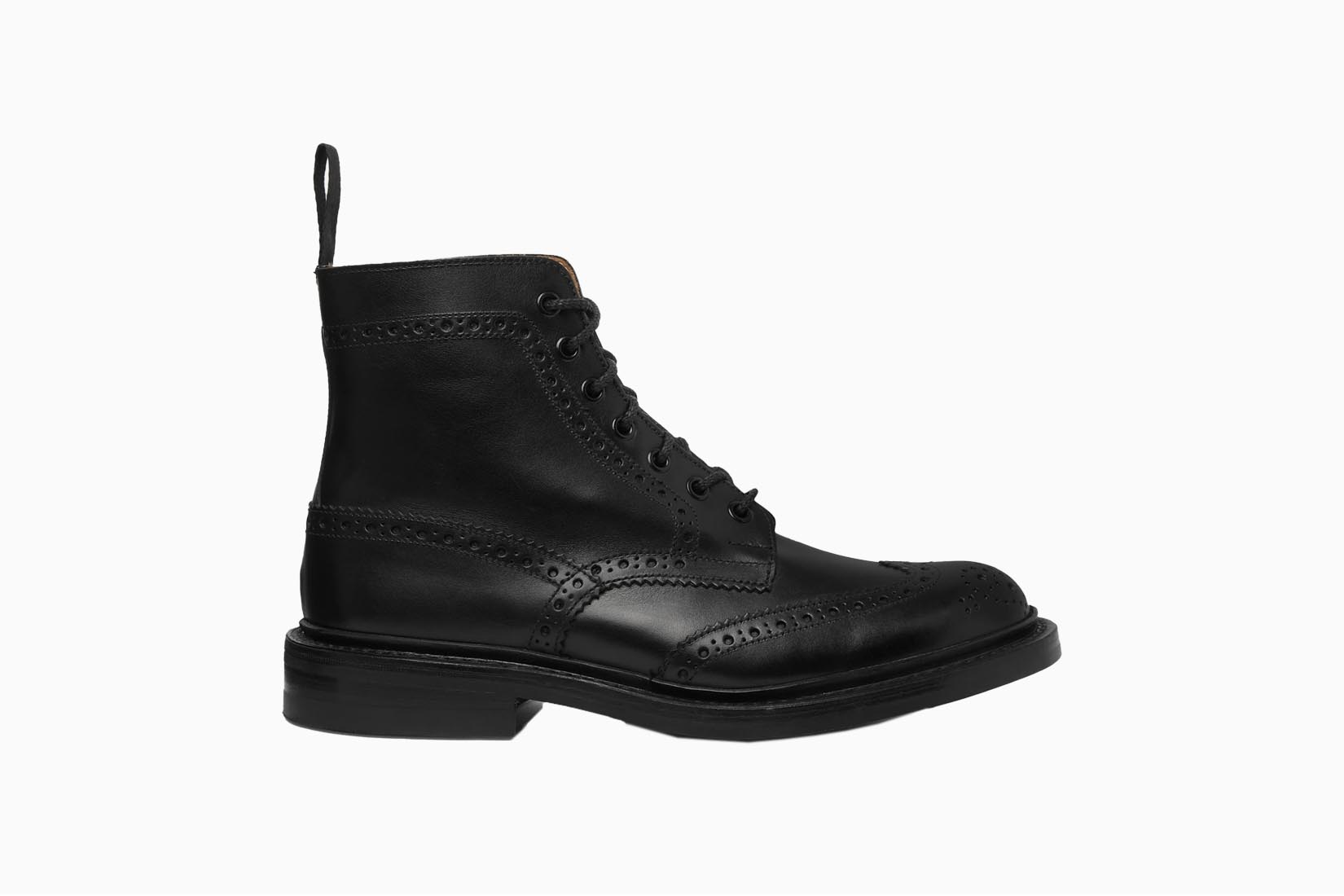 Sturdy, reliable, dependable, trustworthy—these are all words we like to hear when it comes to boots. But Tricker's Stow boots aren't just a superbly practical choice, with their sturdy Dainite rubber soles. They also feature ornate perforations in the classic brogue style and full-grain leather that will develop a characterful patina over time.
Best for: Boots that don't need to boast about their own good taste.
Thom Browne Longwing Boots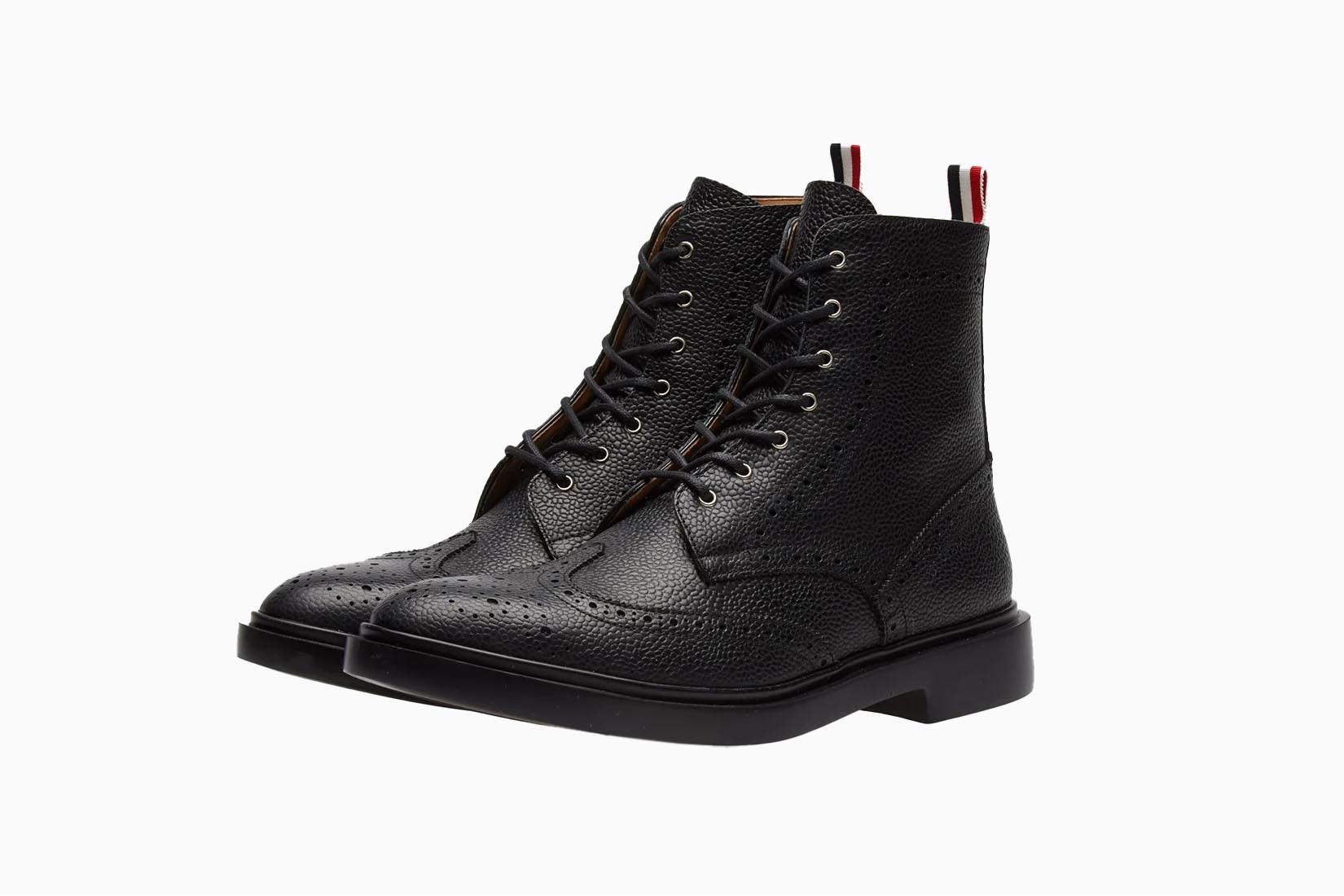 Made from pebble grain leather with perforated detailing, Thom Browne's Longwing ankle boots elevate brogues into something as well suited to urban sidewalks as countryside strolls. They reach slightly above the ankle for fancy flair while the contrasting eyelet detailing also adds high-fashion zing.
Best for: Masterfully crafted brogue boots, perfect for making a grand gesture.
Hunting boots
Whether you actually plan to go stalking or hunting, or just like the rustic country aesthetic of a pair of hunting boots, then we've picked out the best boots for you, from the most waterproof boots around to reliable creations ready to put in the miles, cut to the chase, and burn up the track.
Wolverine Field Boots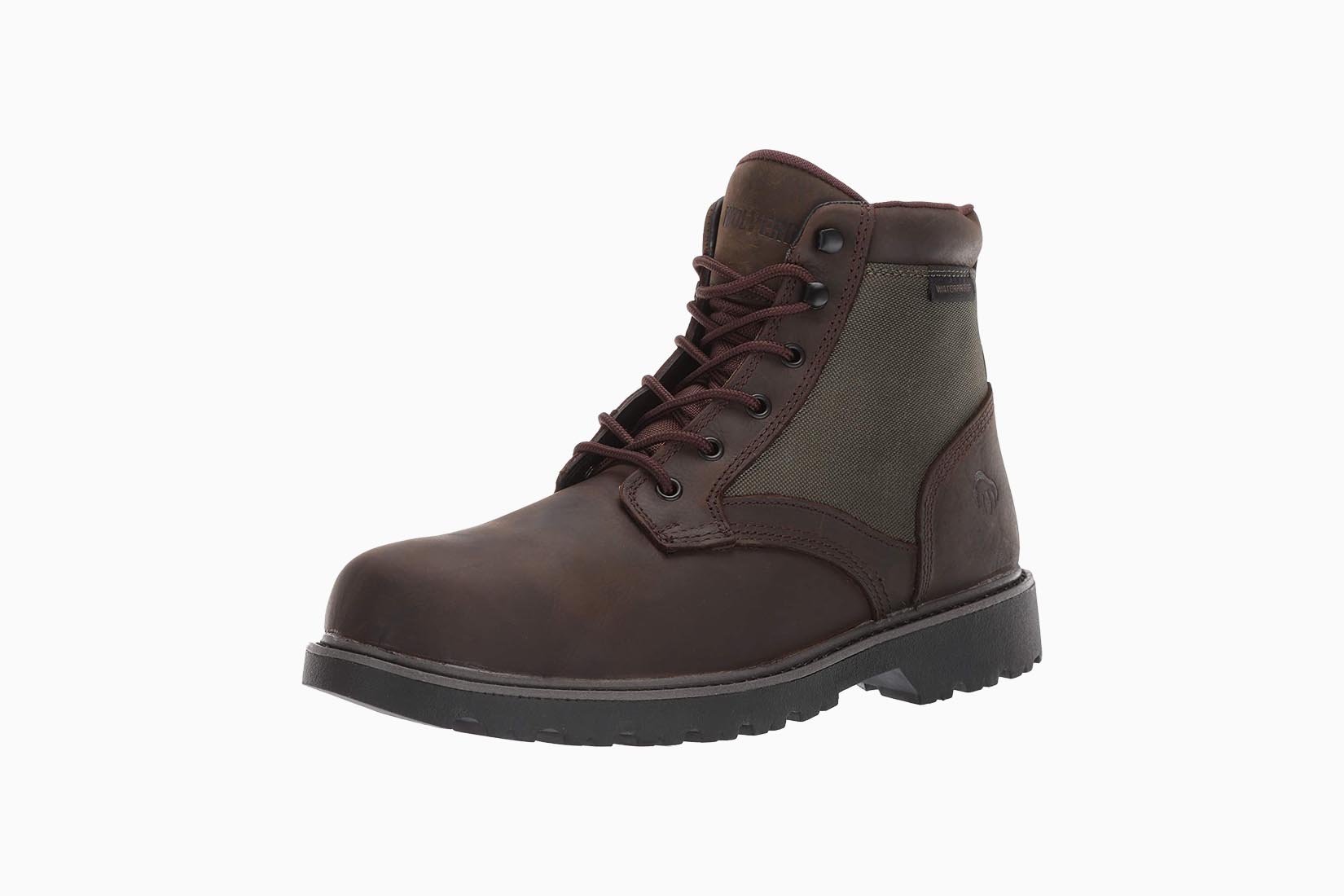 Wolverine makes boots you can trust. Whether you're someone who works outdoors, likes walking at the weekend, or is an avid hunter or fisherman, you need a pair of boots that can withstand the elements. With these Wolverine field boots you're in good hands. They're waterproof, breathable, and feature moisture-wicking mesh and a fully cushioned footbed. Up there with the best winter boots.
Best for: Boots that like the thrill of the chase almost as much as you do.
Bottega Veneta Puddle Rubber Boot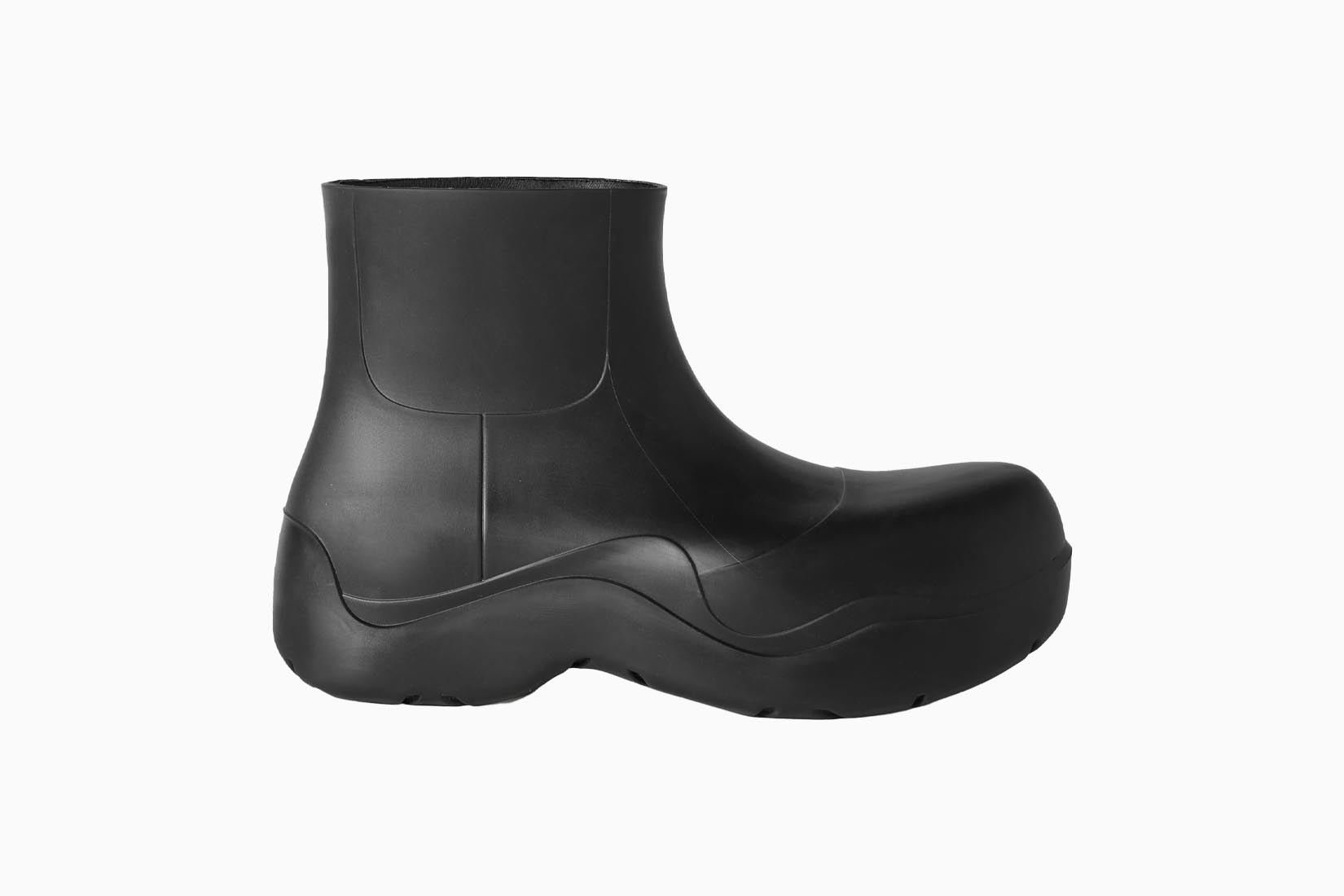 Picture this. You're out fly fishing on a secluded river somewhere beautiful. But the ground is sodden and boggy. What you need is a pair of puddle-optimized boots—such as the perfectly named Puddle Rubber Boot by Bottega Veneta. Made from biodegradable rubber and durable enough to survive the wettest conditions, these designer boots for men come in a Chelsea-boot style with a cotton lining and leather footbed.
Best for: Ultimate protection from the soggiest and slushiest of conditions.
Le Chameau Chasseur Boots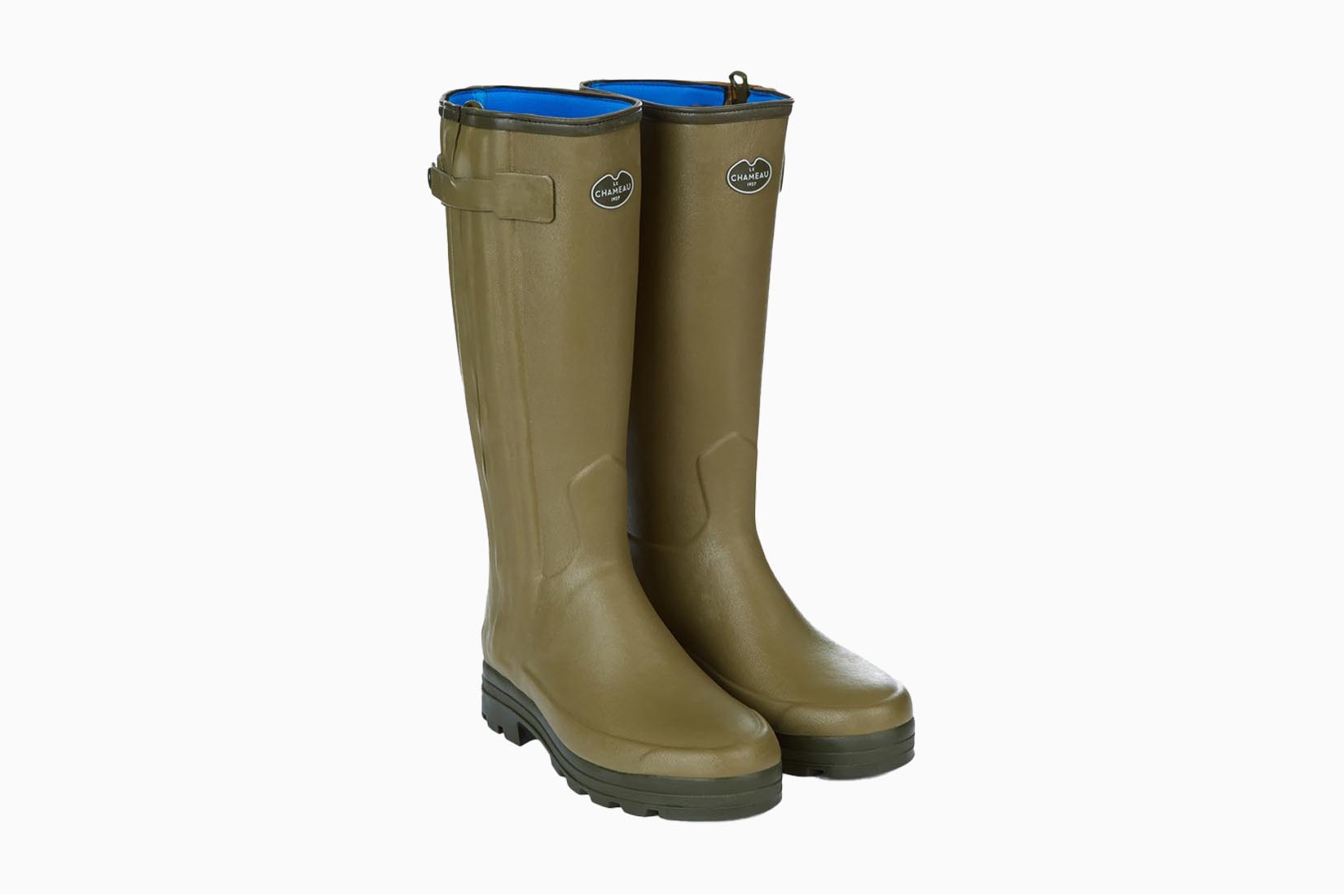 The iconic Chasseur boot is a favorite among sporting folk. It has Kevlar reinforcement for extra abrasion resistance, a waterproof zip, premium leather lining, and a shock-absorbing, insulating, and all-terrain outsole. Plus a reinforced shank to support your arches. These are hunting boots you can spend all day in, no matter how long it takes to make your catch.
Best for: Faithful footwear for mountain peaks and forest depths.
Irish Setter Trailblazer Boots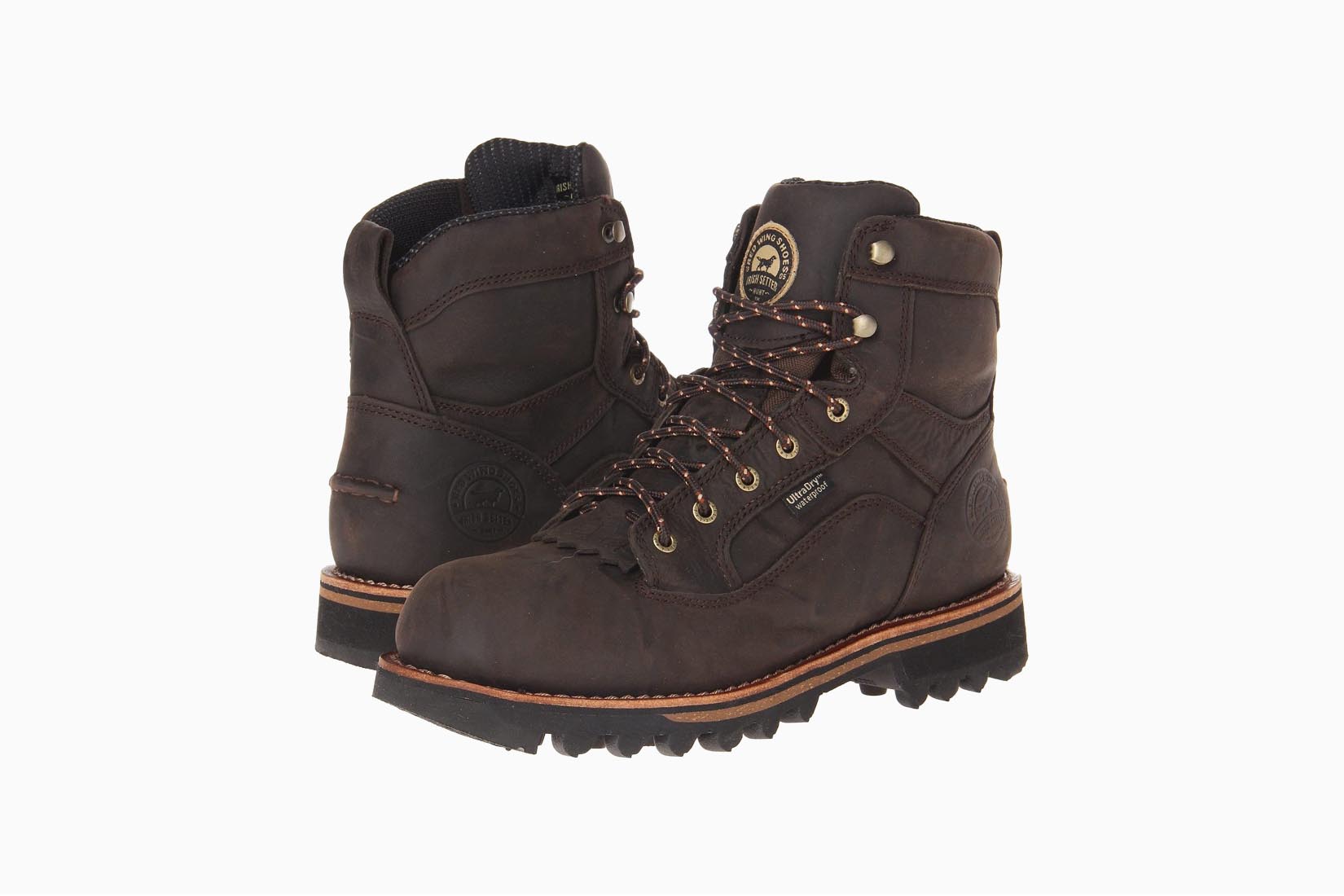 There's no better shoe for the intrepid adventurer than one that's been actually named the Trailblazer. Destined to become your trustiest footwear, this adventure-ready boot can tackle pretty much any terrain with its serious performance credentials. There's a moisture-management lining, premier seam-sealed leather, foam-padded collar and tongue, heavy-duty laces, and that all-important Goodyear welt construction.
Best for: Hefty yet handsome boots for hunters hot on the trail.
Trench boots and combat boots
Even if the only battle we're going to be fighting is potentially a battle of wits at our next dinner party, we can still get behind the strong-as-an-ox aesthetic of the best trench and combat boots. This military-inspired footwear is perfect for bringing the necessary fighting spirit to our day-to-day, with thick soles, elongated ankles, and ultra-durable uppers.
Oliver Cabell Wilson Boots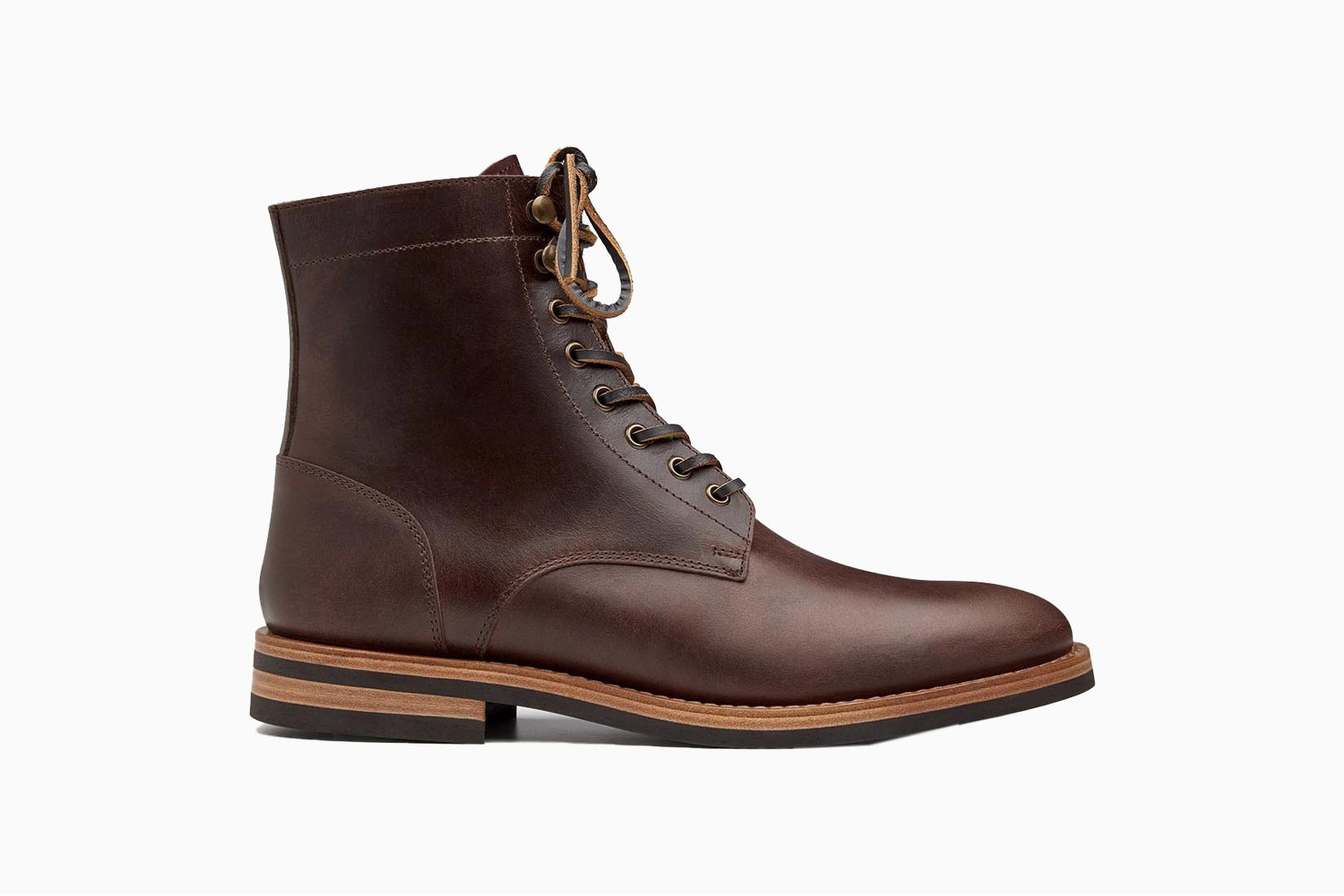 Oliver Cabell does fantastic footwear, there's no doubt about it. And these boots are yet another example of the brand's ability to deliver timeless style combined with expert craftsmanship. Sure, you're more likely to wear these combat boots to the farmer's market than for any in-trench fighting but they still offer the necessary winter durability with a water-resistant and anti-slip studded rubber outsole. They're also some of the most comfortable boots for men we've tried.
Best for: A sleekly sophisticated spin on the classic squaddie style.
Dr Martens 1460 Boots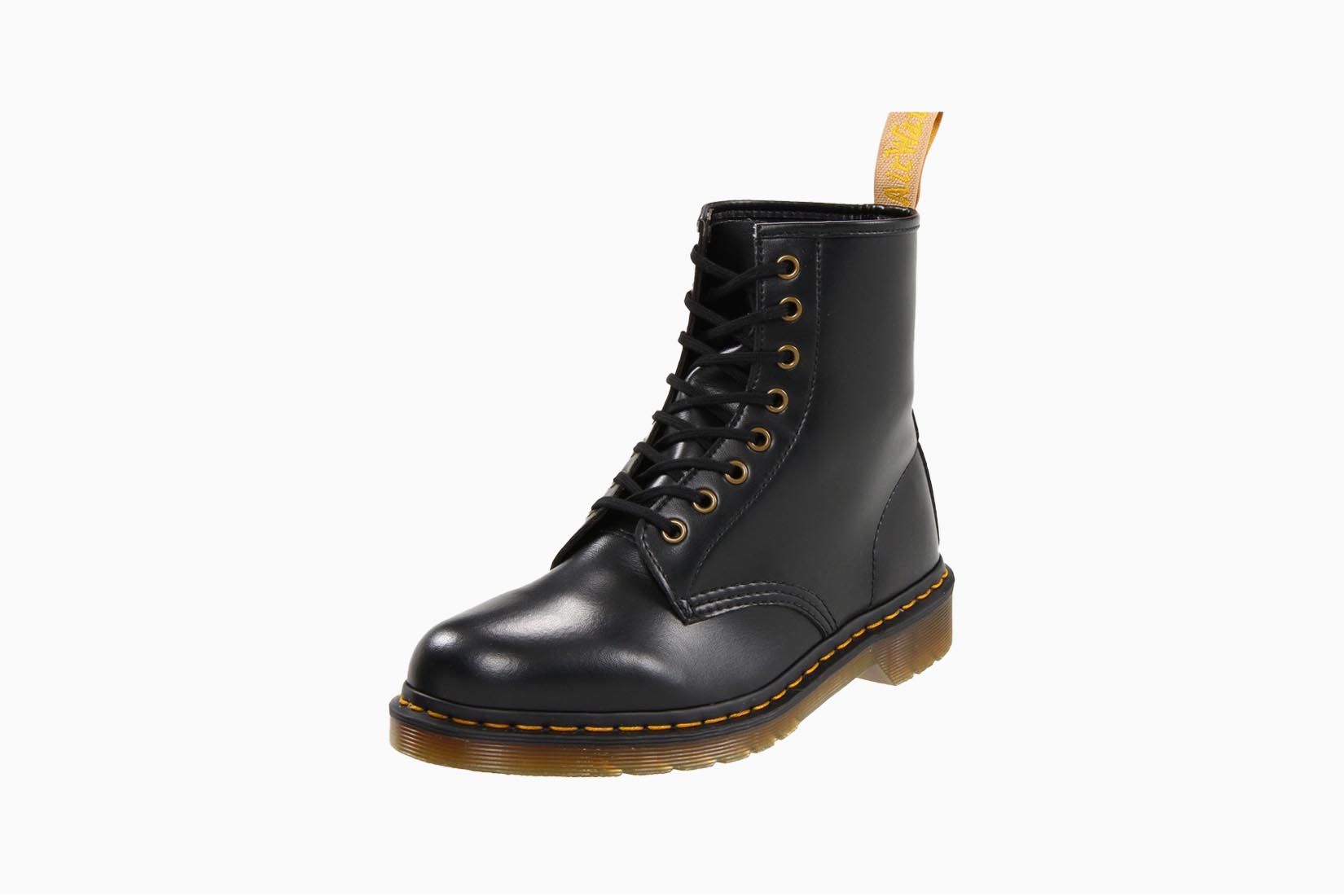 These boots were the first to make combat wear cool and set a new paradigm for wearing stompy boots on urban streets. Every man needs a pair of Dr Martens. Not only are they an absolute classic but they're also made from 100% vegan materials and with that iconic yellow stitching that we all know and love.
Best for: The hard-to-beat, high-attitude, and high-impact original combat boot.
Prada Combat Boots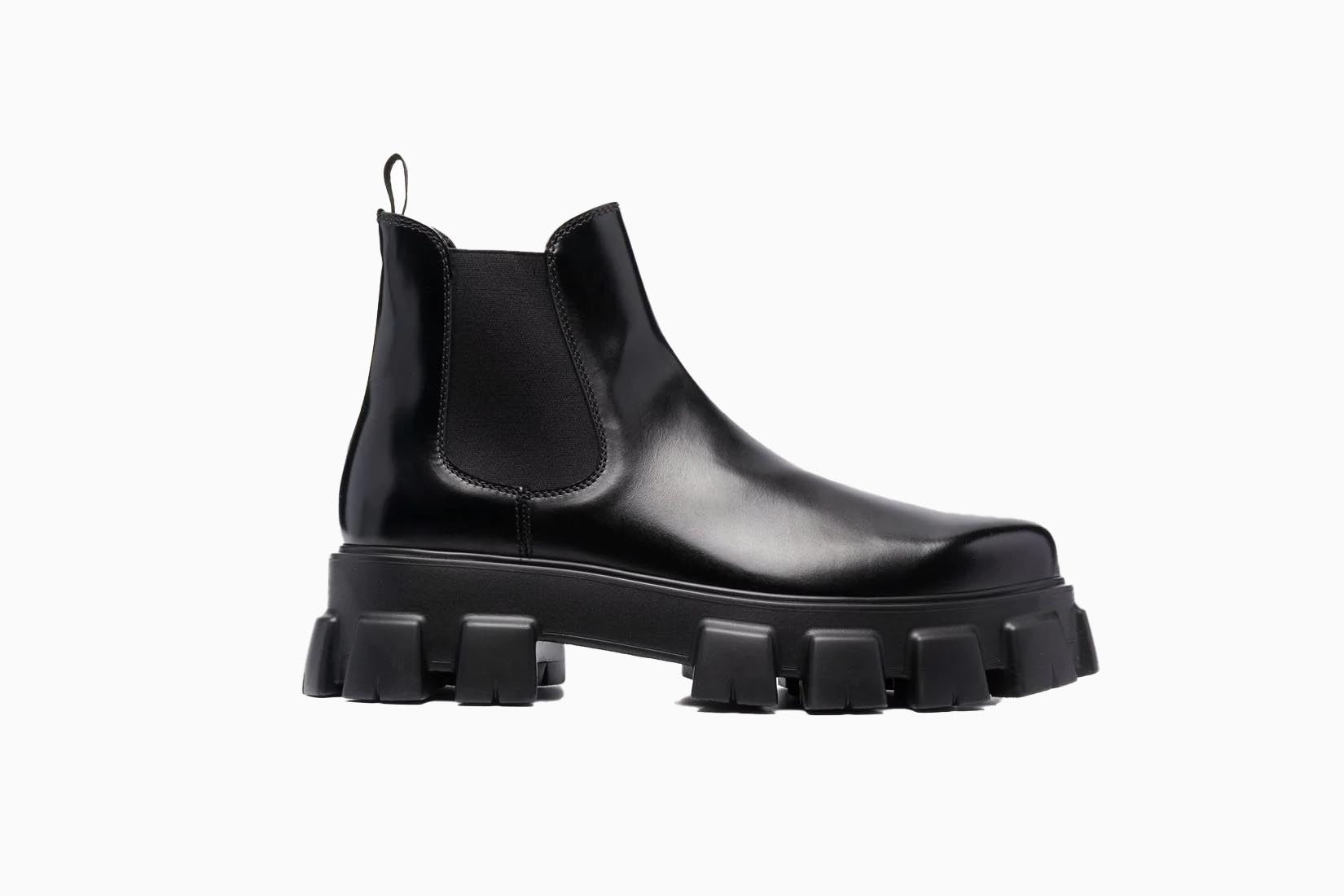 Getting ready on a Monday morning can feel a little like preparing for the trenches but with these decadent combat boots from Prada, you'll be equipped for whatever unenjoyable scenarios you might have to deal with. They come with a removable pouch pocket that clips on to the side of the boot, offering a covert place to store emergency cash. Some of the best winter boots we've seen.
Best for: The classic combat style gets a haute couture overhaul.
Amiri Combat Boots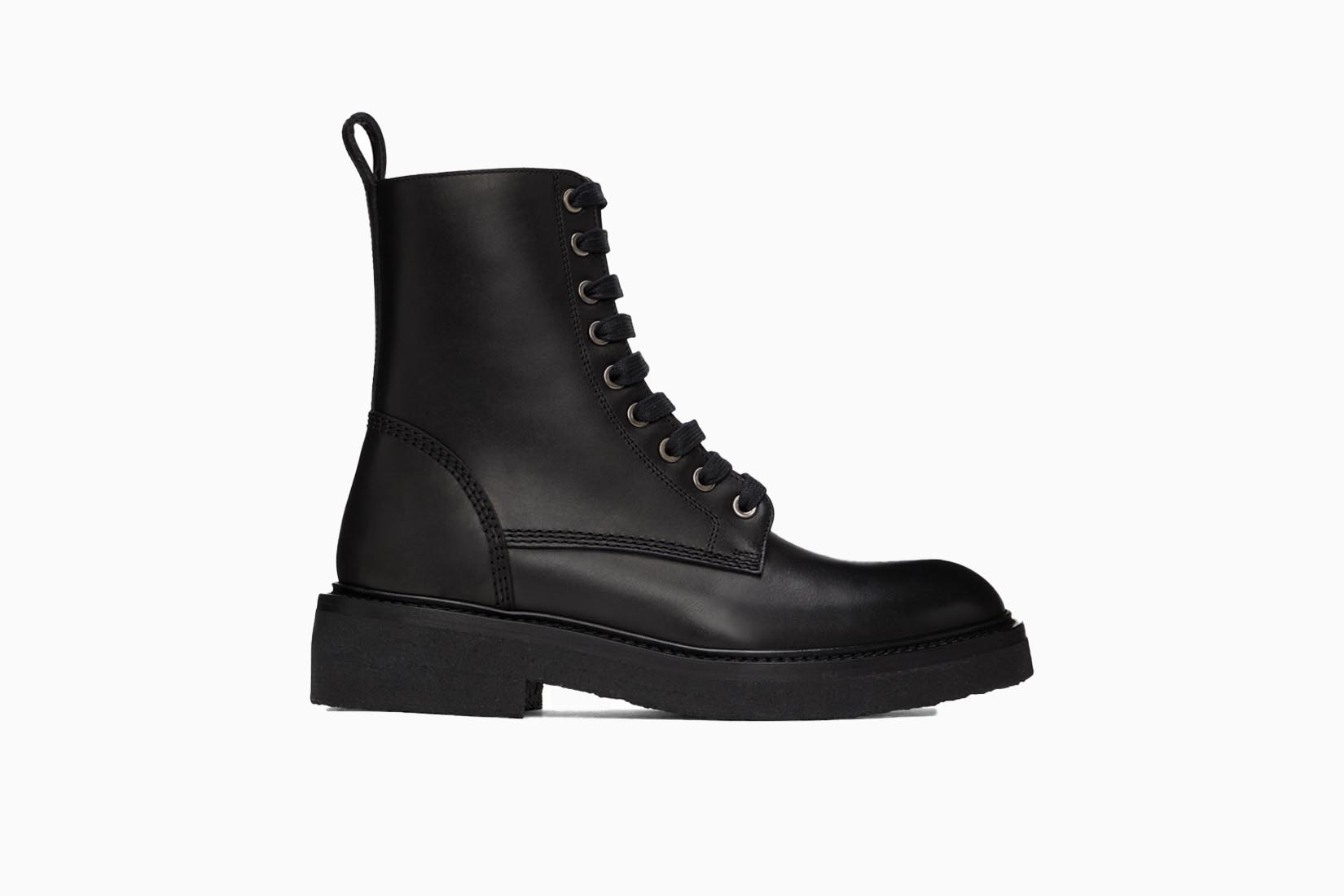 Bring some armed forces attitude to your daily routine with these combat boots from Amiri. Definitely the kind of shoes that inspired the phrase 'tough as boots', they're pure fight club material with their mid-calf leather upper, crepe rubber sole, and gunmetal hardware. A little imposing? Yes. Too cool for school? Absolutely.
Best for: Cool-as-a-cucumber combat boots for any covert operation.
Givenchy Combat Boots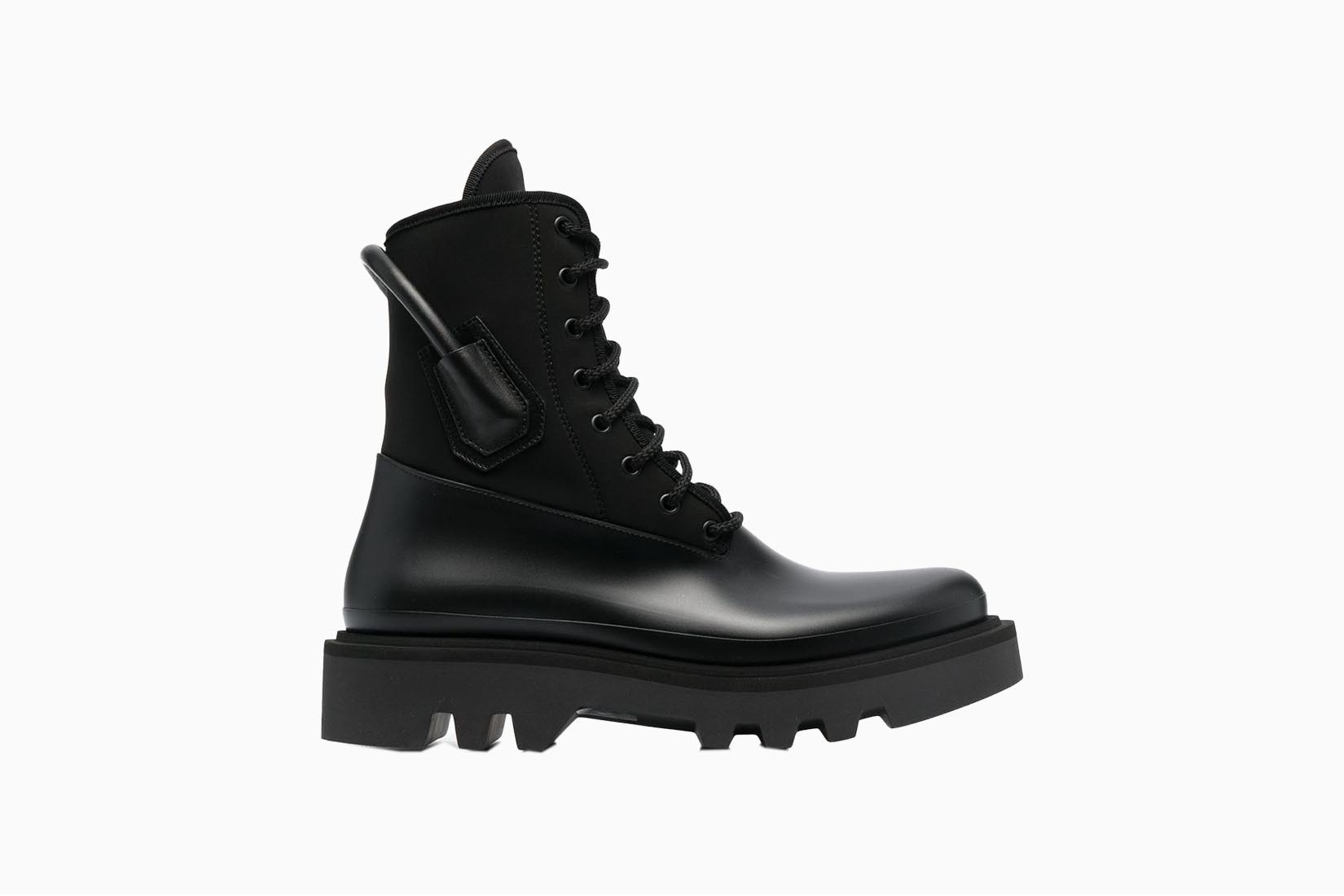 Even if you're all about making love rather than war, it doesn't hurt to have a pair of boots that ensure people take you seriously, style-wise. These Givenchy Combat Boots will do just that. Putting a high-fashion spin on the classic serviceman silhouette, they are certainly a chunky pair of troopers with that large treaded rubber sole that will have everyone getting out of your way.
Best for: Battle-ready boots with a high fashion facelift.
Cowboy boots
Everyone knows cowboy boots. That mid-calf upper, heavy sole, and Cuban-style heel. But not everyone feels confident enough to wear them. Which is a crying shame. These classic Western-inspired boots have the power to transform an outfit with inimitable vintage cool and a dash of renegade flair. No longer reserved for cattle wranglers, the likes of Matthew McConaughey and Arnold Schwarzenegger have both been spotted wearing these iconic boots.
Ariat Rambler Western Boot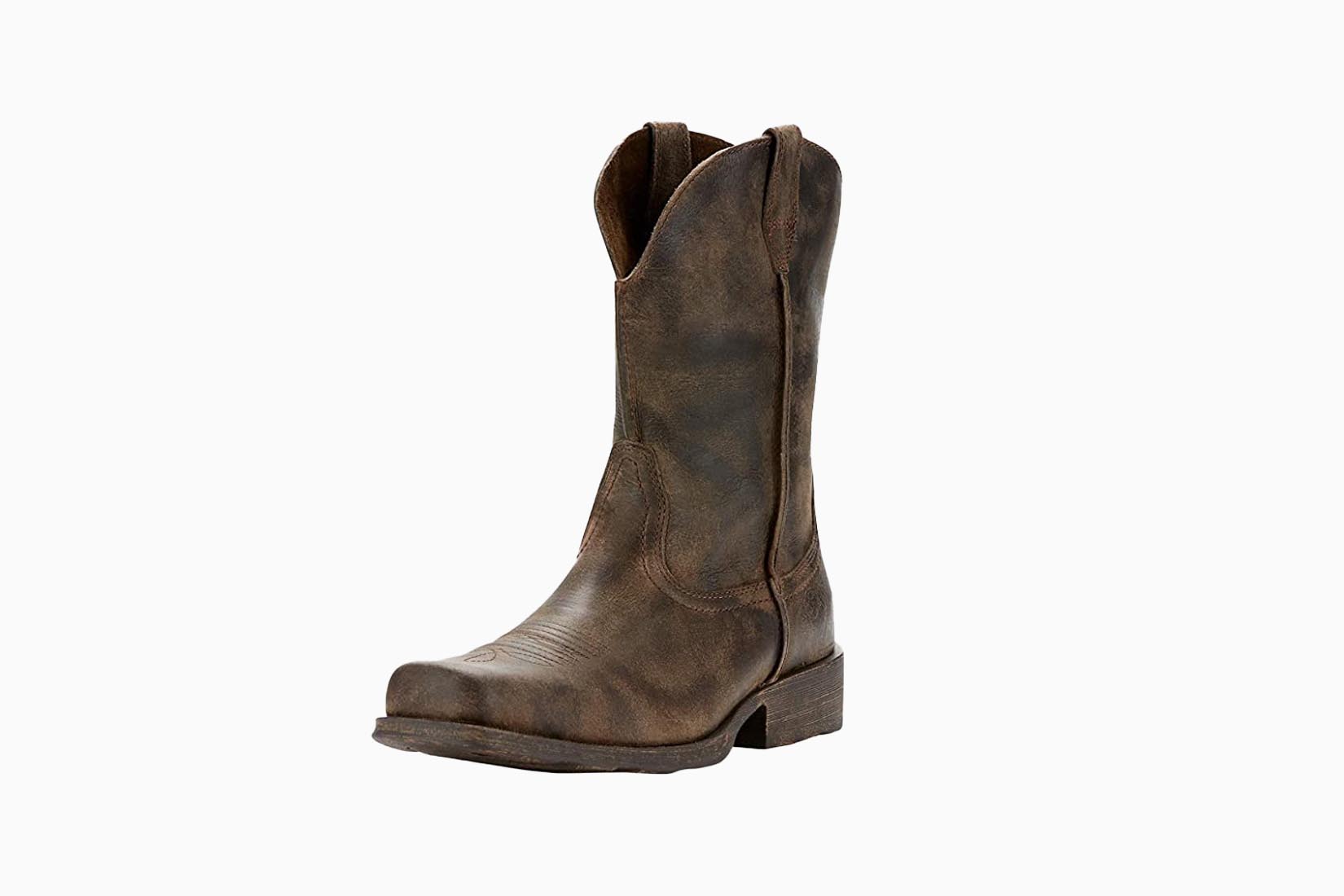 Without deviating too much from the original cowboy boot design, the Ariat Rambler still manages to feel modern and up-to-date, as well as being impressively durable and ergonomic with a hardy rubber sole, moisture-wicking and gel-cushioned footbed, and heel stabilizer. Ideal for city dwellers looking to add a bit of Clint Eastwood to their everyday.
Best for: Classic rodeo-inspired romance.
Bottega Veneta The Lean Boots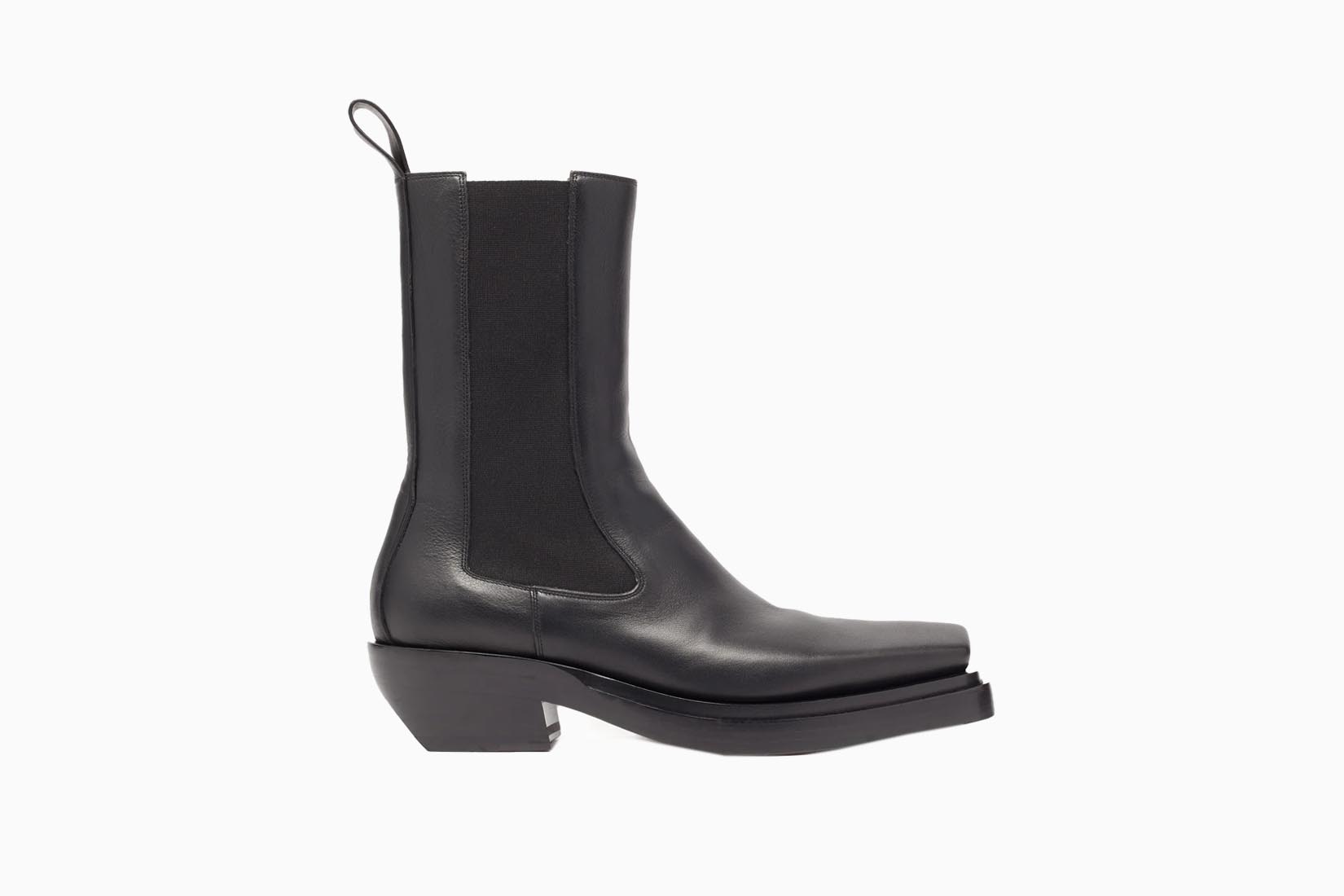 Like a cross between a Chelsea boot and a cowboy boot, Bottega Veneta's The Lean evokes the original outlaw footwear but also has a stacked heel at a jaunty angle for a playful 60s mood. The thick outsole further amps up the fashion factor. Maybe they wouldn't be the boots of choice for John Wayne but for any fashion-minded 21st-century male, they're a great choice.
Best for: Refined Wild West cool that will look as good on city streets as it does in stirrups.
Dsquared2 Leather Western Boots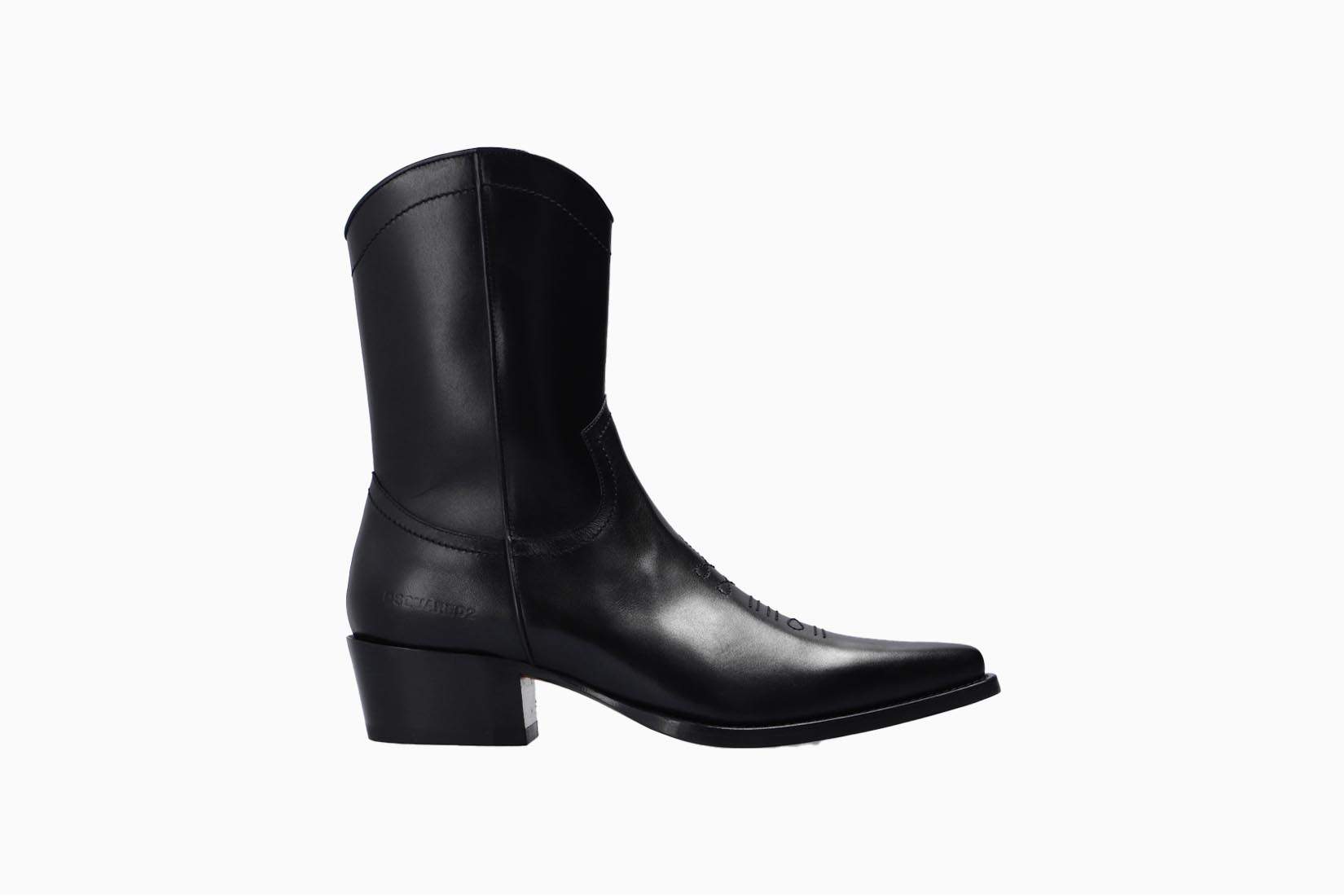 These leather Western boots by Dsquared2 look like they'd be perfectly at home in the saddle. But with their glossy leather upper, sharp heel, and elegant profile, we can also imagine them being worn to a fancy restaurant as well as around the ranch. A top pick for anyone who considers themself an urban cowboy.
Best for: More trendy cocktail bar than Butch Cassidy and tumbleweed.
Sneaker boots
Like the name suggests, sneaker boots occupy a halfway house between the durability of boots and the comfort and trendy aesthetic of sneakers. Bringing new life to standard silhouettes, sneaker boots are as youthful, high-energy, and versatile as your favorite pair of sneakers—but optimized for winter. They're also a great choice for traveling as they'll survive a rainstorm or muddy terrain while offering superior support for your feet.
Allbirds Tree Toppers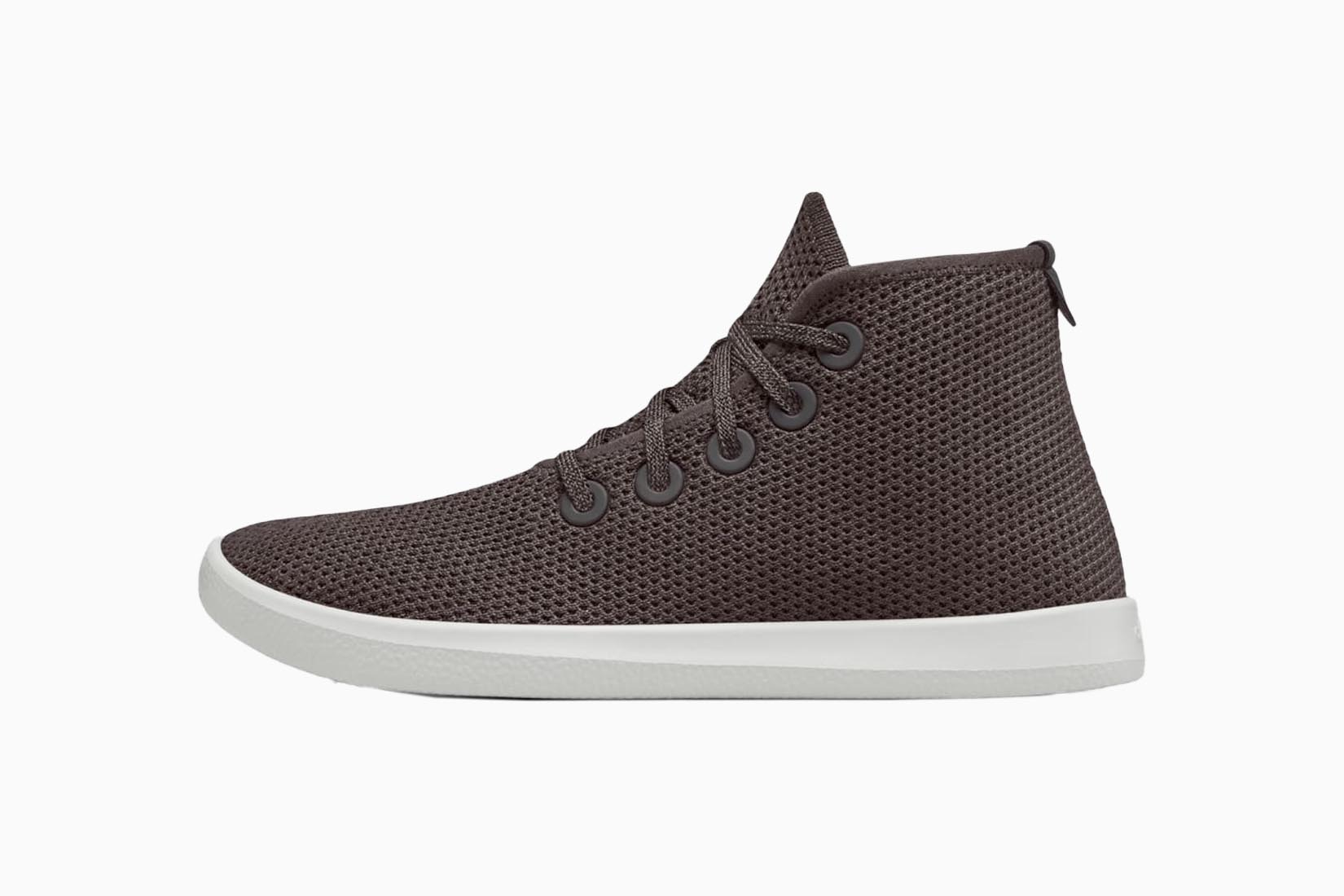 This minimalist sneaker boot delivers both comfort and cutting-edge eco-technology with its flexible design that conforms to the movement of your feet. It also has a wonderfully bouncy midsole made from Brazilian sugarcane, the world's first carbon-negative EVA, and the laces are made from 100% recycled polyester.
Check our in-depth Allbirds review to learn more about the shoes, or read our story behind Allbirds to learn more about the brand itself.
Best for: The indisputable acme of eco-friendly cool.
Koio Primo High Top Sneakers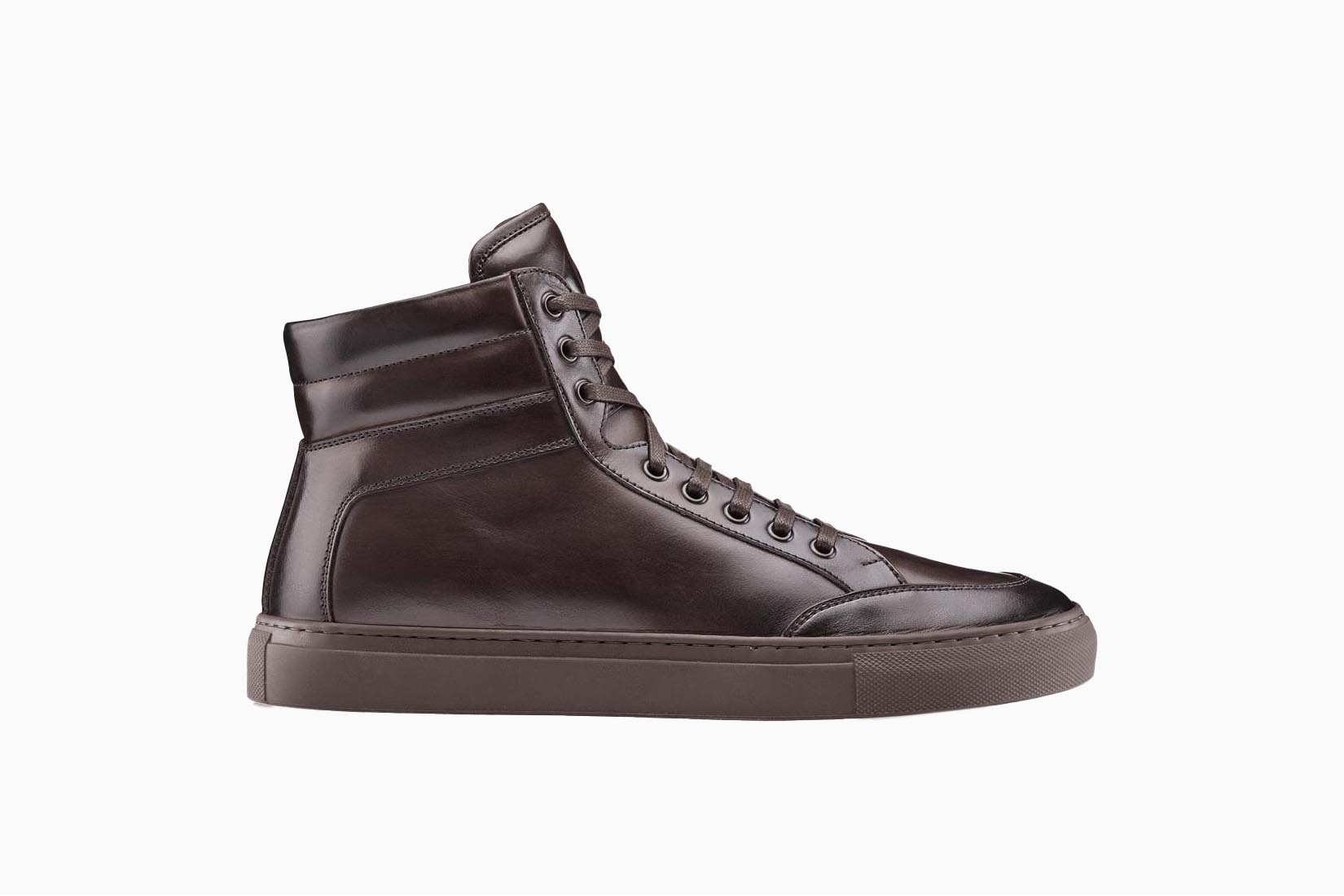 Boots might be practical and durable but sometimes they can look a little serious. So channel a more approachable and laidback vibe with these Koio High Tops. Like the best men's boots, they're made from vegetable-tanned leather, hand-brushed for a gentle shine, but they also offer the comfort and easygoing approach of the best sneakers.
Best for: Your archetypal sneaker silhouette with the polished perfection of your favorite boots.
Axel Arigato Midnight Hi Top Suede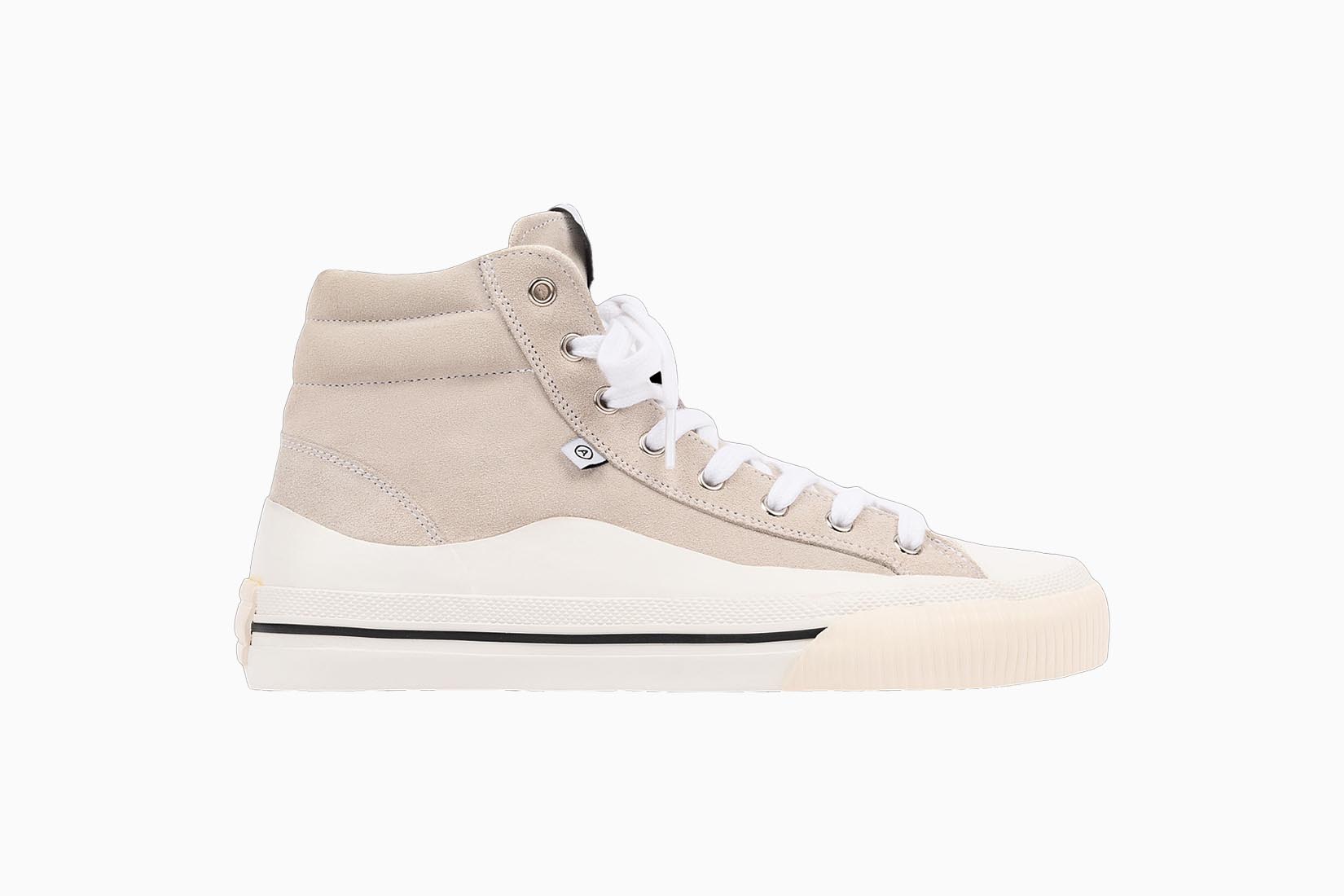 At the end of summer, it can be hard to retire our favorite sneakers. But with these Axel Arigato Hi Tops, we don't have to. These suede boots are winter-ready with their hardy vulcanized rubber sole. The padded collar and molded footbed is extra snug while the Italian suede is very luxurious. Easily some of the most comfortable boots for men we've seen.
Best for: Fresh-faced and fashion-forward functionality.
Salomon Advanced Sneakers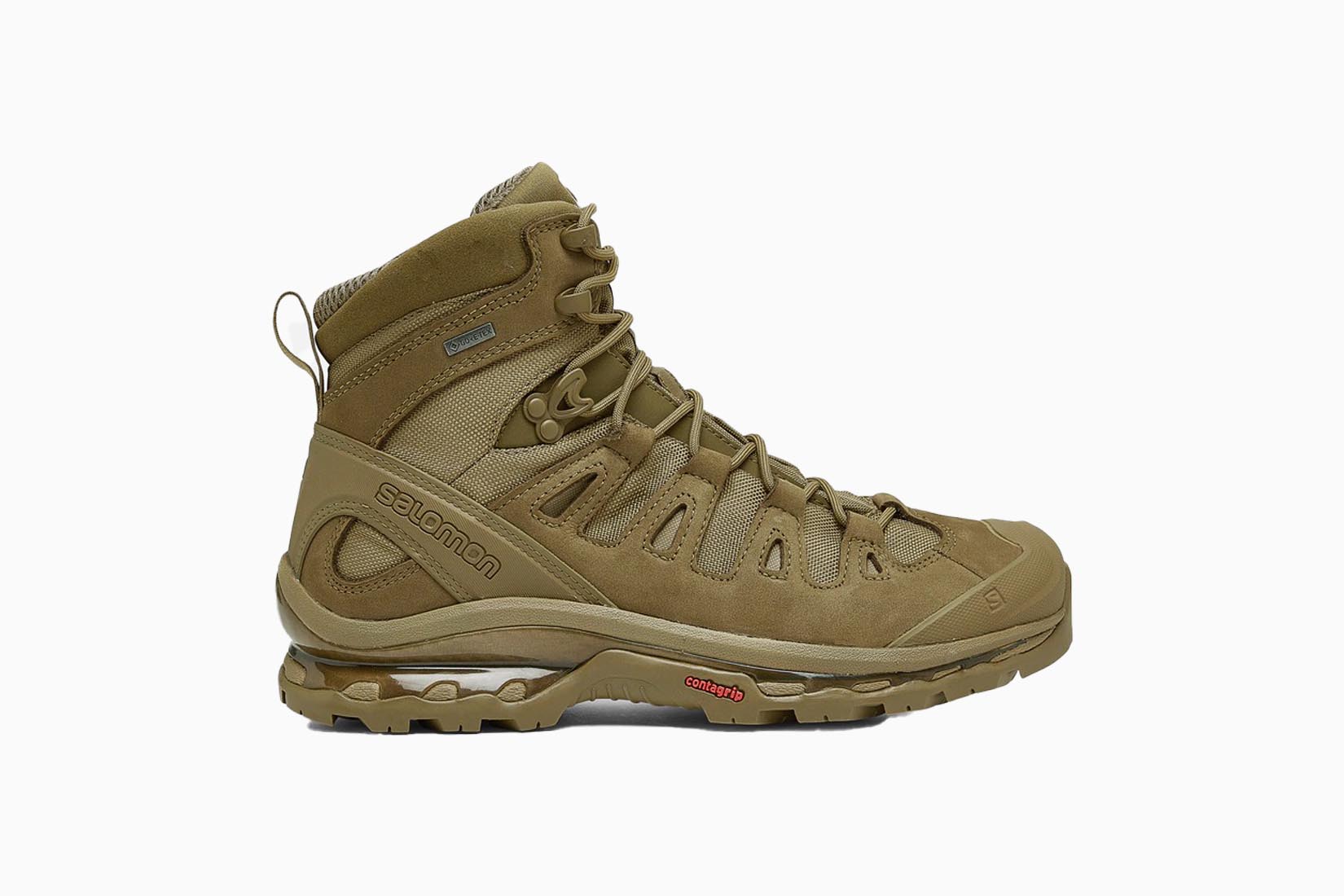 With this sneaker boot, Salomon takes inspiration from trail running shoes to create a design that flexes naturally to your foot for an extra smooth ride. It's also incredibly stable and supportive. Ideal for go-getters who spend lots of time on their feet, whether out in the remote wilderness or in the concrete jungle.
Best for: Performance-oriented innovation with eye-catching urban style.
Rain boots, winter boots and snow boots
Sometimes, it's less about looking like you just left Paris Fashion Week and more about practical footwear that protects your feet from the elements. Because soggy socks ruin everyone's day, we've picked out the best men's winter boots, including rain boots, snow boots, and general winter boots. Boots that can handle whatever the climate throws at you. Now nothing—not even an Arctic-grade snowstorm—will get in your way.
Hunter Original Boot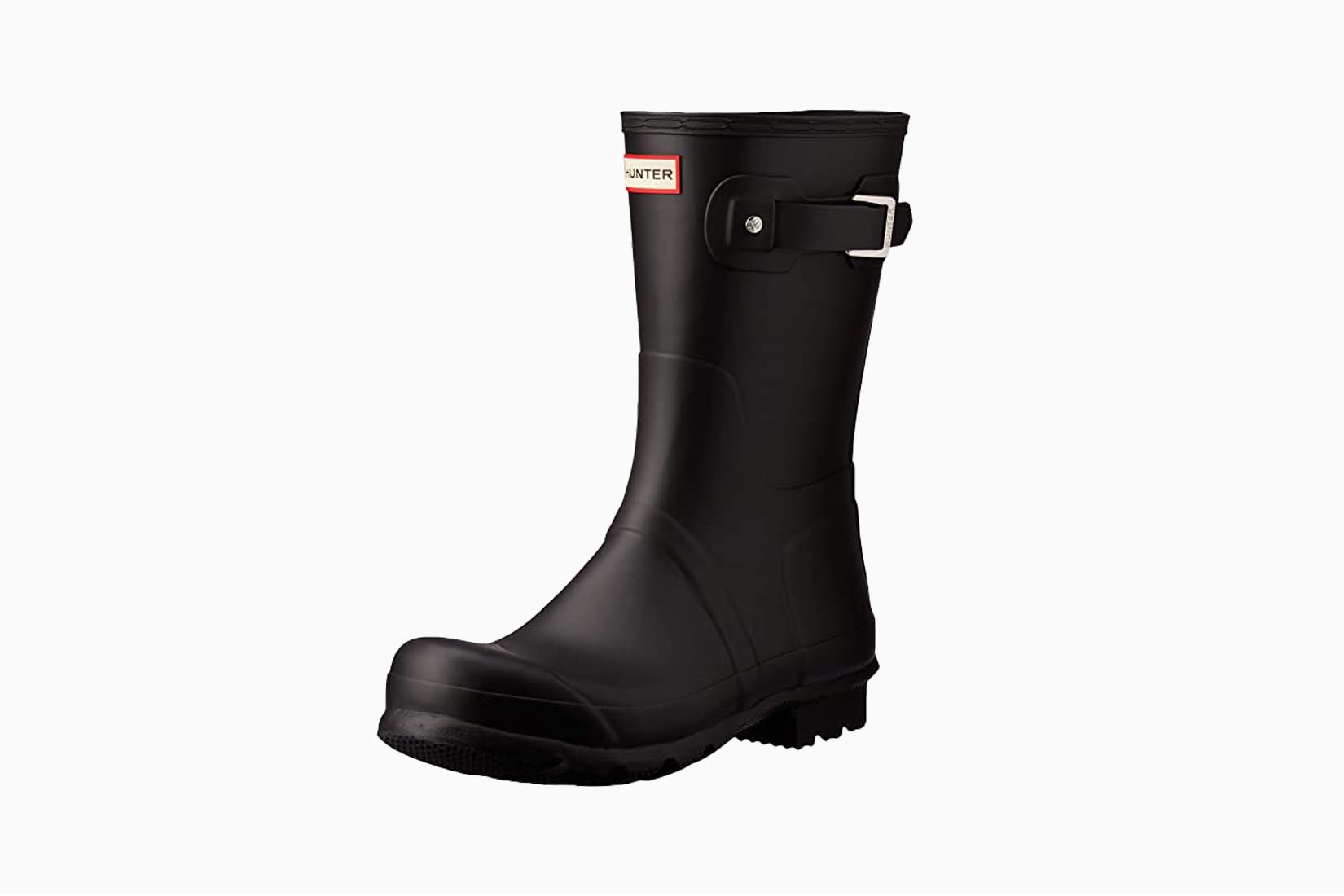 If you're looking for shoes that will 100% protect you from even the heaviest rainfall, only Hunter will do. This iconic Hunter's rubber boot offers the highest quality and the ultimate protection from downpours and deluges. You might be soaked to the skin but your socks will stay completely dry, trust us.
Best for: The absolute cream of the crop when it comes to men's winter boots.
UGG Butte Snow Boot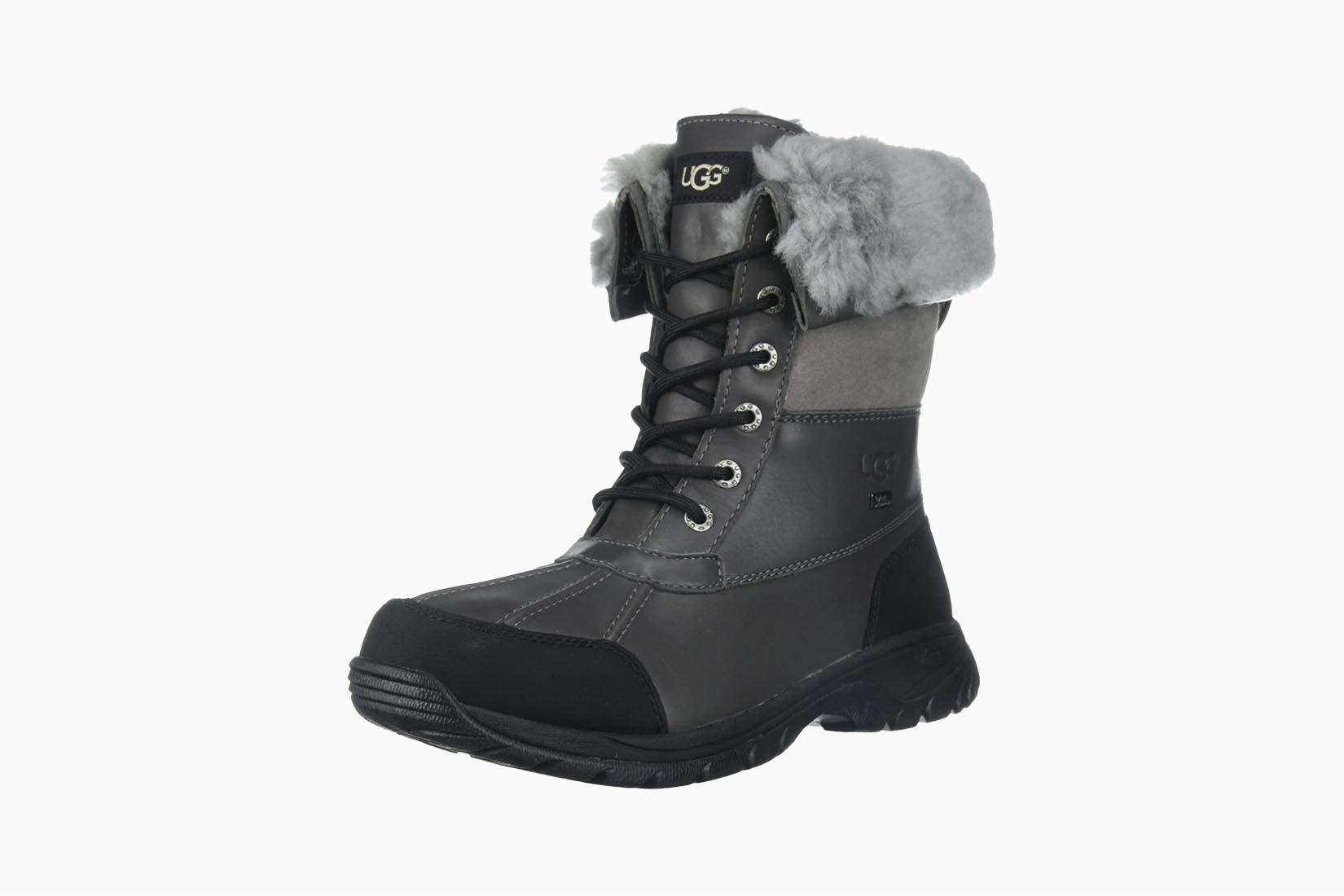 UGGs are pretty much synonymous with cozy comfort, so no better footwear for snowfall than the brand's snow boots. They're waterproof with a Vibram rubber outsole for maximum traction on slushy streets while the curly wool insole is the very definition of snug. Aesthetically, they look pretty gutsy and fearless too.
Best for: Fluffy functionality for the frostiest of winter mornings.
Moon Boot Waterproof Snow Boots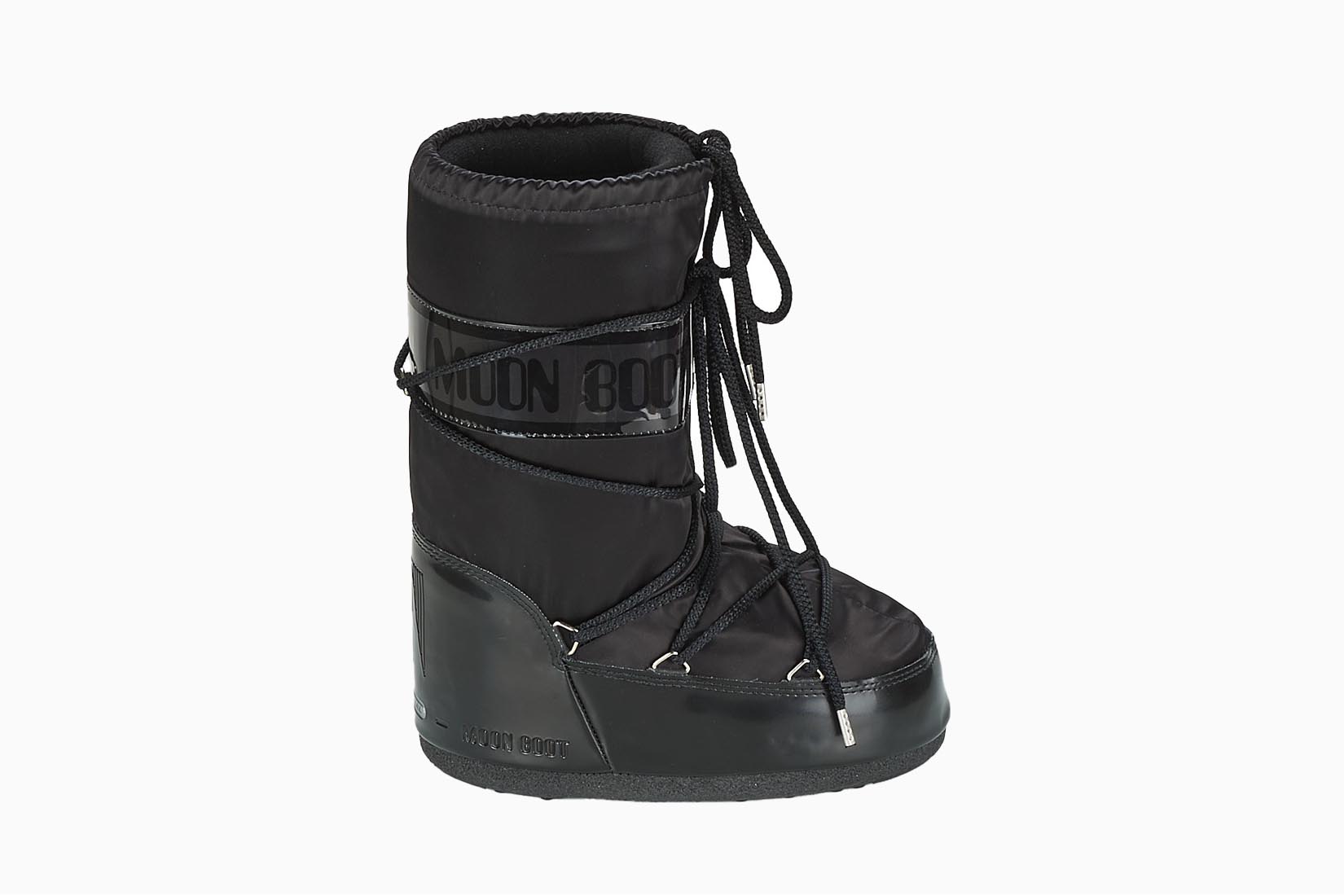 Treat your feet to the toastiest shoes around with the Moon Boots, designed for any excursions involving snow. Especially ideal for post-ski or post-snowboard hangouts, they're waterproof, easy to clean, and gloriously cozy to wear. Sure, these men's winter boots are a little bit bulky but with that added padding comes comfort on par with the best duvet days.
Best for: Blizzard-appropriate boots and perfect après ski attire.
Sorel Caribou Waterproof Snow Boots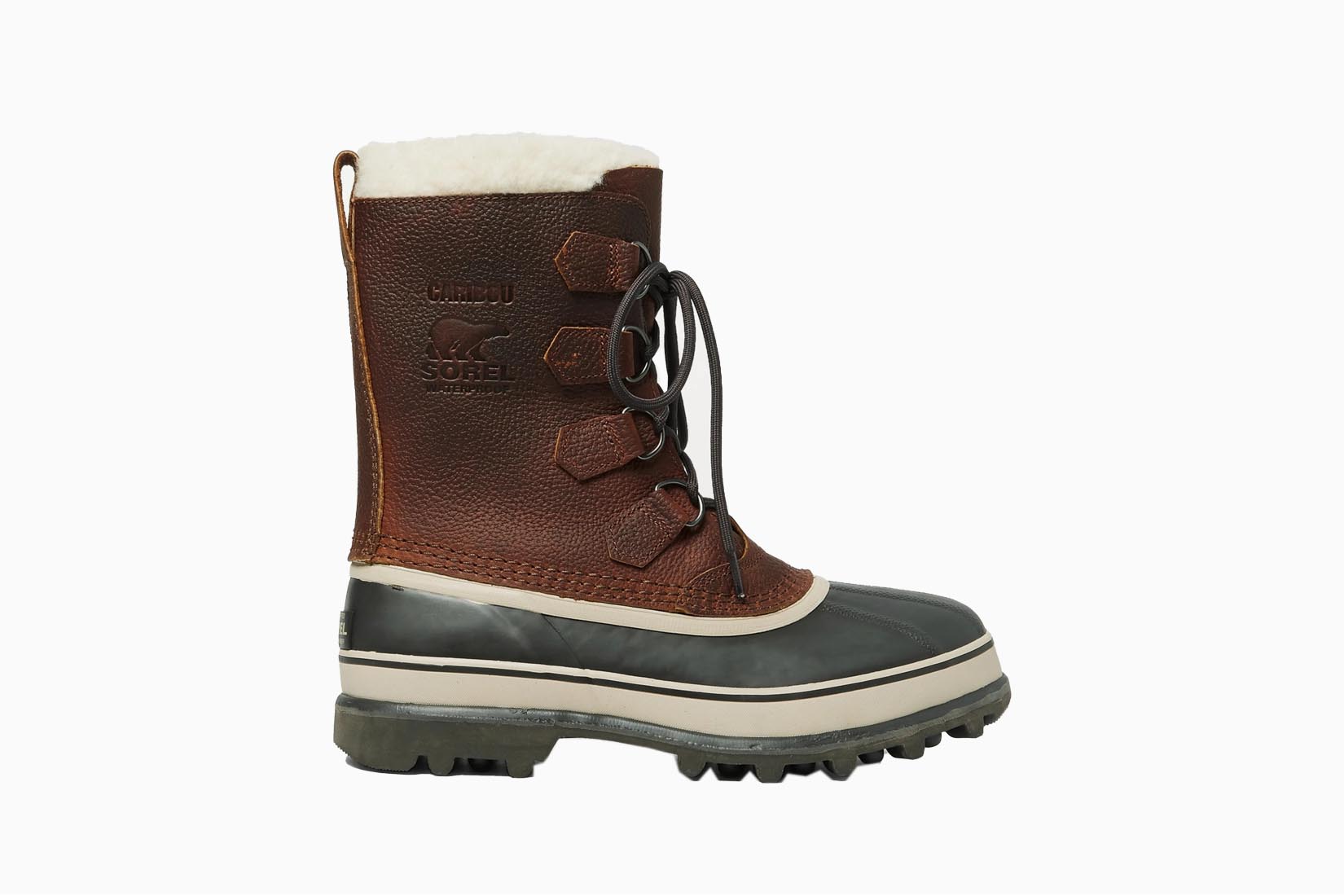 The ultimate no-messing-around footwear, Sorel's signature Caribou boots can tackle the toughest of winter conditions. With their unfaltering durability, they're the epitome of rough and ready, made from a combination of seam-sealed waterproof full-grain leather and vulcanized rubber and with a thick Sherpa pile snow cuff. Definitely some of the most comfortable boots around.
Best for: Venturing dauntless and determined into the chilly depths of winter.
Buyers guide: how to choose a pair of men's boots
There are so many different types of boots on the market, so how are you supposed to decide? Beyond style, what other factors should you consider when picking the best pair of men's boots for you?
Different boot styles
Above, we talked through the different styles of men's boots, from cowboy boots to hard-hitting combat boots. To decide what style is best for you, consider how you feel about the following features:
Fastening – most boots come with lace-up fastenings but the amount of lacing differs between, say, a desert boot and a combat boot. There's also the option of a slip-on, slip-off design with a pull tab such as Chelsea boots.
Heel – the majority of men's boots come with a subtle heel, enough for comfort without being too obvious. However, with cowboy boots, the heel is a distinctive feature, which can add a bit of drama and glamour.
Height – boots that come up to your ankle are the most versatile, such as Chelsea boots or work boots for men. For more formal occasions, you might look for a slightly lower cut boot that displays a bit of ankle. Or, for additional protection from the elements, you may want a higher boot, such as a rain or snow boot. Combat boots also come slightly further up the calf.
Padded ankle – hiking boots and some sneaker boots have a padded ankle for additional support and comfort.
Decorative features – these can include things like perforations, such as with brogues, wingtip detailing, or additional straps and buckles, such as with jodhpur boots.
Materials
Once you've chosen a style of men's boot, consider material. Most men's boots come in either suede or leather. Suede boots are soft and pliable but not that durable compared to leather, which is hard-wearing and looks better with age. Nubuck is another option, similar to suede but more durable.
Outsoles can be made from leather, which is hard-wearing and molds to your feet over time for a superior fit. They can also be made from rubber, which is durable as well as being water, shock, and slip-resistant. Crepe soles are a distinguishing feature of desert boots and are a kind of rubber with a distinctive texture. They look good but don't provide much traction.
Dainite soles feature round recessed lugs and are quite thin while still being hard-wearing and slip-resistant. They're a popular option for men's dress boots. Soles by Vibram are made from a combination of foam and rubber and are common in lightweight work boots and hiking boots.
Construction
The performance of your boot will depend on how it's been constructed. For example, boots with Goodyear welting—when a strip of leather is sewn to both the insole and upper, providing durability and water-resistance —are some of the highest quality around.
Other structural features worth considering include the footbed, which may have a deep heel cup or heel stabilizer to help with alignment and support, and lots of cushioning for comfort.
Steel toe work boots, or those with a carbon fiber toe, can provide additional protection from impact and shock, and sometimes even from electrical currents.
Colour
Finally, you'll want to consider the color of your boots. Black or brown is fairly standard. Black is a timeless option, great for formal attire. Brown is more casual and very versatile.
Frequently asked questions about men's boots
What are the different types of men's boots?
The different types of men's boots include Chelsea boots, work boots, desert boots (also known as chukka boots), hiking boots, rain and snow boots, dress boots, jodhpur boots, brogue boots, hunting boots, combat boots, and sneaker boots. 
What are the best quality boots for men?
The best quality boots for men include those by Oliver Cabell and Axel Arigato, who both make sustainable and high-quality boots for men that are quite well-priced. Other brands making quality men's boots include Timberland and Blundstone. 
Which brand of boots are the best?
Some of the best boot brands for men include Oliver Cabell, Axel Arigato, and Koio, three brands that are also all committed to sustainable and ethical footwear production. For more inspiration, check out our rundown of the best boots for men. 
What kind of boots are in style for men?
Those boots that are in style for men currently include Chelsea boots, brogue boots, combat boots, desert boots, sneaker boots, and some of the more casual styles of work boots, such as Timberlands. Cowboy boots are also currently in style too. 
What boots are in style this year?
Desert boots, brogue boots, and sneaker boots are all some of the boots that are in style for this year. Chelsea boots are a classic style of boot that never go out of fashion while the best work boots also transcend trends.