Ah, the humble slide. Once upon a time, this simple form of footwear was little more than a way of avoiding turning your foot into a fungal mutant monstrosity after a trip to your dorm's showers.
But these days, there's a renaissance going on in the world of footwear fashion. You no longer have to push yourself into an uncomfortably binding business shoe in order to look like you have your life under control. Comfort is in, and for that we're eternally grateful.
If you've avoided men's slide sandals in the past because they just looked too junky, you're in for a treat. No longer regarded as merely men's shower shoes, some real heavy-hitters in the fashion industry are spearheading a design revolution in the men's slide scene.
There are in fact now so many entries in the men's slide world that it can be understandably overwhelming. With that in mind, we reviewed a fleet of men's slides to bring you the best of the best whether you're looking for top tier looks, comfort, or durability.
The 17 best slides for men
Hugo Boss: Overall best slides for men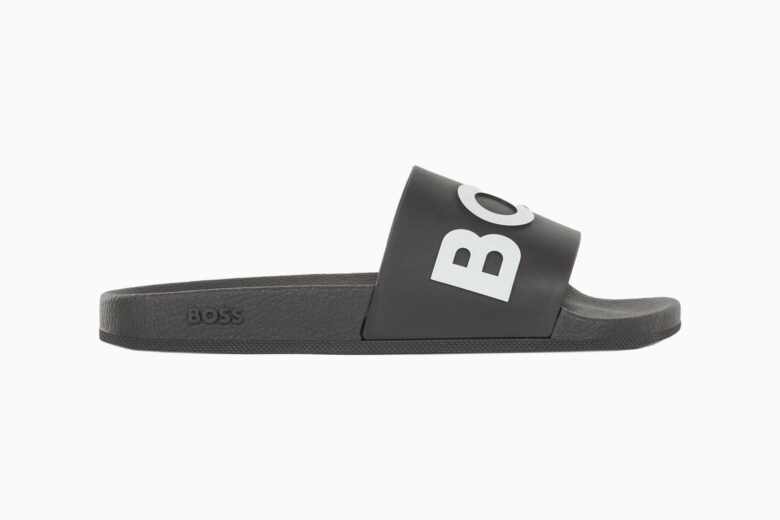 Hugo Boss has a well-earned reputation for style, so we weren't surprised that their logo-strap slides had a distinguished look to them. Happily, we found that these luxury slides also deliver equally in the comfort and anti-slip departments.
The Hugo Boss' bottom comes with a nice grippy sole, while the interior quickly molds to the shape of your foot. This makes for a comfortable fit, as well as men designer slides that aren't likely to slip off of your foot as you move about.
Best for: Fits like a second skin. Looks good doing it.
Gucci: Best men designer slides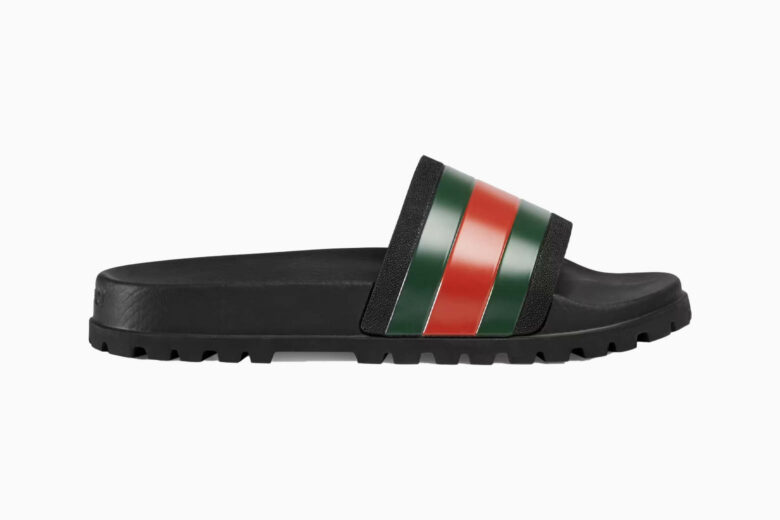 Gucci has also brought their A-game to men designer slides. Name-brand recognition is the name of the game with Gucci's slides, but their durable footwear can also take a surprising amount of rough handling.
Whether you're sporting the famous Gucci red and green stripes, or you go with a classic all-black look, the molded rubber footbeds feel fantastic on your feet.
Best for: Sliding your foot into a fashion statement.
Nike Benassi: Best value men's slides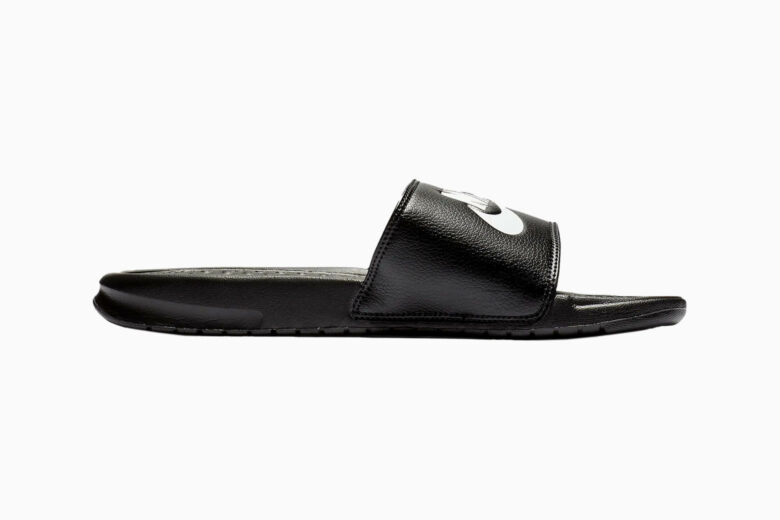 Nike packs a surprising amount of comfort in their low-cost slide. The sole adds bounce to your step with its springy foam, and the strap is lined with fabric to keep it from rubbing the top of your foot the wrong way.
Style-wise, Nike Benassi slides are simple and clean-looking, featuring their bold logo on top of the strap. The low cost and high comfort makes them an easy choice for just kicking it around the house.
Best for: Easy on your feet, easy on your wallet.
Adidas Aqua Slides: Best men's shower shoes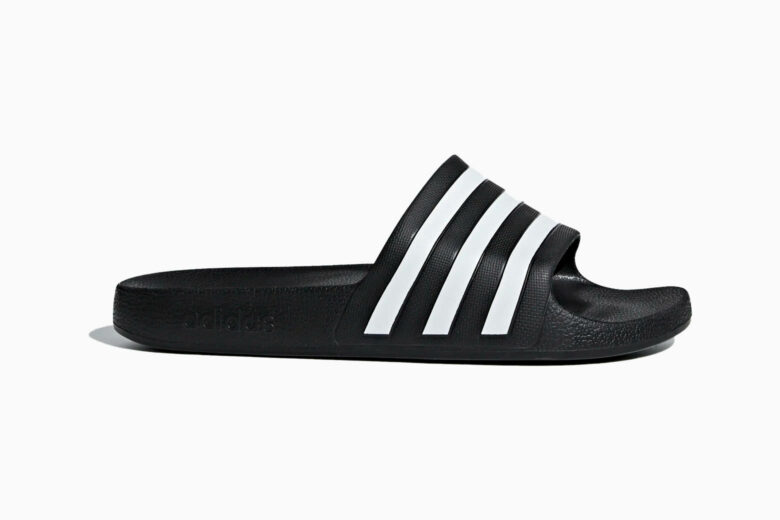 When you're heading for the showers, two qualities immediately spring to mind: sole grip, and how well your slides repel water.
Adidas claimed our top spot for slides you can wear to keep your feet safe in the shower with their famous Adilette Aqua Slides. Available in 8 color combinations, paired with their famous branded three stripes, the Aqua Slides earn top marks for keeping your feet secure on slippery surfaces, as well as drying out quickly when water permeates them.
Best for: Sure-footed shower power.
Axel Arigato: Best poolside slides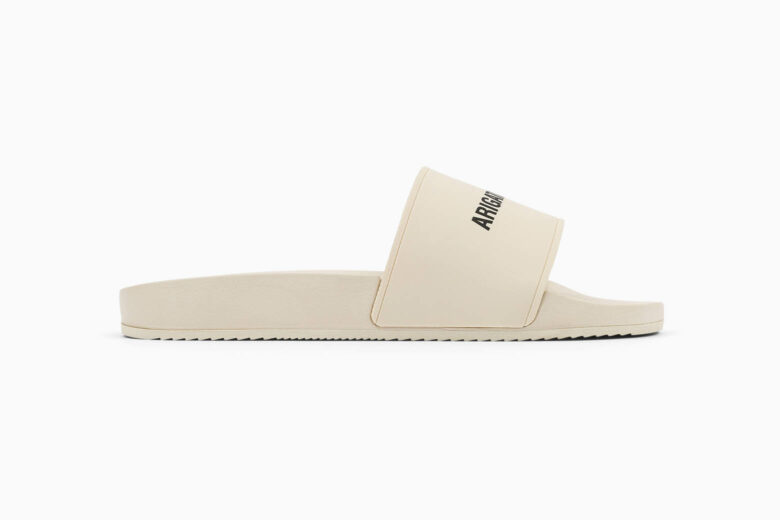 If you're heading poolside, you're going to want something that's comfortable, easy to kick off, and won't be easily damaged by chlorinated water and exposure to the sun.
We give the nod for the best slides for the poolside to one of our favorite brands for luxury sneakers — Axel Arigato. Easy as slippers to get on and off, the Pool Slides are made from partially-recycled rubber, which provides for a durable, but attractive, slide.
Best for: Prowl pool-sides with a simple and bold style.
Oliver Cabell: Best men's vegan leather slides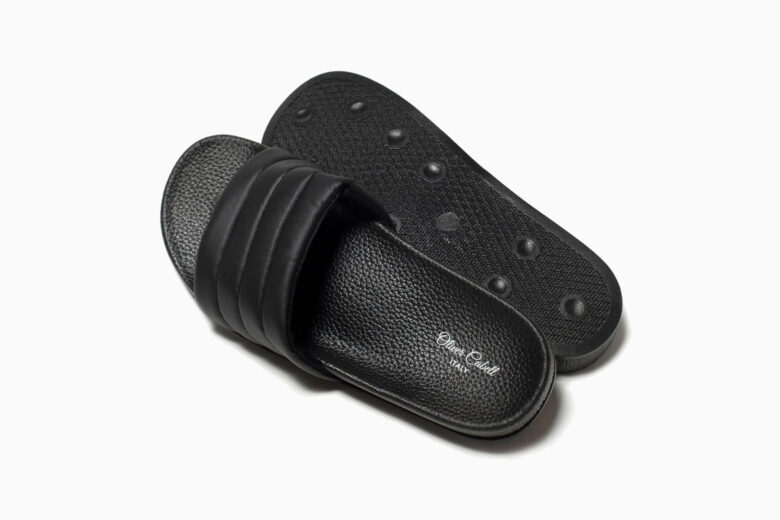 Handmade and finished with premium vegan leather, Oliver Cabell's slides grab top marks for their strong design. They look amazing on the feet, even if you're just chilling in your swimming shorts by the pool. Each pair takes days to complete, as every step is done by hand.
Happily, they don't sacrifice comfort for their style. We found that Oliver Cabell's slides are some of the best men's slides when it comes to delivering a deep cushion feel. 
Pair them with a set of smart-looking sunglasses, and you'll look like a million bucks while you're feeling completely comfortable.
Best for: A vegan leather-crafted dream for your feet.
Under Armour Ignite Freedom: Most comfortable slides for men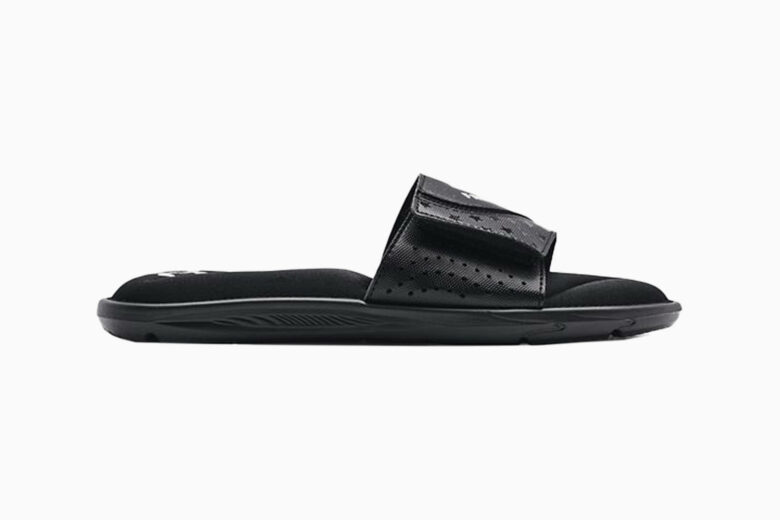 Under Armour's Ignite Freedom Slides are some of the most comfortable slides we have slid our feet into. The Ignite Freedoms are visibly more padded than most other popular slides, and the fittable strap puts them at the top of the heap of men's adjustable slides when it comes to comfort.
As an added bonus, Underarmour Ignite Freedom Slides are surprisingly light for footwear that's packed with so much cushioning.
Best for: Fashionable freedom from chafing.
Frescobol Carioca: Best men's slides for the beach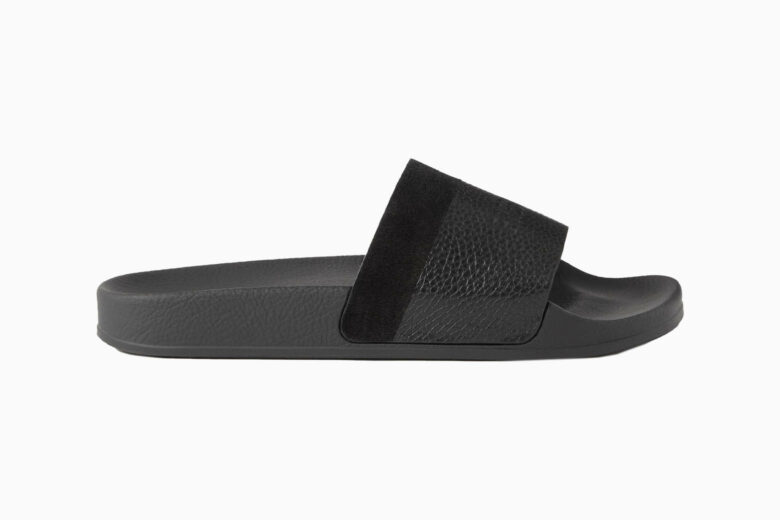 Slides make for some of the best beach-bound footwear because they're a breeze to slip on and off, and it's easy to get the sand out of them before you put them back on.
Frescobol Carioca's Suede-Trimmed Leather Slides makes beach trips even easier by providing a dust bag with their purchase, giving you a place to store your suede-trimmed slides when you're shipping them in a suitcase or backpack.
Best for: Leaving the sand at the beach and out of your luggage.
Birkenstock Arizona: Best waterproof slides for men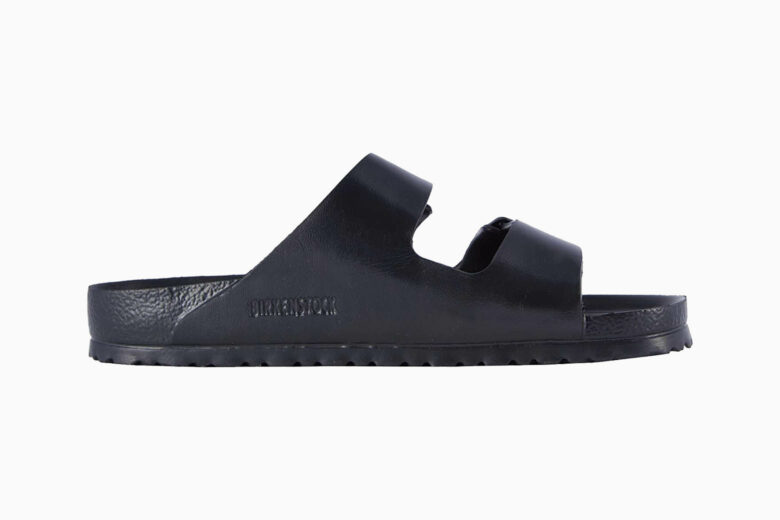 Birkenstock is the company that made self-contouring the standard for slides and sandals. Leaving plenty of room for your toes to spread and move, Birkenstocks still build some of the best slides for men when it comes to overall body support.
Birkenstock's Arizona line departs from their classic leather approach and goes all-in with waterproof EVA rubber to provide you with footwear that's carefree around water.
Best for: Laughing off water worries.
Hoka One One: Best post-workout slides for men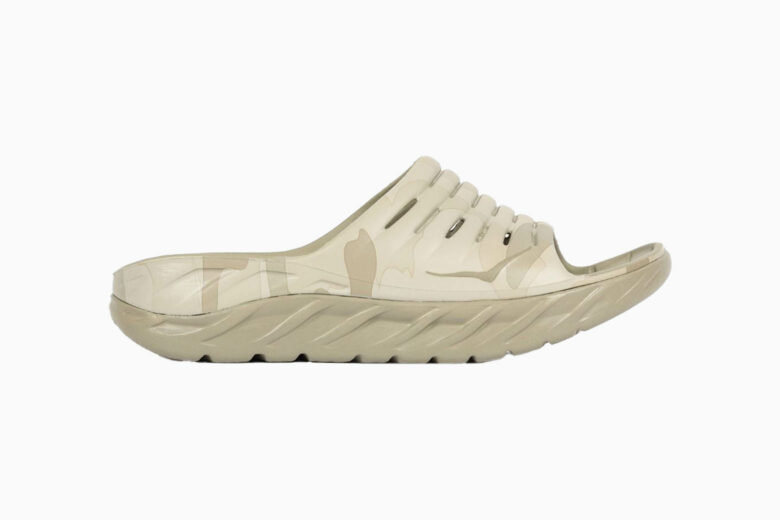 If you're into athletics, you know that your whole body is one interconnected instrument. If you fail to take care of your feet, that can lead to bad knees, a stressed-out lower back, even shoulder and neck pain.
Hoka One One's Recovery line of slides help your dogs throttle down from an intense workout. Additionally, the rubber soles will keep you slip-free as you head for the showers.
Best for: Rewarding your feet for a job well done.
Adidas Yeezy: The most popular slides for men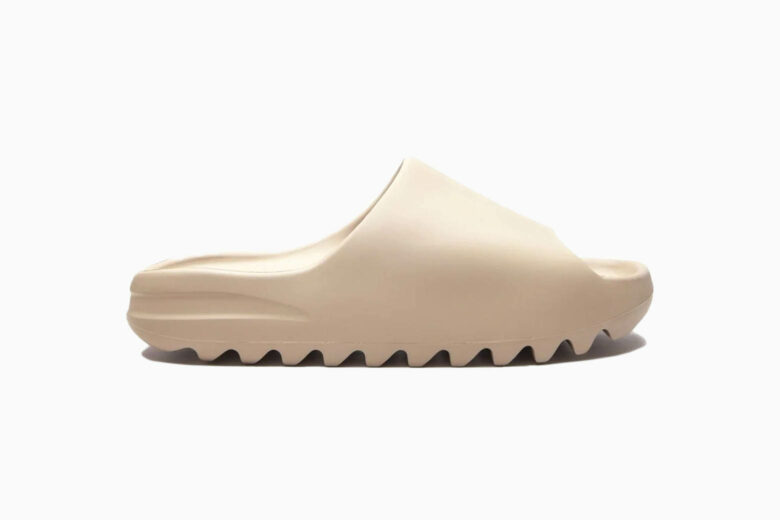 Sometimes simple is best. And it doesn't get much more minimalistic than these Pure Slides, one of the best Yeezy shoes.
Sporting a chunky look, Adidas' Yeezy Pure slides are cushions you can wear on your feet. With a rubber sole, the rest of the shoe is manufactured from injected EVA foam that will contour around you. That means the big blocky look of the Yeezy Pure is really one big hunk of comfort that's just waiting for your feet.
Best for: An evergreen icon of the footwear game.
Bottega Veneta: Men's best rubber slides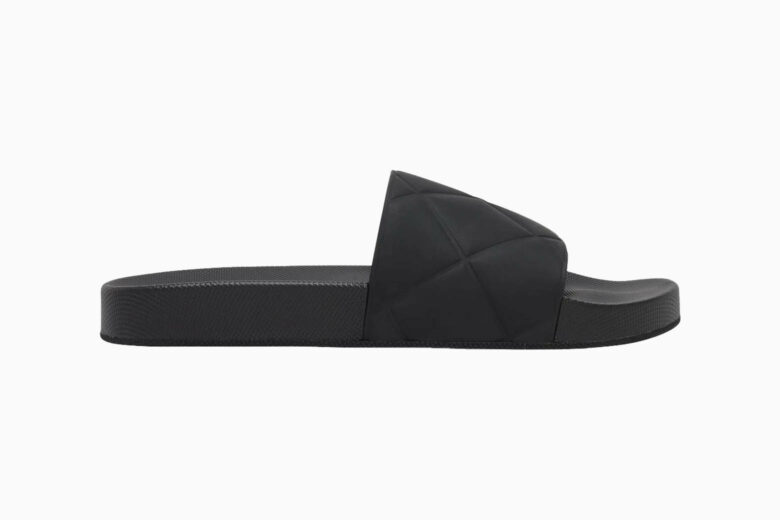 Bottega Veneta snuck a fast one in with their stylish line of slides. Bogetta Veneta is usually known for using leather to fashion its signature quilting pattern. However, this time out the luxury brand has gone for a stamped all-rubber approach, which makes for slides that are easier to keep clean.
With their gripped soles and durable rubber bodies, the Bottega Veneta slides have you set up for a carefree day by the pool.
Best for: Easy maintenance hidden under an attention-grabbing aesthetic.
Athletic Propulsion Labs Techloom: Best men's slides for sweaty feet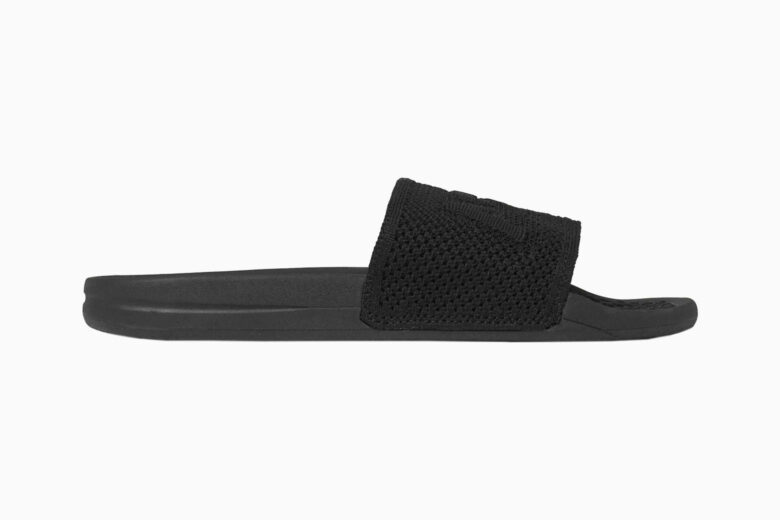 Not all feet are created equal. Some of us have pedals that sweat more than others, and that can lead to problems both with slippage and foot health.
We like Athletic Propulsion Labs' TechLoom Slides for those with sweatier appendages. The slides are made from an antimicrobial mesh that will cut down on the chance of you sweating your way into a medical condition. Plus they leave your feet feeling fresh as you walk.
Best for: Gents that dare to want looks and healthy feet.
New Balance 100 V1: Men's best lightweight slides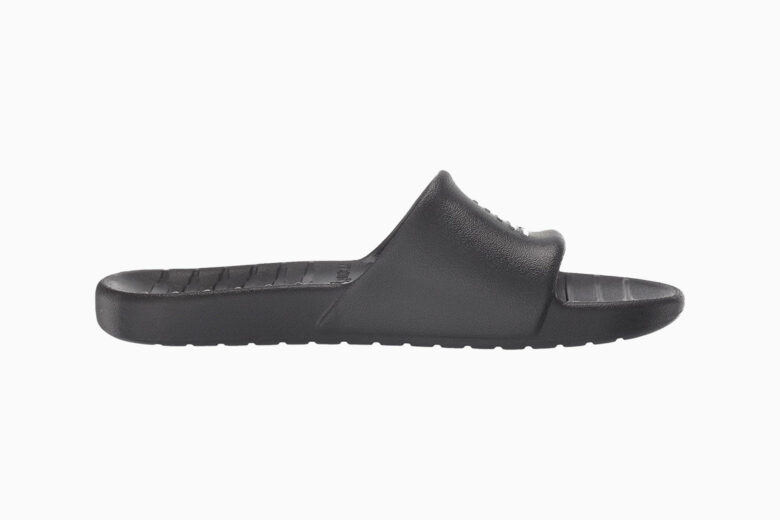 Available in seven different colors, New Balance offers up a set of slides that are lightweight enough to make you forget that they're on your feet.
If you're going to be in your slides for long periods of time, it's not a bad idea to look for something that isn't going to weigh you down from below, or rub the top of your foot raw. The New Balance 100 V1 slides are designed to keep out of your way, and they do it well.
Best for: Keep your attention focused on your fun, not your feet.
Suicoke Moto-Cab: Best men's slide sandals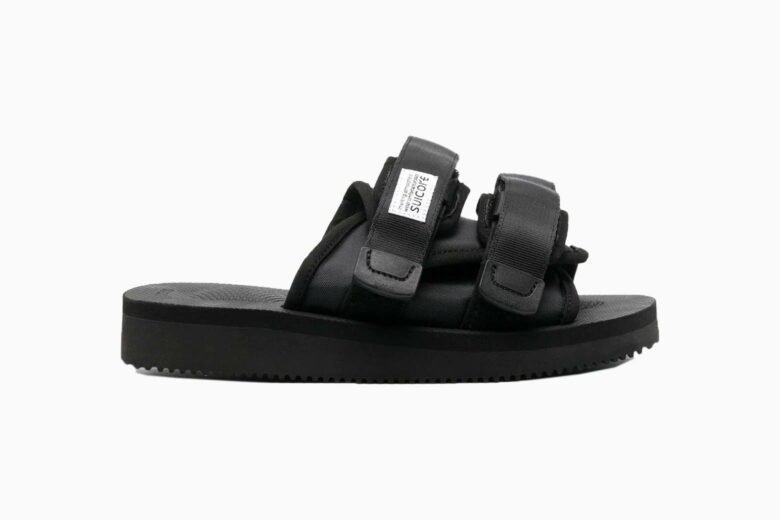 If you're likely to be moving around as opposed to lounging or kicking off your footwear, you're probably going to want something with a secure and adjustable strap or two.
Suicoke's Sandals, like the name implies, move a bit more into sandal territory than most other entries on our list. However, they're still easy to slide in and out of, and their fabric tops won't rub against the top of your foot like a rubber top-piece might.
Best for: Being on the move all day long.
Off-White: The best casual slides for men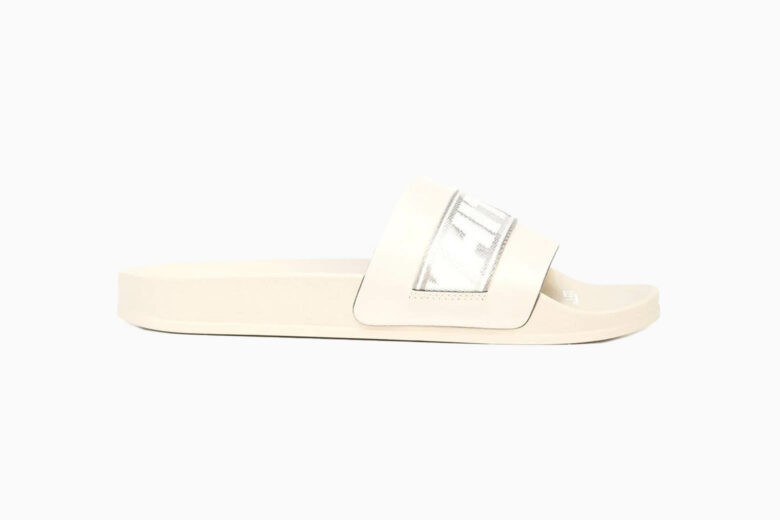 Looking to keep it casual? You might want to consider a gentle, lighter color slide that won't attract unwanted attention but will still match nicely with your summer outfits.
Try out Off-White Slides. At a casual glance, they're not going to cause much of a ruckus. However, if anyone becomes interested, a closer inspection will show a nicely designed slide that sports some understated style.
Best for: Casual wear that doesn't look crummy.
Bottega Veneta Intrecciato: Most expensive slides for men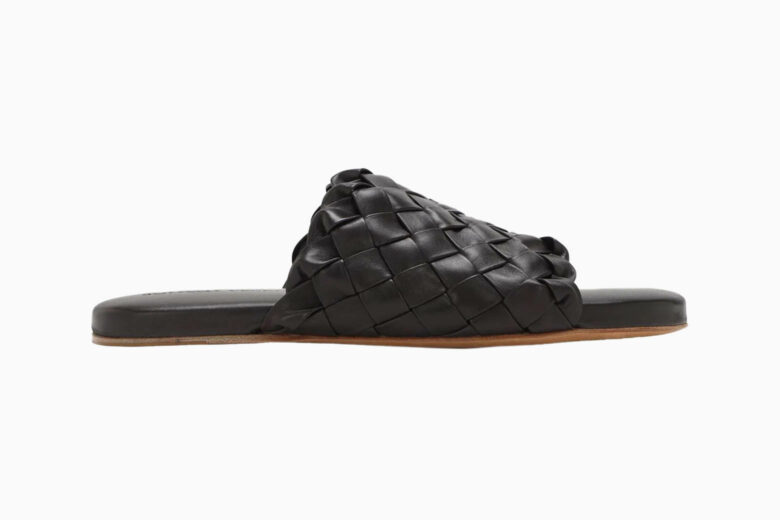 There's no reason at all why your slides can't be part of your wow-factor. They are a part of your outfit, after all.
If you're the type of guy that recognizes the impact that quality footwear can make, then you should be checking out Bottega Veneta's Intrecciato Leather Slide Sandals. Made from 100% lamb leather, the Intrecciato are angel-wing soft, and their woven top makes them stand out from the pack.
Best for: Maximum impact. Unparalleled comfort.
Frequently asked questions about men's slides
Who makes the best slides?
This will depend somewhat on whether your focus is on comfort, durability, waterproofing, material, style, or the activities you'll be doing while wearing the slides. If this is your first venture into men's slides, you won't go wrong with these slides from Hugo Boss.
What slides are in fashion?
Slides in general tend to look better than flip-flops, making them the more fashionable choice between the two. In terms of fashion choices, leather slides seem to be gaining traction not just as slides, but also as standard outfit accessories.
When is it appropriate to wear slides?
The rule of thumb is that slides are casual wear. They're appropriate for the beach, the pool, locker rooms, gyms, and around your home. That being said, since some slides are now being put out by luxury fashion houses, a select few high-end slides are becoming accepted as more formal wear, at least in hotter locales.