Like many trends from the '90s, the sling bag has had something of a revival. Similar to a backpack, but slung over one shoulder rather than two, they can be a handy, functional, and not to mention stylish, way of carrying all your day-trip essentials.
Inspired by the uber-cool (or, so we thought) trend of wearing your backpack on one shoulder in a contrived attempt at nonchalance, the sling bag is the more comfortable, more practical offspring of this style.
Ergonomically-speaking, sling bags are a win-win. Worn diagonally across your back, the weight is distributed more evenly, making them outperform messenger or tote bags.
A happy hybrid between full-blown backpacks and less practical shoulder bags, sling bags are perfect to house your essentials for city day trips, long walks or sightseeing.
Here is the ultimate guide to choosing your new sling bag, so you can wander in style.
The 13 best sling bags
Check our special sling bag buyers' guide after the list to see exactly what you should pay attention to before purchasing a shoulder backpack.
Ozuko: Best overall sling bag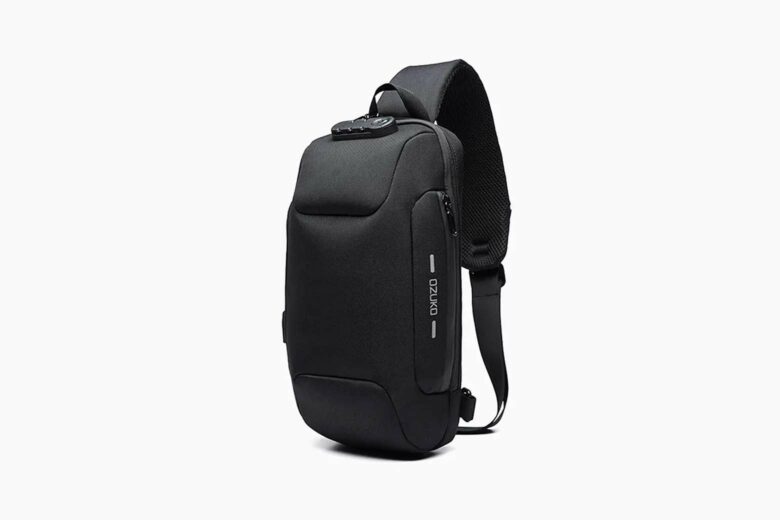 Stylish, discreet, and practical, the Ozuko sling bag offers pretty much everything you could desire from a sling bag:
Breathable, high-density Oxford fabric, plus boasting anti-theft features, and with a large main compartment in addition to handy smaller ones, the OZUKO sling bag is a great unisex choice.
The cushioned shoulder strap is designed with optimal comfort in mind. Also, the strap includes card pockets for easy access to credit cards, bus passes, or ID.
When you're traversing touristy areas or transport hubs, security is an understandable concern. Fortunately, the OZUKO features an anti-theft password-coded lock on the main compartment, so you won't need to look over your shoulder constantly. Of course, if you're still worried, you can just scooch it around to wear on your front.
This shoulder sling bag is best for: those who desire a secure, stylish bag featuring a veritable toolbox of features that you can comfortably carry anywhere.
| | |
| --- | --- |
| Dimensions: | 17cm x 8cm x 34cm (7" x 3" x 13") |
| Materials: | High-density, waterproof and wear-resistant Oxford fabric |
| Colors: | Available in Black, Camouflage or Dark Grey |
Mark Ryden: Best high-end sling bag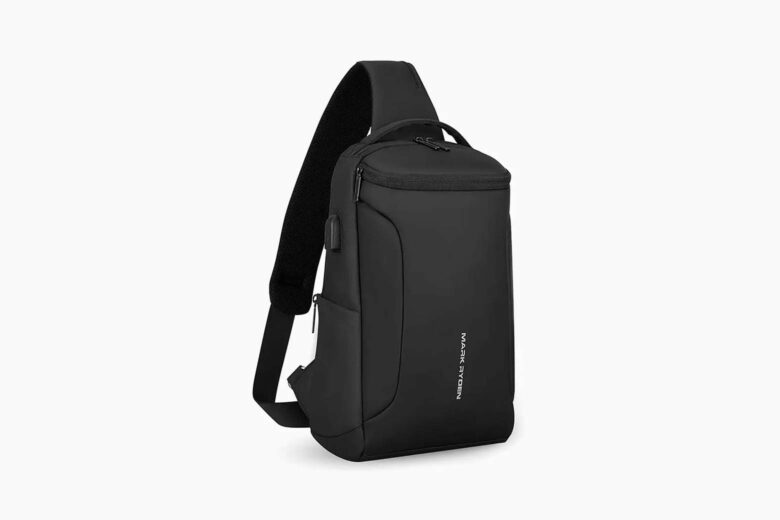 The sleek shoulder sling bag by Mark Ryden could be the perfect companion to take to the office, on walks, or as a spare bag for traveling.
With designated compartments for your water bottle, two sleeves in the main pocket for your iPad and Kindle or other must-bring tech devices, plus a passport-sized back pocket and a nifty card holder on the shoulder strap, there's space for everything you need for a day out.
The 3D breathable sponge back allows for good air circulation.
There's also a USB port feature, which is great for easily charging devices without the inconvenience of fumbling around for your power bank.
So, if you're looking for a classic, sporty-chic, high-end sling bag, this could be perfect for you.
| | |
| --- | --- |
| Dimensions: | 29cm x 30cm x 10cm (11" x 10" x 4") |
| Materials: | Waterproof, lightweight Oxford |
| Colors: | Available in Black |
KL928: Best value sling bag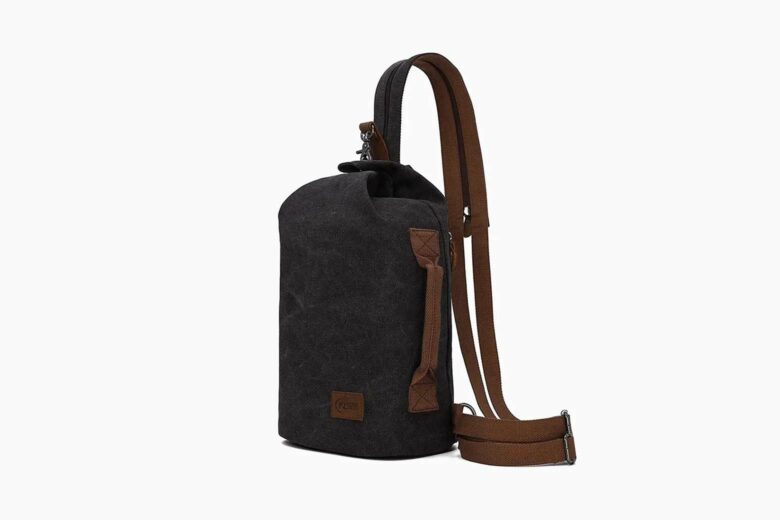 When it comes to maximizing bang for your buck, you may need to look no further than the KL928 Canvas Three-Style sling bag.
Super versatile, this can be worn in three ways thanks to the adjustable straps; you can wear it as a chest bag, a small backpack, or as a sling bag, depending on your preference.
The KL928 sling bag offers a cool, unique aesthetic that's brilliant for those looking to deviate from the classic black styles. Plus, fashion aside, there's plenty of room in the main compartment for tech, books, and essentials.
The zipped pockets, with their rustic brass fittings, allow for extra bits and pieces to be stored safely and easily accessible, too.
There's a handy anti-theft pocket for your wallet, sunglasses, or anything else that could catch the watchful eye of an opportunist.
The Canvas sling bag is best for: those seeking excellent value, combined with a rustic, stylish aesthetic.
| | |
| --- | --- |
| Dimensions: | 25cm x 18cm x 41cm (10" x 7" x 16") |
| Materials: | High-density canvas |
| Colors: | Available in a large range of colors, including Olive, Black and Blue |
5.11 Moab 10 Tactical: Best EDC sling bag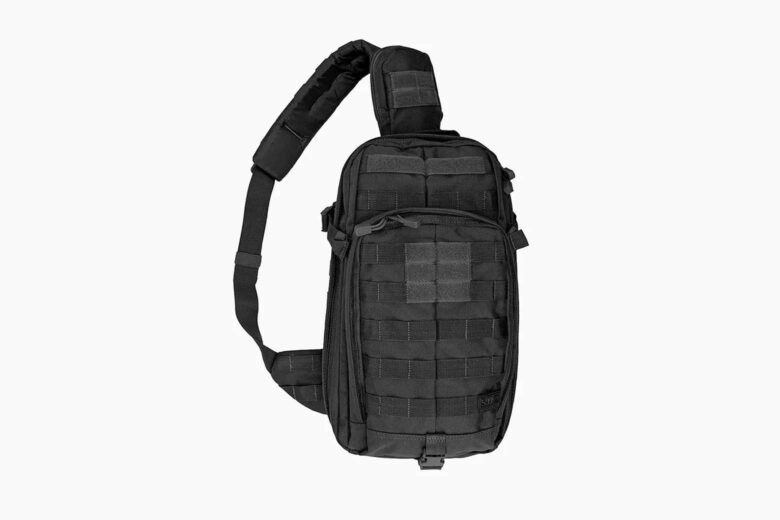 Be boots on the ground-ready for anything with the Moab 10 Tactical sling bag by 5.11. For everyday carrying that packs a punch with military efficiency, this could be your favorite new companion.
This 5.11 sling bag is excellent for emulating authentic military style, keeping you patrol-ready at all times. Like the daypacks of soldiers across the globe, the Moab 10 promises to house everything you'd need to sustain yourself for a short expedition (or a leisurely day exploring No Man's Land).
It's jam-packed with useful pockets with self-healing zips, including a fleece-lined pocket so your shades can be carried safely. The hydration pocket and a pass-through port solidify the highly-utilitarian aim of this army-style sling bag.
Of course, it features the all-important adjustable cushioned shoulder strap, plus a soldierly multiple compartment interior for fastidious organization that'll keep any inspecting sergeant appeased.
| | |
| --- | --- |
| Dimensions: | 46cm x 23cm x 18cm (18" x 9" x 17") |
| Materials: | 100% 1050D lightweight waterproof nylon |
| Colors: | Available in Black, Storm or Sandstone |
Nicgid: Most lightweight sling bag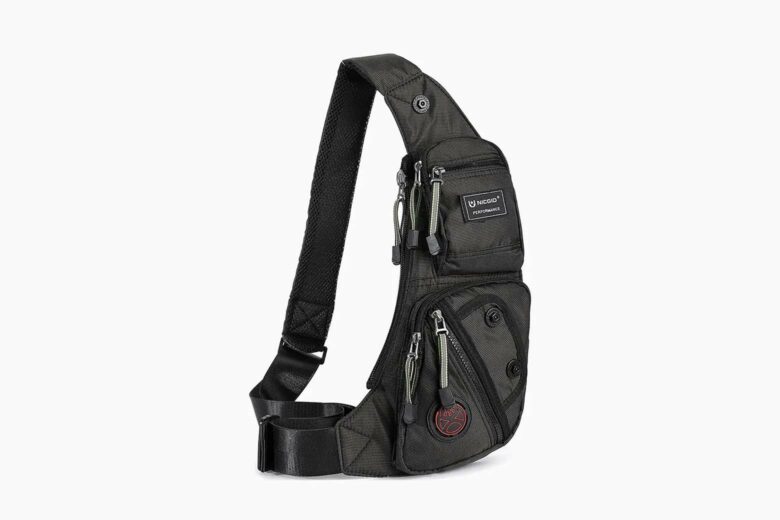 For when you've already got enough items to carry, without the extra weight of the bag itself, the Nicgid sling bag could be the bag you've been searching for.
The lightweight Nicgid sling bag outdoes its bulkier predecessors by providing featherlight storage, without compromising on capacity. Think of it as kind of like the iPhone to your Nokia 3310 (which, of course, there's a designated pocket for!).
With a spacious main compartment allowing room for your iPad Mini, mobile phone, or Kindle, there are also four smaller pockets for your other essentials.
This is the sling bag for people who hate carrying sling bags (or any bag!). Made with minimalists in mind, you can cruise along with all your necessities, without huffing and puffing about the inconvenience of carrying a bag.
So, while you'll likely need a larger sling bag for even the most Spartan of overnight stays, this bag could be perfect for museum trips, casual strolls, or bike rides.
| | |
| --- | --- |
| Dimensions: | 18cm x 5cm x 30cm (7" x 2" x 12") |
| Materials: | High-quality water and rip-resistant nylon |
| Colors: | Available in Black, Army Green and Dark Green |
Patagonia Atom: Best travel sling bag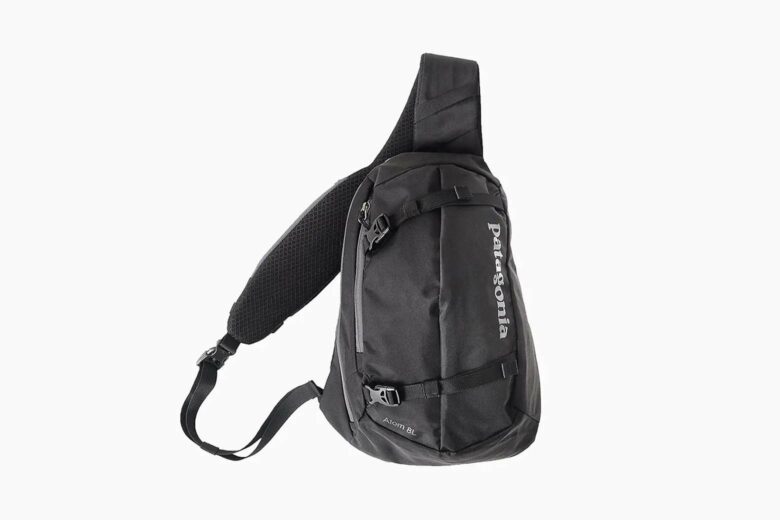 If any brand is synonymous with the Great Outdoors, it's Patagonia. With function, durability, and comfort at the forefront of their products, the Atom Sling 8L is the epitome of these values.
The ergonomic, single-strap design ensures the pack's load is carried close to your body for optimal comfort.
Plus, the sling bag features two inner compartments with room to house your essentials, plus two compression straps for any additional gear you can't travel without. So, no excuses for bypassing your daily yoga routine when traveling, as you can strap your mat on your bag.
Of course, nowadays, even the most rustic travelers will carry some tech devices. So there's a padded tablet sleeve for your tablet, and a roomy chest pocket on the strap so you can reach your smartphone for those #instasnaps.
Best for those seeking a dependable, durable sling bag for traveling and long journeys.
| | |
| --- | --- |
| Dimensions: | 45cm x 36cm x 24cm (18" x 14" x 9") |
| Materials: | 100% nylon with a durable water repellent finish |
| Colors: | Available in a range of colors including Black, Classic Navy and Smokey Violet |
Reebow: Best tactical sling bag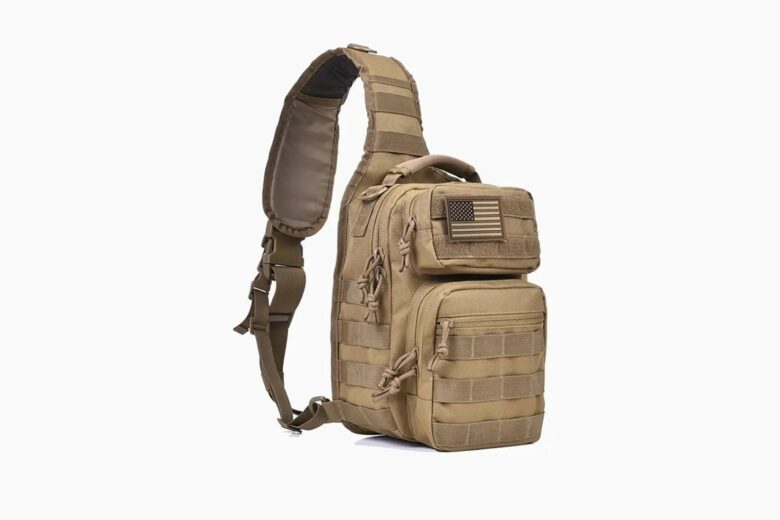 The Reebow Gear Tactical sling bag is crafted with adventure in mind. You can pretty much carry 'everything but the kitchen sink' in one of these GI Joe-esque sling bags.
The design is ultra-versatile and carries an abundance of different sized compartments, so you can be prepared for whatever your wilderness adventure (or a trip to the park) brings.
You can fill the surplus space with a medium-sized iPad, a smartphone, a small notebook, keys, a water bottle, and powerbank, as well as any other bits you need for your days out.
The adjustable strap, plus the additional smaller straps to reduce sway, promise to have you feeling safe and secure that your bag won't go MIA.
The hardcore military aesthetic of this sling bag is a great perk, exuding camouflage vibes and footsoldier chic.
Best for those who don't like to scrimp on supplies and are seeking a strong, commander look with their sling bag.
| | |
| --- | --- |
| Dimensions: | 30cm x 25cm x 15cm (12" x 10" x 6") |
| Materials: | 600x600D water resistant polyester fabric |
| Colors: | Available in Black or Tan |
Osprey Daylite: Best small sling bag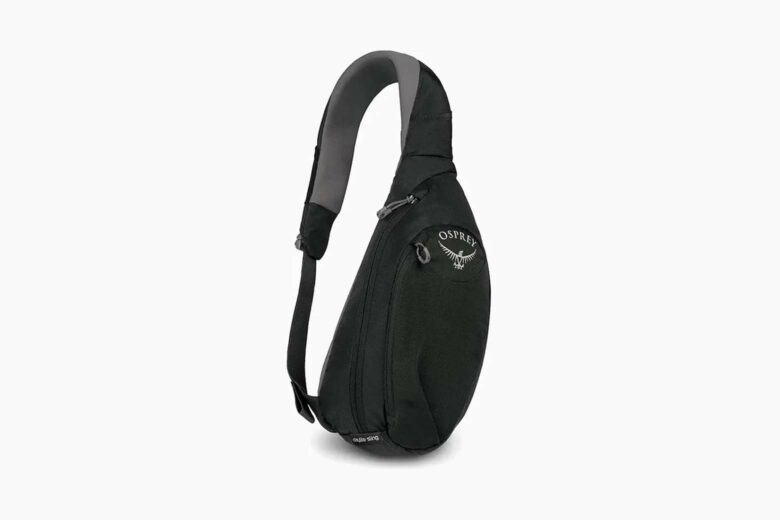 The Osprey Daylite shoulder sling could be perfect for the no-fuss minimalists amongst us. With space for your wallet, keys, phone, a water bottle, and maybe a map, you'll be free to voyage without the burden of lugging around unnecessary possessions.
It may be small, but the mesh interior organizer helps you to maximize that space efficiently. Kind of like a tiny home. Sure, you could have more space. But do you need it for a quick day trip?
The breathable and soft strap material is super skin-friendly, so you might hardly even feel it. With less weight, you'll move faster and feel freer.
There's a key clip and a front access mesh compartment for those bits you want to access fast, just pull the bag around to your front for convenient, speedy access.
The Osprey Daylite shoulder sling is best for those who seek a neat, compact sling bag for carrying their everyday essentials.
| | |
| --- | --- |
| Dimensions: | 38cm x 20cm x 12cm (14" x 8" x 5") |
| Materials: | 210D water resistant Nylon Double Diamond Ripstop |
| Colors: | Available in a large range of colors including Black, Petrol Blue and Granny Smith Green |
Under Armour Compel 2.0: Best laptop sling bag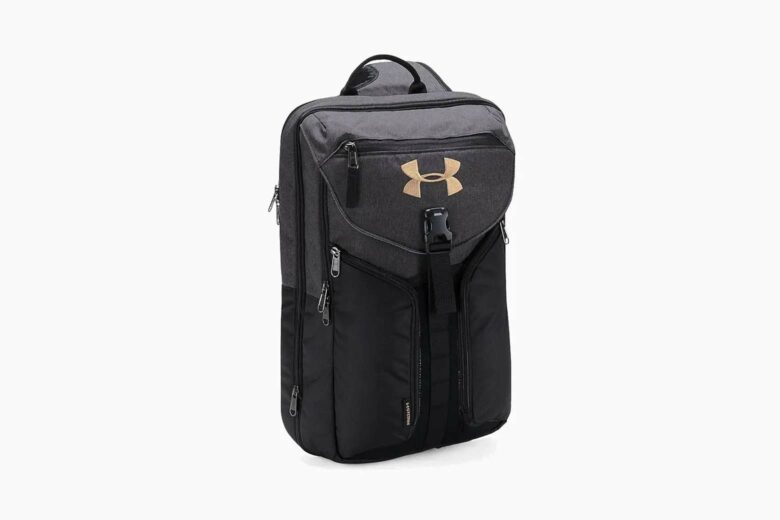 Digital nomads, this one is for you. The Under Armour Compel sling 2.0 is specifically created to safely transport your 15" laptop in its soft-lined laptop sleeve. The fleece lining is a nice touch, and totally safe for tablet screens too, so there's no need to be concerned about marks and scratches.
The U.A. Storm technology repels water, so you won't have to worry about being caught in the rain. Plus, there's a side water bottle pocket and front zip organizational pocket for any extra bits you might need to access quickly.
While it's made with laptops in mind, the expandable feature allows you to bring things like chargers, or folders and books for the studious types.
Unlike many sling bags, that tend to taper at the top, the Under Armour Compel is rectangular, which does wonders for capacity! You should be able to fit in everything you need for a day at the office, the co-working space, or a beach bar on the Med.
This sling bag is best for those seeking a safe vessel for their precious tech, with extra space for other essentials too.
| | |
| --- | --- |
| Dimensions: | 48cm x 33cm x 15cm (19" x 15" x 6") |
| Materials: | 100% polyester, water repellant |
| Colors: | Available in Black |
Tajezzo: Best modern design sling bag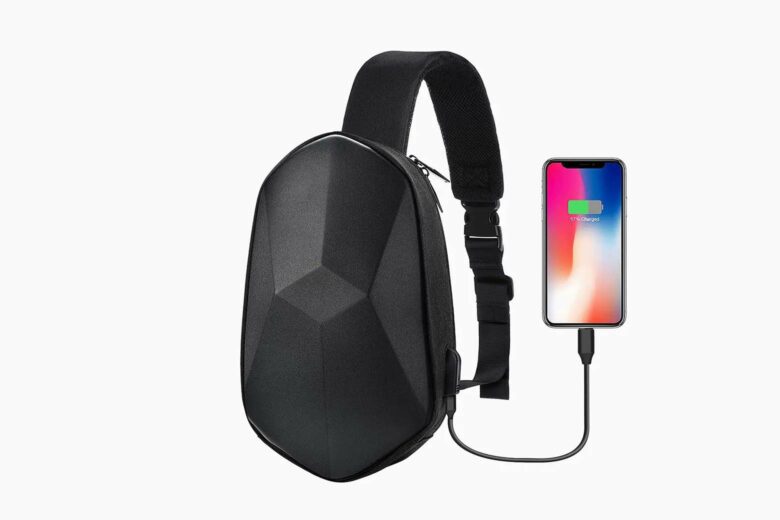 The Tajezzo sling bags geometric polyhedron design is totally space-age, and wouldn't look out of place on Bruce Wayne. For a sling bag that's eye-catching, and somewhat outside the box, this could be The One.
The one-piece hard shell casing provides that extra bit of confidence that whatever's within will stay safe and sound. As you'd expect from such a sturdy piece of kit, it's waterproof, anti-collision, and wear-resistant. So, as far as unique sling bags go, the Tajezzo boasts a pretty impressive resumé.
Furthermore, the U.A. offers quite the menage a trois of wearability; you can wear it in either typical sling bag style, across your body, or as a shoulder bag.
A few cool features include the anti-theft pocket (hey, with a bag like that, you're going to attract attention…) and USB port and built-in USB cable, which are welcome additions to the multi-compartment sling bag.
| | |
| --- | --- |
| Dimensions: | 31cm x 20cm x 18cm (12" x 8" x 7") |
| Materials: | Multiple composite materials, achieving a waterproof effect (but avoid soaking!) |
| Colors: | Available in Black or Camouflage |
G4Free: Best waterproof sling bag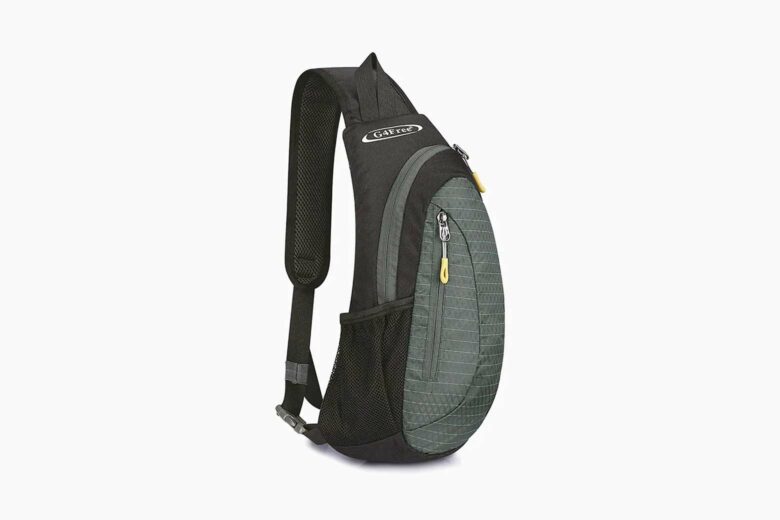 If you're out and about a lot, particularly if you live somewhere blessed (or cursed) with unexpected showers and storms, you'll need a good, waterproof sling bag to protect your things from the elements.
The G4Free sling bag is made with outdoor sports in mind, and so provides a water repellant armor for whatever you're carrying inside.
The lightweight design features a wide, breathable padded strap for optimal comfort, plus a front pocket that allows you easy access to your frequently needed items.
The interlayer compartment inside possesses organized spaces for your iPad mini or iPad Air (or something similarly sized), so you can avoid experiencing a jumbled mess upon opening.
The handy side mesh pocket is large enough for a water bottle or umbrella, too. So, thankfully your journey will be unimpeded by constantly wondering if your water bottle has leaked all over your tech.
This sling bag is best for those who enjoy the outdoors and would like that extra bit of protection from drizzle and rain.
| | |
| --- | --- |
| Dimensions: | 41cm x 20cm x 5cm (16" x 8" x 2") |
| Materials: | Water repellent nylon |
| Colors: | Available in a large range of colors including Black, Dark Green and Blue |
Waterfly Chest: Best budget sling bag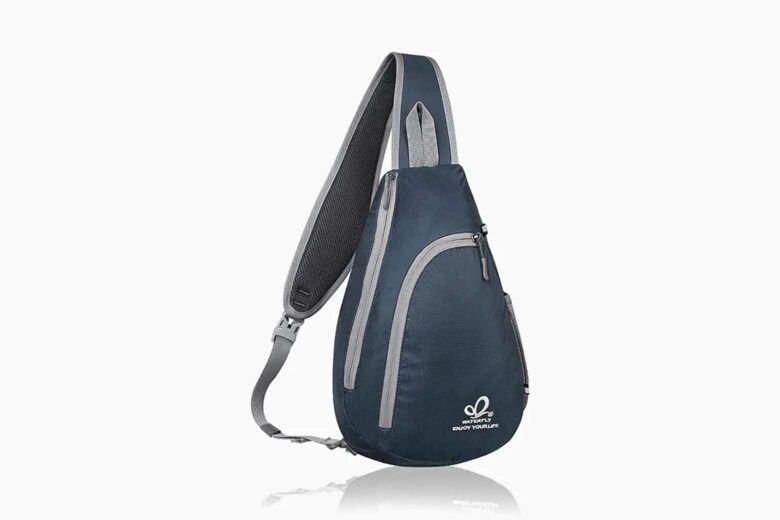 If you want a lovely, versatile sling bag that won't burn a hole in your pocket, the Waterfly Chest sling could be a great option.
Despite being at the lower end of the price spectrum, the Waterfly sling bag includes everything you could want in a sling bag; an adjustable strap, multiple compartments (the main one is large enough for an iPad), breathable, water-resistant material, and a phone pocket.
The reflective silver gear loops are a welcome addition, allowing you to be seen when you're out at night time.
Its simplistic, understated, but outdoorsy design totally says 'I love sports', and the range of colors allows you to co-ord with your favorite casual or athleisure wear.
The Waterfly Chest sling bag is best for those seeking a reliable, functional sling bag that isn't too tough on your wallet.
| | |
| --- | --- |
| Dimensions: | 18cm x 9cm x 38cm (7" x 4" x 15") |
| Materials: | Water resistant nylon |
| Colors: | Available in a large range of colors, including Blue, Black and Army Green |
Valentino Garavani: Most expensive sling bag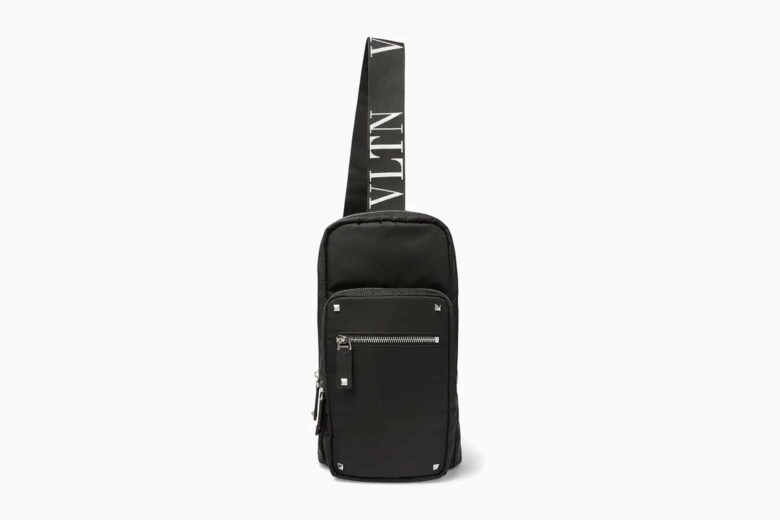 The ultra-trendy Valentino Garavani Shell-Sling backpack makes quite a statement. The branded strap and brand signatures adorning the bag exude high fashion, while the silver-toned Rockstuds and leather trim render the Valentino logo subtly, yet undeniably luxe.
Be happily hands-free for your travels or commute, blissful in the knowledge your things are nicely organized in the several zip pockets, and lined main compartment.
The strap is adjustable, and the black shell material is comfortingly sturdy, with the slightly oversized zip tags elevating this sling to a higher plane of style.
It's best for those to whom fashion is of the utmost importance while delivering all the features you desire from your sling bag.
| | |
| --- | --- |
| Dimensions: | 30cm x 42cm x 19cm (12" x 17" x 7") |
| Materials: | Water resistant black shell |
| Colors: | Available in Black |
Buyers Guide: What to look for in your sling bag
Whether you're in need of a sling bag for your extreme sports endeavors, meandering days in the city of hazy beach afternoons, it's good to know what to look for.
Key features
Of course, sling bags vary greatly in style, but most sling bags worth their salt possess a few key features.
Adjustable straps:
It (hopefully!) goes without saying, we humans come in countless shapes and sizes. As such, you need your sling bag to be adjustable to fit comfortably across your back.
If you're going to be wearing it for long periods of the day, it is absolutely crucial that the bag is comfortable for you. Make sure that your chosen sling has adjustable straps, so you can tailor it to your size.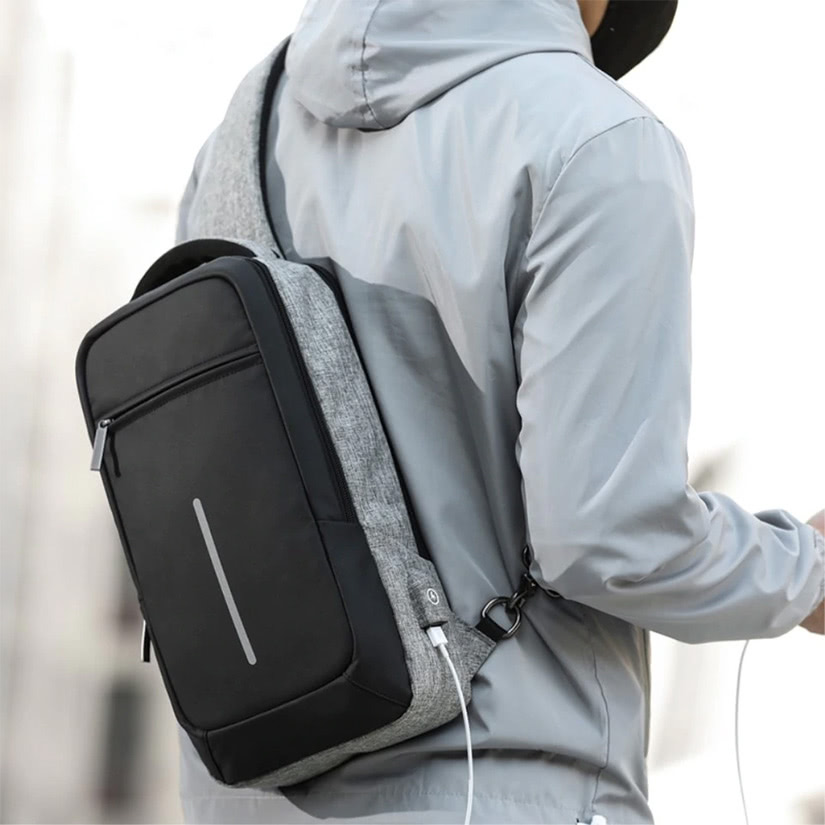 Organized compartments:
Despite sling bags exuding cool, carefree vibes, we all crave organization. There's nothing worse (okay, we exaggerate) than the inside of your bag resembling a department store's sale section at 10 pm on Black Friday.
For peace of mind and ease of access, it's super important that you're able to go full Monica Geller on your things. Fortunately, most good sling bags feature separate organizers in the main compartment so you can avoid that undesirable hot mess.
Easy to access pocket:
People tend to select sling bags because they're comfortable and convenient. The icing on the convenience cake is a pocket that is placed on the front part of the strap.
This small but powerful feature just means you can easily access your phone or credit cards, without hauling your whole bag around.
USB ports:
Many sling bags intended for business or commuting will possess this helpful little feature. Basically, it's a made-to-measure access point, so you can insert your power bank in the bag, and have your cable plug into your phone or laptop with ease.
If you've ever tried to DIY this, you'll understand the perils of makeshifting a gap in your zip closure in a frustrating attempt to achieve the same effect.
Large compartments for laptops and iPads:
When you're looking at sling bags, they will usually tell you the dimensions of the largest laptop/iPad that can fit comfortably inside.
Seeing as many of us consider our items as essential as oxygen, it's best to ensure that your own laptop or iPad is within these dimensions to avoid any nasty surprises.
Waterproof, water resistant, water repellent. What's the difference?
Waterproof materials are, as the name suggests, totally impervious to water. Largely, sling bags are crafted from water-resistant materials, or coated with a Durable Water Repellent layer.
Water-resistant bags will be able to fend off a degree of moisture, around the level of light to moderate rain, but will not hold up well at all if exposed to heavy downpours.
DWR (Durable Water Repellent) coatings tend to perform better with larger amounts of water exposure. This is the best material (other than entirely waterproof) if you intend to use your sling bag for outdoor activities like cycling, hiking, or running.
Essentially, make sure you have an idea of what kind of water protection you need before you go ahead and buy.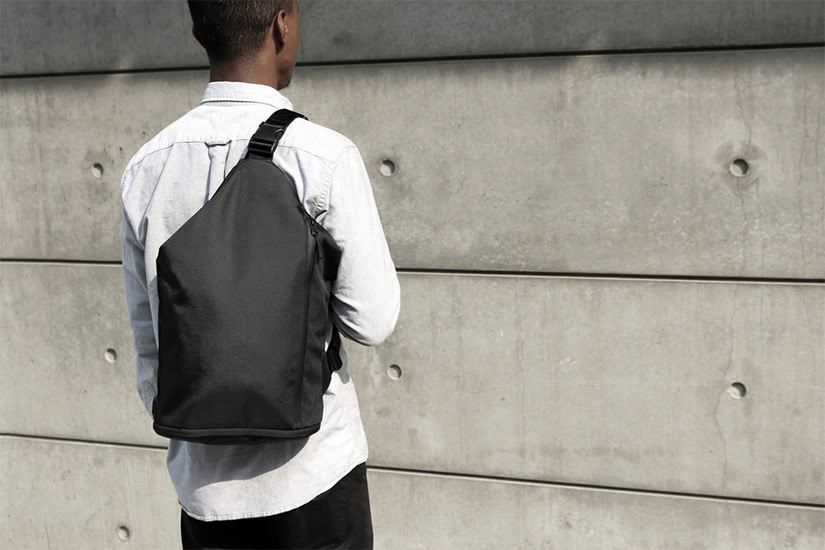 Frequently asked questions about sling bags
Are sling bags good for travel?
Sling bags are good for travel. If you're going on a longer trip, they're useful to have as an alternative to your bulkier backpack for use as an EDC for day trips. While they typically won't have enough space for overnight essentials, they're perfect for carrying everything you need for a day out. Check our round-up of the best sling bags to find the perfect one for you.
What should you carry in a sling bag?
Sling bags work best when used to carry daily essentials, such as laptops or iPads, water bottles, wallets, purses, and phones.
Why are sling bags popular?
Sling bags are popular because they are a great alternative to a briefcase or handbag for men. You can fit a considerable amount inside, and they usually include helpful features like organizers and extra pockets, sometimes with anti-theft technology. As they're carried on your back, they're a nice, casual alternative to a full backpack.
Are sling bags better for your back?
As long as you don't go overboard with the weight of your bag, sling bags are okay for your back. If they're very heavy, there is the risk of causing 'one-sided strain'. You can alleviate this by switching sides, however.