When people talk about making a good first impression, fashion-wise they're talking about your shirt. Aside from your face, your top is what dominates someone's view of you. Because of that power, your shirt has a lot of influence over how you're perceived.
The most obvious example of this influence is in the business world where formality is the order of the day. Even if your dress shirt is mostly hidden under a business jacket and luxury tie, the style and upkeep of your shirt is going to give the person across the table from you a lot of visual clues about how seriously you take yourself and your business.
The same goes for formal events. A wedding is a more casual affair than a business meeting, but it's still a chance to make some new friends. Doing up your classy casual look by following the latest men's dress shirt trends can help get you started off on the right foot with your new acquaintances.
Of course, it's not just all about snagging the best men's designer dress shirts, you also have to know how to size them right. They should be snug all around, especially the chest, but never tight. If you're getting abrasion under your armpits, you need to move up a size.
From casual to cocktail hour, from strictly formal to laid-back luxury, we'll go through which shirts work best, the best place to buy dress shirts online, and what you can accessorize the shirts with in order to get you to the very top of the dapper dress shirt game.
17 best dress shirts for men
Luca Faloni Oxford: Overall best men's dress shirt
Let's start things off with a sartorial bang. Luca Faloni's Oxford cotton shirt is the dress shirt that does it all. Picture this handsome top layered under a classy dark suit—dignity defined. Swap that suit out for your favorite luxury jeans, and now you're that guy known for looking good even on his most casual days. Additionally, the double-twisted cotton is more opaque than most other cotton weaves, meaning you can hide a luxury t-shirt underneath for layered warmth or sweat protection.
Best for: Being the guy everybody talks about for their top tier fashion sense.
Colors: White, Light Blue, Light Pink
Hugo Boss: Best designer shirt for men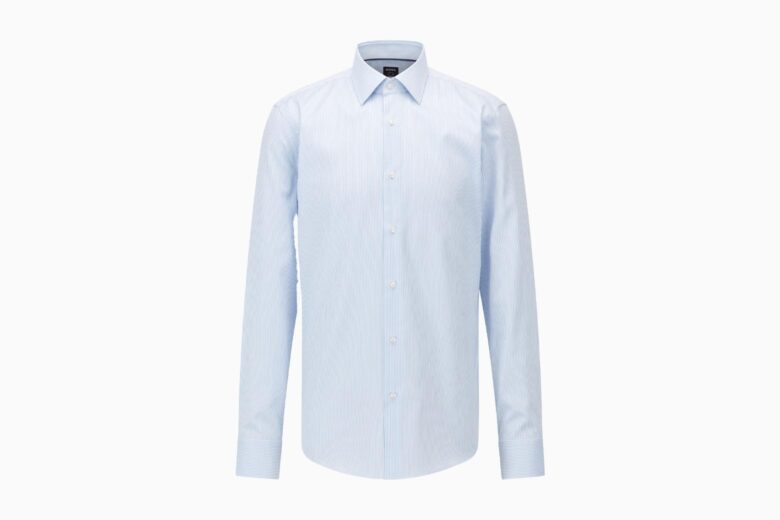 Be the fashion boss at your workplace with this excellent example of designer business wear. The structured pinstripe pattern of Hugo Boss' Italian organic cotton shirt lends that little chef's kiss of sophistication to your outfit. What's really cool about this luxury dress shirt is that you can use it to go completely old-school serious, or you can match it with a modern dress watch and slick sunglasses for a more contemporary look.
Best for: Preppin' up with pinstripe prestige. 
Color: Light Blue 
Van Heusen Fitted Poplin: Best value men's dress shirt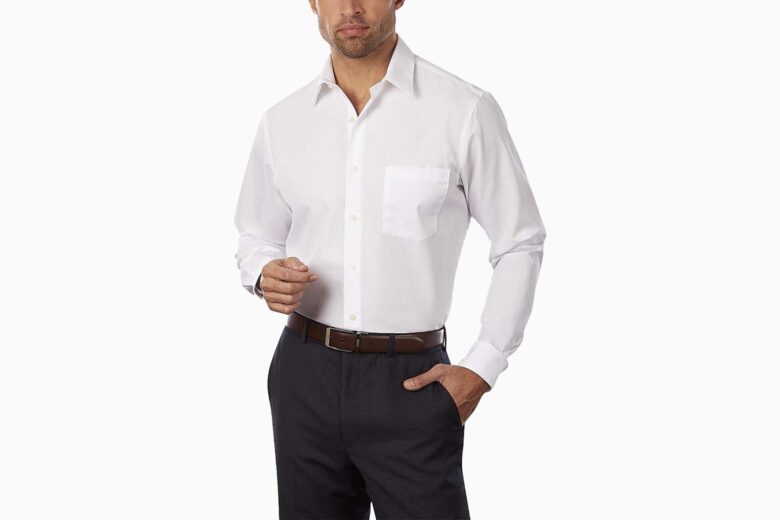 Just because you want to look like a million bucks doesn't mean you have to break the bank. Invest in a Van Heusen fitted poplin dress shirt or two at a very affordable price, and you'll be set up nicely with a formal button-down. Pair it up with some summer shoes for a dressy but casual look, or swap in some luxury dress shoes to automatically up your formality game.
Best for: Leveling up your luxury wardrobe without losing your shirt.
Colors: White, Deep Sea, Flame + More 
Western Rise X: Best button-down dress shirt for men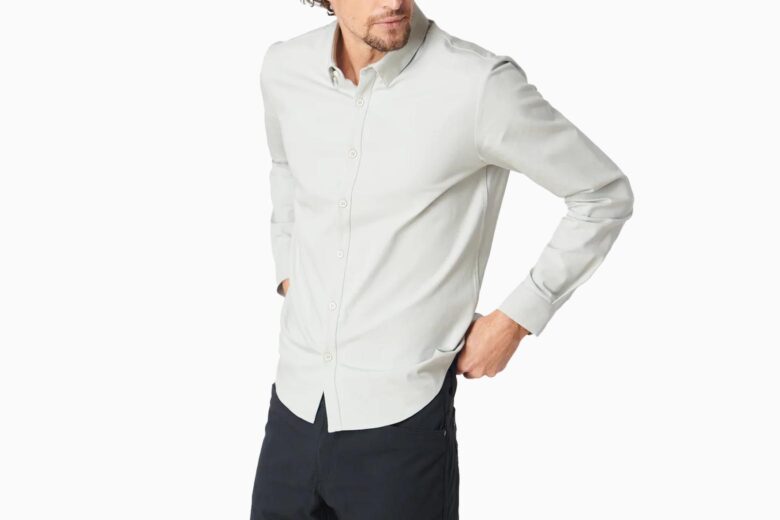 Western Rise's X series of clothing is born from the brand's search for products that meet its demands for style crossed with high durability. Case in point: Western Rise's X cotton button-down. Stretchy, durable, and stain-resistant, this is one of the best performance dress shirts around, and has more than enough style to make it a regular in your dressy-casual wardrobe.
Best for: Counting on your clothes to keep up with your demands. 
Colors: Fog, Cloud 
Kingsman + Turnbull & Asser Royal Oxford: Best white dress shirt for men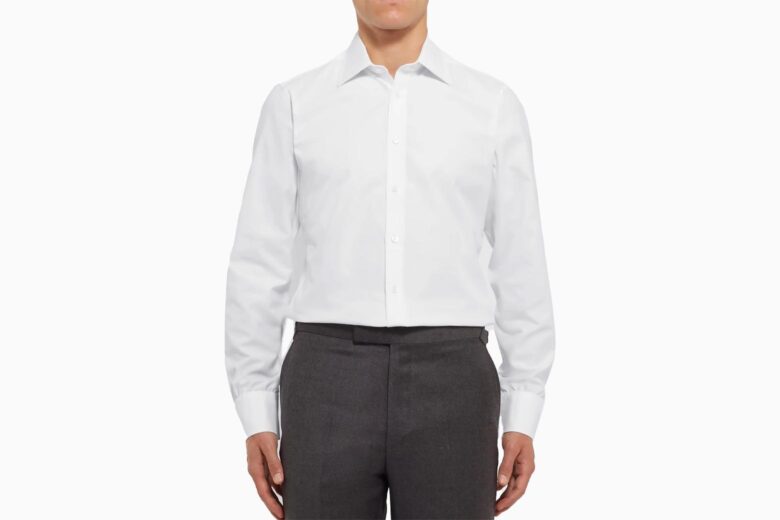 Sometimes nothing else is going to cut it like a classic white dress shirt. Kingsman + Turnbull & Asser's Royal Oxford white dress shirt is perhaps the most versatile piece of formal wear you're ever going to own. Can you use it as a base for your black tie ensemble? Absolutely. Can you also work it with a formal cocktail outfit? You bet. And if you decide to throw it on with a pair of jeans and a pair of swank Amberjack shoes, who is going to complain?
Best for: Proving "classic" isn't an empty word. 
Colors: White, Blue 
Ami Paris Ami De Coeur Gingham: Best casual men's dress shirt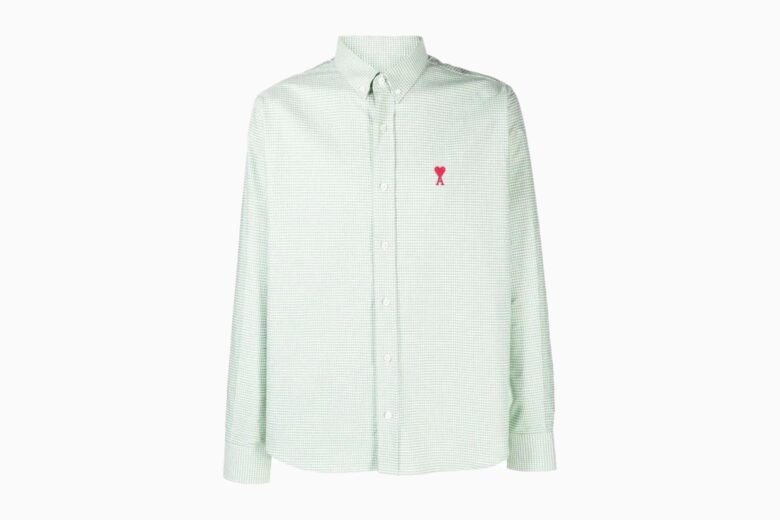 Time for something a little more playful. The most casual shirt on our list, and the most playful, Ami Paris' Ami De Coeur gingham dress shirt has a bright fresh look that has the vibe of a spring day after a long dull grey winter. Make no mistake, this is still a comfortable dress shirt that will fit in just fine as formal work wear. However, the gingham-print has just enough zip in it to make you happily stand out from the crowd.
Best for: Brightening up everyone's day. 
Colors: Green, Pink 
Gucci Double G Poplin: Best cotton dress shirt for men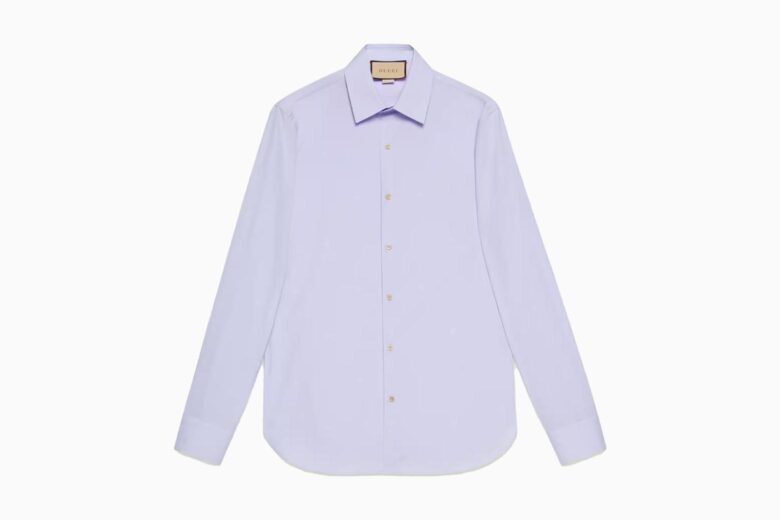 Inspired by the socialite scene of the 1970s, Gucci's Double G poplin dress shirt is an interesting blend of 70's tailoring mixed with color schemes of the here-and-now. Surprisingly subdued for a Gucci product, this shirt's gentle monotone gives you room to play with pants and jacket designs as well as shapes. Go for the traditional blazer, or maybe try for something a little funkier with a luxury trench coat.
Best for: Branching out to find your best effect.
Colors: Pale Azure, Dark Blue 
Frescobol Carioca Antonion: Best lightweight men's dress shirt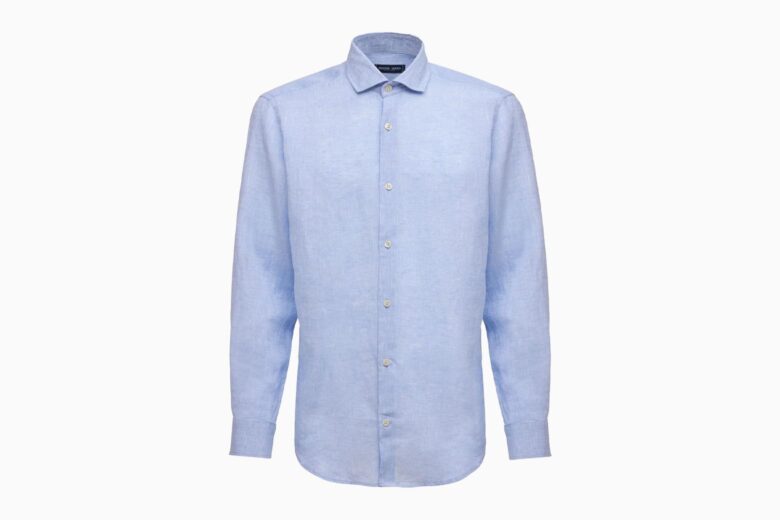 When it gets too hot for blazers and jackets, you're going to want a lightweight shirt that keeps the sweat-factor at a minimum. Enter Frescobol Carioca's Antonion linen shirt, your new lightweight go-to hot weather formal shirt. While of course you can dress this shirt up with a jacket and tie, it looks so spiffy on its own that all it needs is to be accessorized with a nice luxury watch and you're good to go.
Best for: Keeping things cool while looking hot.
Colors: Light Blue, White, Pink 
Brunello Cucinelli: Best Oxford dress shirt for men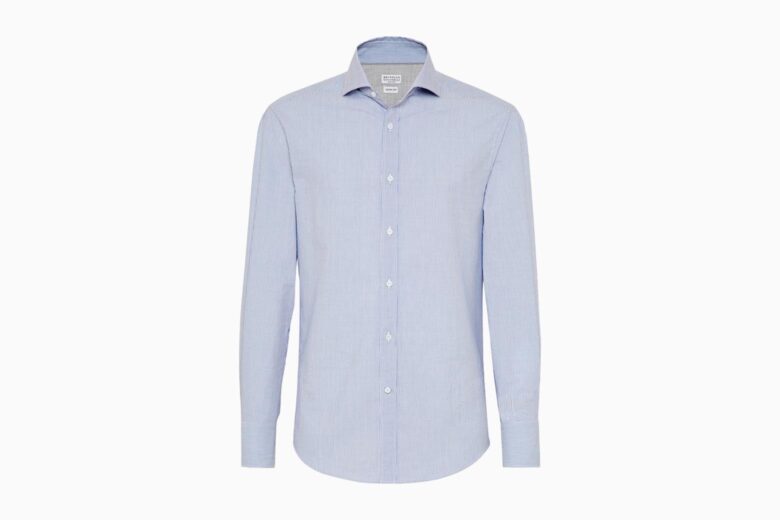 If anyone ever asks you to define why the Oxford style of dress shirt is so popular, point them to this shirt from Brunello Cucinelli. The designer nails that classic Oxford look so well here that you'll have no problem using this as a main contender for both relaxed and completely formal outfits. Wear it tucked, untucked, with or without a tie, with the sleeves rolled up or buttoned down, with or without a formal jacket… there are so many things you can do with this dress shirt that we don't have the space to list them all here.
Best for: Doing everything all at once. 
Colors: Blue, Lilac 
Brioni: Best French cuff dress shirt for men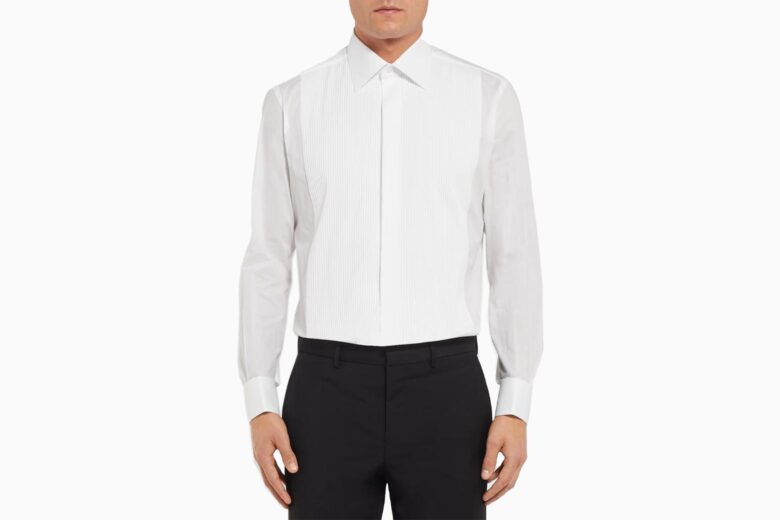 Do you have some killer cufflinks that you want to show off? You're going to need the right shirt for the job. That shirt is Brioni's Double-cuff shirt, which is looking to bring formalwear up to a whole new level. This exquisite piece of tailoring features a bib-front with raised ribs, breathable cotton-voile material, and yes, those French cuffs that are going to make your oh-so-shiny cufflinks the stars of the show.
Best for: Showing off your favorite cufflinks… and yourself, for that matter. 
Color: White
Marni: Best print dress shirt for men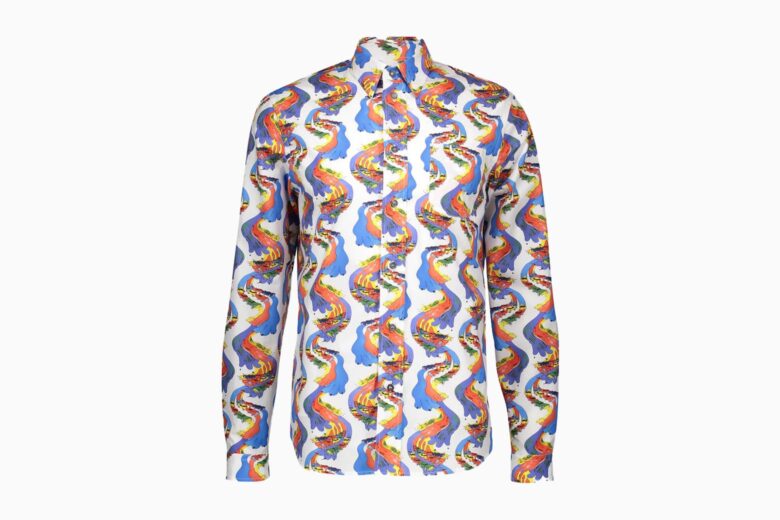 Here's how you break the mold and define your own sense of style. Marni's print shirt puts traditional monotone tops in its rear-view mirror and heads its own way with an attention-grabbing and very colorful print. Breaking free from traditional Brooks Brothers dress shirts' looks, it would be a shame to hide this print shirt under a jacket. Set this shirt free and watch it work wonders on the people around you.
Best for: Shouting, "May I have your attention please!" in a superb sartorial style. 
Color: White Printed 

Zegna Trofeo: Best slim-fit men's dress shirt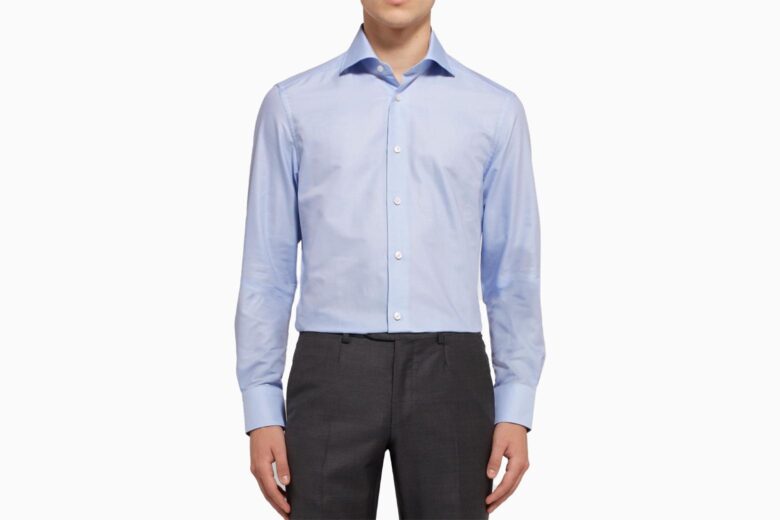 Men aren't all built the same way and our choices in the clothing market should reflect that. Zegna's Trofeo slim-fit does just that; it gives slimmer gents a well-fitted shirt perfect for dressed-up social events or the office. And while it's tailored on the slim side, it's not too snug, a problem slim men sometimes run up against when they're forced to buy smaller sizes that aren't shaped the right way for their bodies.
Best for: Making slim silhouettes a cinch without the mis-sized pinch. 
Color: Light Blue 
Tommy Hilfiger: Best non-iron dress shirt for men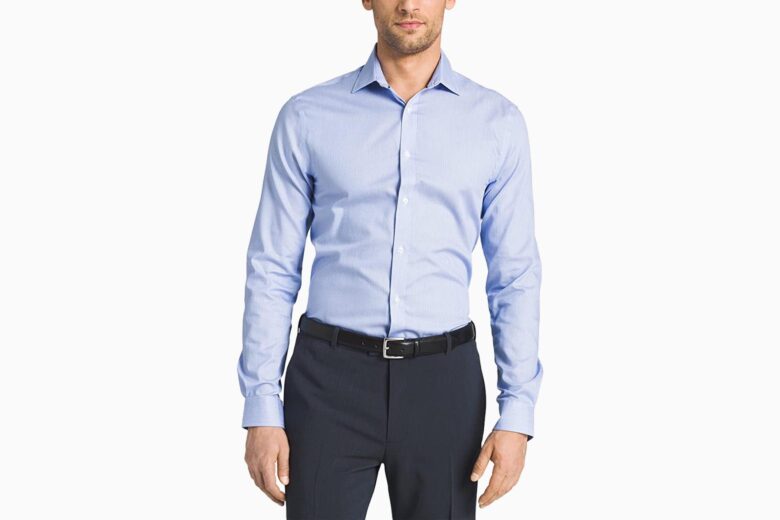 Low-maintenance shirts are a godsend for when you travel or you have to spend extra-long days at the office where appearance always matters. Even at the very end of a long day of work, your personal presentation can make a significant impact on how people receive you. Happily, Tommy Hilfiger's Stripe wrinkle-free shirt takes away the wrinkle worries with its wrinkle-resistant construction, leaving you looking sharp even as the business day turns to night.
Best for: Keeping you from being distracted by worrying wrinkles. 
Color: Mist Blue 
Polo Ralph Lauren: Best striped men's dress shirt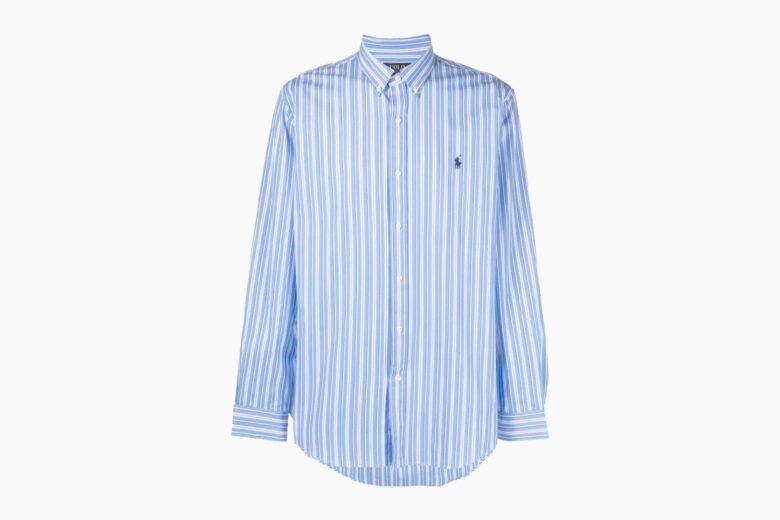 Striped shirts have an energy all their own. They're still classy and suitable for most formal occasions, but they also look just fine with some good-looking khakis and a nice set of loafers. And for the shorter gentlemen, those vertical strips can make your torso look longer, giving you a taller look, which is always a nice bonus. Polo Ralph Lauren's classic striped shirt does all of that and brings that added extra preppy handsomeness that is a hallmark of a Polo design.
Best for: Lightening up the wardrobe of men of all stripes. 
Colors: Blue/White, Blue 
Incotex Stretch-Oxford: Best stretch dress shirt for men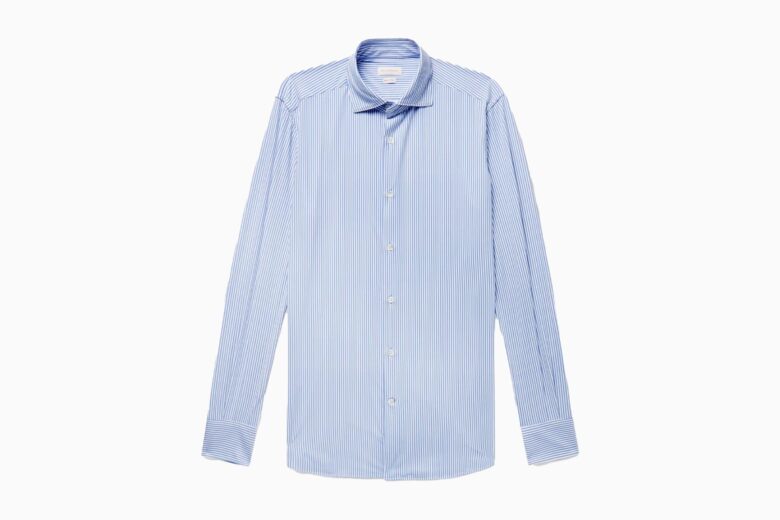 This is one of the best performance dress shirts we've seen in quite a while. What do we mean by "performance"? Basically that it can take a licking and keep on ticking. And even more importantly, it will keep you comfortable throughout your day.
Incotex's stretch-Oxford looks sharp, and has the added bonus of a polyamide and elastane construction, which makes this shirt both comfortably stretchy, non-ironing, and wash-n-wear ready.
Best for: Keeping plucky, not plucking at your shirt. 
Color: Blue 
J.Ver: Best budget men's dress shirt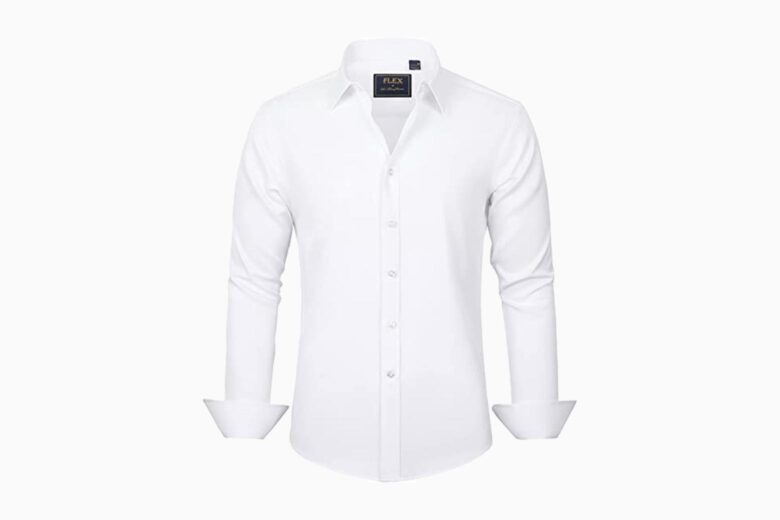 Upscaling your wardrobe doesn't mean you have to outscale your income. J.Ver's solid dress shirts belong in the office or on dressed-up dates, and they let you keep some extra money in your pocket for treating the gang to a round of coffees or your special someone to an extra dessert. Ridiculously well-priced, and available in a rainbow's worth of colors, you're all set to make a good impression without putting yourself in the red.
Best for: Upping your outfit game while keeping costs down. 
Colors: White, Red Wine, Grass Green + More
Tom Ford Tuxedo Shirt: Most expensive dress shirt for men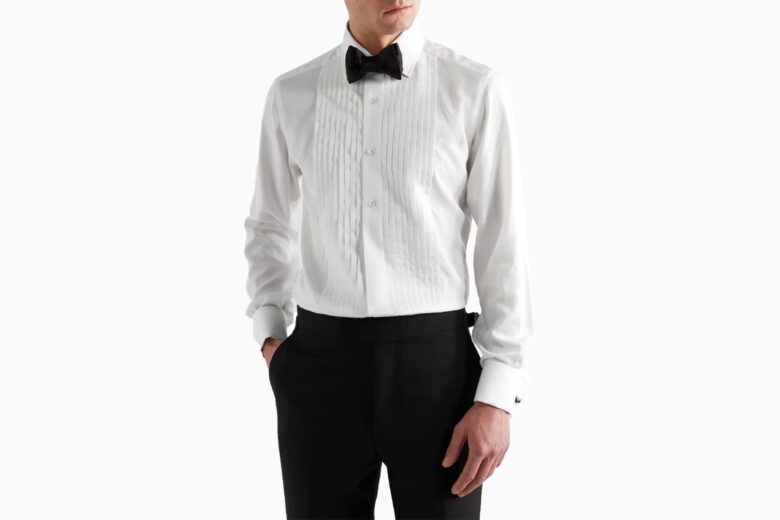 This fine piece of tailoring cranks the wow-factor to eleven. If it's tuxedo time then it's also time for Tom Ford's tuxedo shirt with its Lyocell (a semi-synthetic wood pulp sub-in for silk) and silk-blended satin. It feels almost sinfully soft, and as for looks… well, you can see for yourself. This one's obviously for when you're going all-in on full-out formality. If you're going to go with a tux, why not go all the way?
Best for: Not so much for puttin' on the Ritz as owning it. 
Color: White
Frequently asked question about men's dress shirts
Which brand is best for men's dress shirts?
While it will depend somewhat on your situation and outfit (tuxedo, office wear, formal occasions, casual-dressy events), overall, we'd recommend you start with Luca Faloni's Oxford. Its tailoring makes it work well in work, formal, and less-formal but still dressy scenarios.
What is an Oxford shirt?
The most obvious feature of an Oxford-style shirt is that it features a button-down collar, while other dress shirts may have point or spread collars. Oxford shirts are also made of a coarser "basketweave" weave, which gives a boxy appearance to the material, while other dress shirts can be tailored with a smoother and shinier herringbone pattern.