For the longest time, men's flip-flops were just about the most utilitarian piece of footwear a man could get. They were just pieces of cheap rubber barely clinging to your foot, doing just enough to keep your tootsies off of hot sand or grungy shared showers at the gym.
Not anymore. We can now use the phrase "men's designer flip-flops" without irony. While nobody is saying that your prettiest beach sandals for men can replace a good pair of summer shoes for dressier affairs, the best flip-flops for men have come a long way in the looks department.
Of course, none of that added designer goodness should trump what we want our most comfortable flip-flops to deliver—protection for our feet that is easy to slip on and off. That's what we're on the hunt for today, the best flip-flops that deliver on protection, comfort, and good looks.
So stuff your best tote bag with some sunscreen and a top-tier water bottle (and a device you can read us on) and head to the beach while we dig up the 21 most comfortable flip-flops for men.
The 21 best flip-flops for men
Clarks Pilton Post: Overall best men's flip-flops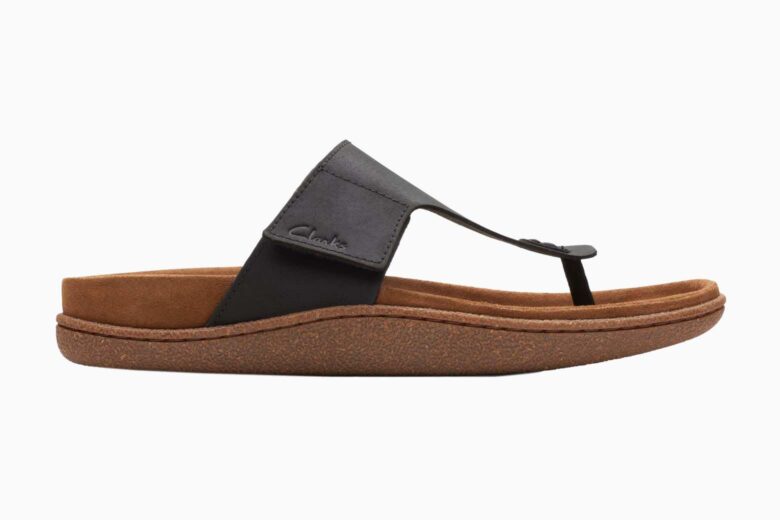 Here's a flip flop that sits solidly at the crossroads between function and fashion. Clarks Pilton Posts are easy to slip on and off, have a contoured footbed to cradle your feet for comfort, and somehow manage to look amazingly classy. How cool are you going to look if you pair these with stylish shorts and some look-at-me sunglasses?
Best for: Falling for flip-flops that do it all.
| | |
| --- | --- |
| Colors: | Black, Dark Tan |
| Materials: | Leather, Nubuck |
Gucci Web And Leather Thong Sandal: Best designer flip-flops for men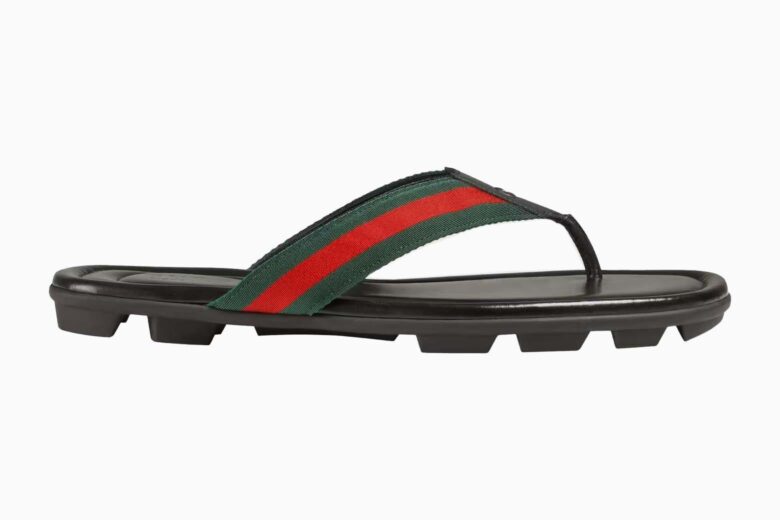 It seems like Gucci is trying out its signature colors of red and green on just about everything these days, and flip-flops are no exception. The brand's leather web and thong sandals are instantly identifiable with those Gucci colors, letting your admirers know that you know your fashion.
Best for: Declaring yourself a fashion forerunner, footwear style.
| | |
| --- | --- |
| Colors: | Black |
| Materials: | Rubber |
Havaianas: Best value in men's flip-flops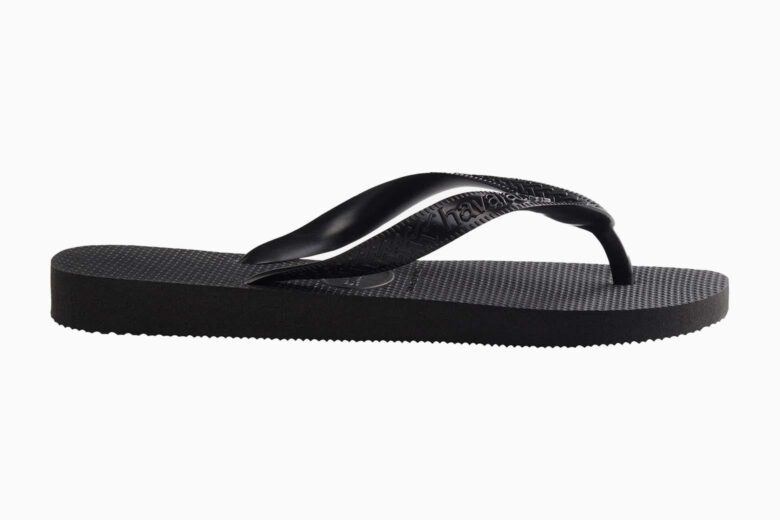 Sometimes, you just want to pull on some swank swim trunks, grab your S'well water bottle, and get yourself poolside pronto. Havaianas Top men's flip-flops fit in well with your get 'er done groove—they're simple, affordable, and give you everything you need from some waterside footwear. 
Best for: Saving some coins for poolside Piña Coladas.
| | |
| --- | --- |
| Colors: | Black, Marine Blue, Ruby Red + More |
| Materials: | Rubber |
Nike Kepa Kai Slides: Best men's flip-flops for travel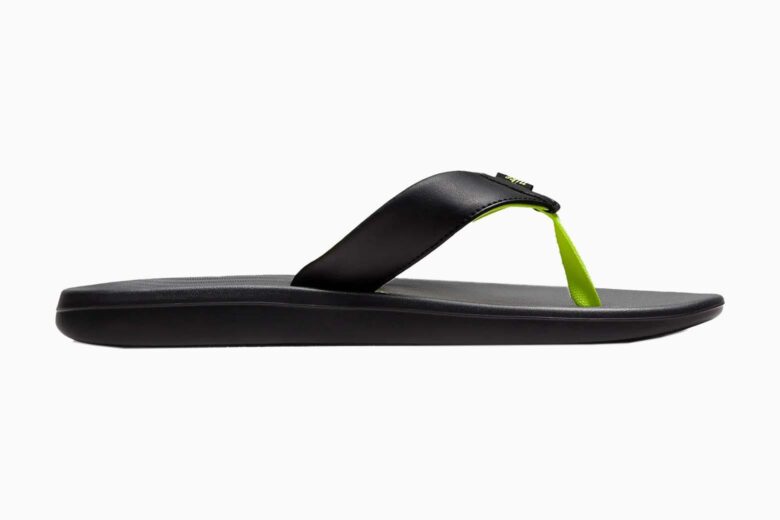 So you're planning a trip off to an exotic tropical locale for some well-deserved downtime. In your luggage, you have your best t-shirts, shorts, and swim trunks all ready to go. With just a little bit of luggage room left, what kind of vacation-time footwear do you pack? We'd suggest Nike's Kepa Kai Slides. They have a slim profile which makes for easy packing, and the dual-density foam ranks them alongside some of the best men's slides when it comes to comfort.
Best for: Maxing out your comfort during vacation time.
| | |
| --- | --- |
| Colors: | Black, White |
| Materials: | Dual-density foam |
Adidas Comfort Flip-Flops: Best active-wear men's flip-flops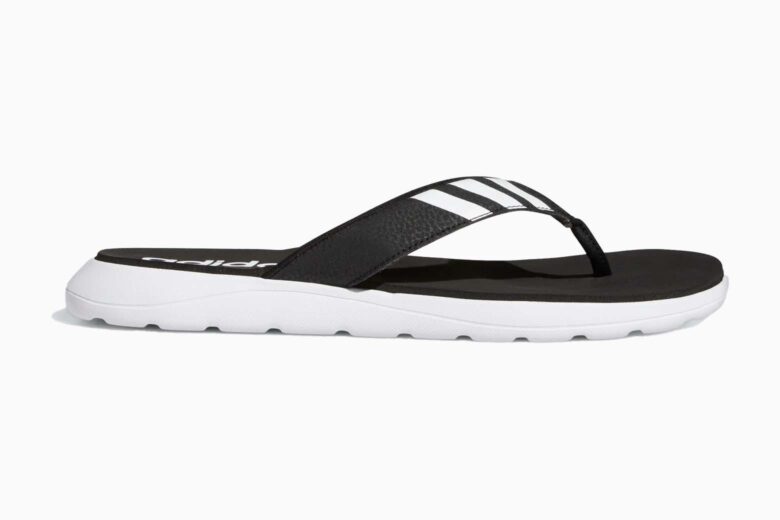 Maybe you're not the type to spend summertime lying down. You like to get in a little volleyball, run over to refresh yourself from your fully-stocked cooler, and then take a dive in the welcoming ocean waters. In that case, you're going to want a flip flop that can keep up with your active lifestyle. Take a look at Adidas' comfort flip-flops—they're durable, they dry out fast if you're sweaty or get them wet, and that famous Adidas styling has them looking sharp too.
Best for: Demanding that your flip-flops keep up with your fast pace.
| | |
| --- | --- |
| Colors: | Core Black/Cloud White, Core Black/Grey Five |
| Materials: | EVA |
Allbirds Sugar Zeffers: Best sustainable flip-flops for men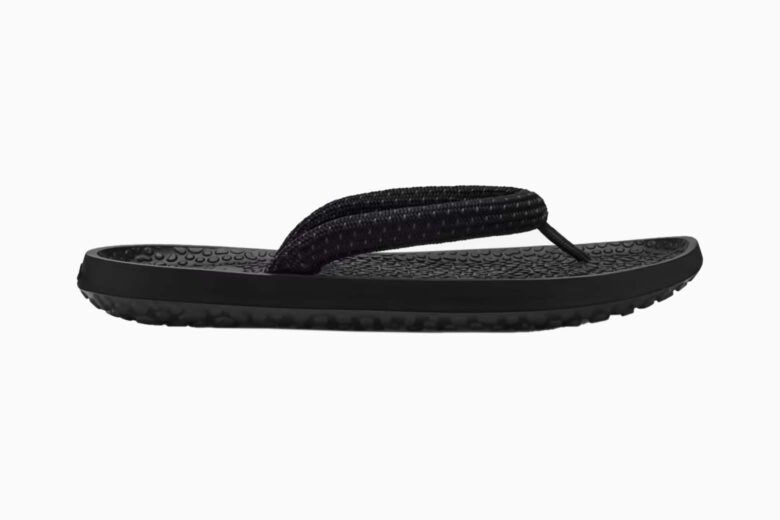 It's always a source of joy for us when we can find super sustainable products for you. That's why we're so happy to introduce you to Allbirds' Sugar Zeffers. These flip-flops are made with SweetFoam, an EVA foam made out of sugarcane. This foam isn't just carbon neutral, it's actually carbon negative, a world first in EVA production. And as it just so happens, these flip-flops are also cushion-y as all get out.
Learn more about the story behind Allbirds.
Best for: Improving the planet one step at a time.
| | |
| --- | --- |
| Colors: | Natural Black, Buoyant Orange, Lux Purple + More |
| Materials: | Sugarcane-based EVA |
Orlebar Brown Haston: Best men's flip-flops for the pool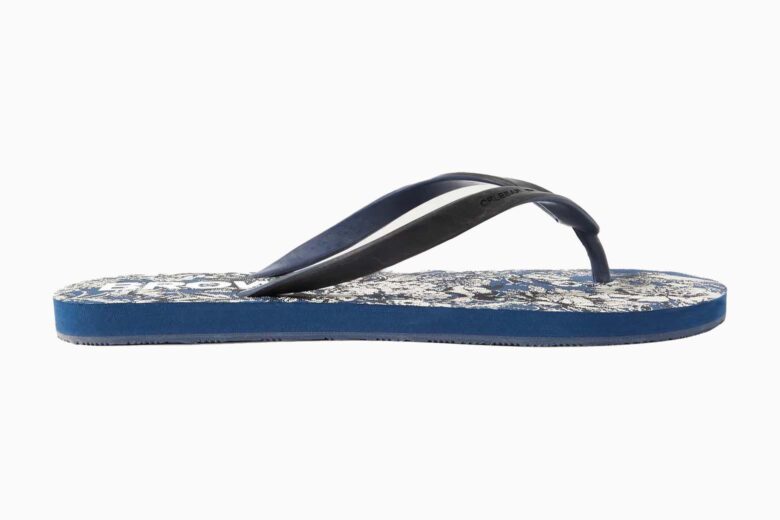 Brand Orlebar Brown decided to break free of the monotone approach, and added a patterned look to the Haston flip-flops to go along with the logo-debossed straps. Aside from looking cool, the textured soles are going to give you a good grip to keep you safe as you strut around poolside.
Best for: Bringing preppy good looks to the pool.
| | |
| --- | --- |
| Colors: | Navy |
| Materials: | Rubber, Foam |
Yume Yume Suki: Best faux leather men's flip-flops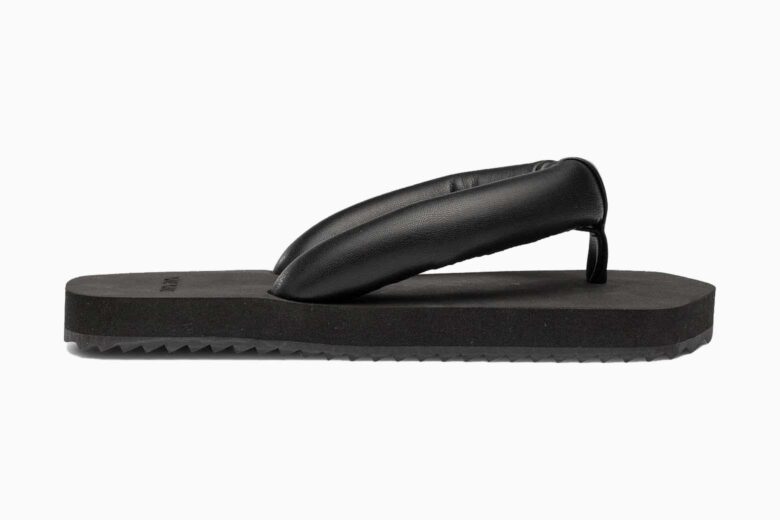 Yume Yume has recognized that a lot of people love the look and feel of leather, but they'd prefer an animal-free version of the material in their fashion. The brand's Suki flip-flops do faux leather right, using sustainable bamboo as one of the core materials to make a fashionably chunky bit of footwear.
Best for: Putting on cool leather looks with a clear conscience.
| | |
| --- | --- |
| Colors: | Black |
| Materials: | EVA, TPU, Bamboo |
OluKai Ohana: Best men's flip-flops for the beach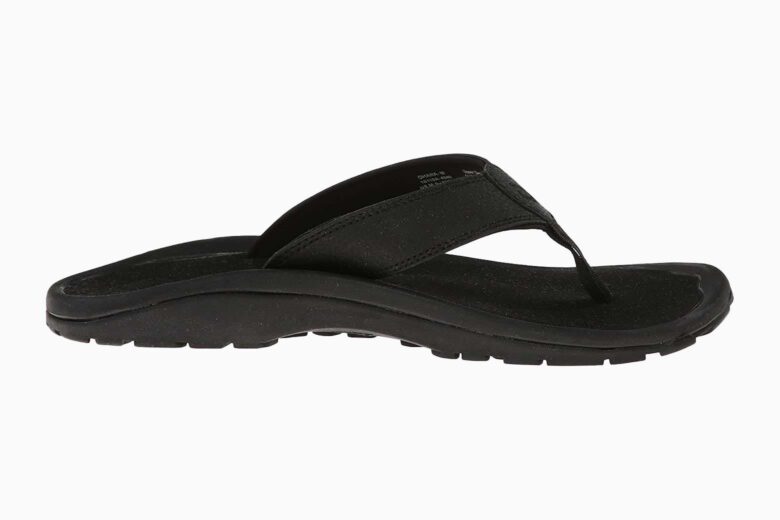 You're going to want some durable flip-flops for the beach. It would also help if they're fast-drying, easy to bang sand out of, and water-resistant. Happily, OluKai put all of those qualities together into a great-looking set of flip-flops, the Ohana.
Best for: Saying "Aloha!" to happy days on the beach.
| | |
| --- | --- |
| Colors: | Black, Dark Java, Pacifica + More |
| Materials: | EVA |
Teva Langdon: Best men's flip-flops for arch support
Decent arch support flip-flops are actually a little hard to come by, never mind a pair that look cool. If you need that support in your footwear, we'd suggest trying out Teva's Langdon flip-flops. The nylon shank will help stabilize your foot as the leather upper curves to give your foot the support you need to feel comfortable.
Best for: Having a playful and pain-free summer season.
| | |
| --- | --- |
| Colors: | Walnut, True Black |
| Materials: | EVA |
Birkenstock Honolulu: Best waterproof flip-flops for men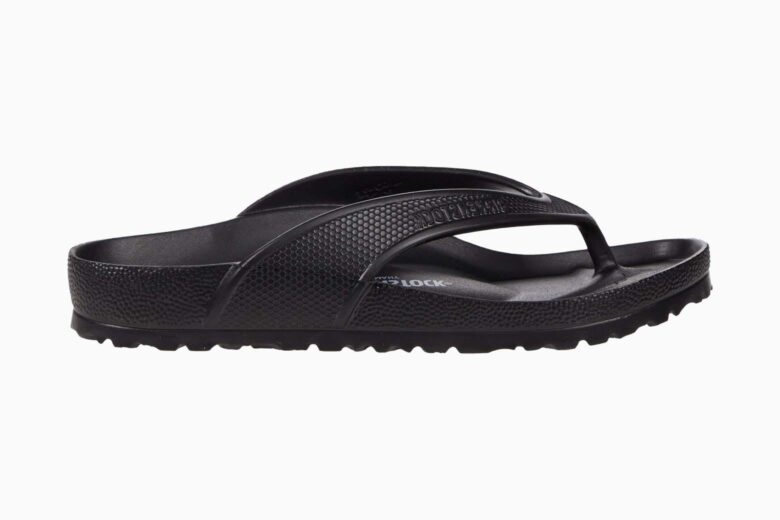 It would be kind of counterproductive to bring shoes that can get waterlogged to the beach or the pool. Still, it would be nice to have some of that classic Birkenstock comfort and styling available even while you're by the water. Lucky for us, Birkenstock gave us all exactly what we want, the Honolulu, built with plenty of Birkenstock footwear know-how packed into a waterproof EVA body.
Best for: Bearing Birkenstock greatness without water worries.
| | |
| --- | --- |
| Colors: | Black, Anthracite, White + More |
| Materials: | EVA |
UGG Seaside: Best leather flip-flops for men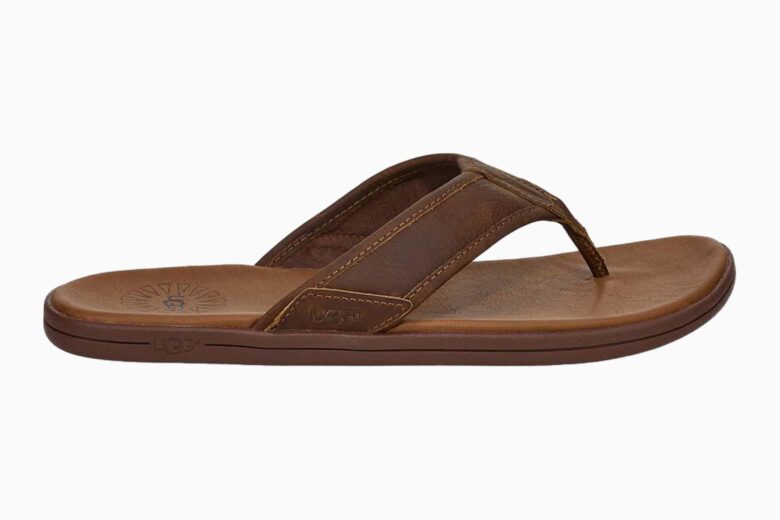 Leather manufacturing ups the handsome factor in just about any kind of men's fashion, and flip-flops are no exception. The top of the leather flip-flop ladder is clearly UGG's Seaside sandals. And despite their solid good looks, the Seasides are surprisingly lightweight, making them a pleasure to wear with all your dressier casual summer outfits.
Best for: Wearing good-looking leather luxury in even the most casual of footwear.
| | |
| --- | --- |
| Colors: | Luggage, Black |
| Materials: | Leather, EVA, Rubber |
OOFOS OOringal Sport Sandal: Best lightweight flip-flops for men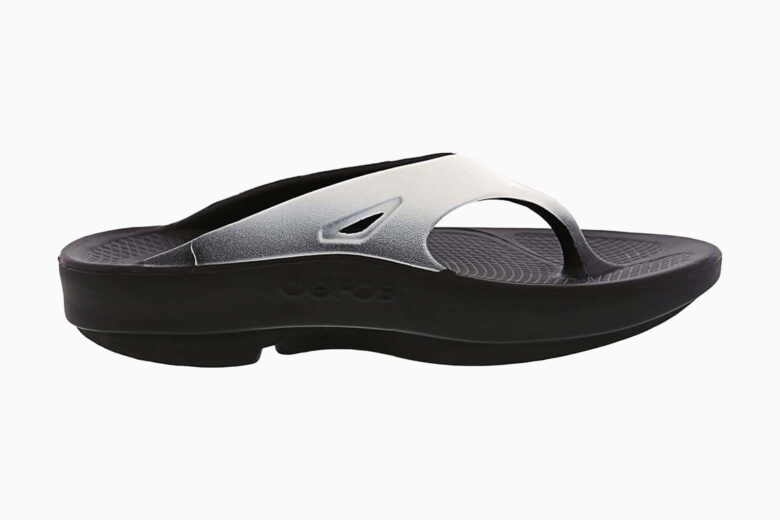 OOFOS' OOriginal sport sandals deliver a lot in a simple futuristic-looking package. The OOfoam Recovery Technology absorbs up to 37% more impact from your footfalls than traditional foam. The footbed is designed to cradle your arches to relieve aches and pains in your feet and joints. And they're machine washable. The perfect flip flop package.
Best for: Increasing your "light and breezy" statistics for your summer.
| | |
| --- | --- |
| Colors: | Black/Graphite, Black/Cloud White, Black/Aqua + More |
| Materials: | OOfoam |
FitFlop Surfer Toe-thongs: Best men's flip-flops for walking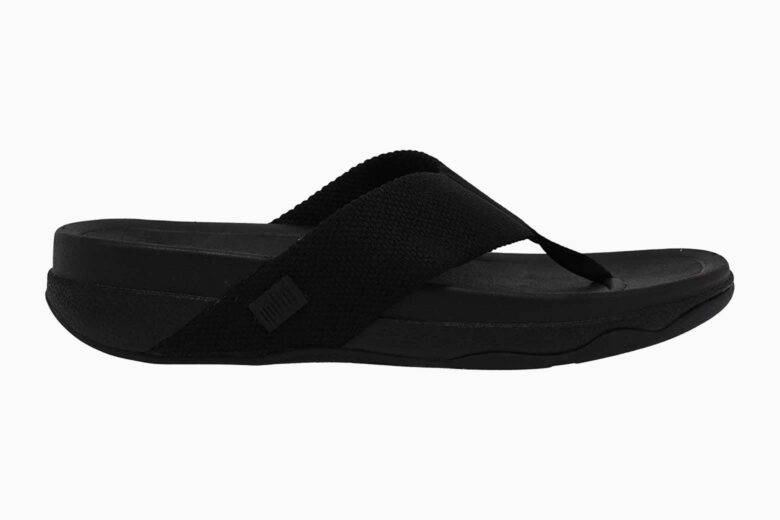 Some days you're just constantly on the move, by choice or because of chores. Either way, you're going to want flip-flops that have arch support, are lightweight, do a good job absorbing impact, and don't have a thong that will irritate the skin between your toes. FitFlop's Surfer Toe-thongs are our top choice for keeping your feet both comfortable and cool.
Best for: Flip-flopping your way through your day in comfort.
| | |
| --- | --- |
| Colors: | Black, Midnight Navy |
| Materials: | EVA |
Hoka One One: Best orthotic flip-flops for men
If you find you're having constant pain in your ankles and feet… well, honestly, our best piece of advice would be to see a doctor. After that, though, give Hoka One One Platform flip-flops a whirl. The all-rubber construction may help reduce painful impacts, and after some use, will conform a bit to the shape of your feet, helping ease some pressure.
Best for: Leaving aches and pains in your rear-view mirror.
| | |
| --- | --- |
| Colors: | Black |
| Materials: | Rubber |
Crocs: Best men's rubber flip-flops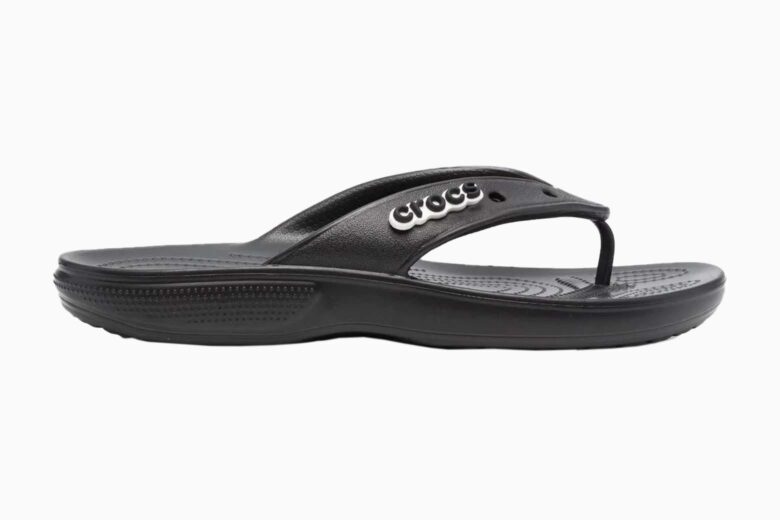 Rubber flip-flops are a blessing because they can take a beating and still look good. Plus they are quick to dry since solid rubber doesn't really absorb water at all. If you grab yourself a pair of Crocs' logo-embossed flip-flops, you're buying yourself footwear that may very well last you the rest of your life.
Best for: Get them wet, wear them out… and have them come back for more.
| | |
| --- | --- |
| Colors: | Black |
| Materials: | Rubber |
Reef Fanning: Best men's flip-flops for wide feet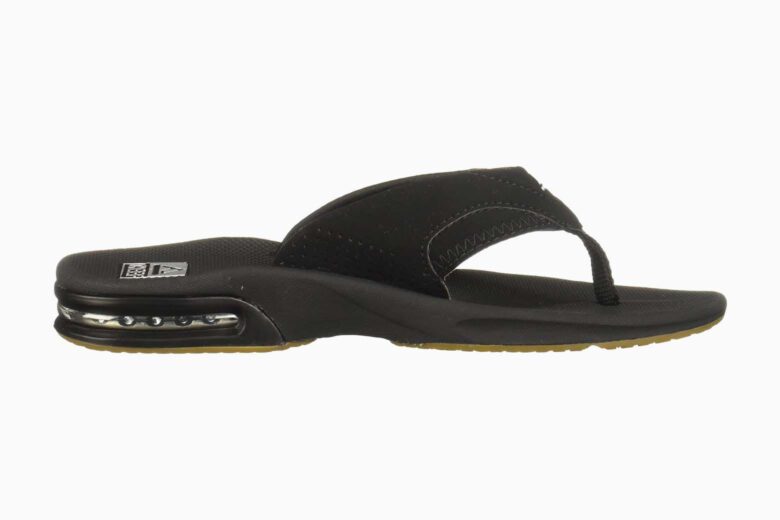 Some men have flippers for feet, and that's just fine by Reef. The brand's Fanning flip-flops are known for running true to size, so you can feel confident ordering the right size for your wide feet. On top of that, they come with arch support, an airbag in the heel for impact softening, and are the only men's sandals to come with a handy-dandy bottle-opener built right into the sole.
Best for: Giving your feet the space they need.
| | |
| --- | --- |
| Colors: | Black, Bioluminescent, Grey Khaki + More |
| Materials: | Synthetic Nubuck |
The North Face Skeena Sport Flip: Best men's flip-flops for sweaty feet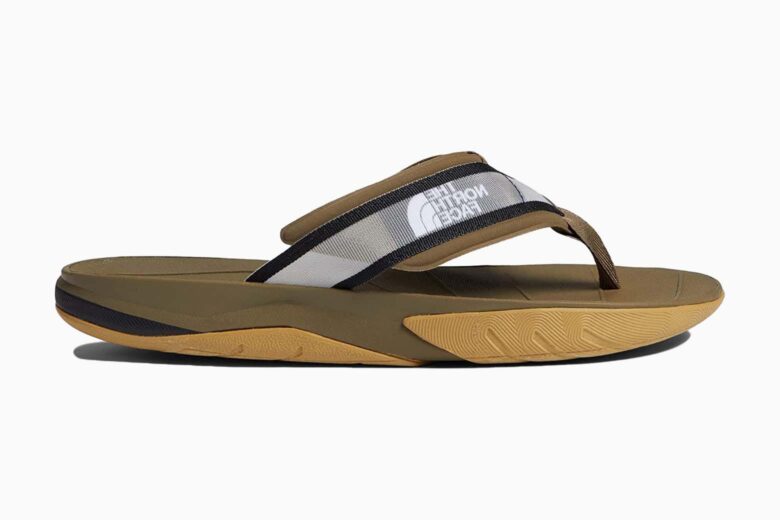 The North Face has traditionally constructed its gear for the type of people who climb mountain faces for fun, so the outdoor lifestyle brand knows a little something about dealing with sweat. That know-how comes in handy with these Skeena Sport flip-flops, with quick-dry technology at the forefront. And it doesn't hurt any that they're comfortable as all get out, and look pretty cool too.
Best for: Want a comfortable summer? No sweat.
| | |
| --- | --- |
| Colors: | Military Olive, TNF Black, TNF RED |
| Materials: | EVA |
Christian Louboutin Loubi: Most stylish flip-flops for men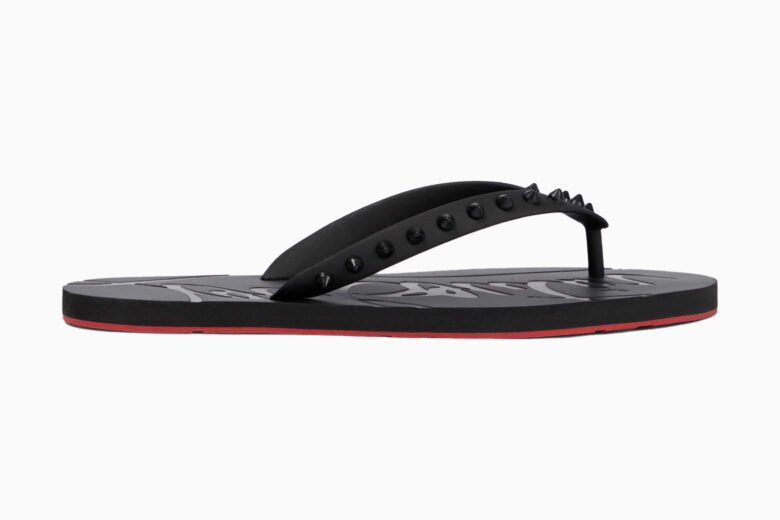 Want your flip-flops to look like they popped out of a heavy metal music video? Of course, you do. Designer Christian Louboutin has provided the Loubi flip thong sandals. We're pretty sure you haven't seen flip-flops with spikes on the thong before, and that, coupled with the black and red coloring, gives these flip-flops a devilish hardcore look.
Best for: Rock out with your flops out.
| | |
| --- | --- |
| Colors: | Black |
| Materials: | Rubber |
Tom Ford Brighton: Best dressy men's flip-flops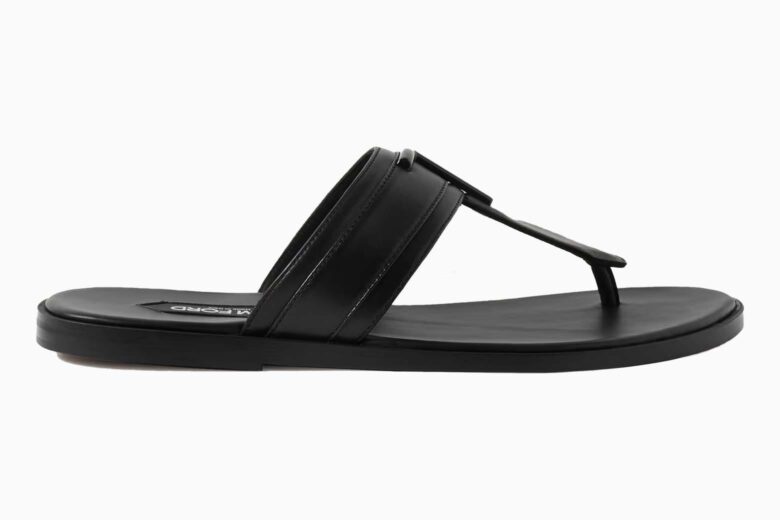 Weddings, art gallery events, wine tastings… there's plenty of formal fun to be had in the summer sun. In these situations, you're going to need a pair of flip-flops that are a cut above the regular fare when it comes to fashionable looks. We recommend Tom Ford's Brighton leather sandals. Going for a more elaborate look than other flip-flops, the Brighton's sport a tonal logo plaque on their t-bar straps, adding that chef's kiss of footwear sophistication.
Best for: Feeling all fancy in your formal flip-flops.
| | |
| --- | --- |
| Colors: | Black, White |
| Materials: | Rubber, Calf leather |
Rick Owens Ruhlmann Granola: Most expensive flip-flops for men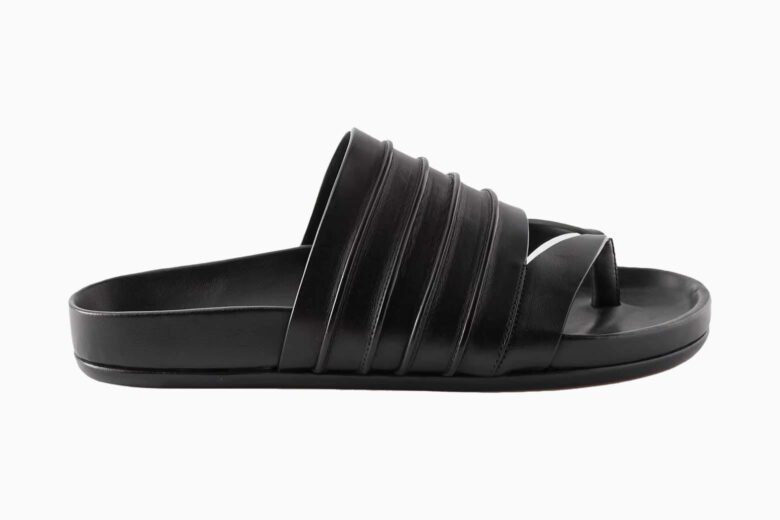 If you want to go all-out on your flip-flop fashion, take a look at designer Rick Owens' Ruhlmann Granola sandals. The thick ribbed top gives these designer flip-flops a very distinct aesthetic, which the designer refers to as "luxe-grunge", a name we here at Luxe love for obvious reasons. Aside from that distinct top, the Ruhlmann Granolas also have distinct sculpted footbeds that add a secret extra layer of high-fashion fun.
Best for: Over-the-top flops.
| | |
| --- | --- |
| Colors: | Black, Gray |
| Materials: | Rubber, Calf leather |
Frequently asked questions about men's flip-flops