There's a reason why Mom had to struggle to get you back into long pants once the school season came around—shorts are a blessing. They let you move your legs with little confinement. You can go wading without having to roll anything up. And, oh yeah, they're blessedly cool.
There can be real joy found in wearing a good set of shorts. Unfortunately, as adults, we sometimes become too body-conscious and deny ourselves the pleasure of letting our legs go free. Today, we're going to set that right by hooking you up with sets of stylish shorts for men that are going to make you feel fantastically comfortable both in fit and in a fashion sense.
And remember—your shorts don't have to act just on their own. Match them up with a smart pair of espadrilles, a crisp clean polo shirt, a good-looking belt, and perhaps a slick pair of sunglasses, and all of a sudden you're a dynamite fun-time fashion plate.  
Going for pure casual comfort? Looking to get athletic? Want the best shorts for streetwear? How about a night out on a dressy bar patio? We've got the best men's shorts for every scenario listed below.
The 15 best shorts for men
Axel Arigato Grit: Overall best shorts for men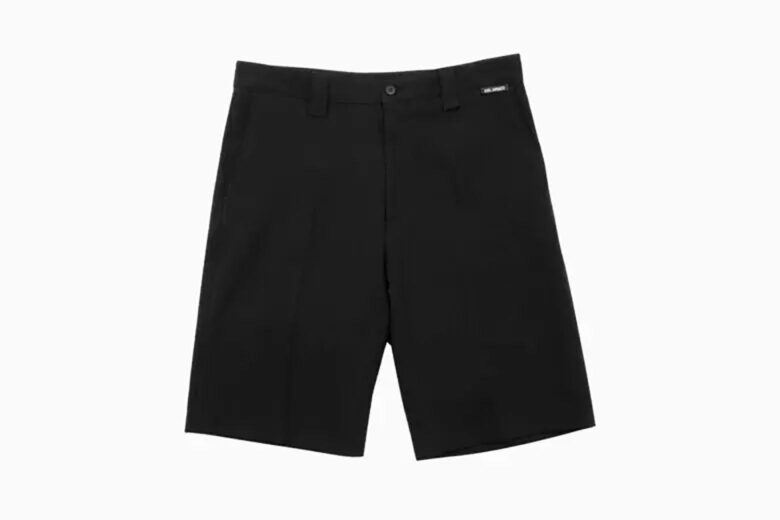 Just because you're going casual doesn't mean you can't be classy. Axel Arigato's Grit shorts are a wonder to behold: they have the pressed crease and sharp cut of well-tailored formal pants, but they're also some of the best men's shorts for hot weather. Their upscale look makes them easy to pair with a hoodie and summer shoes for a laid-back look. Or you can go with black dress socks, sharp dress shoes, and a blazer if you want to give off a cutting-edge devil-may-care attitude.
| | |
| --- | --- |
| Best for: | Cutting expectations off at the knees. |
| Color: | Black |
Luca Faloni Panarea: Best high-end men's shorts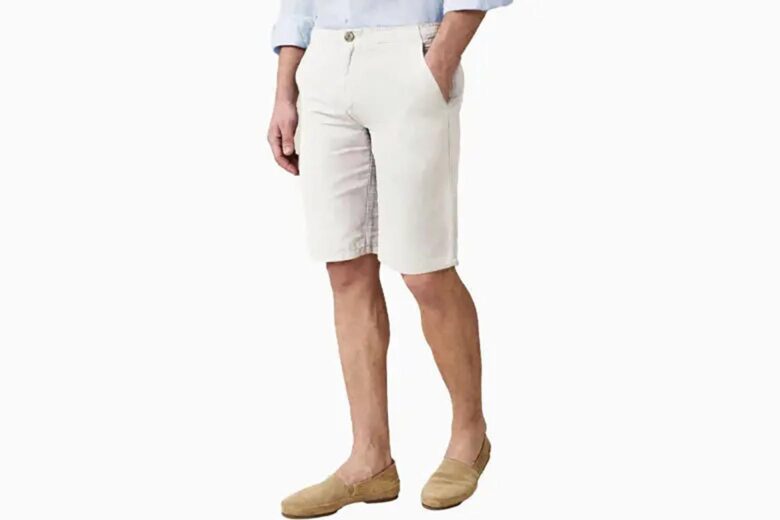 "Soft" is the keyword when it comes to Luca Faloni's Panarea shorts. Made from a blend of linen and cotton, the feel of these men's leisure shorts is only going to get softer after you've worn and washed them. The gentle coloring makes them a good match for casual shirts and white sneakers, giving you the look of a guy that knows how to relax.
| | |
| --- | --- |
| Best for: | Wearing something so soft you'll have to make sure that they're there. |
| Color: | White, Capria Blue, Red + More |
Dockers: Men's best value shorts
Dockers shorts are considered classic summer wear for a reason. Part of the Levi Strauss & Co family, Dockers really came into its own thanks to two big cultural events in North America—"casual Fridays" which started up in more formal workspaces, and the television show "Cheers" in the late 80s.
That isn't to say that Dockers didn't earn its place in the summer wear pantheon. Dockers Classic Fit shorts are really the men's shorts style that most other shorts are measured against.  Snug at the waist, Dockers flow out to give you a roomy feel around your thighs and backside. Pair them up with a good pair of casual shoes, and you've got a presentable and comfortable outfit thrown together at a very reasonable price.
| | |
| --- | --- |
| Best for: | Joining generations of men in celebrating summer. |
| Color: | Sand Dune Khaki, Bank Red, Chambray + More |
Luca Faloni: Best dressed-up shorts for men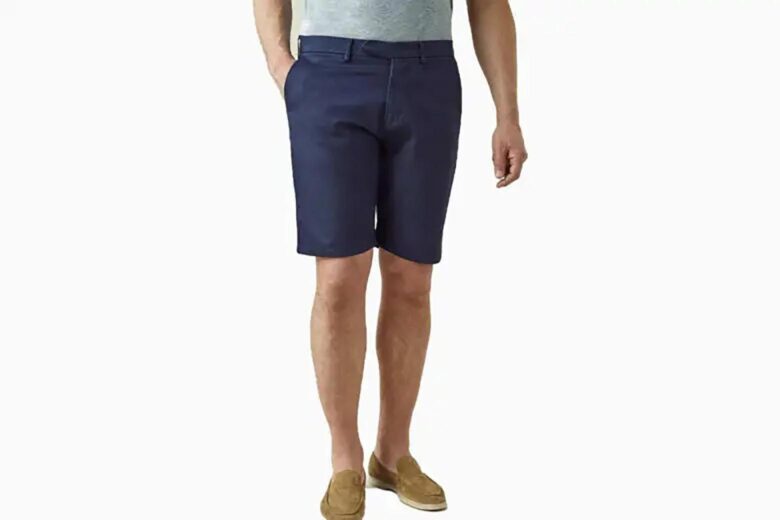 Let's get a little bit dressier with Luca Faloni's cotton shorts. Ending just above the knee, these men's shorts stay close to your bodyline without ever getting too tight. Because the waistline does stay close to your body, these shorts make for a good match with both tucked and untucked t-shirts, which won't be forced to flare out (flared waistlines can give the appearance of love-handles).
| | |
| --- | --- |
| Best for: | Cooling off while dressing up. |
| Color: | Navy Blue, Olive Green, Camel Beige + More |
Axel Arigato Signature: Best men's sweat-shorts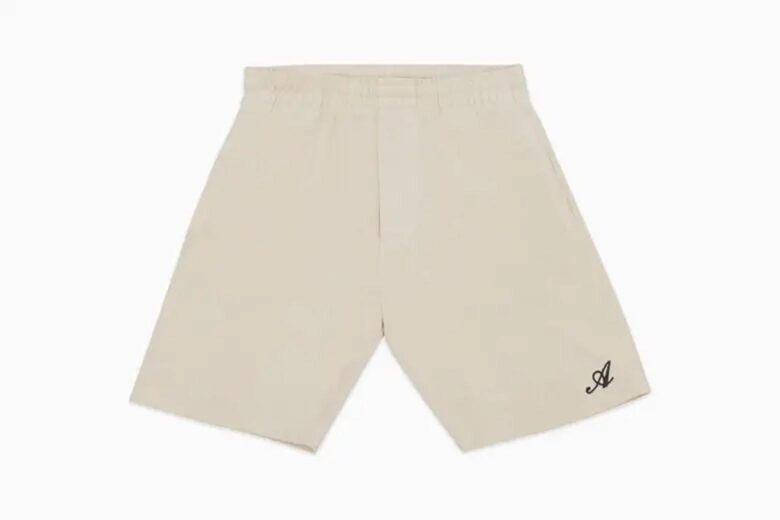 If you need the types of shorts for men that go from the golf course to the clubhouse to dinner without having to swap anything out, take a look at Axel Arigato's Signature shorts. Some of the best men's shorts for summer that we've seen, these versatile shorts stand up to a bit of a workout but look right at home matched up with a good set of sneakers for a meet-up with friends. 
| | |
| --- | --- |
| Best for: | Hitting all the summer hot-spots in one super summer swoop. |
| Color: | Pale Beige, Black, Molé |
Alpha Industries Cargo Crew: Best cargo shorts for men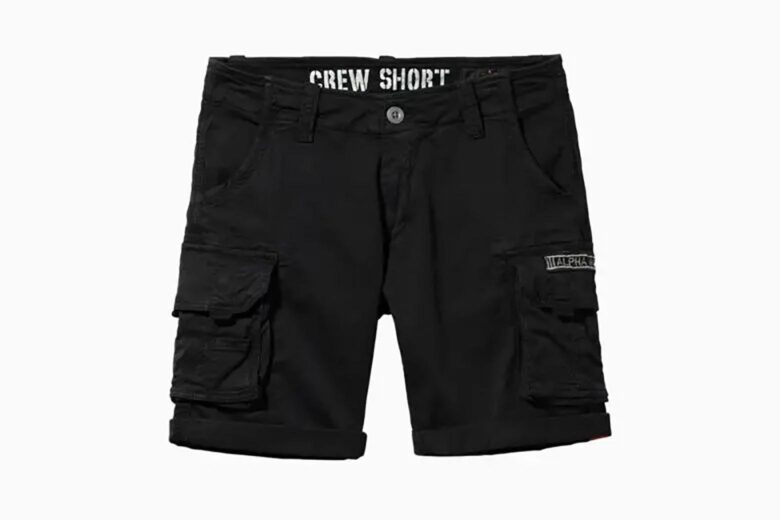 Just because cargo shorts are more utilitarian than other mentions in this list, it doesn't mean you have to give up on looking good. Alpha Industries' Cargo Crew shorts are durable and have pocket space aplenty, but still rank as some of the best casual shorts for men when it comes to style.
| | |
| --- | --- |
| Best for: | Carrying yourself (and a lot of other stuff) with aplomb. |
| Color: | Black, Sand, Dark Olive + More |
Western Rise Boundless: Men's best five-inch shorts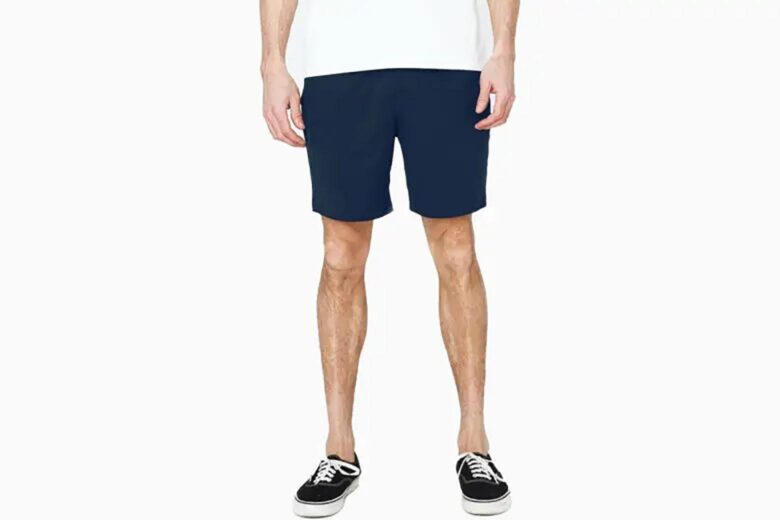 Versatility is the name of the game when it comes to Western Rise's Boundless shorts. You get khaki-style shorts, casual-wear shorts, athletic shorts, and even swimwear all in one really well-priced package. You might be tempted to think that something that attempts to do so many things all at the same time might not do any of them well, but the Boundless shorts actually manage to pull it off, making them some of the best men's shorts for summer on the market.
| | |
| --- | --- |
| Best for: | Doing a lot with a little. |
| Color: | Navy, Blue Grey, Black + More |
Wrangler Twill Cargo: Amazon's best-selling men's shorts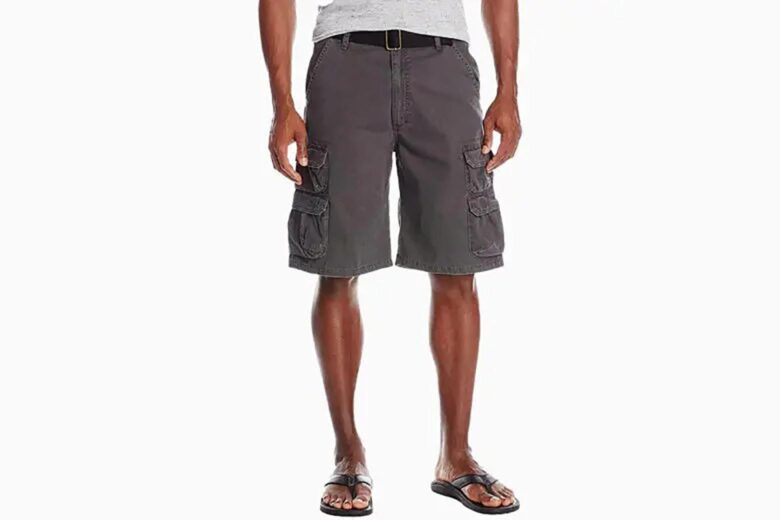 The #1 seller in men's cargo shorts on Amazon, Wrangler's Cargo shorts are durable as all get out. You see them everywhere: at the beach, on hiking trails, on work sites, and on your local pub's patio. Made from durable cotton twill, a set of these bad boys will last you a long while. And since they're so reasonably priced, that means you'll be making a great investment when you pick up a pair.
| | |
| --- | --- |
| Best for: | Depending on your shorts to keep up with your active lifestyle. |
| Color: | Anthracite Twill, Forest Green Camo, Acorn Twill + More |
Nike Stride: Best running shorts for men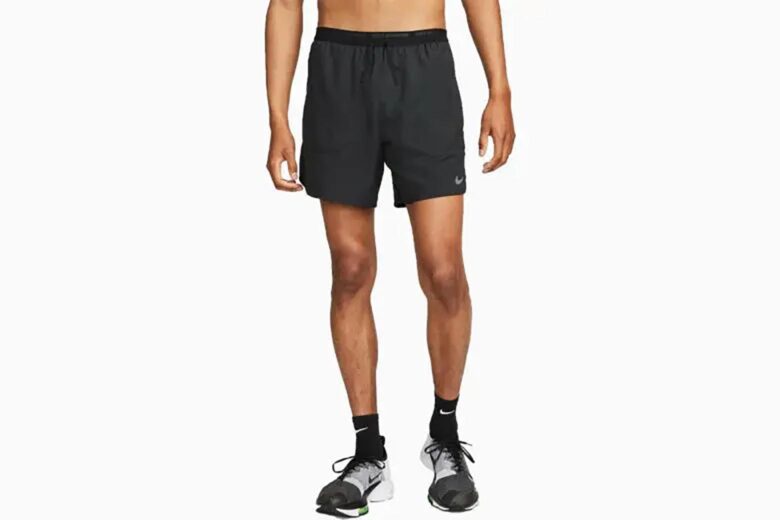 When you're on the move, you want shorts that stay out of your way. You want them to wick moisture, avoid chafing, and refrain from clinging to your legs so you have your full range of motion. Nike's Dri-FIT Stride shorts do all the above well, and they have the added bonus of presenting a sleek and sporty look.
| | |
| --- | --- |
| Best for: | Adding fashion zest to your athletic zip. |
| Color: | Black, University Red, Chlorophyll + More |
Adidas Aeroready: Best men's workout shorts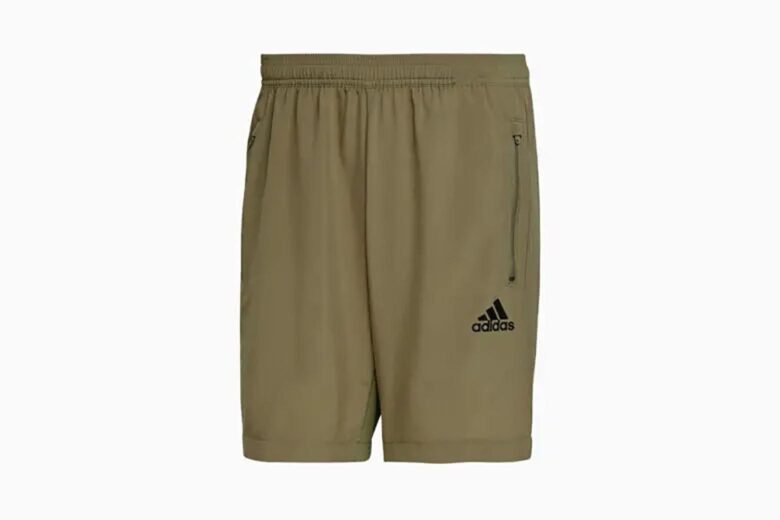 Get pumped! Just because you're working hard at the gym doesn't mean you can't look sharp. Adidas' Aeoready shorts have a classic sleek and athletic look that is backed by moisture-absorbing materials and plenty of loose leg space, so you never feel like your movement is being restricted. Considering how well these shorts perform, and how good they look, they're an absolute steal at their price.
| | |
| --- | --- |
| Best for: | Plenty of performance with oodles of style. |
| Color: | Orbit Green, Blue Rush, Grey Six + More |
Nike ACG: Men's best hiking shorts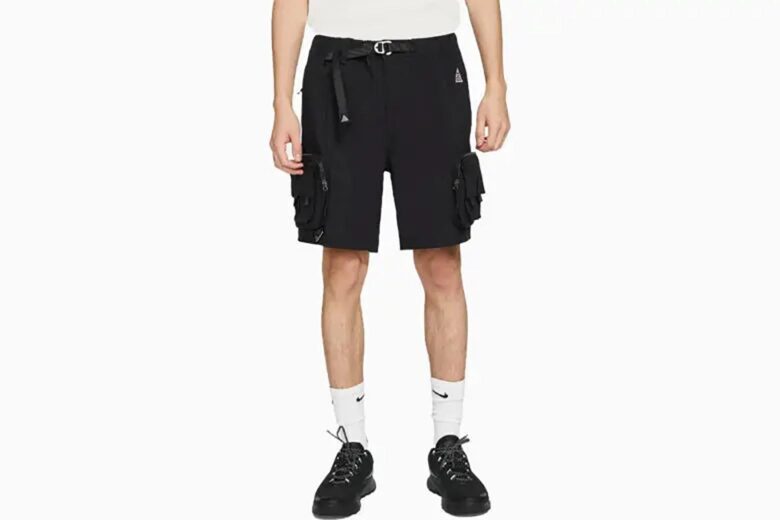 If you know you're going to be putting your clothing to the test, we'd recommend you check out Nike's ACG shorts, which are tailor-made for the wear-and-tear conditions of the most rugged hiking trails. Made from recycled polyester and nylon, these shorts can take just about any stress test you care to throw at them. Additionally, they come with lots of sealable pockets, reducing the amount of weight you'll have to carry in a backpack.
| | |
| --- | --- |
| Best for: | Being the star of your trek. |
| Color: | Black, Redstone, Sequoia + More |
Western Rise Movement: Best men's travel shorts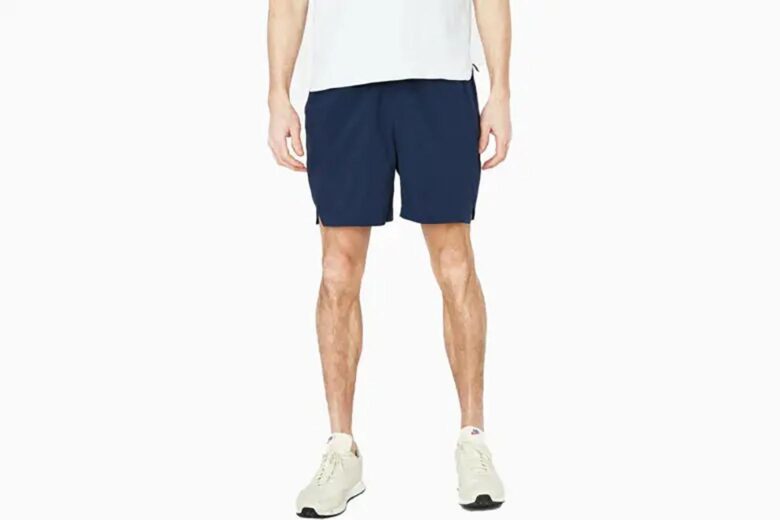 Western Rise excels at making clothing that looks sharp but also has the sneaky little secret that they're built for athletics. Western Rise's Movement shorts are exactly that—shorts that look like they're designer leisure-wear but are, in fact, moisture-resistant and lightweight, making them ready to go for a jog or to spend a morning on the tennis courts. 
| | |
| --- | --- |
| Best for: | Surprising the fashionable crowd with your athletic prowess. |
| Color: | Navy, Black, Blue Grey |
Polo Ralph Lauren: Most stylish shorts for men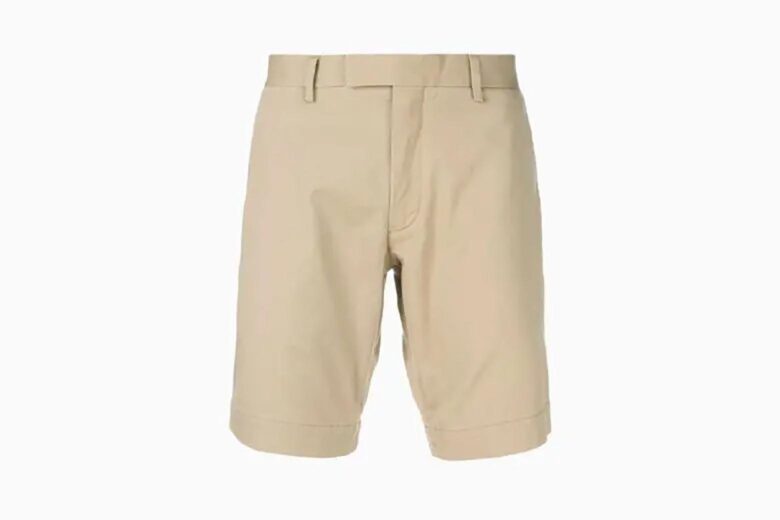 Let's get a little upscale for a moment and imagine ourselves touring a vineyard or perhaps setting out for a day's sail on a yacht. We're going to want something with plenty of eye appeal but also comfort to spare. Polo Ralph Lauren's khaki straight-leg shorts fit the bill quite nicely. Pair them up with some spiffy summer shoes and maybe a nice bright dive watch, and we're all set for a stylish day of summer fun.
| | |
| --- | --- |
| Best for: | Making summer memories with swank sophistication. |
| Color: | Khaki |
Amazon Essentials: Best budget shorts for men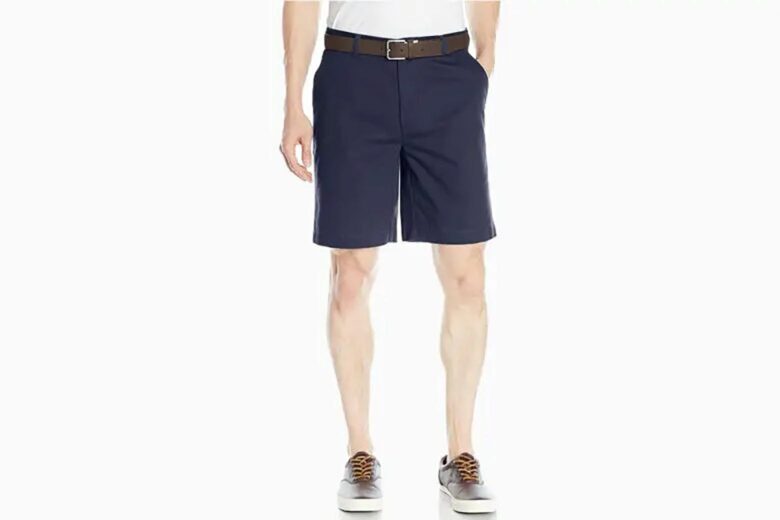 Sometimes you want to save up for another round on the links. However, being savvy with your sawbucks doesn't mean that you have to forgo fashion. Amazon Essentials classic-fit shorts look plenty fine and will serve you quite nicely as you're lining up your putt. And for the price, you'll be able to grab a couple of pairs in different colors and still have plenty of cash left in your pockets for celebrating in the clubhouse afterward.
| | |
| --- | --- |
| Best for: | Managing your money and still looking like a male model. |
| Color: | Navy, Silver, Washed Red + More |
Valentino Bermuda: Most expensive shorts for men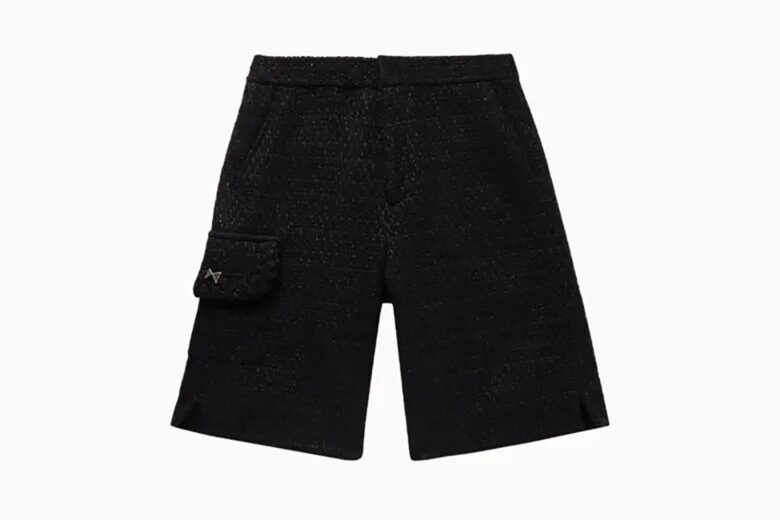 Time to go all-out. No doubt about it, you're a guy that likes to treat himself to the best. The tip top of the shorts pyramid when it comes to style, softness, and statement are Valentino's Bermuda shorts. Crafted from bouclé-tweed (softer than regular tweed) and accessorized with black enamel Rockstuds on the side pockets, these shorts are the exclamation point to a style-conscious summer outfit.
| | |
| --- | --- |
| Best for: | Pure knee-cut luxury. |
| Color: | Black |
Buyers' guide to high-quality shorts for men
Materials
If you're looking for shorts for your basic summer day, look into men's shorts made from cotton, linen, or denim. They all have a presentable look, and will help you keep cool on warmer days.
For athletics, you're going to want materials that wick moisture, allow breathability, and stretch well enough to allow you to move without being hampered. Brands like Adidas and Nike use materials like polyesters to accomplish this, with the added bonus that they quite often use recycled materials to make these shorts.
For durability, nylon, like in Nike's ACG cargo shorts, is tough to beat. You can also consider twill, like that found in Wrangler's premium cargos.
Finding the right fit
Length
The tl;dr for styling men's shorts is "not too long, and not too short". If your shorts, no matter the brand or style, end around the top of your kneecap or a little bit higher, you're on the right track.
Going lower than this looks sloppy, and like you're trying to dress like a kid. Some men do choose to go higher in an effort to sport that classic "Magnum P.I." look. However, keep in mind that it's probably best that you have some nice muscle tone in your legs if you really want to pull this off.
When it comes to shorter men, shorts that end at the knee or lower are definitely not your friend. They're going to look like you're wearing pedal-pushers, and longer lengths will make you appear to be shorter than you actually are. Experiment with going in the opposite direction with shorter shorts. Don't worry, you don't have to go full Tom Selleck. Five-inch shorts, like Western Rise's Boundless shorts, are still comfortably long, but are, in fact, a bit shorter than the average man's shorts style, which will have the effect of making your legs seem longer.
If you have a pair of shorts that are indeed a bit too long, it's fine to roll up the hems a bit. Or you can have them tailored.
Width
In terms of width, if you feel like the waist of your shorts are too wide, look for shorts labeled with "slim fit" (the fit can usually be found on the brand's website). Slim fit shorts (as opposed to "classic fit"), subtly tighten the waist via some crafty tailoring, reducing the waist-band bulge under your untucked shirt.
Slim-fit shorts also usually have narrower leg openings, which is good for men with skinnier legs, meaning your legs won't look like sticks poking out of plant pots.
What about colors?
As with any clothing, your choices of color will have to do with A) the color of your skin, and B) the scenario you're in.
If you're pale, you'd do well to avoid going with white or faded coloring, they're going to make you look like a ghost. For men with tan or naturally darker skin, faded colors and whites will work nicely.
In terms of your location, obviously, you're not going to want to wear bright colors or wild patterns to a more formal affair, like an evening at a golf and country club. Blacks, tans, and khaki are safe zones in a situation like this.
Can you do the black or grey shorts with completely formal matching wear (dress shirt, tie, blazer, dress socks, and shoes) look? You'll have to read the room. A lot of men do look good in this kind of outfit, but be aware it's not just the look itself. This kind of outfit is a statement that says you're not afraid to buck trends. If you think the people around you will appreciate your outside-the-box thinking, great! Go for it. However, in other crowds, the outfit may offend some, so think twice before you start playfully tweaking fashion-sensitive noses.
The real fashion fun that can come from shorts is in completely casual situations. Even if you're the kind of guy that usually only wears muted colors, shorts are a comfortable way to experiment with brighter colors because they're a relatively small surface area and they're away from your face, so they won't draw as much attention as a brightly colored or patterned shirt.
Are cargo shorts considered dressy?
Cargo shorts really came into their own in the late 1930s and early 40s when they were first sported en masse by British infantry located in warmer locales. They were then picked up by American soldiers, who likewise needed lots of carrying space, but didn't want to overheat.
Being utilitarian in nature, cargo shorts look a little too informal to make the grade in a dressy scenario. You're better off finding a pair of khaki shorts in the same color.
Should I tuck my shirt into my men's shorts?
Button-up shirts: This depends somewhat on the length of your shirt. Formal office-wear button-ups usually don't look well untucked (they're designed with extra length specifically so they can be tucked in), so go ahead and tuck it in. If it's a shorter button-up, then it's fine to leave it untucked.
Polo shirts: Not really. Polos are actually considered athletic wear, and athletic wear is not meant to be tucked in.
Athletic wear and T-shirts: No. With athletic wear, the name of the game is letting your skin breathe, and the space at the hem of your shirt is a major entry point for fresh air. Leave it open. And T-shirts are generally leisure or physical work wear, and they're meant for comfort, so they're also a no-go.
Frequently asked questions about men's shorts
Which is the best shorts brand?
For loungewear and everyday wear, Axel Arigato does a topnotch job of combining comfort with style. If you're looking for something for athletics, Nike's Stride shorts fit perfectly while remaining flexible enough to allow you your full range of movement. Check our list of the best men's shorts for more inspiration.
Where can I find the best shorts for men?
Both Axel Arigato and Luca Faloni make shorts that are comfortable but look formal enough to make them solid choices for everyday summer wear. When it comes to athletics, Nike and Adidas are popular for a reason. If you're looking for more utilitarian shorts, take a look at Wrangler's Authentics or Nike's ACG cargo shorts, both of which are durable and feature a lot of secured pocket space.