Is there a more sophisticated way of telling the time than a pocket watch? The best pocket watches are more than just timekeepers. They are living reminders of the fascinating tradition of horology and a long-standing signal of taste and class.
While the heyday of the pocket watch was the early 20th century, far from being an outdated antique, the pocket watch endures as an emblem of style and prestige today, for both men and women.
Not only are they effortlessly elegant, but pocket watches also offer an exceptional talking point, perfect for slipping out at dinner parties to impress other guests. No one can help but be intrigued by these mechanical masterpieces⁠—watch enthusiasts or not.
But delving into the world of pocket watches isn't for the faint of heart. There are a lot of options out there — and a lot of complex terminology to wrap your head around.
So if you're considering investing in one of these brilliantly individual timepieces, then you'll need some inspiration and guidance to serve as a springboard.
So here is a breakdown of the best pocket watches on the market today⁠—whether you're seeking luxury, budget-friendly, vintage and retro, modern and minimalist, or something that can go on to become a treasured family heirloom.
17 Best Pocket Watches of the year
Check after our listing if you want advice on buying a pocket watch, wearing a pocket watch, and caring for and maintaining a pocket watch, we have some tips and tricks to help you out. You might also want to learn more about the history of pocket watches before buying one online.
Kronen & Söhne: Overall best pocket watch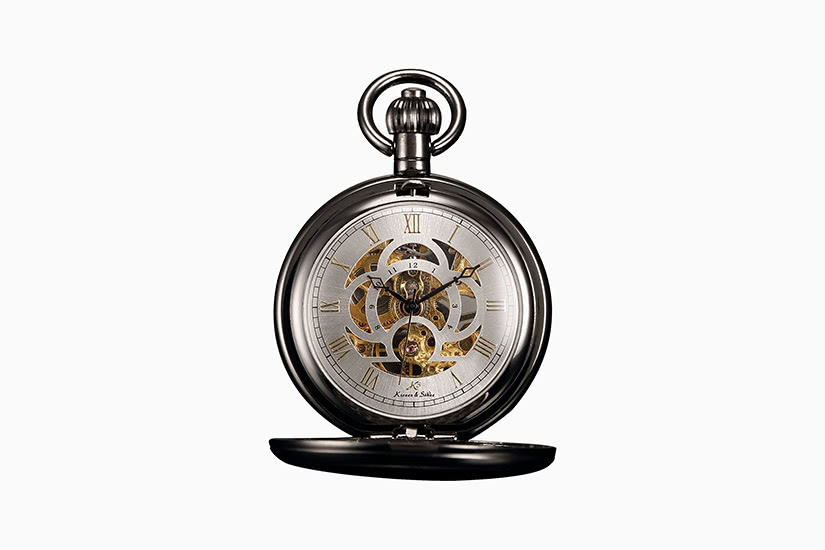 First on our list is this skeleton pocket watch by Kronen & Söhne, a remarkable piece of horology for a few reasons.
Firstly, there's that eye-catching skeleton dial, which is really quite spectacular. It allows a full display of the intricate inner workings. There's nothing quite as hypnotic as watching time tick by on a mechanical watch. You'll also fall in love with the contrast of the gold internal mechanics with the sleek black case.
Secondly, German brand Kronen & Söhne are known for making versatile and attractive watches with meticulous attention to detail. This pocket watch is no exception. It's also a compact yet sturdy choice with a 45 millimeters case and weighing 120 grams (4.23 ounces).
Thirdly, it's a mechanical movement, which is essential for any dedicated watch wearer. While quartz is convenient, nothing beats the extensive history and heritage that comes with a mechanical watch.
This pocket watch would make a great present for a husband, son, or grandparent. If you're looking to treat yourself to a special timepiece to mark a professional or personal milestone, it's hard to think of a better contender than this impeccably crafted little timepiece than this Skeleton by Kronen & Söhne.
Who it's best for: watch enthusiasts whose priority is engineering and technical skill.
Case size: 45 millimetres
Material: metal alloy
Movement type: mechanical hand-wind
Bulova: Best value pocket watch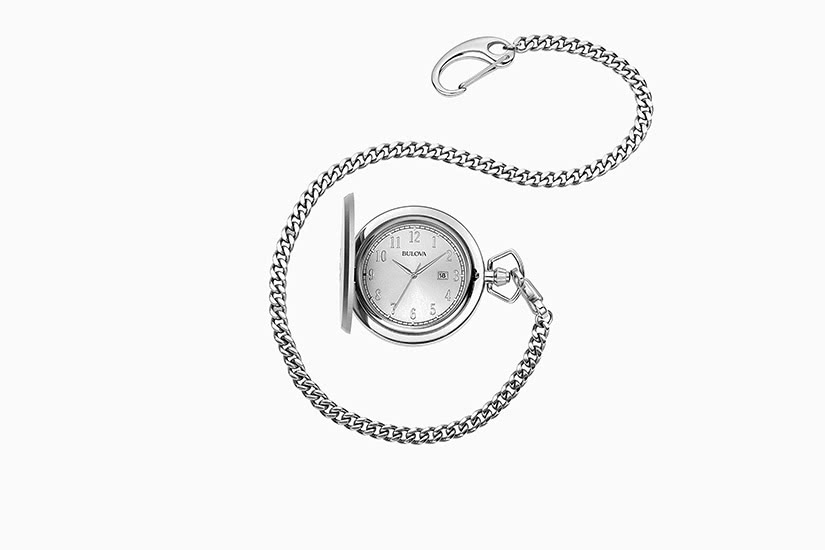 Bulova has an exceptional reputation when it comes to creating timepieces. The brand's watches are known for being highly accurate, durable, and effortlessly stylish. This particular pocket watch is no different⁠—except that the price tag is also particularly seductive.
Aesthetically, this is an elegant design in a cool silver shade that feels both classic and contemporary. For this price, you also get a synthetic sapphire crystal dial window, which is a good scratch-resistant option.
This is a hunter pocket watch, which means that it has a lid to cover the face. This is great for protecting your timepiece, and also means you can flick it open with great panache in front of passersby.
Stainless steel is an ideal material for a pocket watch as it's rust and corrosion-resistant. It's also perfect for sensitive skin as it's anti-allergic.
Meanwhile, a quartz movement is a superior choice if you're looking for a highly precise and maintenance-free timekeeper.
This Bulova pocket watch is water-resistant up to 30 meters, which means it can withstand only splashes and a brief immersion in water. But it's unlikely you're going to be wearing this in the shower, anyway, right?
Who it's best for: budget-conscious watch-wearers
Case size: 50 millimetres
Material: stainless steel 
Movement type: quartz
Audemars Piguet: Most expensive pocket watch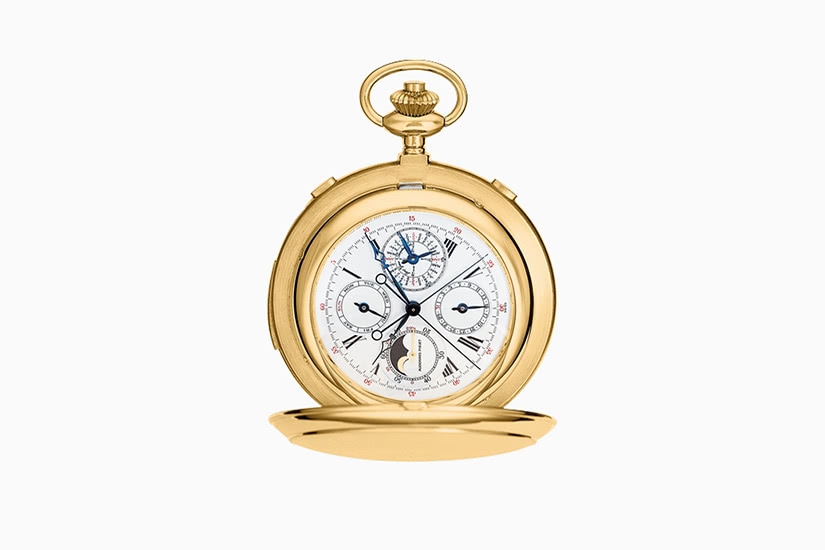 One of the most celebrated luxury watch manufacturers in the world, known for its commitment to design perfection and mechanical excellence, it comes as no surprise that Audemars Piguet also makes exceptional pocket watches for you to carry in your waistcoat or jacket—the most exclusive timekeeping accessory.
There's no better material for evoking a mood of high-end luxury than yellow gold—18-carat in this case—with all its connotations of power and prestige. Meanwhile, the blue steel hands add a dash of contemporary daring.
Elegance. Refined glamour. This hunter-style pocket watch has both—in spades. But the real clincher is the technical wizardry that has gone into creating this timepiece, with its grande complication, perpetual calendar, minute repeater, and split time chronograph.
Prepare yourself for an endless stream of compliments from anyone in the vicinity when you slip out this gold pocket watch to check the time. Watch aficionado or not, who wouldn't be enthralled by the gleaming silhouette of this piece of horological artistry?
All in all, this classic pocket-watch offers the dream combination of technical prowess and aesthetically intelligent design. It's just as stylish and impeccably crafted as you would expect from iconic and highly revered luxury watch brand, Audemars Piguet.
Who it's best for: those seeking a high-end pocket watch to accessorize formal attire
Case size: 59 millimetres
Material: 18-carat yellow gold
Movement type: mechanical hand-wind
Gotham: Best slim pocket watch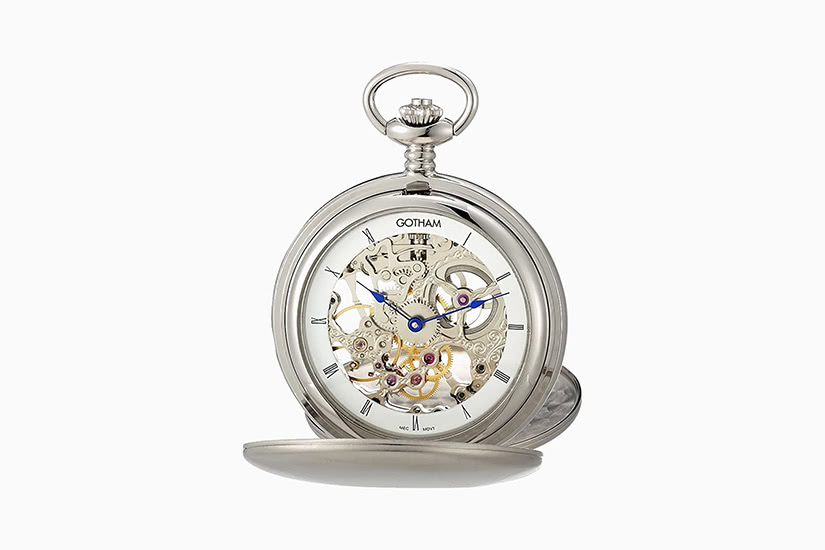 For a classic and mostly minimalist pocket watch, this timepiece by Gotham is just the ticket. We say mostly because what outwardly appears to be minimalist turns out to be anything but.
While simple and straightforward with its lid on, once you open this Gotham pocket watch, the internal mechanics are on full display, revealing a skeletonized watch with incredible inner mechanics on full show. Both the front and back case open, so you get a double display. Skeleton watches are the ultimate in artistry and technical pizzazz.
Nevertheless, the overall profile of this pocket watch is cool and understated. Silver is the perfect choice for those looking for a fresh and contemporary mood. And the choice of a brush satin finish is ideal for those seeking something a little more low-key and pared-back.
The watch has a 17 jewel mechanical movement. Using jewels reduces a lot of the friction of the internal mechanisms, allowing for smoother functioning. Meanwhile, the front and back mineral crystals of the Gotham are scratch-resistant so will withstand wear and tear.
The watch comes with a chain as well as a brass desktop stand, so you can use it to track time as you work in your study at home or in the office. Dual-purpose is another distinguishing feature of a quality pocket watch.
Who it's best for: minimalist watch-wearers with a less is more approach to fashion
Case size: 54 millimetres
Material: Brass
Movement type: mechanical hand-wind
Tissot: Best front pocket watch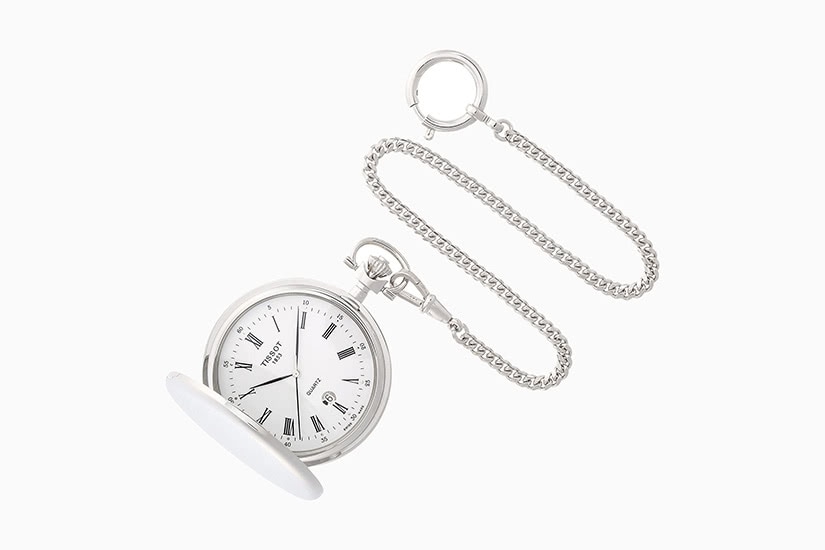 This is the perfect pocket watch for those looking for something slim that will fit easily into your front pocket. Tissot is known for delivering luxury watches with premium craftsmanship at prices that are accessible.
This unisex pocket watch is a lesson in masterful understatement. With its cool and contemporary silver color, a perfect alternative to more showy and ostentatious gold, it offers a subtle signal of the wearer's taste and style.
Savonette is another name for a hunter pocket watch, and means that the watch has a spring lid to protect the face inside. Not only does a lid offer some protection to your watch but it also makes the process of telling the time more fun as you spring the case open with a theatrical flourish.
The dial is white and the hands are silver. Roman numerals mark the hours and scratch-resistant mineral crystal has been used for the display⁠—a durable and long-lasting choice.
This Tissot is the perfect dress watch and would look fantastic with white tie, black tie, cocktail attire⁠—or even with a casual suit if you wanted something sophisticated to distinguish you from the crowd.
Who it's best for: watch enthusiasts looking for high-quality, beautiful, but understated
Case size: 49 millimetres
Material: Stainless steel
Movement type: quartz
Patek Philippe: Best pocket watch for family heirloom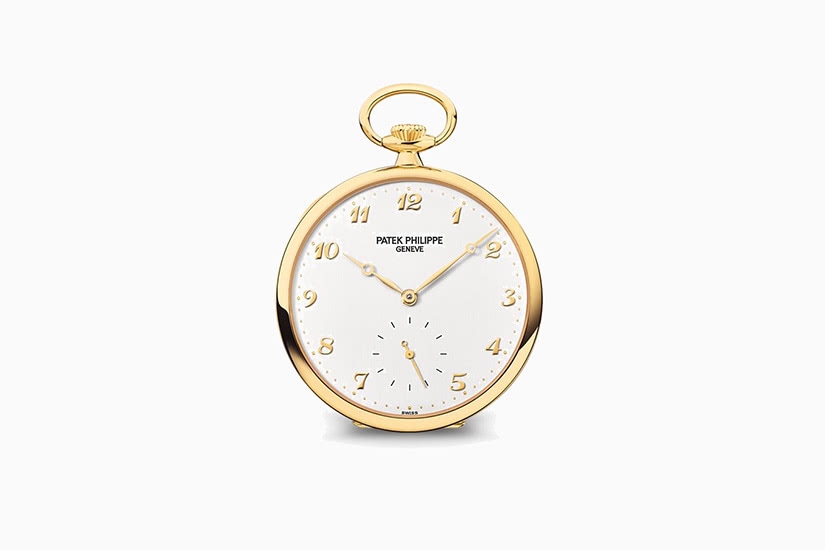 Are you looking for an investment that will last a long time and become a treasured heirloom? Something that both you and your family will love and remember? Then you need a pocket watch that is distinct and visually arresting.
This yellow gold pocket watch by famous and well-established luxury watch brand Patek Philippe is ideal. The company began life designing and manufacturing pocket watches, and its long-standing experience in the field is on full display with this particular model.
This pocket watch has a seconds subdial as well as the main dial. It has been hand-finished, a process that involves a range of subtle enhancements to perfect its functionality and appearance. The face is simple, crisp, and white with applied gold numerals. The case is humidity and dust protected.
This is a mechanical movement and requires hand winding. This adds to the fun as you can enjoy watching the machinery at work, witnessing all the skill that has gone into creating the movement. You can also make it an activity to do with your kids, bonding over the shared experience.
With its certain aura of authenticity, this pocket watch by Patek Philippe offers the perfect memorable investment to be passed down through your family.
Who it's best for: parents looking for a pocket watch to pass down the generations
Case size: 44 millimetres
Material: yellow gold
Movement type: mechanical hand-wind
Stührling: Best pocket watch under $100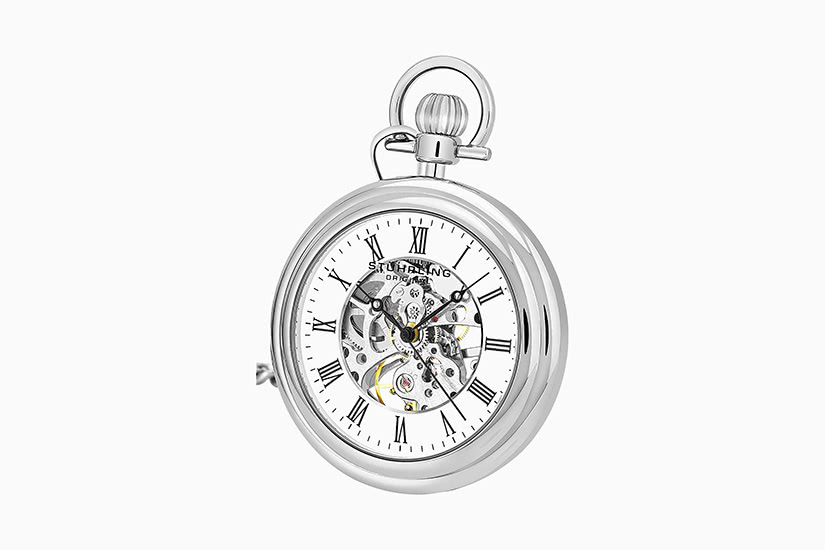 Buying a quality pocket watch is a bit of an indulgence. After all, you don't really need it. It's more of a treat purchase—albeit one that will bring you a lot of pleasure. For this reason, you may not want to blow a lot of cash on a pocket watch.
Luckily, there are some great budget-friendly pocket watches on the market. And this silver timepiece by Stührling is a fine example.
Made from stainless steel, which is low maintenance and tarnish-resistant, this pocket watch features a skeleton dual-sided dial. This dual exhibition case allows you full view of the internal mechanism and you'll quickly become engrossed in watching its workings—trust us.
The hours are marked with Roman numerals—lending the watch an aura of tradition and vintage appeal. This is also a durable and reliable time-keeper, with a protective Krysterna crystal dial window that will last a long time.
Stührling is known for creating quality timepieces at affordable prices. This Stührling pocket watch is another demonstration that the brand is committed to delivering great craftsmanship with a friendly price tag.
You'll have to wind it every thirty-six hours but that's part of the fun of owning a piece of mechanical mastery like a pocket watch.
Who it's best for: watch lovers on a budget
Case size: 48 millimetres
Material: stainless steel
Movement type: mechanical hand-wind
Ziiiro: Best modern pocket watch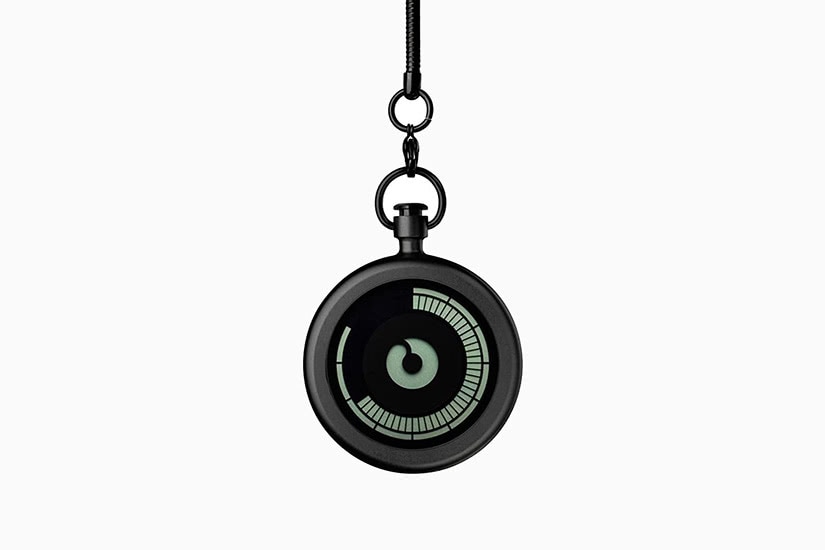 While most people buy pocket watches because they convey a certain sense of tradition and heritage, it's possible to buy great modern pocket watches too.
In fact, some of the most exciting pocket watches have a future-forward aesthetic. This pocket watch by Ziiiro is one example of an ultra-modern take on the classic pocket watch design, featuring a digital display and a rubber chain.
Most pocket watches dials are white, so this black LED digital face is highly original and lends the watch a futuristic vibe. The backlit display is triggered by the plunger on top. It ticks through time with hour and minute segments with the outer ring tracking the hours and the inner ring tracking the minutes.
The case itself is lightweight and made from aluminum, which is sturdy and corrosion-resistant. The watch itself is pretty watertight—although you don't want to go swimming with it.
With something as modern and unique as this, why wear it in the traditional way? Instead, you could hang it from your bag or wear it as a pendant. Cutting-edge design like this requires out-of-the-box thinking from its wearer.
Opting for a modern pocket watch like this marks you out as a discerning watch-wearer with its fusion of traditional meets trend-setting.
Who it's best for: tech-savvy individuals looking for an ultra-modern pocket watch
Case size: 48 millimetres
Material: aluminium
Movement type: quartz
ShoppeWatch: Best vintage pocket watch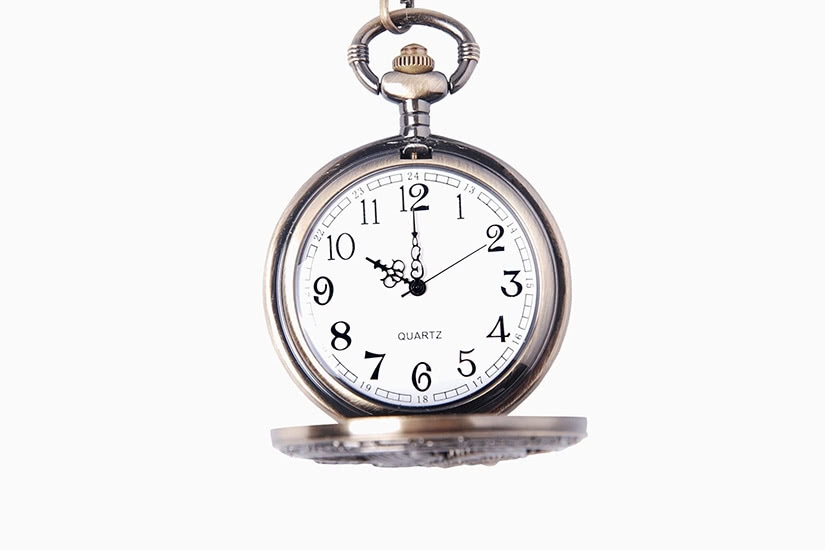 Most pocket watches feel slightly antique—but in the most appealing of ways. They have that old-school vibe that effortlessly adds a hint of the dapper gentleman to your look. One of the best vintage pocket watches out there is this ShoppeWatch.
With its striking eagle design, this pocket watch is anything but ordinary. If you're looking for something attention-grabbing, you can be sure you'll catch people's eye as you pull this intriguing little number out of your pocket.
Spice up your traditional formal wear with this unusual design, attaching the timepiece to your waistcoat or jacket with the supplied 14-inch chain for hassle-free time reading.
We are particular fans of the half-hunter style of this pocket watch, which means you can just glimpse the watch face through the lid, adding a bit of aesthetic interest to the conventional pocket watch design.
And it's not all riding on the appearance. This pocket watch is robust, hardwearing, and, at 45 millimeters and 119 grams (4.2 ounces), an ergonomic fit in the palm of your hand.
With this ShoppeWatch pocket watch, you get the best of past and present. A reliable and contemporary quartz movement alongside a classic aesthetic.
Who it's best for: fans of retro fashion
Case size: 45 millimetres
Material: aluminium
Movement type: quartz
ManChDa: Best skeleton pocket watch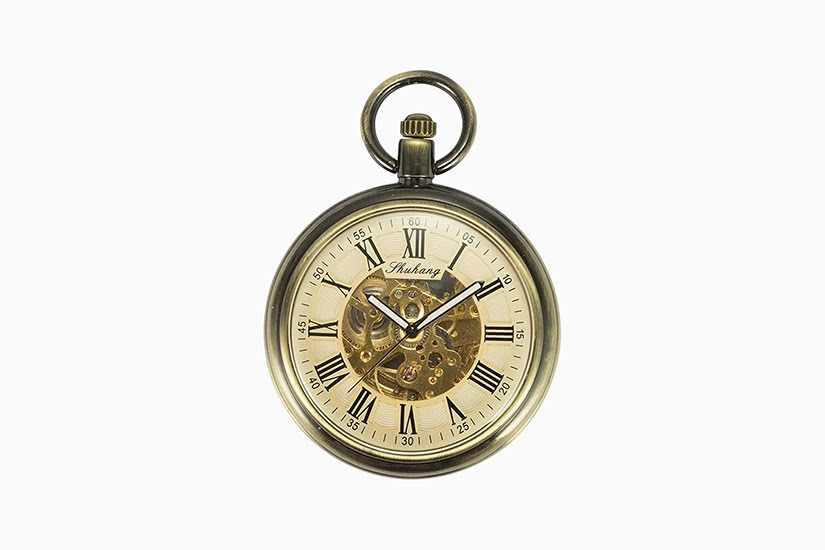 With a skeleton watch, the timepiece becomes a stage and owners can enjoy watching a miniature performance of the complex inner workings. No wonder they have watch wearers falling over their feet in an effort to purchase these demonstrations of incredible engineering on a microscale.
This mechanical pocket watch has a transparent front and back allowing a full display of the gears at work inside. It's a pocket-size spectacle⁠—and one that's sure to get people's attention when you pull it out at a dinner party or in the office.
Another advantage to this model is the luminous pointers which means you can read the time even in low light. Meanwhile, the face is made from acrylic instead of glass—a more hardwearing option.
As the name suggests, it certainly does have a bit of a steampunk aesthetic, a romantic Victorian vibe combined with post-industrial edge. At the same time, the ManChDa is an unobtrusive choice⁠—one that isn't too conspicuous to carry around every day.
Who it's best for: fans of Haute Horlogerie looking for true mechanical artistry
Case size: 49 millimetres
Material: metal alloy
Movement type: mechanical automatic
Charles-Hubert: Best see-through pocket watch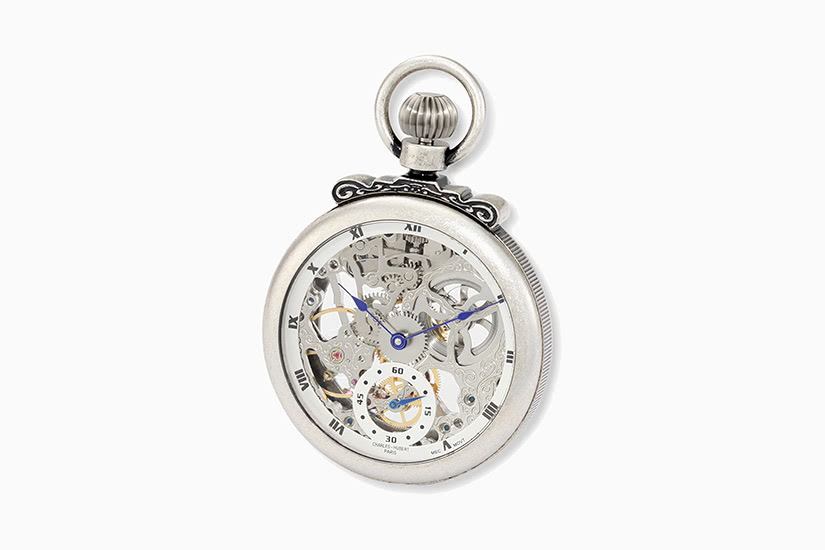 There's no better way to spark conversation at a dinner or exclusive event than with a pocket watch. And a pocket watch like this striking open face timepiece by Charles-Hubert is especially impressive—highly likely to get people requesting a closer look.
Charles-Hubert is a well-known name for those familiar with mid-range watches that combine superb craftsmanship with affordable prices. The brand has acquired a considerable following thanks to its classic and contemporary watch designs. This is a great example of how the company succeeds in delivering timepieces that are functional, stylish, and relatively low-cost.
This is a true statement piece with an open face that reveals all the intricate inner parts of the 17 jewels mechanical movement. It's a mesmerizing display, and one that will make the rather pedestrian act of telling the time far more exciting.
The subtle silver tone is a preferable option to more brash gold⁠—great for those looking for something more low-key and contemporary. The antiqued finish on this Charles-Hubert adds a vintage vibe while the mineral crystal front and back is scratch-resistant and durable.
And a price tag like that just sweetens what is already a great deal.
Who it's best for: die-hard horological fans searching for something unique
Case size: 47 millimetres
Material: brass
Movement type: mechanical hand-wind
Frederique Constant: Best mechanical hand-wind movement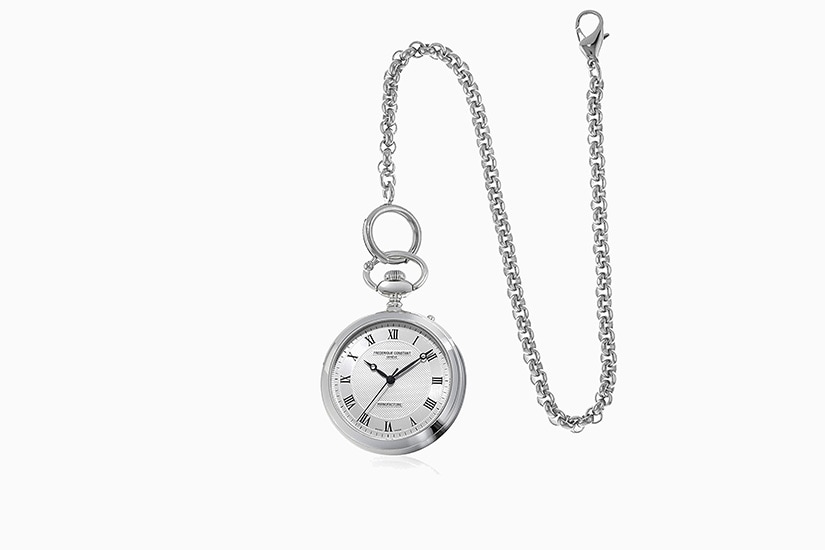 This pocket watch stands out firstly for its beautiful red gold case. There is something inherently romantic about its pinkish color, yet it also feels contemporary and fresh.
On closer inspection, the watch continues to impress with its sleek casing, understated dial, and polished bezel. At 85 grams (3.03 ounces), it's also very light, making it a great timepiece for carrying around in your pocket.
Frederique Constant is a relatively young watch brand but has positioned itself successfully in the growing 'accessible luxury' niche. The brand's watches are becoming increasingly well-known for their sophisticated complications and luxurious aesthetics.
It's a phenomenal piece of craftsmanship⁠—and one that will withstand extensive use as an everyday carry.
You'll certainly be guaranteed a striking, sophisticated, and long-lasting timepiece. Sport a pocket watch like this Frederique Constant and you'll win some points among other watch aficionados.
Who it's best for: classic watch-wearers who also want a bit of personality
Case size: 45 millimetres
Material: stainless steel
Movement type: mechanical hand-wind 
Stührling Complication: Best pocket watch complication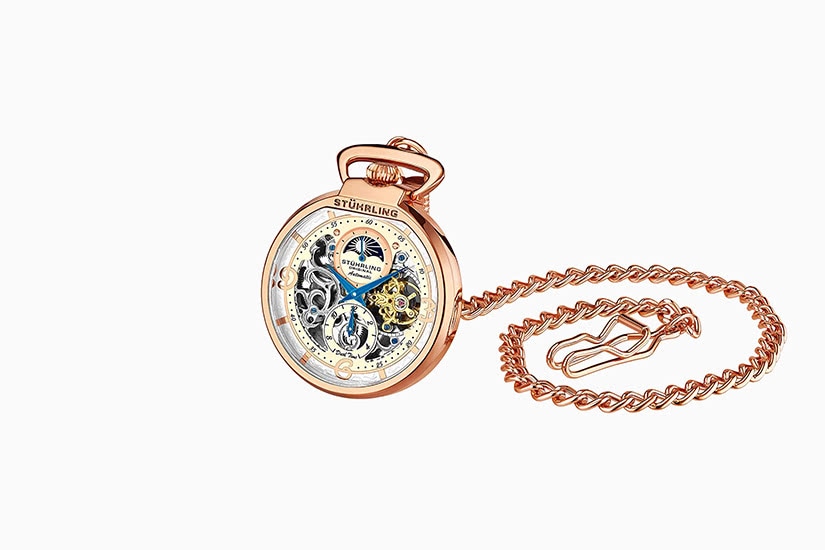 The best feature of this pocket is its skeletonized case, which allows you to watch the mechanism at work. Skeleton watches represent real luxury⁠—exhibiting the profound skill and talent that went into creating them. We also like the dauphine hands on this model, with their beautifully tapered diamond shape and distinct line down the middle.
This Stührling pocket watch allows the wearer to keep track of 2 separate time zones with a GMT subdial⁠—making it perfect if you're a frequent traveler. You can also track night and day using the Sun/Moon subdial, and it's water-resistant up to 50 meters.
Another bonus is the fact that the integrated hinge allows the watch to stand upright on your desk so you can use it to track time as you work. This is perfect if you're hunting for a desk clock that's also portable.
American company Stührling makes exceptional mid-range watches. If you're looking for something elegant and high-quality that's also budget-friendly, this is a great option. It would also make a fabulous gift for any watch enthusiast.
Who it's best for: those seeking a good all-rounder at a reasonable price
Case size: 48 millimetres
Material: stainless steel 
Movement type: mechanical automatic
August Steiner: Best automatic mechanical movement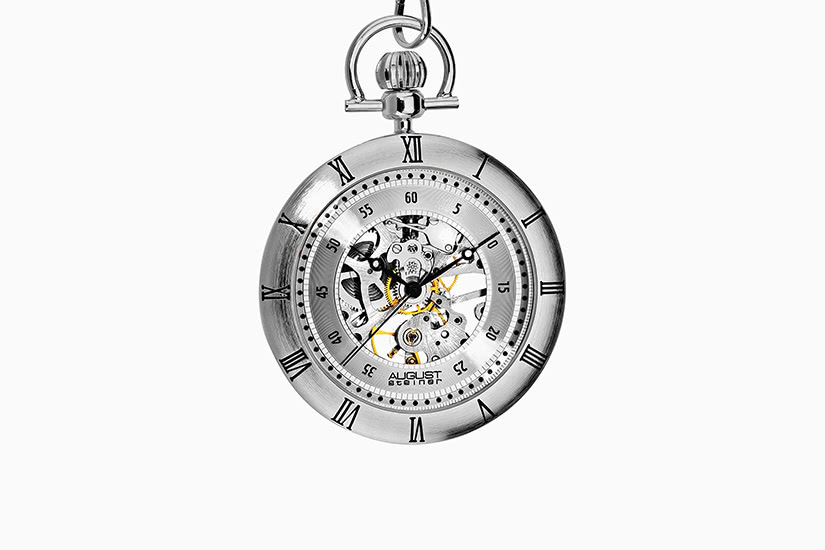 Add some vintage glamour to your evening look by pairing this exquisite silver pocket watch with your formal attire, lending a bit of character to your outfit. Trust us, a pocket watch offers a great conversation starter if you find yourself struggling.
And even if it stays in your pocket all night, you'll enjoy the knowledge that you've got a fine piece of craftsmanship as your companion throughout the evening.
Feast your eyes on the skeleton dial that showcases the precision and intricacy of the mechanical movement. The dial is engraved with concentric circles and surrounded by a brushed beveled bezel with Roman numerals.
Sapphire-coated mineral crystal has been chosen for the dial window. This material is hardwearing and safeguards against accidents or inevitable wear and tear. The watch is also water-resistant to 10 meters (33 feet).
Finally, this pocket watch has an onion style crown at the 12 o'clock mark. This gives the timepiece an air of regal sophistication.
Not sure about the silver? This August Steiner is also available in gold. Simply attach the watch to your waistcoat or jacket with the brass link chain and you're good to go.
Who it's best for: style-hunters seeking high-end horology
Case size: 47.5 millimetres
Material: brass
Movement type: mechanical automatic
IWC: Best mechanical hand-wind pocket watch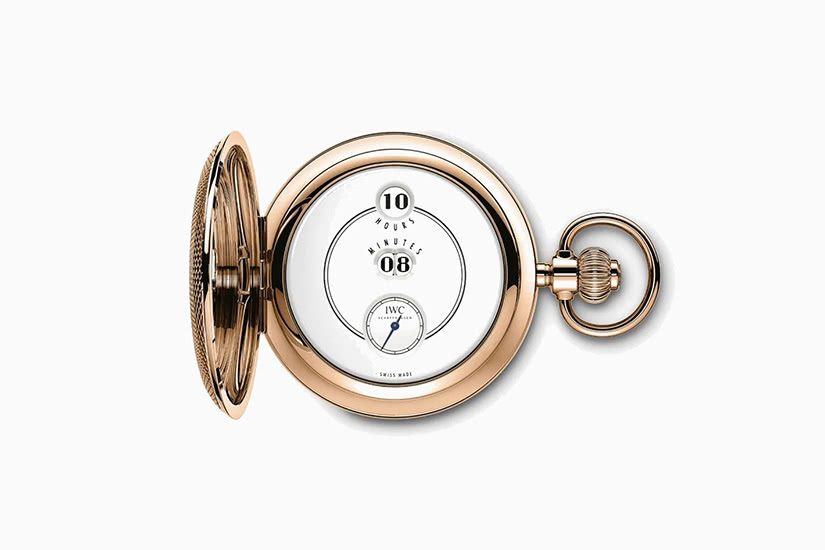 This IWC Mechanical hand-wind pocket watch is a real game-changer. With its hand-wound movement featuring two barrels, it represents a thoroughly creative take on the traditional pocket watch. if you're looking for something that pushes aesthetic boundaries, this is the one for you.
This pocket watch will bring some serious fashion punch to your outfit with its modern and fresh vibe on a clean white dial. The premium material of the case is also pleasing to behold.
The IWC Tribute To Pallweber Edition "150 Years" celebrates the history of the brand. In 1884, IWC manufactured the first so-called Pallweber pocket watches with an innovative display showing the hours and minutes in digital format with large numerals on rotating discs. This pocket watch is limited to just 50 watches and has an 18-carat 5N gold case, a white dial with a lacquered finish, and white display discs.
Alongside offering watch owners a timepiece unlike anything else on the market, this IWC pocket watch promises reliability and accuracy with a 60-hour power reserve.
You can attach it to the key chain and wear it with a waistcoat or jacket. Or you might simply have it on your desk as a timekeeper-come-paperweight.
One thing's for sure. This innovative and progressive timepiece is redefining the horological game with a visual profile that is nothing if not unique.
Who it's best for: anyone seeking the full package: craftsmanship, style, and quality
Case size: 52 millimetres
Material: 18 ct 5N gold case
Movement type: mechanical hand-wind
Spovan: Best waterproof pocket watch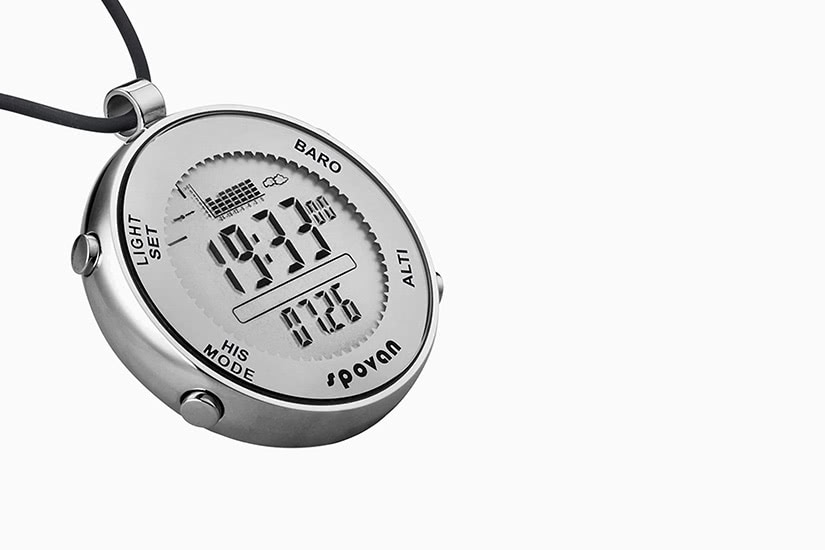 The centuries-old traditions of the pocket watch meet the cutting-edge technology of the 21st century with this digital timepiece, designed with outdoor adventurers in mind.
Say goodbye to your beliefs that a pocket is worn solely at black-tie events and weddings. This is a pocket watch that can accompany you on explorations and travels around the world.
Telling the time is just one of many features of this super high-tech pocket watch. It also has a stopwatch, barometer, altimeter, thermometer, weather forecast system, and storm alarm. All that in a watch that is only 52.2 millimeters—which is pretty remarkable.
Add to that the fact that this timepiece is water-resistant up to 30 meters, and it's a truly brilliant buy. Plus, if you're an avid angler, you can track the air pressure, temperature, and water depth of six different fishing spots⁠—not something you'd find in your average pocket watch.
Whether your sport of choice is fishing, running, climbing, or almost anything else, this is the perfect time-keeper to accompany you on your pursuits.
And it's not just suitable for men. Any adventurous female watch-wearer looking for a timepiece to match her high-adrenaline lifestyle would be hard pushed to find a better option than this Spovan pocket watch.
Who it's best for: outdoorsy folk looking for a watch to keep up with their high-octane pursuits
Case size: 52.2 millimetres
Material: stainless steel
Movement type: quartz
Longines: Best luxury pocket watch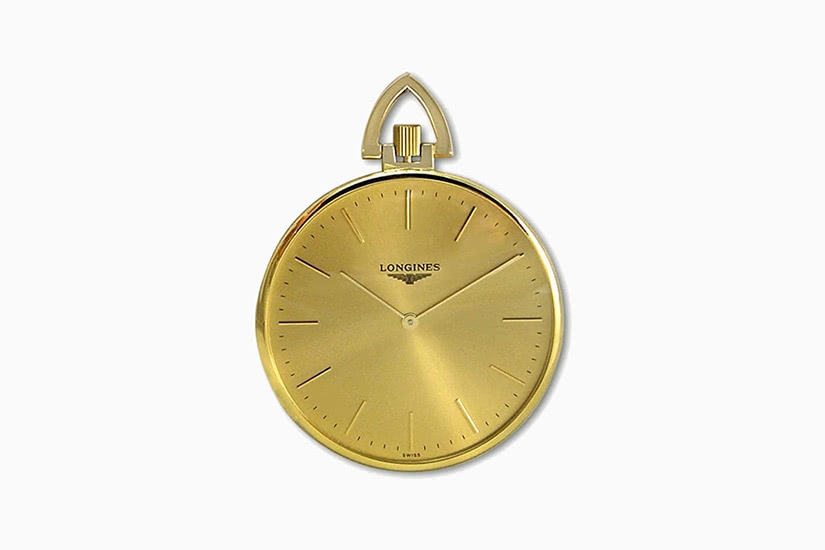 Nothing says luxury quite like a gold pocket watch. Gold is the most exclusive of metals, coveted and celebrated throughout the centuries, forever associated with affluence and prestige. Meanwhile, a pocket watch represents the very best of timeless style.
Longines is world-renowned for its impeccably sophisticated designs and equestrian heritage. This pocket watch is a fine example of its outstanding craftsmanship and eye for all things high-end.
Hand indicators, dial, and index hour markers—they're all in gold in this Longines 18 kt open face pocket watch. The overall aesthetic is simple but supremely elegant, letting the golden glow do all the talking.
It's an open face pocket watch and the lack of lid means that the watch's pristine profile is always on display.
This pocket watch comes without a chain, but you can purchase a T-bar chain online without any problem. Or opt for a Double Albert to complete the vintage glamour.
Either way, this pocket watch would dazzle in combination with a waistcoat on formal occasions. Or you could jazz up a standard suit with the addition of this unique timekeeper.
If you're looking for a gift for a lover of all things luxury, this Longines pocket watch really does represent the ideal present. But you might find it hard to part with.
Who it's best for: those seeking something that screams luxury
Case size: 39 millimetres
Material: 18K solid gold
Movement type: quartz
Pocket watch buying guide: what to look for when shopping for a pocket watch
When buying a pocket watch, there are a few key things to look out for.
Firstly the different types of pocket watch:
A hunter case has a springloaded metal lid to protect the crystal.
A double hunter has a metal lid covering both the front and back of the watch.
A half-hunter features a hole in the middle of the lid so you can glimpse the time.
An open-face pocket watch is a pocket watch without a lid.
Secondly, you need to decide what kind of watch movement you want:
A quartz movement runs on battery. The battery power lasts around two years.
A mechanical movement is powered by a spring. It can be automatic or manually (hand) wound.
Finally, think about what material you want:
Most pocket watches are made with a metal case.
Ceramic pocket watches are also available. These are more fragile and heavier but the cases can be painted with unique designs.
The display is usually glass or crystal. Crystal is more high-quality and scratches less easily.
Some of the best pocket watches are made by famous watch brands like Longines and Tissot. But you can find great pocket watches made by less well-known brands like Frederique Constant and Kronen & Söhne too.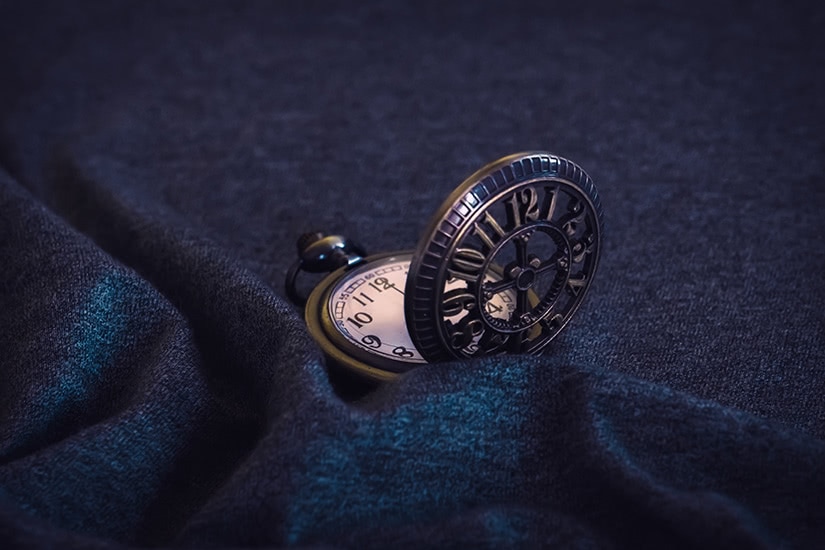 How to wear a pocket watch
Wearing a pocket watch is not quite as straightforward as wearing a wristwatch, which is simply fastened around the wrist. As the designs of pocket watches have evolved and changed over the years, there are a few different ways to wear a pocket watch.
Pocket watches are often the accessory of choice for formal wear at events such as weddings where you can pair them with waistcoats for a traditional yet timeless look. Wearing a pocket watch with a suit is an equally elegant choice. You attach the chain to your lapel buttonhole, or through the middle hole of a three-button jacket.
But wearing a pocket watch with casual wear isn't out of the question either. You can simply attach it to your belt loop on your trousers and slip it into your pocket.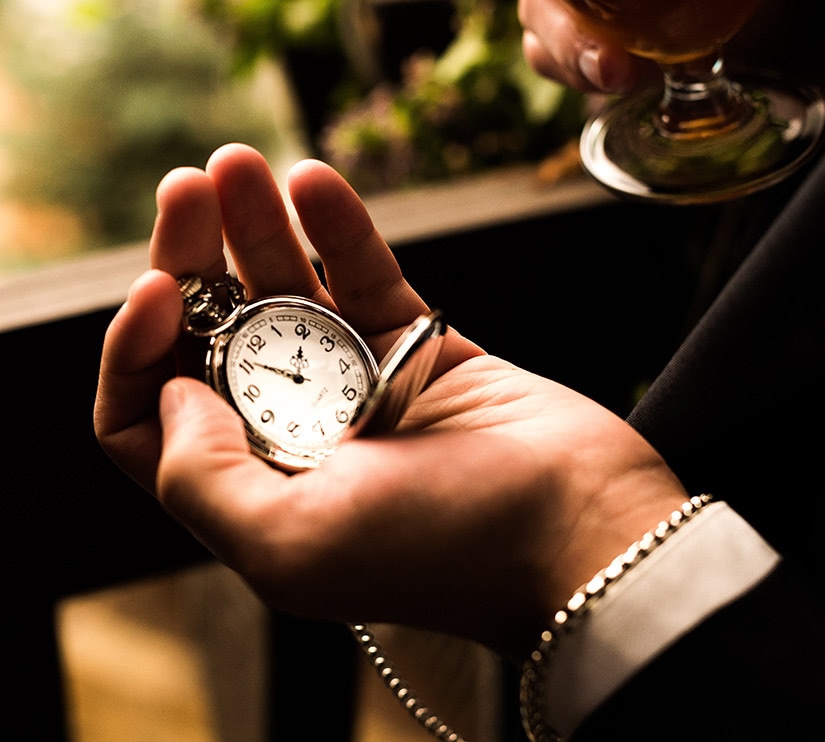 How to attach your pocket watch
Attaching your pocket watch can be done with a chain with a T-shaped bar, held in place in your buttonhole. The other end is attached to your pocket watch, which is stored in the breast or side pocket of your suit or waistcoat.
You can also use a belt bar, which slides onto the belt or the top of your trousers, so you can place your watch inside your trouser pocket. Or a bolt ring, which can be attached to either your trouser belt loop or your waistcoat buttonhole. This is a secure and versatile option.
You may also come across an Albert or Double Albert chain. These are great if you want to embrace the period look. Named after Prince Albert, an Albert includes an extra length of chain descending from the T-bar to which people would add small 'fobs' or ornaments.
A Double Albert is even more extravagant with two full-length chains, one of which attaches to the pocket watch and the other to a small coin case, matches, or smoking knife.
How to care for and maintain a pocket watch
The task of caring for and maintaining your pocket watch requires thought and attention. By following the right advice, you can make sure your pocket watch lives a long life.
Clean the outside of your watch with a soft microfibre cloth. Don't use water or any cleaning chemicals as this might cause damage. Bear in mind that perfumes and deodorants can also damage the casing of a pocket watch.
If it's a mechanical watch, it will need to be wound every day⁠—but not too much. Most mechanical watches should be wound between 30 and 40 half turns. This will last a full day. Automatic watches are self-winding.
Carry your pocket watch with the dial facing inwards to protect the crystal. Avoid putting other items alongside it in your pocket. Keys and coins can cause damage.
Brief history of the pocket watch
Pocket watches were invented in the 16th century. One of the first pocket watch manufacturers was Peter Henlein, who invented watches that used mainsprings instead of weights, allowing the creation of portable watches.
Originally, these watches were heavy and boxy⁠—awkward to carry around. In fact, they were generally worn as necklaces. Additionally, they were not particularly accurate and would have only had an hour hand.
It would take a hundred years more before pocket watches were small enough to be slipped into a pocket. Around this time, jackets and vests started featuring pockets especially for the holding of pocket watches. Oil was used to stop the parts from freezing up and materials such as gold, brass, and silver were used instead of steel.
By the 18th century, the cases were slimmer, and jewels and diamonds started featuring. The Industrial Revolution, in particular, saw a boom in pocket watch use with railroad workers relying on them to prevent accidents and collisions on the tracks.
However, during World War One, wristwatches became the favored means of tracking time as they were more versatile and practical.
Nevertheless, today, pocket watches have returned to the style spotlight and continue to have a devoted following. They are the perfect accessory for formal and black-tie attire.
Luxury pocket watches: Frequently asked questions
What are the best pocket watch brands?
The best pocket watch brands are Longines, Tissot, Bulova, and Stührling. These companies have made a name for themselves by creating high-quality pocket watches at a range of price points.
How much does a pocket watch cost?
The cost of a pocket watch depends on the brand and the level of complexity of the watch as well as the materials used. They can cost anywhere between $10 and $10,000. This huge price range is due to the great diversity in quality.
Are pocket watches still made?
Pocket watches are still made by watch manufacturers today. Brands such as Longines, Bulova, and Tissot continue to create pocket watches. While they are not as popular as wristwatches, many people choose to buy pocket watches for their inimitable style.
When did pocket watches go out of style?
Pocket watches went out of style during the First World War. During this time, people started wearing wristwatches. While wristwatches were traditionally worn by women, during the war, people started wearing them because they were more practical in the trenches.
What are the best pocket watches to collect?
The best pocket watches to collect are those by brands like the Waltham Watch Company, Elgin, and Hamilton. Pocket watches designed by big-name brands like Rolex and Patek Philippe are also worth a lot of money.
What pocket watches are valuable?
The most valuable pocket watches include those by brands like Patek Philippe, Vacheron Constantin, and Audemars Piguet. The factors that affect value are the brand name, any interesting and unique complications the watch might feature, and the condition of the watch.
Do they still make pocket watches?
Tissot, Longines, and Charles Hubert are still creating beautiful and perfectly crafted pocket watches that you can buy online.
Are Greenwich pocket watches good?
Greenwich pockets watches are a good choice because they are famously high-quality and available at a range of prices. They are a British company that specializes in pocket watches and have a huge variety of models on offer.