There's a reason that polo shirts have been around just about forever… or at least since the 1800s. They're comfortable as all get-out but look far more presentable than your favorite stretched-out tee-shirt. They're dressy, but also work very well in athletic settings (after all, they started life on the backs of polo players in India in the late 1850s).
They've been a fashion go-to ever since. Look to Hollywood—you can see polo-style collared shirts on everyone from James Bond-era Sean Connery right through to modern day stars like Idris Alba and Jake Gyllenhal.
And, of course, they're incredibly versatile. The best polo shirts are equally at home matched up with your favorite stay-at-home jogging pants, athletic shorts, work pleats, or your hippest jeans and bomber jacket.
So which polo shirt works best for which occasions? Today we're going to sort out the best polo shirts we could find, matching them to your specific need. Looking to cruise it casual-style? Or maybe you're looking for a men's performance polo for the golf course or tennis court?
Dressed up or cooling off, we'll get you set up with the proper polo shirt. And if you want something a little dressier, check out our selection of the best casual shirts for men instead.
The 21 best polo shirts for men
Luca Faloni: The overall best polo for men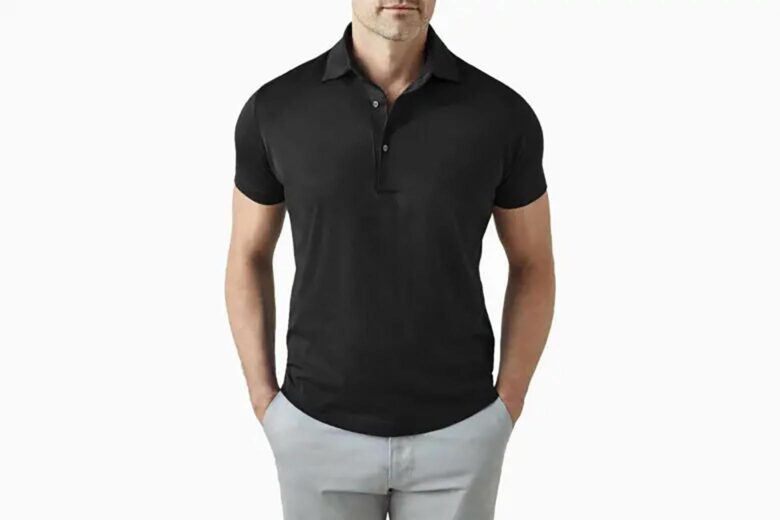 You want good looks? An ultra-comfortable fit? Versatility? There's one polo shirt that goes above and beyond in all three categories, and that's Luca Faloni's Silk-cotton polo shirt. The silk is produced by silkworms that feed exclusively on leaves from Mulberry trees. Mixed with cotton, this produces fibers with a level of softness that can't be overstated.
Pair this polo with shorts and luxury sneakers, and you're ready for a sharp-looking casual rendezvous. Match it with slacks, and you're all set for a night of fine-dining. It just doesn't get much better than this.
| | |
| --- | --- |
| Best for: | Wanting it all and getting it. |
| Colors: | Black, Light Blue, Nocciola Brown + More |
Under Armour: Best value men's polo shirt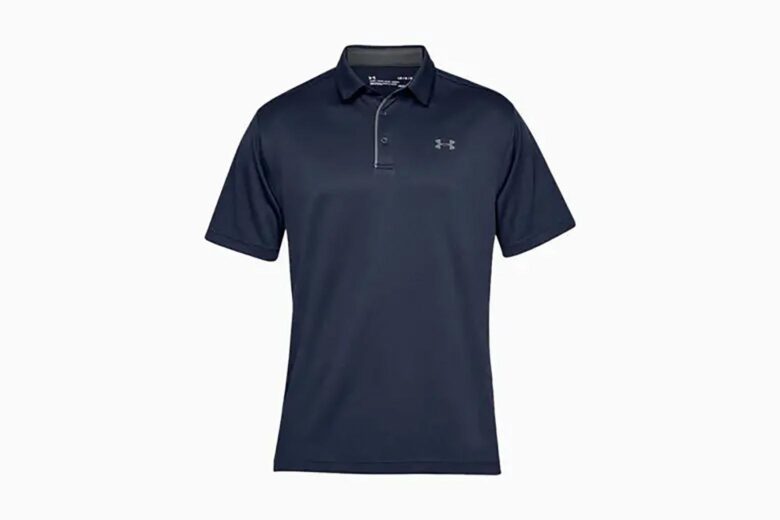 Built for durability and athletic endeavors, Under Armour's Tech Golf Polos look surprisingly fashionable, especially for their price. The material wicks moisture like a boss and dries at double-time speeds, meaning you can finish eighteen holes in the summer sun and be comfortable enough to sit with your buddies by the time you get back to the clubhouse.
| | |
| --- | --- |
| Best for: | Staying cool as a cucumber on the back nine. |
| Colors: | Midnight Navy, Red, Green Citrine + More |
Tom Ford: Best high-end polo shirt for men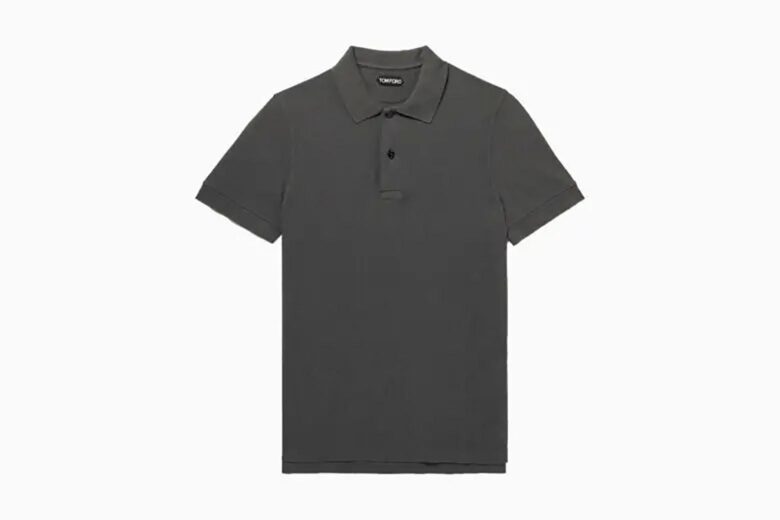 Sporting a classic polo shirt cut, this Tom Ford's Polo Shirt does double-duty not only as a handsome bit of outerwear, but it's also a very cool and comfortable summer-ready shirt. Pair this with some beige pleats or shorts and white sneakers, and you've got an eye-catching combination ready to go.
| | |
| --- | --- |
| Best for: | Bringing a calming classic look to the hectic modern world. |
| Colors: | Charcoal, Blue, Black |
Sunspel Riviera: Best men's polo shirt for summer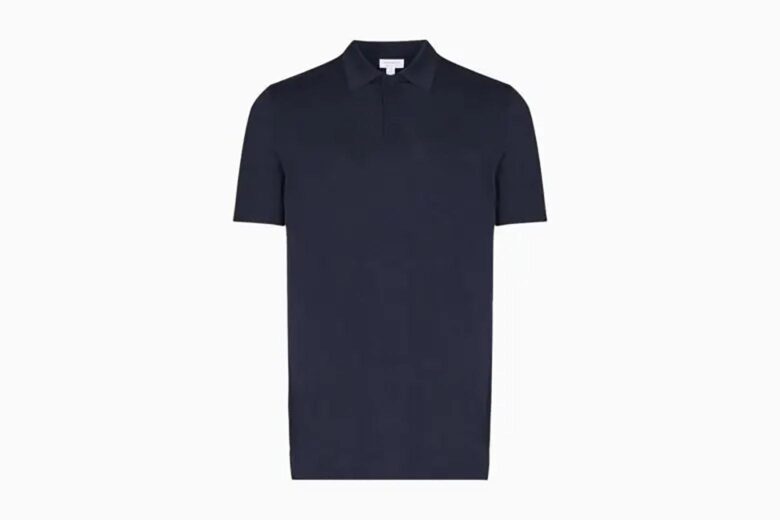 If you're on the prowl for the James Bond polo shirt brand, you've found it. Designed for Daniel Craig in Casino Royale, Sunspel's Riviera polo shirt features a slim fit and short sleeves to show off what you've been working on in the gym. Additionally, the Riviera is tailored with lightweight cotton, so you'll be able to stay cool as a martini on the rocks. Shaken, not stirred, naturally.
| | |
| --- | --- |
| Best for: | Staying (and looking) cool under the hottest conditions. |
| Colors: | Blue |
Axel Arigato Signature: Best long-sleeve polo for men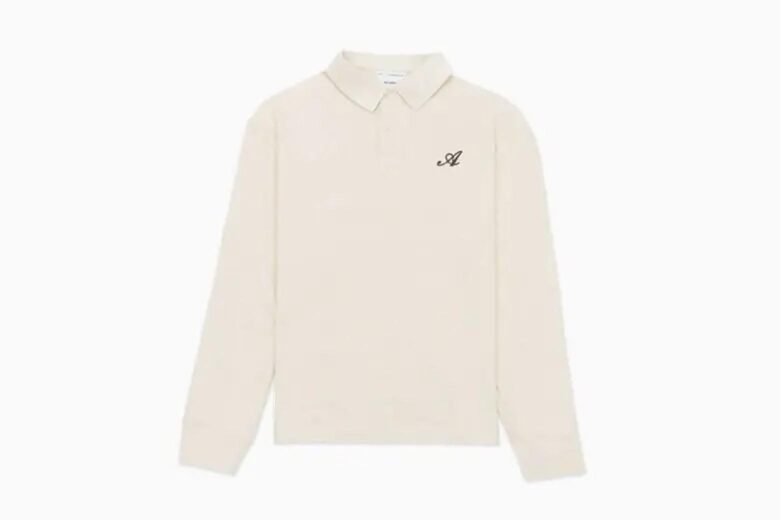 Looking for a launching point for your entire outfit? We'd suggest Axel Arigato's Signature Polo. Tailored in a gentle monotone, this long-sleeve polo shirt allows you to mix and match legwear, footwear, hats, and eyewear to your heart's colorful content. The full skin cover provided by this polo is also ideal if you're going to be spending hours out under the summer sun.
| | |
| --- | --- |
| Best for: | Providing a firm foundation for easy color exploration. |
| Colors: | Pale Beige |
Luca Faloni Elba: Best men's lightweight polo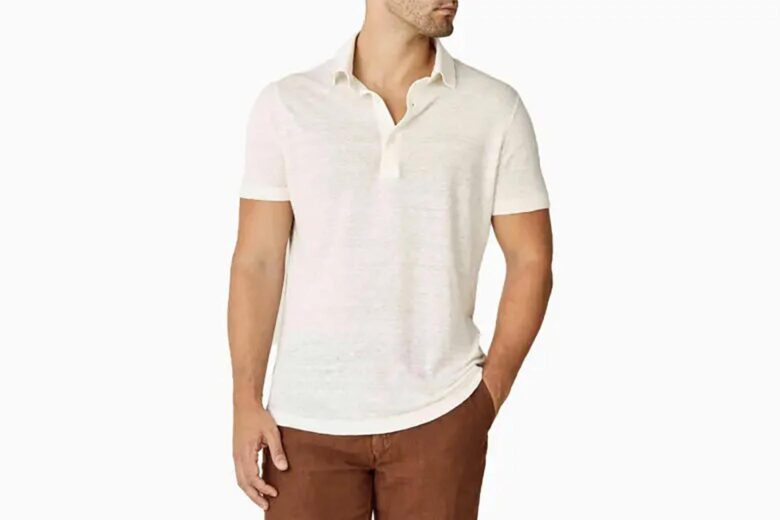 Luca Faloni's Elba is just a straight-up sharp-looking polo shirt. It also happens to be perhaps the very best linen polo around. Being tailored from linen means it's going to feel lightweight and cool, but Luca Faloni goes the extra mile by treating the fabric with aloe to make the shirt extraordinarily soft.
| | |
| --- | --- |
| Best for: | Joyful softness with a big fashion kick. |
| Colors: | Cream, Navy Blue, Peach + More |
Adidas Ultimate365: Best men's polo shirt for traveling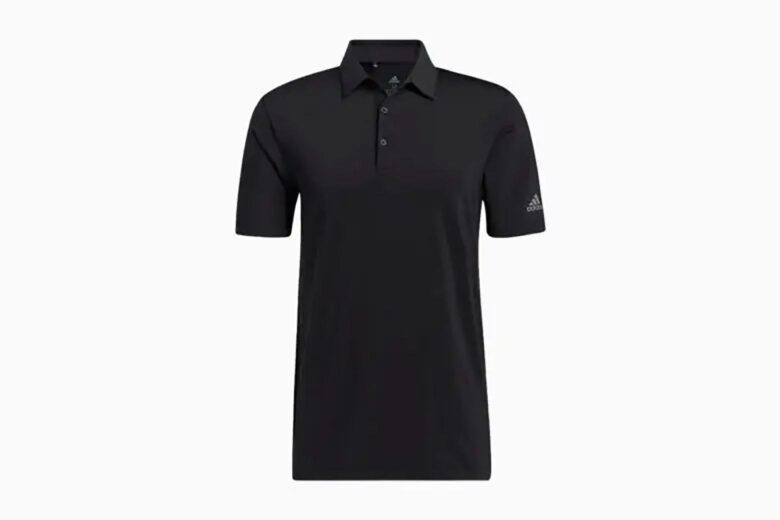 If you're constantly on the move but still like to hit the local links whenever you can, you're going to want a shirt that can take some rough handling and still looks like it just came off the rack. Adidas' Ultimate365 Solid Polo Shirt fits the bill—it's breathable, stretches nicely, and is easily washable.
| | |
| --- | --- |
| Best for: | Snagging some swing time while you're on the road. |
| Colors: | Black, White, Crew Navy |
Officine Générale: Men's best polo work shirt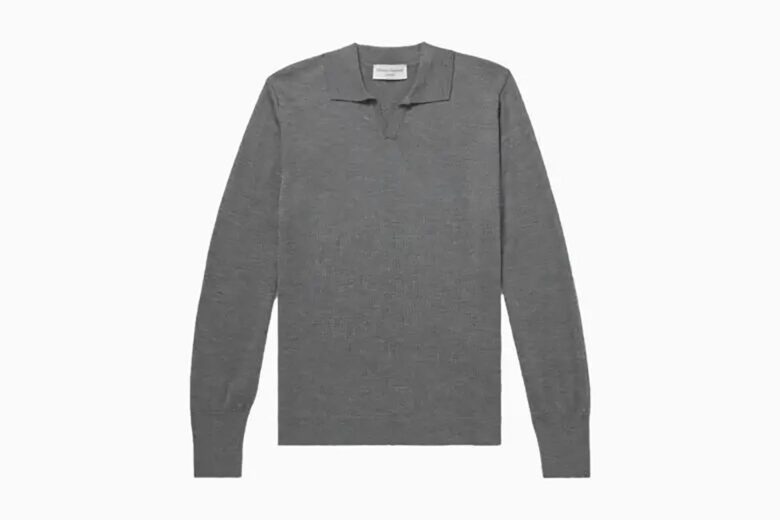 A little more conservative than many of our other entries on this list, Officine Générale Virgin Wool Polo Shirt is more suited for a day at the office than on the links. A gentle grey with a broad collar and shirt V-cut at the neck, this polo in particular, will look great under your favorite jacket or coat. 
| | |
| --- | --- |
| Best for: | Bringing handsome good looks to your business. |
| Colors: | Gray |
Zegna: Best men's designer polo shirt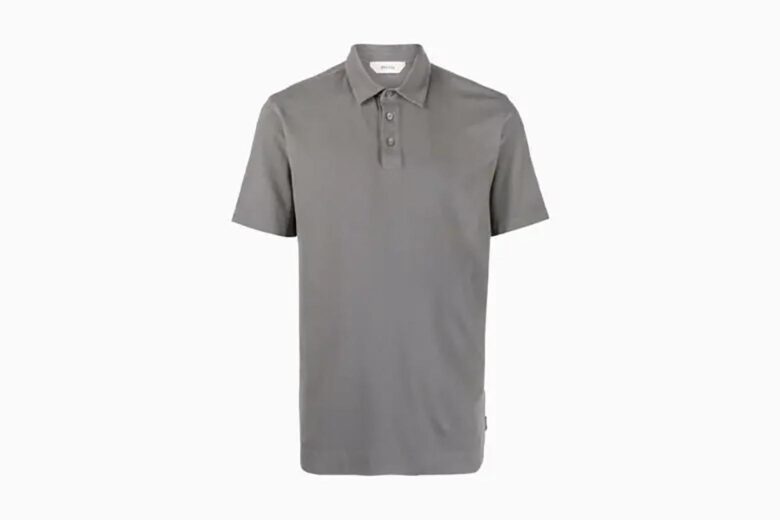 Sporting a fairly old-school cut, Zegna's Short-Sleeve Polo Shirt is going to work wonders as a base for the construction of a whole outfit. Dressy in its own right, this polo will add a bit of casual relaxation to work pants and shoes. On the other hand, it will add a touch of class to your jeans and work boots or sneakers. Either way, you're going to be looking like you have a fine sense of fashion.
| | |
| --- | --- |
| Best for: | Playing well with your other accouterments. |
| Colors: | Black, Pink, Gray + More |
Carhartt Work Polo: Most durable men's polo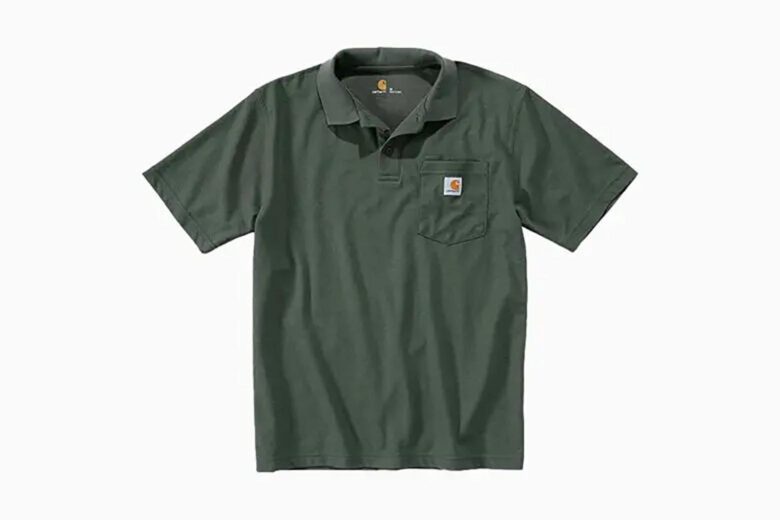 Heading to the work site? Want to look like you have yourself together? Nab yourself a couple of Carhartt's Contractors Polos. Looking like golf polo shirts, made from polyester and cotton, these Carhartt's polos are built to take whatever your work day can throw at it while leaving you looking like you're in charge of the situation.
| | |
| --- | --- |
| Best for: | Adding fashion sense to the work site. |
| Colors: | Moss, Dark Cobalt Blue Heather, Heather Grey + More |
Nike Dri-FIT Vapor: Best moisture-wicking polo shirt for men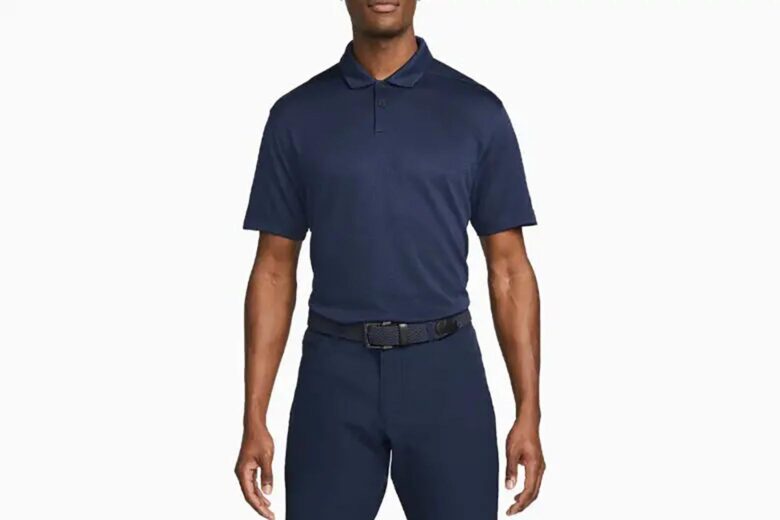 It's right there in the name. Nike's line of Dri-FIT shirts are designed to keep you dry during the sweatiest of activities. Inspired by classic Argyle patterning, Nike's Dri-FIT Vapor is a sharp-looking golf polo whose good looks don't diminish the top's benefits as a solid piece of activewear. Pull on a Vapor and hit the links with both confidence and style.
| | |
| --- | --- |
| Best for: | Staying cool while put under pressure. |
| Colors: | Obsidian, Washed Teal, Black |
NikeCourt Dri-FIT: Best men's performance polo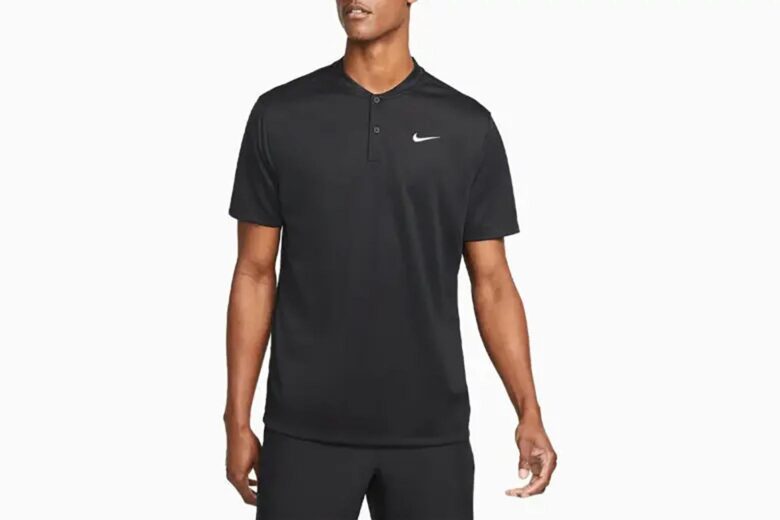 If you're heading to the tennis court you're going to want a top that lets you keep your eye on the ball. The NikeCourt Dri-FIT fits the bill nicely. Its 100% recycled polyester tailoring allows for a free range of movement and reduces the impact of sweat as a distraction. Additionally, the short blade collar won't flap up or rub against your neck, leaving you able to concentrate on your game, set, and match.
| | |
| --- | --- |
| Best for: | Serving up Forty-Loves all day without distractions. |
| Colors: | Black, Obsidian |
Hugo Boss Slim-Fit: Best casual polo for men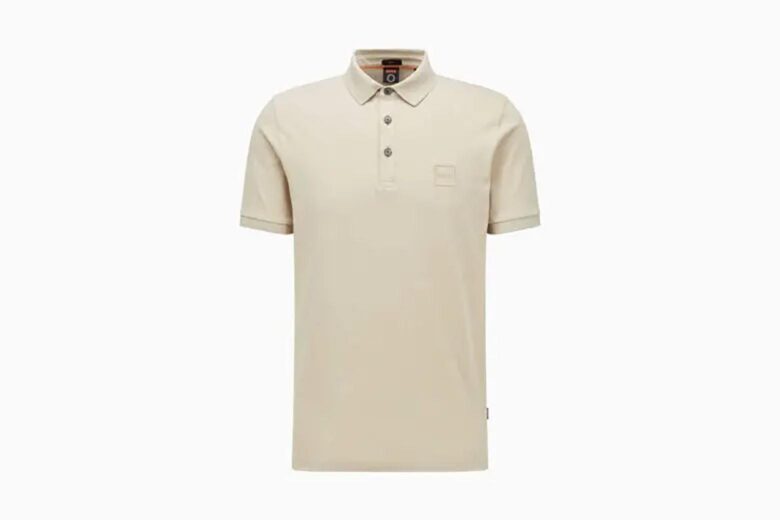 With "Hugo Boss" on the label you know you're going to be treated to a good-looking, well-made top. The Hugo Boss Stretch-Cotton Slim-Fit Polo is certainly no exception, offering up a form-hugging and very soft polo top that does a dandy job of showing off your physique.
This polo also fits the bill for those who prefer their clothing to be environmentally conscious and ethically sourced: it is made from at least 60% sustainable materials, and the cotton is 100% rain-fed, so it doesn't suck up valuable extra water from the African landscape.
| | |
| --- | --- |
| Best for: | Being fashion-conscious while having a conscience. |
| Colors: | Light Beige, Orange, Pink + More |
Brunello Cucinelli: Best dressed up men's polo shirt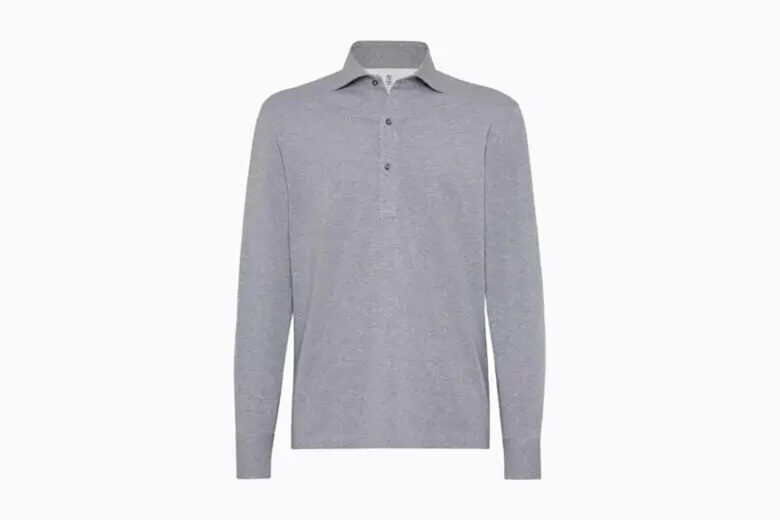 You want class, you want dignity, you want respect? Then you want this collared polo designed by Brunello Cucinelli. Sometimes we just want to scream, "Just look at it!", and this is definitely one of those times. A long-sleeved fit combined with an easy-on-the-eyes gentle grey coloring make this a top-tier choice for dressing up for a night out.
| | |
| --- | --- |
| Best for: | Upping your Handsome Factor by a factor of one thousand. |
| Colors: | Medium Grey |
Nike Tiger Woods: Best men's polo shirt for golf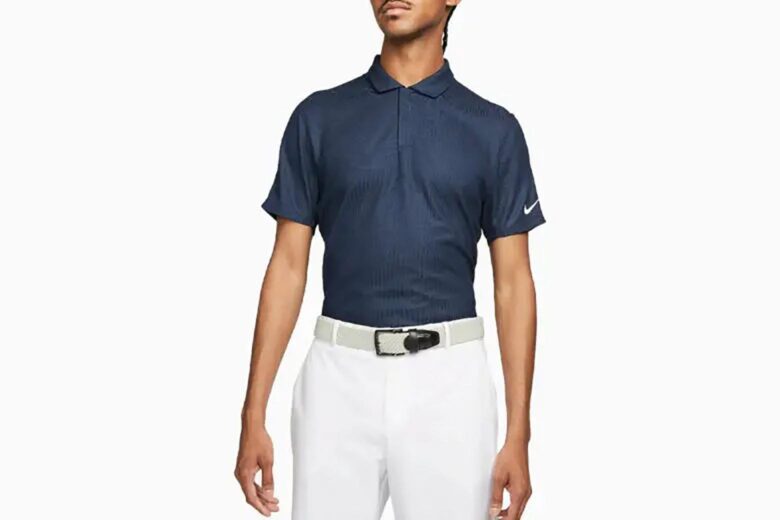 When you're trying to send a long one down to the green the last thing you want is a sweaty shirt clinging to you. It will restrict your range of motion, feel gross, and look less than dignified. It's a real problem. Nike's Dri-FIT Tiger Woods Polo is the solution. Tailored for hot summer days on the course, the Tiger Woods polo is very breathable and stretches nicely to allow you to get off your full swing.
| | |
| --- | --- |
| Best for: | Putting in your best performance for a full 18 holes. |
| Colors: | Obsidian |
Incotex: Best-fitted men's polo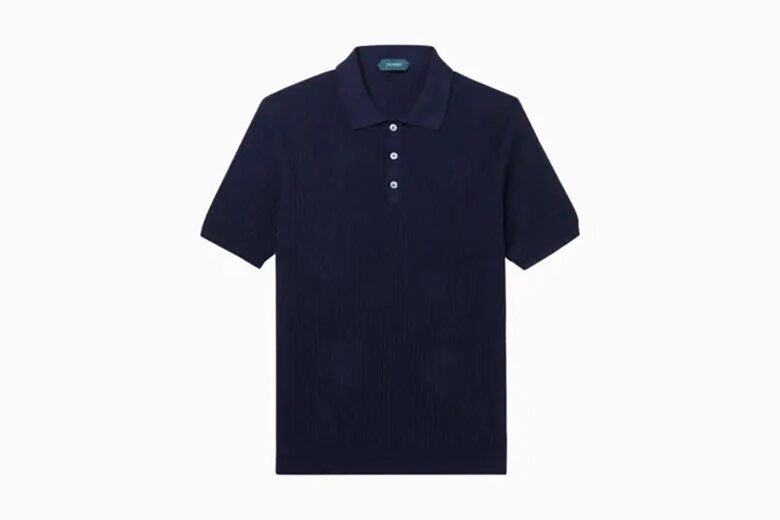 If you're looking for a classy polo that's going to last you a long time, we'd suggest you give Incotex's Slim-Fit Textured-Cotton Polo a look. Incotex's slim-fit polo tees feature a textured ribbed stitch, giving them a distinct enriched look and feel. The care that Incotex puts into its tailoring means this cotton polo shirt should be a handsome mainstay of your wardrobe for a long time to come.
| | |
| --- | --- |
| Best for: | A timeless look that won't wear out. |
| Colors: | Navy, Gray, Blue |
Hugo Boss Slim-Fit Polo With Zip Placket: Best men's polo with zipper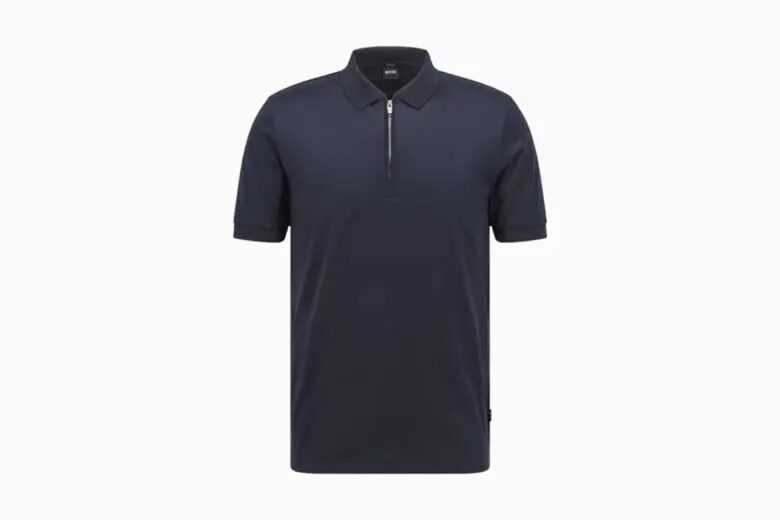 An update on a classic. While Hugo Boss' slim-fit polo with zip placket stays true to the polo shirt's classic lines, it brings a modern touch with the zipper extending down from the collar. Match this polo with a modern-cut blazer and trouser combination to stand out from a traditional crowd.
| | |
| --- | --- |
| Best for: | Blazing your own polo path. |
| Colors: | Dark Blue, White, Black |
Adidas Freelift: Best tennis polo shirt for men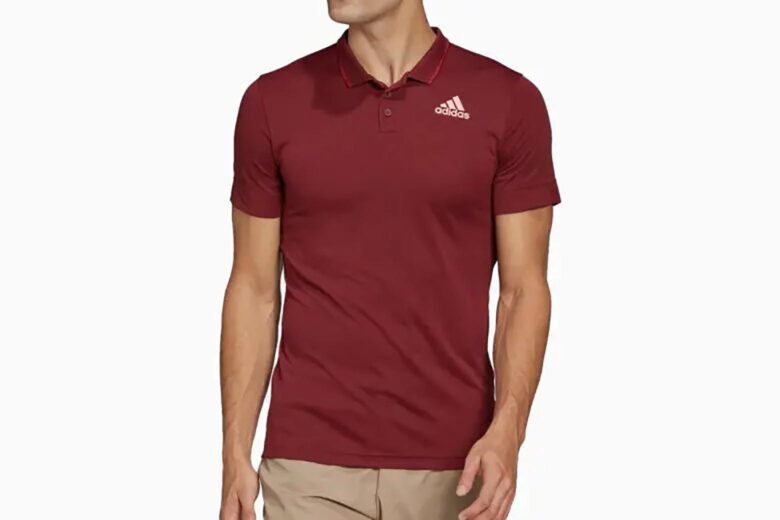 Adidas went back to the drawing board in an effort to come up with a polo that really performs on the tennis court. The result? The Adidas Tennis Freelift polo. Their FreeLift design lets you get your arms extended above your head without tugging up the back, so you're not having to constantly pull it back down. Coupled with HEAT.RDY fabrics (designed to manage body heat), this a great top to take to the courts.
| | |
| --- | --- |
| Best for: | Staying distraction-free as you tear up the tennis court. |
| Colors: | Burgundy, White, Altered Blue |
Robert Graham Coconut Grove: Best polo shirt with motifs for men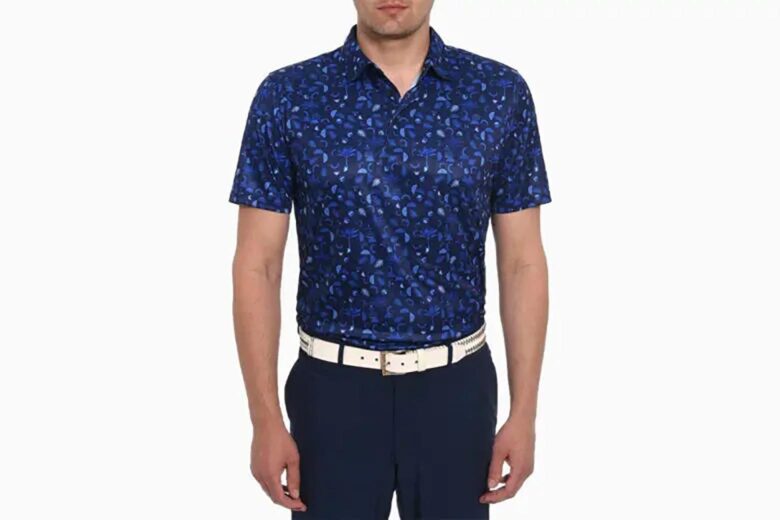 Let's step into the realm of wearable art. Robert Graham's Coconut Grove Performance Polo strikes just the right balance between playful and understated. The print itself is fun and nicely laid out, but the color palette doesn't ever threaten to overpower the classy feel of the top as a whole. Pair this with a nice set of pleats, and you're all set for an art gallery exhibition, or an evening at a jazz club.
| | |
| --- | --- |
| Best for: | Livening things up without drowning them out. |
| Colors: | Navy, White |
Amazon Essentials: Best budget polo shirt for men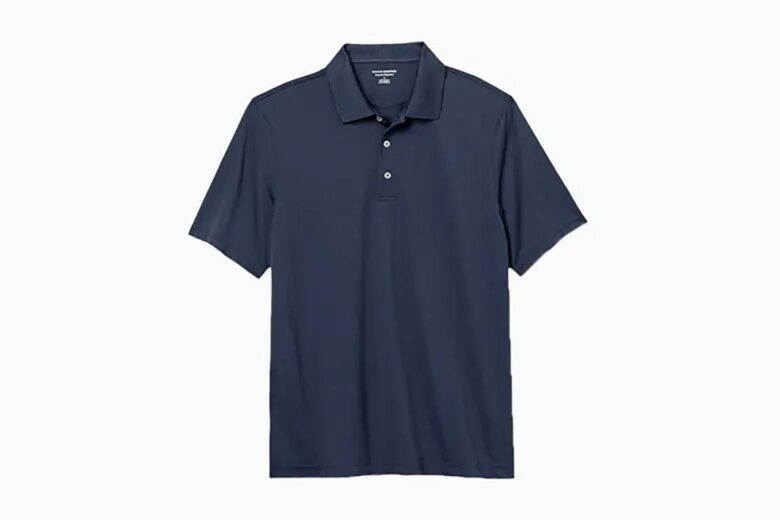 What's cool about the Amazon Essentials line is that they are, in effect, designed by the people for the people. The Essentials line is based on customer feedback, which means that the Amazon Essentials Quick-Dry Golf polo shirts have been built upon a foundation of comments made by regular golfers. Movement, sun protection, moisture wicking… they've all been Quality Controlled by thousands of men golfing their way through the real world.
| | |
| --- | --- |
| Best for: | Benefiting from the experience of thousands of golfers. |
| Colors: | Dark Navy, Red, Royal Blue + More |
Balmain: Most expensive polo shirt for men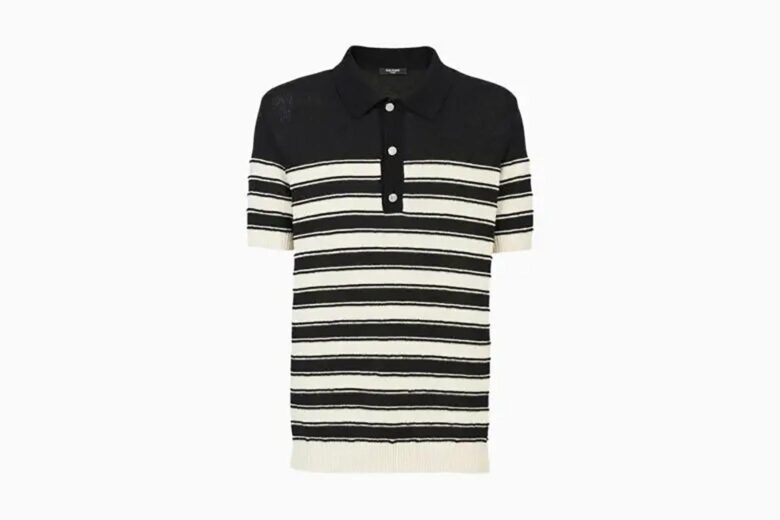 Lunch at the clubhouse. Drinks on the porch. Dinner on the patio overlooking the lake. You're looking for that perfectly balanced polo, something that says "relaxed" on one side and "dapper" on the other.
Balmain's striped cotton polo is the perfect blend of casualness mixed with a smart presentation. The snap-button closure allows you to play with how laid-back you want to look: the more buttons you undo, the more serene you'll seem. Or go the other route and match this polo with a good-looking blazer to raise the level of your formality. The choice is yours.
| | |
| --- | --- |
| Best for: | Serene socializing across multiple scenarios. |
| Colors: | Black and White |
Frequently asked questions about men's polo shirts
Which brand is best for polo shirts?
If you're going to be doing something athletic, try polo shirts like the NikeCourt or Adidas' Freelift, which are designed to keep you cool and offer a full range of movement. If you're looking for dressy polo shirts, look into designs by Brunello Cucinelli or Luca Faloni. Check our list of the best men's polo shirts for more inspiration.
Which is the best polo T-shirt?
If you are looking to wear your polo for a night out and you want to look classy, try Tom Ford's polos. If you're going to be playing golf or tennis, then we'd recommend you try out Nike's Tiger Woods polo or the Adidas Freelift. Check our list of the best men's polo shirts for more inspiration.
What brand of polo shirt does James Bond wear?
Sunspel's Riviera polo shirt was designed specifically for Daniel Craig to wear during his debut as James Bond in Casino Royale.
Are men's polo shirts in style?
Yes, men's polo shirts are absolutely in style. In fact, men's polo shirts are proving themselves to be an evergreen fashion, meaning they never seem to fall out of favor. They've been a staple of the men's fashion scene since the early 1900s, and show no sign of growing stale.