Buying a new watch can feel a bit like entering a new and rather daunting country, complete with its own language, history, and culture. As you wander this new terrain, unsure of which of the best watches for men are worth your attention, you may need some pointers. We're here to give them.
If you're just starting out as an amateur watch collector, there are five different men's timepiece categories you should build your collection around:
A dress watch – to complement black tie or other formal attire. Typically understated and elegant.
A dive watch – to enhance your dive missions with practical and sometimes life-saving functions.
A smartwatch – like your smartphone but wearable.
A pilot watch (aviator watch) – originally for commercial or fighter pilots and a great choice for travelers.
A tactical watch or a field watch – durable and high-functioning. Tactical watches are heavy-duty and serious. Field watches have a slightly retro aesthetic.
Bonus: a racing watch (chronograph), a digital watch, or a pocket watch to complete your collection. All great options for men but not necessary essentials.
To make your search simpler, we've picked out best-selling men's watches for every taste, mood, and budget. From high-end big-ticket timepieces from the world's top luxury watch brands (does a Rolex tickle your fancy, perchance?) to practical purpose-built watches full of useful functions and features, we've got a timekeeper for you.
Pssst. We also have a round-up of the best watches for women if you need inspiration for a memorable gift or something for yourself.
In a rush? Here are the three most popular watches right now:
The 115 best men's watches
To facilitate your navigation, we've organized our list of the top watches for men by category:
Ready? Let's dive in!
1. Men's dress watches
Whether it's for a much-anticipated first date or a much-hyped black tie event, a dress watch has the power to take your outfit to new heights. These minimalist timepieces are some of the best luxury watches for men, designed to discreetly catch the eye from below your shirt cuff, working their magic without trying too hard. Designs can be traditional or boundary-pushing but in general, men's dress watches are a lesson in less is more. Check our in-depth guide on the best dress watches to see more options.
Nordgreen Native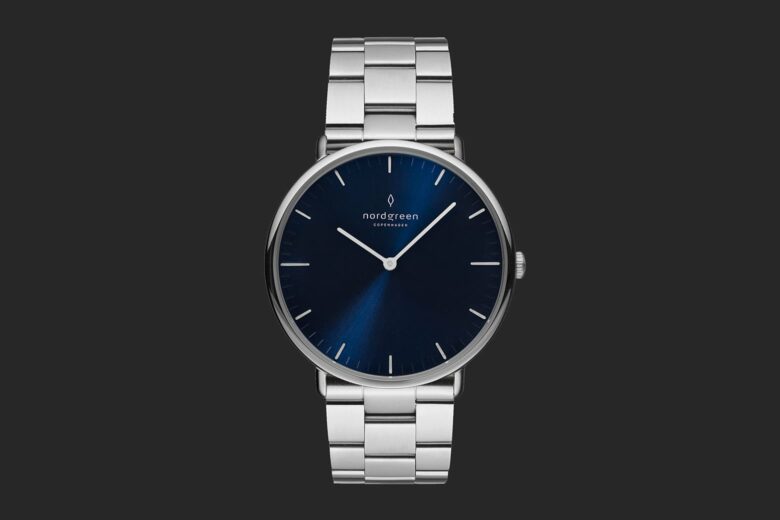 Danish watch brand Nordgreen makes popular watches for men and is creating waves in the watchmaking world with its collection of unfussy, affordable, and high-impact creations. Our favorite Nordgreen dress watch is The Native, designed by award-winning Scandinavian designer Jakob Wagner.
Expertly balancing form and function, and available in a range of sizes and colorways, there's also the option to order The Native with an extra strap so you can modify it according to your get-up on that particular day.
Junghans Meister Handaufzug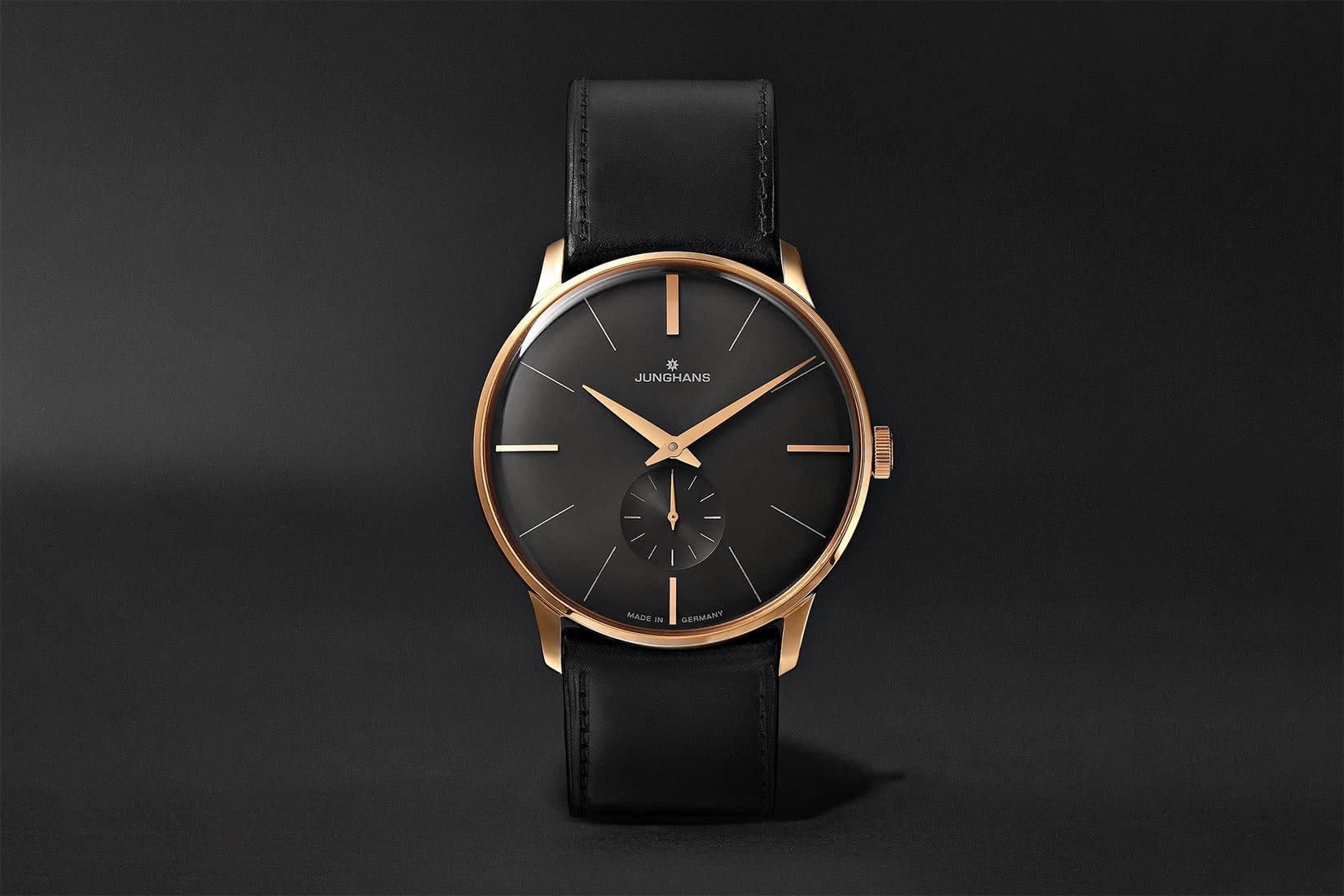 Junghans timepieces may be superbly elegant and luxurious but they also look good with a casual shirt and chinos for a sleek upgrade to your weekend warrior outfit. They're also some of the best built watches out there.
Our favorite Junghans dress watch is the Meister Handaufzug, one of the best hand watches around, adding a little bit of tradition to your timepiece collection. Winding this watch will become a ritual you look forward to doing regularly. And you won't find this timekeeper flaunting any over-the-top complications. Its pristine and pared-back dial features only a single subdial for more precise timings.
Vincero Icon Automatic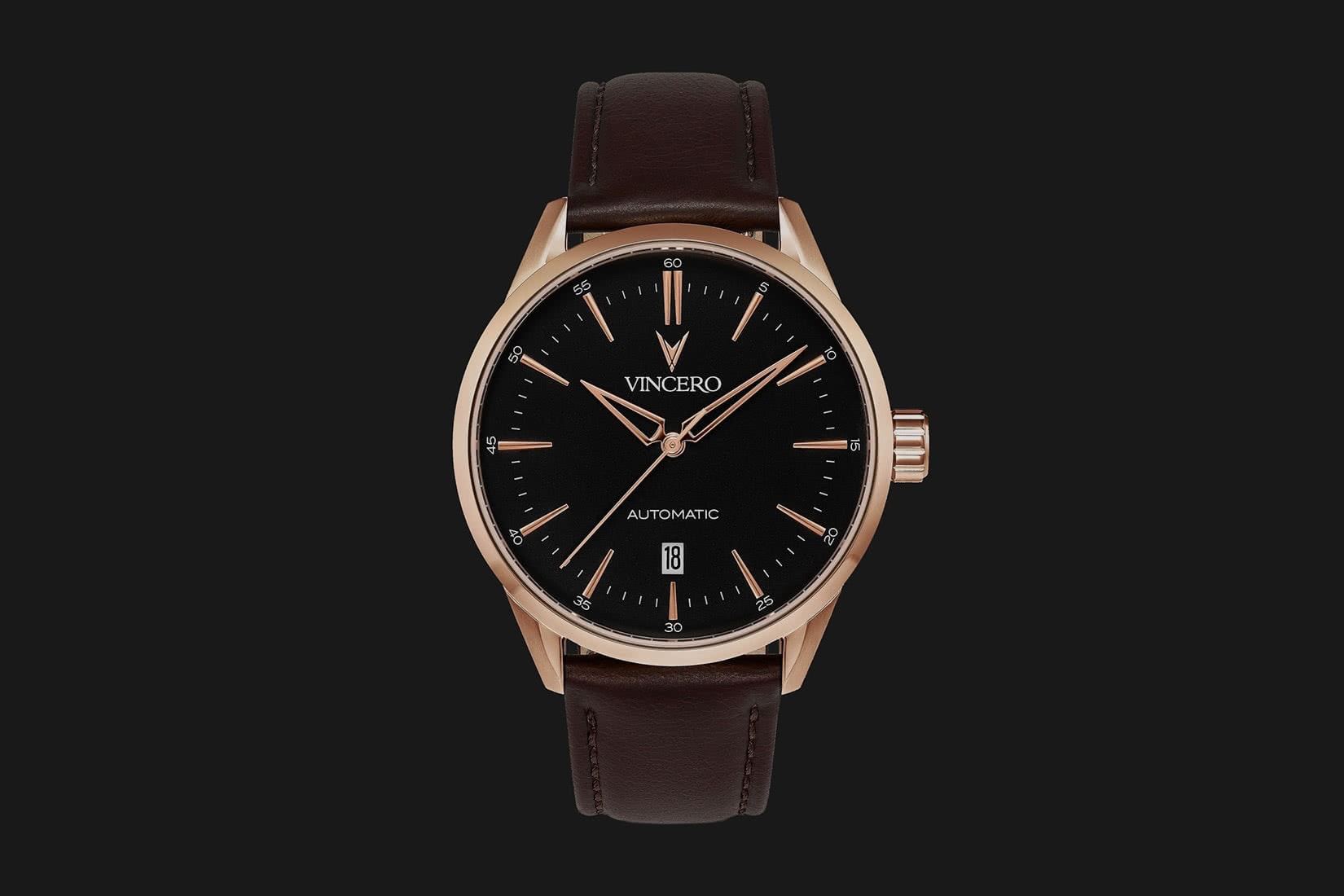 If you've got a black-tie event in the diary, you've probably already invested a substantial amount in your tux and various accouterments. You don't want the additional financial burden of a lavish timepiece. So opt for this affordable yet stylish dress watch from Vincero—the perfect wallet-friendly, fashion-friendly timekeeper.
Vincero is known for its affordable watches. While the Vincero Icon Automatic looks a lot like some of the world's most exclusive timepieces, you can pick one up for less than $100. Rose gold with a black dial and black strap is our favorite combination—but the choice is yours. Definitely one of the best watches under $500.
Montblanc Héritage Chronométrie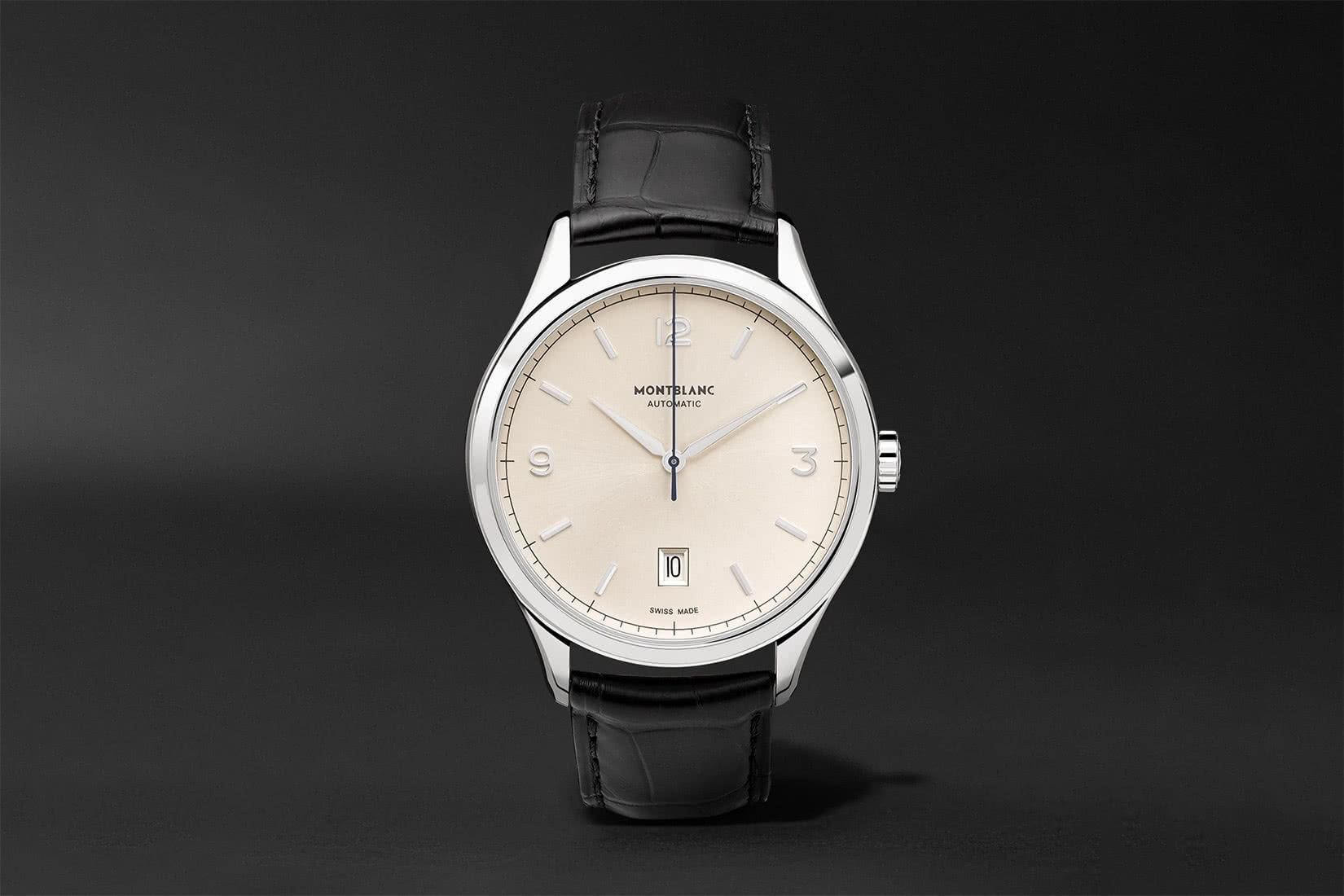 Forget bafflingly intricate complications and bling. True luxury means expert craftsmanship and minimalist glamour. Like this timepiece by Montblanc, one of the best watches for gentlemen who prioritize engineering and elegance. It only has an hour, minute, and seconds hand, as well as a small date display. But why would you need anything else when you're out schmoozing and boozing?
Rhodium-plated indices, numerals, and hands are lustrous and long-lasting while a black alligator strap contrasts beautifully with the silver. Take a look at the back of the Montblanc Héritage Chronométrie to see the complex mechanism at work.
Citizen Eco-Drive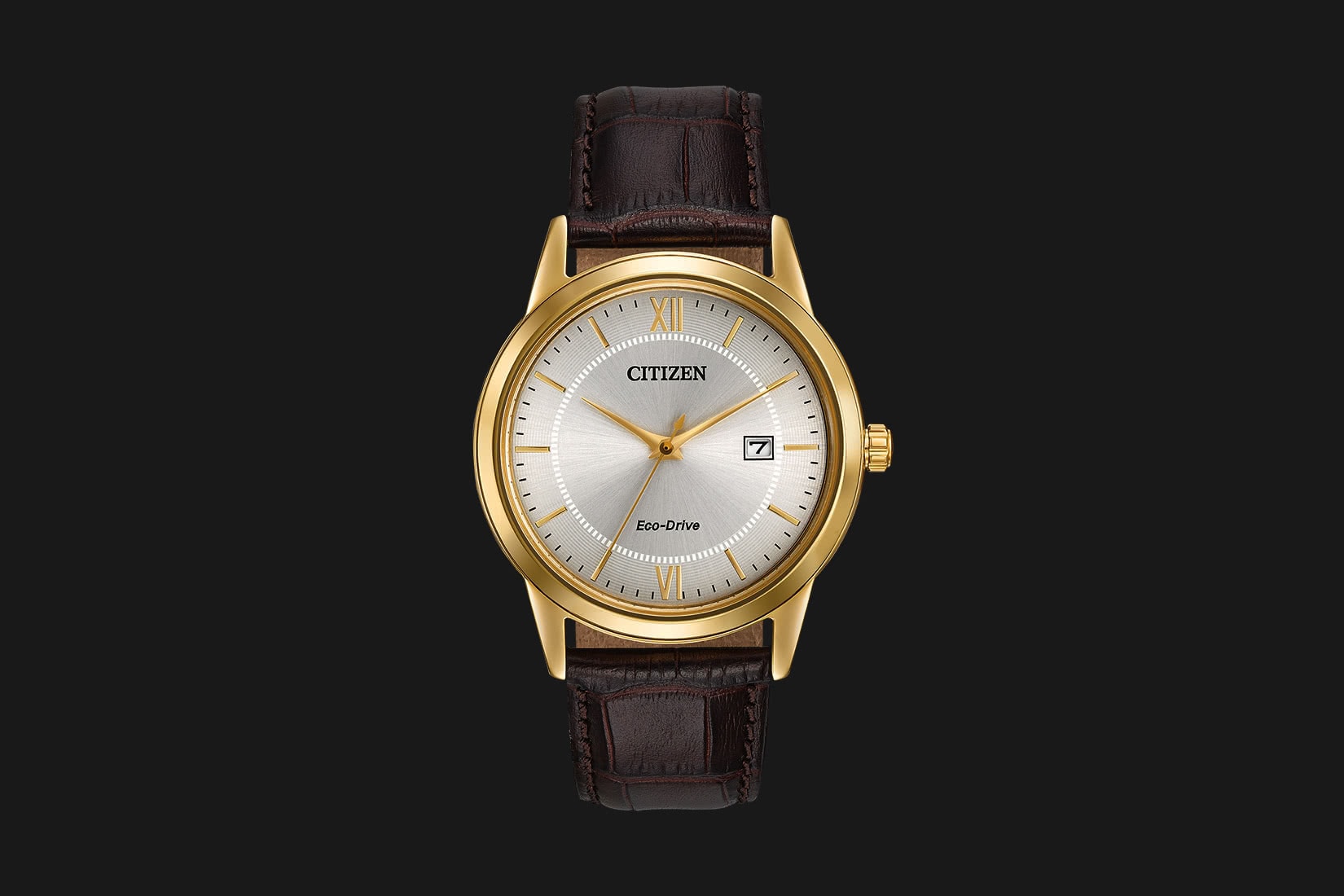 Sure, you won't get the prestige of a luxury Swiss watch brand with Citizen. But you will get some pioneering renewable technology, right on your wrist.
The Citizen Eco-Drive looks just like a classic dress watch at first glance. You've got a stainless steel case with a textured silver-tone dial, traditional Roman numerals, and stick hour markers.
But this watch is powered by the brand's proprietary Eco-Drive technology, aka light, both natural and artificial. No need to replace a battery ever again. And it can even run in darkness—ideal for after-dark parties.
IWC Portugieser Perpetual Calendar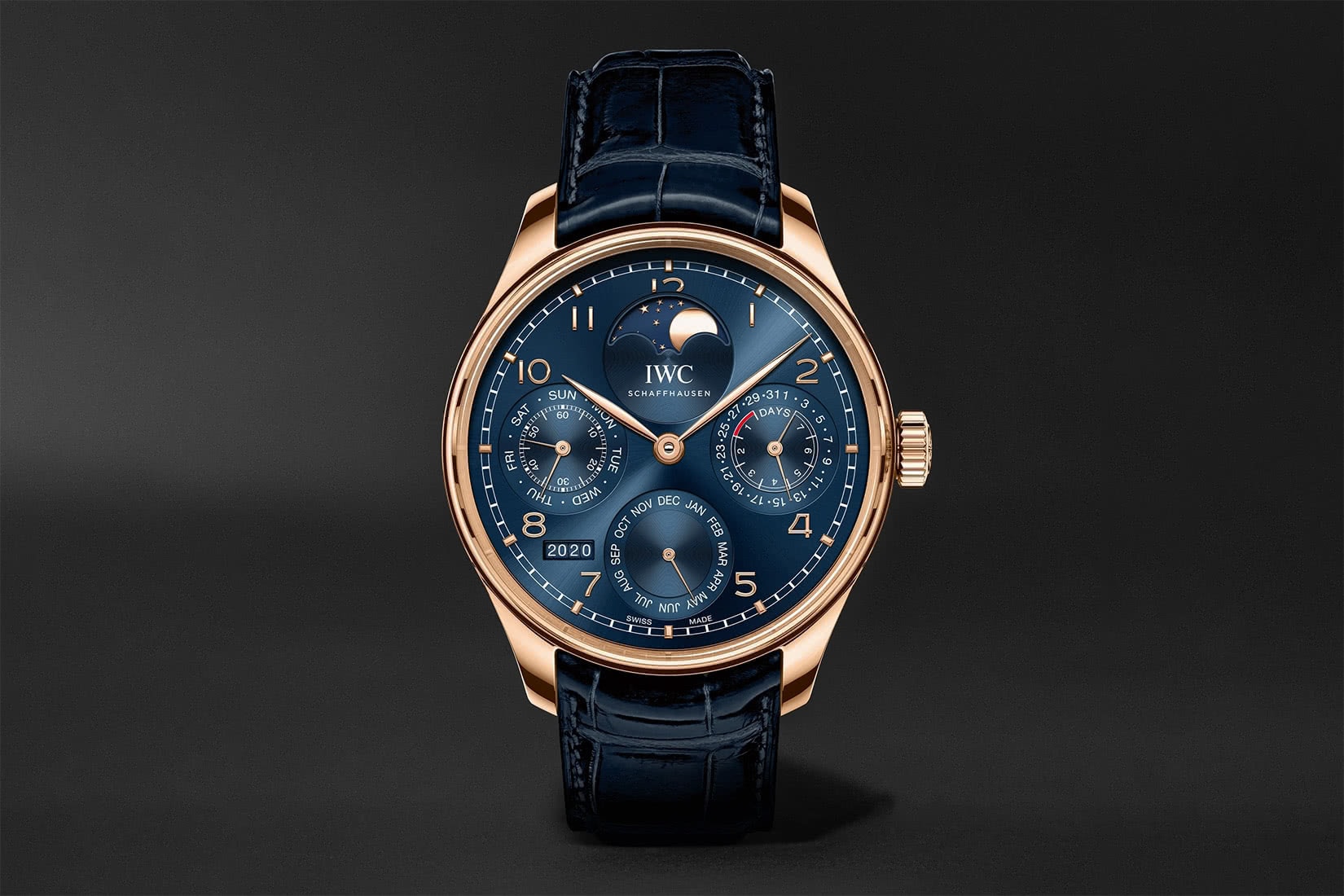 Even the least watch savvy among the party guests will be able to identify this IWC Portugieser Perpetual Calendar as a stand-out creation. It's clear from the get-go that this is a watch with some mega luxury credentials.
We're talking about an 18-karat gold case, a blue alligator strap, a blue dial, and, of course, a perpetual calendar, one of the world's most demanding complications. This IWC Portugieser has to be one of the most attractive men's watches out there. There's also a perpetual moon phase calendar so you can impress your lover by explaining the celestial situation.
Jaeger-LeCoultre Reverso Tribute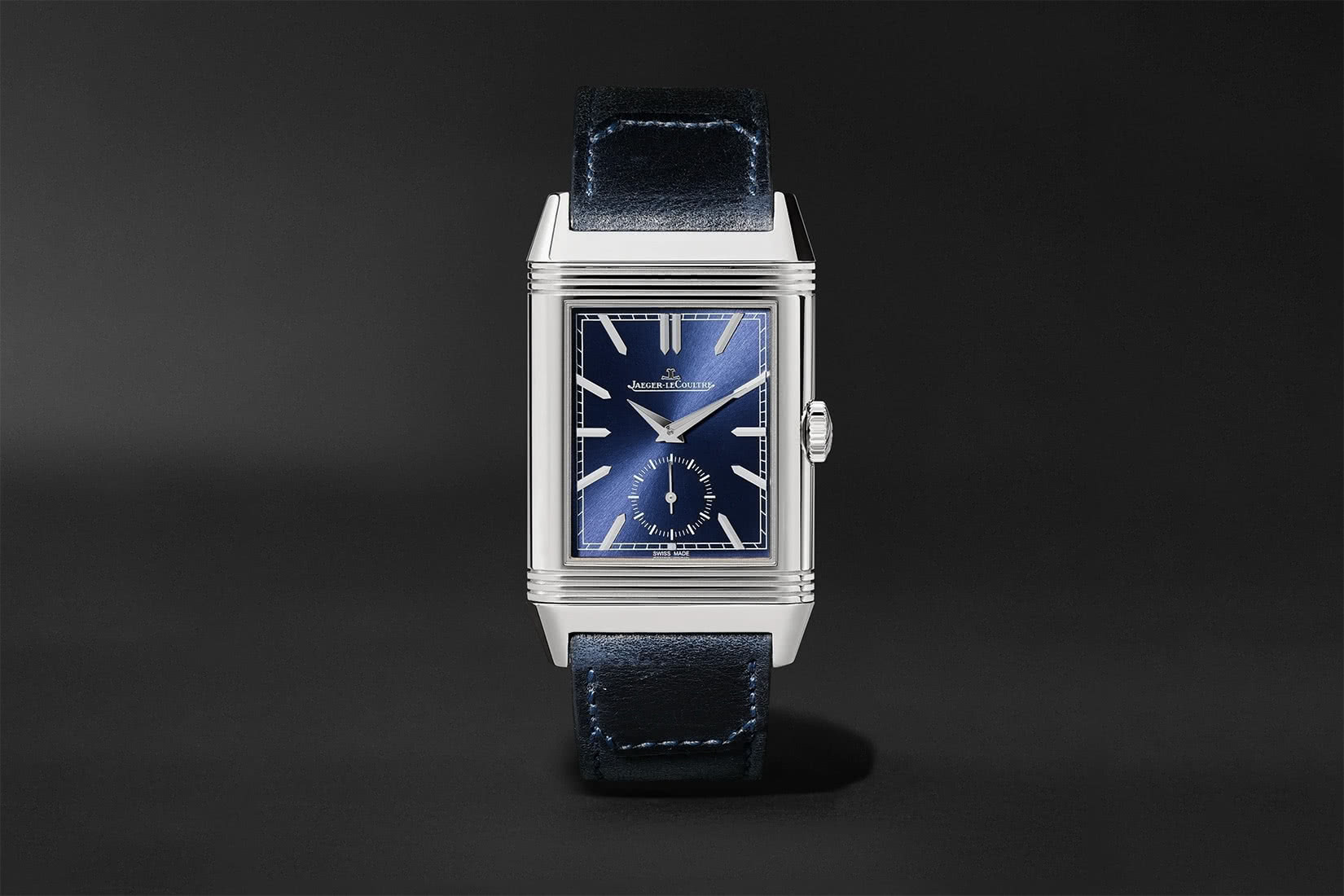 When Jaeger-LeCoultre first launched the Reverso back in 1985, everyone sat up in their seats. This was a watch like no other, with its unique Art-Deco style case and now-famous flip mechanism, allowing you to hide the face—in case of a spontaneous game of polo, perhaps.
A homage to that iconic timepiece, the Reverso Tribute is perfectly compact, making it a minimalist addition to your evening attire that's still elegant enough to catch the eye of discerning passersby, especially in that jewel-like shade of blue. Easily one of the best watches under $10,000.
Nordgreen Philosopher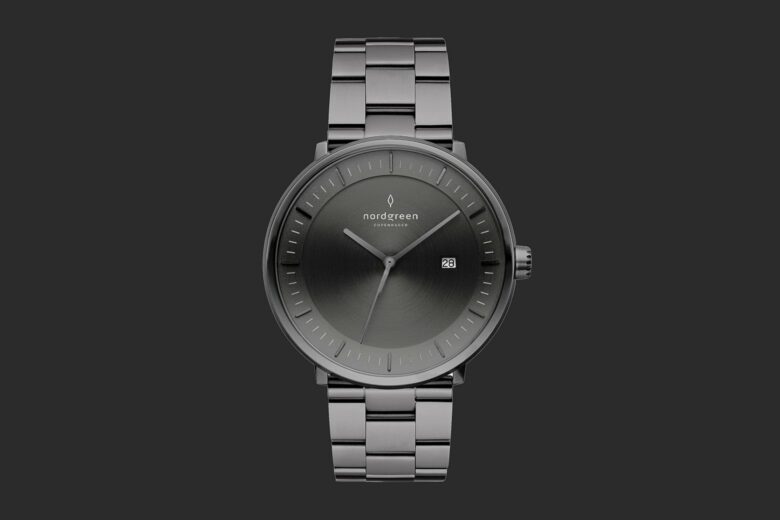 Uniting a commitment to ethical and sustainable business with affordability and a dash of creative flair, Nordgreen should be your go-to brand for a well-priced, eco-friendly, and stylish dress watch.
In particular, the brand's Philosopher timekeeper, one of the trendiest watches out there, and ideal for wearing to smart events and upscale parties with its quintessentially Scandinavian simplicity. Check out the unconventional asymmetrical second hand, resembling a knife that quite literally cuts through time.
Vacheron Constantin Traditionnelle Perpetual Calendar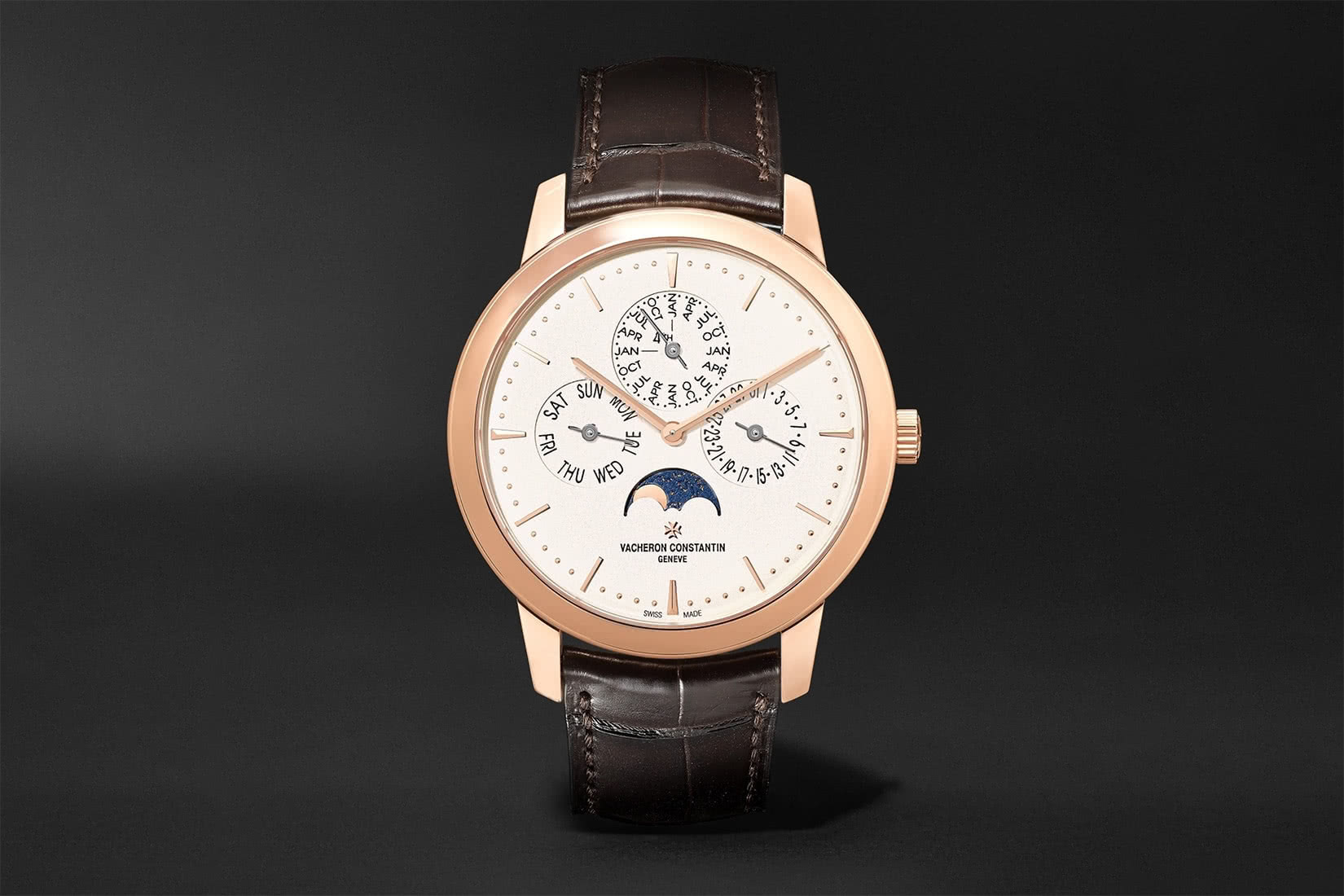 One of the world's oldest and most established watchmakers, Vacheron Constantin knows a thing or two about exceptional dress watches. Our favorite is the brand's Traditionnelle Perpetual Calendar with its masterfully crafted caliber 1120 QP, perpetual calendar, 48-month-counter with leap year indication, and moon phase indicator.
As the name suggests, this Vacheron Constantin watch is classic and conservative in style, with an 18-karat pink gold case and a silver opaline dial along with a brown alligator strap.
Timex Easy Reader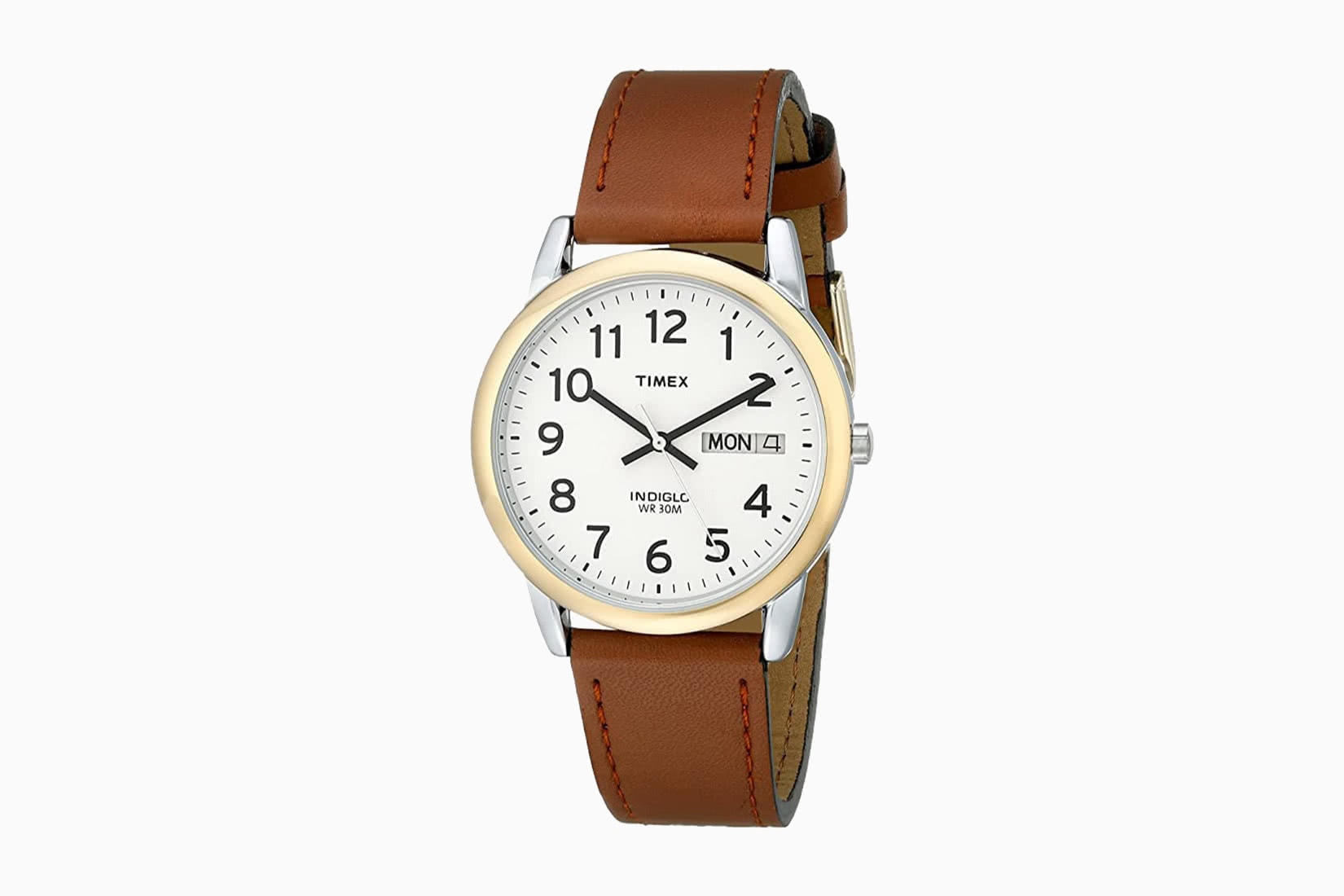 This Timex Easy Reader, with its impressive durability (including mineral glass crystal and a brass case), is the descendant of those Easy Readers that featured in televised 'torture tests', conducted by the brand to prove their watches could endure the most extreme scenarios.
But even if you just plan to take it easy with a few drinks among friends, this Timex watch delivers classic dress watch sophistication with its simple, elegant, and functional design. One the hunt for the best watches under $200? This one comes in at under $100. There's even an Indiglo backlight for checking the time unobtrusively in a particularly boring theatre performance.
Seiko 5 SNK793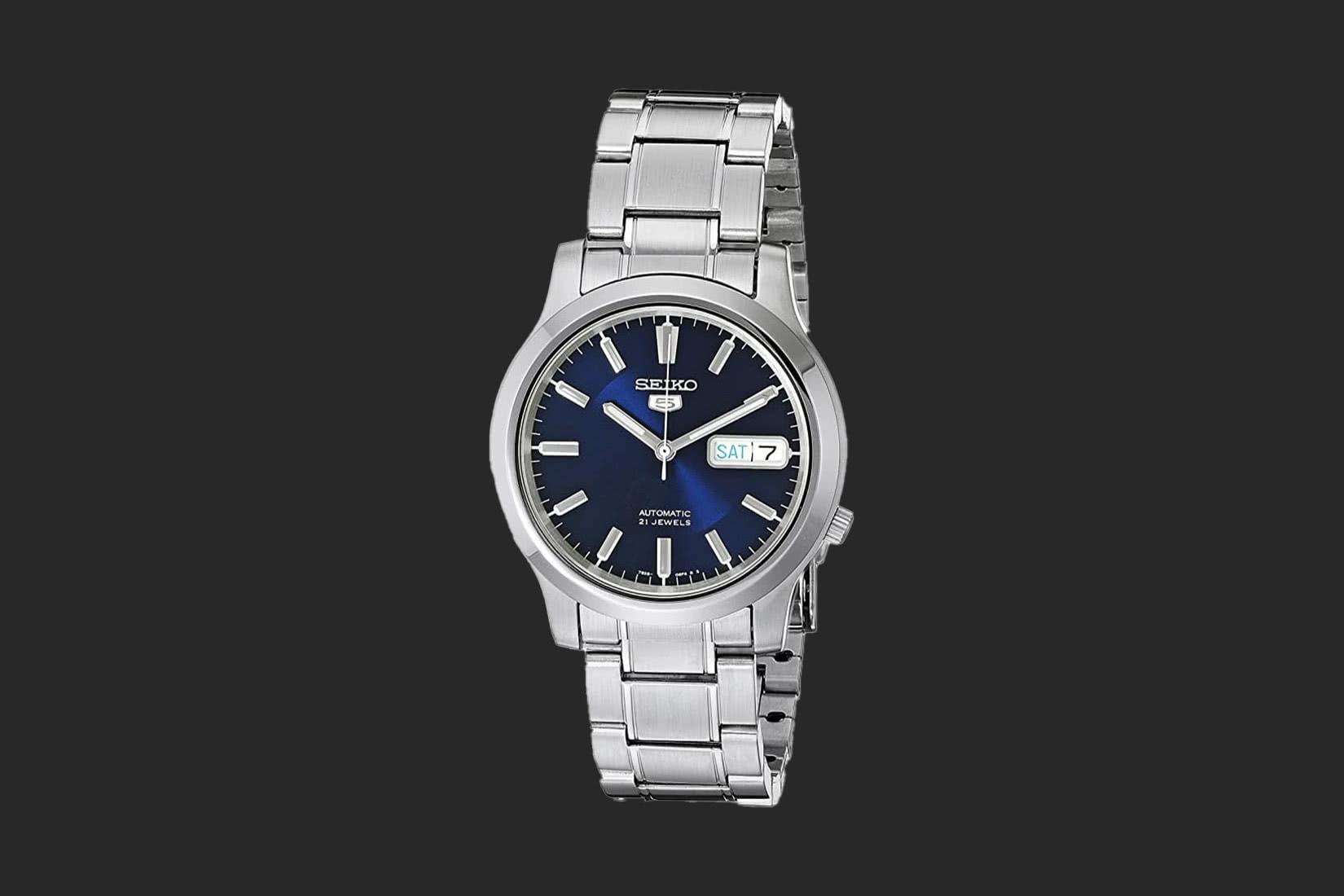 An air of dignity and distinction needn't come with a hefty price tag thanks to Seiko's high-quality dress watch. It will leave you with money to spare for your tux and other accessories.
Visually, the Seiko 5 delivers just the requisite amount of luxury with its stainless steel bracelet and vibrant blue dial. With its automatic movement, the SNK793 is also low-maintenance and reliable while water resistance to 30 meters will protect it against accidental splashes. A top contender for the best watch for the money.
Michael Kors Slim Runway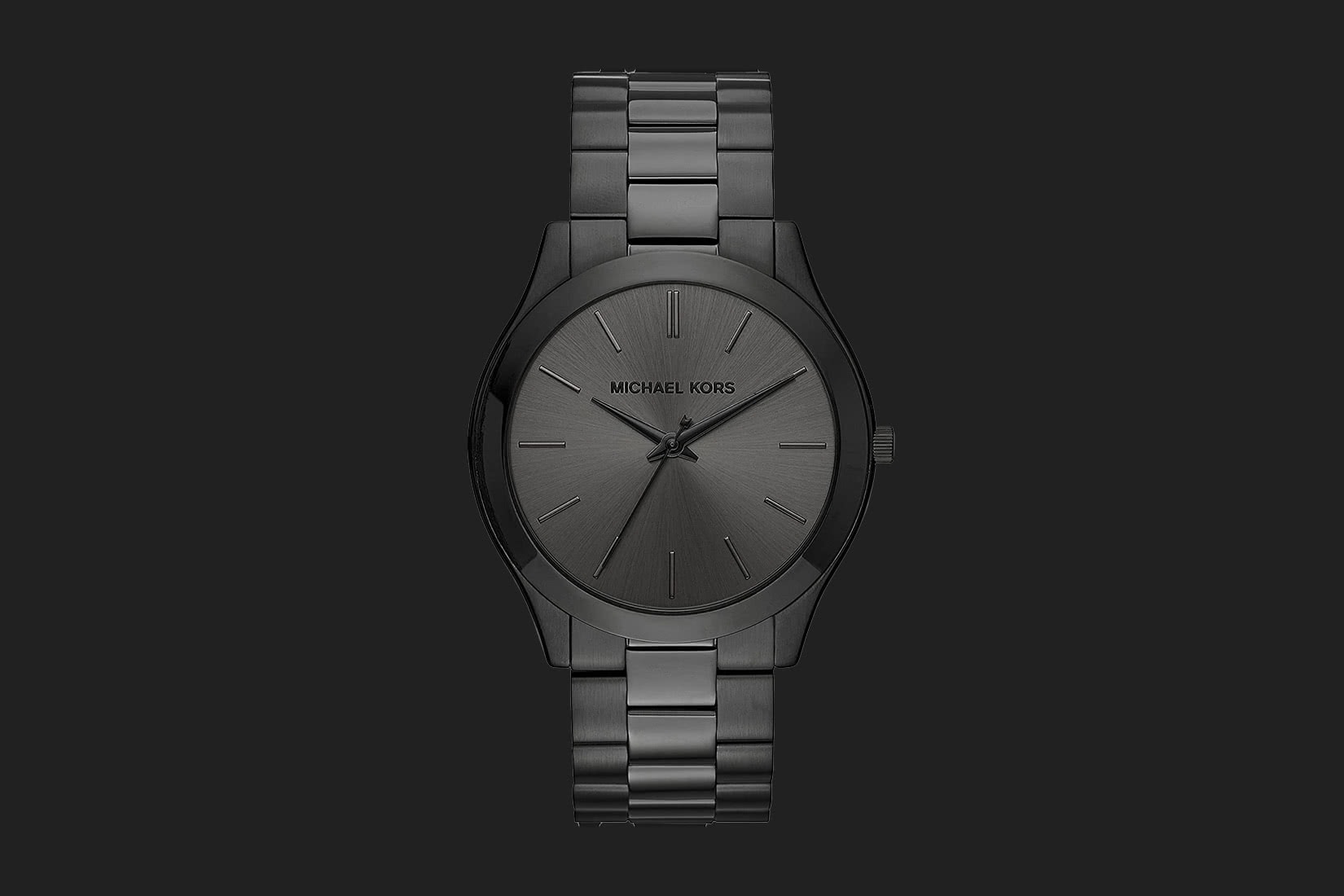 Designed by big-name fashion brand Michael Kors, and one of the best looking watches on our list, this slimline dress watch advances the timepiece style agenda with its eye-catching design that's here to set trends. Available in a range of colors (although our favorite is the stealthy and sophisticated black), it features a round sunray dial and a very slim 12mm case with a 44 mm dial, perfect for slipping under a dress shirt.
Scratch-resistant mineral crystal alongside a dependable quartz movement ensures the Slim Runway will last a long time, whatever night-time escapades you have planned.
Rolex Datejust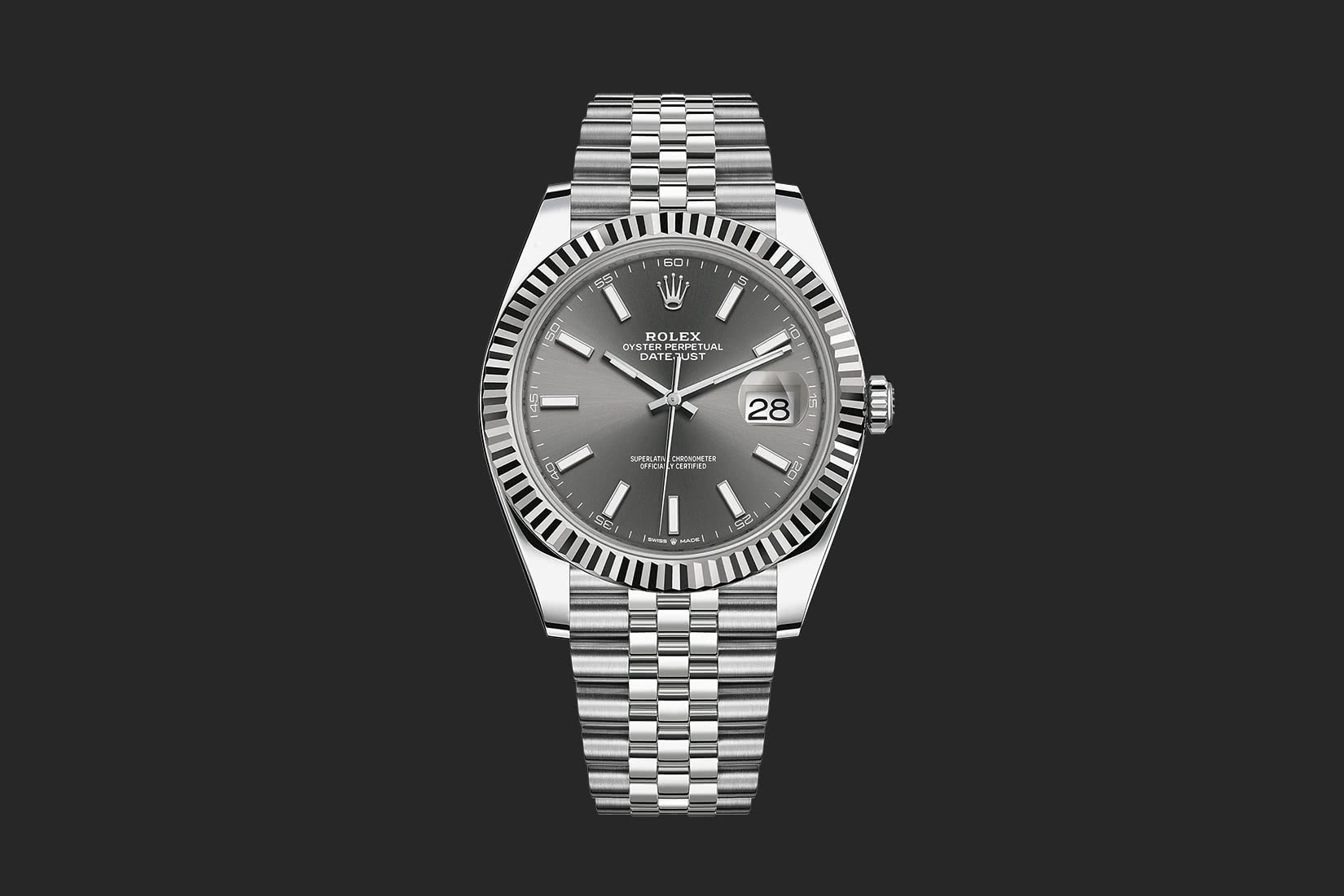 Few of us need much persuasion when it comes to the prospect of adding a Rolex to our collection. And the luxury label's best dress watch has to be the Datejust—a strong candidate for the best wristwatch for men out there.
The Datejust is pared-back and understated, which makes it wonderfully versatile. It would look just as good at a refined garden party as it would on the red carpet. The world's first self-winding watch, it combines exquisite styling with Rolex's renowned engineering and unparalleled functionality. It also makes for a great investment. Just take a list at our ranking of the most expensive Rolex watches of all time to see the steep price increase.
Nomos Glashütte At Work Metro Neomatik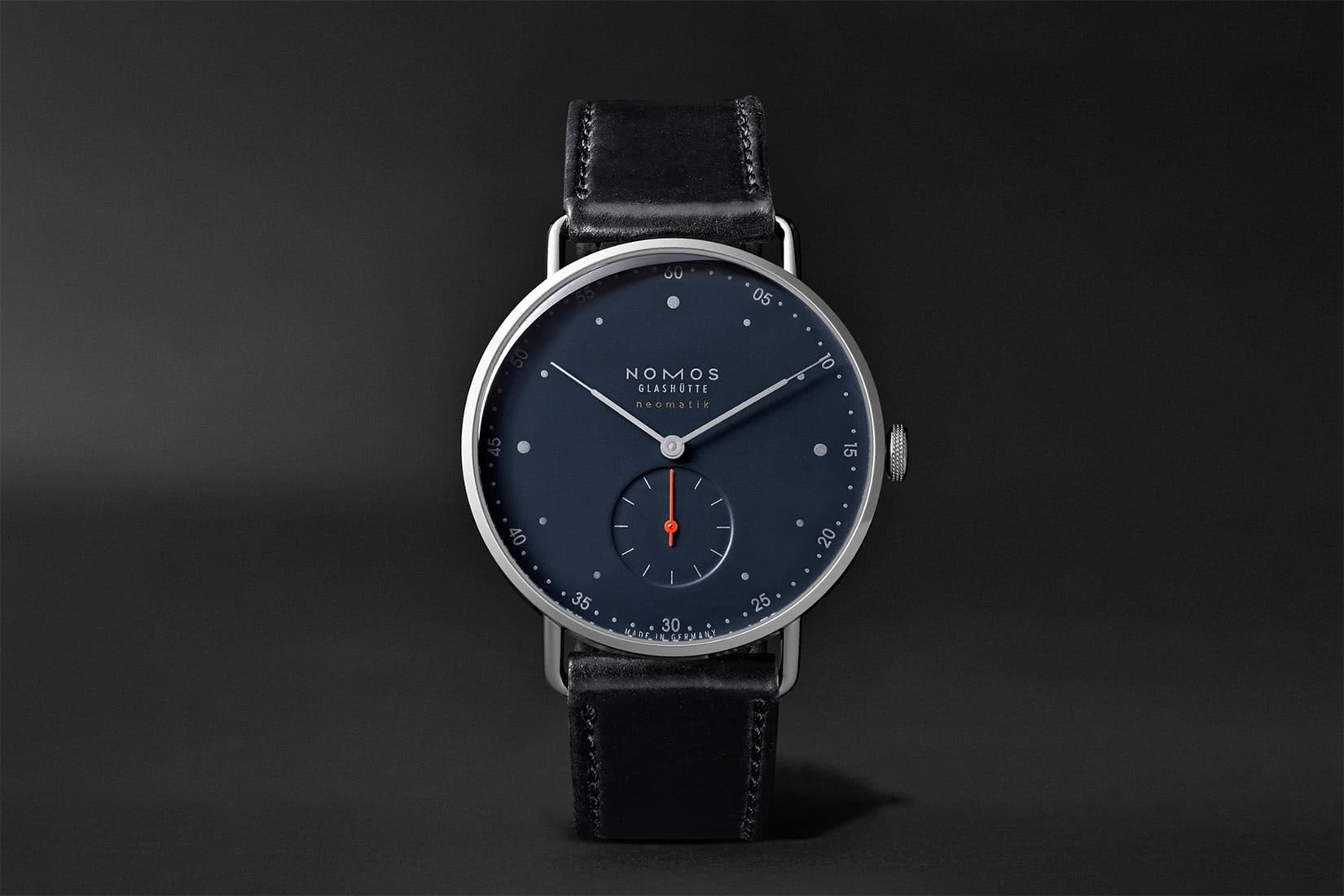 No one does minimalism (or quality men's watches) quite like future-forward brand Nomos Glashütte. Case in point? The At Work Metro Neomatik. Each of the label's watches undergoes rigorous quality control tests so you know you're wearing something that is the very paragon of perfection. This one is particularly distinctive with its midnight-blue dial, silver markers, and black strap.
Vacheron Constantin Patrimony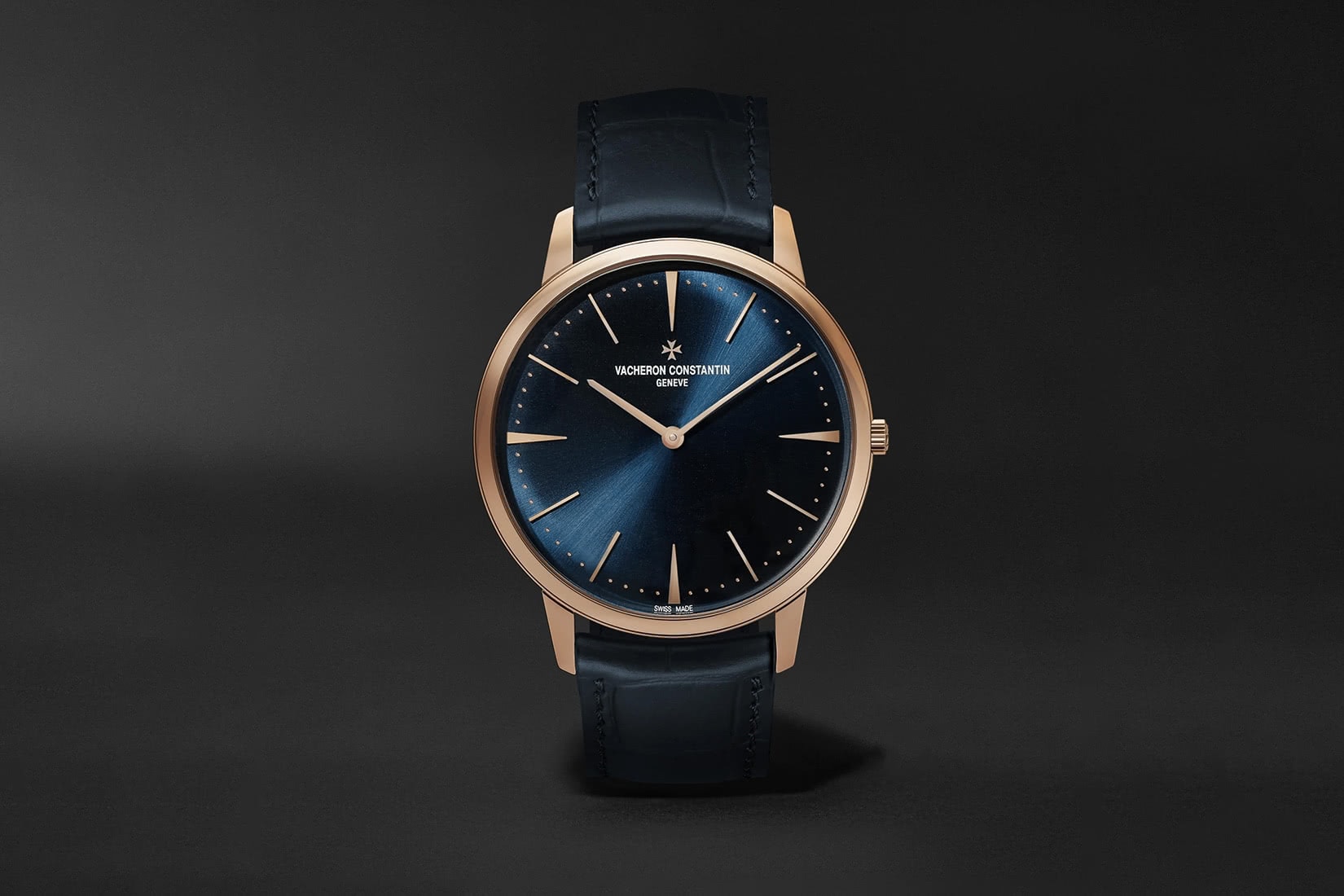 As we've already established, Vacheron Constantin makes beautiful watches for men. Another of the brand's many gorgeous timepieces? The Patrimony. With its rose gold case and sunburst blue dial, this is the stuff dress watch dreams are made of.
Wonderfully low-key, the dial features simple lines and curves, barely-there minute markers, and baton-style hour markers. Inside the Patrimony's slim 40mm case you've got a Swiss-made caliber 1400 hand-winding movement, making it one of the best hand watches on our list too.
Fizili Ultra-Thin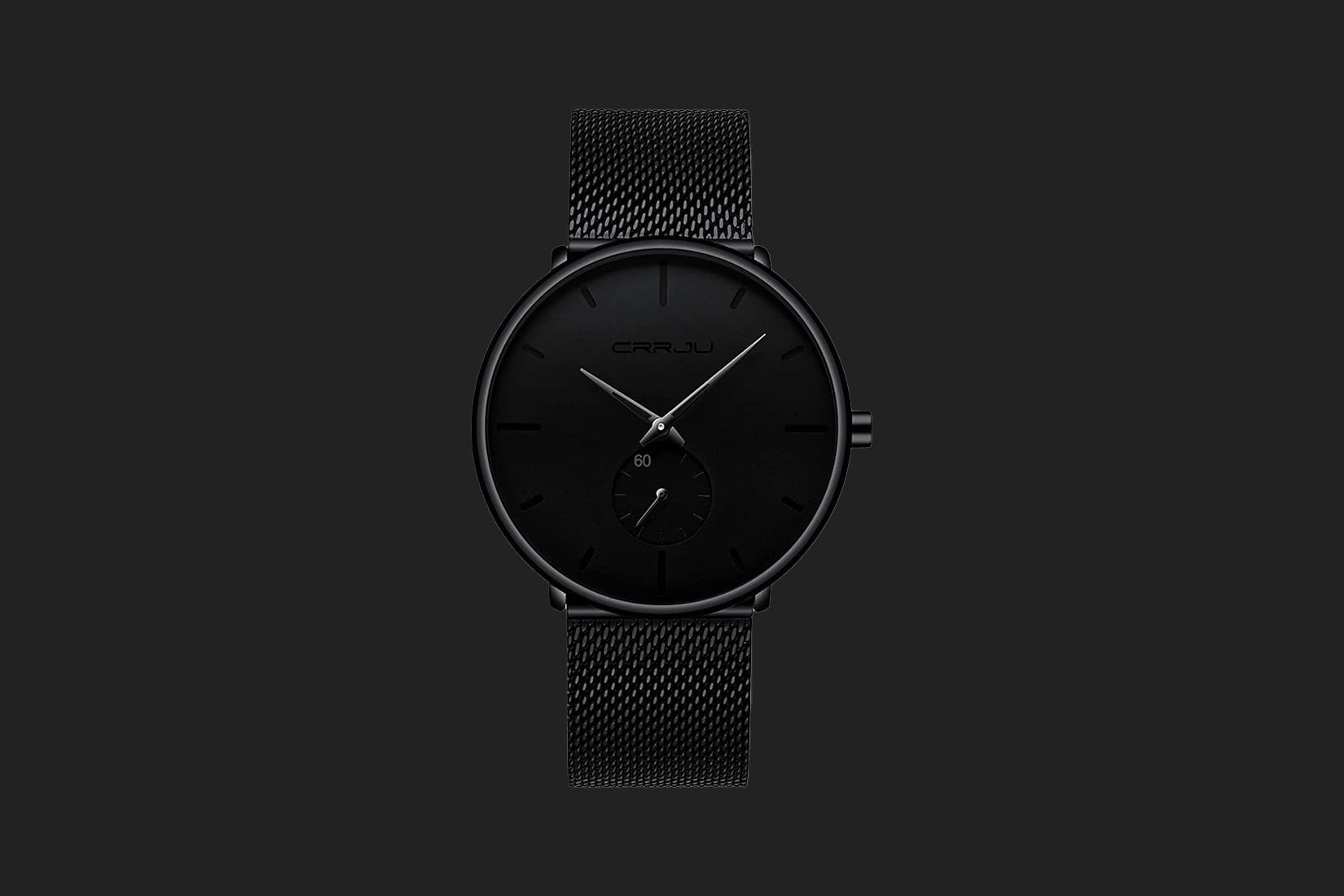 Add some panache to your evening get-up with this convention-defying design by Fizili. The perfect dress watch for those who like to bust boundaries with their sartorial choices, this timepiece breaks dress watch rules with its stainless steel mesh band and contemporary matte finish. It's also round, slim, and understated, like all the coolest watches in this category.
The Ultra Thin is available in a whole range of colors but the best has to be the all-black. What could be more timeless?
Tissot Analog Display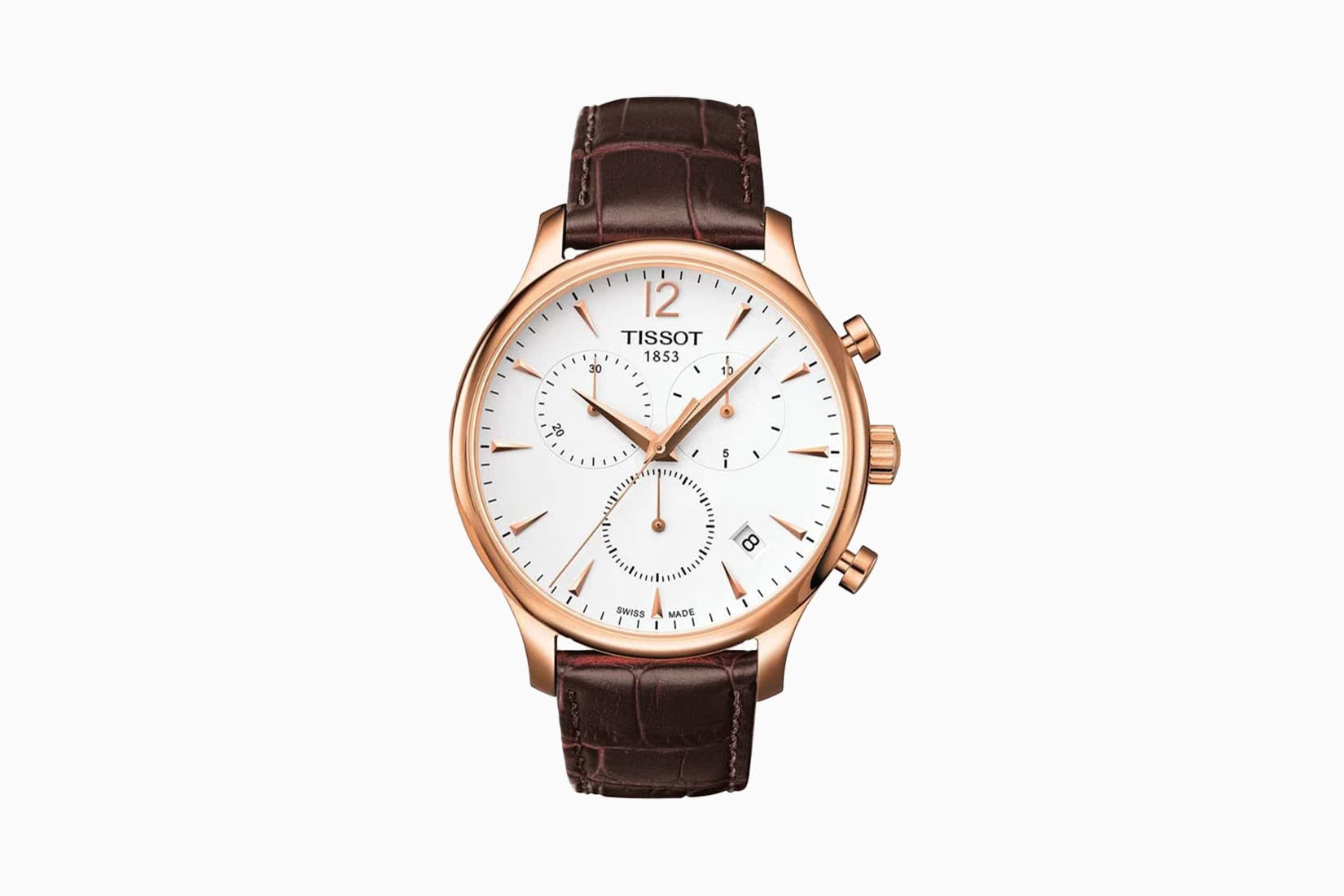 Redefining the meaning of quality time, this Tissot watch is ideal for those who don't want the hassle of winding a watch. One of the best quartz watches on our list, it may not vaunt technical prowess like other Swiss watches do but, for the sake of accuracy and minimal maintenance, we couldn't care less.
It features a trio of subdials, allowing for 60-second, 30-minute, and 1/10th of a second time measurements. A rose gold case, white dial, and traditional brown leather strap unite to make this Tisso watch a perfect vision of restrained opulence.
2. Men's dive watches
Dive timepieces are some of the best watches for men. Heavy-duty and designed to survive challenging situations, they typically feature a unidirectional bezel for monitoring and timing dives and luminous hands for poor light conditions. But beyond those shared features, the range of ocean-ready timepieces ready to accompany you down to hidden depths is rich and diverse. Want to go deeper? Check our in-depth guide of the best dive watches to see more.
LIV GX-DIVER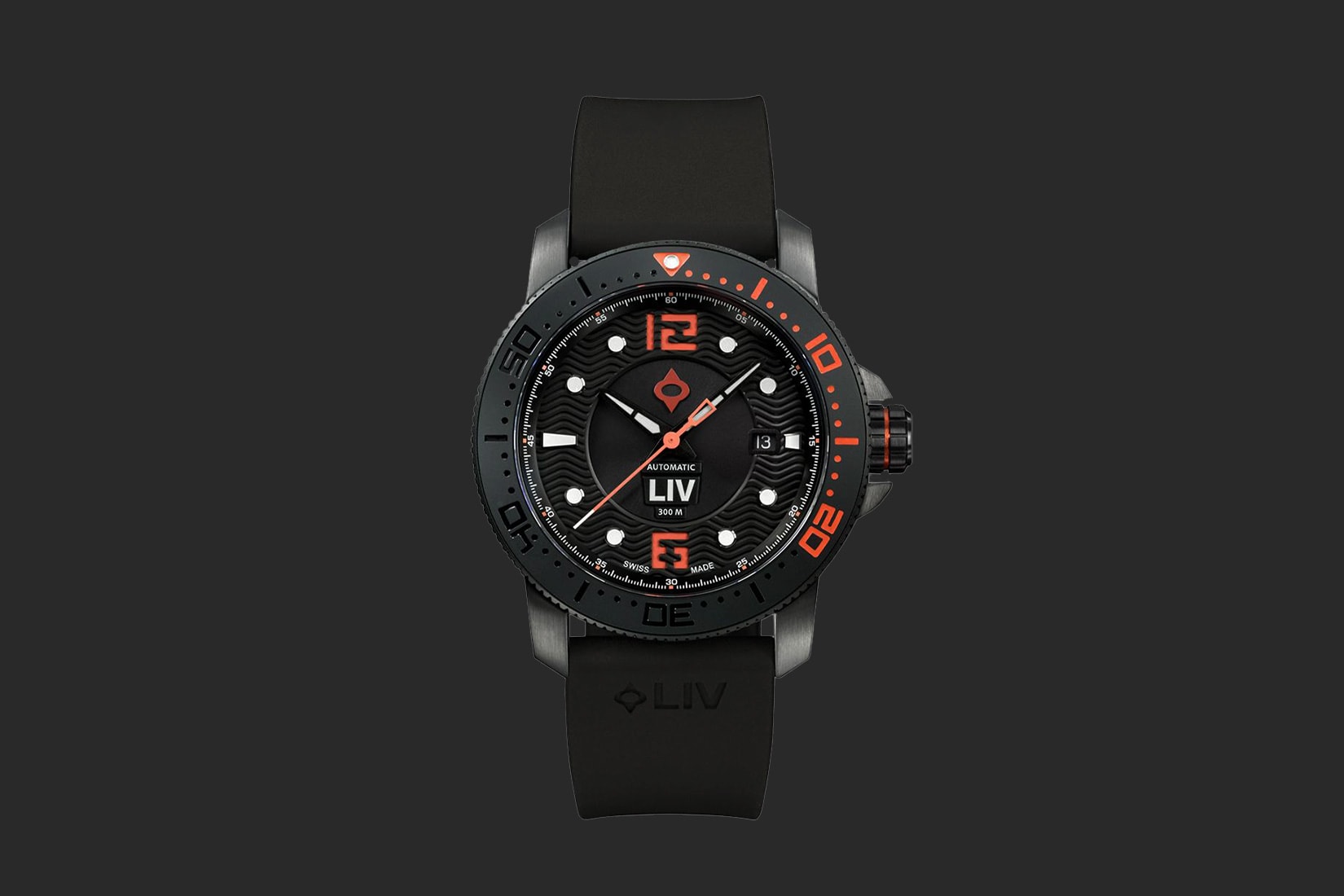 Dive watches are first and foremost technical instruments, here to make your dive safe and keep you alive. So really you need a no-nonsense tool like the LIV GX-DIVER on your wrist, with its water resistance up to 300 meters and unidirectional bezel to time dives accurately.
That's not to say the LIV GX-DIVER isn't stylish—because it really is, with its sword-shaped hands, stainless steel case, and skeleton case back where you can watch the 25-jewel movement at work. The fact it's limited edition, with only 1000 pieces in existence, offers an extra boost to its appeal. One of the best watches under $1,000.
Read our in-depth LIV Swiss Watches review to learn more about the brand.
Citizen Eco-Drive Promaster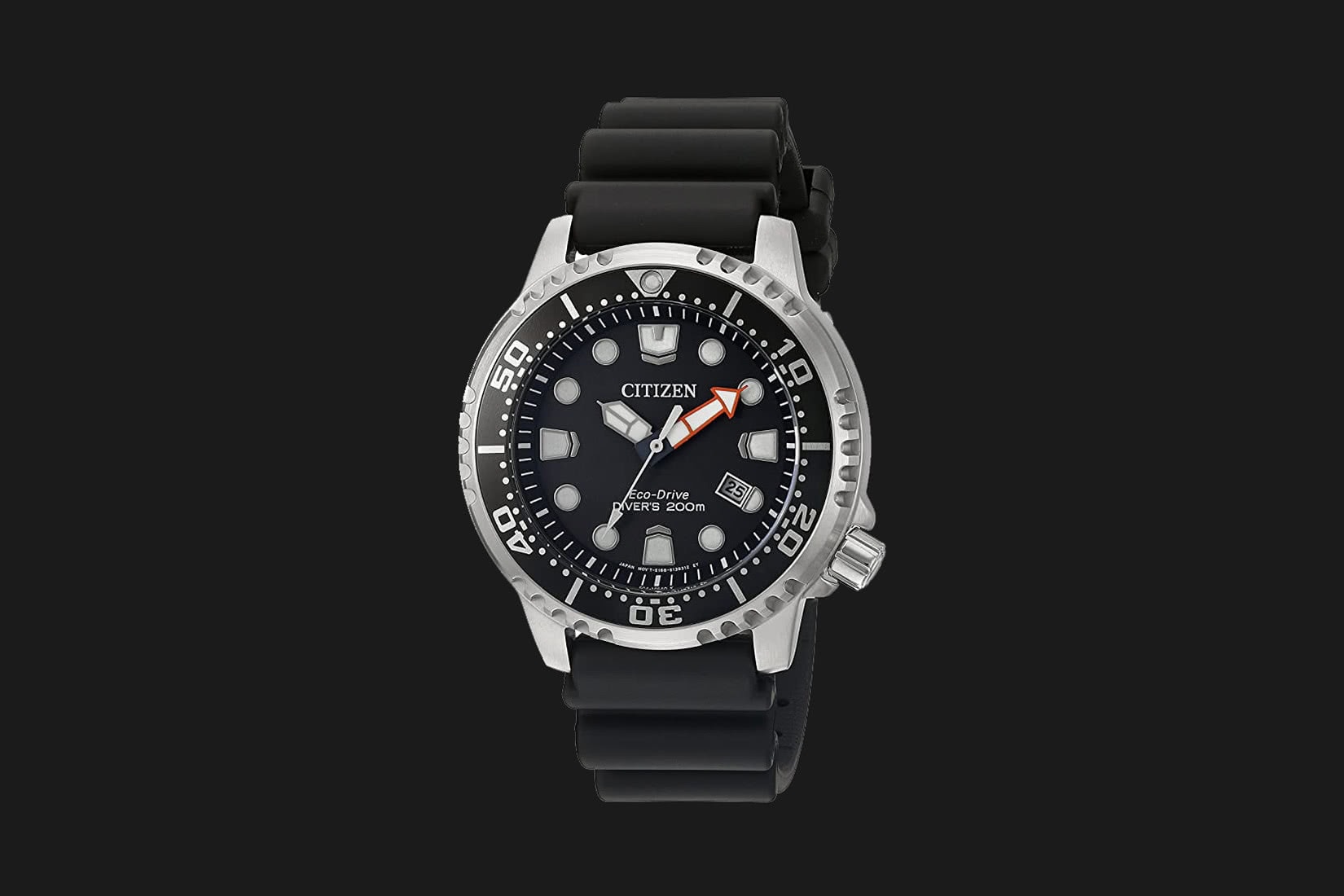 Citizen is committed to building a better tomorrow with its emphasis on sustainable functionality. The Eco-Drive Promaster, for example, is powered by artificial or natural light. Energy is stored in a rechargeable power cell so you never need to change the battery. No wonder the Promaster is one of the brand's most popular men's watches.
Water-resistant to 200 meters and featuring an anti-reflective mineral crystal for optimum legibility, the Promaster also features a one-way rotating elapsed-time bezel, like all the best dive watches. A luminous three-hand display offers easy reading even in murky waters.
IWC Aquatimer Expedition Jacques-Yves Cousteau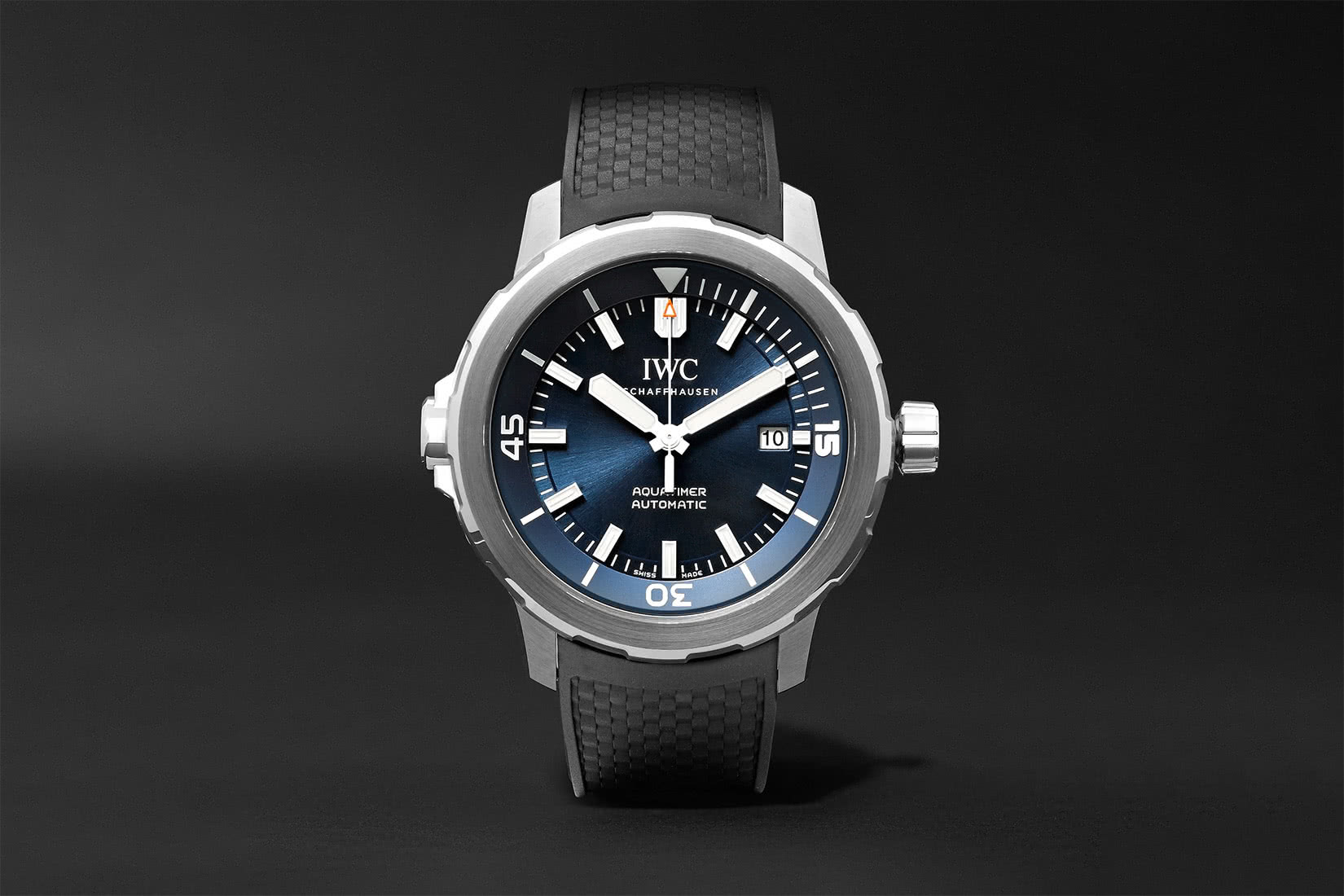 Marine explorer and conservationist Jacques Cousteau more or less invented scuba-diving. So to have an engraving of this deep-sea icon on the back of your dive watch is hard to beat.
This IWC Aquatimer features a stainless steel case with a rubber strap for durability. You've also got a SafeDive system incorporated into the bezel for next-level accuracy when setting dive times. And the deep blue face contrasts perfectly with the luminescent markers and hands—for legibility in the darkest and deepest of waters (or just your bedroom). Up there with one of the top 10 watches in the world.
Seiko Prospex Padi Solar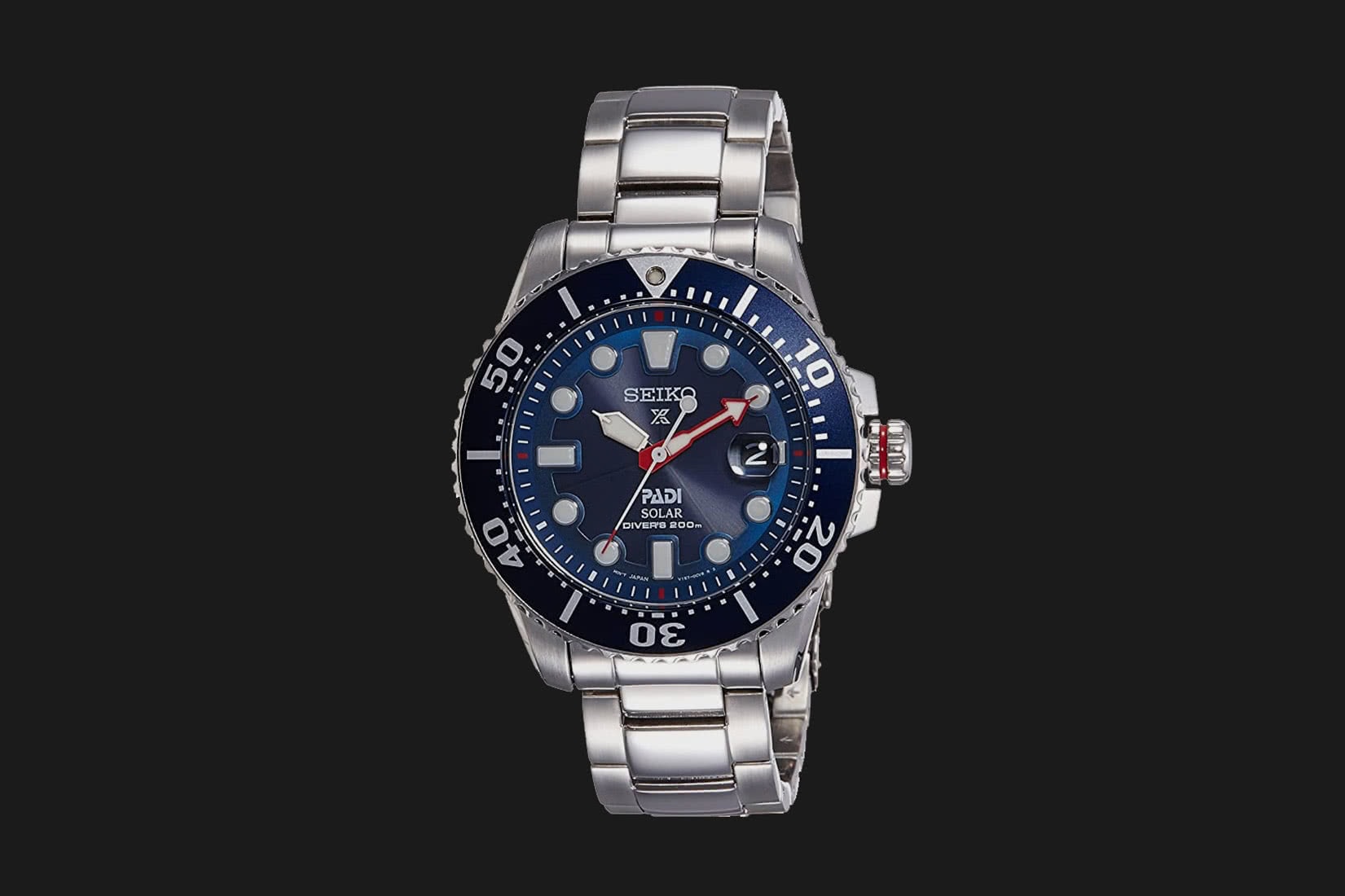 Seiko makes some of the best modern watches and this PADI special edition dive watch from Seiko is a great choice for those looking for a mid-range watch for underwater adventures. Water-resistant to 200 meters, it meets the ISO standards for scuba diving and there's a unidirectional rotating bezel for timing dives. Also noteworthy is the solar-powered movement.
The Seiko Prospex's stainless steel case, paired with an ocean-blue dial, ticks all style boxes, both on dry land and below the water. Glowing hour markers and hands allow for easy readability while a date display makes sure you're always up to speed.
Vincero The Vessel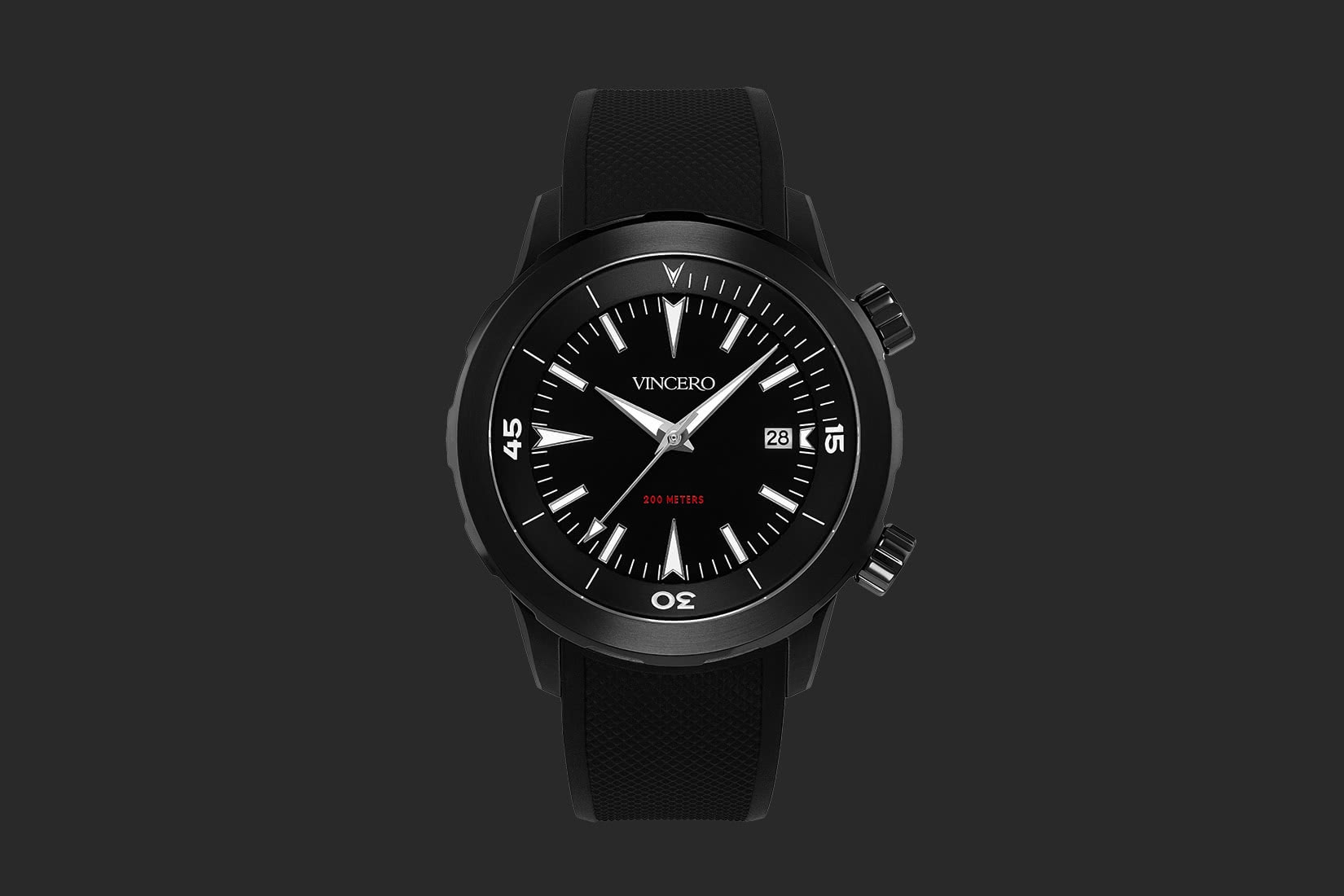 As well as making sleek urban timepieces for use in the office or out and about in the city, Vincero has turned its hand to dive watches. The Vessel feels thoroughly modern in appearance and also delivers the practicalities, with a Swiss lume, an inner rotating descent bezel, and 200-meter water resistance.
Like all Vincero's top-rated watches, the Vessel is available in a wide range of colorways to suit all tastes, from back-to-business jet black to classic stainless steel and blue for those after a traditional dive watch aesthetic.
Invicta Pro Diver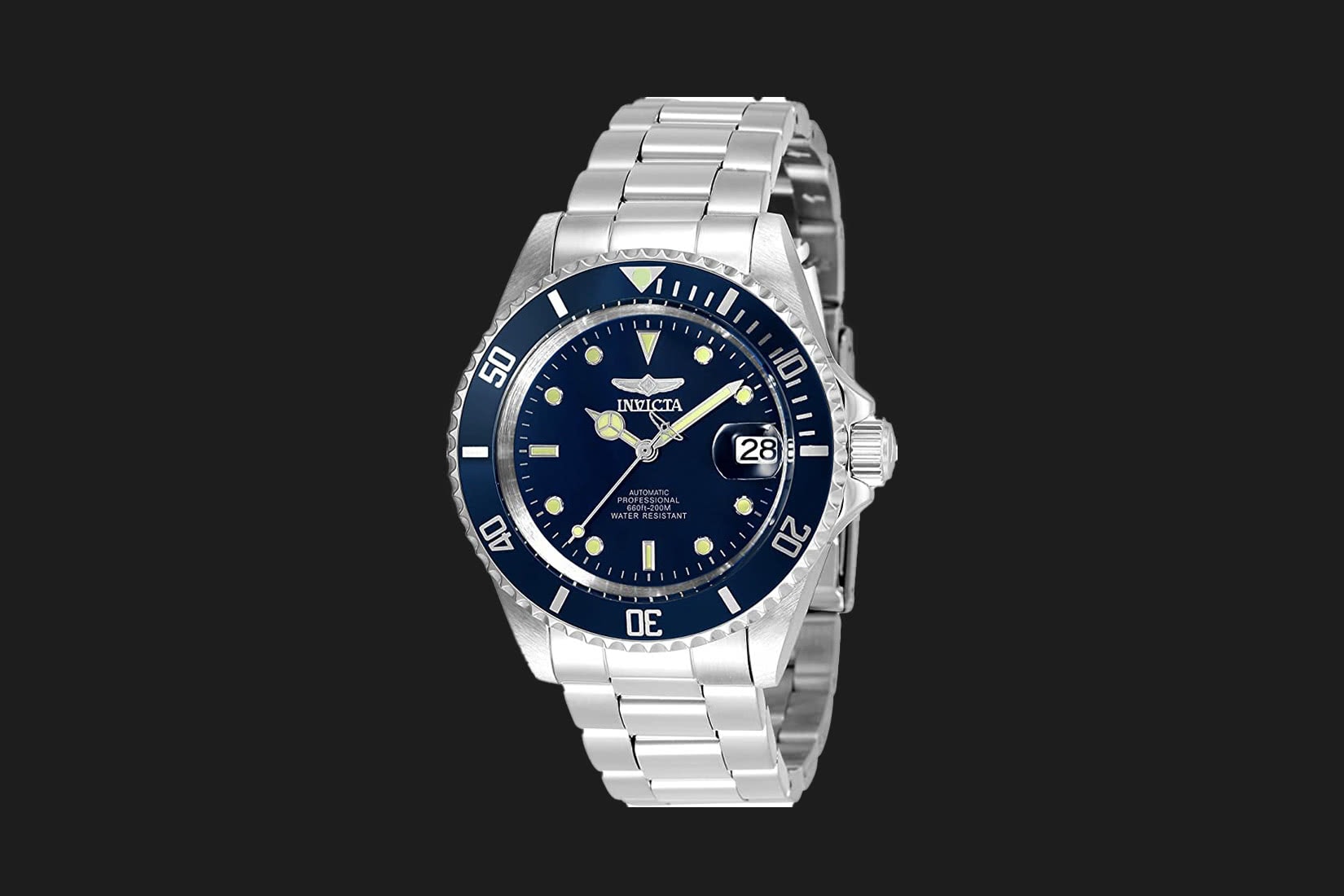 Impenetrable and indestructible—those are the words we want to hear when it comes to dive watches. Invicta's Pro Diver watch features a sturdy 40 mm case with an exhibition back, luminous hands, a 24-jewel Japanese automatic movement, mineral crystal, screw-down crown, and unidirectional bezel.
Looking for a dial color other than standard black, white, or blue? Color options for the Pro Diver include brown, red, green, as well as black or blue. The green combined with the silver is particularly eye-catching. A short-lister for the best watch on Amazon.
LIV GX1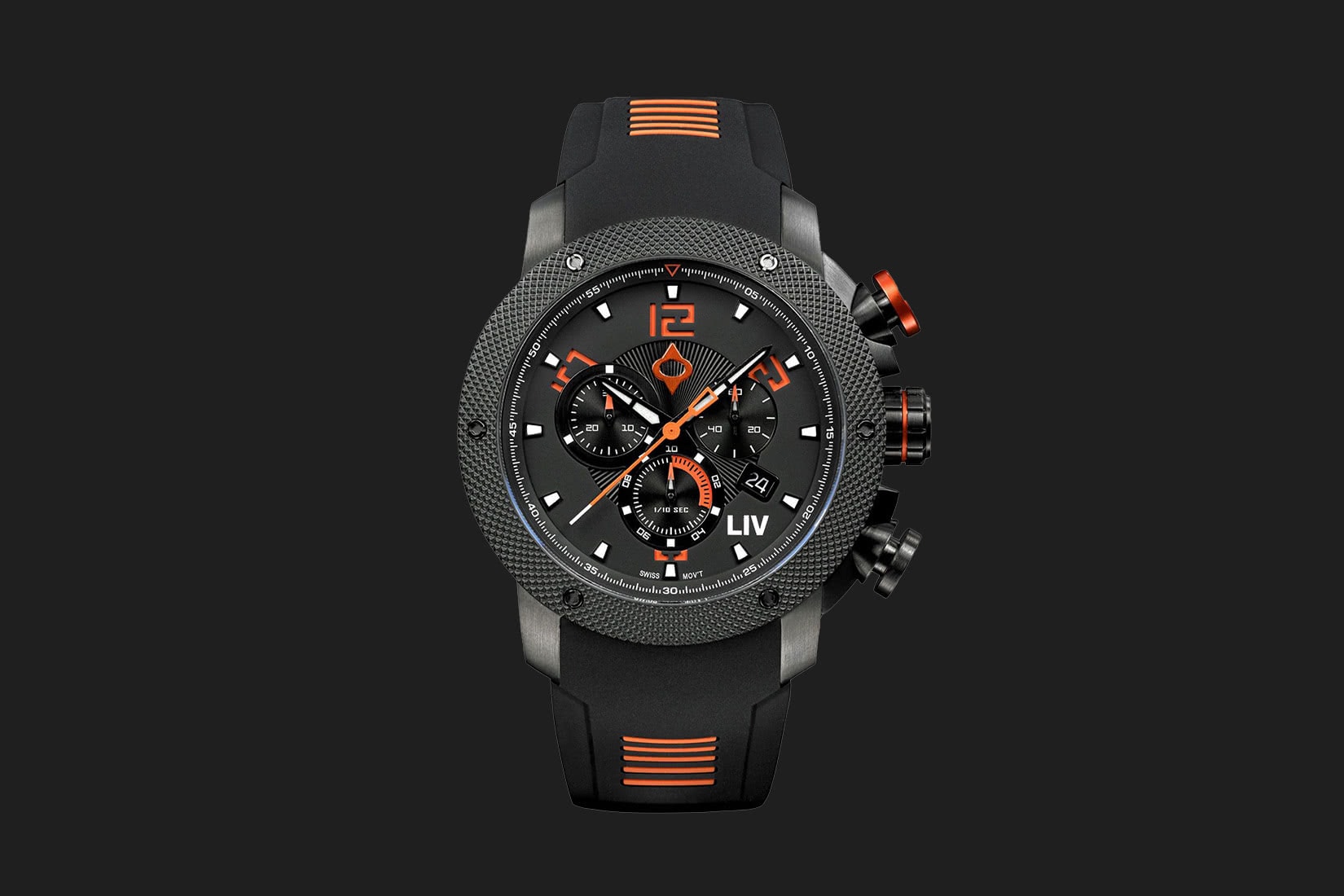 Another dive watch by direct-to-consumer brand LIV, this timepiece manages to master the impossible—creating a tactical watch that also looks good with a business suit. We put it down to the effortlessly cool black and orange color scheme. Very 21st century and very sophisticated.
Taking the LIV GX1 into wild ocean depths? Feel reassured knowing it's water-resistant to 200 meters, features luminescent hands, and has a super-secure, custom-designed, and double-injected silicone strap with a 316L stainless steel buckle. In other words, this watch isn't going anywhere. The best watch to buy for a middle-of-the-road diving timepiece.
Panerai Submersible Automatic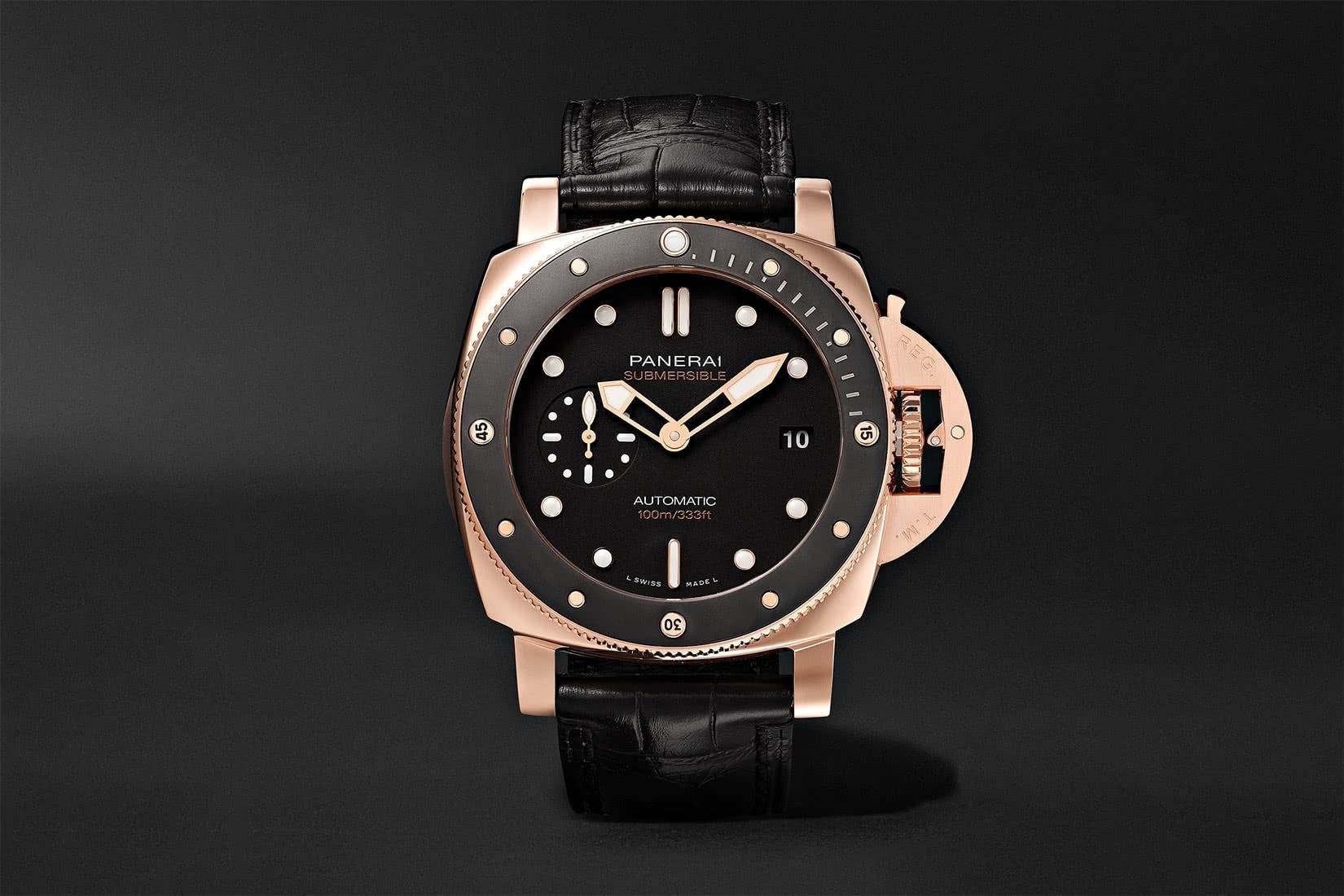 Panerai's unrivaled attention to detail and commitment to excellence is all very much on show in the Submersible Automatic where you've got two of the company's most cutting-edge materials in one watch.
A BMG-TECHA case—a unique material designed for next-level robustness and extreme corrosion, shock, and magnetic field resistance. Plus, a bezel made from Carbotech—tougher than steel, lighter than titanium. The result is a timepiece that's incredibly strong, super scratch-resistant, and surreally lightweight. The Panerai Submersible also looks like the kind of watch a secret agent might wear. In other words, it's one of the hottest watches around.
Spinnaker Croft Automatic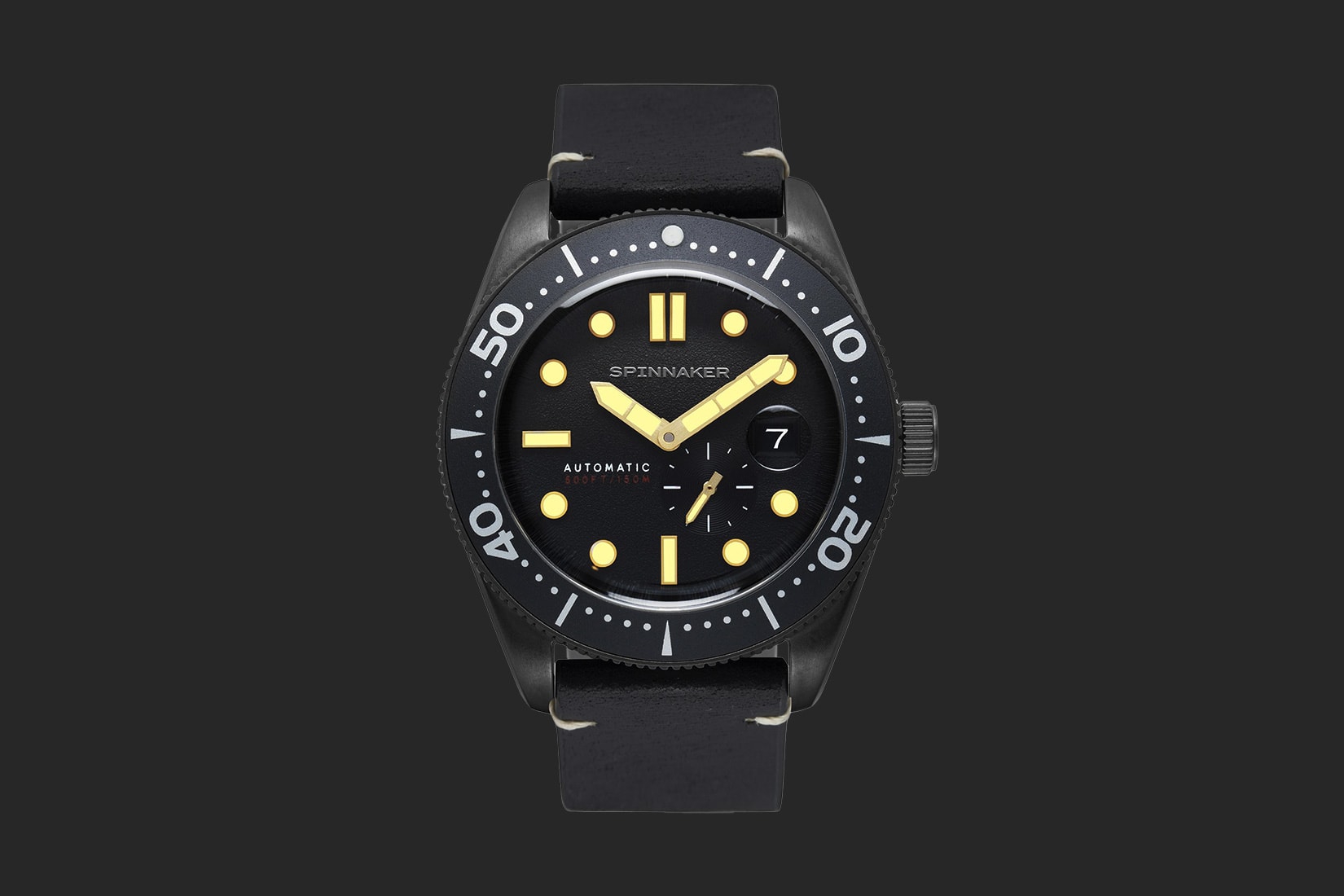 We like our dive watches rugged yet refined—just in case we go straight from the beach to the bar. The Spinnaker Croft nails this with its low-key profile that nevertheless catches the eye with a cyclops date magnifier and seconds subdial.
The Croft Automatic also has a unidirectional bezel, is water-resistant to 150 meters, and has a sapphire lens—more durable and long-lasting than mineral crystal. The choice of leather rather than rubber for the strap is another plus, adding understated elegance to this utilitarian timepiece. We're tempted to name it the best all-around watch on our list.
Casio MDV106-1AV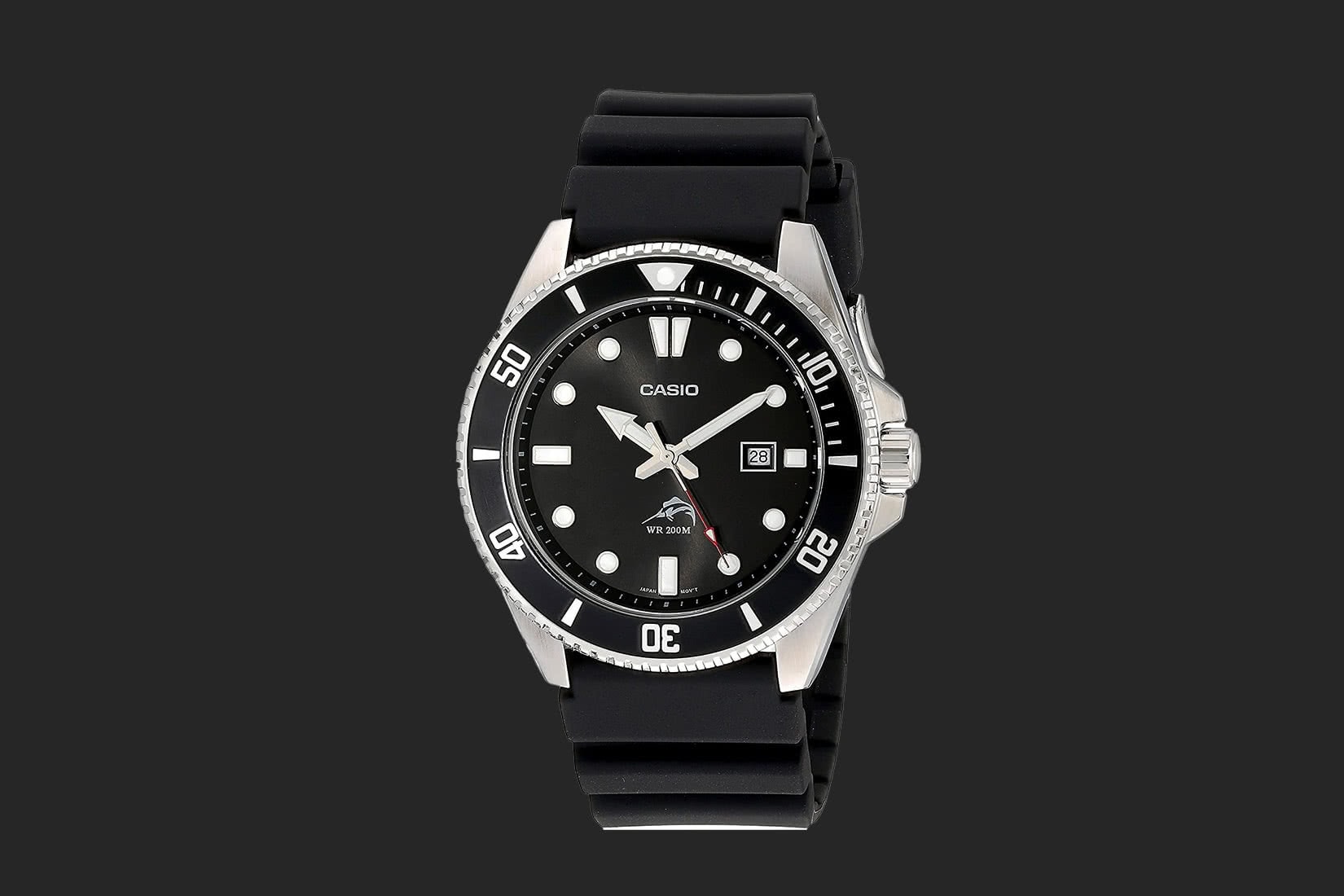 Casio is one of the best watches brands for men and they've pulled it out of the bag again with the Casio Duro—a top choice for a budget dive watch. Water-resistant to 200 meters, it has an anti-reverse bezel, luminous markers, and hours hands, plus a sweep second hand too. There's also a date window at 3 o'clock in case you forget what day it is in all the excitement of your underwater exploits.
This Casio watch delivers the accurate timekeeping the brand has become known for along with solid build-quality and elegant design. One of the best selling watches in the USA, judging by the Amazon reviews.
Rolex Sea Dweller Deepsea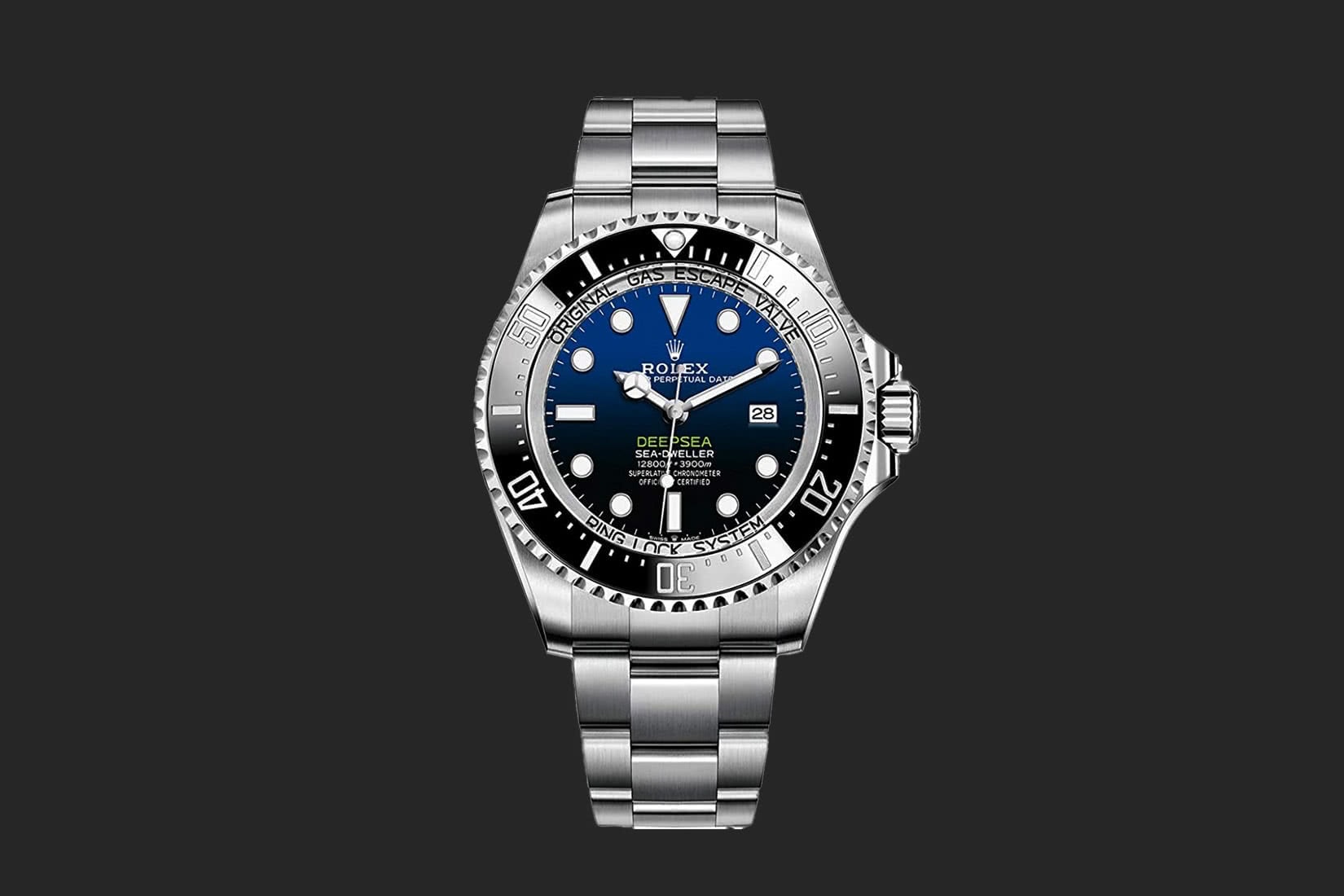 If there's one thing all divers and watch collectors can agree on, it's that no one does it like Rolex, one of the top 10 luxury watch brands. And Rolex's best model for subaqua exploration? It has to be the Deepsea.
There are countless exceptional features about the Rolex Deepsea, not least the dial. Graduating gently from blue to black, it's a commemoration of James Cameron's record-breaking dive into the Mariana Trench. Then there's the ceramic bezel for precise and safe dive monitoring. And, finally, Chromalight hour markers and hands, which emit a long-lasting blue glow for when you're hundreds of meters below the surface.
Oris Divers Sixty-Five Automatic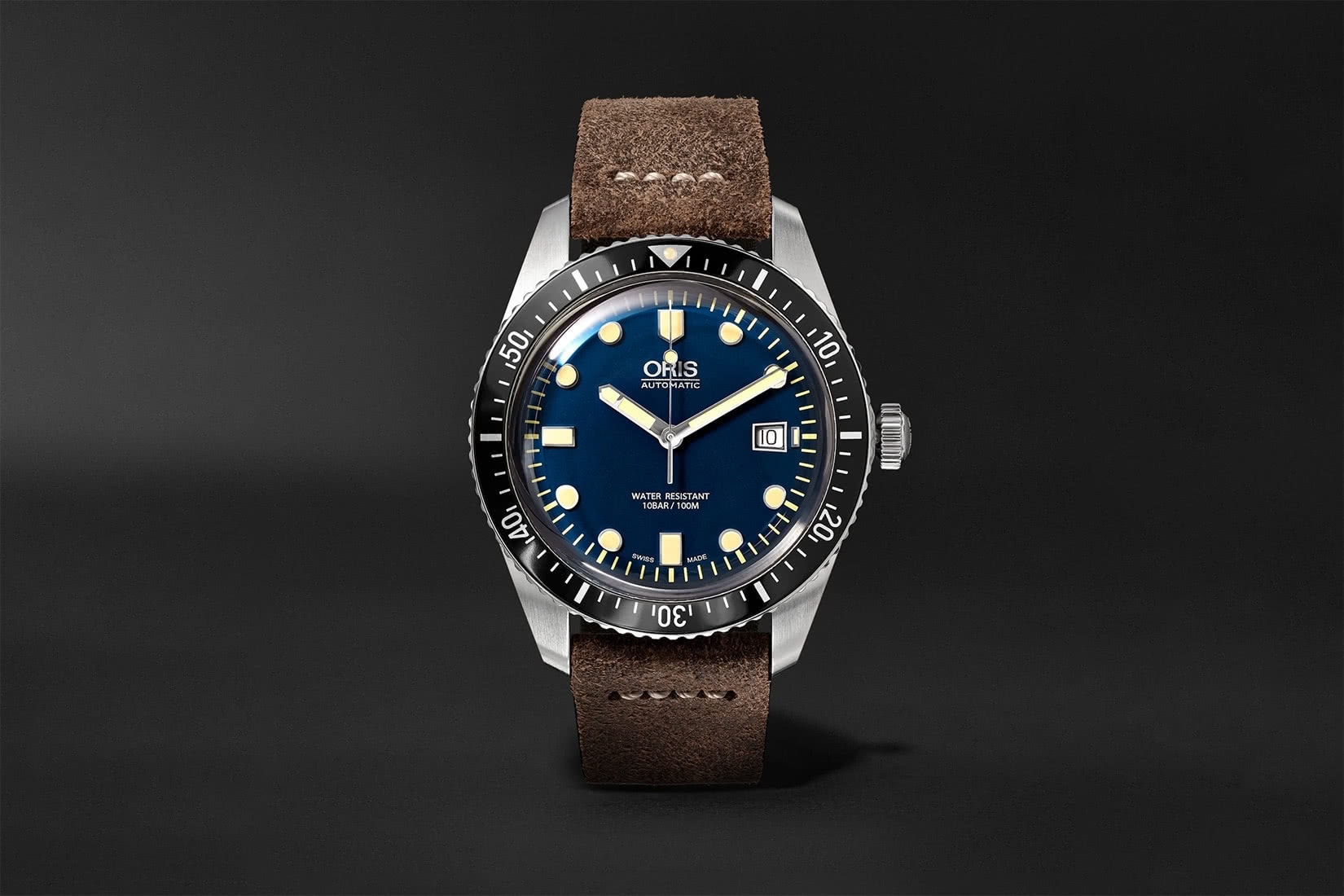 Oris doesn't just make world-class dive watches. It also contributes to ocean conservation initiatives. So you can feel confident knowing that not only do you have some pioneering engineering on your wrist but you're also protecting these critical ecosystems.
Oris' Divers Sixty Five automatic is a re-imagining of one of the brand's vintage models and the old-school vibe is clear in the striped canvas wristband and domed sapphire crystal. In addition, you've got Super-LumiNova hands and a date window while 100-meter water resistance makes this a good choice for lap-swimmers and snorkelers.
Tag Heuer Aquaracer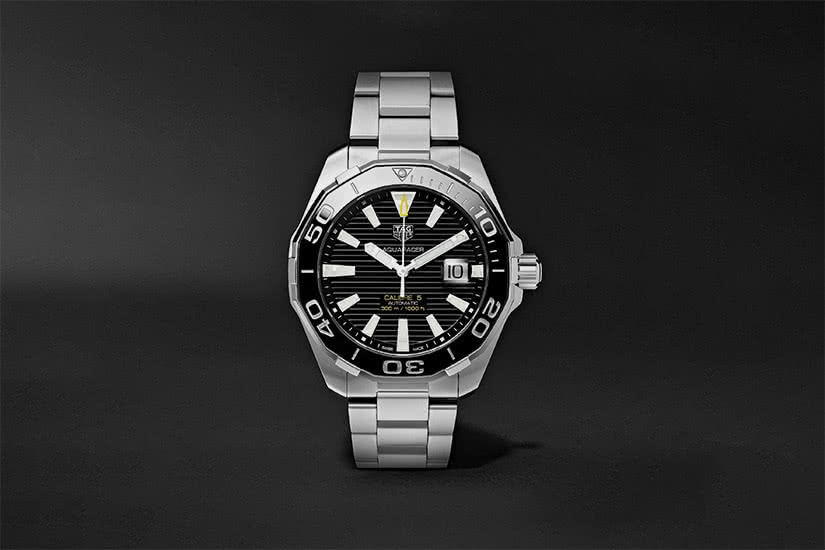 Luxury Swiss watch brand TAG Heuer is best known for its connections to racing cars but that doesn't mean the innovative brand can't also make an outstanding dive watch. The Aquaracer is a versatile sports timepiece that meets all the requirements for ocean escapades while being one good looking watch too.
It features a 43 mm brushed steel case, the brand's signature 12-point unidirectional bezel, and a crown with double safety gaskets to prevent moisture penetration. A magnified date window and Super-LumiNova hands allow for easy legibility in dark conditions. The Aquaracer's 300-meter water resistance is standard dive watch territory.
Invicta Pro Diver Scuba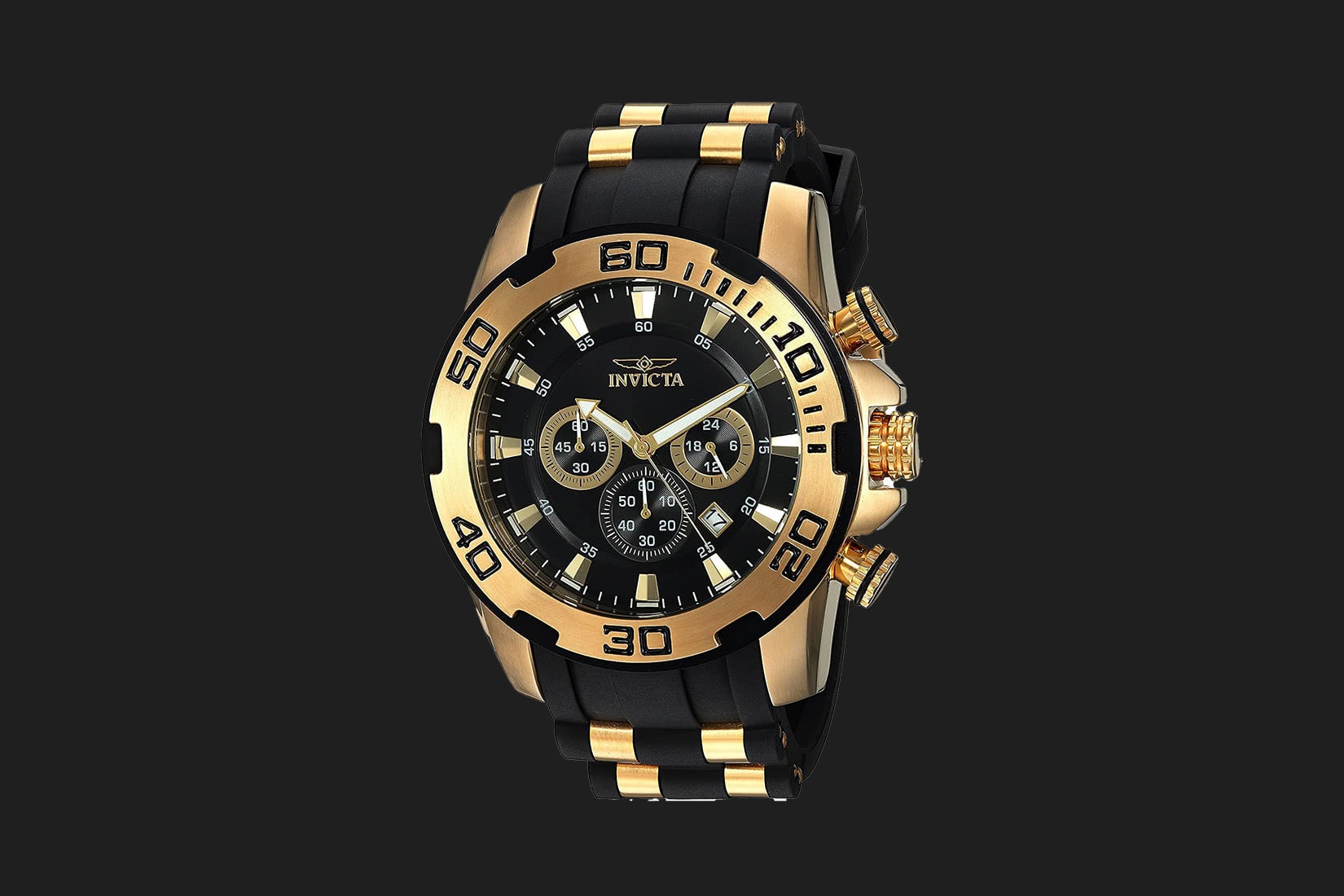 We've already covered an Invicta Pro Diver watch but this one's a bit different. Namely, it features gold-tone stainless steel, adding a major dose of high-end drama to this tool watch. And while dazzling onlookers with its black-gold color combo (Invicta makes seriously hot watches), it's also incredibly practical.
The Pro Diver Scuba features a reliable quartz movement, luminous hands for legibility, and three subdials—60 minutes, 60 seconds, and 24 hours intervals. 100-meter water resistance makes it a great choice for swimming, surfing, and sailoring—all sports enhanced with a bit of bling.
Omega Seamaster Diver 300M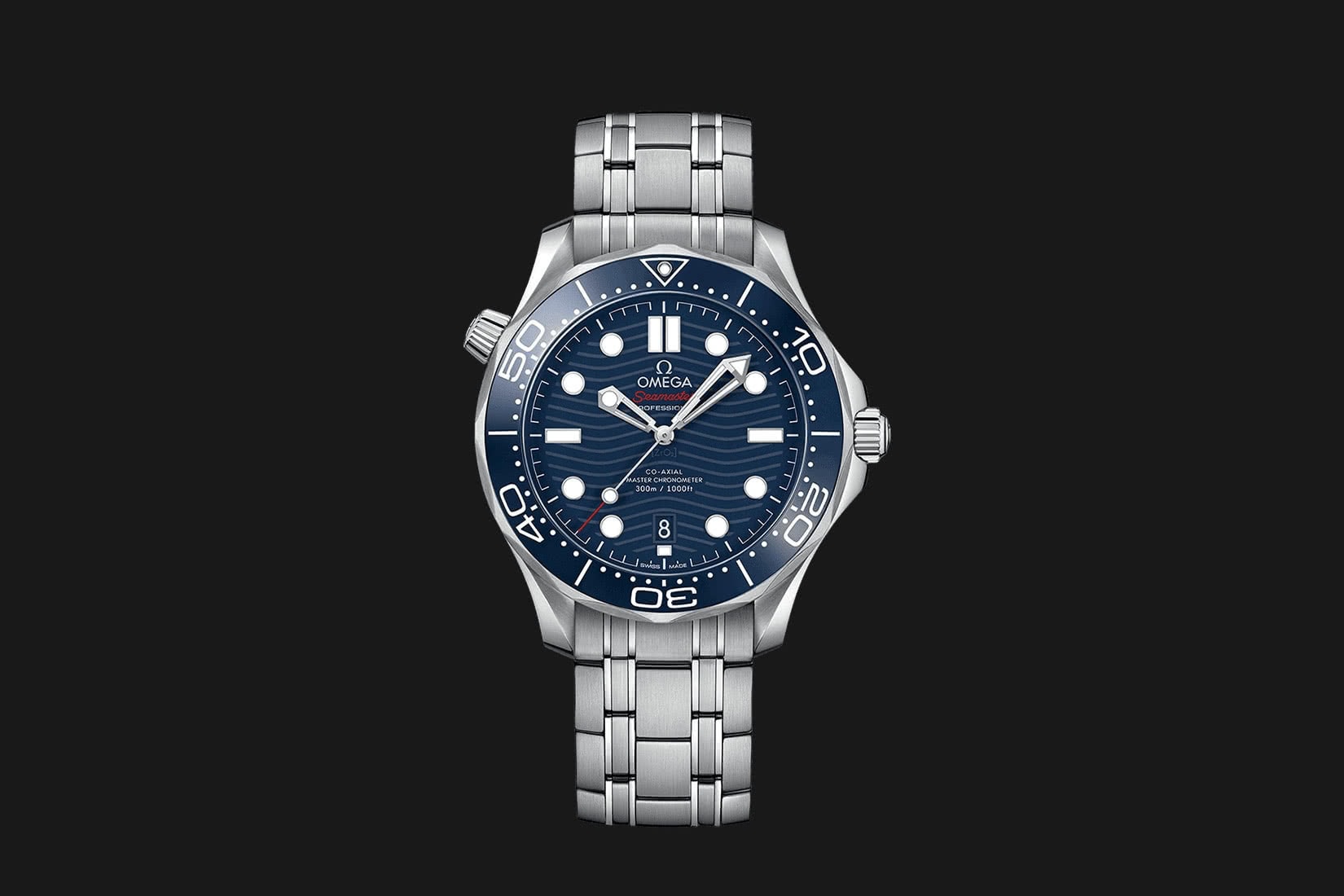 With its distinct seafaring spirit, the Omega Seamaster Diver is nothing short of an icon and this latest edition boasts a couple of features sure to have collectors stampeding to get their hands on one. Notably, the helium escape valve with a new conical shape and water resistance to 50 meters so even if the valve is opened underwater, the watch will survive.
Highly-coveted limited editions of the Seamaster Diver 300 M include the Titanium Tantalum and the 007, as worn by Daniel Craig in No Time To Die. Other top features include the wave pattern on the ceramic dial and the Master Chronometer Calibre, visible at work through the sapphire crystal back. Possibly one of the most beautiful watches for men around.
Tudor Pelagos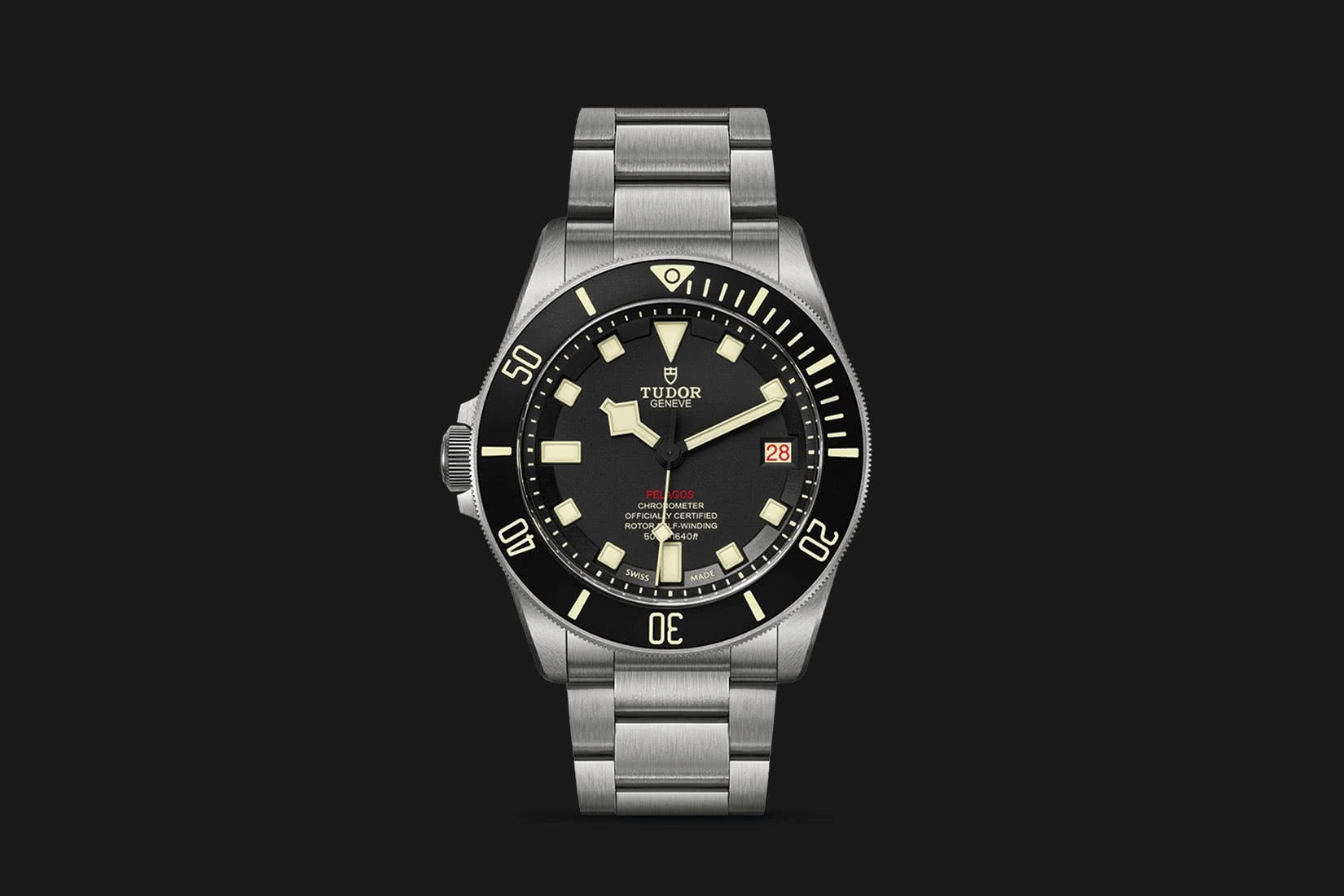 Rolex's more adventurous sister brand, Tudor has all the pedigree of Rolex but comes in at a far more approachable price point. The Pelgaos is a superb diving watch with an astonishing power reserve of 70 hours and water resistance to 500 meters, making it suitable for extreme deep-sea diving.
Stainless steel and a deep blue ceramic dial combine in a vision of power and prestige. A safety catch on the bracelet and a bracelet extension system patented by Tudor are further advantages while a complimentary blue rubber strap adds nautical flair.
Longines HydroConquest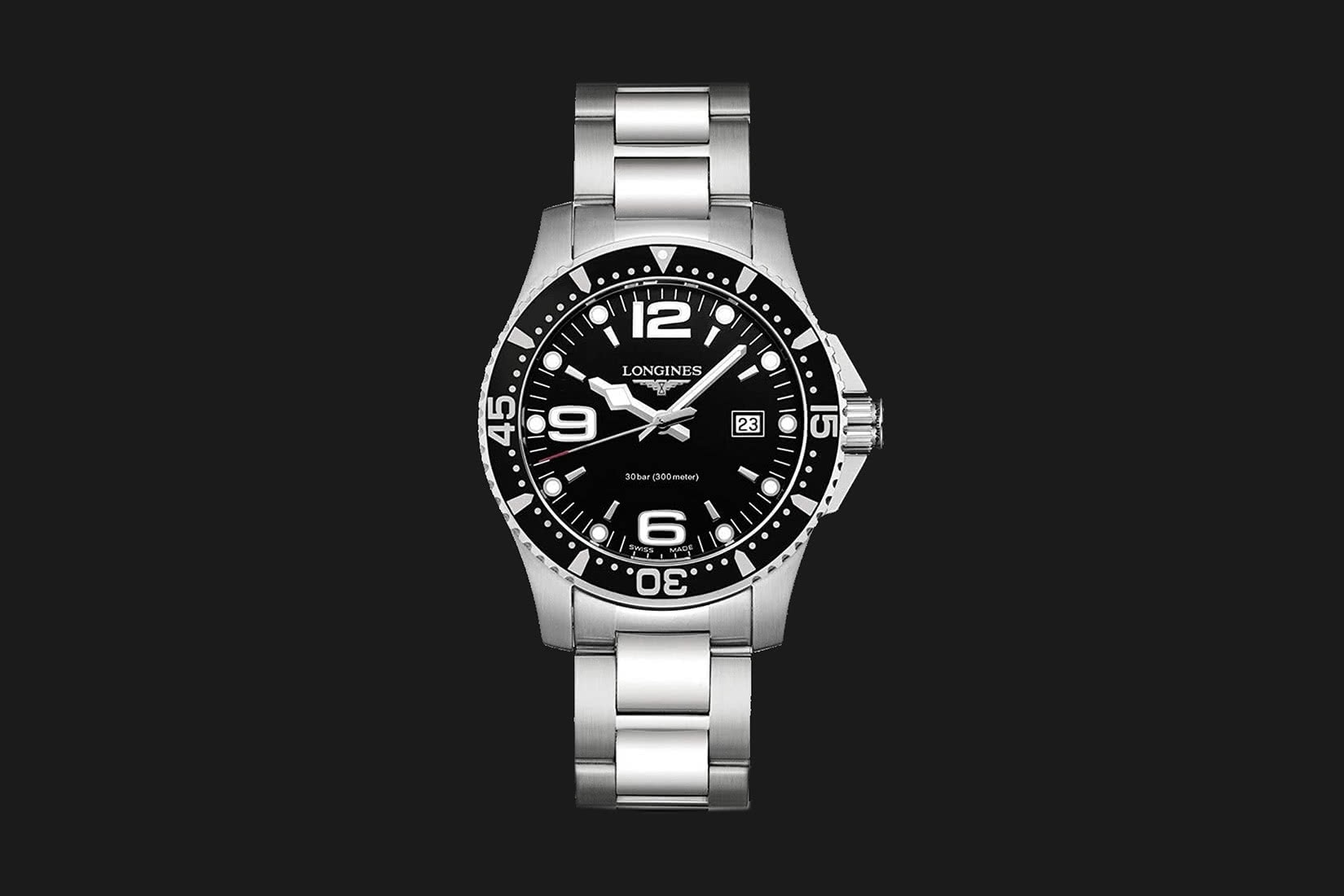 Longines makes great watches. The brand introduced the HydroConquest line for men and women as a demonstration of technical skill and aesthetic sophistication and even if you're not a divemaster, it's a perfect cruise or yacht accessory with its black dial and stainless steel case.
A quartz movement provides reliable and accurate time-keeping while luminous hands and indices make for easy reading at 300 meters below the surface. This is a watch born for open waters and distant horizons.
Rolex Submariner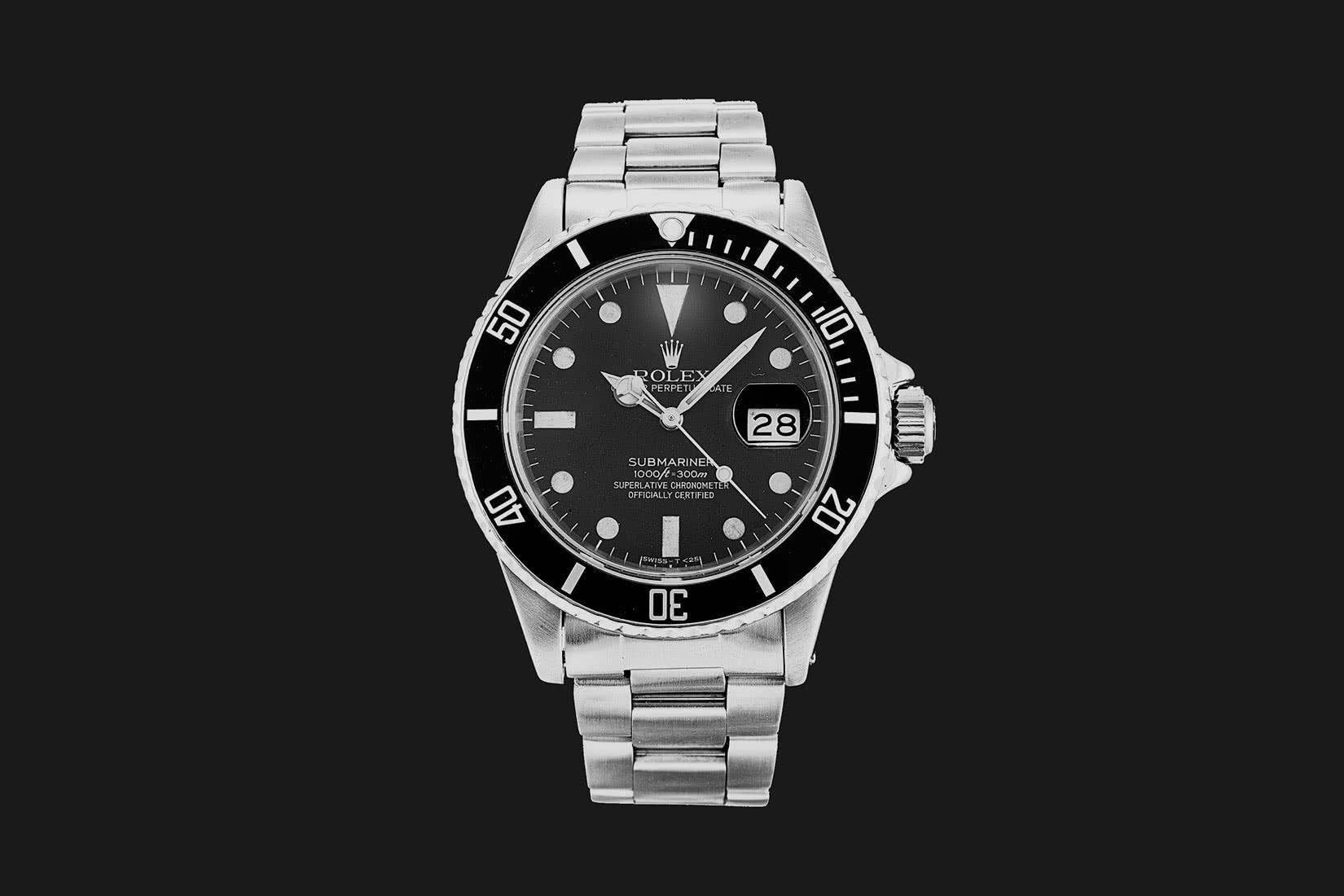 Even if you're a total diving novice or a newbie to watch collecting, you'll have heard of the Rolex Submariner, one of the world's best selling men's watches. Widely considered one of the most ground-breaking watches of all time, it was introduced in 1953 and has set the benchmark for dive watches ever since.
This is the quintessential sports watch worn by Steve McQueen, Sean Connery as James Bond, and modern-day celebs like Orlando Bloom and David Beckham. You can recognize it by the black dial, stainless steel, rotating bezel, and luminous hands. Whatever reference you go for, you're in good hands with a Rolex Submariner.
Timex Navi XL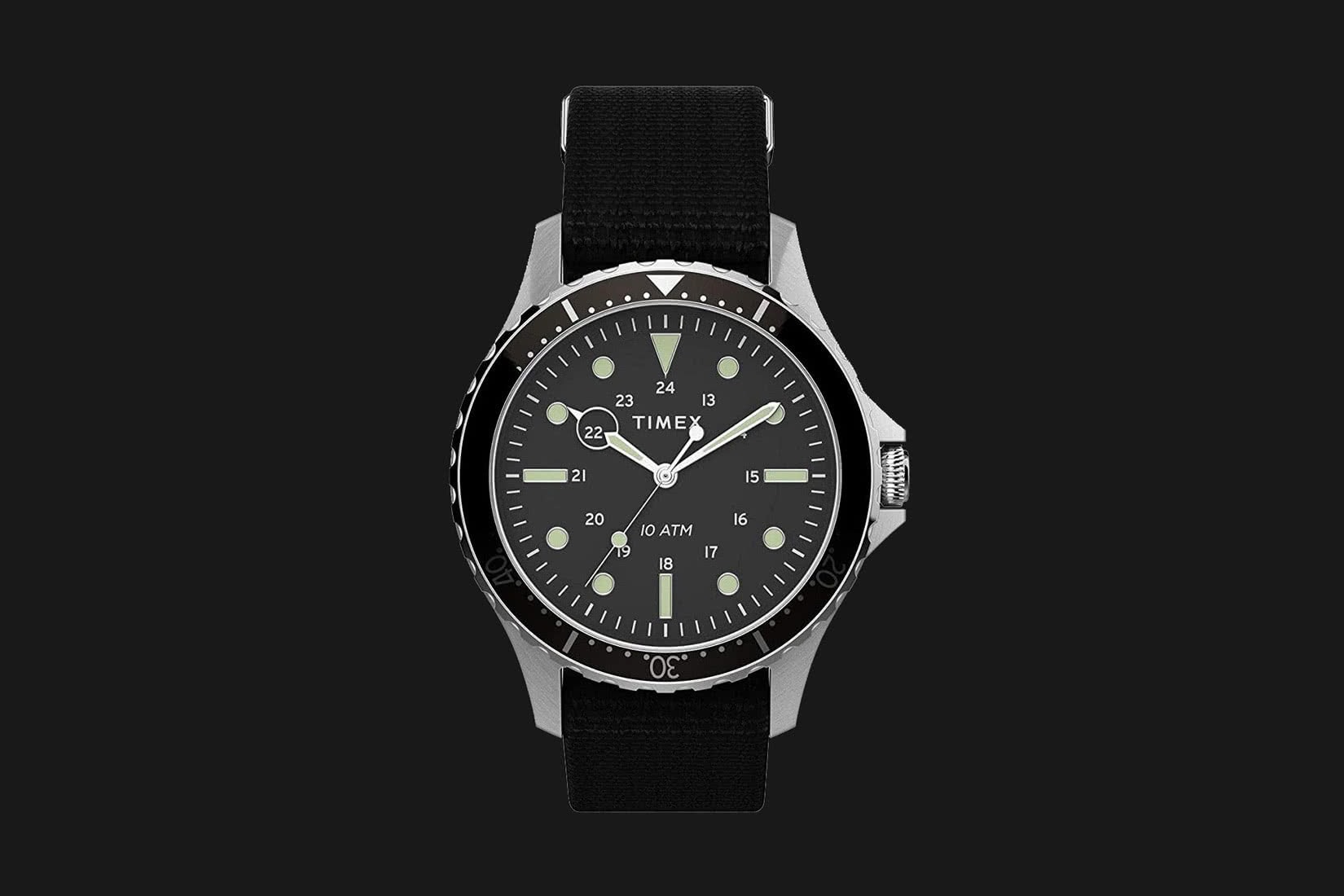 Inspired by the brand's earliest diver-style watches but updated with a 21-jewel movement, the Navi XL by Timex is powered by your movement as you go about your day and can store up to 40 hours of power.
The design balances vintage elements such as a simple three-hand display, geometric hour markers, military hour markers at the inner perimeter, and a traditional buckle closure, with contemporary updates such as the unidirectional rotating top ring. Opt for the Navi XL model with a white face to really dial up the retro factor.
3. Men's smartwatches
Imagine taking all the high-tech superpowers of your smartphone and turning it into something you could wear on your wrist. These game-changing digital tools can do everything from receiving notifications and running apps to synching with your calendar or providing GPS navigation or heart rate data. The best smartwatches put all the most important information for your day-to-day right at your fingertips. And if you want a dedicated health watch, check our selection of the best fitness trackers on the market today.
Apple Watch Series 7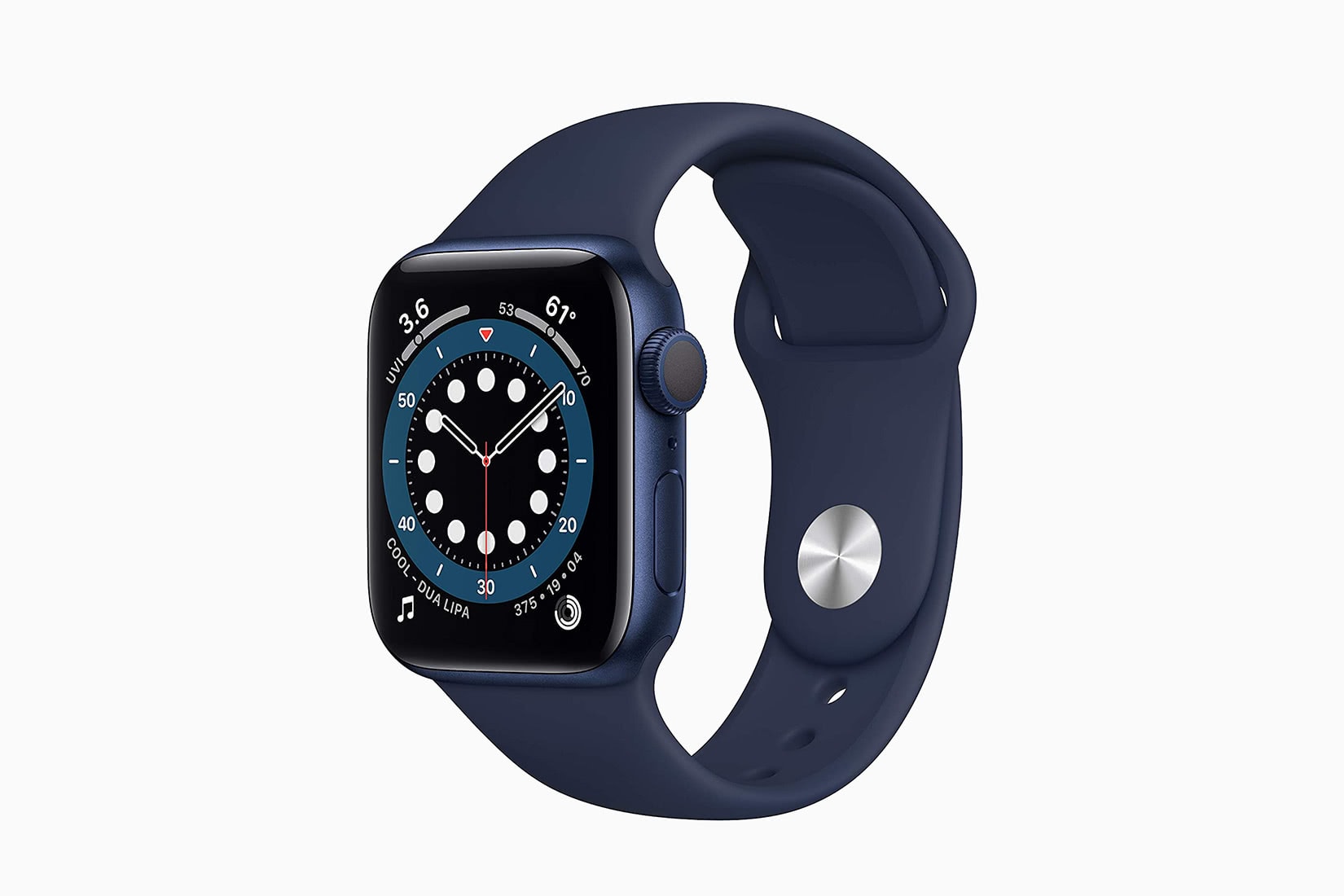 A true marvel of modern technology, the Apple Watch Series 7 is the best selling watch in the USA and transforms everyday living in a way that your standard analog timepiece just can't. Take phone calls straight from your wrist, listen to music and audiobooks, track your fitness, measure your workouts, monitor your blood oxygen data, check your heart rhythm—elevate your life to new levels of productivity and health.
Aesthetically, the Apple Watch Series 7 is just as sleek and minimalist as all the brand's iconic offerings, available in a range of shades and made of cool and practical aluminum. Widely considered one of the top 10 watches in the world.
Fitbit Charge 4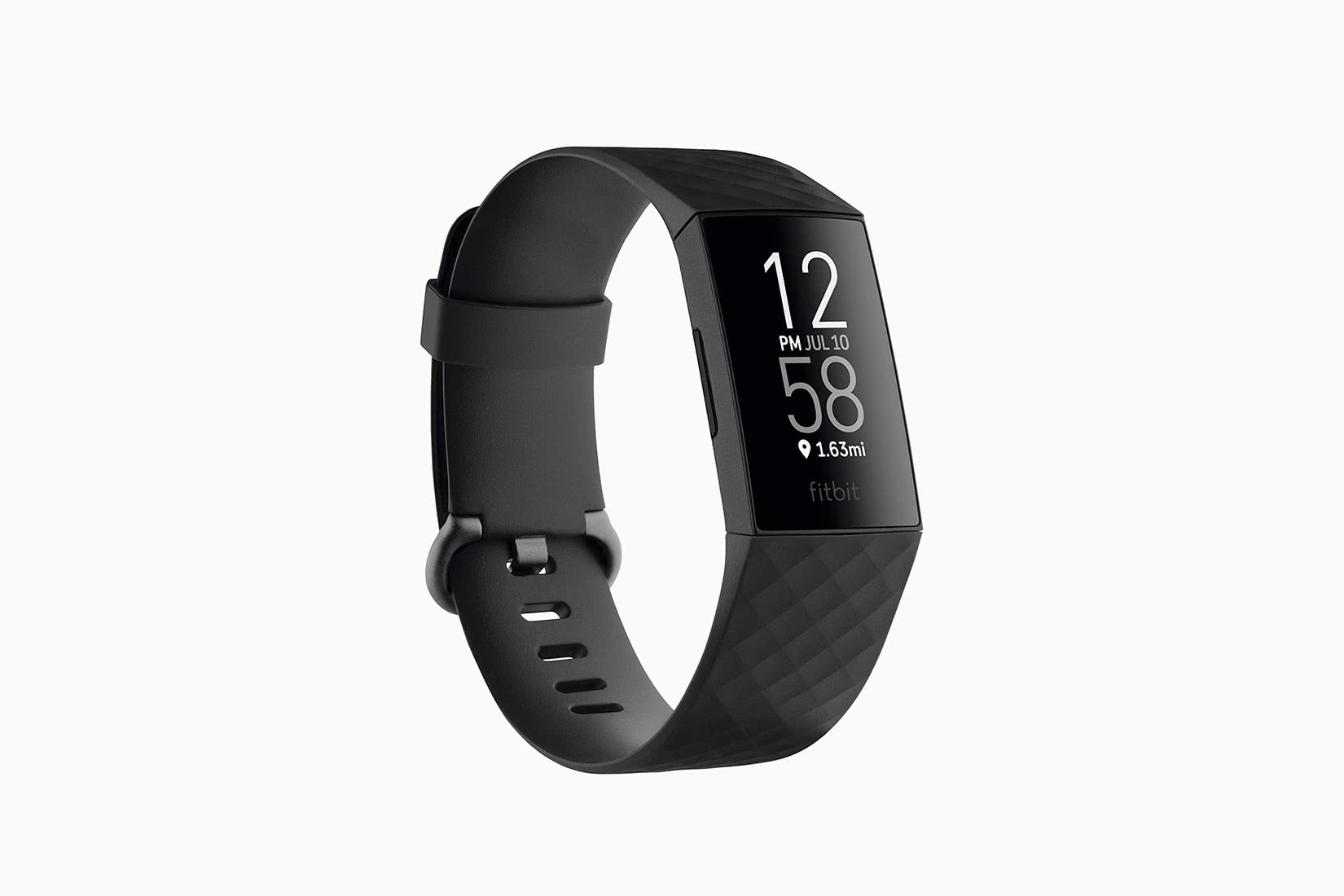 If getting in shape is your number one priority, then the FitBit Charge 4 is here to help you take your fitness performance up a notch. With built-in GPS, you're able to track your pace and distance on any outdoor activity and there's even an intensity map so you can see how your heart changed along the route, plus a buzz for when you reach your target heart rate zone.
Measure calorie burn accurately, easily track your blood oxygen levels, see how your skin temperature varies, receive notifications, and, once you're done breaking a sweat, use the Fitbit Charge 4's pay function to get a coffee and croissant.
Garmin Venu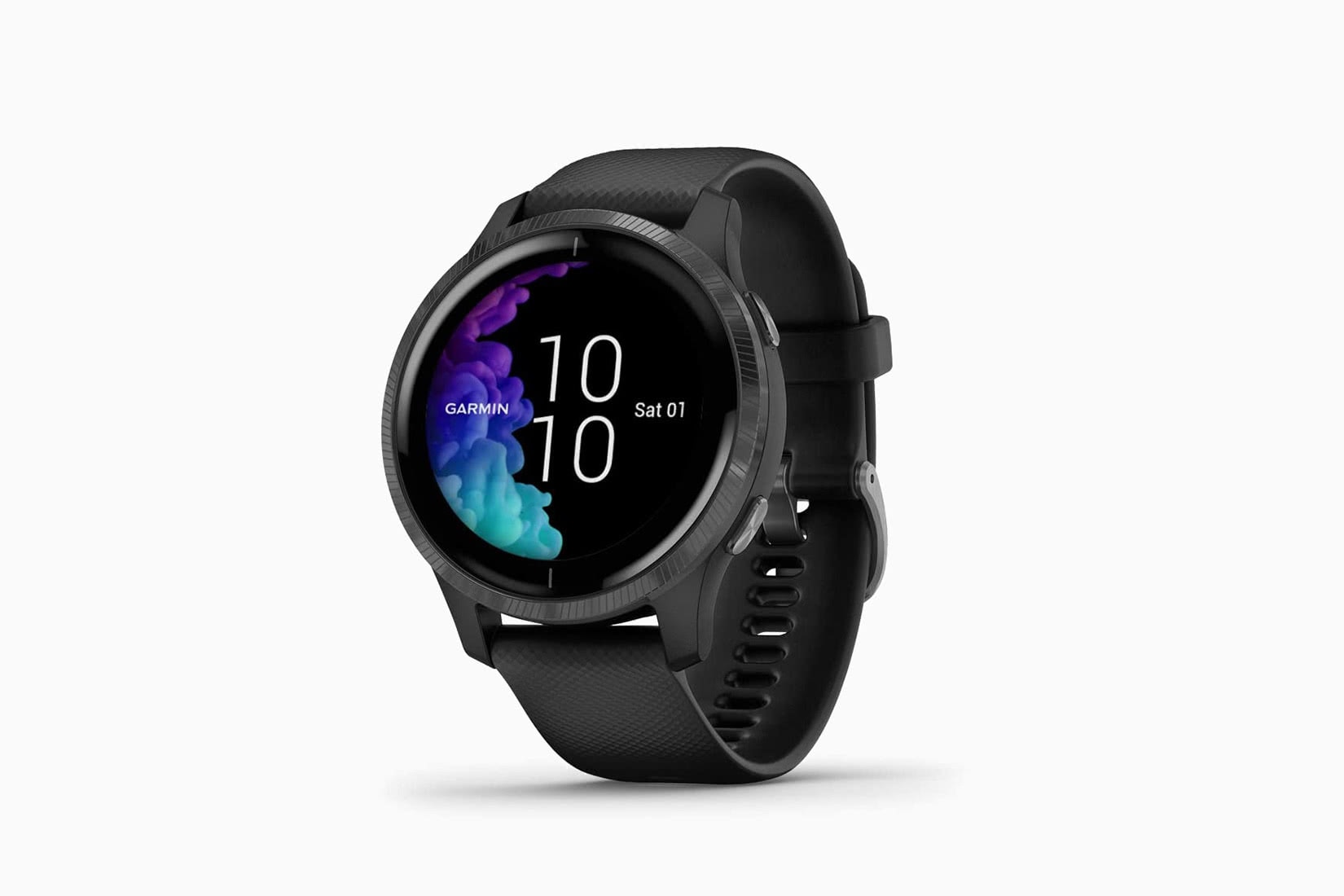 Garmin is known for making some of the best watches for men. The Garmin Venu, for example, boasts an impressive 5-day battery life when used in smartwatch mode and you can use it for up to 6 hours in GPS mode with music.
Like all the best smartwatches, it allows you to monitor your health and even follow animated workouts from your watch screen. And the safety and tracking feature with built-in incident detection is a very clever feature. As is being able to determine your 'body battery' so you know when to work out and when you should just be lazy.
Fossil Gen 5E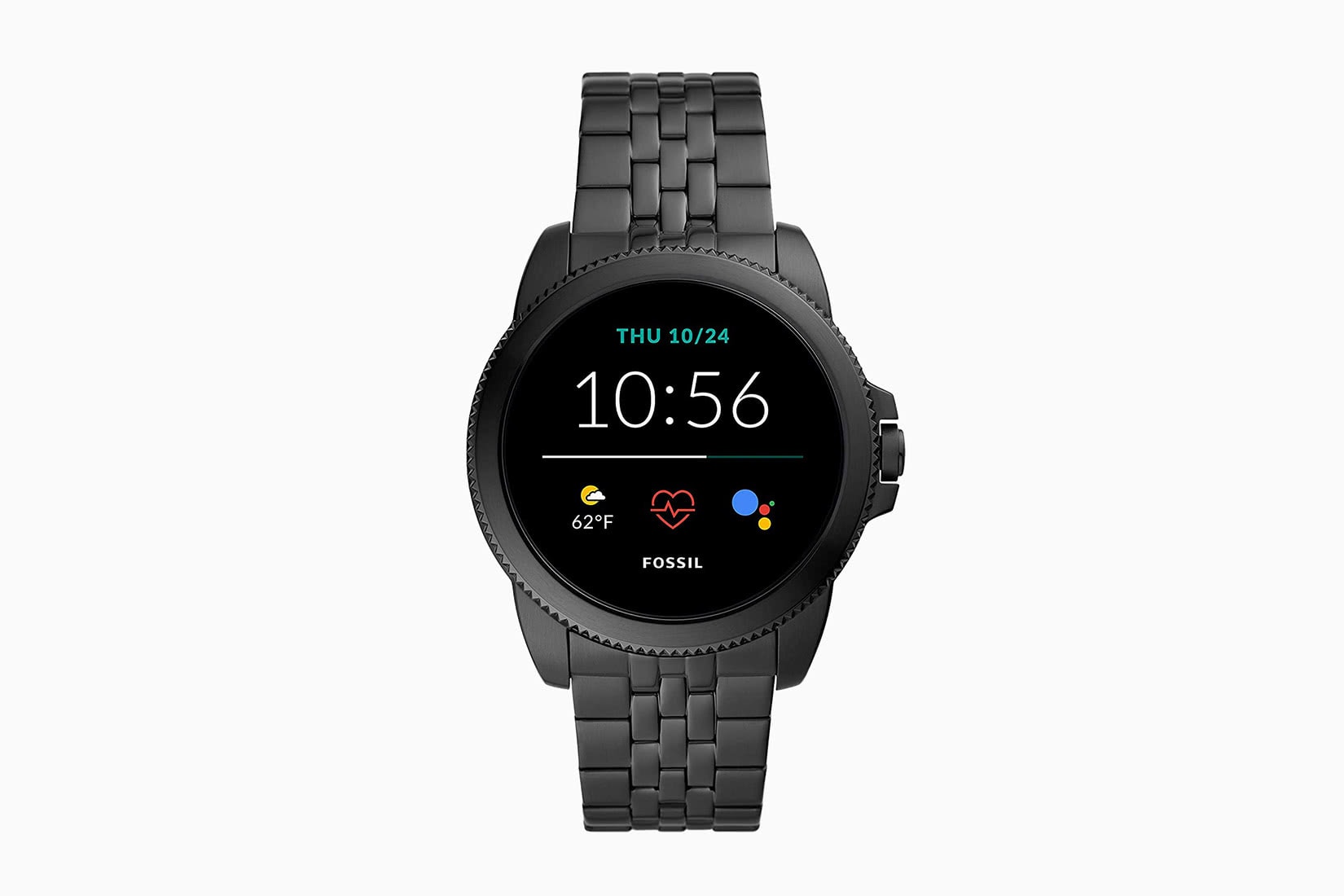 It may not be a household name like an Apple Watch or Fitbit, but the Fossil Gen 5E is still one of the most popular watches for men thanks to its dependable functionality and sleek aesthetic. It's a Wear OS device—Google's adaptation of Android for smartwatches—and while there have been some complaints about Wear OS batteries, this one features multiple battery modes that manage to extend the battery life.
You name it, the Fossil Gen 5E does it, from tracking your fitness, making payments, and monitoring your sleep to receiving calls and texts and synching up with your calendar. You can even get help from your Google Assistant.
Garmin Forerunner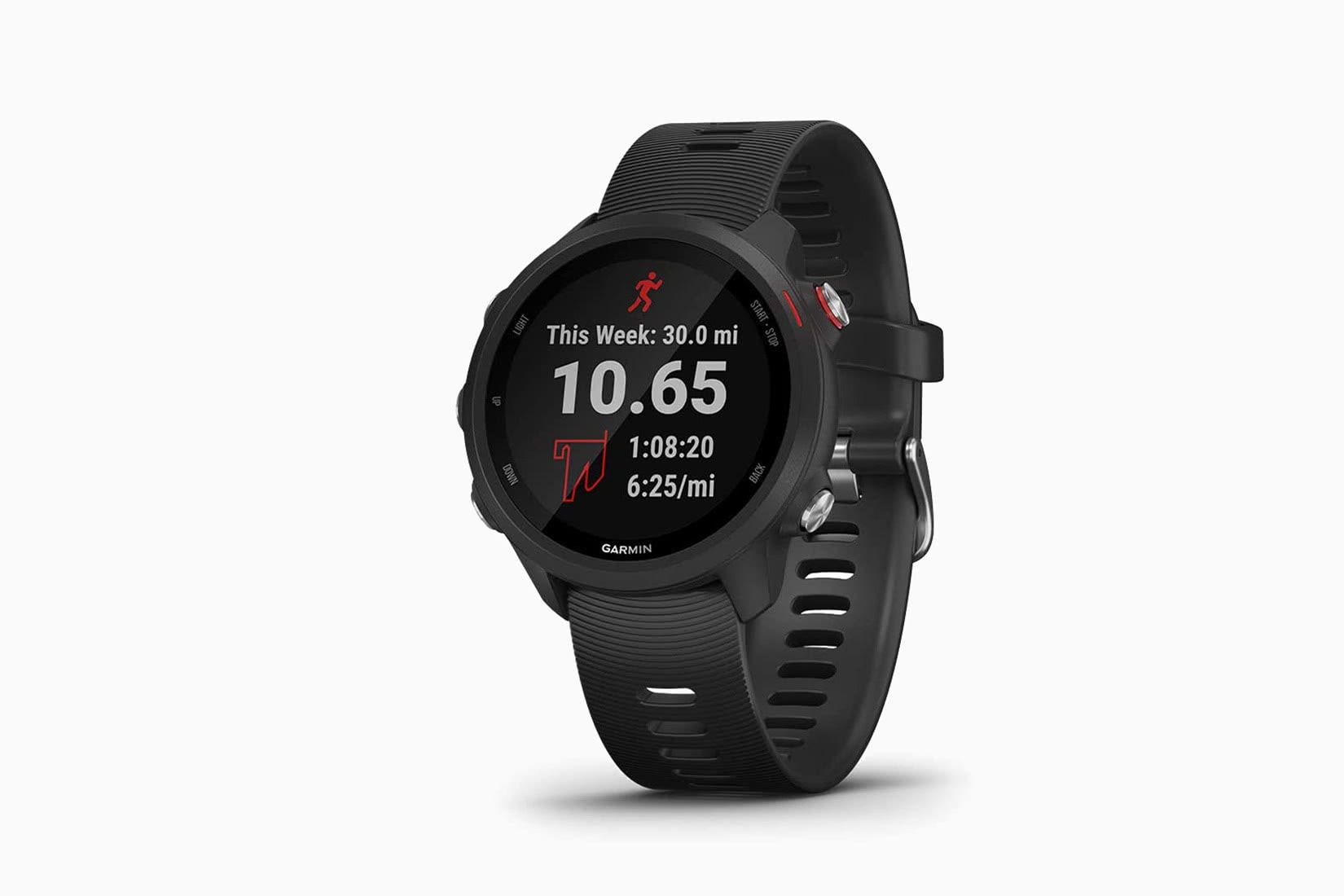 The feature-packed Garmin Forerunner is the ultimate tool for those gearing up for a marathon, triathlon, or a Couch-to-5K. Almost everyone agrees that this smartwatch is the best running watch around.
Samsung Galaxy Watch 3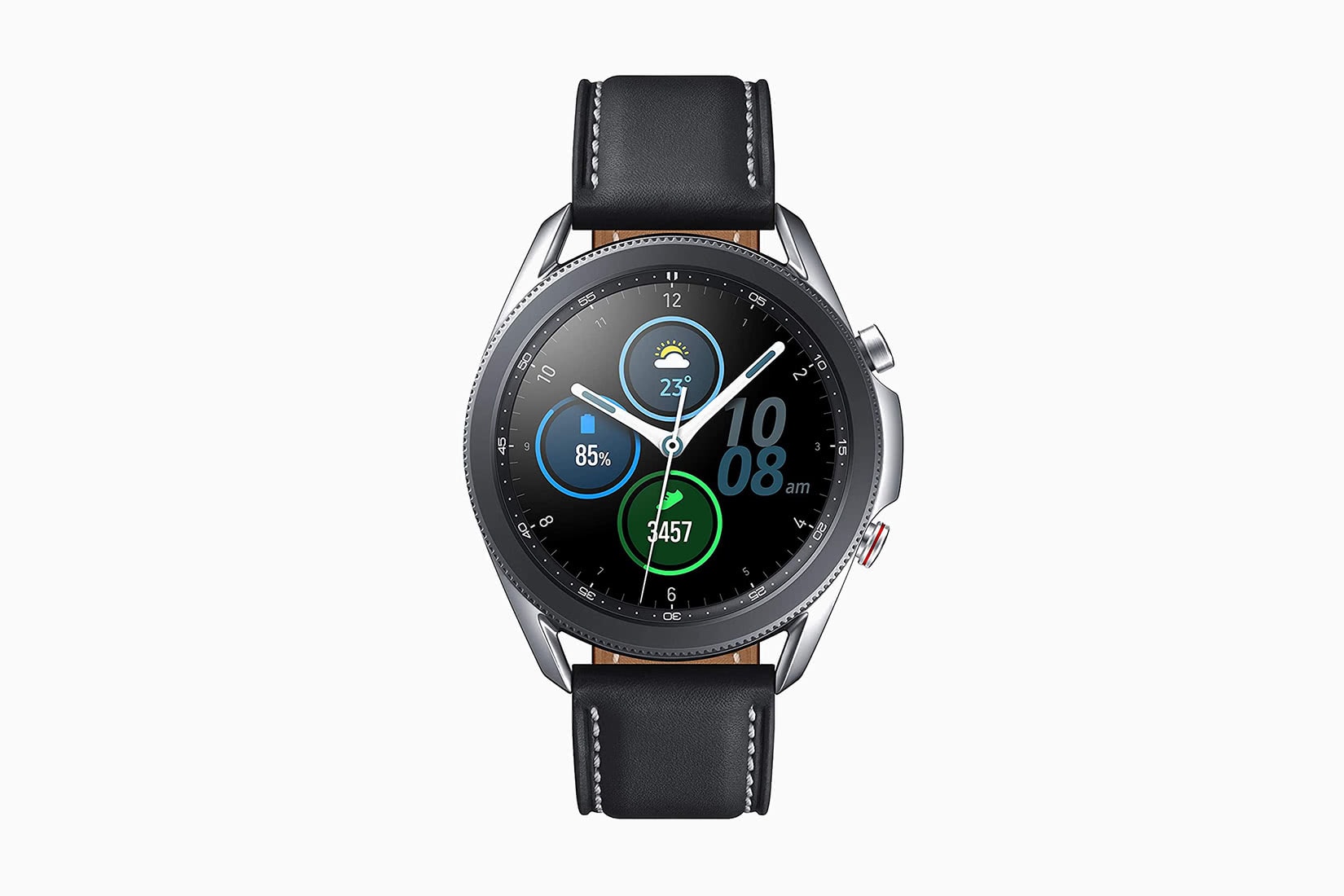 The verdict's in and the Samsung Galaxy Watch 3 is a great all-rounder, providing a wide range of functions. Less a specialist smart-watch than a multi-purpose and high-performing tool, this watch is perfect for almost anyone.
Garmin Instinct Solar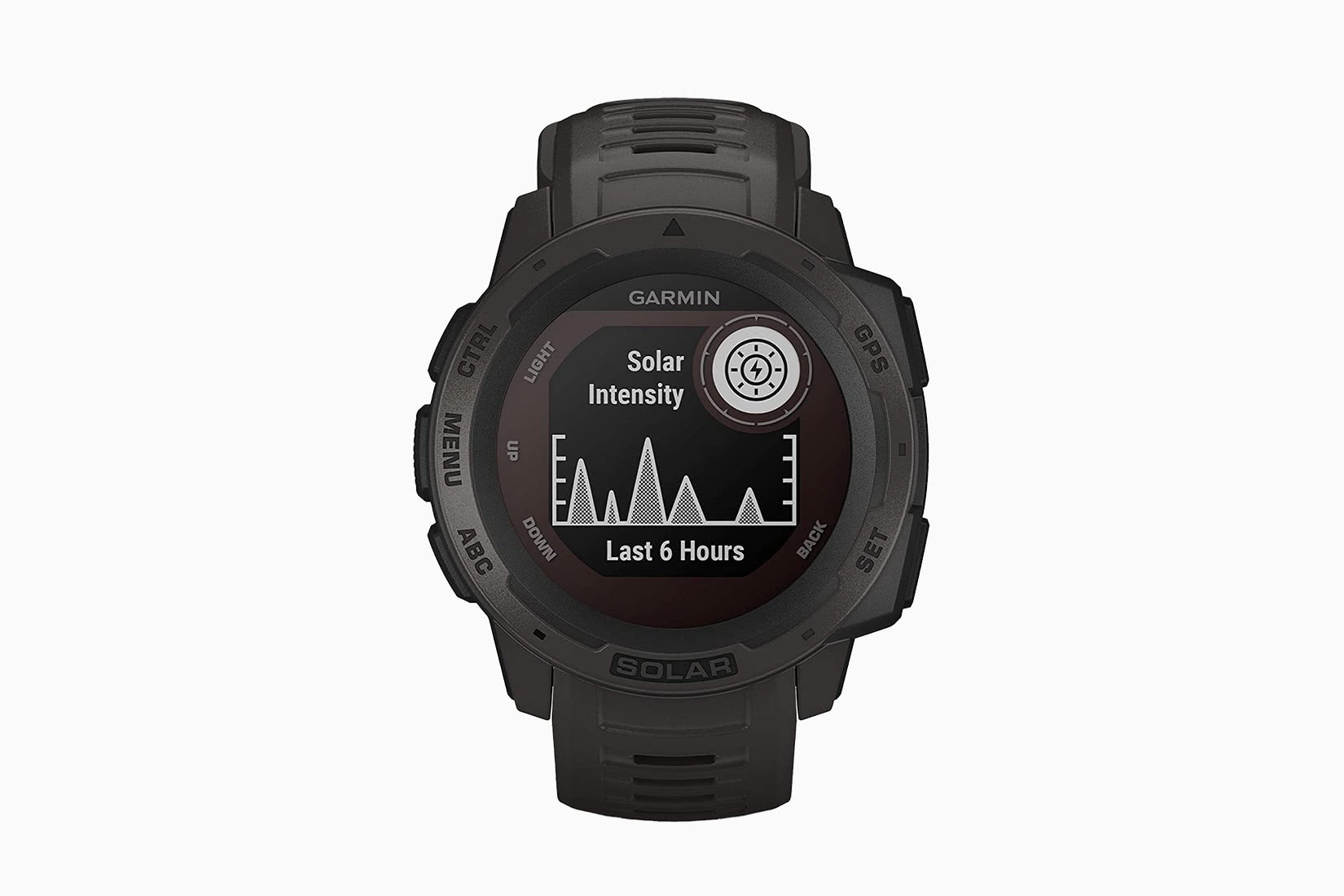 Leave it to a brand as pioneering and innovative as Garmin to bring solar power to the world of smartwatches. For the modern-day watch wearer, eager to be sustainable, the fact that this watch's battery life can be extended through solar charging is super impressive.
Constructed to the US military standard 810, the Garmin Instinct Solar is one fantastically rugged gadget. Water-resistant to 100 meters, both shock, and thermal-resistant, and with multiple global navigation systems to track your location in the most challenging environments, it's one of the best manly watches we've seen.
4. Men's pilot watches (aviator watches)
We're drawn to pilot watches for a number of reasons. First, because we like to imagine we also live a life high in the skies, jetting from country to country. Secondly, because they're practical and reliable but look dashing and romantic at the same time. And lastly, because they have a fascinating history as the watch of choice for servicemen around the world. Check out our pick of the best aviator watches, from iconic masterpieces to under-the-radar budget watches for more options.
Vincero The Altitude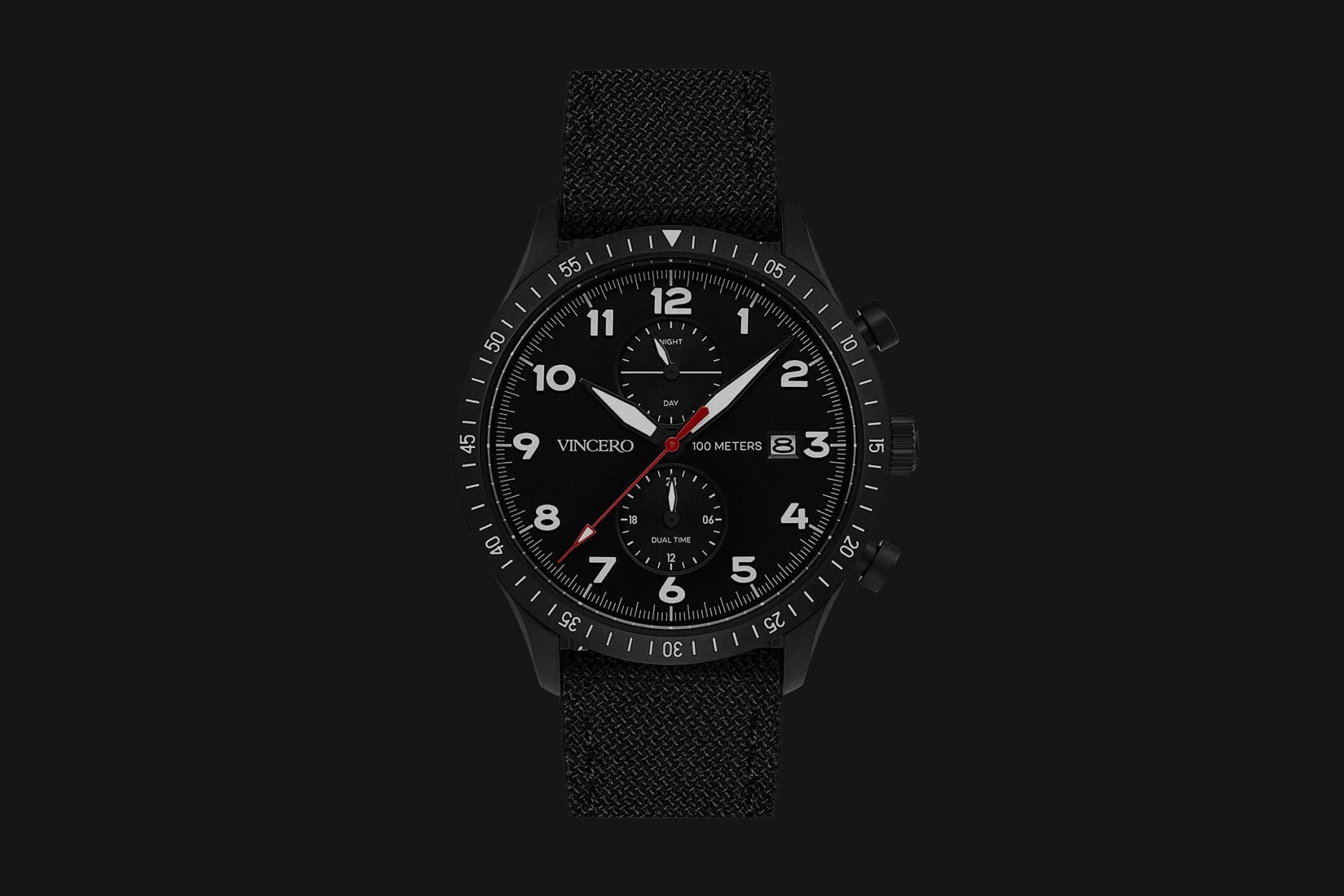 Like Vincero's other top-rated watches, The Altitude is one of the best looking watches around, combining quality materials with an eye for compelling design, all while keeping costs low. It has heaps of aviator allure with its large luminous numbers and a dual-time function, ideal for jet-setters moving between time zones.
One of the best stylish watches, this timepiece has a larger dial like most pilot watches but wouldn't look out of place with a suit. The Altitude is also available in a range of colors—and you can opt for a nylon strap over leather if you prefer. Take a look at our in-depth Vincero watches review to see their other models.
IWC Pilot Mark XVIII Heritage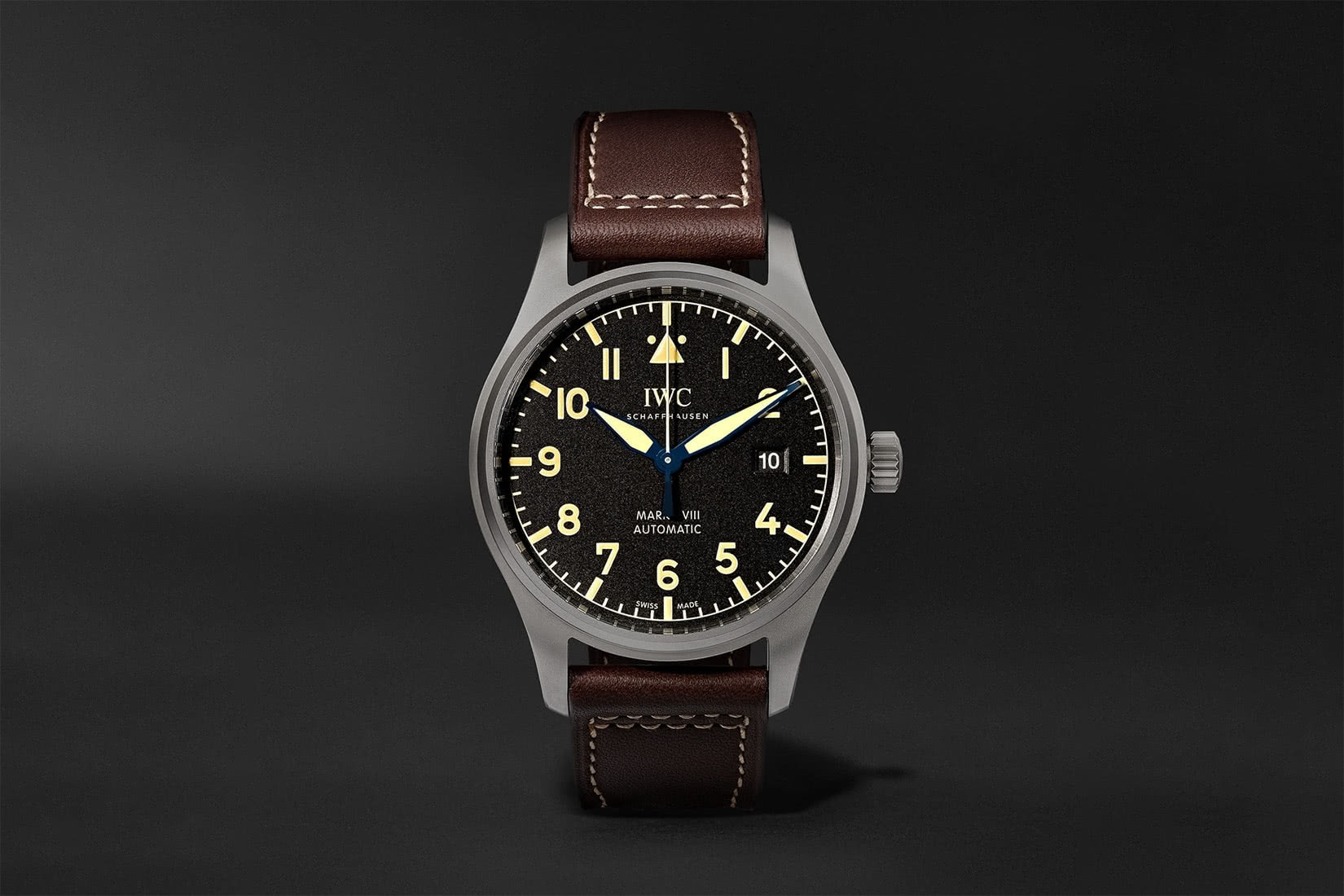 A visually striking take on IWC's iconic and highly-coveted Big Pilot's Watch 52, the Mark XVIII Heritage has the high-contrast dial and back-to-basics aesthetic of the original aviator watches and is a top challenger for the best wrist watch for men.
You've got a black dial that's big and bold without being overwhelming. Complications are kept to a minimum with just a date window at 3 o'clock. Luminous indices allow for visibility, either in the cockpit or a dimly lit cocktail bar. And there's a triangle index at 12 o'clock like the very first pilot watches.
LIV P-51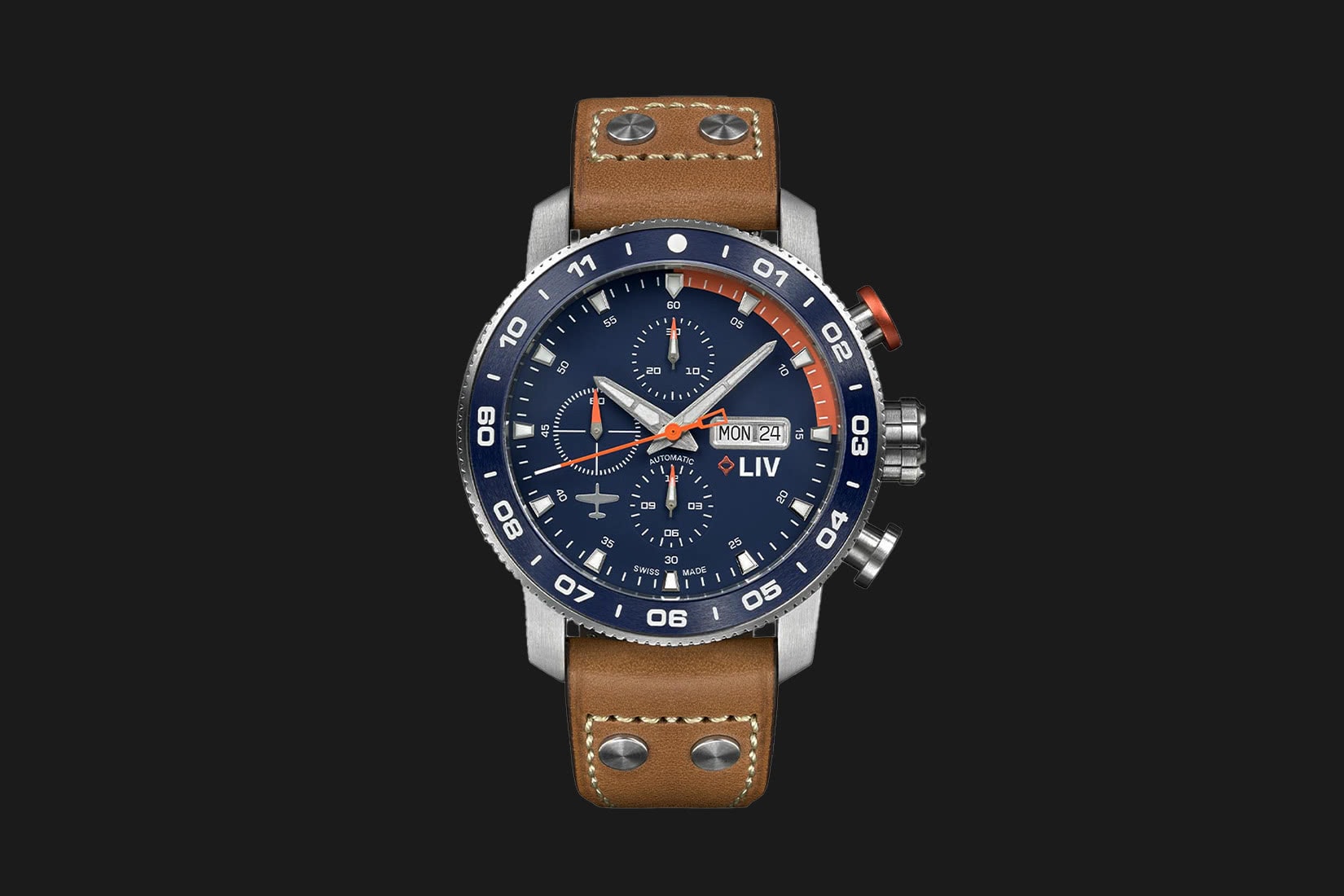 A masterclass in combining utility with rugged sophistication, the LIV P-51 is a unique addition to your watch collection. It features a highly accurate ETA 7750 25-jewel Swiss chronograph movement, a case made from high-grade titanium—strong yet incredibly lightweight—and a ceramic unidirectional bezel—durable and long-lasting.
A strap made from rare and quality Barenia leather is a high-end touch. And while the LIV P-51 is pretty chunky at 46 mm, that just adds to the air of boldness and daring. If you're looking for quality men's watches, this one should be high on your list.
Timex Intelligent Quartz Fly-Back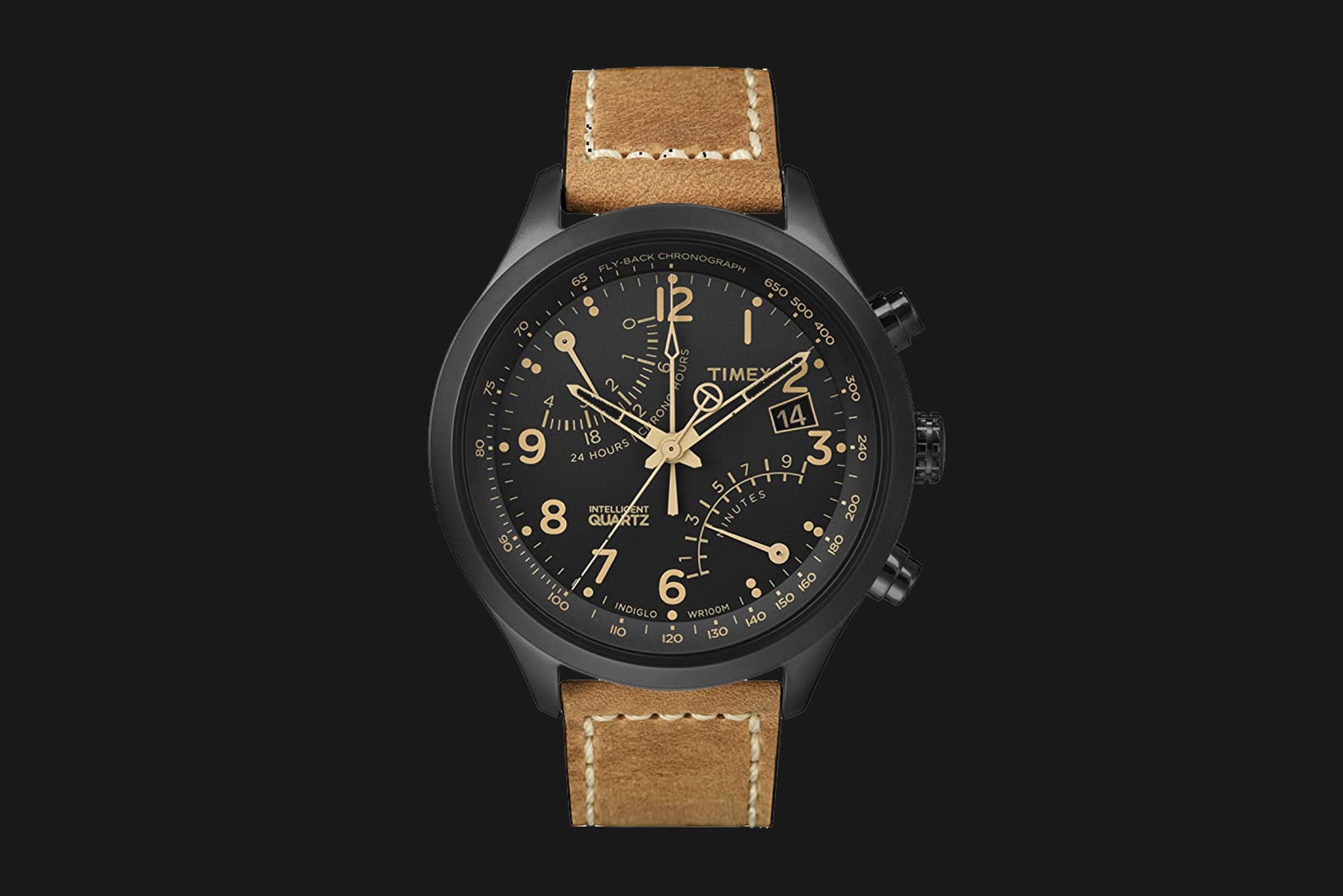 Typically, pilot watches had simple and sparse dials. Timex ignores this and we're glad they did because the Fly-Back looks epic as a result. The dial features a date window, two retrograde subdials, a 4-hour chronograph, and a second time-zone function. Indiglo technology means you can access all this information even in the depths of night.
Despite being function-heavy, the Fly-Back is still very affordable. It's also water-resistant to 100 meters. Definitely putting up a fight for the status of "best watch for the money."
AVI-8 Retrograde Chronograph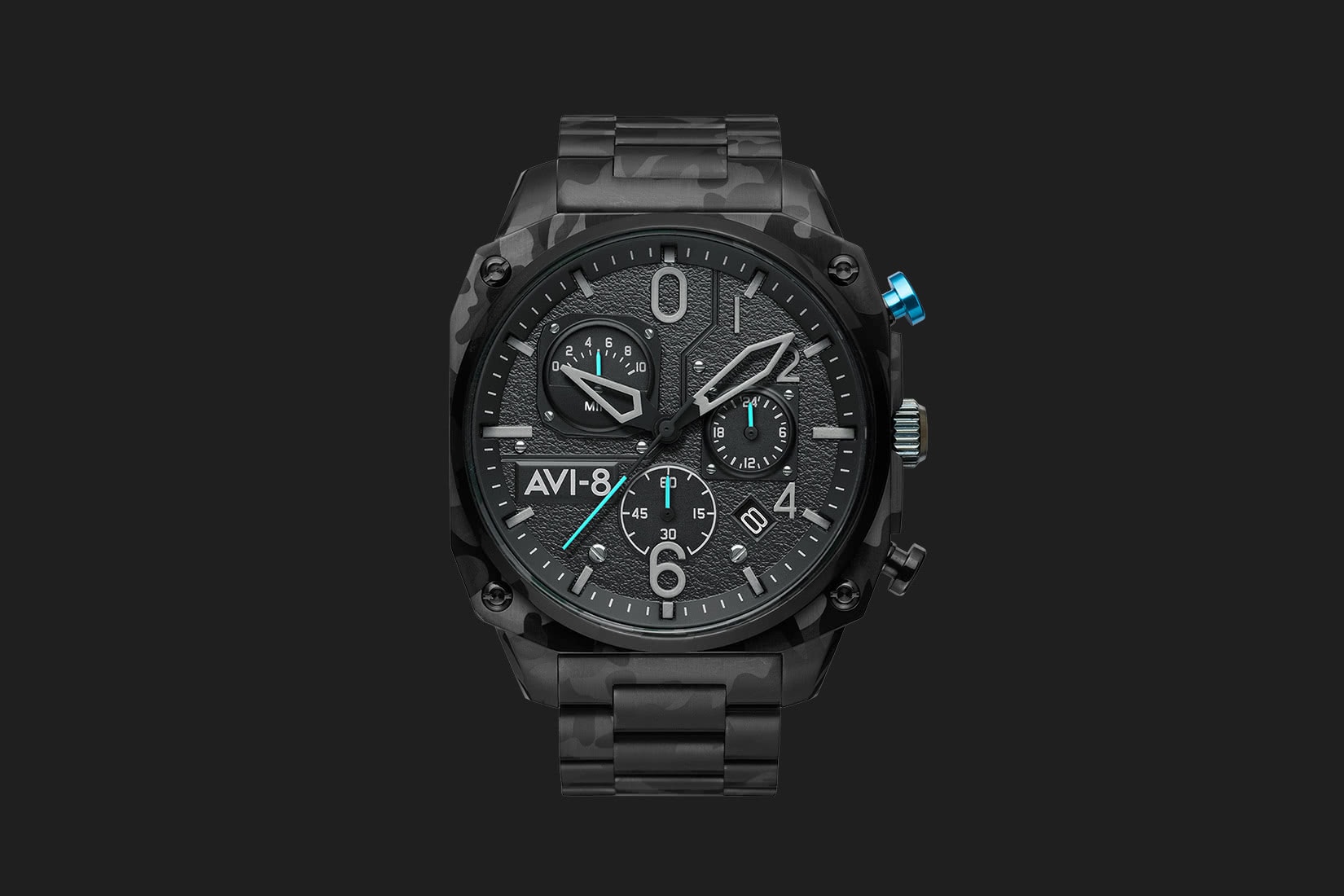 The 21st-century man on a mission needs a watch that looks like it's up for a grueling challenge or critical assignment. AVI-8 makes great watches and the AVI-9 Retrograde Chronograph is a fine example. We particularly like the black and grey color scheme known as Night Camo (favored by military aircraft during night-time operations) with its modern military vibe.
Ruggedly robust and masculine in feel, the Retrograde Chronograph comes with a steel bracelet with a PVD camouflage treatment. We're also enjoying the square shape of the case, a unique spin on the classic round pilot dial.
Citizen Eco-Drive Nighthawk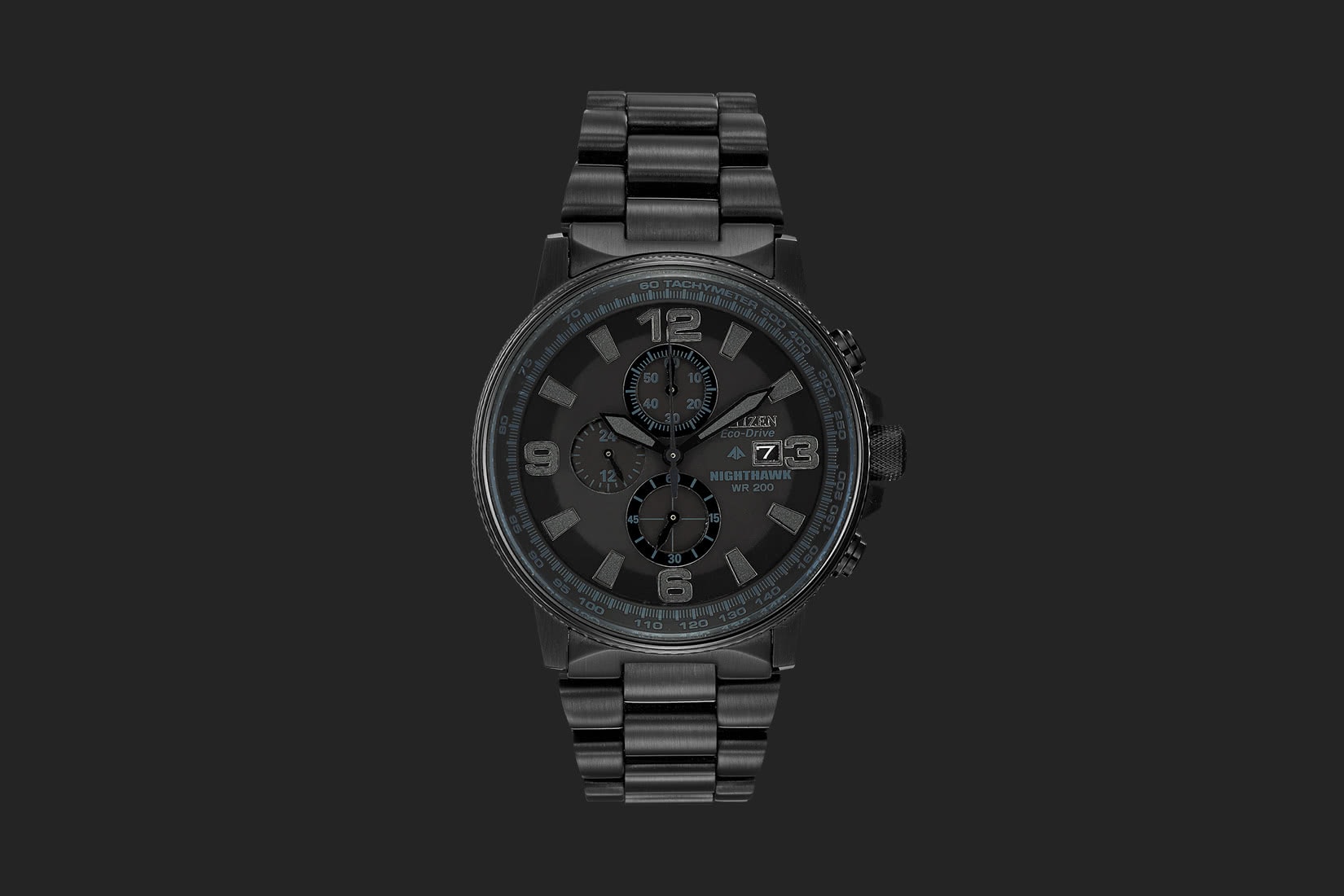 Whatever your particular line of duty, Citizen's Nighthawk is an aviator watch worthy of the everyday hero with its multitude of cockpit-ready features, including a pilot's slide rule dial, dual time function, non-reflective crystal, and luminous markers and hands. One of the best 42mm watches, it's made from sturdy stainless steel and also features Citizen's Eco-Drive solar technology, so no batteries are required.
With water resistance to 200 meters, the Nighthawk can be taken straight from soaring the skies to snorkeling below the ocean surface. Potentially the best watch on Amazon we've come across.
Breitling Aviator 8 Curtiss Warhawk Automatic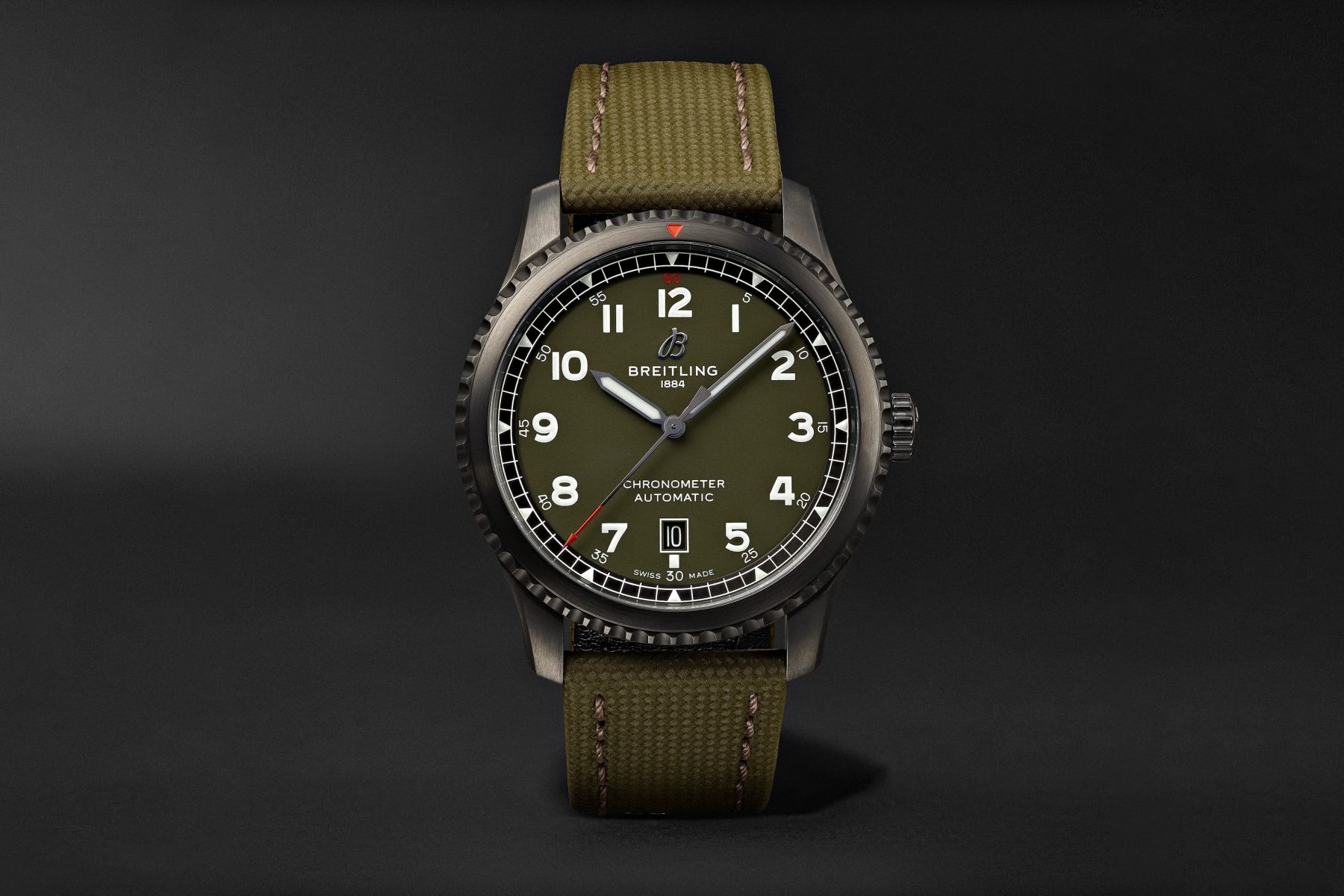 Breitling's history lies in making combat-ready timekeepers for the RAF so you can trust them to deliver a high-performing instrument—and a seriously good looking watch.
A celebration of the P-40 Warhawk fighter plane, this aviator-inspired timepiece is crafted from sleek black stainless steel with an army-green dial and matching canvas strap. The COSC-certified chronometer (accurate to within -4/+6 seconds a day) is powered by a Breitling automatic movement. The Aviator 8 Curtiss Warhawk also features Super-LumiNova numbers for after-dark readability.
IWC Pilot Le Petit Prince Chronograph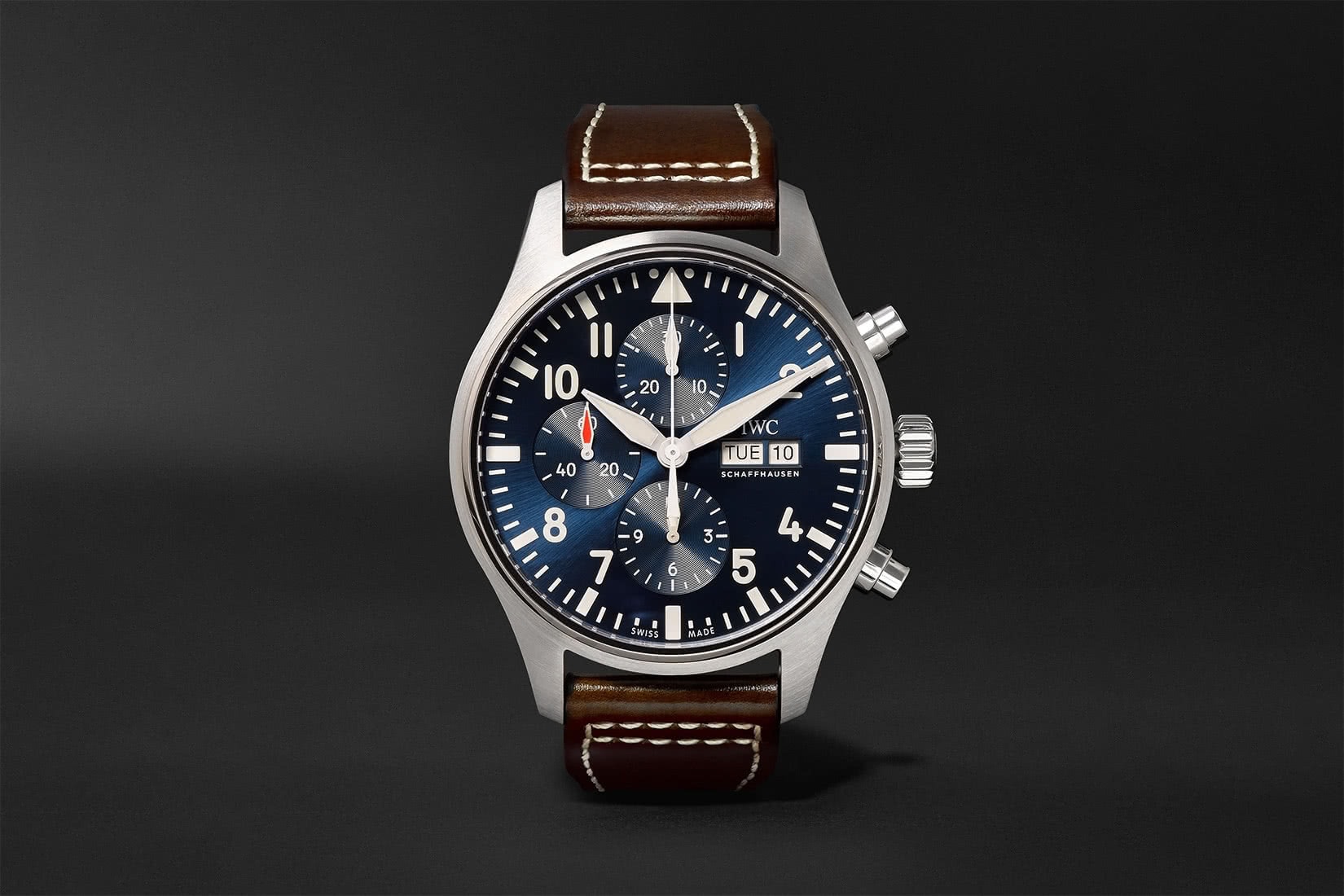 With a rich heritage of creating military-spec pilot watches for those in the field, IWC's aviator watches are some of the most sought-after on the market. One of our favorites is the Le Petit Prince Chronograph. With its sunburst blue dial, stainless steel case, and brown strap, this handsome timekeeper is made for high-flyers and is possibly one of the most beautiful watches for men we've seen.
The Le Petit Prince comes in a soft-iron inner case to protect the movement against magnetic fields. The dial features a day and date window and a chronograph for more precise time measurements. On the back is an engraving of the Little Prince from the 1943 novel by Antoine de Saint-Exupéry, one of aviation's pivotal figures.
Casio EF52RD-1AV Edifice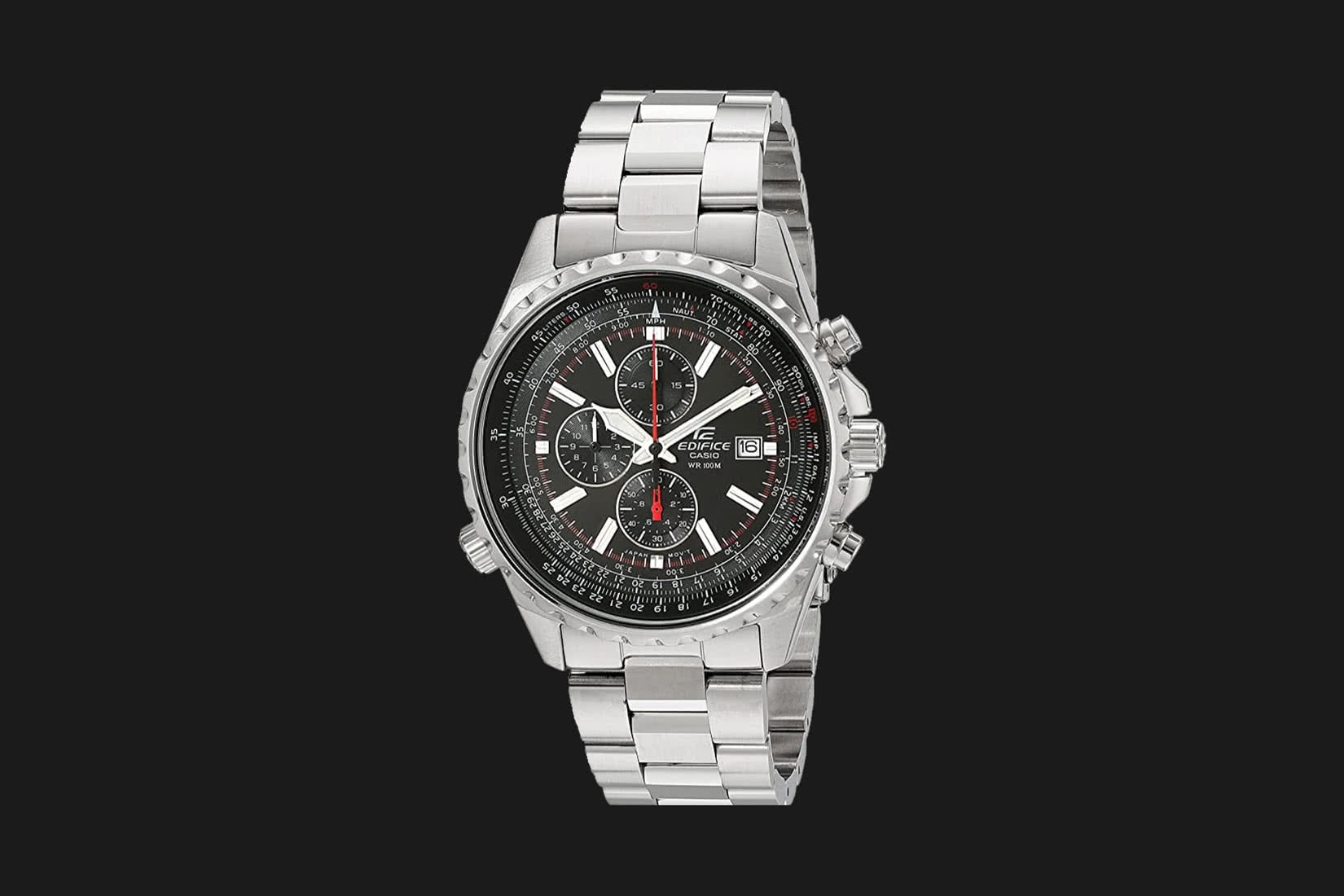 If you plan to wear your pilot's watch on a daily basis—not just for night-time raids with the RAF—you want a timepiece that's wearable, versatile, and not too expensive. Casio is one of the best watches brands for men and the EF52RD-1AV Edifice fits the bill perfectly.
The stainless steel band is made with smaller rounded segments so it hugs your wrist snugly and comfortably. Precision dial indexes and a knurled bezel add the necessary contemporary commando cool. And a rotating slide rule allows for calculations of speed and fuel consumption, as well as time.
AVI-8 Duke Chronograph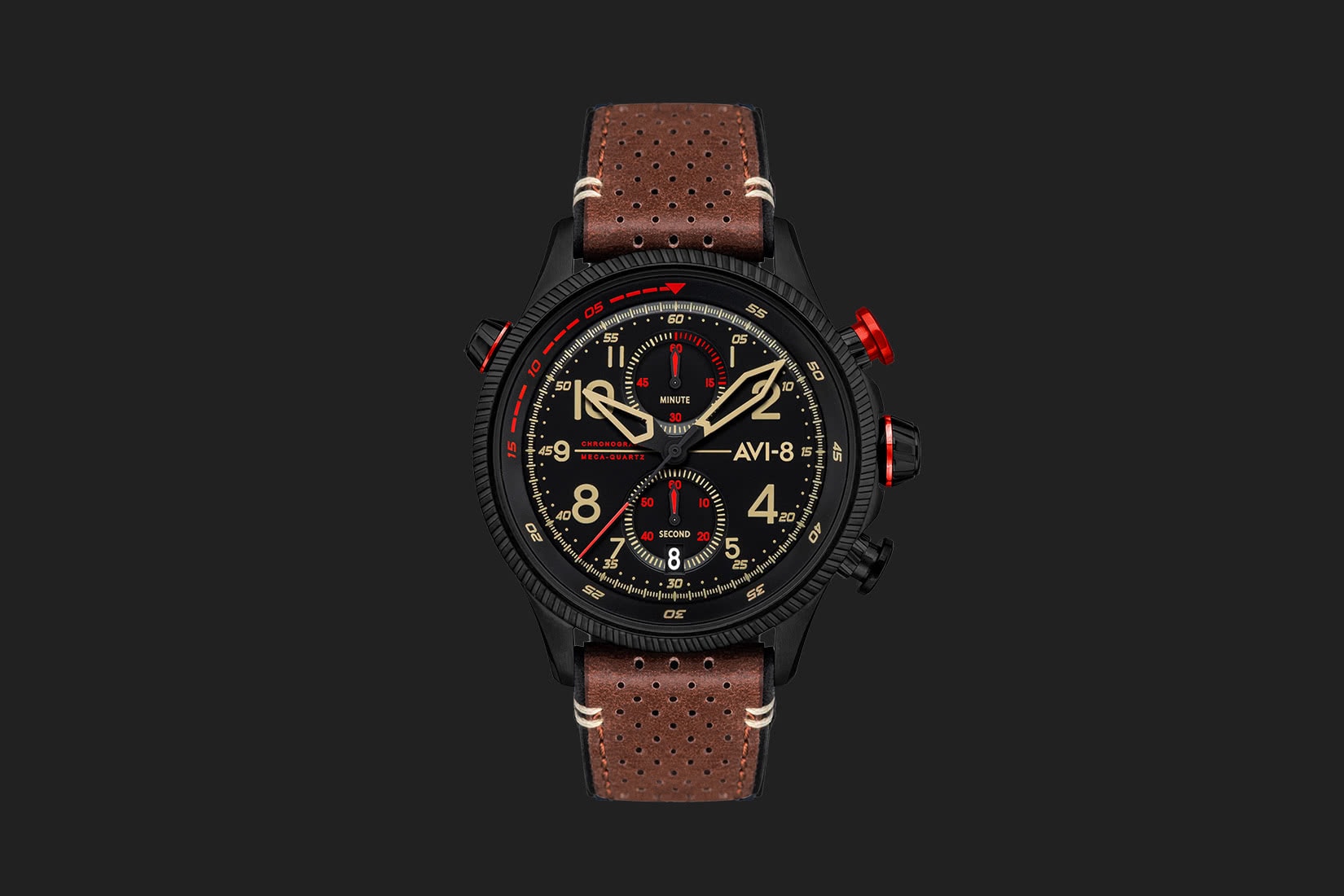 Named after Neville Duke, the chief test pilot of the Hawker Hunter fighter aircraft, the Duke Chronograph is a modern interpretation of a classic pilot's watch, optimized for performance and precision.
The robust 44m case feels suitably hard-nosed and down-to-earth while the tapered lugs and polished chamfers add a bit of sophistication. There's a bi-directional inner countdown bezel for superior functionality and the Duke Chronograph is powered by a Seiko VK series Meca-Quartz chronograph, renowned for its reliability. One of the coolest watches on our list.
Oris Big Crown ProPilot GMT Automatic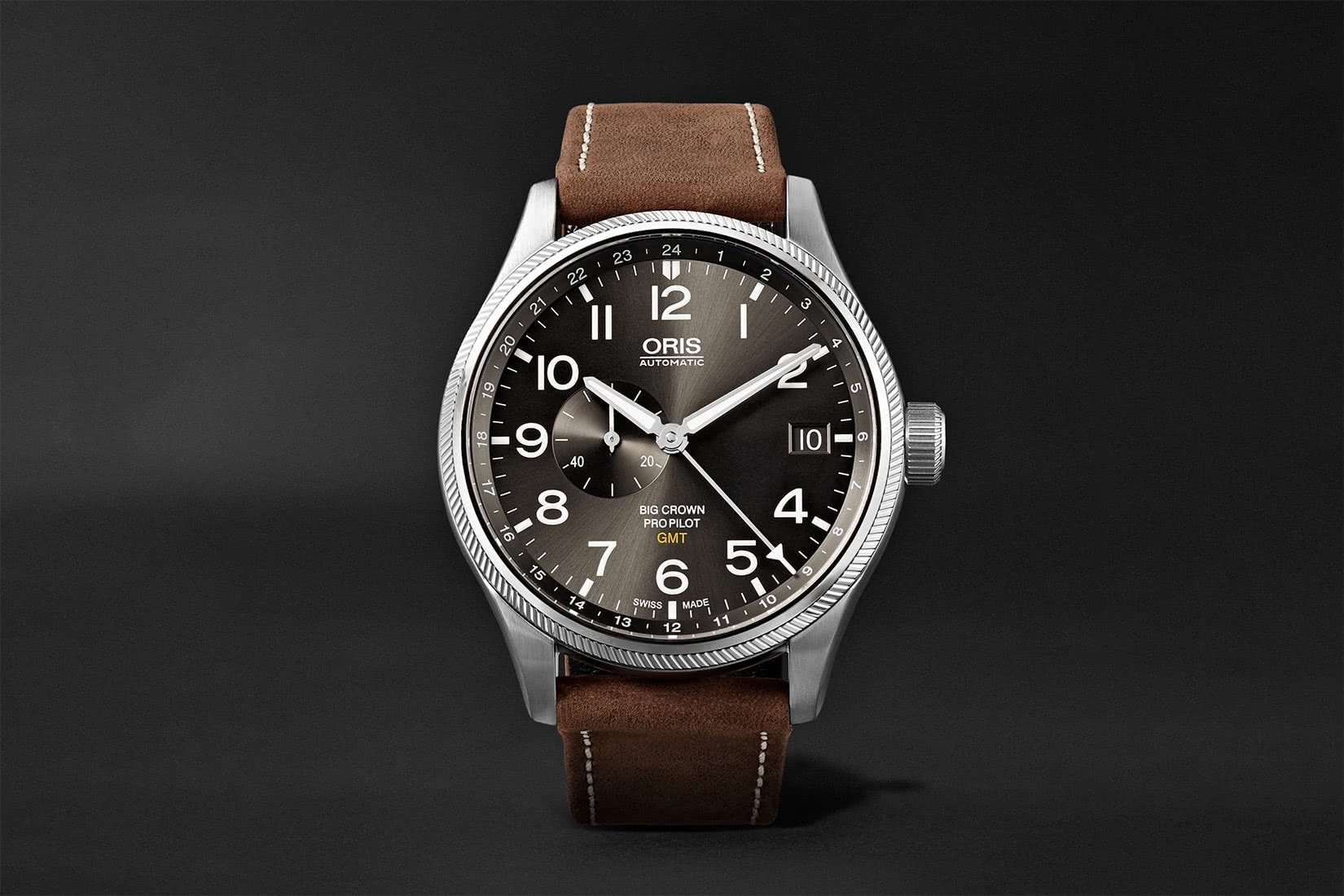 These days we're more likely to find ourselves on automatic pilot than piloting a fighter jet at extreme altitudes, but a man can dream, right? And no timepiece conjures up dreams of dawn patrols and stealth missions like the Oris Big Crown ProPilot.
Designed by the pioneers of old-school aviation watches over at Oris, the Big Crown ProPilot is a frontrunner for the position of best watches design, featuring a date window, a second dial at 9'oclock, and a GMT complication for international trips. Rounded hands resemble the hands of a propeller while the suede strap is soft and stylish.
IWC Big Pilot's Heritage Automatic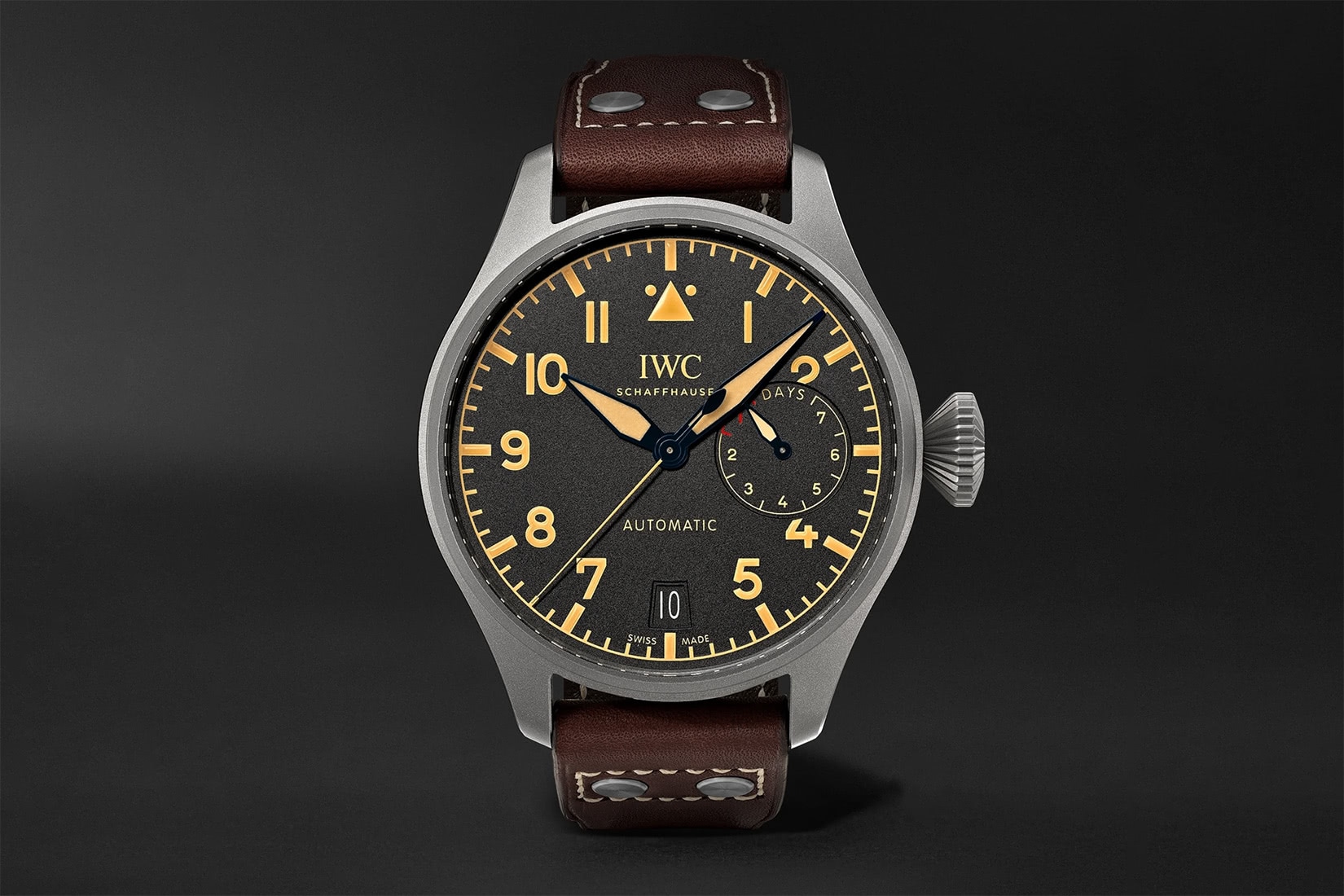 Behind some of the best luxury watches for men, IWC has made sure this timepiece has all the most important aviator design credentials, including an oversized crown in case you need to make adjustments while wearing thick servicemen gloves.
Made with a titanium case and weighing less than 150 grams, you'll barely notice the Big Pilot's Heritage on your wrist—except when the compliments start rolling in, Retro features include the chapter ring, Arabic numerals, and beige propeller-style hands. A twin-barrel mechanism allows for a power reserve of up to 7 days—not to be sniffed at. A brown calfskin strap is the perfect finishing touch.
AVI-8 Type 300 Automatic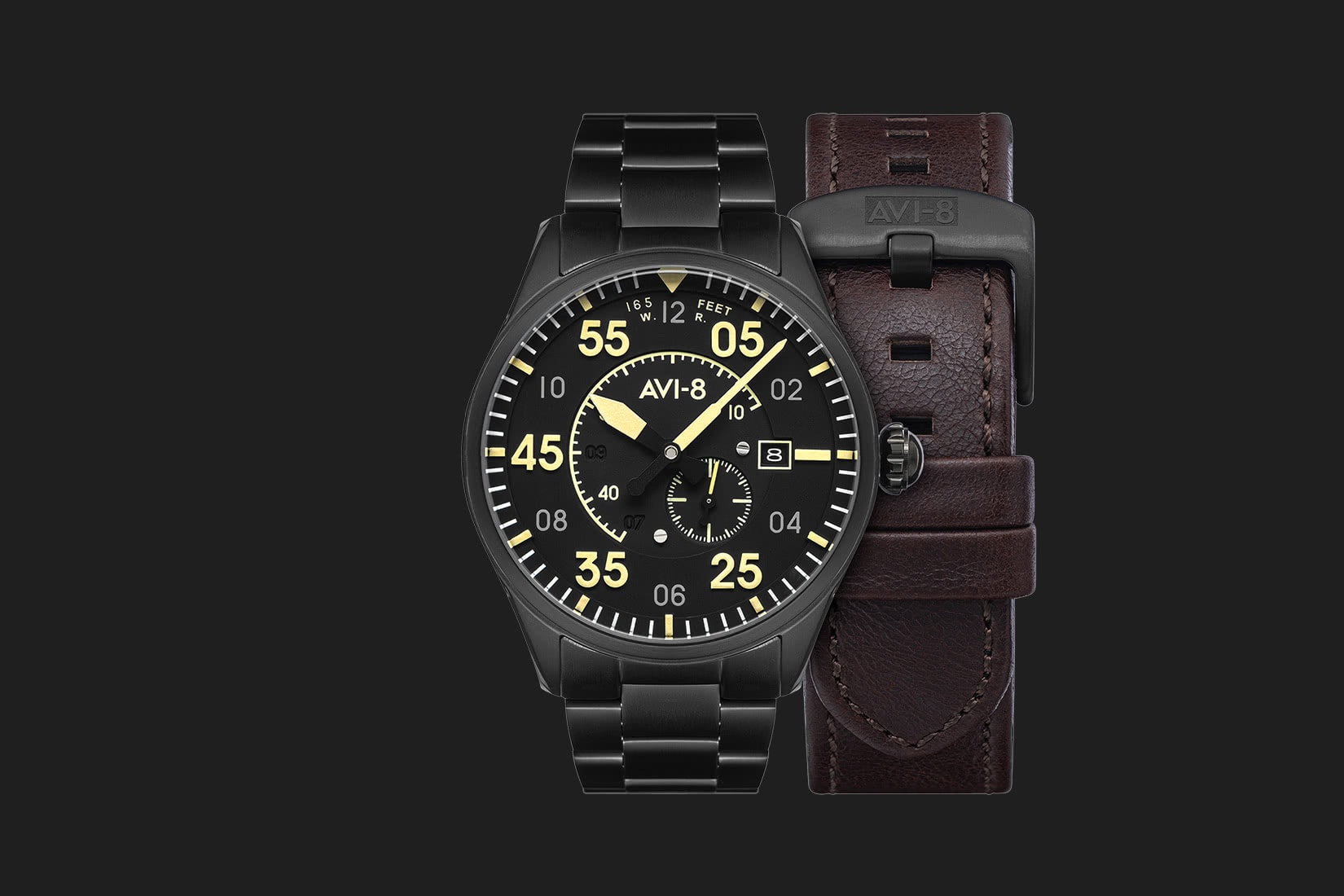 AVI-8's Type 300 Automatic draws on the lines, form, and design of the Spitfire, the iconic and revolutionary World War 2 fighter plane that gave the British an edge over the enemy, making it the best watch to buy if you fancy something with an intriguing history.
The famous elliptical wing of the Spitfire is reflected in the elegantly curved 42mm case. Meanwhile, the Type 300's bulbous crown references the plane's propeller and hub while the dial takes its lead from the Spitfire cockpit—clearly defined indexes and hands and a superbly legible layout.
Panerai Luminor Base 8 Days Titanio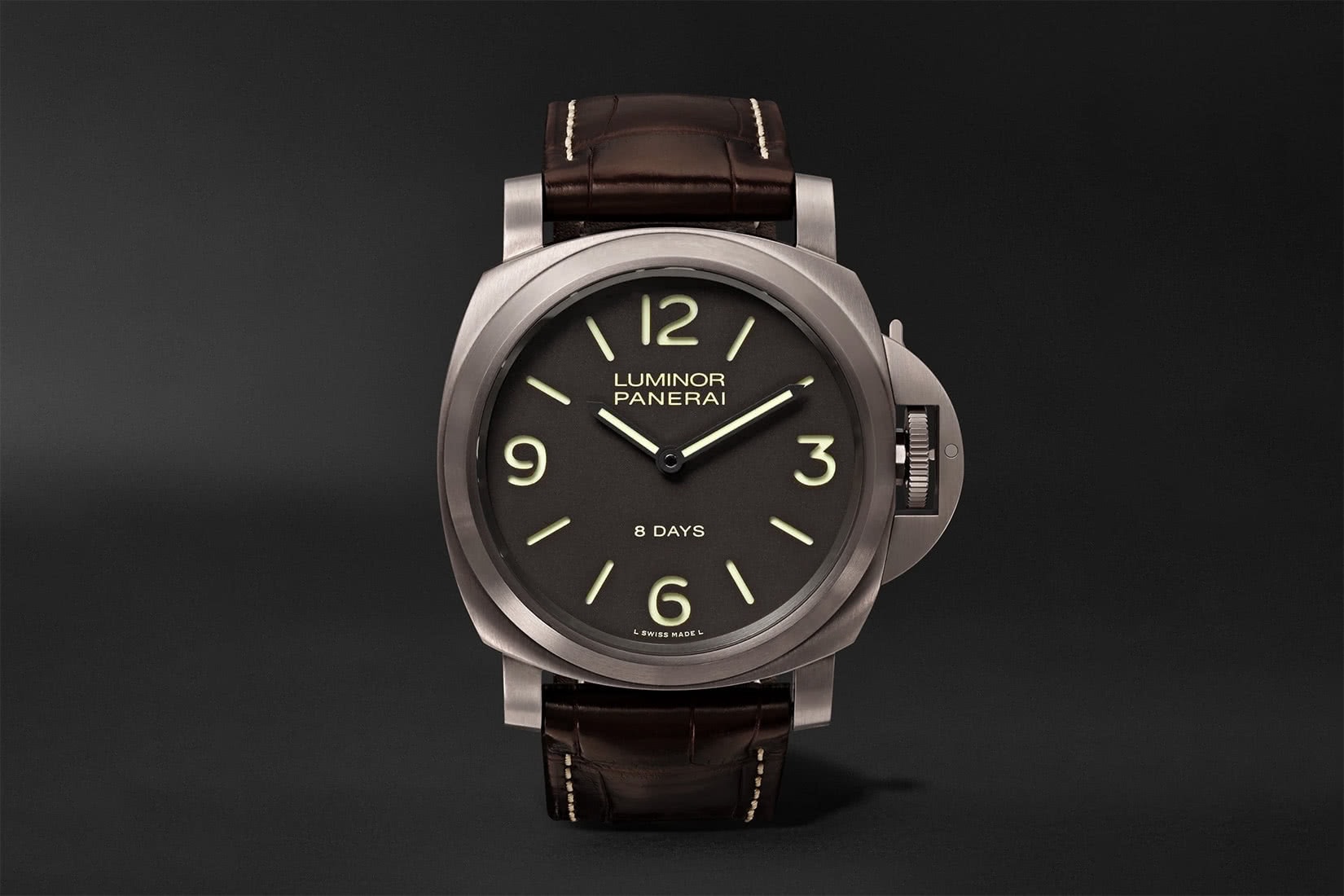 Panerai is one of the top 10 luxury watch brands in existence and the Luminor is considered a landmark timepiece with its tritium-based luminous material. It was also the first to feature the brand's signature crown-protecting bridge which is both eye-catching and practical.
Here we have a classy and contemporary update on the 1950s original that still retains all the characteristics that made the Luminor such a statement. Made of titanium, the material of choice for the military thanks to its minimal weight and extra strength, corrosion-resistance, and hypoallergenic qualities, the Base 8 Days Titanio is instantly arresting while remaining functional.
Rolex Pepsi GMT-Master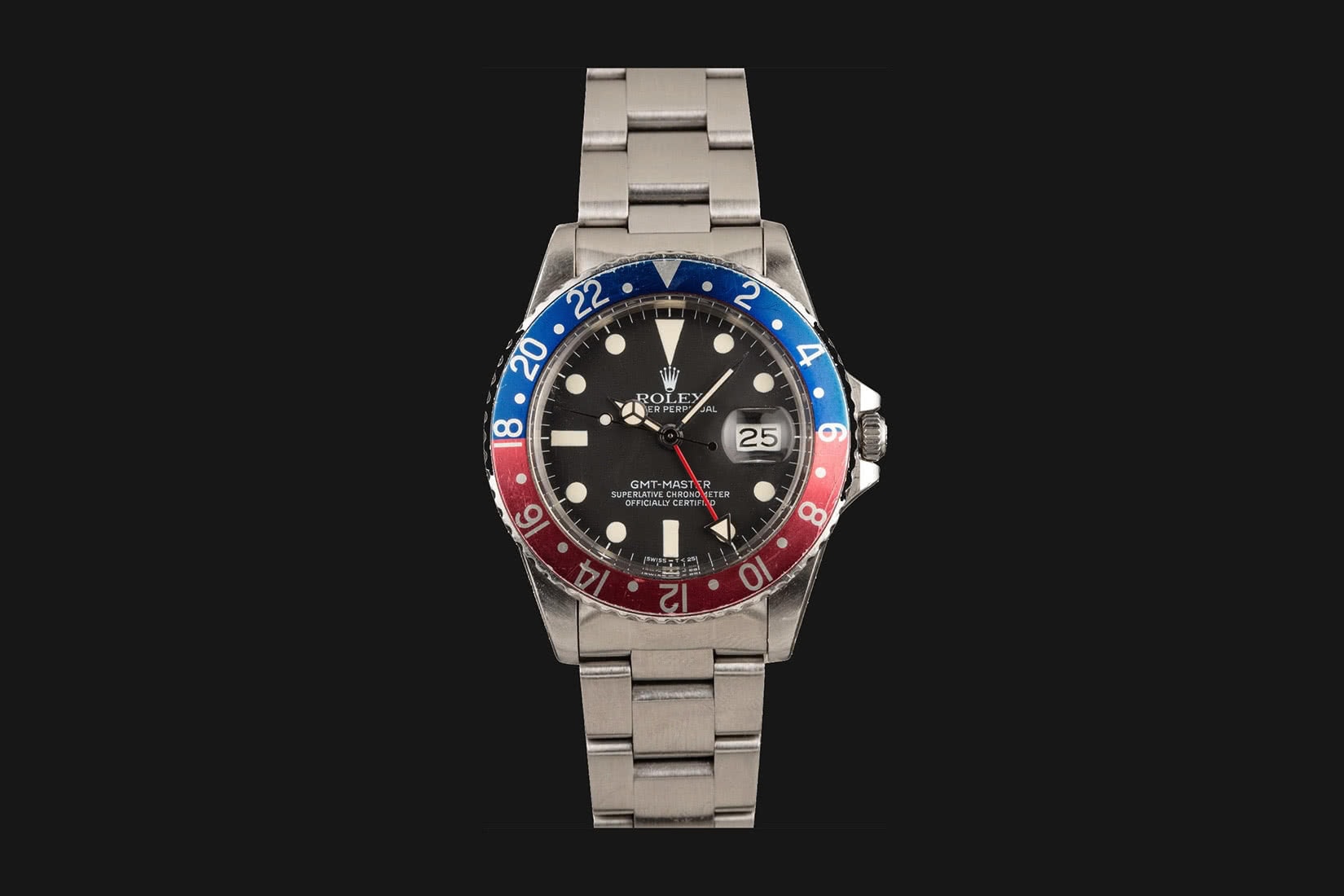 Pan Am commissioned Rolex to produce a timepiece for its pilots and flight attendants and the original GMT-Master was the result. It wasn't long before the watch had a huge cult following and today it's one of the best selling men's watches around.
The Pepsi GMT-Master gets its name from the red-blue bi-directional 24-hour bezel that indicates day and night in the additional timezone. This means pilots—or jet setters, frequent flyers, and businessmen on the go—can tell what time it is back home with a glance, ideal for phoning home at just the right time.
Zenith Pilot Type 20 Extra Special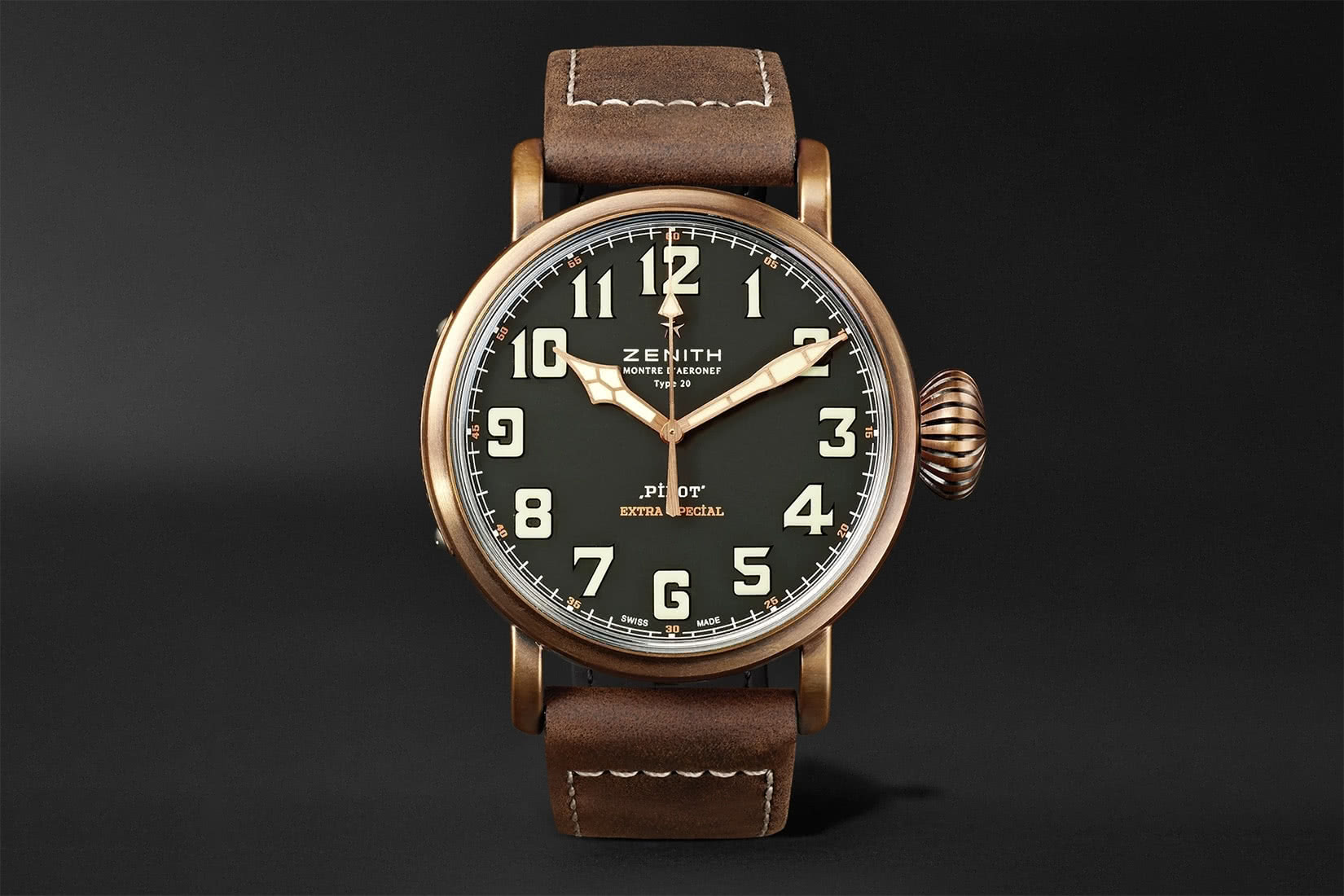 If you prefer the simplicity of retro aviator watches over the sometimes showy and extravagant modern pilot versions, nothing offers nostalgia and romance like this Zenith Pilot Type 20. From the unique materials—bronze and nubuck—to the silhouette—large and round like the original servicemen timekeepers—it's like wearing a military antique on your wrist.
An extra-large dial, high-contrast numerals finished in Super-LumiNova, an onion-shaped crown, and a bronze case that will develop an elegant patina as it ages, this Zenith timepiece delivers old-school sophistication.
Bremont ALT1-Classic/CR Automatic Chronograph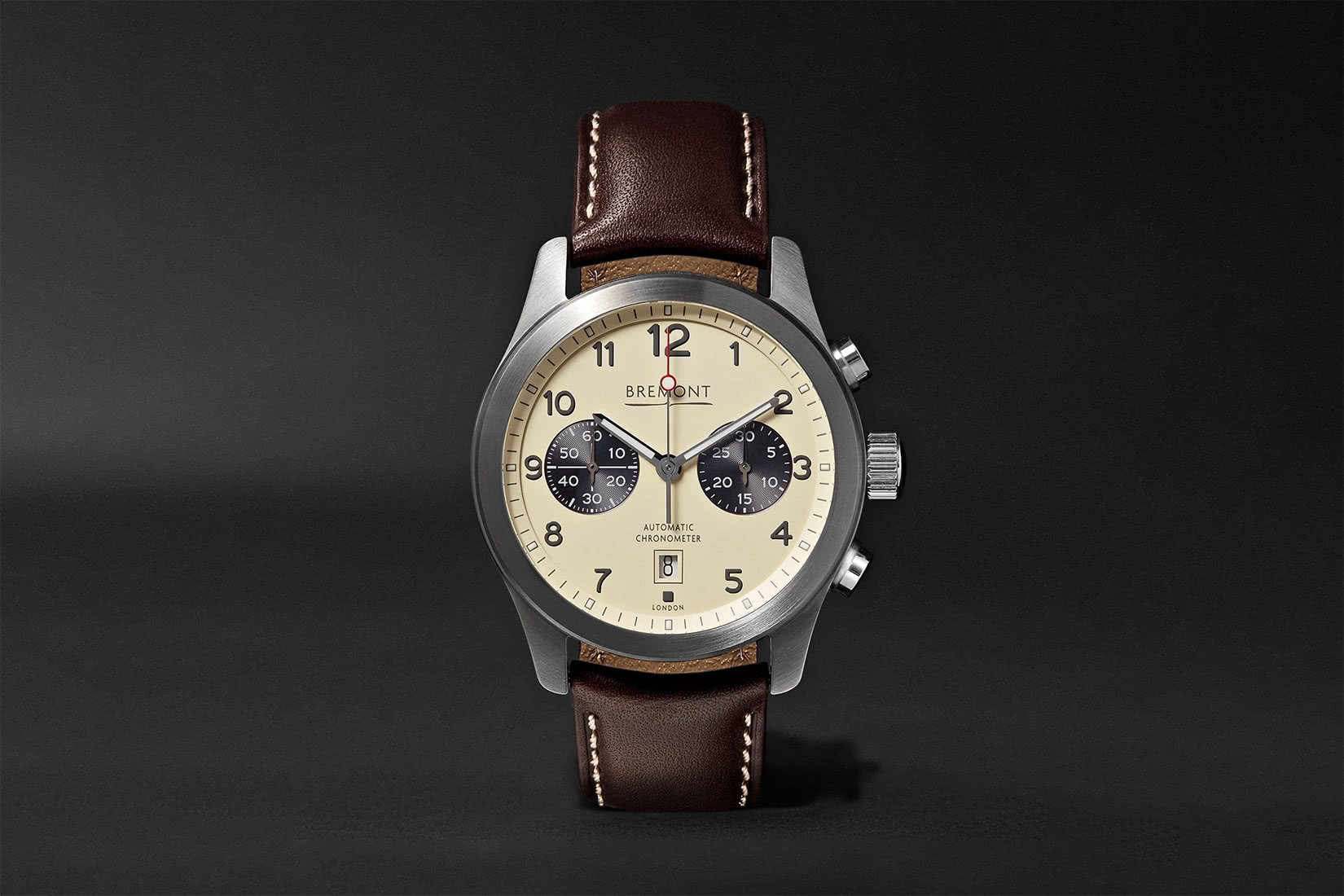 The best thing about classic pilot watches is that they transcend fleeting fashion trends with their timeless elegance and enduring class. Such is definitely the case with this Bremont aviator watch with its mood of perpetual refined practicality.
The ALT1-C/CR features a stainless steel case with reinforced sapphire crystal—anti-reflective and scratch-resistant. A Swiss-made 7750 caliber BE-50AE automatic movement with a 42-hour power reserve delivers highly precise time-keeping and additional functions include a date window, sweep second hand, and 30-minute subdial. The kind of watch that immediately gives people confidence in your capabilities.
Montblanc 1858 Automatic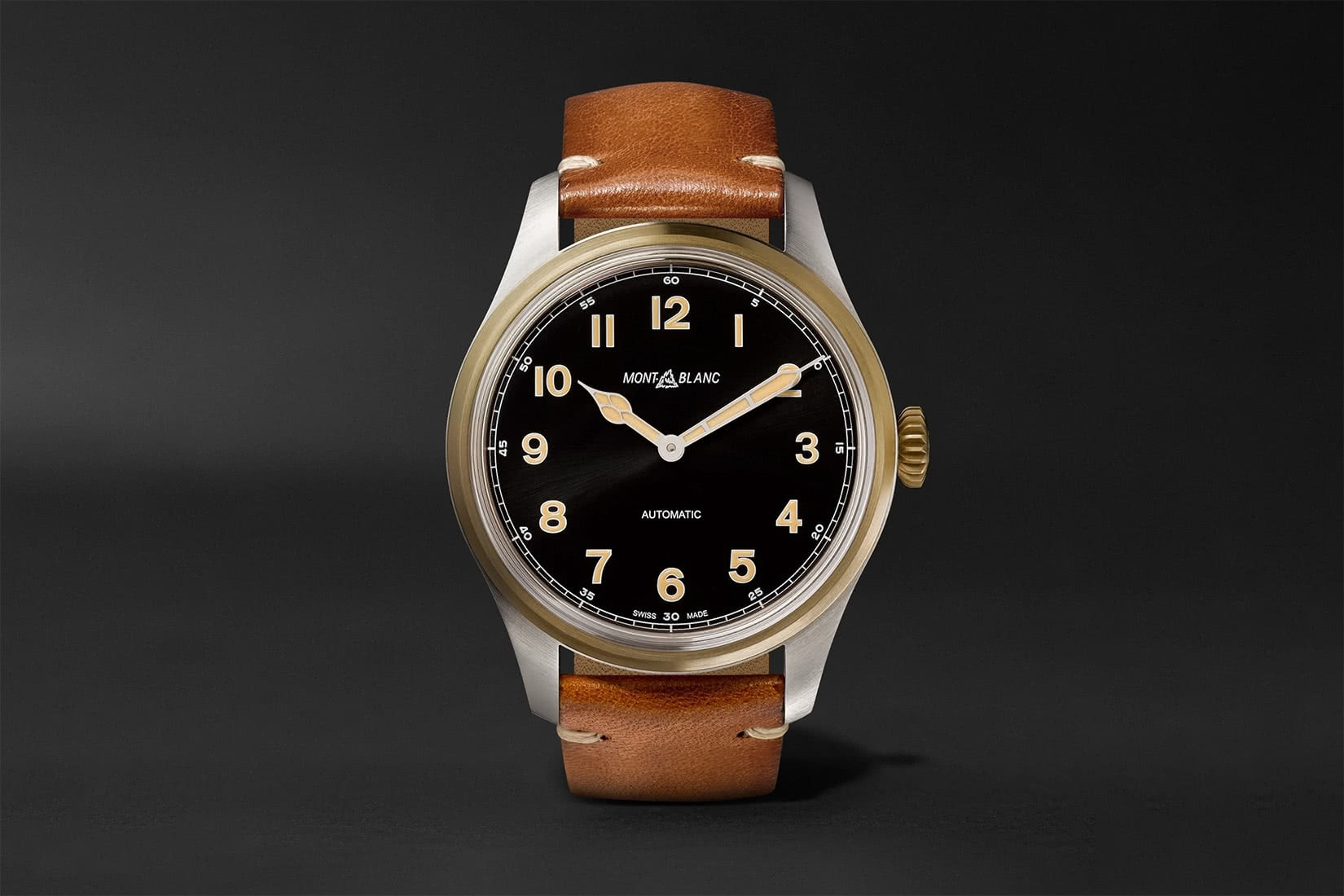 Renowned Swiss watch brand Minerva's merger with Montblanc back in 2006 allowed the latter to reach new levels of perfection. The 1858 Automatic is a tribute to Minerva's original 1930s chronographs.
Retro accents, such as the Arabic numerals, black dial, and bronze bezel, are combined with modern additions, such as a smaller contemporary stainless steel case and enhanced durability. The 1858 Automatic's stand-out features include the cloisonné 'cathedral' hands, a hallmark of the best military watches, and the leather strap, which will only look better with age.
Baume & Mercier Clifton Club Automatic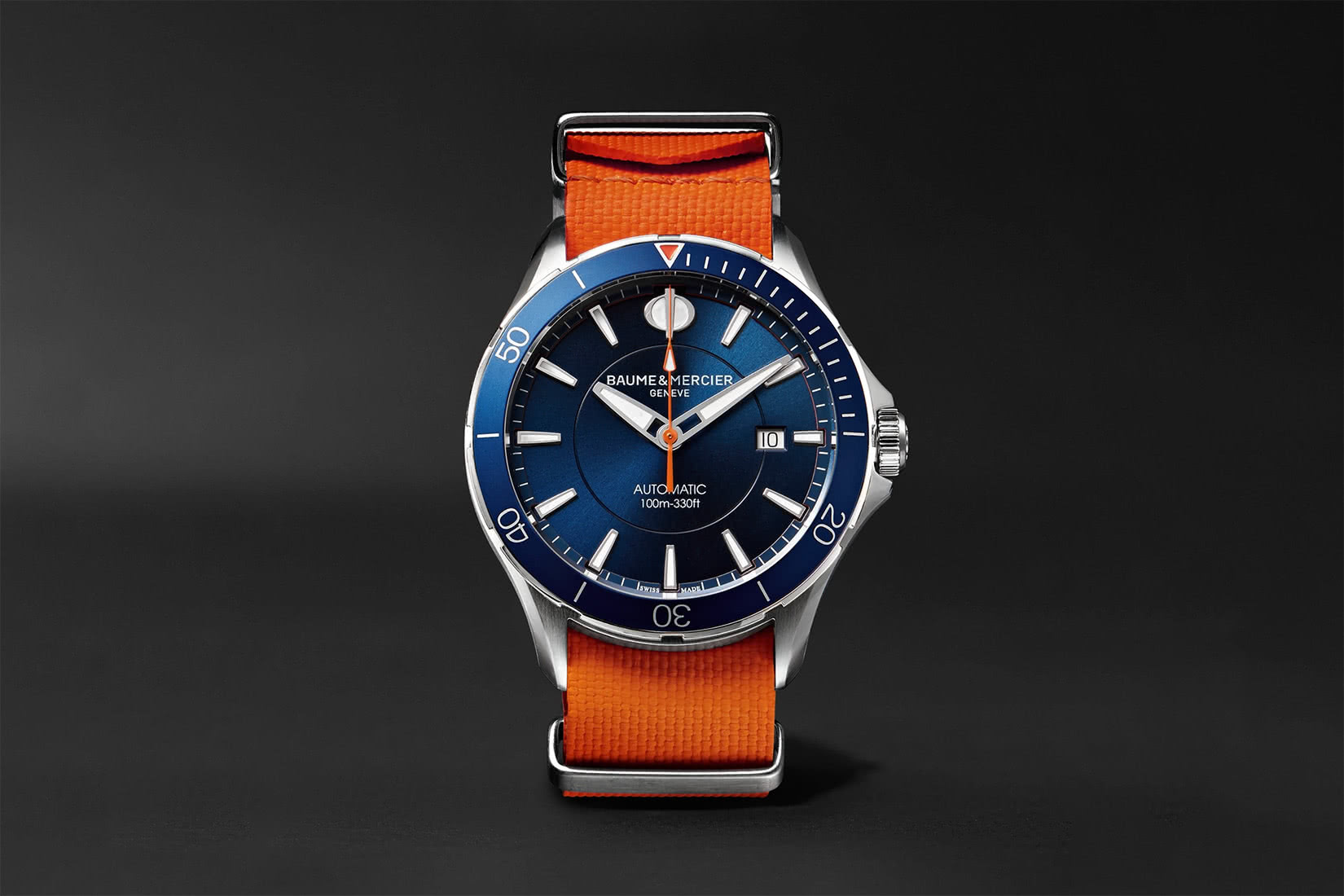 You can trust a brand as established as Baume & Mercier to pull out all the stops with their pilot watch, compromising on neither function nor fashion factor. From the comfortable and hard-wearing NATO strap to the Super-LumiNova coated hands for improved legibility, this is certainly a memorable timepiece.
The brand's Clifton Series is a line of sports watches 'for gentlemen', making this the perfect watch for any sophisticated globetrotter seeking a timekeeper that's just as travel-hungry as they are.
Garmin D2 Delta PX Aviator Smartwatch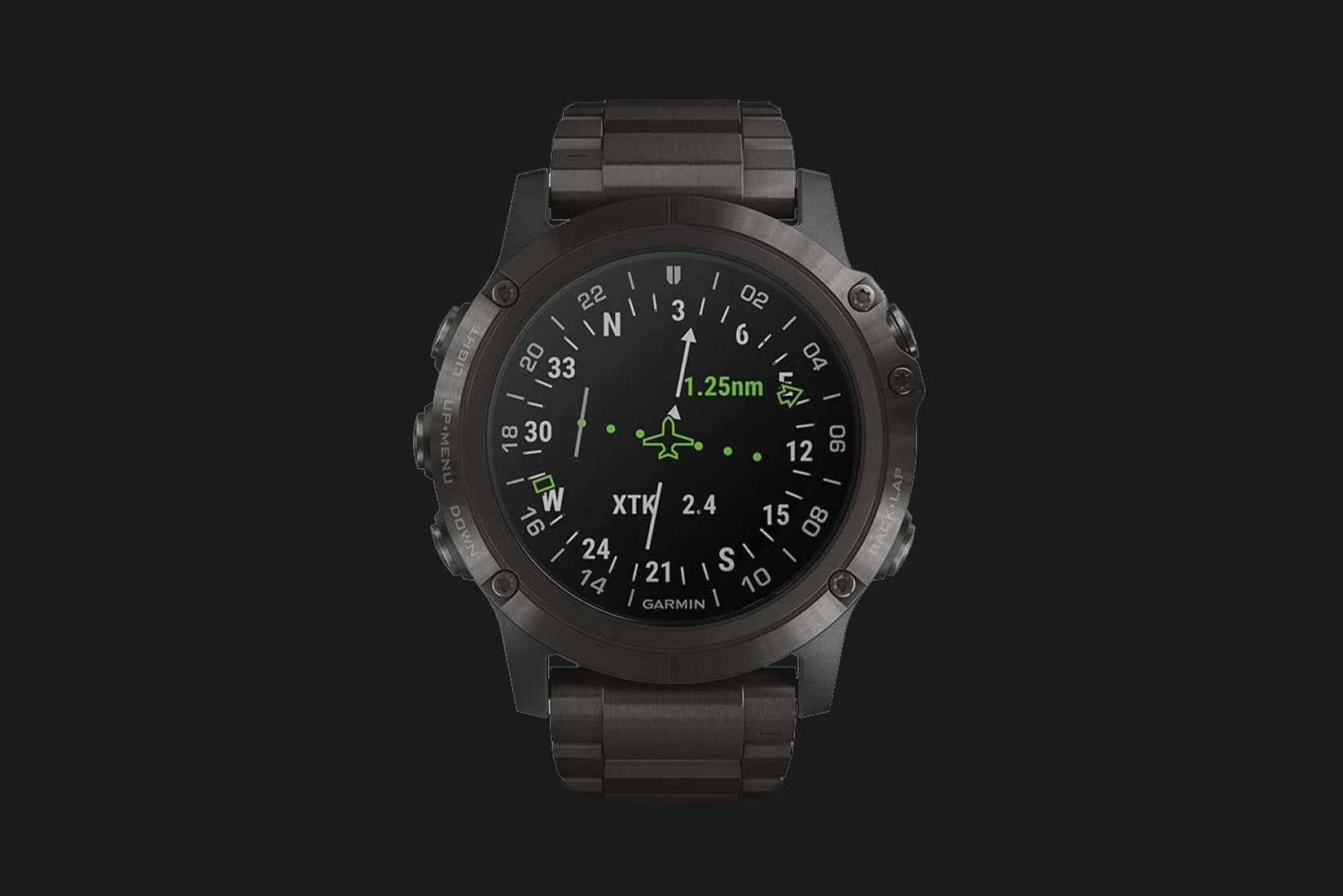 Garmin's D2 Delta pilot watch marries digital capabilities with a cool aviator-style aesthetic, plus enough in-flight analytics that you could storm the cockpit and take over. It's also one of the top rated watches on our list.
Functions include dynamic color mapping, weather-forecasting data, automatic flight logging, alerts, as well as the ability to receive notifications from your smartphone. There are also all the standard sports watch features like heart rate monitoring and fitness tracking. This means you can go straight from piloting a commercial airliner to a Cross-Fit session at the gym.
5. Men's tactical watches
Is your favorite place to be somewhere far outside your comfort zone? Running an ultra-marathon, perhaps, or trekking through the Amazon rainforest? Then you need one of the best tactical watches on your wrist. Some of the best built watches around, these tool watches are finely calibrated and performance-optimized instruments to accompany you as you push yourself to greater heights.
Suunto Core Military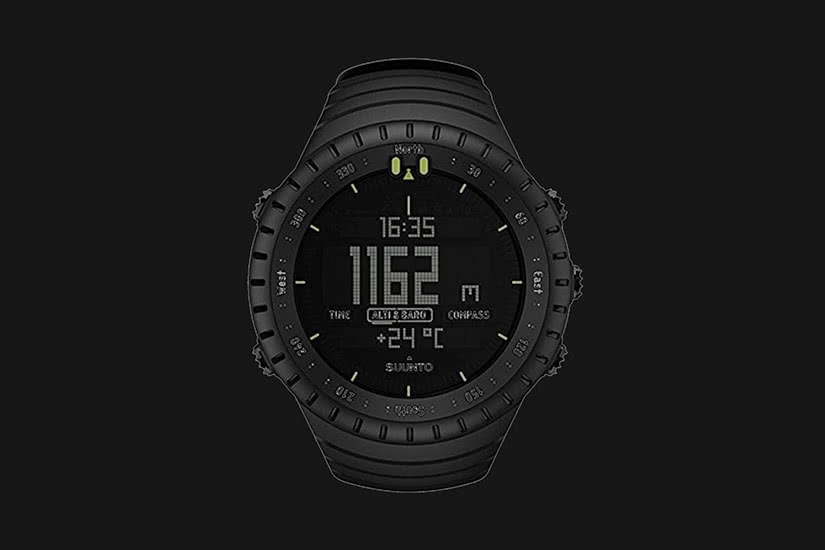 Consider yourself an adventurer? Someone who can't help but venture off the beaten path? Then you need a watch that does double duty as a survival tool, like the Suunto Core Military.
A compass will keep you on the right track, an altimeter tracks your mountain ascents and descents, a barometer keeps you informed about air pressure, and this Suunto watch will even send you severe weather warnings. Pre-set sunrise and sunset times for over 400 different locations redefine the meaning of 'seize the day.' One of the best watches under $200.
Vincero The Outrider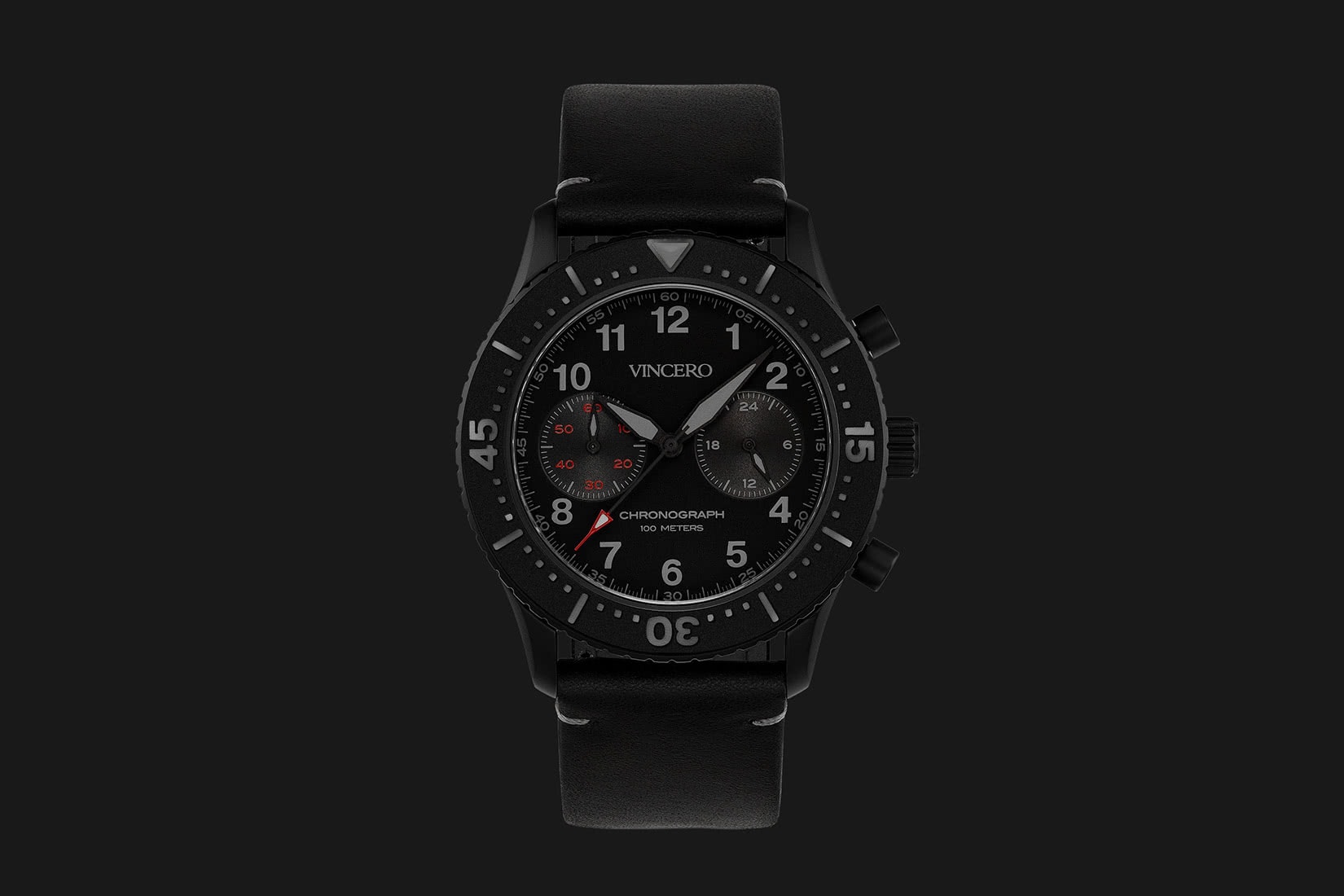 Vincero makes some of the most beautiful watches for men as well as some of the best affordable watches. For those who like to take the lead and blaze a trail, you need Vincero's aptly named The Outrider. This sleek black tool watch is appropriately inconspicuous in stainless steel with a matte-black light-absorbing finish—although a closer look quickly distinguishes it as something special.
There's the mecha-quartz hybrid movement, for one thing, powered by both quartz and a mechanical module for the best of both worlds—quartz accuracy with the high-class engineering of a mechanical watch. The Outrider is also water-resistant up to 100 meters—because who knows when you might need to perform a sudden water rescue.
IWC Schaffhausen TOP GUN Automatic Chronograph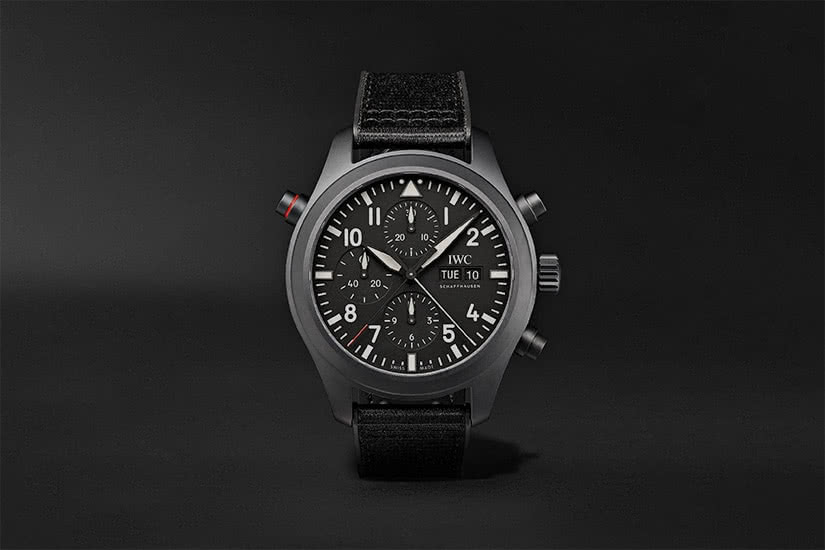 One of the hottest watches around, IWC's TOP GUN automatic takes inspiration from the blockbuster thriller of the same name—the one famed for its gung-ho combat, adrenaline-fueled chases, and epic action sequences. Channel some of that bravado with this intensely rugged timepiece, made with dare-devils in mind.
The TOP GUN Automatic is made of Ceratanium, a unique lightweight and scratch-resistant material that combines the qualities of titanium and ceramic and took the brand five years to develop. It has a soft-iron inner case to protect against magnetic fields and a double chronograph, aka a split-second chronograph, a rare complication that times two events separately.
Bell & Ross Black Camo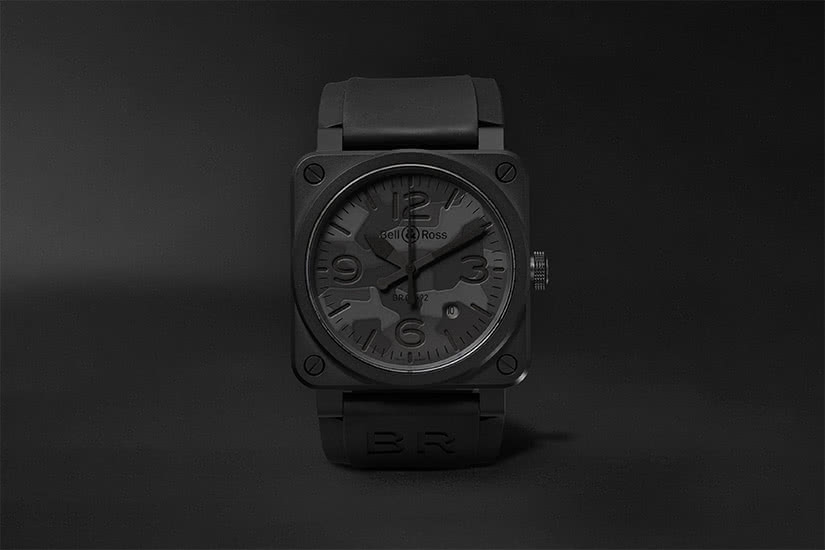 Looking for a tactical watch with no frills or frivolities? The Black Camo from Bell & Ross is the very definition of a minimalist tool watch with its back-to-basics aesthetic. Bare-bones in the best way and one of the best modern watches.
Ideal for the intrepid outdoorsman, the Black Camo has Super-LumiNova-coated hands and anti-reflective sapphire glass crystal. A ceramic case is both lightweight and hardwearing. And the matte-black finish is designed to be totally indiscernible on the field with a military tricolor coating that minimizes reflection. And with that chic square-shaped case, we think it could also look good with a tux.
Casio G-Shock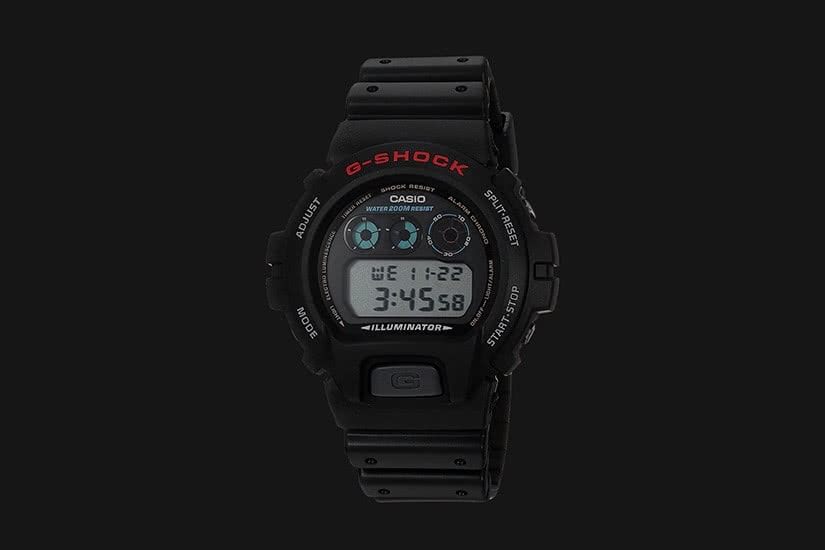 If your idea of a holiday errs on the side of extreme, such as exploring active volcanoes or going white-water rafting, then the Casio G-Shock is the ultimate vacation companion.
Giving new meaning to the word durable, this watch is completely shock-resistant and can also withstand the effects of gravity, electric shocks, and low temperatures too. In other words, it's totally unbreakable. Probably why the G-Shock is the top choice among military personnel and law enforcement agents. 200-meter water resistance and an EL Backlight with Afterglow function are added perks.
Luminox Navy Seal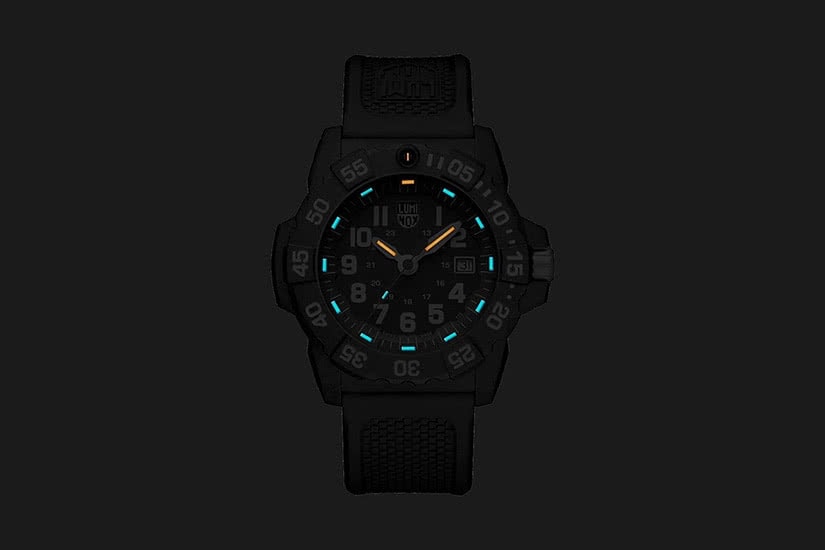 The Luminox Navy Seal series has been licensed by the US Navy and suggestions from actual navy seals were considered in the design process. As a result, this is a watch that definitely delivers when it comes to field-ready functionality and an air of beefy bravery.
The most notable feature of the Luminox Navy Seal is the brand's pioneering illumination system that allows you to tell the time even in complete darkness. It provides a steady glow for up to 25 years with no need to charge from a light source, unlike conventional lume. A temperature-change-resistant lightweight Carbonox carbon compound case, rotating bezel for diving, and water resistance up to 200 meters are extra bonuses.
Tag Heuer Aquaracer Calibre 5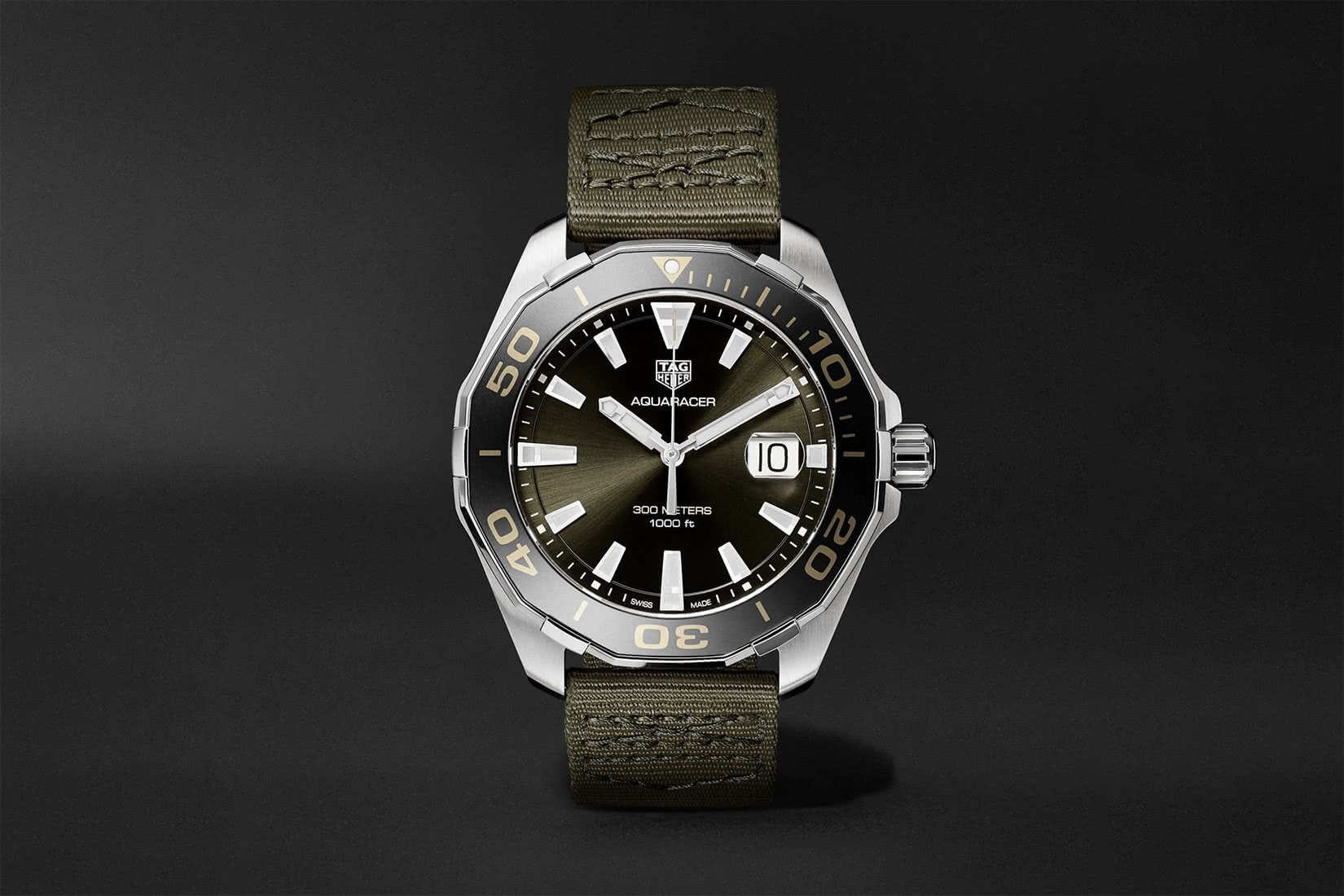 We've discussed TAG Heuer's Aquaracer already but this particular model merits a mention as one of the best tactical watches around. With a dependable and ultra-accurate caliber 5 automatic movements, along with a 38-hour power reserve, plus water resistance to 300 meters, it delivers physical toughness to match your mental toughness and is one of the best stylish watches in our tactical timepiece rundown.
The Aquaracer Calibre 5 has a rotating bezel for monitoring dive times as well as luminous hands and markers for at-a-glance legibility. The black dial and stainless steel combo would also look pretty good with a suit.
Casio Pro Trek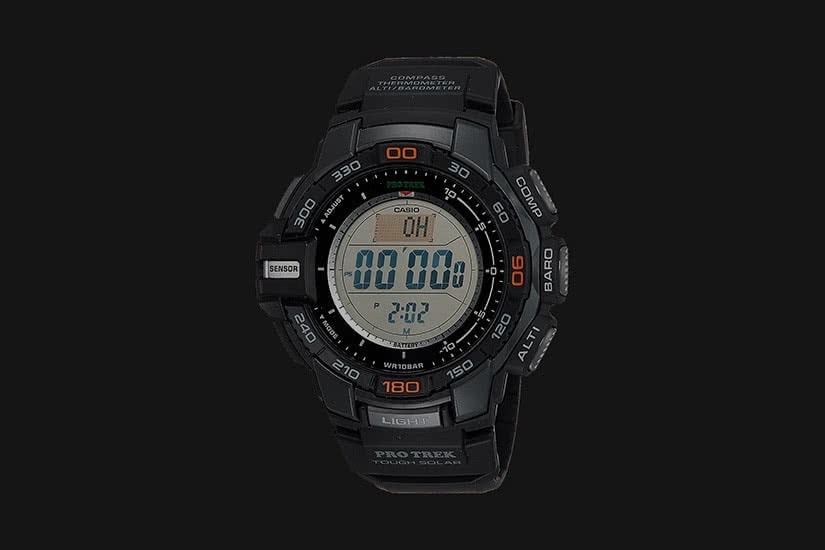 For adrenaline chasers and high-octane outdoorsmen, Casio's Pro Trek should be the tool you never leave home without. With the brand's TripleSensor Version 3 engine—smaller, more efficient, and more precise than previous models—it delivers unbeatable performance for an affordable price and is one of the best manly watches on our list.
Indeed, the compass now consumes 90% less energy than before while the altimeter obtains measurements five times as fast. Also, the Pro Trek's battery is charged by a solar panel built into the watch face but it can function for up to 23 months without light exposure.
Garmin Tactix Bravo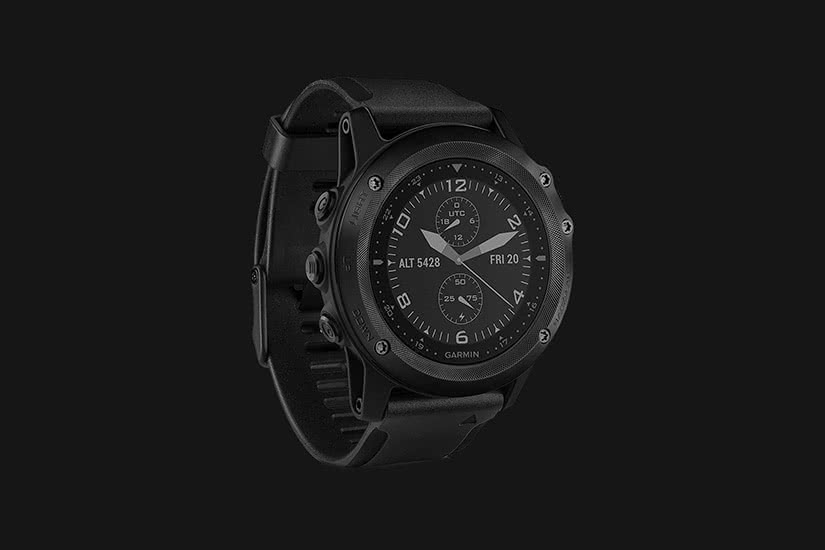 Garmin is known for its inventive and function-packed watches that are ready to tackle any kind of demanding scenario. The Tactix Bravo is a prime example.
Navigation and tracking functionalities include a 3-axis electronic compass to ensure you stay on course. Sensors will alert you to any elevation or weather changes so you can make the right decision at the right time. Night-vision allows you to use the watch alongside night-vision goggles. You've also got smart notifications so you can receive emails at the same time as prepping for a bungee jump or other heart-pumping pursuit.
Panerai Submersible Marina Militare Carbotech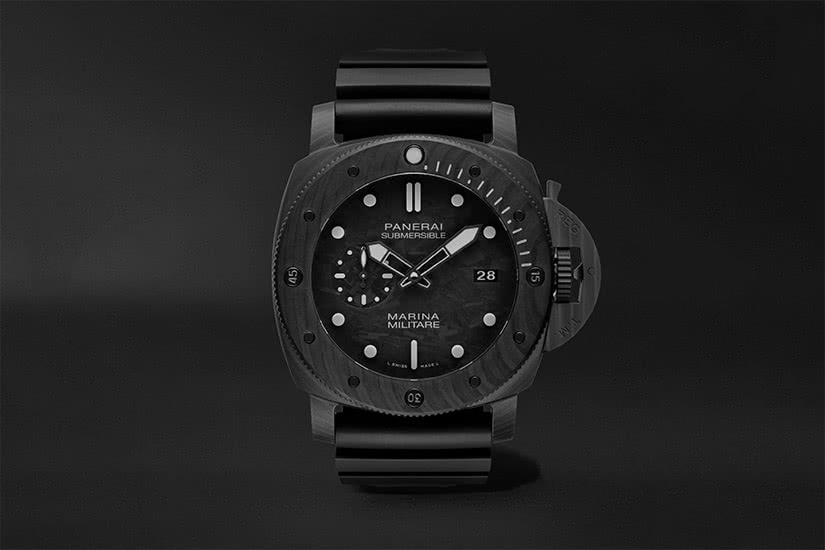 In case you haven't heard, Panerai used to supply watches to Italian Navy commandos so get ready to up your game with the Submersible Marina Militaire. The case is made from Carbotech composite—lightweight, hypoallergenic, and corrosion-resistant. Combine that with lightweight titanium back and you've got a timepiece built for combat diving.
The Submersible Marina Militare also features a durable rubber strap, easy-grip rotating bezel, and utilitarian aesthetic. It's comfortable on your wrist despite its chunky size and yes, it's expensive, but can you really put a price on being prepared? A finalist for the title of the best all-around watch.
Timex Expedition Shock XL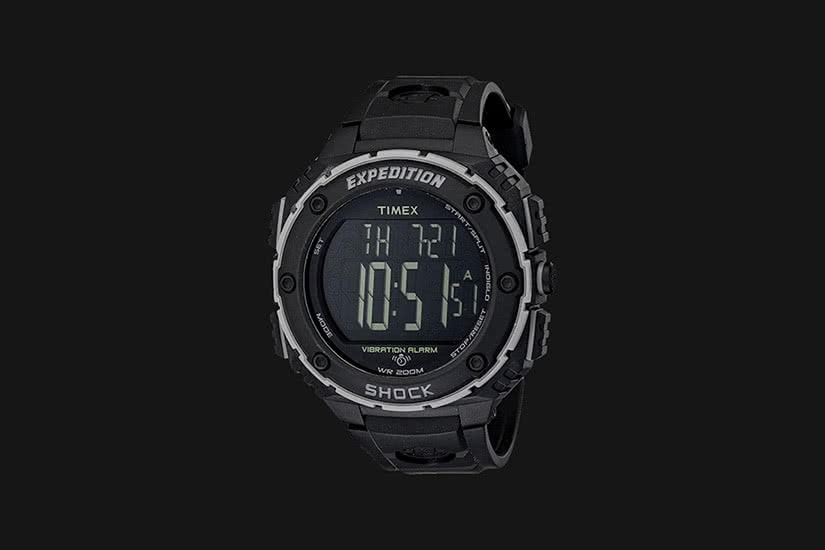 Looking for a tool watch to track your personal bests and have your back in tough physical undertakings? The Expedition Shock XL by Timex is a great choice for everyone from fitness fanatics to backpackers.
For the former, you've got a 100-hour chronograph and an Indiglo backlight for night-time workouts. And, for the latter, you've got three time-zone settings and a hydration alarm to help you regulate your fluid intake in tropical countries. The Expedition Shock XL is also shock-resistant to ISO standards.
Marathon TSAR Military Diver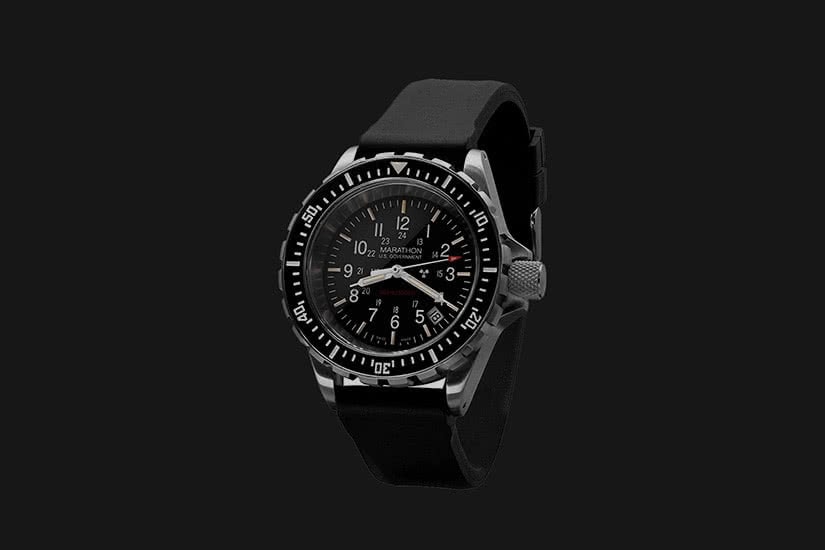 If you want a military-grade diver's watch, then the Marathon TSAR is the real McCoy. Built to government specifications for military personnel—Search and Rescue divers, no less—this is the genuine article when it comes to armed forces-influenced timepieces.
The Marathon TSAR is made from 316L surgical grade stainless steel while the display is synthetic sapphire—essentially identical to natural sapphire except even more flawless. You've also got self-illuminating tritium gas tubes that emit light for easy legibility and never need to be charged—ideal for midnight missions. One of the best watches under $1,000.
SMAEL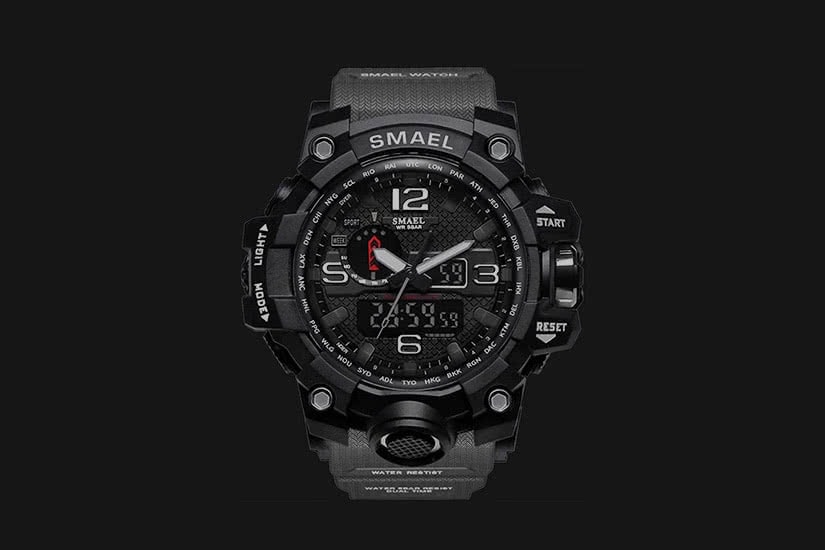 Fancy spending less money on your tool watch and more money on actually having adventures? We don't blame you. Grab yourself this SMAEL budget-friendly tactical watch, which has all the necessary functionalities at a fraction of the cost of more high-end models.
It's got a 1/100 second stop-watch, alarm clock, backlight for night-time time-reading, a 12/24 hour format, and the ability to track a second time zone—ideal if you're overseas. This SMAEL watch comes in stainless steel and PU plastic case and has the hardy heavy-duty vibe of all the best tool watches.
Suunto Traverse Alpha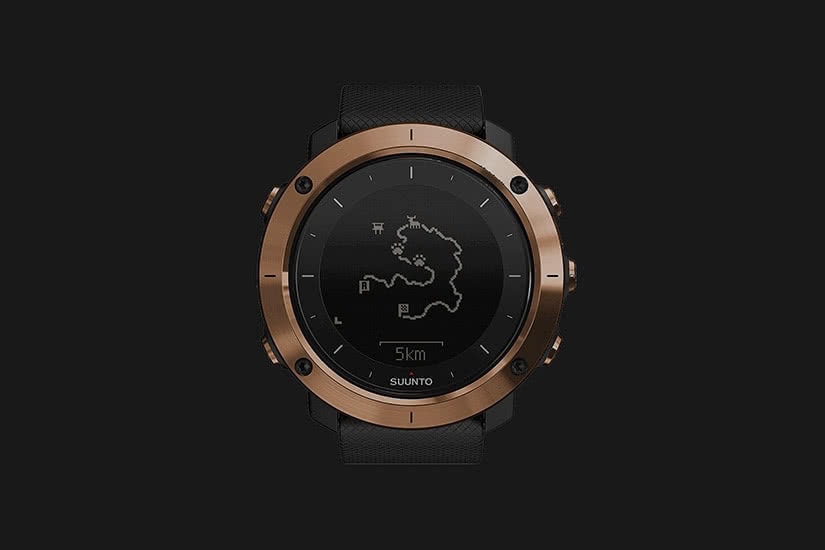 All you hunters out there, fingers off the trigger and listen up. Suunto has designed a timepiece just for you. The Traverse Alpha features automatic shot detection technology that tracks the GPS coordinates of your kill, making it one of the best watches for gentlemen who partake in field sports.
It also has a red backlight for use with night-vision goggles, a built-in flashlight for when you're prowling after dark, and a moon phase feature to track moon rise and set times. So whether it's fishing or shooting, for sportsmen, the Traverse Alpha is the watch for you.
Luminox Recon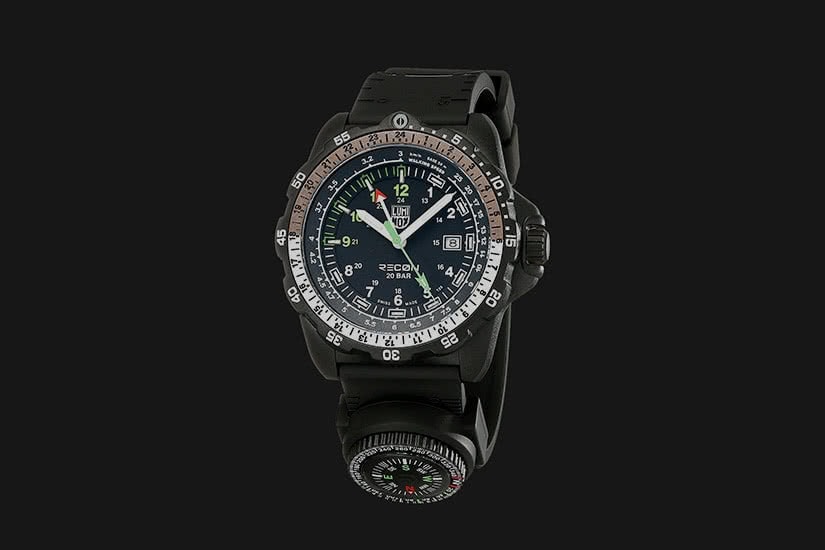 Designed for navigation specialists on actual reconnaissance missions, the Luminox Recon is a tactical watch that can claim to actually have played its part out in the field, and, incidentally, is also one of the most attractive men's watches on our list.
Whatever your target (enemy base camp or the beach bar close to your holiday villa), the Luminox Recon will have you sorted with its magnetic compass, strap with ruler markings for spontaneous measurements, and a walking-pace tachymeter for measuring distance traveled. Oh, and a two-time zone function too.
6. Men's field watches
Field watches were originally designed for WW1 armed forces and while none of us is going to be heading into a trench anytime soon, we're still drawn to the soldierly aesthetic and high-grade functionality of the best field watches. Perfect for lovers of the outdoors or fans of extreme exploits, these watches are some of the finest men's timepieces around. Consider them your brothers in arms, whatever your mission may be.
LIV Saturn V Moon Dust Automatic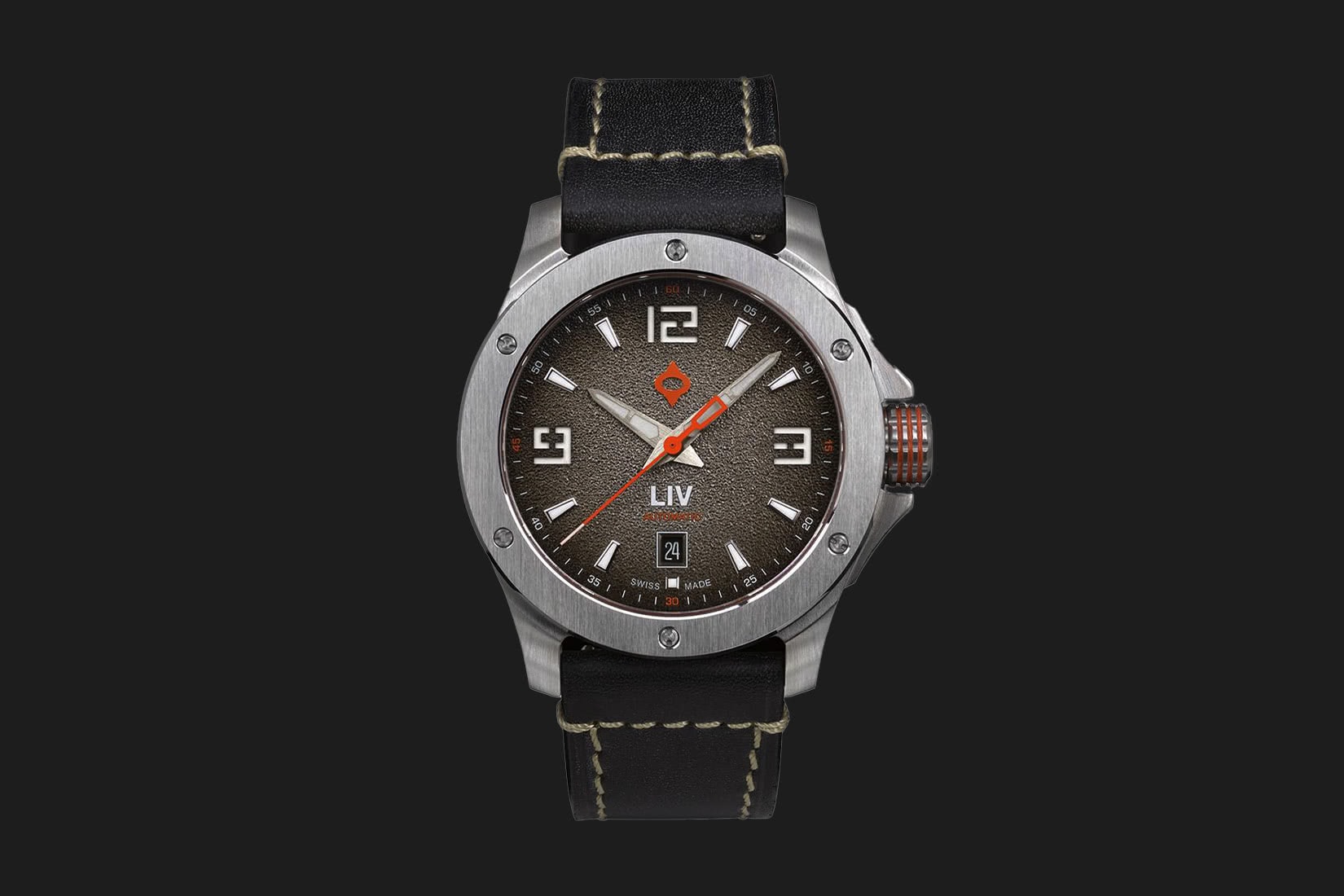 This collection by Swiss wristwatch brand LIV is a celebration of NASA—specifically the Saturn V, aka the rocket responsible for propelling dozens of astronauts towards the moon. The Moon Dust Automatic features a rocket-inspired case made in 4 stages—case back, case, anodized aluminum ring, and bezel—to reflect the four main stages of the Saturn V rocket.
The Moon Dust comes in three different material options—steel, black steel, and bronze-titanium—and a range of colors, all with suitably space-themed names such as Crater Grey and Nebula Green.
Citizen Chandler Eco-Drive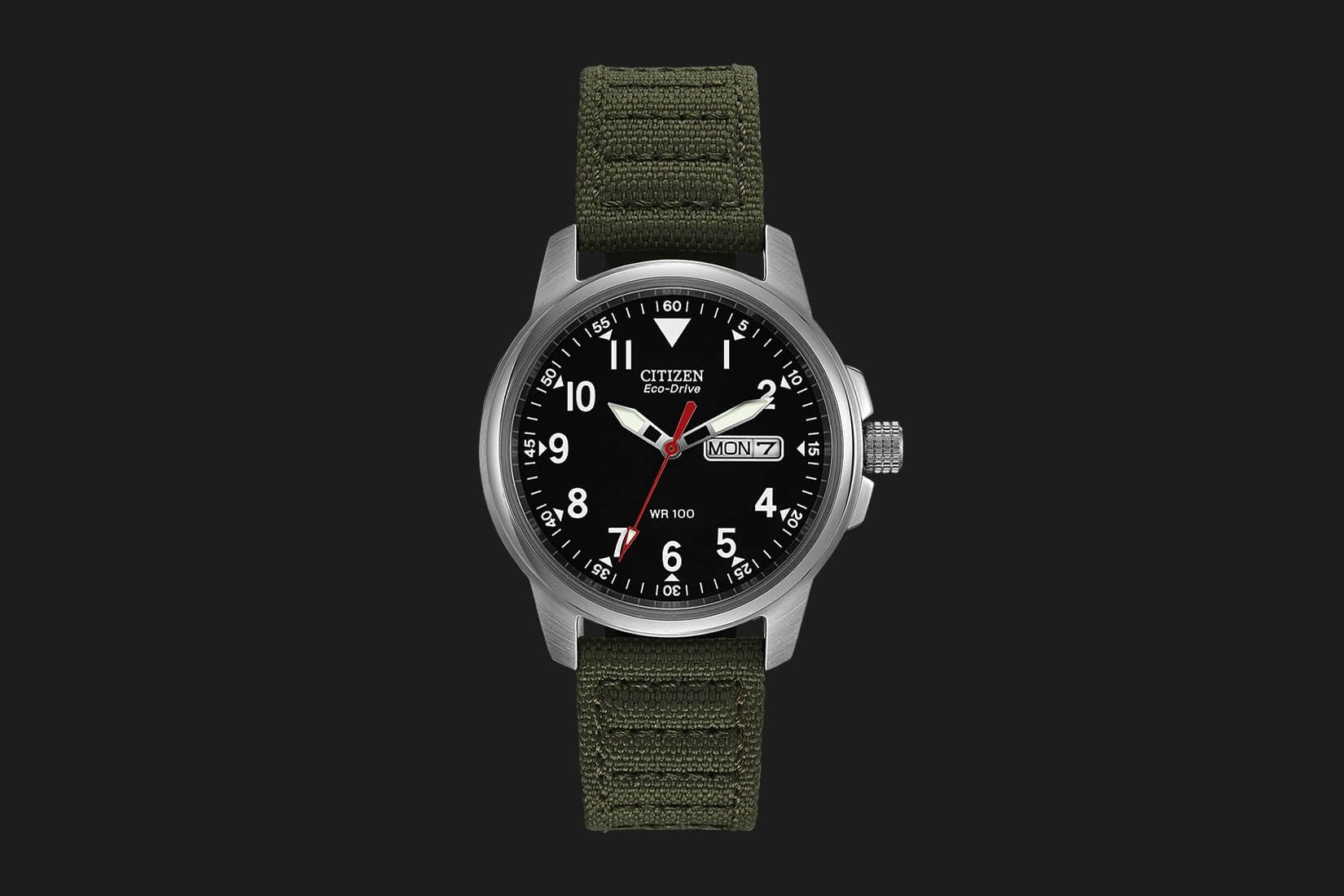 There's a lot we like about the Citizen Chandler but one of our favorite features has to be its size. Lots of modern watches are a bit clunky but not so the Chandler which remains faithful to the original field watch with its smaller 37 mm case.
This makes it an ideal everyday watch—one that you can wear straight from micro-adventures to dinner with the in-laws. A woven military green strap, stainless steel case, luminous hands, and simple Arabic numerals are all authentic features while Eco-Drive technology allows the Chandler to be powered by light.
IWC Schaffhausen Pilot's Spitfire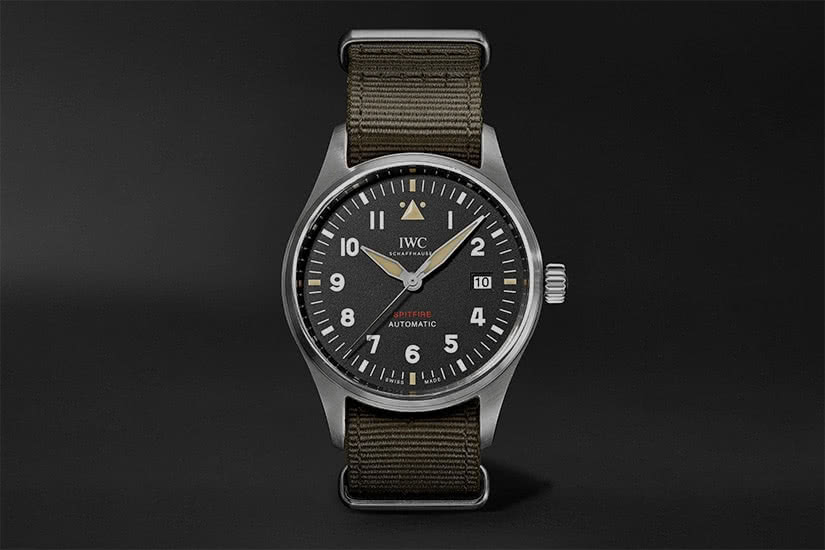 Being made like a tank is one thing—but what about being made like a Spitfire? The design of IWC's Pilot's Spitfire field watch was based on the cockpits of the original Spitfire fighter jets and inspired by the brand's Mark 11 Navigation, originally made for the British RAF. Talk about military credentials.
The Pilot's Spitfire features an iron inner case to protect the movement from both magnetic fields and accidental knocks. Luminescent hands combined with red lettering provide effortless legibility while an army-green strap is a nod to classic military apparel. An engraving of a plane on the back is a charming final touch. One of the best watches under $10,000.
AVI-8 Flyboy Engineer Automatic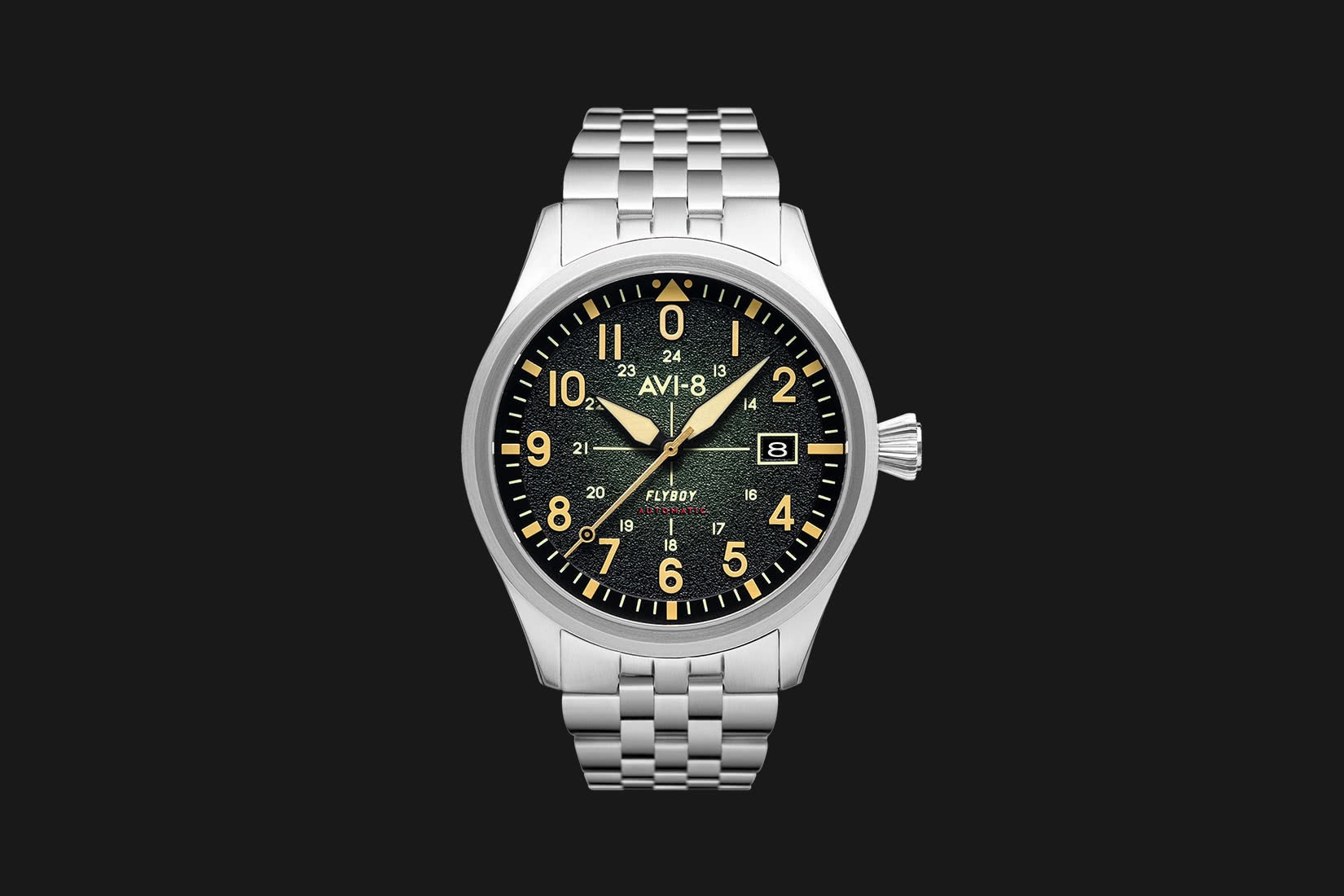 A Flyboy is slang for an armed forces pilot and the word captures something of the dashing, dapper, and debonair attitude of those original servicemen—an aura that is also evident in AVI-8's Flyboy Engineer Automatic with its devil-may-care vibe.
Practically speaking, this field watch is a top choice, with its highly legible dial and hands, custom carved roundel on the second hand, brushed case with a domed sapphire lens, and conical crown, ergonomically shaped for easy gripping with pilot gloves.
Panerai Luminor Due GMT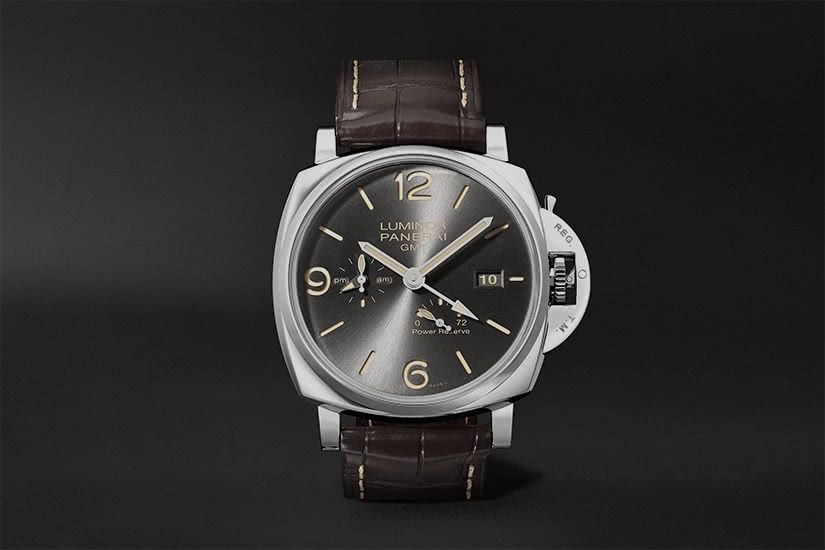 The Panerai Luminor is not cheap—but you definitely get your money's worth. Nor is it particularly small, but that's because there's so much going on. You've got a Swiss-made P.4002 caliber automatic movement with a 30-day power reserve, a date window, second-time zone indicator, power reserve indicator, and an anti-shock device.
Despite all that, the Panerai Luminor is still lightweight and wearable. The exhibition case back is a fun touch, allowing a sneaky peak at the mechanism. And the alligator strap is smart and suave so you can wear this straight from saving the day to your Friday night dinner date.
Spinnaker Hunley Automatic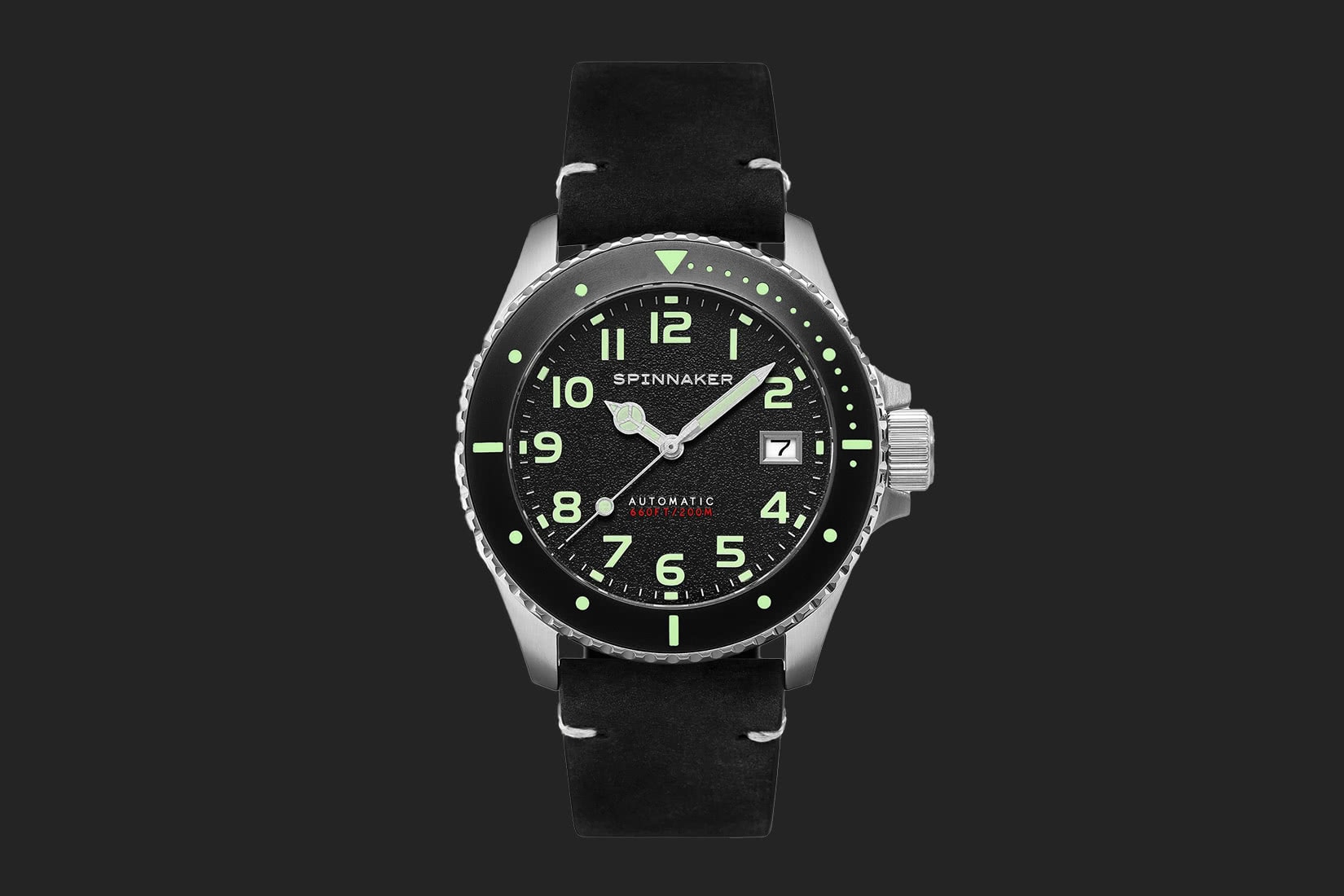 Spinnaker watches resemble high-end watches but without the accompanying price tag. Take the Hunley Automatic, for example. You get quality craftsmanship and meticulous engineering all at an affordable price.
This field watch features a unidirectional bezel, a scratch-resistant sapphire lens with an anti-reflective coating for easy reading even in the mid-day sun, and a leather strap. The overall aesthetic is timeless, sitting nicely in between eras for enduring style appeal.
Rolex Explorer 214270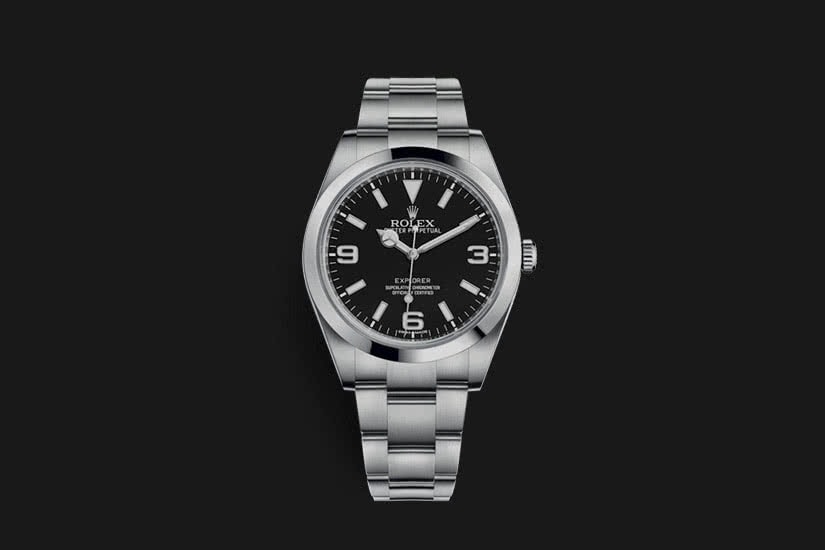 The Explorer is one of the most famous sports watches to have ever emerged on the watchmaking scene and has set the standard for field watches ever since. Rolex has been an official supporter of many mountain expeditions so they know what's involved in crafting a superb mountaineer's watch.
The Rolex Explorer is versatile, simple, and dependable—the perfect companion in uncharted terrain. Made of the brand's signature Oystersteel—corrosion-resistant and exceptionally durable—it's hermetically sealed for safety and features a Chromalight display that glows for up to 8 continuous hours—ideal for when the sun disappears over the crest of the mountain.
Hamilton Khaki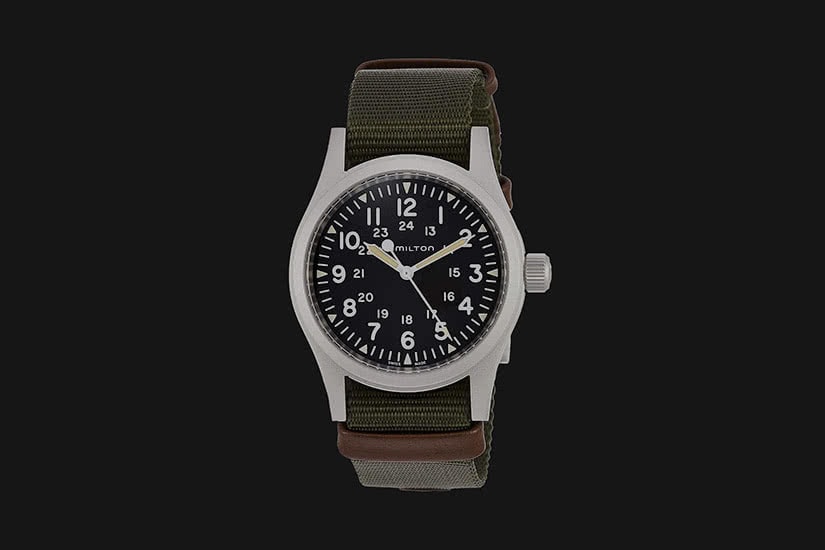 On the hunt for a field watch that looks and feels like those used by real servicemen back in the day? The Hamilton Khaki is the one for you. This great value watch has undeniable vintage allure, nailing the dimensions and design of those early military timepieces, although you don't have to be armed and dangerous to pull it off.
The Khaki is fairly small at under 40 mm while the dial offers high contrast with Super-LumiNova hands and a black dial. The green NATO strap, as originally designed by the British Ministry of Defence, wicks away moisture and will last years.
Timex Expedition Scout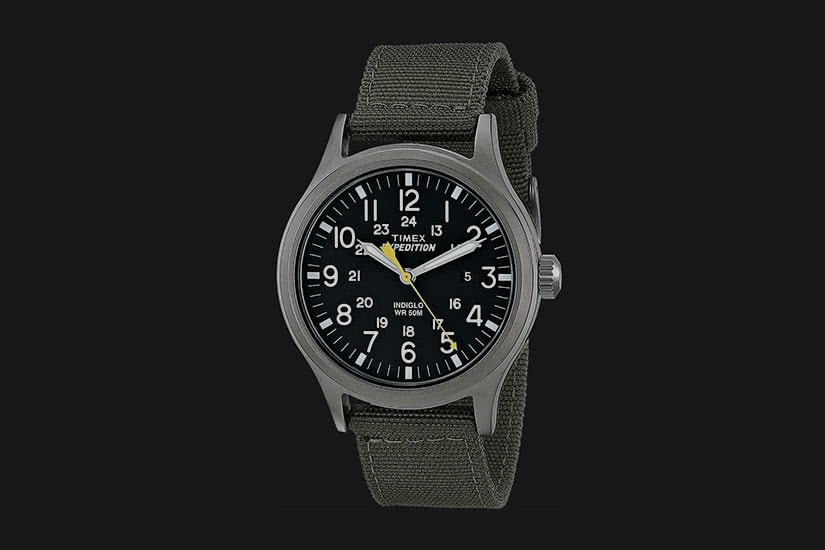 Refuse to spend any more than $100 on your field watch? Then the Timex Expedition Scout has your name on it. It has a serious soldier-chic aesthetic with a simple design that's just as straight-talking and unsentimental as those first armed forces timepieces.
For under $50, you get a tough-minded timekeeper with a black dial with a date window as well as an inner circle with military time hour markings. An Indiglo backlight is an added convenience while the crystal is mineral glass and the movement quartz.
Tudor Heritage Ranger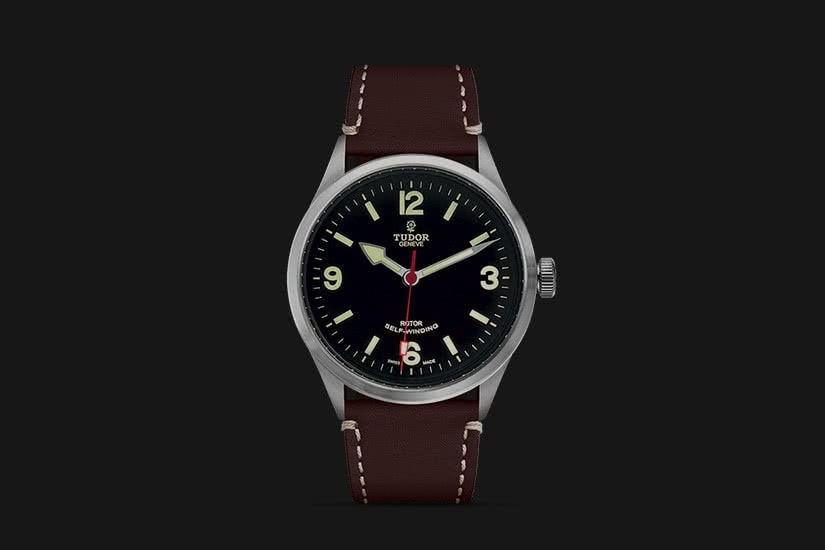 Tudor is known for modernizing old-school sports watches. A perfect example is the Heritage Ranger which feels like an authentic field watch but with a subtle 21st-century upgrade. It's a tool watch that you could wear day in, day out, hiking in the forest, and for hard-nosed business negotiations too.
Stern and serious, the Heritage Ranger features a caliber 2824 movement with a 38-hour power reserve. Numbers only at the 4 poles keep things simple while a domed dial brings that vintage vibe. Pierced lugs mean you can change the strap easily and quickly—but why would you want to when it comes with a camouflage strap?
Seiko 5 Automatic SNK809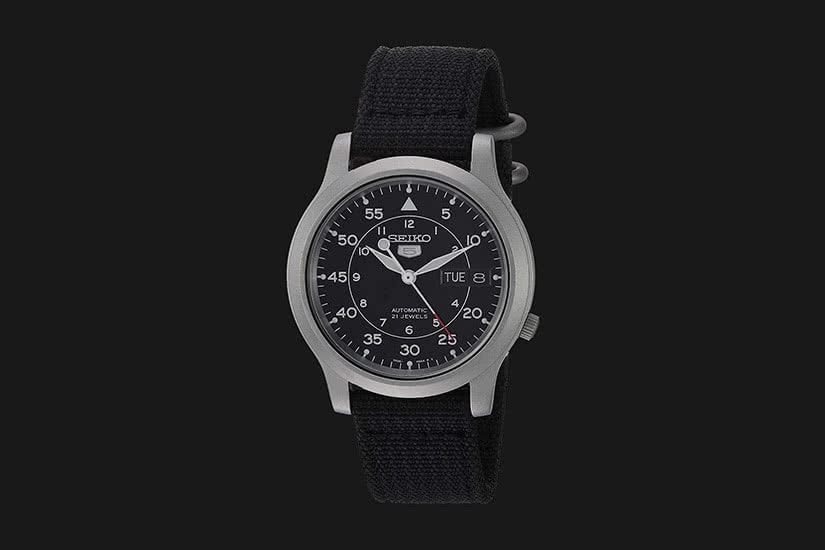 If you're a field watch fan, you know the best ones are those that are relatively unobtrusive. After all, those WW1 soldiers didn't wear these watches as a status symbol. This is why we like the low-key and understated aesthetic of the Seiko 5.
At only 37 mm, this is a nice and compact field watch that sits snugly against your wrist. Luminous hands with a red accent on the second hand make for easy reading in all light conditions while a date display at 3 o'clock is useful too. The skeleton-case back is a fun feature—rare in field watches and a bit of a conversation starter.
Marathon WW194003 Military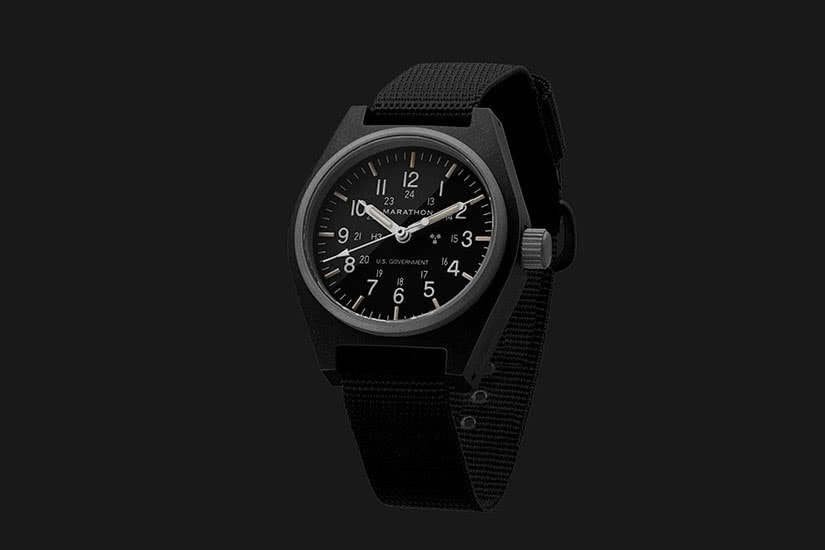 Marathon has been making watches for military personnel since 1941 so if you're all about heritage and history, then this is the brand for you.
A high-impact fiber shell case is lightweight yet able to withstand impact, a sapphire crystal is scratch-resistant, and a dual-winding movement offers flexibility. Finally, self-illuminating tritium gas tubes bring a reliable glow. With its muscular and matter-of-fact aesthetic, you could easily wear this Marathon timepiece to a dinner party too.
Orient Defender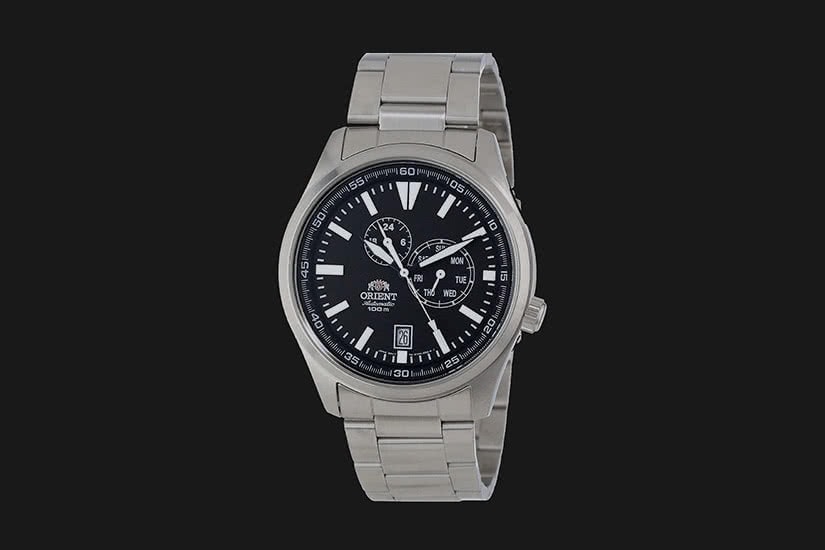 A sophisticated field watch that wouldn't look out of place at a snazzy function? That's exactly what Japanese brand Orient has crafted with the Defender. As the name suggests, this is a timepiece that won't take any nonsense but with its blue or black dial, combined with a shining stainless steel case, it could be worn to a party or fancy meal too.
Two sub-dials offer additional time measurements while water resistance up to 100 meters means you can take it snorkeling, sailing, or surfing—or in the shower. The vibe is pragmatic and prestigious.
Filson Field Watch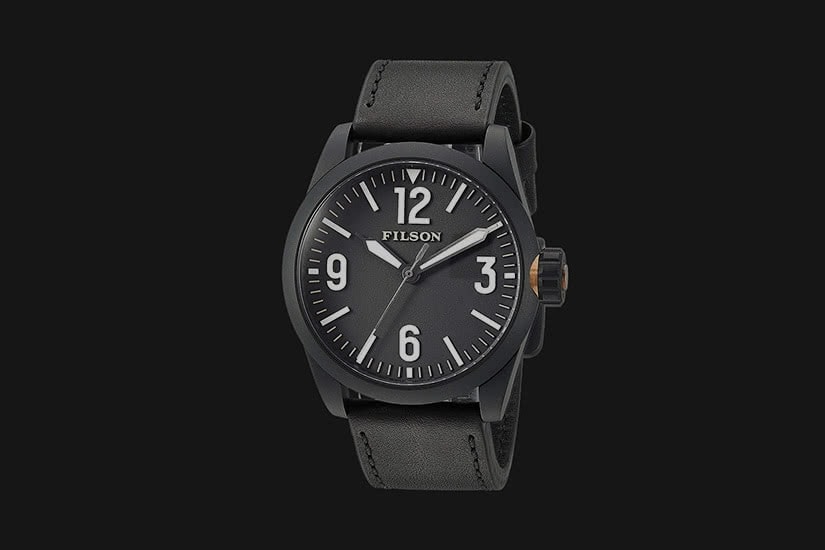 This field watch by Filson succeeds in doing what the original field watches also did—appear handsome and hard-as-nails at the same time. It looks like it could survive a particularly hair-raising expedition but with its combination of stainless steel and leather (more elegant than canvas) it has some definite rank and fine refinement too.
You've got a quartz movement to bring military-grade precision to your time reading while water resistance up to 100 meters is an added advantage should you take this Filson watch into open waters.
Merci LMM-01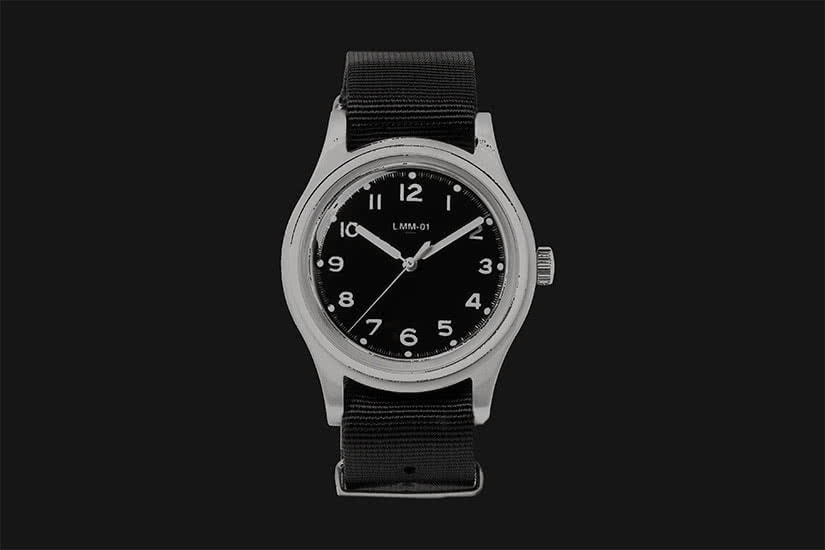 French lifestyle brand Merci hails from the trendy Marais district of Paris, so with the LMM-01, we're talking more artistic rather than military pedigree. Indeed, the aesthetic of this watch is bang on for a 1930s military timepiece with its black NATO webbing or army-green leather strap, Super LumiNova coating, and minimalist dial.
Sure, the LMM-01 might not be as hard-wearing as the other watches on our list so maybe not a top choice for a journey to the end of the world. But for business meetings that feel rather battle-like, it might well be our top pick.
Omega Seamaster Railmaster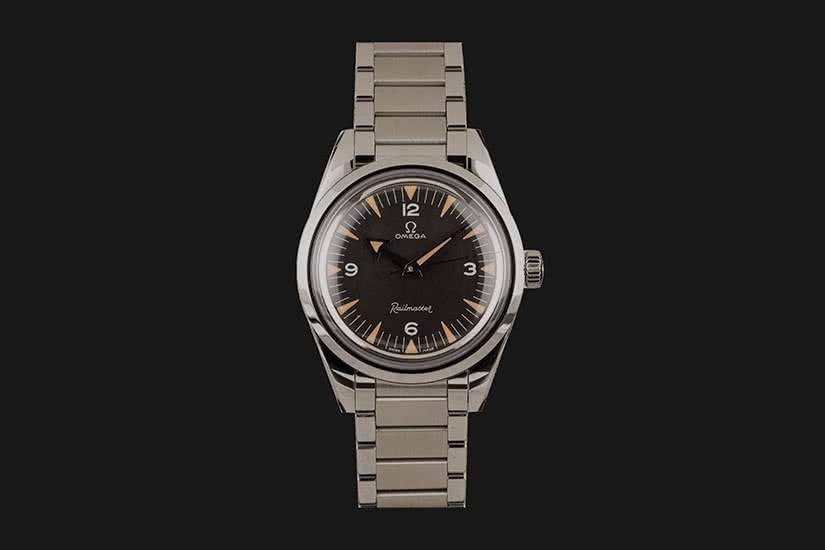 Omega has been making exceptionally accurate watches for 170 years and the brand's 1957 Railmaster was designed for railway workers whose job involved being near electric fields, featuring pioneering anti-magnetic technology. This watch is a homage to the original 1957 Railmaster and has a distinctly retro feel to it.
We're talking recessed vintage-style hour markers, a faux patina SuperLumiNova dial in a faded brown, and a generally unassuming yet assured aura. The fact that Omega's Railmaster is also a Master Chronometer—which means it has passed Omega's series of stringent quality tests—is an extra bonus.
7. Men's racing watches
A racing watch is essentially a chronograph watch. Other distinguishing features include a high-contrast dial for reading when moving at top speed, a tachymeter bezel to make speed calculations, and rally-style leather or rubber straps. Of course, these days, racing watches happily break all these style conventions. But they retain their commitment to precision and accuracy—as well as their penchant for flashy aesthetics.
LIV GX-AC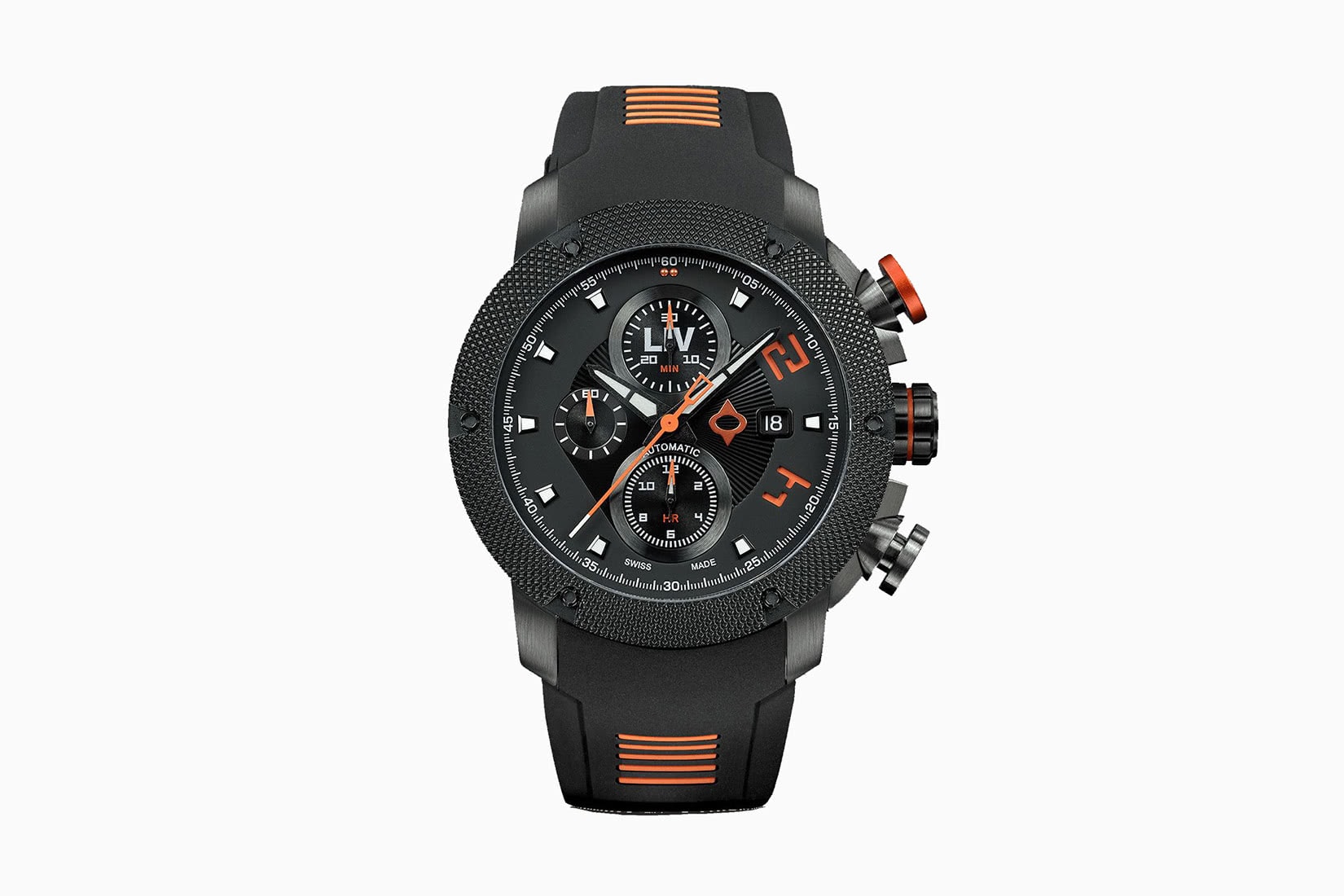 Definitely one for adrenaline junkies, the LIV GX-AC features classic good looks, a chunky 46 mm bruiser of a case, and a dial that appropriately resembles a car dashboard. The orange and black color scheme is also incredibly eye-catching
The LIV GX-AC has a 25-jewel Swiss automatic movement, scratch-resistant sapphire, and is part of a limited edition series of only 1000 pieces. A great choice for those who enjoy being on the edge of their seat, whether in a car, on a motorbike, or, perhaps, at the cinema.
Nordgreen The Pioneer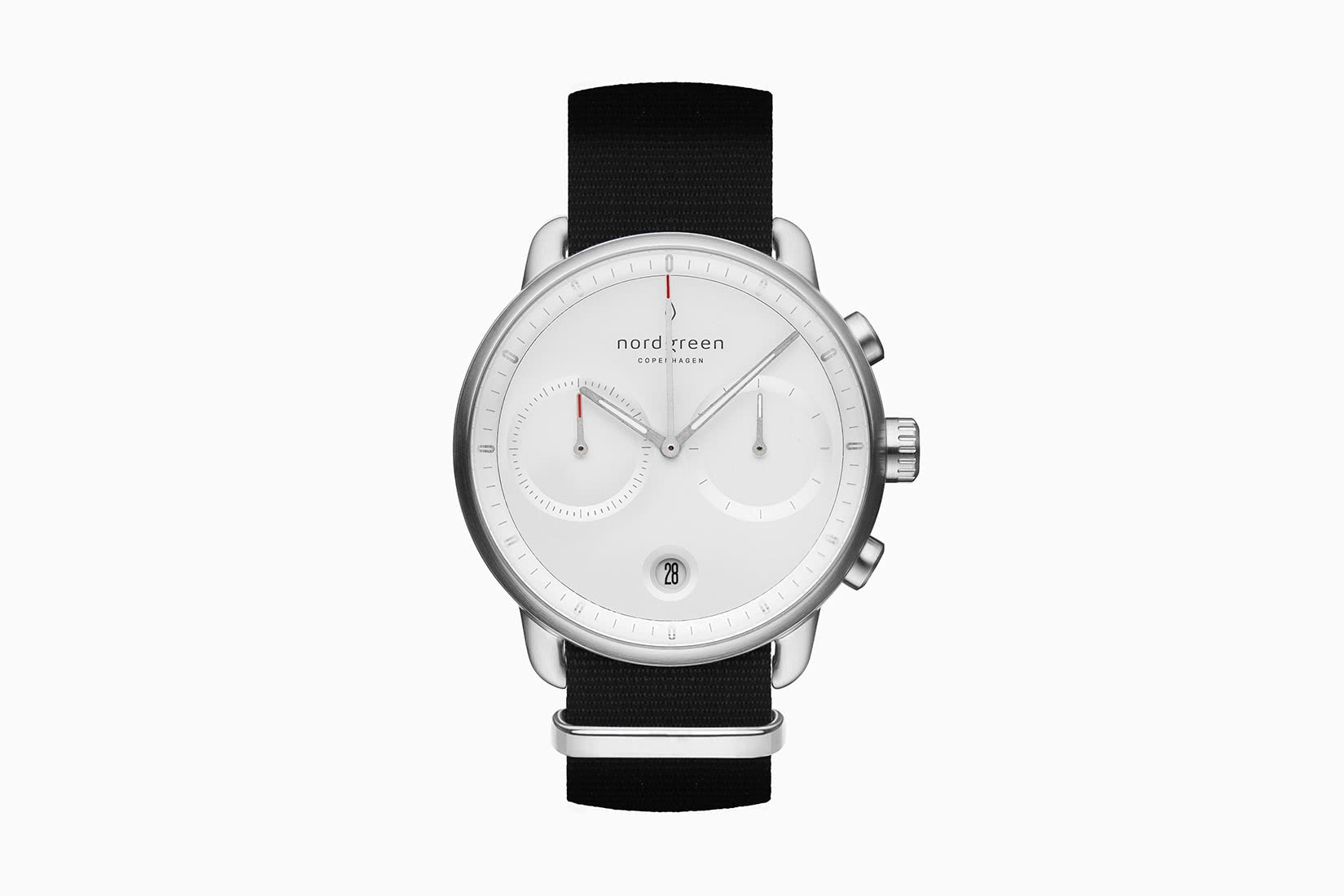 Another timepiece by sustainable Copenhagen-based brand Nordgreen (because who can pass on a watch that is as ethical as it is efficient?) The Pioneer perfectly marries form and function, resulting in a classic modern racing chronograph.
In The Pioneer, you get a regular display watch, a stop-watch, and a small calendar dial too. It features a stainless steel case, domed sapphire glass, and the brand's signature Japanese quartz movement. There's a choice of different dial colors and the option of a leather, nylon, or rubber strap.
Vincero The Chrono S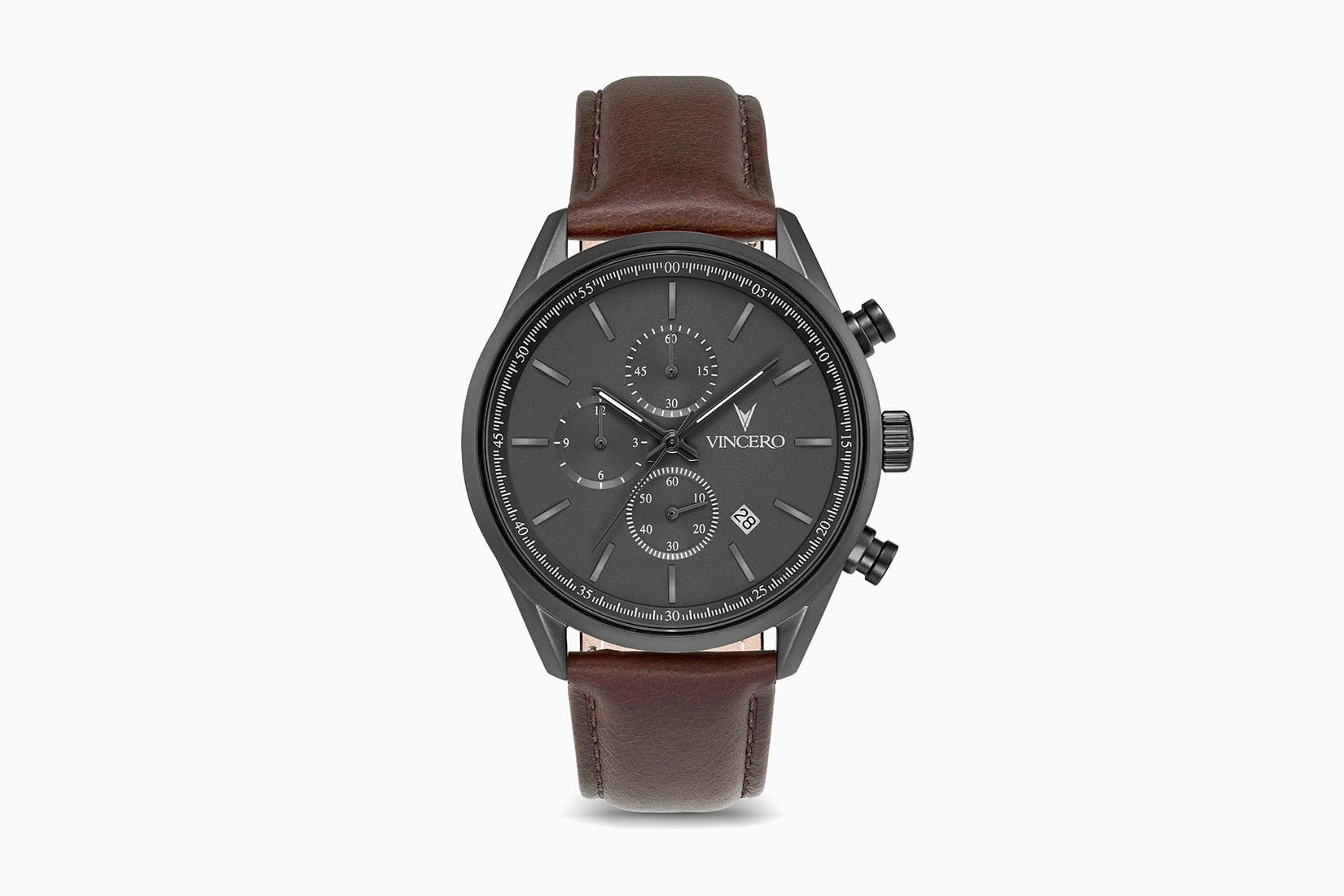 You won't be short of compliments with the Chrono S on your wrist with its substantial 40 mm or 43 mm stainless steel case and Italian marble back.
The timepiece features three sub-dials, scratch-resistant sapphire-coated crystal glass and has a pleasing weight that suggests a far more expensive watch. Vincero's tagline is Live your legacy. Whatever your particular destiny, we're sure it includes this watch.
Rolex Daytona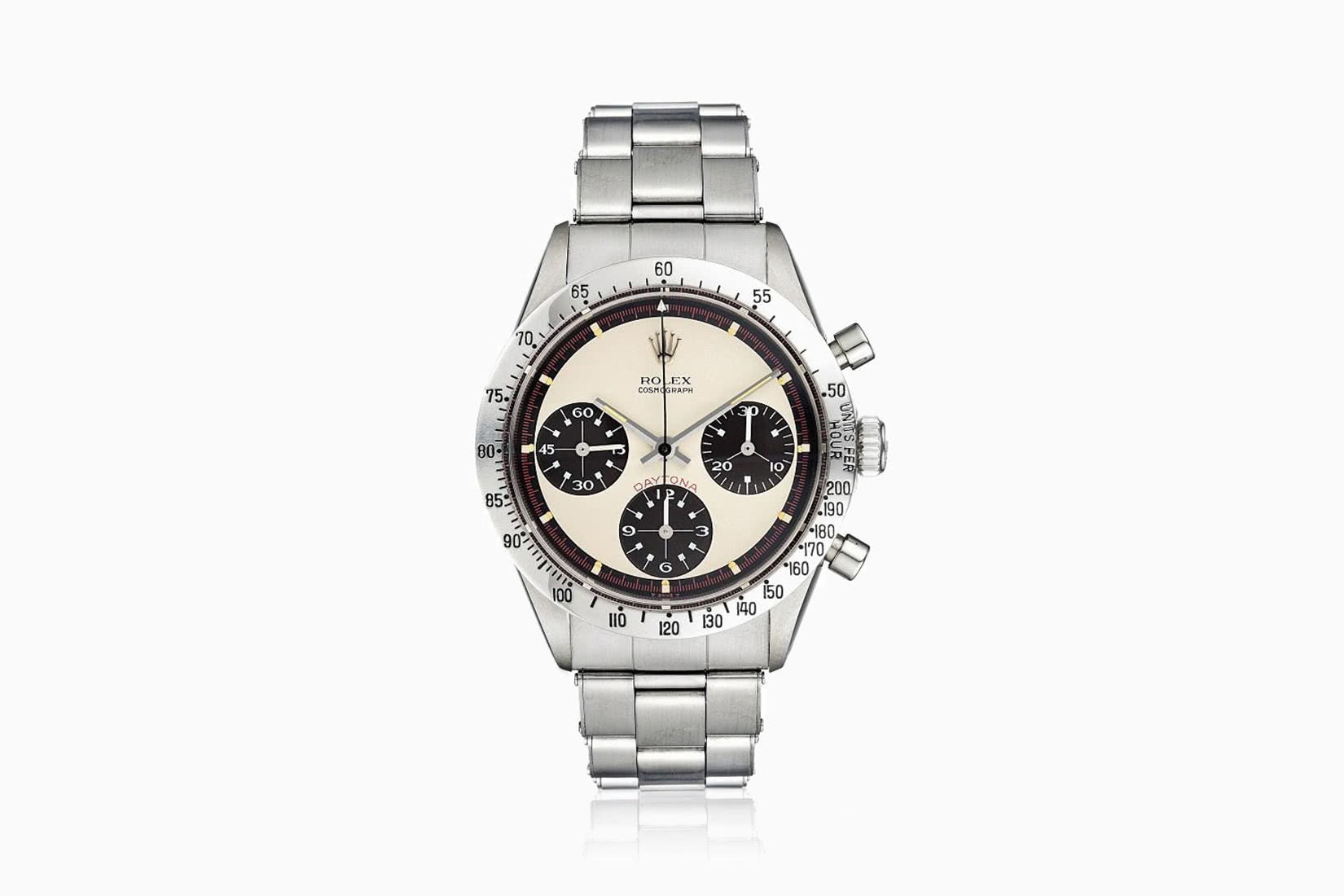 Aka the Rolex Cosmograph Daytona, and originally designed for racing car drivers, Rolex has been crafting these beauties since 1963. It's the brand's most coveted chronograph, named after the Daytona International Speedway—a prestigious race track in Florida.
The timeless appeal of a Rolex Daytona makes it a solid investment while limited production adds to its exclusivity. It's most famous for being worn by Hollywood icon and racing car enthusiast Paul Newman, whose own Daytona sold for no less than $17.8 million in 2017 (check our list of the most expensive watches in the world to see the details). Other fans include Jay-Z and actor Jonah Hill. The latest generation of the Daytona is available in multiple materials and colors.
Omega Speedmaster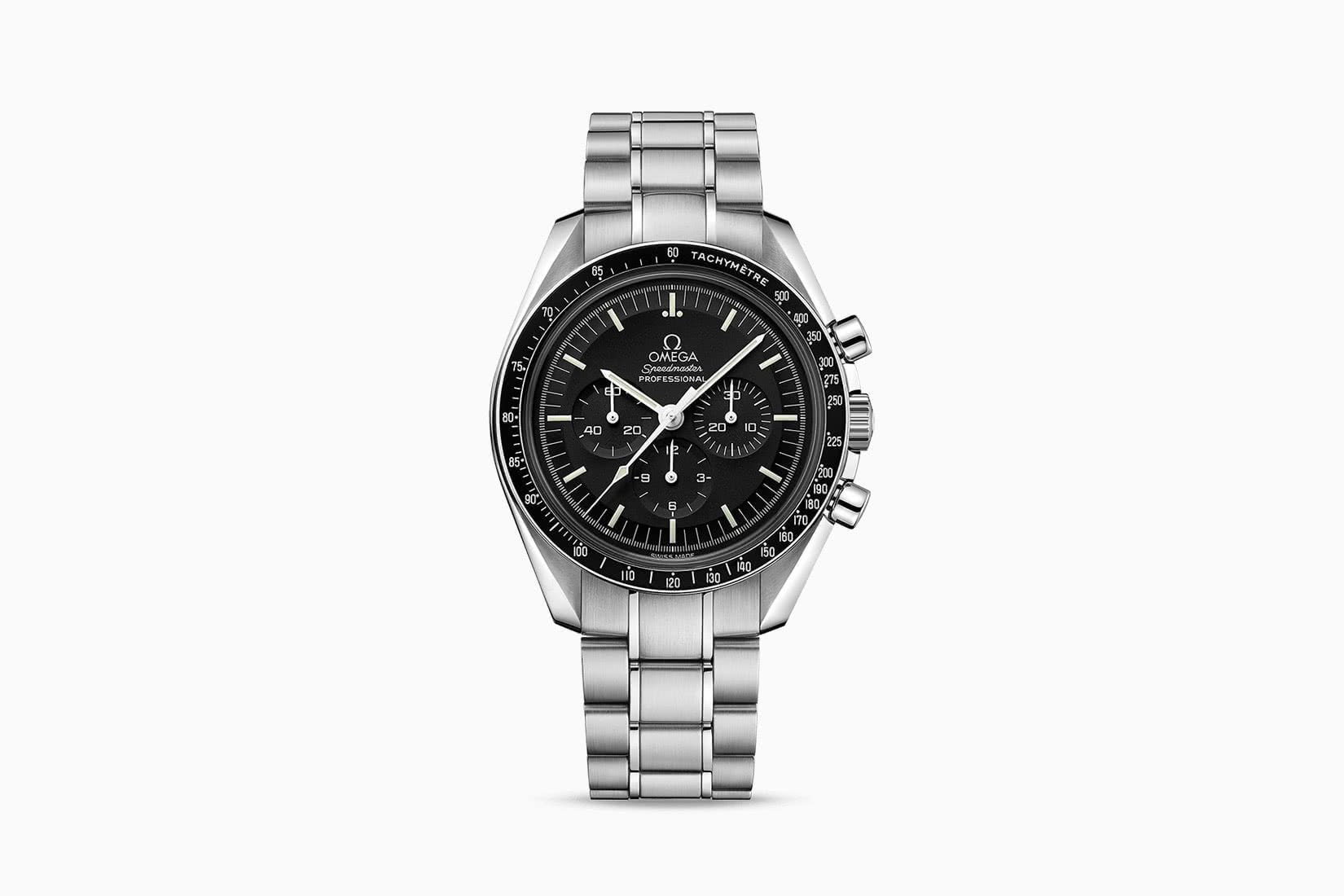 What's cooler than a watch used by racing drivers? A watch that's been put in a rocket and sent to the moon.
Following a demanding selection process, Omega Speedmaster was chosen for astronauts to wear on the 1969 Apollo XI mission, making it the first watch on the moon. It also played its part in the recovery of the Apollo XIII team and is still used by NASA astronauts today.
No wonder it's a status symbol. It has the kind of elegance that can only come from a watch that once left Earth's atmosphere. What other watches have a fashion factor and are flight certified for space? The latest generation of the Speedmaster comes in a variety of materials and colors. Take your pick.
Vincero The Apex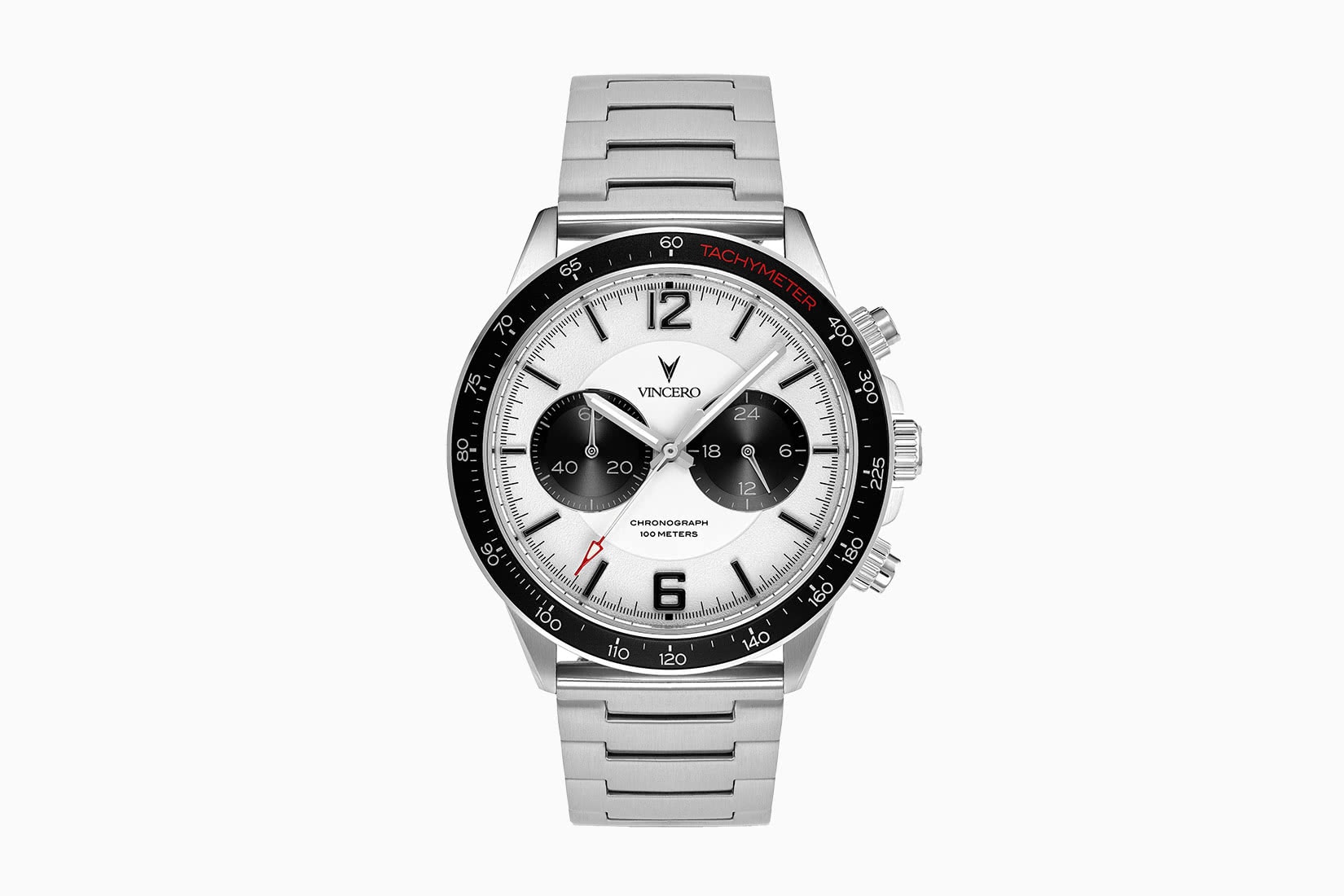 The brand known for its affordable yet high-quality timepieces offers its fresh take on the classic race watch with The Apex—referring to that critical part of a race track where the car is closest to the corner.
One of the trendiest watches in our racing timepiece category, The Apex features a chronograph, tachymeter, and a Seiko-Meca quartz movement that combines a traditional battery-operated engine with an automatic movement. This means you get the accuracy of quartz with the feel of a mechanical watch.
Bamford Watch Depart and Tag Heuer Monaco Automatic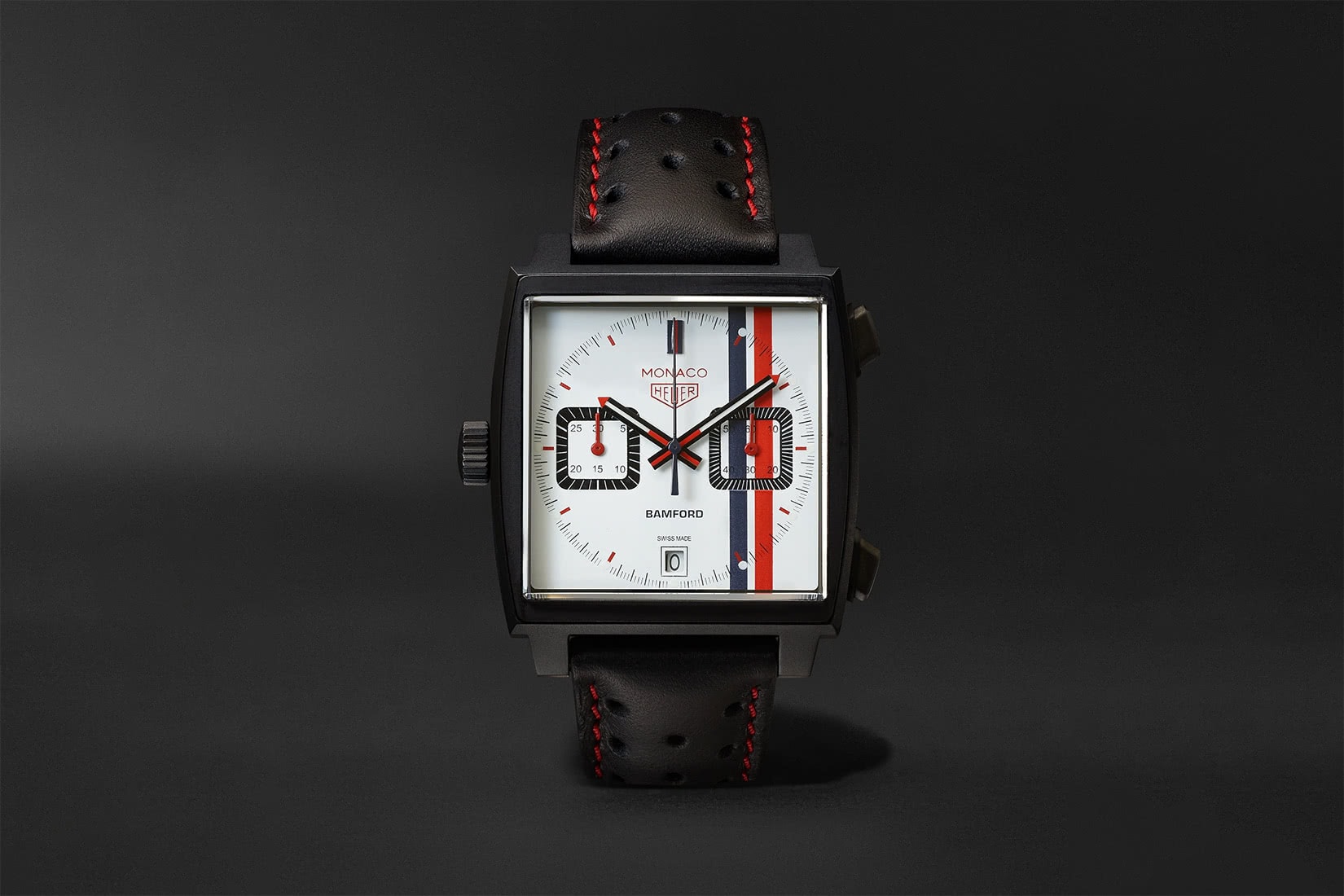 A collaboration between two top-tier watch-makers, the Monaco Automatic is based on the original 1969 model worn by Steve McQueen in the film Le Mans, all about the grueling 24 Hours of Le Mans race where endurance and efficiency are the two qualities required to win.
The Monaco's slimline 39 mm titanium-coated stainless steel case contains a caliber 11 automatic movement. Then there's a tricolor dial, a reference to the driving suit worn by McQueen in the film. A sporty perforated leather strap completes the authentic automobile allure.
Spinnaker Hydrofoil Chronograph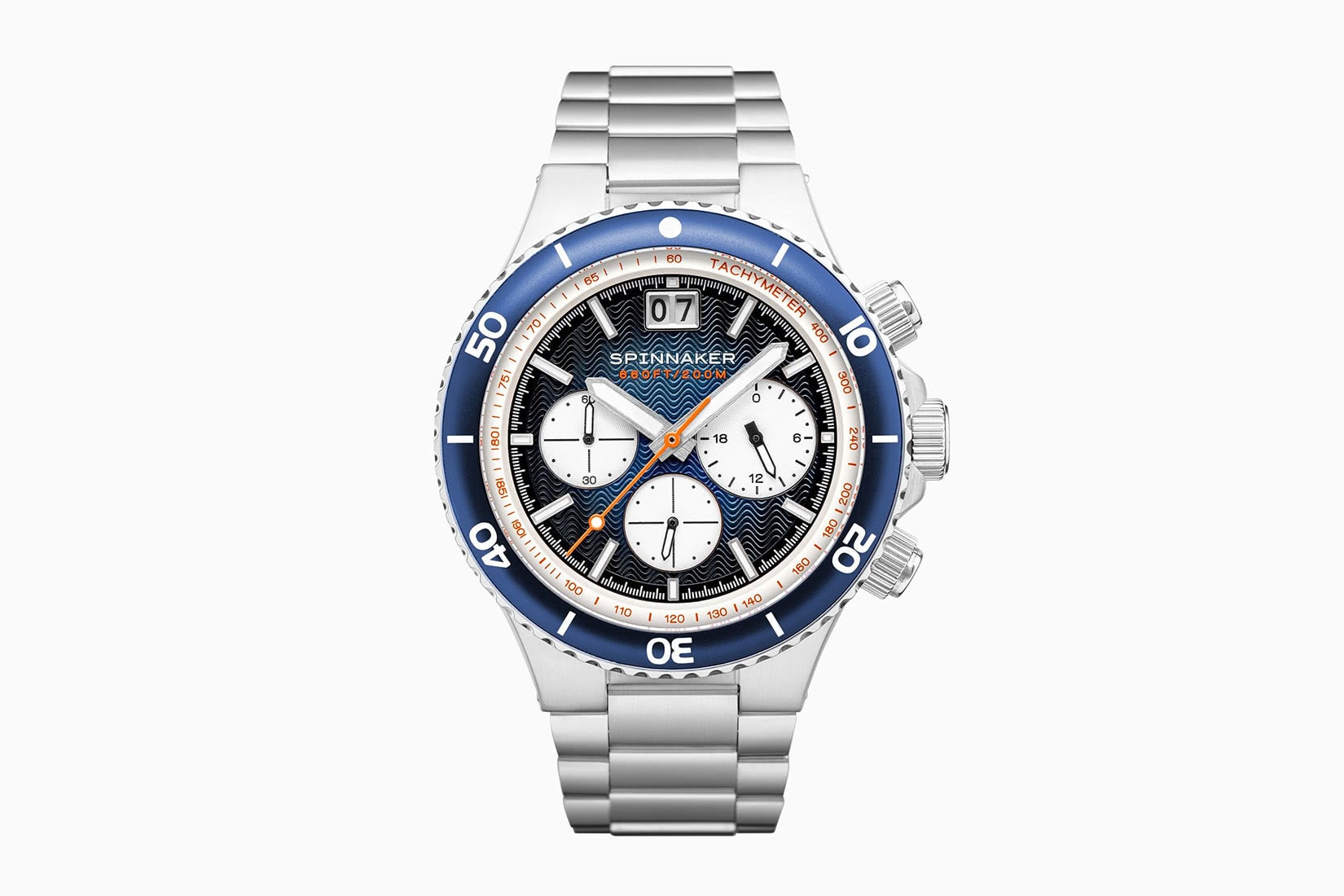 Got a hectic day-to-day where you need the pedal to the metal? Get yourself a racing car watch to maintain your speed and keep your eye on the prize. The Hydrofoil Chronograph has, in the words' of Spinnaker, been built for speed.
This modern sports watch features a multi-layered dial for easy time-reading, a tachymeter on the outer ring, a dual aperture date window, and a meca-quartz movement that blends mechanical and quartz technologies for physics-defying accuracy and precision. Graduating from light to dark, the fumé finished dial adds a dash of luxury. Definitely one of the best watches under $500.
Fossil Quartz Chronograph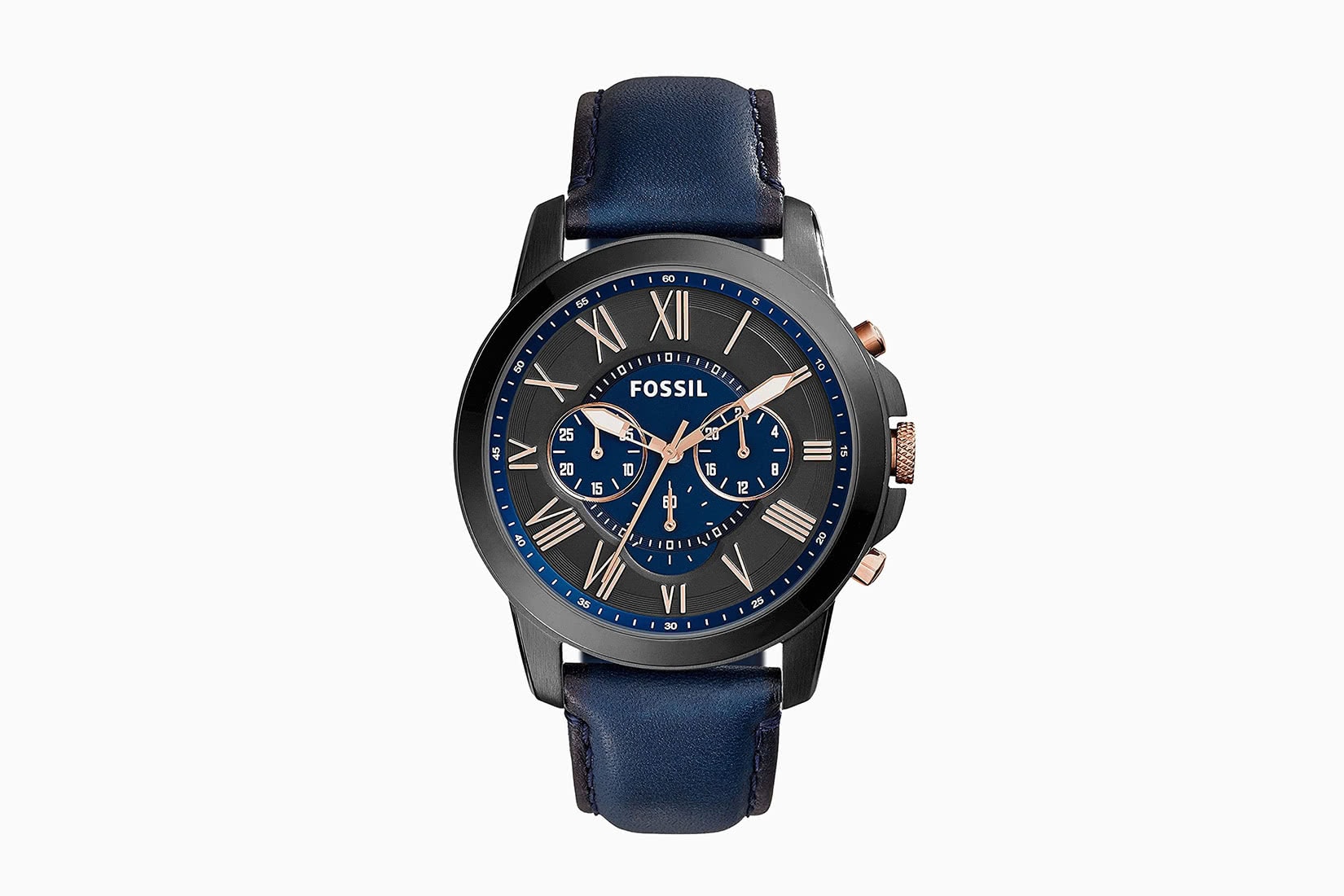 This Fossil timepiece is one of the cheapest racing car watches on our list—but you wouldn't know it to look at it. Featuring a timeless design combining Roman numeral markers, a stainless steel case, three subdials for additional time measurements, and a leather strap, it adds fashion appeal to the standard Formula One racing watch. Quick-release pins mean you can even change the band to match your outfit.
A reliable quartz movement will keep you on time and ensure you never run out of gas while water resistance to 50 meters means you can keep this Fossil watch on in the shower.
IWC Schaffhausen Portofino Automatic Chronograph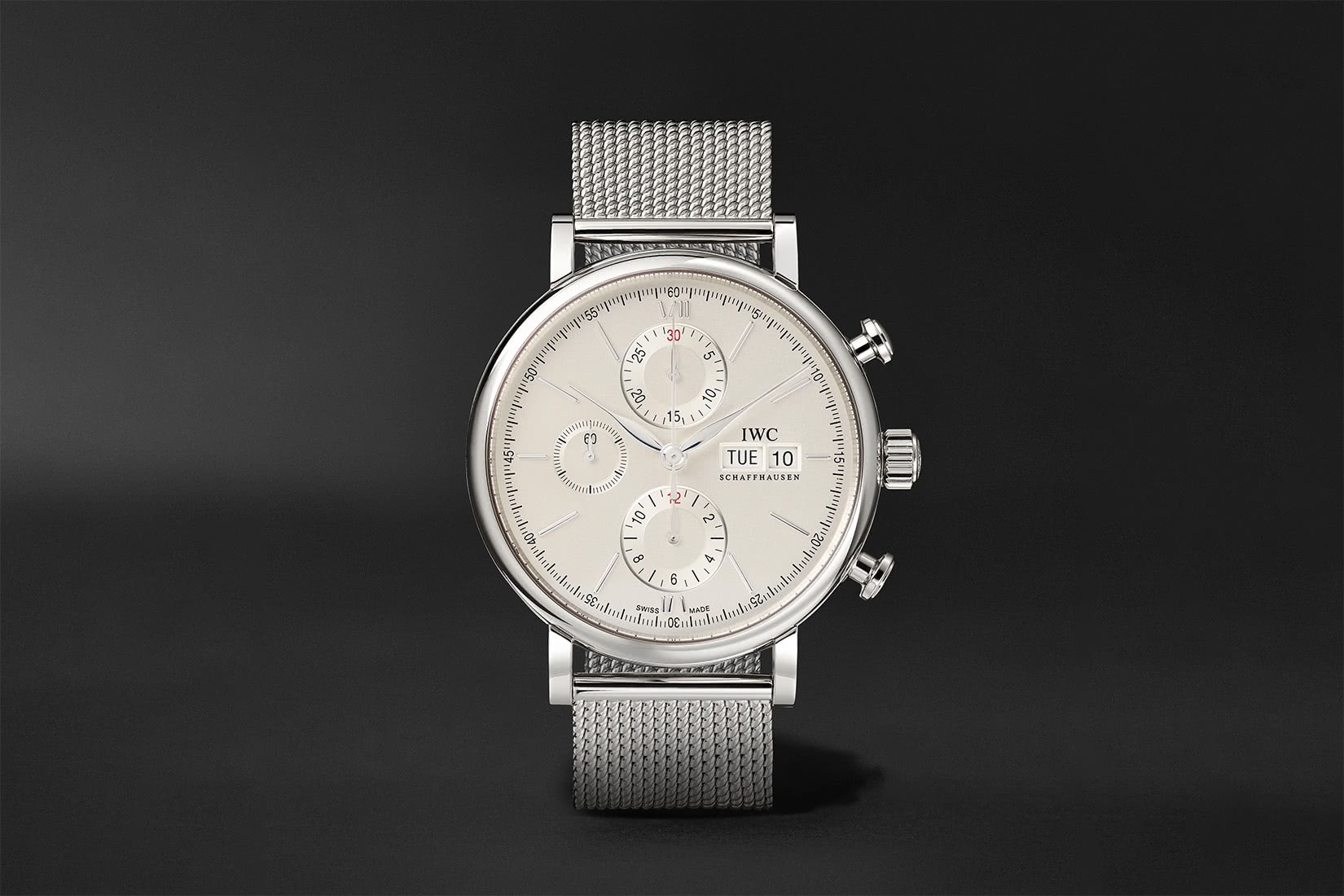 Influenced by the brand's iconic 1953 design, this IWC Portofino watch definitely captures Grand Prix glamour with its Milanese mesh bracelet.
The vibe is rather 1960s with the simple dial, slim hands, and push buttons for extra sporty sophistication. Inside the case, you have IWC's tried and true in-house 75320 automatic movement to deliver the necessary horsepower while the face features three subdials to track hours, minutes, and seconds.
8. Men's digital watches
Looking to transition from die-hard analog aficionado to digital devotee? Forget automatic watches and quartz watches. We want digital watches. Watches with useful functions like calendars, alarms, time zones, calculators, GPS, and fitness tracking—and, unlike smartwatches, a battery that won't die after a day. These best selling digital watches are ingenious and innovative devices, here to make your life easier and more efficient.
CakCity Digital Sports Watch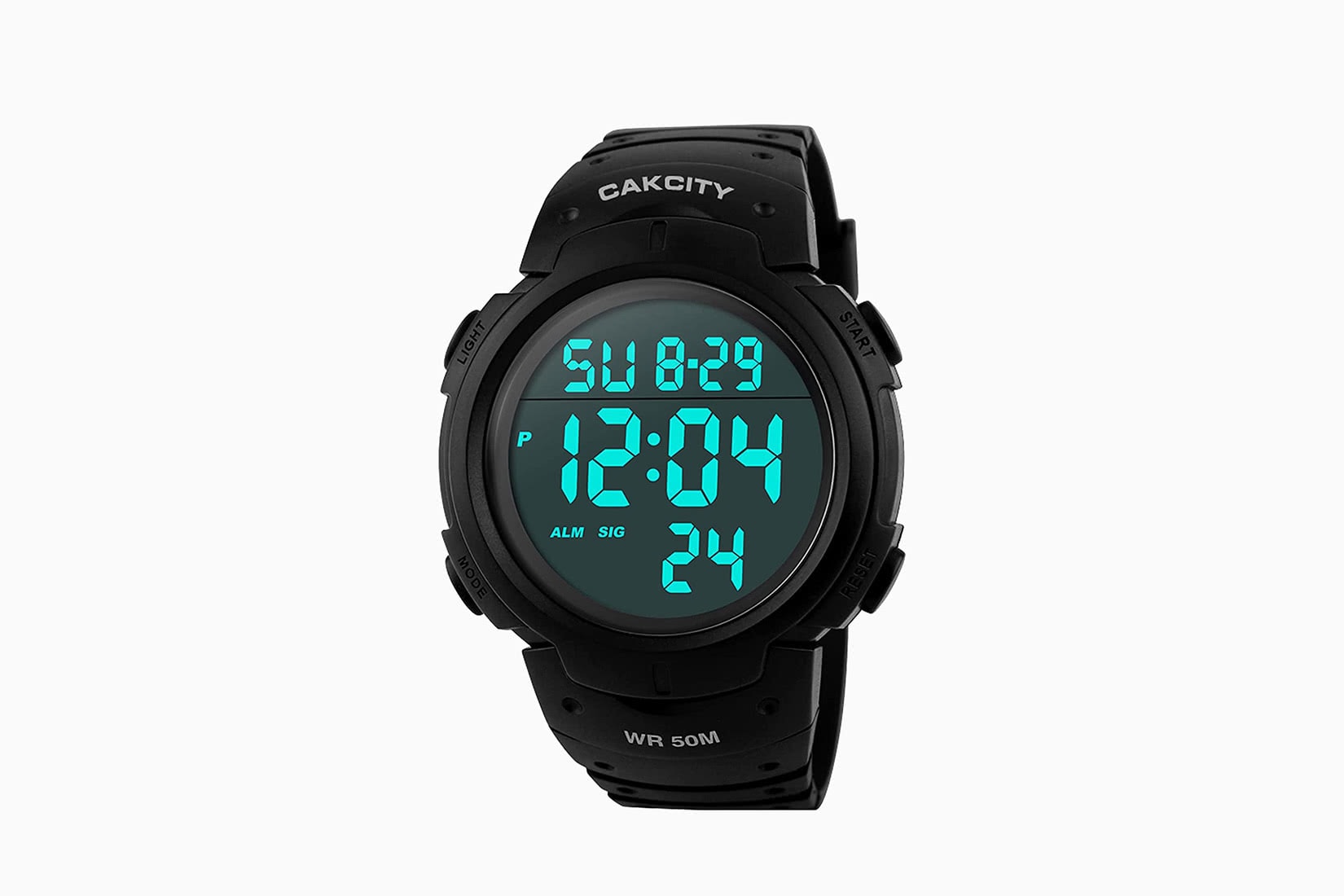 With its jaw-droppingly low price, this CakCity digital watch might seem too good to be true. But it's not. For that more than accessible cost, you get a shock-resistant watch with a stop-watch function, a large dial with clear legibility, and an LED backlight for nighttime reading.
The style is more sporty than nerdy and the fact that this CakCity watch is waterproof to 50 meters is an extra advantage. Welcome to the bargain basement.
Timex Ironman Classic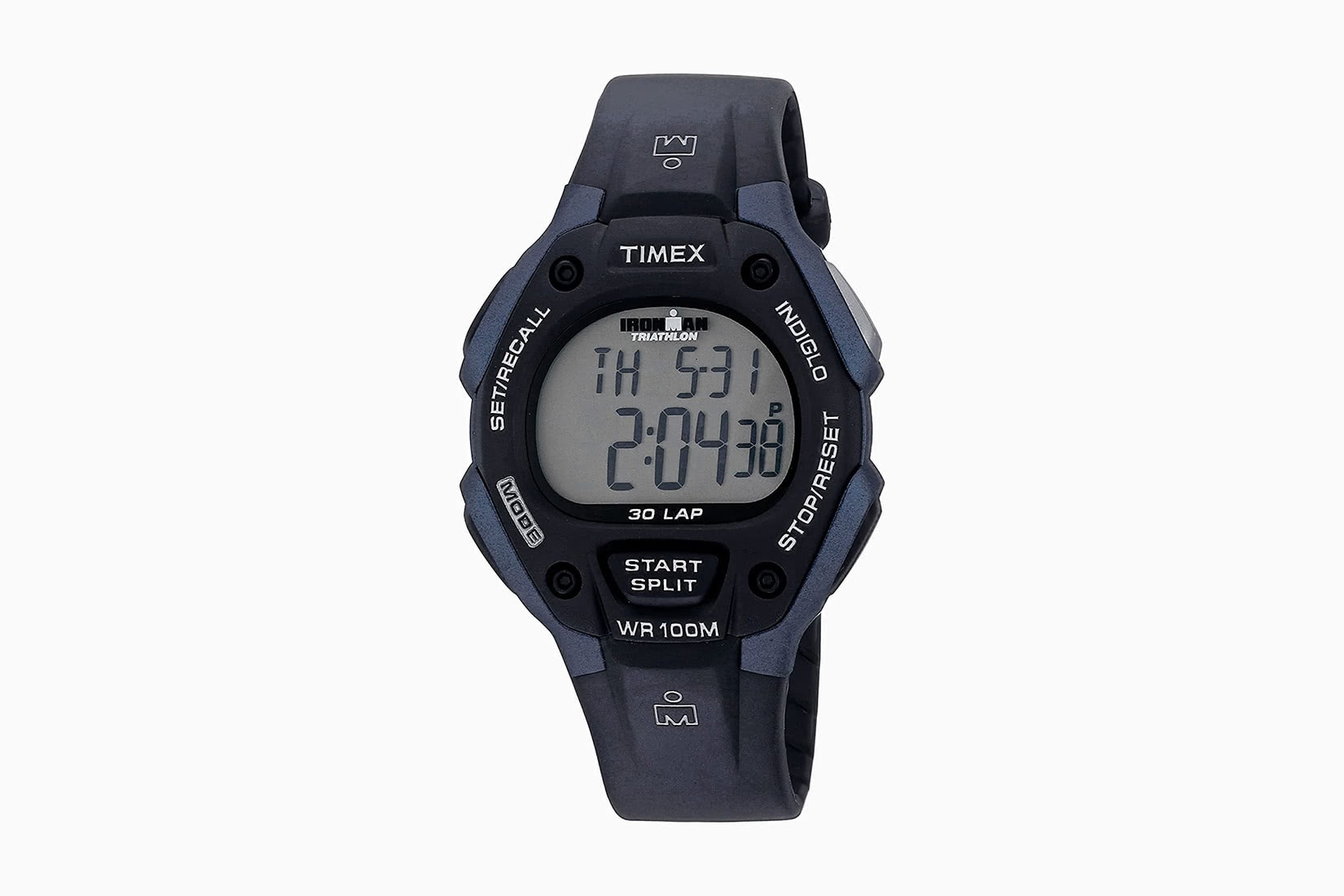 This affordable Timex digital watch is our pick for the most risk-free regret-proof digital watch. It features all the essentials you might need: a 100-hour chronograph, 30-lap memory, a 24-hour countdown timer, three customizable alarms, two time zones, and a calendar.
Available in various different colorways, the case is made of resin while the acrylic lens is fracture-resistant. An Indiglo light-up dial is a further bonus, as is a battery life that will last up to 10 years.
Casio F91W-1 Classic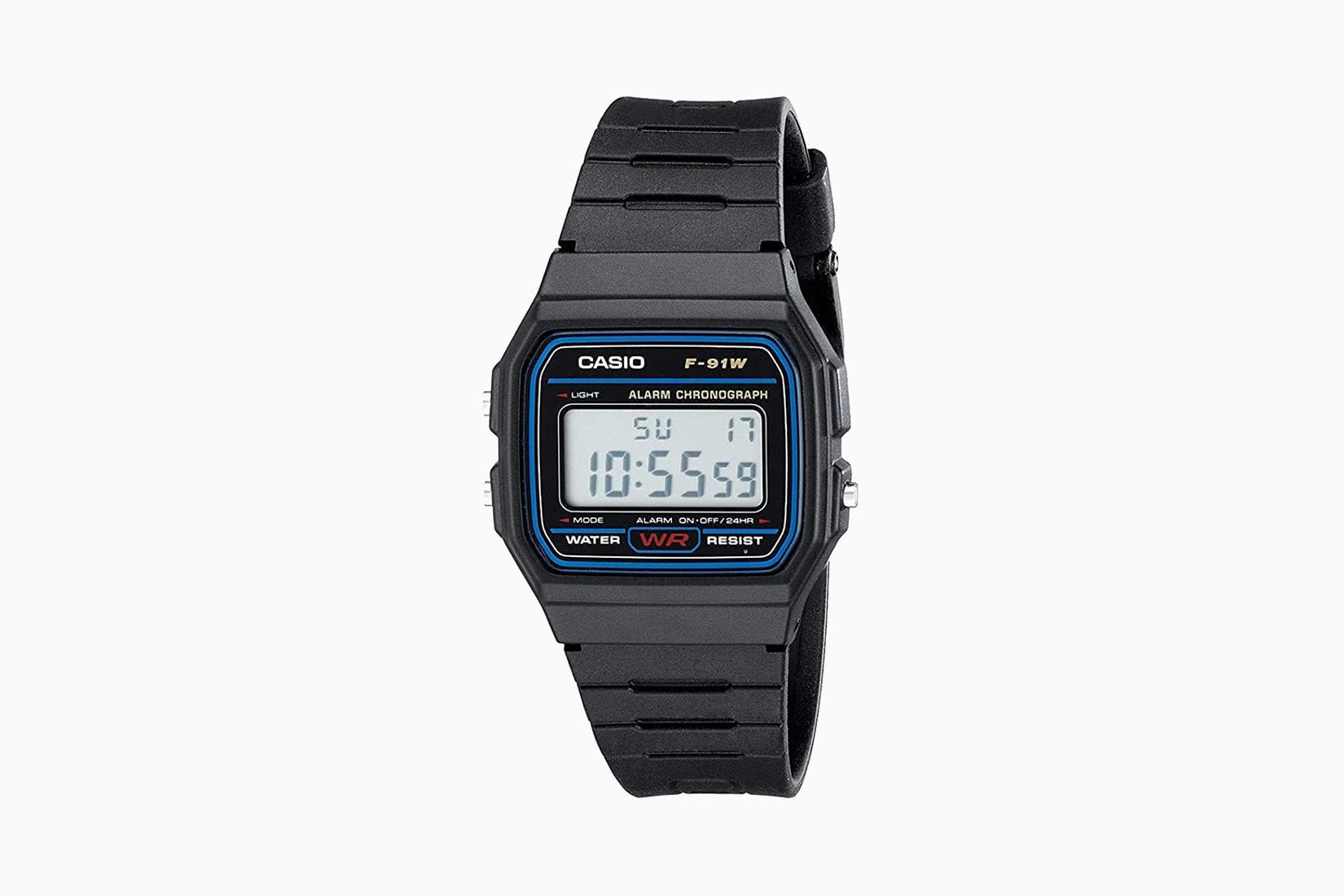 With its instantly recognizable rectangle case and mineral dial window, this has to be one of the best selling digital watches of all time. Featuring a petite 33 mm resin case with a quartz movement, it's reliable, durable, and does what it needs to with no shouting or boasting. Oh, and it's ridiculously cheap too.
Functions include split time, net time, first and second place times, a 1/100-second digital stopwatch, and an auto-calendar. This Casio watch can survive the occasional splash too.
9. Pocket watches
It may not be the most practical addition to your watch collection but a pocket watch attracts attention like no other accessory. These historic status symbols were always and continue to be minor wonders of human ingenuity. So if you're looking for a timepiece of superior elegance and worthy of being a family heirloom, then channel your inner dandy with one of the best pocket watches.
Kronen & Söhne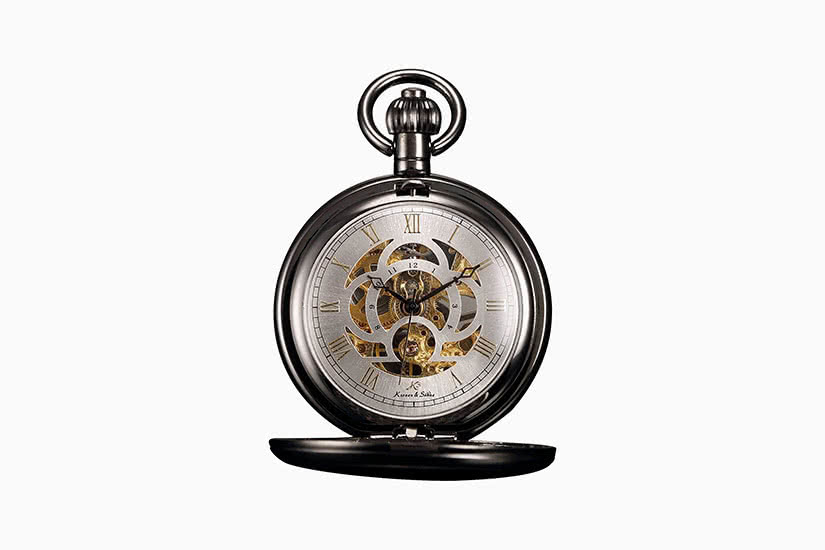 If you're investing in a pocket watch to mark a special event or as a memorable gift for a special someone, this Kronen & Söhne pocket watch could be just the ticket with its display of masterful craftsmanship and technical wizardry.
Radiating a tangible aura of tradition and prestige, it features a wow-worthy skeleton dial, the ultimate conversation starter. No one will be able to take their eyes off the bewitching hand-wind mechanism as it ticks away. The gold mechanics also contrast nicely with the black metal alloy case.
Bulova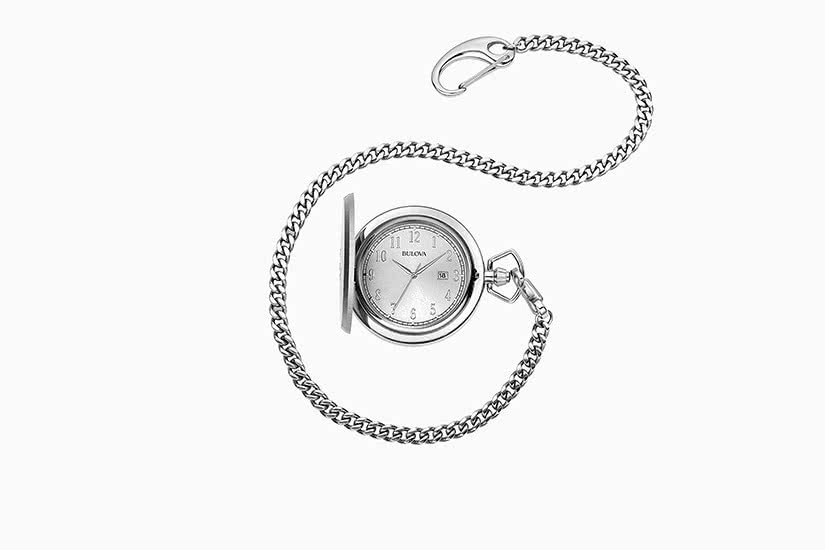 Even if you never actually wear or use it, this Bulova pocket watch is still deserving of a place in your watch collection with its clear trophy status. The first pocket watch appeared in 1510 and this Bulova creation feels like one of the originals with its hunter pocket style that's calling out to be opened with a theatrical flick.
Modern touches further elevate its appeal, such as the fact that this watch is made of stainless steel—rust and corrosion-resistant—and features a maintenance-free quartz movement.
Audemars Piguet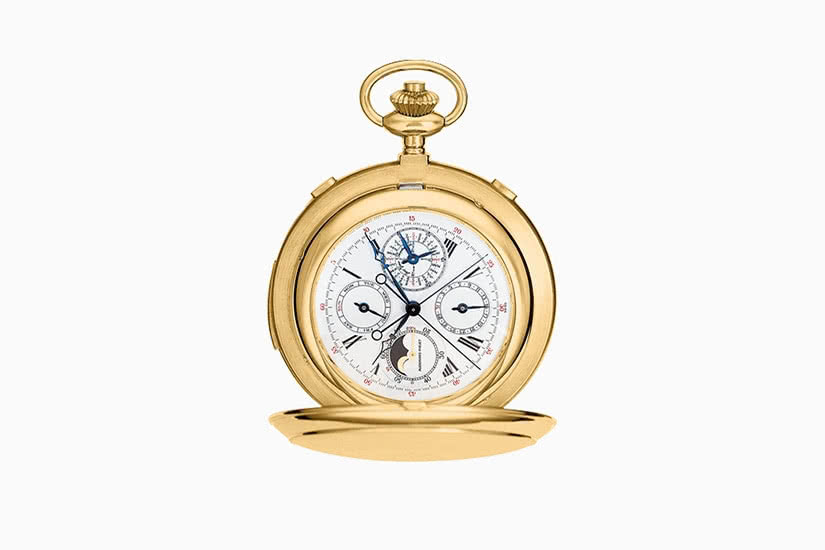 To say Audemars Piguet is a big name in watch-making is somewhat of an understatement. The label is one of the top luxury watch brands in existence and this 18-karat yellow gold pocket watch is the perfect illustration of the brand's superlative horological skill.
At 59 mm, it's quite a beast and not named the Grande Complication Classique for nothing. Featuring a perpetual calendar, minute repeater, and split time chronograph, it also boasts a white enameled dial with the Roman numerals and blued steel hands.
Levonta Pocket watch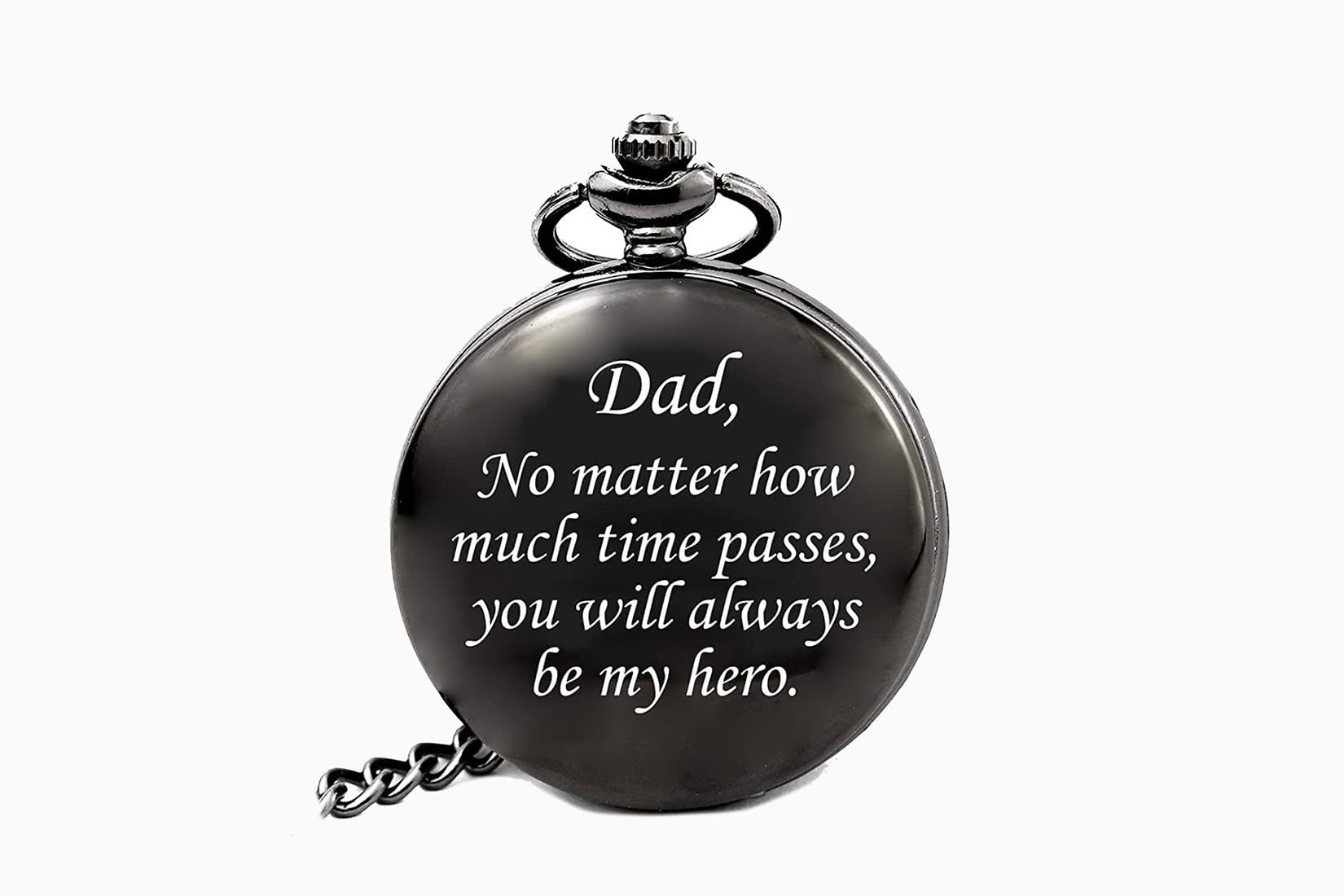 For the daughter seeking a special gift for her father, the ultimate classy and compelling keepsake is this Levonta pocket watch that has that exact sentiment engraved on it. The perfect loving reminder, this timepiece comes with a chain so he can wear it with a waistcoat to family weddings and anniversaries.
A full hunter-style pocket watch, it can be flipped open for everyone to admire while a quartz movement is a superior choice—because what daughter would want to give her father any extra work?
Gotham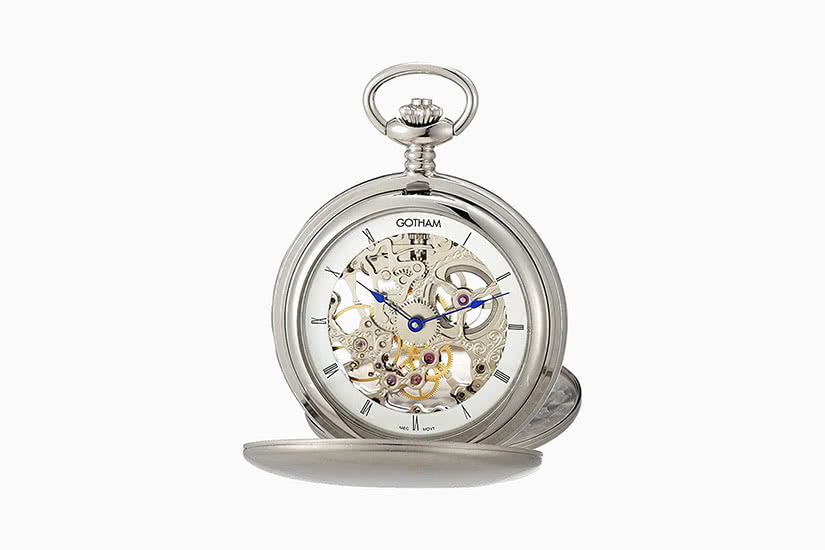 We tend to associate pocket watches with the intrigue and theatrics of hypnotism and one timepiece with a particular power to magnetize is this Gotham pocket watch.
This skeletonized pocket watch puts the inner mechanics firmly in the spotlight with a front and back case that both open for a double display—or double bang for your back. Silver stainless feel feels fresh and contemporary while brushed satin is more low-key than high-gloss. The watch also comes with a brass stand so you can admire it while working at your desk.
Tissot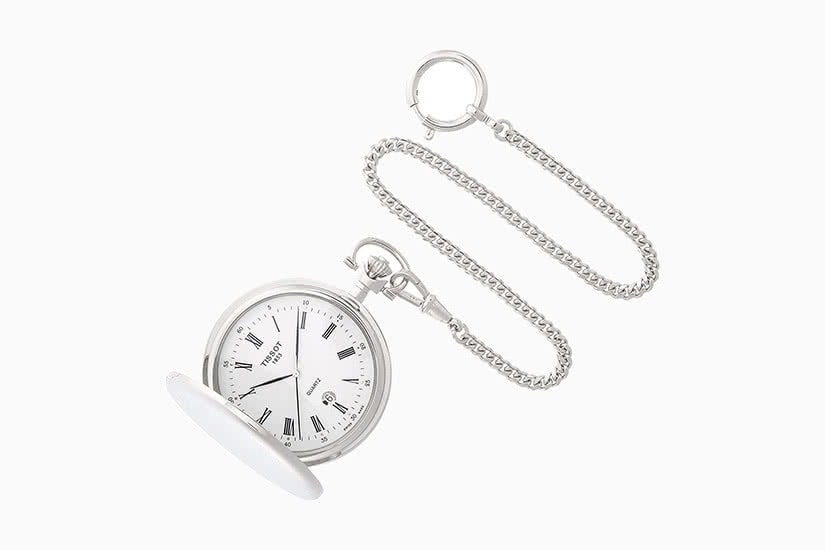 Understated isn't a word you'd typically associate with pocket watches but it describes this Tissot timepiece perfectly. Made from stainless steel, its silver color is less showy and extravagant than yellow gold and a little more minimalist and restrained. The slim case size also makes it perfect to fit in the front pocket of your cocktail attire and a white dial with traditional Roman numerals completes the picture.
A thoughtful and unique gift for the special man in your life—or for yourself. Why not?
Patek Philippe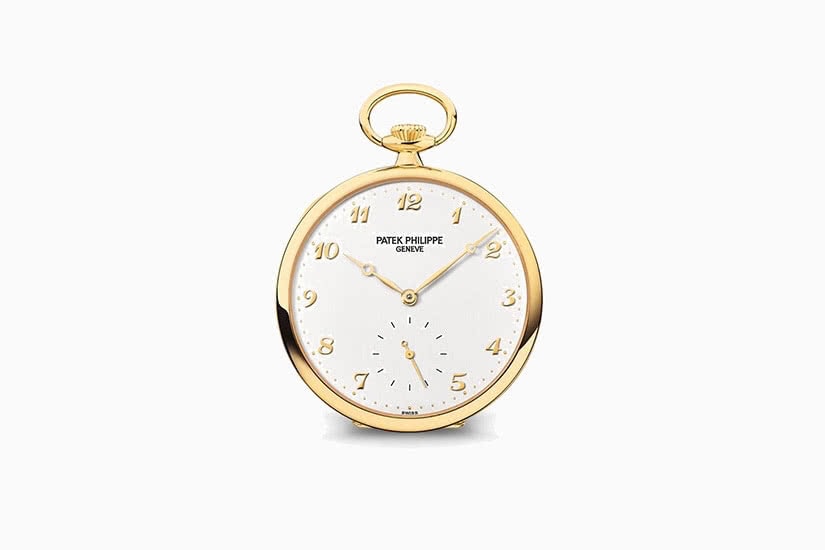 Patek Philippe has set countless horological benchmarks and the brand's brilliance is on display again here in this spectacularly alluring pocket watch. With its unbridled gold glamour, it's a little conspicuous, yes, but who cares? It's a pocket watch ready to raise eyebrows with a bit of rakish elegance.
Patek Philippe puts its extensive industry experience to full use with a seconds subdial, humidity and dust protection, and a hand-winding mechanism. Make winding the watch a ritual you do regularly with your children. One of the best hand watches on our list.
IWC Tribute to Pallweber Edition "150 Years"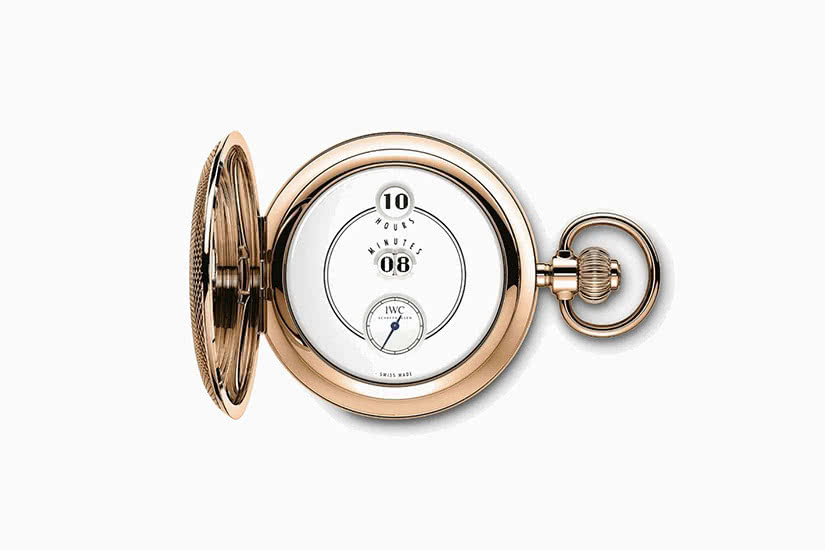 Innovative, unconventional, sensational—those are just some of the words you might use to describe this IWC pocket watch that sets out to defy traditions and challenge standards. Re-writing all the rules of pocket watches, you can trust that this timepiece will turn heads.
A celebration of the brand's first Pallweber pocket watch, made in 1884, this is a limited edition IWC timekeeper, with only 50 in existence. It comes with an 18-karat gold case, white dial with a lacquered finish, and a 60-hour power reserve.
Frequently asked questions about men's watches
What watch brand is best for men?
The best watch brand for men depends on your budget. Rolex is the best luxury watch brand for men, with its exclusive high-end watches that push the boundaries of modern watchmaking. Vincero is the best premium quality yet affordable watch brand.
What are the top 10 men's watches?
The top 10 men's watches are made by luxury brands such as Rolex, Patek Philippe, Audemars Piguet, A. Lange & Söhne, Omega, Blancpain, IWC Schaffhausen, Jaeger-LeCoultre, Chopard, and Piaget. Any timepiece by these brands is considered top-tier.
What is the best budget watch for men?
The best budget watches for men are made by Vincero and Nordgreen. Vincero's Icon Automatic is a great dress watch while The Vessel is a top dive watch. Nordgreen's Philosopher watch is a perfect everyday watch that would also go with formal attire.
What is the best luxury watch for men?
The best luxury watches for men are made by Rolex and Patek Philippe. We recommend a Rolex Datejust for a classic high-end dress watch or the Rolex Deepsea for an exclusive dive watch. Patek Philippe makes beautiful luxury pocket watches.