What's smarter than a pair of sneakers, but more casual than a pair of dress shoes? A good pair of Desert boots, that's what. A versatile boot with a fascinating history, Desert boots, a.k.a. Chukka's, have cemented their place as a staple of modern men's footwear. We've selected the best men's Desert boots on the market to give you the most comprehensive and trustworthy list possible.
If you spend even a small portion of your time in casualwear (no-one is suited and booted 24/7, right?) your wardrobe should include at least one good pair of Chukka boots. This timeless style provides a happy medium for those "in-between" occasions.
Think casual lunch with friends or a leisurely day out.
Since their conception in the mid 20th century, the recognizable Desert boots have rightfully earned their 'essential' status in men's fashion. Find out more about the interesting history of the Chukka boot below.
But first, here is our tried-and-tested list of the best Desert boots available on the market this year.
The best men's desert boots
---
Check also our in-depth guide to all the best boots for men to discover other models such as the Chelsea boots or the work boots.
1. Oliver Cabell Mock: Overall best desert boots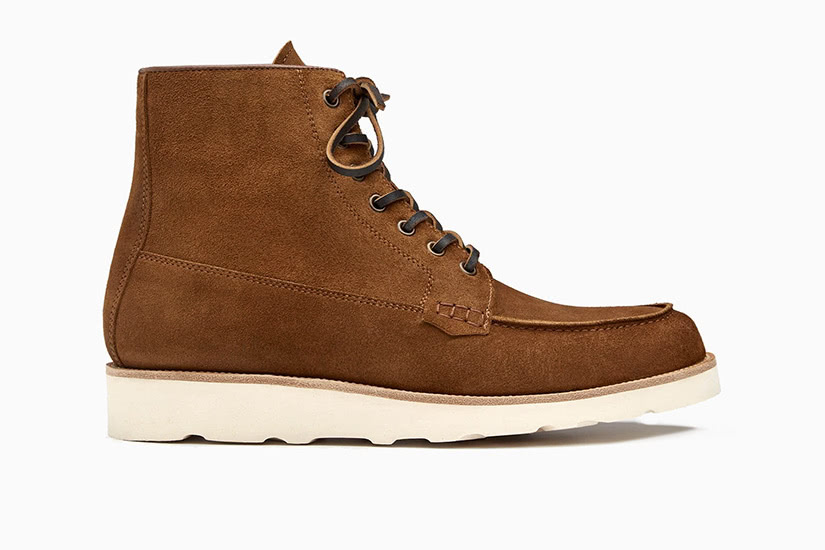 Promising to be Oliver Cabell's lightest and most comfortable boots, these Tobacco Rough-out Mock Deserts make use of Vibram sole for optimal comfort.
With the upper leather from Spain, the vegetable-tanned lining from Venice, Italy, and custom-made steel shank from Germany, these boots are a fine collection of expert craftsmanship from across the European continent.
Check our in-depth review of Oliver Cabell's sneakers and our profile on Oliver Cabell's brand.
2. Sid Mashburn: Best classic desert boots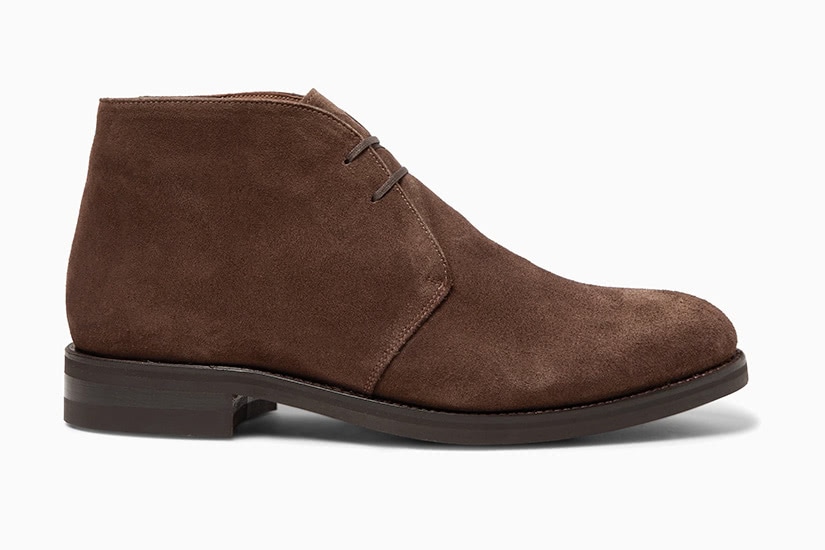 This classic pair of suede Chukka boots by American designer Sid Mashburn are the epitome of classic desert boots. The brand has been supplying the planet with quality footwear since 2007. Desert boots happen to be one of their signature styles, and these superb Suede Chukka Boots reflect the company's expertise. The simple, classic design with the quintessential suede uppers and comfortable rubber soles may be perfect for those off-duty days.
The Gaucho Roughout Mini Ripple boots from Oliver Cabell are an excellent classic choice, too. Oliver Cabell's specialty is timeless footwear made in ethical factories from equally ethical materials. Not too often will you find a brand with such high standards, so Oliver Cabell's definitely one to watch.
3. Clarks Goretex: Best value desert boots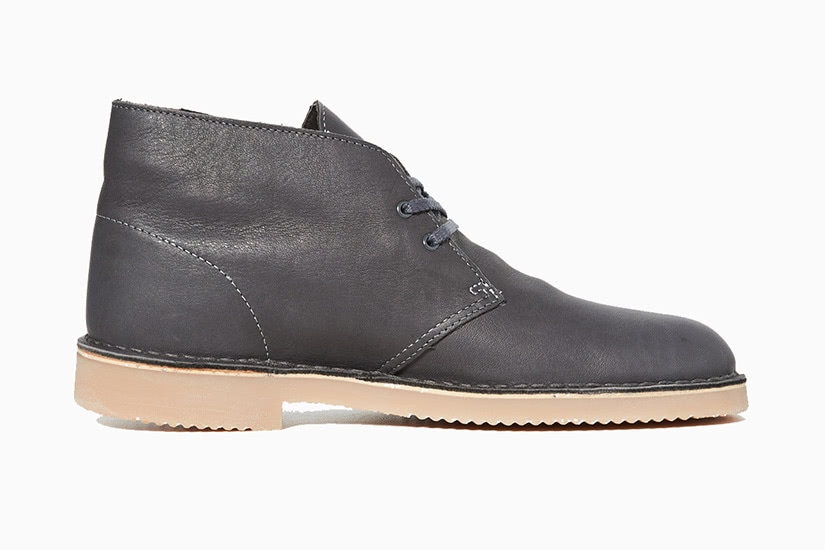 As the inventor of the military-cum-casual boot, you were probably wondering when Clarks would show up on our list. Check these great value Desert boots from the classic brand in deep pebble grey. Made from cowhide leather and featuring those omnipresent crepe soles, this pair of Clarks is versatile, sleek and understated. What's not to love?
Not for you? These Gervis Chukka Boots by Tommy Hilfiger are excellent value, too. You can get them for less than $30 on Amazon and they're available in a range of colors. We like these navy blue, but they also exist in khaki, olive brown, and grey.
4. Mr P: Most comfortable desert boots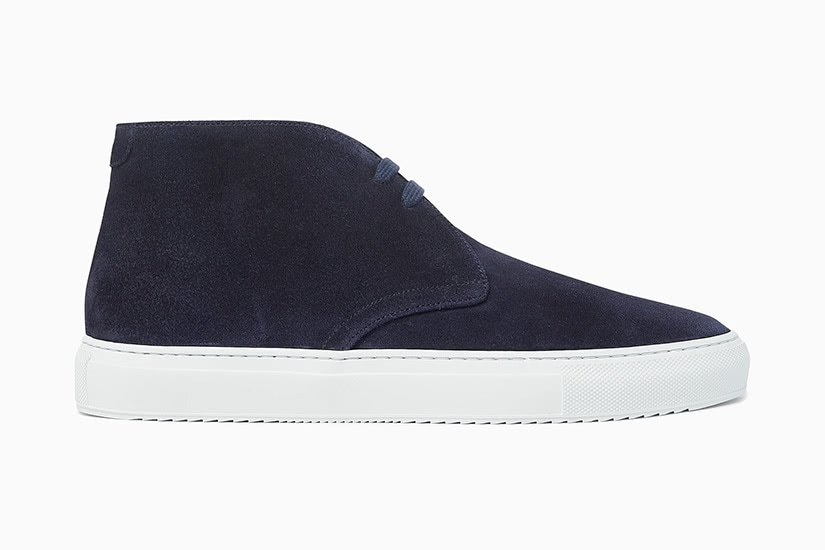 Exclusive to Mr Porter, these Larry Suede Desert boots in blue just ooze comfort. The storm-blue color brings something a little different to the table if you're not into the classic sand/brown vibes but not wanting to be ostentatious. They feature serrated soles for a great grip and lined with supple leather.
Another winner in the comfort department are the Clarks Originals Mali biker Desert boots. Higher on the ankle, these boots feature Clarks 'Cushion Plus' technology, which provides targeted underfoot cushioning for maximum shock absorption. The concealed foam inlay doesn't flatten under pressure or with wear. So if ultimate comfort is what you're looking for, these might be the boots for you.
5. Clarks Originals: Most durable desert boots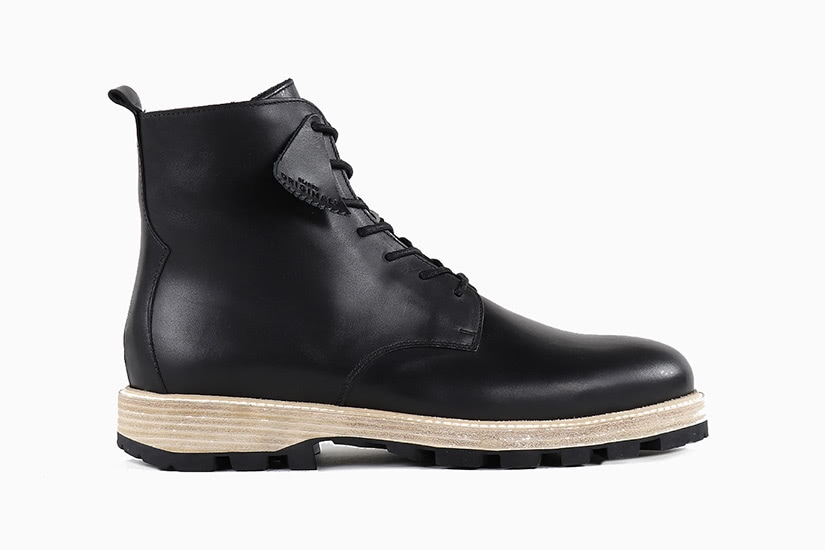 Clarks provides yet again, this time with a pair of men's Lorwin Mali Boots. Featuring the signature suede upper, they're black with contrasting soles. Super soft, and super durable.
Otherwise, superbrand Doc Martens have a good alternative: their Cabrillo Crazy Horse Gaucho Desert boots effectively deliver everything we've come to expect from the brand. They're durable and sturdy in both appearance and nature, with the water-resistant suede being a great feature here too.
6. Lemair: Most sophisticated desert boots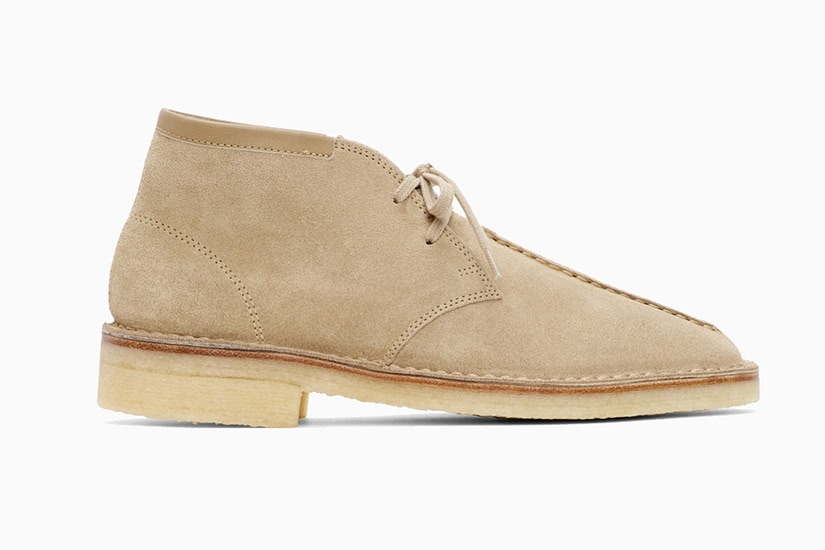 You can usually trust the French to deliver when it comes to sophisticated style. And these Desert boots in taupe by Lemaire are no exception. Featuring textured stacked rubber soles with extra detailing in the form of buffed leather trim and top-stitching, these are as authentic as Desert boots get.
7. Heschung: Most stylish desert boots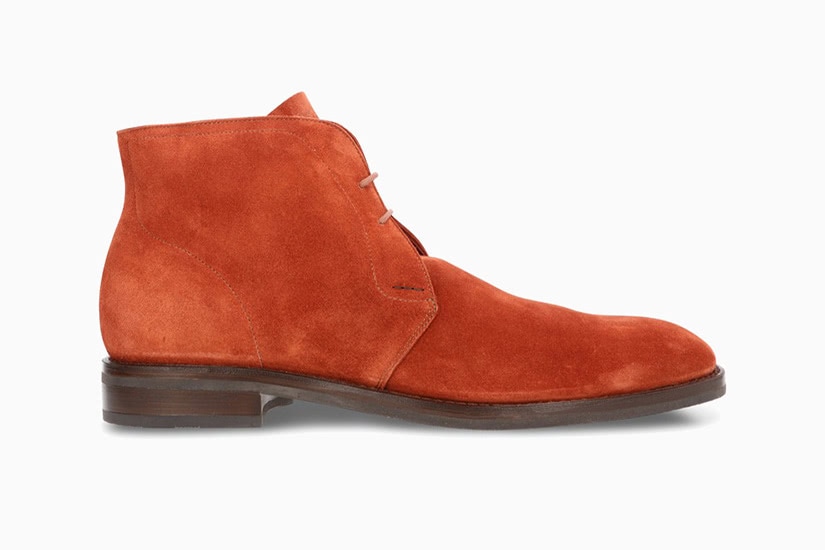 Hailing from Alsace, France, the family shoemaker Heschung is known for their mastery of creating high-quality ski boots. But that's not all they do. Inspired by the beautiful nature of the Northern Vosges Regional Nature Reserve, the 1934 company designs a variety of shoes that combine "tradition and modernity."
With that in mind, their Ajonc Desert boots embody both of these qualities, with the upper consisting of 100% calf leather in a quirky burnt sienna hue.
Not to your taste? Fortunately, Italian brand Scarosso offers a fantastic alternative: the Stevean Desert boot. Crafted from yellow leather and suede, these boots are definitely eye-catching. Black soles and laces amp up the contrast here, too.
8. Tod's: Best dressed-up desert boots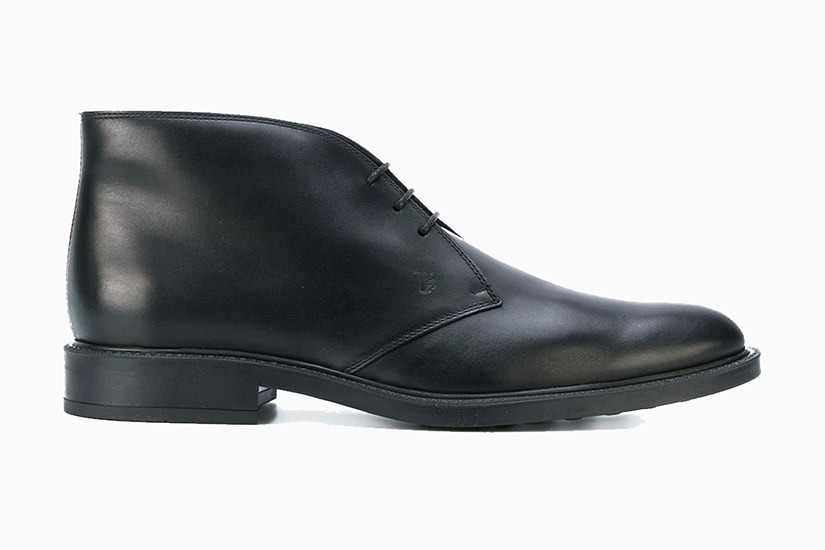 Perhaps the most formal on our list, these 100% sheepskin and leather Desert boots by Tod's steal the show. While they are technically Desert boots, they encompass a much more formal feel with their black leather outer and black rubber soles. Quite at home paired with a suit, these might be 'the ones' to see you through any black-tie event.
Alternatively, these Chukka Boots by James Purdey & Sons are absolutely gorgeous in this rich brown suede. Purdey's chukka boots are tough, hard-wearing and as suited to the city as the countryside. Exactly as you would expect from the British heritage brand. The boots are handmade in England from lightly brushed suede and sit upon sturdy Dainite rubber soles.
9. Geox U Dwain: Best desert boots under $100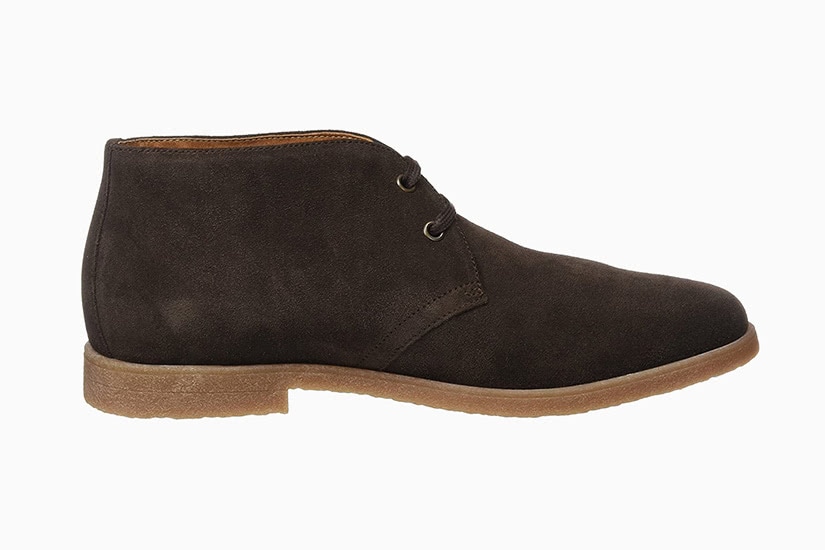 Geox is well-known for supplying styles that are both breathable and waterproof. So, if you're looking for comfort, versatility, and breathability, these Geox U Dwain are a great choice!
Available in three colors, these versatile leather Desert boots have a perforated sole with Geox patent to maximize breathability and performance.
Another solid pair of Desert boots under $100 are the Clarks Original in beeswax. With a leather outer and a low heel (2cm), they promise comfort, durability, and timelessness. The contrasting stitching adds a pleasing twist to these classics.
10. Oliver Cabell SB 1: Best black desert boots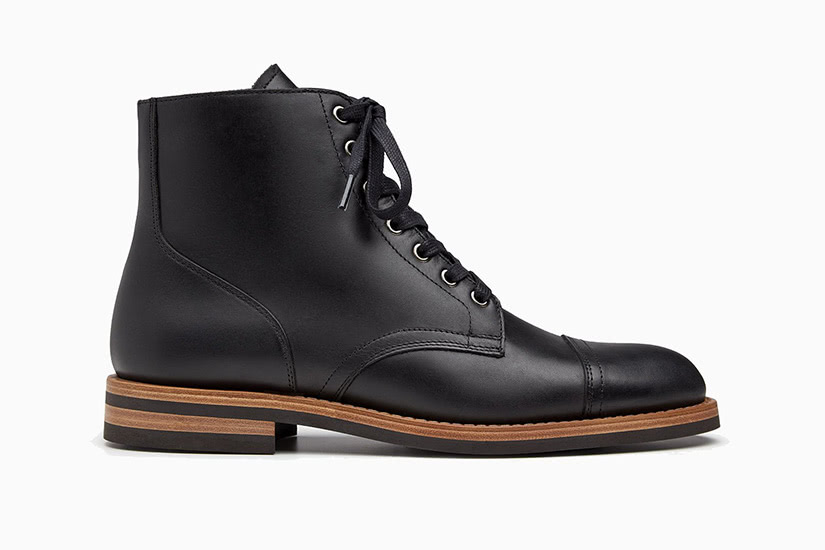 Nothing beats a dependable pair of black Desert boots, and no one makes them better than Oliver Cabell. Their SB 1 boots are expertly crafted in full-grain black leather and are pretty foolproof in regard to what to wear them with.
Remember: not all chukka boots are Deserts, but all Desert boots are chukkas. Repeat.
For a chunkier aesthetic, these Nero Desert boots by Tod's are a good choice. In smooth suede, with a chunky heel and simple lacing, they feature the subtle Tod's logo embedded in the suede. They've also got a great grip on the bottoms to optimize comfort.
11. Tod's Testa Di Moro: Best brown desert boots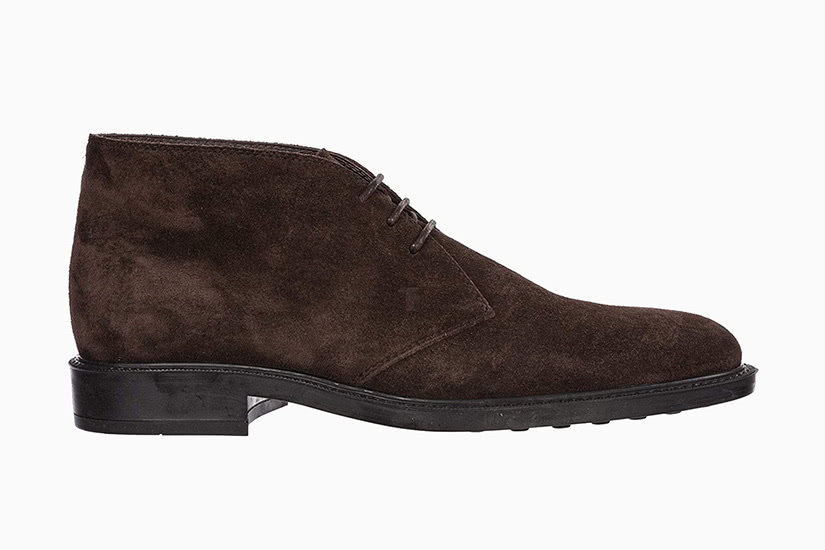 Hey again, Tod's. These Testa Di Moro desert boots tick so many boxes: they're classic, stylish, and timeless. Tod's tagline, 'Made by humans,' truly embodies their commitment to the craftsmen and artisans who expertly bring the designs to life. This is evident in their exquisitely crafted shoes, where attention to detail is paramount.
Otherwise, Bruno Cucinelli's take on the classic style comes in the form of these suede Desert boots. A versatile darker brown and with supple suede uppers and that all-important crepe sole, these promise to mold to the shape of your feet over time, for ultimate comfort.
12. Tod's Classic: Best suede desert boots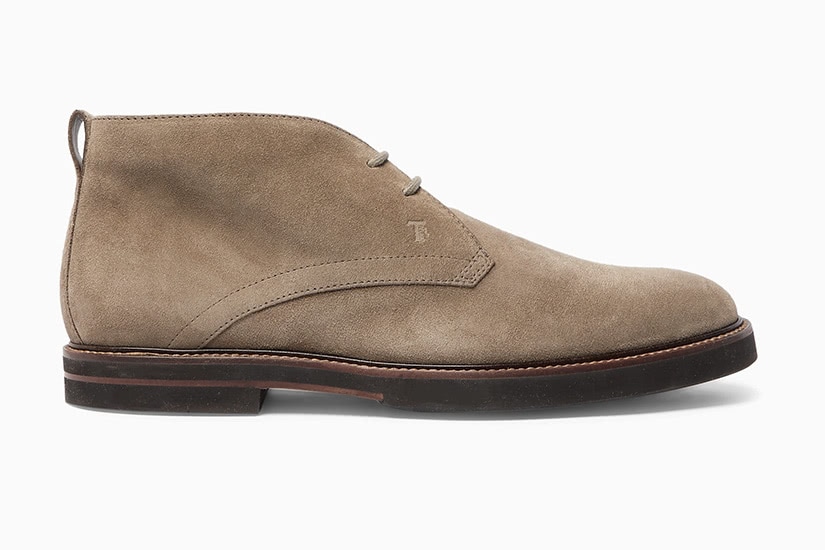 Sandy and taupe hues are generally the 'traditional' colors for Desert boots, Italian designer Tod's clearly agrees with this classic Desert boot in smooth Taupe suede. Admittedly, they're quite unlike any boots you'd actually find in the desert, but this really works.
13. Ermenegildo Zegna: Most versatile desert boots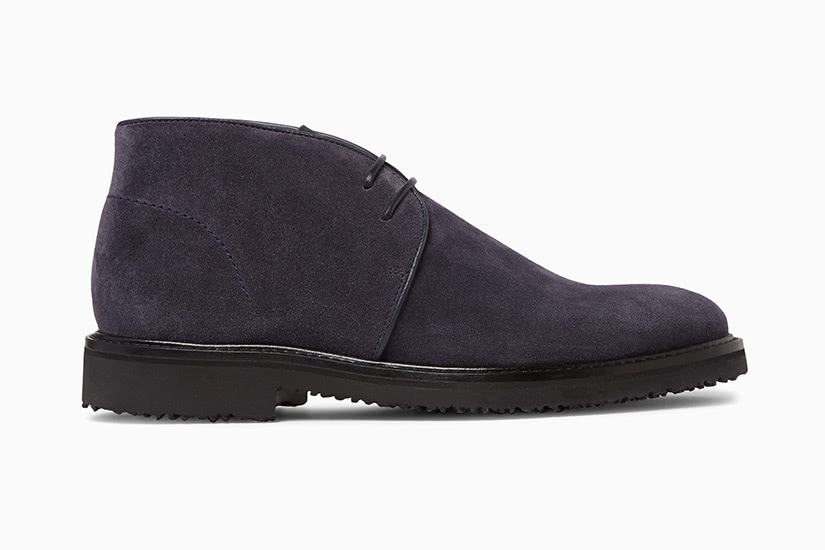 You can't go wrong with navy blue. There's just something about navy suede that is so aesthetically appealing. Lined with lightweight black rubber soles, these navy chukka boots by Ermenegildo Zegna will pretty much go with anything.
You can team them with dark tailoring, simple jeans, or chinos for a smart look. The boots come with supple suede uppers and fasten with tonal leather laces.
Dressed up or down, these bad boys don't scream 'look at me' but neither will they go unnoticed. If versatility is what you're after, these could be just the right pair.
If blue isn't your color, check out British designer Edward Green's Shanklin suede boots in taupe. Slick and clean in design, their minimalism means they'll match well with a variety of outfits without being overpowering.
14. Red Wing Shoes: Most eye-catching desert boots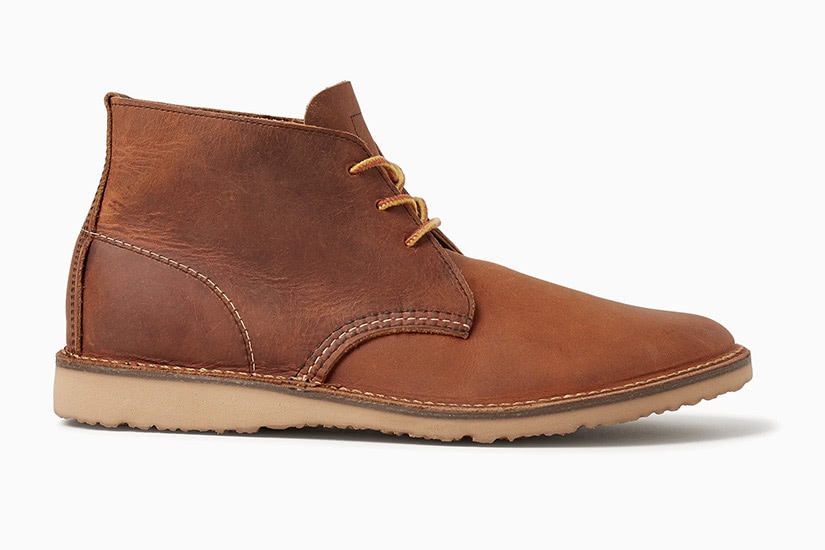 For something rather different, these Weekender Burnished Leather Chukka Boots by Red Wing Shoes offer an eye-catching alternative. Made from burnished leather with lightweight, flexible stitch down welts and cork midsoles, these certainly aren't your run-of-the-mill Desert boots. The burnished leather provides a refreshing shabby-chic twist on the traditional style.
15. Visvim Virgil: Best military desert boots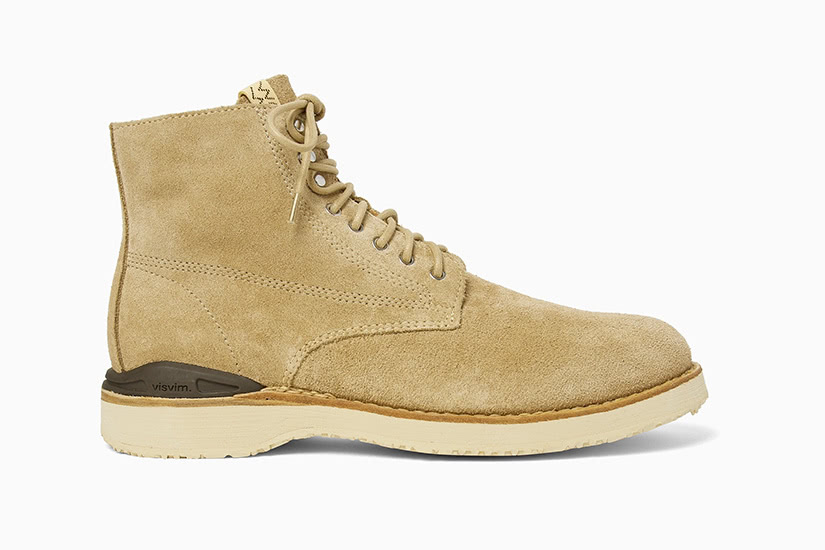 Again, an effective twist on the classic style. These Virgil Desert boots from Visvim shake things up.
Visvim's 'Virgil' boots are a nod to both classic workwear and military-issue boots. The shoes are set on flexible, impact-absorbing rubber soles. Made from 100% hard-wearing suede, they're dependable, stylish, and durable.
16. Silvano Sassett: Best pull-on desert boots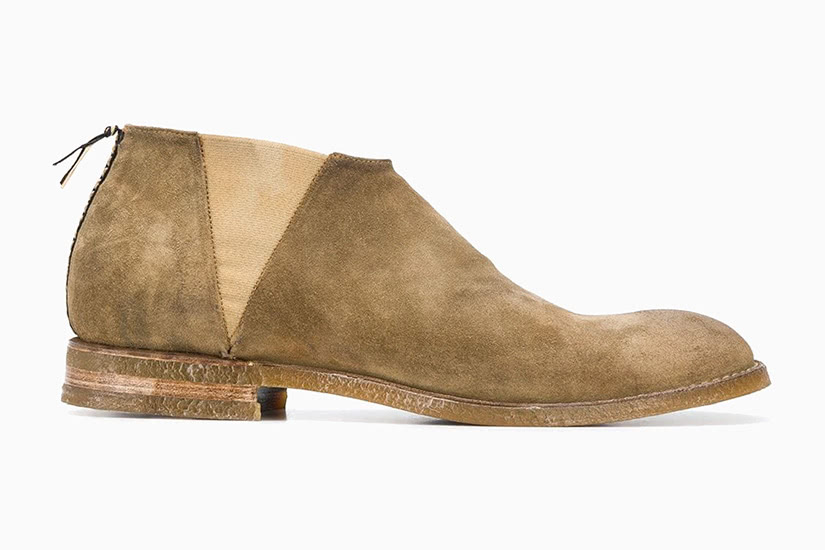 Shoe purists, you may want to skip this one… A pull-on Desert boot? Without laces? What is this heresy?!
Going somewhat against the grain, Silvano Sassetti nonetheless shines with their pull-on Desert boots. Expertly crafted with beige tan leather, they feature a round toe, flat sole and pull tab at the rear.
For a budget alternative, Skechers has these Relaxed Fit Dorton Boots that are absolutely crushing it on Amazon with over 1,400 positive reviews. The perfect pair of boots to wear on a construction site, they are made from 100% leather and are easy to put on and off.
17. Ecco Track 25: Best utilitarian desert boots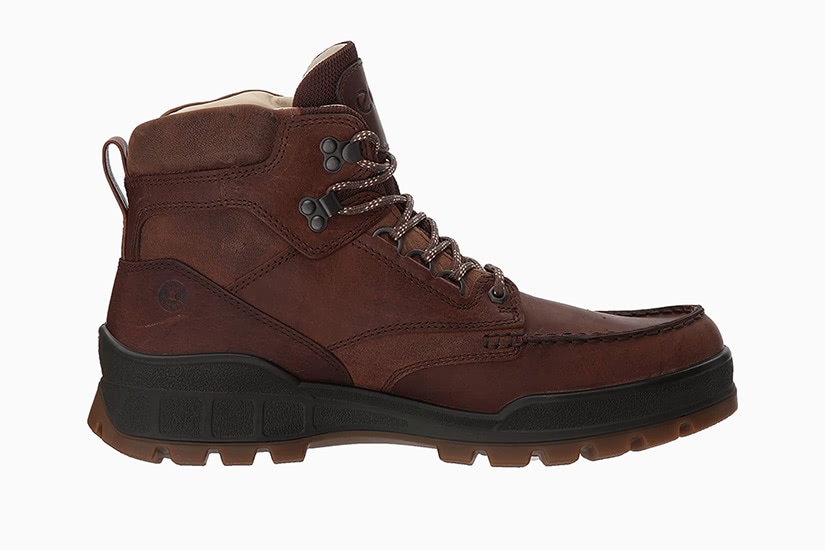 Probably more at home on a winter day than in a scorching Desert, these Track 25 Premium High Winter Boots from Ecco are lined with strong breathable yak leather combined with durable oiled nubuck. The overall Gore-tex waterproof construction ensures that your feet remain dry and comfortable, even in wet weather conditions.
Another great option are these waterproof storm surge toe boots by Rockport. They are available in black or this dark brown color.
18. UGG: Best desert boots for cold-weather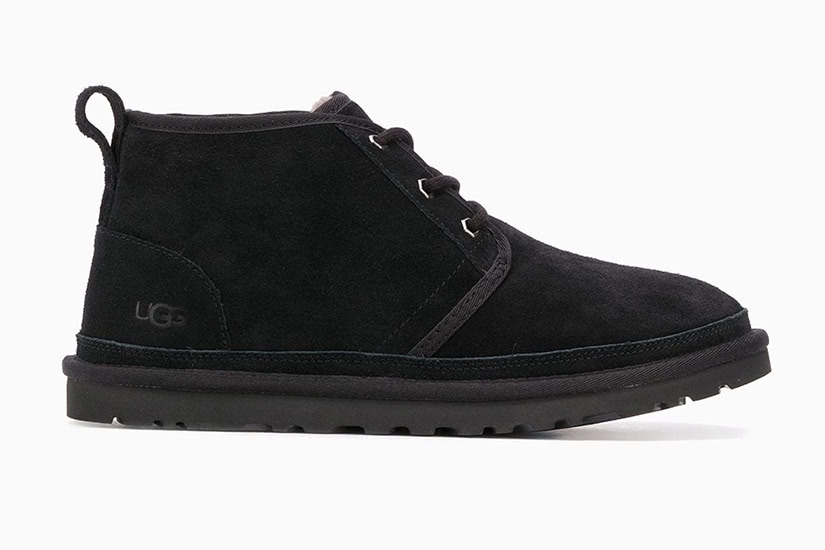 Another style to warm those wintery toes, Ugg has designed these new season Desert boots with gorgeously soft 100% wool lining. Complete with a black suede outer and lace-up detailing, they present a versatile aesthetic.
19. A Diciannoveventitre: Most expensive desert boots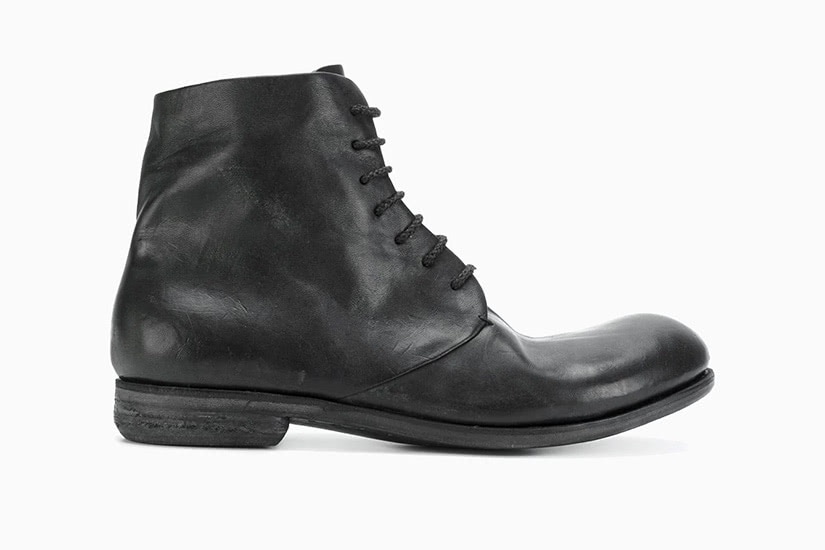 If you were wondering, A Diciannoveventitre translates to 1923 in Italian. Luxury shoemaker Simone Cecchetto named his brand in homage to his grandmother, born that year.
The Italian designer focuses on making high-end shoes. And very well, at that. The brand creates handcrafted shoes since 2006. It blends Italian tradition with innovation and fashion edge. A Diciannoveventitre likes to venture into new territories with new materials and production techniques to create unique leather designs and patterns.
The pair of black horse leather ankle boots are a great example of the designer's dedication to progressive tanning and leather treatment methods.
If you prefer something a little more classic, these Grove Suede Chukka Boots by John Lobb are ideal. In handsome classic brown, these chukka boots are crafted from soft suede and set on comfortable, durable rubber soles. Low in the ankle and featuring sleek leather trims, these boots are an excellent investment.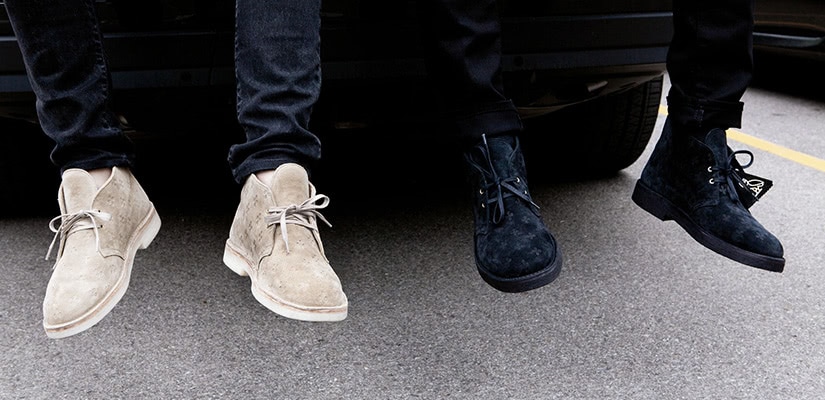 The surprising history of the Desert boot
Calling all history buffs, this one's for you:
Proudly debuted at the Chicago Shoe Fair in 1950 by Nathan Clark, of the reigning supreme British shoemakers C. and J. Clarks (or simply Clarks, to us), this unprecedented style certainly made an impression.
But, the journey of the Desert boot did not begin there.
Far from it. In fact, it began thousands of kilometers away, on the hazardous terrains of Burma.
Clark had been deployed to Burma in 1941 as a soldier of the British Army. Evidently, even in the violent throes of a world war, Clark had a keen eye for business (and fashion!). Whilst stationed there, he'd noticed the hardy, crepe-soled footwear of the Burmese soldiers. Along with the style, it struck him how durable they were, even in harsh weather conditions…
He was impressed by how tough and comfortable the boots seemed, yet also lightweight. Very soon, a lightbulb pinged in his head.
After some swift research, Clark discovered the boots were sold in the dusty markets of Cairo and were inspired by the South African veldskoen. Quite the mixed lineage, indeed.
Clark was entranced. Thus, armed with a detailed design and presumably a few battle scars, he hurried back to his home in the comparatively tranquil county of Somerset, southwest England, to get to work.
The rest is history.
By the mid-1950s, Desert boots were en mode. Favored by a vast array of subcultures and worn by everyone from folk singers to Beat poets, who preached freedom and individuality in the post-war years.
In fact, the boots came to personify the exact characteristics Nathan Clark had originally noted: hardiness and durability, while also becoming an emblem of the working man. As you can expect, they were hugely popular during the counterculture years to follow and remain so today.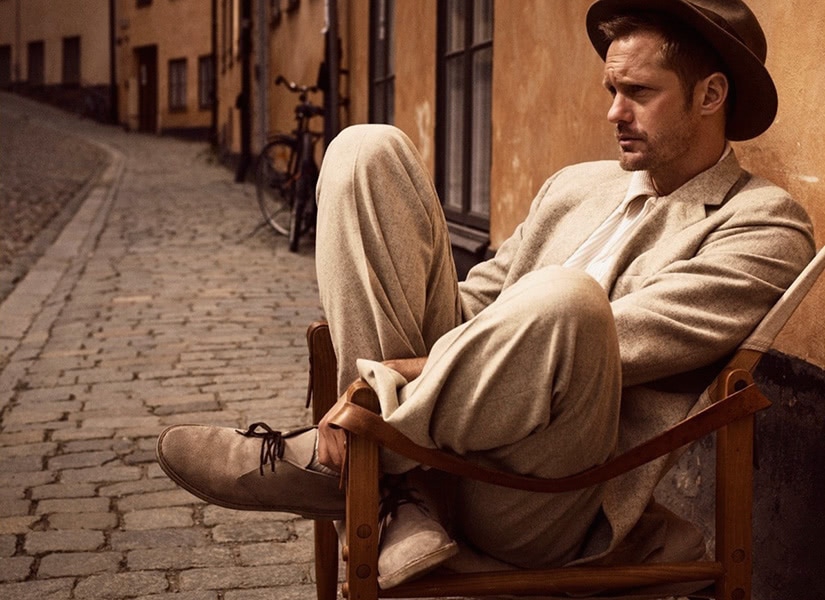 OK, so what is a Desert boot?
Typically characterized by having a suede upper and a crepe sole, Desert boots stop at the ankle and have lace ties. It's the conjunction of utilitarianism and unfussy yet stylish aesthetic that gives these boots their timeless, iconic status.
While Clarks were the original manufacturers, many other global shoemakers have followed suit and designed their own styles. Though generally suede, you can easily find Desert boots made with a variety of materials and colors these days.
How do you clean Desert boots?
As with all things, the better you look after Desert boots, the longer they will last. Most Desert boots are made from suede, which means you will have to be cautious when stepping out in the rain. If you venture out and your suede boots get soaked, try to dab off the water as quickly as possible.
Leaving them to dry on their own will culminate in ruin, take our word for it.
It's worth purchasing a suede brush, and a suede eraser. The brush will remove any dirt build-up, and the eraser will work out any spots or stains.
Fortunately, you can use a mild detergent on the soles. This applies whether they're synthetic or crepe!
It is possible to use silicon spray on your suede Desert boots, which will help to prevent excessive marking and general wear.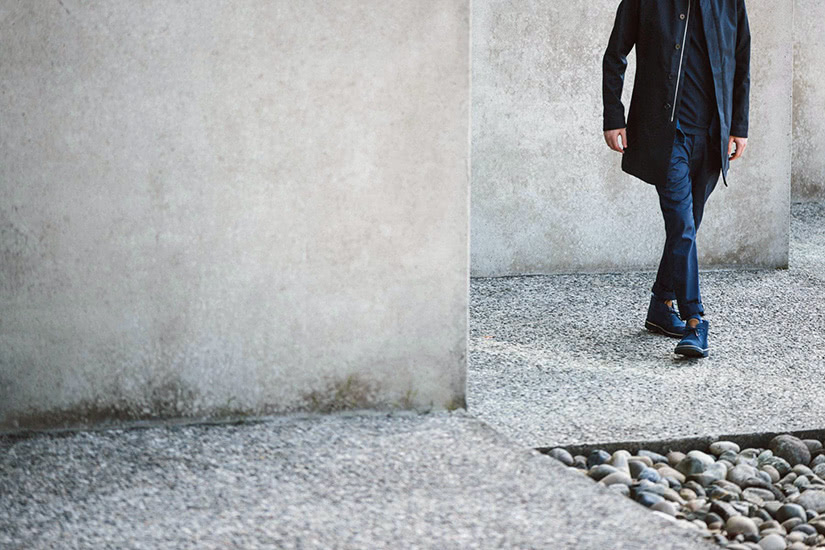 Frequently asked questions about Desert boots and Chukkas
What are the best quality men's Desert boots?
Clarks are famed for bringing Desert boots to the general public. As such, it is only fitting that they have manufactured the best quality men's Desert boots available. These Clarks Originals Mali Biker desert boots are high on quality, with their sturdy soles (crepe, of course) and tumbled leather.
What color Desert boots should I get?
The traditional color for Desert boots is a sandy hue. However, the market has diversified, and it's now possible to find great styles in beige, black, navy, or grey. Ideally, stick to classic colors to ensure your Desert boots remain timeless and versatile.
How do men wear Desert boots?
The true appeal of Desert boots is that they're extremely versatile. Generally, pairing them with casual or smart-casual attire is your best bet. Desert boots look great with jeans, chinos, and corduroys. But err on the side of caution when pairing with suits- it's usually a no-go. Get a neutral color to maximize versatility.
Are Desert boots good?
You need only observe the unfading popularity of Desert boots across the last five decades to be convinced of their worth. A fixed wardrobe staple, even the most parsimonious of men, will have one pair sat snugly between their sneakers and Oxfords.
Can you wear Desert boots with a suit?
This is a grey area. Historically, Desert and Chukka boots would never have been worn with a suit (even after their migration into Western fashion). But some of the newer designs with a thinner sole could potentially work. Generally speaking, thick soles and rugged stitching should stay with casualwear.
What are the most expensive Desert boots?
Luxury brands have definitely taken the Desert boot concept and ran with it. Italian shoemaker A Diciannoveventitre lovingly designed these beautiful Desert boots, which retail at over $2,000. The attention to detail is second-to-none, characteristic of the dedicated artisan.