While originally designed for soldiers in the trenches during World War One, today, you're more likely to wear a field watch out on a hike, training in the gym, or simply to get to work on time.
But the best field watches retain the reliability and robustness of those first wartime timepieces, making them a great choice for anyone seeking a durable and long-lasting timekeeping accessory.
Plus, there's a certain thrill that comes with wearing something so steeped in military history. With a watch on your wrist that was designed to withstand extreme warfare, everyday battles—getting a seat on the train and not missing the bus, for example—definitely become more exciting.
And of course, any watch created for use by military personnel is able to withstand wear and tear. This makes field watches the ideal option for adventurers and outdoorsmen. If you spend your weekends out on remote excursions or engaging in adrenaline-pumping activities, then you need a dependable field watch to accompany you on your pursuits.
So here are the best field watches on the market today. They all draw inspiration from their military heritage and are suitably durable and tough. But these brands have also taken advantage of modern technology and cutting-edge design to create timepieces that are sleek and minimalist, perfect for wearing both in the office and in the great outdoors.
The 15 best field watches
Check our buying guide and style guide at the end of the article to see exactly how and when to wear your field watch.
1. Ridge Titanium Field Watch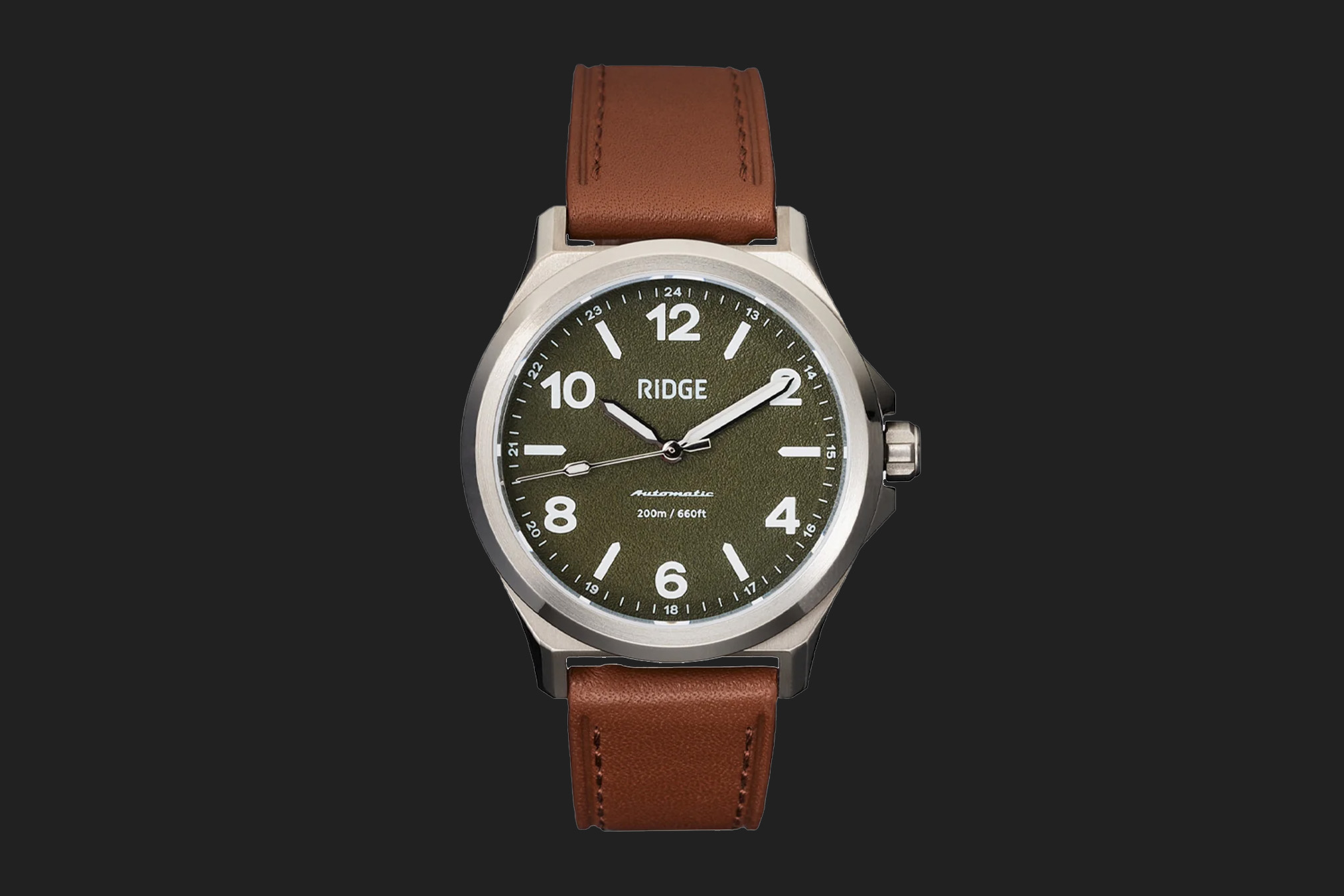 Hailing from Ridge, a world leader in premium essential daily cary, this military-inspired timepiece has the perfect rugged and refined look you would hope for from a watch designed to survive serious adventures… or a field trip to the office jungle.
Even if you don't plan to wear this watch on any tactical operations or into enemy territory, the Ridge Titanium Field Watch offers hard-wearing functionality with a rather dashing aesthetic.
The case is made from a striking pure Grade 2 Titanium, making it both exceptionally corrosion-resistant and lightweight. It uses scratch-resistant sapphire-coated crystal glass to protect its gorgeous dial with Swiss-made Lume on the hands, hour markers, and the inner bezel. The Titanium Field Watch was built to tell time accurately, whatever the circumstances might be.
On the inside, you'll find a trusty and accurate premium Miyota mechanical movement. The watch is water-resistant up to 200 meters.
We recommend this Olive green dial with a Scotch leather strap for a timeless field watch look. You can also get the watch with a more stealthy tactical look in Carbon 3K matte black, Alpine navy, Basecamp Orange, and Royal Black versions.
Check our hands-on Ridge Titanium Field Watch review to see how this model looks on my wrist.
Best for: watch aficionados looking for a versatile field watch full of fighting spirit.
| | |
| --- | --- |
| Case size: | 40 millimeters |
| Material: | Pure grade 2 Titanium |
| Movement type: | Premium mechanical Miyota 9039 caliber |
| Water resistance: | 200 meters |
2. Citizen Chandler Eco-Drive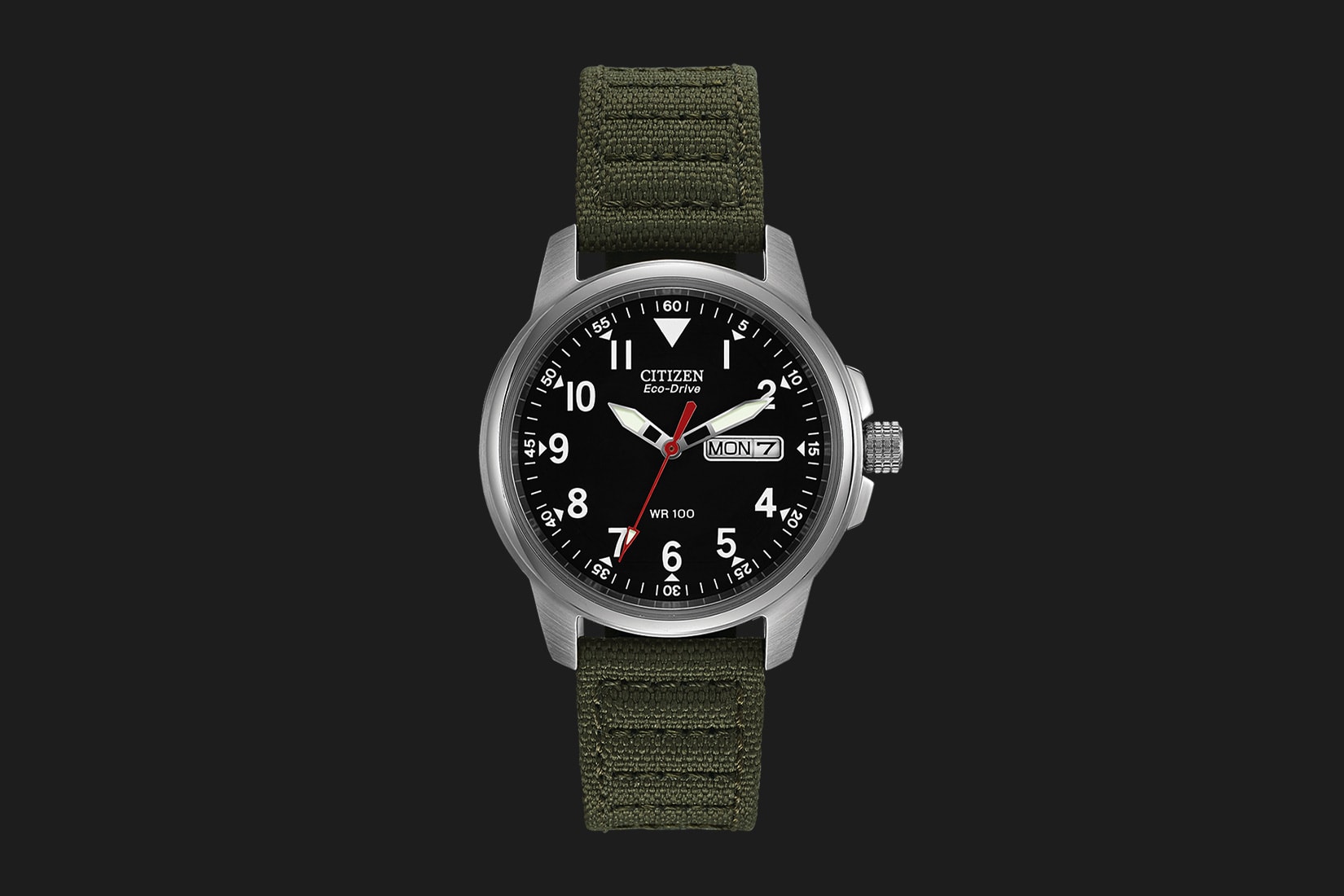 American watch manufacturer Citizen is widely respected for revitalizing the long-standing traditions of American watch-making and combining them with cutting-edge technological developments. With over 100 years of experience, Citizen is known the world over for its uncompromising values of technical precision, innovativation, quality craftsmanship, and design excellence.
At 37 millimeters, the Citizen Chandler Eco-Drive Field Watch is on the smaller end of the spectrum, which not only makes it feel like an authentic field watch but is also perfect if you're seeking a timekeeper that can double up as an everyday watch when you need to dash straight from training to the office.
The white Arabic numerals on a black dial offers excellent contrast for to read the time whatever the conditions. The watch case is made of stainless steel and comes with a durable woven military green strap.
Inside, you'll find the Citizen caliber E1000 movement, featuring the brand's trusted Eco-Drive technology. The watch is powered by light, any light, to function, so you won't need a battery.
Best for: capturing the essence of the original field watch.
| | |
| --- | --- |
| Case size: | 37 millimeters |
| Material: | stainless steel |
| Movement type: | Japanese Quartz |
| Water resistance: | up to 100 meters |
3. IWC Schaffhausen Pilot's Spitfire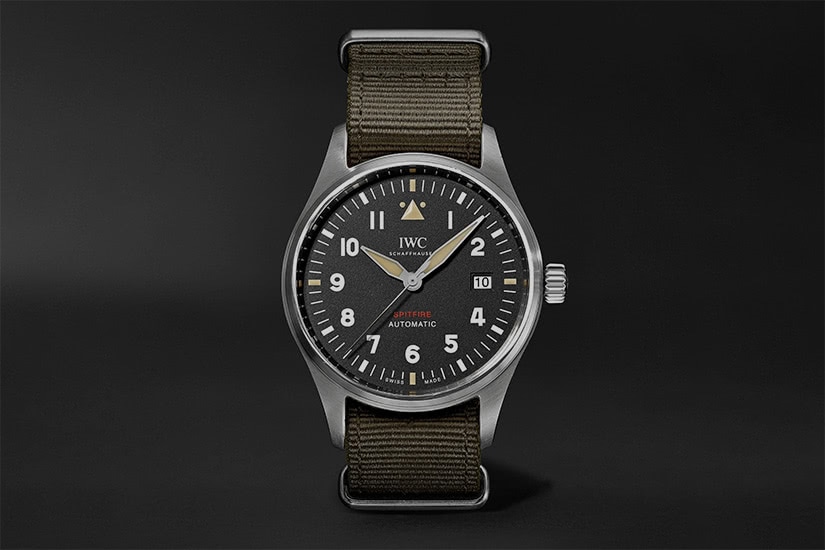 Inspiration for this model came from IWC's Mark 11 Navigation, which was originally designed for the British Royal Air Force and has since become one of the most iconic military watches in existence.
As you might have guessed, this is a pilot's watch whose design is based on the cockpits of Spitfire planes. But even if you're not up in the air about to launch a direct assault on enemy territory, this is an exceptional field watch.
It features the robust caliber 32110 automatic movement and has a power reserve of 72 hours, or 3 days—a pretty long time. The iron inner case protects the movement from magnetic fields and means the watch can take blows and knocks without issue. Meanwhile, the dial has luminescent hands and red lettering, making it easy to read.
The army-green strap has a suitable military air to it and there's an engraving of a plane on the back, serving as a fun reminder of the history behind the watch. Indeed, this IWC Pilot Spitfire has a vintage vibe that would suit any watch enthusiast who knows his horology history.
Best for: horology whizzes looking for something traditional.
| | |
| --- | --- |
| Case size: | 39 millimeters |
| Material: | stainless steel |
| Movement type: | mechanical automatic |
| Water resistance: | up to 600 meters |
4. Panerai Luminor Due GMT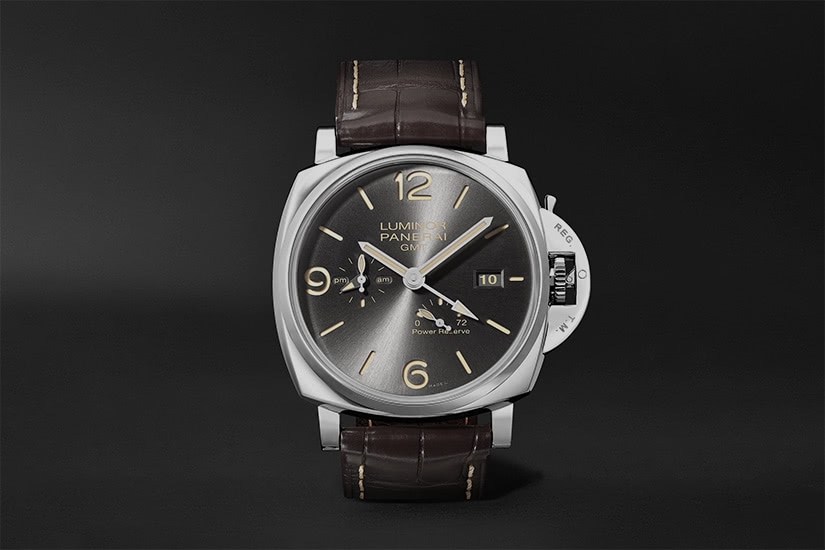 The Panerai Luminor Due is the most expensive field watch on our list—but the high price tag is well merited. This timekeeper boasts an astounding array of features that make it one of the best military-grade watches available and perfect for anyone looking for a seriously high-end functional timepiece.
The case is 45 millimeters, which is fairly large for a field watch, but the size lends the timepiece a distinct heavy-duty profile and makes it extra easy to read the time. On the wrist, it's lightweight and highly wearable.
There's a protective shield over the crown and a sapphire glass on the front and the back so you can glimpse all the outstanding mechanical workings going on inside. The numerals are luminescent at 12, 3, and 6 o'clock, and the watch has a 3-day power reserve too.
Inspired by the iconic 1950 Luminor case, visually, the Panerai Luminor Due GMT field watch is undeniably stylish. The alligator strap is the perfect fashionable finishing touch, allowing you to wear this luxury field timepiece both on expeditions and with a dress shirt to exclusive events and parties.
Best for: watch-wearers looking for something high-end, sleek, and versatile.
| | |
| --- | --- |
| Case size: | 45 millimeters |
| Material: | stainless steel |
| Movement type: | mechanical automatic |
| Water resistance: | up to 30 meters |
5. Breitling Navitimer 8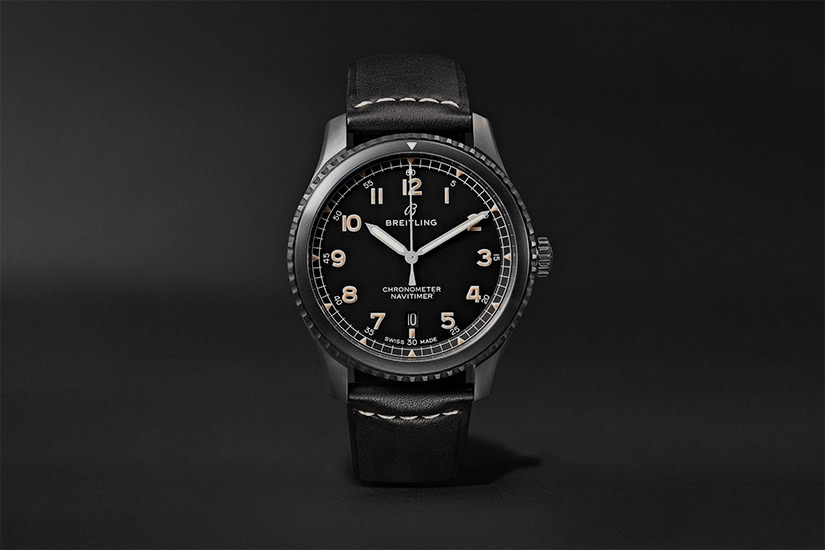 In 1938, Breitling established the Huit Aviation department to produce pilot watches. Huit, or 8, now reappears as the name of this more contemporary model, the Navitimer 8, which was inspired by those early timepieces.
Indeed, the design for the Breitling Navitimer 8 draws heavily on Breitling's classic mid-century-style pilot watches. Yet despite all this history and heritage, the Navitimer 8 feels thoroughly modern thanks to its black steel case and strap. It's simple and sleek and, in many ways, the perfect field watch: durable, minimalist, and reliable.
The watch has a caliber 17 mechanical self-winding movement and the rotating bezel is bidirectional with 60 positions, so you can line up the engraved arrow with the minute markers and time an event. The dial has luminous numerals and markers so you can read it in any light conditions, and it's also available in blue.
The power reserve delivers more than 40 hours of functionality, and, at only 41 millimeters across, the Breitling Navitimer 8 is small and compact, ideal for everyday wear.
All in all, the Breitling Navitimer 8 is a great all-purpose timepiece and perfect for anyone looking for one of the best minimalist field watches.
Best for: minimalism and pared-back functionality.
| | |
| --- | --- |
| Case size: | 41 millimeters |
| Material: | stainless steel |
| Movement type: | mechanical automatic |
| Water resistance: | up to 100 meters |
6. Rolex Explorer 214270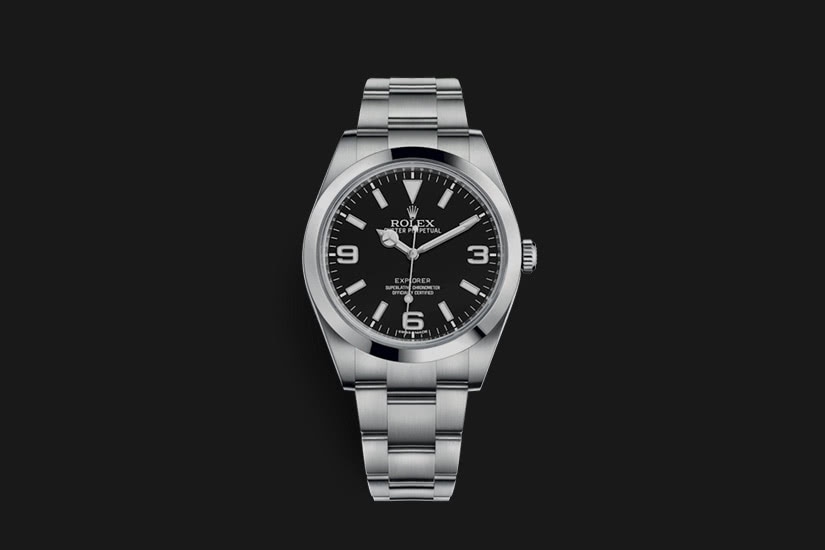 The Explorer is considered one of Rolex's flagship models. This iconic brand has long been an official supporter of mountain expeditions and the Explorer was originally conceived of as a mountaineer's watch. Launched in 1953, it was primarily about functionality and improved legibility, with an improved dial design that allowed the wearer to read the time long after the sunset over the mountains.
This modern take on the classic Explorer was released in 2016 and features an Oystersteel finish. Oystersteel is a steel superalloy made by Rolex, and is exceptionally durable and corrosion-resistant. Meanwhile, the crystal is scratch-resistant sapphire and is hermetically sealed—totally airtight.
If you're looking for the field watch with the best lume, the dial on the Rolex Explorer has a Chromalight display that can glow for up to 8 continuous hours—a real perk if you're out training at night. This legibility is further optimized by the contrast with the black face. The dial is also matte, which adds a bit of vintage flavor.
If you're looking for the real deal when it comes to field watches, then the Rolex Explorer is an absolute classic. And if you're concerned about the price, it's worth checking out Jomashop, an online resale platform for luxury watches.
Best for: serious adventurers looking for a handsome and superbly functional field watch.
| | |
| --- | --- |
| Case size: | 39 millimeters |
| Material: | stainless steel |
| Movement type: | mechanical automatic |
| Water resistance: | up to 100 meters |
7. Hamilton Khaki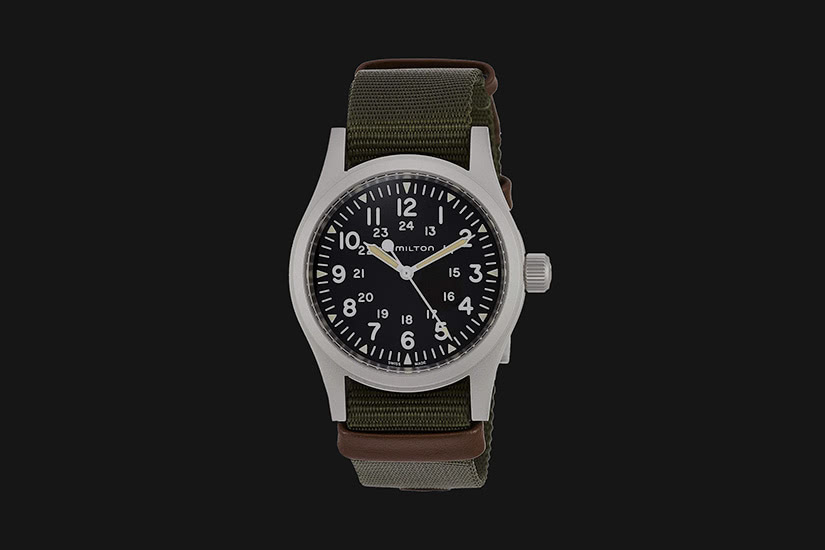 If you're looking for an authentic field watch that has a genuine military air and a rugged robustness—all for a great price—then you want to take a look at the Hamilton Khaki Field Watch. It's the best value field watch on our list.
The Khaki represents a faithful rendition of the original field watches and it is certainly one of the best vintage field watches on this list. Indeed, both the dimensions and design pay homage to those military watches worn by soldiers in the early 20th century.
It's small and sleek at under 40 millimeters. The white lacquered hour and minute hands are infilled with Super-LumiNova, a faux retro lume. The green NATO strap is fastened by a stainless steel buckle. NATO straps were originally developed by the British Ministry of Defence and are quick-drying, hard-wearing, and lightweight.
With its streamlined stainless steel case and black dial, the Khaki is understated and efficient-looking, perfect for the no-frills outdoors lifestyle. It would fit under a shirt cuff no problem too, if you wanted to wear it at the office or out for the evening. It's also water-resistant to 50 meters, so can be worn swimming in shallow depths.
The Hamilton Khaki is one of the best value field watches on our list and absolutely punches above its price point.
Best for: history lovers looking for an old-school serviceman's watch.
| | |
| --- | --- |
| Case size: | 38 millimeters |
| Material: | stainless steel |
| Movement type: | mechanical hand-wind |
| Water resistance: | up to 50 meters |
8. Timex Expedition Scout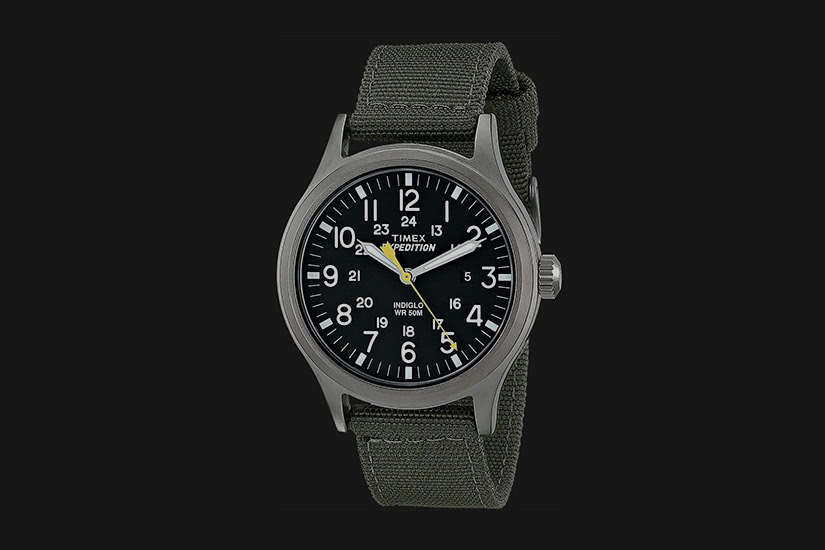 If you're looking for the best field watch under $100, you've struck gold with Timex's Expedition Scout Field Watch. With its classic profile, high-quality features, and choice of straps and colors, it's incredible that this timepiece comes in at just under $50.
Like the other field watches on this list, the Expedition Scout draws inspiration from old-school military watches and is relatively simple in appearance. With this design, Timex is offering a back-to-basics timekeeper with no distractions. Just a straightforward watch that does the job well.
The nylon strap comes in a range of colors but our favorite is the army-style shade of green. The watch has a black dial that includes a date window, and there's also an inner circle with military time hour markings. The Indiglo backlight means you can also read the time after nightfall.
The case is mineral glass crystal and the movement is quartz, a precise and relatively maintenance-free choice. The battery should last up to 5 years.
With its authentic vibe and attention to detail, the Timex Expedition Scout field watch is a real bargain and it's no surprise that it's one of the brand's best-selling models.
Best for: budget-conscious watch-wearers who don't want to skimp on style.
| | |
| --- | --- |
| Case size: | 40 millimeters |
| Material: | brass |
| Movement type: | quartz |
| Water resistance: | up to 50 meters |
9. Tudor Heritage Ranger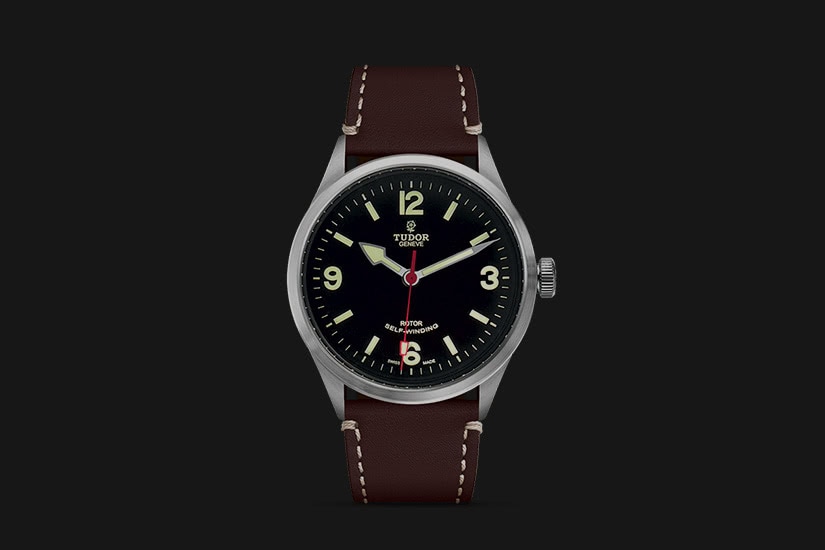 It's hard to think of a more evocative and catchy name for a field watch than Heritage Ranger. If there's anything that screams adventure, agility, and pedigree, it's that combination of words.
The Tudor Heritage collection draws inspiration from the most emblematic models in the history of the brand. While retaining their original spirit and vintage look, new models are upgraded with small, subtle touches and new technical features to optimize their performance.
The Tudor Heritage Ranger is available with a range of straps, including a gorgeous custom camouflage NATO strap. They all look great, but we have a slight preference for this classic brown leather look.
The watch runs on a caliber 2824 and has a 38-hour power reserve—which should be able to keep up with you, wherever your adventures take you.
Tudor is the sister brand to Rolex. As a result, the Heritage Ranger is created with the same attention to detail and technical skill as a Rolex—but all for a lower price point.
Best for: throwback design combined with state-of-the-art technology.
| | |
| --- | --- |
| Case size: | 41 millimeters |
| Material: | steel case with satin finish |
| Movement type: | Self-winding mechanical movement |
| Water resistance: | up to 150 meters |
10. Seiko 5 Automatic SNK809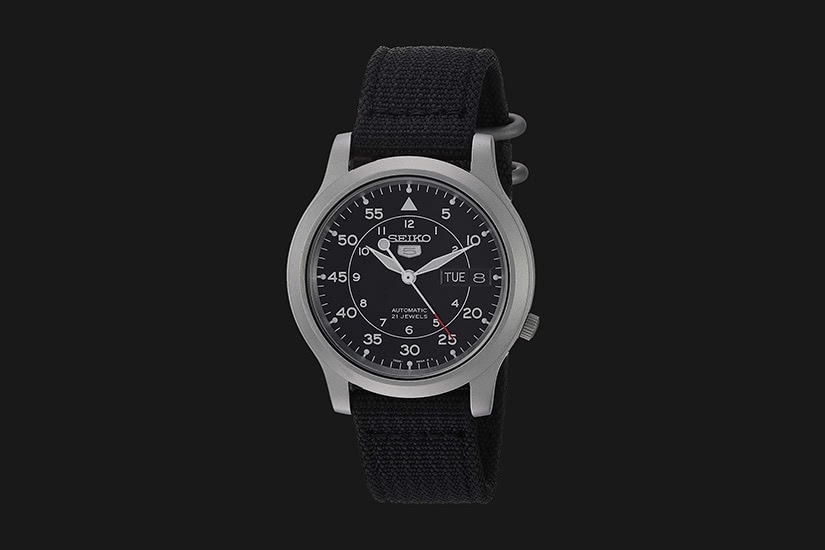 If you're on the hunt for a field watch, chances are you're looking for something robust and reliable but not too bulky or conspicuous. Field watches are the perfect fusion of minimalism and functionality.
Seiko understands this and, in designing the Seiko 5, has created a field watch that meets all the necessary requirements. It's simple, versatile, and what's more, incredibly affordable.
It has a hard-wearing stainless steel case which, at only 37 millimeters, is very compact, sitting snugly on the wrist without drawing too much attention. The hands are luminous with a red-accented second hand. There's also a date display at 3 o'clock, and the watch has a 40-hour power reserve.
One of the best features of the Seiko 5 is the skeleton-case back, which allows you to take a peek at all the gears and levers of the inner mechanism at work. This is a definite bonus as not many field watches are skeletonized.
Aesthetically, the Seiko 5 is exceptionally understated—and that's part of its appeal. It's a practical and down-to-earth watch, ideal for anyone who wants a simple timekeeper that they can depend on—one that can be worn in the boardroom as well as out on the trail.
Best for: simple, straightforward, and quietly impressive timekeeping.
| | |
| --- | --- |
| Case size: | 37 millimeters |
| Material: | stainless steel |
| Movement type: | mechanical automatic |
| Water resistance: | up to 30 meters |
11. Marathon WW194003 Military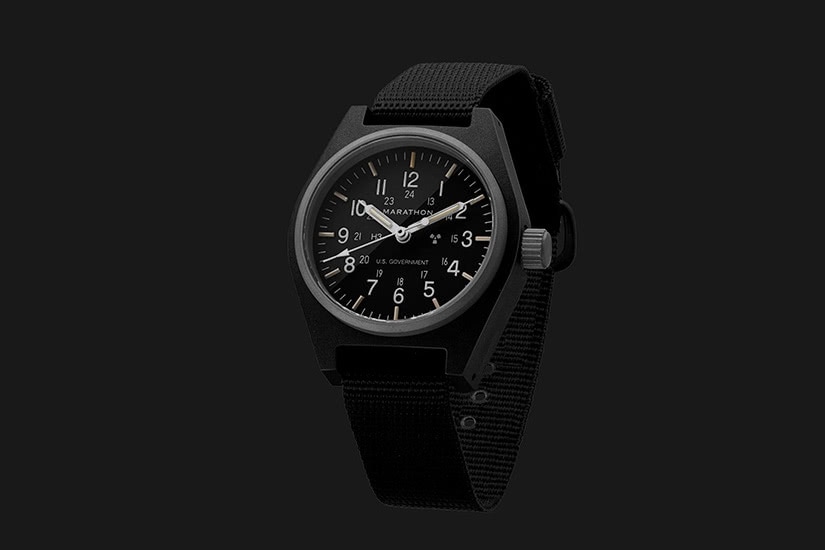 Highly respected watch manufacturing brand Marathon makes watches for military servicemen and has been supplying watches to the Allied Forces since 1941. That's some serious military pedigree, and all this experience and expertise has gone into creating the GPM Field Watch.
Created to government specifications, purpose-built for military professionals, it doesn't get more field-worthy than this Marathon field watch. That said, you don't have to be a member of a battalion to wear it. If you're simply seeking a reliable timepiece, designed to withstand all manner of grueling conditions, then this is a great option.
With its dual winding movement, the Marathon field watch can be wound both by hand and automatically. Meanwhile, self-illuminating tritium gas tubes give the dial a lasting glow so you can read the time in any conditions.
The case is made from a high-impact fiber shell—lightweight and impact-resistant. The strap is black nylon, a comfortable and hard-wearing choice that can also be replaced further down the line if necessary. And finally, the dial case of the Marathon WW194003 Military is sapphire crystal.
Best for: a no-nonsense military watch made by true experts in the field.
| | |
| --- | --- |
| Case size: | 34 millimeters |
| Material: | stainless steel |
| Movement type: | mechanical automatic |
| Water resistance: | up to 30 meters |
12. Orient Defender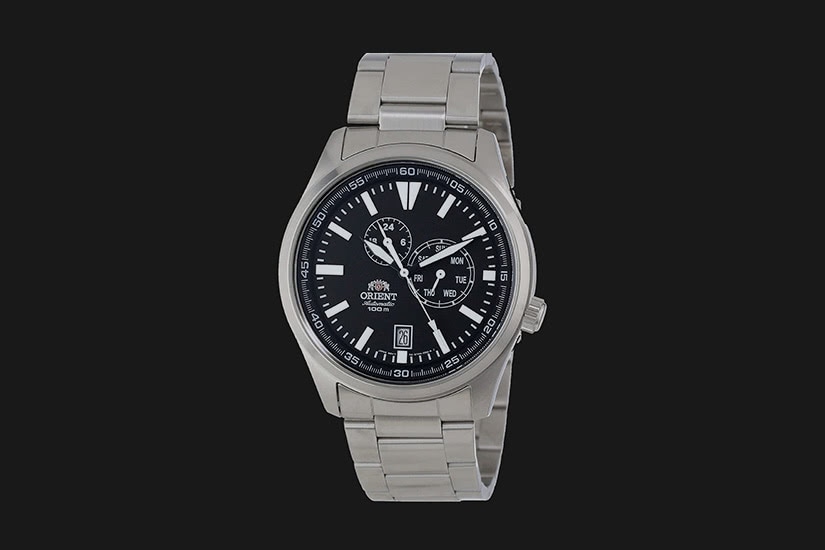 While you're probably not looking for a field watch to wear into armed conflict, you may well be on the search for a watch that's built to last and designed with adventuring in mind.
The Orient Defender is certainly up to the challenge. This Japanese brand, known for delivering high-quality and expertly crafted timepieces, has created a refined-looking field watch that meets all the requirements of utility and function but is also aesthetically pleasing.
The dial comes in either black or blue—both striking and sleek against the stainless steel case. The face also features two sub-dials with circular graining decoration for an added dash of military flair.
This Orient field watch is water-resistant up to 100 meters, which means you can safely wear it snorkeling or swimming—although diving should be avoided.
And while not many field watches come with a stainless steel bracelet, the Orient Defender pulls it off with panache. It's perfect for wearing out in the evenings to corporate or social events.
Best for: a half-way house between a dress and field watch.
| | |
| --- | --- |
| Case size: | 42 millimeters |
| Material: | stainless steel |
| Movement type: | mechanical automatic |
| Water resistance: | up to 100 meters |
13. Filson Field Watch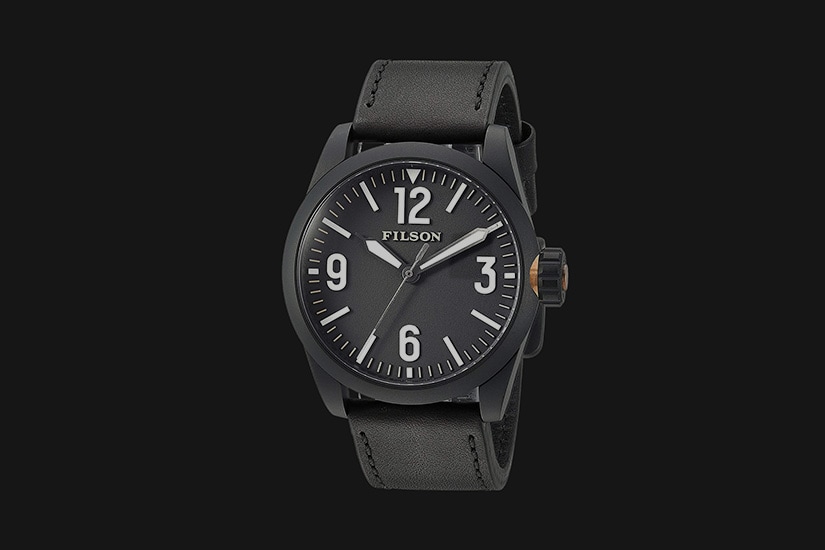 Like all the best field watches on this list, this Filson model is inspired by those iconic timepieces worn by military personnel in the early 20th century and combines that tough yet understated aesthetic with peerless functionality and practicality.
This Filson field watch has a stainless steel case paired with a leather strap. The dial is simple and pared-back—just a three-hand analog display, powered by a precision quartz movement. The overall look is sleek and inconspicuous.
Water-resistant up to 100 meters, this Filson field watch is the perfect companion for any high-octane missions or wilderness trips, able to withstand the most arduous of conditions without flinching.
Not so keen on battling the elements? While it would look fantastic worn with an official serviceman uniform, this field watch is also perfect for everyday use. The Filson field watch is minimalist enough that it would even look elegant with more formal dress, such as a business suit.
Best for: understated functionality and elegant practicality.
| | |
| --- | --- |
| Case size: | 41 millimeters |
| Material: | stainless steel |
| Movement type: | quartz |
| Water resistance: | up to 100 meters |
14. Merci LMM-01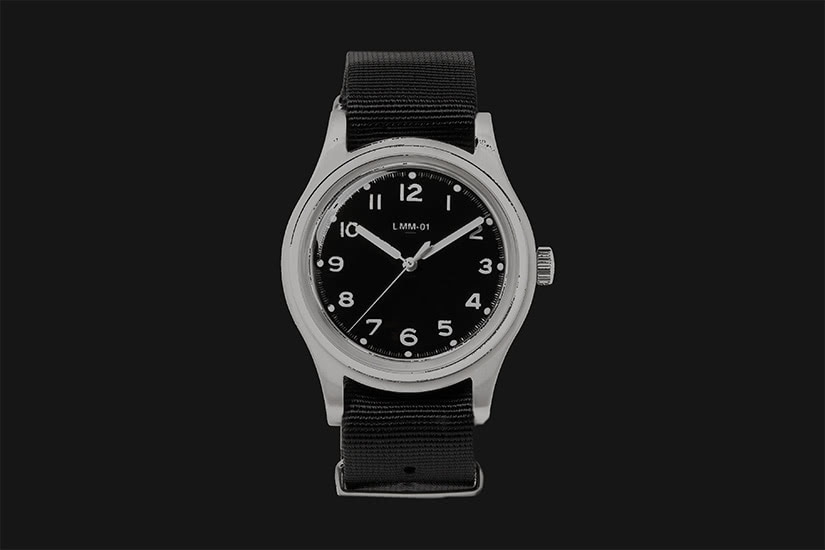 Simplicity is the name of the game with the LMM-01 Field, designed and made by lifestyle brand Merci. There's something quintessentially French about its restrained aesthetic and it comes as no surprise to learn that Merci hails from the hub of artistic creativity that is the Marais district of Paris.
Despite the watch's simple appearance, however, it took 3 years to be developed. The results of this painstaking labor? A beautiful demonstration of horological skill that includes a Seiko VH31 quartz movement and Super-LumiNova coating for night-time visibility.
As for straps, you have a choice: black NATO webbing or army-green leather. Both are suitably durable and dapper.
In terms of design, Merci has brilliantly captured the 1930s military watch vibe. This field watch has that same aura of no-nonsense elegance and reliability with its bright dial and sweeping red second hand. It's incredibly minimal yet also eye-catching.
Admittedly, the Merci LMM-01 is a field watch more in appearance than in function as it's not the most hard-wearing on our list. But for many people, that might be enough—especially when the design is this pleasing on the eye. Not to mention the price, which is incredibly accessible.
Best for: those who covet the field watch aesthetic more than the function.
| | |
| --- | --- |
| Case size: | 40 millimeters |
| Material: | stainless steel |
| Movement type: | quartz |
| Water resistance: | up to 50 meters |
15. Omega Seamaster Railmaster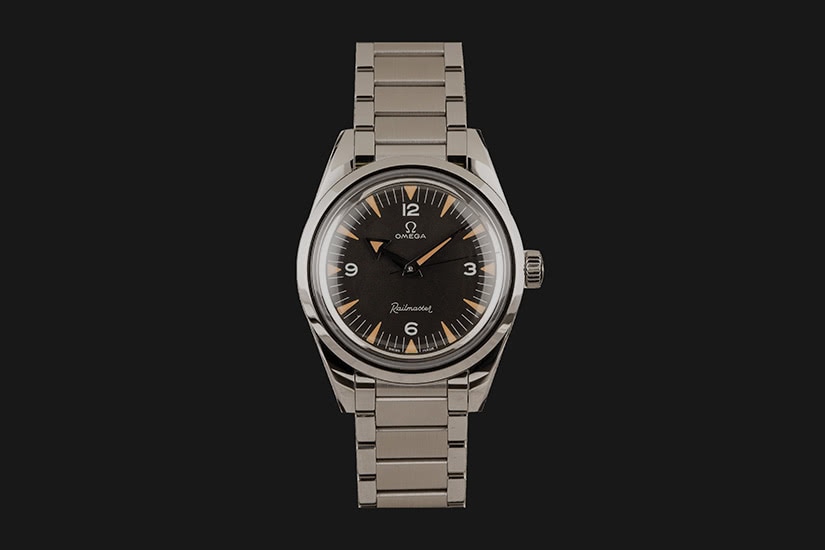 Omega can always be counted on to bring its outstanding Swiss craftsmanship and decades of horological expertise to the table, and this classic timepiece is no exception.
This particular model is a tribute to the brand's 1957 Railmaster timepieces and is based on the original antimagnetic watch designed for those working near electric fields. This watch has a couple of updates, however: the addition of caliber 8806 movement that is extra anti-magnetic, plus a reinforced bracelet for strength.
The Omega Seamaster Railmaster has the classic good looks of all Omega watches—plus that same impeccable durability. It features a 55-hour power reserve and the hour markers are recessed, vintage-style. The tropical dial, with its charming faded brown, features faux patina Super-LumiNova, further adding to the retro appearance.
It's unpretentious, understated, and as practical and down-to-earth as you'd expect from a watch originally worn by railway workers. But it also has that powerful confidence you associate with an Omega timepiece.
Finally, as with all Omega timepieces, the quality is first-class, making this a great watch to accompany you on your off-grid adventuring. The Omega Seamaster Railmaster is one that will definitely hold up under pressure.
Best for: watch enthusiasts who want nothing less than the best.
| | |
| --- | --- |
| Case size: | 38 millimeters |
| Material: | stainless steel |
| Movement type: | mechanical automatic |
| Water resistance: | up to 60 meters |
High-end field watch buying guide: What to look for when shopping for a modern field watch?
When shopping for a modern field watch, there are a couple of important features to pay attention to. Most field watches don't contain as many complications as tactical watches but there are still some things to consider:
Chronograph – a stopwatch function
GMT – a second hour hand that indicates a second time zone
Luminous hands and numbers – allows the dial to be visible even at night
Face type – you can choose between digital or analog, depending on your preference
Movement: this can be quartz or mechanical (automatic or hand-wound). For a field watch, you most likely want a mechanical automatic so you don't have to depend on the batteries lasting or winding it by hand.
In terms of materials, you want something water-resistant as you'll be likely wearing your field watch outside in diverse weather conditions. Beyond that, your options are:
Stainless steel – rust and corrosion-resistant, anti-allergic, extremely hard, and affordable. It can be further reinforced with iron plating.
Aluminum – sturdy, impact-resistant, and lightweight.
Titanium – lightweight, resistant to bashes and knocks, but more expensive than stainless steel or aluminum.
Glare-proof crystal for the display – the best quality field watches have sapphire crystal displays which are scratch-resistant.
Straps – these can be made from canvas, leather, rubber, stainless steel, or nylon. What's important is that it doesn't irritate your wrist and that it's hard-wearing and long-lasting.
When considering which brand to go for, you can choose between high-profile labels like Rolex or Omega, or opt for less well-known but high-quality watches by the likes of Filson or Marathon.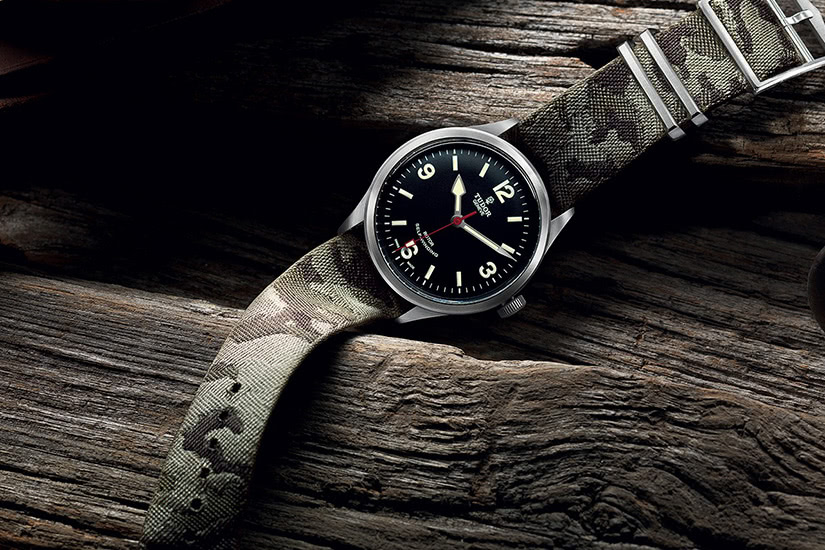 How and when to wear a field watch?
Field watches are designed for you to wear in the field—that is, outdoors. Therefore, they are perfect for adventurers to wear exploring or for high-octane pursuits such as mountain climbing or biking. They are also great for fitness fans to wear when training.
However, field watches are also more pared-back and minimal than their bulkier relatives, the tactical watches. Therefore, they look equally good worn with a suit to the office, with smart casual attire, or even just casually at the weekend.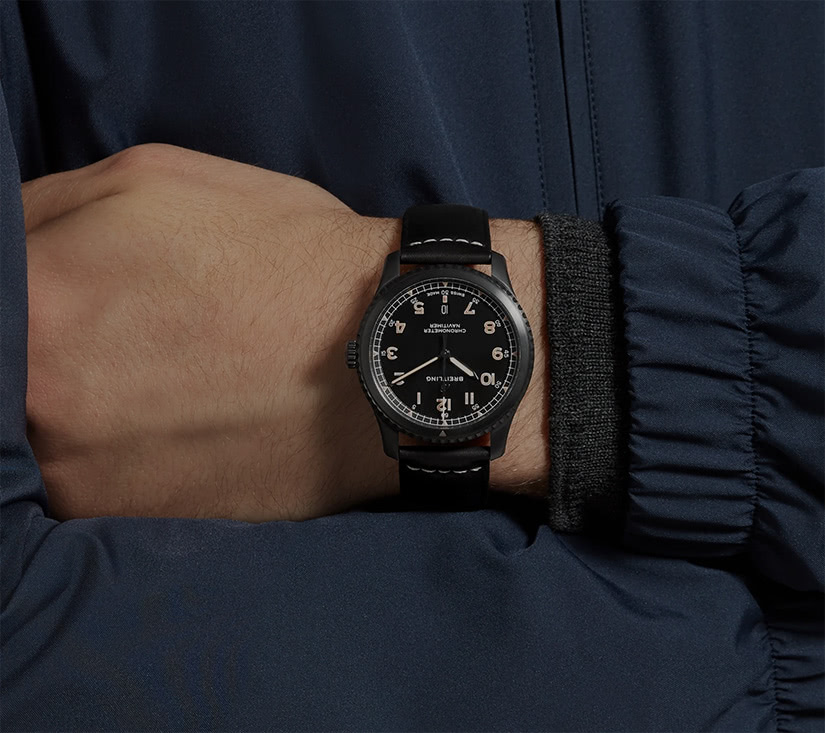 Field watches: Frequently asked questions