Picture the scene: you're close to the top of the summit, gazing out at the incredible views all around you…with an unwavering achiness in your shoulders. Nothing puts a downer on those breathtaking 360-degree scenes quite like an ill-fitting backpack.
Tactical backpacks might have originated in the military, but a rise of stylish, functional options have made outdoor adventures like hiking, cycling, and camping cooler than ever. Designed to safely carry everything from your laptop to camera equipment or a sleeping bag and change of clothes, tactical backpacks act as a one-stop-shop for keeping everything in one place no matter how long you're exploring for.
The biggest attraction of a tactical backpack is its versatility: side pockets allow easy hydration access, main compartments provide shock-proof relief for even the most fragile of electronics, and a multitude of extra pouches means you'll never have to pause and unpack to hunt down a torch, map or pen.
On the lookout for your next tactical rucksack? Here's our round-up of the best tactical backpacks on the market today.
The 15 best tactical backpacks
Check our special tactical backpack buyers' guide after the list to see exactly what you should pay attention to before purchasing an everyday carry bag.
Amabilis Urban Responder Rucksack: Best overall tactical backpack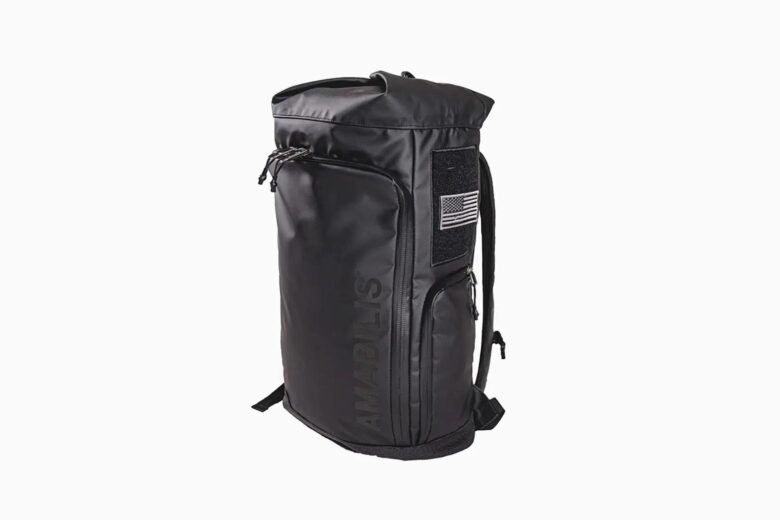 Amabilis' Urban Responder Rucksack is the ultimate rucksack to combat city living, with plenty of compartments to look after all of your daily needs, and then some. With modular components and effortless access, it's a rucksack that's prepared for all of your creative needs, allowing you to keep camera gear at hand, your laptop stashed safely away, and anything else close by in its own specific compartment.
Not only that: it's also a rucksack built to look good. Sleek, minimalist, and jet black, the Urban Responder Rucksack seamlessly transitions to suit the commuter, the photographer, and the adventurer no matter where you're heading next.
This is a rucksack designed for multiple purposes: it's waterproof with a ceramic armor-plated bottom, making even the most intrepid journeys a relaxing process. Keep it nearby on every adventure, safe in the knowledge that all of your prized possessions are out of harm's way.
| | |
| --- | --- |
| Size: | 22L |
| Material: | Military Grade Waterproof Tarpaulin |
| Available colors: | Black |
Oakley: Best high-end tactical backpack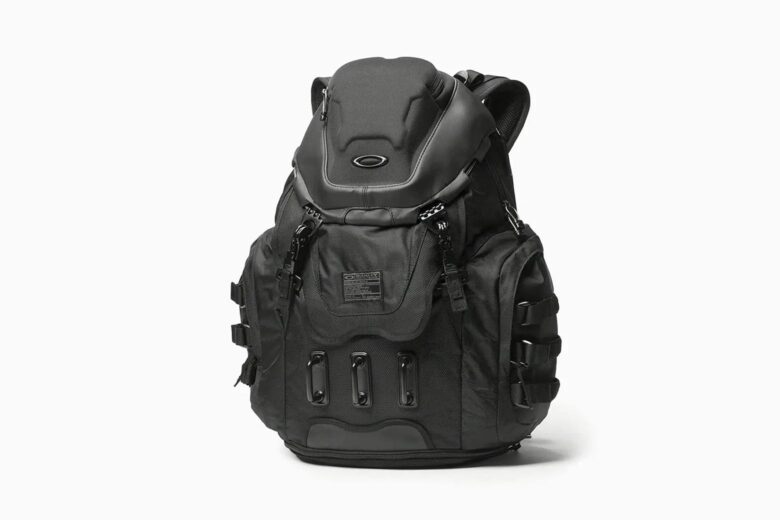 Combining style with practicality can be tough when searching for a tactical backpack but Oakley's Men's Kitchen Sink Backpack effortlessly merges fashion and function in one durable bag. With a 34-liter storage capacity, this is a backpack for, quite literally, carrying around everything but the kitchen sink. It promises the complete package with heavy–duty appeal, offering abrasion–resistant fabric and enough specialized pockets for each and every one of your belongings. 
It's a backpack perfect for daily excursions or longer trips: with thick, adjustable mesh–lined shoulder straps that dismiss any ideas of aching shoulders. Padded internal sides keep your laptop in one place while a hard media player compartment at the top ensures a smooth day out. Maximize the front zip pocket by storing your smaller items, easily reach for your water bottle from its own side pocket and, if that wasn't enough, store shoes in their own spacious storage compartment at the bottom.
| | |
| --- | --- |
| Size: | 34L |
| Material: | Nylon |
| Available colors: | Black |
SOG Ninja: Best value tactical backpack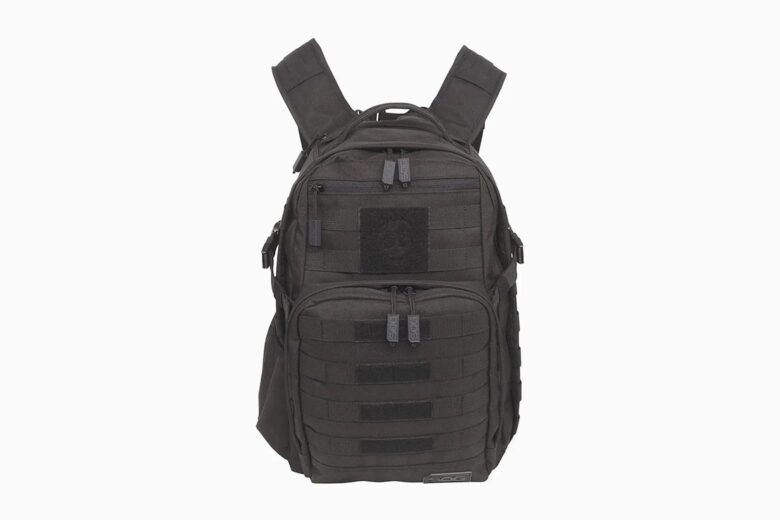 A good quality tactical backpack doesn't have to come at a high cost, as anyone will tell you after spending a day exploring with the SOG Ninja Tactical Day Pack. This is a backpack built with comfort and quality in mind, thanks to its quick-adjust shoulder straps, padded hip belt, and rigid suspension. Dual bottom grommet drainage holes ensure that water stays firmly away from your belongings while a pass-through side access laptop compartment keeps your notebook safe. A roomy main compartment and multiple interior zippered pockets with small sleeves allow everything to stay in its own unique place. 
Stash sunglasses or a water bottle in the side compartments or reach easily for electronic devices without having to dig around for too long. It also comes with left and right hydration hose ports and a padded mesh back in order to keep your water flowing no matter which activity you choose.
| | |
| --- | --- |
| Size: | 24L |
| Material: | Polyester |
| Available colors: | 5 including black, grey, camo |
Mardingtop: Best EDC tactical backpack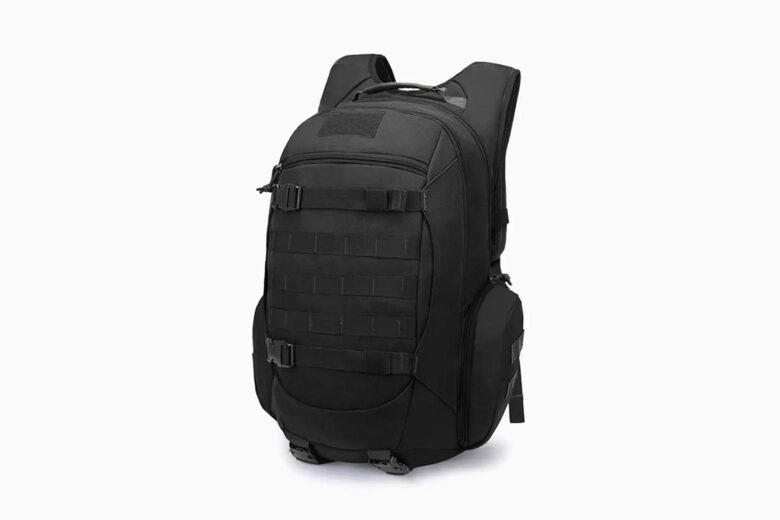 Mardingtop's Tactical Backpack is famed for its versatility. A top choice for hiking, camping, trekking or travelling, it's made a name for itself as being one of the best in the business for everyday civilians' use (EDC). With a hydration compartment and MOLLE Webbing, it's suitable for almost all occasions and can easily adapt to wherever it is that you're going next.
The beauty of this bag is that, if need be, it can be extended to carry additional pouches or gear.
Take it along for a camping trip and easily attach a bedroll, tent, or sleeping bag to the bottom without worrying about finding extra hands. Bring this bag with you on a trek and stay hydrated thanks to its 2.5-liter bladder, with a tube that's fed through the top of the bag near the grab handle. Store smaller items in its organization slots and enjoy the benefits of air circulation on your back, thanks to the Breathable Carrying System.
Check our round-up of the best EDC backpacks of the year to see more everyday carry bags options.
| | |
| --- | --- |
| Size: | 35L |
| Material: | 600D polyester |
| Available colors: | 22 including black, green, purple |
Red Rock: Most lightweight tactical backpack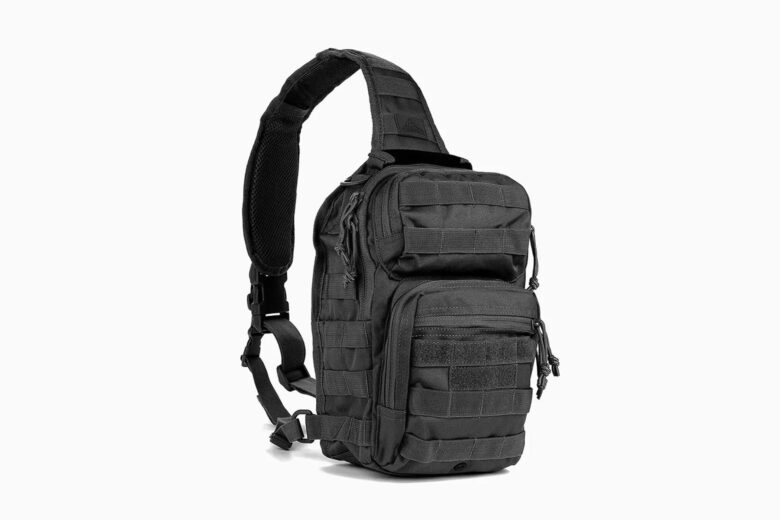 A tactical backpack might boast of how much it's able to carry but the last thing you need is extra weight from the backpack itself. Enter: Red Rock Outdoor Gear's Rover Sling Pack. This backpack differs from many others with its ambidextrous design, allowing you to switch shoulders and avoid any back pain throughout the day. A popular choice, its features include a quick-release buckle on the main strap, two external pockets for timely access, and a master compartment with a slip pocket and touch-fastener closure. 
MOLLE Webbing throughout allows this bag to be upgraded with extra pouches if need be, but its smaller size makes it ideal company for day trips and shorter excursions. While it won't fit a large laptop, the main compartment offers more than enough space to comfortably house most tablets, a first aid kit, or binoculars. Admin dividers and organizers throughout keep all items easily spaced out.
| | |
| --- | --- |
| Size: | 9L |
| Material: | 600D polyester |
| Available colors: | 11, including black, navy, olive |
5.11 Tactical RUSH24: Best travel tactical backpack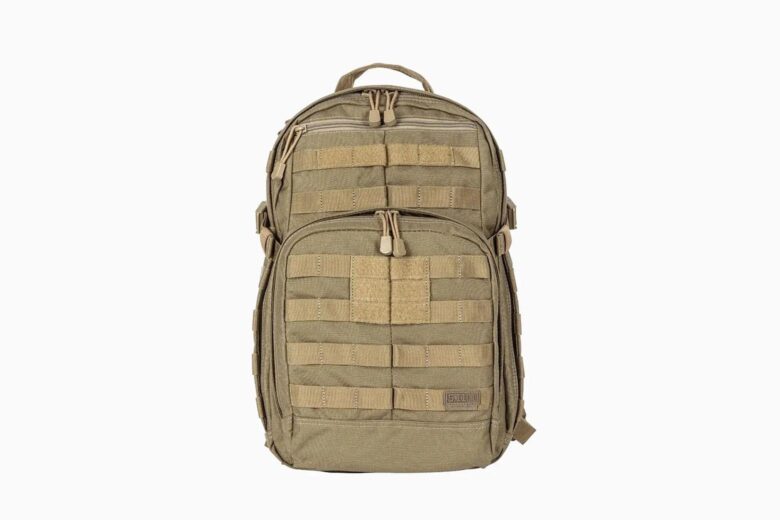 Water resistant and not afraid to take on long distances, the 5.11 Tactical RUSH24 Military Backpack is always ready for your next adventure. A high-performance tactical pack, it boasts 29 individual compartments, including a hydration pocket, mesh admin compartments and a Stuff-it pocket with integrated draw cord. Combining form, design, and value, it's an excellent choice for the traveler who wants everything within grabbing distance. 
This bag is highly customisable, with enough differing options for any type of day out. Its reinforced grab-and-go handle, drainage grommets, and self-repairing YKK zippers make it reliable for long distances, and its PALS webbing allows for extra levels of customization.
This is a bag that's capable of almost anything, highlighted by its zippered fleece-lined interior and adjustable height sternum strap. With a spacious main compartment and densely padded shoulder straps, it's a backpack that's far comfier than its performance-focused exterior would have you assume. The perfect companion to your tactical watch.
Take a look at our review of the best travel backpacks of the year for more great carry-on bags.
| | |
| --- | --- |
| Size: | 37L |
| Material: | 1050D nylon |
| Available colors: | 7 including black, navy, sand |
Looking for an even larger backpack that's suitable for all types of outdoor activities? The ProCase Tactical Backpack Bag is another excellent choice with its five compartments, durable 600D Oxford material, and functional compression system.
Mystery Ranch 2 Day Assault: Best outdoor hiking tactical backpack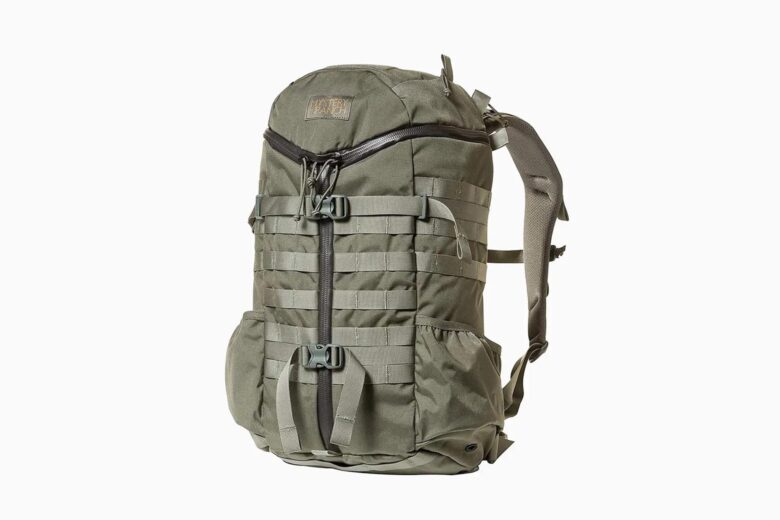 Take the stress out of a beautiful day's hike with a backpack that keeps everything close to hand. The Mystery Ranch 2 Day Assault Backpack allows you to focus on incredible scenery and nature around you by making storage straightforward in a comfortable and feature-packed bag.
Its signature 3-zip opening makes reaching for a water bottle or a map an easy task, and its built-in internal organization system makes even the trickiest routes a little easier to navigate. Its padded computer sleeve means checking your route isn't a reason to stop, and a separate tablet divider keeps everything breakable out of harm's way. 
This is a bag built for any kind of outdoors mission, be it a rugged terrain or an intrepid climb. It uses only premium, fully field-tested materials to ensure quality and years of experience to create one of the most useful backpacks for hiking ever made.
| | |
| --- | --- |
| Size: | 27L |
| Material: | 500D CORDURA fabric |
| Available colors: | 4 including black, army green, sand |
Marchway: Best hydration pack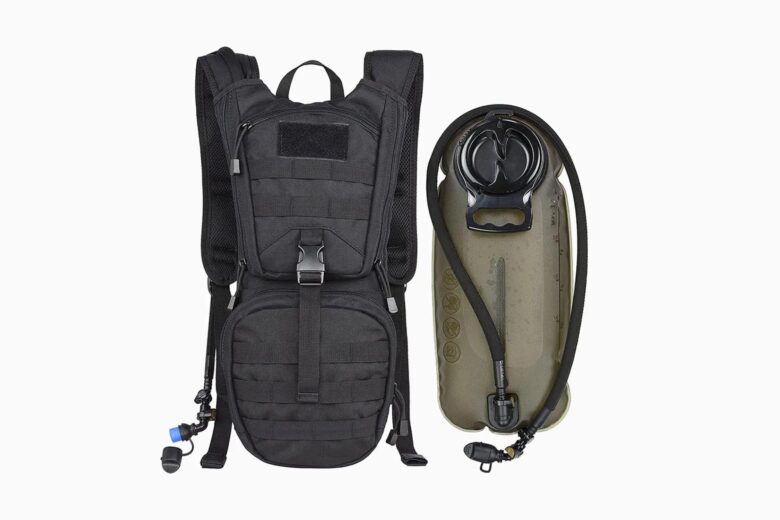 It's important to keep hydrated when out and about, but stopping to hunt down a water bottle can slow down your adventure. Instead, choose a tactical backpack with an easily-accessible hydration pouch, allowing you to keep sipping without stopping. Our favorite option is the Marchway Tactical Molle Hydration Pack, a practical and lightweight option that frees up your hands with a mouthpiece that's popular with sports enthusiasts. 
A tried and tested option, this is a backpack that breezes past any issues of leakages or drinking your full supply in one go. Its three-liter hydration bladder is easily refilled, making it an ideal companion for mountain biking, hunting, fishing, or trekking. 
Every element of this backpack is produced from high-grade, durable material, which makes it perfect for multiple adventures without stressing over breakages. It's water-resistant with military-grade webbing and has plenty of room in the main compartment for all of your other belongings.
| | |
| --- | --- |
| Size: | 27L |
| Material: | 1000D water-repellent nylon |
| Available colors: | 5 including black, tan, green |
Lowepro ProTactic: Best tactical camera bag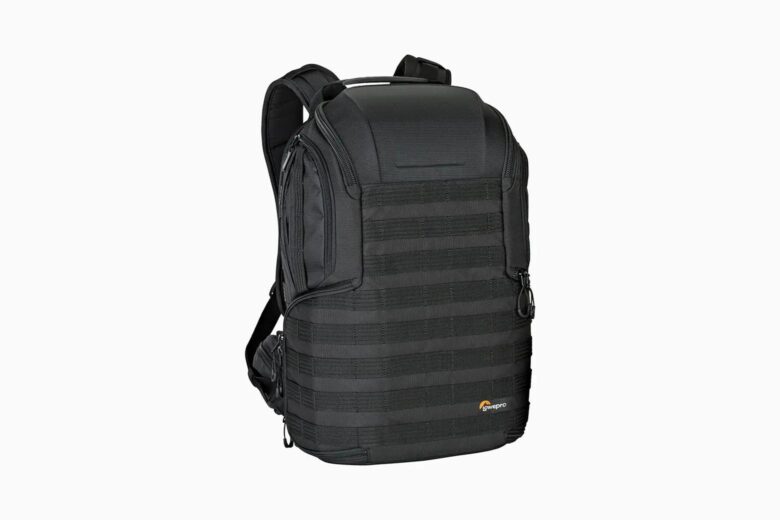 Watch a good documentary, and there'll always be someone that points out "for every incredible mountain hiked, there's an even more incredible person behind doing the same journey with a camera in hand". And the last thing you want when tackling tricky terrains or wading through muddy waters is a camera bag that's less than impeccable at keeping your gear safe. 
The Lowepro LP37177 ProTactic promises to do just that: taking away any fears of a scratched lens or water damage in one tough eva-molded top armored backpack. Protective padding around the entire bag means there's zero chance of opening it up to a broken camera, and flexible and adaptive dividers keep chargers, batteries, and more in individual slots. 
A cradle-fit pocket ensures your laptop doesn't move around during your journey, and two quick-lock straps and a slip-lock tripod cup mount a tripod securely no matter how bumpy your route.
We have a separate post dedicated to reviewing the best camera backpacks on the market today if you want more options.
| | |
| --- | --- |
| Size: | 25L |
| Material: | Lightweight FormShell |
| Available colors: | Black |
HDE: Best black tactical backpack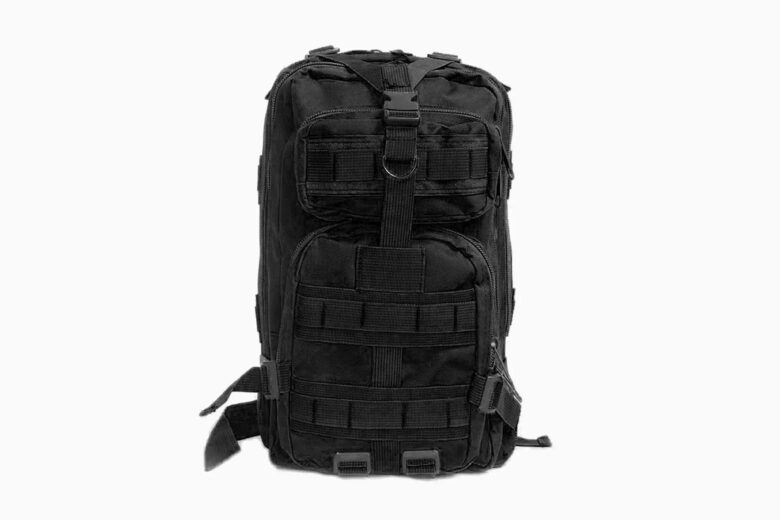 Lightweight and breathable, HDE's Tactical Military Backpack comes in a jet-black colorway that refuses to fade over time. A sleek, stylish backpack, it's filled with four zippered compartments, one padded velcro rear pouch, and a top carry handle to easily sort all of your belongings into unique spots. Durable and spacious, its quiet Paracord pulls and adjustable chest and waist belts make it a great option for the tallest or shortest wearer. 
Breathable mesh helps to maintain a cool temperature during even the most strenuous hikes, and a variety of MOLLE style webbing makes it a bag that effortlessly changes from a day pack to a longer excursion top pick. Upgrade this bag to include a hydration pack and watch it instantly transform from a perfect, heavy-duty commuting bag to one suitable for hiking enthusiasts or anyone with a passion for the outdoors.
| | |
| --- | --- |
| Size: | 20L |
| Material: | 600D Nylon |
| Available colors: | Black, camo, tan |
PANS: Best laptop tactical backpack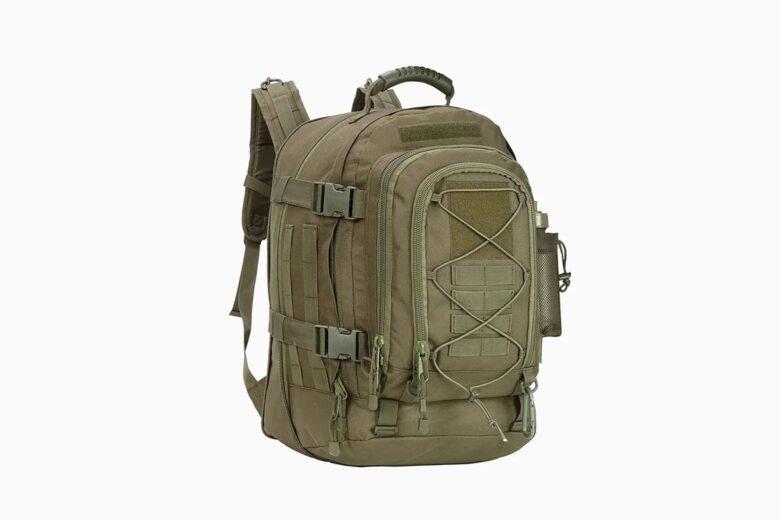 Almost all of us know the fear of putting a bag down slightly more enthusiastically than planned and gently opening up a laptop to check the screen's still in one piece. The solution, of course, is to carry your laptop in a bag with a primary goal to keep your belongings tightly secure and in one place.
The PANS Backpack is a popular multipurpose backpack that shines above all when it comes to storing a laptop. With four main loading spaces, it's possible to store a laptop alongside clothes, food, and more while making sure that each item doesn't get too close to another. 
A water bottle mesh pocket keeps liquids close by but far away enough from electronics, and two walkie-talkie pouches on the back strap of the bag make communication an effortless business. A thick, high-quality backpack, it takes away the stress of carrying electronics around while being versatile enough to fulfill plenty of other outdoor needs.
| | |
| --- | --- |
| Size: | 64L |
| Material: | Water resistant polyester |
| Available colors: | 9 including black, grey, ACU |
Victorinox VX Touring Everyday Backpack: Best modern design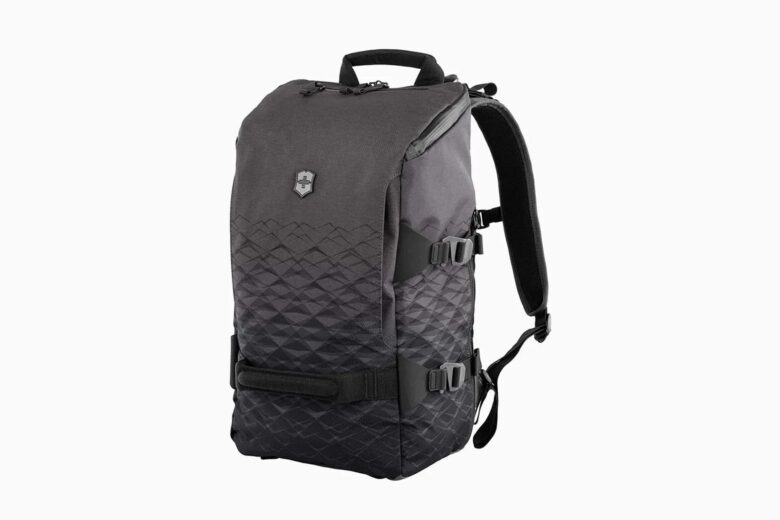 One of the most impressive things about the Victorinox VX Touring Everyday Backpack is its ability to look very similar to a standard backpack while retaining all of the great features that tactical backpacks boast of. This is Swiss, premium backpack to buy if you're on the move a lot — ideal for commuters or those with an eye for style who want something that'll safely transport everything from a laptop, water bottle, clothes or a combination of all three.
The Victorinox VX Touring Everyday Backpack has an integrated, padded rear sleeve that easily slides over the handle system of wheeled luggage, making it a perfect option for carry-on bags when traveling internationally. Its spacious main compartment and multitude of zippered smaller pockets allow everything to be stowed away carefully and found again in an instance. 
A padded back panel and padded adjustable shoulder straps ensure a smooth and comfortable journey no matter how long it's on your back for.
| | |
| --- | --- |
| Size: | 25L |
| Material: | Polyester and water resistant |
| Available colors: | Black, navy, maroon |
Diamond Candy: Best waterproof tactical backpack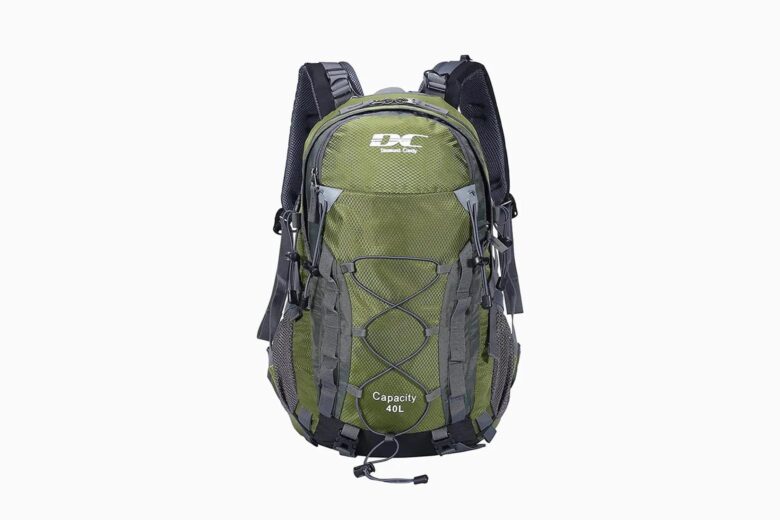 Hiking is an unpredictable hobby at best and pouring rain can put a dampener on more than just your mood. But it's far easier to put a positive spin on your journey if you can complete it safely in the knowledge that your belongings are just as dry as they were at the start of the day. The Diamond Candy Waterproof Hiking Backpack combines multiple protective layers to keep the elements at bay, including a water-resistant outer material and a rain cover that's stored in one pocket of the backpack. 
Designed with hikers and trekkers in mind, this backpack has plenty of space for keys, hiking gear, a camera, notebook, water bottles, or a small sleeping bag. Its hydration system, whistle, and multiple compression straps offer the final ticks on the checklist for this backpack's universal seal of approval. Take it for a run, on a fishing trip, or on a climb, and spend the day focusing on having fun without worrying about the weather.
| | |
| --- | --- |
| Size: | 40L |
| Material: | Nylon and mesh padded back |
| Available colors: | 8 including black, orange, red |
CVLIFE: Best budget tactical backpack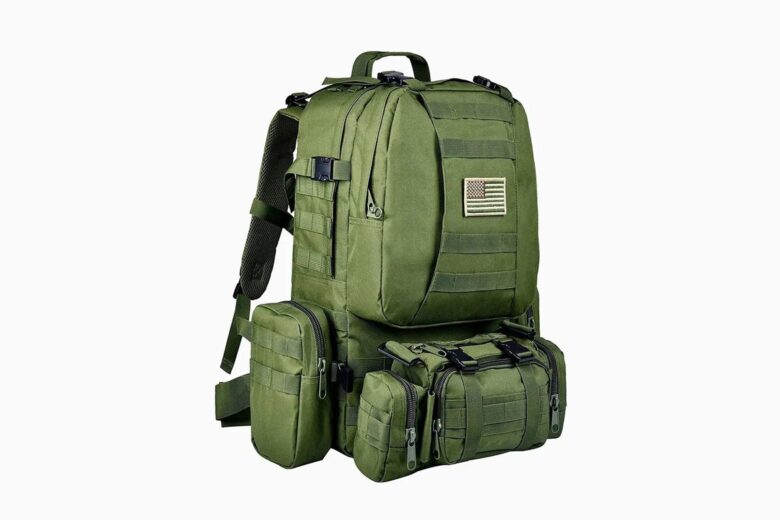 At less than $50, the CVLIFE Tactical Backpack is the ultimate tactical backpack for adventure lovers on a budget. Made from water-resistant 600×600 Oxford fabric, it's durable and versatile, tackling even the strongest winds or heaviest rains without flinching. It features one main compartment and two detachable smaller side compartments. The beauty of the detachable sides means this backpack can carry more or less depending on how much you need to carry. At its peak, it can comfortably hold 60 liters. 
A rain-diverting flap goes the extra mile to keep your belongings safe and dry, and a wide and thick waist belt makes it easy to distribute the weight of the bag evenly. The front of the bag features three more detachable pouches, ideal for carrying smaller items like torches or chargers. Upgrade your CVLIFE Tactical Backpack with a water bladder to make the most of the hose design and easy hydration access.
| | |
| --- | --- |
| Size: | 60L |
| Material: | 600D Oxford fabric |
| Available colors: | 5 including black, green, ACU |
Direct Action Dust: Most expensive tactical backpack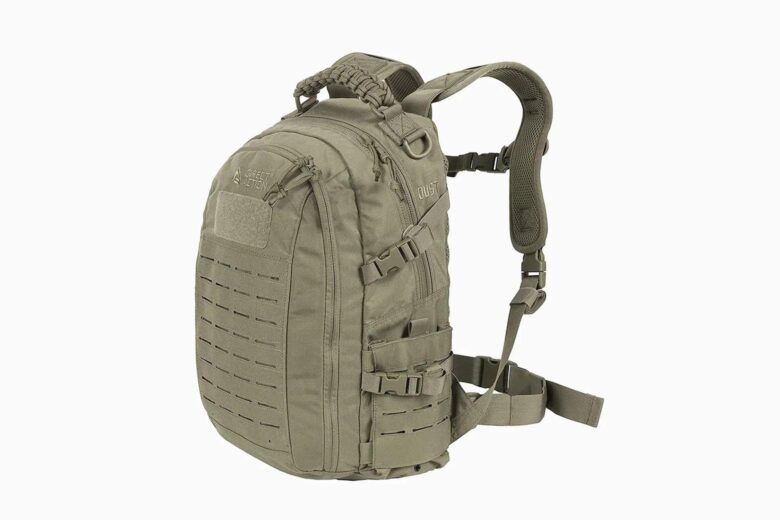 The Direct Action Dust Tactical Backpack was recently redesigned to include even more accessible pockets, taking this bag from an already impressive option to one that's at the top of the game. Along with featuring all of the typical elements of a tactical backpack, it also comes with a Patented Combat Vent System, which provides increased comfort for longer journeys.
Lightweight and versatile, this backpack is made with water-resistant coated Cordura 500D fabric and a unique, laser-cut MOLLE/PALS system for adding on extra pouches. The laser cut is especially important for longer journeys as it stops water from being absorbed between pouches. 
Its front pocket features an internal organizer for smaller essentials like a GPS and pens along with a clear vinyl pocket for maps and documents. The redesigned side pockets come with more elasticity for larger bottles, and the main compartment is hydration bladder compatible. The additional options with this bag are endless.
| | |
| --- | --- |
| Size: | 20L |
| Material: | Cordura 500D laminated nylon |
| Available colors: | 7 including green, brown and camo |
Buyers guide to tactical backpacks
A good tactical backpack will fulfill your needs for many types of adventures: hiking, camping, cycling, fishing, climbing, and more. Most retain similar qualities and capabilities, however, there are options on the market specifically geared toward carrying camera gear or laptops, bags for traveling, and bags for water-based activities. 
There are a few important factors to take into account when choosing your next tactical backpack:
Weight, shape, and size
While tactical backpacks aren't generally known for being weightless, it is possible to find a good quality lightweight tactical backpack. A larger backpack will carry more liters and therefore, a wider range of belongings but might be unnecessary if you're using your bag primarily for day trips.
Durability and main material
The durability of the backpack and its main material are important qualities. Backpack material is measured in denier, and high-quality options are always at least 500D. Generally, tactical bags are made from nylon, polyester, or Oxford cloth, and these are all good choices for a versatile bag that can withstand the elements. 
Water resistance
Pay attention to whether or not your backpack is waterproof or water-resistant, if you're going to be tackling adventures like canoeing, hiking, or fishing. 
Organization, MOLLE Webbing, and expansion capabilities
The number of pockets and compartments can play a big role in the usefulness of your bag. If you're someone who's happy to throw everything in quickly, then a larger number of pockets isn't as important. However, if you'd prefer to have everything stashed in its own spot for quick and easy access, choose a tactical backpack with a larger number of pockets and pouches. Backpacks with MOLLE Webbing allow for extra pouches to be attached, making them ideal for longer journeys and overnight trips. 
Comfort and fit
Portability in the form of a padded back strap, thick shoulder straps, and extra support means you won't end your trip with aching muscles, and a backpack equipped with a hydration system allows easy access for a water bladder. 
Once you've established which features are most relevant to you, it's important to make sure your tactical backpack fits properly. Measure your torso before buying and either pick a backpack to match your size or, if not, buy one with an adjustable suspension.
The pack should also appropriately support your hips, and most of the weight should be held here, so ensure your tactical backpack correctly fits your waist. Finally, make sure the load lifter straps (the straps that connect the top of the back panel to the top of the shoulder harness) are well-fitted and that the straps themselves are well-padded to avoid injuries.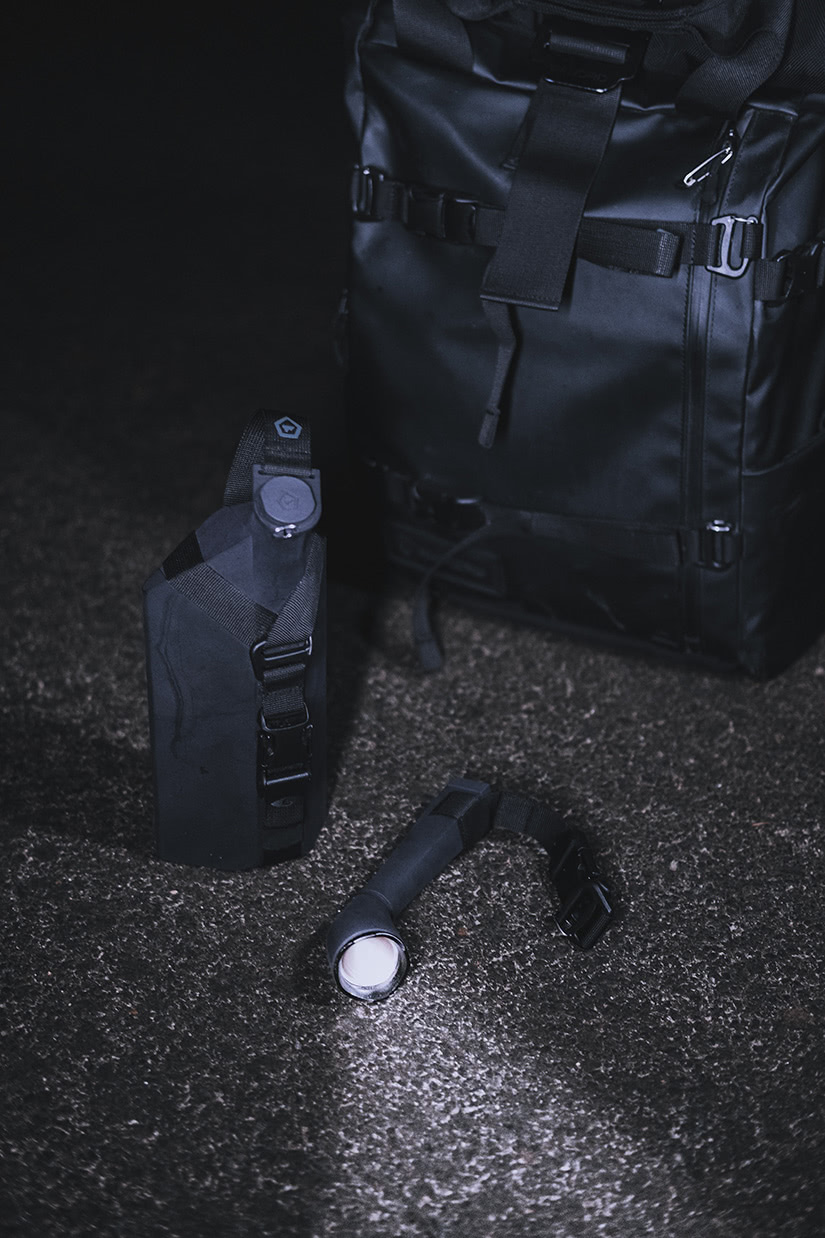 Frequently asked questions about tactical backpacks
Who makes the best tactical backpack?
The best tactical backpack is the Amabilis Urban Responder Rucksack, a 22-liter military-grade tarpaulin backpack featuring plenty of modular components for all of your creative needs. Our full guide details a range of tactical backpacks to suit any and every activity.
What is the best military backpack?
The best military backpack is the 5.11 Tactical RUSH24 Military Backpack. This high-performance tactical pack comes complete with 29 different compartments and 37 liters of space. It's highly customizable and combines form, design, and value in one truly versatile backpack.
What kind of backpack does the military use?
The military use tactical backpacks; highly durable and versatile rucksacks with plenty of space and differing compartments for easy access. Our guide to the best tactical backpacks breaks down 15 of the most premium quality options on the market for every kind of adventure.
What should be in a tactical backpack?
A good tactical backpack will have enough space to include all of the essentials you'd need on a day or overnight trip. These include a water bottle, camera gear and/or a laptop, a change of clothes, and a flashlight. Use smaller pockets to hold other essentials like a pen, navigation system, chargers, protein-heavy snacks, and sunglasses.