Ever since luxury sneakers found their sartorial footing, they have become an essential element of every man's casual wardrobe, providing comfort and coolness to any outfit for men.
The value of designer sneakers is unquestionable: Sneakers offer a level of style, versatility, and comfort that other casual shoes can't match. Now, you're just as likely to see the best trendy sneakers in the office as you are in the gym. Match them with a pair of jeans for an elegant casual look, or dress them up with a suit for a business casual style.
With luxury sneakers, you're getting premium fabrics and materials from high-end designers and luxury brands.
They can be expensive, yes. But you're getting a level of attention to detail and craftsmanship that mass-market brands can't deliver.
However, it doesn't necessarily mean that you have to pay a fortune for your designer shoes: our stylists hand-picked budget-friendly, high-quality alternatives for the best luxury sneakers listed below. Traditional sports and athletic wear brands such as Adidas, Nike, and New Balance have branched out to design classic streetwear shoes that can also look elegant.
From Gucci to Tom Ford and Balenciaga, every sneaker featured on our list can become your go-to shoes for most days of the week. Men's premium casual shoes below are versatile, stylish, and functional. We think it's money well spent.
In a rush? No problem! Here's our shortlist of the absolute best sneakers for men available right now:
The best sneakers of 2023: Top 25 most popular sneakers for men
Here's our ultimate list of the best sneakers of 2023 for men. You can easily navigate to the category you're most interested in.
1. Oliver Cabell Low 1 Frost: Best minimalist men's sneakers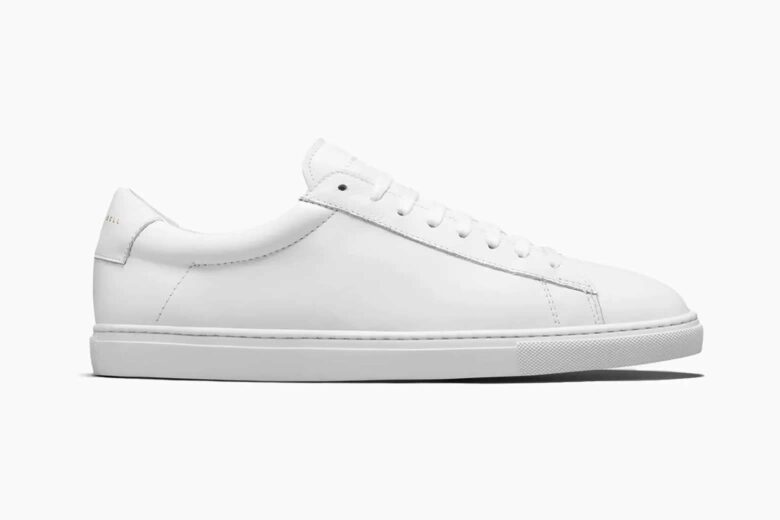 Oliver Cabell is making a name for itself, consistently delivering high-quality premium sneakers with a simple minimalist design. This sublime pair of all-white sneakers is discrete and minimalist yet very stylish. Oliver Cabell handcrafts all its shoes using ethical factories and materials.
Be sure to read our full Oliver Cabell review for more details about our hands-on (or could we say 'feet on') experience with the Low 1. We also have a brand profile on the story behind Oliver Cabell.
Axel Arigato is another sneaker brand that excels at producing minimalist sneakers with a luxurious, low-key look. This pair of white leather sneakers with a discreet golden logo is one of our favorites.
2. Koio Capri Onyx: Best men's casual shoes to wear with jeans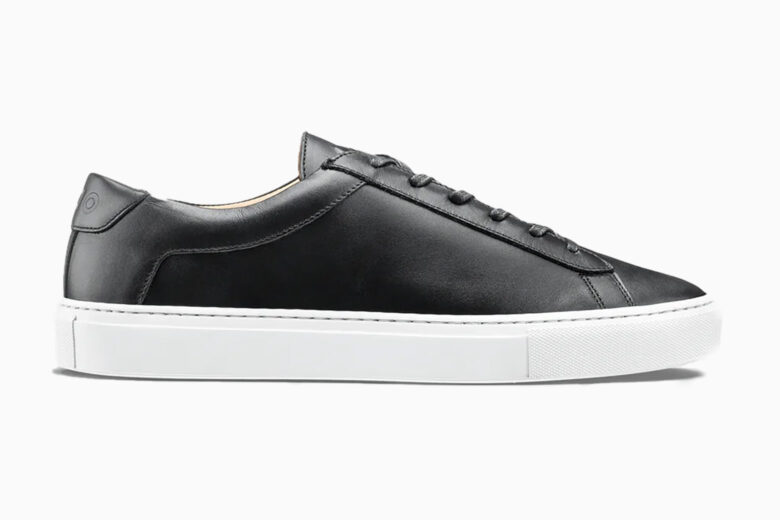 We absolutely love the Koio Capri's sneakers collection as our everyday sneakers. These simple yet elegant premium leather sneakers are perfect to match with jeans to dress up during the week or casually for the weekend. The perfect everyday sneakers for men really.
We've picked the black onyx model here for its timeless and classic sneakers look, but the shoe is also available in rich brown leather, classic white, and many more color options.
Koio is a fast-growing online sneaker brand created by two passionate sneakerheads. They design their shoes in the USA and produce them in Italy. Check our in-depth Koio sneakers review and learn more about the story behind the Koio brand.
Another excellent casual sneaker option to wear daily is these sustainable, irresistibly stylish sneakers by French-based brand Veja. Many color combinations are available, but we recommend a simple and neutral color combination for a timeless pair.
3. Axel Arigato Clean 90: Most stylish sneakers for men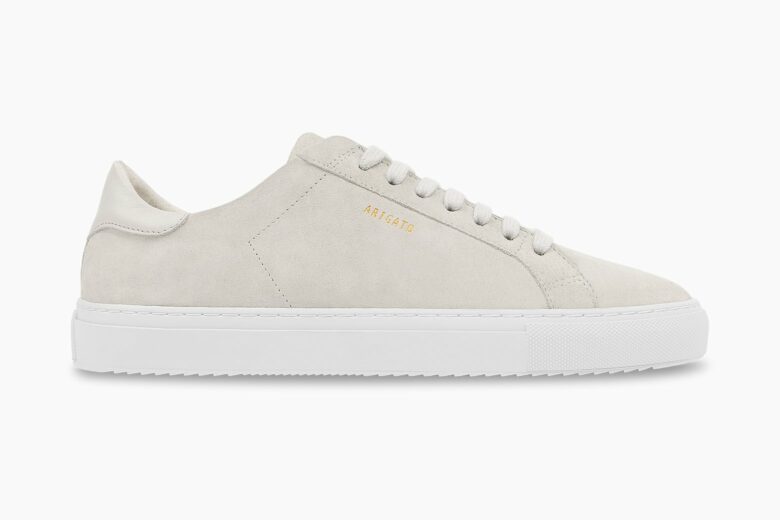 Nothing beats a pair of clean, minimalist sneakers for men. Our favorites have to be these versatile suede sneakers by street-smart Swedish label, Axel Arigato. Blending the understated minimalism of Scandinavian and Japanese culture with a hint of playfulness, they can be dressed up with classic tailoring or dressed down with activewear or casual jeans.
Axel Arigato's Clean 90 Sneaker collection is a real game-changer and we're definitely tempted to buy multiple pairs. There are heaps of styles available, featuring everything from 3D embroidered birds to zebra print heel tabs. But we appreciate the unfussy sophistication of this beige suede pair. This cool update of the classic Clean 90 Sneaker is handmade from premium suede with a luxurious texture. The back tab in smooth leather offers an aesthetically satisfying contrast.
With a slightly higher heel, cushioned footbed, and arch support, these Axel Arigato Clean 90 sneakers provide ultimate comfort from morning until evening, and wherever you end up in between.
Check our Axel Arigato sneakers review to learn more about the Clean 90 and read our Axel Arigato brand story to discover the history behind the fashion label.
If you're looking for something edgier, check these distressed sneakers by Golden Goose instead. The Italian luxury shoemaker combines luxury materials, true craftsmanship, and edgy design to the world of men's sneakers. The results are some of the most trendy men's sneakers of the year with a sought-after distressed leather look.
4. Nike Air Force 1: Bestselling men's sneakers of the year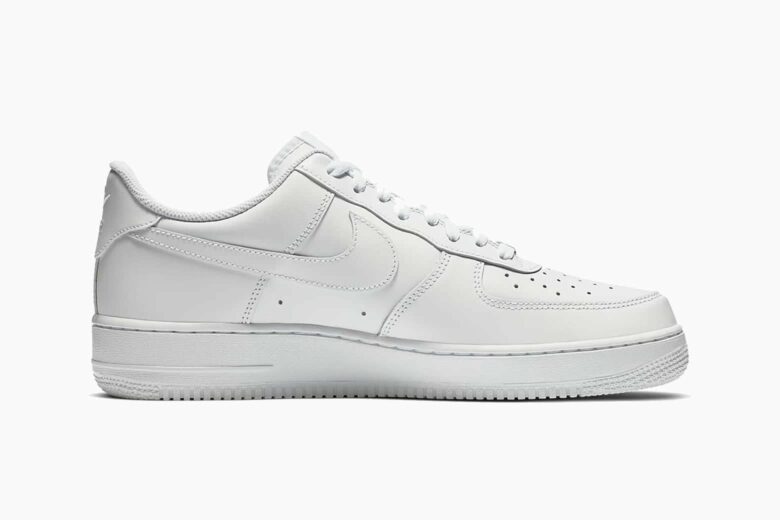 Nike is one of those failsafe, classic sneaker brands you need in your shoe rotation. The Nike Air Force 1 is quite simply the most popular men's sneaker of 2023.
On-trend with a retro yet timeless look and legitimate street credibility, the Nike Air Force 1 '07 are great value too, selling for just $110. We love this particular all-white iteration with durably stitched overlays, clean finishes, and the perfect amount of flash to make you shine.
The Air Force 1 has defined shoe culture since the moment it stepped onto the court. And it continues to be a fashion staple thanks to clean lines, a strong midsole, and new and classic colorways in low, mid, and high-top styles.
You can also fully customize your own Air Force 1 design with the Nike By You program. Create your own sneaker by selecting the colors and materials for every component of the athletic shoe.
If you're looking for a slightly more edgy pair of sneakers, the Nike Air Max is another bestseller in 2023. The Nike Air Max comes in a large range of style and designs, but we've shortlisted the Air Max 95 Premium as our choice for this year.
These sporty sneakers take inspiration from the '90 classic track aesthetics. Nike's signature lightweight rubber sole makes it also one of the most comfortable sneakers to wear all day long. No wonder the Nike Air Max 95 are one of the absolute best-rated sneakers online.
Check our Nike Air Max 95 lookbook for more inspiration on how to rock this pair.
5. Adidas Ultraboost 22: Most comfortable sneakers for men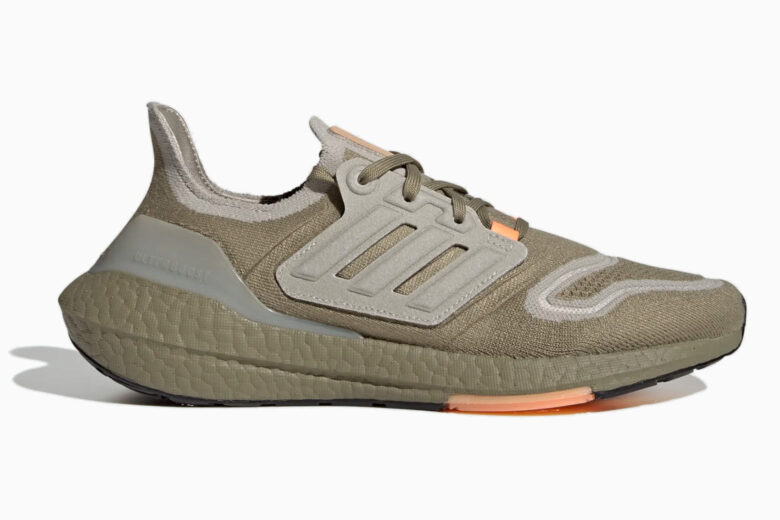 When Adidas first introduced the Ultraboost, the shoe received rave reviews online for its build quality and comfort. Put the sneakers on your feet, and you'll feel like you're walking on clouds! The latest version, the Adidas Ultraboost 22, is excellent for running as well. Better yet: the Ultraboost are made from recyclable materials, so they are friendly to our planet.
The Ultraboost is now available in a large range of colors and styles. The breathable mesh top is particularly comfortable during the summer to keep your feet cool. It's also one of the few pairs of shoes on our list with true athletic capabilities. You can use them on the track, at the gym, or as your go-to pair on the weekend.
Pssst: you can snatch a brand new pair of Ultraboost at a discount if you purchase the previous version, the Ultraboost 5.0 DNA, from Adidas here.
A favorite sustainable sneakers brand of Leonardo Dicaprio and ours for both comfort and value, Allbirds has earned itself a status as the world's most comfortable shoes—and after putting Allbirds' sneakers to the test, we reckon it's pretty much true. Made from sustainable eucalyptus tree fiber, these everyday sneakers are breathable, machine washable, and odor-resistant.
Sometimes magic can happen in your comfort zone, and by that, we mean slipping in these black sock trainers by Hugo Boss. Oh, and did we mention they are partially made from plastic bottles that would otherwise end up in the ocean? A look-good, feel-good sneaker—we are sold.
6. New Republic Kurt Leather Sneaker: Best men's all black sneakers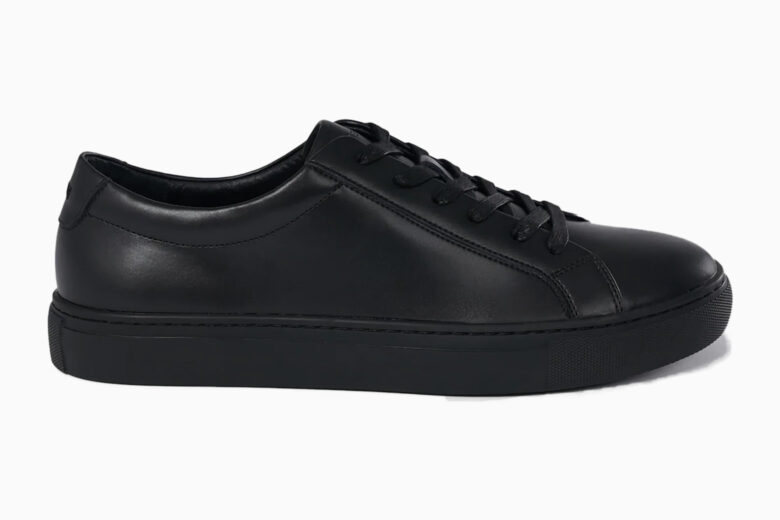 If you are looking for a convincing argument for stepping into the dark side, in a good way, these black dress sneakers by New Republic are all you need to know. Yes, you can wear black-on-black sneakers and still be trendy. Simple as that.
The black sneakers feature a sustainable Tencel mesh footbed (Read: memory foam luxury mattresses for your feet) for increased comfort and breathability. No break-in time is needed. Classic style and effortless elegance at affordable prices? Need we say more?
If you want a luxury pair of black sneakers, try these Common Projects sneakers. These black leather and black sole sneakers even come with matching black lace-up closure. Only a discrete serial number stamp in gold tone is present on the outer side for a touch of style.
One way to add a little character to an otherwise all-black sneaker is to play with textures. And this modern take on the iconic Gucci Ace Sneakers is a case in point. Embossed with a tonal GG Supreme pattern, these luxury sneakers are the epitome of elegant sophistication and bold confidence.
7. Koio Capri Triple White: Best all-white men's sneakers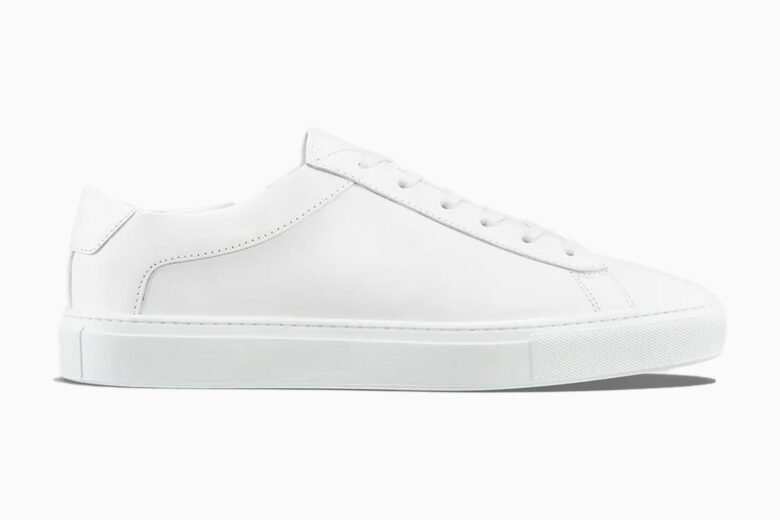 Every man should own a pair of pure white sneakers. They are easy to wear with nearly everything, and will instantly freshen up your look. White sneakers don't have to be boring, however. To be on-trend, check this pair of Koio Capri Triple White. The shoe is very comfortable even after a long day of walking.
The full-grain lether will age gracefully if you wear them everyday and let them scuff up. It's also easy to keep white if you prefer to maintain their pristine look and only wear them occasionally.
Another great option for white sneakers for men is the Oliver Cabell Low 1. It's a great value alternative if you want simple yet stylish white sneakers made with high-quality materials.
8. Amberjack The Original: Best men's sneakers for work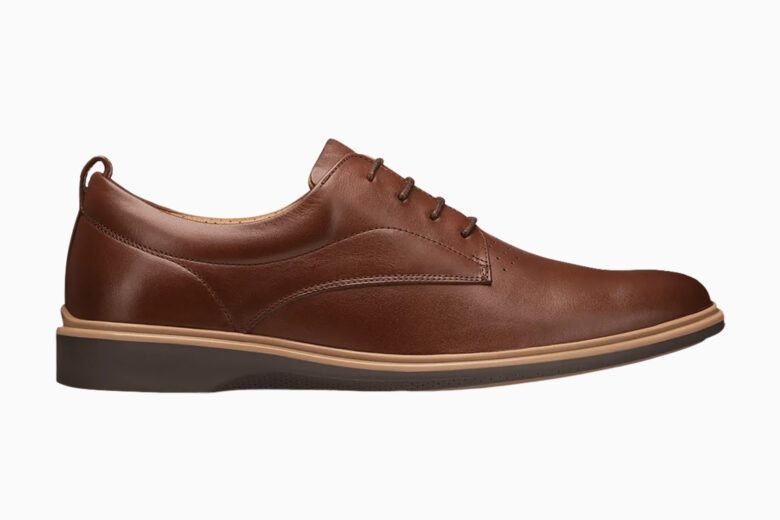 Looking for the perfect pair of sneakers to dress-up in the office while still being comfortable in your shoes? Look no further! Amberjack's The Original is the comfortable office sneakers you've beeing searching for.
We have an entire guide on the best dress shoes for men if you want more options. But you can trust our hands-on review of Amberjack's shoes, they are super comfy and totally appropriate to wear in the office.
The work sneakers are available in a wide variety of colors, including black, chestnut, and honey so you can easily pair them with your favorite pair of pants. We think it's a great pair of sneakers for men over 30, but younger men can also wear them to dress up.
Looking for an all-black sneaker instead, Oliver Cabell has exactly what you need with this Jet Black version of their best-selling Low 1 shoe. The pair is crafted in Italy with calfskin leather and Margom outsoles.
9. Allbirds Tree Dashers: Best men's sneakers for long walks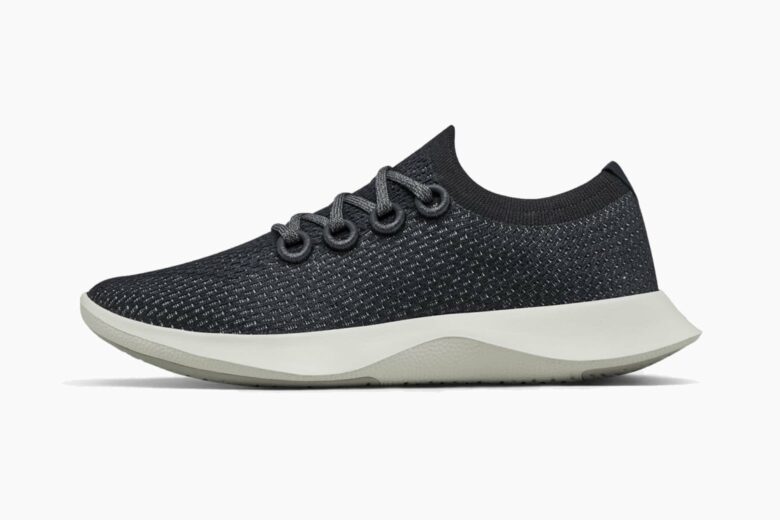 Allbirds really are some of the most comfortable shoes for standing all day. If you like Allbirds' everyday sneakers, but you want something with a bit more support for your next 10K (or casual jog), check out the Tree Dashers.
Made from eucalyptus tree fibers and with a dual-density SweetFoam midsole made from sugarcane, they're sustainable and performance-ready. Supportive, stable, flexible, and well-cushioned, they also have the added bonus of being available in half-sizes.
Learn more about the story behind Allbirds.
For comfort while walking through town all day, we also really like Salomon S/Lab's XT-6 sneakers. The French shoe manufacturer is seeing a massive increase in their sneaker sales since it became a high-fashion status symbol (Even Ralph Lauren and Rihanna started wearing these cool shoes).
10. On Running Cloud X: Best athletic shoes for men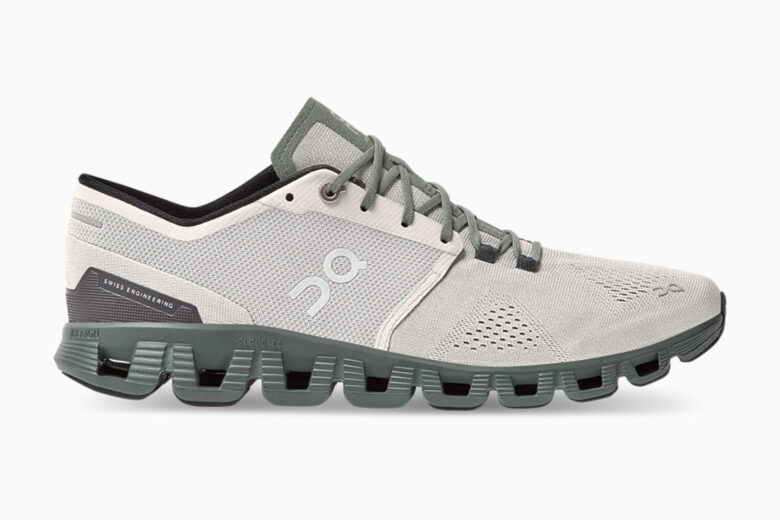 If you want a pair of sneakers that can support you all day long, even if you decide to break a bit of a sweat, try the On Running Cloud X. We've become a fan of the brand since testing their unique sole technology (check our On Running shoes review to learn more).
The Cloud X are super light but have enoug structure and support to be versatile. They're so light that we personally use them as lifestyle sneakers to go about our daily tasks in the summer months, but, according to Reddit reviews, plenty of guys also wear them at the gym to exercise.
We picked the glacier and olive version for the image above, but it also comes in classic black and white or more edgy color tones to suit your tastes.
11. Nike Killshot 2: Best men's sneakers under $100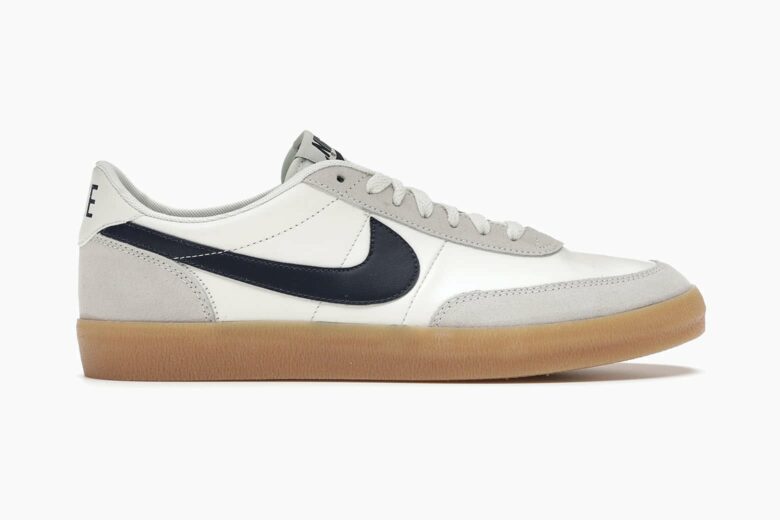 On-trend with the retro look and dad sneakers inspiration, we love these simple yet stylish trainers.
The Nike Killshot 2 has legitimate street credibility and costs less than $100. These sneakers are hard to get, however, and tend to sell out as quickly as they're restocked. We love this particular iteration with midnight navy' swooshes on white leather and light-grey suede trims. The abrasion-resistant gum rubber soles complete the look for a classic tennis sneaker.
Another great option under $100 is the timeless Adidas Originals Stan Smith sneakers. They've been around forever and will last you just as long.
12. Vans Authentic Low Top: Best men's sneakers under $50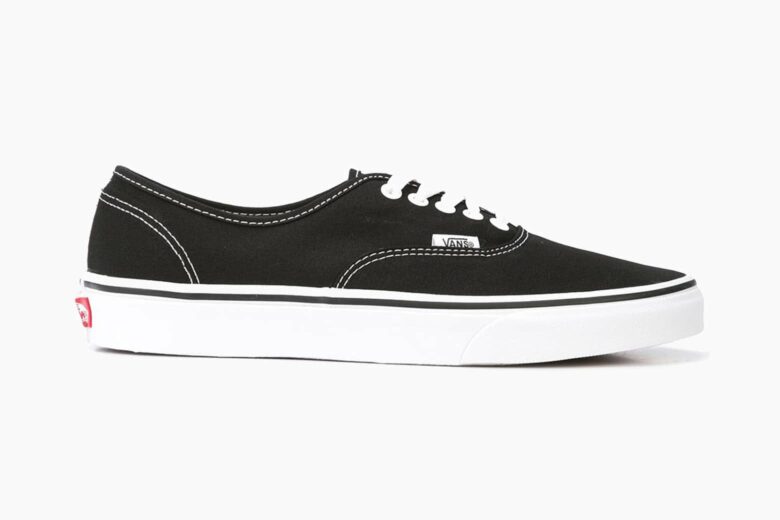 If you're on a really tight budget, your options are limited, but you can still find cool sneakers under $50. You can't go wrong with this classic pair of black-and-white Vans. Their timeless design and excellent build quality make them the perfect affordable sneaker. They are available in a range of colors to suit your style.
Looking for another cheap pair? Even if you're not a total denim nerd, you must know Levi's. And just like their iconic classic jeans, the sneakers deliver timeless casual style and plenty of low-key cool vibes. They are comfortable, durable, and of good value. We found the best deals on Amazon for these Levi's sneakers under $50.
13. Adidas Originals Superstar: Best classic sneakers for men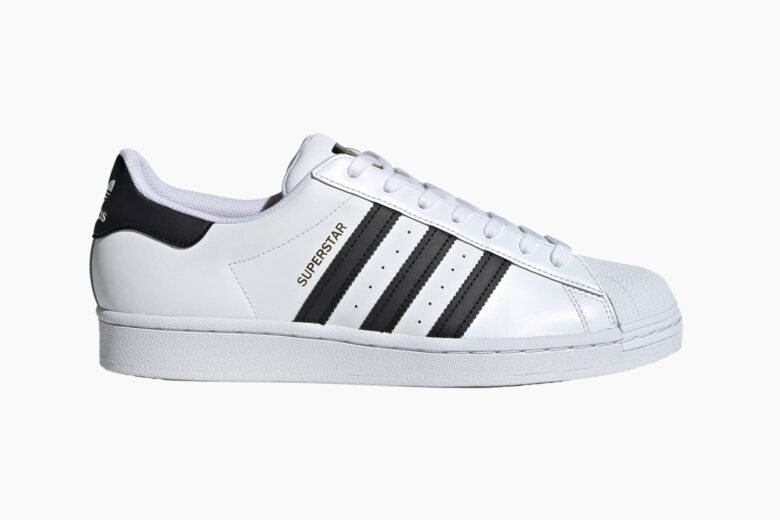 Every man should have a pair of Adidas Originals Superstar in his sneakers collection. The design is timeless. Some even call them the best sneakers of all time. The shoes come in a variety of colors, but if we have to pick just one, we would recommend the classic white leather with black stripes.
If you close your eyes and picture one of the most classic sneakers in history, chances are that the Converse Chuck Taylor will pop into your head.
14. Celine Ct-02 Mid Sneaker With Scratch: Most extravagant sneakers for men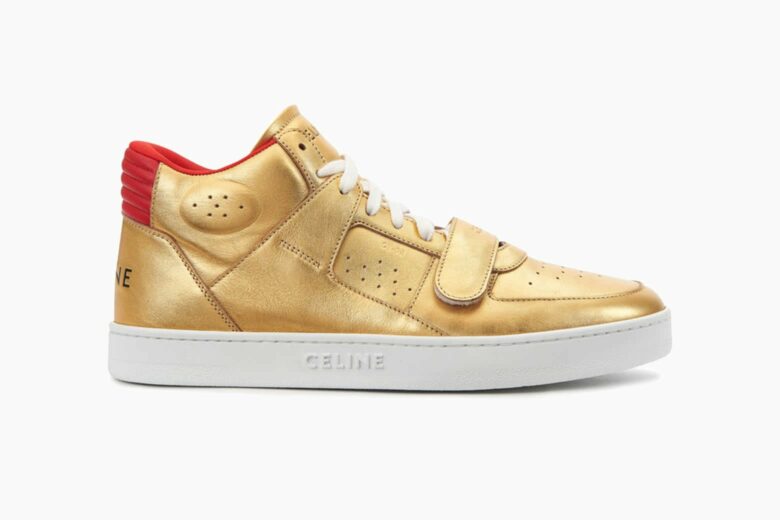 This pair of gold mid sneakers by French luxury designer Céline is bold, comfortable, and highly desirable. You won't go unnoticed walking down the street with this statement piece on your feet.
If you're after high-top sneakers with some peps, check these luxury sneakers by Dior, too. Crafted in white and gray smooth calfskin, with the brand's instantly-recognizable Oblique Galaxy, Dior B27 will effortlessly enhance any favorite look.
15. Adidas Yeezy Boost 350 V2: 2023 most sought-after sneakers for men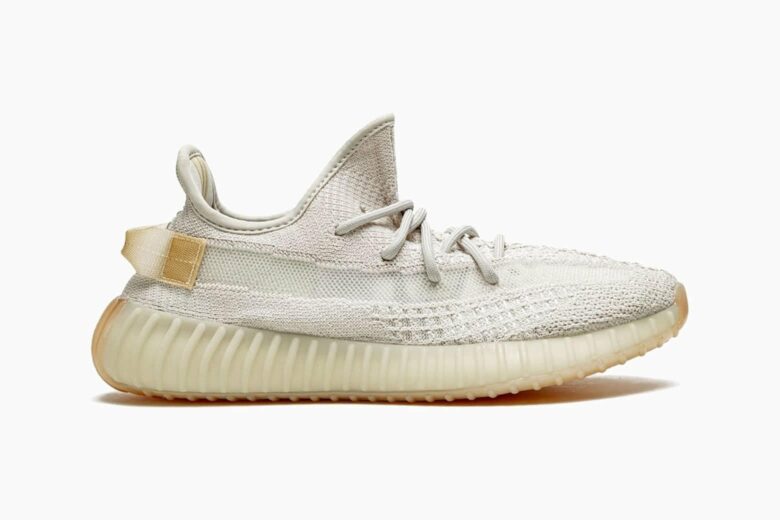 The Adidas Yeezy Boost is in such high demand that the only way you could buy a pair right now is on Farfetch or the resale website StockX.
The Yeezy, born from a collaboration between Kanye West and Adidas, also makes for a great sneaker investment if you plan on selling them back. Their aftermarket price has increased by 27% since they first went on sale. They remain one of the hottest sneakers of the year. Hipsters love them for their unique look, sneakerheads love them for their investment value on aftermarket websites.
We give an honorable mention for this alternative: the beloved Air Jordan 1 Retro High OG in a brand new shiny look. The classic Air Jordan high-top silhouette remains a timeless hit with a modern twist thanks to its patent leather in black and red tones.
16. Balmain B-Court: Best black and white sneakers for men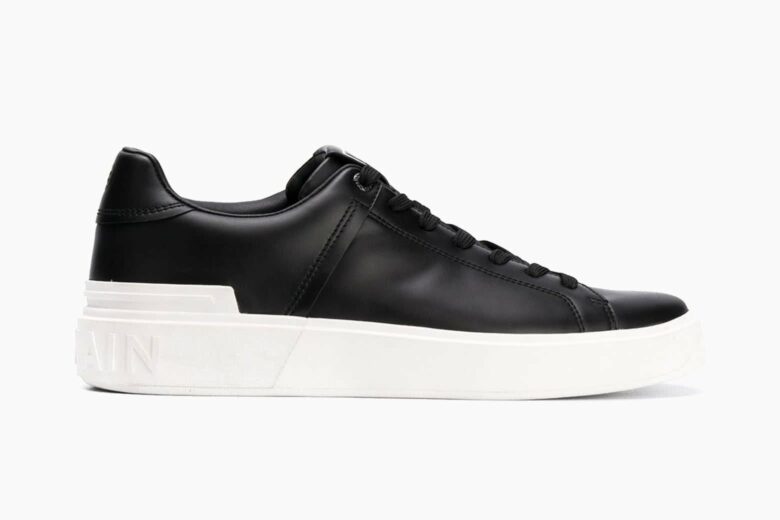 Life might be colorful, but sometimes we do love things to be simply black and white like these Balmain luxury sneakers.
With its clean and trendy design, the sleek Balmain B-Court sneakers will keep you comfortably stylish. The shoe is made with high-quality leather and extra padding. The back of the sole features a glossy rubberized trip with the luxury house logo embossed at the heel.
An equally as trendy and cool sneaker (and more affordable) is the retro-inspired Genesis Vintage Runner by Axel Arigato. Set on a lightweight modern, streamlined sole, these sneakers are both comfortable and stylish. Added bonus? They're responsibly crafted from recycled bottles and plastic waste.
17. Gucci Tennis 1977 Sneakers: Best tennis shoes for men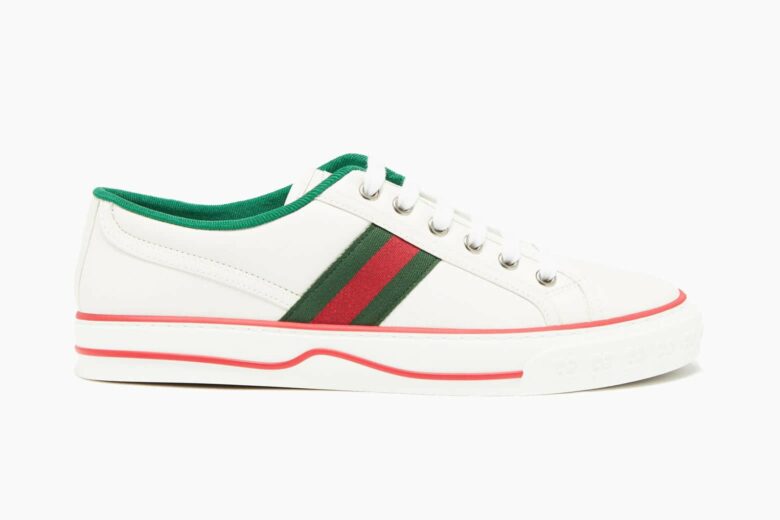 Gucci nailed the tennis shoe throwback design. The retro-inspired Gucci Tennis 1977 sneakers have an air of classic tennis shoes with a modern interpretation. They are crafted in Italy from white leather. There is something about the heritage-inspired striped webbing trims that gives them a great personality. These tennis sneakers look great, on and off the tennis court.
For a modern take on the tennis sneaker, check these Nike tennis shoes for men: NikeCourt Vapor Lite. These black tennis shoes are breathable, lightweight, and incredibly comfortable.
18. Nike Air Force 1 GTX: Men's most durable sneakers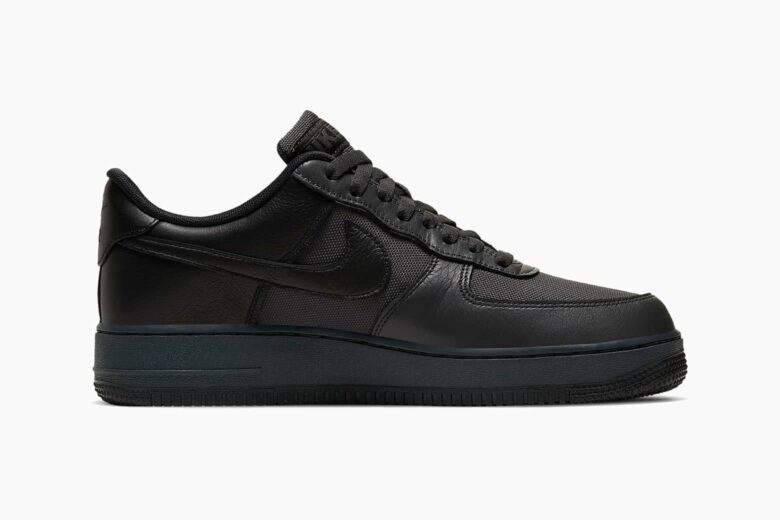 Made with Gore-Tex, a high-tech material that ensures a high level of water resistance, the Nike Air Force 1 GTX is one of the most durable sneakers on the market today.
We especially love them in crisp black leather for a timeless look. A great reinterpretation of the basketball OG—the classic Air Force—with modern design details.
This pair of high-top Converse is another excellent option if you want to invest in sneakers that will stay with you for years to come. Their design is both durable and timeless.
19. Nike Dunk High Retro: Best high-top sneakers for men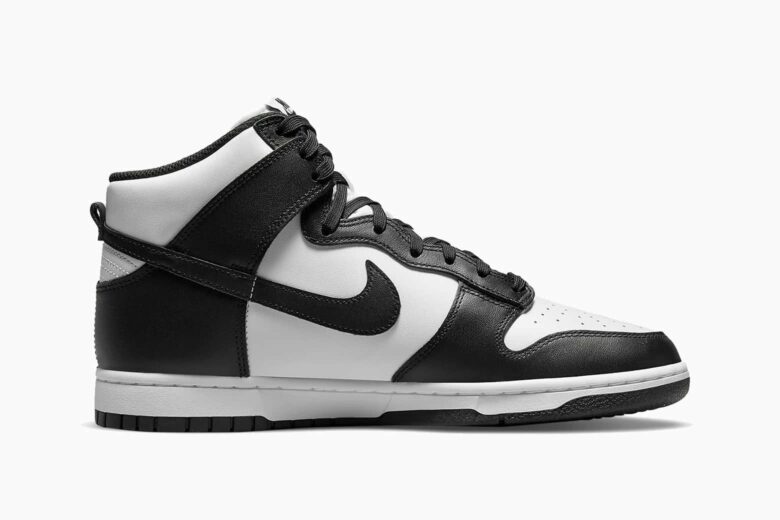 Channeling '80s vintage, the Nike Dunk High Retro is an old-school high-top sneaker rooted in comfort. It's very wearable with just enough street attitude and exciting elements to make people stop and notice.
20. New Balance x Aimé Leon Dore Taupe Sneaker: Best sneaker collaboration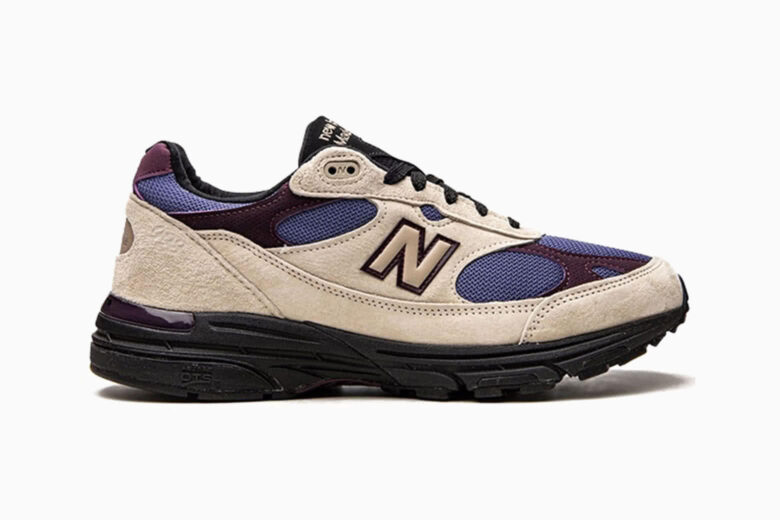 We love a good collaboration, and if it's bringing uber-cool sneakers to the table and on our feet, even better.
Born from a partnership between New Balance and Aimé Leon Dore, these athletic Taupe sneakers are upgrading New Balance's dad shoe with a contrasting mixture of suede and mesh and an interesting colorway inspired by New York City aesthetics and the Big Apple's subway cars in the graffiti glory days of the 1990s.
Honorable mention: The collaboration between Nike and Supreme has produced many sought-after shoes over the years and this Supreme x Nike Air sneaker is no exception.
21. Maison Margiela Replica Low Top Sneakers: Best vintage sneakers for men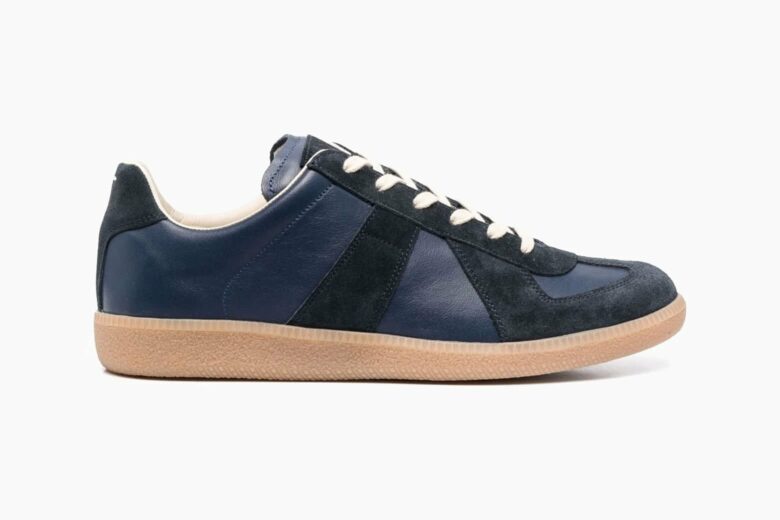 Influenced by classic Austrian runners from the '70s, Maison Margiela's 'Replica' sneakers offer an authentic vintage sports vibe. Made from a combination of leather and suede, they also feature gripped rubber soles and internal straps for a secure fit.
British sports brand Reebok defined the 1980s with its classic sneakers that embody the ultimate athletic shoes of yesteryear. This Reebok Club C Revenge is a cool and affordable retro sneaker.
22. Nike Zoom Vaporfly: Best men's sneakers to run with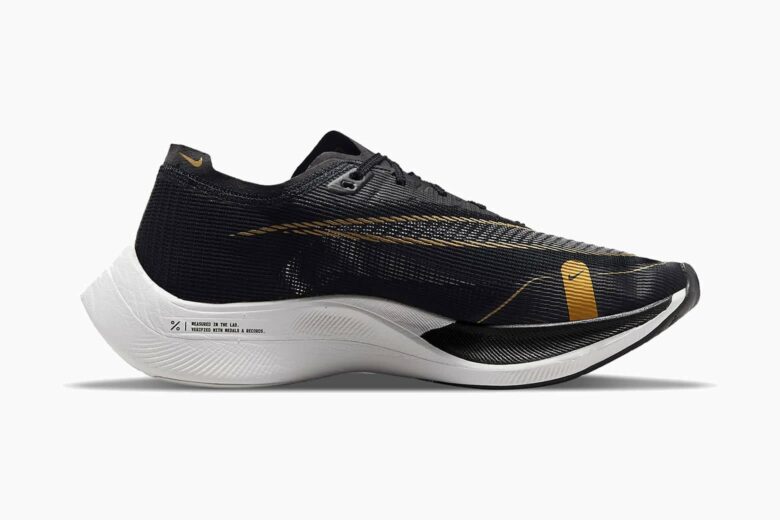 Our absolute favorite running shoes at the moment are the Nike Vaporfly. These racing shoes are hands down the best athletic sneakers on the market today. In fact, they are so good at helping you run faster than the International Association of Athletics Federations is examining if they provide an unfair advantage to athletes who wear them.
The redesigned upper further improves comfort and breathability while the responsive cushioning and secure support help you chase new goals and records.
For long-distance running, check the ASICS Gel-Nimbus 21. These sports shoes were built from the ground up to provide support, comfort, and excellent traction for runners. They are available in a range of colors on Amazon here.
On Running sneakers are also beloved by the world's best runners and running the show when it comes to 24/7 comfort and style. Whether you are running errands or training for a marathon, On Running Cloudstratus is the performance shoe you need if you are after maximum cushioning on road runs.
23. Tom Ford Midnight Blue Warwick Suede: Most versatile men's sneakers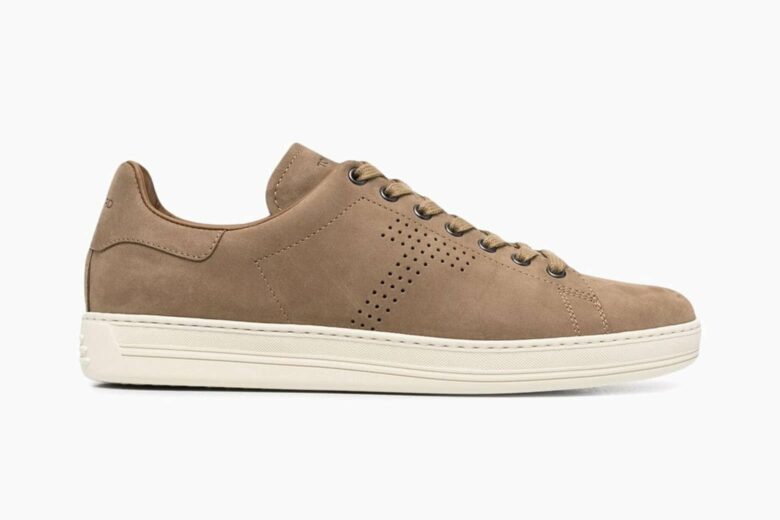 If you could only wear one pair of sneakers, this timeless pair from Tom Ford would be our pick. It comes in a variety of colors, but we particularly like this classic brown suede pair.
It's easy to wear with just about everything in your closet for a casual to business casual look.
Made in Italy from premium materials, these Tom Ford Warwick sneakers are finished with discreet branding, including a perforated T logo on both sides.
For a good alternative at an affordable price, check these white canvas sneakers by New Republic. Ready-made for California living, they are easy to style, endlessly versatile, and somehow effortlessly elegant.
24. New Republic Bowery: Best value sneakers for men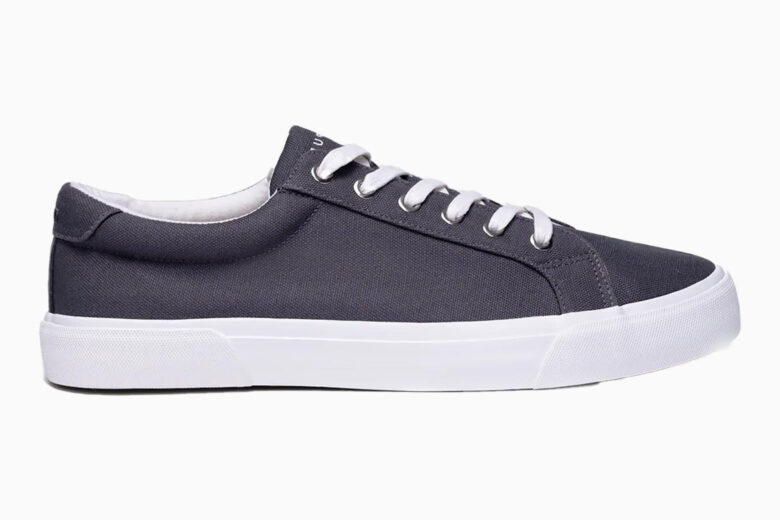 On-trend with a retro yet timeless look and legitimate street credibility, the New Republic Bowery are the best value sneakers of 2023. Currently selling for less than $25, you'll be hard pressed to find a better deal for this level of quality online. We love this particular graphite canvas iteration with durably stitched overlays, clean finishes, and the perfect amount of flash to make you shine.
Plenty of other style and colors are available on New Republic's sneakers page, though, just take your pick.
For a low-key and affordable alternative, check these black and white Puma Roma sneakers. With their timeless design and great value for money, it's no surprise that they have over 40,000 positive reviews on Amazon.
25. Loro Piana: The most expensive sneakers every stylish man needs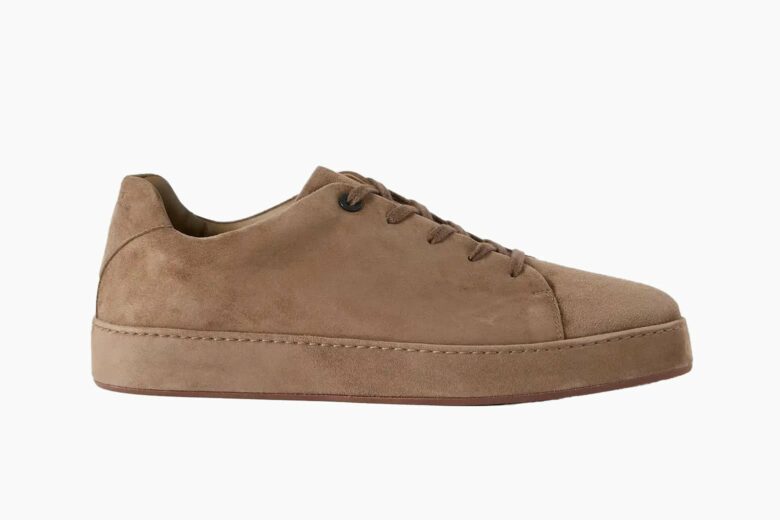 As luxe as a sneaker can get, this pair of Loro Piana might be some of the most expensive sneakers on the market but they are definitely worth the price tag.
Loro Piana is praised for its premium fabrics and meticulous construction, and these 'Nuages' sneakers are proof of why they're one of the best at what they do. As timeless—and timely—as ever, these 'Nuages' sneakers have been expertly crafted in Italy from smooth suede that's water-repellent and stain-resistant.
Lightweight and comfortable, this refined pair will work equally well with relaxed tailoring and casual looks.
On the resale market, the most expensive sneakers on sale today are the limited edition Nike MAG Back To The Future. They sell for over $30,000 on StockX at the moment.
One of the most highly anticipated sneaker collab of the year, the Dior x Air Jordan 1 Low sneaker is the perfect balance between sporty classic and high-style.
2023 men sneaker trends: 5 trends you should know
Our editorial team reviewed hundreds of sneakers while compiling this list of the absolute best for 2023. This gives us a unique position to observe the trends that are shaping the world of designer sneakers this year.
Here are the 5 most important trends of the year:
Best sneaker brands: The brands that define the sneaker culture
Athletic brands invented sneakers. But today, you can now buy sneakers from virtually any fashion brand on the planet. From entry-level to high-end luxury fashion statements, there are sneakers available for every budget.
Some brands really define the sneaker culture, however. They created something new and established themselves as true shapers and visionaries.
Here are the 6 brands that are critical to the world of men's sneakers:
1. Nike
No list of the best sneakers brands would be credible without Nike at the top. The American sports brand continues to renew itself every year with new technology and design. Nike's capacity to push its sneakers in every direction at the same time is absolutely delightful.
2. Adidas
Adidas has successfully completed a comeback over the past few years, diving deep into the streetwear culture with collaborations with Fear Of God by Jerry Lorenzo and Yeezy by Kayne West, for example, while staying true and authentic to their core value.
3. Gucci
The Italian luxury brand Gucci was among the first big names to embrace the casual and sportier men shoe look. Gucci's design really took over the streetwear fashion world with iconic models.
4. Balenciaga
French luxury brand Balenciaga came late to the sneakers game. But they came big. The designer is revisiting classics from the 80s and 90s with a modern twist.
5. Tom Ford
High-end designer Tom Ford is known for his use of premium materials and attention to detail. The Tom Ford sneaker collection is absolutely top-notch. They provide superb style with long-lasting quality.
6. Common Projects
While less known than the other luxury brands in our list, Common Projects has been making a case for luxury sneakers for a decade. Working with premium materials and thoughtful designs, Common Projects earned street credibility among its fans and offers excellent value for money.
Sneakers culture: Frequently asked questions