They go by various names: overshirt jackets, shackets, or shirt jackets. Whichever name you use, these handy articles of clothing hold down a niche spot in our wardrobes. These are the go-to tops for when spring or fall weather is a bit too cool for button-downs or t-shirts but not yet cold enough to warrant a full-on jacket. Men's designer overshirts are in-between items, occupying the space in between shirts and jackets.
Some overshirts are more functional, being durable pieces meant to keep you warm while you're chopping firewood or wrapping up your yard chores. Others are much more about form, offering you a good-looking top that allows you easy body-heat control as the day's temperature rises and drops.
Whatever your intended purpose, overshirts have the added bonus of versatility—they can be used both as your outer layer, like a jacket or as a mid-layer, like a thick shirt or sweater. And because of the wide array of design choices, you'll be able to find overshirts that match equally well with luxury sneakers and Oxford button-downs right through to heavy-duty work-style boots and broken-in t-shirts. 
The 17 best overshirts for men
Axel Arigato Sphere Suede Overshirt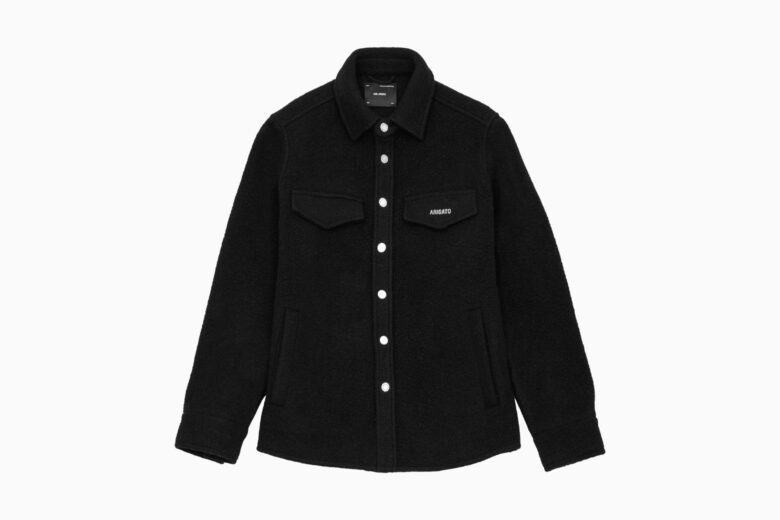 This suede-built bit of fashion finesse is an outfit-builder's dream. Put Axel Arigato's Sphere overshirt together with a white t-shirt, white sneakers, and a colored bottom (we'd suggest blue or black jeans for a start), and you'll have yourself a fit that's set to stun thanks to sweet and simple sophistication.
| | |
| --- | --- |
| Best for: | Easy mode for pulling together stand-out outfits. |
| Color: | Pale Beige |
Hugo Boss Relaxed-fit Overshirt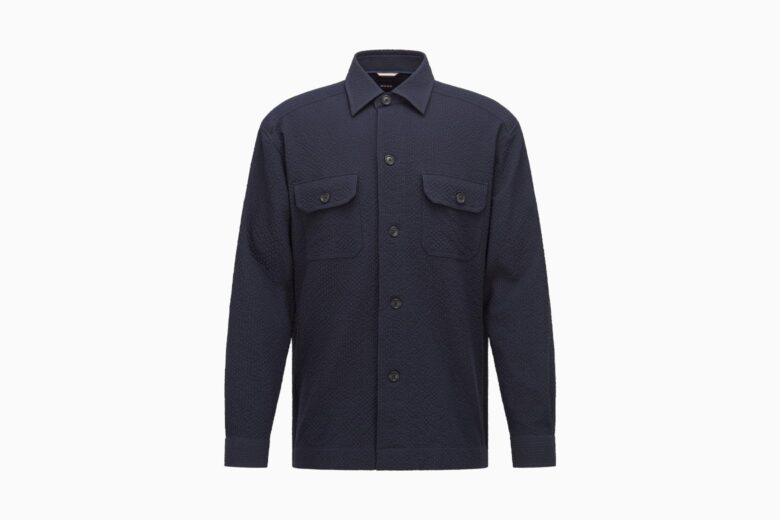 If it comes from Hugo Boss, you know it's going to have a swank feel. Case in point: Hugo Boss' relaxed fit overshirt. And while yes, it does have a designer feel to it, this overshirt features double breast pockets to give it a more casual appeal and a thin seersucker build that makes it ideal for layering.
| | |
| --- | --- |
| Best for: | Making casual look sharp. |
| Color: | Dark Blue |
Robert Graham Purcell Overshirt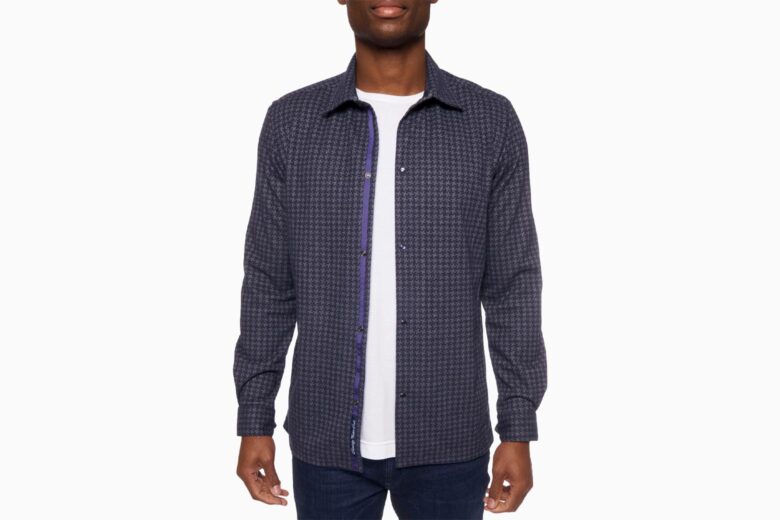 Robert Graham's Purcell overshirt has a crisp, preppy modern cut coupled with a fun and lively houndstooth design. The rayon, polyester, nylon, and spandex blend gives you a comfortably stretchy shirt that's also durable, meaning it's A-OK to stick it in a tote bag if the weather gets warmer than expected.
| | |
| --- | --- |
| Best for: | Falling into fun as the seasons change. |
| Color: | Navy |
Alpha Industries Unfrm Shirt Jacket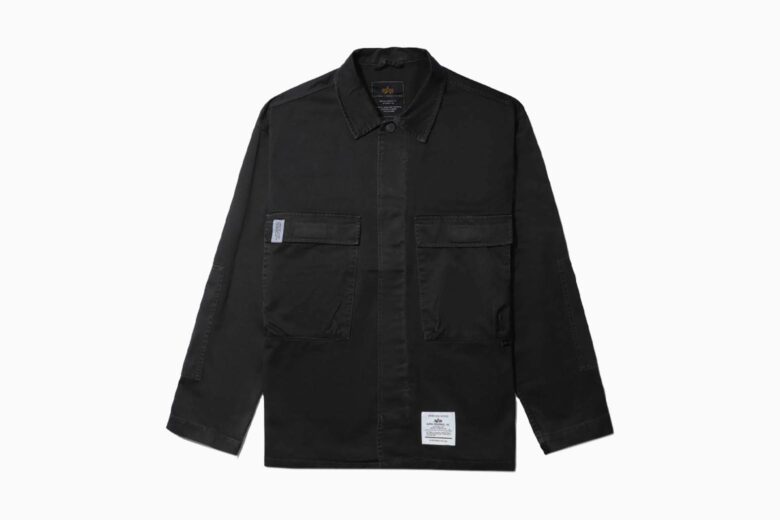 Looking to open up the cottage or rake up those leaves before the first snow falls? You'll want an overshirt that is both durable and allows for easy temperature control. Alpha Industries' Unfrm shirt jacket fits the bill. The material is 100% cotton twill, giving this top a working man's toughness.
| | |
| --- | --- |
| Best for: | Getting the most out of the daylight hours during the shifting seasons. |
| Color: | Vintage Gray, M-65 Olive |
Gucci Jumbo GG Cotton Canvas Jacket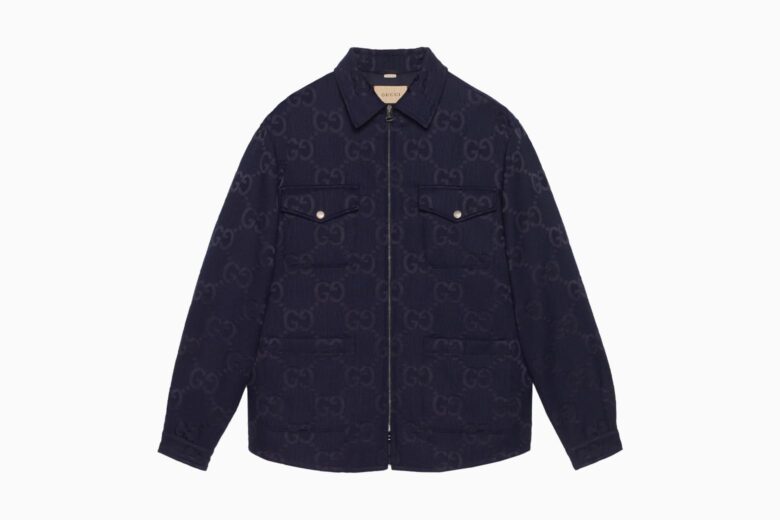 If you know for sure that your overshirt is going to be your outer layer, why not go all out and make it something truly distinctive? Overshirts aren't going to get much more distinctive than Gucci's jumbo GG jacket. The world-famous double-G logo leads the eye around this oversized shirt jacket, making for an eye-catching sensation wherever you go.
| | |
| --- | --- |
| Best for: | Why minimize when you can maximize? |
| Color: | Blue |
Zegna Cashmere Overshirt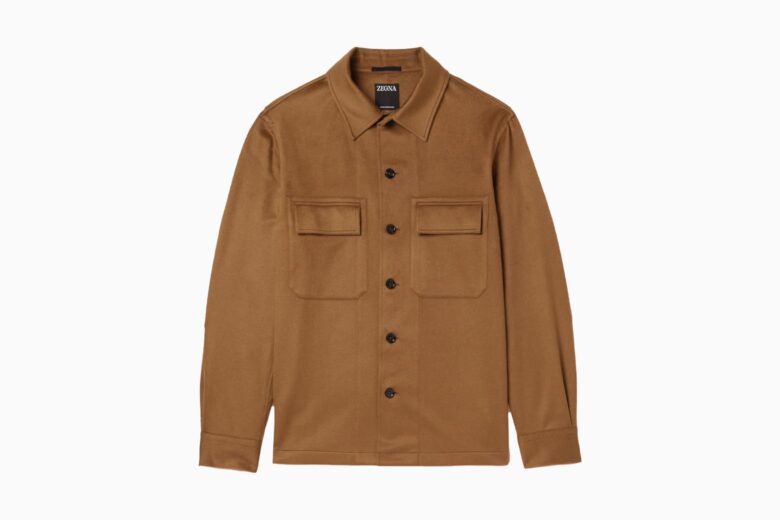 If we tell you that this overshirt comes with elbow patches and horn buttons, it sounds kind of old-fashioned in a stuffy old-man kind of way. But Zegna's cashmere overshirt is the exact opposite of stuffy, boasting a handsome modern silhouette.
| | |
| --- | --- |
| Best for: | Redefining old-school fashion finishes. |
| Color: | Tan, Off-white, Navy + More |
Polo Ralph Lauren Button-up Overshirt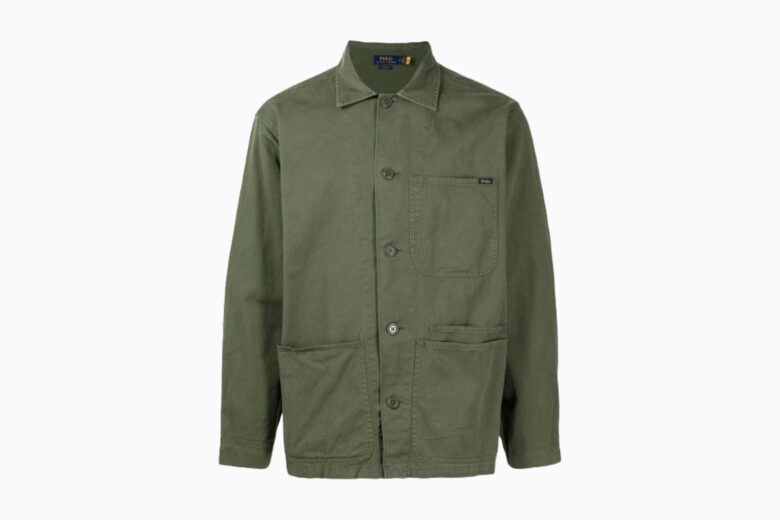 When you hear the name "Polo Ralph Lauren," preppiness is usually the first thing that comes to mind. But the designer bucks its own trend with this button-up overshirt that eschews the preppy look and goes for a utilitarian, almost military, tough-guy look. The plethora of pockets backs up the utility slant, giving you lots of room to carry your everyday essentials.
| | |
| --- | --- |
| Best for: | Going from "preppy" to "prepared". |
| Color: | Army-green |
Asos Design Overshirt Jacket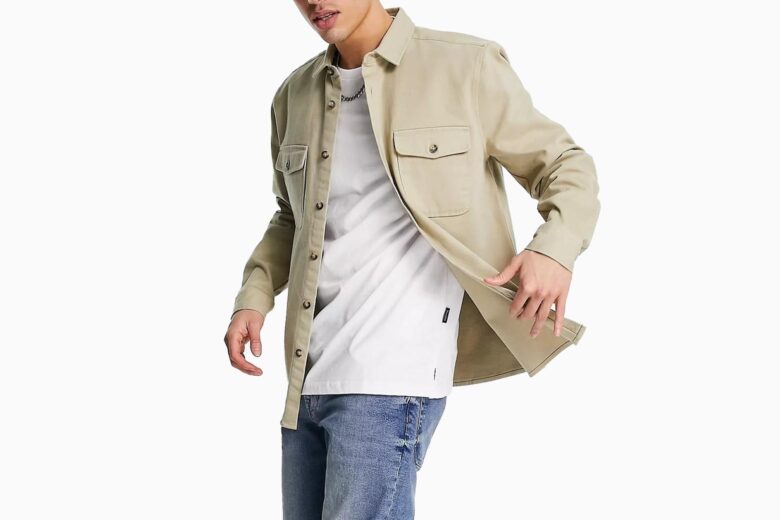 The soft twill and thin cut of Asos Design's overshirt jacket mean that it will work just fine as an inner layer, but with an overshirt this good-looking, do you really want to hide it?
Considering its handsome demeanor and long untucked tail, we think you'll definitely be using this jacket as your outer layer so everyone can see what you have going on.
| | |
| --- | --- |
| Best for: | Looking cool while enjoying the cooler weather. |
| Color: | Sage Green |
A.P.C. Basil Slim-fit Overshirt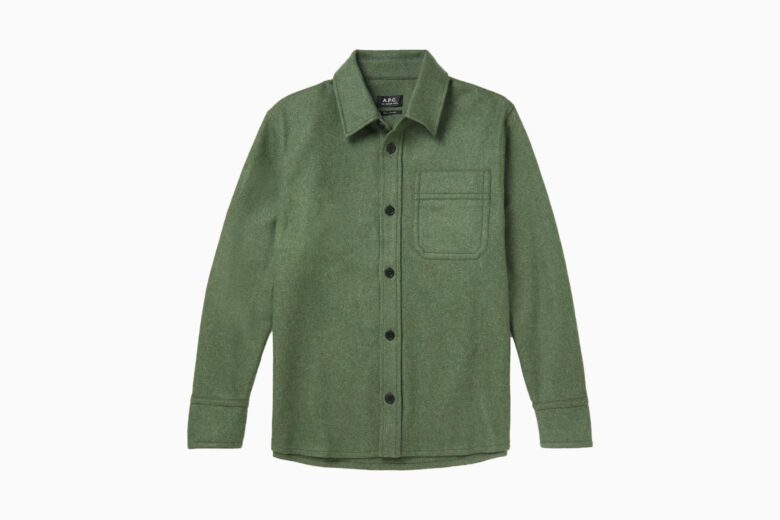 The faded-seam vintage look of A.P.C.'s Basil slim fit overshirt almost has a cowboy feel to it, doesn't it? While it doesn't go all-out into full utility mode, this overshirt invokes the feeling of hardworking men coming in for some well-earned rest and relaxation.
| | |
| --- | --- |
| Best for: | Mixing debonair with a get 'er done attitude. |
| Color: | Light Brown, Green |
Loro Piana Camp-collar Canvas Overshirt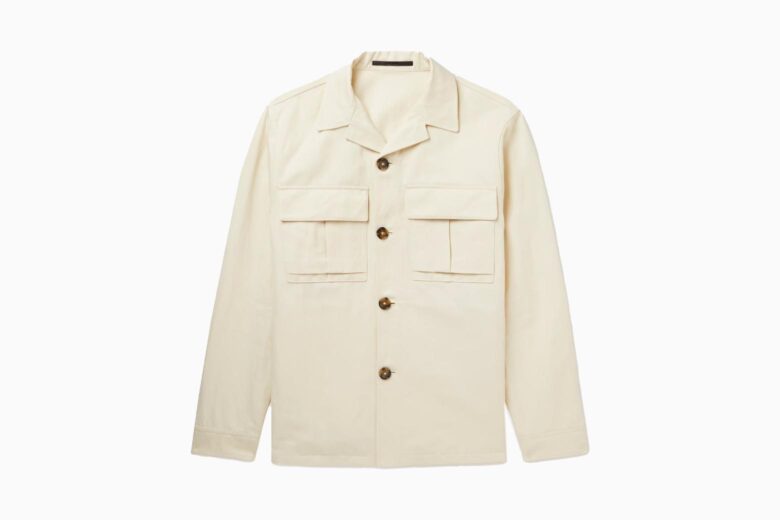 When you come across a cream-colored top, you're all set to match it with just about any color of bottom you care to choose. When the top in question looks as smart as Loro Piana's canvas overshirt, you also have the opportunity to shift between fully casual and more formal looks.
| | |
| --- | --- |
| Best for: | Becoming a fashion mix-master. |
| Color: | Cream |
Axel Arigato Aspen Teddy Overshirt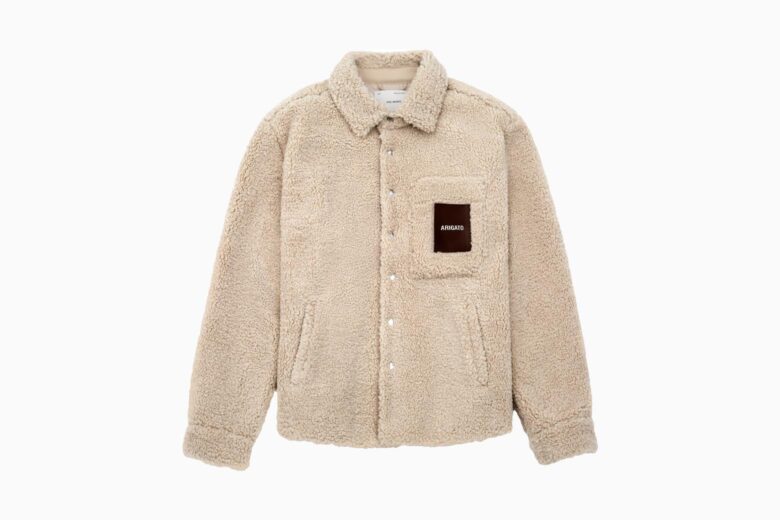 Time to spoil yourself. Evoking a fuzzy teddy bear with its pile fabric (with a smooth velvet backing), Axel Arigato's Aspen Teddy overshirt is a comfort machine. A word of warning, though—wear something this inviting, and you might be in for more friendly hugs than you can handle.
| | |
| --- | --- |
| Best for: | Sharing teddy bear comfort with all of your companions. |
| Color: | Black |
Jil Sander Gabardine Overshirt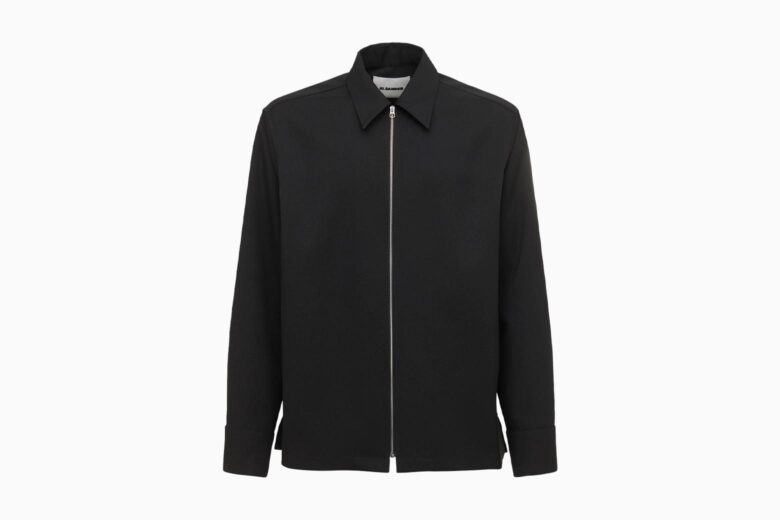 Sometimes simple does it best. Take, for example, Jil Sander's gabardine overshirt. The cut is basic but sharp, with all that black broken up with a silver zipper and snap button cuffs. It all comes together to make the perfect overshirt for layering, whether it's on top or underneath.
| | |
| --- | --- |
| Best for: | Making simple black your starting point for something spectacular. |
| Color: | Black |
Isabel Marant Check Overshirt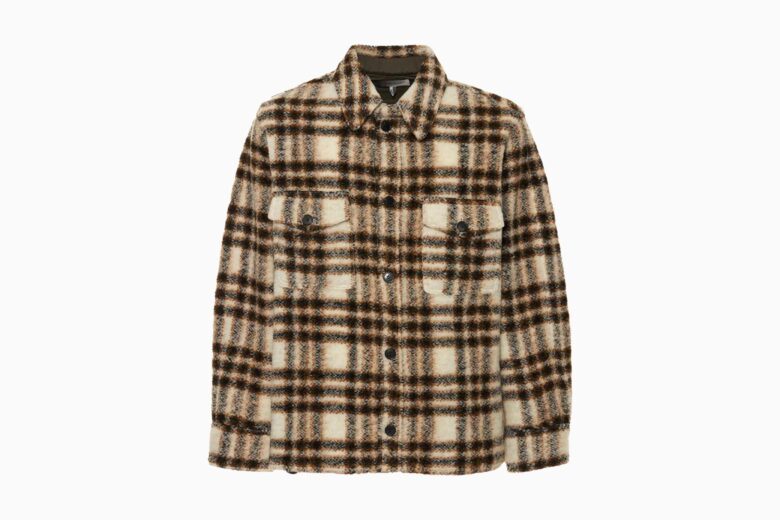 Isabel Marant's check overshirt evokes the glories of good old flannels, albeit in an upscale manner. This overshirt speaks to cozy warm comfort on cool days spent out walking the dog, doing chores, or sitting out with your significant other on the porch as the chill of a seasonal night sets in.
| | |
| --- | --- |
| Best for: | Fulfilling your flannel fantasies and then some. |
| Color: | Ecru, Burgundy |
Alpha Industries Fatigue Shirt Jacket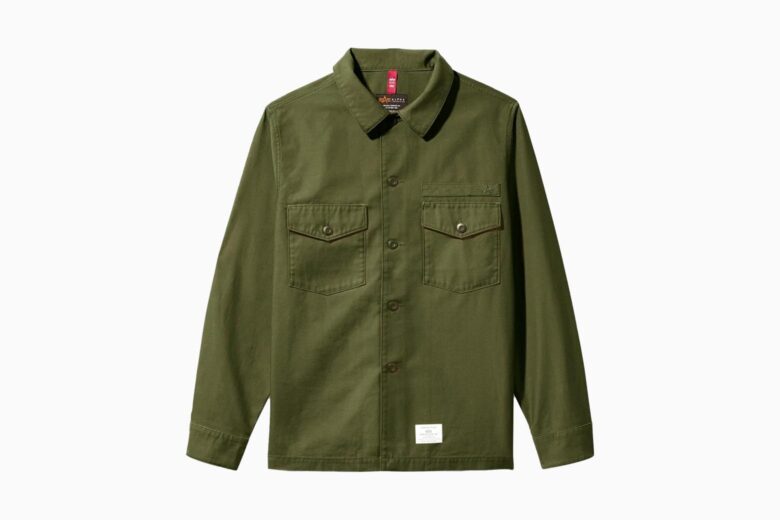 "Are you ready to layer?" "Sir, yes sir!" If you're thinking that Alpha Industries' Fatigue shirt jacket looks military, you're exactly right. It was modeled after the US Army's 1950s OG-107 fatigue shirts. Wear it as your outer top or a middle layer. Either way, you'll be making a strong choice.
| | |
| --- | --- |
| Best for: | Marching to the beat of your own fashion drum. |
| Color: | M-65 Olive, Black, Woodland Camo |
Stone Island Detachable-sleeves Shirt Jacket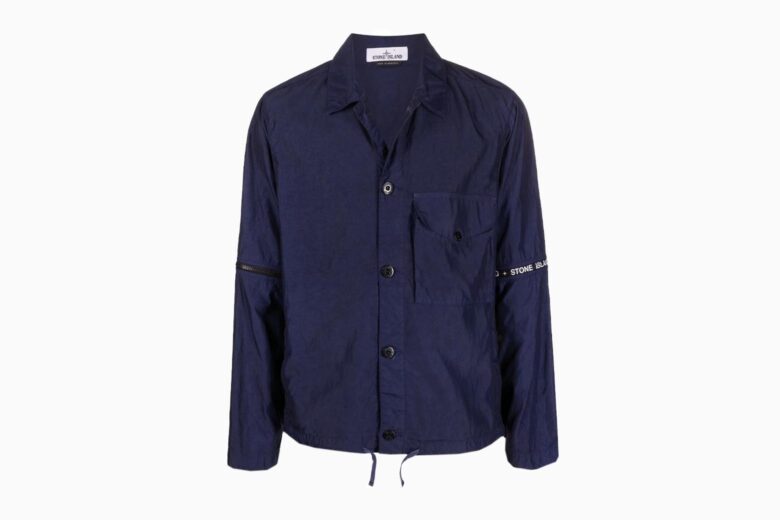 Versatility is at the heart of Stone Island's shirt jacket. The sleeves detach, and the hem features a drawstring, making for easy-breezy temperature control. The material is a cupro (a more durable silk substitute) and polyamide blend, making for a shirt jacket that can take some wear and tear.
| | |
| --- | --- |
| Best for: | Enjoying easy sleeve relief in warm situations. |
| Color: | Royal Blue, Hot Pink, Black |
Carhartt Rigby Shirt Jacket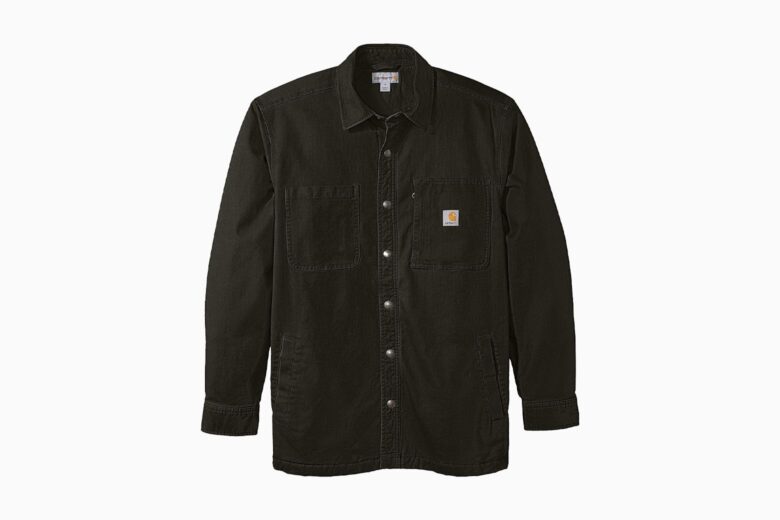 Time to get some work done? Pull on Carhartt's Rigby shirt jacket. The cotton and spandex mix lets you move as you need while protecting you from scrapes and scratches. The printed fleece lining keeps you warm. And it doesn't hurt any that despite the obvious focus on utility, this overshirt actually looks pretty darned good.
| | |
| --- | --- |
| Best for: | Instead of protecting your overshirt, your overshirt protects you. |
| Color: | Peat |
Thom Browne 4-bar Overshirt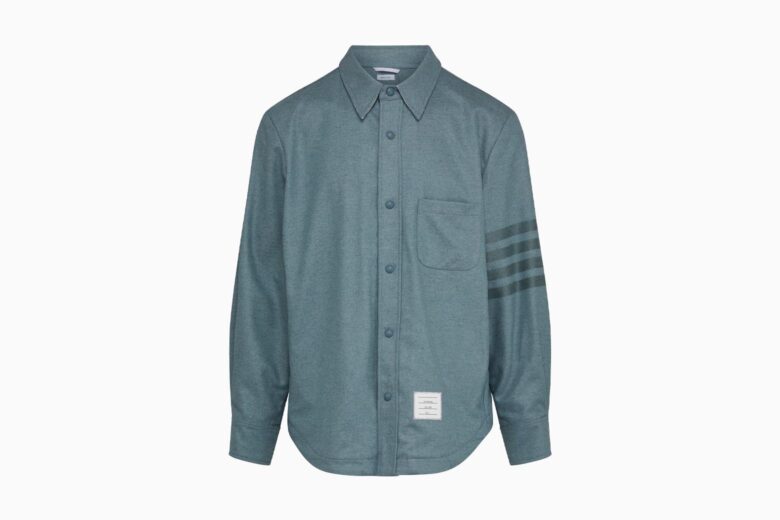 You're on the hunt for a casual overshirt, but not one so casual that it looks sloppy. Thom Browne's 4-bar overshirt does better than straddling the casual, classy line. It repositions it with the crisp tailoring lines and those four decorative bars that give it just that extra little fashion-based oomph. 
| | |
| --- | --- |
| Best for: | Setting the bar for overshirt fashion. |
| Color: | Dark Blue |
Frequently asked questions about men's overshirts
Should overshirts be oversized?
This depends mainly on if you intend to use the overshirt for your outer layer only, or possibly as a mid-layer. If you think your overshirt might sometimes work as a mid-layer, it's best to go with a slim or regular fit so it can fit under a regular jacket.
What is the difference between an overshirt and a Shacket?
There really isn't a difference between overshirts and shackets. Individual designers will decide on the difference depending on their own tastes. Some look at shackets as being on the thicker end of the spectrum of overshirts, more closely resembling jackets than thinner overshirts, but this isn't gospel.
What is the purpose of an overshirt?
An overshirt is an "in-between" top that sits on the warmth scale between t-shirts or button-downs and jackets. They can be used as your outer layer or as a mid-layer.