The best men's leather jackets have an uncanny kind of power. They manage to evoke cool confidence, romance, daring, and dynamism—all at the same time.
And while there was a time when leather jackets were only for boy racers, American outlaws, and Steve McQueen, since then, the leather jacket has definitely grown up. Cutting-edge designers have updated the traditional leather jacket and made it office, cafe, cocktail bar, and even fashion-week appropriate.
The best leather jackets for men are the ultimate feel-good outerwear, with a visceral energy that gives you immediate street-cred as you hit the highway—or set off on your morning commute (be it on an electric scooter or an electric bike).
You don't have to be a risk-taking, rule-breaking, rebel-forever biker to rock one. Leather jackets are for the law-abiding too. Today a leather jacket is a staple in every stylish man's wardrobe and a great option if you're looking for a jacket or coat as the weather gets colder.
So whether you'll settle for nothing less than a legendary biker jacket, or if you're on the hunt for an elegant field jacket, here are the best leather jackets for men. Iconic, timeless, and comfortable, these ride-or-die jackets will have your back and last you for years to come.
The 19 best leather jackets for men
To help you find the leather jacket that's best for you, check our style guide to choosing the best types of leather jacket for your lifestyle and budget after the list.
The Jacket Maker: Overall best leather jacket for men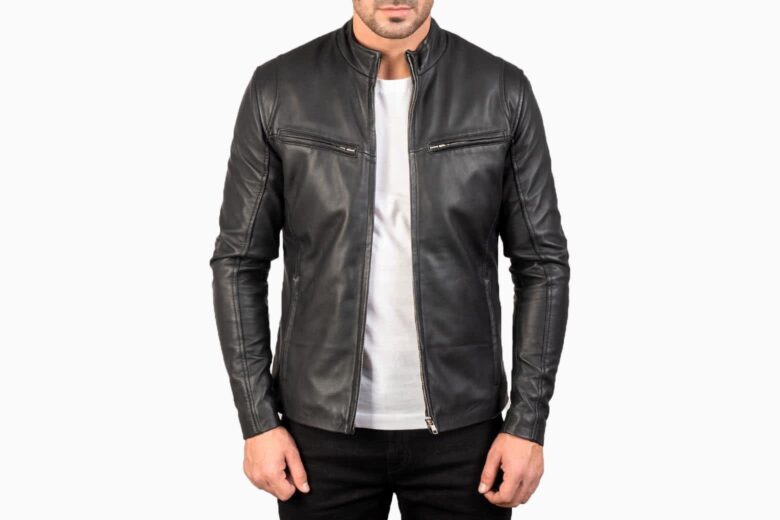 Not only is this classic design impressively sleek and superbly high-quality, but we can also request for it to be made to our exact body measurements and style preferences.
Like the Ionic, but not quite sure about the material. The closure style? The collar? No problem. The Jacket Maker offers a bespoke service where customers can opt for any changes (and we mean any changes) to any of their ready-to-wear styles or commission their own totally unique creation, as well as take advantage of the made-to-measure service to ensure a perfect fit. 
Just fill in the request form, and an in-house design consultant will be in contact.
Find more about why the brand is such a revolutionary store in our in-depth review of The Jacket Maker.
Best for: A made-to-measure leather masterpiece at an affordable price.
| | |
| --- | --- |
| Type: | Racer jacket |
| Colors: | Black, Brown, Green + More |
Saint Laurent: Best designer leather jacket for men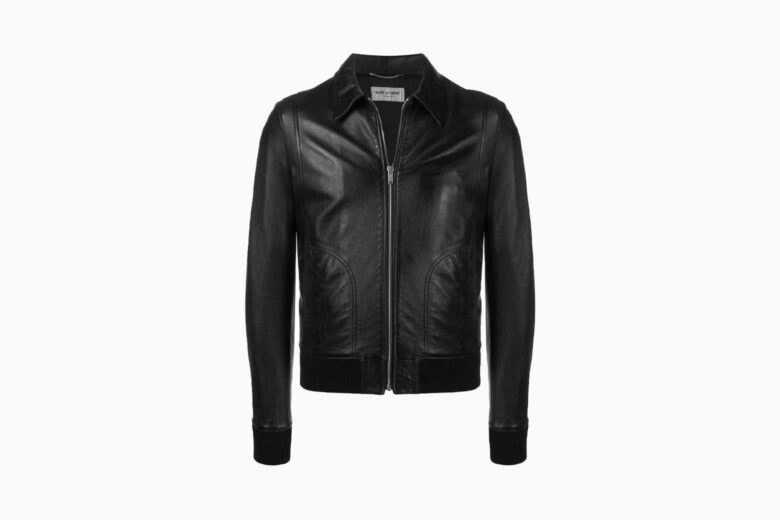 You don't have to be in the first flushes of youth to pull off a leather jacket. This men's leather jacket by Saint Laurent feels mature and grown-up without being remotely old-fashioned. As a premium piece of leather outerwear, it offers truly timeless style and the ultimate wardrobe staple.
The pared-back design feels high-end and sophisticated, with two minimal slit pockets and a classic collar. The ribbed cuffs and hem add a bit of edge and a subtle nod to leather's historic popularity among urban outlaws. 
Keep it simple and streamlined by pairing it with Chelsea boots and a plain t-shirt, and let this Saint Laurent jacket do all the talking.
Best for: Enduring style from an eternally fashion-savvy brand.
| | |
| --- | --- |
| Type: | Bomber jacket |
| Colors: | Black |
FLAVOR: Best value men's leather jacket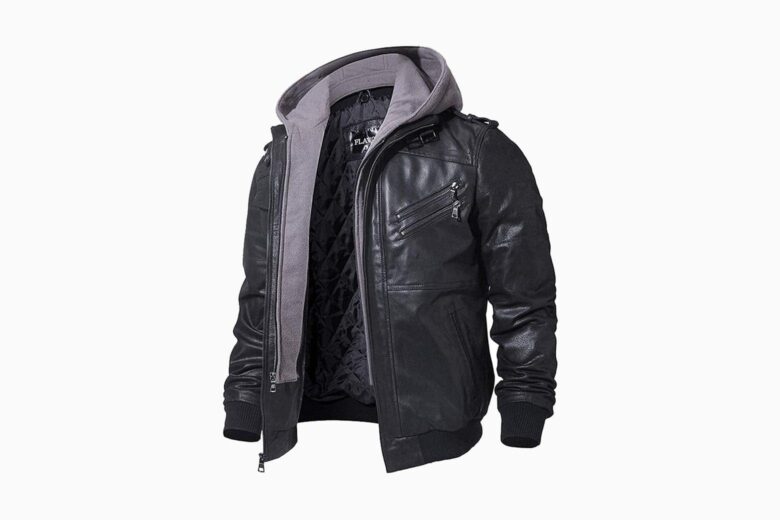 It's no secret that leather jackets can cost a pretty penny. But if you want to rock this legendary piece of men's outerwear without blowing all your savings, take a look at FLAVOR's motorcycle leather jacket with a removable hood. 
It's not much fun looking as cool as James Dean if the purchase left you financially destitute. So keep your bank balance intact with this budget-friendly men's leather jacket, the best affordable leather jacket on our list. Despite the approachable price, it's made of 100% genuine leather, and comes with a polyester lining and a hood that can be removed, depending on the weather.
You've got two hand pockets, three chest pockets for essentials, and two internal pockets for valuables. FLAVOR's leather jacket also has adjustable cuffs and hem to ensure a trim fit and optimum warmth in winter winds.
Take your pick of brown or black. Both offer the industrial verve and utilitarian chic that we demand from the best leather jackets.
Best for: A wallet-friendly leather jacket that doesn't skimp on the cool factor.
| | |
| --- | --- |
| Type: | Motorcycle jacket |
| Colors: | Black, Brown, Grey |
Tom Ford: Best fitted leather jacket for men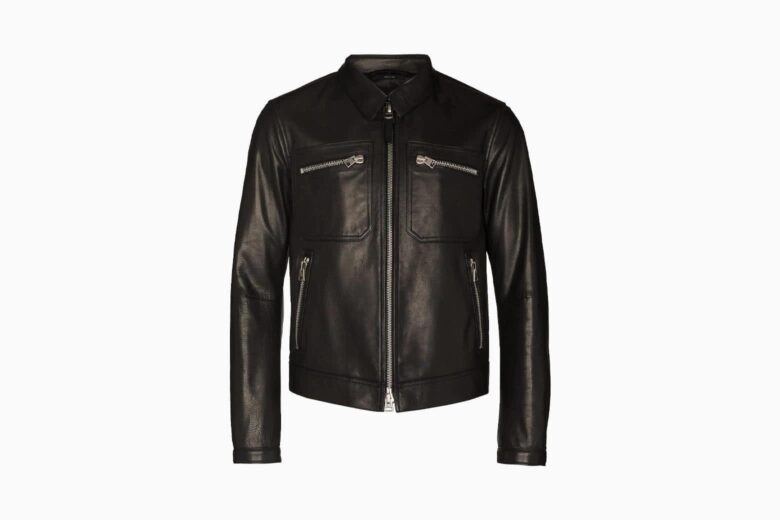 If you're looking for a figure-flattering slim-fit leather jacket, this one by Tom Ford deserves careful consideration.
Crafted in Italy from soft calf leather, the Icon jacket is quintessentially Tom Ford—sheer luxuriousness. The cut is superb, tailored to hug the body for a streamlined silhouette that fastens at the front with a zip.
This Tom Ford Icon leather jacket has the magnetism and mystique we seek in all the best leather jackets. Combine with one of the Tom Ford men's colognes (looking at you, Oud Wood), and you won't need a chat-up line.
Best for: Expert tailoring to complement your natural physique.
| | |
| --- | --- |
| Type: | Field jacket |
| Colors: | Black, Blue |
Belstaff V-Racer: Best men's black leather jacket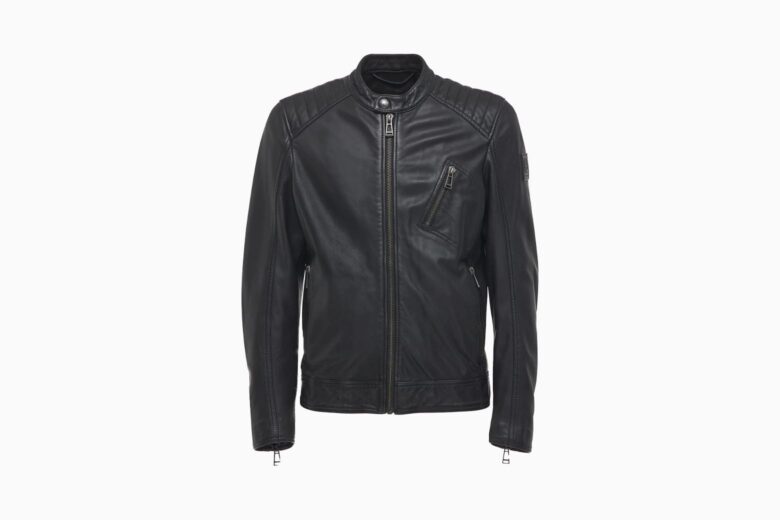 Adventure is built into the bones of Belstaff, which has achieved world renown for its superior outdoor garments for motorcyclists, pilots, and servicemen. And so, with this black leather jacket on your back, you'll be ready to conquer whatever life throws at you—whether that's a cross-country road trip or your Monday morning commute. 
The casual band collar is low-profile and understated, while a single chest pocket and almost invisible side pockets keep it minimal and sleek. Ribbed shoulders hark back to this motorcycle leather jacket's original purpose as a piece of protective outerwear for men on a mission, but the effortlessly elegant fit ensures it's just as much fashion as function.  
Team with stompy boots and slim jeans for a weekend-ready look. And while you don't have to be a professional racer to rock this Belstaff black leather jacket, it would look seriously good on the back of a modern electric motorcycle—or behind the wheel of a Bugatti.
Best for: A high-functioning yet indisputably fashionable leather jacket.
| | |
| --- | --- |
| Type: | Racer jacket |
| Colors: | Black |
Ermenegildo Zegna: Best brown leather jacket for men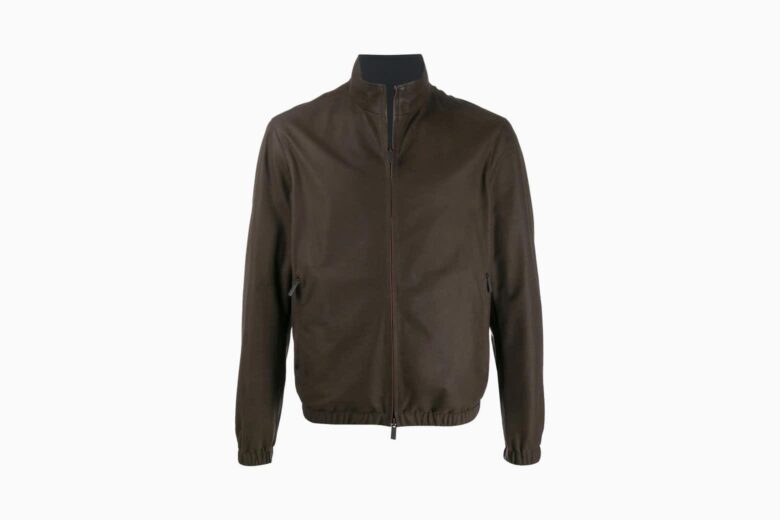 For an innovative take on the classic leather legend, look no further than this dark brown leather jacket by Ermenegildo Zegna. Because, as this Italian luxury brand shows, the best leather jackets don't have to be black. There's something uniquely rugged and romantic about brown leather jackets.
Think 1960s road trips across the dusty outback. Although this particular brown leather jacket is probably better suited to being worn to trendy downtown cocktail parties, thanks to its premium quality, expert fit, and refined aesthetic.
Nevertheless, with that classic minimal silhouette, it's got the versatility that we look for in all the best leather jackets. Ermenegildo Zegna's leather jacket would look devastatingly good paired with some high-quality selvedge denim or navy pants, your favorite white sneakers, and a pilot's watch.
Best for: Superior craftsmanship and contemporary design with a deep-rooted Italian heritage.
| | |
| --- | --- |
| Type: | Racer jacket |
| Colors: | Brown |
Etro: Best men's navy leather jacket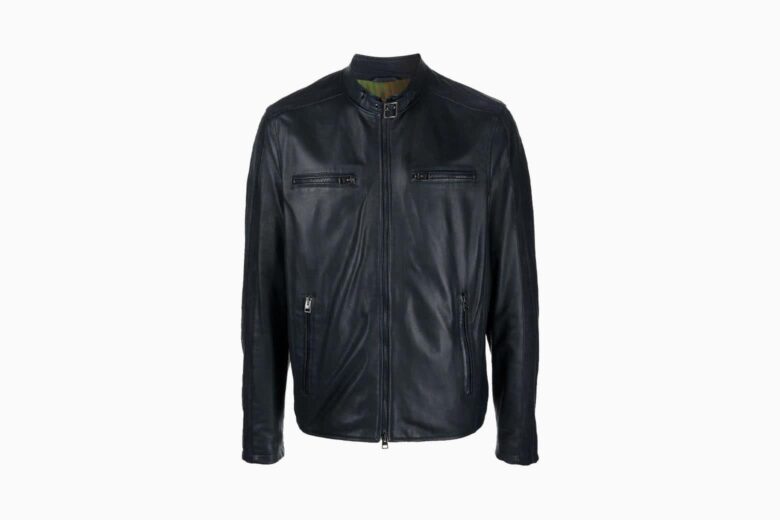 This navy jacket from Etro puts a unique twist on the outerwear icon with a stylish shade of dark blue.
After you reach a certain age, wearing a leather jacket can feel like a risky move. But the refined luxury of this blue men's leather jacket, with its inimitably Italian elegance, makes it the perfect garment for men of any age—and there's not a whiff of midlife crisis.
The four zipped pockets alongside the buckle-fastening collar ensure the necessary rockstar vibe, while the perfectly tailored fit adds sophistication. This versatile Etro leather motorcycle jacket will quickly become your go-to, smoothly fulfilling casual and smart attire requirements alike.
Best for: Discerning dressers seeking something a bit different.
| | |
| --- | --- |
| Type: | Motorcycle jacket |
| Colors: | Navy blue |
Schott NYC Perfecto: Best biker leather jacket for men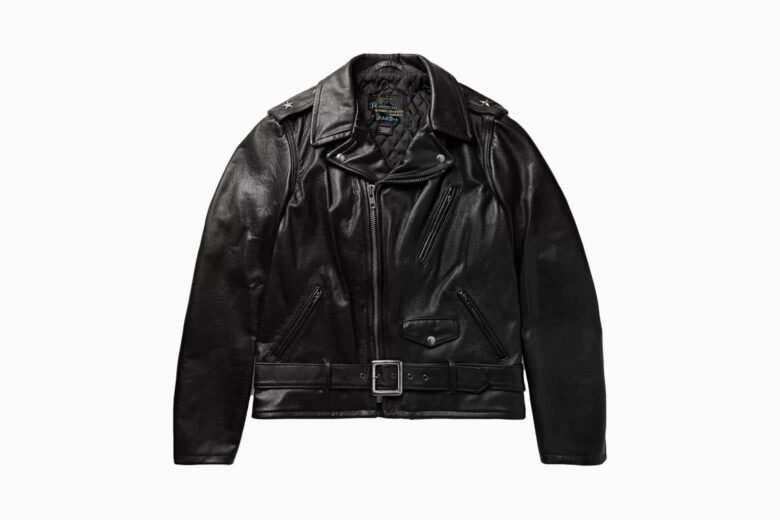 Schott is the leather pioneer behind the Perfecto leather jacket, aka the most iconic men's leather jacket of all time. If you're looking for the gold standard of leather biker jackets, then your search ends here.
Schott's Perfecto Leather Jacket is the hell-raising daredevil jacket supreme, as worn by Marlon Brando in The Wild One. You know, the movie that established Brando as the ultimate rebel and anti-hero? The film was considered so outrageous that it was banned in the UK for fourteen years?
Not only was the movie banned, but so was this leather jacket. During the 1950s, wearing the Perfecto was forbidden in schools across America.
This leather biker jacket is the last word in devil-may-care irreverence. No other jacket has managed to achieve the same level of risky romance and counterculture cool. Schott's Perfecto did it first—and did it best.
Best for: Channeling old-school rebel romance with the most iconic leather jacket around.
| | |
| --- | --- |
| Type: | Biker jacket |
| Colors: | Black |
Dolce & Gabbana: Best men's leather bomber jacket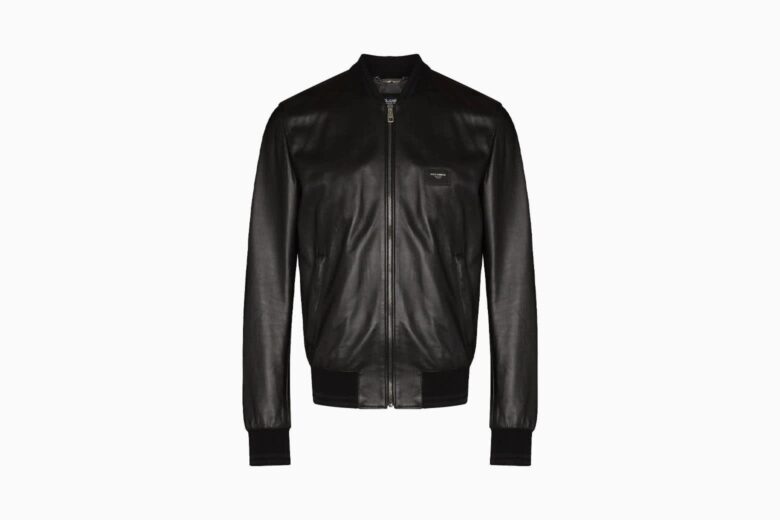 Bomber jackets were invented in the 1940s for fighter pilots. But even if we're not going to be speeding at high altitudes over enemy terrain any time soon, we're obsessed with Dolce Gabbana's leather bomber jacket. 
If you love black leather jackets but are a little intimidated by the biker jackets with all their belts and zips, then the minimal profile of a bomber jacket makes it one of the best leather jacket styles for you. Hitting the hip perfectly, this black leather jacket is very flattering, and while it still has the no-nonsense military aesthetic of the original bomber jackets (i.e. the ribbed edges and stand-up collar), it feels less hardcore, more high fashion. 
Keep it casual by pairing this Dolce & Gabbana leather bomber jacket with a t-shirt and chinos, or wear it over the top of a hoodie. It could also replace a blazer for a smarter look, paired with a collared shirt and loafers. 
Best for: Ultra-trendy leatherwear with practicality and polish.
| | |
| --- | --- |
| Type: | Bomber jacket |
| Colors: | Black |
Dsquared2: Best cafe racer leather jacket for men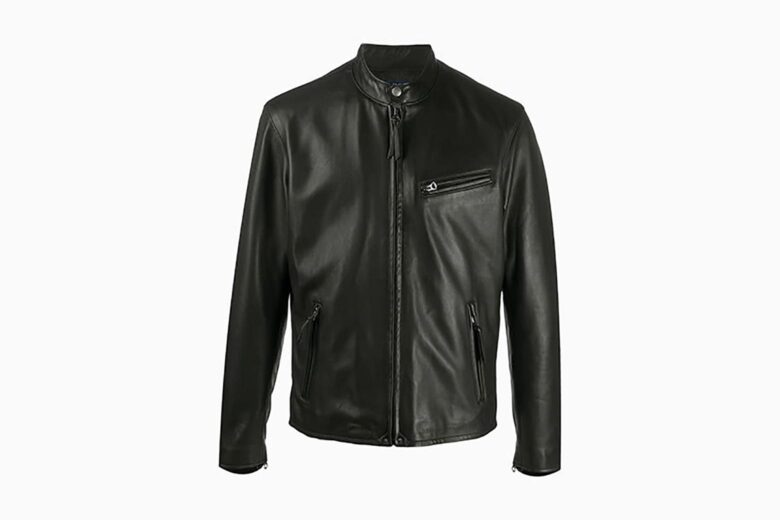 Want a leather jacket that marks you out as a high-culture connoisseur and man of discerning tastes? This is the one.
Cafe racer jackets—a type of motorcycle leather jacket—were originally invented for returning soldiers in the 1960s, whose favorite hobby was racing each other between pubs and cafes on motorbikes modified to allow them to reach hair-raising speeds.
As you might expect from such a bad-boy backstory, this Dsquared2 racer jacket looks pretty damn cool. Yet, with its band collar, front zip fastening, and zip cuffs, it's also a lesson in straightforward simplicity. Smooth and snug-fitting, it's both functional and flattering, while the side adjustable buckle tabs at the hem and decorative buckle detailing add just enough attitude to keep it interesting. 
On winter days, pair this Dsquared2 leather jacket with a scarf and your favorite sunnies. Otherwise, nothing beats a cafe racer jacket with a white shirt and jeans. Just add a luxury watch and you're good to go.
Best for: Vintage bad-boy appeal meets premium craftsmanship.
| | |
| --- | --- |
| Type: | Racer jacket |
| Colors: | Black |
Dunhill: Best men's suede jacket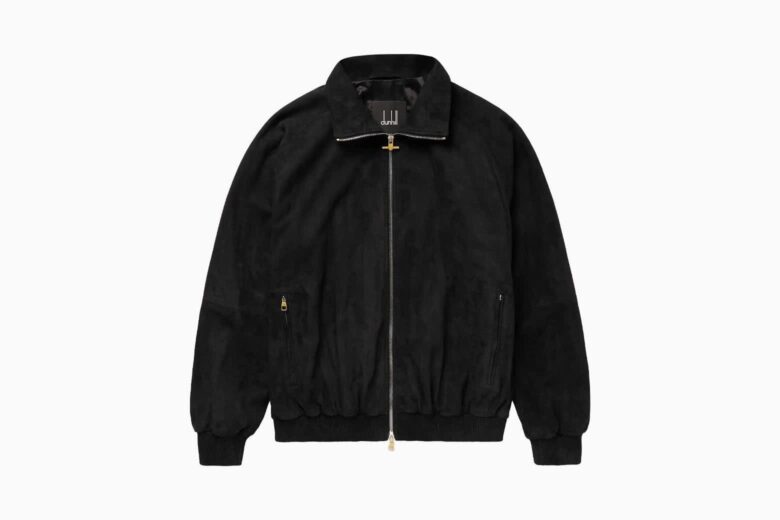 Suede is a great option if you want to swap the punky vibe of leather jackets for something sophisticated, classy, and authentic. Not that a suede jacket can't also look badass. Check out this dashing suede bomber jacket by Dunhill to see what we mean.
Classic British brand Dunhill's expertise lies in crafting quality menswear from premium materials. This jacket was made in Italy from smooth black suede and is designed for a relaxed cut. The mixed metal hardware offers an exquisite final touch.
Suede is in its element when teamed with other casual yet luxurious materials, such as high-quality chinos and a pair of luxury sneakers.
Best for: Off-duty fashion that's stylish without being showy.
| | |
| --- | --- |
| Type: | Bomber jacket |
| Colors: | Black |
Hugo Boss: Best trucker leather jacket for men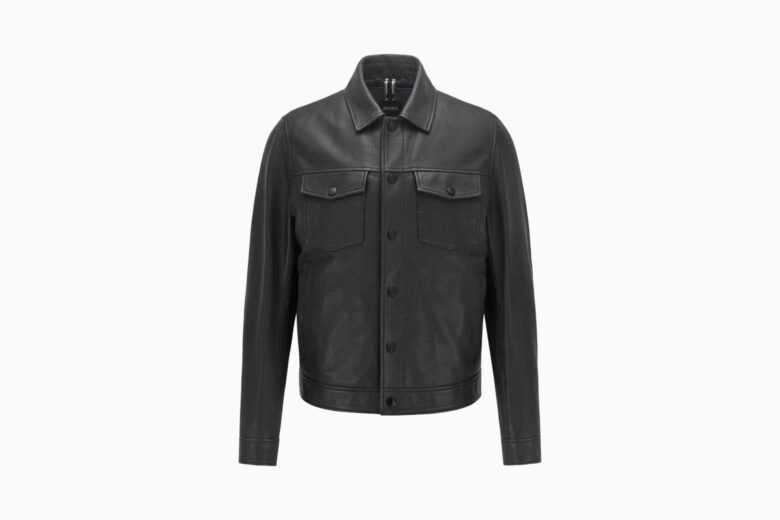 If you are still unconvinced by the cool factor delivered by a leather jacket, this Hugo Boss leather trucker will leave you in no doubt. Everything about the trucker jacket exudes confidence and charisma.
Something about that pointed classic collar also makes us think of David Bowie's leather jacket on the front of the Heroes album. And who wouldn't want to look like Ziggy Stardust himself?
Featuring a detachable lining, patched pockets, and lustrous tonal trims, this modern jacket is exceptionally versatile, while rich leather offers butter-softness and long-lasting durability. The leather jacket is also filled with lightweight wadding for extra insulation.
Pair this Hugo Boss trucker-style jacket with some skin-tight jeans to channel some rock 'n' roll glamor or opt for something more business-appropriate with a pair of black dress pants, pointed boots, and a crisp white shirt.
Best for: Delivering the drama with one incredibly classy leather jacket.
| | |
| --- | --- |
| Type: | Trucker jacket |
| Colors: | Black |
Acne Studios: Best classic leather jacket for men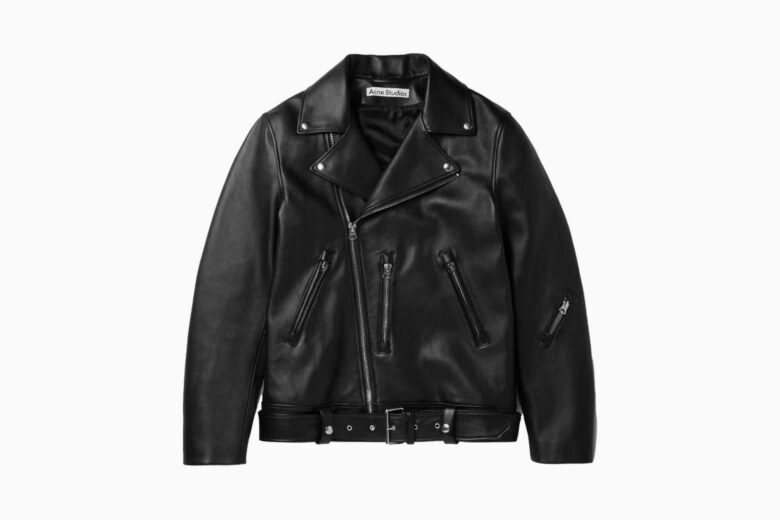 Leave it to Acne Studios to create a leather jacket that's so cool it's pretty much your passport to all the hottest events in town. The Stockholm-based fashion house has a reputation for turning out some of the trendiest designs around, and this leather jacket is no exception. 
All you speed-hungry Easy Riders will appreciate the old-school biker vibe. But even if you have no idea what a Kawasaki is, this Acne Studios biker jacket will bring some defiant energy to your nine-to-five and beyond. But if you want to turn the testosterone down a notch, just team with understated neutrals and desert boots. Or wear with tailored trousers and your favorite designer t-shirt for a smart casual look.
Crafted from supple black leather, the jacket's impeccable cut and meticulous attention to detail make it a stand-out. Punctuated with silver hardware, an array of zipped pockets, and a buckled belt, this classic leather jacket offers an ultra-modern twist on conventional luxury.
Best for: Classic leather tailoring from the coolest kids in fashion.
| | |
| --- | --- |
| Type: | Biker jacket |
| Colors: | Black |
Michael Kors: Best straight leather jacket for men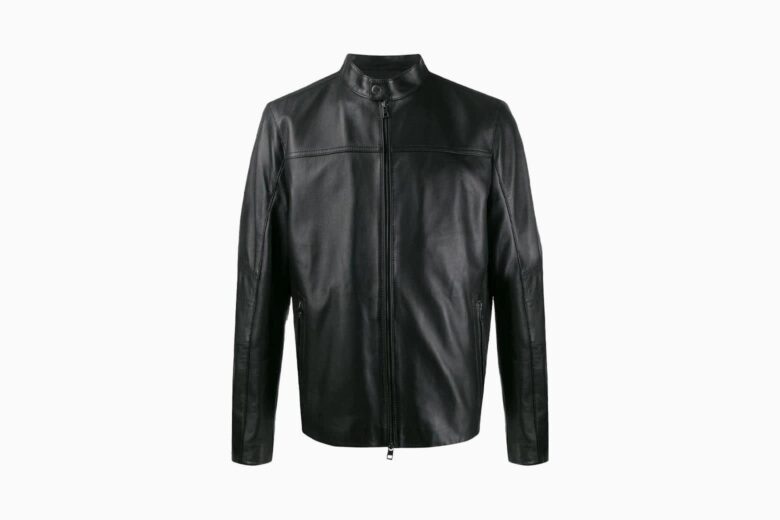 Worried that leather jackets are a bit too Grease for your liking? With its ultra-sophisticated yet minimalist silhouette, this is the leather jacket to banish your fears.
The mood is both retro and contemporary at once, offering style that transcends fashion trends. This Michael Kors leather jacket is here to persuade you that leather is still the undisputed acme of cool.
This classic leather jacket is sophisticated enough for both big occasions and everyday wear alike. Or match this Michael Kors jacket with a t-shirt and sneakers for the ultimate weekend look.
Best for: Top-of-the-line materials and timeless design.
| | |
| --- | --- |
| Type: | Racer jacket |
| Colors: | Black |
Diesel: Best men's vintage leather jacket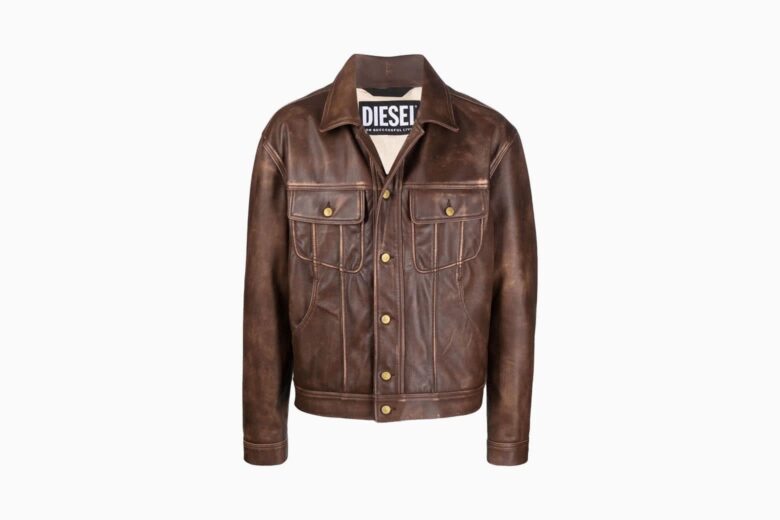 A vintage leather jacket offers instant authenticity and is street-cred. But what's better than an actual vintage leather jacket? A vintage-style leather jacket. Like this distressed leather jacket from Diesel. 
With its worn-in retro look (created by hand, may we add), this brown leather jacket feels like it's seen its fair share of adventures. You can almost smell burning rubber and petrol when you look at it. Wear Diesel's distressed leather jacket to any event as an immediate conversation starter and the ultimate confidence boost.
Best for: Retro glamor without having to trawl the thrift stores.
| | |
| --- | --- |
| Type: | Trucker jacket |
| Colors: | Brown |
Giorgio Brato: Best men's leather jacket with hood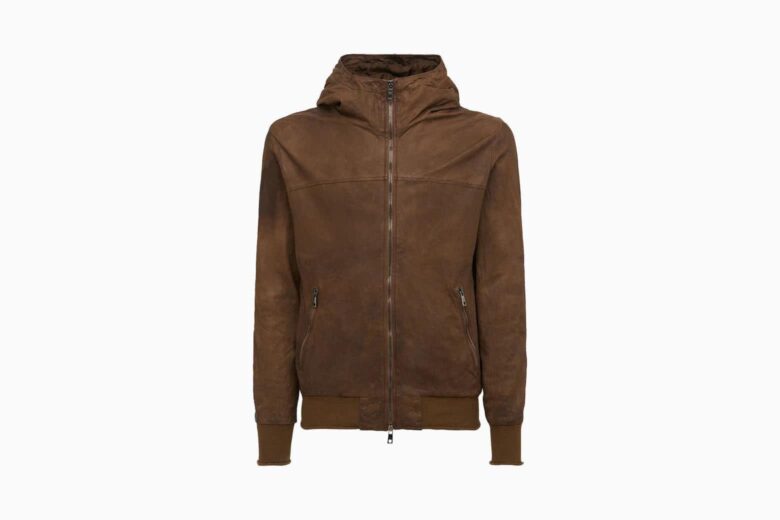 For a modern upgrade on the traditional leather jacket, opt for a leather jacket with a hood, like this Giorgio Brato hooded jacket. A hood immediately adds grit and edge to this legendary symbol of cool. The hood also offers protection from the elements—extra important if you've just spent ages in front of the mirror perfecting your hair-do. And while it feels 100% contemporary, this leather jacket with the hood still has that same instinctual thrill of all the best leather jackets. 
Even if you don't wear this Giorgio Brato jacket for cruising and carving, it would look just as stylish on a casual coffee date. Team with ripped jeans for wild-child energy or a cashmere sweater for something more upscale. We can even imagine it alongside your favorite athleisure get-up.
Best for: Putting a contemporary and cosmopolitan twist on a classic.
| | |
| --- | --- |
| Type: | Bomber jacket |
| Colors: | Brown |
Belstaff Trialmaster: Best belted leather jacket for men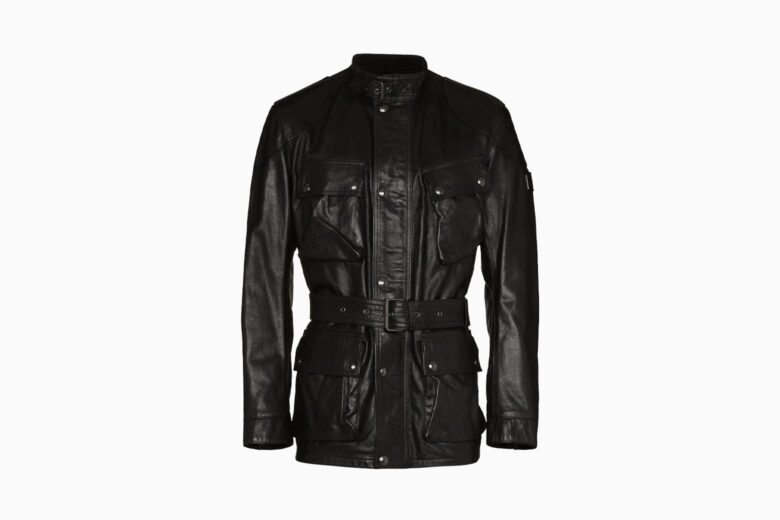 Belstaff makes the best leather jackets. It's just impossible to find that kind of design pedigree anywhere else. Plus, we're suckers for that quintessentially British kind of cool.
With its field jacket silhouette, high neck, and belted waist, this is a supremely elegant choice, immediately making you look suave and sophisticated. There's a reason why a Belstaff jacket was the favorite of silver screen icon Steve McQueen, and is still favored by every modern style icon, from Johnny Depp to Brad Pitt. 
Plus, with Belstaff's well-attested quality, you're guaranteed a whole lifetime's worth of wear out of this black leather jacket.
Team with a roll-neck jumper and corduroy trousers to bring the necessary polish to the biker-boy stereotype. This Belstaff belted leather jacket will definitely convert any doubters to calfskin.
Best for: Feeling like a true English dandy with an iconic piece of leatherwear.
| | |
| --- | --- |
| Type: | Leather field jacket |
| Colors: | Black |
Tommy Hilfiger: Best budget leather jacket for men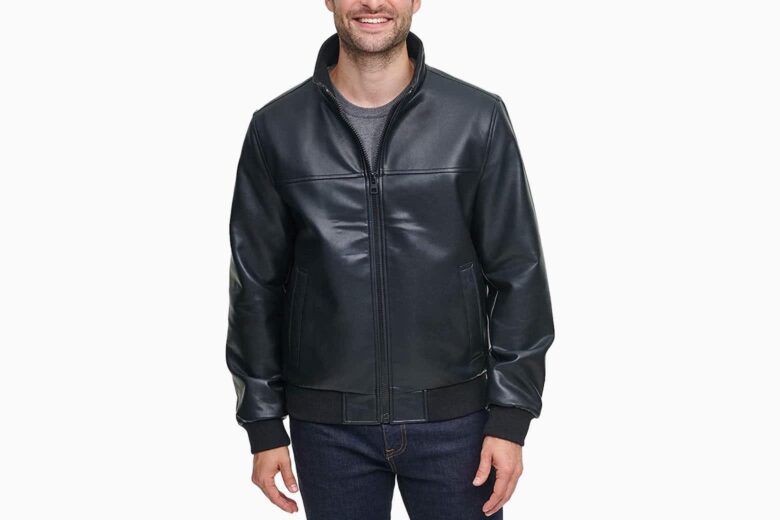 Want to feel like Marlon Brando but without investing your life savings? Then you need a faux leather jacket. This Tommy Hilfiger faux leather bomber is the best cheap leather jacket on our list and has all the macho allure of the best real leather jackets—at a fraction of the cost.
Tommy Hilfiger has worked magic here to bring just a hint of preppiness to the otherwise rebellious style of a classic leather jacket. It feels smart yet insouciant, elegant yet easygoing.
Plus, it's practical. You've got an interior zipper pocket for keeping your valuables. Water resistance means no stressing out when it rains. A stand-up color adds an immediate edge, while a soft fabric lining stops sweatiness. 
Go for brown for something more rustic and cowboy or navy if you want to get people's attention. Experiment with layering, and you can wear this Tommy Hilfiger leather jacket year-round. 
Best for: Maverick style without spending megabucks.
| | |
| --- | --- |
| Type: | Bomber jacket |
| Colors: | Black, Brow, Grey + More |
Brunello Cucinelli: Most expensive leather jacket for men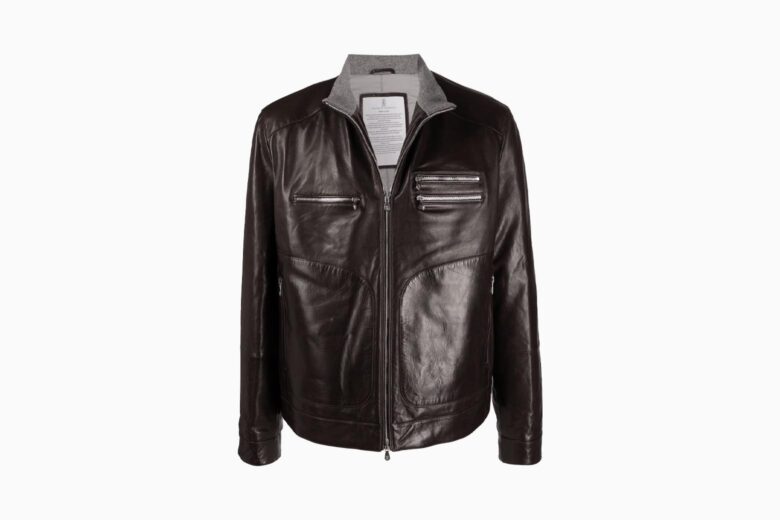 With its understated color palette and enduring elegance, this Brunello Cucinelli leather jacket is one of the best leather jackets out there and is guaranteed to have a barrage of compliments flying your way. Reinstating leather to its rightful position as king of laidback luxury, it's ideal if you're more about polish and poise than grunge and grit.
Made from a combination of leather, wool, cashmere, and silk, this jacket certainly doesn't do things by half measure. The paneled design has the structured fit vibe of true motorbike apparel but still feels relaxed. The distinctive brown shade offers an original alternative to black, while the deliciously supple leather is both form-fitting and flattering.
Team this Brunello Cucinelli jacket with white trousers for the ultimate easy Sunday elegance.
Best for: Superbly handsome leather from a master of the trade.
| | |
| --- | --- |
| Type: | Racer jacket |
| Colors: | Brow, Dark Brown |
Style guide: choosing a man's leather jacket
When buying a man's leather jacket, you have several options to choose from. Here's the lowdown on this timeless fashion trend.
Leather jacket styles
Before buying a new leather jacket, you'll want to decide which leather jacket style you're looking for. There are five main leather jacket styles: biker, racer, bomber, aviator, field, and trucker.
A biker jacket is the original leather jacket, as designed by Schott NYC and made famous by Marlon Brando in The Wild One. Classic biker jackets are close-fitting, cropped, and with large lapels, an angled front zipper, and a belt. They often also feature studs and additional zippers.
The cafe racer—also known as a moto or motorcycle jacket—was originally worn by ex-servicemen in Britain whose favorite pastime was racing between pubs and cafes at night on motorbikes. The design is pared-back and clean-lined to reduce drag at high speeds, making for a minimalist and versatile jacket.
A leather bomber jacket, or flight jacket, offers a similar low profile, with a cropped cut, round collar, and straight zipper, but a slightly boxier shape. Designed for WW2 pilots to wear in the cockpit, these jackets often feature ribbed cuffs and hems. 
Aviator jackets—or pilot jackets—were also originally designed for airmen, but unlike bomber jackets, they usually have a shearling lining for warmth. 
A field leather jacket offers a more refined style. Also known as an M-65, a field jacket is slightly longer than other leather jackets and usually features four front pockets and a belt.
A trucker jacket has a similar silhouette to a denim jacket, with a cropped cut, slim fit, buttons on the sleeves and pockets, and two seams down the front.
Types of leather
Full-grain leather is the highest quality material used to make leather jackets. Top-grain leather is when the surface is slightly sanded to create a thinner material that's more pliable and less rigid to wear.
You can also choose between different types of skins and hides. Cowhide is a traditional choice and is very durable, while lambskin is soft and lightweight. Calfskin is an expensive option that combines the softness of lambskin with the durability of cowhide. 
Suede—the soft underside of hide—is another alternative, offering a comfortable, supple, and long-lasting jacket material.
There is also the option of faux leather jackets for those worried about the environmental impact of leather. While faux leather—or pleather—doesn't last as long as real leather, these days it can look as good as the real thing.
Getting the right fit
A leather jacket will stretch over time, but you still want to make sure it's a good fit. It should be big enough to wear a thin jumper underneath but not so big that it swamps your figure. The hem should land at your waist, and the shoulder seam should be on your shoulder or a bit further down your arm. 
What season do you wear leather jackets
Leather jackets are suitable to wear all year round. Perfect for autumn weather as they can be layered over a hoodie or sweatshirt, providing a barrier from chilly winds. They can also be worn in winter with chunky knitwear. To wear one in spring, simply pair it with chinos and a T-shirt. Even in summer, a leather jacket could offer an edgy alternative to a blazer.
How to wear a leather jacket
Leather jackets can be a serious style statement, but worn with some things, they can also be major fashion faux pas. Here are our top tips for wearing a leather jacket: 
Keep it casual and understated. The jacket should be the centerpiece of your ensemble. Opt for low-key neutrals and allow the jacket to take center stage. 
If in doubt, slim-fit jeans and a white T-shirt always look good. 
Avoid wearing a leather jacket with formal wear.
Heavy-duty boots can look good with leather jackets for an edgy look, but sneakers and skate shoes also look cool. 
Downplay the drama by wearing a hoodie underneath.
Or opt for a more preppy vibe with slacks or chinos and an Oxford shirt or turtleneck.
Caring for a leather jacket
Leather jackets, if cared for properly, can last decades. Follow these tips to keep your leather jacket in good condition.
Use a waterproof spray to protect your jacket from rain damage and stains.
If your jacket does get wet, dry it before putting it away. Avoid radiators. They can make the leather brittle.
Hang your jacket on a padded coat hanger and keep it out of the sun.
Leather conditioners stop the leather from drying out.
Leather polish keeps your jacket glossy.
Opt for dry cleaning rather than a washing machine.
Frequently asked questions about men's leather jackets
Are leather jackets still in style for men?
Leather jackets are still in style—and probably will be for some time. They offer timeless fashion appeal with their distinct rebel vibe and sleek charisma. With different variations to choose from—from cafe racer jackets to leather bomber jackets—and with designers putting new twists on the classic silhouette, you can always find a leather jacket that feels contemporary.
Is a real leather jacket worth it?
Real leather jackets can be expensive, but they're worth the price. Real leather is one of the few materials that actually looks better with age—provided you take care of it. Real leather—whether that's cowhide, calfskin, or lambskin—is durable, stylish, comfortable, and warm. Most importantly, it will last you years.