High-quality T-shirts are worth their weight in gold. They can stand on their own as a casual outfit's starting point. They can play the colorful counterpoint to the hip darkness of a cool leather jacket, or add a neutral bed to a playfully patterned long-sleeve button-down. They can rep your favorite rock band with a bold print, or lend a hint of strength by peeking out from the neckline of business-oriented attire. When it comes to versatility, you'll be hard-pressed to find a single piece of clothing that does more than the humble t-shirt.
But beware, not all T-shirts are created equal. Just nabbing any old six-pack of Tees can run you into issues about durability, fraying, and scratchiness against your skin. Some shirts do great in sweaty environments, while others might suffocate your skin. Some may work great for sleeping, but don't quite make the fashion grade for formal wear.
In this post we go all-in on finding you the best tee for every conceivable situation. Casual to cross-fit, budget to beaucoup dollars, we've found the T-shirt for you.
The 31 best T-shirts for men
Alo Triumph: Overall best T-shirt for men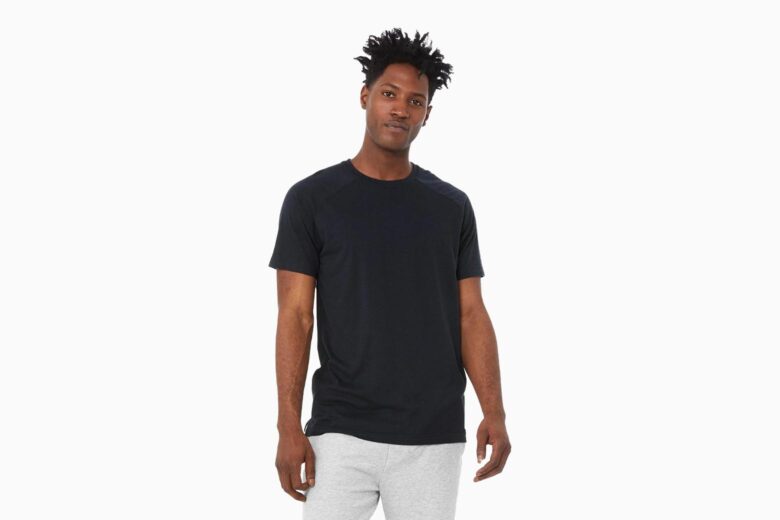 Alo's first entry on our list is the relaxed-fit Triumph crew-neck tee. The Triumph's tri-blend feels soft enough to be worn casually on an every-day basis, but its stitched shoulder panels make it spiffy enough to transition into more formal wear. Relax with a Triumph and jeans combo, or spruce things up with pleated pants.
| | |
| --- | --- |
| Best for: | Being ready for whatever the world throws at you. |
| Colors: | Dark Navy, Athletic Heather Grey, Limelight Green + More |
Axel Arigato Signature Tee: Best high-end T-shirt for men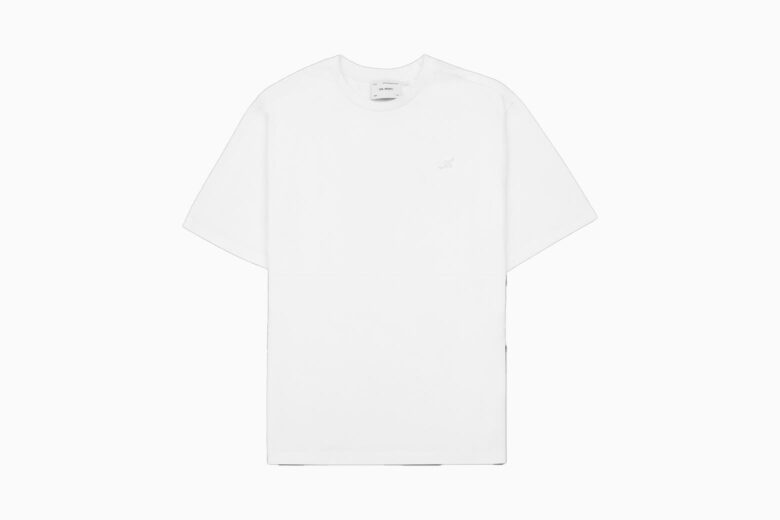 If you're kicking back at your favorite outdoor patio, and you want to look casual but still look like you've got yourself together, then we'd go with Axel Arigato's Signature T-shirt. Stitched with a subtle Axel Arigato letter "A", this signature tee has sharp enough lines to serve as your relaxed outerwear of choice.
| | |
| --- | --- |
| Best for: | Playing it cool while still looking sharp. |
| Colors: | White |
Gildan: Best value in men's T-shirts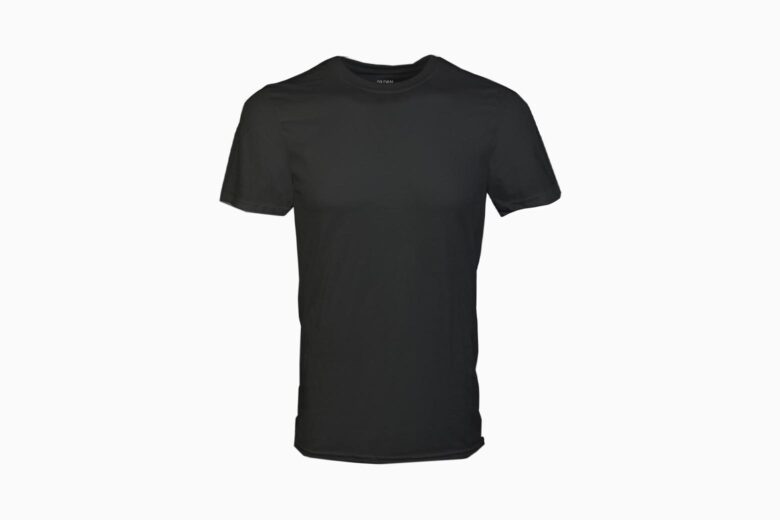 If you're looking for some tees that can do it all, give Gildan's crew-necks a whirl. Gildan's T-shirts have a pleasantly relaxed fit for all-day wear. They're especially nice if you're on your feet all day and need clothing to keep you comfortable. Gildan Men's Crew T-shirts are delivered in packs in a range of numbers so you can select one color, or mix things up with a multi-colored pack.
| | |
| --- | --- |
| Best for: | Getting the most bang for your T-shirt buck. |
| Colors: | Black, White, Red + More |
Naked Cashmere Alexander: Best men's V-neck T-shirts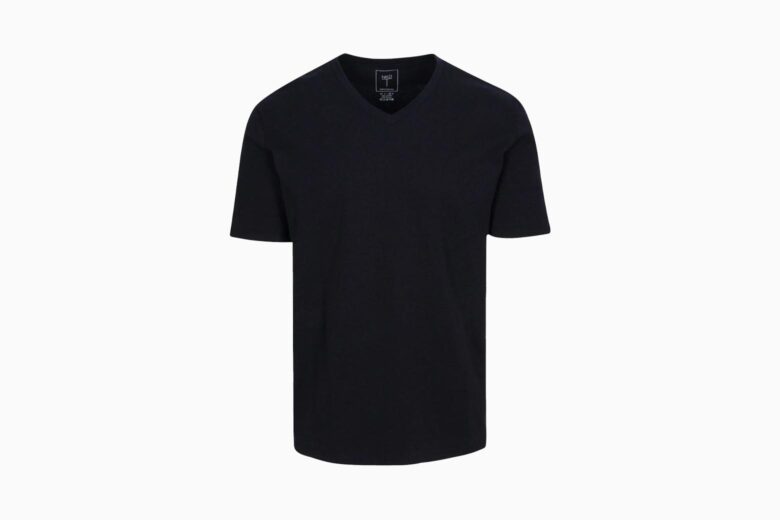 In the world of men's T-shirts, V-necks are the preppy, happy-go-lucky style, providing a more casual presentation than their crew-neck counterparts. Put together an outfit with a V-neck, jeans, and white sneakers, and you have an unpretentious and clean look that lets you relax.
We particularly like Naked Cashmere's Alexander cotton V-necks. They're completely comfortable but still make you look fashion-conscious.
Learn more about the story behind Naked Cashmere.
| | |
| --- | --- |
| Best for: | Playing it playful but still prettied up. |
| Colors: | Black, Dark Khaki, Light Heather Grey + More |
Western Rise StrongCore Merino Tee: Best Crew-neck T-shirts for men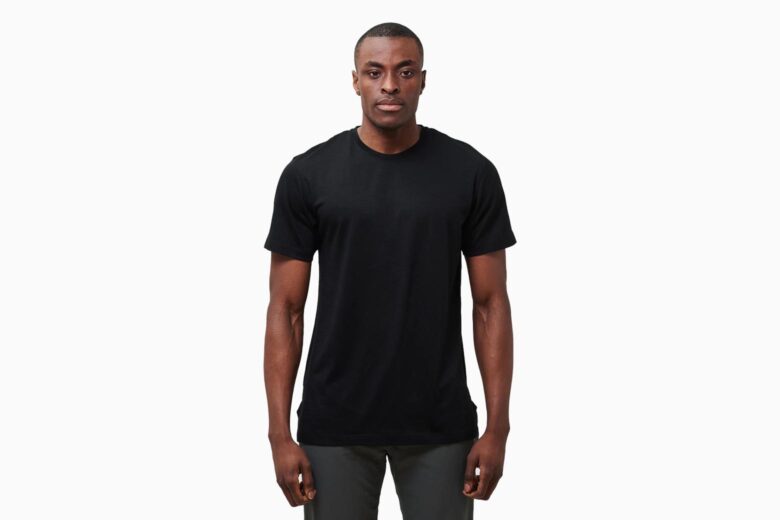 The workhorse of the men's T-shirt world, crew-necks are always going to be a safe bet when you're looking for a shirt with some real versatility. Western Rise's StrongCore Merino Tees are soft, odor-resistant, and very presentable.
This means you can use them under a more formal button-down, play it rugged under a bomber jacket, or just sit around in total comfort.
| | |
| --- | --- |
| Best for: | Easily accessible style for just about any fashion situation. |
| Colors: | Black, Ash, Olive + More |
Parachute Men's Organic Cotton Tee: Best loungewear T-shirt for men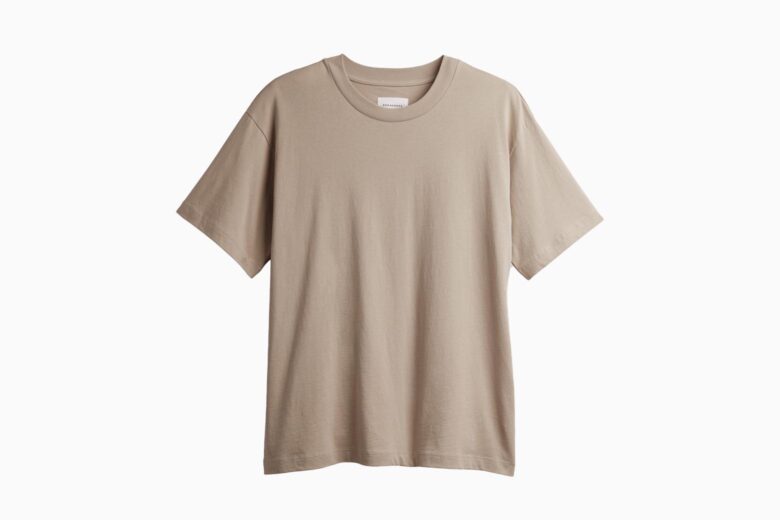 Just want to kick back in a hammock? Chill out with a good book? Parachute's loungewear tees fit the bill. The loose fit and stretchy, lightweight material are designed to stay unobtrusive as you unwind from your day. Match your Parachute Organic Tee with your favorite jogging pants or pajama bottoms and you're good to go… straight to your lounge chair so you can watch the game.
| | |
| --- | --- |
| Best for: | Letting go of a busy day. |
| Colors: | Fawn, Coal, Moss |
Tom Ford Slim-Fit Stretch-Cotton Jersey: Best men's designer T-shirt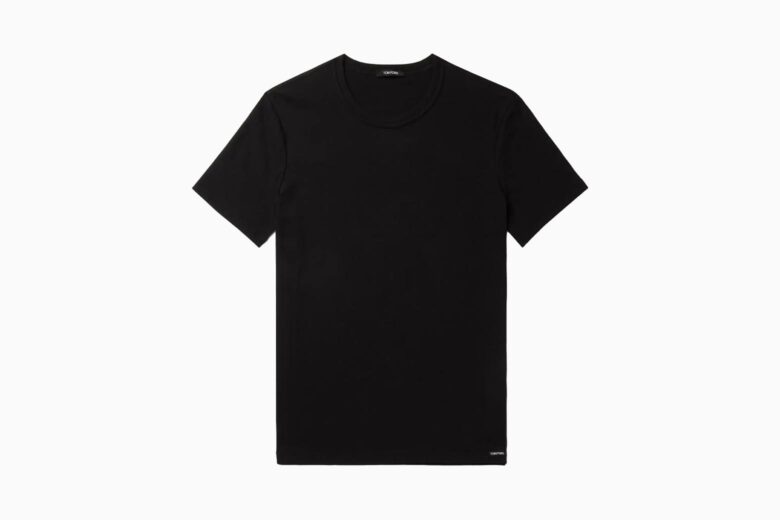 Sometimes you want a tee that makes a statement. Other times you want a shirt that will fade into the background while still contributing to the whole. Tom Ford has somehow magically managed to make a T-shirt that does both at the same time.
Tom Ford's Jersey T-shirt is an appealing blend of a classic tee silhouette mixed with just the right amount of upscale class with their logo quietly printed on the hem. The sum of the parts makes for a designer shirt that works both as casual wear and snappy fashion at the same time.
| | |
| --- | --- |
| Best for: | Combining classy and casual. |
| Colors: | Black, Grey, Brown + More |
Gucci: Best luxury brand tee for men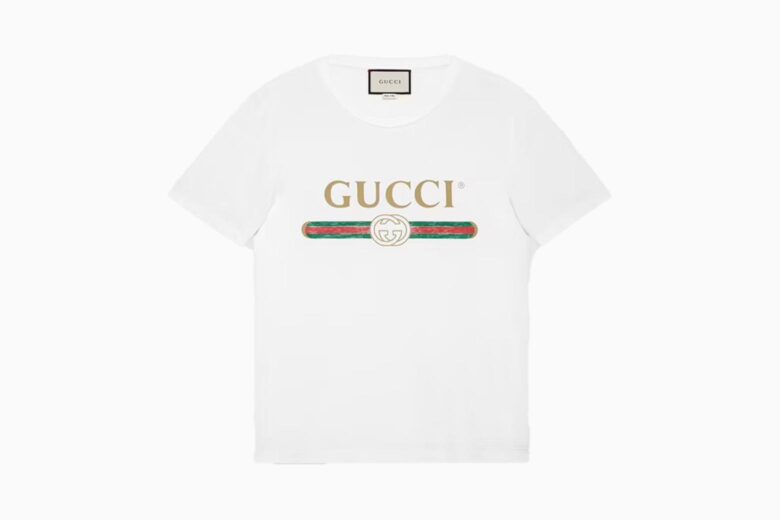 If you dress to show the world that you know how to treat yourself right, then Gucci has the exclamation point for that statement.
Gucci's oversized washed t-shirt features the Gucci logo along with their famous green and red bands. Match this shirt up with a pair of luxury sneakers, and prepare for heads to turn your way.
| | |
| --- | --- |
| Best for: | Nabbing double-takes from admirers. |
| Colors: | White, Black |
Western Rise X Cotton Tee: Best moisture-wicking T-shirt for men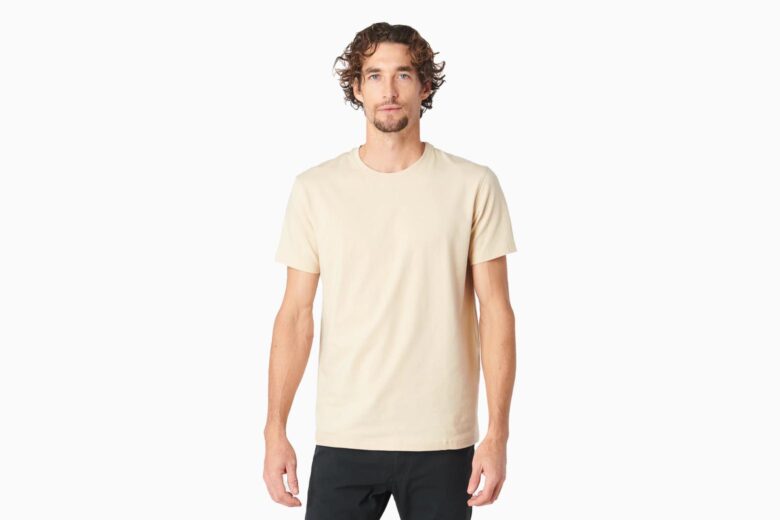 Great for an active lifestyle, Western Rise's X Cotton Tee does a good job of keeping you feeling fresh and dry. The odor-resistant material has been tailored into a slightly lean silhouette, making for a tee that looks sharp while delivering a comfortable experience.
| | |
| --- | --- |
| Best for: | Feeling fresh while living life to its fullest. |
| Colors: | Dune, Concrete, Forest + More |
Adidas Train To Peak Hiit Training Tee: Best men's workout tee shirt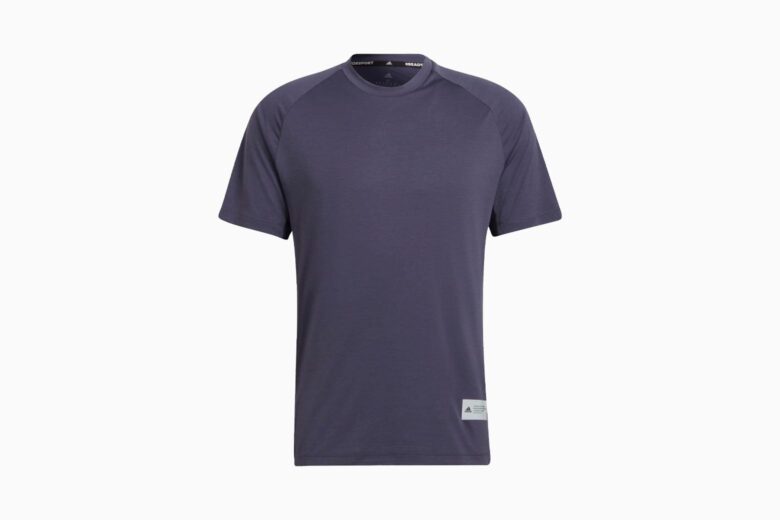 Get your heart racing. The best work-out T-shirts are the ones that stay out of your way. You don't want to feel confined by too tight of a fit, and you don't want to constantly be peeling it off of your sweaty skin while you're trying to concentrate on your activity.
That's why we like Adidas' Train To Peak Hiit Training Tee. The shirt's cut allows for a full range of distraction-free motion, and the perforations let your skin breathe.
| | |
| --- | --- |
| Best for: | Keeping your attention fixed on your athletics. |
| Colors: | Shadow Navy, White |
Brooklinen York Tee: Best stay at home T-shirt for men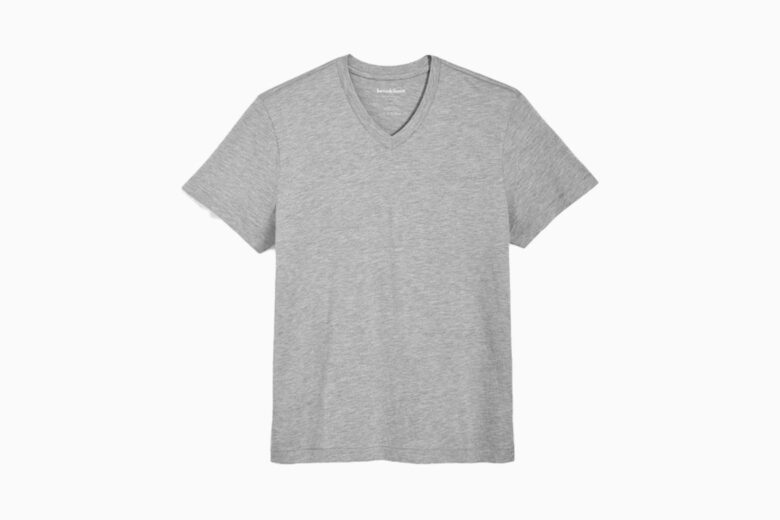 Some days you just need to recharge. You listen to music, you sit on the floor with your dog, and you wear the most comfortable clothing possible. Brooklinen's York Tee should be a go-to for you on that last point—they're fantastically soft, and their classic silhouettes take the work out of having to mix and match them to your Me-Day outfit.
| | |
| --- | --- |
| Best for: | Spending a day working on nothing except yourself. |
| Colors: | Heather Grey, Black, White |
Axel Arigato Mute T-shirt: Best tagline on a men's T-shirt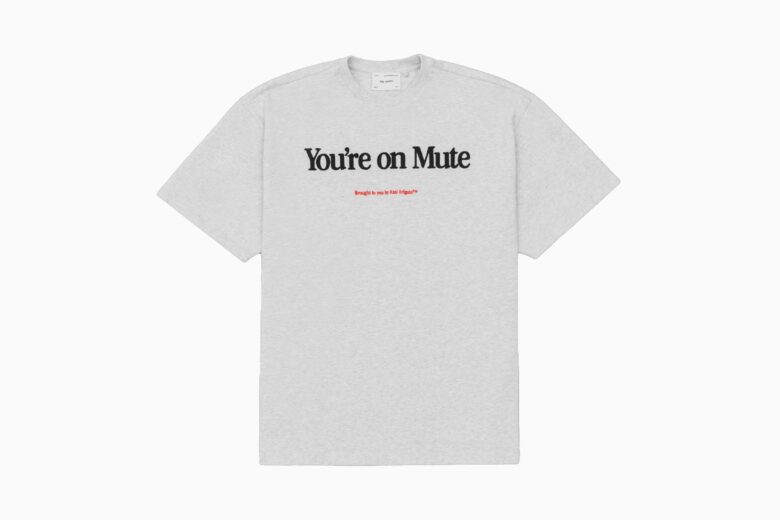 Some clothing is a mood. This shirt is a mood and an attitude. Hit 'em with who you are straight off the bat with Axel Arigato's "You're on Mute" printed in bold script where nobody can miss it. You'll grab a couple of laughs, and maybe make some new friends who understand exactly how you're feeling.
| | |
| --- | --- |
| Best for: | A cheeky approach to your day. |
| Colors: | Light Grey Melange, Black |
Hanes: Best men's undershirt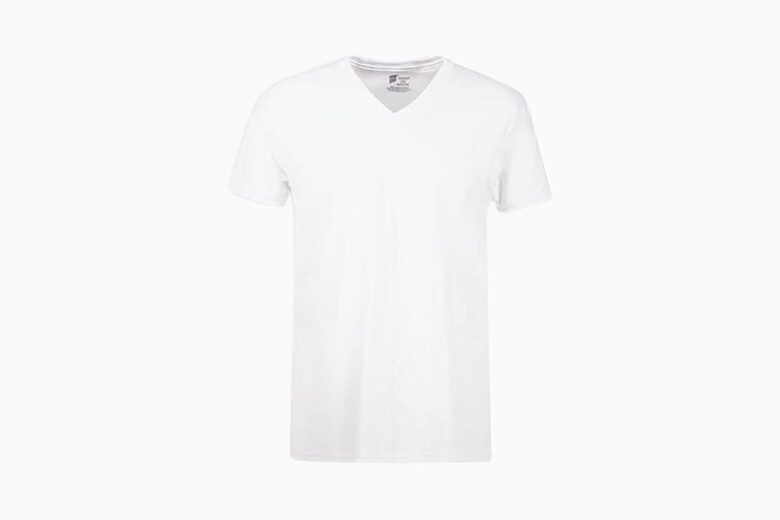 It's a classic for a reason. When you hear the word "undershirt" it's probable that an image of the Hanes V-neck is the first thing that springs to mind. Bundled in a variety of packs that let you switch up both the number of shirts you buy and their colors, Hanes is the "Ol' Reliable" of the undershirt world.
| | |
| --- | --- |
| Best for: | Putting decades of dependability on your back. |
| Colors: | White, Black, Grey |
Alo Airwave Tee: Best white T-shirt for men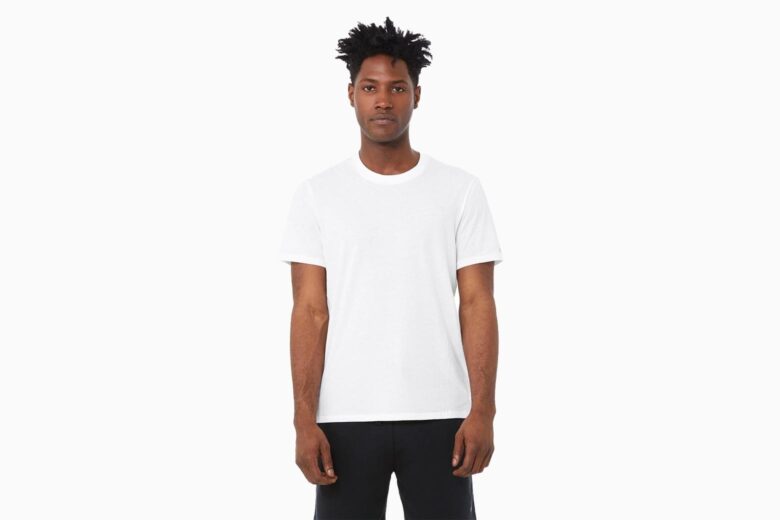 You really can't go wrong with a classic white tee, but sometimes you'd like to kick the classic up to the next level. Alo's Airwave Tee does exactly that—it layers in a breathable mesh to transform the venerable white tee into a focal point of your fashion choices.
| | |
| --- | --- |
| Best for: | Upping your white T-shirt game. |
| Colors: | White, Dark Navy, Black |
Nike Pro Dri-FIT: Best men's black T-shirt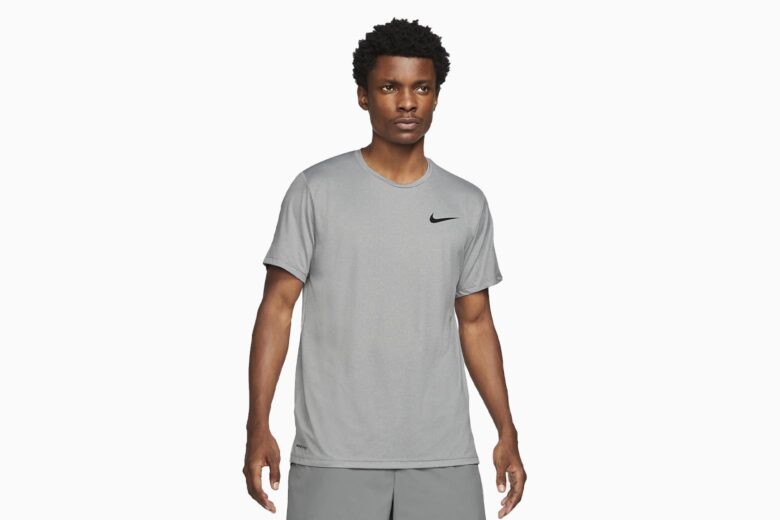 Not only does Nike do the classic black tee right, they do it in a sustainable fashion, utilizing at least 50% recycled polyester in their blend. Additionally, while the Pro Dri-FIT looks snazzy in a fashion sense, it's also a reliable workout shirt with lots of stretch and breathability.
| | |
| --- | --- |
| Best for: | Sporting a classic look and wearing an on-the-go workout shirt at the same time. |
| Colors: | Black, Blue Void, White + More |
Fruit of the Loom: Amazon best-selling T-shirts for men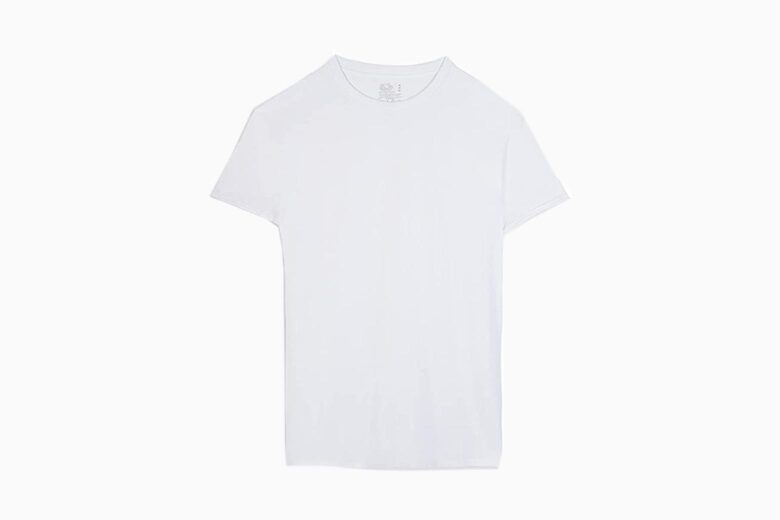 The people have spoken! Fruit of the Loom's crew-neck tees give you that classic working-man look when used as outerwear, or fade into the background when used as underwear. The short sleeves mean you won't struggle to keep your Fruit of the Loom from peeking out of the sleeves of your favorite polo or short-sleeved button-down.
| | |
| --- | --- |
| Best for: | Simple undershirt security, strong outerwear stylings. |
| Colors: | White, Black, Grey + More |
Eberjey Henry: Best pajama T-shirt for men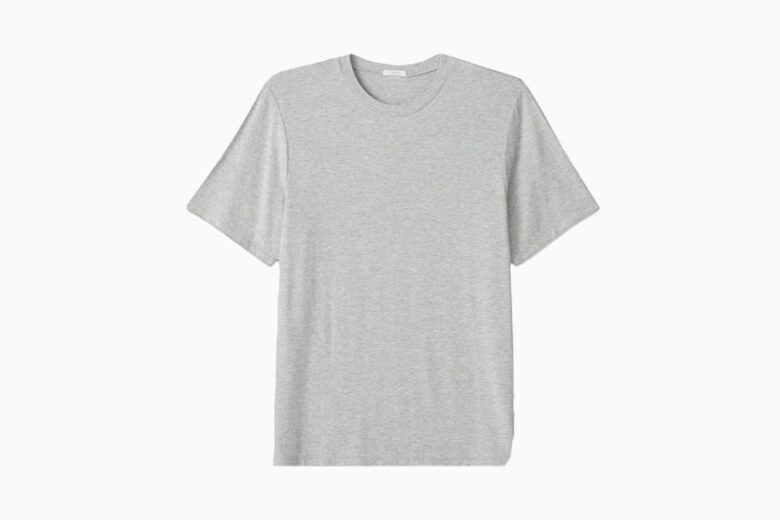 Incredibly soft and durable, Eberjey's TENCEL line started out as women's pajamas. They were so popular that it just didn't seem fair to leave the fellas out of all that comfortable goodness. Not only are they renowned for their comfortable fit, but the Henry TENCEL Modal Short PJ Set is fabricated from the pulp of beech trees—a renewable resource.
| | |
| --- | --- |
| Best for: | Good sleeping, great softness. |
| Colors: | Heather Grey, Charcoal Heather, True Navy + More |
Naked Cashmere Joseph: Best men's plain T-shirt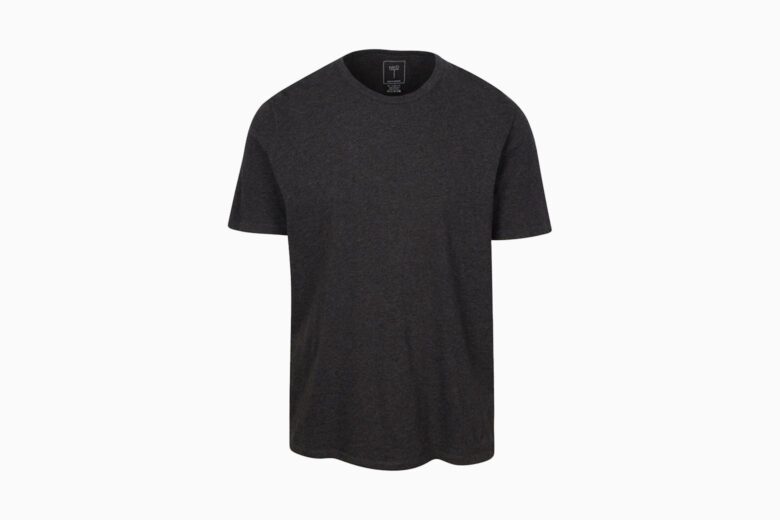 It's a simple look, but boy does Naked Cashmere do it up right. Boasting a slightly relaxed fit, the Joseph Cotton Crew looks top notch on its own, and also mixes right in with a blazer or jacket. Wear it casual or use it as a foundation for a classier look, either way you're coming out looking like a winner.
| | |
| --- | --- |
| Best for: | Keeping it simple, coming across classy. |
| Colors: | Anthracite, Dark Khaki, White + More |
Hanro: Most colorful T-shirt for men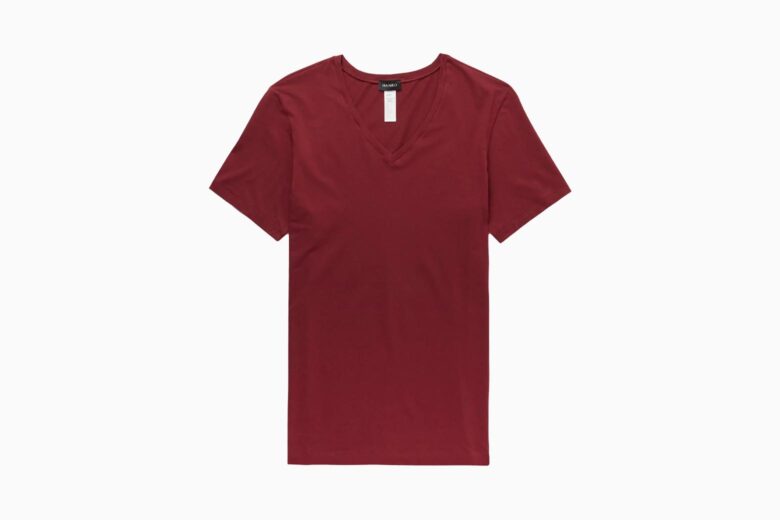 Looking to add some color to your wardrobe? Give Hanro's red T-shirt a try. The V-neck cut and slightly-stretched tailoring are well done on their own, but with the bright red coloring this entry really brings some welcome attention to itself.
| | |
| --- | --- |
| Best for: | Brightening up everyone's day. |
| Colors: | Red, Grey |
通用 (Universal): Best customizable men's tee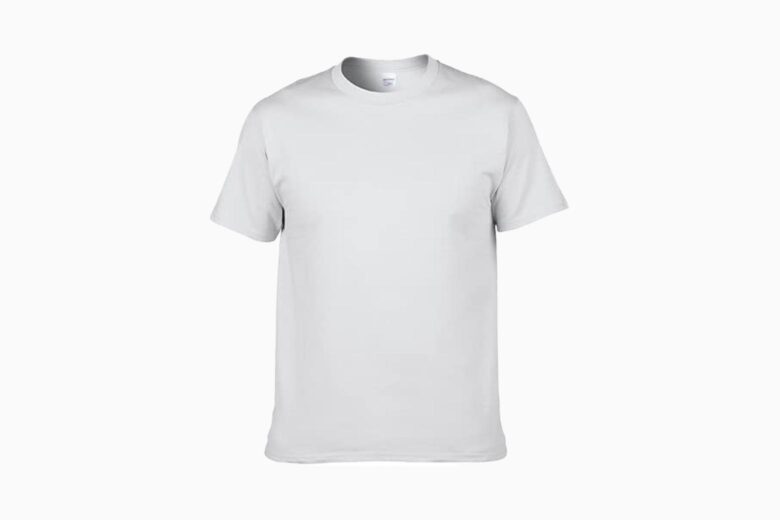 If you're looking for a shirt that will take your customised print, try these shirts found on Amazon. Amongst the best personalizable tees out there, these shirts work very well with your merchandising prints or personal text printing. Retro references, fun tag-lines, your company's logo… spruce these shirts up your own way.
| | |
| --- | --- |
| Best for: | Carrying your creativity out into the world. |
| Colors: | White, Black |
Ma Croix: Best men's T-shirt for under $10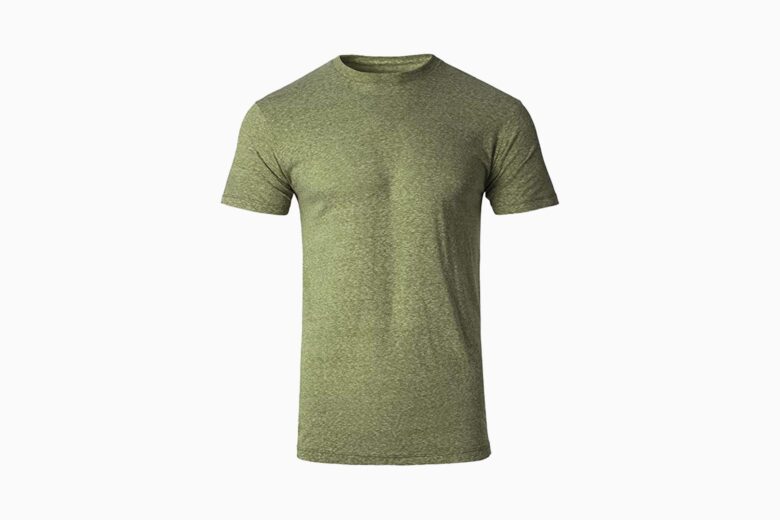 Need to get your hands on a bunch of shirts that you can swap out every day of your work week? Ma Croix's Blended Crew Necks give a lot of bang for your buck. Designed with the working man in mind, Ma Croix's shirts are made from comfortable lightweight cotton and make for easy match-ups with a wide variety of pants and shorts.
| | |
| --- | --- |
| Best for: | Building up your wardrobe without breaking the bank. |
| Colors: | Olive, Red, Sky Blue + More |
Alo Idol: Best fitted tee for men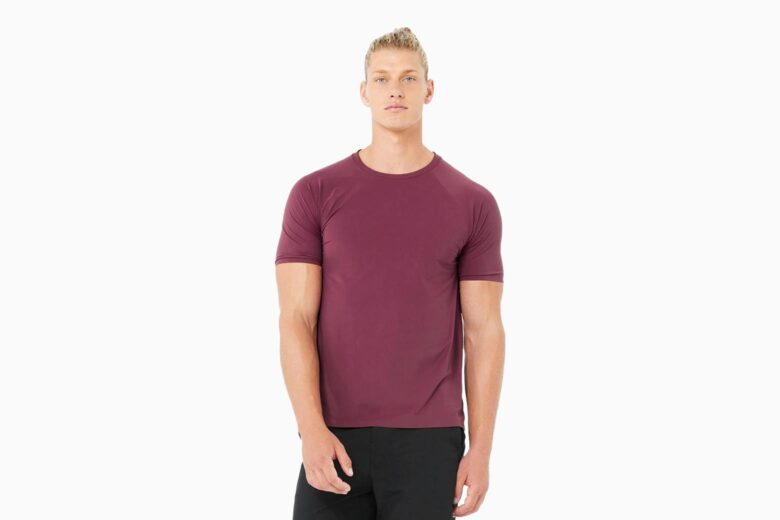 Sometimes it's not so much the shirt as what you've got going on underneath it. If you want to show off that physique you've earned after countless hours in the gym, pull on one of Alo's Idol Performance Tees. Tailored to snugly fit your form, admirers will be able to tell that you've been putting some real effort into yourself.
| | |
| --- | --- |
| Best for: | Showing off what's under the hood. |
| Colors: | Varsity Cardinal, Dark Navy, Espresso + More |
Alo Amplify: Best men's slim fit T-shirt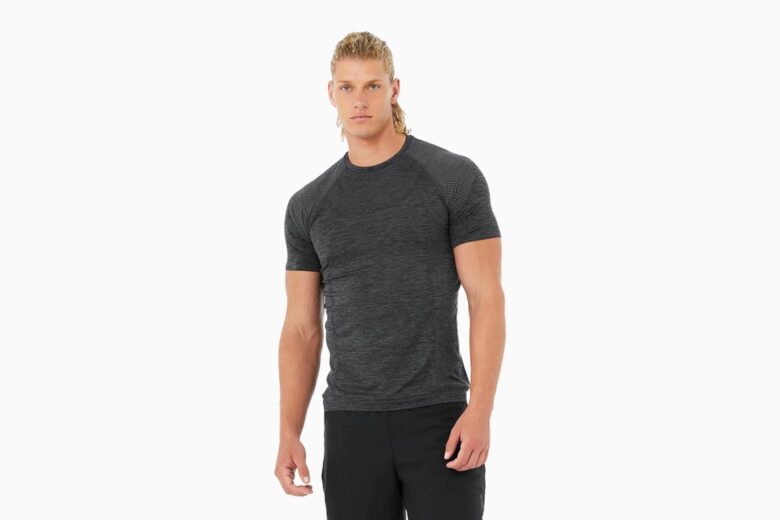 Hugging your arms and shoulders, but flowing to a looser fit around your waist, Alo's Amplify Tee lets you show off what you've earned in the gym but remains flexible enough to let you keep working out in comfort. Breathable and wicking moisture away, the Amplify makes for a stylish outing at your favorite workout spot.
| | |
| --- | --- |
| Best for: | Showing off while showing up. |
| Colors: | Black Heather, Varsity Cardinal, Black + More |
Nike Giannis "Uno": Coolest men's T-shirt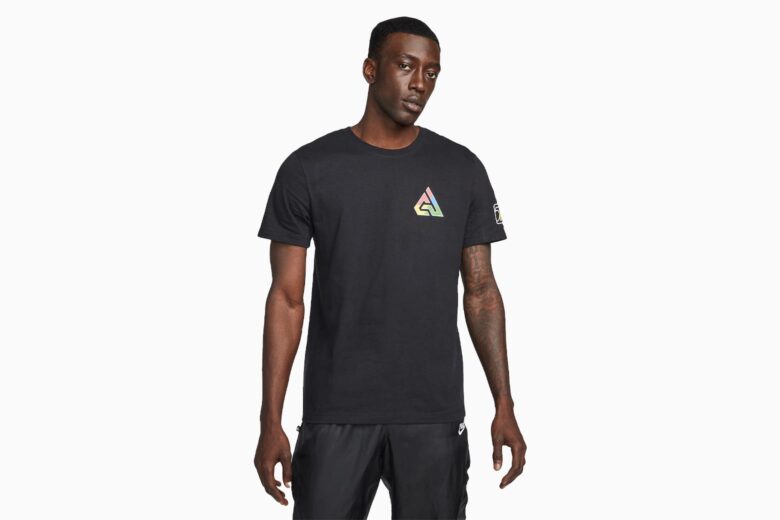 Endorsed by the NBA's "Greek Freak" Giannis Antetokounmpo, Nike's Uno Basketball tee shows off two of Antetokounmpo's loves: basketball and game nights with friends and family (Uno, to be specific). The shirt itself is a fun entry, featuring a relaxed fit at the waist and shoulders.
| | |
| --- | --- |
| Best for: | Showing your fun side on the basketball court. |
| Colors: | Black |
Tom Ford Stretch Cotton and Modal-Blend: Best casual T-shirt for men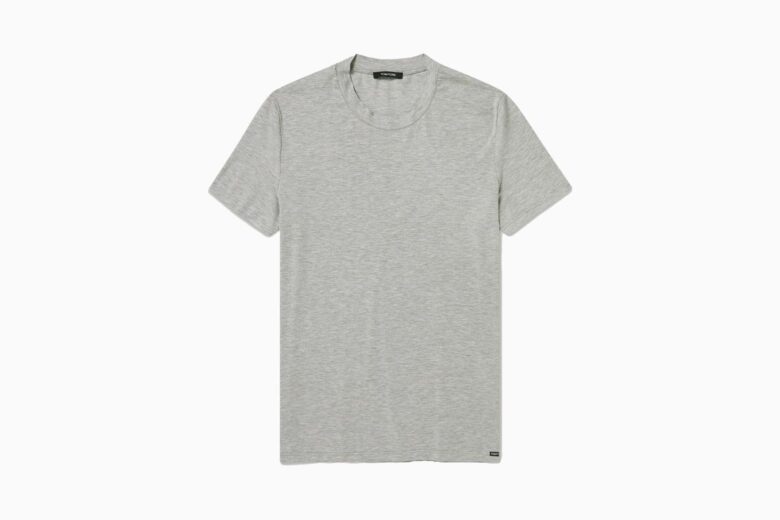 Looking to kick back and keep it casual? Tom Ford's tees are constructed from the stretch-friendly modal and cotton blend, meaning you'll be able to relax in a variety of positions and your shirt will keep its shape. These tees are subtle enough that they'll work well as an undershirt, pajama top, or on their own.
| | |
| --- | --- |
| Best for: | Meeting up with friends for a fun time. |
| Colors: | Grey, White, Black |
Western Rise Session Tee: Best men's T-shirt for travel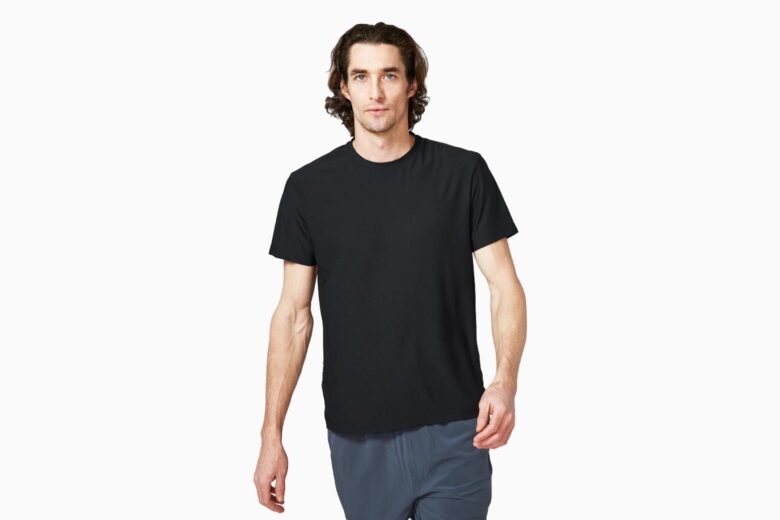 Boasting Deltapeak technology (a mesh designed to increase durability while managing moisture), these Session Tees from Western Rise are durable and comfortable enough to make them well worth packing for your trip. They're also quick to dry, so if you need to rinse them out in an overseas sink you'll be good to go by the next morning.
| | |
| --- | --- |
| Best for: | Going global. |
| Colors: | Black, Ash |
Under Armour: Best cheap T-shirts for men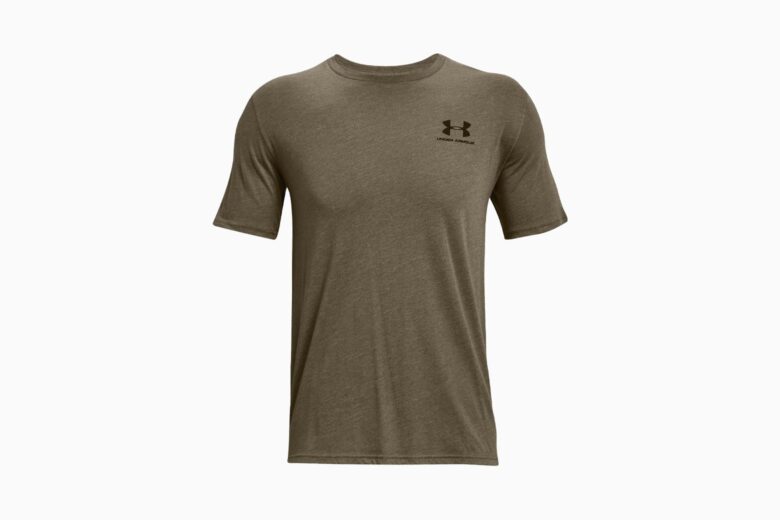 Under Armour always delivers quality athletic wear, and their Men's Sportstyle Tees are no exception. Made from a cotton and polymer blend, these casual T-shirts have a no-nonsense rugged look to them, letting people know that you take your athletics seriously. For this much durability, these tees are a steal.
| | |
| --- | --- |
| Best for: | Big boy workouts at a small price. |
| Colors: | Charcoal Medium Heat, Rich Orange, Electric Blue + More |
Axel Arigato A-sport: Best men's long-sleeve T-shirt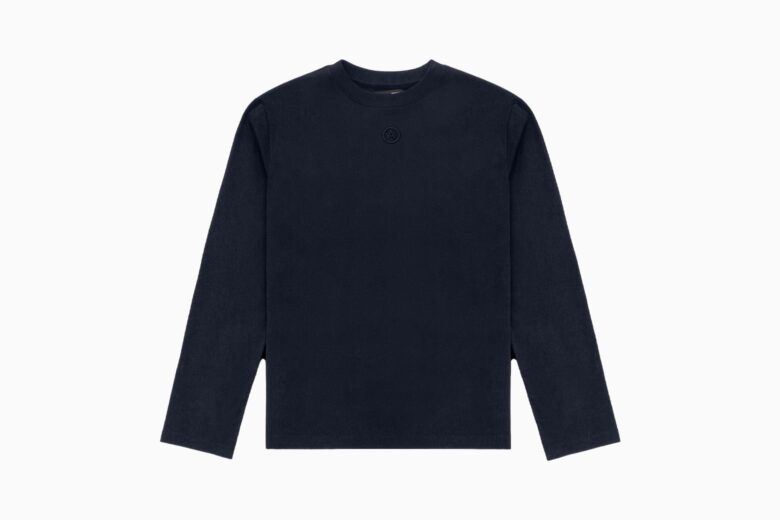 Unlike its short-sleeved siblings, the long-sleeved tee is often left out of the casual clothing conversation. More's the pity, because a long-sleeve T-shirt can add a nice bit of formality to any outfit, a trick that most short-sleeve tees can't always pull off.
We particularly like Axel Arigato's A-sport long-sleeve tee. It's a simple, bold-looking top, which will add a nice bit of understated formality to your casual pants.
| | |
| --- | --- |
| Best for: | Layering a bit of formality into your casual accoutrements. |
| Colors: | Navy |
Alo Triumph: Best men's tank top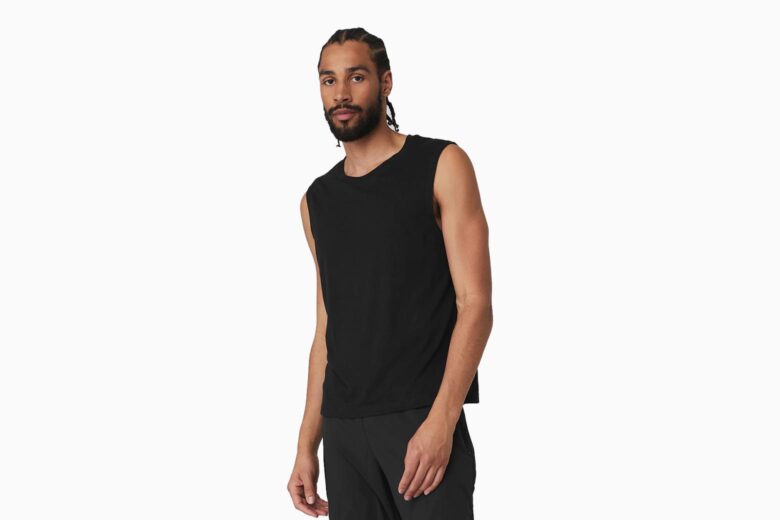 Made from some of the softest fabric around, Alo's Triumph Muscle Tanks are a real pleasure to wear around the house and on the move. These tanks feature a loose waistline and generous arm-holes, meaning you're going to have ample room to fully max out your movements.
| | |
| --- | --- |
| Best for: | Moving like you mean it. |
| Colors: | Black, Soft Clay, True Navy + More |
Carhartt: Best budget T-shirt for men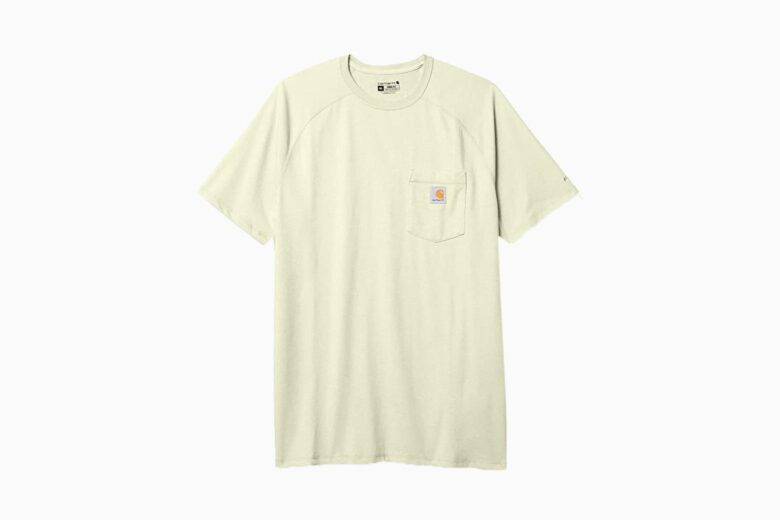 No need to skimp on style even if you'd prefer to keep a lid on your clothing budget. Carhatt's Loose Fit Heavyweight T-shirts are simple and clean-looking, spruced up with their logo-enhanced breast pocket. Presenting a working-man's aesthetic, these tees match up well with jeans and your choice of work boots. Offering a wide array of color-schemes, Carhatt's shirts can really widen your fashion palette for a more-than-reasonable price.
| | |
| --- | --- |
| Best for: | Maximizing your fashion choices while minimizing the damage to your wallet. |
| Colors: | Desert, Beet Red Heather, Brite Lime +, More |
Yindigo AM: Most expensive men's tee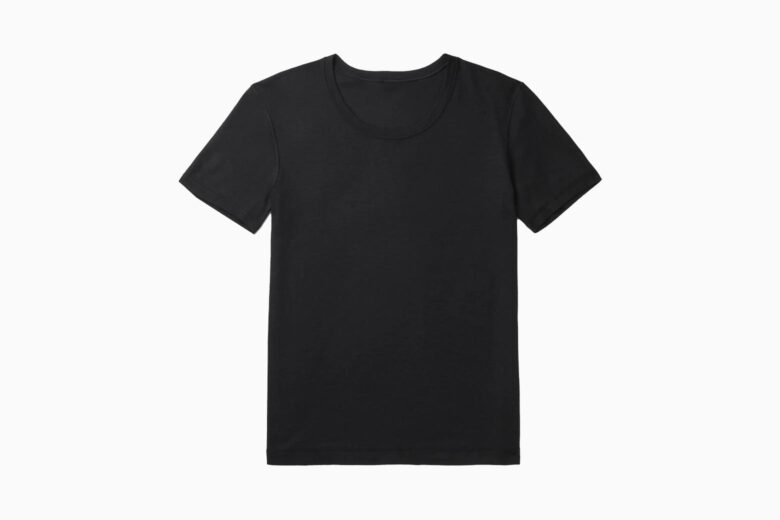 Made from wool, this fitted tee is ridiculously comfortable. You're going to want to wear this luxury T-shirt while you're out, at home, and while you're sleeping. Honestly, you're going to have a hard time taking it off. When you finally do manage to wriggle free from this luxury tee, make sure you hand-wash it in order to keep your Yindigo AM in peak comfort condition.
| | |
| --- | --- |
| Best for: | Wearing sweet soft luxury against your skin. |
| Colors: | Black |
Frequently asked questions about men's T-shirts
Which brand is best for men's T-shirts?
While this will depend on what you want the shirt for (athletics, lounging, as an undershirt, fashion) we really like tees from Alo. They function very well in athletics but are also stylish enough to be worn as casual streetwear. Check our list of the best men's T-shirts for more inspiration. 
Which quality T-shirt is best?
Quality is going to depend on what you value the most—durability, softness, fit, breathability, fashion sense, and so on. If you're looking to take a step up from your everyday tees, we'd suggest starting out with Adidas' Train To Peak HIIT Tee for athletics, or the Axel Arigato Signature Tee if you're more concerned with fashion.
What is the softest men's T-shirt?
Parachute Men's Organic Cotton Tee is extremely soft and an excellent shirt if you're looking to just lounge around your home, taking it easy. If you're looking for something to sleep in, then you should definitely give Eberjey Henry TENCEL Modal Short PJ Set tees a try.
What is the highest quality cotton for T-shirts?
Supima cotton is regarded as the highest quality of cotton to be found in T-shirt fabrication. After that comes combed cotton, which is made from fibers that are pretreated so that they combine into a softer shirt than basic cotton can provide. Organic cotton refers to sustainably-harvested cotton, as opposed to the quality of the fibers.