Those endless pairs of plain black socks curled up in your underwear drawer? Wave goodbye to them. It's time for an upgrade that'll see you streamlining your socks once and for all.
Regardless of whether you're someone who has 20+ pairs of identical, faded, holes-in-the-toes greying pairs of socks pulled on for every occasion or you're a little more methodic with some defined characteristics, an upgraded sock drawer is, figuratively and literally, the next step.
Sure, when it comes to all of the components of your outfit, socks aren't really the highlight. But a streamlined sock drawer made up of only the best must-have pairs will renovate your wardrobe in one suave movement. It's the wardrobe organization hack that you didn't think you needed.
Understated and prepared to let the rest of your outfit do the talking, it's fair to say that the best types of socks are those that sit quietly in their place and demand no attention whatsoever.
Until they come up in conversation: whenever that may be. Whatever the occasion, we've put together a failsafe guide that'll ensure you've got pure, unadulterated comfort for your toes on a 24/7 basis.
Tried and tested, our guide to essential socks for men includes classics like our favorite crew length socks and designer socks to the best dress socks for men and the best athletic socks.
The nine types of socks that every man needs in his wardrobe
Check our style guide after the round-up to see exactly how to choose the best socks for your outfit and the season.
AllBirds Trino Tubers: The everyday socks for men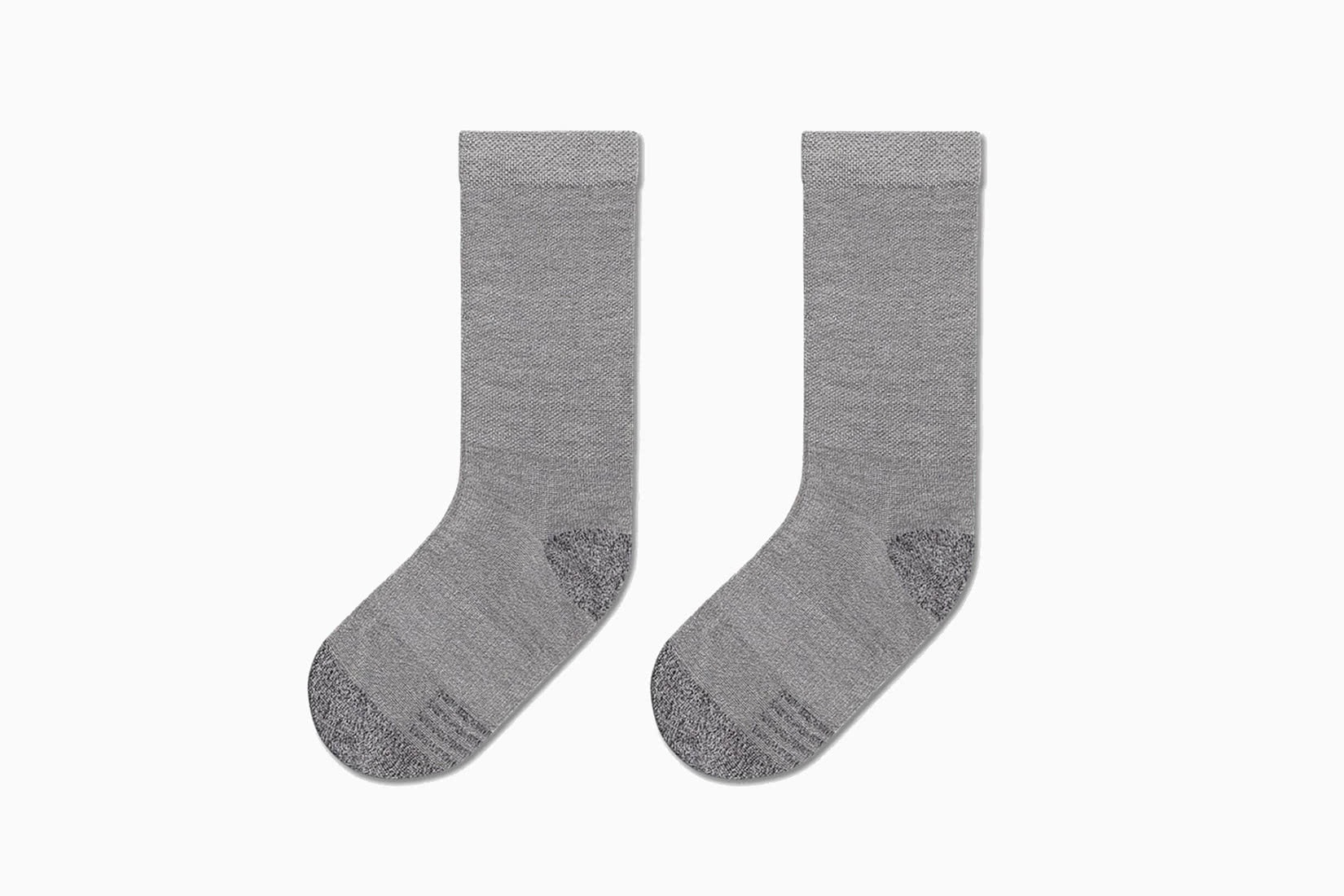 Like catching the eye of your future partner or tasting a new favorite food, once you've discovered the best everyday socks you'll want to keep them a part of your life for the foreseeable future. It's hard to overstate the comfort levels that come from AllBird's Trino Tubers and, once you've slipped them onto your feet, you'll understand why.
Soft, cozy yarn combines with renewal materials into a pair of socks that you'll buy in bulk for fear of not having a clean pair in your sock drawer. These are the socks for every occasion: a standard Monday morning, a quick change before a gym session, or a weekend away when you're not quite sure what the weather's going to do. Buy these, and you'll never look back.
Check our in-depth Allbirds sneakers review to learn more about their shoes, or read our story behind Allbirds to learn more about the brand itself.
Best for: Keeping at least one element of your week stress-free, whatever you're wearing.
Budget alternative: Like a favorite jumper or reliable t-shirt, Dickies Men's Dri-tech Moisture Control socks are another great budget-friendly option for buying in bulk to keep your sock drawer fully stocked with comfort at all times.
AllBirds Trino Hiders: No show essential socks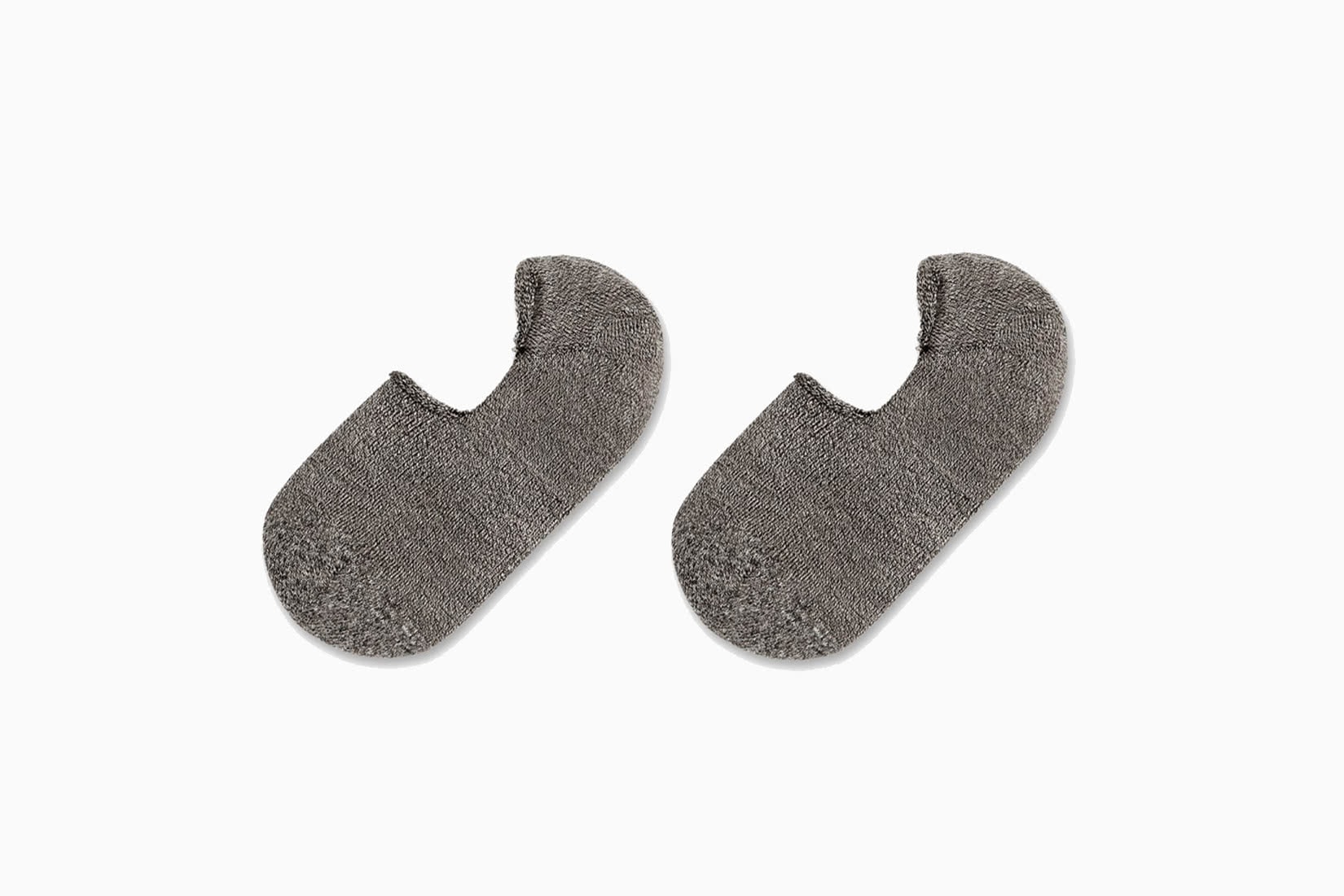 In an ideal world, you'd slip on a pair of no-show socks and forget about them completely. Contrary to probably every single other item in your wardrobe, the best pairs of no-show socks are those that don't want to become the focal point of your outfit – especially as their goal is to stay hidden away below your shoes.
Our favorite socks for those times when you'd rather your shoes do the talking come from Allbirds. The Trino Hiders do exactly that: stay firmly cuffed on your ankles, understated and cozy – just how they should be. Eucalyptus fiber and ZQ Merino wool combine to naturally repel odor and moisture, while reinforced toes and heels ensure no subtle fury in the form of slipping too far down your feet.
Best for: Showing off your new casual shoes at the weekend without any distractions.
Budget alternative: Saucony Men's moisture-wicking socks are another great option for any man who wants a reliable pair of socks that are content hiding away. Perfectly compressed, they're the ideal height while remaining breathable.
Pyvot Classic Crew Knitplus+: Best ankle socks for men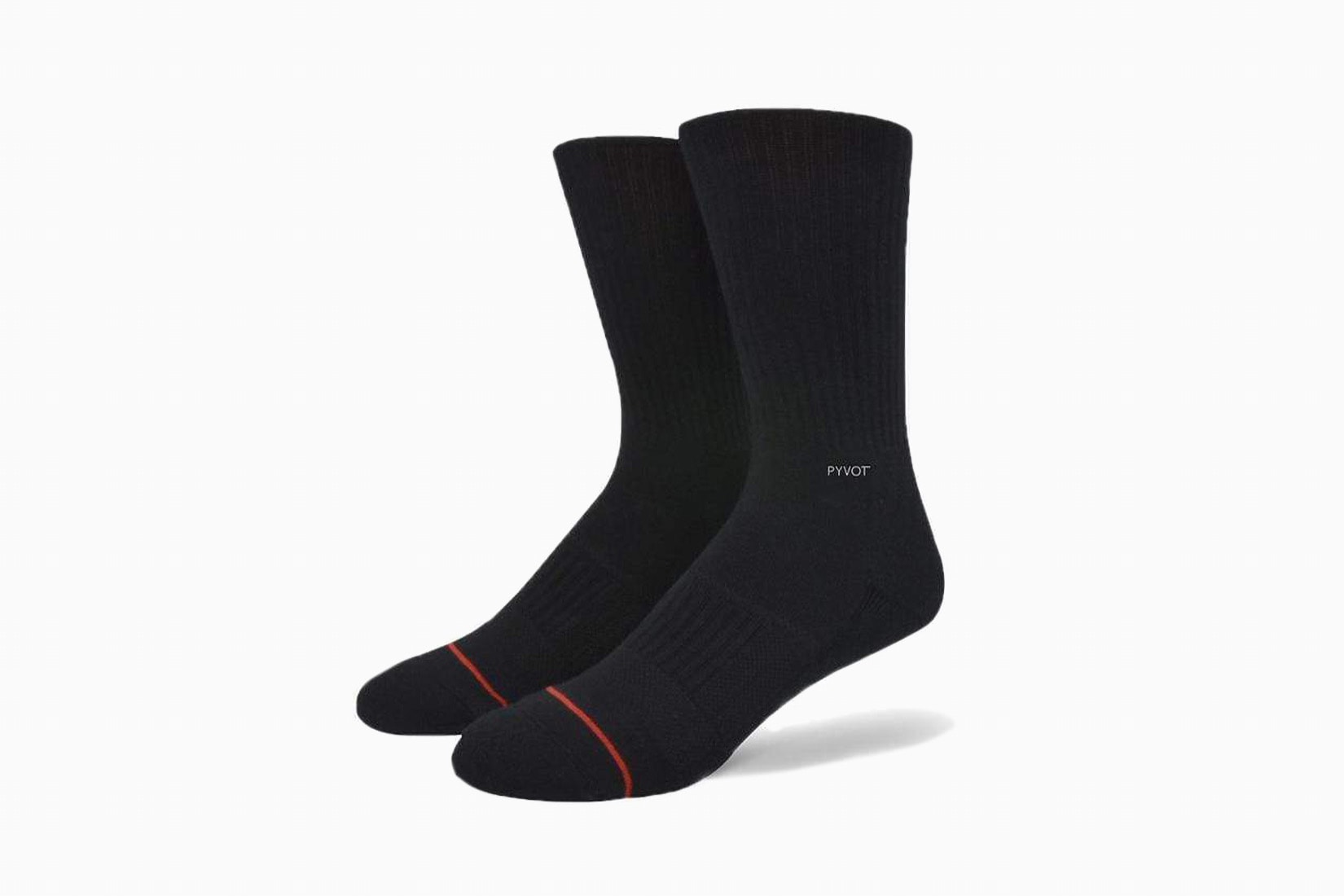 Warm enough for chilly days but breathable enough for hot days, it's hard to find fault with Pyvot's Classic Crew Knitplus+ socks. The brand's proprietary technology combines premium yarns and anti-microbial silver to create socks that are comfortable to wear all year round. The fabric is naturally antimicrobial, which means waving goodbye to swollen feet and overheating toes. Akin to caressing your feet on a bed of clouds, these socks are renowned for being comfortable, to the extent that you'd ever so briefly consider wearing them twice in a row.
The obvious solution is to stock up with enough pairs to see you through the week, before hurriedly throwing them in the laundry and silently cursing yourself for having to put something else on your toes for the time being. The versatility of these ankle socks means they'll see you through everything from workdays to workouts without any fuss.
Best for: Pairing with a pair of jeans in the winter or shorts in the summer.
Budget alternative: A slightly more budget-friendly pair of ankle socks coming from COOVAN. Suitable for pairing with boat shoes, trainers, climbing shoes or any other casual shoes, this pair will become a weekday essential.
Nike Dri-Fit: Men's athletic socks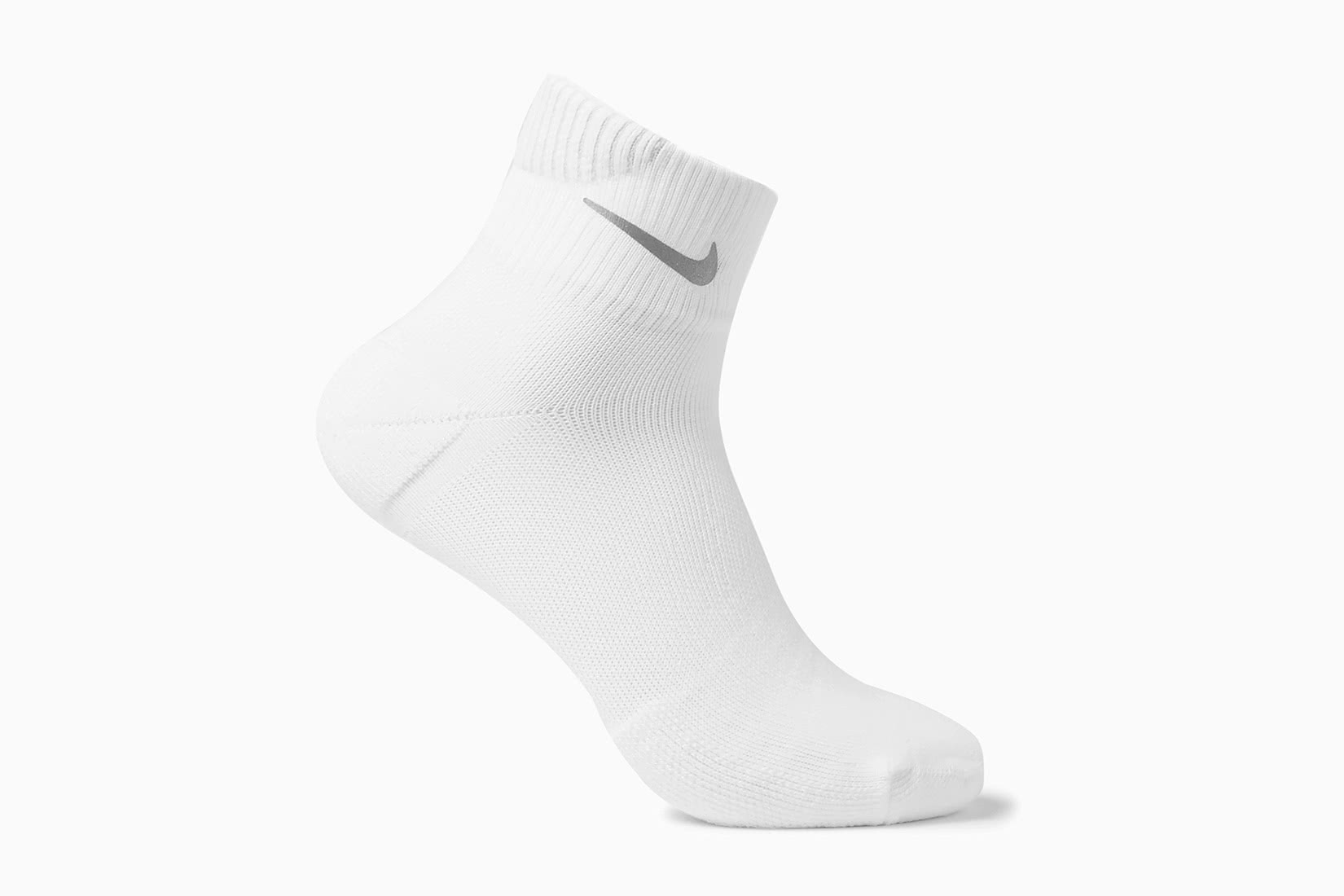 It's worth paying a little extra for sports socks that refuse to stretch or leave the washing machine with holes in the toes. A failsafe option comes from trusty Nike – an athleticwear staple that's stood the test of time and refuses to be beaten. Nike's Dri-Fit Socks are a firm favorite when it comes to running, weightlifting, team sports or any other kind of exercise that you can think of.
Basically, asking to be challenged, you'll find yourself putting in that extra effort during your workouts just to see if they really are that good. And, spoiler, they are. Soft and cushioned with ribbed tops, you'll start and end your workout without even having to think about pulling them up once. You'll want to always keep a spare pair of these in your gym bag.
Best for: Acting as your racing stripes for any kind of workout.
Budget alternative: If, for any reason, you'd rather branch out from Nike, you'll find a perfectly adequate substitution in the form of AllBird's Trino Sprinters. Give them a try next time you're in the gym, and be prepared to feel lost without them on your next workout.
Hugo Boss: Dress socks for men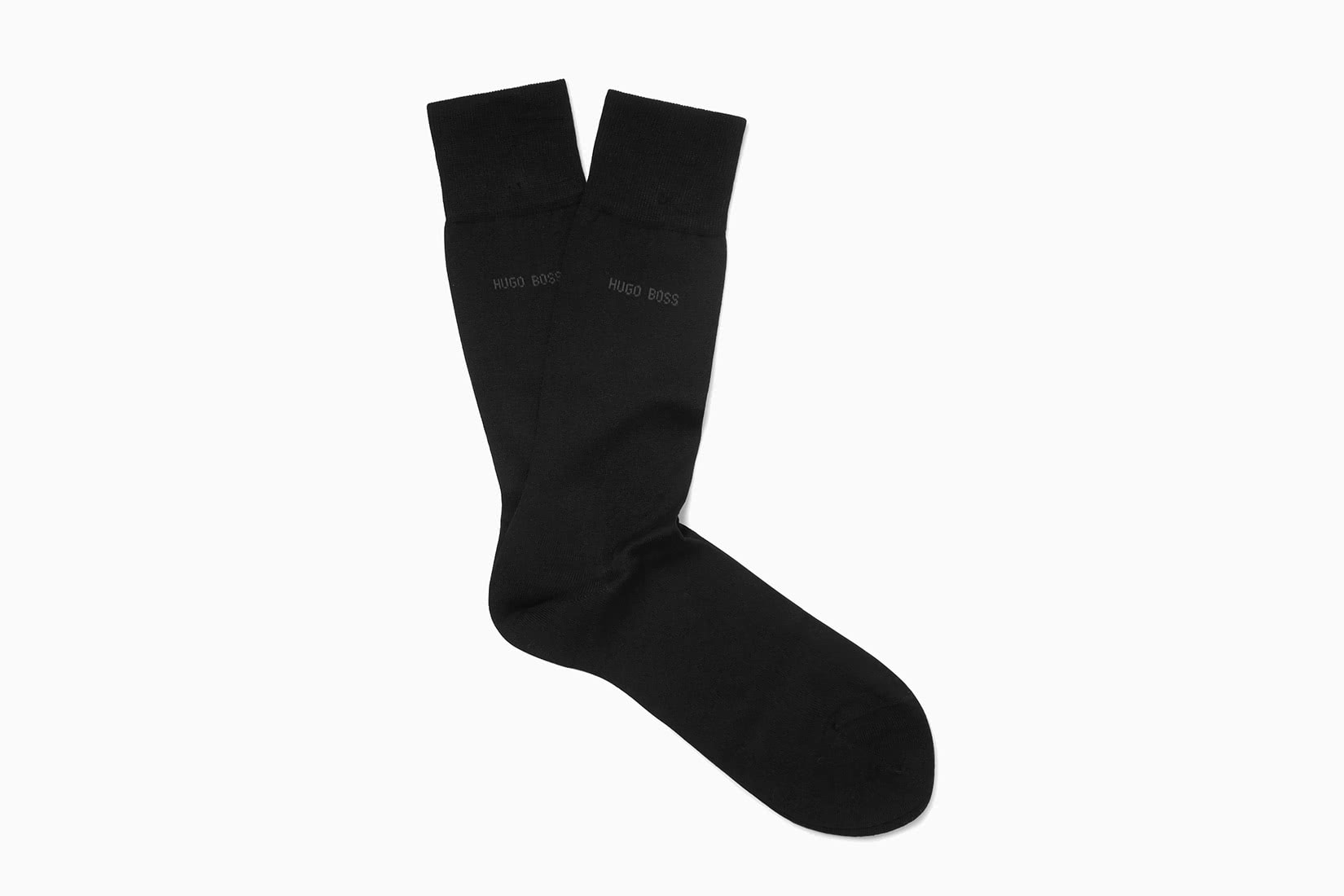 Those colorful and patterned socks might be fun for the weekend, but you'll want something a little sleeker for work meetings. Stick with a stylish staple in the form of Hugo Boss for all of your dress sock needs. Jet black in color and ready to upgrade your footwear experience, these Hugo Boss cotton socks will elevate your outfit in the most understated way.
Ready to be paired with your weekend occasions or simply a suit and tie on a Monday morning, these socks provide comfort and style to the extent that you'll slowly begin to feel a little lost wearing anything else. If you find yourself getting a little distracted purely by just how cozy your toes feel, don't blame us.
Best for: Adding a smart finishing touch to your work wardrobe.
Budget alternative: Dress socks don't always have to come in black – it's possible to look just as suave wearing Gold Toe Men's Harrington Crew socks. Thick and durable, these socks will pair effortlessly with your smartest looks.
Filson: Merino wool socks for men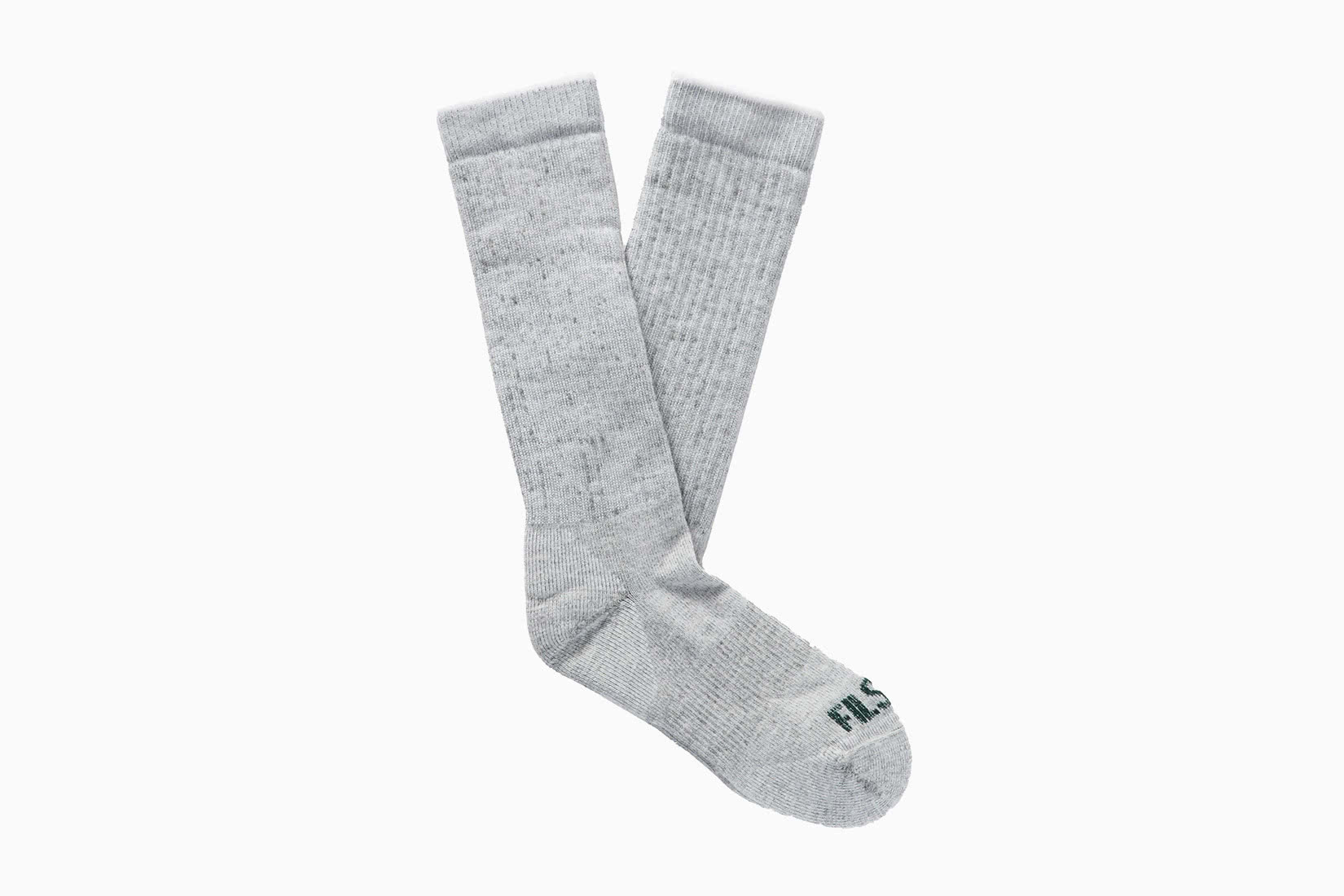 Is there anything cozier than a new pair of Merino wool socks? Nope, we're struggling to think of anything better, too. But if you're treating your toes to comfort of this level, you might as well go all out with the very best of the bunch. Those, of course, come from Filson in the form of the brand's merino wool-blend socks.
Temperature regulating and moisture-wicking while remaining almost unspeakably soft, you'll pay extra attention to these when throwing them in the wash to make sure they return just as cozy as they were beforehand. And, in case you were wondering, they always will be. Much like the comfort blanket from your childhood, these socks will stay reliably soft wear after wear after wear. Save them for those mornings when you need a little extra motivation to get out of bed.
Best for: Wearing with boots on colder days.
Budget alternative: One of our other top choices for warm, comfortable, and temperature-regulating socks comes from Danish Endurance. These Merino wool socks are perfect for all kinds of activities and promise to last any amount of washes without fading or thinning.
Innotree: Men's hiking socks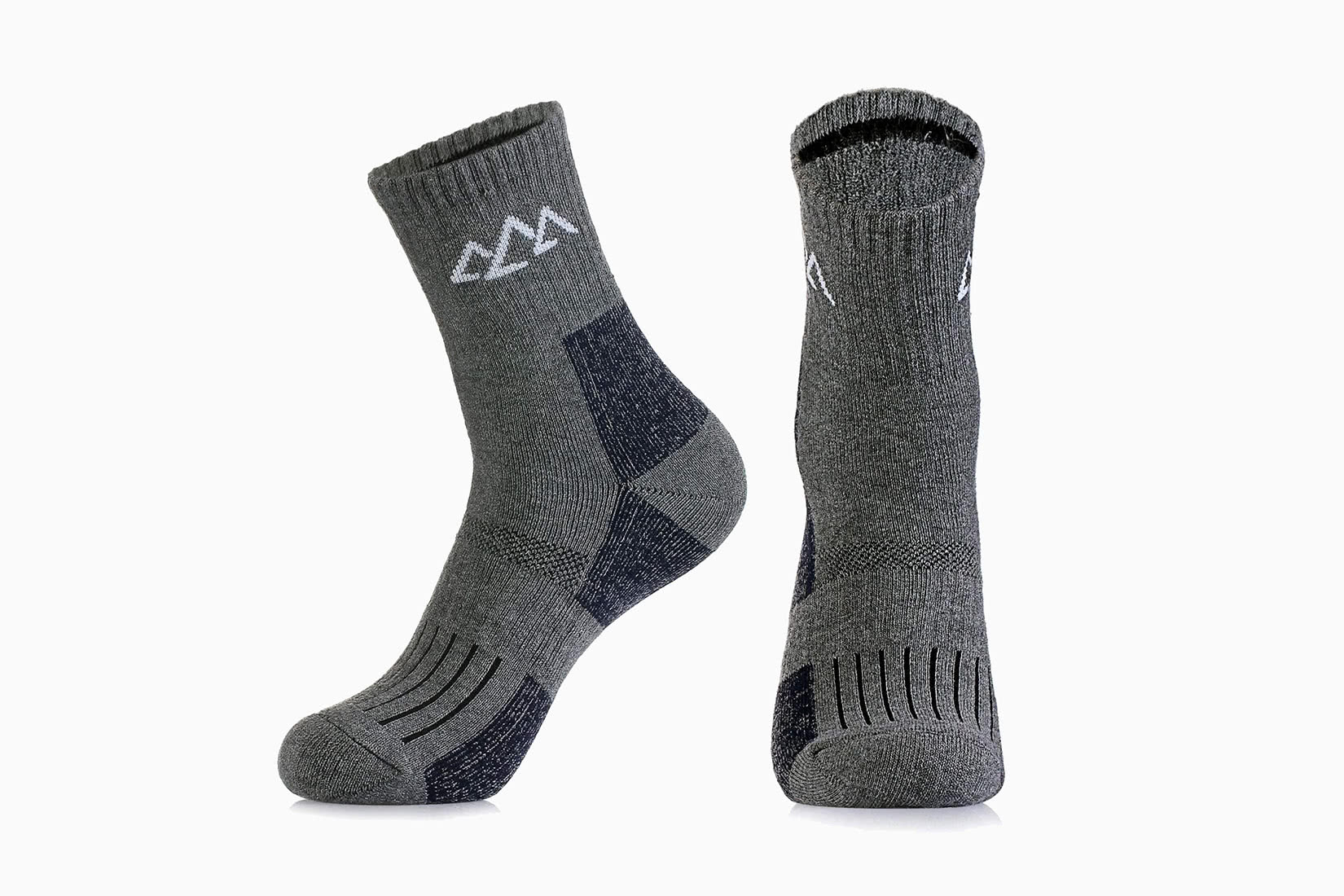 The last thing you want on a hike is to be thinking about your feet rather than the stunning views all around you. Therefore the best kind of socks for outdoor activities is the one that accompanies you silently but reassuringly, demanding no attention while simultaneously letting you know they're right behind you every step of the way.
Innotree's Cushioned Walking Socks are our top pick for failsafe hiking socks that are thick and comfortable enough to prevent even the very idea of blisters while remaining breathable enough to stop you from pulling your shoes off as soon as you stop for a break. Fine gauge knitting is responsible for the latter, and does such a good job that you'll end up showing off about them to your hiking friends as you reach the summit.
Best for: Being classed as an essential for any outdoor activities.
Budget alternative: Along with a water bottle, snacks, and enough layers for any kind of weather, you'll want to bring MIRMARU's performance outdoor socks in your bag before you head off for your next adventure. These budget-friendly hiking socks are reinforced and ready to tackle any kind of climate.
Mr P: Half-calf crew socks for men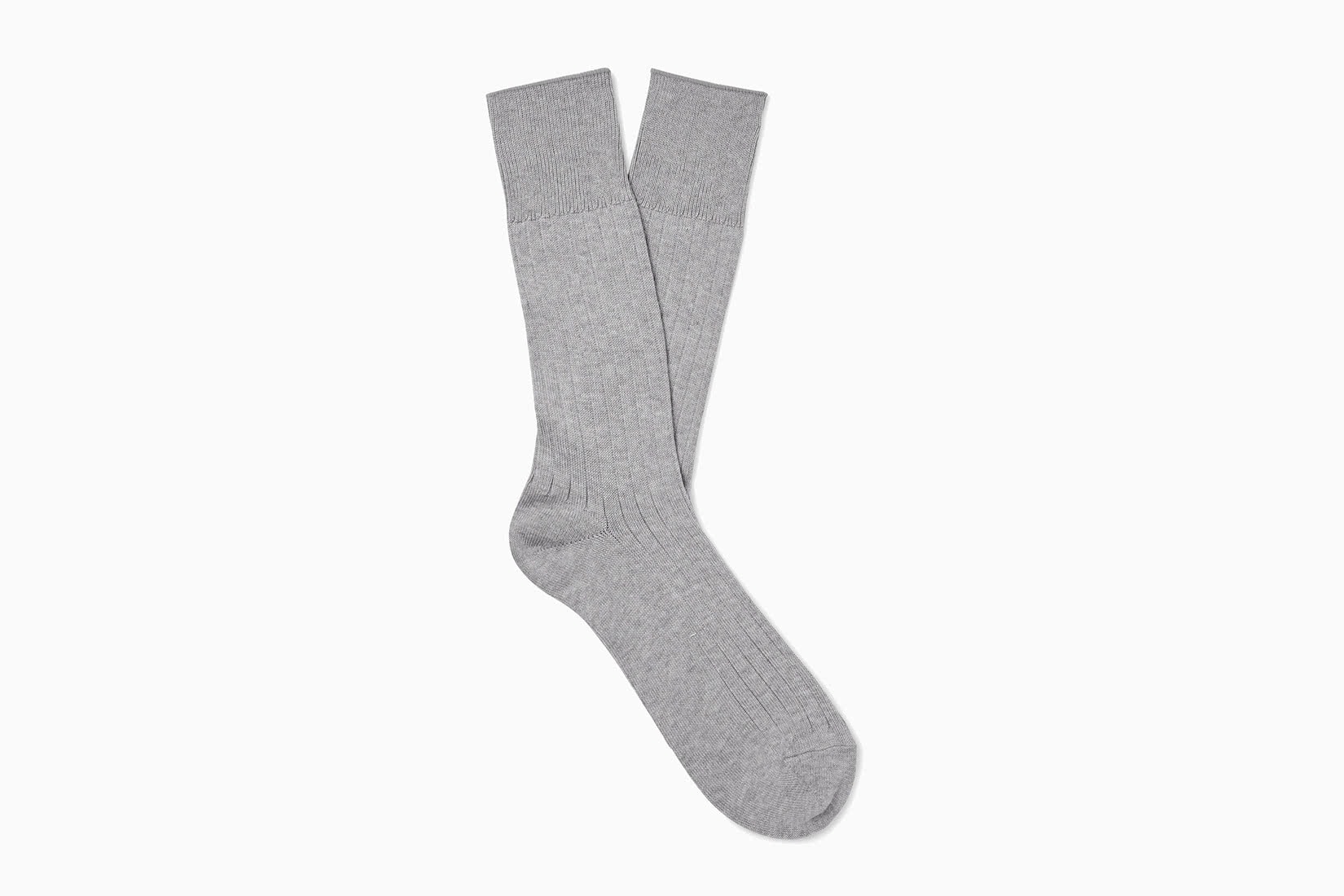 Everyone has those childhood memories of itchy, scratchy socks that had you curling your toes up and considering scrapping footwear altogether. You can consider Mr P's cotton blend socks the absolute tonic to those distant childhood memories, thanks to their super soft Japanese cotton and versatile material that's comfortable enough for day-to-day wear.
In true Mr P style, these socks are not only stylish and versatile but also impeccably well-made and promise to outlive not only most of your other socks but also some of your shoes, too. A huge variety of colors means you can stock up on these socks in plenty of different shades, depending on whether you're hiding them away under jeans or want to proudly display them a little with cuffed chinos. Our suggestion? Brighten up a rainy day with a colorful pair.
Best for: Laidback weekends with jeans and a comfy t-shirt.
Budget alternative: Another pair of our favorite failsafe crew socks come from Dickies. Perfect for pairing with the brand's work pants, these moisture control black crew socks also come in plenty of muted shades to complete any kind of tonal outfit.
Charvet: Over the Calf socks for men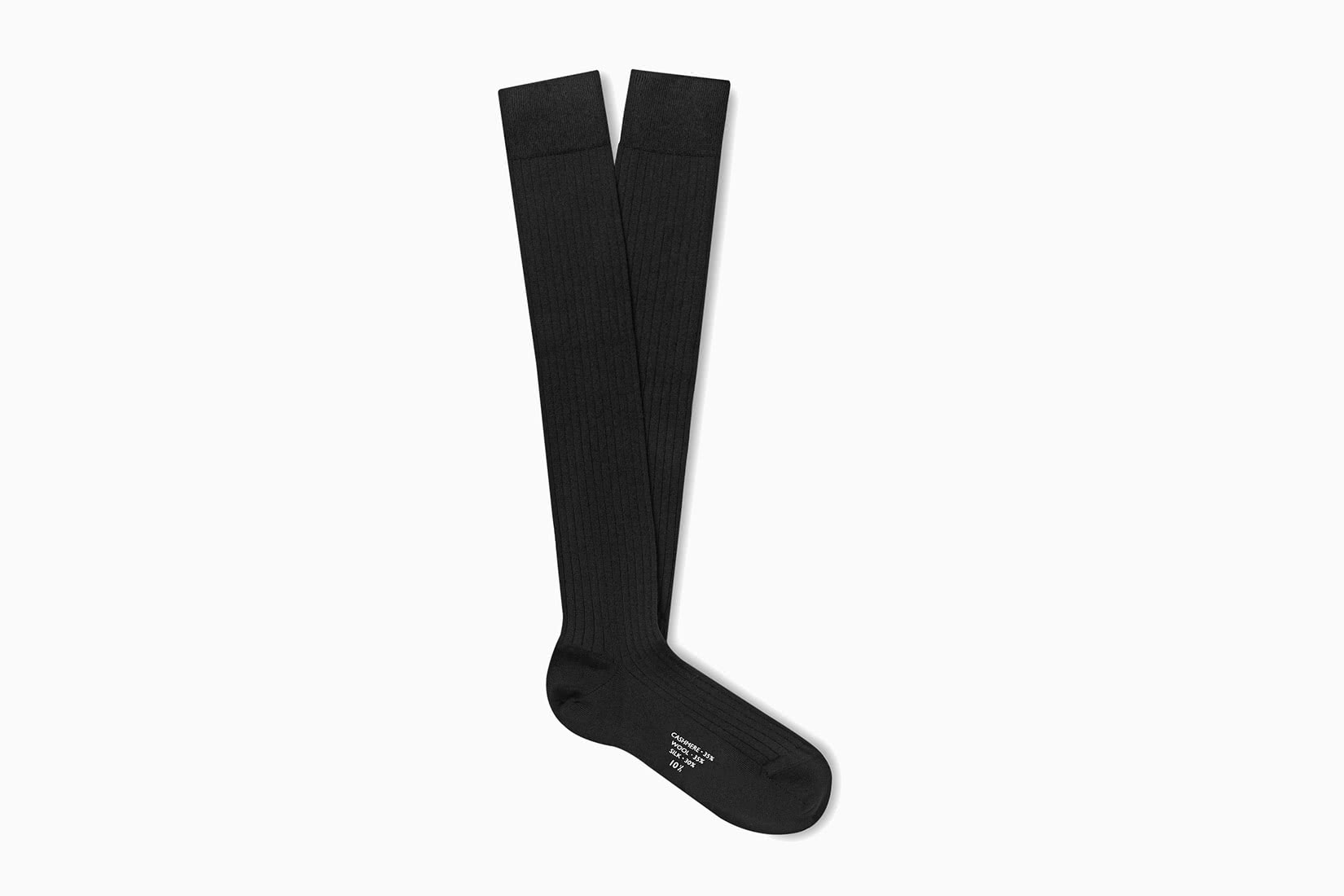 Cashmere socks have that uncanny ability to elevate you from "standard man going to a fancy event" to "stylish and important man who only settles for the very best". Holding you up alongside silk bathrobes and pajama bottoms, expensive coffee beans, and everything else that comes as part of the aspirational Good Life, the right pair of cashmere over the calf (OTC) socks instantly add a touch of luxe to your look.
Charvet's ribbed cashmere socks are as luxurious as their name suggests, with a wool and silk blend that'll feel silky smooth under smart trousers or any kind of formal wear. Pair with your smartest leather shoes and a perfectly fitting suit jacket, and be prepared to feel suave from head to toe.
Best for: Pulling out with your tuxe for only the fanciest of occasions.
Budget alternative: If you'd rather not splash out so much on a pair of socks that you won't wear on a daily basis, consider Gold Toe's Ultra Tec Performance socks. Perfectly understated, they'll sit proudly in your top drawer waiting for their time to shine.
Style guide to men's essential socks
We'll warn you in advance: once you've added some of these socks to your wardrobe, you'll never settle for anything lesser on your feet again. This means taking laundry extra seriously and practically doing a roll call to ensure you've always got matching pairs. So, if you're looking to up your sock game, here's everything to take into consideration before you click "purchase".
Sock length
Generally speaking, the higher the sock, the more formal it is. And the key question here is whether or not you want people to see your socks. If the answer is no, you'll probably want to stick to no-show or ankle socks, depending on what shoes you're wearing. No-show socks are worn mostly to add comfort and stop your shoes from smelling than for style.
They're great for casual outfits and work well with shorts as well as boat shoes or sneakers. As the name and the style would suggest, it's best to avoid no-show socks unless you're opting to have your ankles on show. Find a pair with grip in the heels so they don't slip off your feet as you go about your day.
If you're wearing trousers that fully cover your ankles, there's more room for variety, from mid-calf or crew socks or even higher with over-the-calf pairs. Mid-calf socks are the most common, and you'll find them in the largest variety of colors and materials. Choose calf socks or dress socks for pairing with a professional outfit or, if you're wearing boots, opt for higher socks to prevent irritation. These socks, with their higher length, are far less likely to slide down, and they add an extra layer of protection to your feet.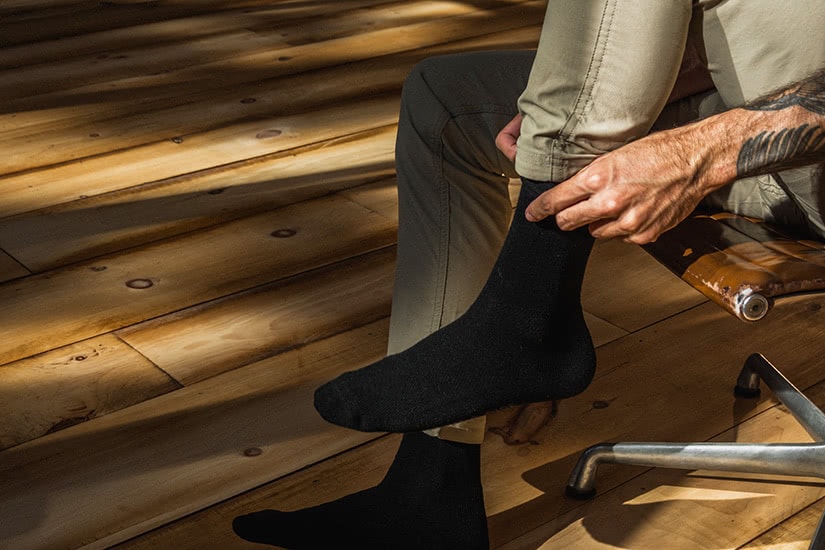 Material
From synthetic materials to staples like cotton or luxury materials like silk, cashmere, or wool, it's important to look at the fabric of your socks before you buy your next pair. Natural fabrics are far more breathable, so stay away from synthetics if you're someone who suffers from hot feet often.
Socks made from a natural material will likely wash better and last longer, which makes them the ideal choice to stop you from having to purchase new pairs every time you're on a shopping trip. Wool, particularly Merino wool, is a great option for thicker socks that offer a higher level of comfort. Wool can also hold up to a third of its weight in moisture before it starts to feel wet, which makes it a great material for socks that you'll be wearing all day.
For black tie or formal events, silk socks are a great premium choice. However, they're generally more expensive than other materials and won't last as long, so they're best saved for special occasions.
If you're someone who suffers from blisters regularly or you're trying to break in a new pair of shoes, look for socks with extra padding in the heels to add an extra layer of protection between your feet and your shoes.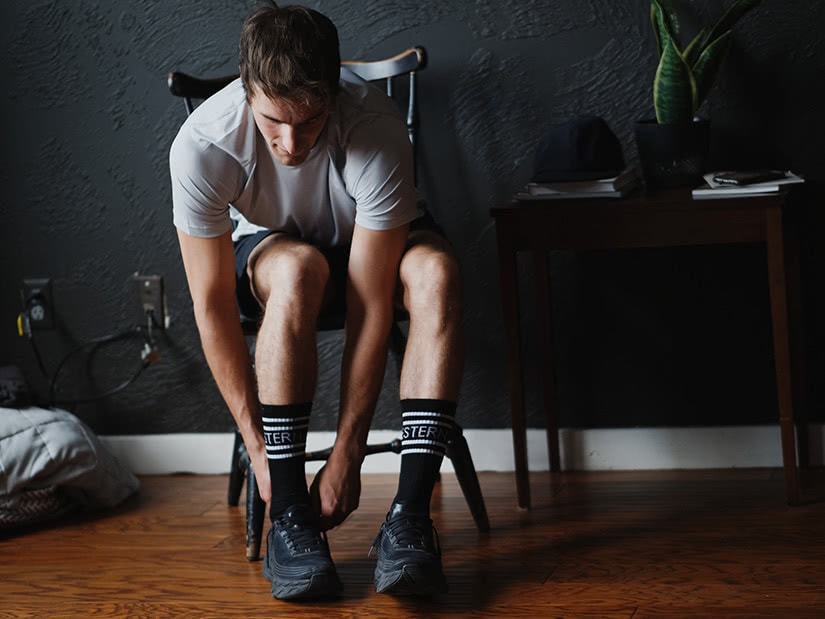 Purpose
Socks are a relatively small investment into your overall wardrobe that can either make or break your mood by the end of the day. So, you'll want to choose socks that suit the purpose of your outfit, depending on how strenuous your day looks and where exactly you'll be going.
Athletic and performance socks should highlight moisture-wicking and odor reducing qualities, to help you round off your workout feeling almost as fresh and clean as when you started it. If you need to look professional or you're heading somewhere fancy, opt for black dress socks that cover the ankles fully. These should be a thinner material.
If you're on the hunt for hiking or protective socks, look for thick, reinforced materials to prevent blisters and ribbing around the top to stop them from falling down.
Colour
Those fun, jazzy socks you've got might be perfect for weekends or a quick lunch out, but you'll want to stick to neutral shades for a professional look. As a general rule, avoid white socks unless you're going somewhere dressed super casual or you're doing sports.
If your outfit includes black shoes, the only color socks you should be wearing with them are black, too. And, if you're struggling with coordination, socks should always match the color of your pants, rather than your shoes.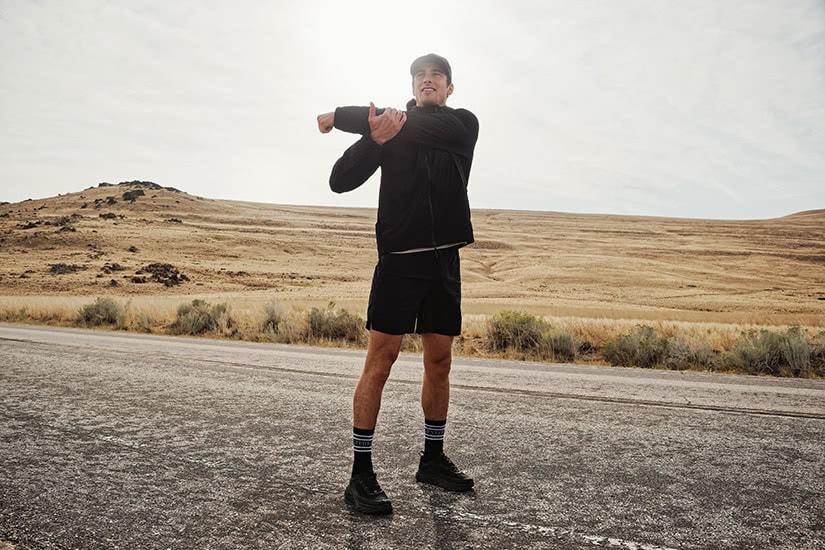 Frequently asked questions about men's essential socks