The best everyday backpacks serve as a compact home away from home. Inside are all your everyday essentials—everything you need to stay on the move from morning 'til evening.
But the best everyday carry backpacks are not just functional and practical. They're also designed to look sleek and stylish and to enhance your workwear, whether that's a traditional suit or casual attire.
Whether you bike to work or simply require a hands-free carry item to allow you to grab a coffee on your morning commute, you need a comfortable, durable, and trendy EDC backpack to accompany you from the am to the pm.
The best everyday backpacks make your life easier. They have plenty of pockets, compartments, and other features to organize your belongings and create a friction-free flow to your day. They'll allow you to rise to any challenge that the world throws at you.
Here are the best everyday backpacks that have your back—if you know what we mean.
The best everyday carry backpacks
Check our special EDC backpack buyers' guide after the list to see exactly what you should pay attention to before purchasing an everyday carry bag.
Bellroy Classic Plus: Overall best EDC backpack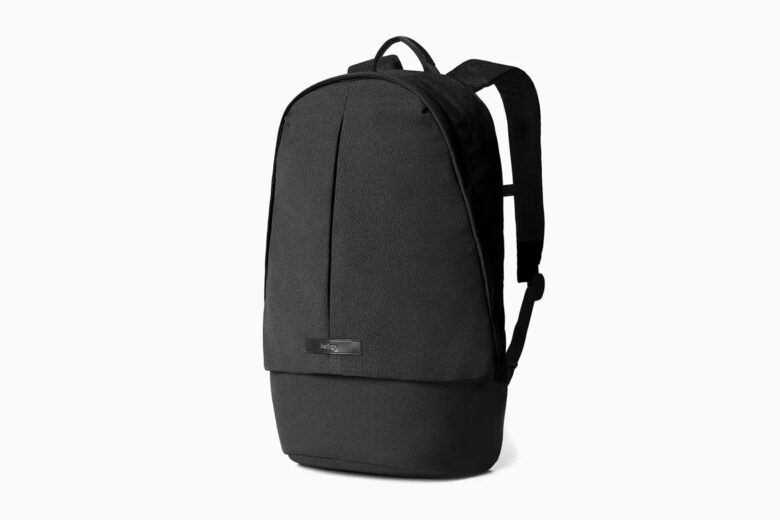 The Bellroy Classic Plus is hands down the best everyday backpack out there. It steals the show in all the major categories: durability, useful features, price, and style appeal.
The best part of the Bellroy Classic Plus? It's designed from the ground up to pack all your daily essentials in a smart and organized way, with dedicated pockets and compartments for everything you need on a regular basis. And it looks good while doing it too. The bag can easily transition from the office to the weekend without ever looking out of place.
Inside, you've got the all-important laptop sleeve. It's placed closest to your back for optimal weight management in a separate laptop compartment with Aquaguard zip access. So your computer is protected from the rain while you're out and about. There is also a dedicated hidden storage for your most valuable items, such as your wallet, phone, earbuds, and keys, to keep them protected from theft.
The main compartment is roomy and easily accessible, with a strap to keep your water bottle in place.
Our verdict
Outstanding — This is one super functional backpack, which—with its slim profile—also looks effortlessly cool on your back.
Best for: a smart yet feature-heavy backpack certain to make your life easier.
| | |
| --- | --- |
| Size: | 22L (20 x 12.2 x 11.8 inches) |
| Material: | Water-resistant polyester and leather |
| Available colors: | A wide range including black, green, and charcoal |
Vincero Commute: Best value backpack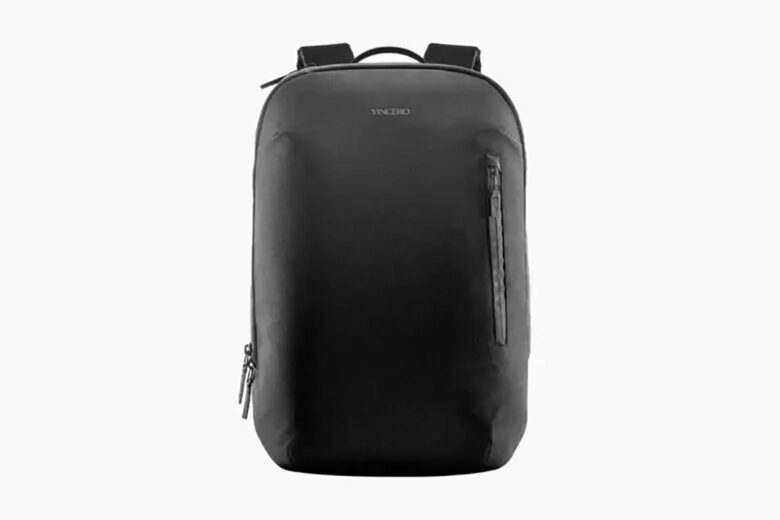 Vincero Collective undoubtedly lives up to its name—meaning "to win"—with this EDC backpack- a victory for your back, your style, and the planet. Functionally, it is carefully engineered to lighten your load with contoured, comfortable straps and breathable foam back panels.
The waterproof hardshell and premium zippers are unafraid of volatile weather forecasts. And a separate laptop sleeve can fit a 16" inch laptop. Larger internal stretch pockets keep other valuables out of the crush zone. Whilst smaller zip pockets provide quick access to your phone, wallet, and keys—because frantic scrabbling is so uncool.
On the style front, this effortlessly sleek and chic black-on-black silhouette is nothing like your bullied kindergarten version. And with an air of elegance and sophistication, we think it's even professional enough for the boardroom. Especially when utilitarians such as Steve Jobs set a new practical precedent for what's allowed and encouraged.
Since 2019, the sustainable brand has been certified Carbon Neutral, ensuring that its products have zero environmental impact. And made ethically from recycled nylon and vegan leathers, we love that The Commute backpack has Mother Earth's back and ours.
Check our hands-on review of Vincero's The Commute backpack.
| | |
| --- | --- |
| Size: | 15L (11 x 4 x 16.25 inches) |
| Material: | 100% Recycled Nylon |
| Available colors: | Black |
RIMOWA Never Still: Best designer backpack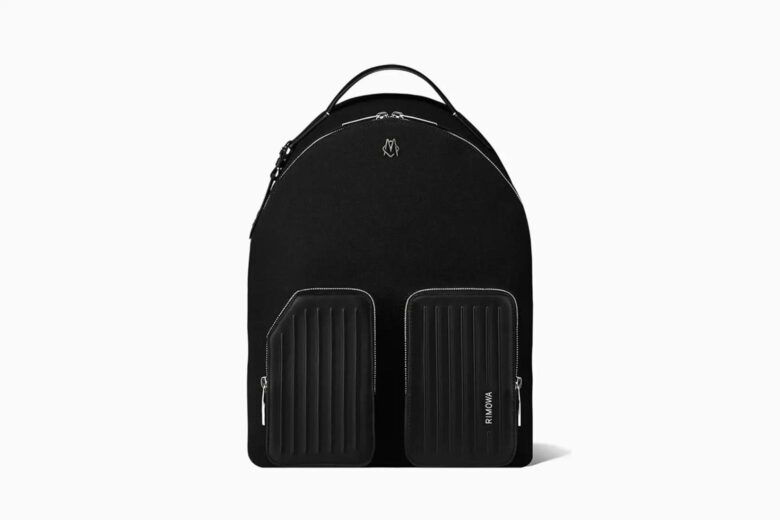 While your average backpack might be practical and sensible, it can also be a bit boring.
At the other end of the spectrum, you have this RIMOWA Never Still Backpack. Proof—if you needed it—that backpacks aren't just for school kids and students.
If your usual messenger bag is in need of replacing, and you fancy making a sartorial statement on your daily commute, this backpack is sure to draw some admiring glances. The high quality of both the materials and construction is evident to even the least fashion-savvy observer.
Crafted in Italy with durable canvas and full-grain leather, this thoroughly grown-up and sophisticated RIMOWA designer backpack is pure luxury with flexibility in mind. The interior is big enough to fit all your essentials: phone, wallet, laptop, or tablet. Pair with a smart jacket and designer kicks, and you can turn even the most boring working day into something special.
And because the bag is made by RIMOWA, you know it's great for traveling too. Available in three different sizes and four different colors, each model comes with a handy strap in the back to fix the bag on your suitcase for your next trip. Check our post on RIMOWA's Never Still collection to see the other bags from the brand available in soft materials.
Best for: those with a taste for life's finer things.
| | |
| --- | --- |
| Size: | 15.5L (16.5 x 12.2 x 6.7 inches) |
| Material: | Canvas, full grain leather |
| Available colors: | Black, grey, cactus, saffron |
Harber London City: Best leather backpack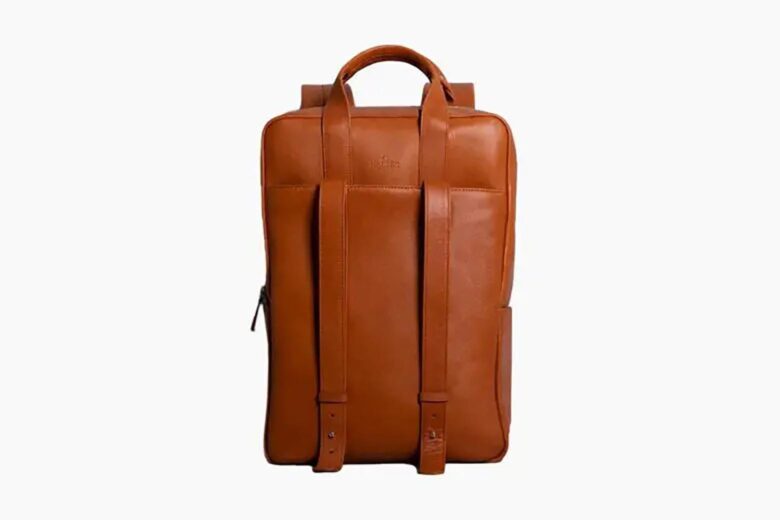 Ok, so utilitarians and street stylists made backpacks cool. But as a slightly more sophisticated sartorialist, you may be struggling to embrace the trend, no matter how practical it may be. Enter: the leather backpack—undeniably elegant and classy but still fashionably functional.
As enthusiasts of this systematically stylish approach ourselves, we're particularly partial to the Harber London iteration. The family-run business is passionate about honoring quality hand craftsmanship. And this tantalizing leather backpack is not only timeless in aesthetics but also in durability.
The built-in tablet pocket fits a 12.9" tablet with a keyboard attached. Whilst the laptop compartment is carefully designed to fit your 16" laptop. Customizable buckles tailor soft leather straps to your preferred length. While multiple organizational compartments prevent last-minute panics and distressed scrambling.
Personally, we use ours everyday. But if you've got a trip planned, even more reason to invest in this Harber London leather backpack. Perfect for traveling, it fits into an on-the-go lifestyle whilst simultaneously complimenting your entire case of carefully chosen elegant ensembles.
| | |
| --- | --- |
| Size: | 13.6L (16.53 x 11.61 x 4.33 inches) |
| Material: | Leather |
| Available colors: | Tan, Black, and Brown |
Nike Essentials: Best value backpack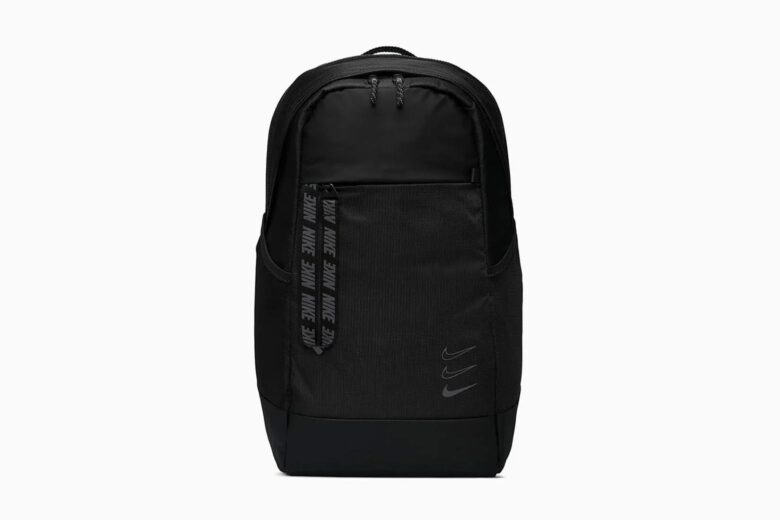 If you're looking for a budget-friendly everyday backpack, this functional and high-performance Nike Essentials is your best option this year. As the name suggests, it's the ideal backpack for your daily hustle.
Nike's proprietary technology makes this backpack capable of battling all the elements. A next-level water-resistant finish will keep all your electricals and documents dry, no matter how bad the weather gets, while the cushy fabric on the back and the straps helps keep your body cool, so you can arrive at the office sleek and sweat-free.
The bag offers a large laptop sleeve, a dedicated phone holder, and a roomy main compartment. Nike's branding is discreet, especially in this black-on-black version.
Best for: a wallet-friendly everyday backpack that can survive the most grueling of workdays.
| | |
| --- | --- |
| Size: | 18L (21 x 12 x 6 inches) |
| Material: | 54% polyester/46% nylon |
| Available colors: | Black, dark smoke grey, bordeau, orange. |
Bellroy Transit Plus: Best backpack for the weekend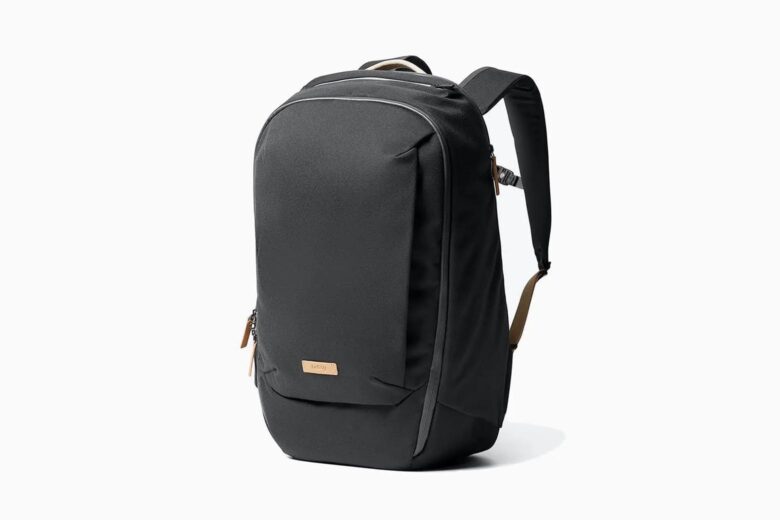 At the weekend, you'll likely need a larger backpack to carry more stuff around. Be it an extra set of clothes for a weekend getaway or more gear and food for a long walk in the countryside, whatever the case might be, you need more capacity and more compartments to keep things organized.
This smart Transit Backpack Plus by Bellroy is destined to become your go-to weekend bag of choice. Team with a fresh pair of jeans and a simple t-shirt, and you're good to go.
Of course, a backpack shouldn't just look good. It should feel good too. This one fulfills all comfort requirements with extra padding on the back to allow your back to breathe and a sternum strap for added support. It also meets carry-on size restrictions, so you can easily take it with you on the plane.
Feature-wise, the Transit Backpack Plus offers protection for a 16" laptop in a dedicated compartment with easy access when going through airport checks. External-access pockets invisibly store your passport and wallet for extra security.
Inside, a flat mesh pocket keeps your folded shirts crisp. You can easily pack sufficient clothing for a weekend, with an extra pair of shoes and your dopp kit. You'll also find internal compression straps to help reduce the bulk of your items and keep things in place.
Best for: action-loving individuals who are always ready for the weekend.
| | |
| --- | --- |
| Size: | 22L (20 x 12.2 x 11.8 inches) |
| Material: | Water-resistant polyester and leather |
| Available colors: | Black, charcoal, lunar, and marine blue |
Db The Backpack: Best all-black backpack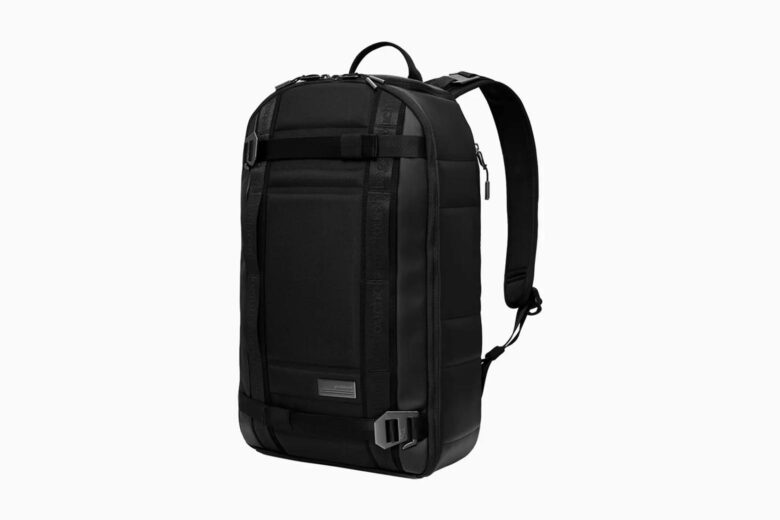 Commuting is never fun. Whether it's fighting for a seat on the train or queuing for a coffee in a crowded cafe, you'd always rather be back in bed. But with Db The Backpack backpack accompanying you on your morning mission, it will suddenly feel a whole lot easier.
This has to be one of the most versatile everyday backpacks on our list. In simple and sophisticated black, it can be worn with any workwear, whether that's a classic suit or a casual shirt and chinos, over a jacket in winter, or with a t-shirt in summer.
Db's The Backpack provides ample storage space without being at all bulky. You'll have no problem fitting in your gym and work essentials. There's a quick-access top pocket to store your glasses and phone charger for minimum faffing. A padded mesh back panel is comfortable and breathable.
We particularly love how flexible this bag is. A fully openable main compartment can store your school or office essentials, but you can also use it over the weekend to place your camera gear with Db's CIA insert. No wonder the brand is so popular with Reddit reviewers.
Best for: uber cool aesthetic in a sleek black-on-black scheme.
| | |
| --- | --- |
| Size: | 21L (18.5 x 11.5 x 6 inches) |
| Material: | PU leather |
| Available colors: | Black, white, desert khaki, blue, red. |
Arc'teryx Arro 22: Best modern design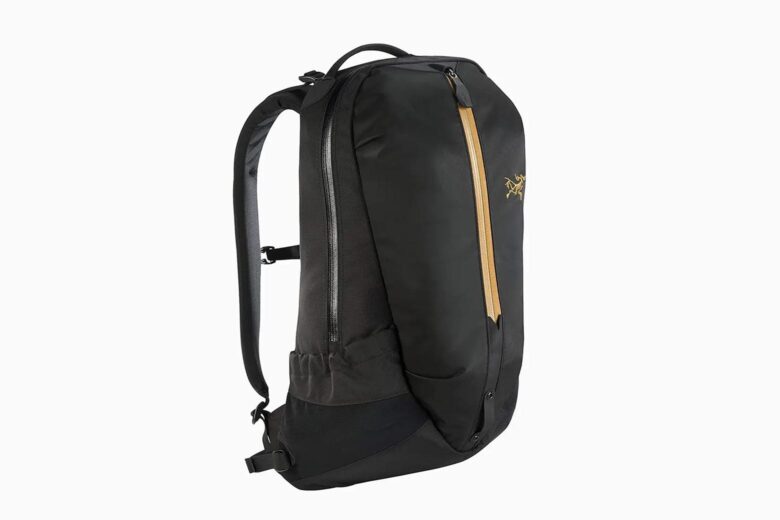 If you're worried rucksacks are more the remit of happy campers than stylish and streetwise urban adventurers, the Arc'teryx Arro 22 is here to prove you wrong.
This ultra-edgy and modern backpack will carry you firmly into the 21st century with a fashion-forward aesthetic that's interesting without being too ostentatious.
The shape is ergonomic and streamlined, fitting all the features into one easy-to-carry package for you to slip on and whizz off around the city. It can fit a standard 15-inch laptop, and, to ensure maximum comfort, you've got dual-density shoulder straps, a hip belt, and a thermoformed back panel.
The bag also features a key clip to save you from rummaging around and a water bladder compartment and hose clip so you can stay hydrated as you race through the day.
Best for: a cool and contemporary everyday carry backpack.
| | |
| --- | --- |
| Size: | 22L (24 x 16 x 7 inches) |
| Material: | Cordura nylon |
| Available colors: | Black, blue, grey, and green |
Harber London TotePack: Best for work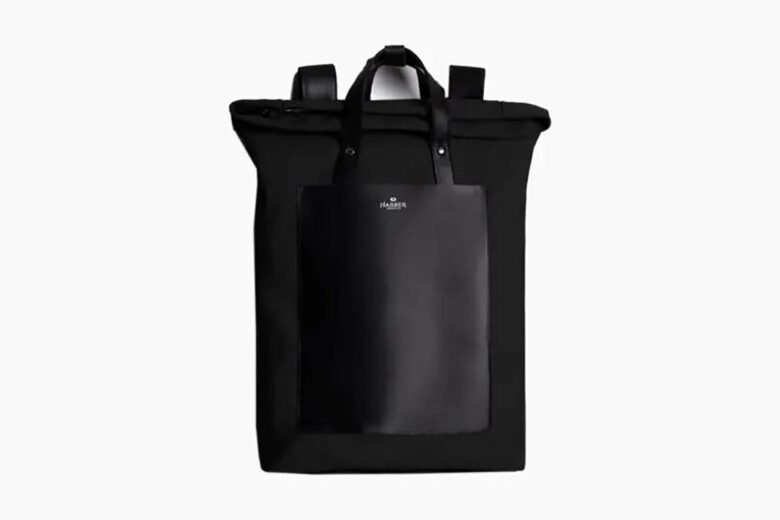 Sleek and professional, the Harber London TotePack transforms to suit your business needs. The backpack silhouette helps take the load off long commutes. Whilst the tote handle prevents you from feeling boyish in the boardroom.
Handcrafted in Spain by expert artisans, all Harber London bags showcase impeccable attention to detail and the highest quality materials. The super comfortable soft leather straps are engineered with all-day wearability in mind (digital nomads, we see you). Whilst the main internal compartment is perfectly sized to fit the daily essentials. The protective laptop sleeve fits a 16" laptop. And the tablet pouch fits a 13" tablet.
Manifesting our elevated, conscious mantra, Harber London are also committed to using sustainably sourced, ethical fabrics. The TotePack, in particular, is made from recycled water bottles—diverting them from landfills and transforming them into fashionable, functional everyday accessories. From the boardwalk to the boardroom, this one packs an eco-chic punch.
| | |
| --- | --- |
| Size: | 22L (21.25 x 11.81 x 5.51 inches) |
| Material: | Recycled Plastic and Full Grain Leather |
| Available colors: | Black, Mocha, and Olive |
Patagonia Arbor Grande Backpack: Best waterproof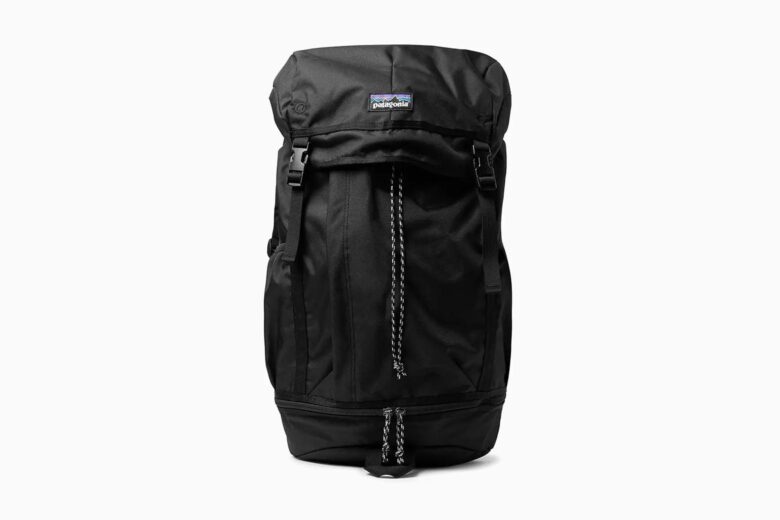 Patagonia is synonymous with the best outdoor clothing and accessories, including modern men's backpacks. Backpacks that are designed to be so long-lasting that you'll never have to replace them. Who wouldn't be a fan of that?
What's so unique about the Arbor Grande backpack? Firstly, this backpack emerges as an easy victor for water-proof rucksacks. The 100% recycled polyester has a water-repellent DWR finish that will keep all your belongings safe and dry, whatever the weather.
Beyond that, you've got comfortable ergonomic padded shoulder straps. There's a drawstring top with an additional buckle fastening and a laptop sleeve where you can also put a hydration reservoir for hitting the trails. Aesthetically, it's elegant and old-school in all the right ways.
Sure, you think you're just going to the office. But what happens if something comes up and suddenly you're on the highway, heading west, to go camping? It could happen. Patagonia's Arbor Grande will make sure you're prepared.
For more outdoor adventure rucksacks, check out our rundown of the best tactical backpacks.
Best for: lovers of the great outdoors who won't be put off by a bit of rain.
| | |
| --- | --- |
| Size: | 28L (21 x 11 x 6 inches) |
| Material: | Canvas polyester with a water-repellent finish |
| Available colors: | Black |
Heimplanet Original: Best minimalist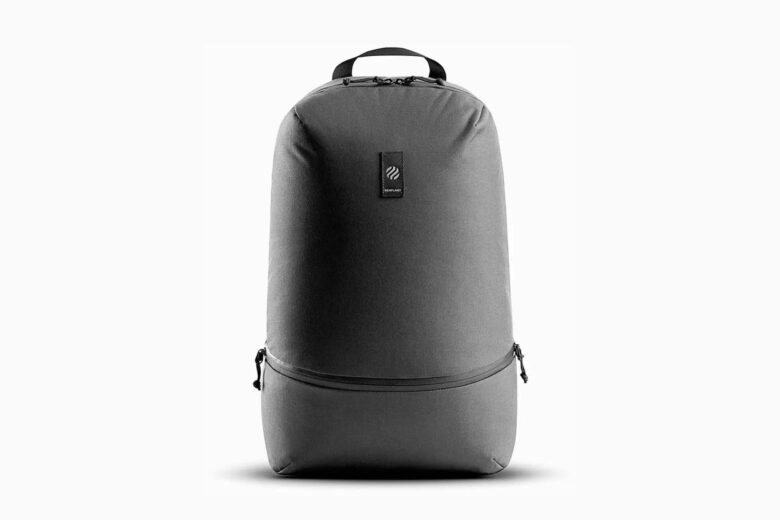 Research has shown that our commutes are longer than they've ever been—around 30 minutes each way. Anything you can do to make this daily chore more manageable is worth it.
One good place to start is with a comfortable and high-performance everyday backpack that can carry all your essentials without putting stress on your back. The best backpacks, like the Heimplanet Original, are unfussy and straightforward. They do everything that you require from a rucksack—and do so in a no-nonsense way that's perfect for minimalists.
The Heimplanet Original has a simple and clean aesthetic. The internal compartment can fit laptops up to 15 inches. There are also two rows of MOLLE webbing so you can put in additional pouches for further organization.
Whether you just need to transport your laptop and lunchbox around the city, or want something durable and hard-wearing for outdoor adventures at the weekends, this is the backpack for you. No matter how demanding your day, this backpack—one of the best daily backpacks on the market—will take a load off your shoulders.
Best for: the minimalist commuter seeking a striped-back-to-basics aesthetic.
| | |
| --- | --- |
| Size: | 18L (18.9 x 5.91 x 12.6 inches) |
| Material: | Cordura nylon |
| Available colors: | Black, blue, and grey |
Matein Travel Laptop Backpack: Best tech bag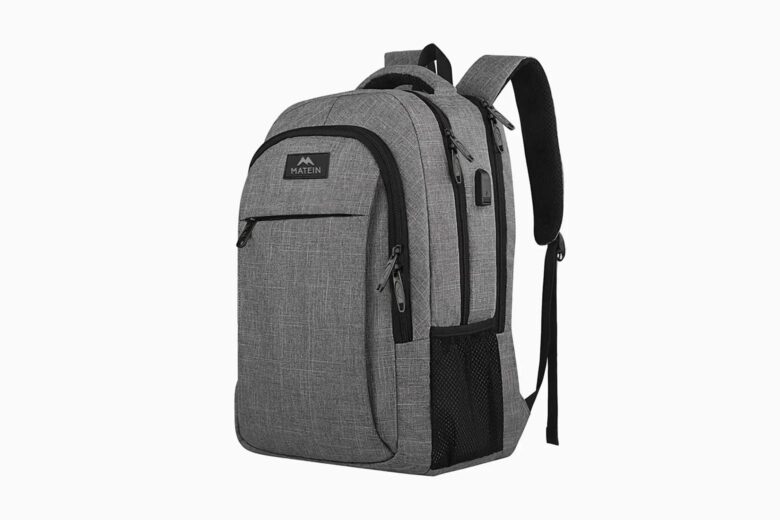 If you're looking for a practical and unfussy everyday backpack that can store all your tech gear, from laptops and tablets to cables and chargers, then take a look at this rucksack by Matein.
This feature-heavy backpack has heaps of storage space, including front pockets for stashing pens, notebooks, cards, and other assorted knick-knacks. There's also an anti-theft safe pocket on the back for your most valuable items and a USB port so you can charge as you walk.
There's a grab-and-go handle for speedy exits and the back is padded and ventilated for optimum support. The luggage strap means it can slide on top of a suitcase for easy carrying when traveling.
Whether you're a student needing something super functional to carry around campus, or an avid techie with lots of gadgets to transport to and from the office, this everyday backpack will quickly become your new best friend.
Best for: for keeping all your tech organized and secure.
| | |
| --- | --- |
| Size: | 18 x 12 x 7.8 inches |
| Material: | Water-resistant polyester |
| Available colors: | Grey |
Hugo Boss Crosstown Leather Backpack: Best luxury designer EDC backpack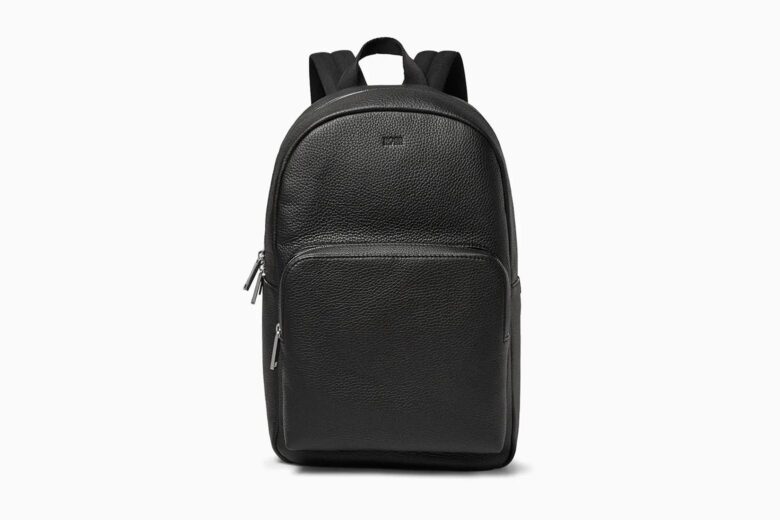 You can't judge a book by its front cover but you can judge a man's by his backpack—in our opinion at least. So send out all the right signals with this Crosstown Leather Backpack by Hugo Boss.
This Hugo Boss backpack is a high-end everyday backpack that wouldn't look out of place in the front row of Paris Fashion Week.
On the smaller end of the spectrum, but still bigger than a sling bag, this luxury everyday carry backpack is an ideal choice for those who only need to transport the essentials: phone, laptop, charger, and perhaps a water bottle.
The full-grain leather is supple and tactile while the padded mesh back provides additional comfort. The straps are adjustable so you can modify as necessary. We recommend teaming with one of the best men's wallets. Because why stop at one stylish accessory when you can have two?
Keep your head in the fashion game with this exclusive rucksack that will look as good on the way to work in the morning as it does walking into the cocktail bar at happy hour.
Best for: lovers of luxury who are seeking a high-end but practical everyday carry.
| | |
| --- | --- |
| Size: | 40 cm x 30 cm x 16 cm |
| Material: | Full-grain leather |
| Available colors: | Black |
Herschel Heritage Backpack: Best for school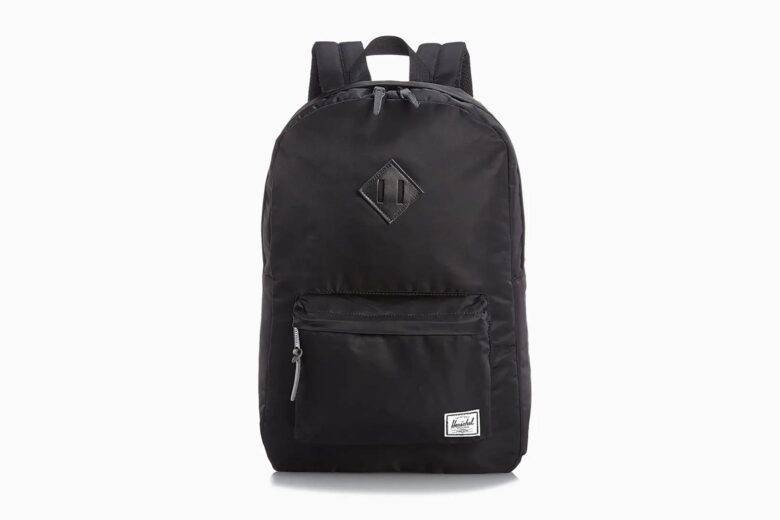 A reliable backpack is a campus essential. Between lectures and the library, you need something sturdy and dependable on your back. The best student-friendly backpacks are those that are affordable and hard-wearing. The Herschel Heritage is a great example.
Herschel creates good-quality and functional backpacks for the 'everyday traveler.' Those always on the go, from dawn till dusk, who need a trustworthy companion to haul textbooks and laptops around for them.
This backpack is strong and durable, able to survive a fair bit of abuse and bad weather. Inside, there's the brand's signature striped cotton lining as well as plenty of space for your computer, papers, folders, and even some spare clothes. All without looking overstuffed and bulky from the outside.
It's simple and straightforward with no fussy extraneous features. It does what it needs to do and does it well.
Best for: students seeking something cool and campus-friendly.
| | |
| --- | --- |
| Size: | 18 x 12.25 x 5.5 inches |
| Material: | Heavyweight cotton canvas |
| Available colors: | A wide range including black, brown, and blue |
Osprey Quasar 28 Backpack: Best for travel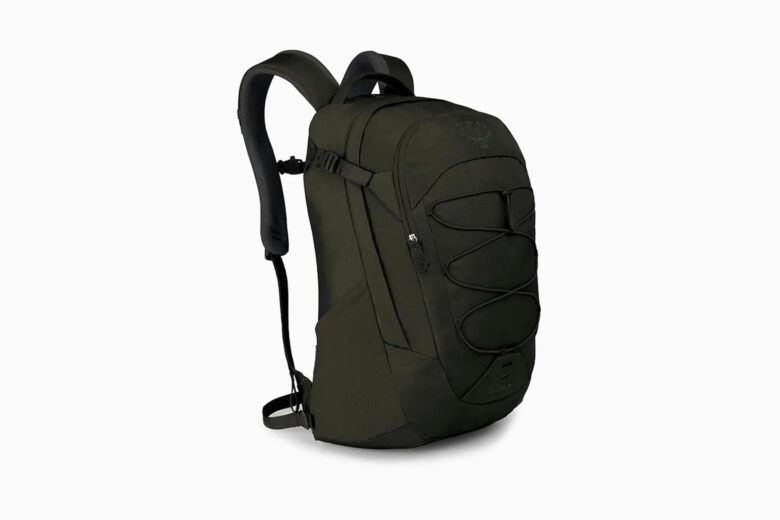 Got a major case of wanderlust? Always dreaming of your next adventure? Then you need a dependable backpack to complement the thrill of the open road. Osprey's innovative designs combine the highest quality materials with an intuitive understanding of what looks cool. The Osprey's Quasar could be the travel buddy you've been waiting for.
Inside you'll find a padded laptop and tablet sleeve—because no modern-day traveler goes anywhere without their gadgets. Stretch mesh side pockets allow for easy access to water bottles, suncream, and other traveler essentials.
And you can use the front stretch bungee to transport your jacket or bike helmet.
It's not just for outdoor adventures either. The Quasar looks just as good on city streets as it does on dirt trails.
Check out our rundown of the best travel backpacks for more inspiration.
Best for: jetsetters eager to hit the road with a reliable travel companion.
| | |
| --- | --- |
| Size: | 28L (19.5 x 13 x 10 inches) |
| Material: | Nylon |
| Available colors: | A wide range including black, green, and blue |
SwissGear ScanSmart: Best backpack for commuting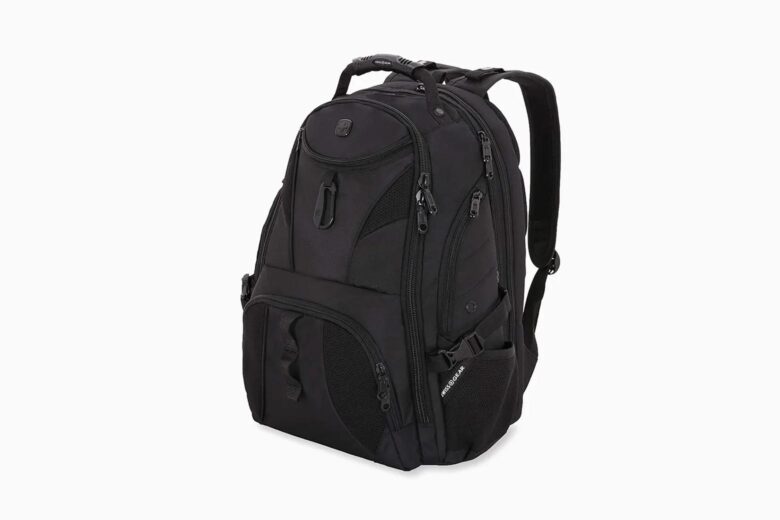 While we all dream of quitting the rat race and taking early retirement, for most of us, commuting to work is an inescapable daily reality. So why not invest in an accessory that makes this chore more enjoyable?
SwissGear's ScanSmart backpack has all the features necessary to help you stay ahead. It's one of the top city backpacks, a great commuting rucksack, and one of the best EDC backpacks available.
On the train and realize you forgot to reply to an email? Slip out your laptop from the easy access compartment and get typing. Reading the newspaper and some exciting opportunity catches your eye? Grab a pen from the front pocket and circle it there and then.
Need a sip of water? There's a bottle compartment. Starting to rain? There's an umbrella compartment.
Heading off on a business trip? ScanSmart lay-flat technology allows you to speed through TSA checkpoints without having to remove your laptop.
This is easily one of the best urban backpacks on our list. Made of 1200D ballistic polyester, it can survive heavy use and abuse, and has the potential to make your commute one of the best parts of your day.
Best for: making your commute smoother and more efficient.
| | |
| --- | --- |
| Size: | 31L (18.5 x 13.5 x 9 inches) |
| Material: | Polyester |
| Available colors: | Black |
Nomatic McKinnon: Best camera backpack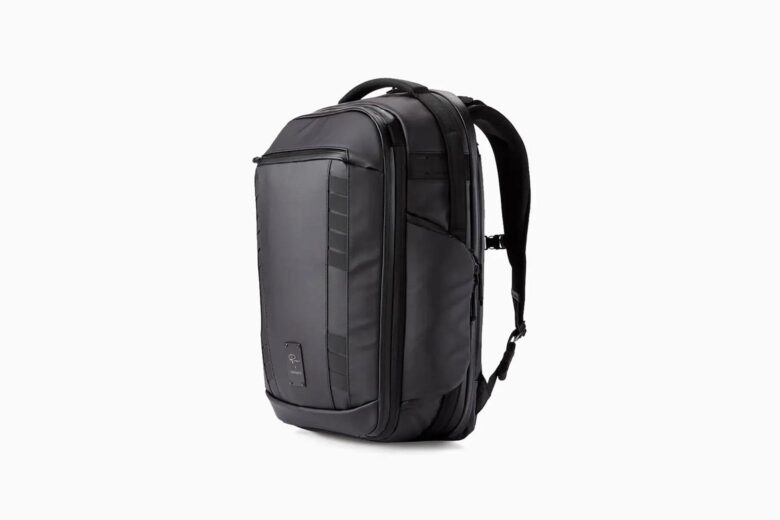 Are you a professional photographer, ever ready to get that award-winning snap? Or just someone who loves taking photographs, whether of gritty cityscapes or remote wilderness?
Then you need a camera backpack like Nomatic's McKinnon that can transport all the equipment you need to secure those magazine-worthy pics.
The backpack holds 35 liters but can expand to up to 42 liters. Not only will you be able to store everything from various lenses to a tripod but you can even fit in a change of clothes. Just in case that waterfall photoshoot doesn't quite go to plan.
You've also got laptop and tablet storage space so you can upload your photos as soon as possible and start editing. And there's quick side access for those moments when you're suddenly face-to-face with a Nat Geo style photo opp. Check our guide on the best camera backpacks of the year to see other options if this one doesn't match your needs.
Best for: anyone who's happiest with a camera in their hands.
| | |
| --- | --- |
| Size: | 35 to 42L (22 x 13.5 x 9 inches) |
| Available colors: | Black |
Eagle Creek Wayfinder: Best carry-on backpack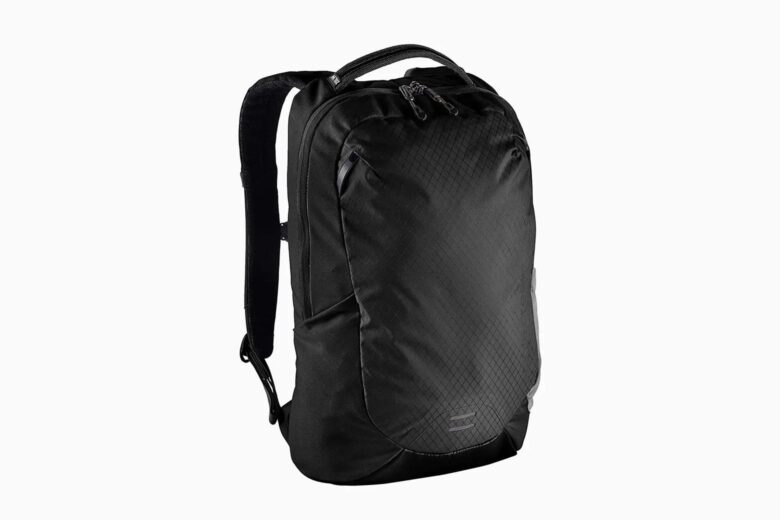 You manage to find a super cheap last-minute deal on a flight. But they want to charge you almost the same again for checked baggage. Nightmare.
Why not leave the suitcase at home and just take carry-on luggage? Save money and enjoy the thrill of traveling light with just the Eagle Creek Wayfinder Backpack on your back.
The backpack features a spacious main compartment for clothes, a 17-inch laptop compartment, a fleece-lined pocket for your sunglasses, side pockets for your water bottles, and hidden pockets for valuables. There's even a pass-through top clip so you can charge your phone on the go.
One of the best everyday carry backpacks, it's also ideal for a business trip. Avoid the queues at the barrage carousel by going carry-on only with the Eagle Creek Wayfinder.
Our favorite part? It's been made using sustainable and recycled materials harvested from landfills. Because eco-friendly is the only label really worth vying after.
Best for: minimalists who like to travel light.
| | |
| --- | --- |
| Size: | 30L (13 x 19 x 5.25 inches) |
| Material: | Dual-diamond ripstop and poly-recycled PVB |
| Available colors: | A wide range including black, blue, and charcoal |
Venture Pal Backpack: Most lightweight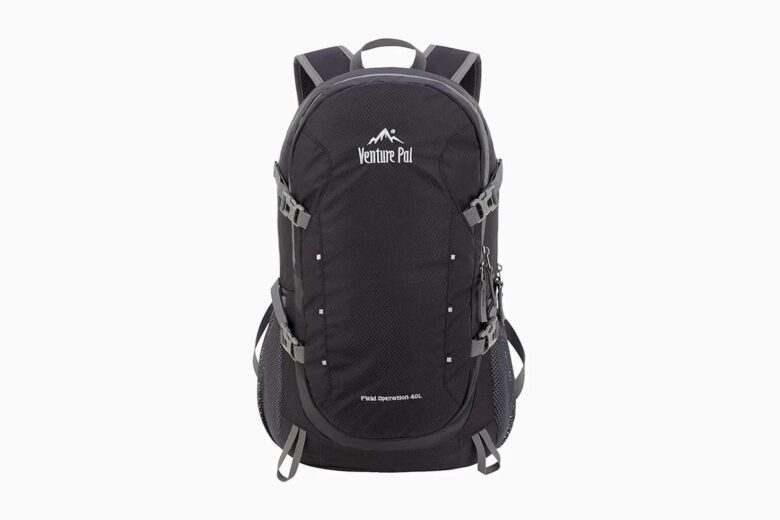 Wouldn't it be great to have a rucksack that can pack away? Especially if you live in a tiny studio apartment where storage space is in limited supply.
The Venture Pal is one of the most lightweight backpacks on our list, coming in at only 0.3 kg. What's more, while 40 liters in size, it can be easily folded into its own pocket for storage.
Despite being lightweight, the rucksack is far from flimsy. It's made of tear and water-resistant nylon with heavy-duty metal zippers. It's also been reinforced at all the major stress points.
This backpack is an essential for any outdoor adventurer. It would also be great for those who travel infrequently and don't want to take up valuable cupboard space with a large and bulky rucksack.
Best for: saving space both at home and on holiday.
| | |
| --- | --- |
| Size: | 40L (12.5 x 6.3 x 19.3 inches) |
| Material: | Waterproof BPA-free nylon |
| Available colors: | A wide range including navy, green, and black |
Mystery Ranch Urban Assault: Most rugged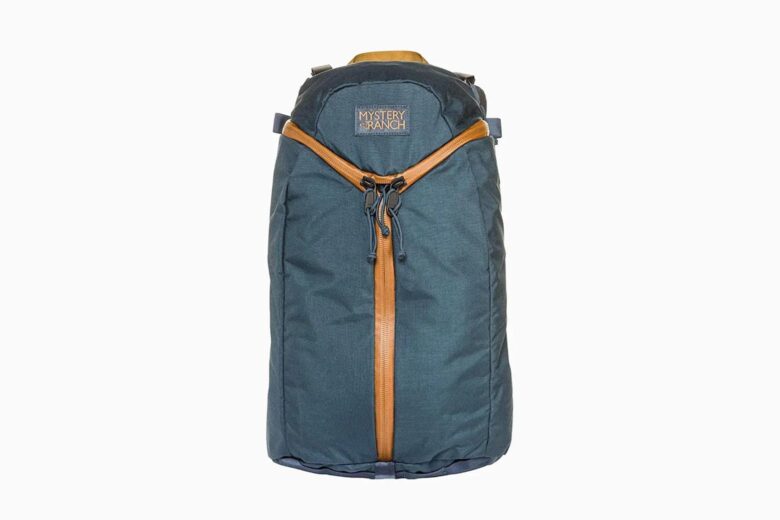 For the amateur survivalists, you need a military-grade backpack that can withstand the most grueling of conditions. Sure, it's unlikely you'll be wearing it into battle any time soon, but morning commutes can feel a bit like mortal combat sometimes.
Military assault rucksacks inspired Mystery Ranch's Urban Assault backpack. The design is pared-back and clean. We love the coyote color in particular, which brings to mind old-school soldier uniforms.
Of course, what makes this a military-inspired backpack is not the color. It's the specs. And this feature-heavy rucksack is just as durable and dependable as you'd imagine from a rucksack modeled after those used by the armed forces.
The premium materials have all been field-tested. 500D Cordura and YKK zippers ensure maximum durability; inside, you have a built-in laptop and tablet sleeve. The bag's 3-zip design allows for rapid access to any items needed.
Just add a tactical watch, and you're ready for Operation Daily Commute.
Best for: a military-inspired rucksack to help you complete your daily missions.
| | |
| --- | --- |
| Size: | 21L (20.25 x 10 x 8.74 inches) |
| Material: | 500D Cordura |
| Available colors: | A wide range including coyote, blue, and black |
Herschel Little America Backpack: Best timeless style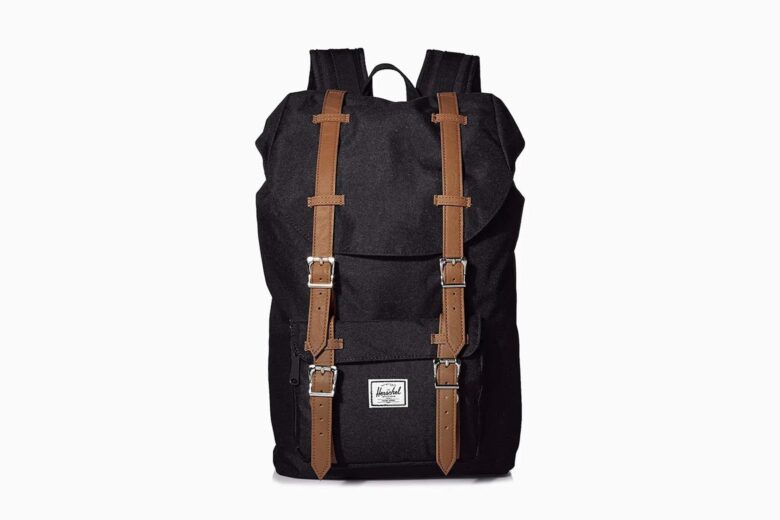 Check out Herschel's Little America backpack for a look that will never go out of style. Inspired by classic mountaineering backpacks, it nails old-school cool and is perfect for pairing with bleached jeans and retro-style sneakers.
The Herschel Little America is the ideal accessory for the contemporary commuter. Sling over your shoulder, you'll be hands-free, ready to grab a coffee, search for door passes, or grab a bunch of flowers for your partner on the way home.
Inside, there's ample space for all your needs. Laptop, textbooks, important documents, passport if you plan to travel, notebook for when creativity strikes. All and any must-have gear that you need to carry around on a daily basis. Because who knows where the day may take you.
We're fans of the indigo denim for vintage appeal or the khaki green for military flavor.
Best for: an iconic backpack with timeless style.
| | |
| --- | --- |
| Size: | 23.5L (10 x 10.75 x 16 inches) |
| Material: | Polyester and nylon |
| Available colors: | A wide range including indigo, green, and brown |
AmazonBasics Classic School Backpack: Best budget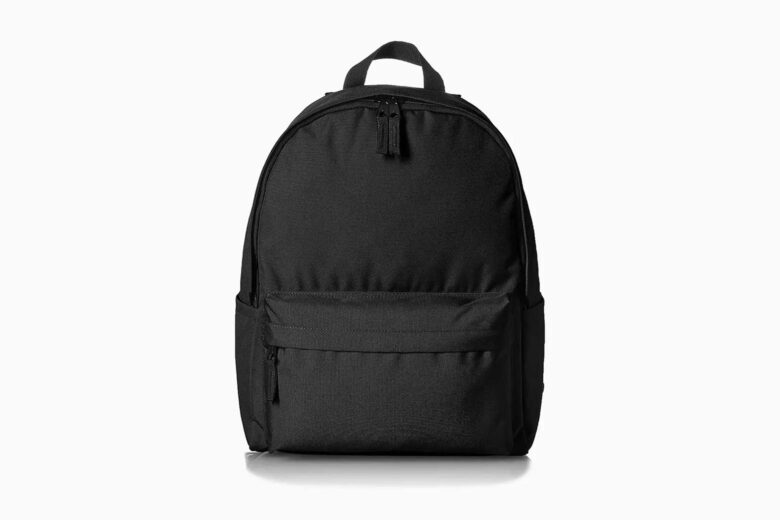 You slept through your alarm, couldn't find your keys, and now you've missed your train. Mornings can be stressful. But getting through it all is a little easier if you've got a reliable backpack accompanying you out the door. This good-looking backpack from Amazon is the ideal budget workbag.
It's generous in size—whether it's carrying your lunch or laptop. A front pocket is ideal for stashing pencils and keys. There are also two Velcro side pockets where you can store a water bottle or anything else you might need in a hurry. The back and shoulders are padded for comfortable cushioning.
Aesthetically, we like the preppy style of this backpack. It's classic and clean—no-frills and no-nonsense. We recommend black or navy for versatility.
When it comes to accessible prices, this one's a top contender. With a price tag like that, you really can't go wrong.
Best for: a budget-friendly backpack to help you juggle the demands of daily life.
| | |
| --- | --- |
| Size: | 12.2 x 6 x 15.8 inches |
| Available colors: | A wide range including red, blue, and black |
Gucci Monogrammed Backpack: Most expensive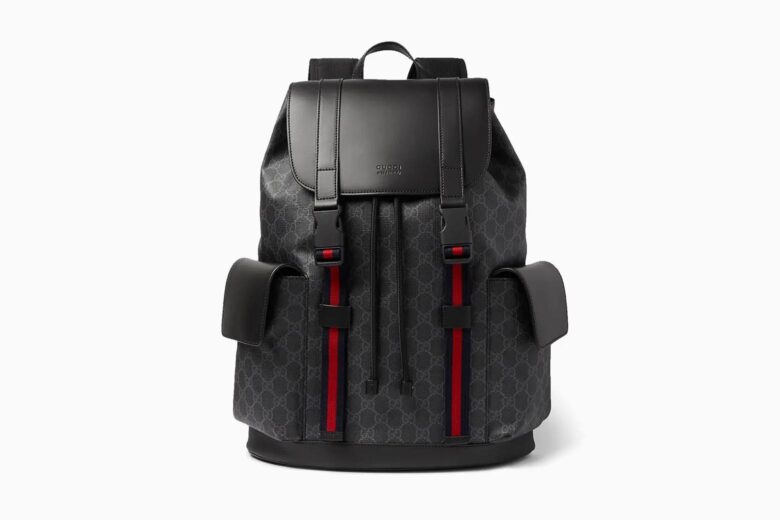 The best men's backpacks aren't just workhorses. They're accessories that can make or break an outfit. The most stylish men's backpacks can lend your look a bit of functional edginess and create that intriguing man-on-a-mission vibe.
This luxury monogrammed backpack by Gucci is exactly what we mean. With the iconic interlocking double Gs of the Gucci logo stamped all over, this rucksack offers wearers the ultimate fashion-focused daily companion.
Style-wise, this backpack certainly carries the day. Canvas, sleek black leather, and red and navy webbing straps make up the luxury exterior. The color scheme is understated, but this backpack's high-quality and fashion appeal will hardly fly under the radar.
Swing this over your shoulder, pause for a quick spritz of one of the best men's colognes, and you'll be flying out the door. The question is not are you ready for life—but rather, is life ready for you?
Best for: looking catwalk-ready as you go about your day.
| | |
| --- | --- |
| Size: | 17.3 x 13.4 x 2.8 inches |
| Material: | Coated-canvas and calf leather |
| Available colors: | Black and grey |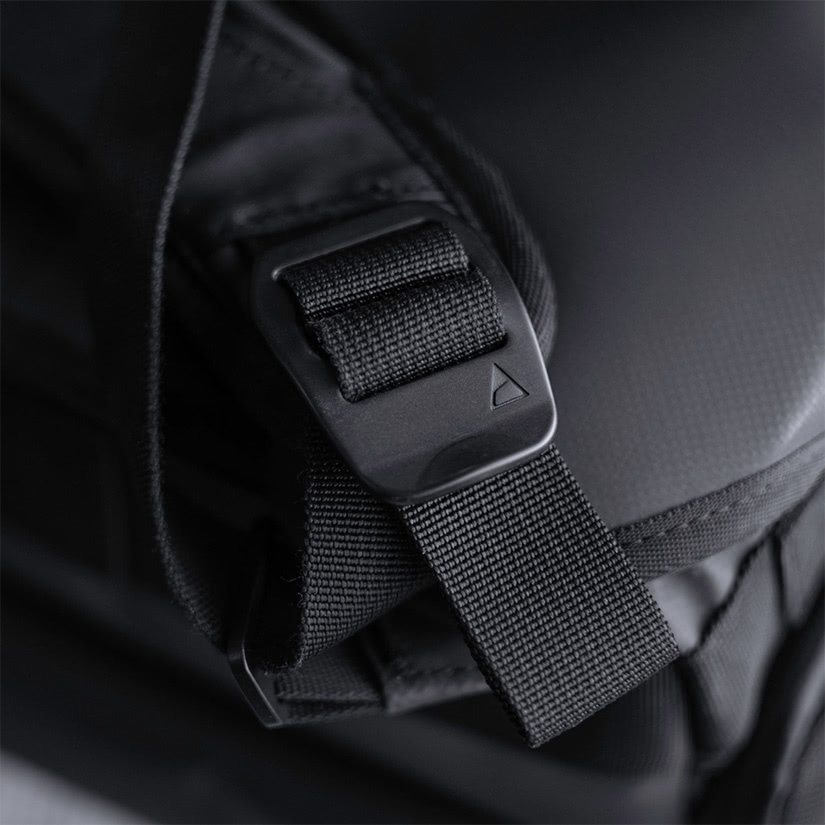 Buyers guide: how to choose an everyday carry backpack
When it comes to buying an everyday carry backpack, there are a few things to consider and different models to suit different needs.
Firstly, think about what you're going to be carrying with you on a typical day. Keys, phone, and wallet are the basics. But you might also want to pack things that could come in useful in unforeseen circumstances.
A basic first aid kit, for example, or a flashlight. What about a spare pair of socks in case it rains? Sunglasses are a no-brainer too. Although you should avoid over-packing your bag as this can cause the seams to fail.
Make a list of the gear you need every day—then think about size. Backpacks are measured in inches and liters. Opt for the smallest bag that can still fit all your items. 20 to 24 liters will be plenty for most people.
Padded straps and a padded back panel ensure optimum comfort. A contoured pack distributes the weight so it doesn't all rest on your shoulders and creates a space between your back and the bag, allowing air to pass through so you don't get sweaty.
Durability is key. An everyday carry backpack is an investment and should last you a long time. Look for brands with a commitment to high-quality materials and construction.
As for colors and style, versatility is the name of the game. Something you can wear every day, no matter your outfit. Minimalist, sleek, and contemporary is the way to go.
Finally, in terms of features, you want to pay attention to the following:
Shoulder straps – the wider the straps, the more comfortable the bag. Look for straps that are hard-wearing and not liable to split.
Padding – this will make your bag more comfortable to carry around for extended periods of time.
Chest and waist straps – by distributing weight, these lessen the load. They also make it easier to run with your bag if necessary.
Laptop sleeve – most modern-day commuters will need to bring their laptop with them at some point. Make sure you can store yours inside your backpack safely and securely.
Elasticated side pockets – these are useful for storing things you want quick and easy access to.
Water-repellent coating – it doesn't have to be completely waterproof, but it should be able to survive an accidental coffee spill, for example. Although if you cycle to work, you'll want something able to withstand the elements.
Pockets – the more, the better. Pockets and compartments are ideal for organizing and helping to keep your journey friction-free.
Zips – look for corrosion-resistant zips, especially if you live somewhere coastal where the air is salty.
Slash-resistant – can it withstand being cut by penknives? It's an unlikely scenario, but it's best to be prepared.
Hidden pockets – you can put your valuables, such as your phone and passport, in these pockets—ideal if you plan to take your EDC traveling with you.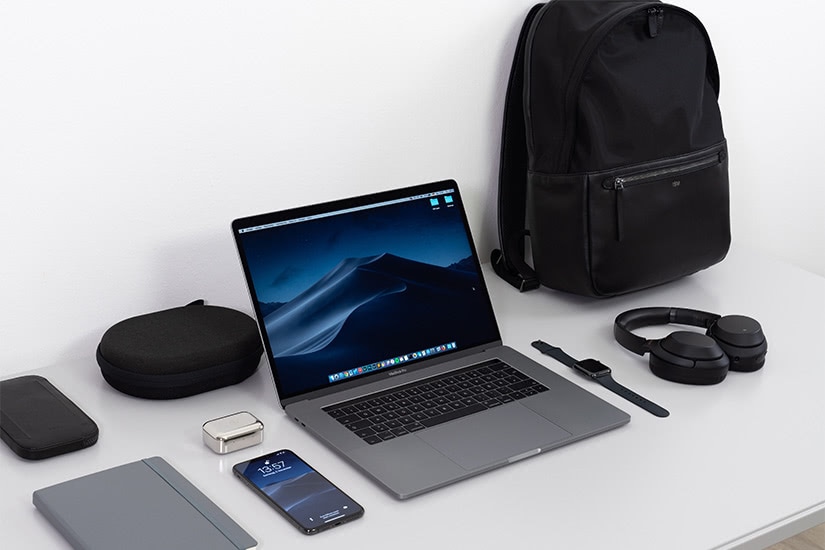 EDC backpack: Frequently asked questions