There's never been a better time to invest in a great pair of men's dress shoes. Not only because you've likely stuck to your favorite luxury sneakers (or dare we say it, slippers?) for the last two years, but also because there are so many suave pairs available at the moment.
While most dress shoes for men might look fairly understated, the best dress shoes pack a large punch when it comes to pulling off all the stops. Not only do they have to be stylish enough to coordinate with the rest of your wardrobe, but they also have to be comfortable enough to withstand hours of standing on your feet.
And, of course, they need to be made from premium materials to stop you from having to go through the entire process only a year later.
Dress shoes look a little different in modern times, though. Sure, we're still leaning mostly towards Oxford or Derby styles, but a growing number of men's boots (especially Chelsea boots), smart sneakers, and more means there's far more room for experimentation when it comes to dressing up.
Quality men's dress shoes, stylish men's dress shoes, comfortable men's dress shoes: believe it or not, they can all exist in harmony. Read on for all of the top formal shoe brands in the world, from the most budget-friendly to the most expensive and everything in between.
The 21 best dress shoes for men
To help you find the dress shoes that are best for you, check our buying guide to choose the best men's dress shoes after the list.
AmberJack: Best overall dress shoes for men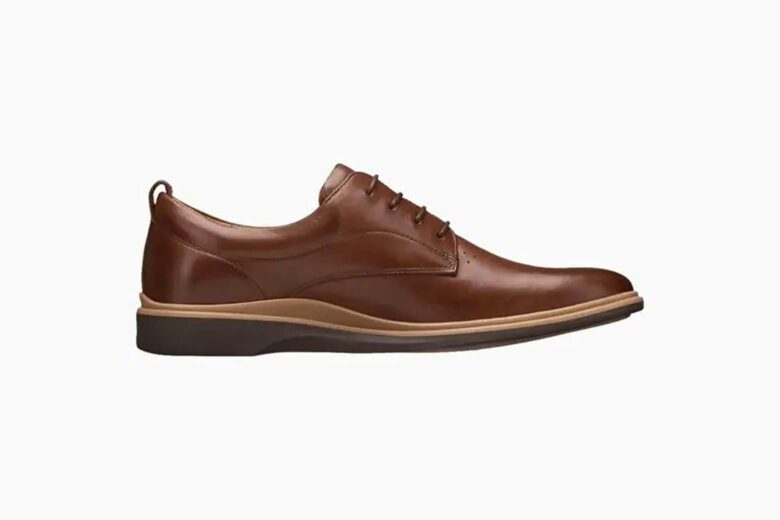 There's a reason Amberjack's shoes launched with a 10,000-person waiting list. And being awarded the best men's dress shoe is no easy feat—pun intended—and it takes a lot to tick not just all of the essential boxes but also those extra special touches. Comfortable? Check. Budget-friendly? Check. A-grade quality? Check. We could keep going, but we'll cut to the chase.
Amberjack's The Original is the dress shoe of dreams, bringing together everything from buttery-soft sheepskin lining to heat-activated arch support and premium hides from American steer. This brand shops directly from its suppliers, which means its dress shoes come with all of the prestige but none of the unnecessary price. We're big fans.
| | |
| --- | --- |
| Shoe style: | Derby |
| Colors: | A range including chestnut, honey & obsidian |
| Materials: | Leather or suede |
Hugo Boss: Best high-end dress shoes for men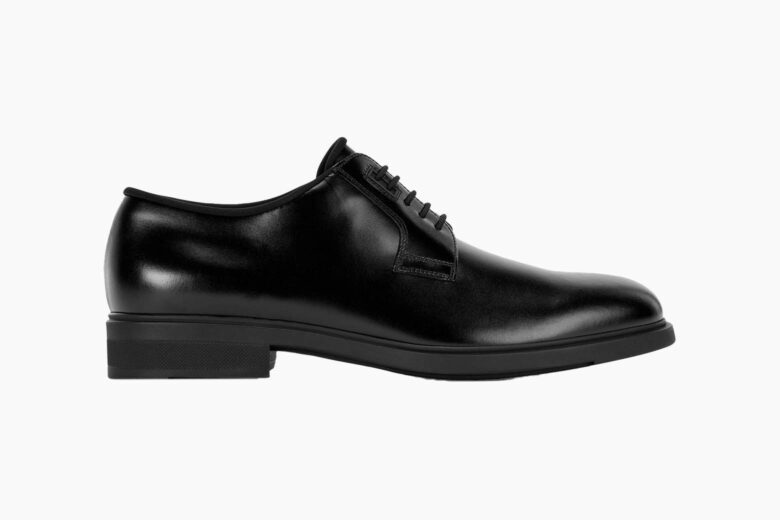 Hugo Boss stands above the crowds when it comes to the best men's dress shoes and the Italian-made vegetable-tanned calf leather Derby shoes are a brilliant example of just that. Pulling together the right amount of suave style with impeccably soft leather and some fine tailoring, these Hugo Boss dress shoes promise to take your look to the next level, whatever the occasion.
Available in two shades, they add an understated touch of style to your smartest outfits, providing comfort and class in a way that you'll struggle to recreate with lesser shoes. Their natural patina promises to age beautifully no matter how many times you wear them.
| | |
| --- | --- |
| Shoe style: | Derby |
| Colors: | Black, dark blue |
| Materials: | Leather |
Allen Edmonds: Best value men's dress shoes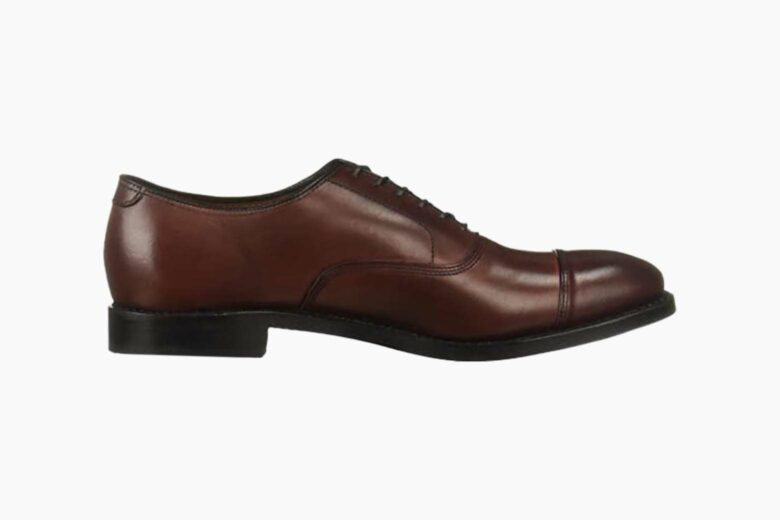 Dress shoes don't have to cost a fortune and some of the best pairs won't set you back much at all. The hidden gem in the world of fancy footwear, these staples ensure comfort and style with enough money left over to splash out on the rest of your outfit.
Allen Edmonds' Oxford dress shoes come in a huge range of colors, making them more than easy to complement or contrast against your look. A timeless cap-toe Oxford with subtle seam details provides just the right amount of attention, with a cork footbed that shapes to the foot over time for a personalized fit.
| | |
| --- | --- |
| Shoe style: | Oxford |
| Colors: | Black, oxblood, walnut |
| Materials: | Leather |
Axel Arigato: Most comfortable dress shoes for men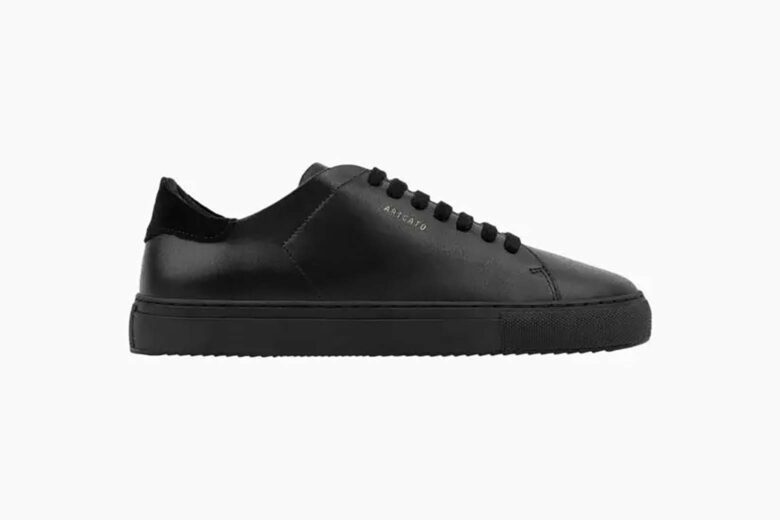 We've mentioned time and time again what big fans we are of Axel Arigato footwear and the brand's dress shoes are no exception. These seamlessly stylish dress shoes are perfect for all kinds of smart-casual occasions when you don't want to pull out the Oxfords but need something a little sleeker than standard trainers.
Bonus points: they're also seriously comfortable, made from smooth leather, and set on a cushioned footbed for maximum comfort. A subtle logo stamp and minimalist silhouette make this Axel Arigato dress shoe a top-tier option that you'll find yourself pulling out wherever and whenever possible.
| | |
| --- | --- |
| Shoe style: | Sneaker |
| Colors: | Black |
| Materials: | Leather |
M.Gemi: Best slip-on men's dress shoes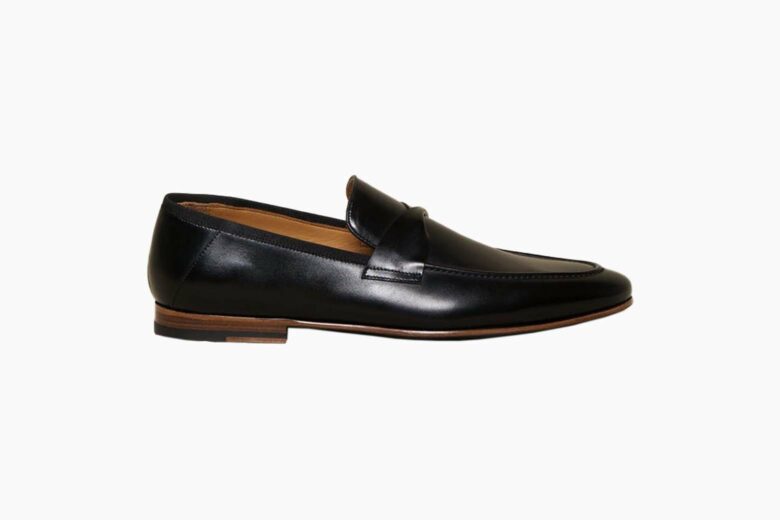 A great pair of men's loafers is the underdog of the footwear industry, promising a perpetually on-trend look with a difference. Taking a stand against the traditional dress shoe, the best loafers provide comfort and flair in a way that's breathable and always ready for the warmer months.
Our favorite pair? It has to be M.Gemi, and specifically M.Gemi's The Filare. An elegant twist on the classic penny loafer, these loafers are far more comfortable than they initially look, handmade in Toscana, Italy, and completed with all of the Italian-style notes that we know and love.
| | |
| --- | --- |
| Shoe style: | Loafers |
| Colors: | Black, chestnut |
| Materials: | Leather |
Church's: Best oxford shoes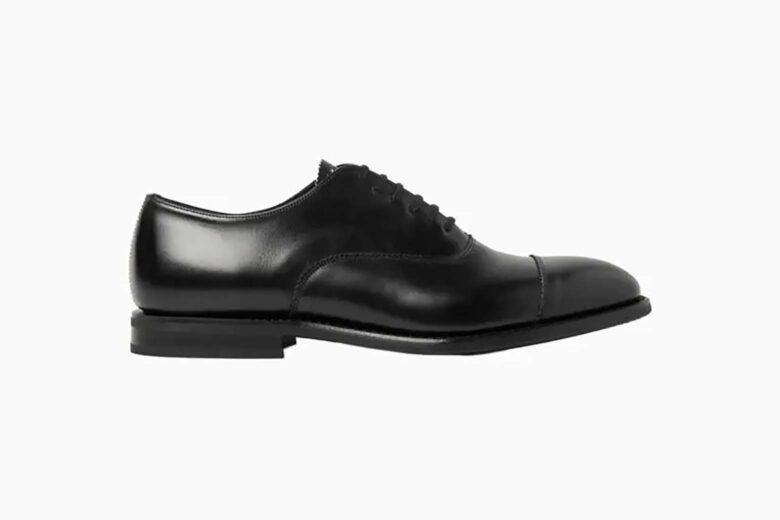 There's no staple in a man's wardrobe quite like a pair of perfectly fitting Oxfords. Perfect for the working week, great for stylish dinners at fancy restaurants, and even better for spontaneous evening occasions when you really need to impress, a pair of leather Oxfords is an unmissable addition if you don't already have a favorite pair in your wardrobe.
Church's Pamington Oxford Shoes are some of the best on the market: a premium pair made from buttery soft leather designed by a brand with almost two centuries' worth of knowledge behind them. They're the full package when it comes to Oxfords.
| | |
| --- | --- |
| Shoe style: | Oxford |
| Colors: | Black, brown |
| Materials: | Leather |
Johnson & Murphy: Best formal shoes for men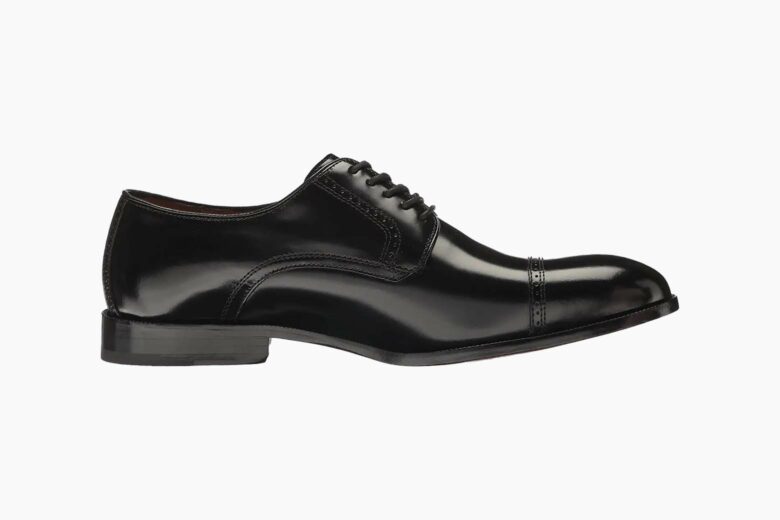 Johnston & Murphy's Bradford Oxford is the real deal for those seriously high-class events when you need to pull out all the stops. Everything about these dress shoes was designed to impress, from the delicately patented design right the way through to its subtle detailing and sharp toe.
Made from soft leather, these men's dress shoes are more than happy to accompany you to work events, luxury dinners, and all other kinds of occasions, with just a quick polish bringing them back to their best before you leave. They may be low-key to look after, but they promise a high-key effect.
| | |
| --- | --- |
| Shoe style: | Oxford |
| Colors: | Black |
| Materials: | Leather |
Oliver Cabell: Best ​​casual dress shoes for men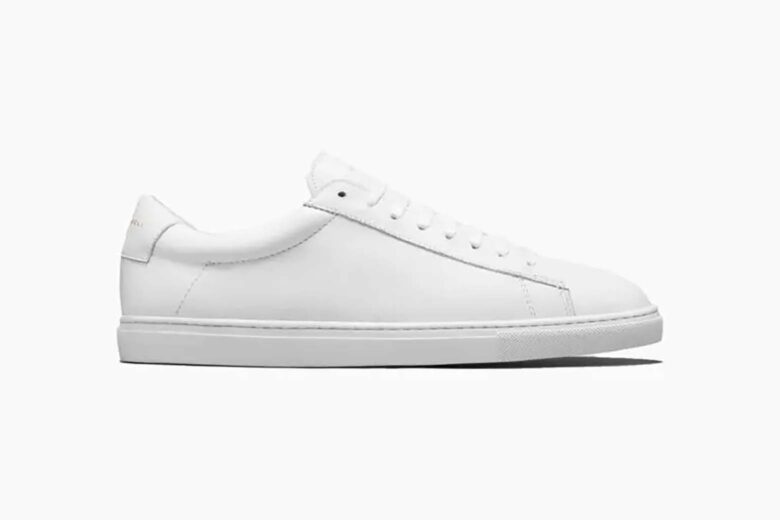 Finding a casual dress shoe isn't an easy task: that window between too casual and too dressy is most definitely a small one that usually requires a lot of searching before you find the perfectly balanced pair. For those kinds of occasions, you'll always find us wearing a pair of Oliver Cabell
The perfect white luxury trainer that's just calling out to be paired with tailored trousers for a casual look, these comfortable dress shoes make a brilliant first impression and retain their pure white color easily. Italian calfskin leather is responsible for that impossibly smooth fabric against your toes.
Check our in-depth review of Oliver Cabell's sneakers and our profile on Oliver Cabell's brand.
| | |
| --- | --- |
| Shoe style: | Trainer |
| Colors: | White |
| Materials: | Leather |
New Republic: Best smart casual dress shoes for men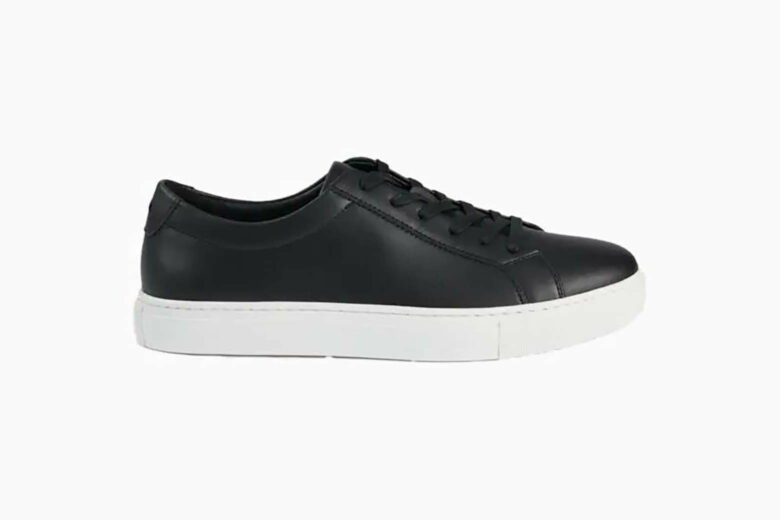 New Republic's Kurt Leather Sneaker seals the gap when you're struggling to decide between white trainers or black trainers. Pairing a thick white sole with a solid black body, these sneakers are a brilliant choice for a smart casual event when pure white trainers might just lean a little too much toward the casual end of the spectrum.
A classic everyday fit that also comes in a few different colors, the Kurt Leather Sneaker is soft and supple, designed with comfort in mind without forgoing style. Each shoe is made from hand-stitched leather, just to ensure you're suitably impressed.
| | |
| --- | --- |
| Shoe style: | Trainer |
| Colors: | Black/white, triple white, sandstone |
| Materials: | Leather |
Koio: Best business casual dress shoes for men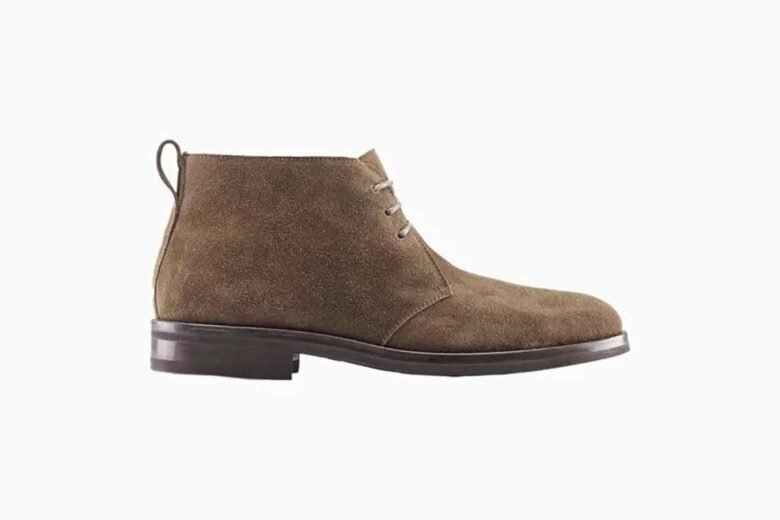 Business casual can seem like that impossibly open-ended dress code with no real rules and plenty of room to accidentally mess up. The trick? Start with a solid foundation—the best pair of business casual dress shoes—and work your way up from there.
As long as your shoes are appropriate, the rest will likely fall into place. Your business casual savior comes in the form of Koio's Lucca shoe. These desert boots are just as happy being dressed up or down, which also makes them perfect for a weekend away when you'd rather simply just bring one pair of shoes along.
| | |
| --- | --- |
| Shoe style: | Desert boot |
| Colors: | Hazelnut, root |
| Materials: | Suede |
Santoni Polished Oxford: Best men's dress shoes for work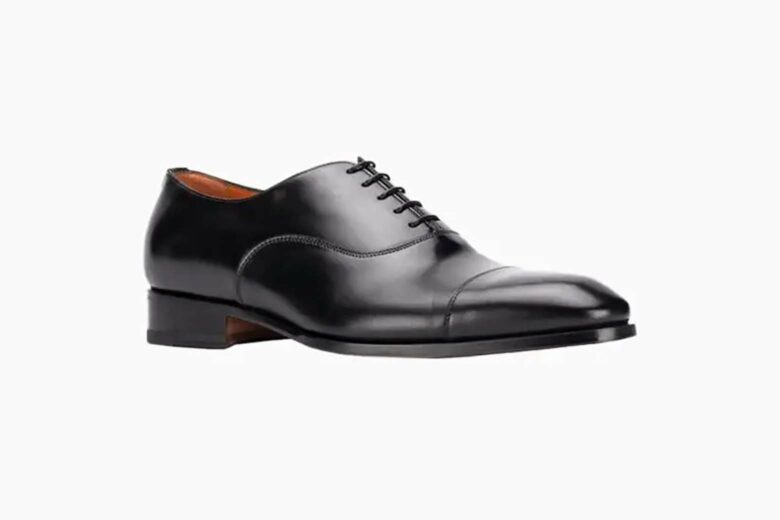 The best dress shoes for the office ensure you're always prepared for all eventualities, like a spontaneous Monday morning meeting or a last-minute presentation that you're not quite as prepped for as you initially thought.
Confidence boosting while looking great, the best business shoes do more than just add to your outfit. Santoni's Polished Oxford ensures your shoes are looking polished, even if you're not feeling it yourself. A slight heel demands attention as you enter the room and a swish patent finish adds endless charm to your overall business professional look. An almond toe adds a final touch to the whole thing.
| | |
| --- | --- |
| Shoe style: | Oxford |
| Colors: | Black |
| Materials: | Leather |
Kingsman: Best dress shoes for a cocktail party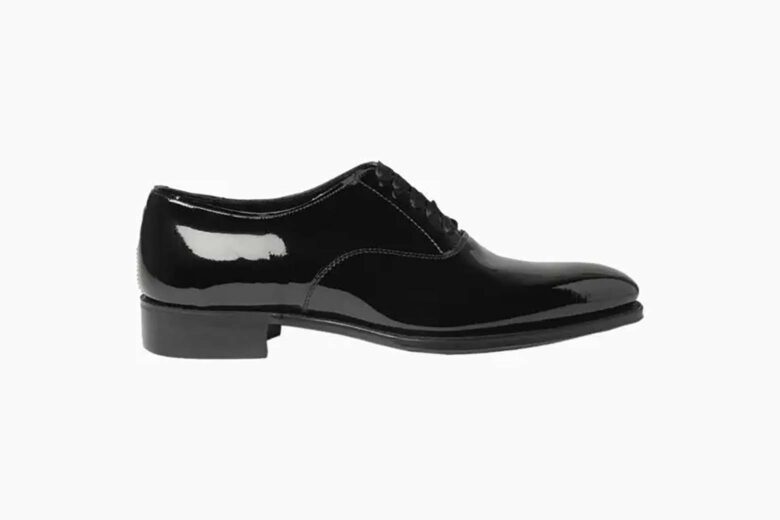 A cocktail party requests a few different things from a dress shoe: not only must it look good but it must also be comfortable enough to keep you happy the whole evening, through dancing, chatting, and everything else that comes your way.
Akin to women's heels, the best pair of cocktail party-ready dress shoes promises a wonderful evening where— ironically—your shoes will be the last thing on your mind. Kingsman's George Cleverley Patent-Leather Oxford shoes offer all of the above with a slight exception: you'll never forget which shoes you wore here, thanks to the endless number of compliments you'll airily brush off.
| | |
| --- | --- |
| Shoe style: | Oxford |
| Colors: | Black |
| Materials: | Leather |
Amberjack: Most trendy men's dress shoes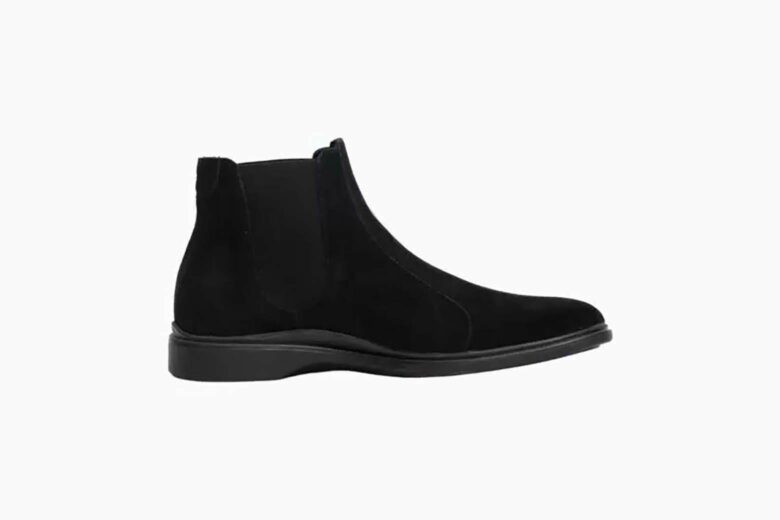 There are dress shoes, and then there are Amberjack's Midnight Suede Chelsea Boots. Taking the very notion of a dress shoe and whisking it away into a world where comfort, style, and all-round coolness combine into one, these dress shoes are the attention grabber of the room and give you a hall pass to tone down the rest of your outfit at the same time.
Even if you pull on your oldest smart trousers and a shirt that's a little past its best, no one will notice as long as you've got some sleek, sophisticated boots. Amberjack's water-repellent suede reinvents the classic boot into something impossibly stylish.
| | |
| --- | --- |
| Shoe style: | Chelsea boot |
| Colors: | Midnight Suede |
| Materials: | Suede |
Scarosso: Best leather dress shoes for men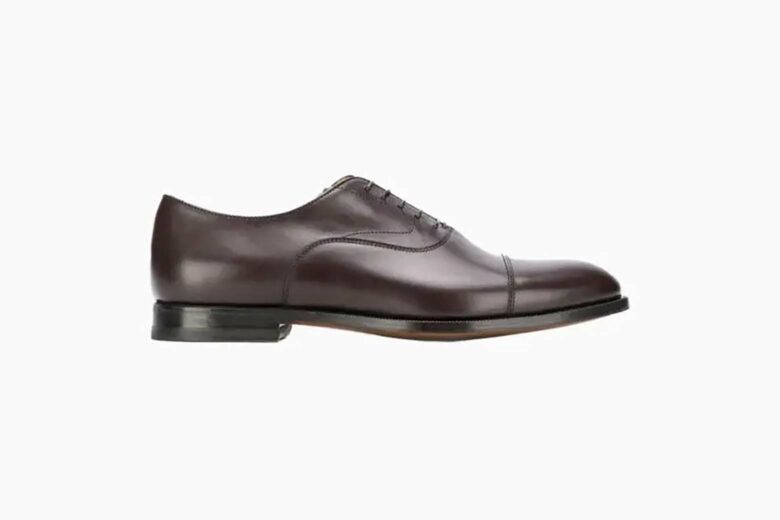 Eagle eyes will spot that most men's dress shoes tend to be made from leather but you'll struggle to find a pair quite as buttery soft as Scarosso's Jacob Brown Oxford shoes. Made from calf leather, these seriously soft chocolate brown colored dress shoes pack a punch when it comes to showing off from the ground upwards.
An almond toe, a lace-up front fastening, and a low heel ensure you've got all the boxes ticked when it comes to necessary features. A smart logo from this impressively established brand just adds to the look.
| | |
| --- | --- |
| Shoe style: | Oxford |
| Colors: | Brown |
| Materials: | Leather |
Salvatore Ferragamo: Most fancy men's dress shoes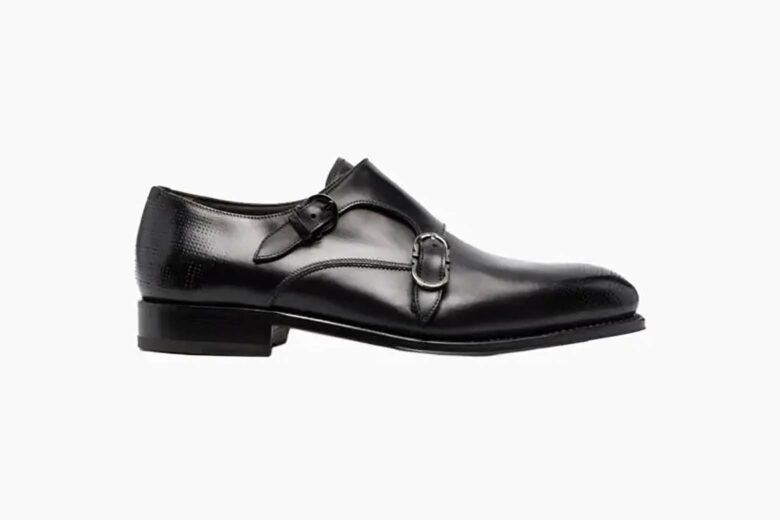 Salvatore Ferragamo is one of the best in the industry when it comes to polished menswear and the brand's Gancini double-monk strap shoes are a stunning example of proving that point. Taking a step away from the standard Oxford style, these Monk Strap shoes offer a stylish contrast with the same impressive blend of fashion and fabric from toe to heel.
These Italian-made dress shoes might lean on the expensive side, but the quality of them ensures you only need to buy a pair one, and they'll last you for decades worth of wear. And that's taking into consideration the vast number of times you'll find an excuse to wear them.
| | |
| --- | --- |
| Shoe style: | Monk strap |
| Colors: | Black |
| Materials: | Leather |
Clarks: Best black dress shoes for men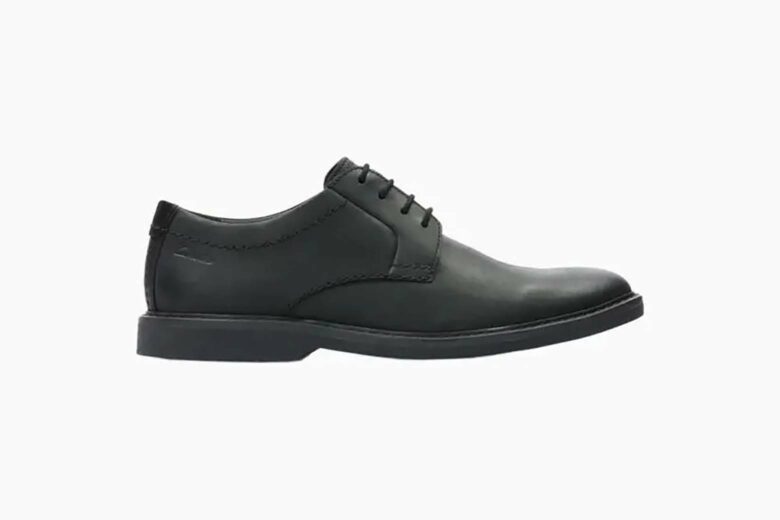 You can't go wrong with a pair of Clarks, and there's a good reason this footwear brand has stuck around for decades. Style, support, and budget-friendly price tags all go hand in hand here, in a range of perfectly formed dress shoes that look far more expensive than the figure on the label suggests.
If you're on the hunt for men's black dress shoes, we'd always recommend Clarks. And, in particular, the brand's Atticus LTLace Black Leather shoes. Available in three shades with a sleek, smart upper design and a lightweight and durable design, these promise all-day comfort and flair.
| | |
| --- | --- |
| Shoe style: | Oxford |
| Colors: | Black, navy, dark tan |
| Materials: | Leather |
Hugo Boss: Best brown dress shoes for men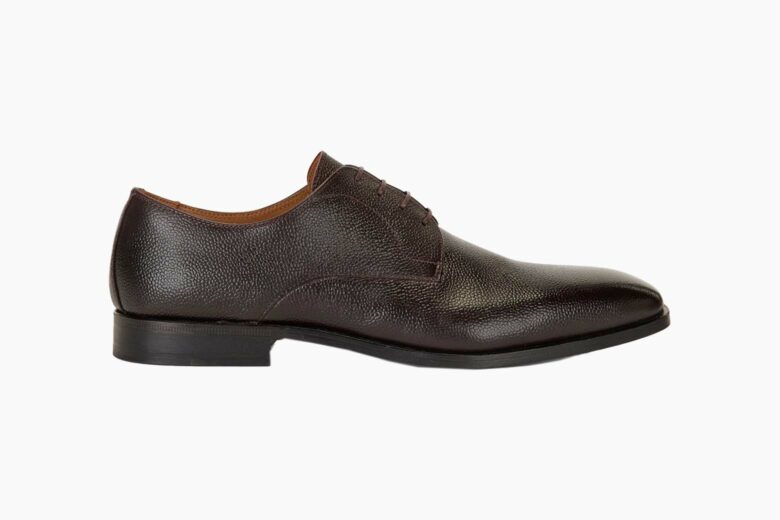 Brown dress shoes are your secret weapon if you're looking for a staple wardrobe addition that goes with the majority of your existing outfits. While black dress shoes may be restricted to a black suit, brown dress shoes can fuse the gap between grey and navy outfits, too. Or brighter colors if you're looking for contrast.
Hugo Boss really is the boss when it comes to sourcing brown dress shoes, infusing these stylish leather ones with a subtle grain effect that adds a subtle touch of high-class wearability to an already impressive pair. These Hugo Boss dress shoes are ones you'll want to show off.
| | |
| --- | --- |
| Shoe style: | Derby |
| Colors: | Brown |
| Materials: | Leather |
Dream Pairs: Most popular men's dress shoes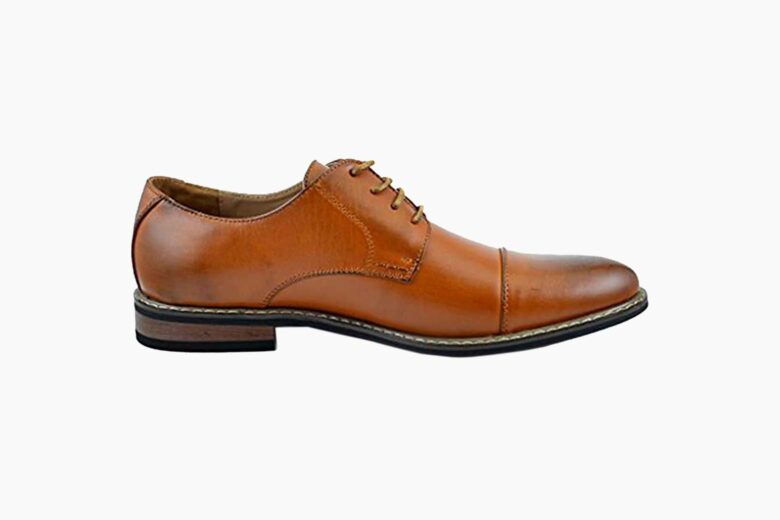 Amazon's best-selling dress shoe manages to do the seemingly unachievable when it comes to dress shoes: pulling together a pair that are comfortable, soft on the inside, available in a large range of colors, and under $50.
While we'd usually be cautious of long-lasting dress shoes under this price bracket, Dream Pairs' Bruno Marc Moda Dress Shoes come with plenty of happy customers: in the region of 10,000+. If that's not a seal of approval, we don't know what is. Made from vegan leather, these dress shoes are just as planet pleasing as they are eye-catching, complete with a subtle wooden heel and a classic brogue wingtip design.
| | |
| --- | --- |
| Shoe style: | Oxford |
| Colors: | Brown, tan, black |
| Materials: | Vegan leather |
Santoni Suede Oxford: Best modern men's dress shoes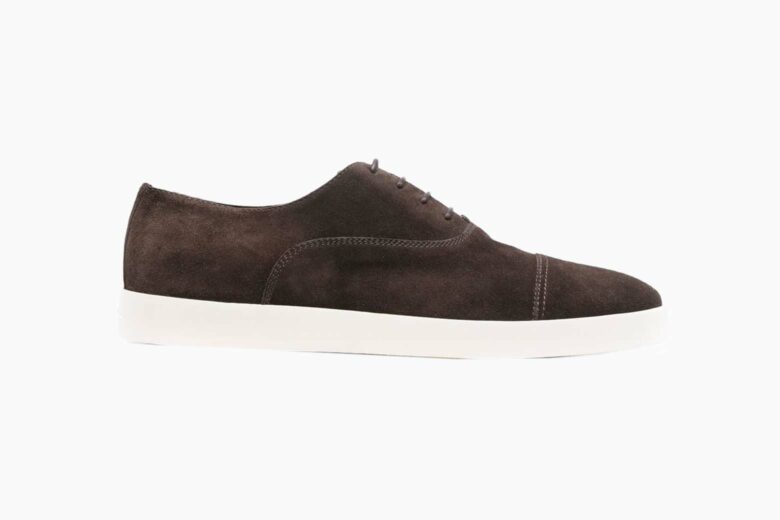 Dress shoes don't have to come in the form of patent leather and toe-tapping: modern dress shoes push the boundaries forwards in a way that's more fashion-friendly and mostly far more comfortable.
This means Santoni's Suede Oxford shoes are a great option if you're looking to steer clear of traditional dress shoes. While these are obviously a more casual option, their suede covering and narrow toe means you'll definitely get away with them for some formal occasions. Sure, you might not wear these to a wedding, but if you're heading out for a smart dinner, they'd more than do the job.
| | |
| --- | --- |
| Shoe style: | Oxford |
| Colors: | Brown |
| Materials: | Suede |
Rockport: Best budget men's dress shoes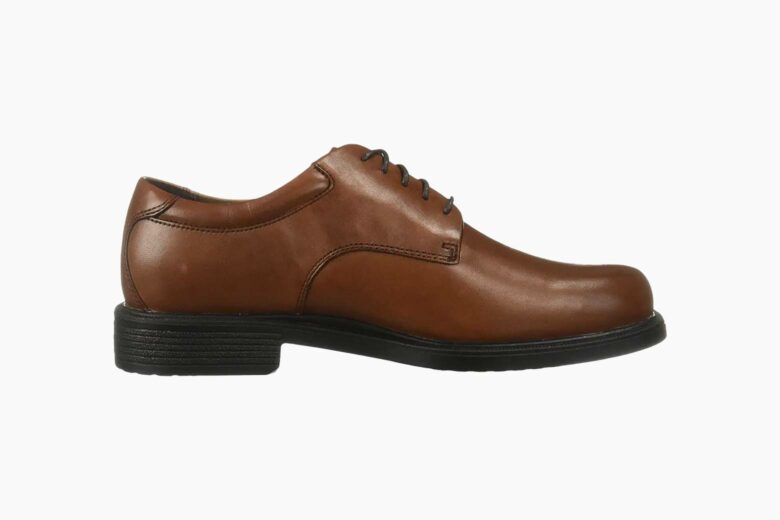 Rockport's full-grain or nubuck leather upper proves that budget-friendly dress shoes don't have to scrimp and save on quality. A pair you'll likely buy once and treasure before eventually repurchasing when they're finally past their best, the Rockport Big Bucks Margin shoes are ready for all kinds of formal occasions.
Craftily masking their budget-friendly price tag, these dress shoes come with all of the essentials and more. A padded tongue and collar with its traditional lace-up closure mean these shoes will never end up with blistered feet, while a comfortable lining provides a brilliant backdrop for your feet throughout the day.
| | |
| --- | --- |
| Shoe style: | Oxford |
| Colors: | Brown, chocolate, black |
| Materials: | Leather |
Tom Ford: Most expensive dress shoes for men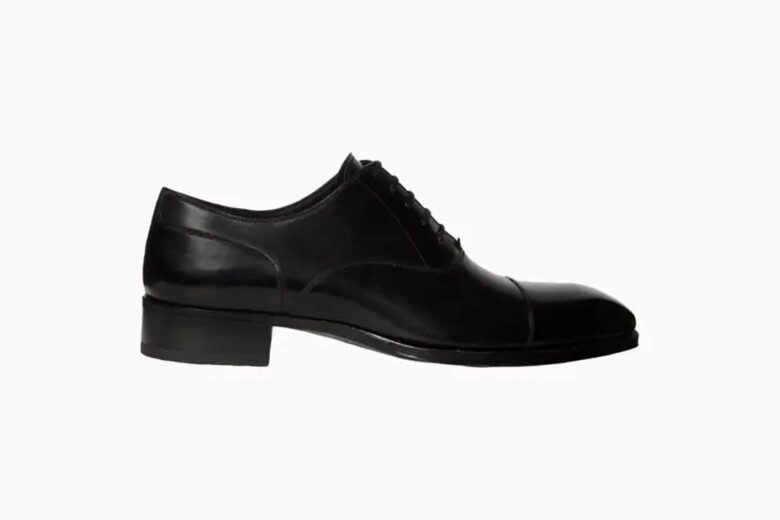 Tom Ford objectively produces the pinnacle of elegant menswear, and the brand's shoes sit right at the top of that seriously tall throne. The Elkan Smooth Leather Lace-Up Shoes are made from some of the softest calf leather and formed into a masterpiece of a shoe.
Some of the best things in life may be free, but we'd say that some of the other best things in life —namely these shoes—are worth the money they'll cost you. Throw these on and watch the rest of your outfit spring to life, as you confidently walk into the room, one calf-leather footprint at a time.
| | |
| --- | --- |
| Shoe style: | Oxford |
| Colors: | Black |
| Materials: | Leather |
Buyers guide to the best dress shoes for men
The styling rules have changed over the years. No matter what you were told by your father or grandfather, it's time to shake things up in the world of dress shoes. This means leaning away from those OTT, intricately designed boots and towards shoes. But also diversifying what those shoes—or understated boots—might look like.
Not sure where to start? Read on for our full guide. Here's everything you need to know before choosing your next pair of dress shoes.
Style
The Oxford remains the most popular dress shoe, with its almond toe and sleek silhouette. That's closely followed by the Derby, which looks very similar but has a slightly different lacing style.
The Derby is considered a little less formal than the Oxford, thanks to its open lacing rather than closed but works just as well in the office as it does for formal events. Some of the other most popular styles of dress shoes you'll see include the brogue, the loafer, and the Chelsea boot.
Moccasins, boat shoes, and chukka boots are all other great choices, but, if you're off to a really formal event, stick to an Oxford.
Material
Most dress shoes are made from some sort of leather. Keep an eye out for the specific type, though, as not all leather is created equally. For shoes that'll last at least a few years, you'll want to choose full-grain leather. Vegan leather is also a great—and more sustainable—option.
Other dress shoes are made from suede, which looks stylish but can require more upkeep. If you're looking for an easy option, stay away from suede or patent leather.
Shell cordovan is also a popular choice but comes at a higher price. This type of material comes from horsehide and is sturdier and thicker than cowhide. It usually lasts for years.
Color
A black suit needs black dress shoes. And, as a general rule of thumb, if you're wearing a suit, your shoes should be the same color or darker. Brown dress shoes can often be more versatile, contrasting nicely against navy or grey suits. If you're looking to branch out into other colors, stick to darker shades.
Dark cherry red is a popular choice, too, but may require a little more help when it comes to styling.
If you're heading to a smart casual event and opting for shoes at the casual end of the spectrum, fresh white trainers can look great. Just ensure they're always sparkling clean: nothing brings down an outfit like faded, grey trainers and scruffy laces.
Price
Generally, a good quality pair of dress shoes will set you back at least $100. There are a few brands that manage to keep below that but, if you're on the hunt for shoes that'll last, your safest bets lie within that region.
Shoes with incredible craftsmanship and intricate details will often cost more, with some pairs coming in at more than $1000. Premium brands generally start at around $350.