In the words of icon of timeless style, Coco Chanel, 'Simplicity is the keynote of all true elegance.' And nowhere is this sartorial wisdom more apt than when it comes to the best dress watches.
Designed as an accessory for formal wear, dress watches are, above all, minimalist. Perfect for slipping discreetly below a shirt cuff, the aesthetic is classic and effortlessly chic.
Tastes and styles are evolving, and today's dress watches are often demonstrations of innovative design as well as technical expertise.
The best dress watches bring together an outfit. They are the ultimate finishing touch. Sure, they should never hog the spotlight. Think more a supporting actor than the star of the show.
But even supporting actors get their moment to shine, and the best dress watches will definitely catch people's eye⁠—just without being too dramatic about it.
What makes an exceptional dress watch is rather elusive, which makes choosing the best dress watch for you a bit of a challenge. To help you get started, here are the best dress watches⁠—from the cool and contemporary to the classic and iconic, and from the style-conscious to the style-subverting.
The 15 best dress watches
Check our special dress watches buyers' guide after the list to see exactly what you should pay attention to before purchasing a dress watch. We also share our fashion editors' tips on how and when to wear a dress watch, because you should enjoy your watch when you're out of the office too.
Nordgreen Native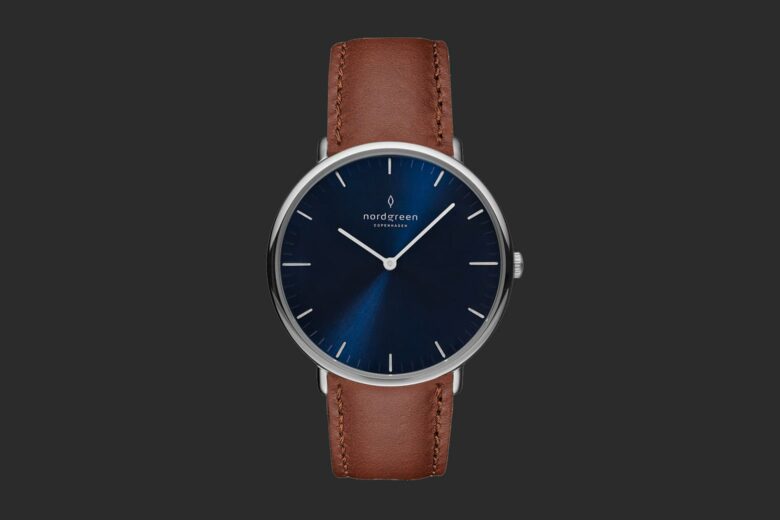 It's hard to beat Scandinavian design for simple yet impactful minimalism. Exactly the qualities you need for a beautiful dress watch.
Up-and-coming Danish luxury watch brand Nordgreen hired Jakob Wagner, known for his work with Bang & Olufsen, as its Chief Designer to create durable and enduring watches. Designed with precision and manufactured with premium materials, Nordgreen's watches are absolutely stunning to look at.
Our pick for the best dress watch in their collection is the Native. Available in 32mm, 36mm, and 40mm you can easily find the dial size that's perfect for your wrist. The watch is also available in a range of dial colors, materials, and strap combinations. You can even purchase a bundle with two extra straps, so you can easily update your watch to match your outfit of the day. You can also dress it down a little with their superb NATO straps for the weekend.
Check our in-depth review of the Nordgreen Native watch to see if it's right for you too.
Best for: The ultimate minimalist dress watch to elevate your style around the clock.
| | |
| --- | --- |
| Case size: | 32mm, 36mm, or 40mm |
| Material: | stainless steel |
| Movement type: | Japanese Quartz |
Junghans Meister Handaufzug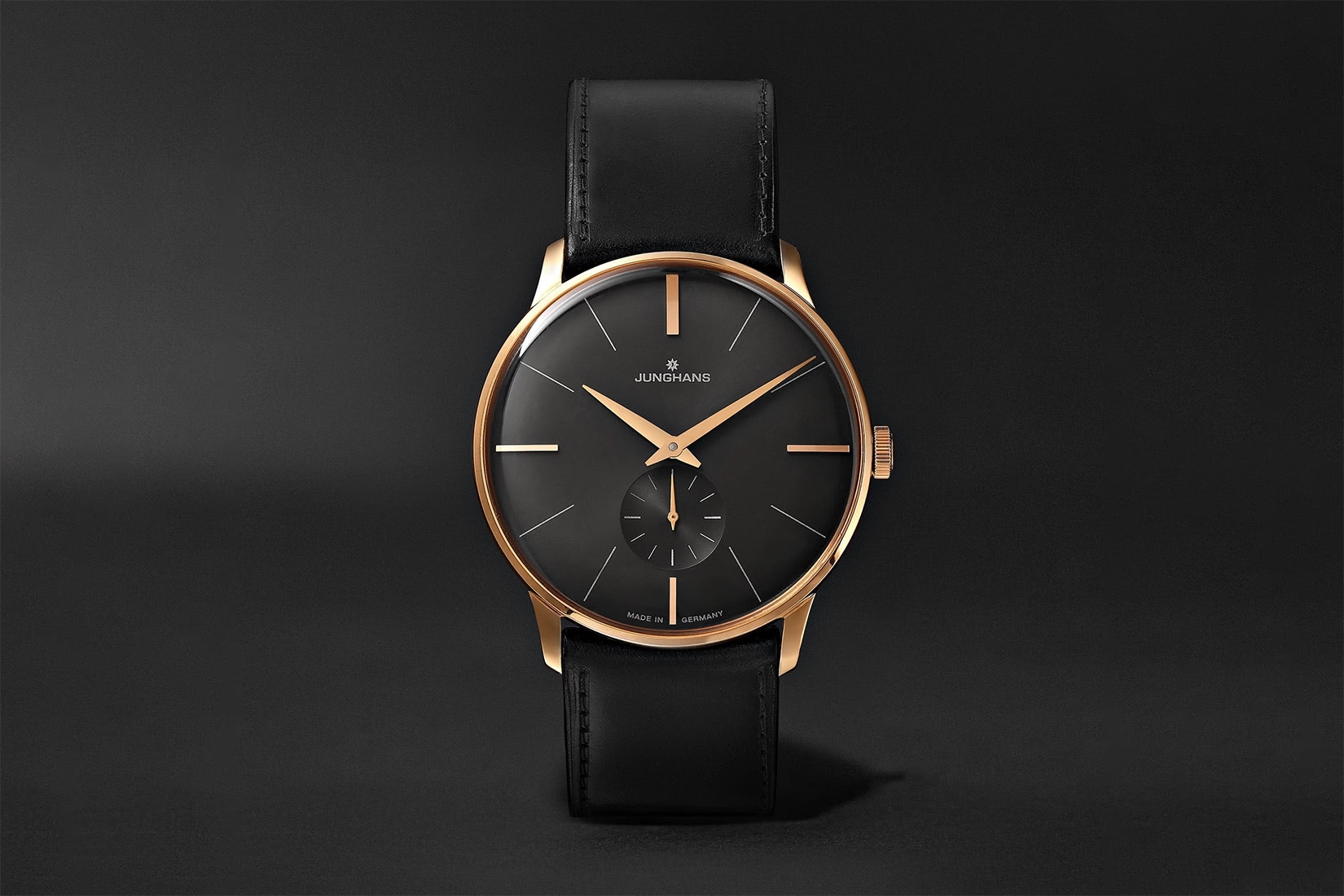 Junghans is a German brand that has received high acclaim for its commitment to precise and innovative timepieces. Their designs are of incredibly high quality and are also eminently wearable.
From the get-go, this dress watch is a lesson in uncluttered elegance. The dial has been taken right down to basics, with no numbers, and the only further complication is a small sub-dial for more precise time measurements. It's the epitome of sleek minimalism—with a dash of A-list luxury thrown in there too.
The case is made of hard-wearing PVD-Coated stainless steel and the display has a domed scratch-resistant Plexiglass lens—shatterproof and superbly strong.
Inside, you've got a J815.1 hand-winding movement⁠—because a hand-wound dress watch is not just for sticklers for tradition. Anyone who fancies getting intimate with the intricate internal workings of their timepiece will appreciate the ritual of winding up their watch. In a world where so much is automated, why not preserve this charming ceremony from the past?
If you're not convinced, don't worry. A 42-hour power reserve means that it won't become a daily chore.
As an addition to your collection⁠—or as a first-time luxury timepiece⁠—this Junghans Meister Handaufzug dress watch is the ideal accessory for after-dark events.
Best for: great quality and style, all at a reasonable price.
| | |
| --- | --- |
| Case size: | 37.7 millimeters |
| Material: | stainless steel |
| Movement type: | mechanical hand-wind |
Vincero Icon Automatic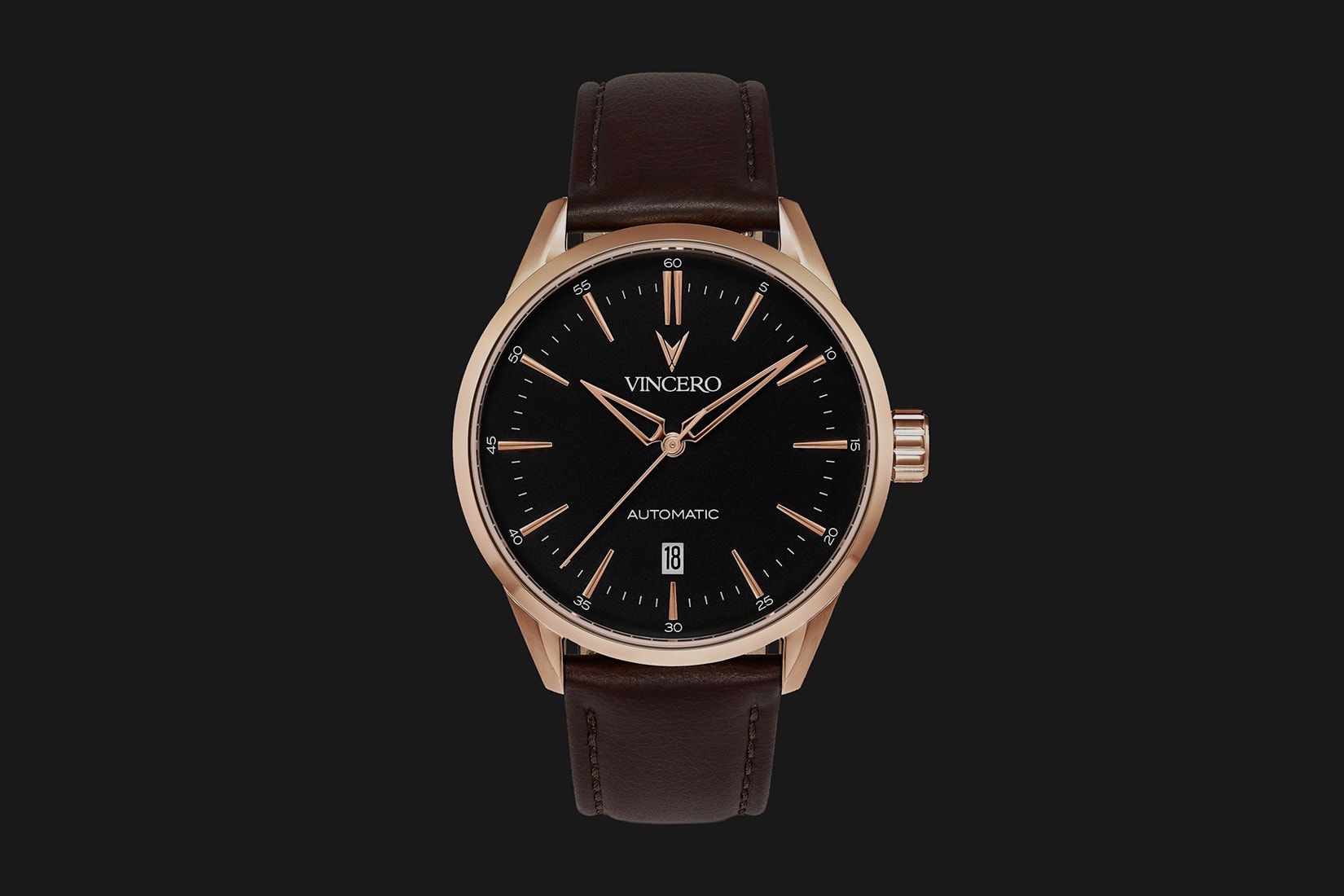 Leave it to Vincero to create high-quality modern yet timeless watches that don't break the bank.
Every smart and insightful modern gentleman needs a dress watch that's equally sleek and sophisticated. With Vincero's Icon Automatic, you can go casual or get very classy—your call. The design is simple and discreet but the dress watch certainly makes its presence known when on the wrist. You couldn't tell it's on sale for under $500.
For the perfect final touch to your cocktail attire, we recommend the effortlessly elegant Icon Automatic in Rose Gold with a black dial and black Italian leather strap.
Vincero's careful attention to detail and expert craftsmanship is visible in every cut and curve of the Icon Automatic. The sleek face of the watch features a date window and skeleton hands. A durable sapphire crystal glass ensures that the dial is protected.
On the back, a see-through window shows the inner workings of the high-powered automatic movement inside.
Reliable and refined, the Icon Automatic is available in a range of colors, including a sleek all-black dial with mesh matte black strap that's a little bit edgier. We also really like the blue dial on brown leather strap combination.
Check our Vincero watches review to see how the Icon compares to other models from the brand.
Whether you dress it up for the office, or down for a night at a bar, the Icon Automatic will keep going as long as you do.
Best for: a classic modern dress watch with an expensive look yet great value.
| | |
| --- | --- |
| Case size: | 41 millimeters |
| Material: | 316L surgical stainless steel, the strap is made of top-grain Italian leather |
| Movement type: | Seiko automatic |
Montblanc Héritage Chronométrie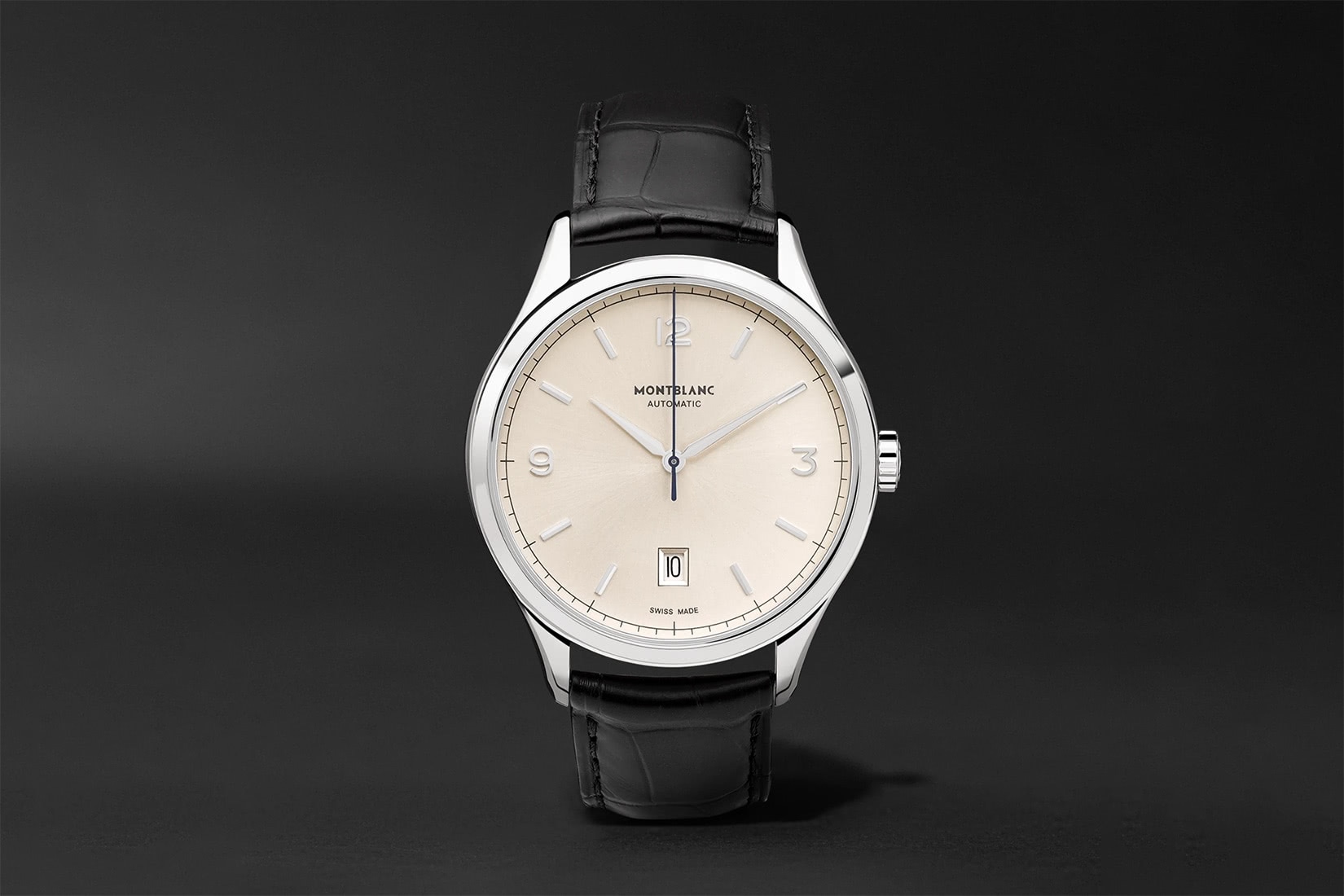 The best dress watches say a lot with very little and the Montblanc Heritage Chronométrie is a perfect example.
An exercise in low-key luxury and pared-back glamour, this dress watch is as minimalist and simple as you could ask for⁠—yet still manages to deliver on the style factor, guaranteeing a few envious glances when you take it out and about.
Featuring a Swiss-made automatic movement, complete with a 42-hour power reserve, this timepiece keeps complications to a minimum with just an hour, minute, and seconds hand—plus a date display too.
On the dial, you've got rhodium-plated indices and numerals to match the rhodium-plated hour and minute hand. Rhodium provides added ultra luster and durability. Meanwhile, sapphire crystal has been used for the display—anti-reflective and scratch-resistant—and the strap is black alligator.
The cherry on this exclusive but not-at-all-ostentatious cake? Flip over the Montblanc Héritage Chronométrie and you can glimpse the mechanism at work through the display at the back.
Combining high fashion with utility, Montblanc has succeeded in creating a watch that would look just as elegant in the boardroom as it would in the cocktail bar.
Best for: upscale party-goers seeking an equally high-end dress watch.
| | |
| --- | --- |
| Case size: | 40 millimeters |
| Material: | stainless steel |
| Movement type: | mechanical automatic |
Citizen Eco-Drive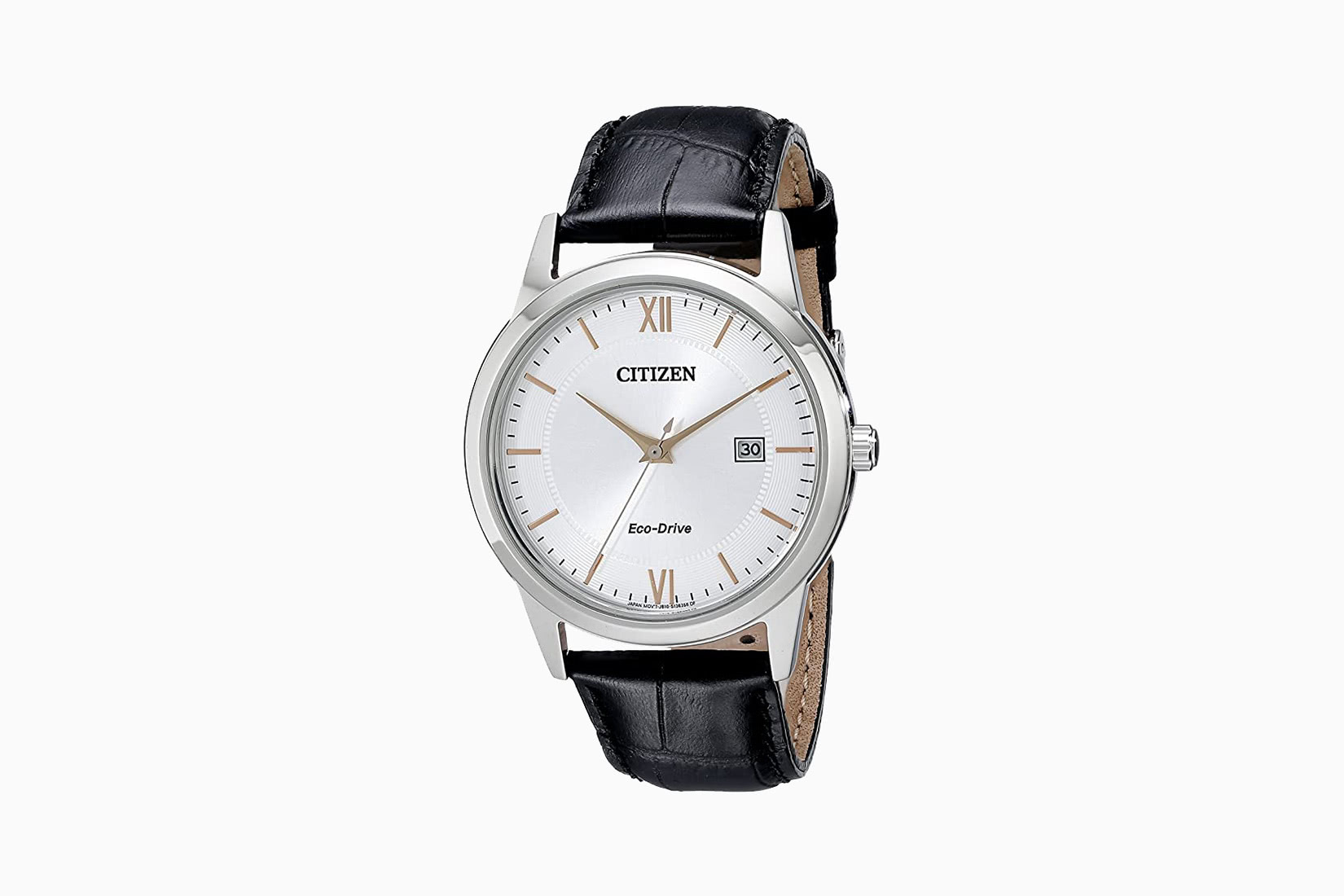 Emerging on the horology scene back in 1924, Citizen has become a beacon of accessible luxury, combining high-class craftsmanship with pioneering engineerings, such as their Eco-Drive technology that converts light into energy.
But it's not just high-tech and great mechanics. The brand has also mastered the art of the dress watch with this simple but elegant timepiece which carries an undeniable prestige thanks to its textured silver-tone dial with Roman numerals combined with stick hour markers. You'll find the date display at three o'clock, while the genuine leather strap completes the look.
While some watch aficionados might turn their nose up at a quartz movement, they are nothing to be sniffed at. If you're seeking durability and accuracy without too much expense, then quartz is the way to go.
Wear up to midnight and beyond⁠—wherever the night may take you. With a price like that, you can take pleasure in knowing that at least one part of your evening is going to be wallet-friendly. The Citizen Eco-Drive is one of the best dress watches under $200.
Best for: a classic dress watch with a modest price tag.
| | |
| --- | --- |
| Case size: | 40 millimeters |
| Material: | stainless steel |
| Movement type: | quartz |
IWC Portugieser Perpetual Calendar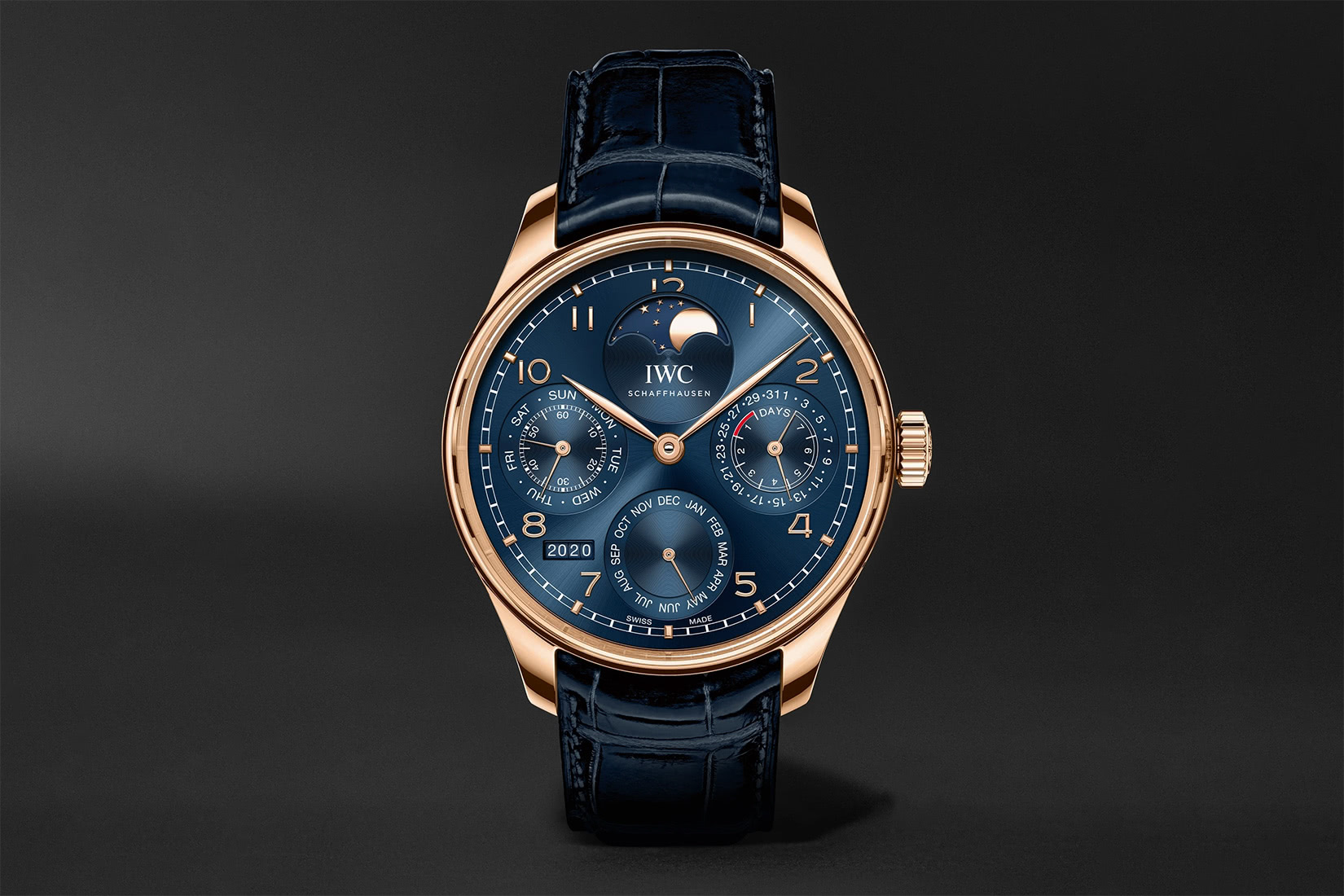 Cutting straight to the most important details, this edition of IWC's iconic Portugieser has a 168-hour power reserve. Yes, you did read that correctly. 168 hours. Equal to one whole week.
And the high-tech wonders don't stop there. On the dial, you've got a perpetual calendar—one of the most technically challenging complications in all of horology. And, inside, an IWC caliber 52610 automatic movement, beating at 28,800 vibrations per hour.
Aesthetically, this IWC beauty adheres to conventions where it counts with a traditional alligator strap and round dial. But it then bursts boldly from the shackles of dress watch norms with a gleaming 18-Karat armor gold case.
The case is also fairly big for a dress watch at 44.2 millimeters⁠—but you won't be embarrassed about the IWC Portugieser Perpetual Calendar slipping out from under your shirt cuff. Not when it has a dial that also features a perpetual moon phase, plus an exhibition case back where you can examine all the mechanical skills going on inside.
If there's a superior conversation starter to this exclusive timepiece, we've yet to find it. No better way to get everyone talking at the wedding reception than with a watch that makes no secret of its engineering excellence.
Best for: masterful engineering guaranteed to impress.
| | |
| --- | --- |
| Case size: | 44.2 millimeters |
| Material: | 18-karat armor gold |
| Movement type: | mechanical automatic |
Jaeger-LeCoultre Reverso Tribute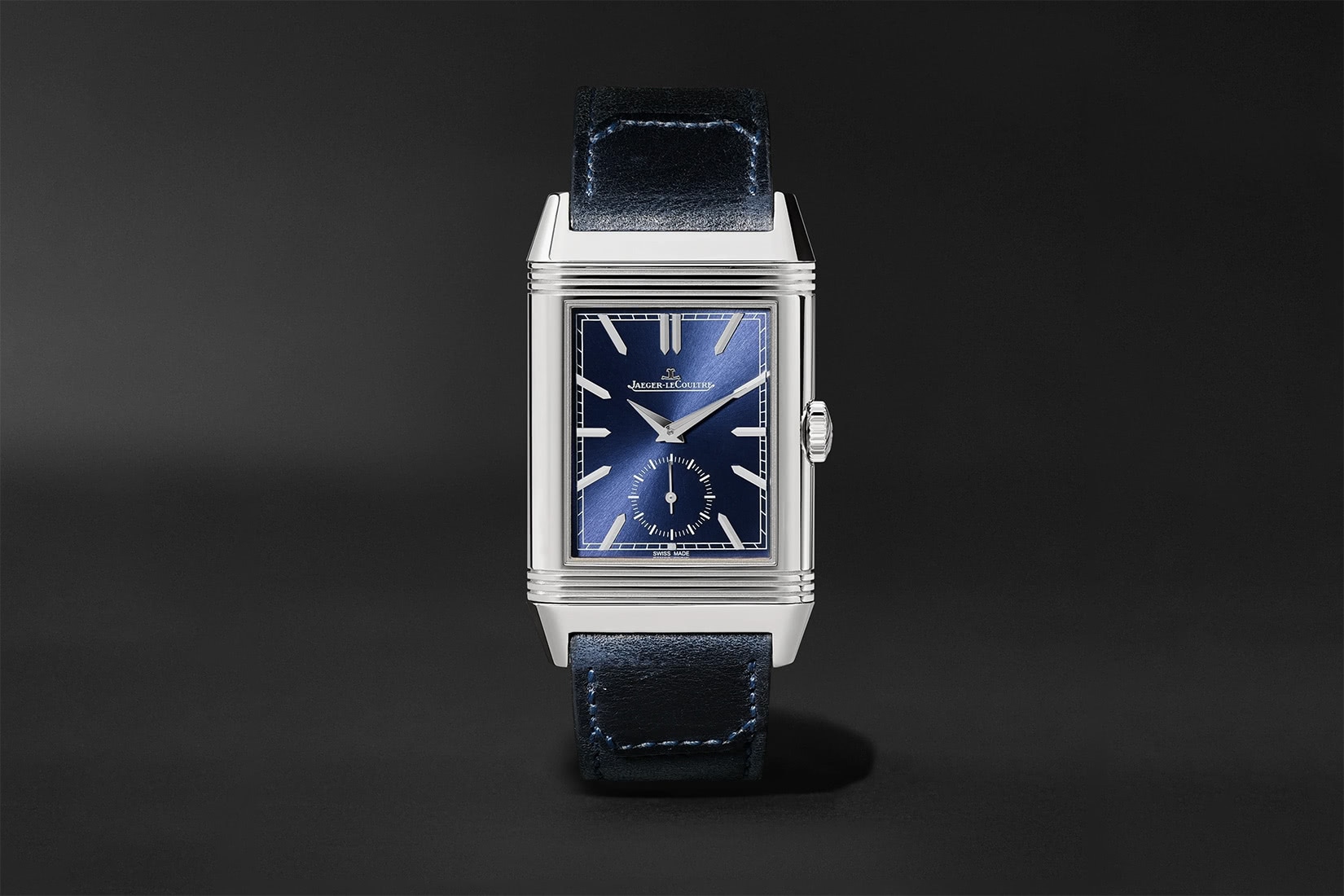 When Jaeger-LeCoultre first introduced the world to its Reverso watch, everyone took note. Channeling inimitable Art-Deco style with its simple geometric lines, the Reverso was originally designed for Polo players but quickly found popularity among both men and women thanks to its bold aesthetic and high functionality.
With its ultra-luxurious appearance combined with compact size, the Tribute Duoface is a watch that can effortlessly make the transition from day to night, looking unobtrusive and minimalist with your work suit, but also exquisitely elegant with black tie. Meanwhile, that vivid blue color scheme is certain to get heads turning.
While tiny in size, the front dial still manages to include a second-counting sub-dial. And we say front dial because there's another on the back of the watch—with a second time zone and 24-hour display included.
Most memorable and covetable dress watch? The Jaeger-LeCoultre Reverso Tribute is a definite contender. Whether you plan to wear it to corporate events or to the cocktail lounge, this is a watch that will certainly show that you mean business.
Best for: trend-setters aspiring to make a serious style statement.
| | |
| --- | --- |
| Case size: | 28.3 millimeters |
| Material: | stainless steel |
| Movement type: | mechanical hand-wind |
Vacheron Constantin Traditionnelle Perpetual Calendar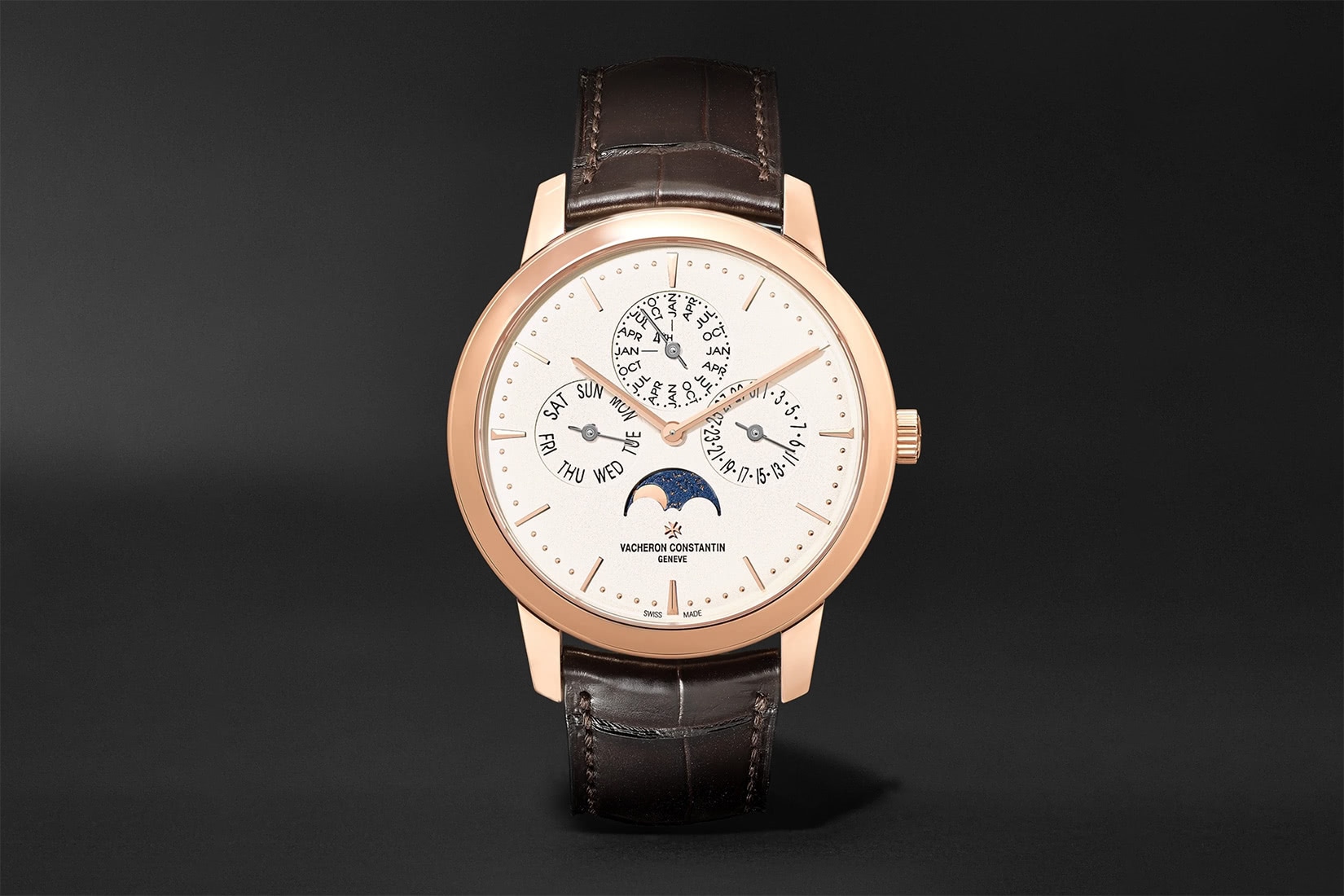 Today, luxury is not simply a question of gold decked with diamonds. It's about craftsmanship and outstanding technical skill. Such is the case with this exclusive timepiece hailing from distinguished custodian of high-end watchmaking, Vacheron Constantin.
True engineering brilliance is evident in every aspect of the Traditionnelle Perpetual, from the Swiss-made ultra-thin caliber 1120 QP, with its 40-hour power reserve, to the perpetual calendar with displays for date and day. There's also a 48-month counter, including a leap year indication, and a striking moon phase indicator too, showing lunar movements.
Then there's the 18-karat pink gold⁠—used for the case, hands, and indices. And the case is also incredibly slim—its round shape echoing that of old-school 1950s designs. Silvered opaline dials and a brown alligator strap complete the look.
Despite all this opulence, this watch remains discreet and will sit neatly on the wrist at only 41 millimeters wide and 8.96 millimeters thick.
We can think of no better timepiece to elevate a perfectly tailored dinner jacket than this ultra upscale dress watch. Sure, you're going to need deep pockets for the Vacheron Constantin Traditionnelle Perpetual Calendar — but have a dig around. It's worth it.
Best for: a slice of supreme luxury from the world's oldest high-end watch brand.
| | |
| --- | --- |
| Case size: | 41 millimeters |
| Material: | 18-Karat pink gold |
| Movement type: | mechanical automatic |
Timex Easy Reader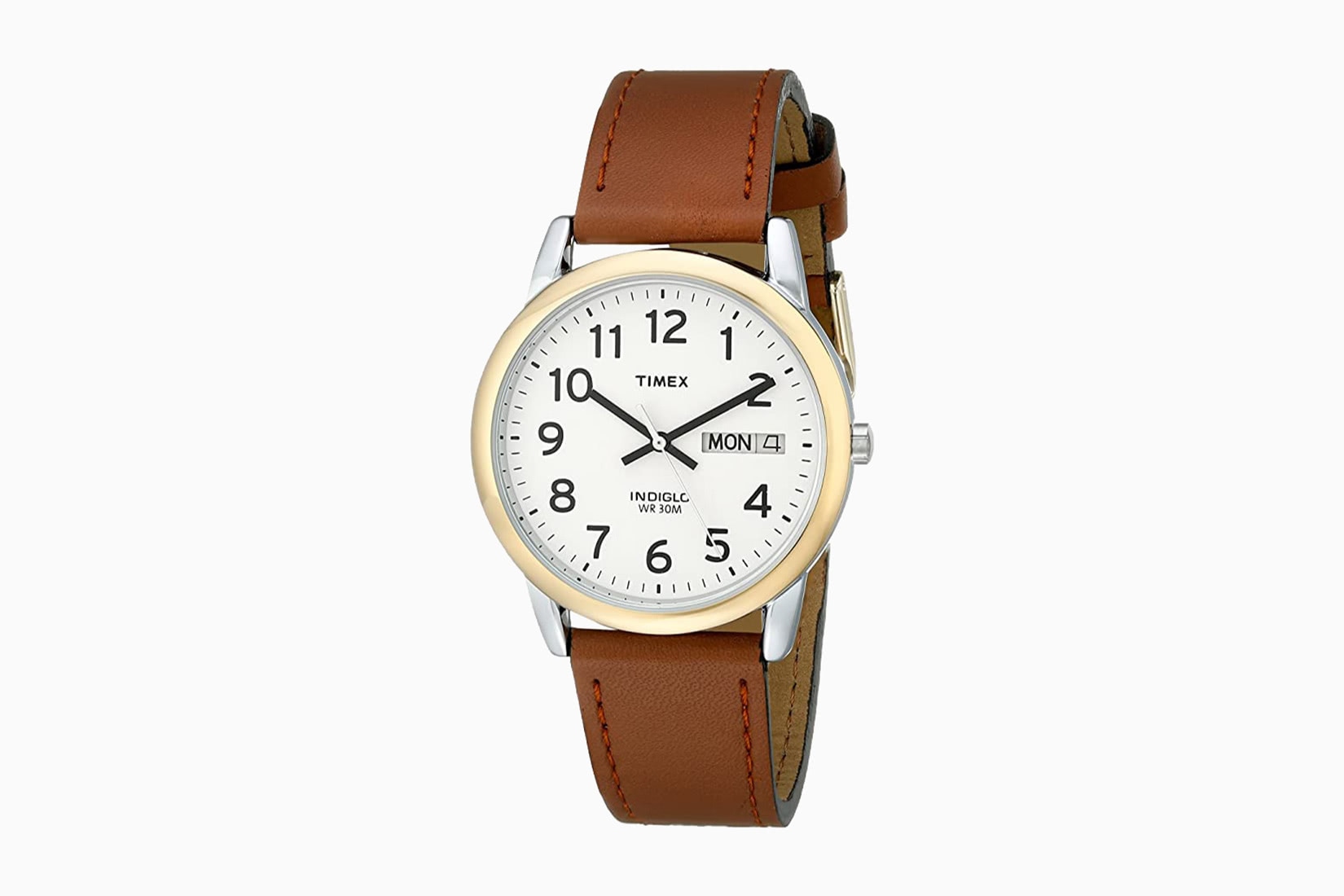 Watch fanatics on a budget will appreciate this classic dress watch by Timex, a brand known for creating high-quality timepieces that won't leave you penniless.
Minimal flourishes ensure this Timex watch retains the simplicity of all the best dress watches. There are no further complications other than the built-in date indicator while the dial is clean and pared-back. The watch is also unobtrusive in size, at only 35 millimeters wide.
This is also a hard-wearing choice, with its mineral glass crystal and brass case. In fact, in the 1960s, Timex ran a series of 'torture tests' on its Easy Reader models to prove they could survive even the most extreme situations, including jumping off a cliff in Mexico.
The Indiglo backlight, the technology for which Timex is famous, is perfect for checking the time in the theatre, cinema, or opera. Full Arabic numerals further improve legibility.
All in all, this is a no-frills, no-fuss dress watch. The Timex Easy Reader is the perfect everyman's timepiece and the ideal affordable accessory for your evening wear, whether you plan to wear it to a business event, gala, or wedding. And, at well under $50, it's a real steal—one of the best affordable dress watches on this list.
Best for: ultra slim budget-friendly dress watch.
| | |
| --- | --- |
| Case size: | 35 millimetres |
| Material: | brass |
| Movement type: | quartz |
Seiko 5 SNK793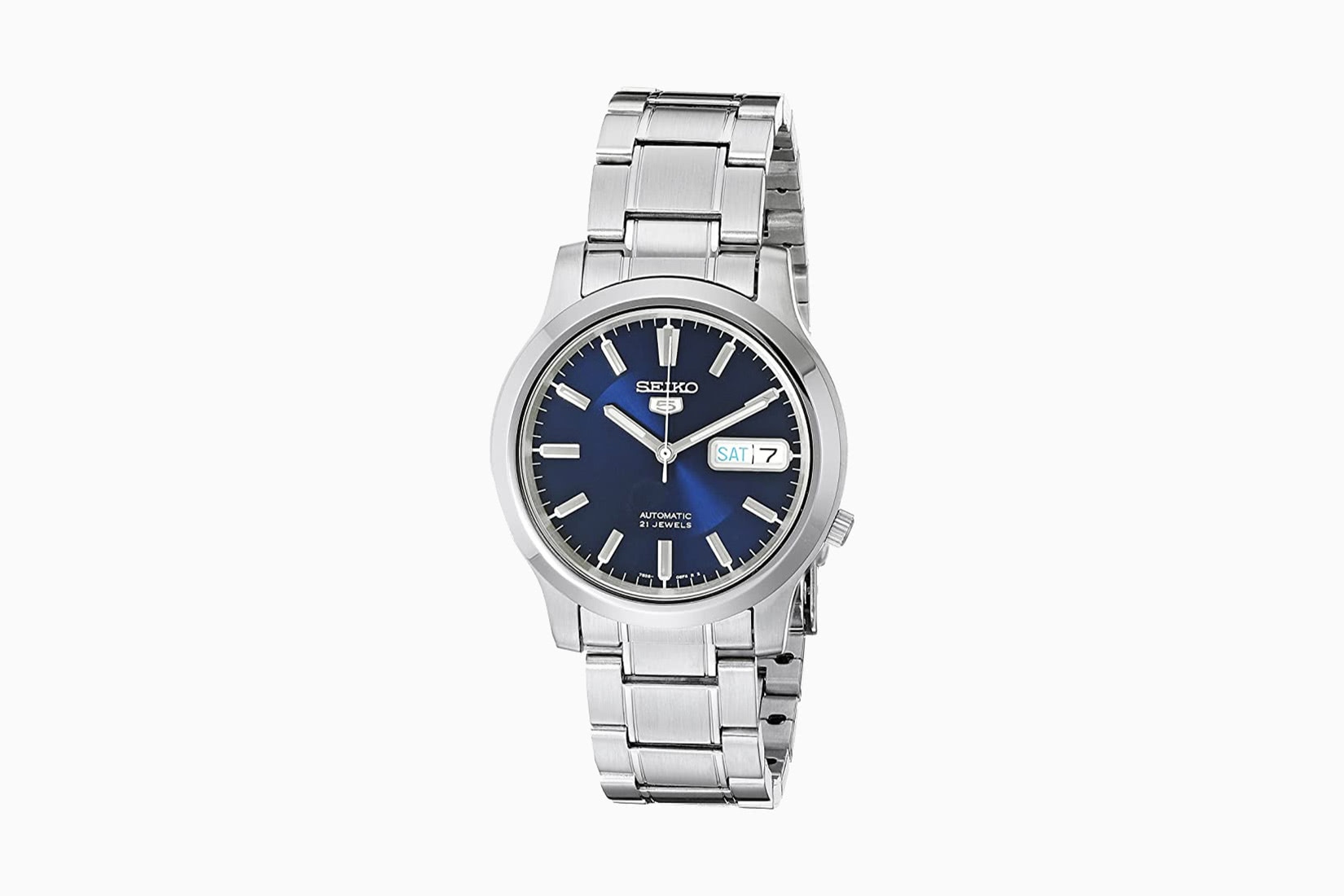 A dress watch may be an investment⁠—but it needn't be a huge investment. Not when brands like Seiko have your back, delivering superb craftsmanship with a reasonable price tag.
The Seiko 5 SNK793 ticks all the boxes of a good and reliable dress watch. It's sleek and inconspicuous and has automatic winding for maintenance-free timekeeping.
You've got a day and date display at 3 o'clock while the hands and markers are luminous. Water resistance up to 30 meters alongside a stainless steel case and bracelet ensure durability and longevity.
All in all, Seiko's SNK793 brims with poise and class. The midnight blue sunray dial lends it a more individual character and, in combination with stainless steel, makes this watch feel more like a piece of jewelry. No bad thing.
If you want a dress watch that will get noticed—but without showing off—this Seiko 5 SNK793 offers a masterful performance of understated elegance. All at a price that is an indisputable bargain.
Best for: affordable luxury from a well-regarded brand.
| | |
| --- | --- |
| Case size: | 37 millimeters |
| Material: | stainless steel |
| Movement type: | mechanical automatic |
Rolex Datejust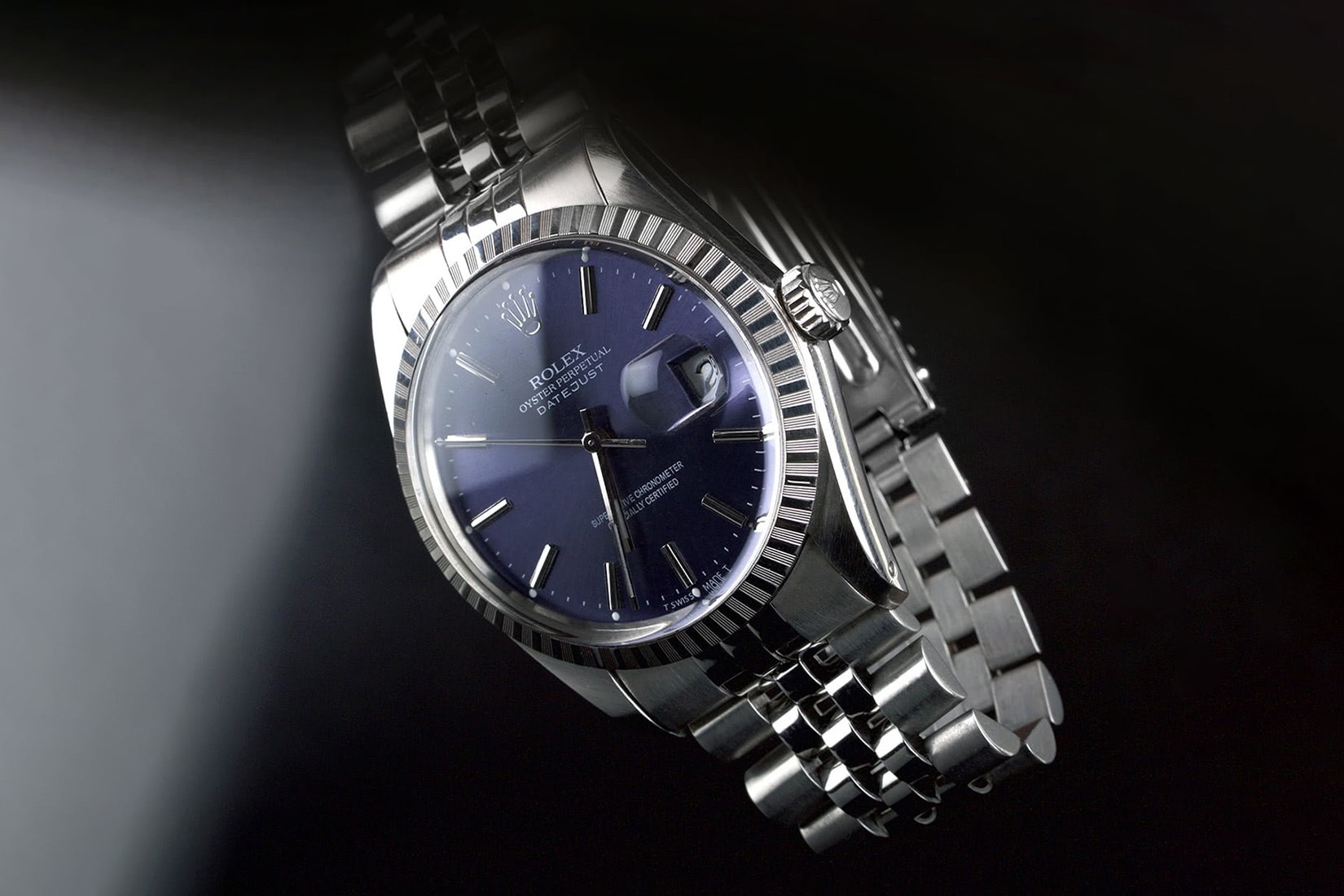 Rolex is synonymous with horological luxury and there's perhaps no other Rolex model as instantly recognizable and well-established as the Oyster Perpetual Datejust.
The Datejust is a notably understated Rolex watch, but hence the appeal. It's versatile and incredibly wearable—whether it's accompanying you to a casual drink with friends or to an uptown party with black tie dress code.
The Datejust first made headlines for being the world's first self-winding watch with a date indicator. Meanwhile, this particular iteration has an updated caliber 3035 and quick-set date function—all as high-quality as you'd expect from a brand like Rolex.
Then there's the engine-turned bezel⁠—a subtly impressive decorative pattern. Combined with the Oyster bracelet and silver dial with matching indices and hands, the overall look is highly lustrous and effortlessly elegant.
Rolex has worked its usual magic with masterful engineering combined with masterful styling. Marrying technical skills with a timeless aesthetic, it's almost impossible to say no to. This Datejust 16030 also dates from 1984, making it the best vintage dress watch on our list.
Whether you're the best man at a wedding or delivering the keynote speech at a work event, you need something on your wrist that conveys authority and class. There's no better watch for the job than a Rolex Datejust.
Best for: iconic dress watch from one of the world's best luxury brands.
| | |
| --- | --- |
| Case size: | 36 millimeters |
| Material: | stainless steel |
| Movement type: | mechanical automatic |
Nomos Glashütte At Work Orion Neomatik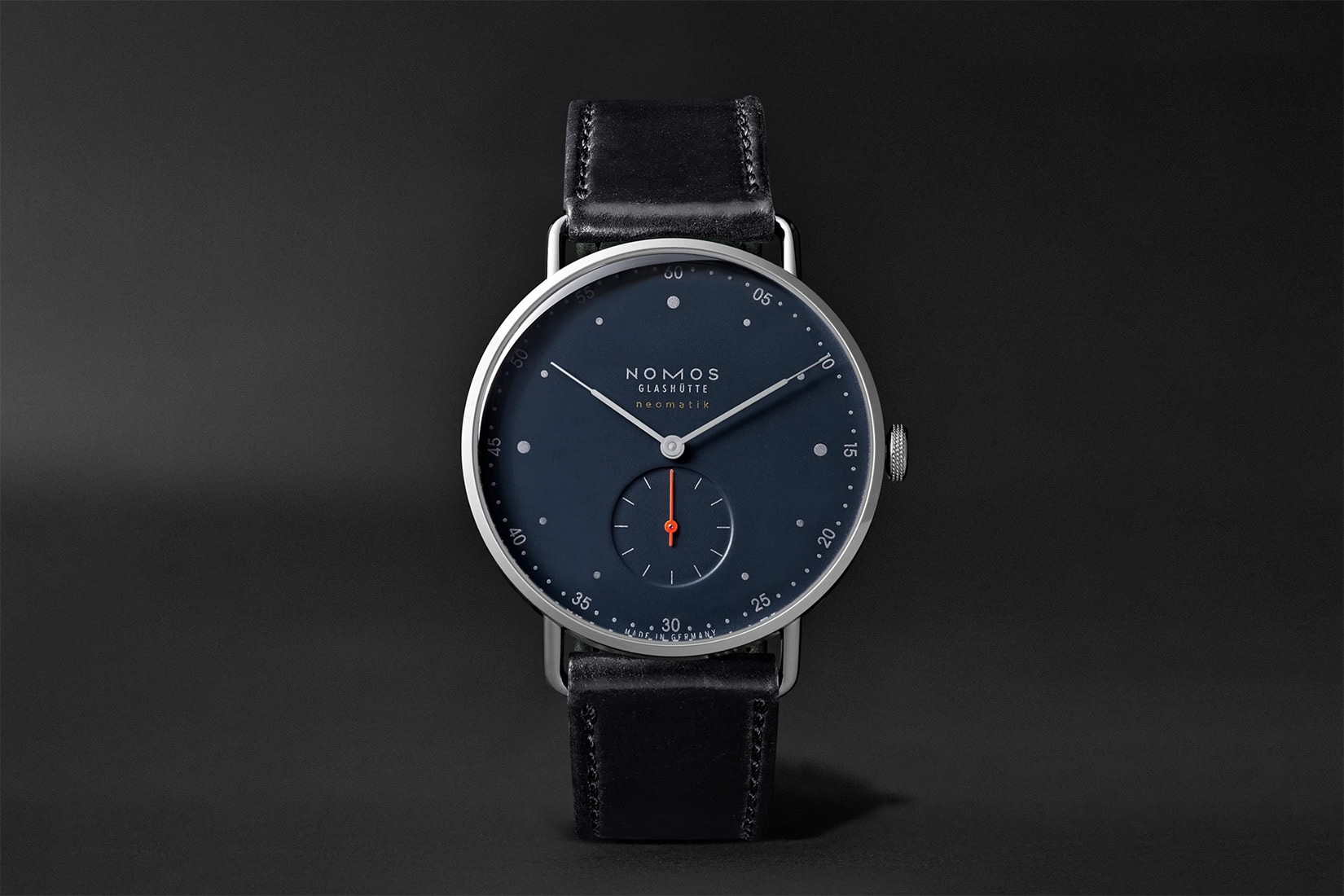 Independently-owned NOMOS has made a name for itself delivering minimalist and high-quality timepieces to a rave reception among collectors and casual watch-wearers alike. NOMOS are champions of uncomplicated style—with just a suggestion of German avant-garde panache.
While you might not class it as iconoclastic, the At Work Orion Neomatik certainly subverts dress watch conventions with its large midnight-blue dial combined with silver indices, red seconds hand, and black leather strap.
Inside, you've got a NOMOS DUW 3001 automatic movement, ultra-thin, built in house, and with a 42-hour power reserve. The brand puts every watch through 50 different demanding tests to ensure each one meets the company's high standards of quality and durability.
Statement-making style alongside elevated quality—the Nomos Glashütte At Work Orion Neomatik is a real winner and one of the best dress watches under $5000. The name At Work suggests you might wear it to the office, and this is definitely one of the best watches for wearing with a suit. But there's no way it wouldn't go down a treat with a dinner jacket too.
Best for: a minimalist dress watch with intuitive fashion appeal.
| | |
| --- | --- |
| Case size: | 39 millimeters |
| Material: | stainless steel |
| Movement type: | mechanical automatic |
Vacheron Constantin Patrimony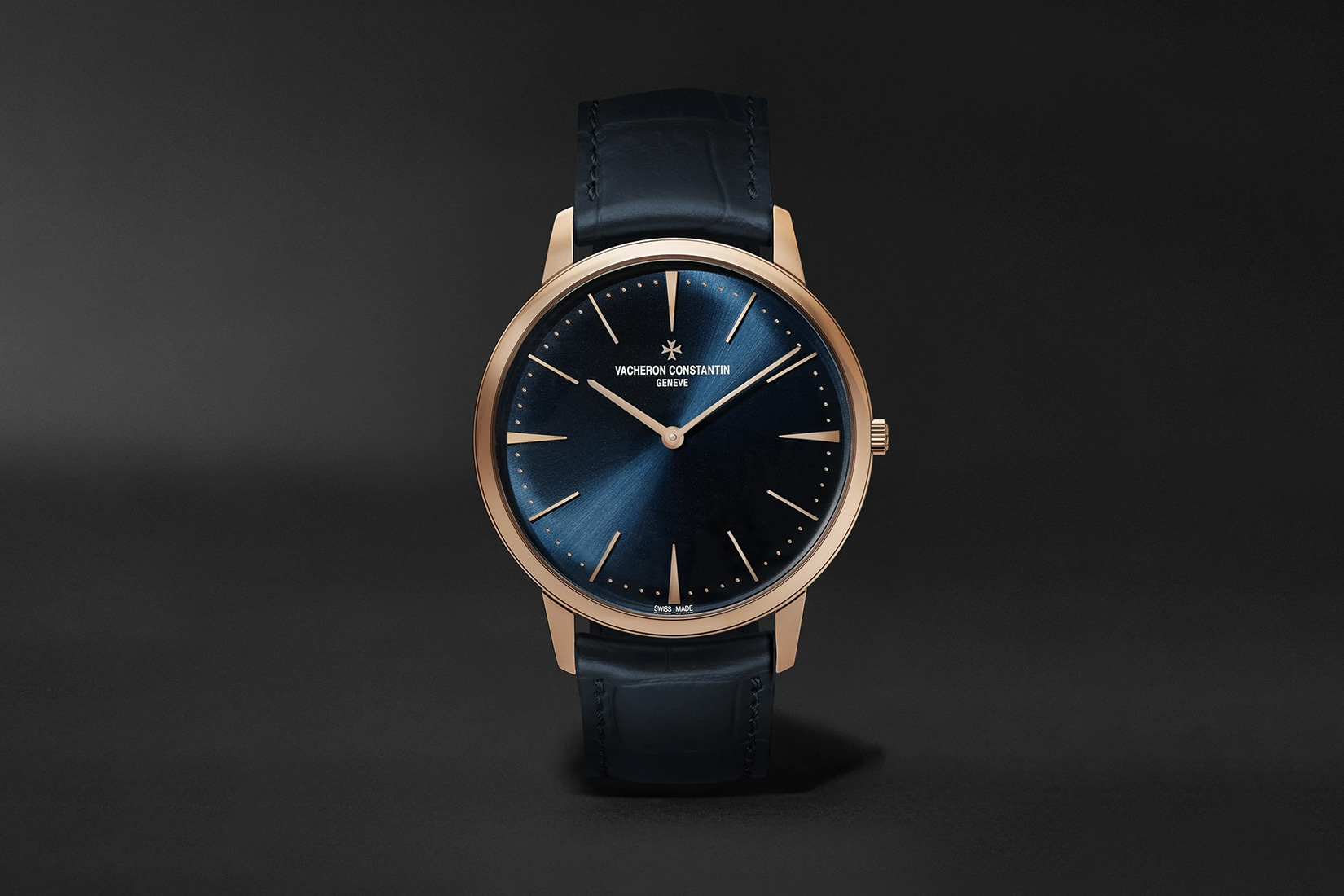 Vacheron Constantin captures the elegance and sophistication we're all looking for when it comes to high-end timepieces that can be worn to the most exclusive parties and events.
The Patrimony takes everything back to the basics. It's immaculate in form with simple lines and curves. It represents true minimalism and the best in modern dress watch design.
Vacheron Constantin is constantly cultivating perfection and the Patrimony is exemplary in this sense. With its Swiss-quality caliber 1400, a hand-winding movement with a 40-hour power reserve, it delivers impeccable timekeeping to its discerning wearer.
Aesthetically, it's perfectly formed and exquisitely proportioned, 40 millimeters in size, and with a pared-back dial. Simple dotted minute markers are paired with baton-style hour markers, all in pink gold—like the case. The buckle is sculpted into the brand's signature motif.
The marriage of warm pink gold with the sunburst blue dial and strap is truly noteworthy. Few eyes could resist a good look at that color combination.
And that's to say nothing of more pragmatic considerations. The sapphire glass crystal is scratch-resistant and hard-wearing while the watch is also water-resistant up to 30 meters so the Vacheron Constantin Patrimony can survive the odd splash without too much worry.
Best for: understated horology conveying seriously good taste.
| | |
| --- | --- |
| Case size: | 40 millimeters |
| Material: | 18-Karat pink gold |
| Movement type: | mechanical hand-wind |
Fizili Ultra-Thin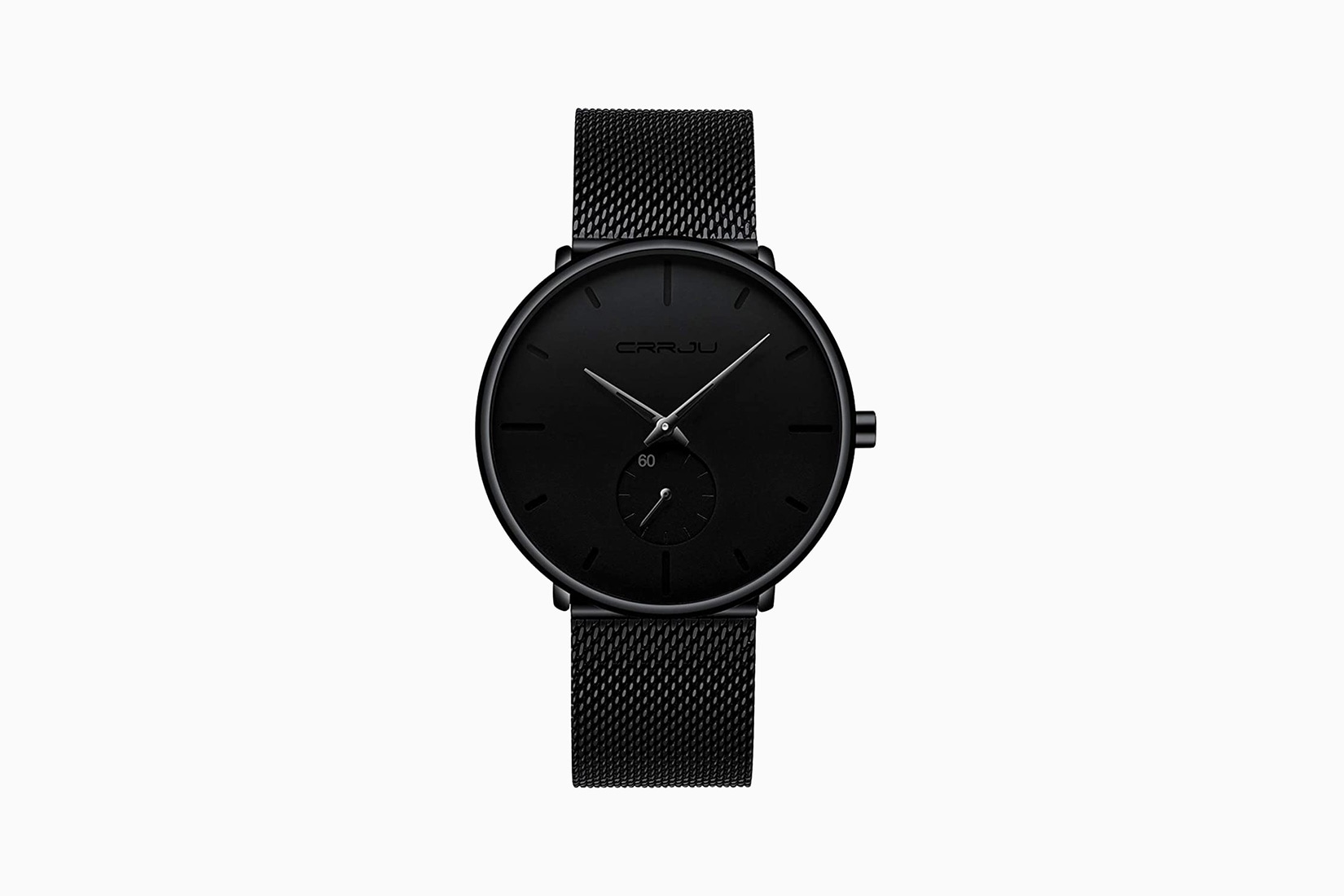 Is there any color more timelessly elegant than black? We think not. And this Fizili one-tone timekeeper is the best black dress watch out there.
Admittedly, this is a dress watch for the more sartorially adventurous. It strays from certain dress watch norms with its stainless steel mesh band and matte black finish. There's not a hint of color, allowing for a pleasingly uniform visual experience.
That said, it has all the necessary dress watch staples. The dial is round, simple, and flat with just a simple seconds dial as an additional complication. And, at only 7 millimeters thick, it's incredibly compact.
This is the ideal special occasion watch—one sure to get heads turning. Whether you decide to wear the Fizili Ultra-Thin to the office or to reserve it for momentous events such as weddings and birthdays, this is an ultra-stylish timepiece demonstrating some serious cool factor.
Best for: trend-setters seeking something a little different.
| | |
| --- | --- |
| Case size: | 40 millimeters |
| Material: | stainless steel |
| Movement type: | quartz |
Tissot Analog Display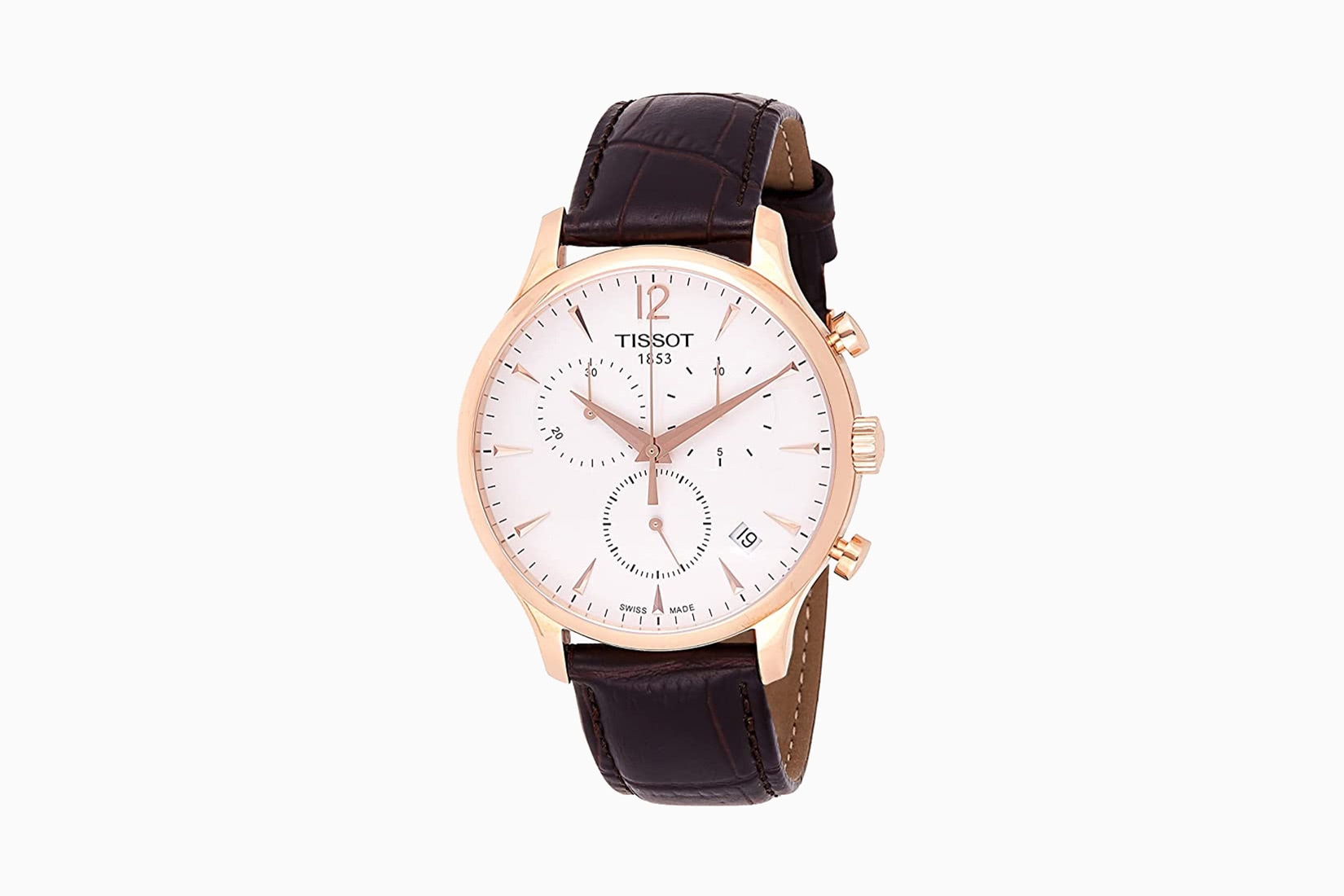 Looking for a top-shelf dress watch that offers horological bang for your buck? This Tissot watch is easily one of the best dress watches under $1,000.
A trio of subdials allows for 60-second, 30-minute, and 1/10th of a second time measurements. That's quite a lot of information for the dial of a dress watch—but we're not complaining. The combination of white and rose gold means the face retains a clean and unfussy appearance.
The dial is also on the larger end of the spectrum when it comes to dress watches—but that makes it easy for you to read. Meanwhile, quartz is a great choice if you've got better things to be doing than winding up a timepiece.
There's no question about the Tissot Analog Display looking impressive alongside a two-piece suit, whether you're going for an edgy modern look or something more stately. It would also make a good gift for any watch lover or man about town who needs a dress watch to complete his look.
Best for: bargain-hungry watch-wearers seeking affordable quality.
| | |
| --- | --- |
| Case size: | 42 millimeters |
| Material: | stainless steel |
| Movement type: | quartz |
High-end dress watch buying guide: what to look for when shopping for a modern dress watch?
When shopping for a modern dress watch, there are a few features to pay attention to as you browse.
Movement type – most watch enthusiasts favor a mechanical movement for its technical skill. Whether you choose an automatic or self-wind mechanical movement depends on how much time you can put aside for maintenance. Of course, there are also dress watches with quartz movements. These are accurate, maintenance-free, and less costly.
Size – dress watches should be slim and compact, able to slip easily under your dress shirt cuff without being too bulky or conspicuous. Ideally, the case diameter should be less than 42 millimeters.
Dial – most dress watches feature simple minimalist dials. They are similar to field watches in this regard. Dials are usually white, but more modern designs often feature other colors too. Most dress watches have classic round dials, but square-shaped and rectangular dials are increasingly popular.
Complications – dress watches typically have very few complications, serving simply to tell the time and nothing else. However, sometimes they will also show the date or feature a moon phase calendar.
Numerals – most dress watches have Roman numerals or saber-style indexes. While less common, dress watches with Arabic numerals can also be found.
Strap – most dress watches feature a leather strap. Metal bracelets are considered more appropriate for casual wear—although you will find both options on the market today.
Just as people are taking increasing liberty with formal wear etiquette, the norms around dress watches are also evolving and you will find a whole range of different models on the market today. One thing to remember when shopping for a luxury dress watch is that you're seeking timeless style. Something that won't look out of fashion in a year or so.
In terms of materials, you can expect the following when it comes to modern dress watches:
Case – typically metal of some kind (stainless steel, platinum, yellow, rose, or white gold).
Strap – genuine high-quality leather is preferable for optimum comfort. Alligator leather is an elegant option.
Bracelet – dress watches with metal bracelets can be found but are a bit showier.
Most luxury brands will have at least one watch model that is suitable for wearing with formal dress. However, the best dress watches are made by the likes of Rolex, Vacheron Constantin, and Cartier.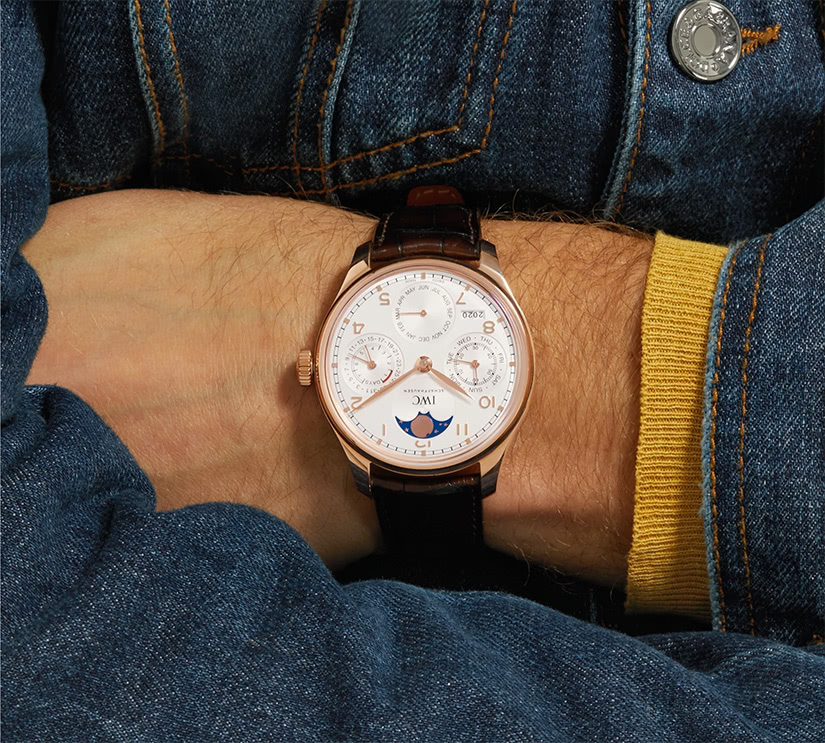 How and when to wear a dress watch?
Dress watches are designed to be worn with formal wear. This makes them the perfect timepiece for pairing with cocktail attire or black tie.
On such occasions, one basic sartorial rule applies: your watch should match your outfit. For example, if your watch is silver, pair it with silver cufflinks, a silver belt buckle, and a silver ring. Or if your watch has a black leather strap, pair it with black patent shoes.
However, in this day and age, it's also perfectly acceptable to wear a dress watch as part of casual or smart casual attire. Simply pair with a sleek blazer, chinos, a pair of luxury sneakers—and maybe a nice pair of shades. Of course, you can always buy another more casual strap for your dress watch if you want a more laid-back look.
You can also get away with wearing a dress watch to the office with business casual or business professional attire. Even if you work from home, why not treat yourself to an attractive timekeeper? It could look good on Zoom or Skype. The best dress watches for business attire are those with a thin dial in gold or silver alongside a leather strap.