It kind of seems like, outside of the gym, sweatpants were a dirty little secret. We all know everyone wears them, we just don't talk about them in polite company.
At least, that was true until fashion designers realized there was a whole untapped market of comfortable clothing that just needed an artist's deft touch to turn it into something a little more fashionable. Now fashion-plate celebrities are wearing sweatpants out in the streets while they run to buy their toy poodles diamond-studded flea collars.
That pretty much leaves us with three distinct categories for men's sweatpants. There are comfortable lounging sweatpants, the kind we wear while on a video-call from our home office.
There are performance joggers, the sort we stick in our durable gym bags along with our proven workout gear and best workout sneakers.
And then there is the newly-born breed of sweatpants that are best used with your favorite slippers for lounging in style. Or they can even be worn as you head about town, matched with a good-looking polo and maybe some luxury white sneakers, to do your chores.
Down below we'll dig into the best sweatpants for men on the market today: the most comfortable sweatpants men's departments can offer, the tip top performance joggers, and the sweatpants that you can swap out for your favorite designer jeans for fashionably casual jaunts around town.
The 15 best sweatpants for men
Axel Arigato Rouge Bee Bird: Best overall sweatpants for men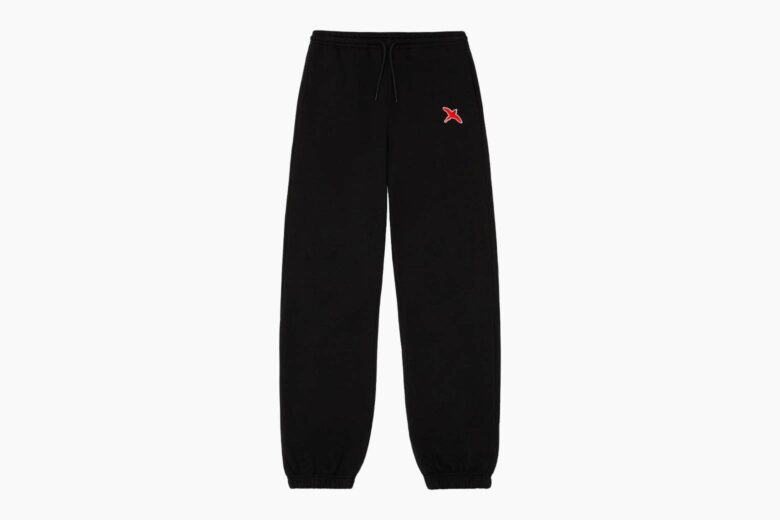 If we were pressed to only offer up one set of sweatpants for consideration, we'd have to go with Axel Arigato's Rouge Bee Bird sweatpants. In the realm of men's cotton sweatpants, these reign supreme. Their simple cut and jet-black coloring (aside from that cheeky little red bee bird) make them a prime choice for mixing and matching with other comfortable wear, like your favorite worked-in hoodie and easy-time underwear.
| | |
| --- | --- |
| Best for: | Figuring out if "too comfortable" is a real thing. |
| Color: | Black |
Luca Faloni Pure Cashmere Joggers: Best high-end men's sweatpants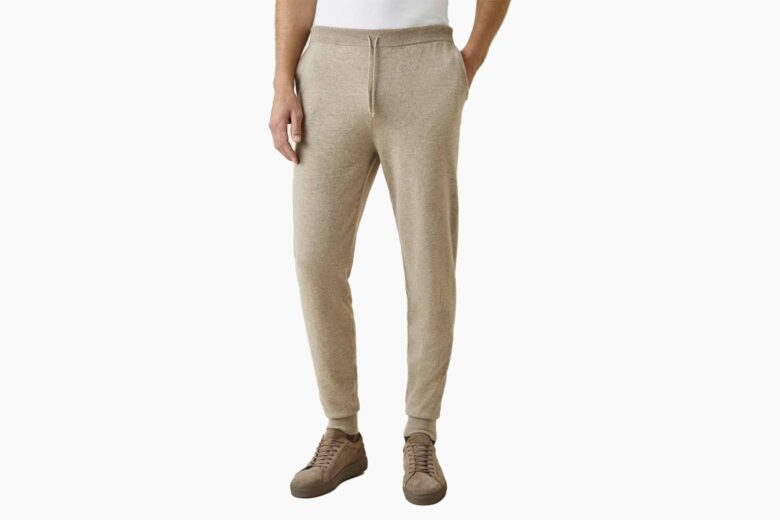 When we were talking about sweatpants that look good enough to wear out around town, Luca Faloni's pure cashmere joggers are pretty much what we had in mind. You match these with some luxury socks and a premium polo shirt, and you'll end up with admirers who have no idea how comfortable you are in all that soft cashmere goodness. Warning—use these joggers to lounge at home and you may never want to head outdoors ever again.
| | |
| --- | --- |
| Best for: | Melding "classy" and "comfortable" into one killer combination. |
| Color: | Camel Beige, Charcoal Grey, Atlantic Blue + More |
Adidas Tiro 21: Best value sweatpants for men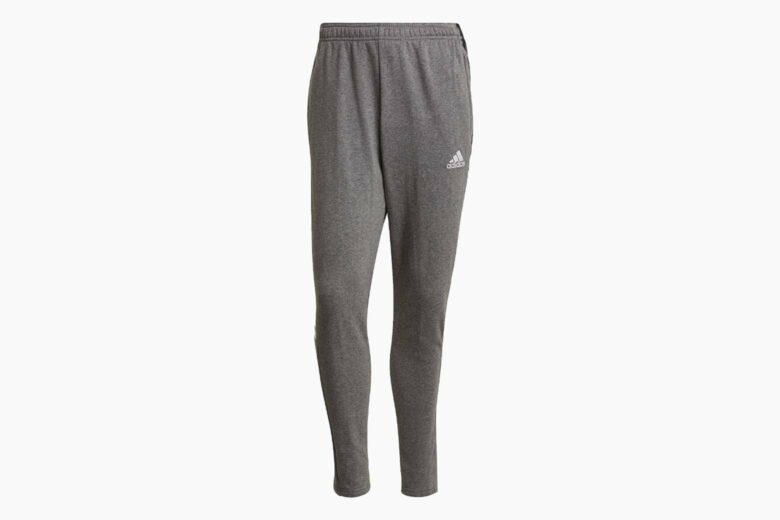 Sometimes sweatpants work best as a transition garment, when you're warming up or cooling down from an activity that had you in performance shorts. Adidas' Tiro 21 sweatpants ring that particular bell very well. Made from a cotton and recycled polyester fleece blend, these joggers stretch where you want them to, giving you plenty of comfort as you wind up or down from a game on the field or the basketball court.
| | |
| --- | --- |
| Best for: | Giving your body the go-signal. |
| Color: | Team Navy, Black, Grey |
Nike Sportswear Tech: Best athletic men's sweatpants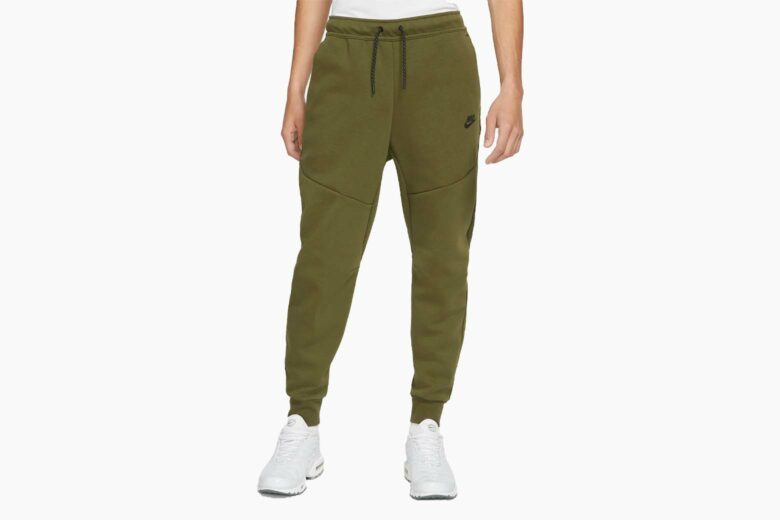 Now we're in performance-town. What makes Nike's sweatpants best for sport? They're made from fleece, so they're perfect for cooler days. They have tapered tailoring, which starts roomy in the thighs then narrows down at the knees, reducing chafing up top but keeping them from flapping around down below. And if you look up "best sweatpants reddit", the popular forum mentions men's desire for deep pockets for electronics, which these sweatpants have at the hip.
| | |
| --- | --- |
| Best for: | Going all-out in your athletic pursuits. |
| Color: | Rough Green, University Red, Sangria + More |
Western Rise Spectrum Jogger: Best performance joggers for men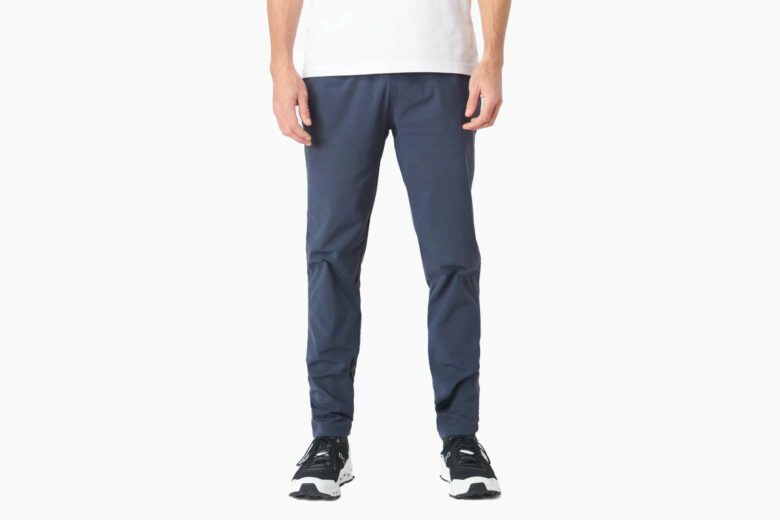 Sometimes the best thing a piece of clothing can do to enhance your performance is to get out of your way. Western Rise's Spectrum joggers manage that trick by being extremely comfortable. The warp-knit fabric makes them very flexible, meaning you won't have the material holding you back from your biggest athletic movements. The fact that they look like a hip bit of legwear is just icing on the performance-pants cake.
| | |
| --- | --- |
| Best for: | Busting out your best moves in every direction possible. |
| Color: | Navy, Sand, Olive + More |
Alo Renown Sweatpants: Best cozy men's sweatpants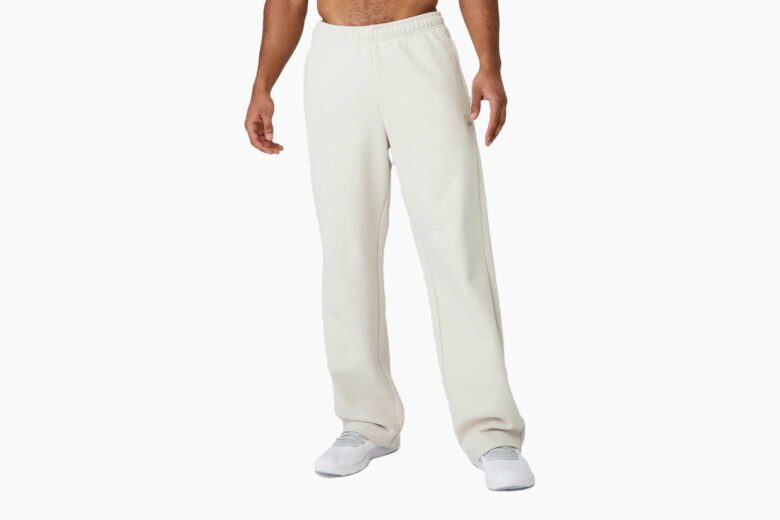 What's that? You're looking for all-out comfort in a set of men's jogging pants? Let us introduce you to Alo 's Renown Sweatpants, made from thick, heavyweight French terry cloth. Add that to the comfort offered by some of the best oversized tailoring around and you've got yourself some sweatpants that are going to be fantastically hard to put aside in favor of more formal wear. Trust us, you've just found some of the best baggy sweatpants for men in the game.
Learn more about the Alo Yoga brand.
| | |
| --- | --- |
| Best for: | Going pro in your quest for comfort. |
| Color: | Bone, Soft Clay, Limelight + More |
Alpha Industries x Izzue: Best jogger style men's sweatpants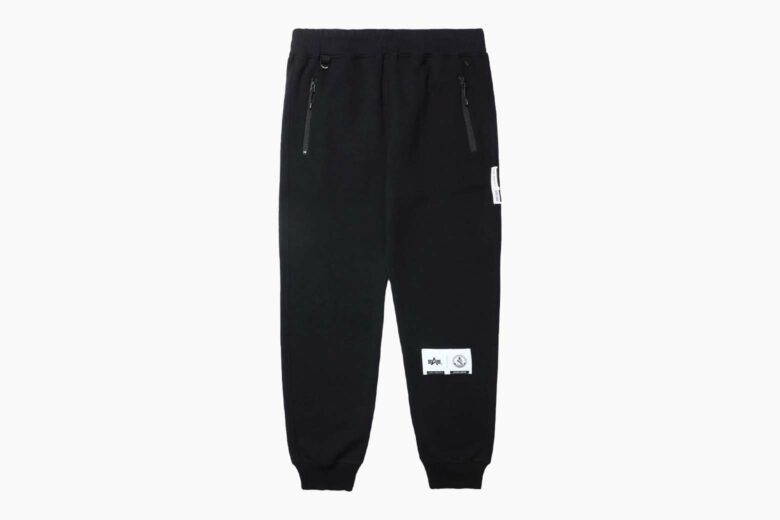 Let's add a bit of flair to our joggers, shall we? Alpha Industries Alpha X Izzue joggers start out with a simple silhouette but then throw in a dropped crotch for comfort and a fuller look. Then the detailing starts. Stark white text on the backside and a white patch on the lower left leg draw in the eye and give these sweatpants that extra bit of design zip that puts these joggers ahead of the pack.
| | |
| --- | --- |
| Best for: | Lurin' 'em in then knockin' 'em out. |
| Color: | Black, Tiger Camo |
Parachute Pant: Best organic cotton sweatpants for men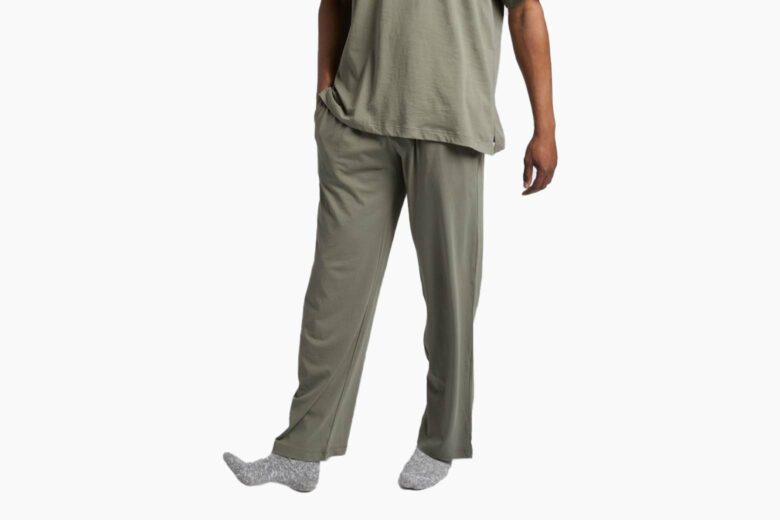 Here's something for the fellas that prefer sweatpants to pajamas when it's bedtime. Made from 100% organic cotton, Parachute's organic cotton pants are light and stretchy, making them perfect lie-down joggers. They're also some of the best sustainable sweatpants around, bypassing artificial chemical softening procedures, so you can rest easy knowing you're wearing ecologically friendly gear.
| | |
| --- | --- |
| Best for: | Making every minute count during sleepy-time. |
| Color: | Moss, Coal, Fawn |
MR P.: Best grey sweatpants for men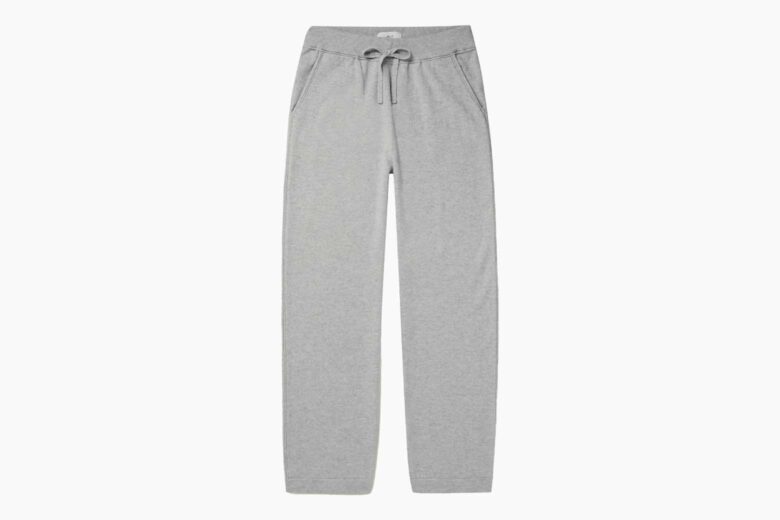 Did you know that there are studies that have shown that women like men in grey sweatpants? Add that little fact onto a pair of plush and ultra-comfortable joggers, and you've got yourself a winner. Specifically, we're talking about Mr P.'s Melangé Wool and Cashmere-Blend Sweatpants. That wool and cashmere mix in the material makes for a very comfortable set of lounging joggers. And if the ladies like you in them, what's not to love?
| | |
| --- | --- |
| Best for: | Proflin' in the most comfortable manner possible. |
| Color: | Gray, Black, Charcoal |
Goldwin: Best fleece men's sweatpants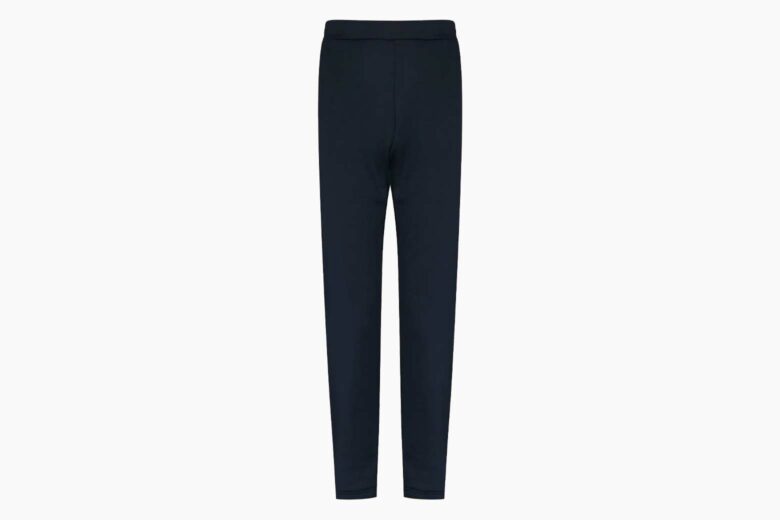 Heading out for some Arctic-inspired adventures? Think fleece. In particular, grab a pair of Goldwin's bulky fleece sweatpants to help keep you warm. Designer Goldwin has mucho experience in designing skiwear, which they've applied to these joggers. And it sure doesn't hurt any that they look quite a bit like designer slacks.
| | |
| --- | --- |
| Best for: | Beating back the cold with style. |
| Color: | Black |
Gucci Interlocking G: Best drawstring sweatpants for men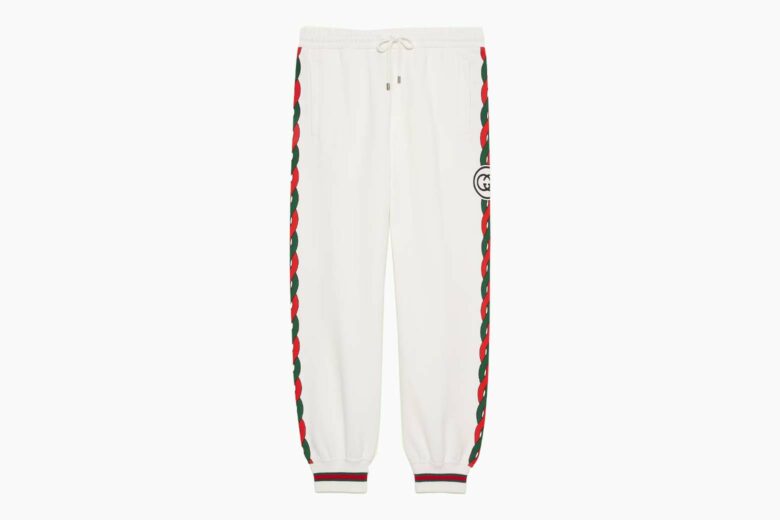 The boldest design-house entry on our list also happens to be the best drawstring joggers around. Gucci's cotton jogging pants with interlocking G are all about drawing looks —there's no way those famous red and green details with the double-G logo are going to let people go by without doing a double-take. And if they happen to ask you about your joggers, well that's your cue to tell them about just how comfortable they are.
| | |
| --- | --- |
| Best for: | Bringing big design-house appeal to the most comfortable clothes you own. |
| Color: | Ivory |
EA7 Emporio Armani Logo Series: Best elastic waist men's sweatpants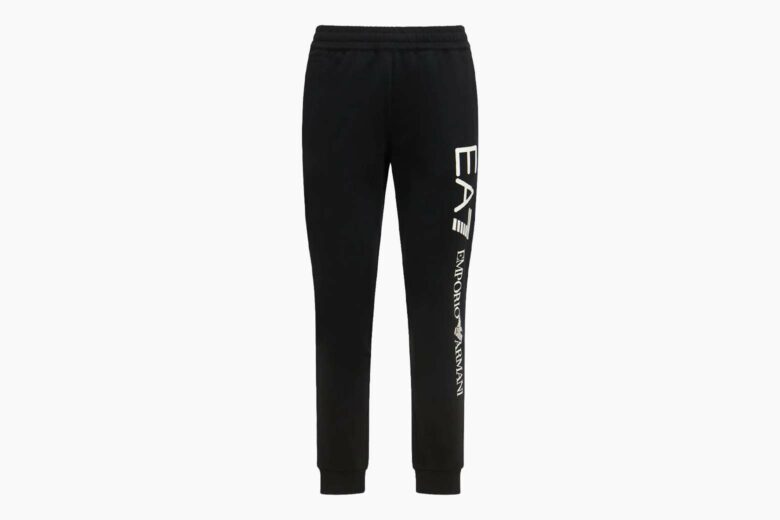 Elastic waistbands are a godsend for those of us without a little bit more meat around our midsection. The cool thing about this particular set of elastic-waist joggers, the EA7 Emporio Armani sweatpants, is that they have that famous Armani name printed down the side. So you're not only going to be feeling just fine with the best adjustable waist around, you're also going to be looking like a million bucks while you're doing it.
| | |
| --- | --- |
| Best for: | Letting it all hang out… including your top-tier sense of style. |
| Color: | Black, Blue, White |
Balmain: Best fitted sweatpants for men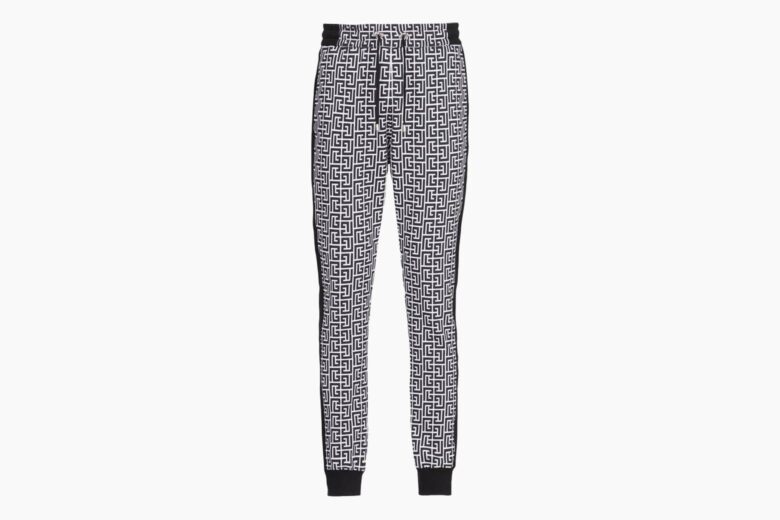 The best slim fit joggers around also happen to be some of the most interesting in terms of aesthetics. You're certainly not going to fade into the background if you're wearing Balmain's monogram print sweatpants. Equally as comfortable as some of the baggier examples of the jogger breed, these sweatpants are going to work especially well if you want to show off those quads you've built up in the gym.
| | |
| --- | --- |
| Best for: | Showing off what you're working with. |
| Color: | Ivory/Noir |
Amazon Essentials: Best budget men's sweatpants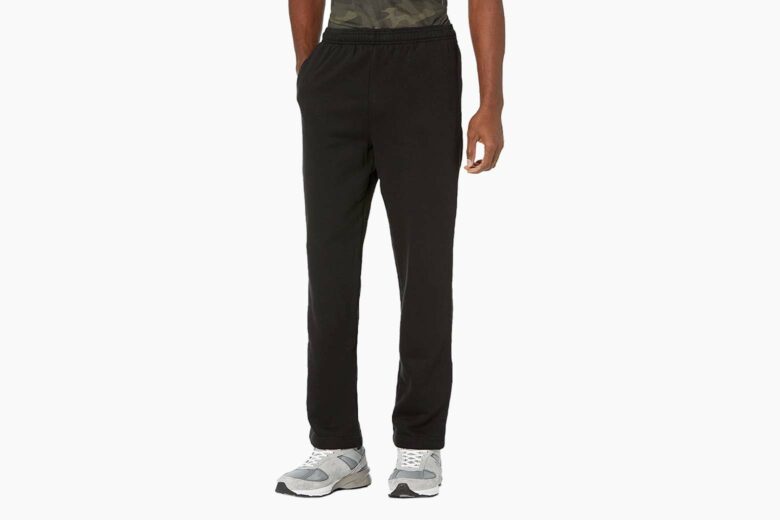 Cheap sweatpants still get the job done, and done very well if they happen to be Amazon Essentials men's fleece sweatpants. They look good, they're easy to wash and maintain, and the fantastically reasonable price means you can get a whack of 'em without breaking the bank.
Because these joggers are from the Amazon Essentials line, it means they've been designed after feedback from thousands of customers. You know a lot of those customers are going to be tall, so that also makes these sweatpants some of the best sweatpants for tall men around.
| | |
| --- | --- |
| Best for: | Proving that comfort doesn't need to be costly. |
| Color: | Black, Burgundy, Grey Camo + More |
Brunello Cucinelli Tapered Sweatpants: Most expensive sweatpants for men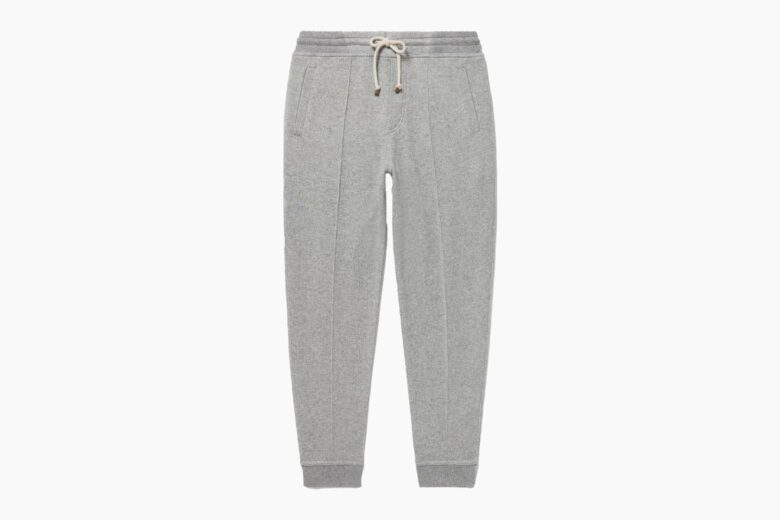 Here's leisurewear at its most luxurious. The cashmere that makes up Brunello Cucinelli's sweatpants is exquisitely soft, and the pleated look gives these joggers an air of sophistication that most other sweatpants don't even approach. These are the guys you want to pair up with a top-shelf cashmere sweater for those rainy days you have to spend inside the summer home.
| | |
| --- | --- |
| Best for: | Upping your luxury sweatpants game to unheard-of levels. |
| Color: | Gray |
Buyers guide for men's sweatpants
There are a variety of men's sweatpants on the market today, broken down into categories that can help you figure out which joggers you want based on what you're going to be using them for.
Types of men's sweatpants
There are three broad categories to choose from. The first is loungewear. These joggers are the ones you're going to wear when resting at home. They're all about comfort, which means while these sweatpants will usually be soft and loose-fitting, they might not do the best job dealing with moisture, letting you get a full range of movement, or keeping you cool. Alo Yoga's Renown Sweatpants are an example of good lounging sweatpants.
The second category is where you'll find your athletic sweatpants. These are the joggers that have tailoring specifically geared to let your joints have their full range of movement without chafing, and will quite often be made of materials that deal nicely with sweat. Take a look at Nike's Sportswear Tech Fleece for an example.
The final broad category is fairly new, the designer sweatpants. These upscale joggers are tailored specifically to look sharp, and are becoming a desirable fashion trend. Brunello Cucinelli's cashmere sweatpants spring to mind; they'll look great on you as you're running around town.
These categories are certainly not usually exclusive, far from it, but they can be used as starting points to help you decide where you should be looking for your next set of sweatpants.
Men's sweatpant sizes
We're really talking about two things when we talk about sizes on men's joggers. The first is the usual sizes: Small, Medium, Large, and so on. The second deals with how the pants are tailored: slim fit, tapered, or baggy.
Almost all sweatpants are more relaxed in fit than your other pants. If you prefer that they stay closer to your legs, then hunt down a "slim fit" or "fitted" pair of sweatpants like Balmain's sweatpants with monogram print.
"Relaxed fit" sweatpants will give you even more room than the usual joggers, that extra size usually being found around your thighs and seat. Relaxed fit sweatpants are a godsend for bigger men.
"Baggy" sweatpants are relaxed fit sweatpants and then some. They have extra room just about everywhere, but have regular-sized waists and cuffs so you can keep your pants up where they belong.
Like any other pants, measure your inseam by taking the measurement from the inside of your leg, rather than the outside. Waist sizes resemble their counterparts in other pants, but sweatpants almost always come with waists that stretch or have drawstrings, so you have some literal wiggle-room to work with here.
Men's sweatpant fabrics
Cotton is still the king of fabrics when it comes to men's jogging pants, especially when it comes to joggers geared more towards lounging or fashion. The cotton is usually woven into a French terry knit, which makes for very comfortable clothing.
For super-soft sweatpants, look for cashmere.
When you move over to performance sweatpants, you'll start to see more nylon or polyester, which are both more durable than cotton and deal better with moisture. Spandex will sometimes be thrown into the mix to add a bit of stretchiness. Polyester is also especially good for repelling UV rays, so consider it as your material of choice if you're going to be out in the sun a lot.
Fleece can also make an appearance, which is especially helpful in sweatpants geared towards colder weather.
Men's sweatpants details
"Details" refers to all the little bells and whistles. For example, while searching for your sweatpants, do you want a drawstring you can tie, or would you prefer an internal elastic waistband?
Do you like old-school elastic cuffs (like an elastic band) around your ankles, or would you prefer the ribbed cuffs found in a lot of jogging-specific sweatpants?
Are you going to be carrying anything with you? If you're going to have your keys or maybe some money with you, you might want to keep your eyes open for pockets that can be zipped shut. If you want to take your phone, make sure you get pockets deep enough to keep it from slipping out while you're on the move.
Frequently asked questions about men's sweatpants
What are the best slim sweatpants for men?
For slim-fitting sweatpants look for sweatpants with the term "slim-fit" or "fitted" in their description. The best example of a "slim fit" set of jogging pants is Balmain's cotton sweatpants with monogram print.
What is the difference between sweatpants and joggers?
Generally speaking, most people will use the terms interchangeably. However, some people will use "joggers" to refer to sweatpants that are geared towards athletics as opposed to lounging or fashion. Joggers in this case will be lighter and do a better job dealing with heavy sweat.