The bomber jacket, one of the classic men's fashion items, comes back in style in 2020. Luxury brands such as Gucci, Tom Ford, and Balmain have all turned their attention to renewing their men's jacket collections with a new twist. But they're not the only ones. Budget-friendly fashion brands such as Alpha Industries and Sandbank are also investing in the classic jacket to appeal to younger shoppers.
Bomber jackets, while functional and robust, can easily add an element of elegance to your style. Combine your jacket with the right pair of designer sneakers for a sophisticated casual look. Or dress it up with a shirt for a smart-casual look. Few items in your wardrobe will be as versatile and timeless as a classic bomber.
Whether you're looking for a leather bomber jacket to pair with denim, a black bomber jacket to upgrade your weekend loungewear or a red bomber jacket with Japanese art to elevate an entire outfit, we've curated the 27 best options to take you from Summer to Winter.
Top 27 most popular bomber jackets for men in 2020
Here's our hand-picked selection of the top 27 best luxury bomber jackets for men. For each category, our style editors chose a jacket from a premium luxury brand and an affordable alternative to help you look amazing whatever your budget might be.
---
All the jackets featured on our list of the best bombers of 2020 are independently selected by our team. If you buy something through our links, we may earn an affiliate commission at no extra cost to you.
1. Paul Smith: Best leather bomber jacket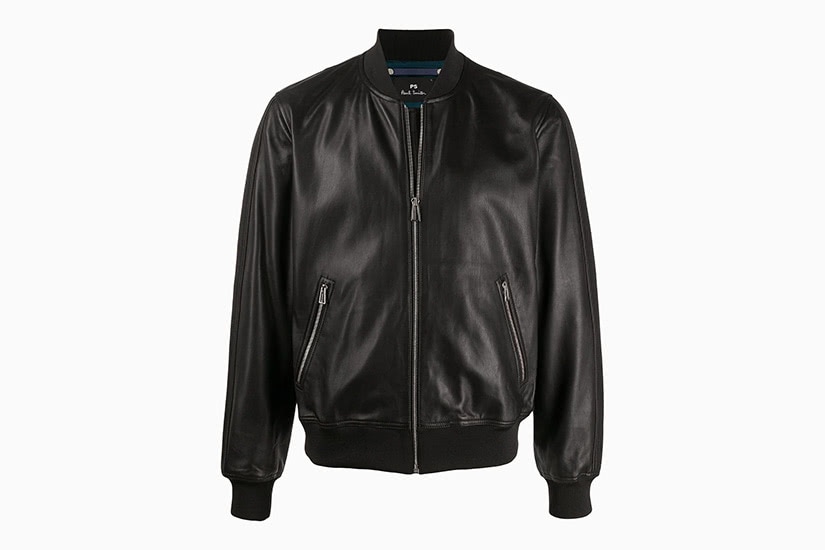 A leather bomber jacket can be a dressed-up option for men to pair with dark jeans or even a suit. British fashion designer Paul Smith's stylish black leather jacket is a perfect choice. Designed for versatility, it's cut from high-quality leather and offers a relaxing yet classy fit.
---
This alternative from Golden Bear is excellent for cooler weather. The jacket is cut from insulating wool-blend with leather sleeves. The thick ribbed-knit cuffs and hem will keep the cold out.
2. John Elliott Bogota II: Best black bomber jacket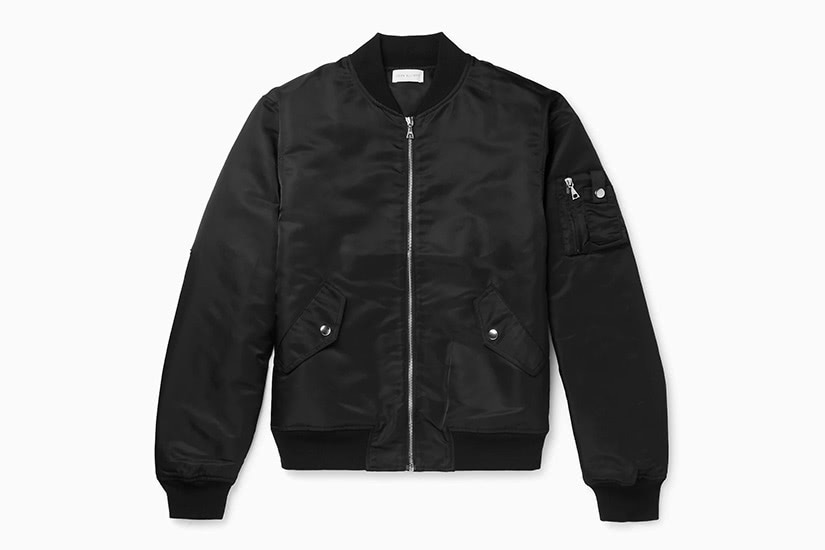 John Elliott recently released this beautifully designed black bomber jacket. It's made from black nylon and fully lined and padded for warmth. Perfect to layer with a sweatshirt. The Bogota II jacket features details you'd expect to see on vintage pilot styles, including ribbed edges and pen slots.
---
For a lightweight and affordable alternative, check this classic from Nantersan. It's heavily discounted on Amazon and comes in blue, grey, and navy. It's also one of the most reviewed bomber jackets online.
3. Gucci Reversible GG: Best red bomber jacket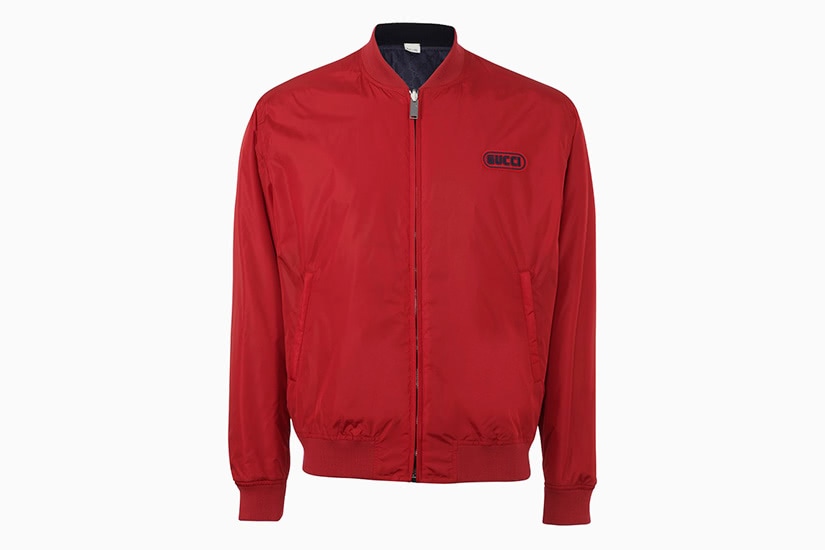 Feeling bold? Try a red bomber jacket for a change! Gucci has you covered with this cool red bomber jacket. This jacket is made in Italy with Jupiter red and blue japan colours. The reverse is quilted and free from detailing, so you have the option of a pared-down look.
---
A great budget-friendly alternative is this red satin lightweight bomber jacket from Levi's.
4. Robert Graham Roscoe: Best brown bomber jacket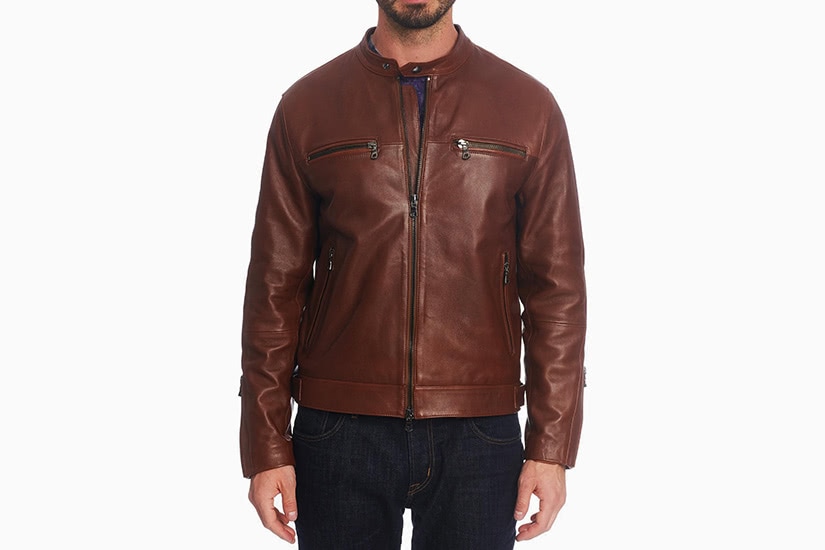 This sublime brown leather bomber jacket from American luxury designer Robert Graham comes with a snap tab collar and dual zip pockets. At the back, the brand's signature skull is engraved on the jacket. The leather is thick and of high quality.
---
If you prefer suede over leather, check this classic brown bomber jacket by Valstar.
5. Migos: Best Japanese bomber jacket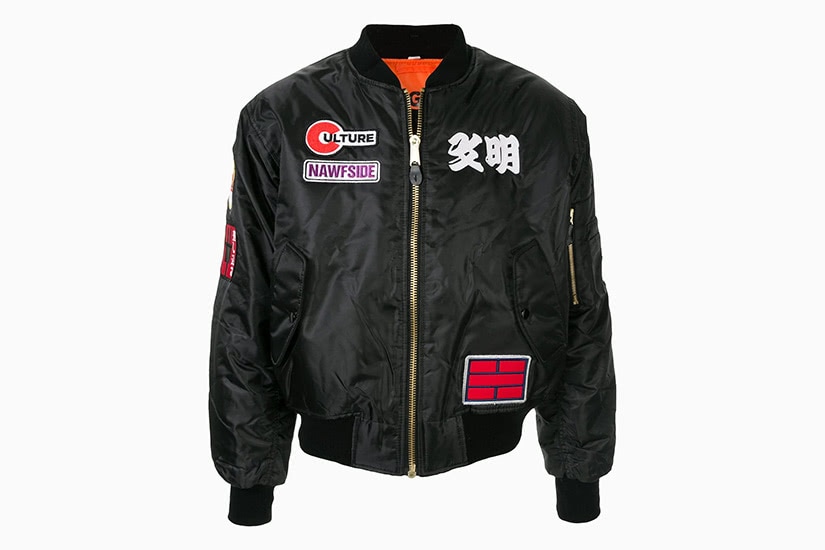 A modern twist on the Japanese bomber jacket, this reversible jacket by Migos features a ribbed stand-up collar, a front zip fastening, long sleeves, and multicoloured patch details. The inside of the jacket is in orange with large Japanese characters on the chest.
---
For a more subtle alternative, check this black and white flight jacket by New Era featuring a large Japanese design on the back.
6. Alpha Industries Heritage: Best green bomber jacket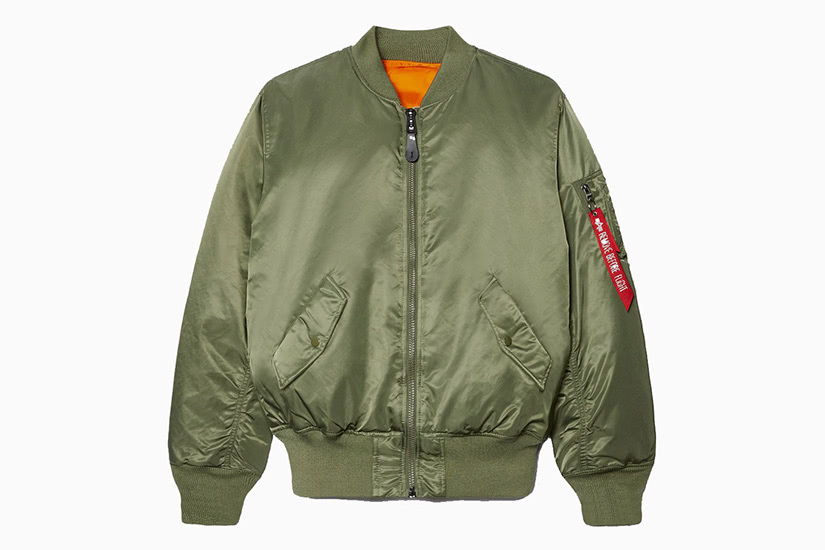 Alpha Industries' Heritage MA-1 Flight Jacket is an absolute classic if you're looking for a green bomber jacket. The jacket is reversible and water-resistant for extra insulation. Just like every other jacket from the brand, it's also great value for money and the best bomber under $200 in our opinion.
---
We also really like the green version of John Elliott's Bogota II bomber. It's cut from Japanese nylon that's resilient to the elements and has a lustrous shine to it. The premium jacket is lined with diamond-quilted padding for warmth.
7. Yoshio Kubo Dry Leaf Reversible: Best olive bomber jacket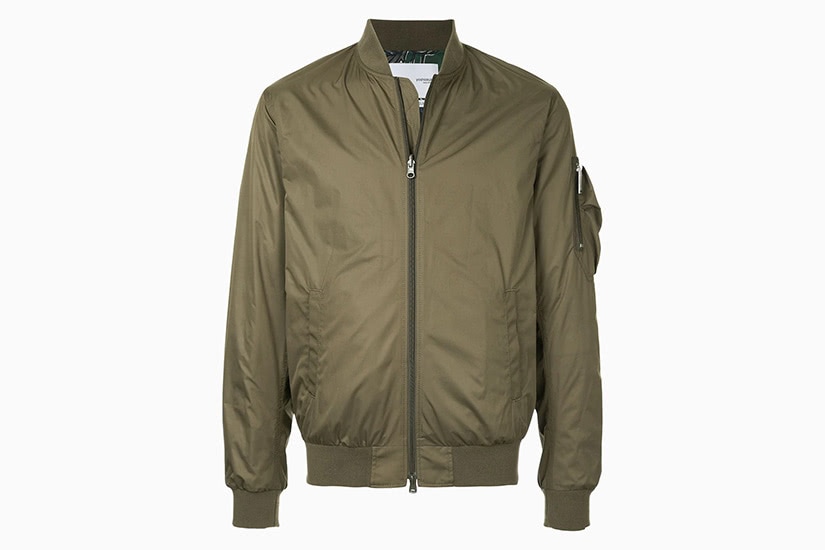 The bomber jacket was originally developed for US army pilots, so choosing an olive colour is a homage to the jacket's roots. This stylish version by Yoshio Kubo is a modern and urban interpretation of the standard-issue bomber jackets worn by the US Air Force in the '50s. The jacket reverses onto a printed chevron pattern made using Japanese fabric.
---
For an affordable alternative, check this olive bomber jacket by Amazon Essentials. It's good value for money and comes in multiple colours.
8. Alpha Industries MA-1 Flight Jacket: Best burgundy bomber jacket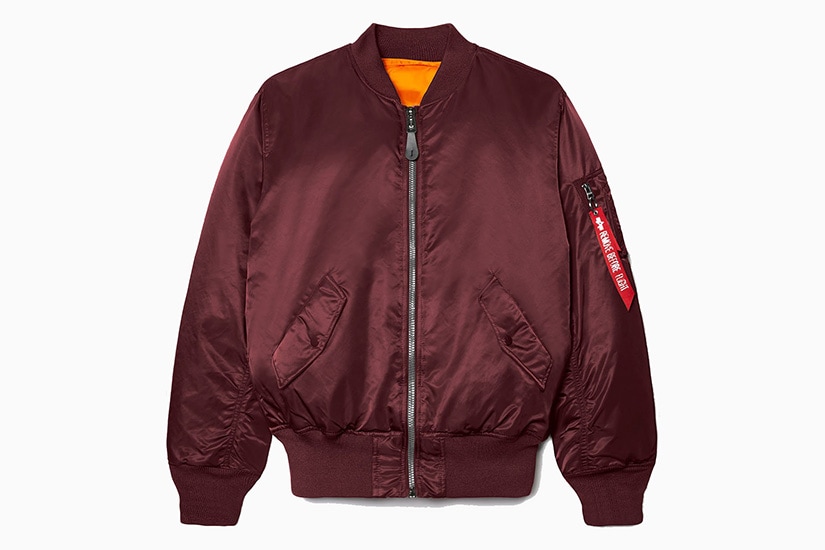 Possibly more posh. Most definitely more sophisticated. A burgundy or maroon bomber jacket will add an element of interest to your wardrobe. This seasonal take on the Alpha Industries' classic MA-1 Flight Jacket for men is gorgeous in deep burgundy. This bomber is made from mid-weight flight nylon with water resistance. The jacket's design version has been kept as close as possible to the classic military specifications.
---
Discount brand Sandbank has a budget-friendly alternative if you're looking for a burgundy bomber to wear in Spring.
9. Gabriela Hearst: Best tan bomber jacket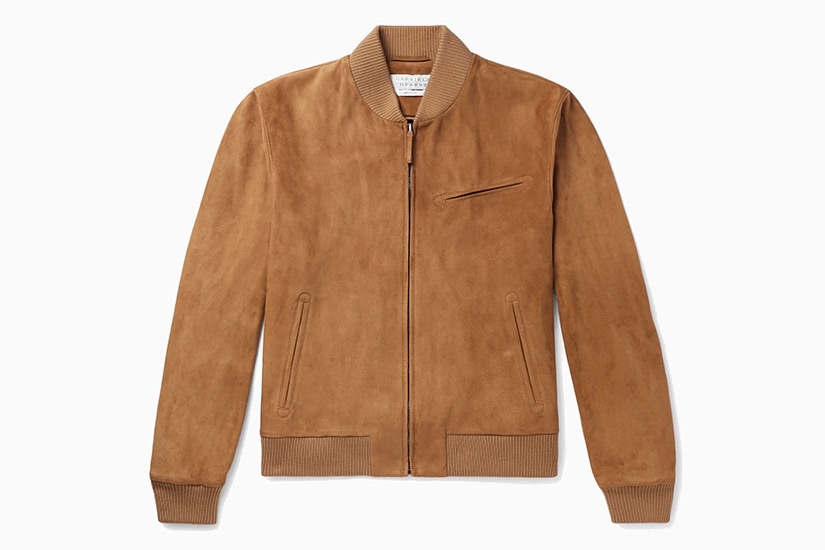 A tan bomber jacket in suede will be perfect to match with beige or white trousers for a fresh look. And you can comfortably wear it in Fall or Spring. We particularly like this luxury version by designer Gabriela Hearst. It shows great attention to detail with discreet welt pockets and tidy ribbed trims. The men's jacket is crafted from soft camel suede and has a relaxed profile. Very nice!
---
For a slightly darker tan jacket, check this beautiful alternative by Paul Smith.
10. Sandro Paris: Best khaki bomber jacket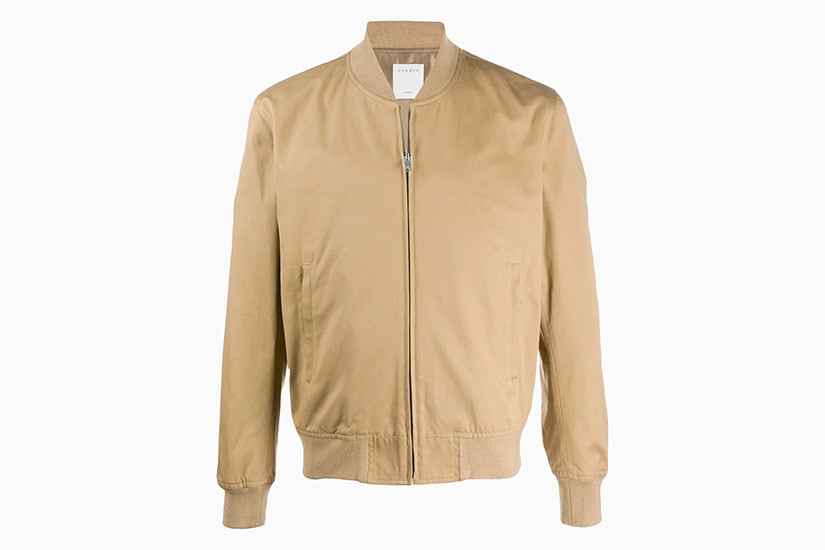 Feeling adventurous? Try this beige khaki bomber jacket from Sandro Paris. This slim-fit bomber jacket is made from a neutral colour sand cotton-twill and has ribbed-knit trims that give it a bit of structure. Smarten it up with chinos or dress it down with sweatpants. It's also available in navy blue.
---
For a slightly lighter beige jacket, check this beautiful alternative by Club Monaco. The jacket is made from a water-resistant shell and is ideal for temperate weather.
11. Private White V.C.: Best blue bomber jacket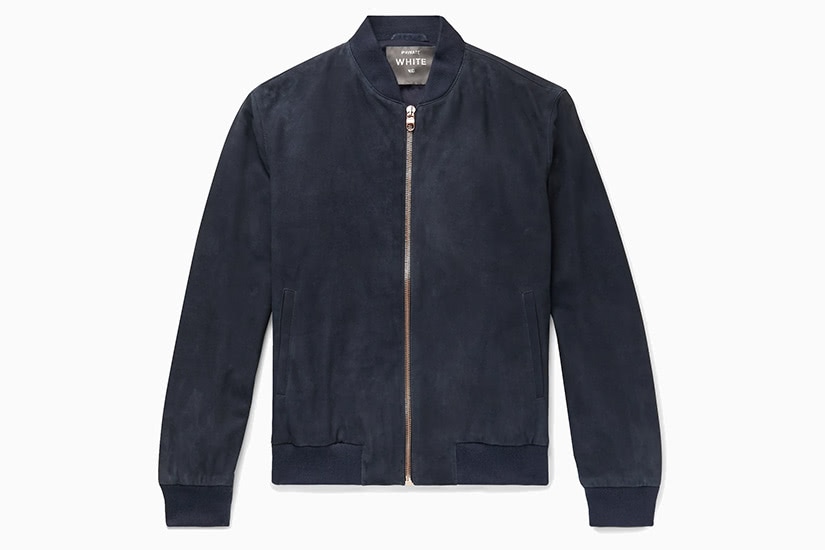 The slightly more formal blue bomber jacket is a year-round essential. This model by Private White V.C. honours the designer's grandfather's rank in the army. Drawing inspiration from classic flight jackets, this bomber style is made from soft suede and fully lined.
---
If you're looking for a slim, lightweight blue bomber jacket alternative, SSENSE has the best price for this beautiful A.P.C. navy wool bomber. The regular cut means you can easily layer it over a hoodie or sweater.
12. Salvatore Santoro: Best slim fit bomber jacket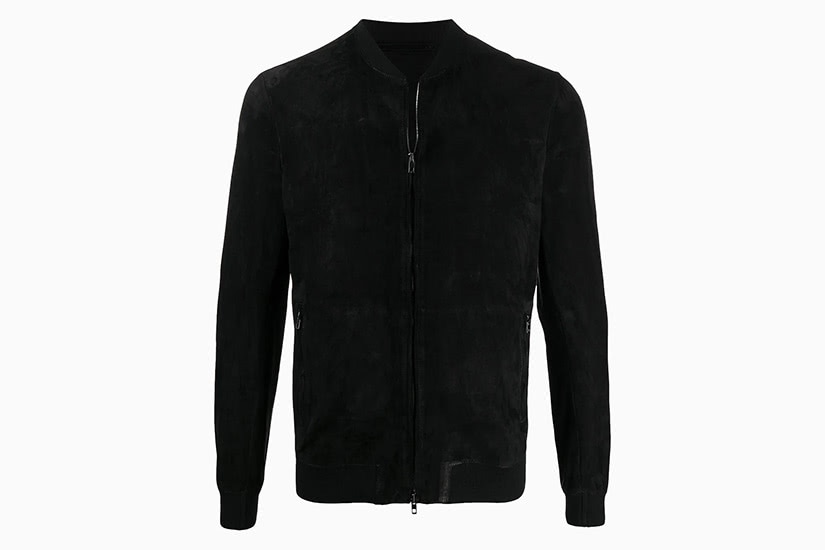 This tailored slim-fit bomber jacket from Salvatore Santoro comes with plenty of luxurious details. It's made from black leather fitted suede and features a thick collar, discreet side zipped pockets, a ribbed hem and cuffs. The dark colour accentuates the slim-fit look of the jacket.
---
British fashion designer Paul Smith also has a beautiful velvet bomber jacket if you're after a slim-fit look.
13. Mr P.: Bestselling bomber jacket
This baseball-inspired bomber jacket is made from premium materials by MR P.. The brand offers great value throughout its entire collection, and this vintage varsity jacket is no exception. The bomber is made from midnight-blue Melton wool and supple beige leather. It's fully lined in quilted cotton for warmth and has ribbed trims to draw in the relaxed silhouette a little.
---
British luxury house Burberry has another bestseller in its permanent collection. Check this beige and white wool jacket with leather sleeves. It's also available in darker colours. We found the best price on Farfetch and SSENSE. A very preppy bomber jacket.
14. Ermenegildo Zegna XXX: Best casual bomber jacket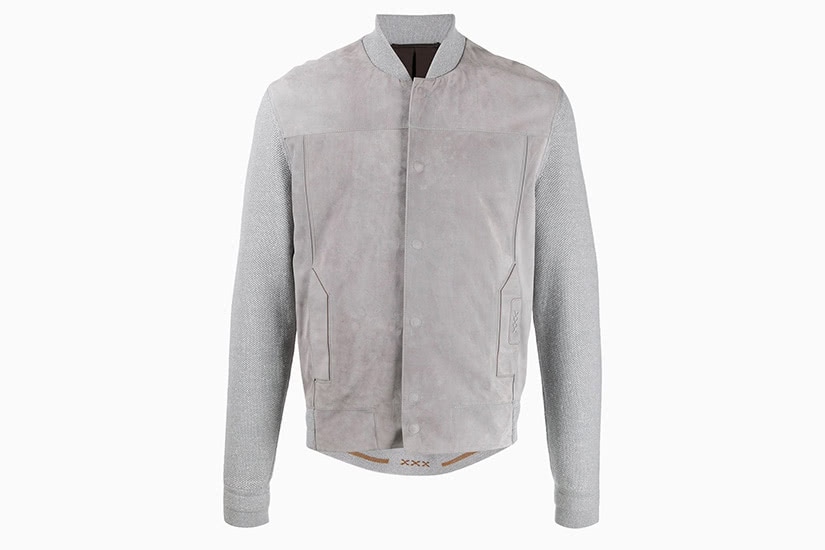 We love the casual stylish look of this bomber jacket by Italian luxury designer Ermenegildo Zegna XXX. This light grey knitted sleeve jacket is made from a cashmere-linen blend and calf leather. You can easily dress it down for a cool casual look or dress it up for a smart-casual outfit.
---
You don't need to look very far for another beautiful casual bomber jacket. Z Zegna, the relaxed loungewear collection of Ermenegildo Zegna, has another winner. Check this blue wool striped-collar bomber jacket.
15. Celine: Best classic bomber jacket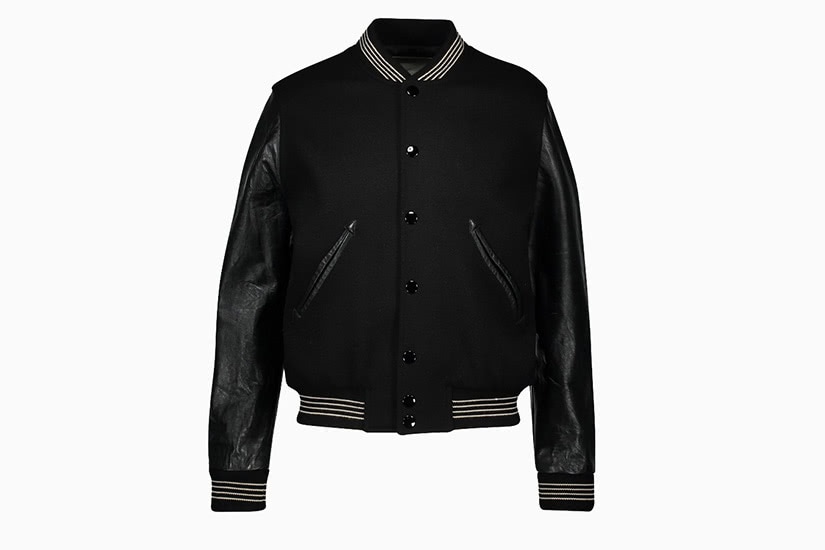 Luxury designer Celine is on fire in 2020. This classic men's bomber jacket is made in virgin wool with contrasting leather sleeves for a contemporary urban look. With two side pockets, a snap button fastening, and a stand-up collar with knitted rib edges, you can easily team it with a pair of old jeans and trainers for a timeless casual look.
---
And then, of course, you have the original master of classic bomber jackets: Alpha Industries. The brand that first produced pilot jackets during the second world war. This high-quality MA-1 flight bomber in black is the ultimate classic. No wonder it's celebrated as one of the best men's bomber jackets on Reddit!
16. Dolce & Gabbana: Best dressed up bomber jacket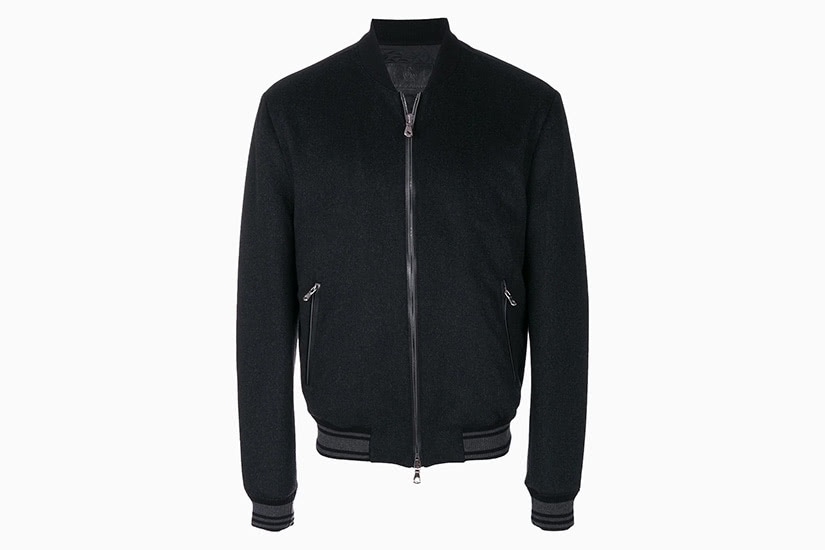 This Dolce & Gabbana bomber jacket can easily be worn over a business casual outfit for a polished and dressed up look. The simple design combined with premium materials will make you look effortlessly cool. The black cashmere bomber features a stand-up collar, a ribbed hem and cuffs, and side zipped pockets.
---
For a slightly edgier yet dressed up alternative, try this checked cotton canvas bomber jacket by A.P.C..
17. Tom Ford: Most trendy bomber jacket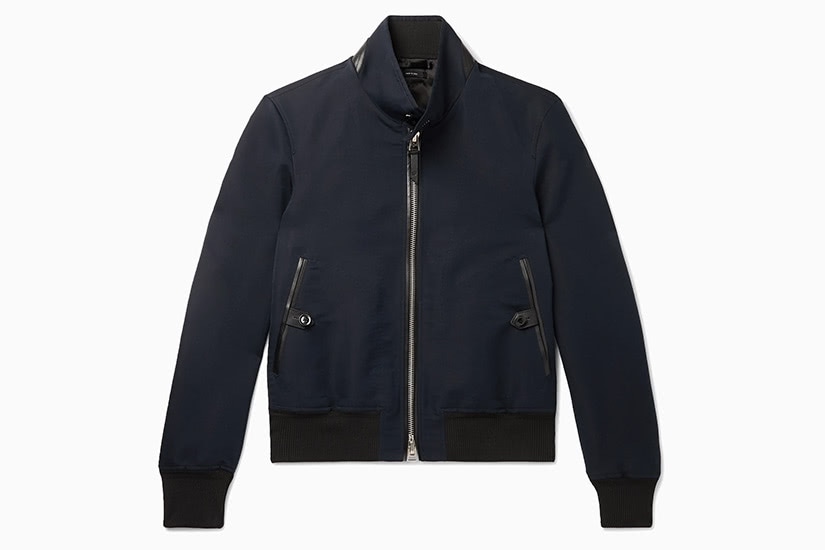 You can always trust genius designer Tom Ford to create the most trendy fashion collection for men. This bomber jacket would look perfect on James Bond. With a classic Harrington design in a versatile midnight-blue, this heavy bomber is made in Italy from cotton and silk-blend and trimmed with sleek black leather that adds durability.
---
A trusty alternative to look fashionable on a budget is this nice vintage aviator bomber by Levi's. It comes with a faux-fur collar for extra comfort.
18. Dries Van Noten: Most extravagant bomber jacket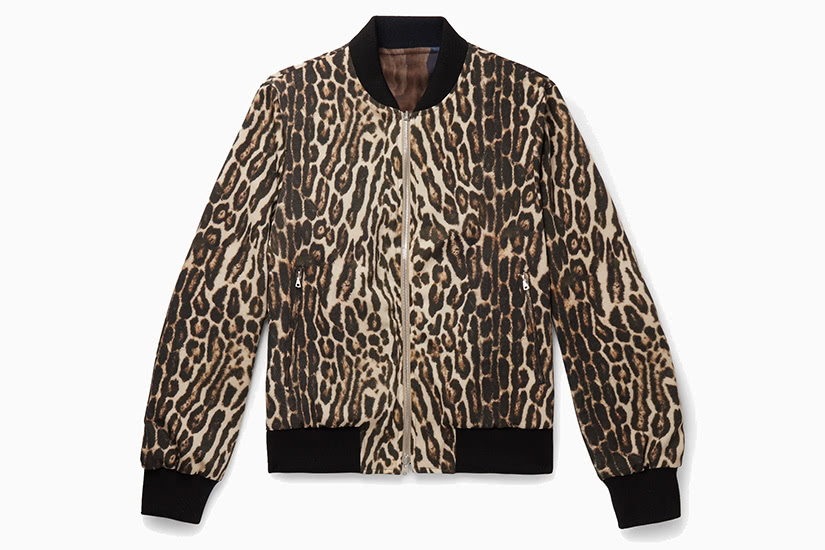 Now, if you like your clothes to get noticed, you can't go wrong with Belgian fashion designer Dries Van Noten's unique bomber jacket. This wool jacket is decorated with a leopard pattern and reverses onto a floral inside. Style it with black denim and a pair of loafers to complete the extravagant look.
---
For something colourful but more easily wearable, take a look at Robert Graham's Limited Edition bomber. It's reversible with a jewel beetle motif jacquard on one side and a neon alien print on the other.
19. Burberry: Most comfortable bomber jacket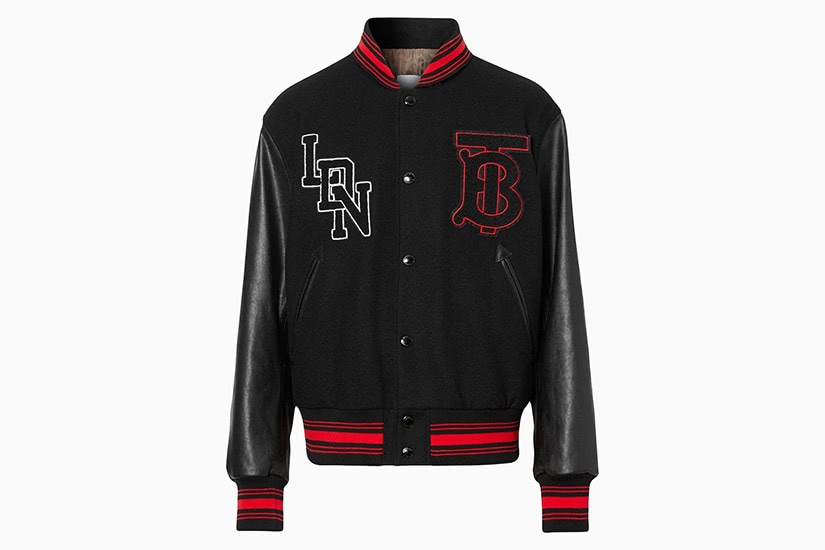 We do love this Burberry model; it's one of the most comfortable bomber jackets that we've tried on. This red and black bomber jacket features a ribbed collar, a press stud fastening, long sleeves, a ribbed hem and cuffs. We found the best deal on SSENSE, but it's also available on Farfetch if you prefer.
---
Italian luxury designer Bottega Veneta also offers a super comfortable bomber jacket. It's cotton-blend twill is comfortably padded throughout.
20. Alpha Industries Skymaster: Most durable bomber jacket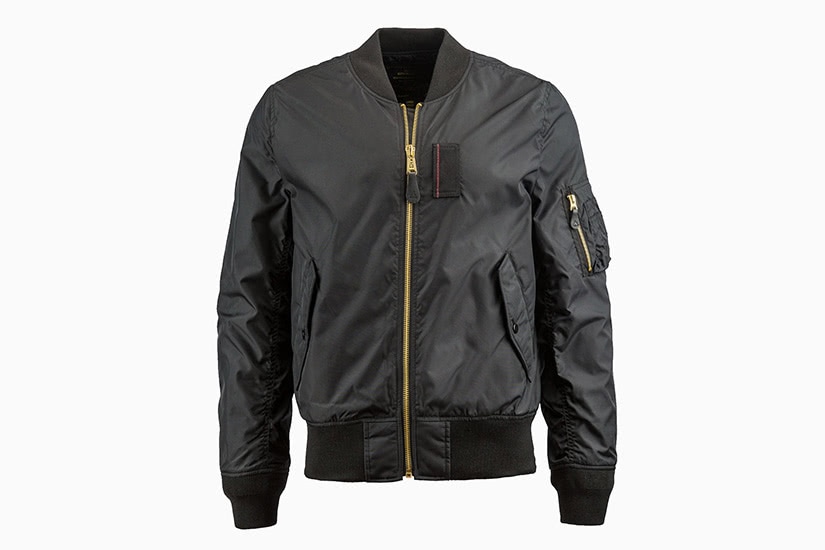 For the most durable bomber jacket, you have to turn to a tried and tested model. Check this Skymaster Flight Jacket by Alpha Industries. Its rough look matches the build quality. This is a jacket that will last you years. Its timeless design will remain on point too. Available in sage green and black.
---
For something a little bit more trendy, check this blue Dunham down insulated bomber jacket by Canada Goose. It's made from 100% nylon for comfort and durability.
21. Les Hommes: Best designer bomber jacket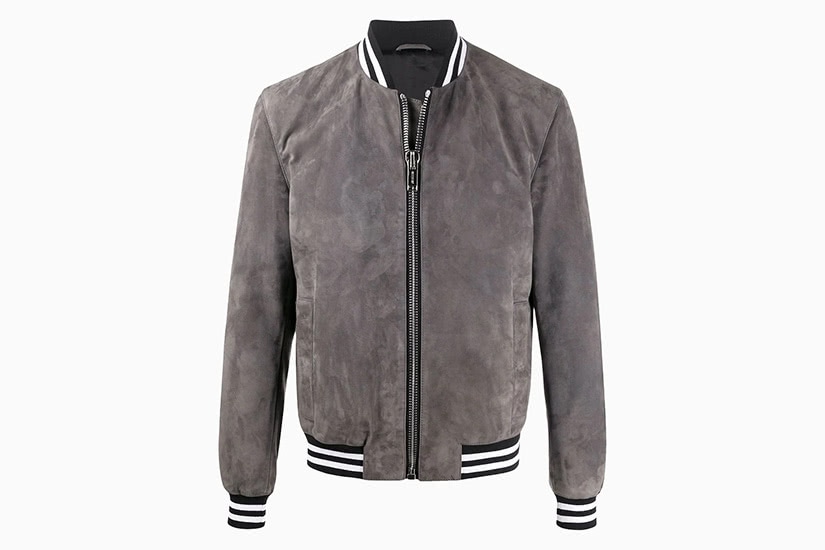 Want to splurge a little on a designer bomber jacket? Make sure to choose a classic and timeless design with premium materials. We recommend this nice jacket from French luxury house Les Hommes. With grey contrasting trim leather, this bomber jacket features a ribbed collar, a ribbed hem and cuffs.
---
We also love this blue Cashmere bomber jacket by luxury designer Dolce & Gabbana.
22. Kingsman: Best vintage bomber jacket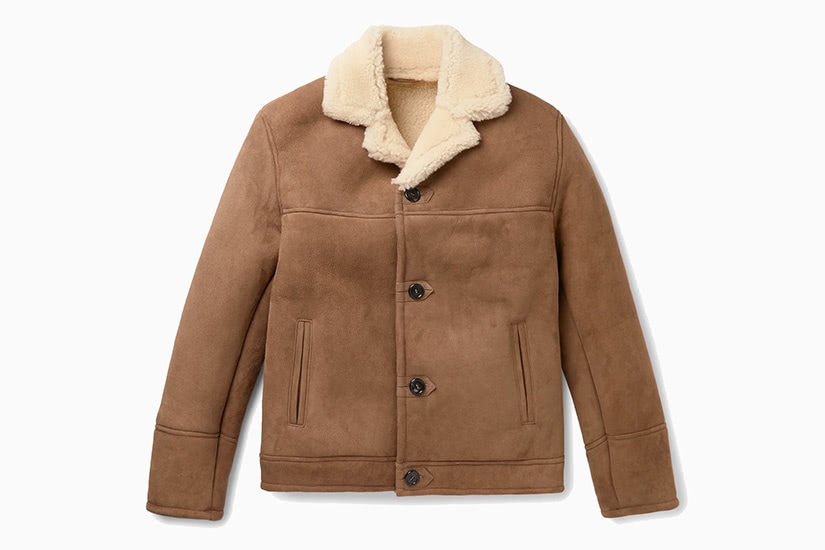 For a vintage bomber jacket look, we absolutely love this Shearling model by Kingsman. It will last you from fall to the heart of winter with its heavy material and fur collar. The jacket is masterfully designed with high-end materials. It's crafted from weighty brown-on-cream shearling with a butter-smooth exterior and plush backing.
---
Want something with more history behind it? Alpha Industries designed this B-3 Sherpa Mod jacket in homage to the original 1934 design. The B-3 bomber became the military-issued cold-weather flight jacket. Aviators who manned the B-17s and B-24s in the skies over Europe in WWII came to rely on their B-3 jackets as they often flew for 8-9 hours in unpressurized cabins, where air temperatures could drop to more than 60 degrees below zero. The model featured here in deep brown is also available in pure black.
23. Alpha Industries Camo: Best military bomber jacket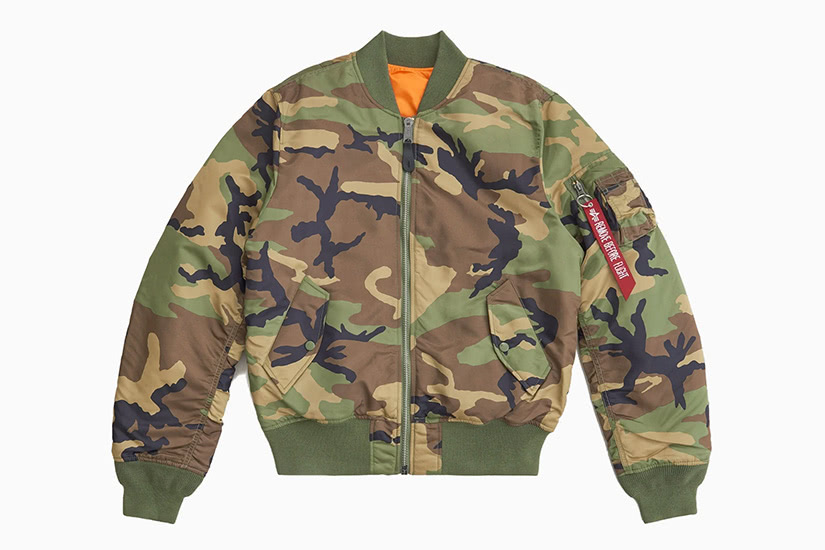 You have to check Alpha Industries for the best military bomber jacket. They were the official supplier of flight jackets to the U.S. Army, after all. This MA-1 Slim Fit Flight Jacket in military camo is our absolute favourite. A modern twist on the military jacket design.
---
For a lightweight and edgier military look, check this camouflage-print bomber jacket from Polo Ralph Lauren.
24. Blood Brother: Best bomber jacket for spring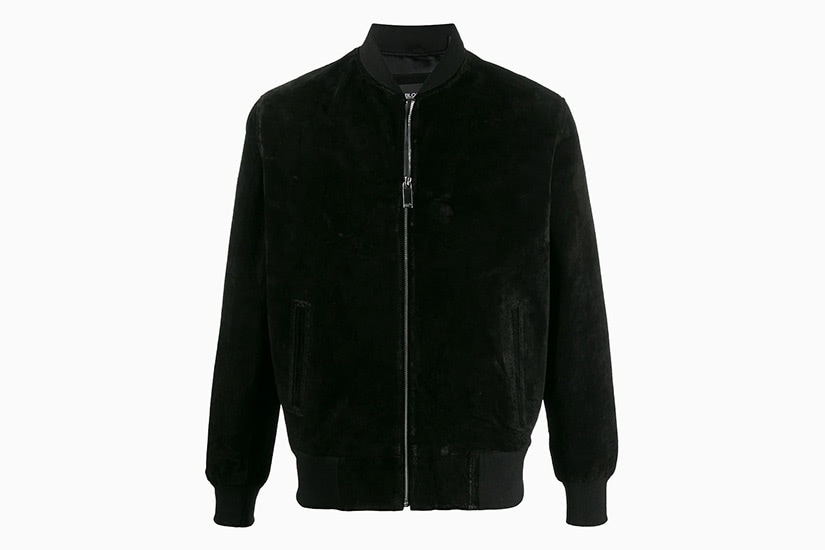 This lightweight black suede bomber jacket by Blood Brother is excellent for the spring season. It's warm enough to wear early on in the season, but also lightweight to wear with just a T-Shirt through Summer if you want. The simple black design is perfect to combine with white trousers too.
---
Black in Spring, isn't your thing? No problem. Check this beautiful off-white bomber jacket by Jil Sander. It's very thin and perfect for the summer too.
25. Daniele Alessandrini: Best bomber jacket for Fall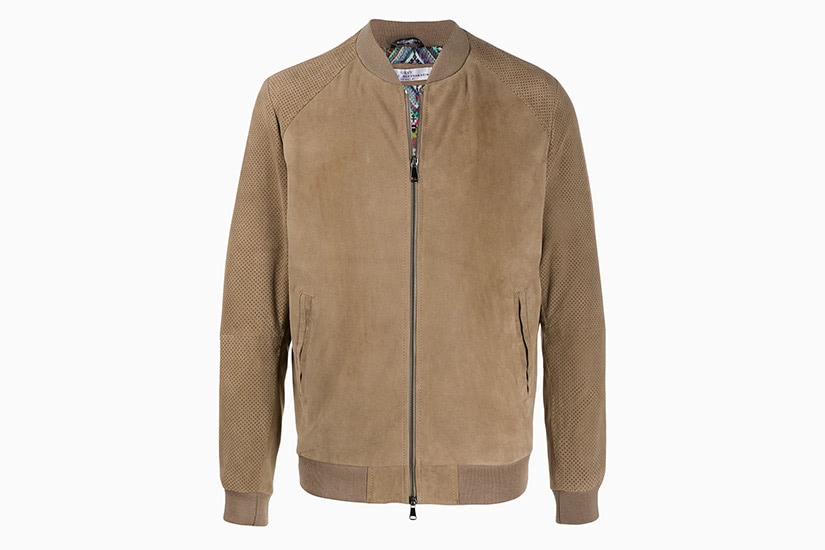 Autumn is the best season to wear neutral colours. This perforated bomber jacket by Daniele Alessandrini is lovely for Fall. It's warm yet lightweight, and it's classic design can easily be dressed up or down, depending on the look you're after.
---
If you need something a little warmer, try this padded black insulated bomber jacket by Arc'teryx Veilance. It's light but will keep you warm.
26. Amazon Essentials: Best bomber jacket under $100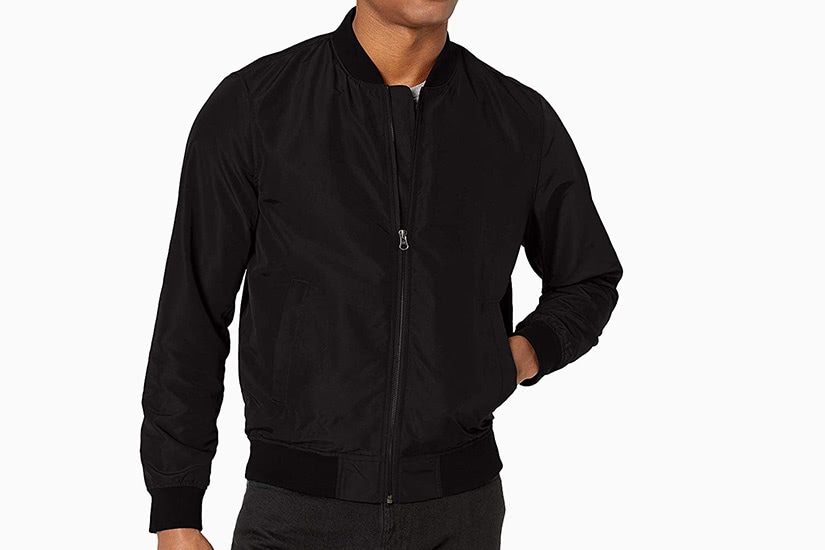 While most premium bomber jackets for men will cost you more than a hundred dollars, it's still possible to find great quality options under $100. You just need to know where to look. If you're on a budget, we recommend this lightweight jacket by Amazon Essentials. It comes in black, blue, light grey, and navy. Its design is simple and timeless, and the build quality is excellent value for money.
---
An affordable bomber jacket under $100 can still be a branded one too. Check this Tommy Hilfiger varsity bomber. It's also available in a range of colours. Perfect for a preppy look on a budget.
27. Saint Laurent: Most expensive bomber jacket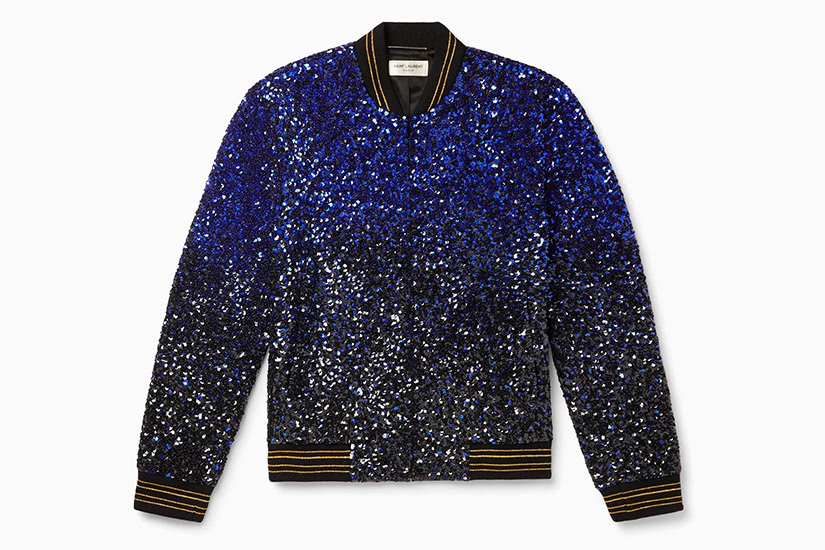 If money is no object, take a look at this luxury model by French designer Saint Laurent. This is quite simply the single most expensive bomber jacket on the market today. And displays a unique pattern. Designed by Anthony Vaccarello, this glistening wool jacket takes inspiration from 1970s-era Marrakech and modern-day Los Angeles. It's covered in blue, black and silver sequins to represent both periods and the glittering cities skylines. Extravagant? Sure. But who doesn't enjoy a good story behind his clothes?
Men's bomber jackets: Frequently asked questions