The bomber jacket, one of the classic men's fashion items, comes back in style in 2021. Luxury brands such as Tom Ford and Ermenegildo Zegna have turned their attention to design premium men's jackets with a new twist. But they're not the only ones. Budget-friendly fashion brands such as Alpha Industries and Sandbank are continuously updating their collection to remain on trend.
Bomber jackets, while functional and dependable, can easily add an element of elegance to your style. Combine your jacket with the right pair of designer sneakers for a sophisticated casual look. Or dress it up with a shirt for a smart-casual look.
Few items in your wardrobe will be as versatile and timeless as a classic bomber.
Whether you're looking for a leather bomber jacket to pair with denim, a black bomber jacket to upgrade your weekend loungewear or a red bomber jacket with Japanese art to elevate an entire outfit, we've curated the 27 best options to take you from Summer to Winter.
In a rush? Not a problem. Just look at the table below to quickly find the bomber jacket that best matches what you're looking for. We've organised our list by category, so you can quickly be on your way.
The 27 best men's bomber jackets of 2021
Alpha Industries MA-1: Overall best bomber jacket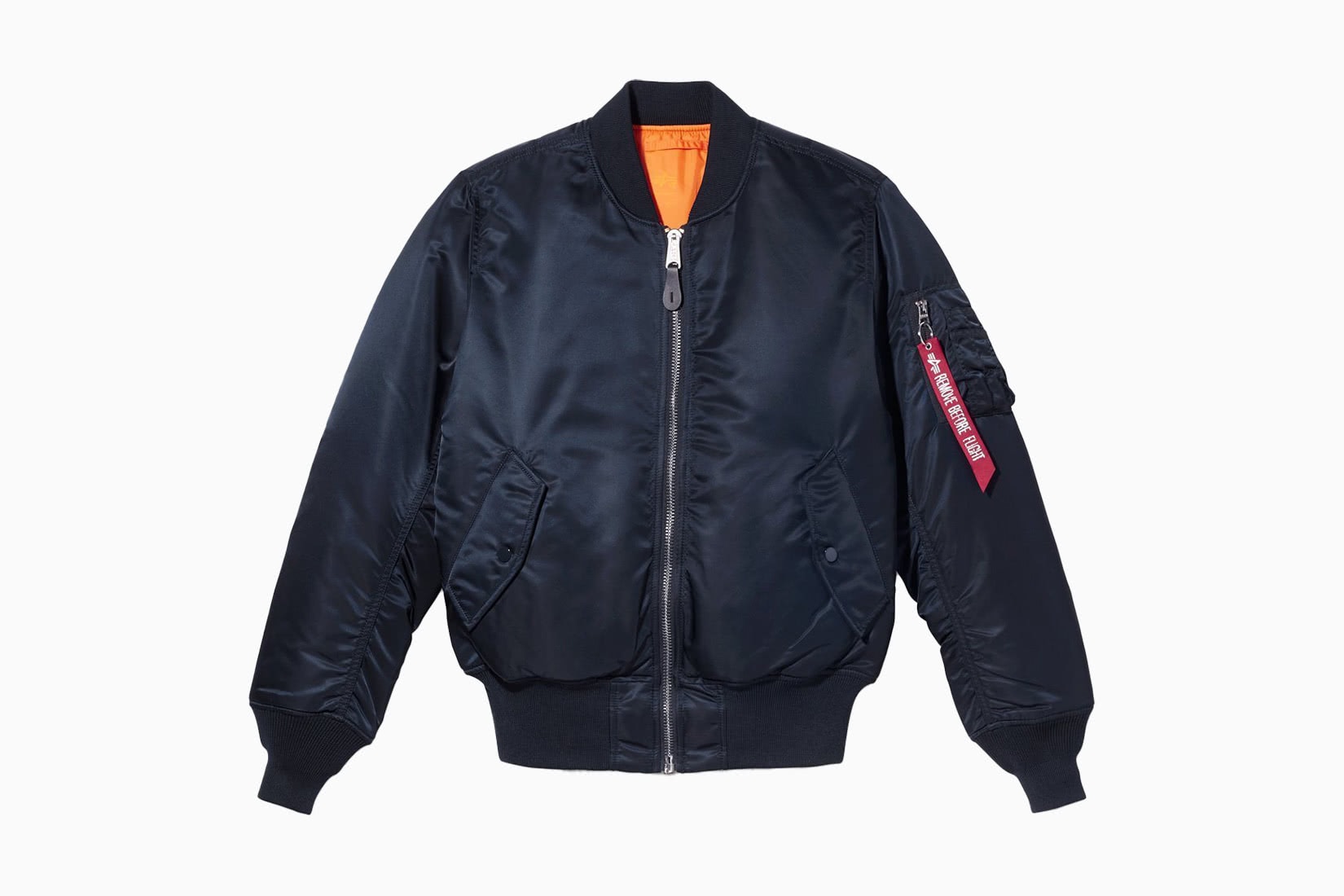 Alpha Industries has to be one of the best bomber jacket brands and the MA-1 is our pick for the best pilot-inspired outerwear thanks to its quality, versatility, and streetwise style.
The Alpha Industries' MA-1 is as close to the original military bomber jacket as it gets and is made from mid-weight flight nylon that's not only comfortable but water-resistant—ideal for the wet winter months. It's reversible so when you want to make a statement, you can rock the bright orange lining as an outer layer. Two jackets for the price of one.
Other features include the practical MA-1 utility pocket on the sleeve, plus the signature red 'remove before flight' flag. A knit rib collar, cuffs, and waistband that hug the body make it cosy and flattering too.
Best for: Giving any outfit a touch of classic military cool.
Colours: A range including black, green, and blue. 
Tom Ford: Best designer bomber jacket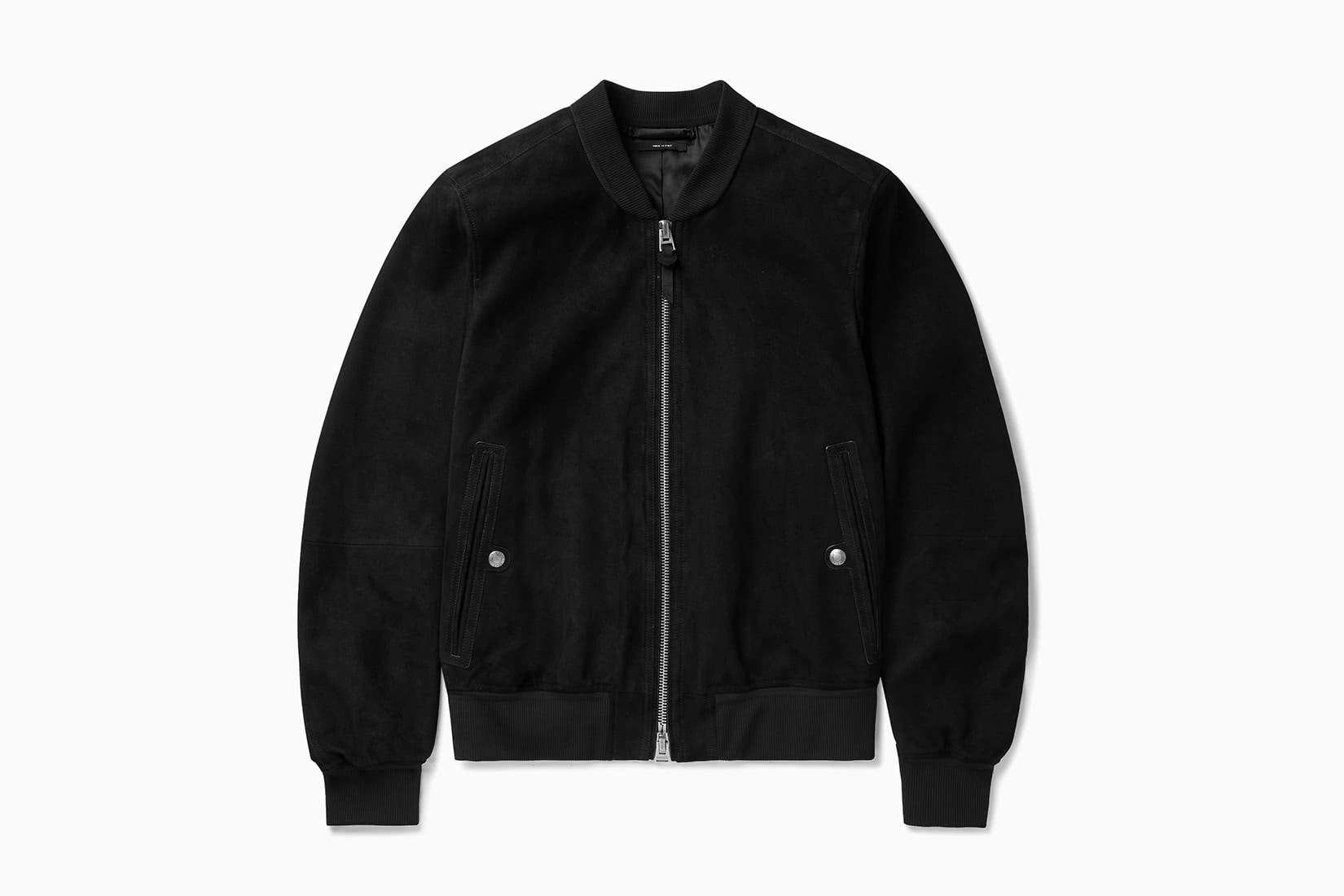 You can trust this icon of high-end couture to deliver when it comes to masterfully crafted clothing and this has to be one of the most stylish bomber jackets out there.
The silhouette echoes the original Air Force jackets with its cinched-in waist and ribbed cuffs, but rather than leather or nylon, it's made of oh-so-supple black suede. There's also an internal snap-fastening pocket, plus front welt pockets, where you can keep essentials.
Wear this luxury cool bomber jacket with vintage jeans for a laidback weekend mood or with tailored trousers, a shirt, and dress watch to a gallery opening or cocktail night. The most premium of pilot jackets, this Tom Ford bomber is the answer to all your fashion prayers.
Best for: Outstanding outerwear from the king of high-fashion.
Colour: Black
Sandbank: Best value bomber jacket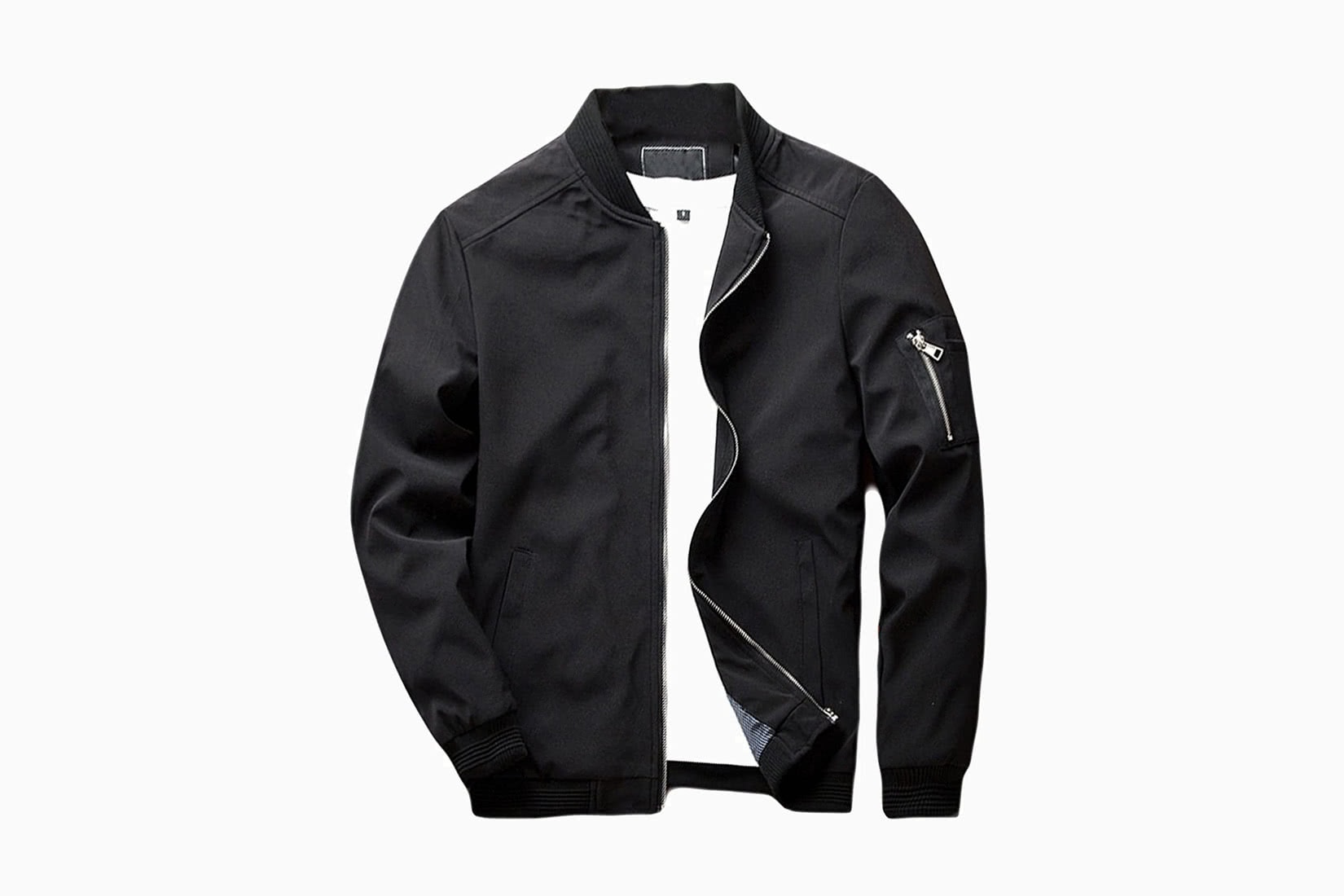 Nail the airman aesthetic without spending a fortune with this bomber jacket by Sandbank. Not only is it incredibly affordable at under $35 but it's also practical and stylish.
Sandbank's Softshell Bomber is made of 100% polyester, thicker than your classic windbreaker material, ensuring you stay warm and cosy no matter the weather. The lightweight design is slim and figure-hugging and will complement a range of body shapes.
The vibe balances original pilot-style with sporty varsity chic, ensuring the jacket will look great in autumn teamed with jeans and boots but just as stylish in spring with a t-shirt and sneakers.
Best for: Sky-high style with major cost savings.
Colours: A range including black, blue, and red. 
The Jacket Maker: Best leather bomber jacket for men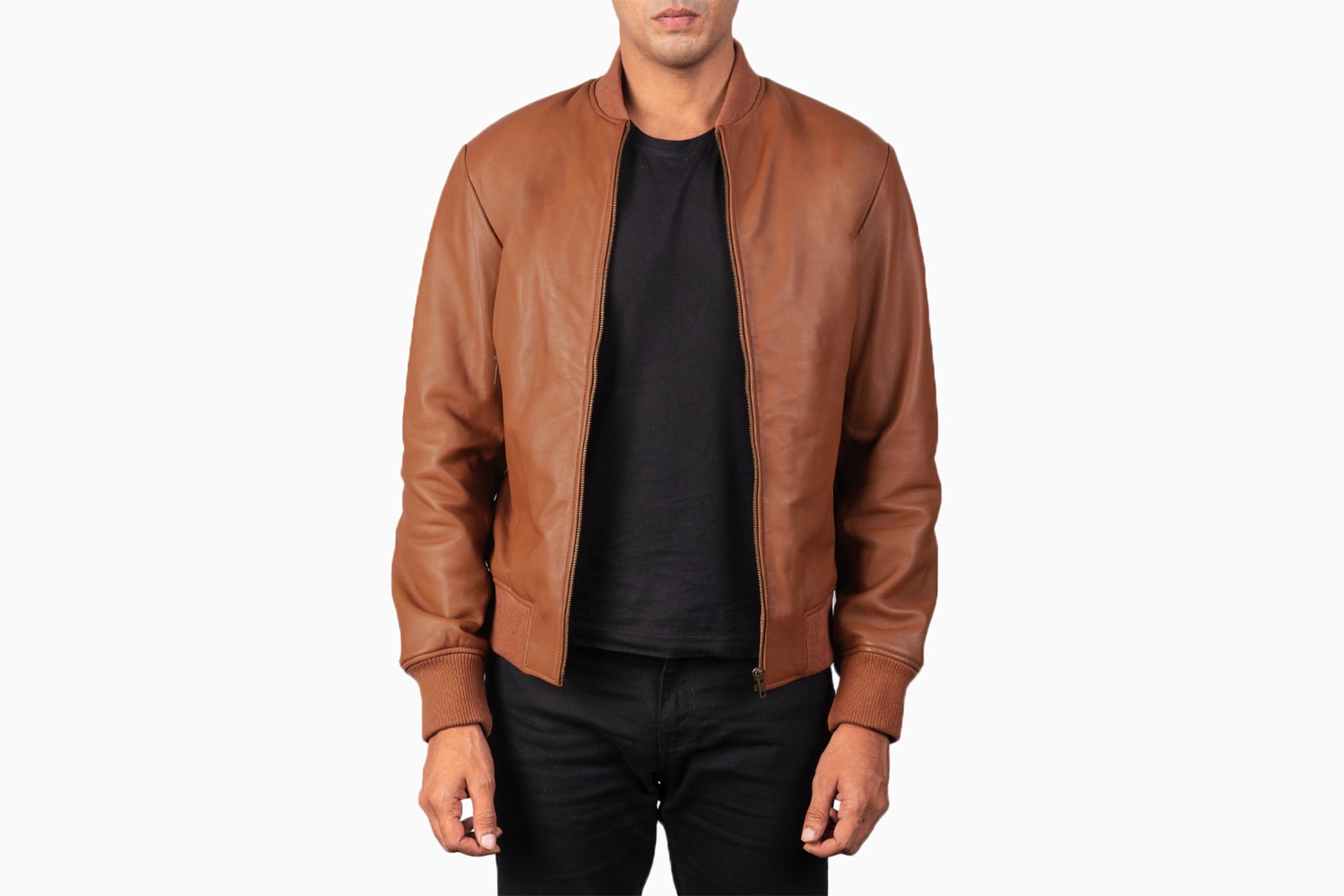 As we covered in our in-depth review of The Jacket Maker, the direct-to-consumer brand is single-handedly reimagining our concept of leather outerwear. Step aside costly leather jackets that don't fit properly. Step forward high-quality and made-to-measure jackets that are still affordable.
The Shane Bomber is a great example. Made of real sheepskin leather with a semi-aniline finish for superior durability, it feels soft and supple as soon as you try it on. The inner shell is a durable and comfortable quilted viscose while the style, with a varsity collar and rib-knit cuffs, is enduringly fashionable. You've also got two inside pockets and two outside pockets for essentials.
But the best feature about The Jacket Maker's Shane Bomber? You can get it made to your exact measurements. No danger of it being a little too bulky or a bit too snug. This jacket really will feel made for you.
Looking for more options? Check our round-up of the best leather jackets for men.
Best for: Chic suede showpiece with a guaranteed perfect fit.
Colours: A range including brown, navy blue, and black.
Nantersan: Best black men's bomber jacket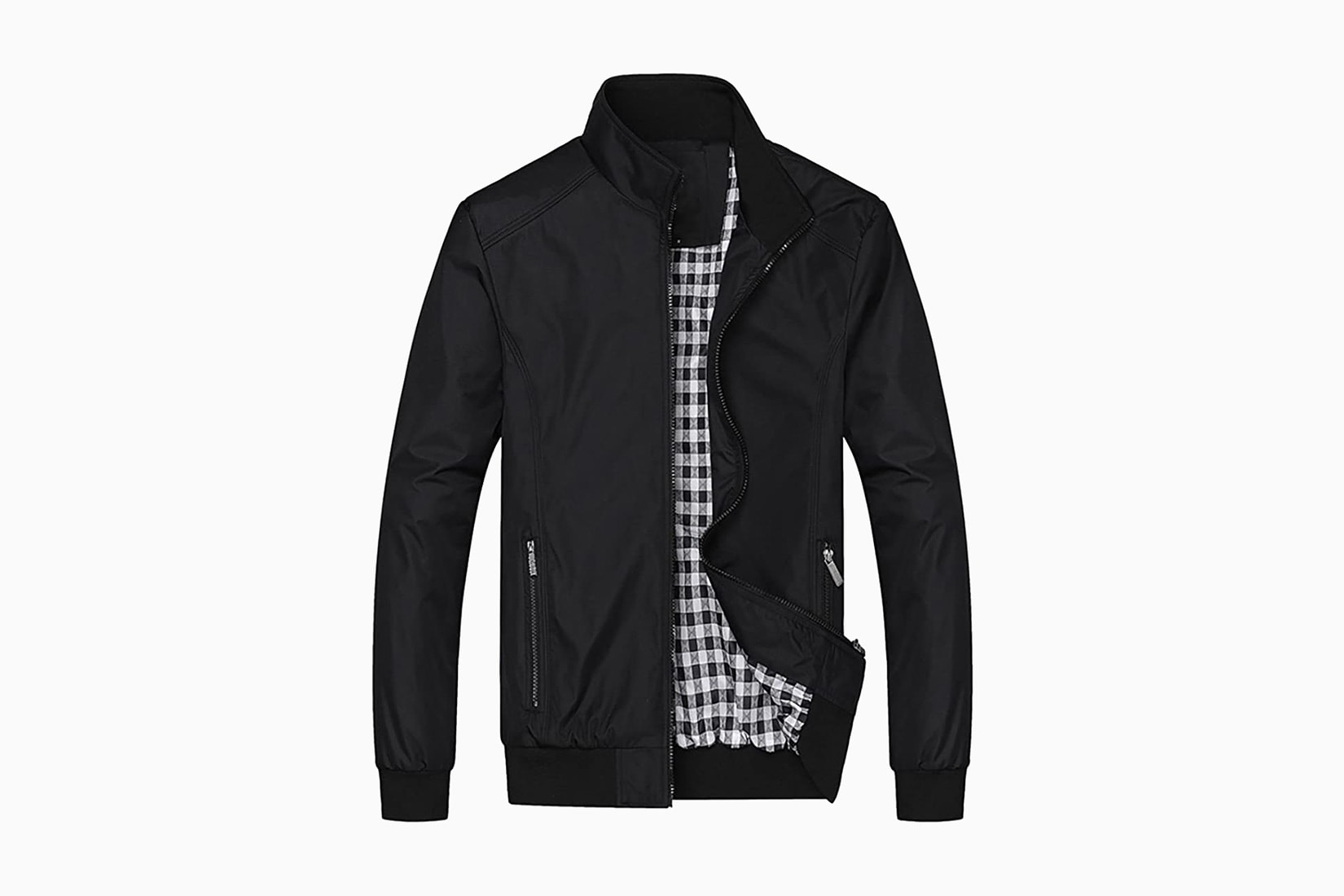 Black always looks cool and this best-selling Nantersan bomber in classic black is proof. It's one of the most popular bomber jackets on the market.
Made of a lightweight and durable polyester—breathable and windproof—it has a slim and flattering fit, a zipper closure, zipper pockets, and a classic stand collar.
The shell lining is wrinkle-resistant so you'll always look well-presented and fresh—no iron necessary—and it's also resilient and hard-wearing. The lining adds to the jacket's warmth-preserving powers.
We're adding this Nantersan jacket to our cart now.
Best for: Undeniable polish plus practicality.
Colours: A range including black, blue, and green. 
Alpha Industries MA-1 Skymaster: Best summer bomber jacket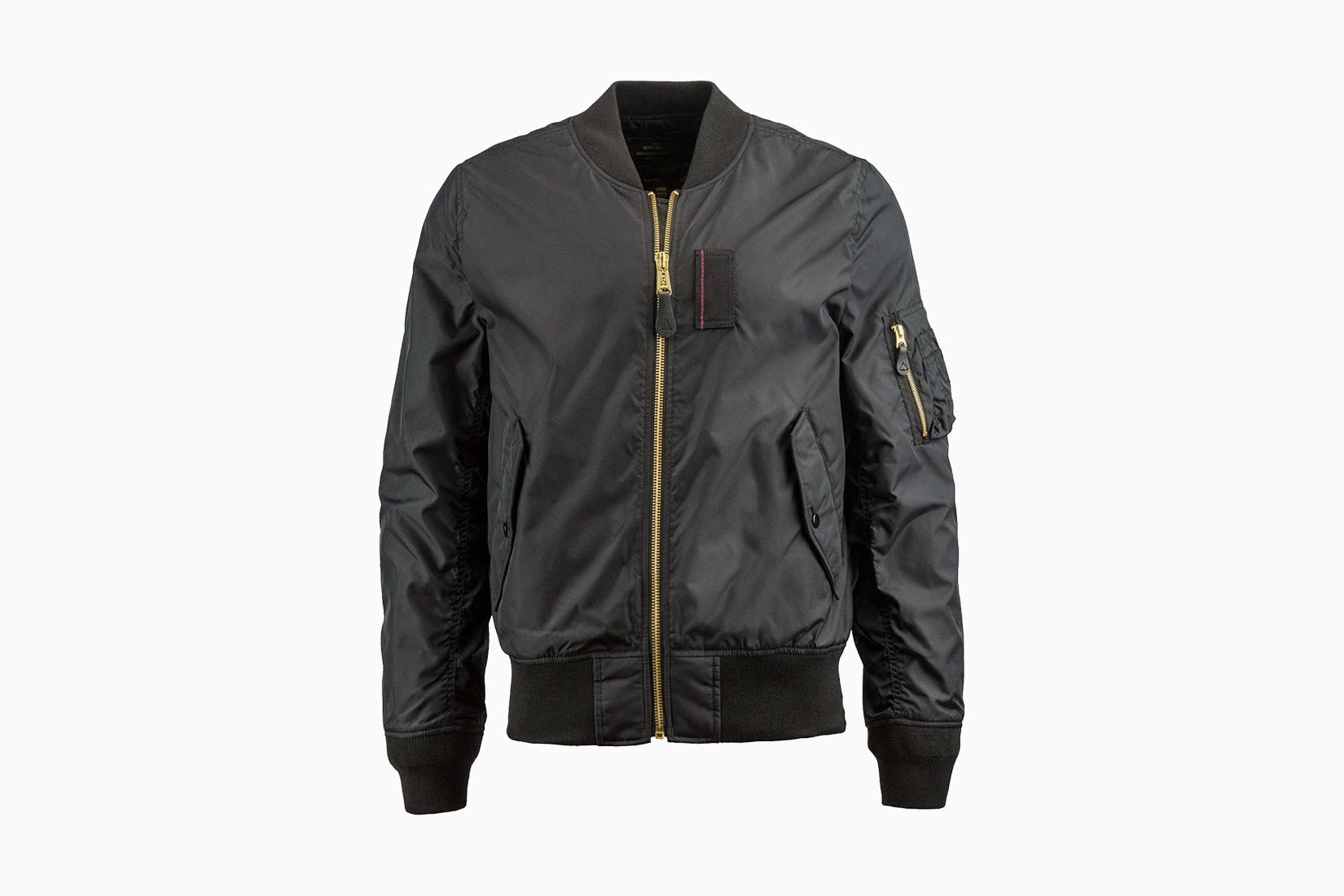 Looking for a bomber that can see you through the summer months? The ultimate lightweight bomber jacket is this MA-1 Skymaster by Alpha Industries.
Alpha Industries began life as a contractor to the US military so you can trust them to deliver high-performing outerwear. This bomber jacket is designed to emulate original military-issue flight jackets and offers summer-appropriate levels of insulation. Water-resistance means you'll be covered if you encounter any showers.
With its authentic features such as the oxygen tab and Alpha's signature zippered utility pocket, the Skymaster by Alpha Industries looks straight off the runway, both of the aeroplane and fashion variety. The Born of Purpose slogan on the back will inspire you to embark on your daily missions with the same determination as a true serviceman.
Best for: Staying stylish as temperatures soar.
Colours: Black and green.  
Robert Graham: Best mid-season bomber jacket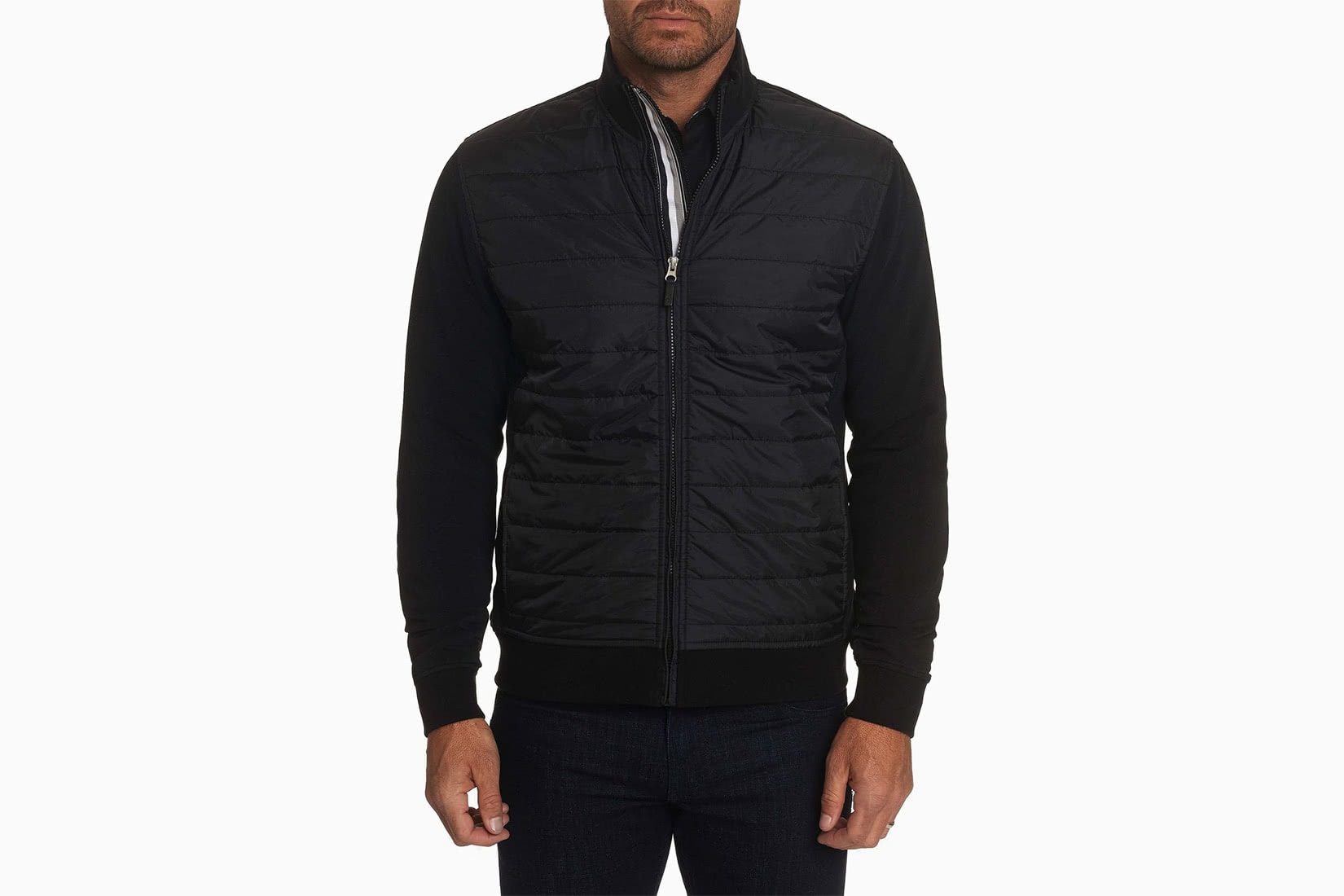 Master the mid-season mood with this Robert Graham bomber jacket, brilliantly optimised for those tricky in-between months.
This bomber jacket combines your favourite sweater with the insulating powers of a puffer jacket, creating an ultra-modern hybrid that you'll struggle to ever take off.
It's got to be one of the best autumn bomber jackets out there thanks to its quilted nylon front that will keep your torso toasty. And when winter comes to an end, this jacket transforms into the best spring bomber jacket with its stretch cotton knit sleeves.
Best for: Strolling through the seasons with sophistication.
Colour: Black 
Alpha Industries B-15: Best winter bomber jacket for men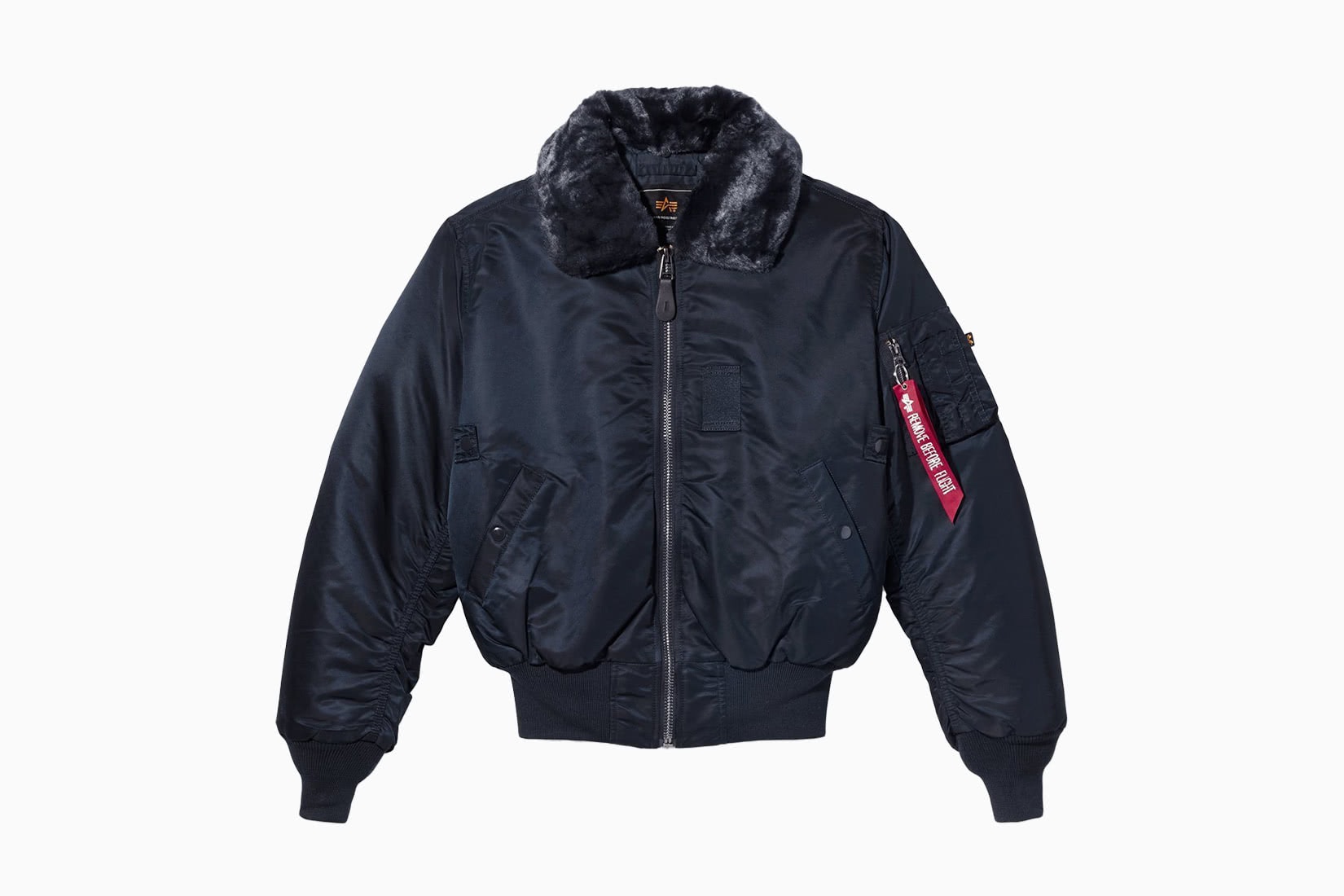 As the nights grow longer and the Celsius falls, you need a warm bomber jacket that keeps you toasty and ticks the necessary style boxes. Check out the B-15 by Alpha Industries—for when your winter coat doesn't quite cut it.
This classic flight jacket is designed to take on the frostiest mornings and the most frigid of nights. With a nylon shell and synthetic mouton fur collar, you can stay cosy and comfy even when those around you start to shiver.
The oxygen mask button tabs hark back to this jacket's cockpit origins. Knit cuffs and waistband allow for superior insulation and a figure-hugging fit.
Let winter do its worst. With Alpha Industries B-15, you'll still look your best.
Best for: Wild-child style through the chilliest winter months.
Colours: Black, blue, and green. 
Sandro Paris: Best suede men's bomber jacket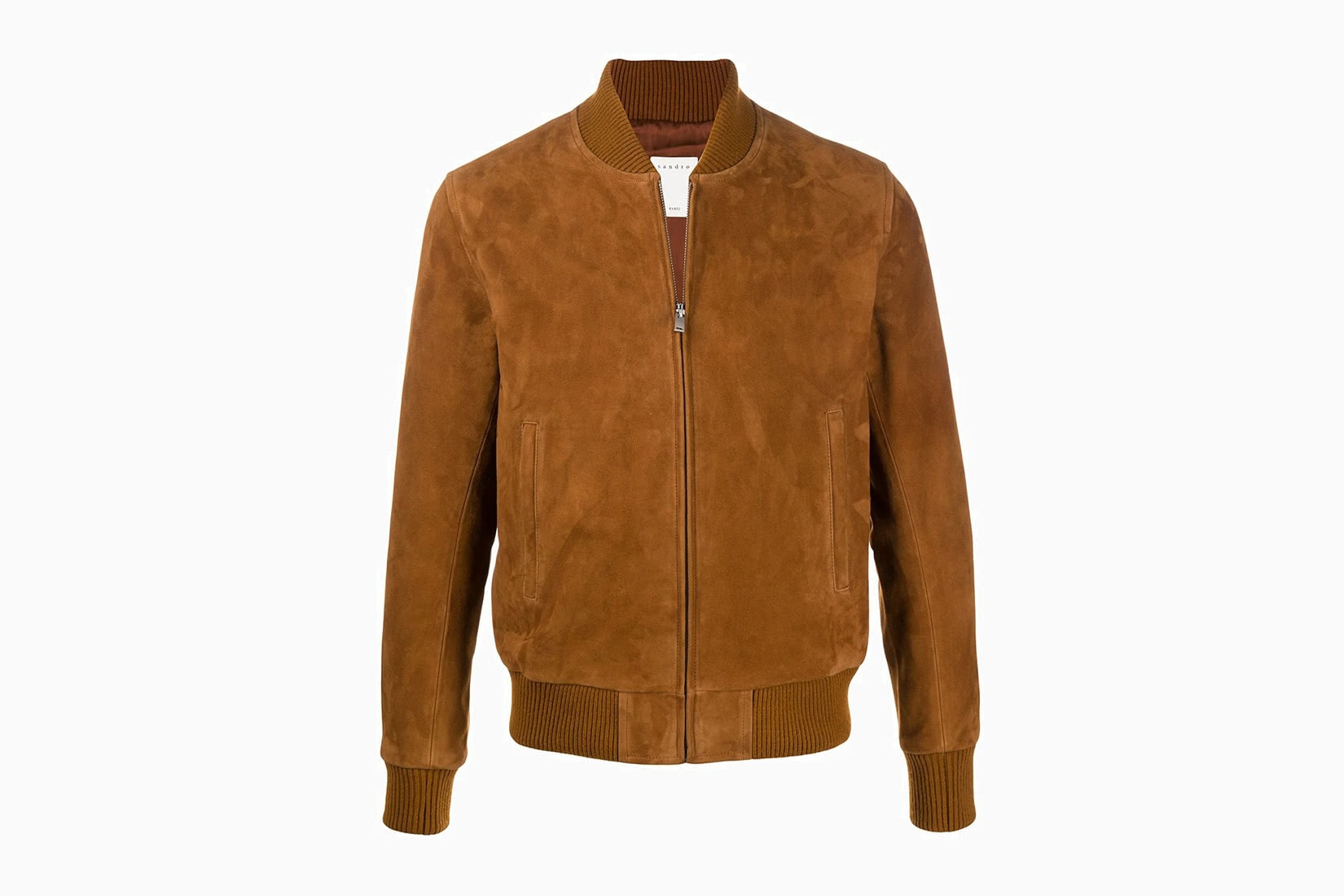 A bomber jacket may be a classic but that doesn't mean it needs to be conventional. This Sandro Paris suede bomber jacket is case in point.
Reveal your fashion credentials with this gorgeous suede bomber, made from a camel-coloured goatskin and a wool blend. The high standing collar alludes to the military origins of this bomber jacket but with its sleek silhouette, it's better suited to fashion-savvy professionals than fighter pilots.
Dare to be different with this ultra-trendy suede bomber by Sandro Paris. Team with your favourite luxury sneakers, a smart cotton shirt, and a pair of fitted trousers, and you'll earn the respect of any discerning fashion follower.
Best for: Stepping outside the mainstream with this mega cool cover-up.
Colour: Brown 
Officine Generale: Best wool bomber jacket for men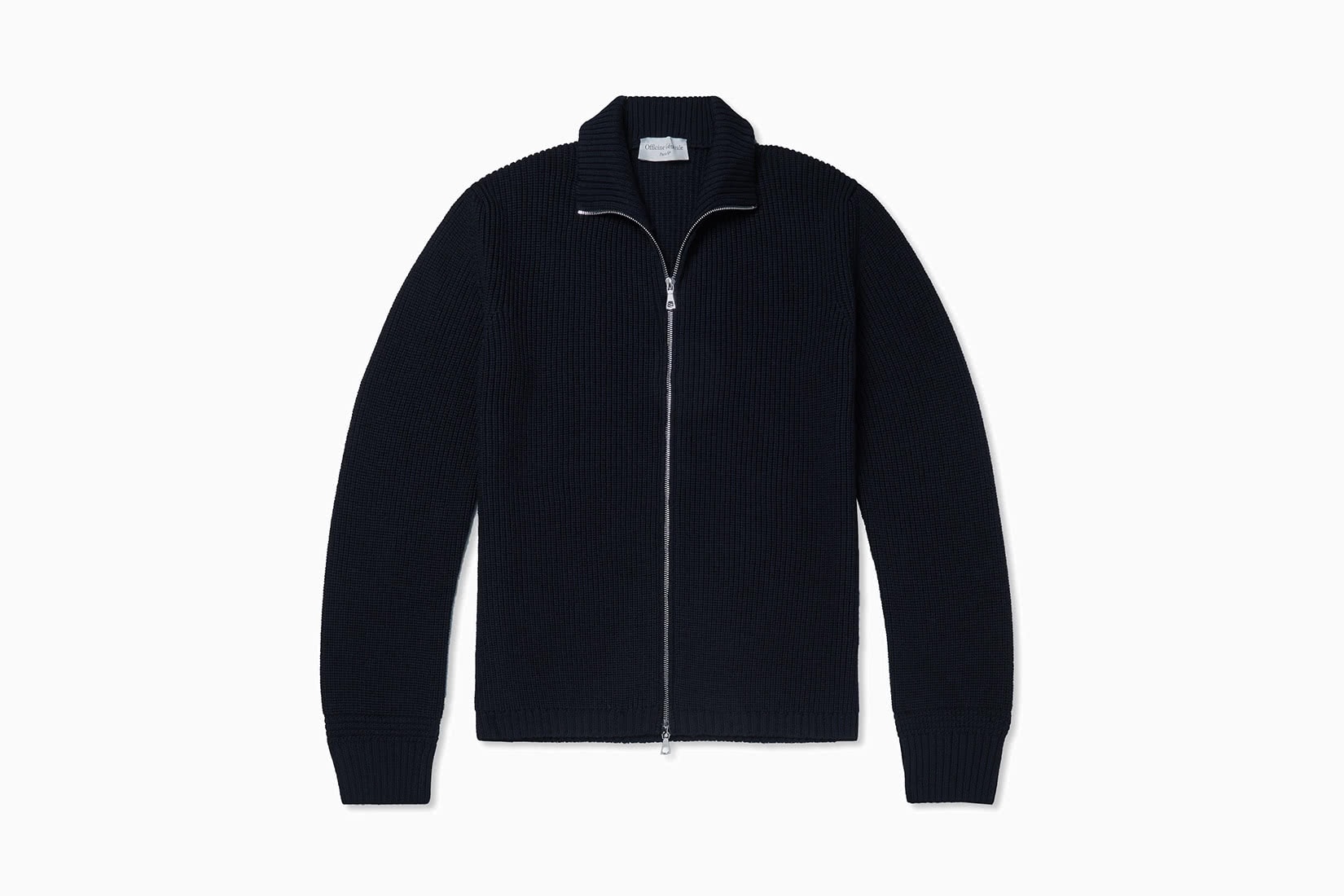 Everything is better when it's made out of Merino wool and this bomber jacket by Officine Generale is a great example.
Merino wool is one of the world's most luxurious materials. It's warm yet wonderfully lightweight and also has anti-static and odour-resistant properties. Plus, it's natural and sustainable.
The jacket is also expertly executed with a minimalist and elegant silhouette. The beautiful craftsmanship of this quintessentially Parisian brand is on full display with ribbing to create a figure-hugging shape and a two-way zip fastening so you can experiment with casual layering.
Proving that wool is just as well-suited to jackets as it is to jumpers, this Officine Generale bomber has certainly got our vote.
Best for: Warmth without weight and perfect weekend style.
Colour: Navy 
Alpha Industries L-2B: Best nylon bomber jacket for men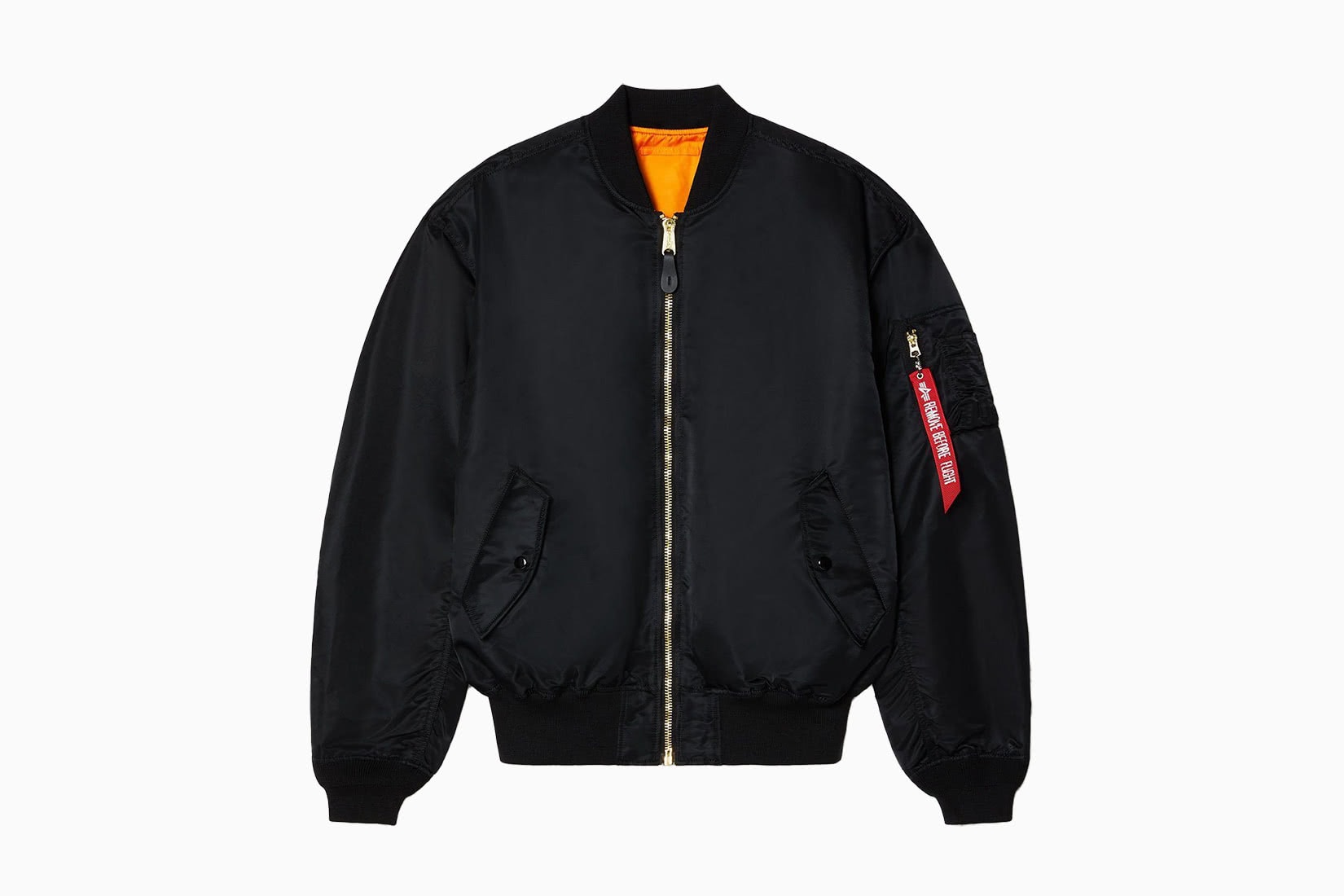 Looking for something suitably lightweight for a summer day? This L-2B flight jacket by Alpha Industries is a perfect choice.
With its loose-fitting baggy style and the fact it has been designed specifically for use in warmer temperatures, the L-2B is the lightweight protective layer your wardrobe is calling for. Water-resistance means it can withstand the occasional shower too.
You'll find all the authentic bomber jacket features on Alpha Industries' L-2B, including the MA-1 utility pocket, 'remove before flight' flag, and classic knit collar, cuffs, and waistband. Hitting just above the hip, it's a flattering shape, while four pockets give you plenty of places for valuables.
Best for: A breathable bomber with bad-boy appeal.
Colours: Black and green
Columbia: Best fleece men's bomber jacket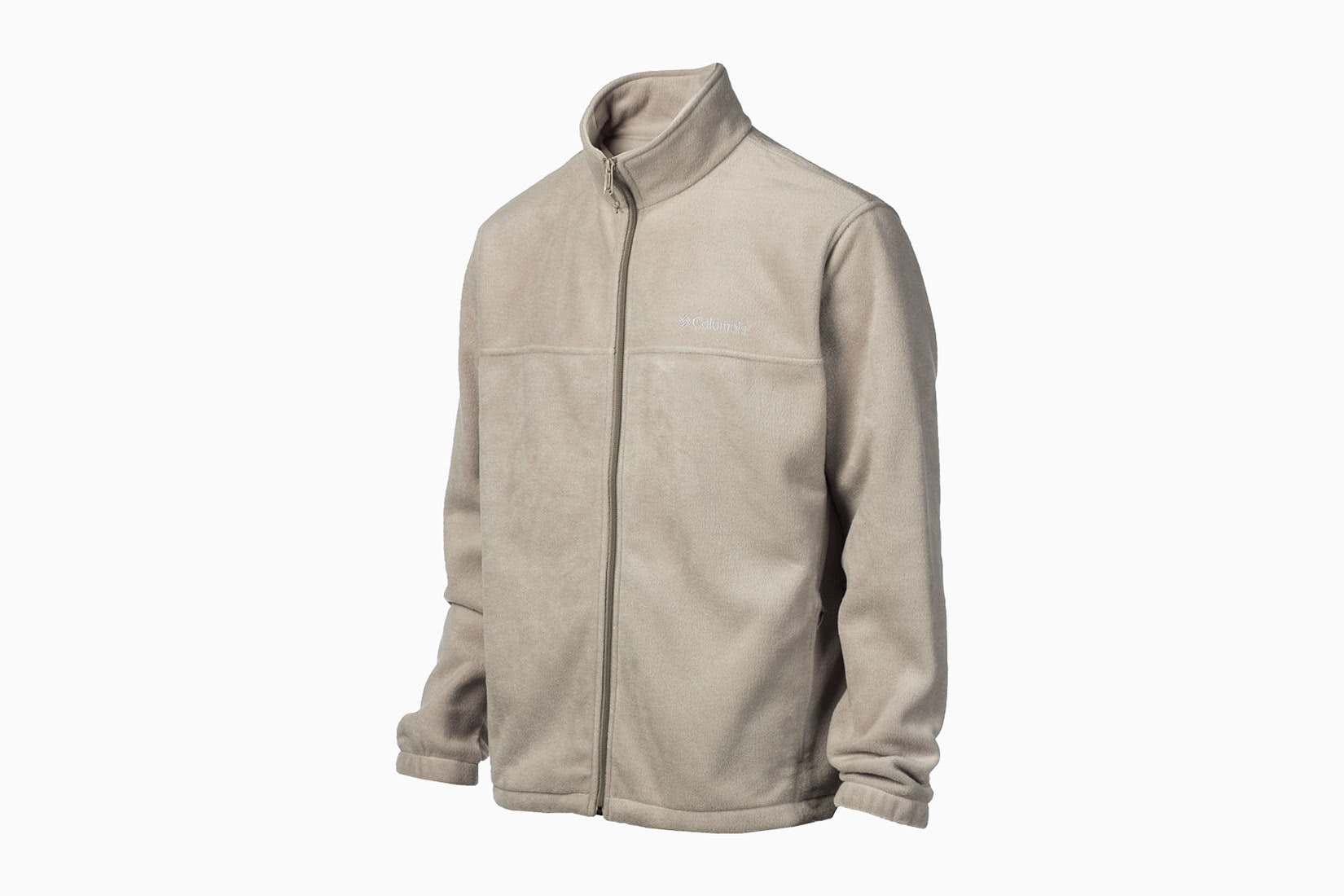 What do you get if you take the sleek cut and fit of a bomber and add the comfort and cosiness of a fleece? You get this jacket by Columbia. A soft, warm, and super versatile outer layer that has the look and the shape of a bomber and the added bonus of keeping you toasty.
It's made of 100% polyester—machine washable for easy maintenance, flexible, and lightweight. This particular polyester is ultra-soft and plush and has MTR filament, which stands for maximum thermal retention. We like the sound of that.
For that classic bomber jacket vibe—but with upgraded warmth and wearability—get your hands on this Columbia fleece.
Best for: Ultimate proof that cosy can be cool.
Colours: A range including black, grey, and blue. 
AITFINEISM: Best Japanese men's bomber jacket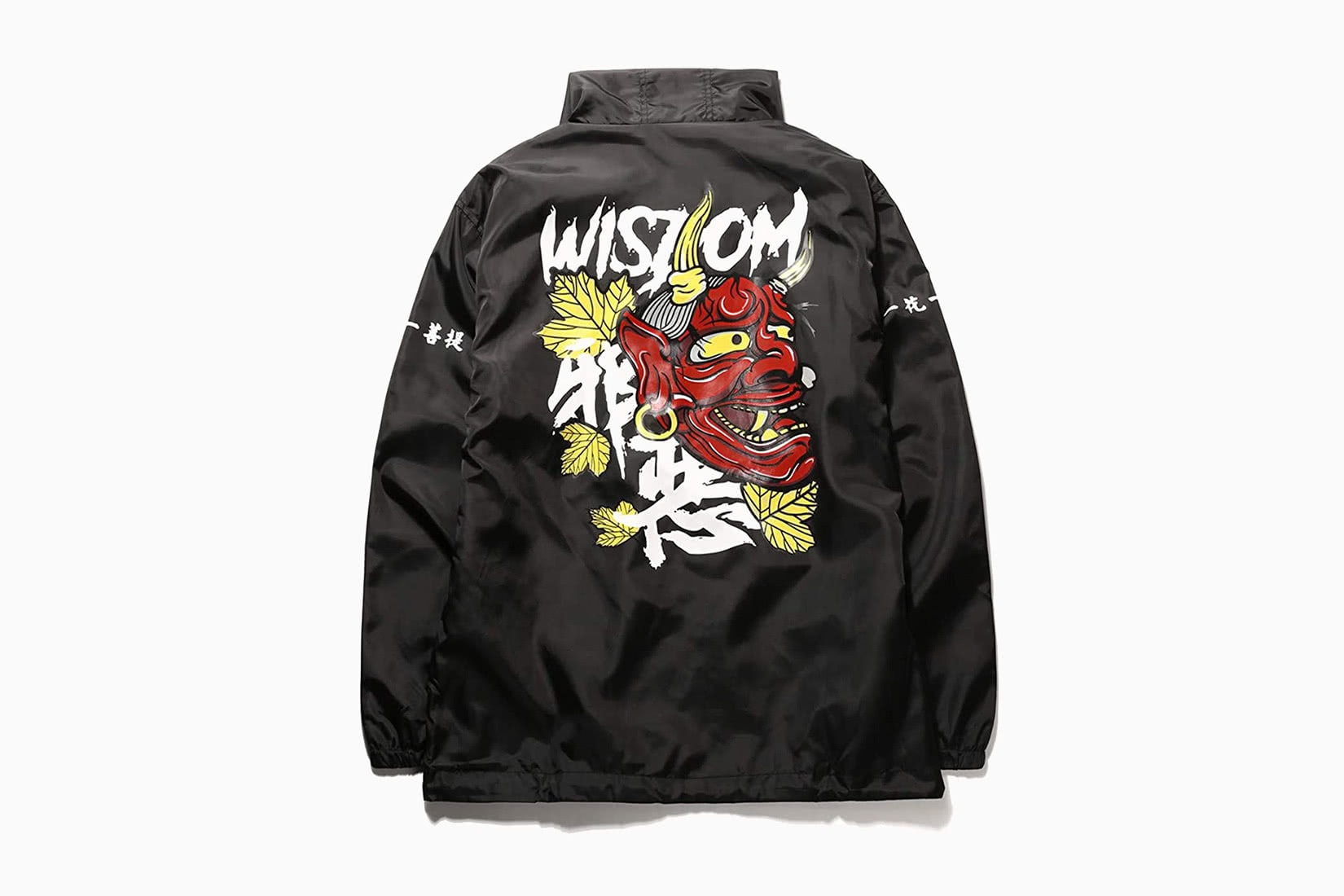 Ensure you never get caught wearing the same thing as someone else with this striking Japanese bomber jacket by AITFINEISM. With a range of unique designs on offer, you can pick the one that speaks to you. And whatever this jacket says, it's bound to be a statement.
This is one eye-catching bomber jacket—in all the best ways. It's got an effortlessly edgy vibe with a dash of grunge too. Safe to say, you're going to get a lot of comments and compliments.
This AITFINEISM jacket is also a windproof windbreaker, ideal for wearing out in blustery autumn months. It has a front zipper, protective cap hood with an adjustable pull string for insulation, and elastic cuffs.
With its bold and daring aesthetic, this AITFINEISM bomber jacket is one for rule-breakers and risk-takers.
Best for: Boundary-pushing and statement-making style.
Colours: Black or white with a range of designs. 
Alpha Industries MA-1 Blood Chit: Best green bomber jacket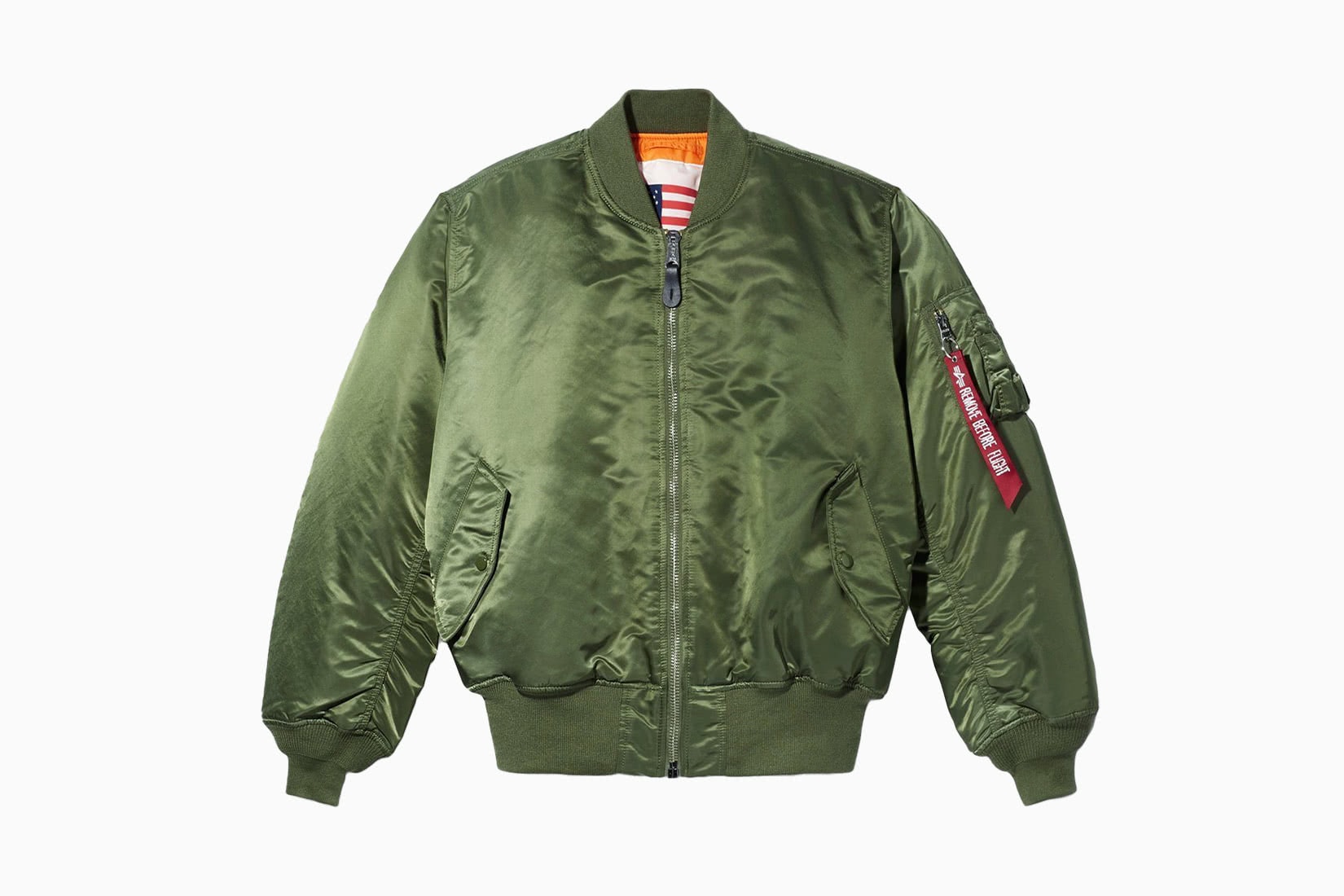 You don't need to be flying over enemy terrain to wear this Alpha Industries MA-1 Blood Chit jacket but pretending that you are is fun. It's an original fighter pilot jacket whose authenticity is clear in everything from design to durability.
The coolest feature about this jacket is the 'Blood Chit' sewn on the inside. This small flag contains a message in different languages, identifying the wearer as a US airman, helping servicemen evade capture.
The cool factor doesn't end there. You've also got a front closure storm flap, knitted collar, cuffs, and waistband, plus Alpha Industries' signature zippered utility pocket on the sleeve.
Tackle the day like a true trooper with this Alpha Industries Blood Chit jacket.
Best for: Channelling your inner hero with a jacket made for the fearless.
Colours: Black and green.
Levi's MA-1: Best red bomber jacket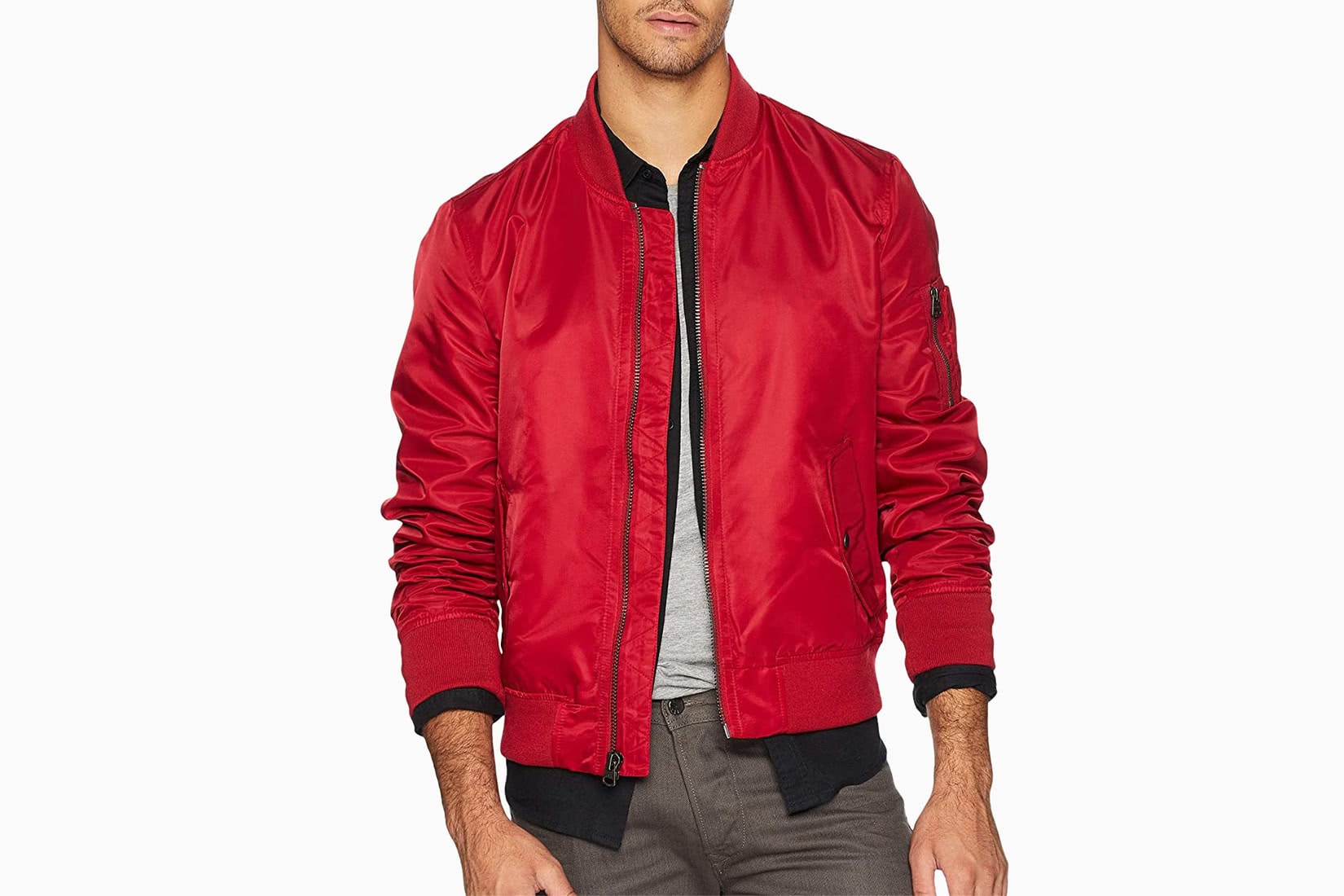 If you want an outerwear accessory that marks you out as a man with serious fashion know-how, this Levi's bomber jacket is the one for you.
Levi's is known for its quality workwear and this bomber jacket can be trusted to last as long as it needs too. It's made of 100% nylon—strong, wear-resistant, and lightweight. The fact it can be machine washed is a major bonus.
You've got multiple pockets for storing everyday essentials. Rib-knit cuffs and a waistband work wonders to retain body heat and also mean that the jacket hugs your waist nicely, creating a sleek and streamlined profile.
With Levi's MA-1, the classic bomber gets a major modern-day update and we're loving it.
Best for: A dependable yet daring design from an iconic brand.
Colours: A range including red, blue, and brown. 
Ermenegildo Zegna: Best white bomber jacket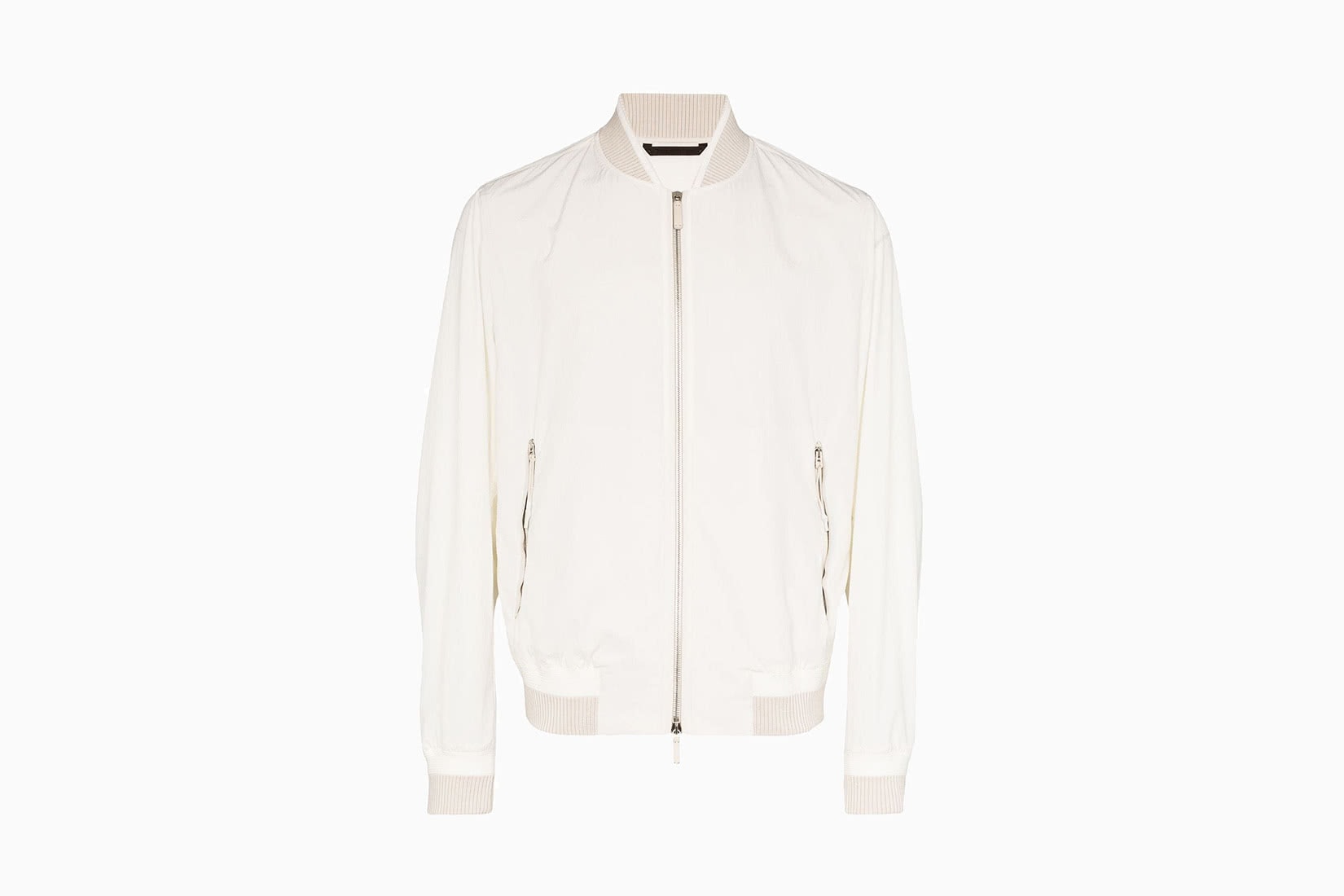 We can imagine you rocking this Ermenegildo Zegna jacket to a pool party at the height of summer over a casual t-shirt and a pair of lightweight trousers. Margarita, anyone?
Made of seersucker—the ultimate summer material with its lightweight and breezy feel—this jacket has a loose fit, striking the perfect balance between structure and slouch. It features a buffed calfskin trim throughout—a subtle detail that distinguishes it as a jacket of superlative quality.
The cuffs, collar, and hem, are all off-white while you also have two pockets to keep a wallet or your phone.
With its sleek sophistication and laidback charm, Ermenegildo Zegna's white bomber jacket has to be one of the most trendy bomber jackets around.
Best for: Swapping pilot-style practicality for elevated elegance.
Colour: White 
Baracuta: Best brown men's bomber jacket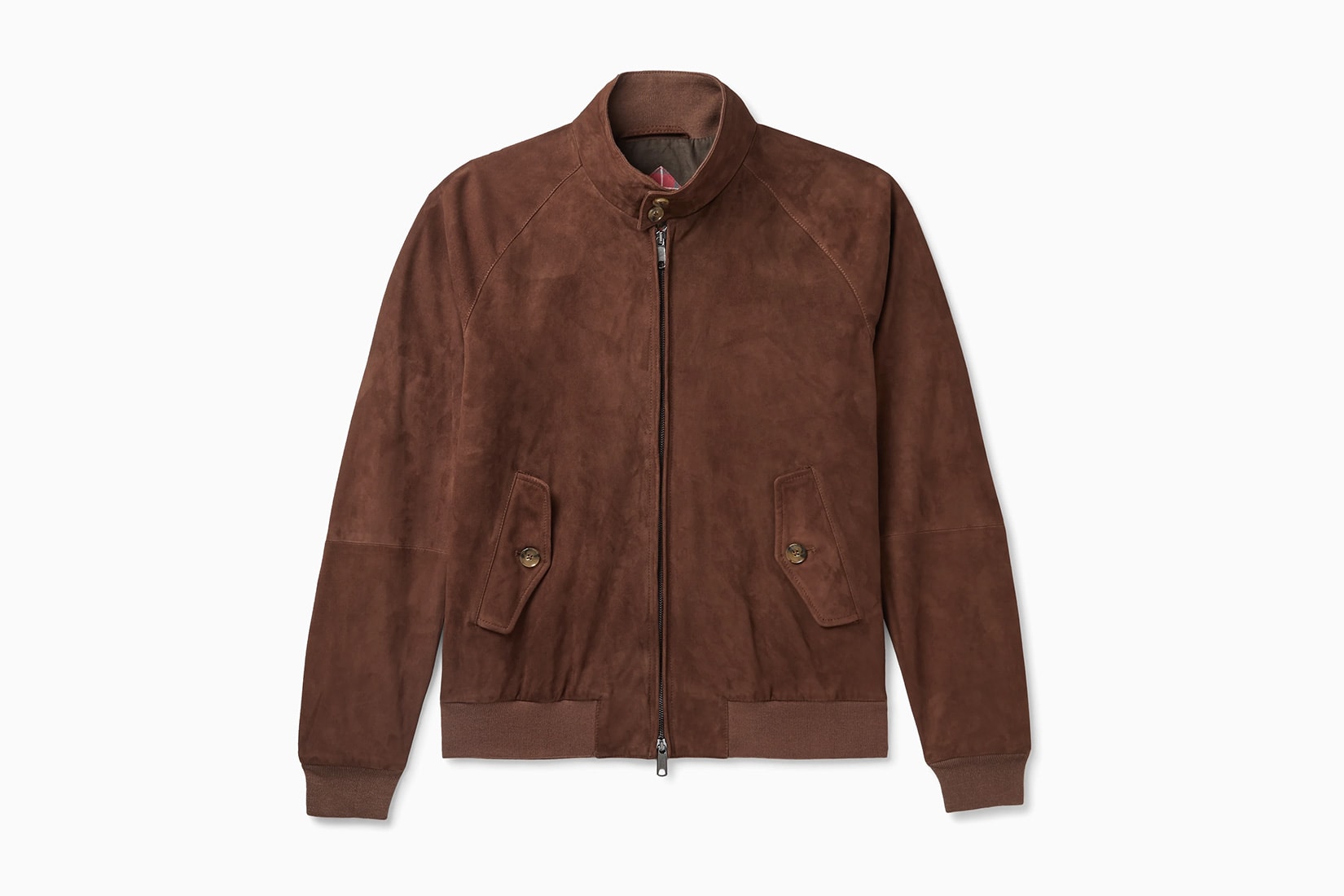 The G9 Suede Harrington jacket by Baracuta was originally designed in 1937 and has a refined retro feel that we're loving. It's practical yet stylish and, most importantly, was worn by James Dean in Rebel Without A Cause.
Because bomber jackets aren't just the remit of RAF pilots. They're also a famous counterculture fashion accessory. And this bomber jacket from Baracuta has that easygoing and irreverent feel about it, with its loose cut and decadent shade of chocolate-brown.
This fashion bomber jacket is made from soft and supple suede with traditional raglan sleeves that add to the vintage vibe. Knitted cuffs and a Fraser tartan lining complete the look. Team with a pair of selvedge jeans and your favourite sneakers and you'll look impeccably trendy without being at all try-hard.
Best for: A youthful and dynamic design to embrace your inner rebel.
Colour: Brown
Alpha Industries MA-1 Slim Fit: Best olive men's bomber jacket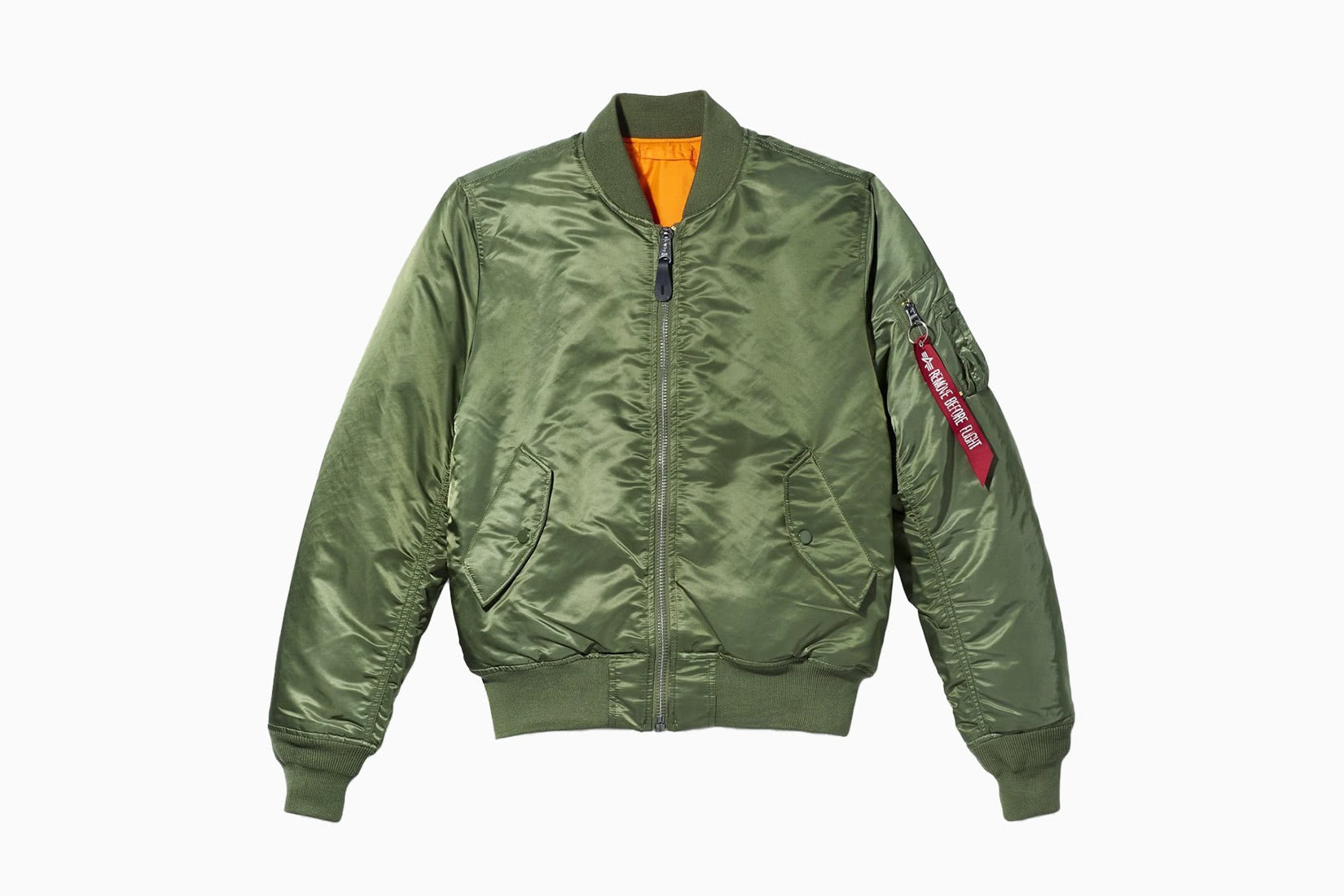 It takes a certain kind of courage to jump in a plane and take to the skies. Now you can enjoy a similar kind of confidence with Alpha Industries MA-1 Slim Fit. Treat yourself to a jacket once worn by original US Air Force and Navy pilots. What could be a better conversation starter?
This jacket has a slim cut that feels contemporary and flattering with poly-fill for insulation and an orange lining that's also reversible. It's the perfect in-between throw-on, with unique features such as the Alpha logo, 'remove before flight' flag, and the MA-1 utility pocket.
Alpha Industries is indisputably one of the best bomber jacket brands around. So bring some daredevil spirit to your weekend style with this Alpha Industries MA-1 Slim Fit. Team with an authentic pilot watch and you're good to go.
Best for: Feeling like an intrepid adventurer on even the most mundane daily missions.
Colours: A range including black, green, and blue. 
Supreme Anti Hero: Best burgundy bomber jacket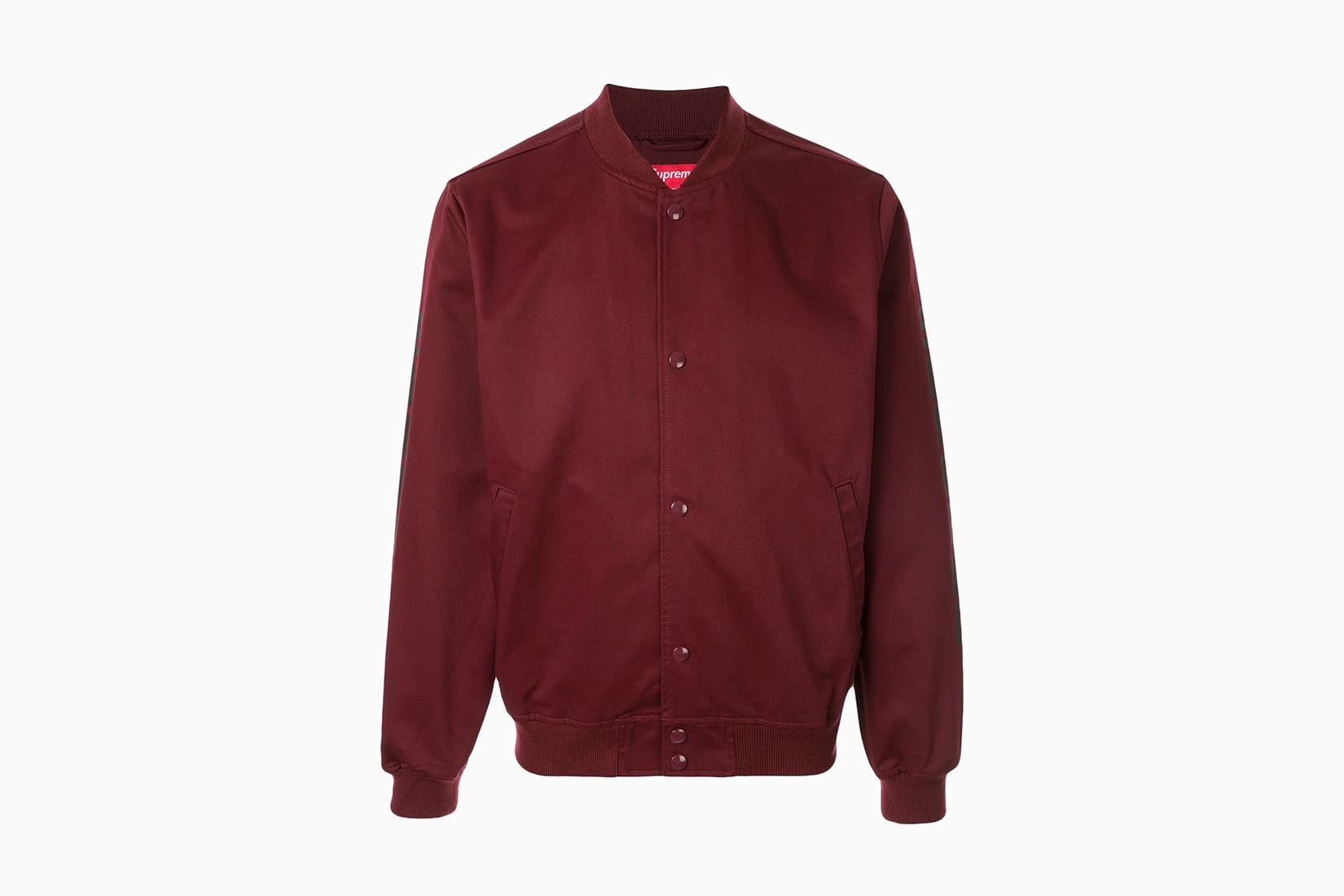 The aptly named Anti Hero jacket by Supreme is all about channelling that too-cool-for-school vibe that bomber jackets have become known for. Made in collaboration with Anti Hero skateboards—one of the best skateboard brands out there—this jacket captures the refusal-to-conform attitude that makes bomber jackets such a classic fashion accessory.
This wonderfully unorthodox bomber jacket has distinct street appeal. It's made from a burgundy cotton blend—a colour that is rich and decadent yet energetic and exciting at once. Check out the embroidered eagle motif on the back, making sure everyone knows where your loyalties lie.
Unleash your inner rogue or rascal with a jacket that is all about going against the grain. Supreme's Anti Hero jacket is lightweight and slim-fitting, perfect for layering, and would look epic teamed with jeans and sneakers, such as a pair of skate-appropriate Vans.
Best for: Refined renegade chic.
Colour: Burgundy 
Gabriela Hearst: Best tan bomber jacket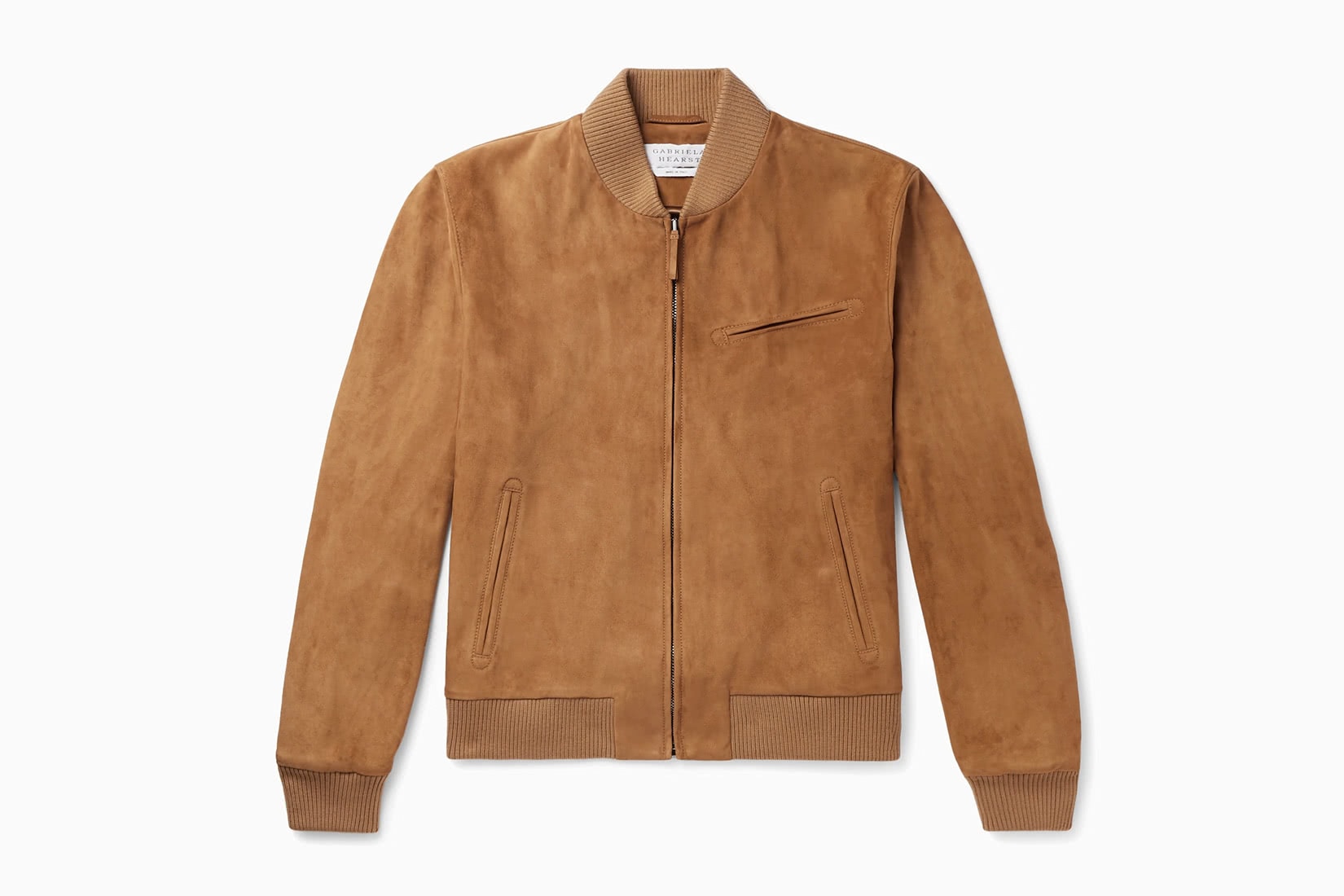 With the Gregory jacket, Gabriela Hearst has taken the relaxed sporty aesthetic of the classic bomber jacket and added a dash of high-end panache. The result is a gorgeous piece of outerwear that wouldn't look out of place at an exclusive drinks party.
We love the minimalist aesthetic of this suede bomber jacket with its discreet welt pockets and unobtrusive ribbed trims. It's lowkey yet luxurious, subtle yet sophisticated. Dream weekend attire for those who refuse to be caught dead in anything dull.
Team with equally understated basics, such as a classic white t-shirt and relaxed black trousers, plus some timeless white sneakers. We can also imagine this jacket looking spectacular with a tight-fitting black polo neck.
Bringing some premium prestige to the grit and edge of the original bomber, this Gabriela Heart tan jacket deserves a place in your wardrobe.
Best for: An ultra-sophisticated take on the ultimate symbol of cool.
Colour: Camel
Alpha Industries Nasa: Best blue bomber jacket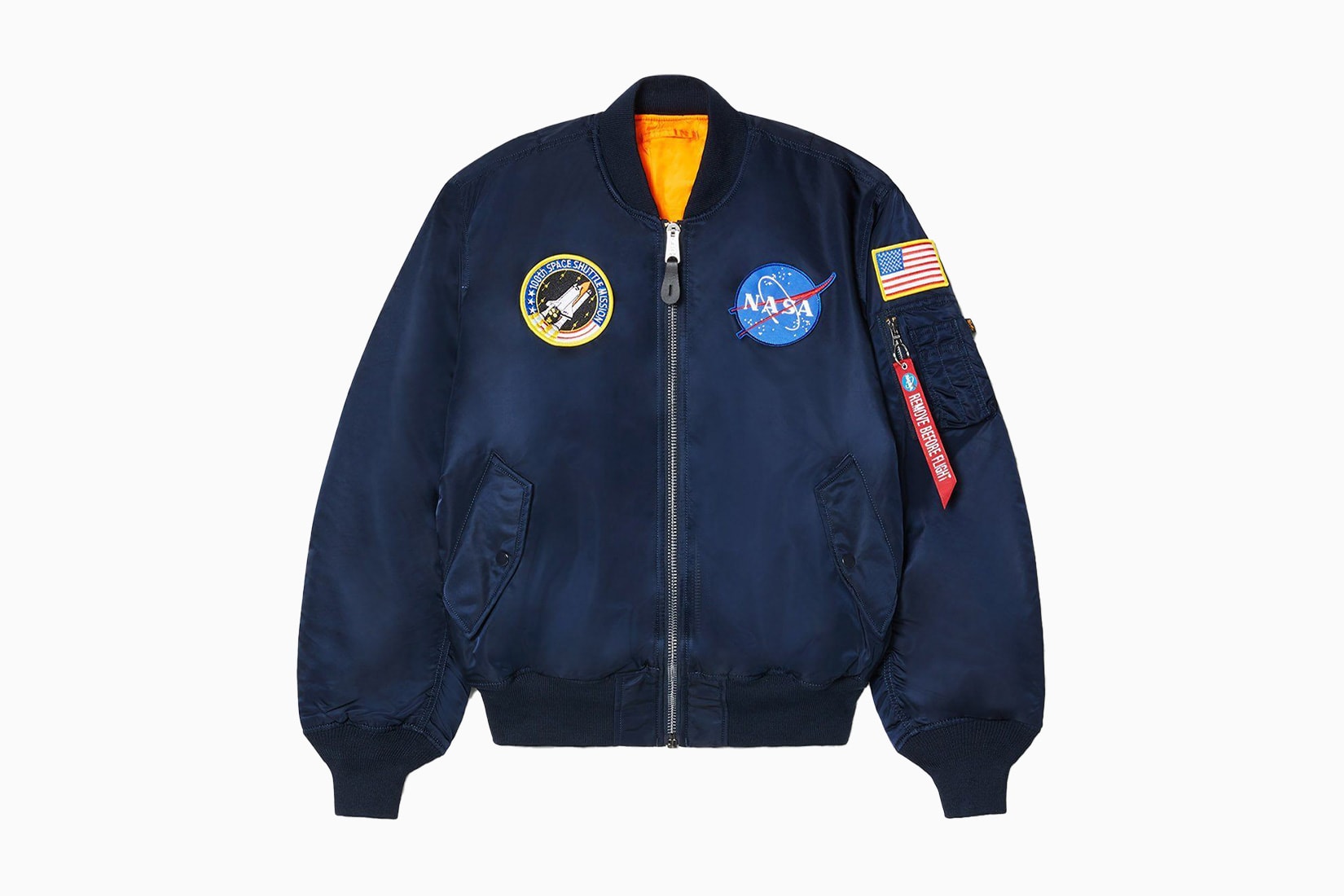 Flying in from fashion's final frontier is this epic astronaut flight jacket from Alpha Industries.
Not only is it our favourite blue bomber jacket but, as a replica NASA flight jacket, it also has some unrivalled coolness credentials.
You know you can trust a jacket that was intended to venture beyond the Earth's atmosphere. This bomber has a hard-wearing nylon satin flight shell with polyester interlining, plus a knit collar, cuffs, and waistband to keep you warm.
Awesome details such as the 100th Space Shuttle Mission and American flag patches bring next-level authenticity while the signature utility pocket plus two lower flap pockets and two interior pockets provide functionality.
The jacket hugs the body in all the right places, offering a silhouette that combines down-to-earth practicality with a distinct sense of adventure, capturing the true essence of space travel.
Alpha Industries makes really really nice bomber jackets—and this one is no different. Make every day a moonwalk with this astronaut bomber jacket from Alpha Industries.
Best for: Space-age sophistication.
Colour: Blue 
Golden Bear Albany: Best classic bomber jacket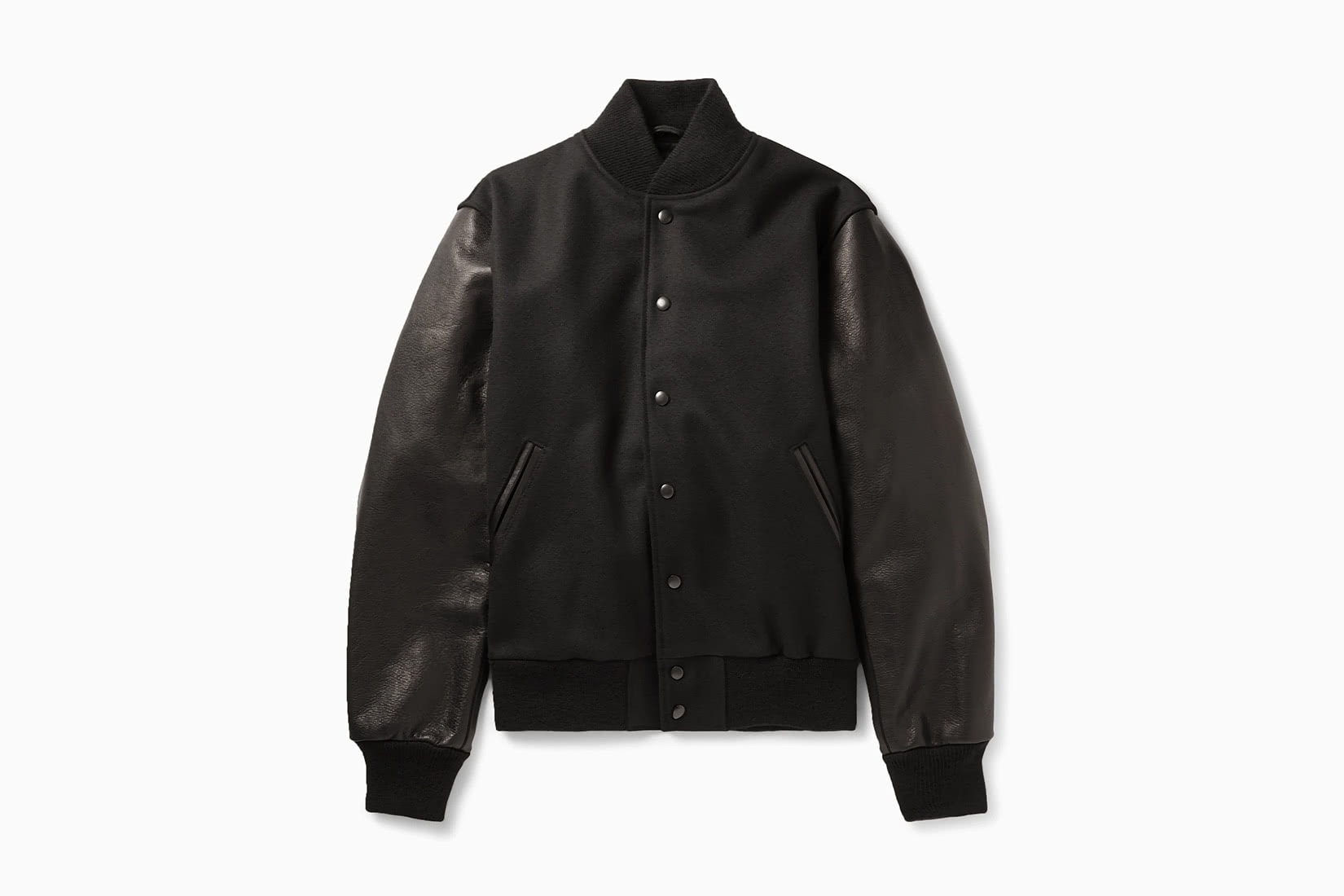 Sometimes you can't beat tradition, which is why we love Golden Bear's Albany. A truly classic bomber jacket with all the qualities we seek in the best pilot jackets—style, durability, boldness, and daring.
And while it has the look and feel of an original aviator jacket, there's also something a little gritty and punky about it too, thanks to the contrasting leather sleeves and wool. It would look insanely cool on the back of a motorbike.
The ribbed-knit cuffs and hem provide added insulation while the wool-blend is warm and long-lasting. Pair this Golden Bear Albany jacket with a sweatshirt, black jeans, and a pair of tastefully scuffed up sneakers and the devil-may-care mood will be complete.
Best for: Vintage combat cool.
Colours: Black and navy.  
Hugo Boss: Best modern bomber jacket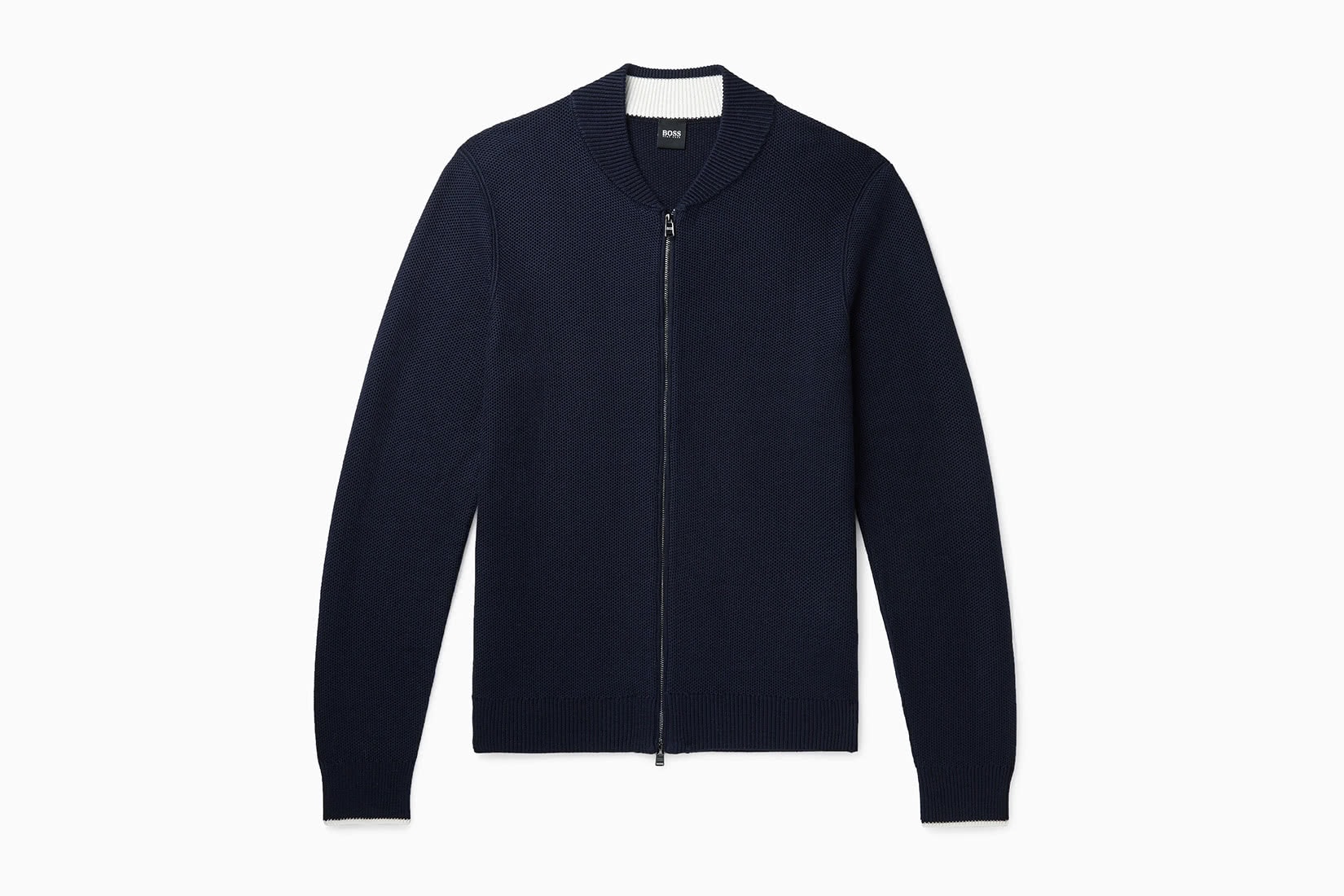 For a thoroughly contemporary take on a classic, our top pick has to be this Hugo Boss bomber jacket—an ultra-modern and style-savvy jacket that has its eye firmly on the future.
If you like the trim silhouette of a bomber but you want something smarter and more dressed-up, this Hugo Boss jacket is ideal. Made from a Lyocell, cotton, and wool blend, it demonstrates the impeccable craftsmanship and clear eye for design that the brand is known for.
The piqué weave makes this one of the lightest and most breathable bomber-style jackets, especially in the summer months. Little details like the two-way zip and contrasting white cuffs complete the pulled-together aesthetic. Wear to the country club on weekends or on a trip out on the boat.
Best for: An iconic silhouette with a modern-day upgrade.
Colour: Navy
Alpha Industries Slim Fit N-3B: Best long bomber jacket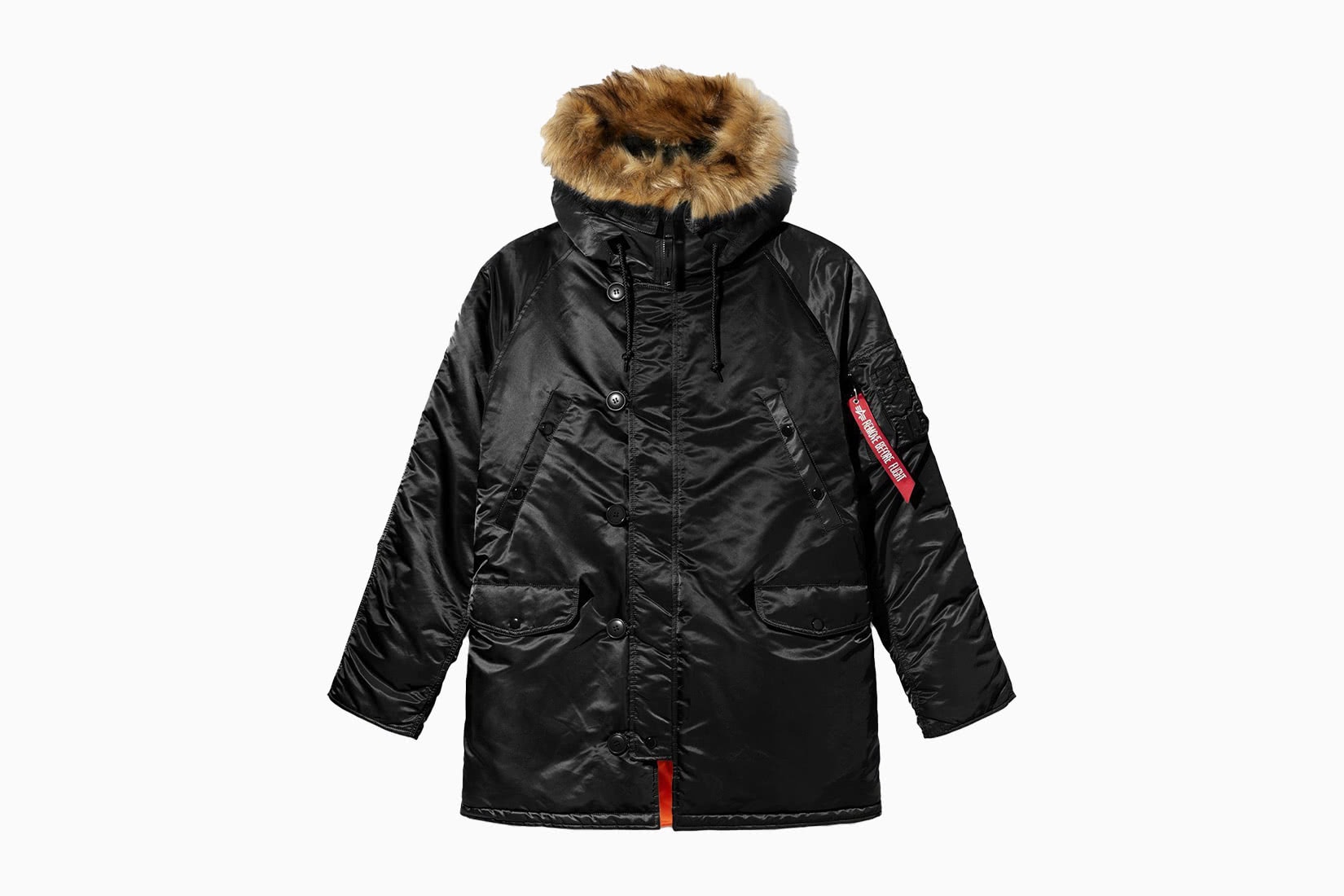 While it may not technically be a bomber jacket, this Alpha Industries parka still has all the hard-headed heroism of the best fighter pilot jackets. For one thing, like all the brand's bomber jackets, the N-3B features a 'remove before flight' flag and an MA-1 utility pocket on the sleeve, maintaining the military vibe.
The N-3B parka has been designed for extreme cold weather situations so it's safe to say you're not going to catch any colds. With the channel-quilted lining and faux fur hood, we're feeling warmer just looking at it.
Stay extra cosy with Alpha Industries' N-3B, combining the winter-ready comfort of a parka with the boldness of the best bomber jackets.
Best for: Parka practicality meets the bomber's plucky spirit.
Colours: A range including black, green, and blue. 
Alpha Industries Injector III Mod: Most durable bomber jacket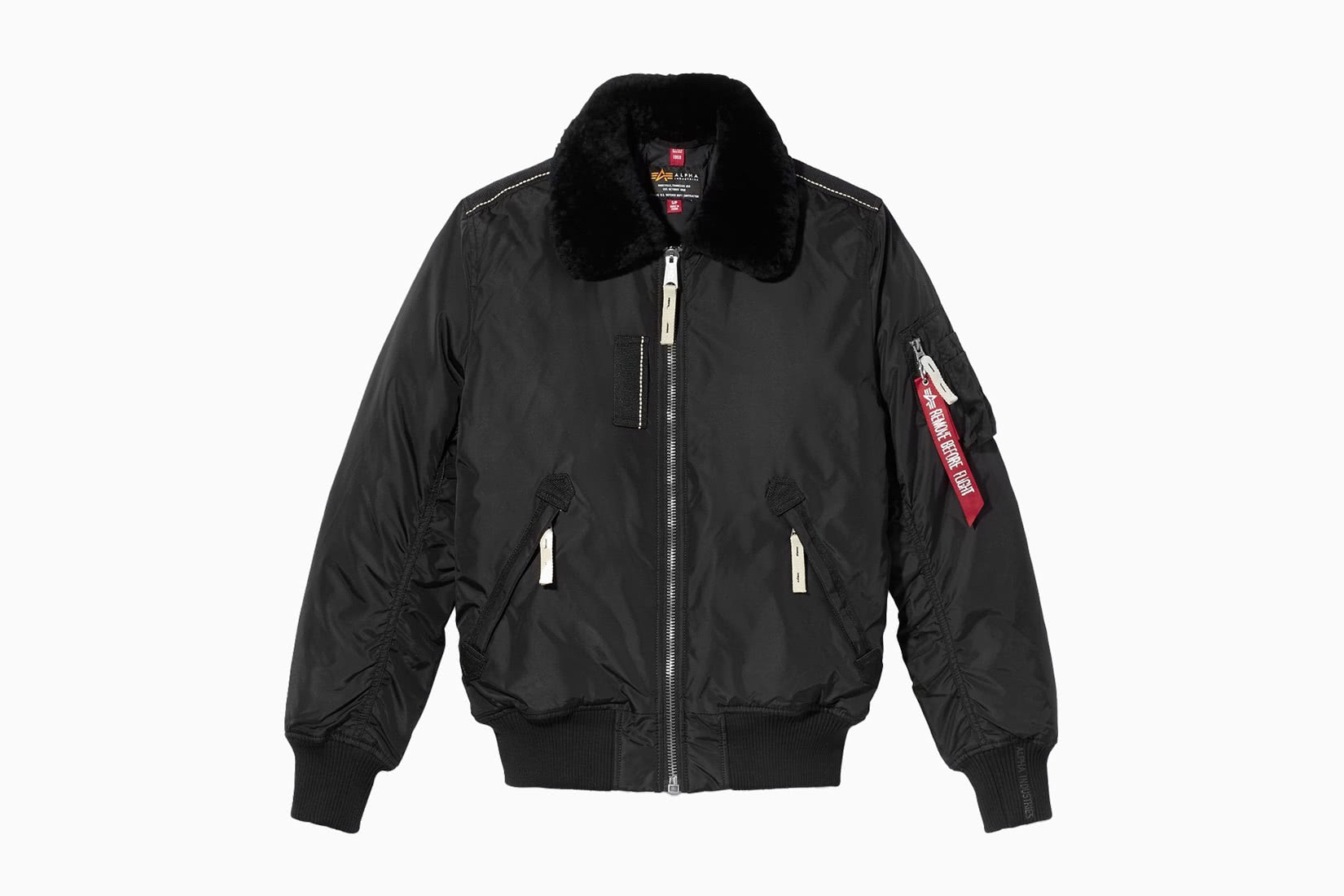 Alpha Industries has done it again with the Injector III Mod—a cool, classic, and incredibly hard-wearing bomber jacket that no man could say no to.
The best bomber jackets are designed to last. After all, they needed to withstand the wear and tear of mortal combat. The Injector III Mod has a strong, sturdy, and water-resistant shell with heavy nylon webbing on the shoulders for extra reinforcement. The onion-quilted lining is made from soft yet durable nylon, making this a dream wear for frosty winter months.
Our favourite feature of this cool bomber jacket is the genuine shearling collar, which not only looks incredibly cosy but adds to the authentic airman vibe. In its stealthy shade of black, the Injector III Mod offers straightforward sophistication for men of all ages. Aviator goggles not obligatory.
Best for: A jacket that works as hard as you.
Colour: Black 
Amazon Essentials: Best budget bomber jacket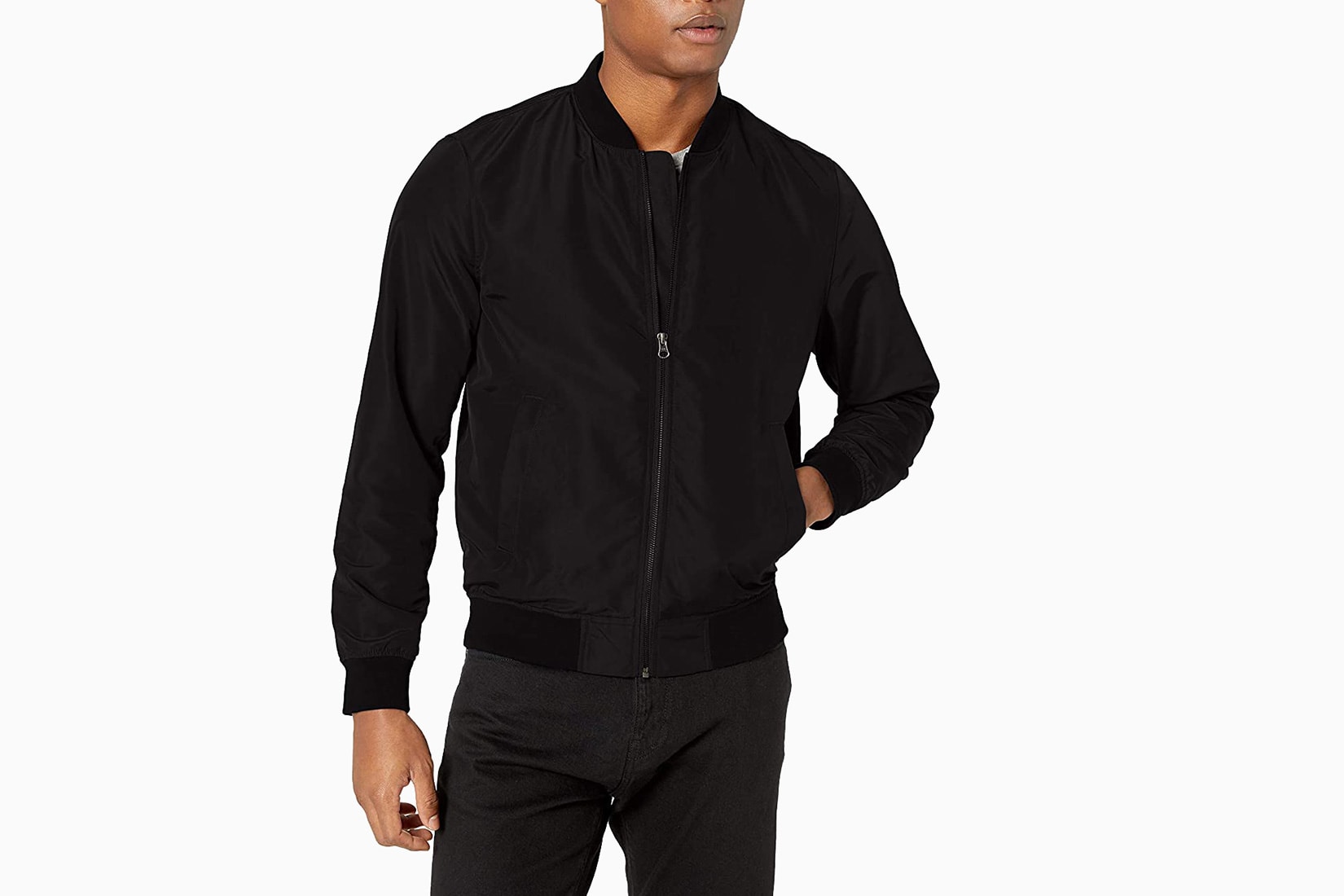 True style doesn't have anything to do with price, which is why we're raving about this budget-friendly bomber from Amazon Essentials. It's the best bomber jacket under $100 out there, and proof that classic cool needn't cost the world.
Made of 100% polyester, it's lightweight and durable but also machine washable. The high collar is essential in any authentic bomber jacket while side seam pockets offer the requisite practicality. This best-selling bomber jacket is ideal for autumn and spring days.
Level up an everyday t-shirt and jeans combo with this effortlessly cool bomber jacket, whether you go for the timeless and versatile black or a more eye-catching and modern blue. We also like the navy with white trims—sporty and youthful.
Treat yourself without feeling guilty thanks to this great value Amazon Essentials bomber jacket, one of the most popular bomber jackets out there.
Best for: A bargain bomber that doesn't skimp on style.
Colours: A range including black, blue, and grey. 
Kiton: Most expensive bomber jacket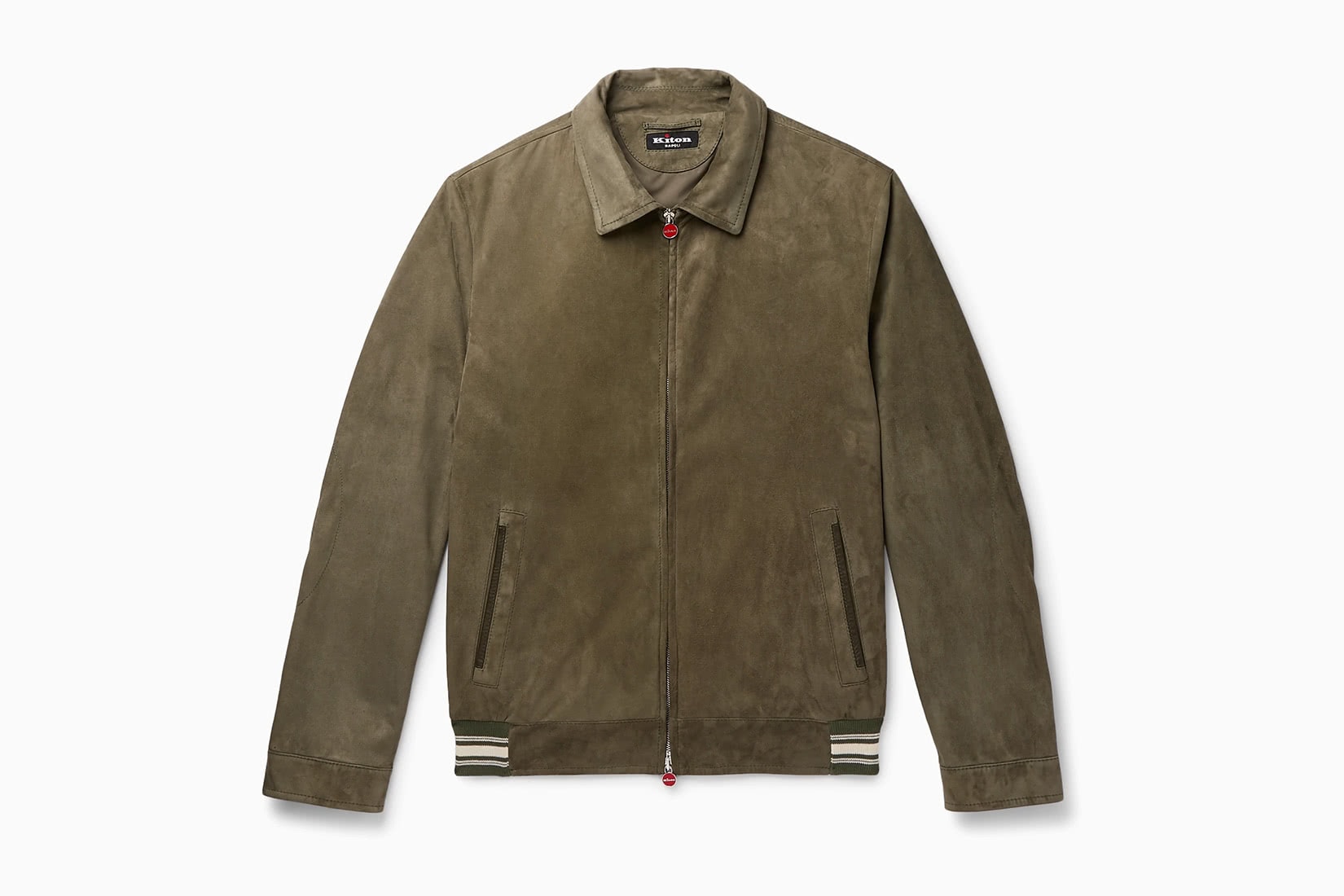 The ultimate outwear indulgence has to be this Kiton bomber jacket. The luxury label from Naples is well known for its quintessentially Italian brand of elegance and this bomber jacket perfectly demonstrates the company's innate skill for sophistication.
This designer bomber jacket has all the hallmarks of your classic fighter pilot jacket but is definitely made with a different kind of frequent flyer in mind. Made from a smooth, soft, and supple olive-green suede—a colour that would look good on literally anyone—it echoes the classic silhouette of traditional flight jackets but is more pared-back and streamlined.
One of the most stylish bomber jackets we've ever seen, it feels chic and refined and could be worn to upscale events and parties. A lightweight shell lining makes for easy layering and the striped ribbed trims are a subtle detail that nod to the bomber's sporty history.
This Kiton bomber jacket may be an extravagance—but can you put a price on this kind of elegance? Best worn in the front seat of a Bugatti.
Best for: Laidback yet luxurious serviceman chic.
Colour: Green
Men's bomber jackets: Frequently asked questions
Who makes the best bomber jacket?
Alpha Industries makes the best bomber jackets for men. The company first produced bomber jackets for the U.S. air force during the second world war. They've now updated their design to match current trends while maintaining their excellent quality.
How should a man wear a bomber jacket?
Men can wear bomber jackets in a number of ways, either as part of a casual weekend get-up or something more sophisticated. Team with your favourite jeans and sneakers for a brunch-appropriate outfit or pair with loosely tailored trousers and a shirt for evening attire.
Where can I buy a good bomber jacket?
You can buy good bomber jackets from Alpha Industries, the company that began life making fighter pilot jackets in World War Two. The brand makes authentic bomber jackets that are also durable and comfortable.
What colour bomber jacket should I get?
Bomber jackets are available in a variety of colours but the most versatile and timeless option is black. Brown is another stylish alternative and feels retro and vintage. Opt for a white bomber jacket for something more summery and tropical-feeling, while blue or red bomber jackets offer a sporty aesthetic.