Some of the best menswear in our wardrobe is military-inspired, from gritty bomber jackets to classic trench coats, as well as some of our favorite boots. But one of the most obvious is the field jacket. Originally issued to troops in 1965 for the Vietnam War and known as the M-65, today's field jackets have traveled a long way from rainy jungles to slick urban streets and are the perfect in-between seasons coat of choice.
It didn't take long for these cool military jackets to cease to be purely armed forces attire. Following the war, either due to a surplus or the fact they're wickedly stylish, they became a favorite of the counterculture and were sported by the likes of Robert De Niro in Taxi Driver and Woody Allen in Annie Hall.
The appeal of these durable jackets endures into the 21st century. The essentials have barely changed since the jacket was first introduced in the 60s but you'll still find subtle twists on the classic, with a range of colors beyond army green as well as different materials, from high-tech synthetics to luxurious suede.
These rugged jackets are some of the most versatile additions to your outerwear armory. Team with a shirt, tie, and knit sweater for smart-casual attire. Wear with a suit and cinch in the waist for a clean-lined, tailored look. Or pair it with a chambray shirt and desert boots for casual Fridays at work.
We've selected the best field jackets on sale today, from the jungle-trekking, dawn-patrolling original m65 field jacket to luxurious re-inventions of the classic, as well as deluge-ready ultra waterproof versions, an insulated field jacket for chilly days, and even a field vest for something 100% fit for adventuring.
The 21 best field jackets for men
Check our special men's field jackets buyers' guide after the list to see exactly what you should pay attention to before purchasing a field jacket online.
Alpha Industries M-65: Best overall field jacket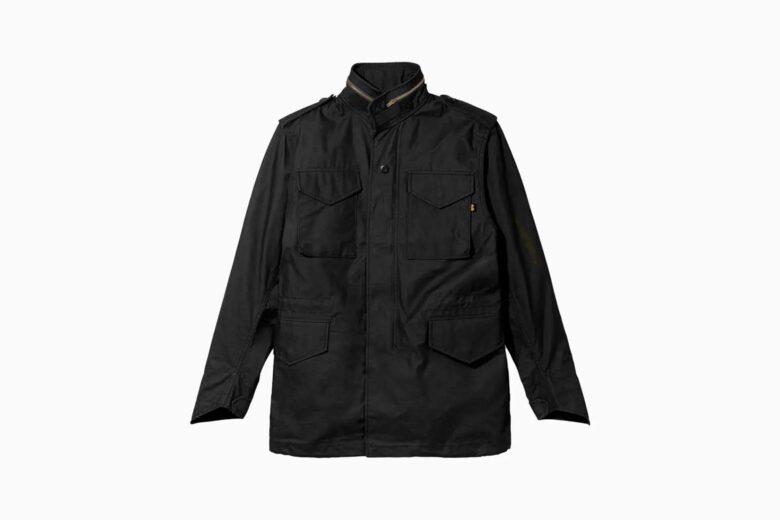 If you're looking for a field jacket that's as close as possible to the original—as worn by actual servicemen trekking through the Vietnamese jungle—then Alpha Industries' M-65 Field Jacket is the one.
This is the archetypal US military field coat, made according to bonafide military specifications and representing not just a seriously cool addition to your wardrobe but one imbued with history and heritage.
Not to mention that this jacket is incredibly functional. Both water and wind-resistant, it has a concealed hood hidden the collar, a drawstring at the waist and hem that you can pull in for extra warmth, plus four exterior pockets and two interior pockets for transporting essentials.
It goes without saying that this hooded field jacket is best teamed with a legit field watch.
| | |
| --- | --- |
| Best for: | The master copy of the military jacket for authentic squaddie chic. |
| Colors: | Black, camo, and green |
Carhartt Traditional Duck: Best value field jacket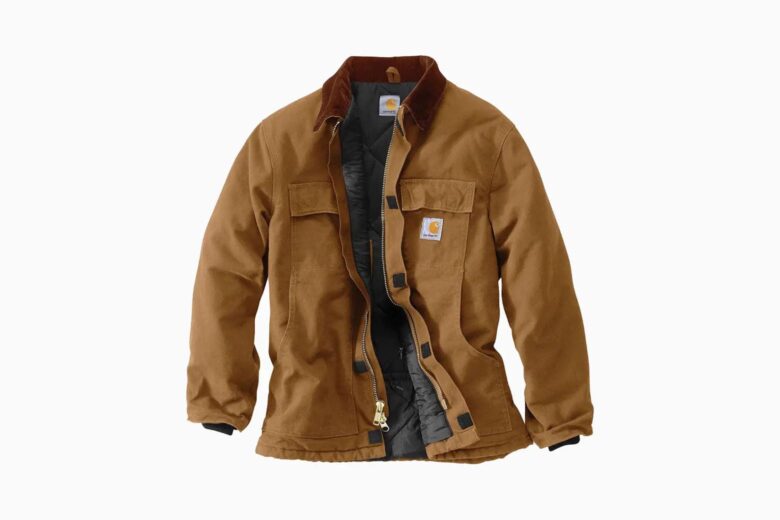 Ever since they got co-opted by the fashion set, cool military jackets have begun to carry hefty price tags. Which is why we're grateful to see Carhartt keeping costs down with this cotton field jacket.
Carhartt may be a trendy streetwear brand these days, but let's not forget its impressive history of making rugged and reliable gear for hardworking individuals and all weather conditions. This jacket is made of cotton duck, a particularly robust type of canvas. We also dig the contrasting corduroy collar that accommodates an optional hood.
This Carhartt field jacket is not only perfect for adding edge to your urban ensemble, but it's also practical, with Arctic-weight polyester insulation for winter, a total of six pockets for valuables, and hard-wearing triple-stitched seams.
| | |
| --- | --- |
| Best for: | A field jacket with fighting spirit that won't leave you hunting for funds. |
| Colors: | Brown, black, and navy |
Filson: Best high-end field jacket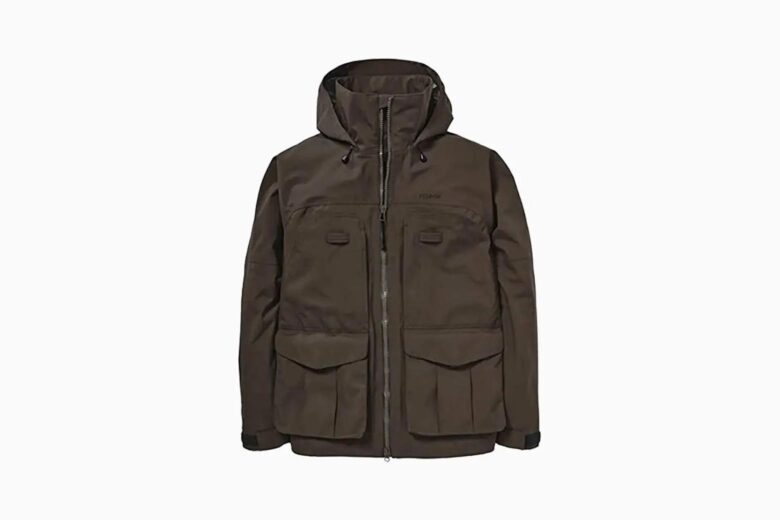 The best field jackets are an investment. While many cold-weather jackets will see you through one year before the zip break, the waterproofing fails, and the stitching starts to go, a field coat by Filson will last you years.
Everything about this jacket has been optimized to make it unbreakable. There are the YKK AquaGuard pit zips (water-repellent and windproof), reinforced forearms for added strength, and a breathable nylon waterproof membrane together with a polyester-brushed tricot backing.
As for comfort and functionality, this Filson's hooded field jacket features articulated sleeves for mobility, expandable shell pockets, micro-fleece lined pockets where you can warm your hands on chilly days, and a two-way adjustable hood. There are even fabric tabs on the chest pockets where you can attach a whistle or transmitter—should you need one during a night out on the town.
| | |
| --- | --- |
| Best for: | Your go-to, no-nonsense, and basically bulletproof jacket. |
| Colors: | Brown |
Orvis Barn Jacket: Best modern field jacket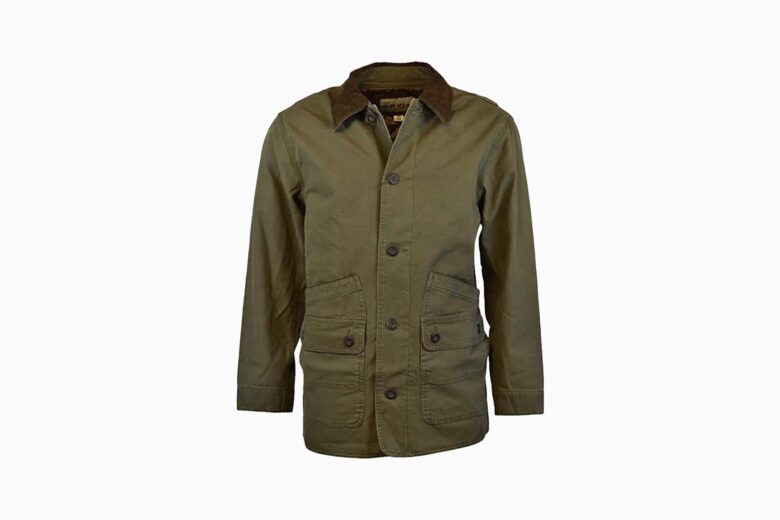 While we definitely enjoy the military aesthetic, we don't always want to look like we just got back from the trenches. Sometimes, we want something a little more refined, smart, and contemporary. Like this Orvis field coat.
You've got the option of a khaki field jacket or a green field jacket with this one. This sleek alternative to a blazer is durable and no-nonsense enough to survive a countryside expedition while the fit is loose enough to pack layers underneath, from a down vest to a thick sweater. Dress it up with an elegant scarf or turtleneck, and roll back the cuffs for a bit of rogueish glam.
Plenty of pockets mean you can carry around whatever you need (phone, wallet, battery pack, or even a book). Plus, this Orvis field jacket is super solidly built. While a bit stiff to begin with, it will quickly break in, and then you'll never want to take it off.
| | |
| --- | --- |
| Best for: | A fresh and forward-looking take on the OG field jacket. |
| Colors: | Beige or green |
Canada Goose Forester: Best waterproof field jacket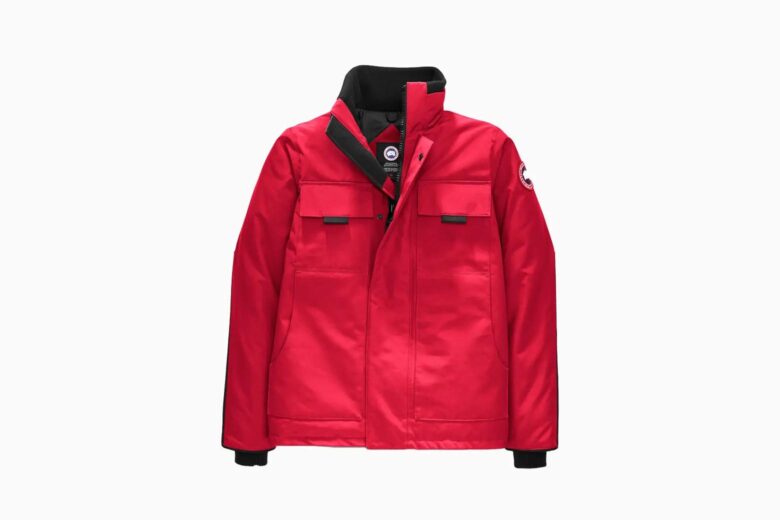 There are waterproof jackets, and then there are Canada Goose waterproof jackets. They're in a rank all of their own with their high-tech materials and superior attention to detail. If WW2 soldiers had been wearing a jacket like this, their experience might have been quite different.
Known as the Forester Jacket, it's made from durable and water-resistant Arctic-Tech fabric, which the company says is suitable for between minus 10 and 20 degrees Celsius.
There's a double-layered collar that you can pop for protection from an icy breeze, and the chin guard is lined with soft tricot fabric to avoid chafing. You've got the exterior pockets for stowing away small essentials and rib-knit cuffs to lock in body heat.
Our favorite feature? The interior backpack straps, allowing you to carry this Canada Goose jacket over your shoulders, hands-free. Just in case the weather clears and you're suddenly walking in blinding sunshine.
| | |
| --- | --- |
| Best for: | A weather-optimized overcoat, undaunted by the prospect of a downpour. |
| Colors: | A range including black, navy, and blue |
Barbour: Best technical field jacket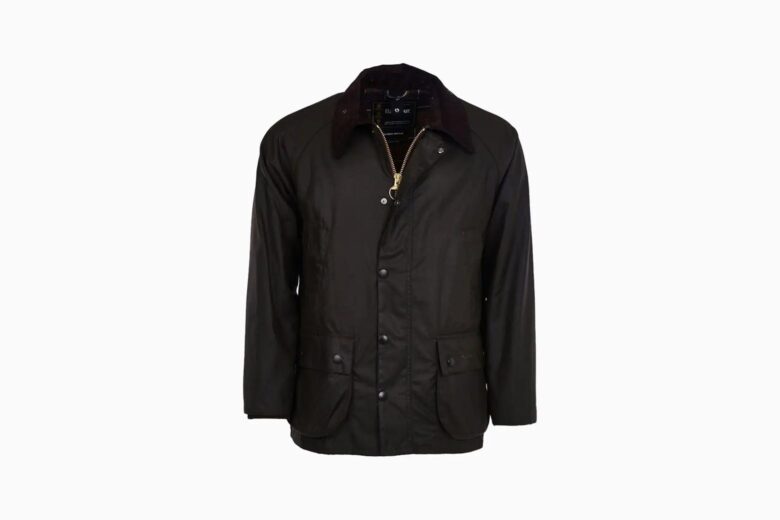 A technical field jacket is one that prioritizes functionality. A jacket that is less a fashion accessory than a practical tool, here to make operations run more smoothly and your life easier. This green field jacket is the perfect example (and is also available in other colors too).
That's not to say this Barbour field coat isn't stylish because, with the brand's signature corduroy collar, it certainly is. But the collar also serves a purpose. Fold it up in bad weather for added protection from wind and rain.
This hunting field jacket can be bought with a zip-in waistcoat for chillier weather. The zipper and snap closure keeps all rain firmly out, while the hand pockets also have snap closures for security. And the fit is roomy enough to allow for anything from a lightweight sweater to a puffer vest if you're worried about getting cold.
| | |
| --- | --- |
| Best for: | A super specialized jacket for staying prepared both on and off duty. |
| Colors: | Green, black, and sage |
Goodthreads: Best summer field jacket
While a field jacket might not be your first choice for summer, in fact, these lightweight casual cover-ups are ideal for warmer months if you opt for a low-key and breezy design like this one by Goodthreads.
Made of 100% twill cotton, this field coat is soft and breathable, the ideal throw-on for sunny summer evenings on a terrace, sipping something delicious. It's got a generous fit that gives plenty of space around the chest and waist, so you won't feel too constricted.
This summer field jacket also nails the military aesthetic with its four pockets, slightly cinched-in waist, and combination of zippers and pockets.
| | |
| --- | --- |
| Best for: | A relaxed rendition of the classic field jacket, ideal for summer evenings. |
| Colors: | A range including black, camo, and green |
Alpha Industries M-59: Best field jacket for spring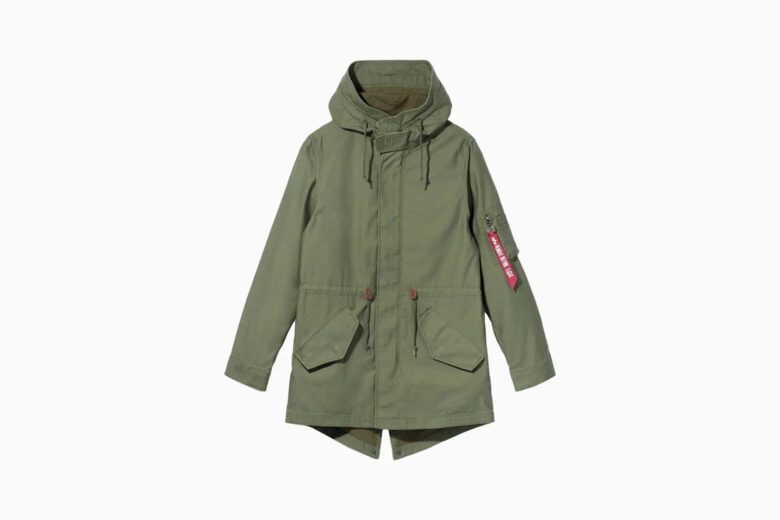 So this one isn't technically a field jacket but draws on iconic military design, so we feel justified in including it. Rather than the M-65, this parka is inspired by the US Army's m51 field jacket, created with a fishtail that could be tied around a soldier's legs for extra insulation.
Some raincoats are great at keeping water out, but they also leave you unpleasantly clammy on the inside. Not so with this parka, which is perfectly breathable. The storm flap with hidden snap closures makes sure even driving rain doesn't penetrate.
You've also got a classic MA-1 utility pocket on the sleeve for a touch of authenticity as well as a red 'remove before flight' flag. Adjust the jacket's cuffs to fit correctly and leave your bag at home, storing essentials in the two flap pockets instead.
| | |
| --- | --- |
| Best for: | Spring days where sun and showers are both possible. |
| Colors: | Black or green |
Orvis Heritage: Best field jacket for autumn
Autumn can be sartorially challenging months. It's too warm for a puffer jacket but too cold for a jumper or hoodie. This canvas field jacket is here to solve all your temperature-related problems, offering the perfect halfway house between a heavy winter coat and a lightweight cotton field jacket.
Waxed cotton canvas is the ideal material for blustery October and November. It's durable, waterproof, and has a cool vintage look too.
This Orvis field jacket also features snap-close bellows pockets for carrying field supplies (by which we mean snacks and your phone). Meanwhile, the upper pockets are great for warming your hands as your saunter along. Gusseted underarm panels also allow for adequate ventilation.
| | |
| --- | --- |
| Best for: | Effortlessly triumphing over the challenges of transitional dressing. |
| Colors: | Brown or green |
Canada Goose Chilliwack: Best field jacket for winter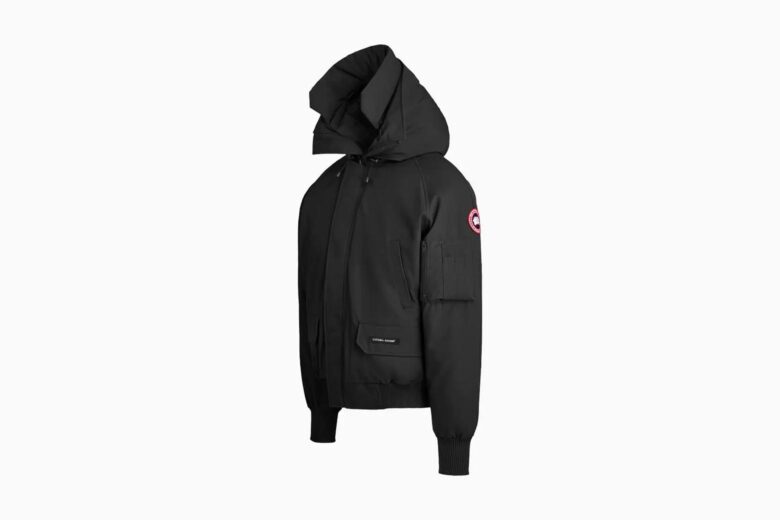 We've strayed from the strictest definition of a field jacket with this bomber jacket by Canada Goose. But when it comes to winter coats, this super cozy jacket is just too good to ignore.
We presume the Chilliwack Bomber Jacket gets its name from a play on chilly weather and bush-whacking, as it was inspired by the bush pilots that operated in the extreme conditions of the sparsely populated north of Canada.
Channel an equal intrepid fearlessness with an insulated field jacket that's unsurprisingly one of the brand's most popular designs. Its chic bomber style features an extended hood with an interchangeable down-filled trim for combatting frosty gales and rib waistbands and cuffs to trap body heat.
| | |
| --- | --- |
| Best for: | Boldly confronting the coldest of winter conditions. |
| Colors: | Black or red |
Alpha Industries MA-1 Slim Fit: Best military field jacket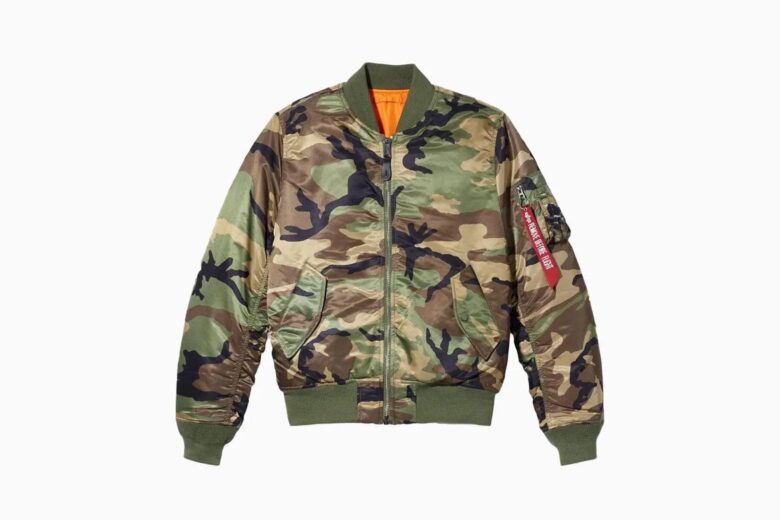 We love bomber jackets. In fact, we love them enough to sneak them into this rundown of the best field jackets.
Taking inspiration directly from the original jackets worn by US Air Force and Navy pilots back in the 1950s, Alpha Industries' MA-1 Slim Fit features a slightly more modern cut with a slim fit that's exceptionally flattering. It's also reversible, so you can enjoy two different color combinations.
Of course, hard-headed eye-on-the-prize fighter pilots would be more interested in the functionality of the MA-1, which includes a utility pocket on the sleeve, four pockets, and a knit-rib collar, cuffs, and waistband for warmth.
| | |
| --- | --- |
| Best for: | Aviation-inspired allure meets classic field jacket functionality. |
| Colors: | A range including black, camo, or green |
Herno: Most stylish field jacket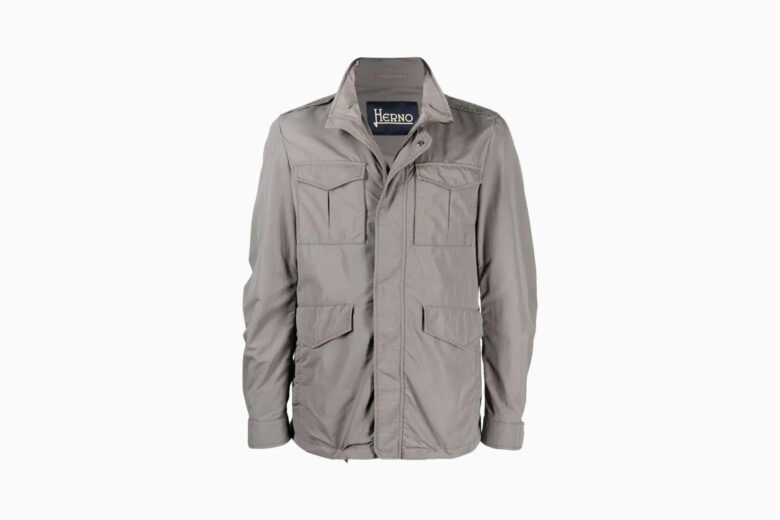 If you're more interested in cool military jackets for their fashion factor than their functionality, then we hear you. The sleekest spin on the classic military coat that we've come across is this fashion field jacket by Herno.
There's something instantly alluring about a grey field jacket. Grey is chic, modern, and understated—a great choice for guys seeking contemporary elegance with just a dash of combat cool, and perfect for daily missions through the concrete jungle.
The Herno jacket's other styling details include a high neck, four pockets (as per the original field jackets), and subtle epaulets. There's a distinct military air without it being too intense for your daily commute.
| | |
| --- | --- |
| Best for: | A classic military silhouette gets resolutely fashionized. |
| Colors: | Grey |
Alpha Industries ALS/92: Best lightweight field jacket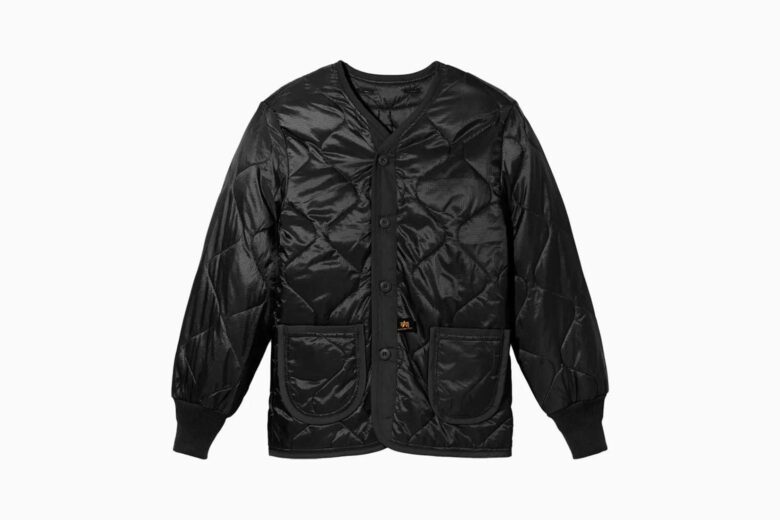 Another great creation from Alpha Industries—our go-to brand for military-style gear. The label has a history of making clothing for the armed forces and continues to make masterfully crafted army-inspired outerwear today.
Technically, this is actually a liner, not a jacket, designed to be teamed with the brand's M-65 field coat. But there's nothing to stop you from wearing it by itself as a lightweight, casual, and slightly unconventional take on classic military outerwear.
An onion-quilted design alongside knit cuffs will keep you warm, while the reinforced details on the ALS/92 offer durability and sturdiness that will last years. The perfect counterpart to your weighty leather jacket.
| | |
| --- | --- |
| Best for: | Unflappable functionality plus a dash of fashion in a jacket that isn't too heavy going. |
| Colors: | Black or green |
Carhartt Yukon: Best black field jacket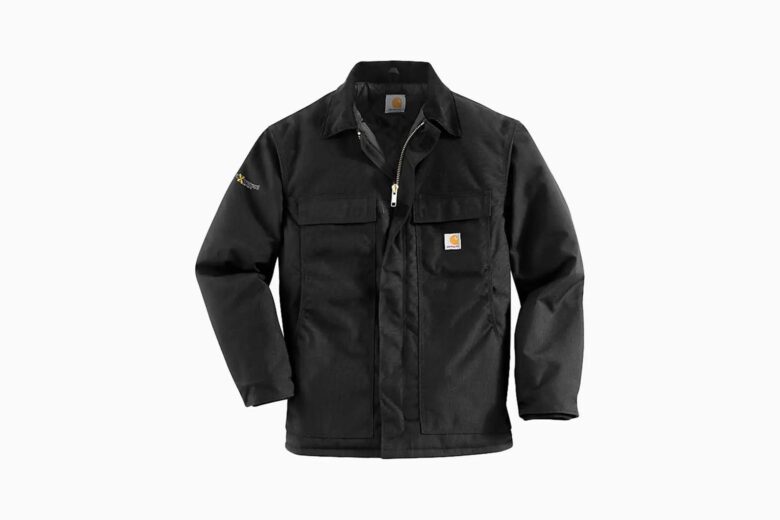 If you're worried about the military vibe of most traditional field jackets being a bit much for a civilian setting, no problem. Opt for a sophisticated black field jacket like this one by Carhartt.
Carhartt has aptly named this jacket its Extremes coat. It's ideal for extreme weather and extreme situations, whether that's dealing with gale-force winds and blizzards on a trek through the forest or simply negotiating an extremely wet and windy commute home.
Made of sturdy and durable 1000-denier nylon with a quilted nylon lining and Arctic-weight polyester insulation, it's both water-repellant and exceptionally cozy. The corduroy collar adds charisma while a total of six pockets is plenty for our day-to-day necessities.
Finally, the split back with a bi-swing design alongside pleated elbows means you'll have the full range of motion in this Carhartt field jacket—ideal for quickly clambering a tree to escape a wild animal, for example, or just playing with your kids in the park after school.
| | |
| --- | --- |
| Best for: | The ultimate stealthy shade for whatever urban assignments you've got planned. |
| Colors: | Black |
Carhartt Armstrong: Best brown field jacket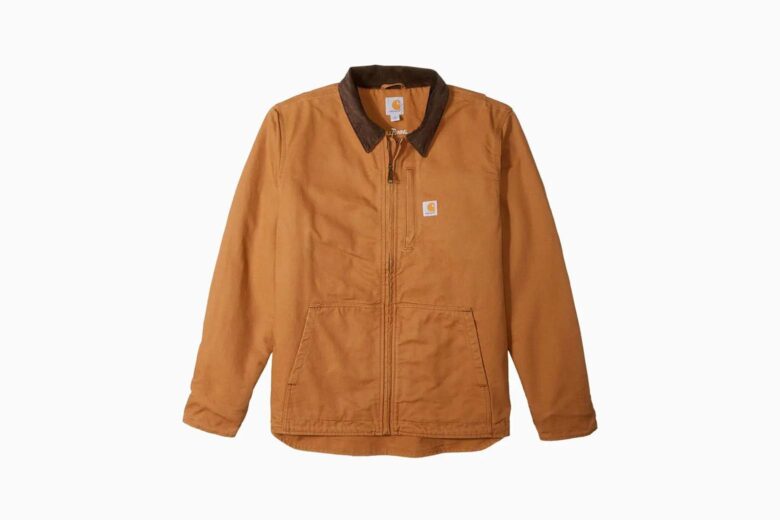 Another faultless field jacket by Carhartt, this winning design comes in a rustic shade of brown with a contrasting chocolate-colored collar. Brown is the ideal choice for those seeking something more 'laidback countryside wander' than 'life-or-death combat'.
The main selling point of this jacket is its enhanced stretchiness. There's the stretch panel between the shoulders and under the arms for increased mobility as well as a bigger bend in the elbows. It's designed for swinging an axe with ease—but would also come in useful when reaching for top-shelf liquors at the supermarket.
You've also got a fleece lining, an inside storm flap to keep the rain out, a couple of pockets, and rib-knit cuffs for warmth. With the brand's well-documented durability on your side, this Carhartt field jacket will last you eons.
| | |
| --- | --- |
| Best for: | Putting a slightly pastoral spin on hard-nosed military practicality. |
| Colors: | Brown, black, or green |
Alpha Industries MA-1 Skymaster: Best cockpit field jacket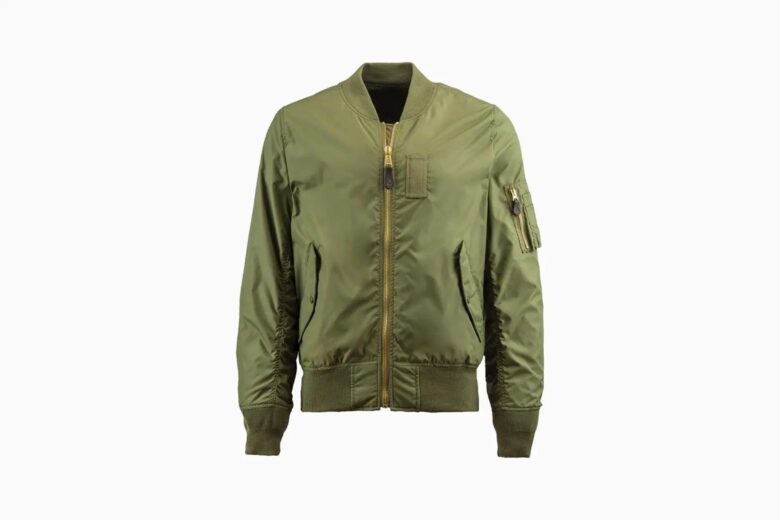 Kind of like a cockpit m65 field jacket, Alpha Industrie's MA-1 Skymaster Bomber has found its way onto our list thanks to its irresistible commando cool and superior practicality. We love its lightweight design and authentic details like the tab for attaching an oxygen mask and the utility pocket.
This jacket was the standard-issue flight jacket for US Air force and Navy Pilots as well as ground crew, doing away with the fur collar of its predecessor, the B-15, as it interfered with the pilot's parachute harness.
Impress all your friends by turning up with a battle-ready jacket like this, armed with knowledge of its intriguing history too.
| | |
| --- | --- |
| Best for: | Capturing the enigmatic heroism of a fighter pilot on even the most humdrum of days. |
| Colors: | Green or black |
Kedera: Best field vest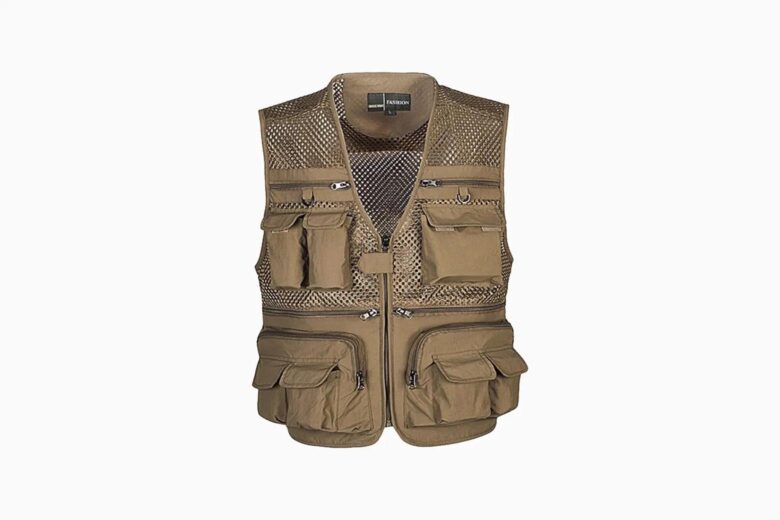 Camping, fishing, hiking, out on safari, a secret operation under cover of darkness—the situations when this hunting field jacket would come in useful are endless. Sure, it's not the most stylish jacket on our list, but with all those pockets, it does double duty as an EDC, so we're not complaining.
This hunting field vest has a grand total of 16 pockets. On the front, there are 6 with zips and 7 with velcro, so you can choose depending on whether security or quick access is more important. Ideal for storing phone, keys, wallet, and any fishing, hunting, or camera gear. There are also two zipper pockets inside and one big zip mesh pocket at the back.
Whether you're camping with pals, on an epic trek, or a solo photography mission, this field vest is the ultimate companion.
| | |
| --- | --- |
| Best for: | Serious outdoorsmen seeking high-performing gear. |
| Colors: | Khaki, green, or blue |
Alpha Industries N-3B: Best field parka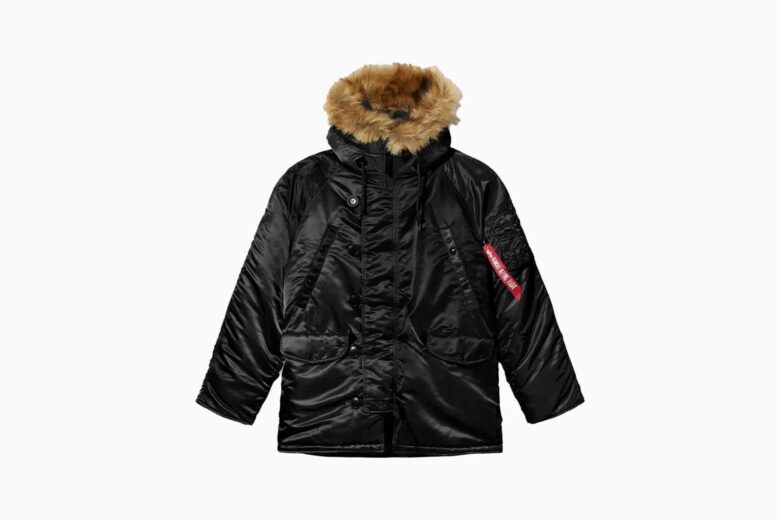 These days, you're more likely to find parkas on the streets of trendy urban neighborhoods than in lethal combat, but they actually have a military background. This one by Alpha Industries perfectly marries an authentic serviceman silhouette with downtown streetwise sophistication.
Known as the N-3B, this hooded field jacket features a full-length storm flap to keep you perfectly protected from the elements alongside a nylon outer shell and polyester interlining to stop even a smidgen of cold air seeping inside.
Then you've got a lined snorkel-style hood complete with trimmed synthetic fur and an adjustable drawcord. Shrug it up, pull the cord tight, and you'll be ready to face even the most grueling of winter weather.
| | |
| --- | --- |
| Best for: | Military heritage with a definite cool-kid edge. |
| Colors: | Black or green |
Brunello Cucinelli: Best suede field jacket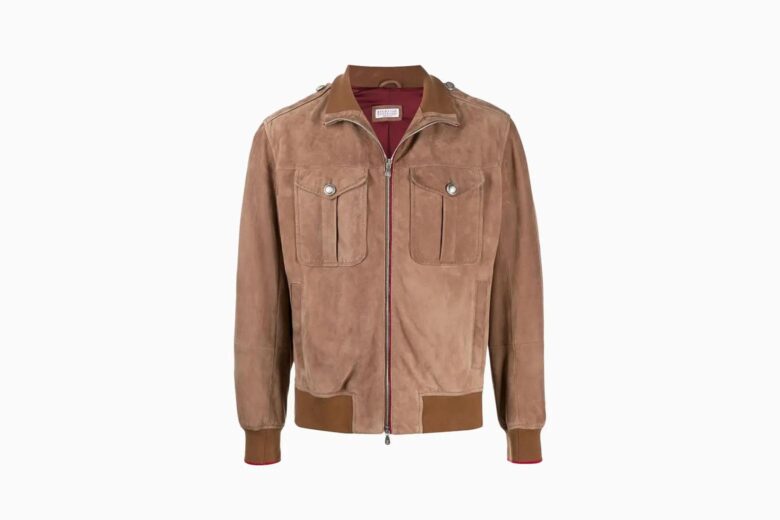 The brutal conditions of battle are but a distant cry for this ultra-sleek tan field jacket by Brunello Cucinelli. If you're less fussed about being armed and dangerous and more interested in dazzling everyone in the nearby area, then keep reading.
This high-fashion creation is made of a gorgeous suede in muted brown, the perfect mid-way point between rustic countryside chic and understated sidewalk sophistication.
A smart stand-up collar adds sharpness to any outfit, while the ribbed-knit edge echoes the design of classic bomber jackets. With its mood of suave opulence, this suede field jacket is not exactly trenches-appropriate but it's perfect off-duty attire—especially with a glimpse of a luxury watch peeking out from below the cuff.
| | |
| --- | --- |
| Best for: | A timeless outerwear essential gets the high-fashion treatment. |
| Colors: | Brown |
CQR: Best budget field jacket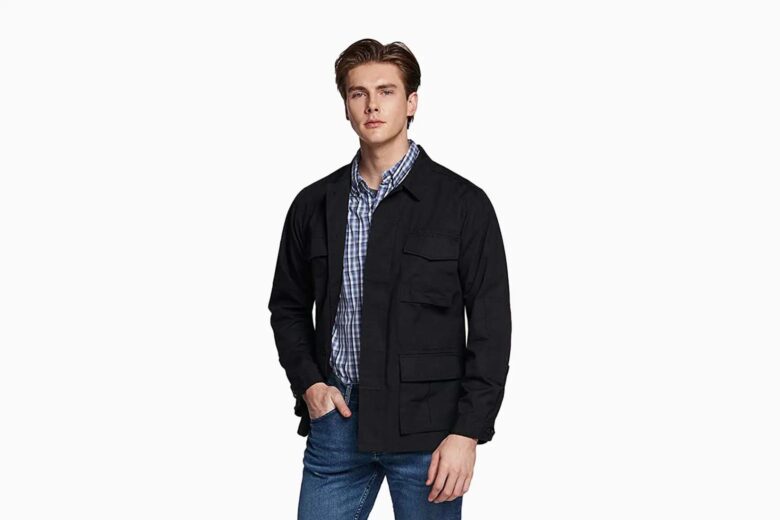 The weather's getting colder, and your bank balance is getting smaller. Luckily, this CQR field jacket is on sale for under $50.
One of the best things about this bargain field jacket is the fact it comes in camo, so you can really feel like you're on a reconnaissance mission, covert operation, or night watch. But if you want to tone down the military vibes, there's also the option of black, navy, and green.
Details include four pockets secured with buttons and buttoned cuffs. Made from Duratex, similar to Teflon and liquid and dirt-repellant, this green field jacket is ideal for hiking or camping trips, able to survive unanticipated accidents, spills, and splashes.
| | |
| --- | --- |
| Best for: | Style-savvy practicality with a no-stress price tag. |
| Colors: | A range including black, brown, and blue |
Tom Ford: Most expensive field jacket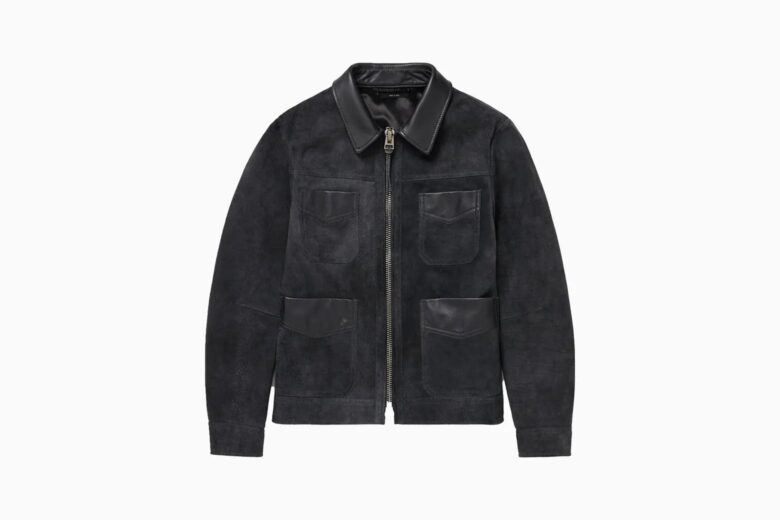 The world's most celebrated fashion designers have had a lot of fun over the years reinventing the classic military field jacket, putting inventive spins on the traditional silhouette to create pieces that wouldn't look out of place in an upscale cocktail joint while still paying their respects to the original soldier staple.
Less Navy Seal than nonchalant and sexy lead singer of a band, this Tom Ford jacket is made from the softest suede you'll ever have the pleasure of stroking, trimmed with shiny and supple leather, and available in a deep navy blue hue.
Sure, it's not cheap. But why not treat yourself to something special? Whether you team it with Chelsea boots and an Oxford shirt or sneakers, jeans, and a beanie, this jacket by Tom Ford will empower you to soldier through your day with impeccable sophistication.
| | |
| --- | --- |
| Best for: | A luxury take on army apparel, perfect for the frontline of fashion. |
| Colors: | Navy |
Buyers guide: how to choose a men's field jacket
While standard-issue military field jackets used to all look pretty much the same, these days, there are lots of alternative renditions of the classic. Here's what to consider.
Field jacket materials
These durable jackets are typically made from cotton canvas, a water-resistant material, ideal for the cool weather in the Vietnamese jungle after monsoon rains. A canvas field jacket is tough and long-lasting, as well as flame, abrasion, and puncture-resistant. It's the ideal material for in-between months where you want something lightweight but windproof and waterproof.
The original m65 field jacket also came with the option of adding an insulated lining by means of buttons. These days, a removable lining offers additional warmth for the winter months.
These rugged jackets also come in synthetic materials, offering a lightweight and breathable option. Or there's the possibility of a wool field jacket, which will be very warm, water-resistant, and durable. If you want something more formal, go for a smarter material such as suede.
Field jacket colors
A green field jacket is the traditional military choice. However, you'll also find camo field jackets, which can add a bit of commando attitude to an everyday ensemble.
Other color options include a khaki field coat, which is very sophisticated and contemporary, black for something timeless, or navy for a preppy feel.
Additional features
The original M-65 field jackets usually had the following features—which you may or may not want to seek out when choosing your own military field jacket:
Concealable hood – a built-in hood could be folded into the collar when not in use.
Zips – buttons would snag when crawling on the ground, so M-65 jackets had zips instead.
Shoulder epaulets – like much military outerwear, field jackets feature epaulets where soldiers could attach to insignia to indicate rank or status, as well as secure the shoulder strap of a bag.
Waist drawstring – this can be tightened for extra warmth and wind resistance. It also makes the field jacket look slightly more polished and formal.
Adjustable cuffs – traditional field jackets had velcro cuffs that could be adjusted.
Large pockets – field jackets typically have four pockets—two at the hip, two at the chest. Some also have pockets inside for valuables.
Contrasting collars – some brands, most notably Carhartt, style their field jackets with contrasting collars in materials like corduroy for a distinctive and sophisticated look.
Alternatives to a traditional field jacket
As well as the classic M-65 field jacket, there are other military-inspired jackets that offer a similar army style. The fishtail parka, for example, an oversized coat with a lined hood, was created in 1951 for soldiers in Korea. The drawstring was tied around the legs to retain heat.
Or there's a bomber jacket, as worn by fighter pilots in the 1940s, which falls to the hips and has a ribbed waist and cuffs..
How should a field jacket fit?
Most field jackets are mid-length and should come to mid-thigh. They sit close to your chest, but you should be able to fit layers underneath, such as a heavy jumper for cold weather. More formal versions of the field jacket might have a slimmer fit.
Frequently asked questions about men's field jackets
What is the best field jacket brand?
The best field jacket brand is Alpha Industries, a label that has been making jackets for the US military for over 50 years. Other great field jacket brands include Orvis and Carhartt. Check out our guide to the best field jackets for men for more inspiration.
Are field jackets fashionable for men?
Field jackets are a very fashionable choice for men. While they were originally designed for the armed forces with enhanced durability and comfort, their cool military-inspired aesthetic and retro vibe make them a unique addition to any wardrobe.
What is a field jacket for men?
Men's field jackets were originally designed for soldiers. The M-65 field jacket is the most recognizable, created for servicemen in Vietnam in the 1960s, featuring four pockets, a concealable hood, epaulets, and usually made in olive green.
What is the best length for a field jacket?
The best length for a field jacket is mid-length i.e., it comes to just below the waist. Aviator field jackets, aka bomber jackets, are shorter and should fall to your waist, while parka field jackets are significantly longer.