Aside from the ever-present wristwatch, men's jewelry has constantly wavered in and out of the fashion world. Clunky class-style rings have been around since great-grandaddy's days, and earrings flared up for a while in the 90s (one ear only, mind you). Cufflinks and tie-clips are more accessories for your clothes than the man underneath. What is a man that likes a little sizzle to do?
Happily, men's jewelry is on the rise as acceptable accessories. But we're willing to bet that a fair number of you are just now dipping your toe into the world of wrist-wear beyond watches, and it might all be a bit overwhelming. There are so many options out there… which do you go with? Slim and subdued? Bulky and bright? Metal or some other material?
This post is all about putting you at ease with your new bling. We've pulled together a list of cool bracelets that should have everything you need to help you decide on the material, color, and thickness that's just right for your new wristwear. Be warned though: for such a little piece of accessorization, men's jewelry bracelets can draw a lot of attention. So prepare yourself for some well-deserved admiration.
Vincero Delta Double Leather Bracelet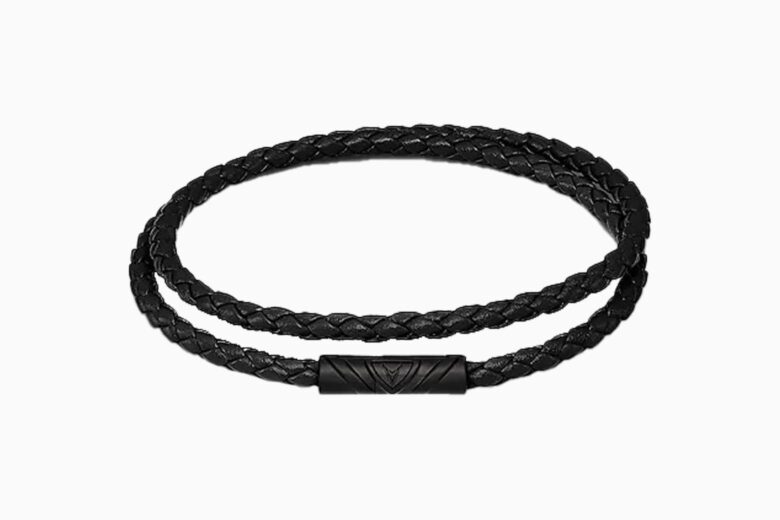 Talk about doing a lot with a little. Vincero's Delta Double is a simple and slim double-loop helping of woven Italian leather. Exactly the right pick of men's bracelets for when you just want a little something extra going on in your wardrobe, the Delta Double makes for the perfect little brother to a handsome wristwatch.
Best for: Adding a dash of simple sophistication.
Gucci Interlocking G Chain Bracelet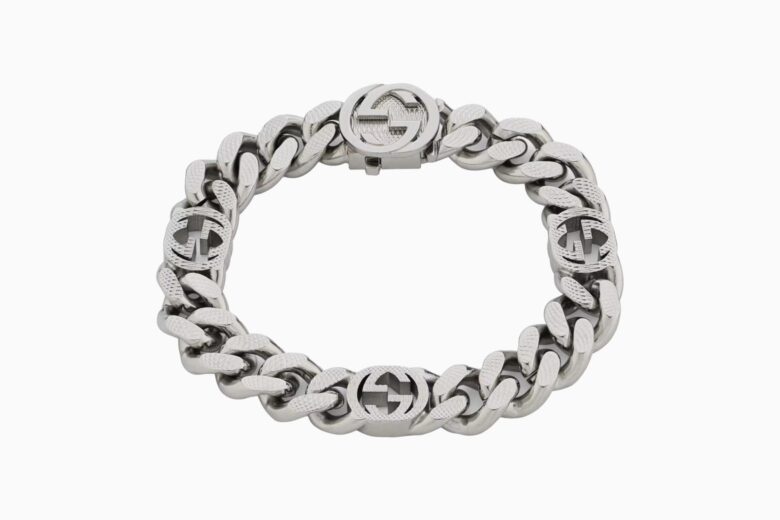 Gucci doesn't do subtle, and this Interlocking G bracelet is no exception. Men's designer bracelets don't come much bolder than this eye-catcher with its interlocking chain loops in a shining palladium finish. The double-Gs that serve as the bracelet's clasp are the branded cherry on top of this luxury accessory sundae.
Best for: Flicking your wrist to outshine the rest.
M.Gemi The Andrea Bracelet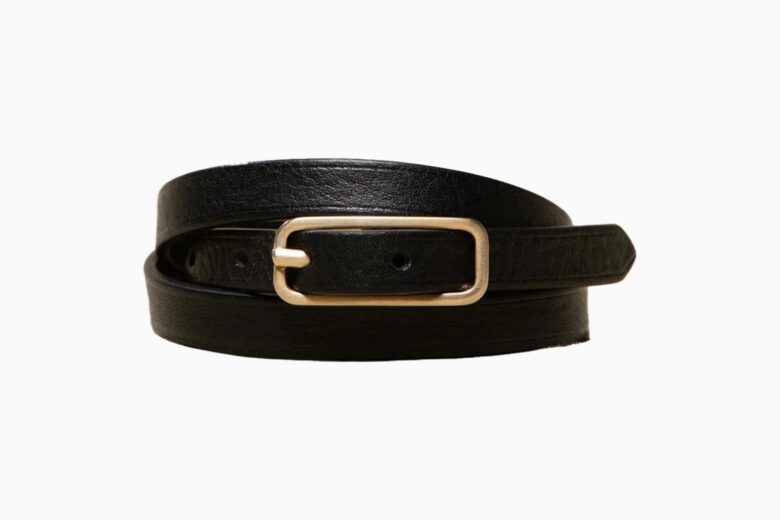 M.Gemi has already captured a place in our hearts with its beautiful Italian craftsmanship. That tradition is carried forward in the brand's very first piece of jewelry—a classy and strong leather bracelet, The Andrea. Resembling a leather belt, complete with a belt buckle-style clasp system, The Andrea's simple aesthetic can stand on its own, compliment a luxury watch, or mix and match with other multiple bracelets for men (mix it with shining metal bracelets or watchbands for maximum effect).
Learn more about the story behind M.GEMI.
Best for: Standing alone or mingling mightily with other manly accessories.
Oliver Cabell Michael Cable Bracelet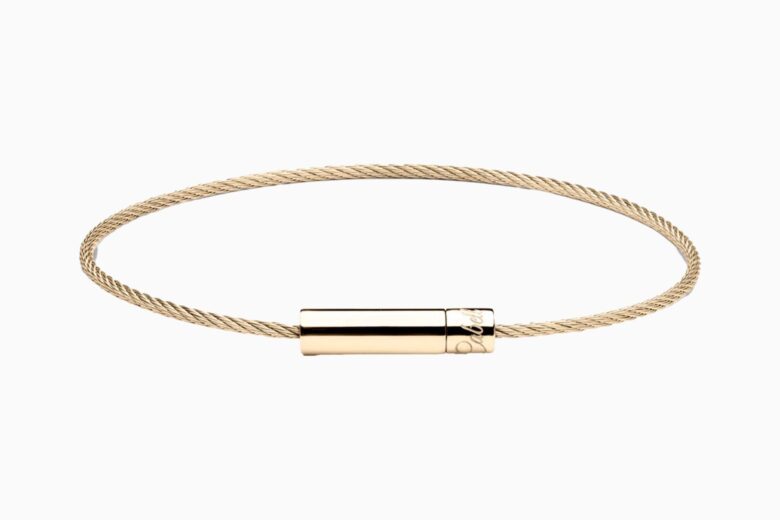 Just like the best white sneakers, some of the best bracelets for men achieve a lot with a little. Oliver Cabell's Michael cable bracelet has a lot going on for such a slim piece. The gold is of course going to catch the eye, especially if it's peeking out from under the cuff of a dark luxury suit. But the real charm of this bracelet is the design, reminiscent of men's rope bracelets, which keeps the eye traveling around until it leads back to the polished screw closure.
Check our in-depth review of Oliver Cabell's sneakers and our profile on Oliver Cabell's brand.
Best for: Small profile, big impact.
Dodo Wrap Leather & Silver Nodo Bracelet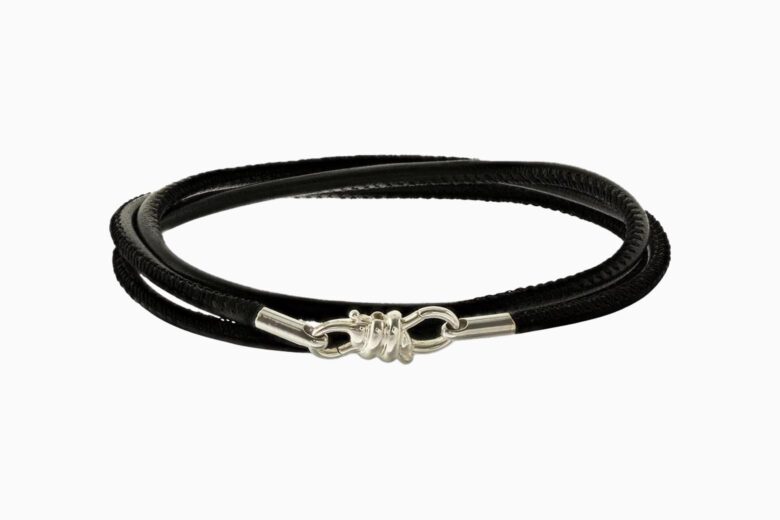 If you want a bracelet for men that gives your outfit a simple little extra kick, try Dodo's wrap leather & silver nodo bracelet. We think this particular men's string bracelet is going to be a perfect complement to your smart casual outfits of choice.
Best for: Giving your casual gear an extra little goose.
Craighill Radial Cuff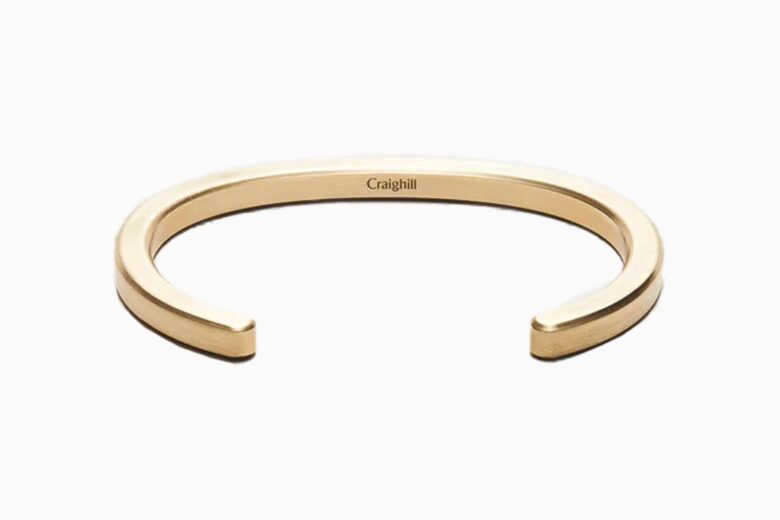 Craighill describes this particular example of men bracelets as being like your best t-shirts: it flatters you, it's comfortable as all get out, and it will go with just about every other bit of clothing you care to pull on. We agree. Size it right, and Craighill's Radial Cuff gives a snug but not constrictive fit, and its simple but strong design makes it easy to match with a variety of outfits.
Best for: Taking your first steps through the gateway to great men's accessory gear.
Oliver Cabell Gordon Leather Bracelet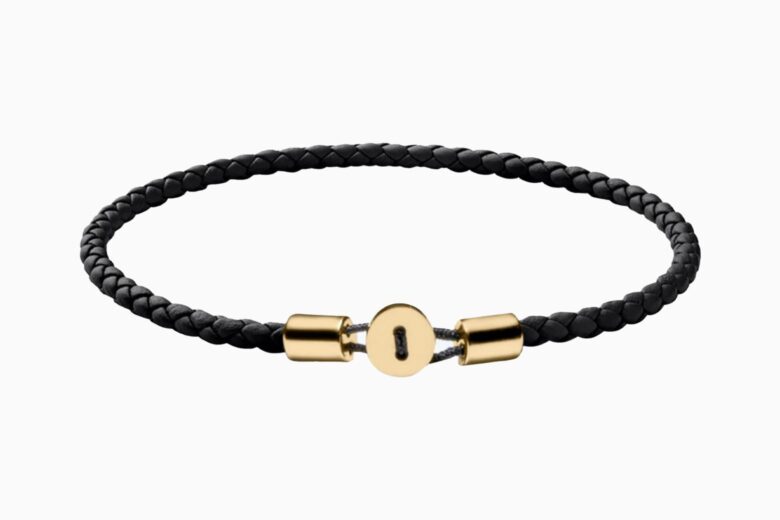 We're loving the exploration going on in the world of male bracelets right now. Take for example Oliver Cabell's Gordon leather bracelet, which features whip-like braiding that creates an eye-pleasing look and an interesting tactile experience once it's on your wrist. The intricate weave will help break up the solid presentation of your dress jacket or luxury casual shirt.
Best for: Teasing new textures from under your cuff.
Emanuele Bicocchi Freshwater Pearl Bracelet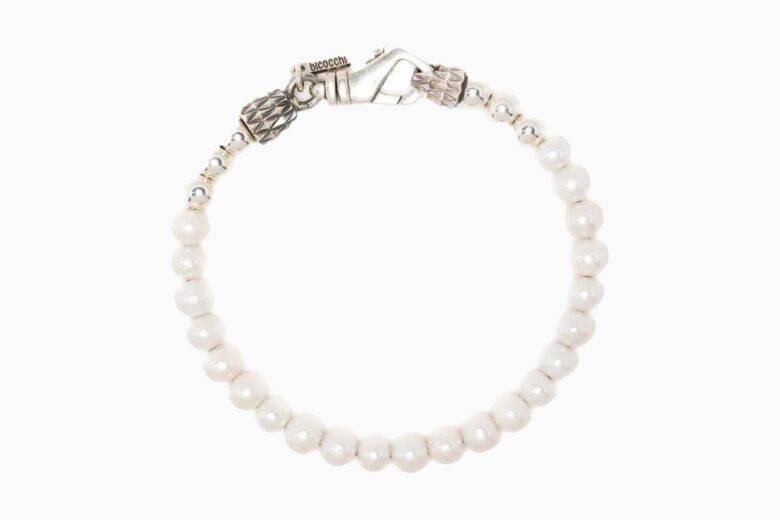 Are you a sea lover? Can't get enough of blue waters and wide-open vistas? Show it with Emanuele Binocchi's freshwater pearl bracelet. This men's pearl bracelet is one of the most intricate on our list, featuring sculpted lobster claws as the fastening clasp. Luxury pearls rarely make an appearance in men's fashion, so this is your chance to stand out from the crowd.
Best for: Showing off sea-inspired sophistication.
Swarovski Subtle Trilogy Bracelet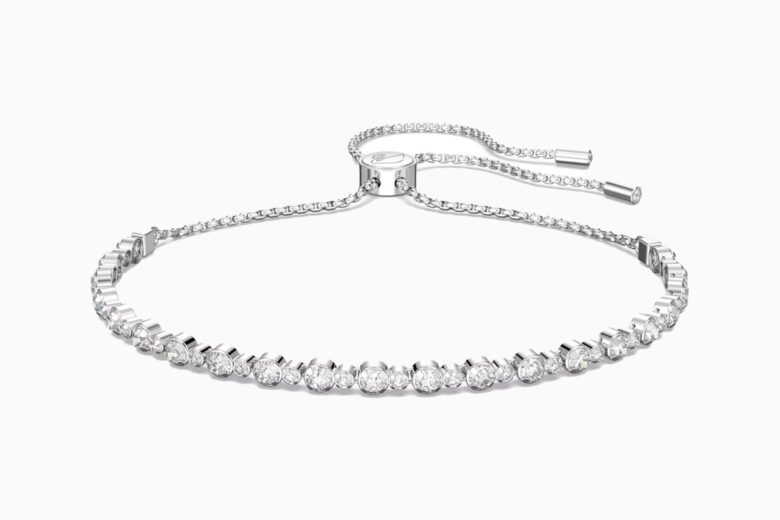 You want sparkly? We've got Swarovski. Swarovski's Subtle Trilogy bracelet may offer a slim profile, but dishes out a lot of wattage from your wrist. This is an especially good bracelet to mix in with thicker and darker bracelets, adding some bright elegance amidst a sea of dark ruggedness.
Best for: Adding zest to the rest.
Tom Wood Gold-plated Bracelet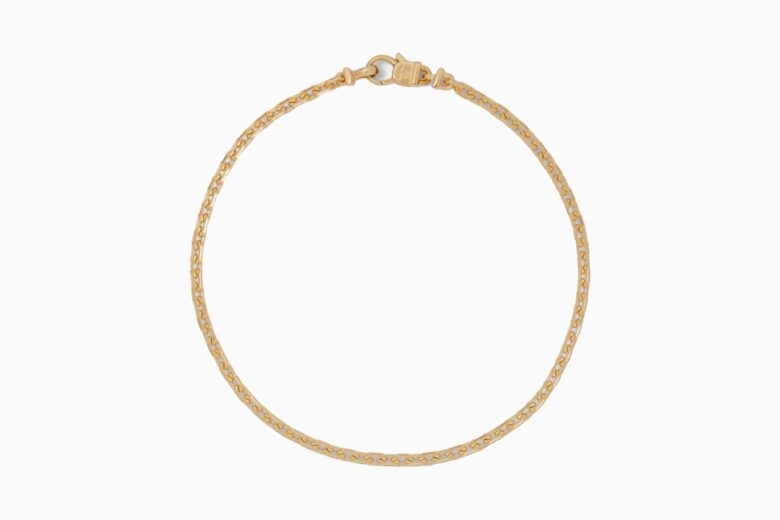 A classic look can bring a lot of elegance to the modern man. Tom Wood's gold-plated bracelet is a men's chain bracelet styled after classic anker chains (chains found on ships), which gives this piece a surprisingly strong look for a bracelet that is so slim.
Best for: Anchoring your style in golden elegance.
Alighieri The Lost Day Bangle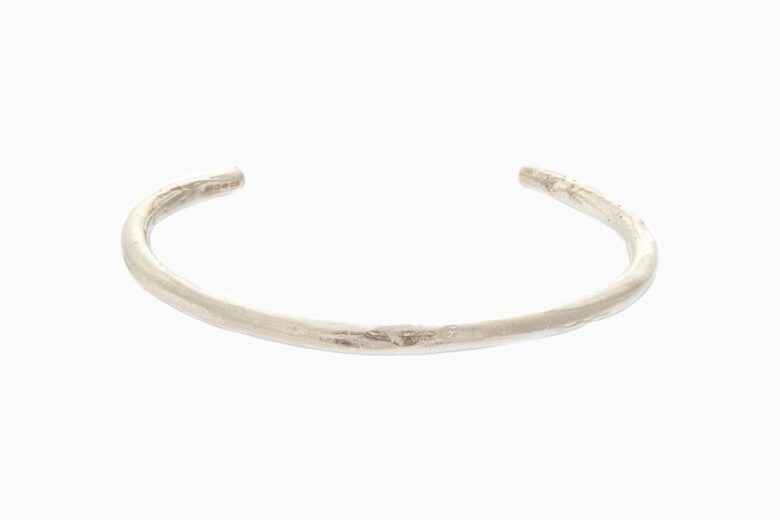 A slim example of men's bangle bracelets, Alighieri's The Lost Day bangle bracelet is perfect for when you just want a little kiss of sophistication hanging out amongst the rest of your outfit. Because of its super-simple approach, The Lost Day is going to work well as an accessory for a wide variety of looks, for everything from bomber jackets to dressy button-downs.
Best for: Promoting the beauty to be found in unique imperfection.
Vincero Bead Bracelet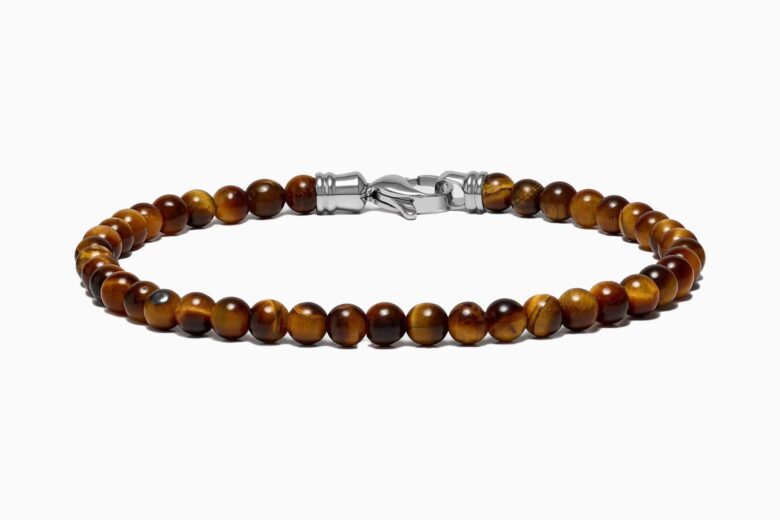 Bead bracelets for men are an ancient style, going back thousands of years with Native Americans. Vincero's bead bracelet gives us a good idea why. The strung beads should look delicate, but they don't. Instead they offer up a quiet sense of strength… and look cool doing it.
Best for: Offering up quiet spirituality backed with simple soulful strength.
Faris White Seed Bracelet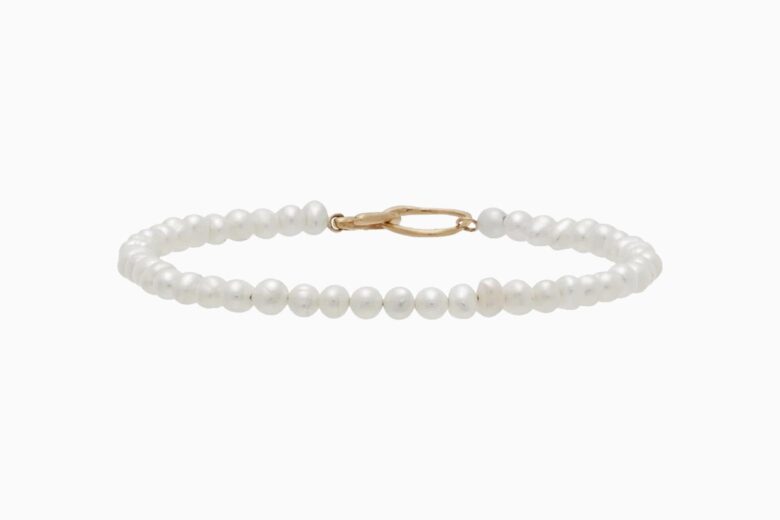 One of the birthstones, pearls' unblemished spheres represent humility and purity. Faris' White Seed bracelet plays to these strengths by adding on a simple 14k hook-eye clasp, letting the pearls' attractive restraint do all the heavy fashion-lifting of this adornment. Because of its clean look, this pearl bracelet can act as a cultured counterpoint to busier prints of top tier casual shirts.
Best for: Adding perfection to your preferred fashions.
All Blues Hammered-effect Cuff Bracelet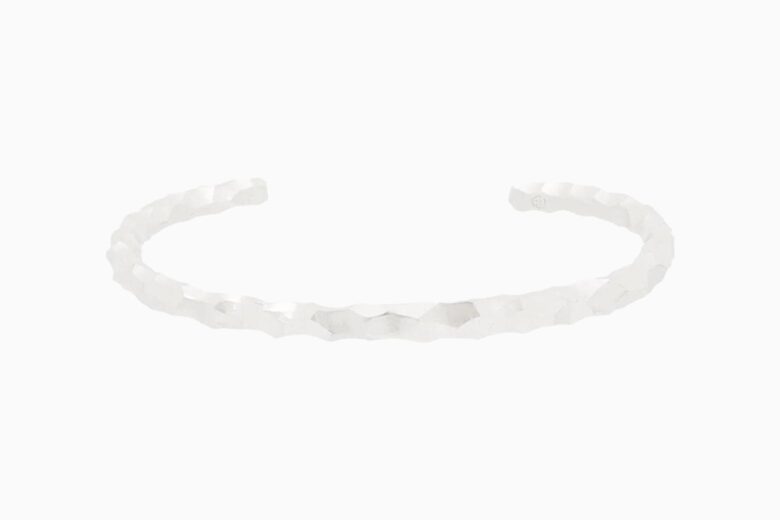 Let's get a little rock n' roll. All Blues' hammered-effect cuff bracelet is one of those men's wrist bands that eschews "pretty" to go all-in on rugged good looks. If you're the type to roll up the cuffs on your dress jacket or blazer, this is the bracelet you want flashing from your wrist.
Best for: Lettin' it all hang out.
Maison Margiela Number Logo Cuff Bracelet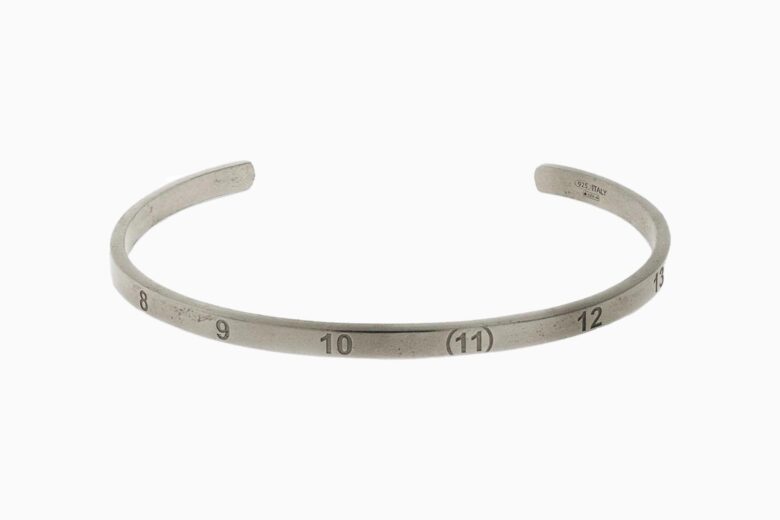 Maison Margiela's logo cuff bracelet goes beyond the usual men's cuff bracelet to stamp its sterling silver with decorative detailing—numbers to be exact. Use it as a conversation-starter—what the numbers mean can be left entirely up to you.
Best for: Maintaining a little mystery amongst even your most casual outfits.
M. Cohen Drawstring Beaded Bracelet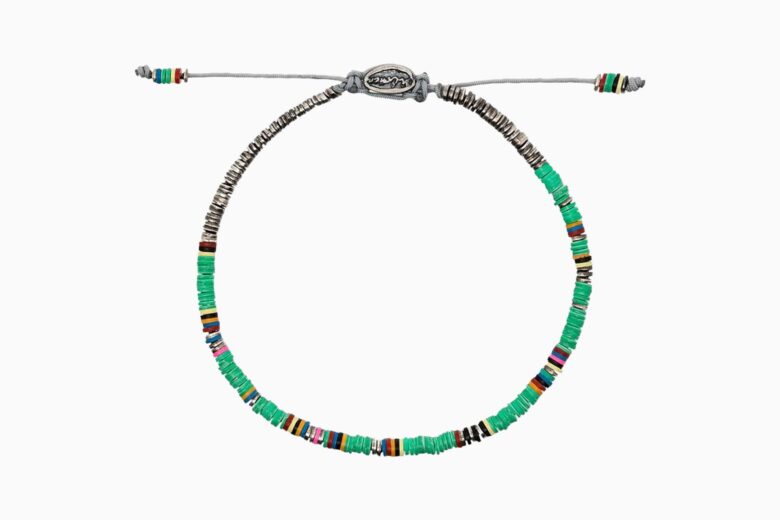 A playful take on beaded bracelets, M. Cohen's drawstring beaded bracelet is a lively mix of green stone, silver, and multi-colored beads. Loaded with a "touch me" texture, this bracelet can add a happy and handsome splash of vibrancy to darker-leaning outfits.
Best for: Lightening up your darker looks.
Miansai Arbor Gold Vermeil Cuff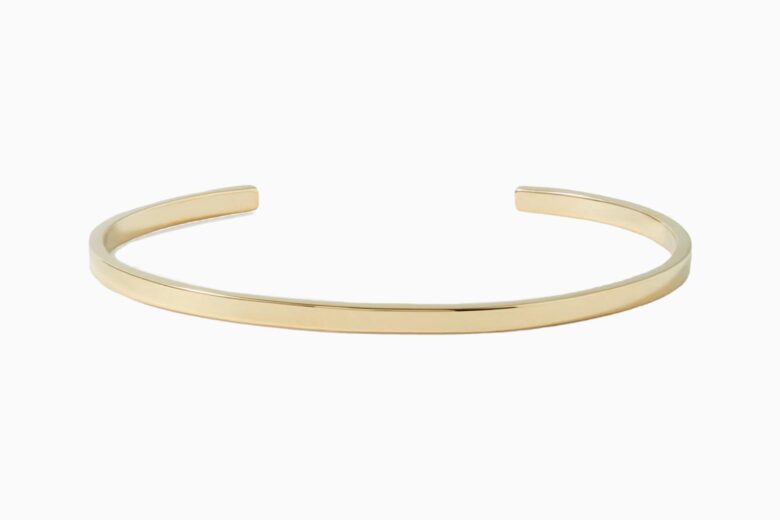 If you're looking for classic, we've got classic. Specifically, Miansai's Arbor Gold Vermeil cuff bracelet pretty much defines the classic cuff look. A dead-simple slim golden-vermeil band, its clean lines make it easy to match with any outfit you care to throw at it.
Best for: Easy-to-match elegance.
Oliver Cabell Cuban Chain Bracelet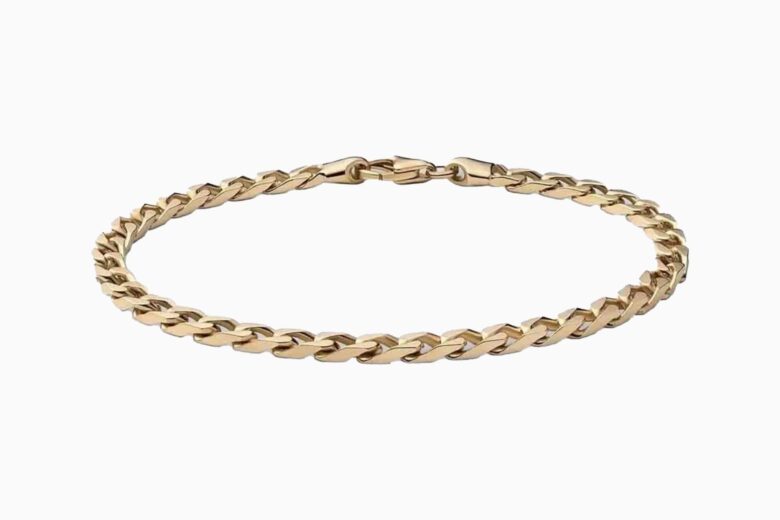 Unfortunately one of the realities of wearing gold is that some people can have an allergic reaction to the precious metal, resulting in the infamous green skin effect. If you'd like an elegant gold bracelet but fear inadvertently Hulking out, Oliver Cabell's Cuban Chain bracelet is hypoallergenic, leaving you with the skin tone you started out with, and wearing a swank bit of bling on top of it.
Best for: Worry-free luxury that can be worn on your wrist.
Valentino Garavani Rockstud Cord Bracelet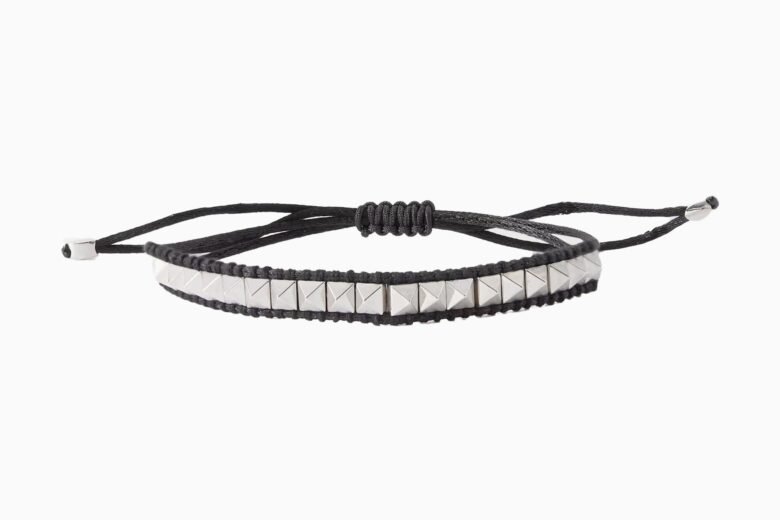 This bracelet is a bit of an odd duck, but we love it for its quirkiness. On one side, Valentino's Garavani Rockstud Cord's basic design is a throwback to old-school tennis bracelets. On the other hand, it has Valentino's signature Rockstuds, which scream rock and roll. The two camps come together to make a piece that's an enjoyable eye-catcher.
Best for: Marrying the country club with the down and dirty rock bar.
Gucci Wide Interlocking G Bracelet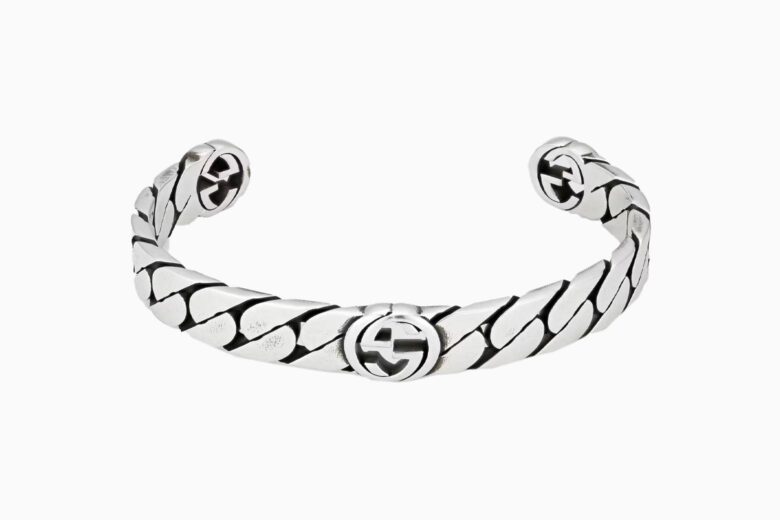 Here's another jaw-dropping statement piece from Gucci. Sporting a wide profile, with that attention-grabbing lock, Gucci's wide interlocking G bracelet is definitely going to grab you some looks. If you really want this bad boy to stand out, pair it with a dark sleeve or a watch featuring a black leather strap.
Best for: Stopping conversations as you flick your wrist.
Vincero Box Chain Bracelet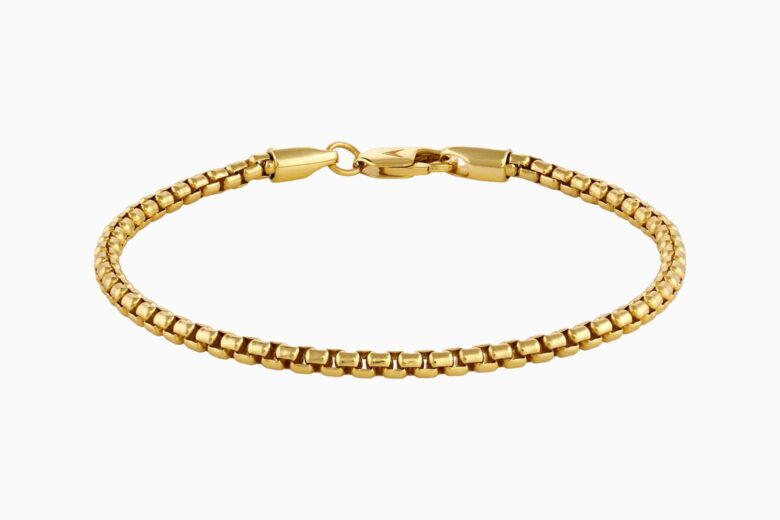 If anyone ever asks you to define a chain bracelet, send them to Vincero's box chain bracelet. Slim enough that it can be worn comfortably alongside a gold watch-band or other bracelets, this chain bracelet is also handsome enough to stand on its own. Wear it just loose enough so it can move, netting itself some more well-deserved attention.
Best for: Going gold like a 1st-place boss.
Frequently asked questions about bracelets for men
Which brand is best for bracelets?
We really like the bracelet output from Oliver Cabell and Vincero. Both brands continue to make interesting adornments by playing with both classic and more modern looks. Check our round-up of the best bracelets for men to find the perfect one for you.
Are bracelets good for men?
They certainly are. It did seem for a while that bracelets were considered a bit too showy for some men, but they're making a strong comeback. They're an easy way to add quite a bit of elegance or color to an outfit, and are versatile enough to work with multiple looks.
Should guys wear bracelets on the left or right? 
There is no rule about which wrist a man should wear his bracelets on. Bracelets can go nicely on the same wrist as a watch, or can be paired opposite another bracelet on opposing wrists. Just don't wear too many adornments at once. Your wrists will look too busy.