If Grandma's chicken soup was magically transformed into a piece of clothing, it would undoubtedly be a hoodie. Good hoodies go beyond comfortable into the realm of coziness; they have a familiar feel, almost like a home away from home you carry around on your back.
But as with any other kind of clothing, some hoodies are made better than others, and some high quality hoodies are built for specific scenarios like athletics or lounging around.
In this post we'll go into what you should look for in quality hoodies. How you can work them into your casual outfits. Which hoodies are old-reliables and will last you for years, and which hooded sweatshirts are popping up as the latest and hottest trends.
Perhaps the best thing about hoodies is that they're a real wardrobe investment. They become the equivalent of a comfort blanket, transforming into your go-to article of clothing when you feel the need to relax. Give them a little tender loving care, and they'll be with you for years… or at least until your significant other steals it for themself.
The 21 best hoodies for men
Allbirds R&R: Best overall hoodie for men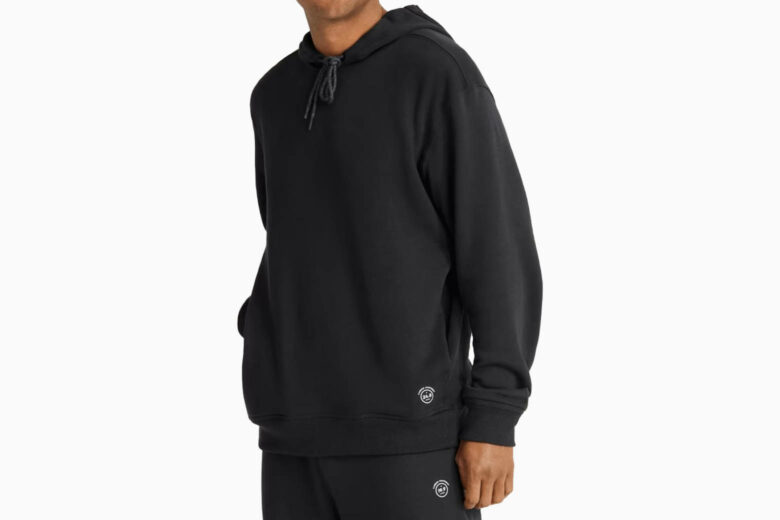 Rest and Relaxation is right there on the label, and we're happy to report that Allbirds R&R lives up to its name. When it comes to sweatshirts with hoodies, especially ones geared towards kicking back and chilling out, you're going to have a hard time finding anything higher on the cozy-scale. And if you want to pin your comfort-needle, match your hoodie with a pair of Allbirds shoes, the celebrity-endorsed footwear that some are calling the most comfortable kicks in the world.
Learn more about the story behind Allbirds.
| | |
| --- | --- |
| Best for: | Throwing on a thrill to beat the chill. |
| Colors: | Natural Black, Hazy Sienna, True Navy + More |
Axel Arigato Trademark Hoodie: Best men's high-end hoodie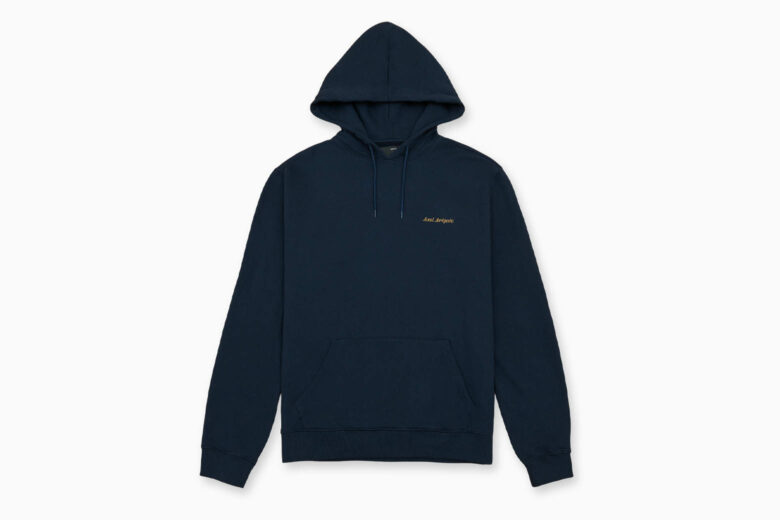 One of the best 100% cotton hoodies in the game, Axel Arigato's Trademark hoodie boasts brushed insides, making for an extra soothing tactile sensation. The cut is a classic hoodie silhouette with Axel Arigato's name on the breast to let people in on the secret that all that brushed cotton goodness is stroking your skin.
| | |
| --- | --- |
| Best for: | Giving yourself a secret hoodie massage. |
| Colors: | Navy |
Hanes Ecosmart: Best value hoodie for men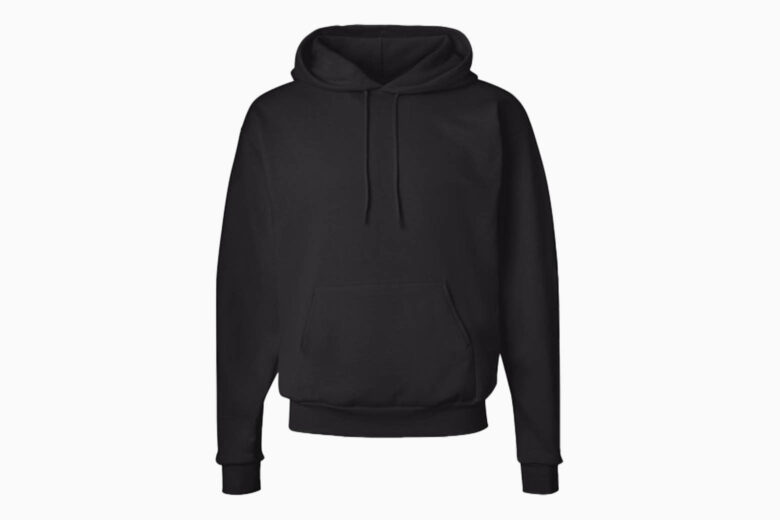 If you're looking for an affordable hoodie that can pull double-duty as both comfort clothing and athletic wear, give Hanes' Ecosmart pullovers a whirl. With a cotton and polyester blend, you're sure to stay warm, while the double-needle arms will stay intact even if you're giving them a full-on workout.
| | |
| --- | --- |
| Best for: | A hoodie for all seasons. |
| Colors: | Black, Ash, Cardinal + More |
Sunspel Loopback: Most stylish men's hoodie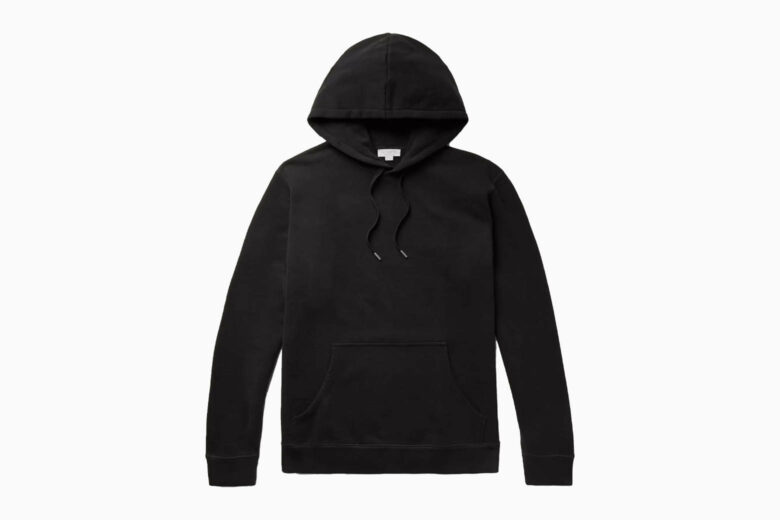 For a classic hoodie silhouette look no further than Sunspel's Loopback Cotton-Jersey Hoodie. The solid lines and solid coloring make this a tip top choice for a wardrobe foundation. Put it together with a bomber jacket and jeans for a crisp clean look suitable for chilly fall days. Or leave it as outerwear and counter it with some bright white sneakers for quick chores around town. Any way you work it, Sunspel's Loopback is going to look just right.
| | |
| --- | --- |
| Best for: | Top tier mixing and matching. |
| Colors: | Black, Grey, Navy + More |
On-Running: Best men's hoodie for working out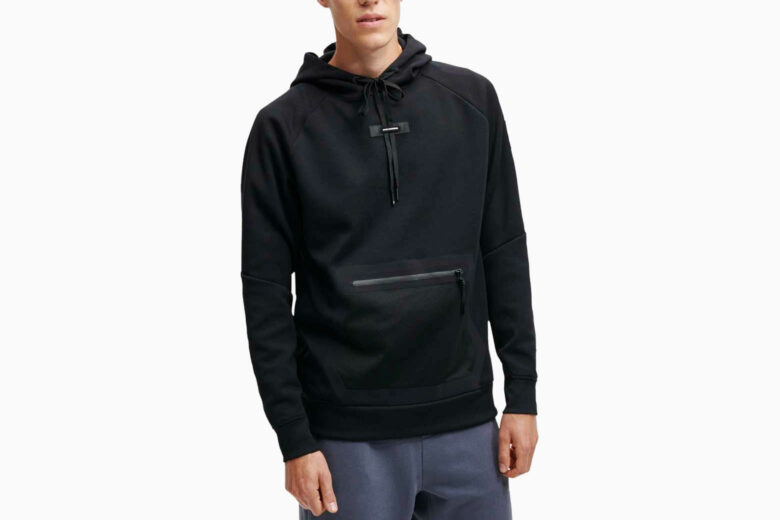 Attention to detail was the top order of this performance hoodie. On-Running's All-day and Training Hoodie features a lace-guard on the chest which keeps your laces from flipping up in your face while working out. The front pocket boasts a zip-up top so your stuff won't go flying out, and the elbow darts will help keep your sports hoodie's shape. Those little touches add up to one of the best athletic hoodies we've ever seen.
| | |
| --- | --- |
| Best for: | Staying out of your way while you're staying in shape. |
| Colors: | Black, Mulberry, Navy + More |
Champion Powerblend: Best basic hoodie for men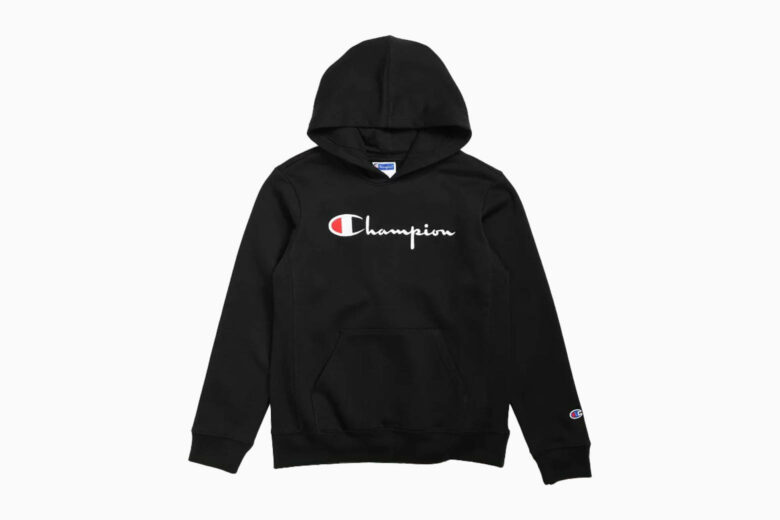 If you're pretty sure your clothing is going to take a beating, then you'll probably want something that is affordable and durable. Champion's Powerblend pullovers tick both of those boxes. A classic in the world of trendy hoodies menswear, this Champion hoodie is the perfect pullover for a game of flag football or walking the dog through a nearby forest.
| | |
| --- | --- |
| Best for: | Roughing it up without wearing it out. |
| Colors: | Leather Brown, Balboa Blue, Green Reef + More |
Alo Everyday: Men's most popular hoodie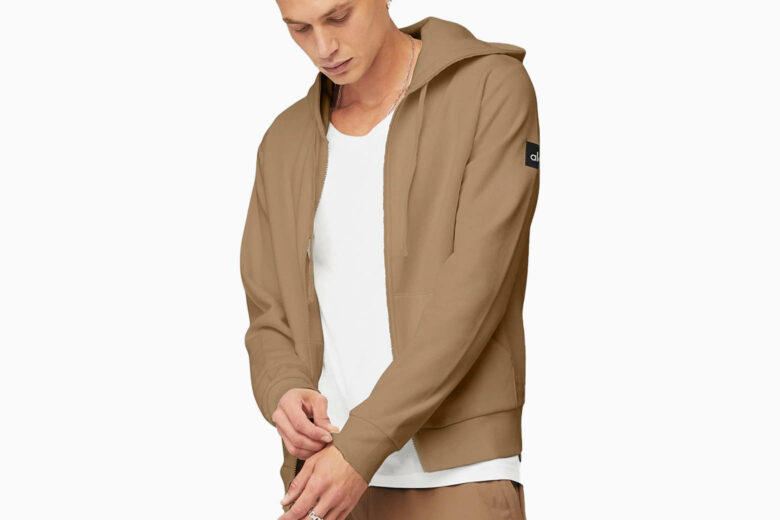 There's sometimes a bit of a bias against men's zip up hoodies—the feeling that the zipper ultimately makes them feel too informal for anything other than lounging or sports. Alo's Everyday hoodie seeks to disagree. While the Everyday's light brushed fleece is certainly as comfortable as all get-out, its sharp cuts give it a dressier air than many other men's hoodies, including pullovers.
Learn more about the Alo Yoga brand.
| | |
| --- | --- |
| Best for: | Upping your zip-up game. |
| Colors: | Gravel, True Navy, Rust + More |
Horizn Studios Travel Hoodie: Most comfortable hoodie for men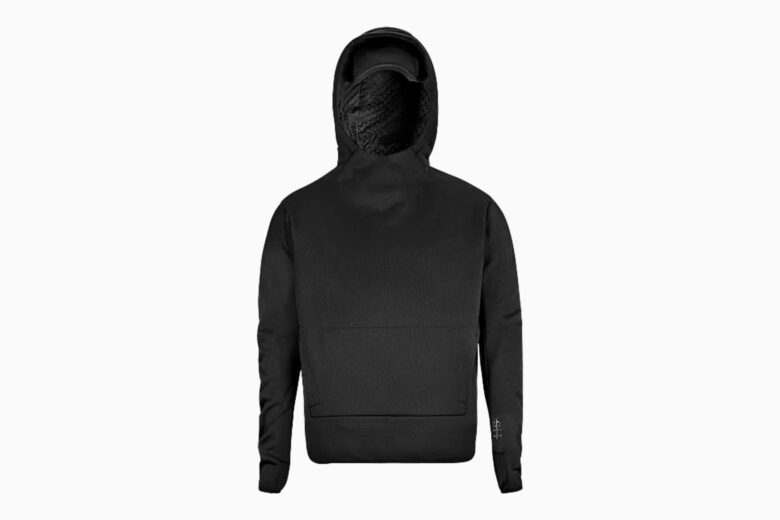 Now here's something you don't see everyday. Horizon Studios took their travel hoodie to the next level by adding a sleep mask, built right into the hood. On top of that, this travel hoodie is peta approved, vegan, temperature-regulating, combats odor, and oh yeah, sports a cool modern tech look. It's hoodie science, given the deluxe treatment.
| | |
| --- | --- |
| Best for: | Traveling in style. |
| Colors: | Black, GoGo Electric Blue, GoGo White + More |
Tom Ford Hoodie: Best men's designer hoodie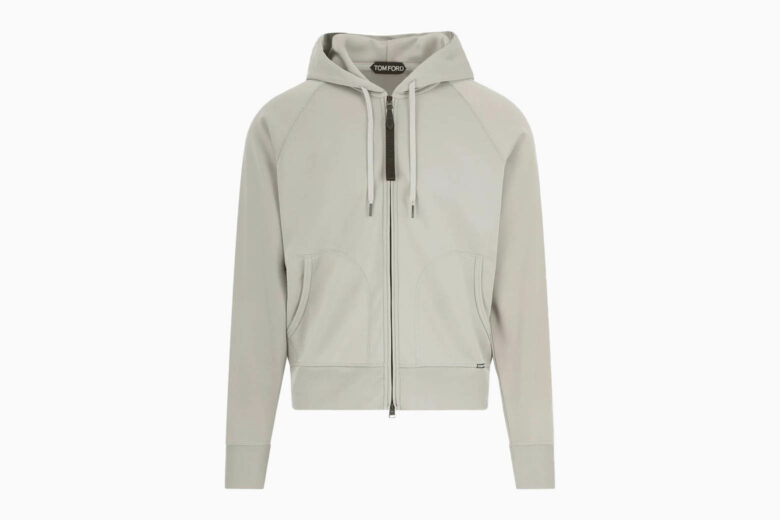 Sporting modern good looks, Tom Ford's designer hoodie almost seems to be visiting us from the future. The sharp geometric cuts and neutral tones make this hoodie a prime candidate to be matched with metallic watches and jewelry, and can mix well with your favorite sneakers and jeans for a crisp relaxed look.
| | |
| --- | --- |
| Best for: | Looking like you can lead us into a better fashion future. |
| Colors: | Light Grey Slate |
Axel Arigato Memo: Best thick hoodie for men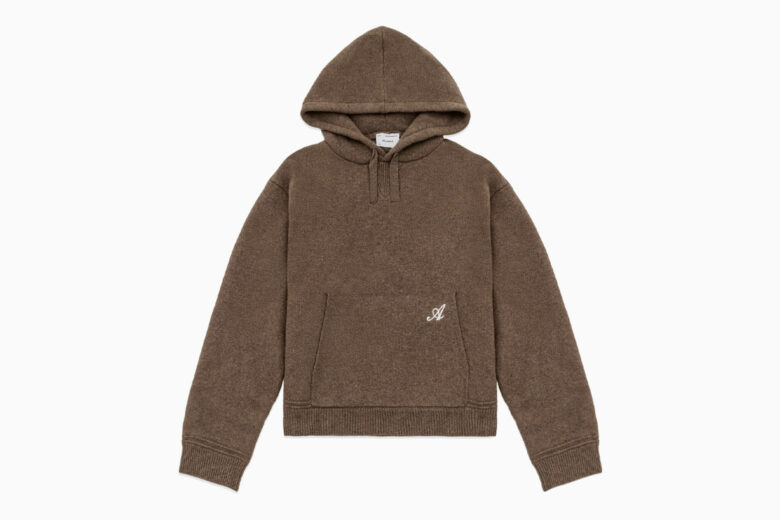 Spun up from 100% lamb wool, the Axel Arigato Memo is a super thick top perfect for nights out around a bonfire with your friends. The ottoman stitching at the hemline and cuffs adds a decorative flair to what is already a handsomely cut silhouette. The Memo is an excellent melding of coziness and couture.
| | |
| --- | --- |
| Best for: | Staying toasty while toasting marshmallows. |
| Colors: | Brown |
Acne Studios Face-patch: Best men's oversized hoodie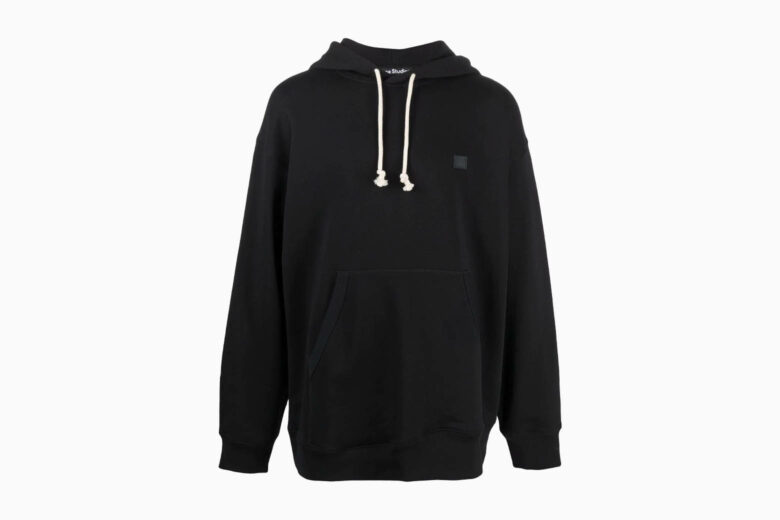 If you're searching for pure relaxed comfort, go big or go home. In particular, go with Acne Studio's Face-patch oversized hoodie, with its long sleeves and oversized fit. Even larger men should find themselves with plenty of room to work with when wrapped up in this 100% organic cotton beauty of a beast.
| | |
| --- | --- |
| Best for: | Losing yourself in luxurious comfort. |
| Colors: | Black, White, Grey + More |
Nike Jordan Essentials: Best soft hoodie for men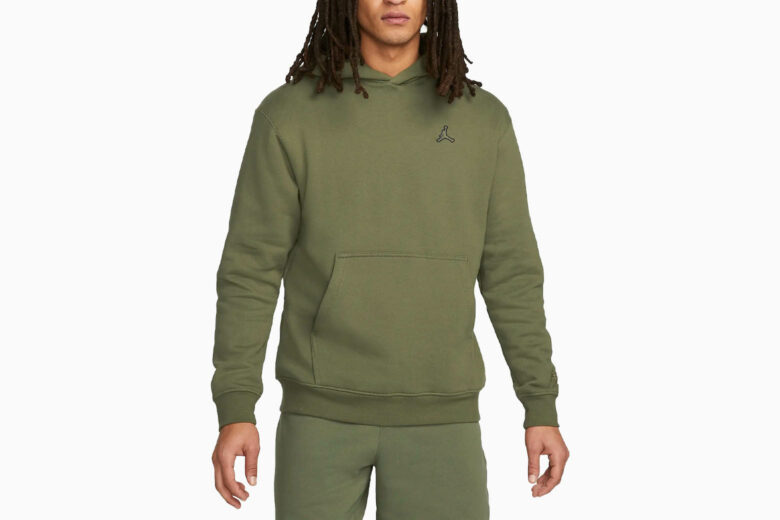 Nike's Jordan Essentials pullover ranks at the top of soft hoodies for men because of its brushed French terry construction. Terry cloth is the same stuff that is used to make your most comfortable bathroom towels and bathrobes, but French terry is far less moisture-absorbent, meaning this hoodie isn't going to turn into a heavy sweaty mess as you work it out on the basketball court.
| | |
| --- | --- |
| Best for: | Soothing your internal savage best with S-tier softness. |
| Colors: | Medium Olive, Gym Red, Carbon Heather + More |
Carhartt Defender: Best heavyweight hoodie for men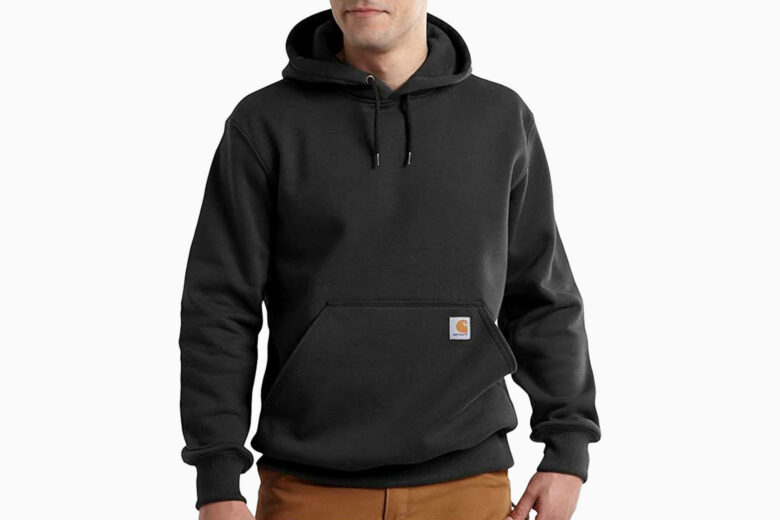 A midweight hoodie, the Carhartt Defender is a must-have for those of us working in an outdoor situation. The heavyweight build not only keeps you warm in cooler scenarios, but it can also take a work-born beating without falling to pieces. Because of the very reasonable price, you can grab more than one so that you have multiple colors ready to mix and match with your heavy-duty workplace boots and pants.
| | |
| --- | --- |
| Best for: | Staying on track as you're blazing your own path. |
| Colors: | Black, Jasper, Peat + More |
Alo Core Runner: Men's best lightweight hoodie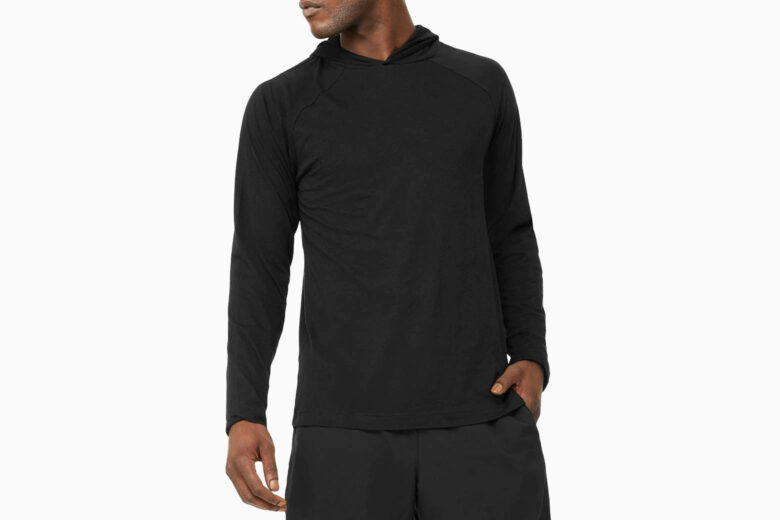 Work out. Stay cool. Alo's Core Runner is a perfect fit for the active man—its thin lightweight build lets you layer it with other pieces of active wear without overheating, but looks and works great if you're wearing it solo. An added bonus—it's surprisingly affordable for such a slick-looking super-shirt.
| | |
| --- | --- |
| Best for: | Upping your cool-factor while staying cool. |
| Colors: | Black, Limelight, Espresso + More |
Nike Sportswear Tech: Best pullover hoodie for men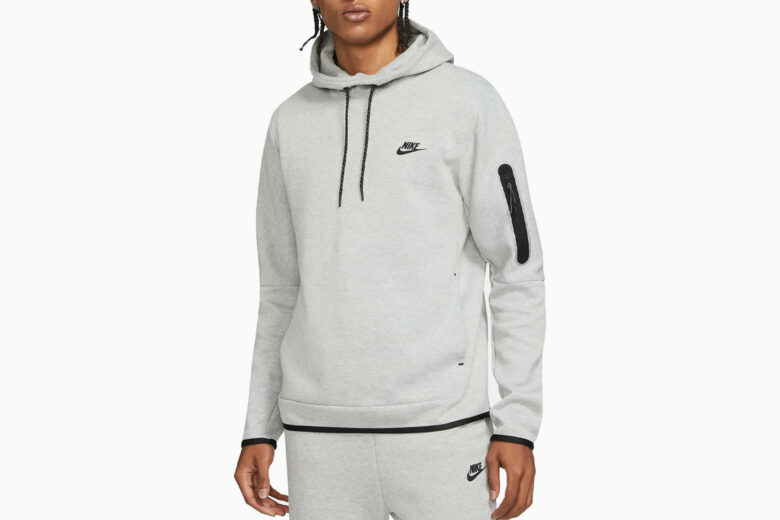 Be on the leading crest of trendiness with this offering from Nike. The Sportswear Tech Pullover has a very solid look to it, buffering up your physique's brawniness with its bulky cut. The articulated tailoring on the sleeves and shoulders adds to the cut look of this top, helping you to stand out from the crowd.
| | |
| --- | --- |
| Best for: | Looking like you mean business while keeping chilly air at bay. |
| Colors: | Dark Grey Heather, Brown Basalt, Black |
Axel Arigato Trademark Zip-up: Men's best plain hoodie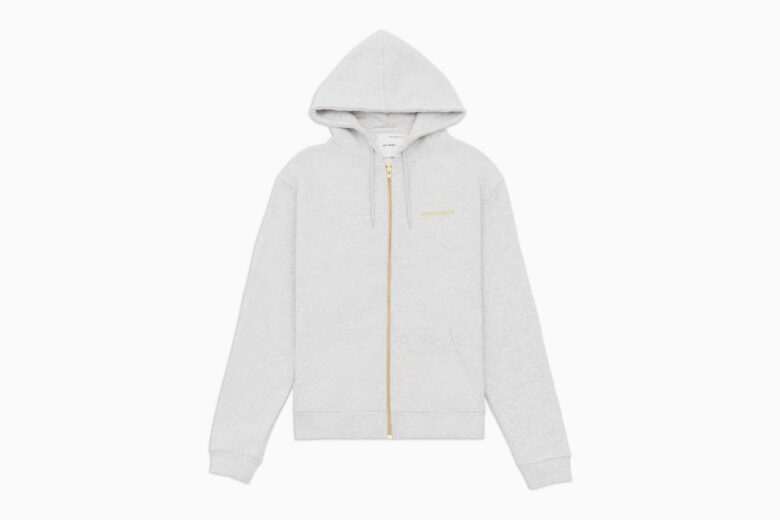 The calm color-scheme of Axel Arigato's Trademark zip-up hoodie delivers a surprise punch with its bright gold zipper. That extra little touch of the gold zipper and gold logo embroidery pushes this up the swank-ladder compared to other men's zip-up hoodies, making it a good match for more formal clothing like pleats and blazers.
| | |
| --- | --- |
| Best for: | Mixing and matching like an absolute master. |
| Colors: | Light Grey Mélange |
Alo Renown: Best black hoodie for men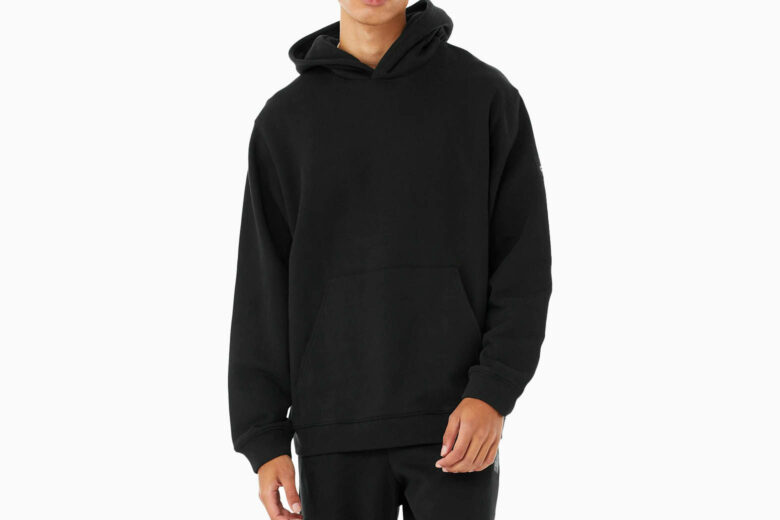 Black is popular for a reason. It looks great mixed with colors, but it also looks good on its own. It can be at the forefront of your outfit, or it can take a step back and let other colors take the lead. It can look classy, relaxed, athletic, or ready for the streets. Alo's Renown black hoodie does it all the best.
| | |
| --- | --- |
| Best for: | Excelling at absolutely everything. |
| Colors: | Black, Sand Dune, Soft Clay + More |
Jacquemus Embroidered Jersey: Best men's white hoodie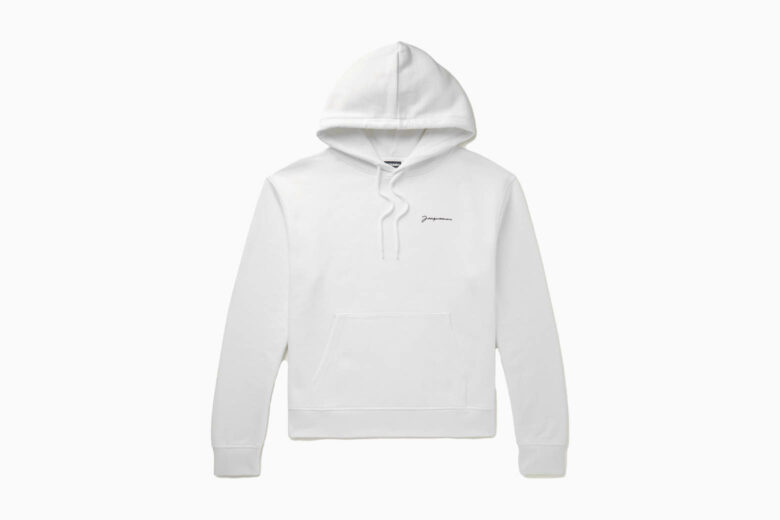 White tops make everything pop. A white hoodie can go a long way toward elevating the rest of your wardrobe. Want to show off your designer kicks? Wear a white top. Want the jacket representing your favorite team to stand out? A white hoodie all the way. The Jacquemus Embroidered hoodie goes the extra mile by looking classy enough to make you stand out all on its own.
| | |
| --- | --- |
| Best for: | Brightening up everyone's day. |
| Colors: | White, Black, Sky Blue |
Eleventy Blazer Jacket: Men's best jacket hoodie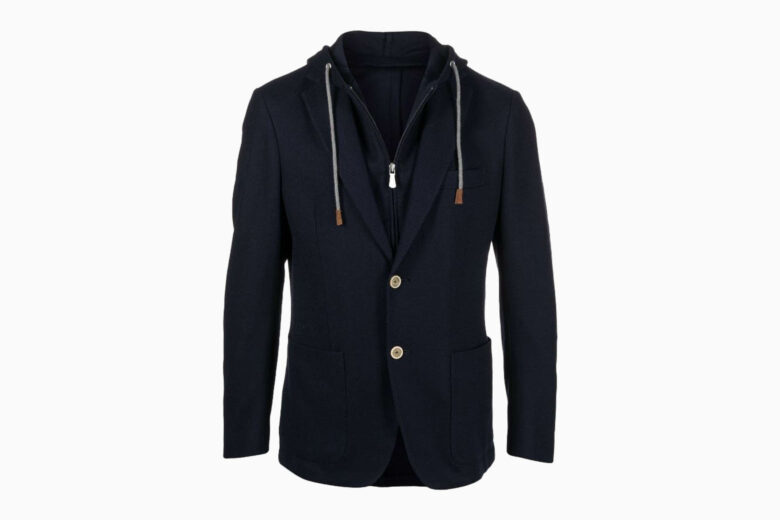 Class yourself up and take yourself out. Eleventy's hoodie-layered blazer jacket is a modern masterpiece that is guaranteed to grab you your share of admiring glances. Definitely one for the clubs, this hoodie-jacket-blazer combo will make you a VIP in any joint featuring a modern beat.
| | |
| --- | --- |
| Best for: | Being the future, now. |
| Colors: | Black |
Gildan Fleece Sweatshirt: Best men's budget hoodie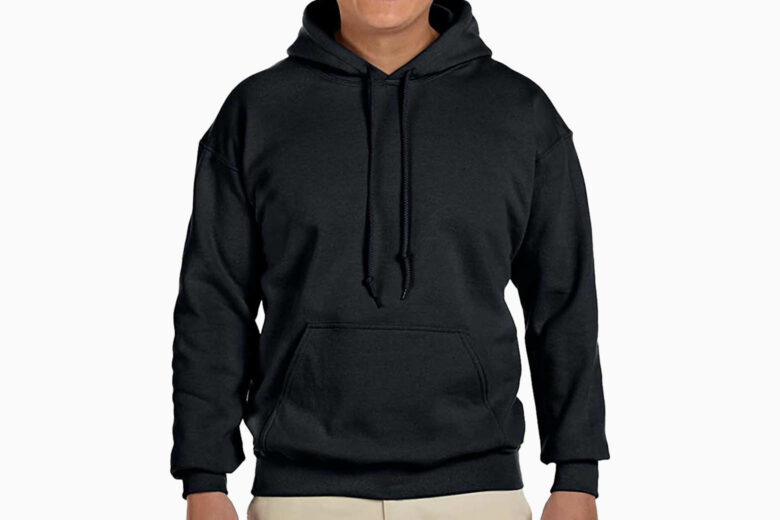 Sometimes you just want the basics, something to keep you warm while you're raking the leaves, walking the dog, or cheering the kids on at the game. Gildan's hooded sweatshirts fit the bill nicely, and offer up a wide array of colors so you can add plenty of pizzazz to your wardrobe without breaking your bank.
| | |
| --- | --- |
| Best for: | Fattening up your wardrobe without thinning out your wallet. |
| Colors: | Black, Red, Safety Green + More |
Brunello Cucinelli Rib-knit: Most expensive hoodie for men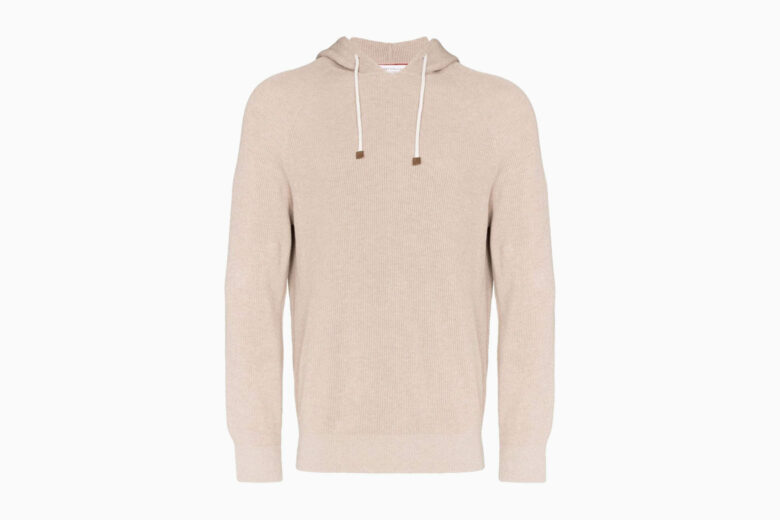 Brunello Cucinelli's rib-knit hoodie is just a treat. The styling has a laid-back nonchalance to it that informs your admirers that you have your life figured out just right. Perfect for lounging, the soft look won't just put you at ease, everyone around you will feel relaxed as well.
| | |
| --- | --- |
| Best for: | Sharing relaxing vibes with the world. |
| Colors: | Light Tan |
Buyers' guide to high quality hoodies for men
There are a lot of different styles of men's hoodies out there, designed for different aspects of your life. Additionally, once you start delving into hoodie-dom, you're going to come across a flurry of design-related words and terms that you might not be familiar with.
We understand that this might be a bit overwhelming, so we've put together this brief buyer's guide to help clarify the most common terms you'll come across.
Tailoring terms and fabrics
Zip-up
Zip-up hoodies are hoodies that feature a zipper along the entire vertical length of the front. You can zip and unzip them like you would with a jacket.
Pull-over
Unlike zip-ups, pull-overs have a solid front with no break in them. Instead of sliding your arms in and then zipping up the front like you would with a jacket, you pull a pull-over down over your head, like a sweater.
Hoodie blazer jacket
A melding of a hoodie, blazer, and jacket. The body of the garment is tailored like a jacket or blazer, whereas straight hoodies are tailored more like a sweater or sweatshirt. However, with this combination garment a hood is attached to the back. This hood will often continue down into a full hoodie pull-over or zip-up inside of the jacket, acting as a permanent inner layer.
Raglan sleeve
A Raglan sleeve is one that travels up beyond the shoulder, right up to the garment's neckline. You can see an example of a Raglan sleeve on Alo's Core Hooded Runner. The sleeve style is named after FitzRoy Somerset, 1st Baron Raglan, a British military officer who lost an arm in the Battle of Waterloo. Afterwards, his uniforms featured a sleeve of this design to compensate for the missing limb.
Kangaroo pockets
The classic pockets found on the front of many hoodies. The pockets have entry points on both sides.
Jersey
Jersey in this case doesn't refer to the type of top worn by sports teams. Instead, it refers to a kind of knit fabric, commonly made up singly or of some combination of cotton, wool, or synthetic fibers. Standard jersey knits are smooth on the outer side while piled on the inside. Double-knit jerseys are actually two knits sewn together, piled sides inwards, to create a garment that is smooth on both outer sides.
French terry
French terry is another kind of knit, somewhat similar to the jersey knit in that it has two sides. One side is piles, while the other features a smooth looping knit pattern. French terry is also somewhat similar to terry cloth, which is used in towels and bathrobes. Regular terry is more absorbent, while French terry is more suitable for everyday clothing.
Which hoodie should I buy?
Different hoodies are built for different activities. If you're looking for activewear, then ideally you're going to want a tighter-fitting hoodie that leaves room around your shoulders for your arms to have a full range of motion.
Additionally, you'll want your sports hoodies to wick moisture so you don't end up a soggy mess. And of course you'll probably want a hoodie that is a lighter weight; you'll risk overheating with a heavier hoodie.
For athletic hoodies, start with Alo's Core Hooded Runner or Nike's Sportswear Tech Fleece.
If you're looking for loungewear, then check out hoodies that have a much looser fit than the more athletic choices. Lounging hoodies should almost have the feel of a blanket or roomy bathrobe. We'd suggest giving Axel Arigato's Memo Hoodie or Acne Studio's Face-patch Oversized Hoodie a try.
In the case of style, this will of course depend on your own taste, as well as the atmosphere of the scene. Broadly speaking, hoodie looks can be broken down into "classic" and "modern". Additionally, you'll want to consider if you want your hoodie to be the center of attention of your outfit (try Eleventy's Hoodie-layered Blazer Jacket) or if you want to use it to help other pieces like your shoes or jacket to pop (in which case, give Jacquemus' Logo-Embroidered Organic Cotton-Jersey Hoodie a whirl).
Finally, if you're looking for durability for the worksite, Carhartt's hoodies may be just the ticket.
Frequently asked questions about hoodies for men