Need a shoe that's dressy? Casual? Cool? Versatile?
The answer to each of these requests is the loafer. There is no shoe more compatible with the wardrobe of the modern man than a loafer.
This shoe is not new to the fashion scene; it was first created in the mid-1930s. Today, you can find a loafer for every occasion.
Modern loafer additions include new materials and additional details that give a loafer a unique look—from velvet and snakeskin textures to bright colors. Contemporary designers even create loafers for men adorned with crystals or intricate embroideries.
From penny loafers and horsebit loafers to loafers made with patent leather, suede, and velvet, it can feel overwhelming trying to find the right loafer. We are here to help with a breakdown of the best loafers brands and the perfect loafer for every occasion.
The overall best loafers for men of 2022: These navy suede leather drivers by Oliver Cabell are the definitions of a stylish yet casual loafer. These drivers offer the perfect mix of premium style paired with comfort and function: a perfect shoe for every well-equipped modern gentleman's wardrobe.
The best value loafers for men of 2022: These great leather loafers by Kenneth Cole don't need much explanation. This model is sharp, classy yet modern, and an outstanding budget loafer option.
The 19 best loafers for men
Below our list of the 20 best luxury loafers for men, you'll find more information about the various types of loafers on the market, the most common materials used when producing high-quality loafers, the best colors to choose from, and the price range you should expect for a premium pair.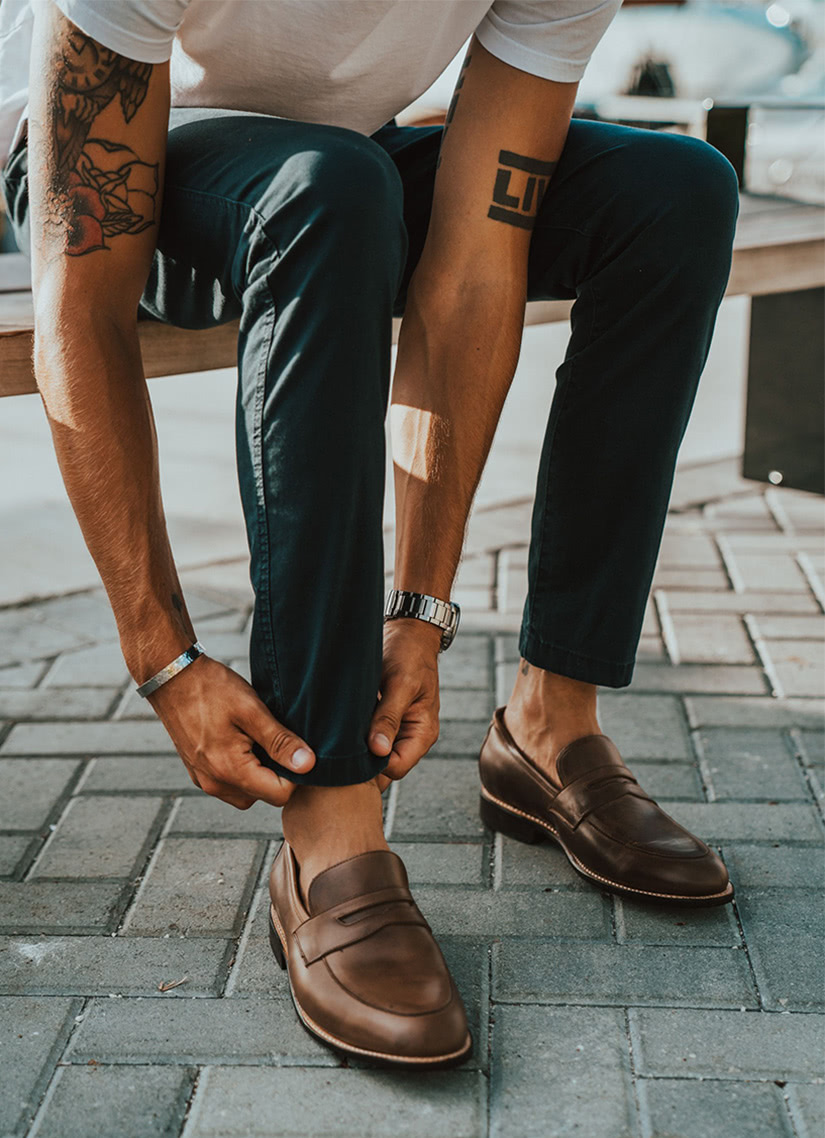 The most popular loafers: brown penny loafers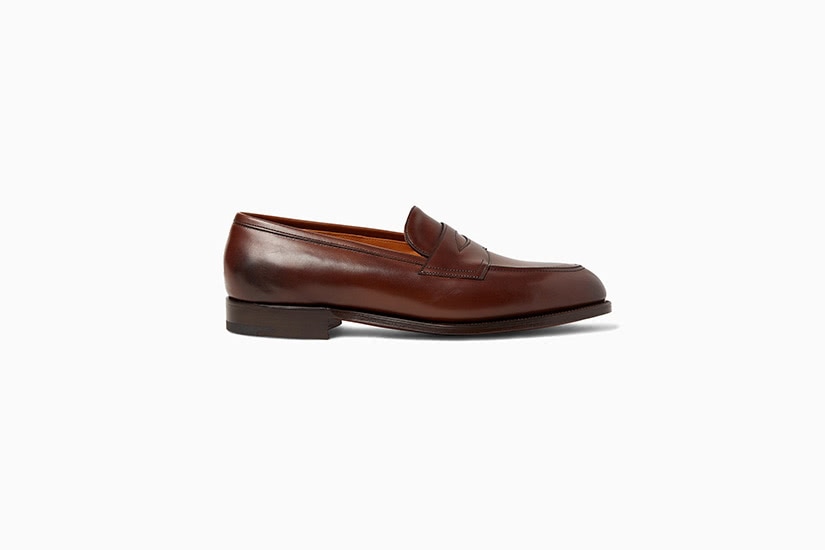 Edward Green Piccadilly leather penny loafer
This high-quality penny loafer model combines classiness and durability. Built by fine shoe craftsmen, these shoes are built to last and will pair well with your business attire as well as your casual weekend look.
Alternative: Dockers colleague penny loafer
DOCKERS
A classic penny loafer design by Dockers. This is a great option if you want the classic brown penny loafer look in a budget option.
The classic black penny loafers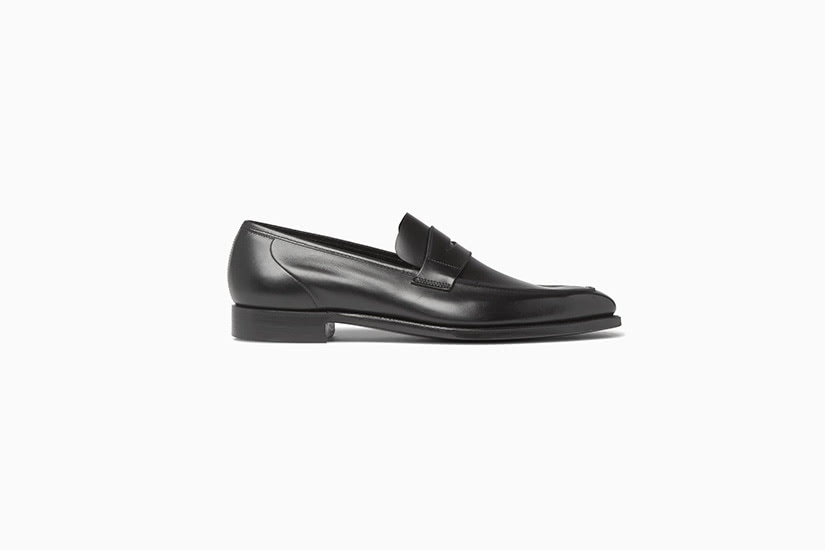 George Cleverley leather penny loafer
While brown is the most classic penny loafer color, it's sometimes good to vary colors. If black is more your style, this comfortable shoe from George Cleverley boasts a look that is classic and sharp.
Alternative: Clarks Tilden way penny loafer
CLARKS
A budget alternative for a black penny loafer, this Clarks loafer is the perfect classic black loafer option.
The coolest loafers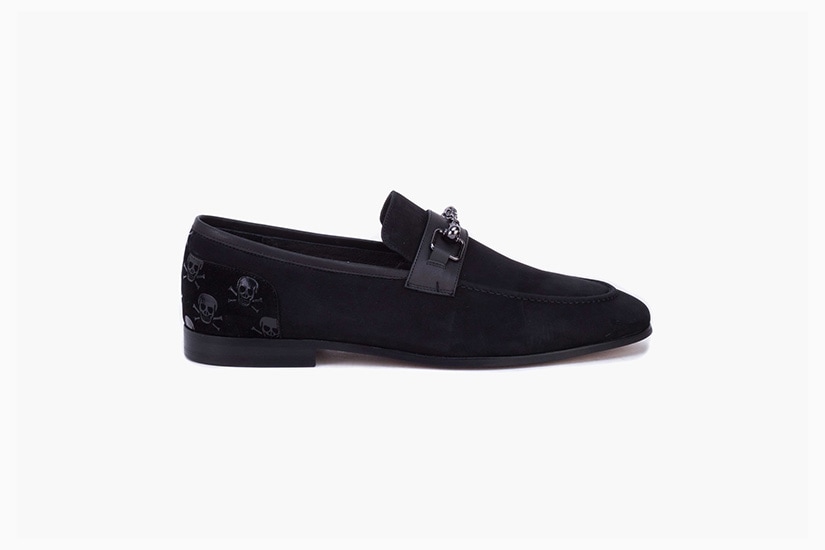 Robert Graham Costas Loafers
You can count on American designer Robert Graham to cleverly add a cool element to everything he creates. This pair of slip-on loafers in black suede is no exception. It's black on black with a subtle skull motif at the heel. With a mix of classy and punk, these loafers are just the right combination to maintain a polished look while giving off some major edgy-cool vibes.
Alternative: Mulo blue suede loafers
MULO
Want to try out a different loafer look without spending a pretty penny? These shoes from Mulo bring the cool without breaking the bank.
Best casual loafers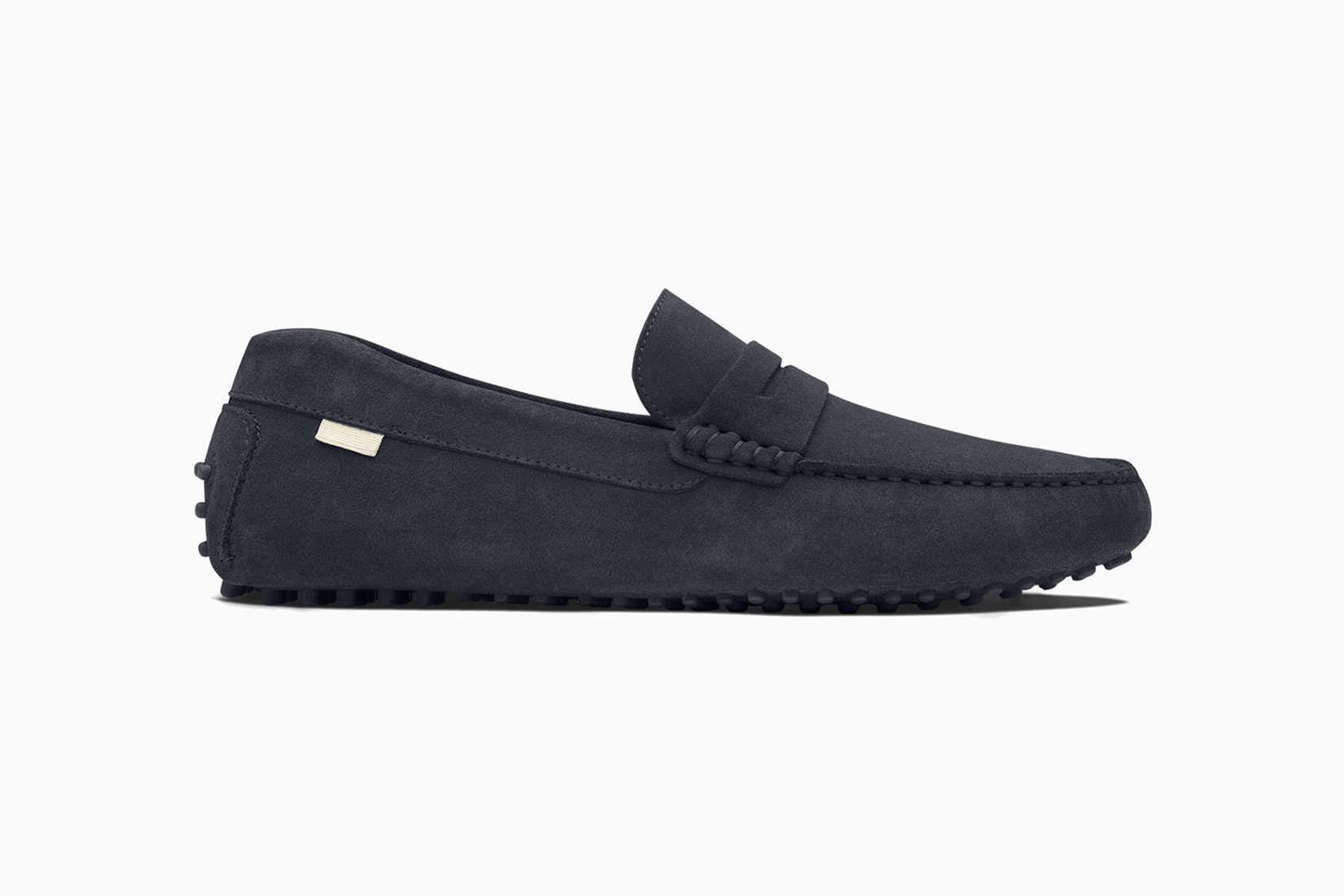 Oliver Cabell Drivers
A driving shoe is a great option for a casual shoe. This navy suede leather pair from Oliver Cabell are no exception. The perfect shoe for a put-together casual look, these loafers are your go-to shoe for Saturday errand runs. Easy to slip on yet stylish for a tailored look. They are also available in chestnut, sand, and slate.
Check our in-depth review of Oliver Cabell's sneakers and our profile on Oliver Cabell's brand.
Alternative: Sperry Hampden loafer
SPERRY
Sperry brings a leather driving shoe for a casual ensemble. This is a great affordable driving shoe option.
Best loafers for the beach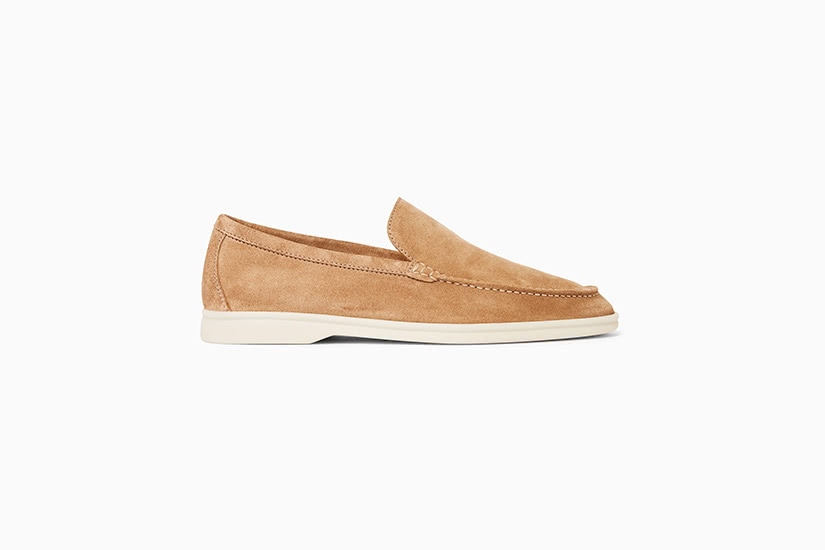 Loro Piana summer walk suede loafers
Every gentleman encounters the need for a chic shoe to wear for a walk on the beach. Enter these versatile loafers from Loro Piana. They are lightweight and water-repellant, making them the perfect shoe for watching the sunset on your favorite coast. They come in a variety of colors, so you can choose the one that best matches your personal style.
Alternative: Timberland tauk point Venetian loafer
TIMBERLAND
A quintessential option for a summer shoe that is casual and perfect for a walk down the beach or through town. These light grey suede loafers from Timberland are casual and light, just like your summer should be.
The Italian loafer with flair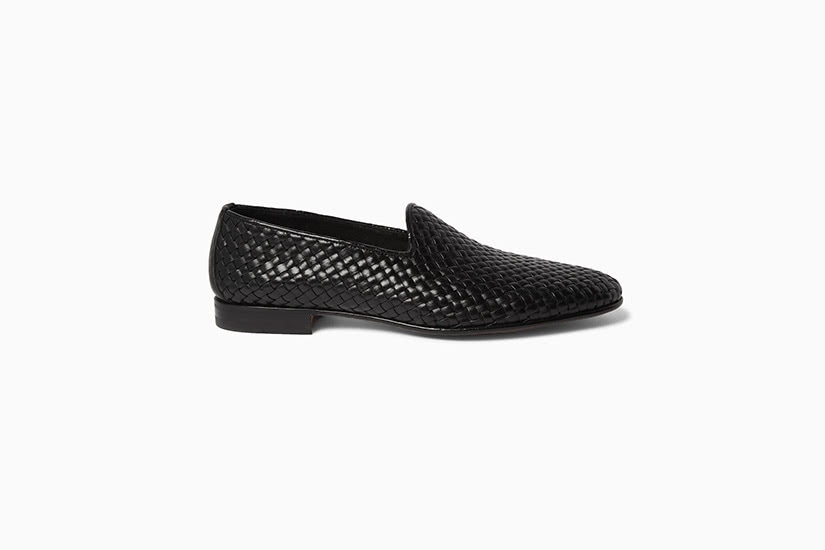 Santoni woven leather loafer
Is your wardrobe calling for a shoe that gives you some flair? These high-quality leather loafers are easy to wear with woven details that will help you dress to impress.
Alternative: Robert Zur woven driver
ROBERT ZUR
These drivers are handwoven with a non-slip sole. They are the perfect loafer to give your look something unique and equip you for anything your day brings your way.
Best leather loafer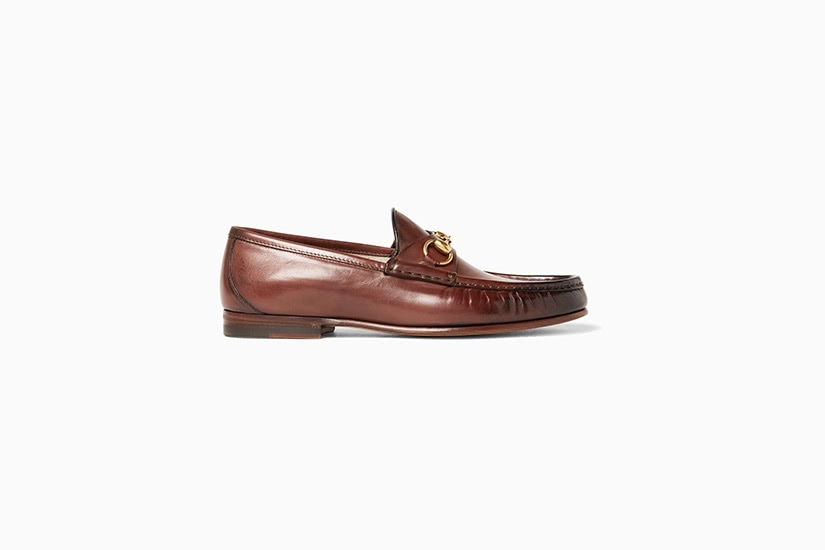 Gucci roos horsebit leather loafer
As the originator of the horsebit loafer, Gucci does not disappoint. They offer you this classic model based on their very first horsebit loafer design. You can be sure these loafers will give you timeless style.
Alternative: Kenneth Cole New York b loafer
KENNETH COLE
If you don't feel the need for the original model, opt for this horsebit loafer, offering a classic shoe made of 100% leather.
The most comfortable loafer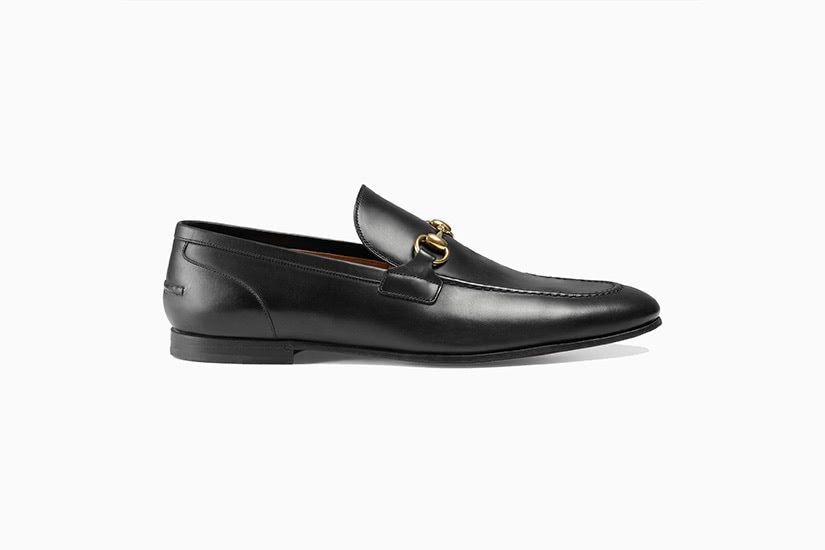 Gucci Jordaan leather loafer
This shoe not only gives you a classic horsebit leather loafer, it receives consistent reviews as one of the most comfortable loafer models out there. This great loafer from Gucci means you don't have to settle if you are looking for comfort.
Alternative: Faranzi slip-on loafer
FARANZI
Faranzi brings you a durable and breathable loafer that promises to keep you comfortable while looking good. With multiple color options, you won't have to compromise your style or your comfort.
Luxury loafers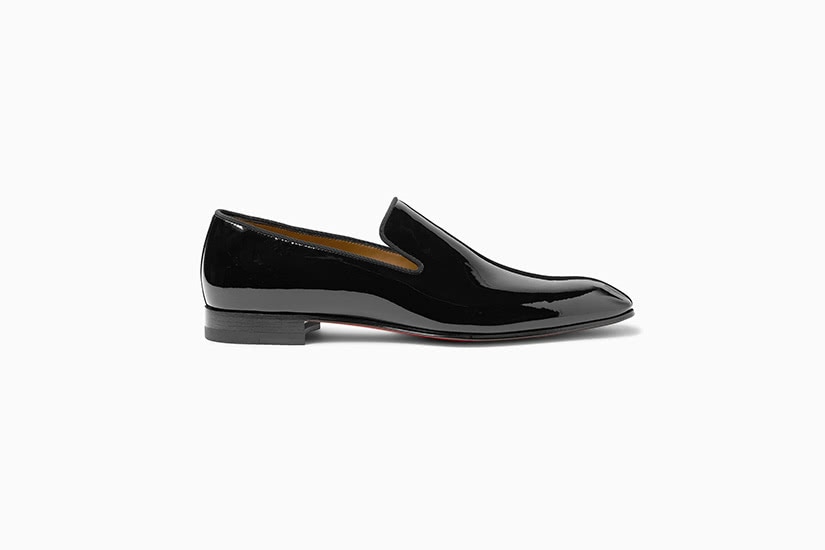 Christian Louboutin dandelion patent leather loafers
You may encounter a wardrobe moment where luxury is required. If you would like a loafer to help you out, we recommend this sleek patent leather option. A loafer like this is formal enough to pair with a suit or tuxedo, so you can keep your loafers on for a night of luxury.
Alternative: Florsheim Postino loafer
FLORSHEIM
Another luxury loafer without the price of luxury is this option from Florsheim. The look of patent leather best lends itself to the most formal occasions. If you don't find yourself in formal scenarios on the regular, this is a good option for you.
The most expensive loafer (and most magnificent too)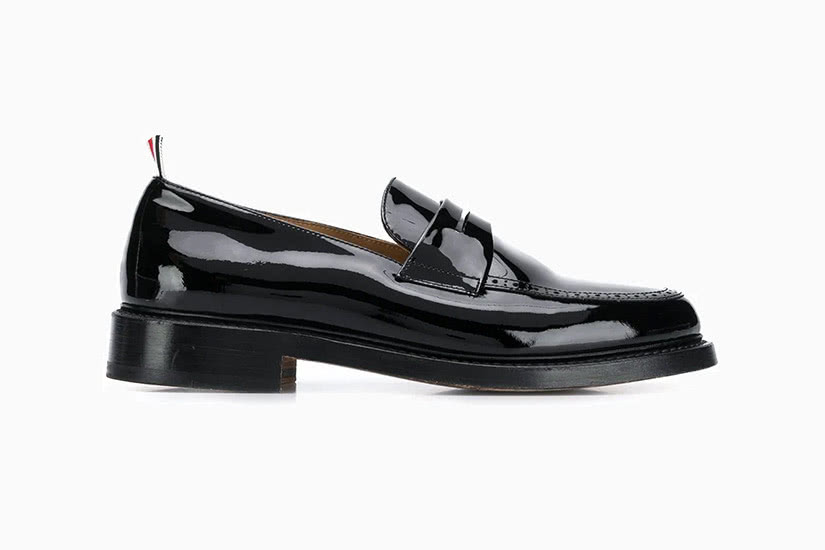 Thom Browne patent penny loafers
If you are always on the lookout for the most intricate and intriguing details for your wardrobe, this is the loafer for you. Enhancing the patent leather texture on black leather, these longwing shoes are undoubtedly comfortable and stylish. They feature punch-hole detailing with a slip-on style that is well worth their price.
The 5 types of loafers you will encounter
There are many different types of men's loafers. When shopping for your best pair of loafers, make sure you understand the different product categories.
As we discussed, there were originally two different types of loafers. Today, there are a few more categories available on the market. What's the difference?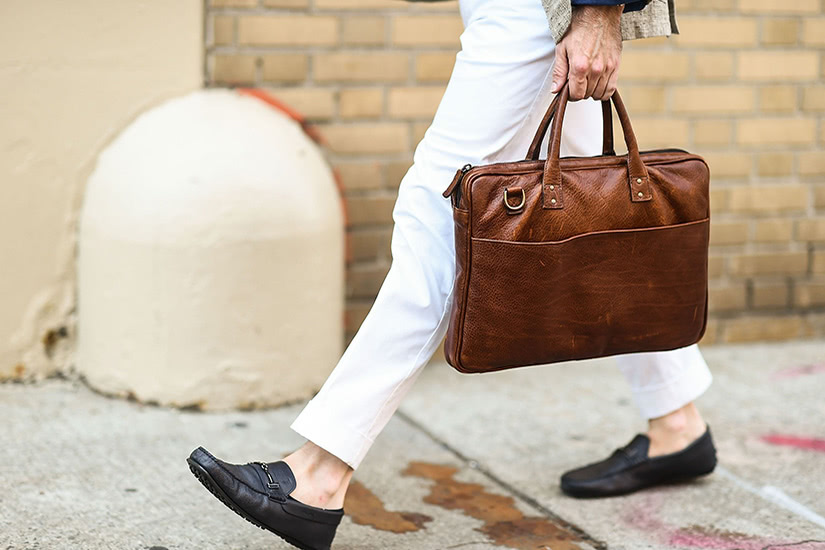 Penny loafers
Penny loafers are the original loafer. They are characterized by a strip of leather across the top that has a diamond slit.
"Gucci" horsebit loafers
Horsebit loafers came soon after the penny loafers. As you can probably guess by the name, they were originally created by Gucci. Their distinguishing characteristic is the horsebit across the top of the shoe. Instead of the diamond slit that you see on a penny loafer, these shoes have a metal chain horsebit.
Tassel loafers
The name of this style gives away its key feature. Instead of a slit or a horsebit, this type of loafer has a tassel.
The slipper
A slipper is a slim type of loafer, most often composed of velvet material. It doesn't usually have any adornments on top like the original loafer options. Instead, it has a smooth, simple design.
The driving shoe
The driving shoe is another casual loafer option. These were initially created as a shoe that gave more grip while driving a car. Today, you can find these on businessmen and fashion-forward gentlemen as a more casual loafer alternative. True to their original purpose, this type of loafer has more grip on their soles.
Which material should you choose for your loafer?
The material of your loafer can impact your entire look. You need to understand your material options and the implications of each to make the right loafer choice:
Leather
This is the most common and classic option for men's loafer material. Available in multiple colors, leather gives your shoes a versatile look that can be easily dressed up or down.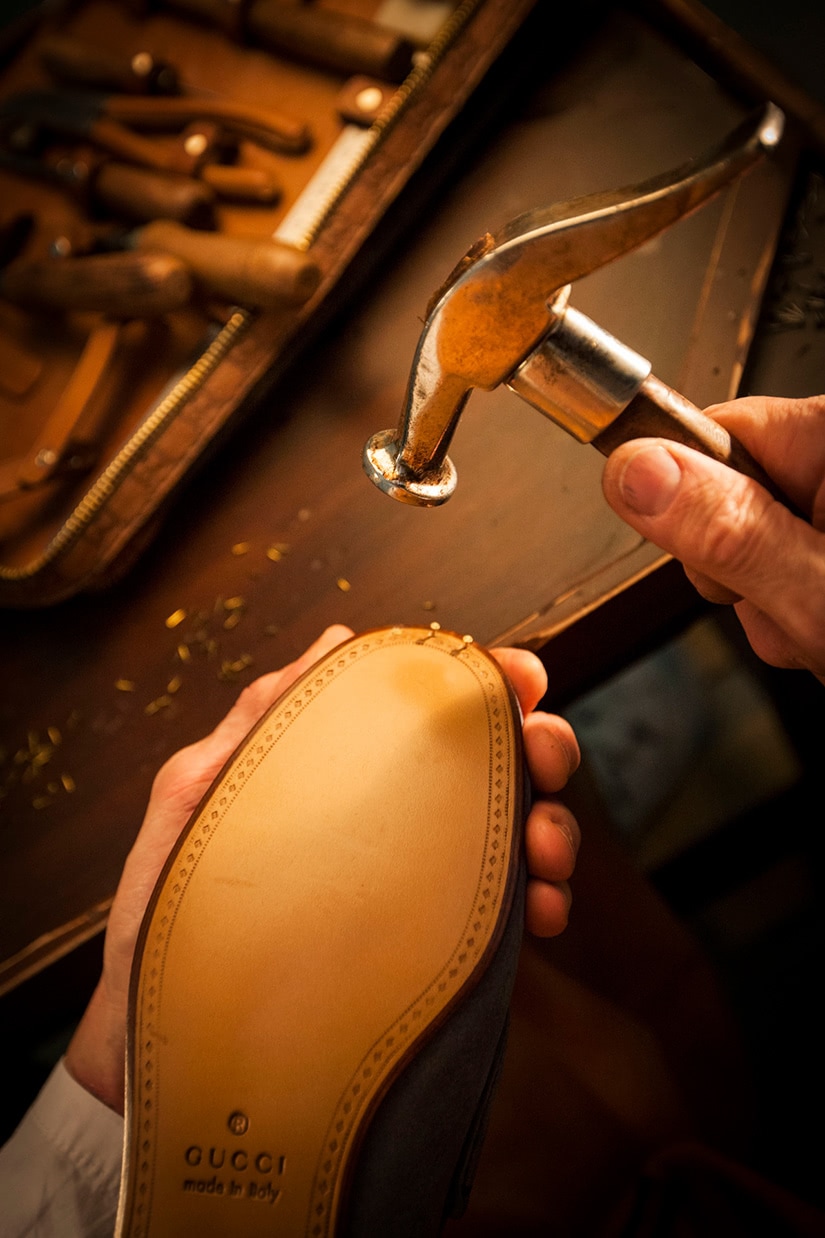 Suede
Suede is leather's cousin. It's a softer material made from the backside of an animal hide instead of the front (where we get leather). Suede is a great option if you want a more casual loafer.
Patent leather
Patent leather is that glossy leather, you can often find on a dress shoe. A patent leather loafer can be worn for dressier occasions. The patent leather gives a loafer a more formal look.
Velvet
Velvet loafers seem to be popping up everywhere. A velvet loafer is great for an edgier look or to display more personal flair with your loafer.
It strays from the classic leather material. Yet, velvet is a great option if you already have some classic loafers and want some cool loafers to accent your wardrobe.
Loafer color options and how they fit your look
The color of your loafer can alter the effect of the shoe. A lighter color makes the loafer more casual. A brown color gives the loafer a more classic look. While we won't explore every color of the rainbow, here are the details on a few common loafer colors:
Brown
A brown loafer boasts the color of the original loafer. It is classic and sturdy. Brown loafers are one of the most common loafer colors, along with black. You can't go wrong with a brown loafer.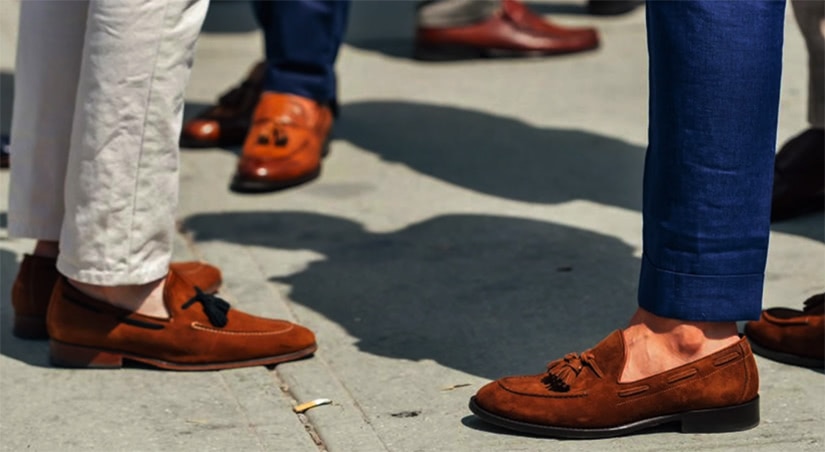 Black
Like brown, black is a great classic loafer color. It will pair well with almost any outfit. A black loafer is a bit dressier than the classic brown, but it can also be worn with a more casual outfit as well.
Tan
While less common than a brown or a black loafer, a tan loafer works well with a more casual look. The lighter color lends itself well to a beach look or an outfit with denim.
Bright colors
Brightly-colored loafers are a great way to add an extra flair to your outfit. Generally, a bright color does not pair well with a super formal ensemble, but bright loafers are perfect for a fashion-forward look.
White
White loafers are not very common and prove more difficult to take care of due to their lighter color. However, if you already have your classic loafers, white loafers can be a great addition for your casual wardrobe.
Loafers at every price point
Loafers can be found in a vast array of price ranges, ranging from budget to high-end luxury. With each price range, there are pros and cons.
A budget loafer is great if you are just getting started on your wardrobe and want to try out a few styles.
A high-end loafer exhibits craftsmanship, great quality, and exquisite details. We recommend you start with more classic loafer styles if you want to invest in a timeless, high-end pair.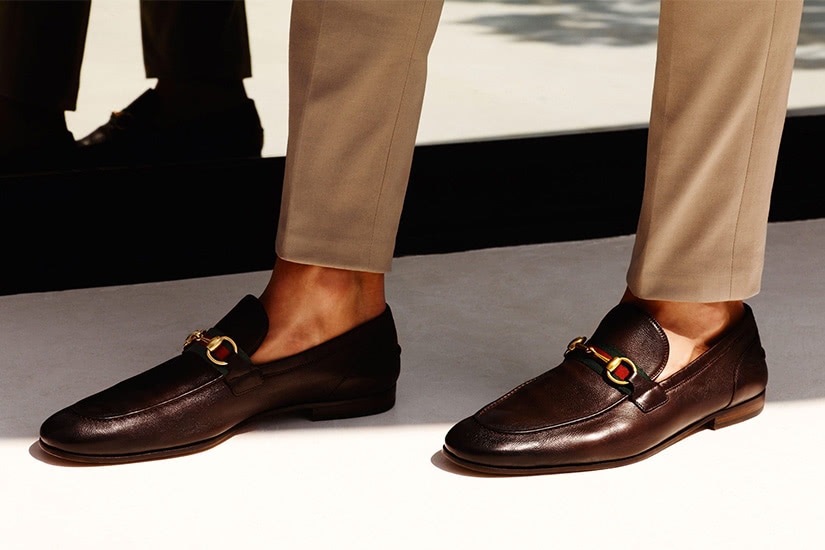 No matter which price range you decide to start with, there are many options to choose from.
Where did loafers come from anyway?
The first loafer design was created in 1936 by Bass. This was the classic penny loafer design, and Bass called this first loafer the "Weejun." This penny loafer quickly gained popularity on American college campuses, earning itself a reputation as a preppy shoe.
As the penny loafer gained popularity, the team at Gucci started to take notice. They soon designed their own version of the loafer.
Their design was black, and they added a horsebit as a nod to their history with horseback riding. This loafer design is still known today as the "Gucci" loafer.
While the two original classic loafer designs are still popular and fashionable, today, there are many new iterations of these classic loafer designs. Whether you prefer the original loafer style or prefer a loafer with a bit more flair, there is a loafer design that works for every man's wardrobe.
How and when should men wear loafers?
The men's loafer brings much versatility. The shoe is compatible with many different looks. A casual loafer can be worn with jeans, chinos, and even shorts.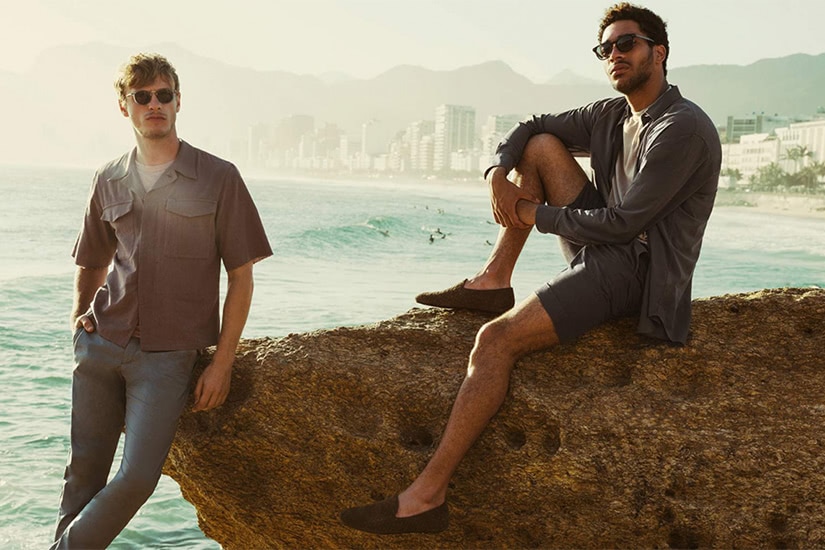 To dress up your loafers, you can wear them with slacks and a dress shirt. With certain loafers, such as the patent leather ones mentioned above, you can even wear a formal suit or tuxedo.
Here are a few classic looks that pair well with a classic loafer shoe:
Casual
Loafers pair well with a carefully curated casual look. Try them with denim or casual slacks and a t-shirt. Top it off with a leather jacket to complete the look, and you will be ready to head out for some errands or a relaxed evening out.
Semi-formal
Need to dress up a bit more? Loafers can help with this look, too. Pair with dress slacks, a cable-knit sweater, and add on a blazer for chillier weather.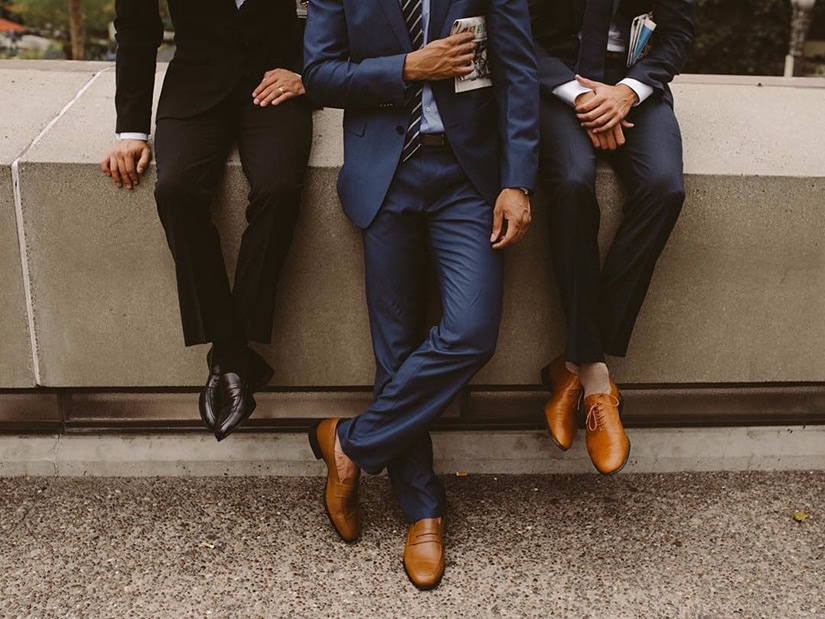 Formal
For the days when a suit and tie are required, loafers complete your business look. With a classic suit and tie, opt for a black Gucci loafer.
Luxury loafer brands to know
While we have gifted you a list of the best men's loafers of the year, we realize you may want to do your own research. After all, every style hatchling needs to spread its wings and fly eventually.
To equip you for your search, we want to discuss a few of the top luxury brands for loafers. Many brands offer a men's loafer, but we tried to narrow down a few brands that offer multiple great loafer options.
Here are our picks.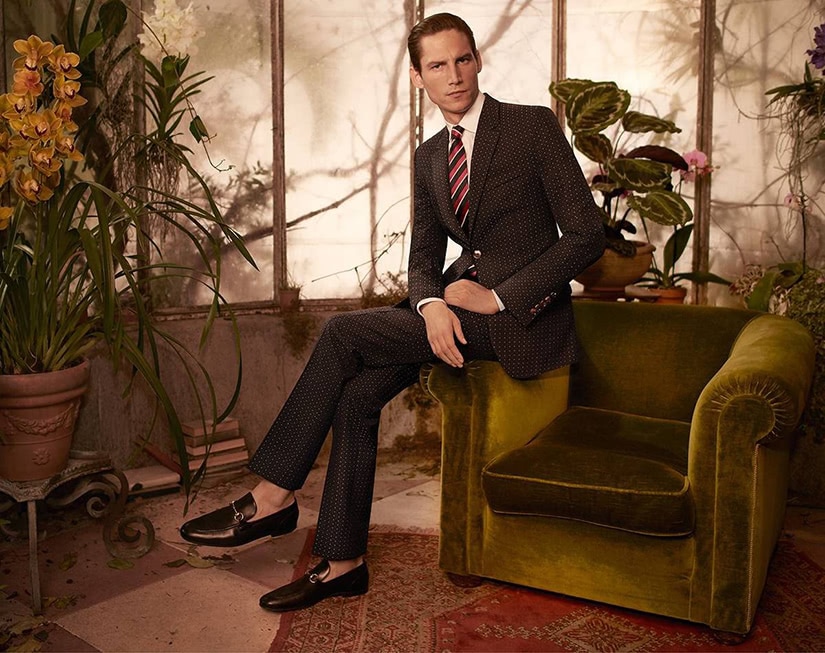 Gucci
As one of the originators of the classic men's loafer, Gucci continues to innovate and design creative yet classic loafers. They offer everything from the original loafer to modern takes on the classic design with thoughtful accents.
G.H. Bass
Another one of the original creators of the loafer, G.H. Bass continues to give you classic designs that seamlessly intertwine with the life of any modern gentleman.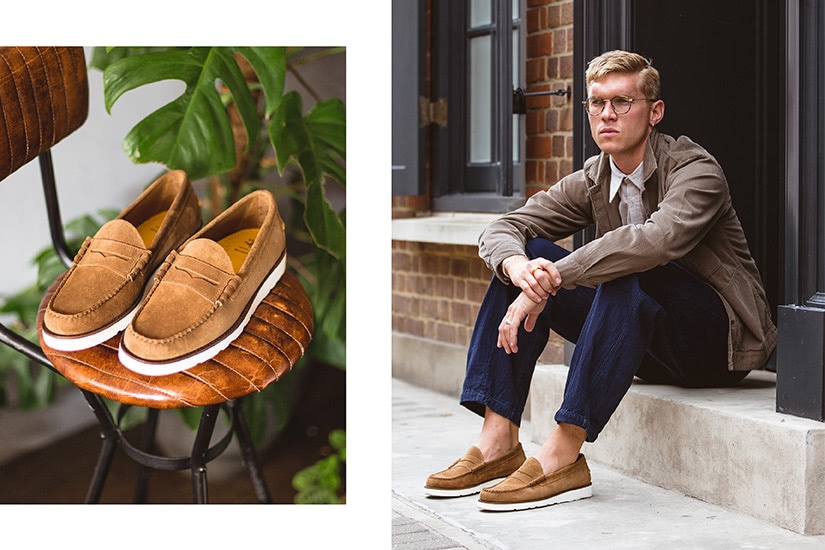 Ted Baker
This British design house always aims to delight, and they do not disappoint with their men's loafers offerings. With its sleek loafer designs with intricate details, Ted Baker proves to be a winning destination for loafers.
Polo Ralph Lauren
The quintessential brand for all things preppy, Polo Ralph Lauren offers all the university vibes that came with the original penny loafer. If you want to add a little prep to your step, they surely have the loafer for you.
Tod's
Tod's offers the loafer for the simplistically elegant gent. They give you many simple but sleek loafer options to class up your wardrobe, without all the extra details you don't need.
Frequently asked questions about loafers for men
What are the best loafers for men?
With so many different styles of loafers available, choosing the right pair can feel overwhelming. The best pair of loafers to start with is a classic-style loafer.
What do men wear loafers with?
The mass appeal of loafers for men owes itself to the shoe's versatility. They can be worn with almost any type of attire, from casual to formal.
Why are loafers so popular?
Loafers for men are largely popular because many different styles can be worn with a vast array of looks. There is a perfect pair of loafers for every stylish man.
What is the best season to wear loafers?
Loafers can be worn all year round with the right adjustments. They pair well with slacks and a sweater, and they can also be worn with shorts.
Who makes the best men's loafers?
There are many high-quality luxury loafers brands today. One of the best brands is Gucci as they were one of the original brands to create loafers. However, brands such as G.H. Bass and Tod's also offer great men's luxury loafer options.
What color loafers should I get?
Choosing the right color for your loafers depends largely on your personal style. The two most classic colors are brown and black. The original loafers were brown, but if you wear more black, that might be the right color loafer for you. 
Other neutrals such as navy, tan, or burgundy are great places to start as well. If you want to branch out and create an edgier look, you can try a loafer in a bright color.
What are the most comfortable loafers?
The Jordaan leather loafers from Gucci are stylish and comfortable. They are often regarded as one of the most comfortable loafer models available.
Are you supposed to wear socks with loafers?
The choice of wearing socks with loafers can be a difficult decision to make. Loafers can work either way. Wearing socks with your loafers gives you a more classic look and the ability to add extra stylish details to your ensemble. Wearing your loafers without socks keeps your look extra sleek and stylish. 
Whichever option you choose, be sure to avoid the disdainful look of high white tube socks and loafers. If you decide to wear socks, choose a classic pair of dress socks.