Need a shoe that's dressy? Casual? Cool? Versatile?
The answer to each of these requests: Loafers.
Relaxed but refined, the humble loafer could best be described as the sartorial equivalent of a first-class lounge. The dichotomous silhouette screams luxury and class, but at the same time, it's designed for lounging—or dare we say, loafing—about.
As snug as your overly-worn (work-from-homers, we see you) slippers, the slip-on silhouette is equally seamless and similarly satisfying. While the elegant design is just as sophisticated as the most incarcerating dress shoe—minus the blisters.
So who gets membership to the sought-after club?
Any and every man.
Just as prestigious as the Centurion Lounge, the entrance is not quite as exclusive. In fact, it's encouraged.
In a rush? No problem! Here's our shortlist of the absolute best options available right now:
BEST OVERALL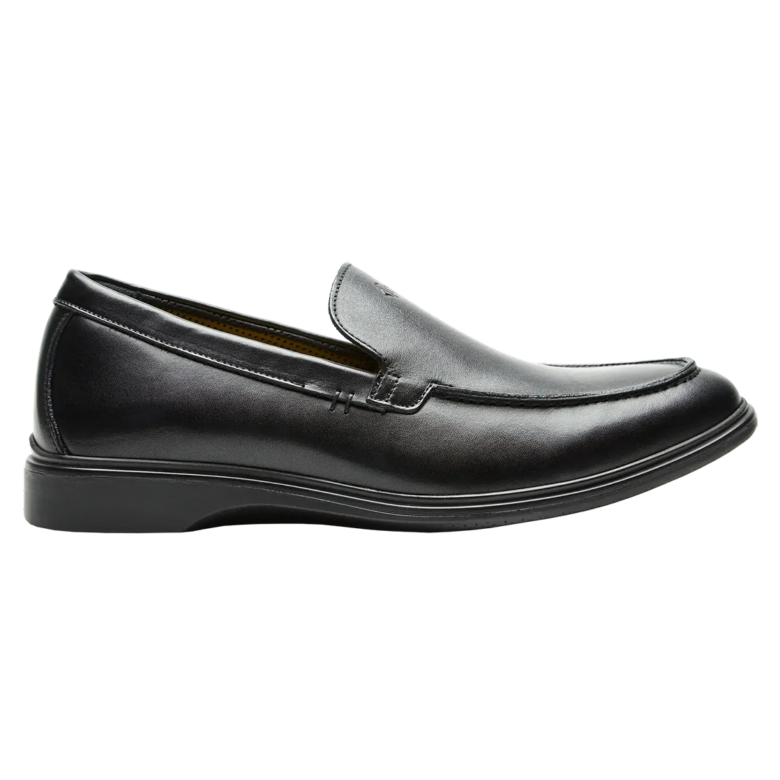 Amberjack
The sneaker-like comfort hidden within an elegant dress shoe.
Type: Venetian
Price: $$
Craftsmanship: 4.5/5
Sustainability: 5/5
Comfort: 5/5
Breathability: 4.5/5
BEST LUXURY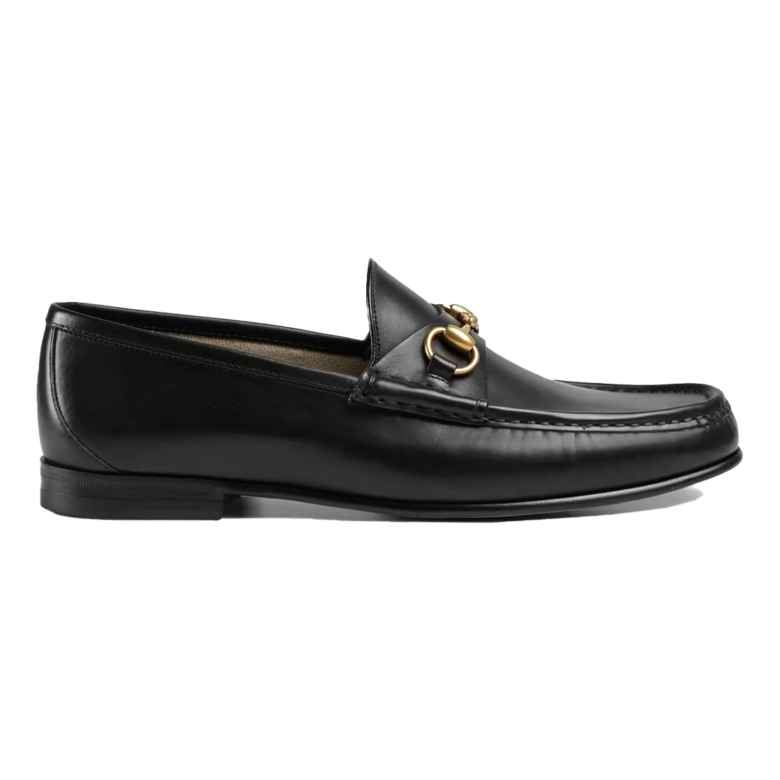 Gucci
Immortally elegant, Gucci is pretty much synonymous with horsebit loafers.
Type: Horsebit
Price: $$$
Craftsmanship: 5/5
Sustainability: 4/5
Comfort: 4/5
Breathability: 4/5
Amberjack: Overall best loafers for men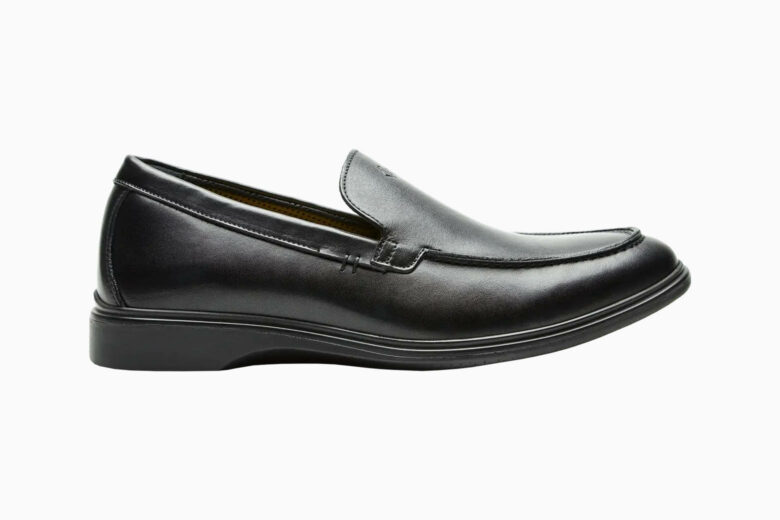 We've already mentioned The Amberjack Original as one of the best men's shoes for standing all day. But perhaps even better, is this slip-on silhouette. As stylish as it is snug, The Loafer tops our list of the best men's loafers.
Designed for long commutes and evening soirees, the brand's heat-activated arch support, dual-density outsole, and impossible soft buck lining make them our most comfortable loafers. While A-grade quality leather and noir colorway speak to the unmistakable sophistication inherent to this Amberjack Loafer.
Read our in-depth Amberjack Loafer Review for more details about our experience with the shoe.
Best for: Gaining entrance to the first-class lounge.
| | |
| --- | --- |
| Style: | Venetian Loafers |
| Material: | Leather |
| Colors: | Black, Chestnut, Cobalt + More |
Gucci Horsebit: Best designer loafers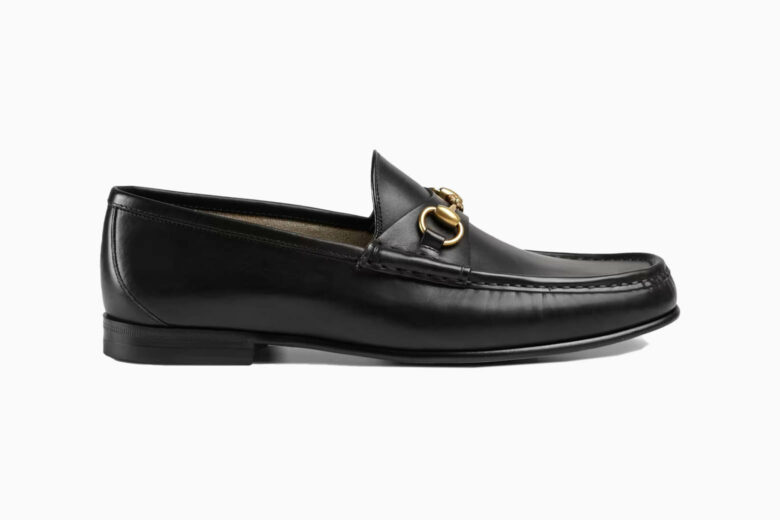 Horsebit loafers are nothing novel. Although none come close to the O.G equestrian-inspired silhouette: The Gucci Horsebit. Designed in 1953, the illustrious loafer is a moment in history. And as popular now as they were a couple of decades ago, we don't see that moment passing any time soon.
Made in Italy from the Maison's sought-after calfskin leather, the classical shoe oozes polish and poise. The black colorway is as versatile as it is sophisticated. And, of course, the shoe's signature horsebit embellishment is what distinguished these Gucci black leather loafers in the first place.
Best for: Celebrating a piece of history.
| | |
| --- | --- |
| Style: | Horsebit Loafers |
| Material: | Leather |
| Colors: | Black |
Sperry Original: Best value loafer shoes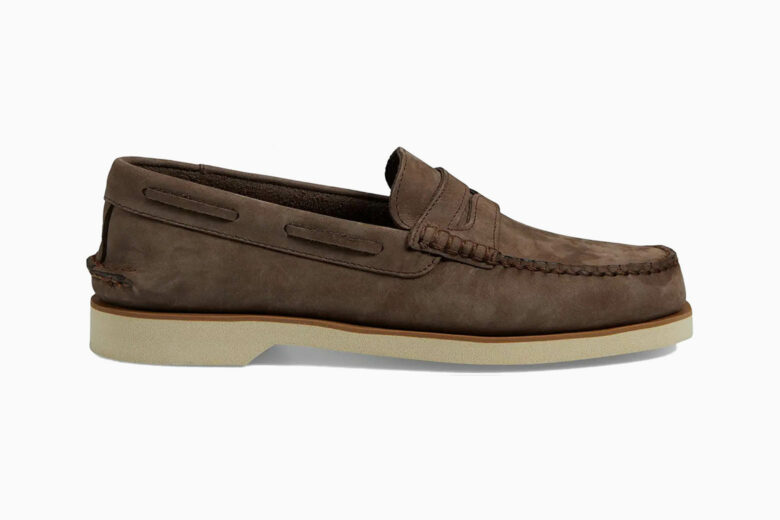 Renowned for its high-quality sailor's shoes, Sperry is just as stylish as it is non-slip. And the brand's original loafers are case in point. The seamless silhouette encapsulates what it means to sail through life in luxury. While the much-lower price point proves that classy comfort shouldn't cost the earth.
Characterized by its classical-yet-contemporary design, the textile lining and padded insole adopt a more modern approach to comfort. While the authentic penny silhouette, almond toe and suede exterior allude to a timeless urbanity, making these Sperry Originals some of our best men's loafers.
Best for: Sailing through life in cost-savvy style.
| | |
| --- | --- |
| Style: | Penny Loafers |
| Material: | Suede |
| Colors: | Brown, Navy, Red + More |
Oliver Cabell: Best driver loafers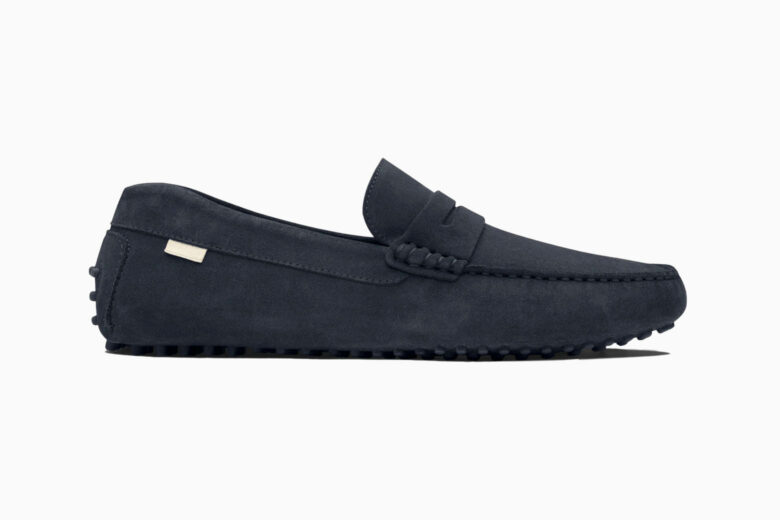 They make you feel comfortable. They make you feel classy. These Oliver Cabell loafers are the perfect driver (pin intended). As our best driver loafers, the suede slip-ons feature the traditional pedal-gripping sole and moccasin silhouette. While the tailored fit could rival even the coziest slippers.
Besides going the extra mile in padded support, the luxury brand's loafers tick all our boxes for the best men's dress shoes. As an equally versatile but slightly-softer alternative to black, these navy driver loafers are an elegant addition to any occasion-ready ensemble.
Best for: Taking the wheel of elegant comfort.
| | |
| --- | --- |
| Style: | Driving Loafers |
| Material: | Suede |
| Colors: | Navy |
M.Gemi The Filare: Best penny loafers for men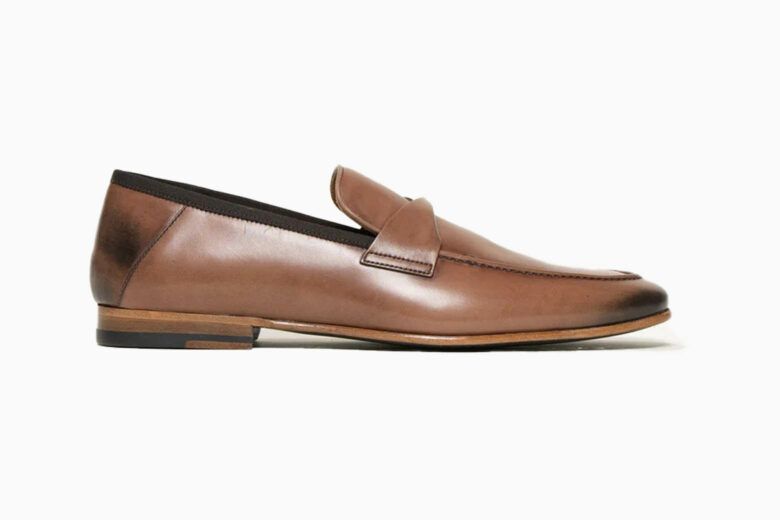 Designed in the 1930s to store the cost of an emergency phone call, the classical penny loafer is just as functional as it is fashionable. And while, these days the signature penny slot is more a style statement than anything else, the traditional shoe hasn't lost its form when it comes to versatility and comfort.
M.Gemi's Filare loafer is case in point. Setting the bar high for men's footwear, the sleek black silhouette is crafted from the highest quality Italian leather. While a padded footbed promises to support your feet through Europe's cobblestone streets and long commutes alike. Plus, the luxury brand's accessible price point means that you can step up your shoe game affordably with these quintessential penny loafers.
Best for: Pinching pennies without compromising on quality.
| | |
| --- | --- |
| Style: | Penny Loafers |
| Material: | Leather |
| Colors: | Black and Brown |
Koio Arezzo: Best chunky loafer shoes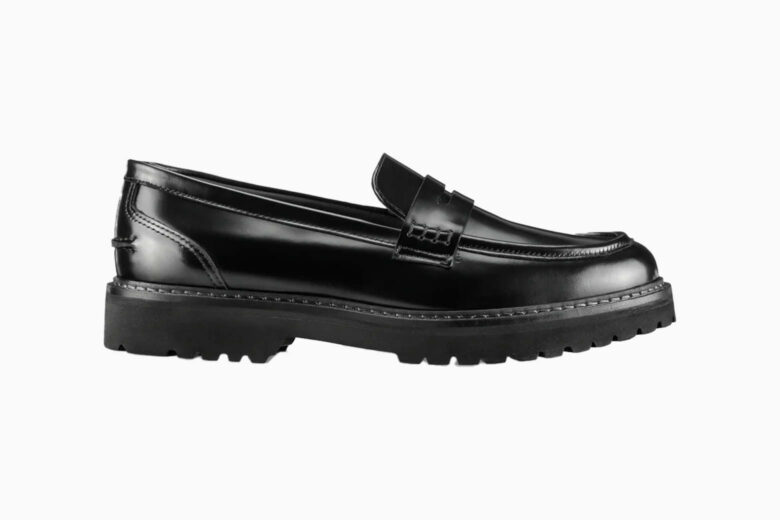 Nothing quite screams "modern maturity" like these chunky loafer shoes by Koio. The slightly exaggerated lug sole gives off an air of trendy nonchalance. While the classical black leather penny upper maintains a refined, polished composure.
Handmade in Tuscany, the luxury shoes fit any affair. Dress them up with black suit pants and a matching blazer. Or dress them down with relaxed denims and a linen shirt. Either way, these black leather loafers are an effortless way to put your best foot forward.
Best for: Timeless but on-trend—the sweet spot of footwear.
| | |
| --- | --- |
| Style: | Penny Loafers |
| Material: | Leather |
| Colors: | Black |
Huckberry Patnoflex: Best men's casual loafers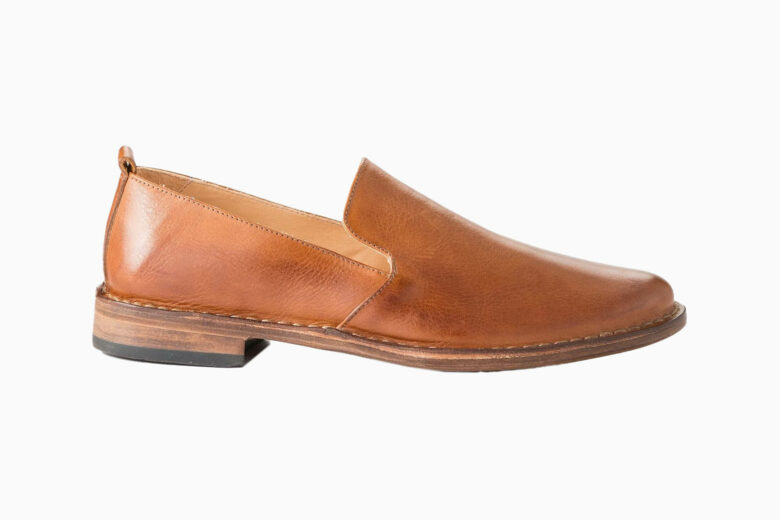 Loafers aren't just for the office and more formal affairs. They're also one of the best shoes for everyday wear. Enter: Huckberry's Patnoflex—our best men's casual loafers. As a brand that believes that our closets should consist of high quality items that are easily interchangeable, Huckberry's slip-on loafers are as versatile as they are stylish.
Made in Northern Italy in small family run businesses, every thread stitched by hand speaks to the impeccable craftsmanship native to the artisanal area. While premium materials and tailored fits make the shoes impossibly comfortable. Wear these buttery soft leather loafers with or without socks—to garden weddings, work functions or even to a laid back coffee with a friend.
Best for: Keeping it casual—but always stylish.
| | |
| --- | --- |
| Style: | Venetian Loafers |
| Material: | Leather |
| Colors: | Brown, Chestnut, Stone + More |
Tod's: Best mocassin loafer for men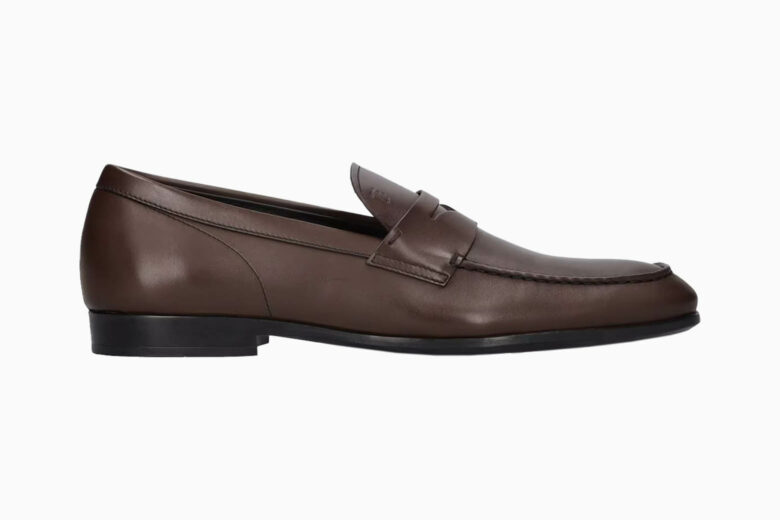 Made for more than loafing about, Tod's loafers may be just as snug as a slipper, but they're also powerful enough to dominate any boardroom. Reminiscent of the age-old Italian sartorial tradition, the silhouette marries classical elements with an equally trendy aesthetic. And while the exposed stitching speaks to a more relaxed moccasin aesthetic, the soft brown leather is undeniably prestigious.
As a part of the brand's Timeless collection, these moccasin loafers are an investment into a lifetime of impressing at suave soirees and client meetings. And because they go with anything, it's an investment you'll keep drawing dividends from.
Best for: Power-dressing for the boardroom without trying too hard.
| | |
| --- | --- |
| Style: | Penny Loafers |
| Material: | Leather |
| Colors: | Brown |
Dr Martens Adrian: Best tassel loafers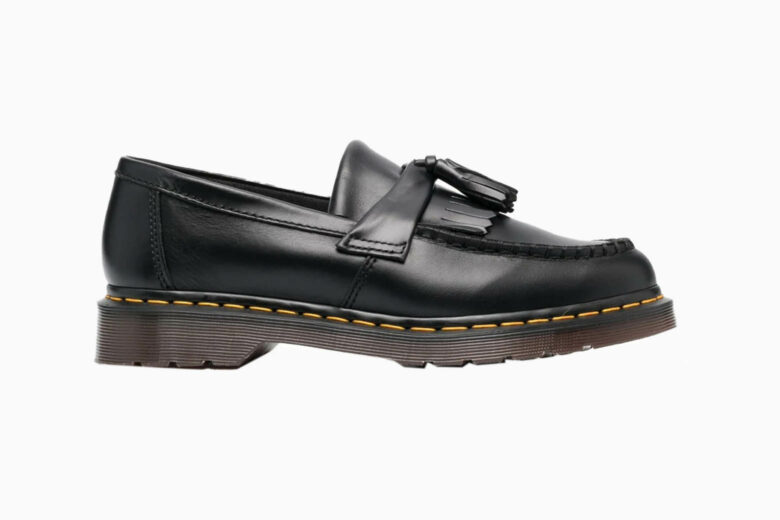 All the tassel without the hassle—these Doc Martens are impossibly stylish and seamlessly slip-on. The subtly embellished shoes will elevate any ensemble. While the versatile black colorway and timeless silhouette maintain an air of effortless sophistication.
We particularly adore the brand's signature yellow contrast stitching around the edges for an edgy touch to the otherwise classical shoe. And the fringe detailing references a casual Western aesthetic without taking the cowboy theme too far. Relaxed, refined and totally in fashion, these black leather loafers are A-list approached and podiatrist-endorsed.
Best for: There's a new foot doctor in town.
| | |
| --- | --- |
| Style: | Penny Loafers |
| Material: | Leather |
| Colors: | Black |
Peter Millar Excursionist: Best Venetian loafers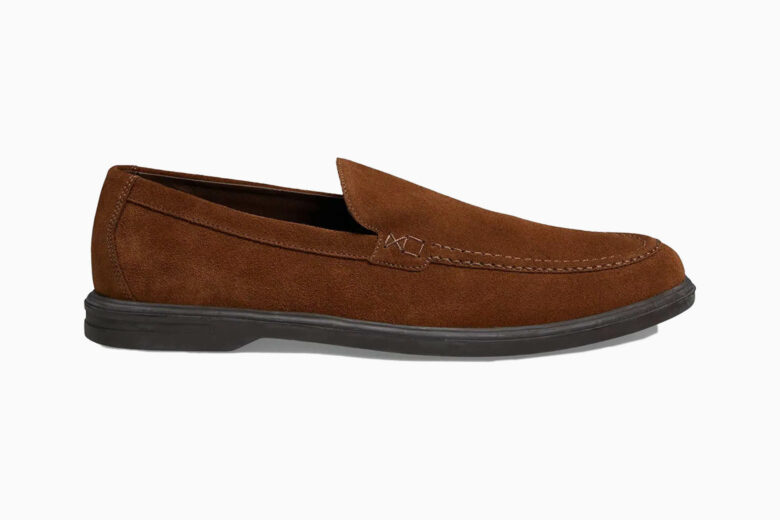 Guilty of leaving your house in slippers one too many times (read: once)? These Venetian loafers by Peter Millar are mandated by the fashion police. Quintessentially snug and undeniably sophisticated, the double-duty design is our go-to for lounging around the house, as well as hitting Italy's cobblestone streets and aperitif rooftop terraces.
Distinguished by its minimalist versatility, the Venetian loafer is void of tassels, frills and other embellishments, making it easy to pair and easy to wear. Our top look: pair these suede Peter Millar Venetians with light linens and a red Vespa.
Best for: Venetian versatility
| | |
| --- | --- |
| Style: | Venetian Loafers |
| Material: | Suede |
| Colors: | Amber, Sand, Navy + More |
Koio Maranello Bow: Cool loafers for men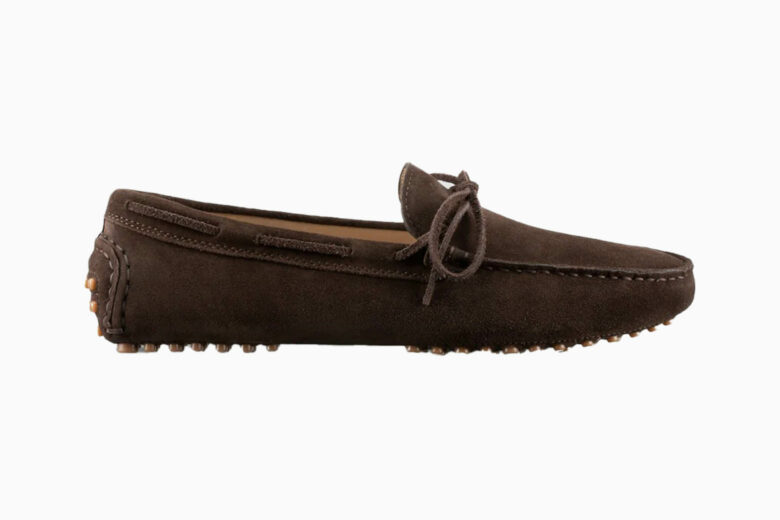 Wrap them up and give them as a gift to any man—yourself included. Handcrafted from Italy from soft Italian suede, Koio's loafers are at the top of any fashionable man's wishlist. And if they're not, they will be as soon as they try them on.
Coming in a trendy Adria blue and versatile Espresso brown, the simple silhouette is tied together by an understated bow and chic exposed stitching. The only problem? It's almost impossible to choose between the two hues. But then again, why should you? Fully lined with soft padding and impeccably stitched for unrivaled water resistance, you won't reach for anything but the Koio Maranello Bow. So you may as well get an extra pair.
Best for: Tying together any ensemble.
| | |
| --- | --- |
| Style: | Driving Loafers |
| Material: | Suede |
| Colors: | Adria and Espresso |
Loro Piana: Best men's Summer loafers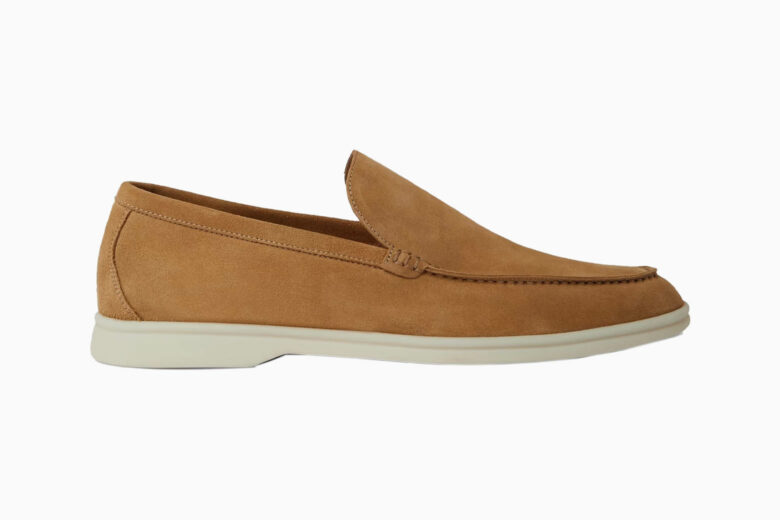 Closed shoe protocols in sweltering climates are kind of heartless. Unless you've got a pair of Loro Piana's Summer Walk loafers. And then it's just an excuse to show off some of the most fashionable footwear.
Akin to sandals—but a lot more sophisticated—these men's Summer loafers are every bit as light and breathable, making them the perfect shoe for warm weather wanderlusters and garden weddings. Besides ample ventilation, the classical non-slip rubber sole pays homage to the original sailing shoes. Plus, the simple suede silhouette comes in a range of hues. And with more than one in your rotation, you'll never have to sweat through closed-shoe dress codes again.
Best for: Sweat-free sophistication.
| | |
| --- | --- |
| Style: | Venetian Loafers |
| Material: | Suede |
| Colors: | Brown, Navy, Burgundy + More |
Santoni Damages: Best suede leather loafer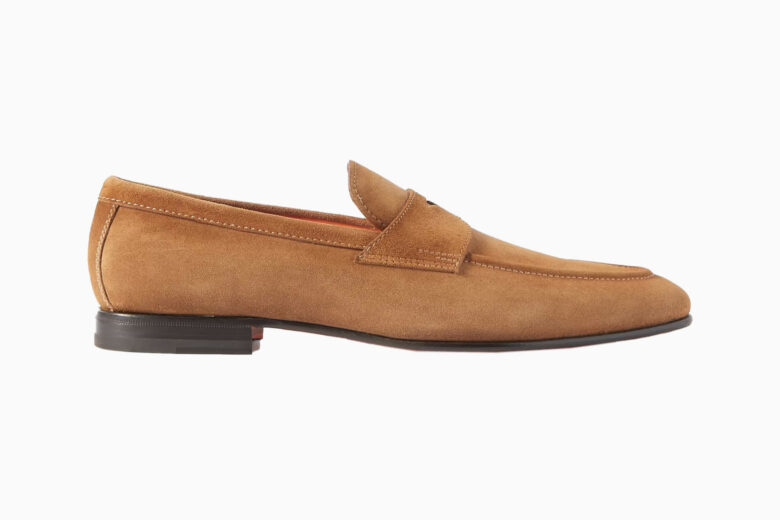 With a make-up of over 700 artisans in Italy, there's no better team to perfect this quintessentially Italian silhouette. And perfect it they did. Showcasing a culmination of modern techniques and age-old tradition, the shoe is as durable as it is timeless.
Santoni's Damages loafers are made from premium suede leather. The exposed white stitching speaks to the brand's impeccable attention to detail. A subtle heel is just enough to give your outfit the necessary lift. And whether you opt for a lighter orange brown or regal navy, you simply can't go wrong with this Santoni suede shoe.
Best for: Damage control.
| | |
| --- | --- |
| Style: | Penny Loafers |
| Material: | Suede |
| Colors: | Brown and Navy |
Prada: Best leather loafers for men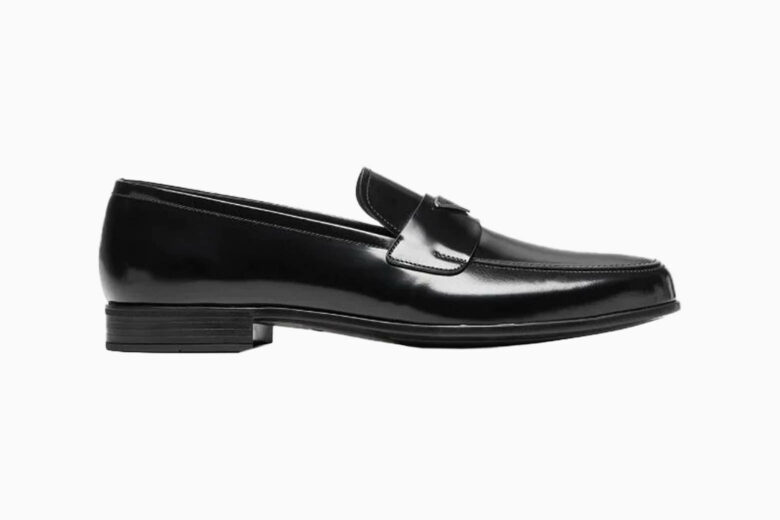 If a premium polished aesthetic is what you're after, Prada is your guy. Founded in Milan in 1913, the Italian luxury fashion house is one of the most sophisticated and sought-after labels. And accentuated by the brand's iconic triangle logo, these black leather loafers for men are case in point.
Sleek, versatile and unapologetically comfortable, the powerhouse silhouette ticks all our boxes. Dress them down with high socks and street style sweats. Or keep them classical with a black tie ensemble. Whatever the occasion, you're bound to hit the mark with these Prada leather loafers.
Best for: Black on black on black.
| | |
| --- | --- |
| Style: | Penny Loafers |
| Material: | Leather |
| Colors: | Black |
M.Gemi The Sacca: Italian loafers for men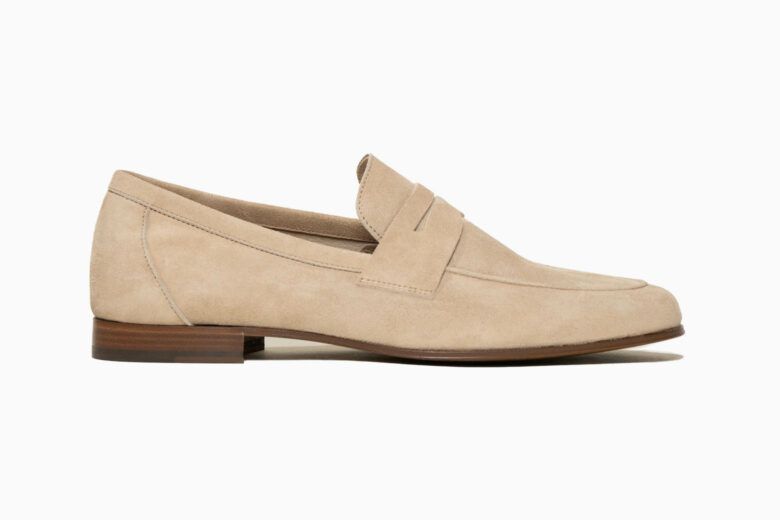 We're yet to meet a man that doesn't appreciate Italian sartorialism. But whether they perfect it is a different story. Our solution: The Sacca—quintessentially Italian loafers by M.Gemi. Elegant and understated, the minimalist silhouette pays homage to the age old tradition of hand-stitched craftsmanship and scrupulous finishings. While a range of suede hues—from versatile sand to sunset red—point to M.Gemi's color expertise.
As some of our best casual shoes for men, these comfortable loafers are designed for exploring the cobblestone streets of Lecce. Now all you need is linen shirts and leather jackets to complete the look.
Best for: Linens, leathers and loafers—the unofficial Italian uniform.
| | |
| --- | --- |
| Style: | Penny Loafers |
| Material: | Suede |
| Colors: | Sand, Black, Red + More |
George Cleverley: Best men's black loafers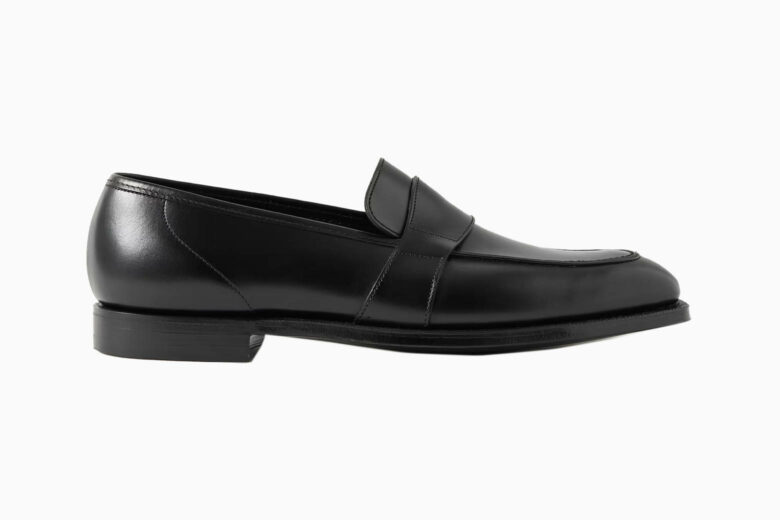 In a league of their own, these black leather loafers by George Cleverley are a lesson in Voguish versatility. The classical penny loafer silhouette speaks to a timeless aesthetic. While the brand's signature square toe is unapologetically chiseled and contemporary.
Handmade in the United Kingdom from a buttery smooth leather hide, the comfortable shoe features a soft slipper-like lining. Slightly exposed stitching speaks to the English standards for perfection. And a slightly raised heel highlights these black leather loafers as an elevated essential.
Best for: It's hip to be square.
| | |
| --- | --- |
| Style: | Penny Loafers |
| Material: | Leather |
| Colors: | Black |
G.H Bass & Co Weejuns: Best brown loafers for men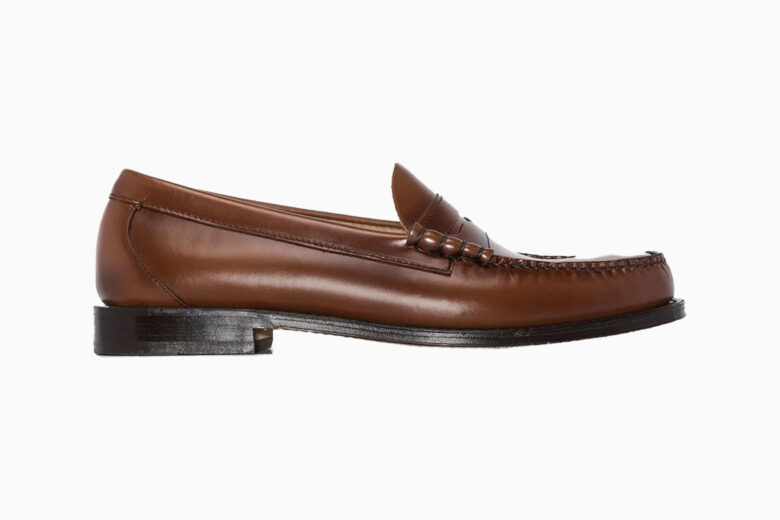 Established in the 1930s, Bass Weejuns is unrivaled when it comes to affordable luxury. Handcrafted in El Salvador from premium leathers, the lower price tag doesn't compromise quality. And the retro-style almond toe and traditional penny details are a nod towards the iconic brand's many historical moments.
Bass Weejuns loafers have graced the feet of Hollywood stars and famous politicians, including James Dean and John F Kennedy. But they're also a brand for briefcase-bearing commuters and vacation cruisers. And if the many hasn't yet dropped—it should now: you need a pair of these brown loafers in your everyday rotation.
Best for: Joining the famous fanbase.
| | |
| --- | --- |
| Style: | Penny Loafers |
| Material: | Leather |
| Colors: | Brown |
Clarks Atticus: Best navy loafers for men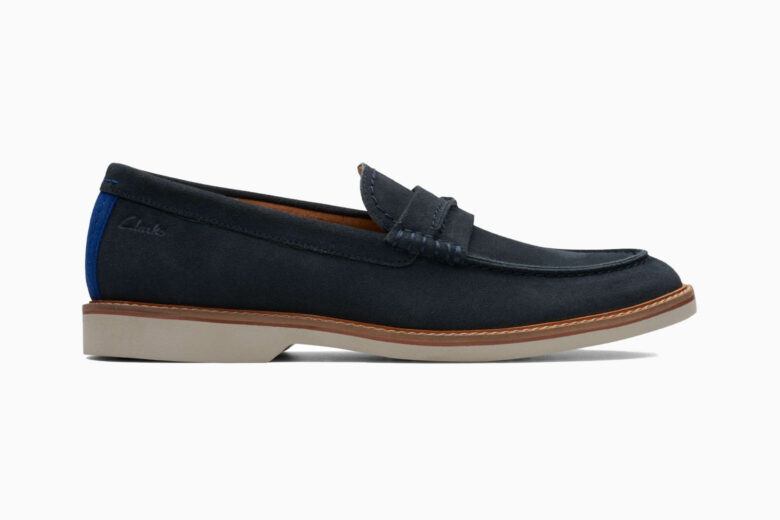 Ah navy—regal and refined, it's a color so often underestimated. And whilst just as versatile as black, it's slightly softer, whilst still maintaining a sophisticated aesthetic. How to add it to your everyday arsenal? These Atticus loafers by Clarks.
Effortlessly lightweight and breathable, these comfortable loafers will blow your socks off (quite literally, you don't need socks.) The padded footbed is made from recycled foam, making it both supportive and sustainable. While the waxy suede exterior hits the elusive sweet spot between smart and casual, making it appropriate for any daytime or evening affair.
Best for: Garden get-together and alfresco dinners.
| | |
| --- | --- |
| Style: | Penny Loafers |
| Material: | Suede |
| Colors: | Navy and Brown |
Cole Haan: Best classic loafers for men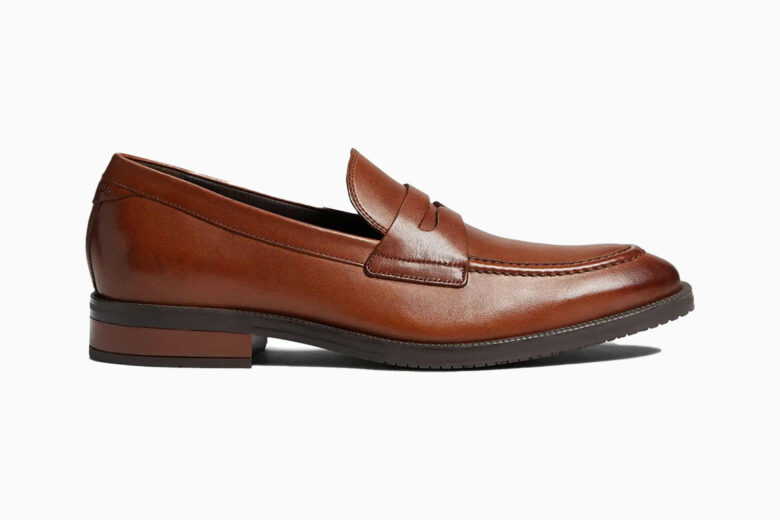 Standing (and walking) the test of time, Cole Haan was founded in 1928. And as one of the most timeless American luxury labels, it remains one of the most sought after menswear brands almost a century later. These classical loafers are case in point.
What makes these shoes so immortal? Perhaps it's the time-honored penny loafer silhouette. Perhaps it's the premium leather exterior. Perhaps it's the slip-on style or almond toe. But most likely it's a combination of all of these historically significant elements. Looking to make it into the exclusive gentlemen's club? These Cole Haan loafers are your entry ticket.
Best for: Quintessentially gentlemen's shoes.
| | |
| --- | --- |
| Style: | Penny Loafers |
| Material: | Leather |
| Colors: | Brown |
Bruno Marc: Best budget slip-on loafers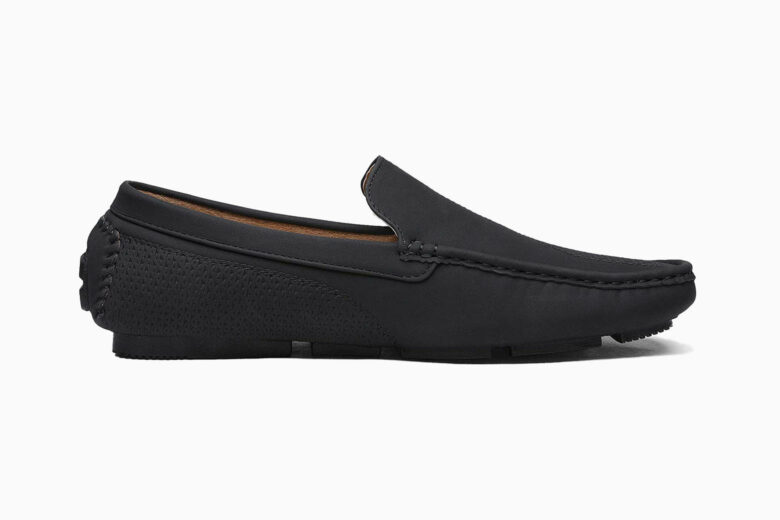 When quality is this accessible, there's really no excuse to settle for anything less. Lightweight and flexible, the multifaceted footwear is perfect for packing. And if we could only take one pair of closed shoes on Summer vacation, these slip on loafers would have to be it.
The faux leather silhouette is cruelty-free and vegan-friendly. While the classical silhouette marries smart with casual. The cushioned insole proves that fashion doesn't have to compromise comfort. And we love that these convenient loafer shoes look just as great with relaxed shorts as they do with dressy chinos. 
Best for: Stretching the budget to the Amalfi coast and back.
| | |
| --- | --- |
| Style: | Driving Loafers |
| Material: | Faux leather |
| Colors: | Navy, Black, Beige + More |
Tom Ford: Most expensive loafers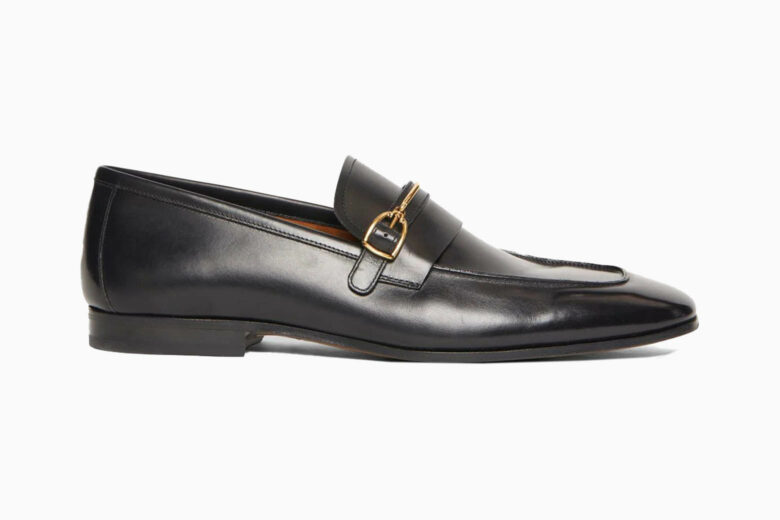 It's shoes like these that make us celebrate the fact that Tom Ford left Gucci to launch his own label. Founded in 2005, the eponymous label comes with a price tag. But when its designs are this prestigious, we consider it as more of an investment into a lifetime of class and sophistication.
These Tom Ford burnished loafers are made from the highest grade leathers and premium materials. And while we adore everything about the sleek, black silhouette, the star of the show has to be the designer's signature gold tone horsebit embellishments.
Best for: Flying high in Tom Ford.
| | |
| --- | --- |
| Style: | Horsebit Loafers |
| Material: | Leather |
| Colors: | Black |
The 5 types of loafers you will encounter
There are many different types of men's loafers. When shopping for your best pair of loafers, make sure you understand the different product categories.
As we discussed, there were originally two different types of loafers. Today, there are a few more categories available on the market. What's the difference?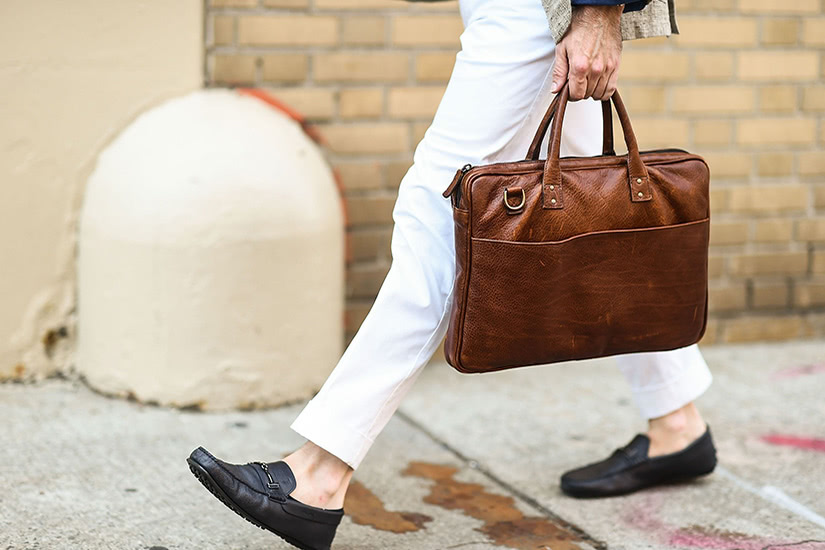 Penny loafers
Penny loafers are the original loafer. They are characterized by a strip of leather across the top that has a diamond slit.
"Gucci" horsebit loafers
Horsebit loafers came soon after the penny loafers. As you can probably guess by the name, they were originally created by Gucci. Their distinguishing characteristic is the horsebit across the top of the shoe. Instead of the diamond slit that you see on a penny loafer, these shoes have a metal chain horsebit.
Tassel loafers
The name of this style gives away its key feature. Instead of a slit or a horsebit, this type of loafer has a tassel.
The slipper
A slipper is a slim type of loafer, most often composed of velvet material. It doesn't usually have any adornments on top like the original loafer options. Instead, it has a smooth, simple design.
The driving shoe
The driving shoe is another casual loafer option. These were initially created as a shoe that gave more grip while driving a car. Today, you can find these on businessmen and fashion-forward gentlemen as a more casual loafer alternative. True to their original purpose, this type of loafer has more grip on their soles.
Which material should you choose for your loafer?
The material of your loafer can impact your entire look. You need to understand your material options and the implications of each to make the right loafer choice:
Leather
This is the most common and classic option for men's loafer material. Available in multiple colors, leather gives your shoes a versatile look that can be easily dressed up or down.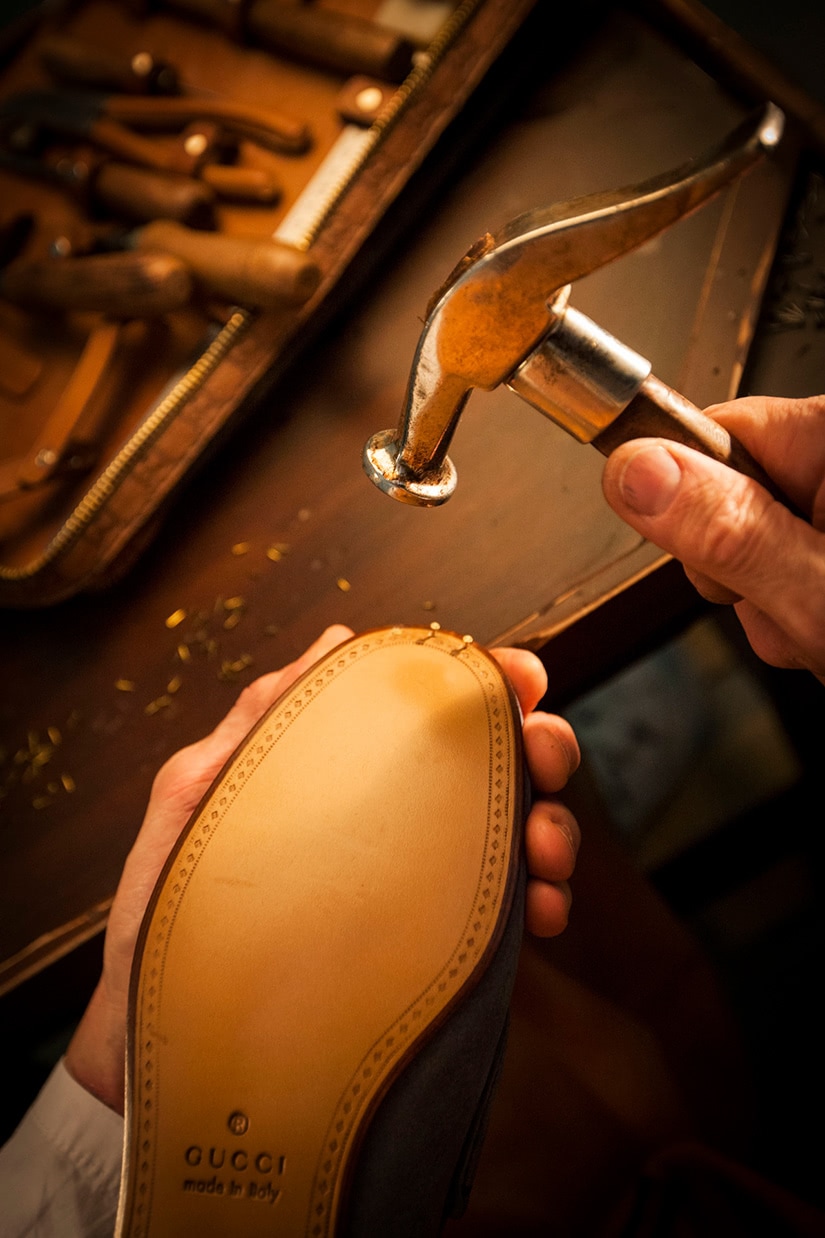 Suede
Suede is leather's cousin. It's a softer material made from the backside of an animal hide instead of the front (where we get leather). Suede is a great option if you want a more casual loafer.
Patent leather
Patent leather is that glossy leather, you can often find on a dress shoe. A patent leather loafer can be worn for dressier occasions. The patent leather gives a loafer a more formal look.
Velvet
Velvet loafers seem to be popping up everywhere. A velvet loafer is great for an edgier look or to display more personal flair with your loafer.
It strays from the classic leather material. Yet, velvet is a great option if you already have some classic loafers and want some cool loafers to accent your wardrobe.
Loafer color options and how they fit your look
The color of your loafer can alter the effect of the shoe. A lighter color makes the loafer more casual. A brown color gives the loafer a more classic look. While we won't explore every color of the rainbow, here are the details on a few common loafer colors:
Brown
A brown loafer boasts the color of the original loafer. It is classic and sturdy. Brown loafers are one of the most common loafer colors, along with black. You can't go wrong with a brown loafer.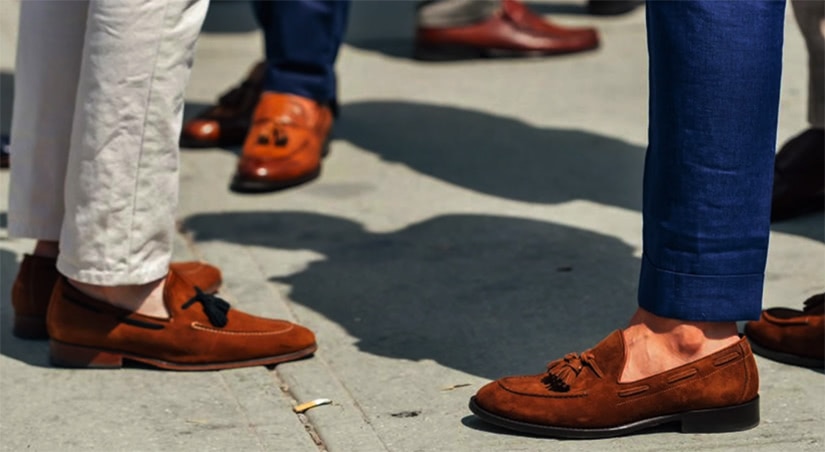 Black
Like brown, black is a great classic loafer color. It will pair well with almost any outfit. A black loafer is a bit dressier than the classic brown, but it can also be worn with a more casual outfit as well.
Tan
While less common than a brown or a black loafer, a tan loafer works well with a more casual look. The lighter color lends itself well to a beach look or an outfit with denim.
Bright colors
Brightly-colored loafers are a great way to add an extra flair to your outfit. Generally, a bright color does not pair well with a super formal ensemble, but bright loafers are perfect for a fashion-forward look.
White
White loafers are not very common and prove more difficult to take care of due to their lighter color. However, if you already have your classic loafers, white loafers can be a great addition for your casual wardrobe.
Loafers at every price point
Loafers can be found in a vast array of price ranges, ranging from budget to high-end luxury. With each price range, there are pros and cons.
A budget loafer is great if you are just getting started on your wardrobe and want to try out a few styles.
A high-end loafer exhibits craftsmanship, great quality, and exquisite details. We recommend you start with more classic loafer styles if you want to invest in a timeless, high-end pair.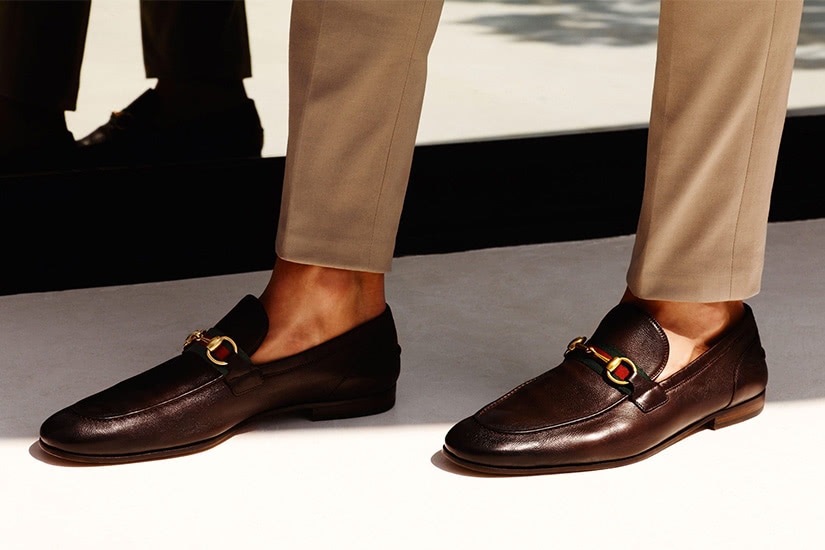 No matter which price range you decide to start with, there are many options to choose from.
Where did loafers come from anyway?
The first loafer design was created in 1936 by Bass. This was the classic penny loafer design, and Bass called this first loafer the "Weejun." This penny loafer quickly gained popularity on American college campuses, earning itself a reputation as a preppy shoe.
As the penny loafer gained popularity, the team at Gucci started to take notice. They soon designed their own version of the loafer.
Their design was black, and they added a horsebit as a nod to their history with horseback riding. This loafer design is still known today as the "Gucci" loafer.
While the two original classic loafer designs are still popular and fashionable, today, there are many new iterations of these classic loafer designs. Whether you prefer the original loafer style or prefer a loafer with a bit more flair, there is a loafer design that works for every man's wardrobe.
How and when should men wear loafers?
The men's loafer brings much versatility. The shoe is compatible with many different looks. A casual loafer can be worn with jeans, chinos, and even shorts.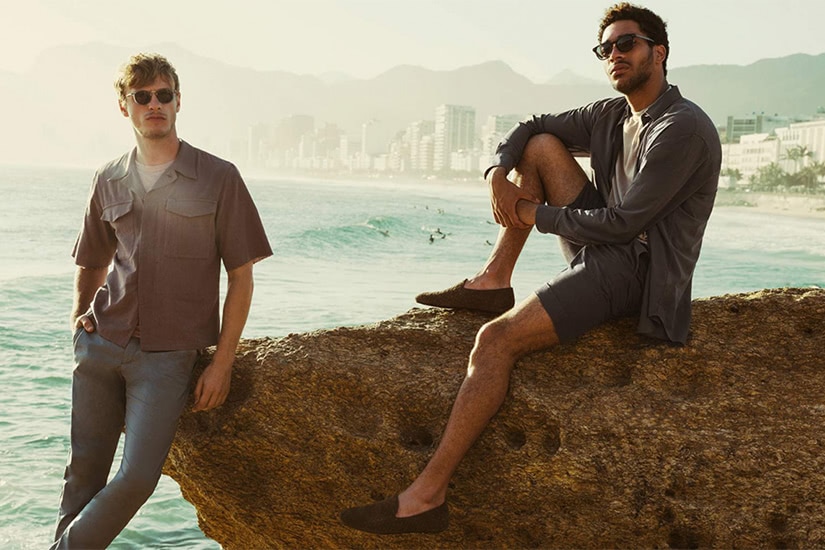 To dress up your loafers, you can wear them with slacks and a dress shirt. With certain loafers, such as the patent leather ones mentioned above, you can even wear a formal suit or tuxedo.
Here are a few classic looks that pair well with a classic loafer shoe:
Casual
Loafers pair well with a carefully curated casual look. Try them with denim or casual slacks and a t-shirt. Top it off with a leather jacket to complete the look, and you will be ready to head out for some errands or a relaxed evening out.
Semi-formal
Need to dress up a bit more? Loafers can help with this look, too. Pair with dress slacks, a cable-knit sweater, and add on a blazer for chillier weather.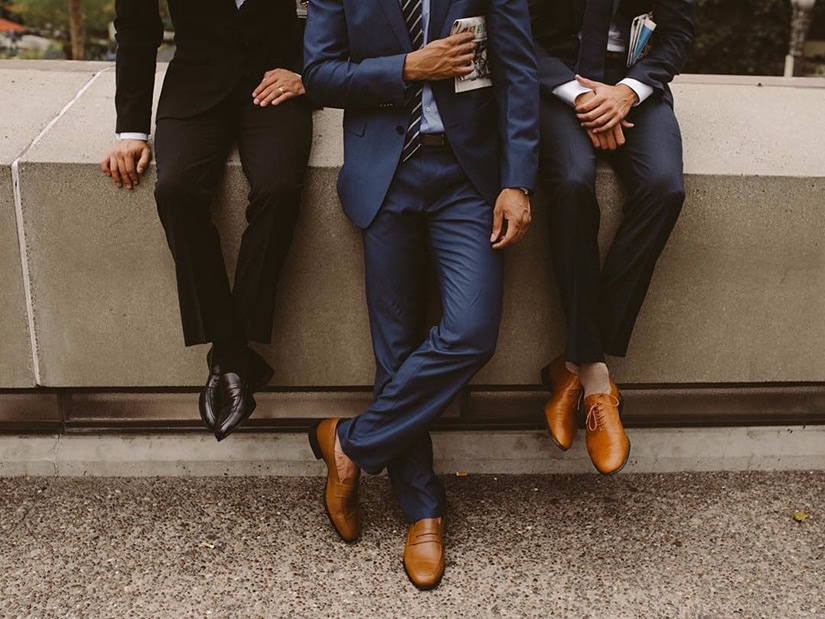 Formal
For the days when a suit and tie are required, loafers complete your business look. With a classic suit and tie, opt for a black Gucci loafer.
Luxury loafer brands to know
While we have gifted you a list of the best men's loafers of the year, we realize you may want to do your own research. After all, every style hatchling needs to spread its wings and fly eventually.
To equip you for your search, we want to discuss a few of the top luxury brands for loafers. Many brands offer a men's loafer, but we tried to narrow down a few brands that offer multiple great loafer options.
Here are our picks.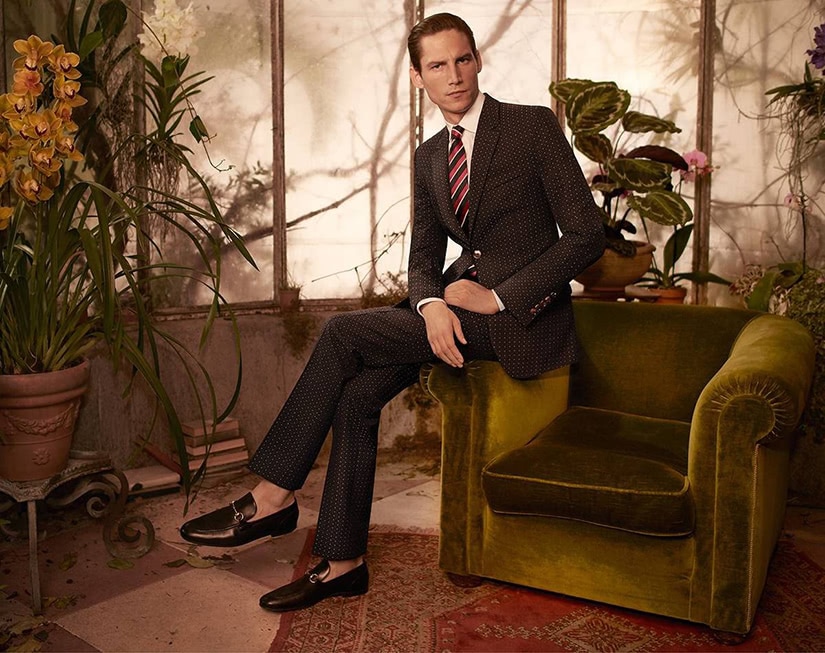 Gucci
As one of the originators of the classic men's loafer, Gucci continues to innovate and design creative yet classic loafers. They offer everything from the original loafer to modern takes on the classic design with thoughtful accents.
G.H. Bass
Another one of the original creators of the loafer, G.H. Bass continues to give you classic designs that seamlessly intertwine with the life of any modern gentleman.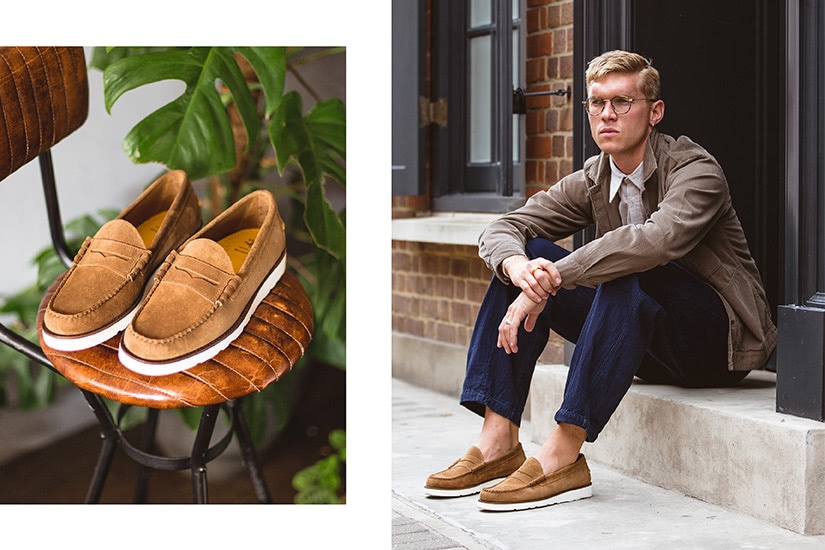 Ted Baker
This British design house always aims to delight, and they do not disappoint with their men's loafers offerings. With its sleek loafer designs with intricate details, Ted Baker proves to be a winning destination for loafers.
Polo Ralph Lauren
The quintessential brand for all things preppy, Polo Ralph Lauren offers all the university vibes that came with the original penny loafer. If you want to add a little prep to your step, they surely have the loafer for you.
Tod's
Tod's offers the loafer for the simplistically elegant gent. They give you many simple but sleek loafer options to class up your wardrobe, without all the extra details you don't need.
Frequently asked questions about loafers for men
Which loafers is best for men?
The best loafers for men depend on your personal style, preferences, and needs. For the most comfortable loafers that are also stylish and sophisticated, we recommend Amberjack loafers. For designer loafers that are prestigiously polished, we would go for Gucci's horsebit loafers. And for the best black leather loafers, we recommend the penny loafers by George Cleverley.
Which brand of loafers is best?
When it comes to the best men's loafers, there are few brands that really stand out above the rest. Cole Haan is unparalleled in classical finishes. Tom Ford is a masterclass in sultry sophistication. And you can't beat M.Gemi with respect to an Italian aesthetic. For all our favorite brands, see Luxe Digital's best loafers for men.
Are loafers good for men?
Yes, loafers are a popular shoe for men. For centuries, the timeless silhouette has proved to be the master of casual sophistication. The comfortable, slip-on style makes them convenient to take on and off. And perfect for client meetings and garden get-togethers alike, loafers are an easy way to impress without trying too hard.
Are loafers stylish for men?
Loafers will always be in style. As one of the most versatile footwear options for men, the slip-on silhouette fits into almost any occasion. Pair a casual navy pair with shorts and linen shirts. Or dress up a formal black pair in full black tie attire. Either way, you can't go wrong when it comes to styling loafers.