Let's get the most obvious question out of the way: is there a difference between joggers for men and sweatpants? The answer is yes…ish. Both share similar waist fastenings (usually drawstrings or elastic waistbands) and have similar cuffs. Both started life as athletic wear that now doubles as cozy and comfortable stay-at-home gear. The difference lies in the intent; the best joggers for men are seeing an upswing in style, making them into something that is now for more than just athletics or pure home lounging.
Designers are starting to put some real effort into pushing jogging pants into all-round casual wear, the kind of clothes you'd feel comfortable wearing as you zip around town grabbing groceries or picking up the kids from school. While they're not in the realm of upscale formal wear, with the best men's joggers you're going to look like you have your loungewear act on point.
Of course, that doesn't mean that men's jogger pants are leaving the realm of comfortable loungewear or flexible fitness wear behind any time soon. That's what this list is all about—flexibility. Listed below, you'll find the best casual joggers for kicking around the house, dress joggers for when you have to hit the town, and lightweight joggers when it's time to get your sweat on.
The 21 best joggers for men
Brooklinen Bergen Joggers: Overall best men's joggers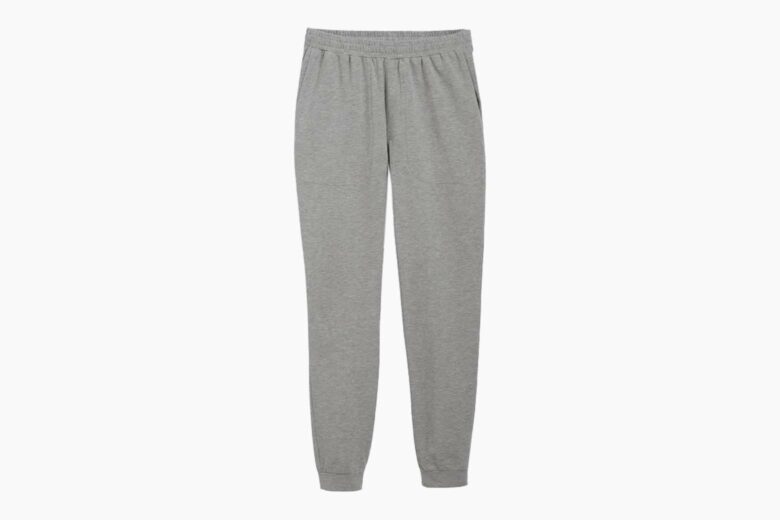 Brooklinen describes these joggers as "Built well enough to jog in, but why bother?", and that sums them up quite nicely. The Bergen Joggers excel at stay-at-home comfort while sporting a classic jogger silhouette and offering the feeling of soft French Terry. Pair them with your most comfortable hoodie, and you're all set for a comfortable day at home.
| | |
| --- | --- |
| Best for: | Maxing out your "Me-Day" vibes.   |
| Colors: | Heather Gray, Black |
Thom Browne RWB Stripe Track Pants: Best designer joggers for men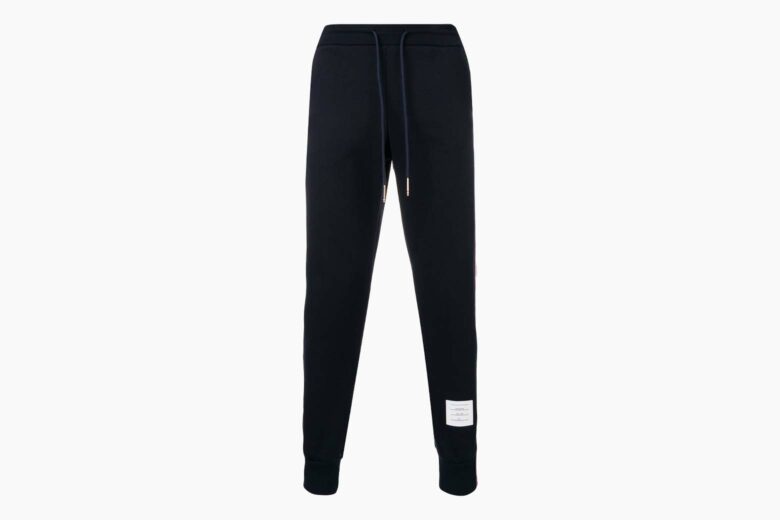 Dressy joggers are becoming more street-worthy by the day. The best designer joggers around are Thom Browne's RWB Stripe track Pants, which are going to look mighty fine paired up with your favorite luxury sneakers and snazziest designer t-shirt. If you have a busy day ahead and are going to have eyes on you, but you want to stay comfortable, these are the designer joggers to go with.
| | |
| --- | --- |
| Best for: | Being point man on the new wave of athleisure wear.   |
| Colors: | Navy Blue, White, Light Grey |
Nike Sportswear Club: Best value men's joggers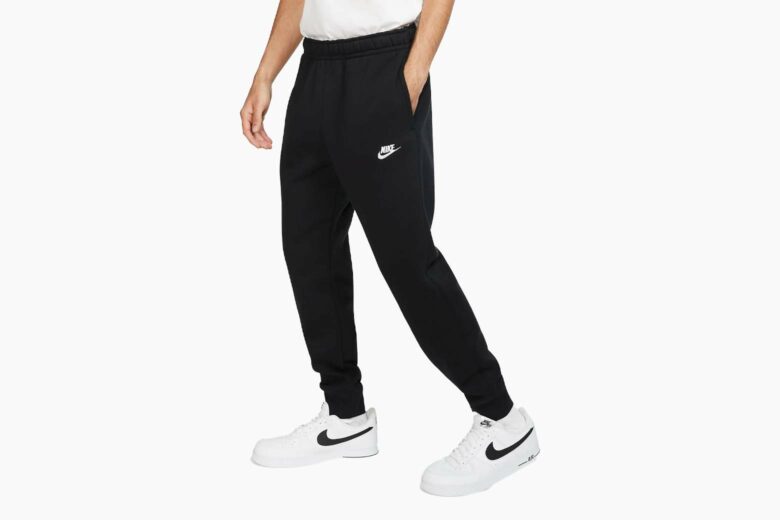 If you want joggers that do both leisurewear and athletic wear very well without breaking the bank, definitely take a look at the fleecy goodness that is Nike's Sportswear Club joggers. Want to go for a jog or get in some yoga positions? Or would you prefer to pull on some Bombas socks and chill out at home instead? These joggers have you covered either way.
| | |
| --- | --- |
| Best for: | Easily swooshing from loungewear to activewear and back again. |
| Colors: | Black, Pomegranate, Vivid Sulfur + More |
Western Rise Spectrum Jogger: Best men's joggers for travel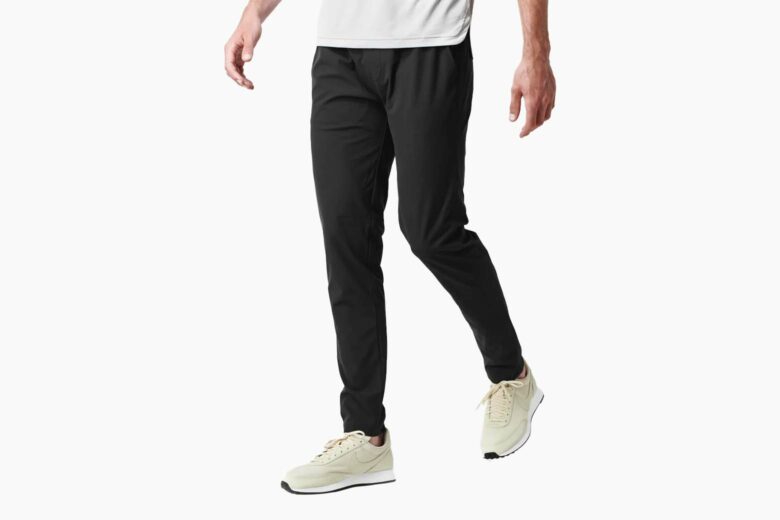 Western Rise's Spectrum Joggers pull off the trick of looking like a casual pair of chinos. But at the same time, the polyester build allows for a big range of motion and keeps you cool, making for a solid set of joggers. Pack them in your luggage along with your best white sneakers, and you'll be all set for some productive travels.
| | |
| --- | --- |
| Best for: | Going the distance in more ways than one. |
| Colors: | Navy, Sand, Olive + More |
Allbirds Men's R&R Sweatpants: Best men's joggers for everyday wear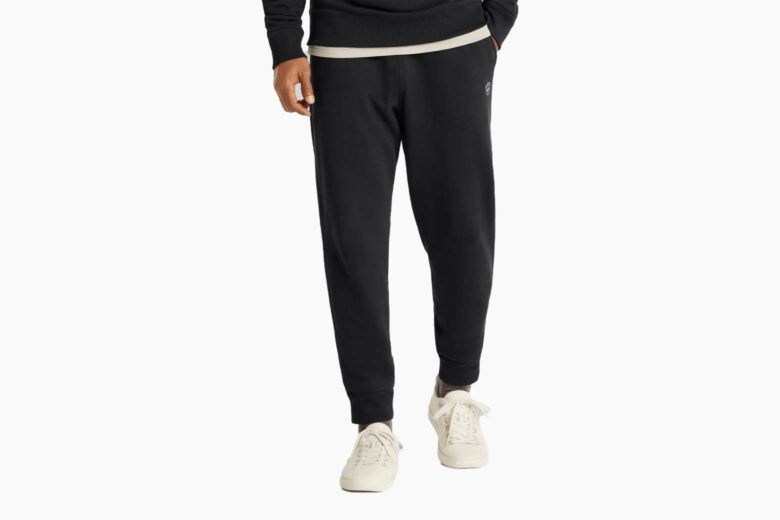 When it comes to all-day joggers, you're going to want something that is super comfortable to go along with your all-day shoes. And it sure would be sweet if those joggers had a touch of class to go along with that all-day comfort. Allbirds' R&R sweatpants check all the right boxes. Worked in a slim fit, these joggers are made of organic Peruvian pima cotton, hemp, and TENCEL Lyocell, which all blend together into a serenely soft feel.
Learn more about the story behind Allbirds.
| | |
| --- | --- |
| Best for: | Making relaxation an everyday thing. |
| Colors: | Natural Black, Hazy Sienna, Terracotta + More |
Alpha Industries Ripstop Jogger: Best cargo joggers for men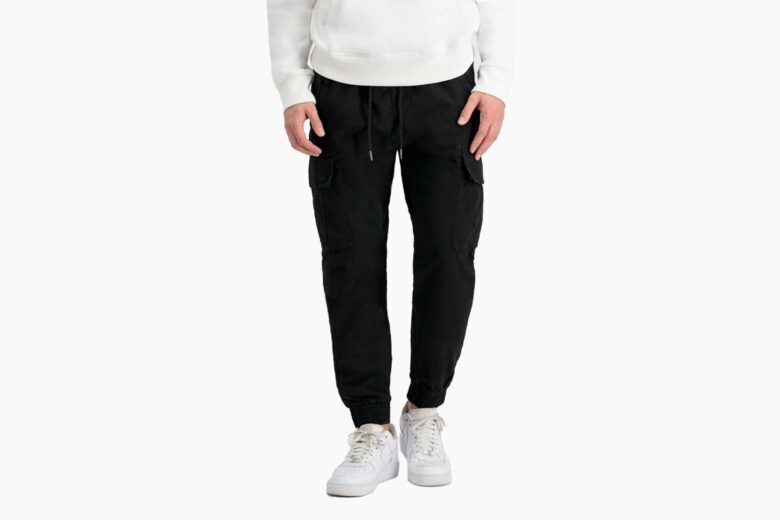 These Ripstop Joggers from Alpha Industries are a best-of-both-worlds situation. On one hand (or leg), you've got lots of pocket space for everyday essentials or job-specific gear. On the other, you have the flexibility and drawstring adjustability for a comfortable fit. Mix all of that together with the ripstop fabric, and you have yourself a set of tech joggers ready to take on the Great Outdoors.
| | |
| --- | --- |
| Best for: | Being tempted by utility. |
| Colors: | Black, Dark Olive |
Adidas Capable Of Greatness Joggers: Best men's joggers for working out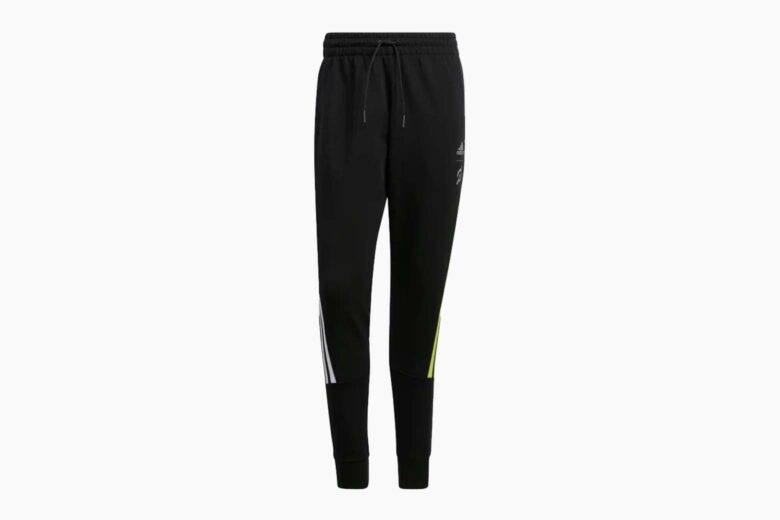 If we're putting together a list of the best joggers for men, we're obviously going to have to include a set that is flat-out the best joggers for working out. Adidas is well known as one of the best workout brands on the market, and the brand's Capable of Greatness Joggers are the ones you want to stick in your gym bag. The AEROREADY fabric wicks moisture like a pro, and the cinched cuffs and tapered legs keep your joggers in place during hectic movements. Greatness achieved.
| | |
| --- | --- |
| Best for: | Redefining your personal bests. |
| Colors: | Black |
On-Running Running Pants: Best men's joggers for running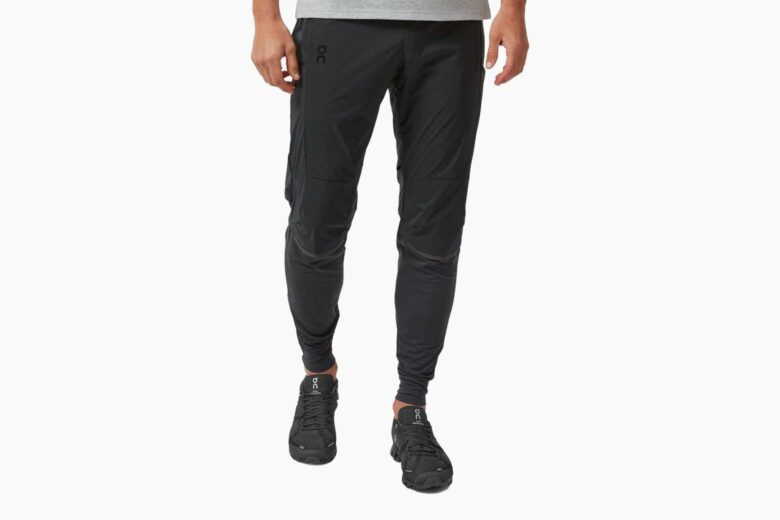 We've done a deep dive on On-Running before; the brand built by world-class athletes who design gear with athletes in mind. They continue to impress us, this time with this set of running pants. Flexibility is the name of the game here, not just in freedom of movement but also in that strategically placed zippers at the cuffs and knee meshes allowing you to change your pants on the fly to adapt to your environment and body heat.
| | |
| --- | --- |
| Best for: | Running towards a better version of you. |
| Colors: | Black, Glacier |
New Republic Westgate Fleece Jogger: Best fleece joggers for men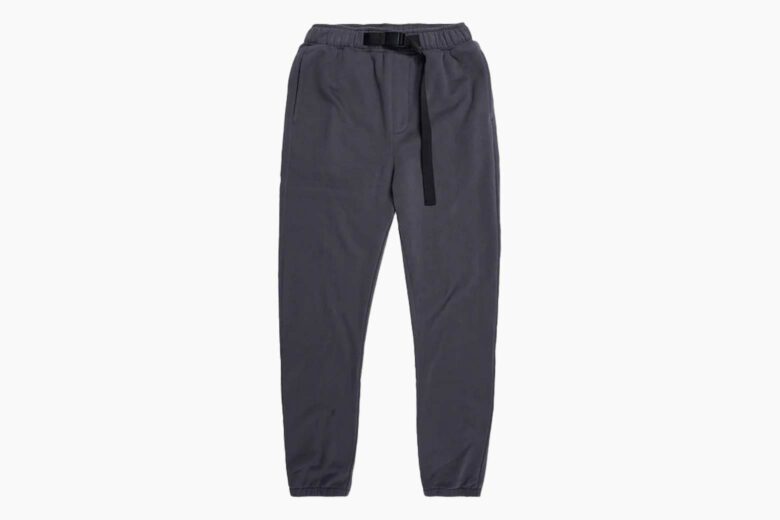 On cooler days, nothing does it quite like fleece. In the case of New Republic's Westgate Fleece Joggers, you not only have joggers that are going to keep you warm by the waterfront, you also have a set of pants that look snappy enough to be worn as casual wear, complete with a stitched nylon webbing release buckle.
| | |
| --- | --- |
| Best for: | Beating back the chill while beating your best time. |
| Colors: | Iron, Captain Blue, Oxford Tan + More |
Luca Faloni Pure Cashmere Joggers: Best men's cashmere joggers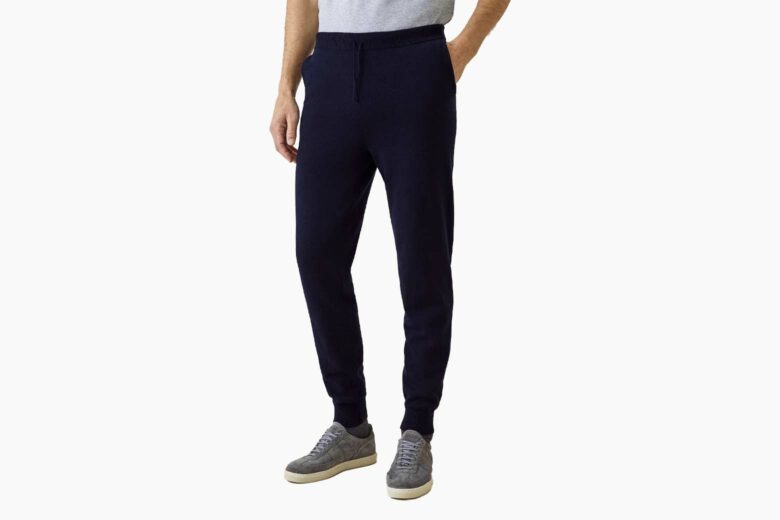 There's softness, and then there's cashmere softness, which is a whole other level. If you've ever considered treating yourself to cashmere, Luca Faloni's pure cashmere joggers are an amazing entry point. If you're going to be wearing joggers all day, why not go for the kind made from the cashmere taken from specially-reared Mongolian Capra Hircus Laniger goats? You deserve it.
| | |
| --- | --- |
| Best for: | Turning all-day wear into an all-out sensation experience. |
| Colors: | Midnight Blue, Atlantic Blue, Camel Beige + More |
Balmain Cotton Denim & Jersey Jogger Jeans: Best jean joggers for men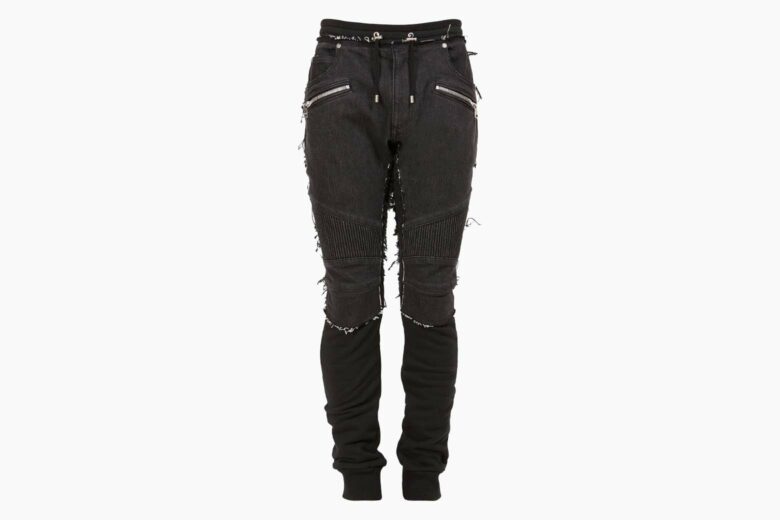 Jean joggers bring you the casual looks of jeans meshed with the comfort of your favorite joggers. Sounds pretty good, right? Balmain takes the concept even further with their Jersey jogger jeans, turning men's denim joggers into a true casual fashion statement. The unique zipper placement and deliberately distressed tailoring put these men's jean joggers into a league of their own.
| | |
| --- | --- |
| Best for: | Wearing joggers that set their own pace. |
| Colors: | Black  |
Hugo Boss Organic Split Logo Joggers: Best men's cotton joggers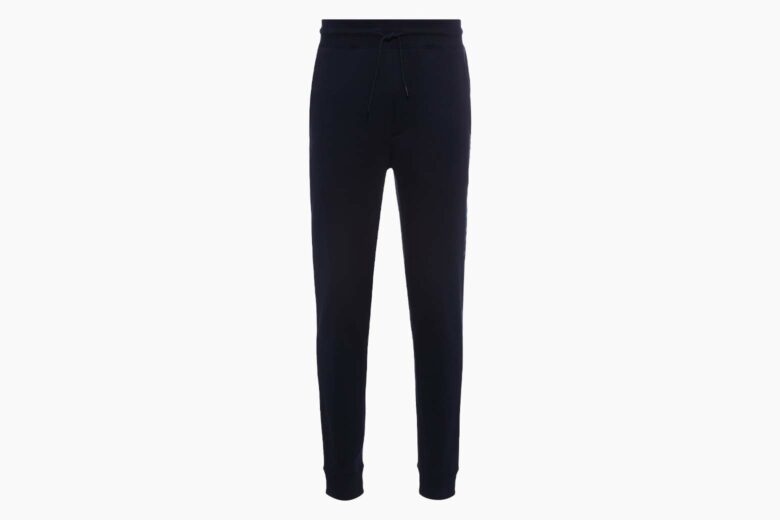 Sometimes, nothing but good old-fashioned cotton will do the trick. But that doesn't mean you have to leave style in your wake. Hugo Boss' organic split logo joggers add just the right amount of classy styling to break them apart from the pack.
| | |
| --- | --- |
| Best for: | When you have a craving for good old-fashioned cotton. |
| Colors: | Dark Blue, Black  |
Champion Powerblend Retro Jogger Pants: Best retro joggers for men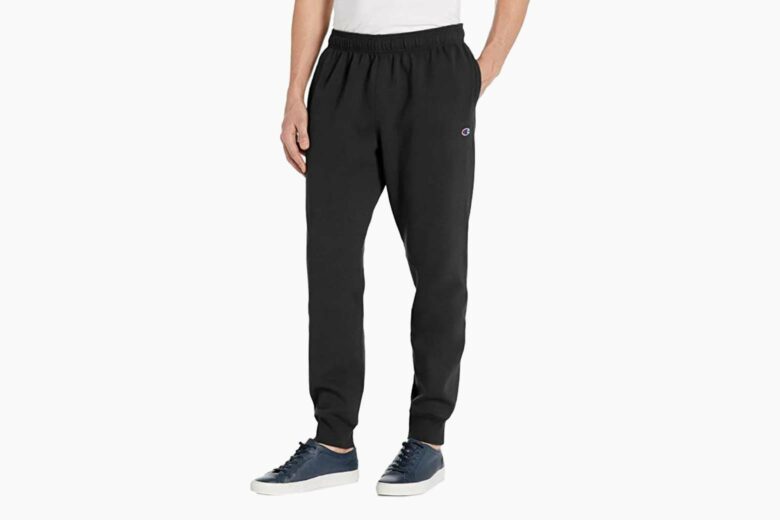 Men's joggers don't get much more classic than good old Champion retro jogger pants. The brand has been around forever (well, since 1919 anyway) and was the go-to athleticwear company for the U.S. military academy. Considering how reasonably priced Champion joggers are, you're getting a century's worth of athleticwear experience at an amazing price.
| | |
| --- | --- |
| Best for: | Pulling on a classic, one leg at a time.  |
| Colors: | Black, Scarlet, Regal Navy + More |
Alo Yoga Conquer Revitalize Pant: Best men's joggers for summer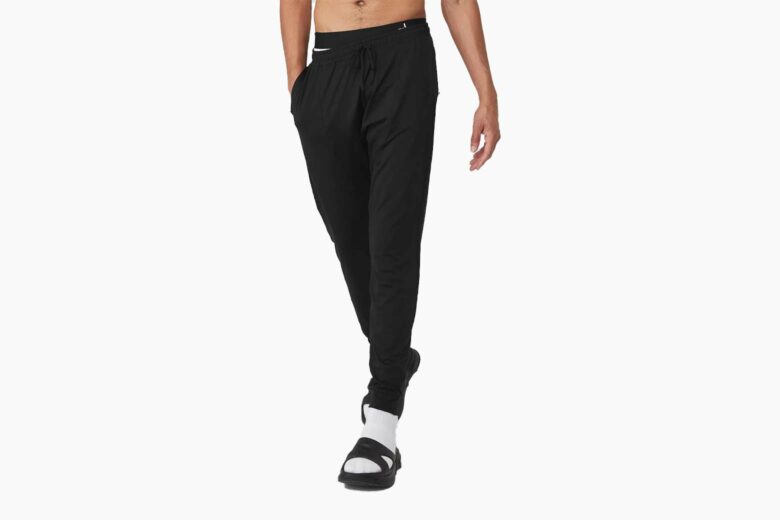 Looking for joggers that can do double-duty for both working out and walking about? Check out Alo Yoga Conquer Revitalize pants. These lightweight joggers have a sharp silhouette that makes them work just fine as streetwear, but the moisture-wicking tailoring and zip-pockets make them ideal joggers for your workouts too.
Learn more about the Alo Yoga brand.
| | |
| --- | --- |
| Best for: | Shaping up both you and your wardrobe. |
| Colors: | Black, Anthracite, Gravel + More |
Polo Ralph Lauren Tapered Jersey Sweatpants: Best white joggers for men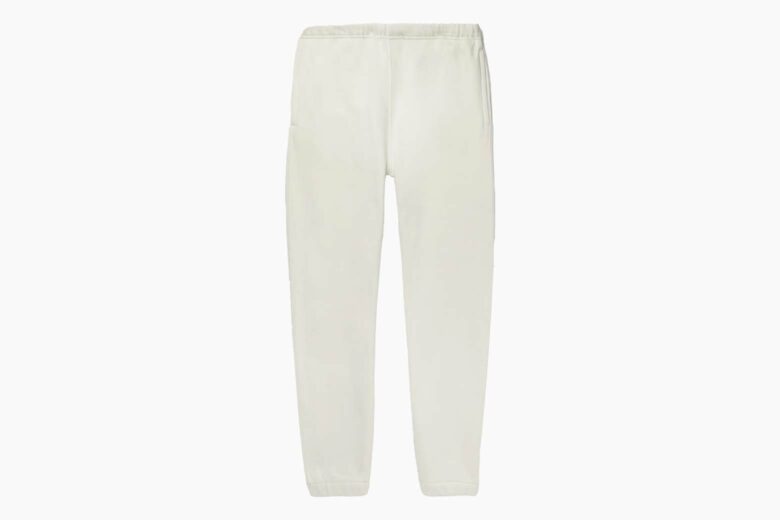 The neat tapered shape and white coloring of Ralph Lauren's tapered Jersey sweatpants make them a mix-and-match marvel. If you're thinking hoodies and T-shirts, you're not wrong, but why not take the next step and try these joggers out with a denim jacket and a good-looking pair of sunglasses?
| | |
| --- | --- |
| Best for: | Make blending fashions into a bright new habit. |
| Colors: | White |
Under Armour UA Sportstyle Joggers: Best men's black joggers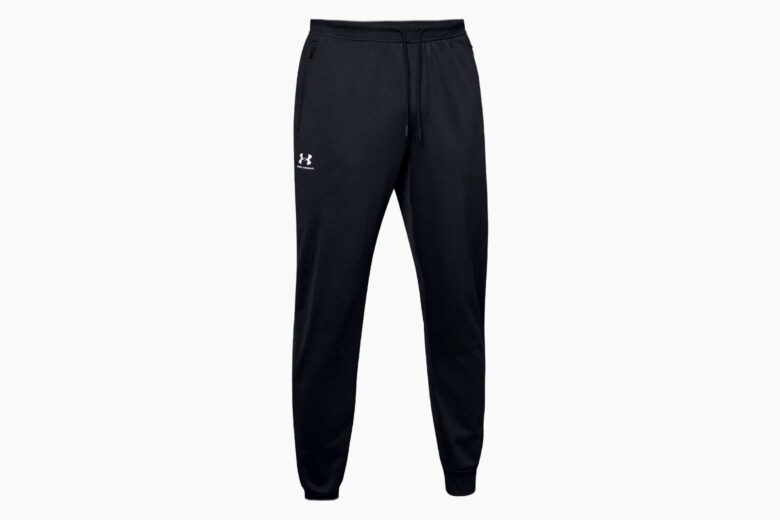 Want to look like you mean business? Grab yourself a pair or two of Under Armour's UA Sportstyle joggers. These joggers make an instant statement—that you're here to get your sweat on. It doesn't hurt any that Under Armour makes an effort to keep the price very affordable, so you can grab a couple of pairs without any purchase guilt.
| | |
| --- | --- |
| Best for: | Letting the world know you're here to get some work done. |
| Colors: | Black, Dark Maroon, Blue Note + More |
Brunello Cucinelli Wool Jogging Pants: Best dressy joggers for men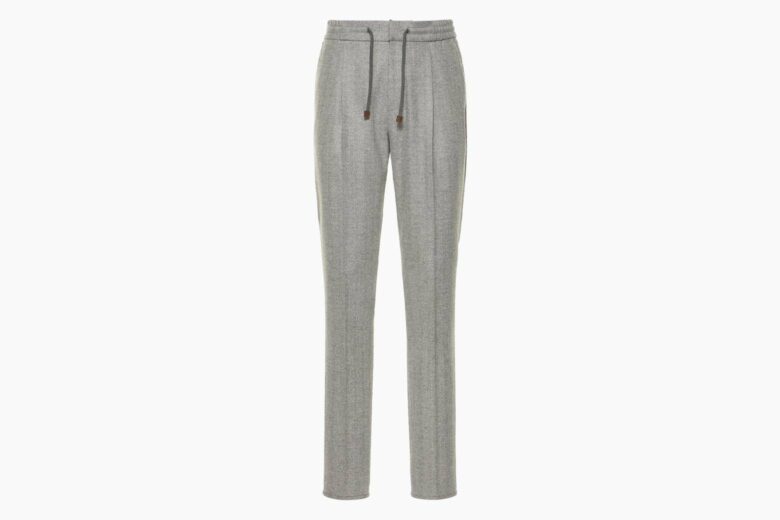 "Jogger dress pants" probably isn't a phrase you've heard much before, but that's because you haven't yet seen Brunello Cucinelli's wool joggers. It's like a magic trick—the magicians at B.C. put pleats and jogging pants into a top hat, waved a magic wand, and voila! Dress joggers. Are pants this comfortable even allowed to look this good?
| | |
| --- | --- |
| Best for: | Sneaking in spades of comfort behind a stylish facade |
| Colors: | Pearl Grey  |
Saint Laurent Zipped Ankles Tapered Track Pants: Best men's leather joggers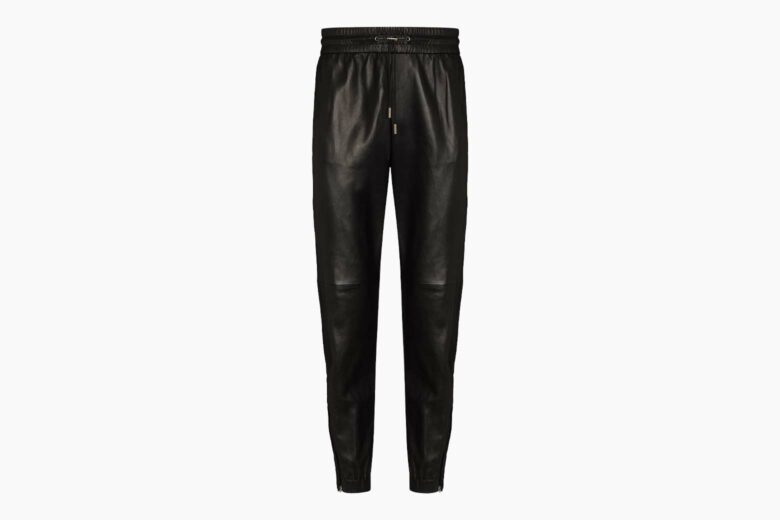 Saint Laurent went into all-out experiment mode with their leather Zipped Ankles Track Pants. The silhouette and waist drawstrings are pure jogging pants, but that leather build makes these pants into something entirely new. Try them out at the club and see just how much attention you can manage to draw.
| | |
| --- | --- |
| Best for: | Bringing something new to the fashion world. |
| Colors: | Black  |
AAPE Logo-patch Track Pants: Best khaki joggers for men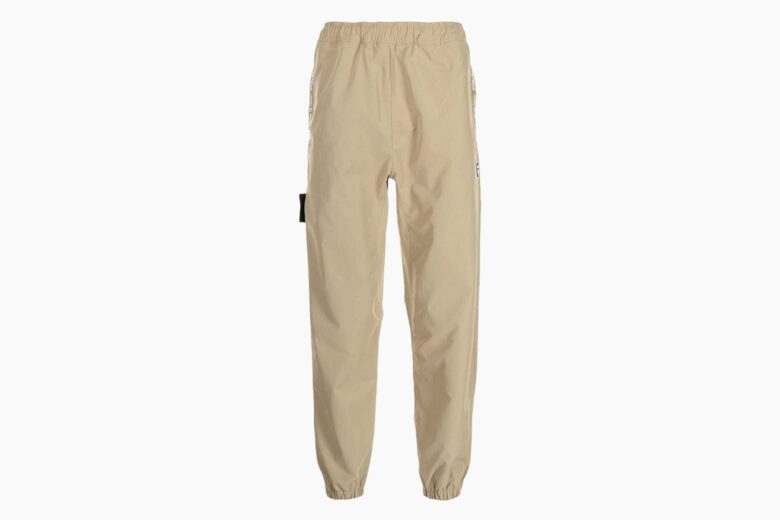 Here's a pair of joggers that seek to define themselves by defying definition. AAPE's logo track pants offer the comfort of a jogger's waistband drawstrings and elastic cuffs, but at the same time, they have a cut that elevates them beyond the purely practical into the fashionable. We'll let you decide if you want to wear them to the gym or out on the streets.
| | |
| --- | --- |
| Best for: | Breaking down the walls between the streets and the gym. |
| Colors: | Beige, Sky-blue, Khaki-green + More |
Hanes Joggers: Best budget joggers for men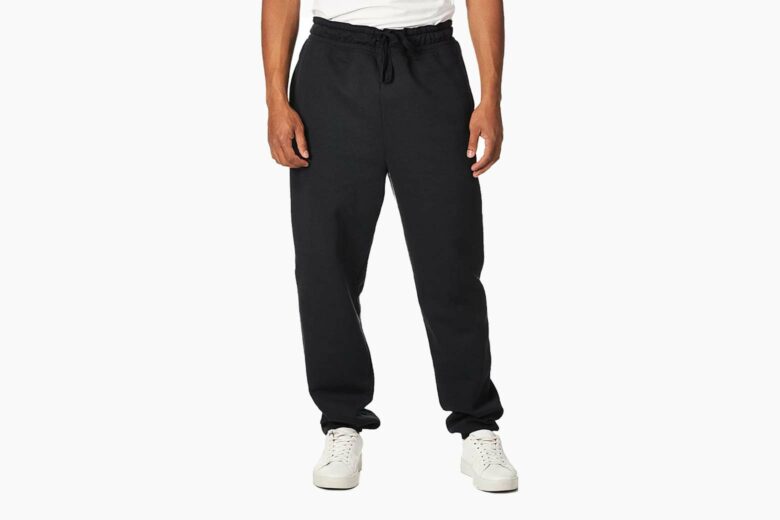 You're not out to look fancy, you're just gearing up to put your body through its paces. You want some good old-fashioned jogging pants. Head to Hanes jogging pants; they're built to move with you, they're easy to maintain, and they're most definitely priced right.
| | |
| --- | --- |
| Best for: | Pulling on an exercise attitude. |
| Colors: | Black, Charcoal Heather, Light Steel + More |
Gucci Jersey Jogging Pants: Best luxury joggers for men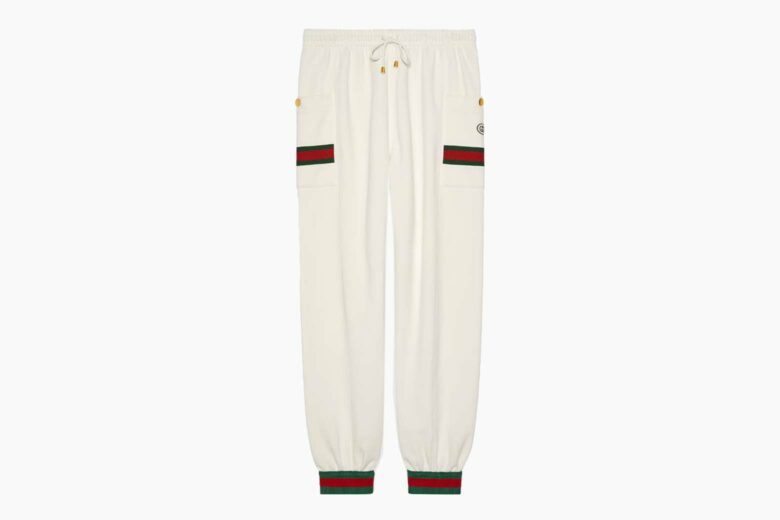 Gucci's Jersey jogging pants are built around a loose-fitting old-fashioned athleticwear look, but their famous red and green webbing at the cuffs and pockets add a chef's kiss of razzle-dazzle. The 100% organic cotton rounds out the ultimate luxury of this lazy-day wear.
| | |
| --- | --- |
| Best for: | Letting your lower half float in design-house luxury. |
| Colors: | Ivory |
Frequently asked questions about men's jogging pants
What are joggers?
The terms "joggers" and "sweatpants" are generally used interchangeably, but some designers differentiate the two by saying that joggers are meant to keep the legs cool while running, while sweatpants are meant to encourage sweating. Style-wise, joggers are considered a bit more upscale.
What are the best quality joggers?
Overall, we'd suggest taking a look at Brooklinen's Bergen joggers. The French Terry tailoring makes them very comfortable, but the spandex and modal make them durable enough to be used for athletics. Check our list of the best men's joggers for more options.
Which brand makes the best joggers?
If you're looking for joggers that will look good as casual wear, start your search with Brunello Cucinelli's wool jogging pants. If you're looking for something more athletic, try On-Running, Adidas, or Nike's offerings. Check out our list of the best men's joggers for more options.
Are men's joggers still in?
Men's joggers are likely always going to have a place in men's wardrobes. It's just a matter of deciding if you want something fashionable or more functional. Take a read through our list of the best men's joggers for ideas.