Airline captain or fighter jet commander, the daring and wanderlust-worthy lifestyle of a pilot captures our imaginations like nothing else. Perhaps it's the thought of flying thousands of feet above sea level. Perhaps it's the jet-setting way of life.
And what better way to channel all the intrigue and excitement of the pilot lifestyle than wearing one of the world's best pilot watches on your wrist?
The pilot watch was first invented in 1904 by aviation pioneer Albert Santos-Dumont. Today, the world's best luxury watch brands are clamoring to deck our wrists in aeronautically-inspired timepieces that not only serve as reliable companions up in the sky but also look suitably dashing down on Earth too.
But choosing a pilot's watch is no easy endeavor when there are so many models on offer. You need to consider the features and complications, your particular budget, and, of course, the aesthetics that speak to you.
Just landed: the 17 best pilot watches available to buy today, from the iconic and classic to the practical and functional, with designs ranging from luxury and extravagant to minimalist and modern.
The 17 best pilot watches
Check our special pilot watches buyers' guide after the list to see exactly what you should pay attention to before purchasing an aviator's watch. We also share our fashion editors' tips on how and when to wear a pilot watch, because you should enjoy your watch when you're on the ground too.
Vincero The Altitude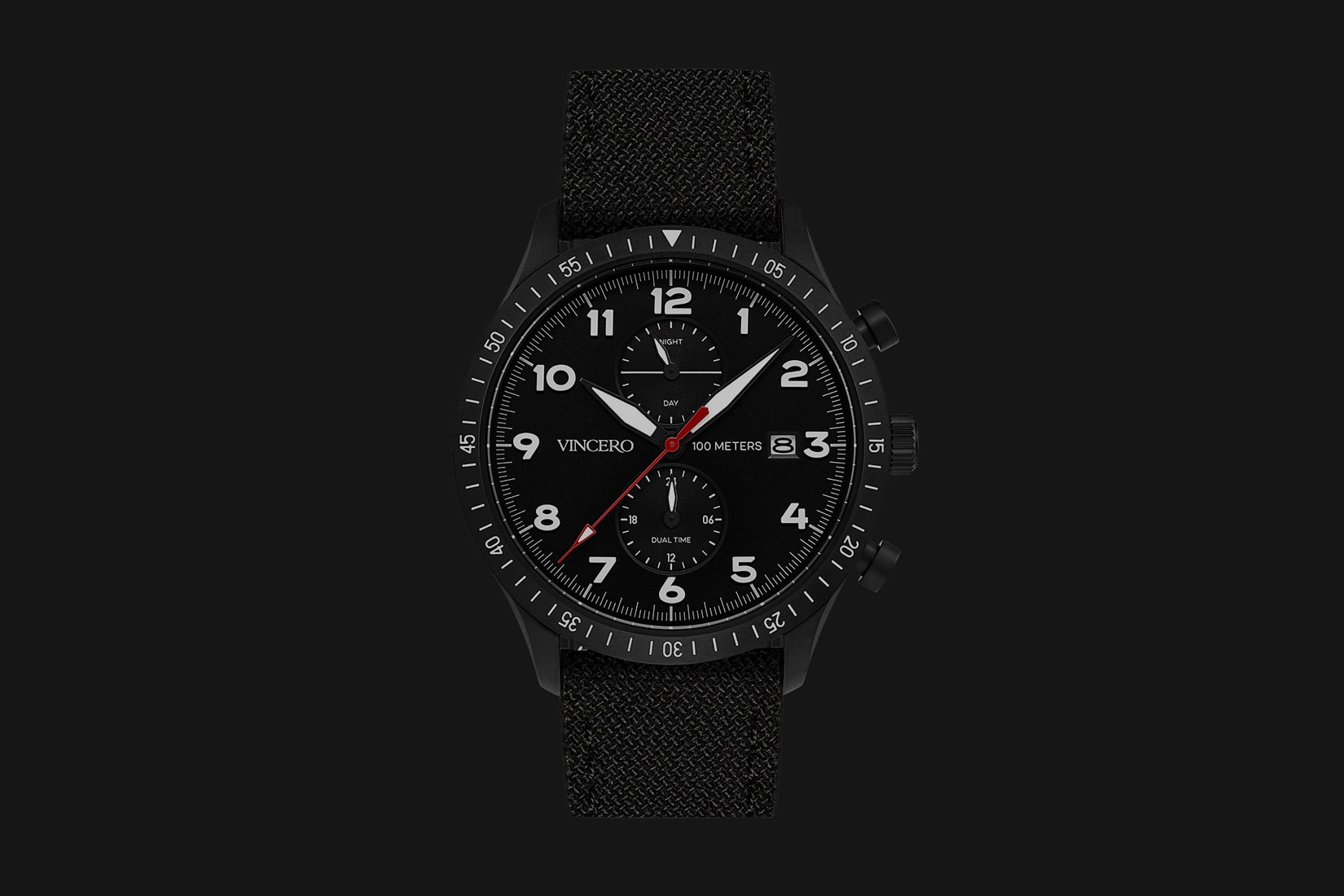 Taking design clues from historical military pilot watches, Vincero The Altitude will elevate your style to new heights by combining modern flair and premium materials to deliver a watch of exceptional value. The Altitude is refined and complex yet easy on the eye. We think it's the perfect balance between functionality and style. You can easily dress it down with a casual weekend attire, or dress it up with a professional business suit.
For anyone who loves a challenge, you need a watch that's action-orientated. No matter what you choose to do, The Altitude will keep you looking sleek and refined as you go further, farther, and well, higher than you ever thought you could.
We spent over a month with the Vincero Altitude on our wrist and we loved it. Check our in-depth Vincero watch review to see the details.
The large luminous numbers on the dial ensure great visibility all day long. The watch is certified for diving up to 100 meters deep, so you can take it straight from the skies to the oceans.
The Vincero Altitude is available in a variety of color combinations. Opt for this matte black dial on a black Cordura nylon strap for a modern look. For something with more of a military vibe, check the silver case and military green dial combination or the silver case and pine dial on a gorgeous top-grain Italian leather strap.
Best for: a modern pilot watch with a touch of old-school aviation flair to reach peak performance.
| | |
| --- | --- |
| Case size: | 43 millimeters |
| Material: | 316L surgical stainless steel, the strap is made of 100D Cordura Nylon |
| Movement type: | Citizen Miyota Quartz |
LIV Watches P-51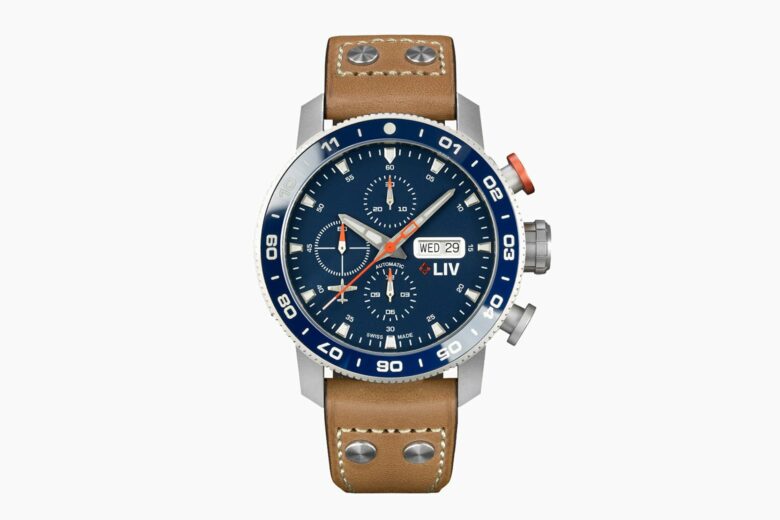 Up and coming Florida-based LIV Watches keeps on surprising us with fresh new releases built to last with premium materials. The P-51 aviator watch collection is beautifully crafted with a high-grade titanium case hosting a precision 25 jewel Swiss automatic chronograph movement that offers a 42-hour power reserve.
This pilot watch comes with black or blue dials and a selection of silver, bronze, or black bezels. You can also choose from a selection of genuine French leather bracelets or a black titanium bracelet to match the case.
At 46 mm, the case diameter is spot on for great visibility when piloting an airplane, or just going about your daily routine. We particularly like this version in rose gold on a blue dial with a brown leather strap, but you can't go wrong with any of the LIV Watches P-51 models currently for sale.
Read our in-depth LIV Swiss Watches review to learn more about the brand.
Best for: Swiss-made aviator watch aficionados looking for exceptional quality at a fair price.
| | |
| --- | --- |
| Case size: | 46 millimeters |
| Material: | High-grade titanium, the strap is made of barenia French leather |
| Movement type: | ETA 7750 Swiss automatic 25 jewels |
Nordgreen Pioneer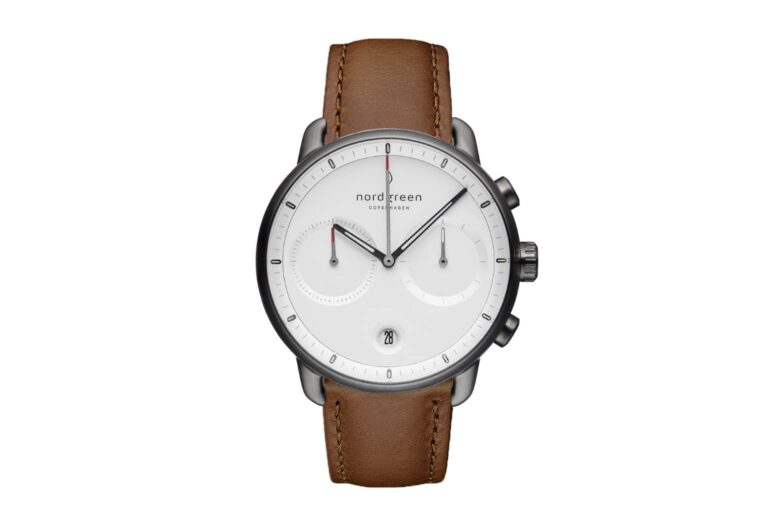 Looking for a smaller and minimalist-looking aviation watch? Look no further than the iconic Nordgreen Pioneer. Imagined by renowned Danish designer Jakob Wagner, the Nordgreen Pioneer offers a timeless look with a 42mm dial that can be easily worn in a variety of scenarios.
We've written about this premium watch brand before (see our in-depth Nordgreen watches review). All their models deliver excellent quality for watches under the $200 to $300 price point. The Pioneer is their most advanced model, with a push chronograph and a date indicator centered towards the bottom of the dial.
As with all the other watches from Nordgreen, the Pioneer comes with ethical packaging for a more sustainable approach to watch-making. As a customer, you'll also be able to choose a cause that you care for and Nordgreen will give back a portion of its benefits to the charity of your choice. What's not to like about that?
Best for: a modern take on the aviator chronograph for those who prefer smaller dials and a minimalist look.
| | |
| --- | --- |
| Case size: | 42 millimeters |
| Material: | 316L Stainless Steel, the strap is available in high-quality leather, nylon, or stainless steel |
| Movement type: | Japanese Quartz |
IWC Pilot's Mark XVIII Heritage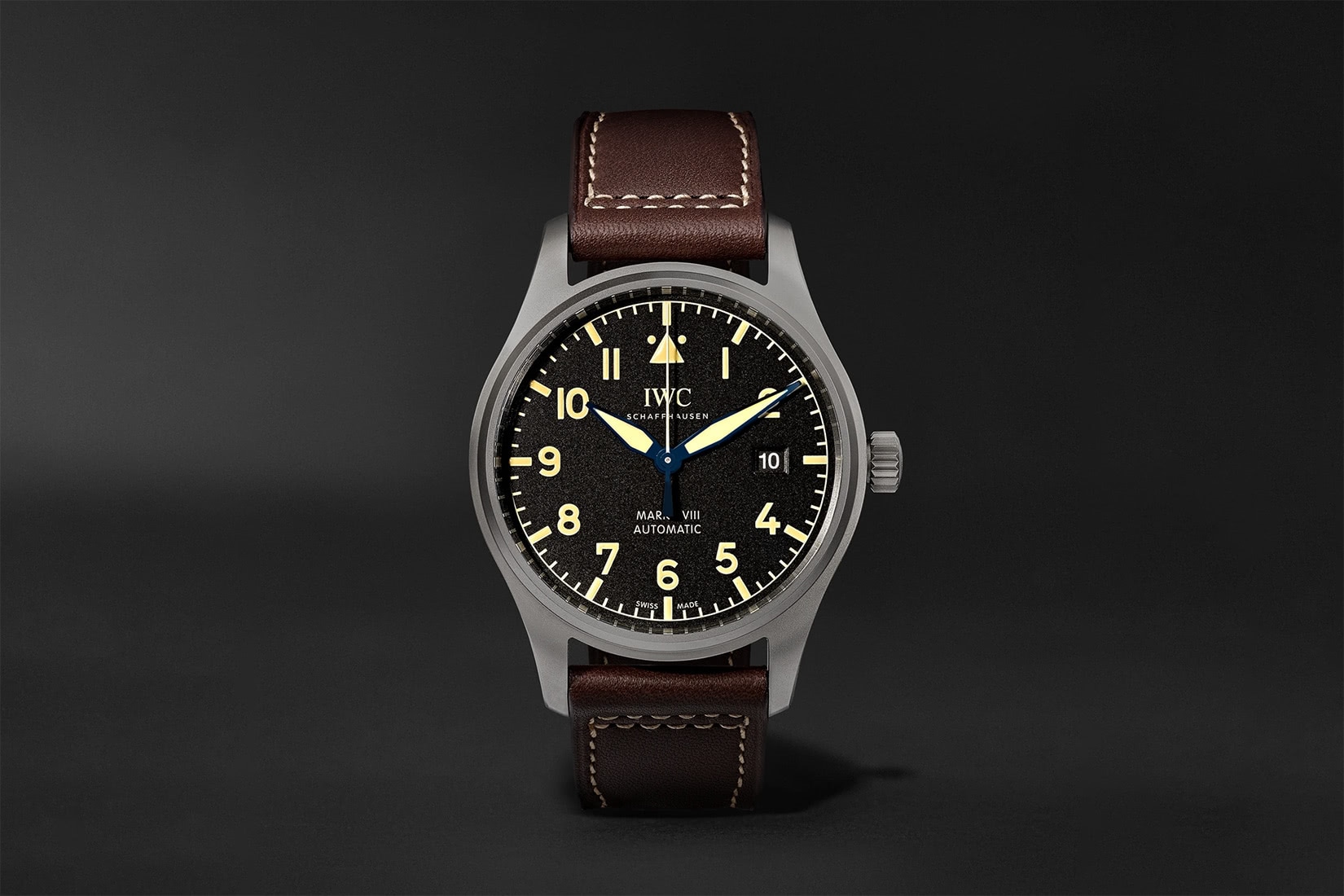 This Mark VIII Heritage model by IWC Schaffhausen offers a new take on their classic Big Pilot's Watch T.S.C.
It draws inspiration from the Big Pilot's distinctive profile, but a few things have changed. Firstly, powered by a caliber 35111 movement, this automatic aviator watch will deliver precise and reliable timekeeping to its lucky wearer for years to come. The movement is also housed in robust titanium—durable and lightweight. Meanwhile, a soft-iron case protects the movement against magnetic fields.
Outside, the black dial is big but not too big—still incredibly wearable on an everyday basis. The dial has luminous indices and is high-contrast for optimum visibility. Of course, you're unlikely to be conducting stealth night-time raids, but it might come in useful in the cinema or theatre, for example.
The vibe is low-key and back-to-basics. It's a timekeeping device, first and foremost. The only additional features are a date at the 3 o'clock mark, and a triangle at 12 o'clock—as per the original pilot's watches. The mood is charmingly retro, with the large contrasting dial and calfskin leather strap.
The IWC Schaffhausen Pilot's Mark XVIII Heritage is everything you could ask for from a classic aviator watch: functional, simple, and stylish. It's sure to become one of your most treasured possessions and an everyday essential.
Best for: a modern-day pilot's watch perfect for 21st-century living. It's our pick for the best overall pilot watch of the year.
| | |
| --- | --- |
| Case size: | 40 millimeters |
| Material: | titanium |
| Movement type: | mechanical automatic |
Timex Intelligent Quartz Fly-Back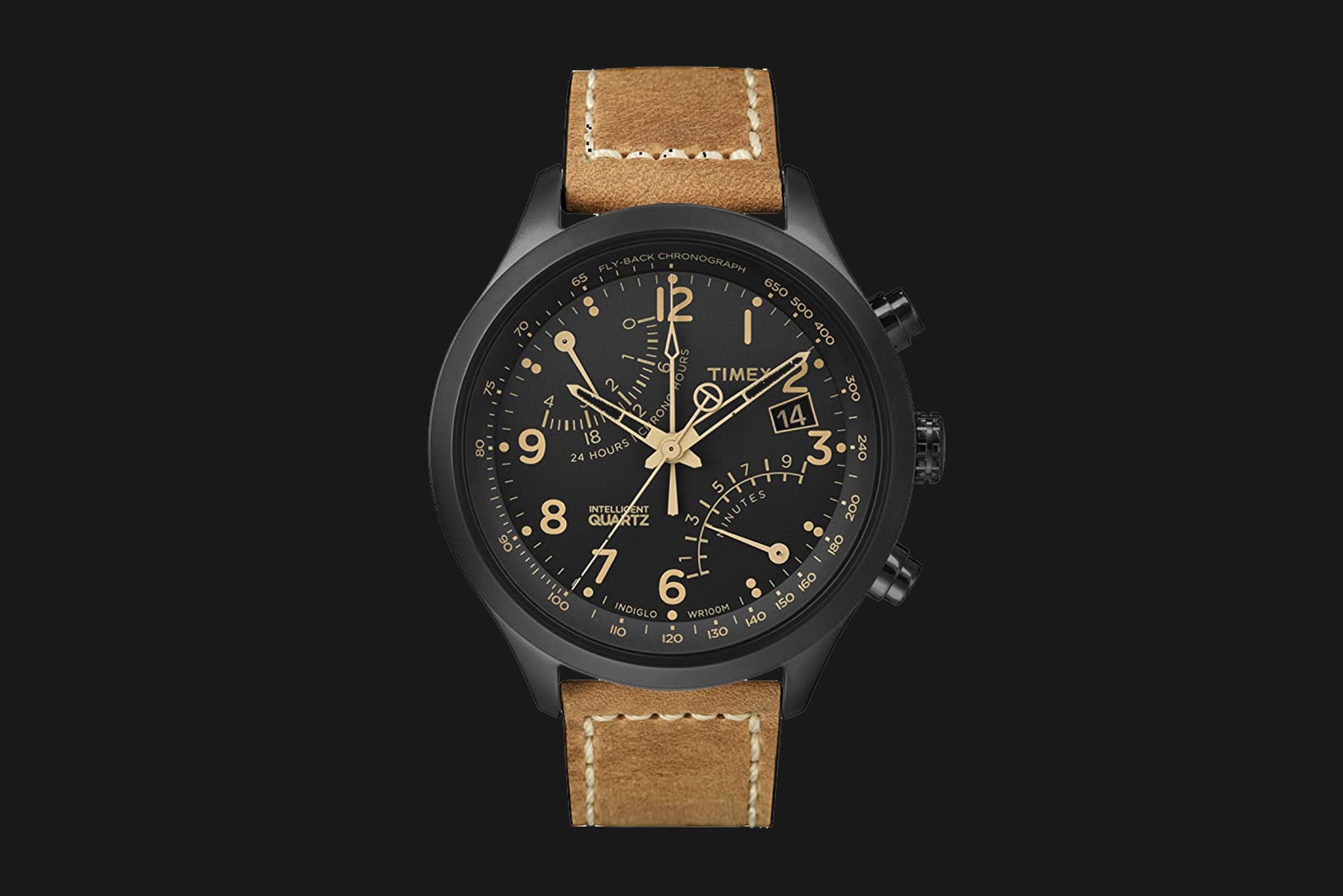 Looking for a watch with all the sleek appeal and vintage allure of the classic pilot watches but without spending too much in the process? The Timex Intelligent Quartz Fly-Back has you covered with a functional budget-friendly timepiece that resembles the best pilot watches.
It's available in three colors but our favorite is the black stainless steel with a tan strap—evoking a suitably military mood.
Aesthetically, this quartz pilot watch is fairly traditional, with the large dial featuring a date window at 3 o'clock. There's also a fly-back chronograph, originally designed for pilots, which allows you to stop, reset, and then restart the chronograph in a single seamless action. When it's not being used, the chronograph displays a second time zone—perfect for international flights, whether you're the pilot or not.
The watch also features Timex's signature Indiglo backlight so you can read the time at any moment, day or night. And it's water-resistant up to 100 meters in case you want to trade your aeronautical pursuits for some of the aquatic variety.
Best for: fans of the classic pilot watches who need to tighten their purse strings. The Timex Intelligent Quartz Fly-Back is the best pilot watch under $100 on the market today.
| | |
| --- | --- |
| Case size: | 43 millimeters |
| Material: | stainless steel |
| Movement type: | quartz |
Breitling Aviator 8 Curtiss Warhawk Automatic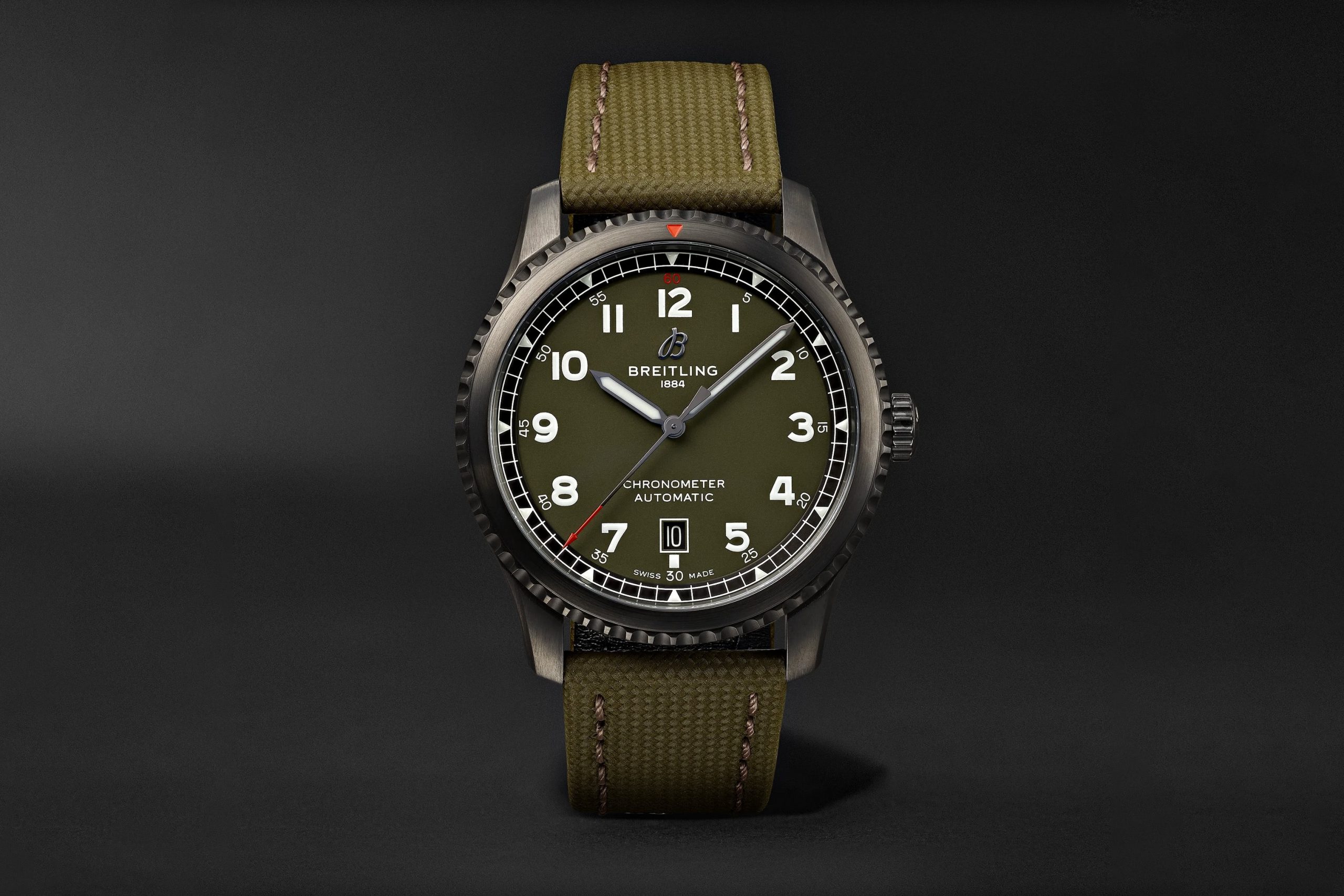 Today, you're more likely to wear the Breitling Aviator 8 Curtiss Warhawk to the office, dinner party, or perhaps on an international flight—but you'll still appreciate the serious and straightforward attitude of this watch inspired by those engaging in aerial combat.
Breitling's Huit Aviation Department used to manufacture instruments for the RAF, and this timepiece certainly looks like it was made by people who know what they're talking about. The army-green dial is a distinct addition, standing out from the majority of other flight watches which generally have black or blue faces.
It features a Breitling 17 automatic movement—reliable and precise—and Super-LumiNova numerals so you can read it even after nightfall. And with its canvas strap backed in leather, the Breitling Aviator 8 Curtiss Warhawk Automatic also feels comfortable and sleek against your wrist.
Relatively modest in size for a pilot watch at only 41 millimeters, the stainless steel case coated in DLC completes the military-inspired aesthetic.
Best for: precise and no-nonsense timepiece to help you keep your eye on the prize.
| | |
| --- | --- |
| Case size: | 41 millimeters |
| Material: | stainless steel |
| Movement type: | mechanical automatic |
IWC Pilot's Le Petit Prince Chronograph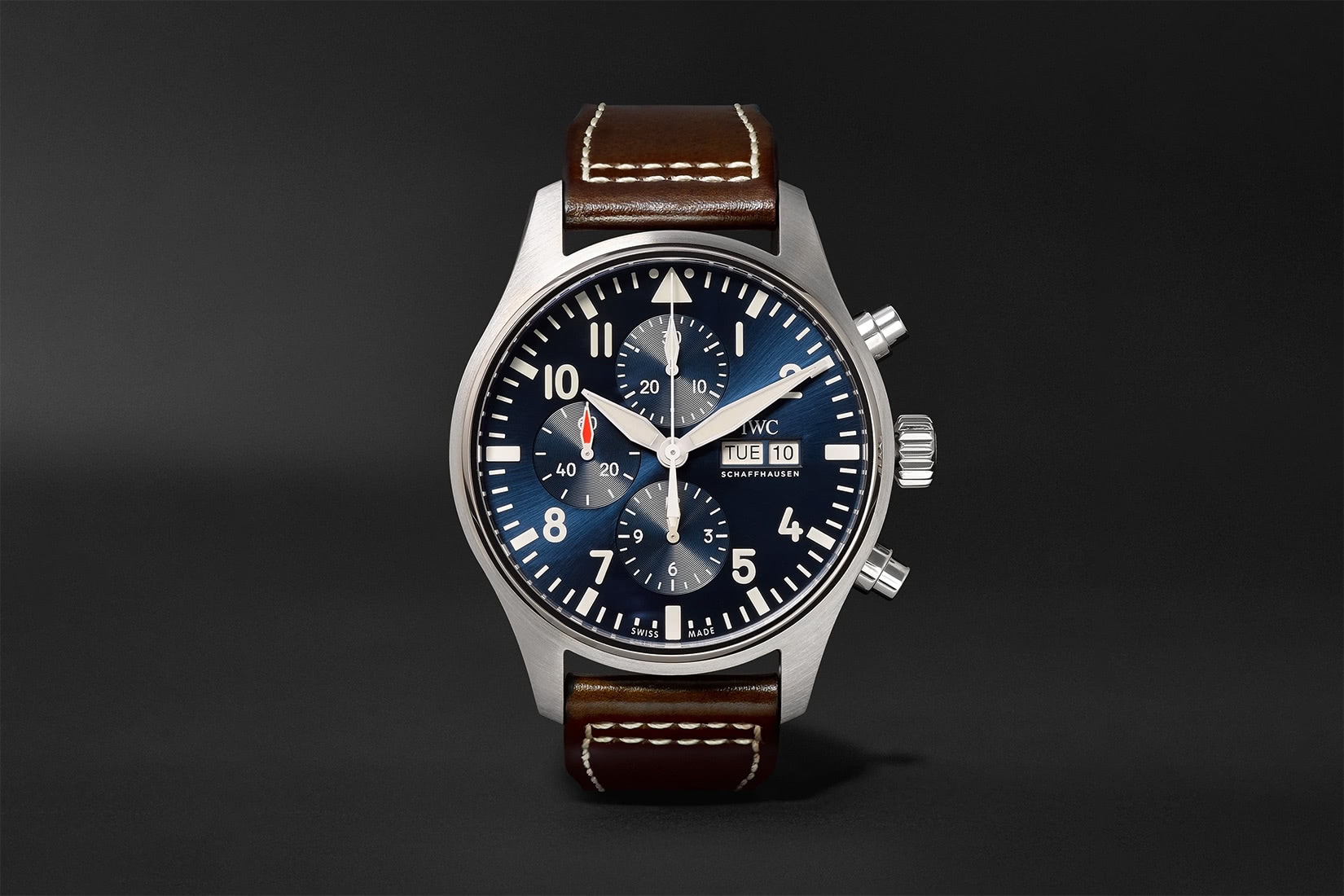 This pilot watch by the horology masters over at IWC Schaffhausen offers the ultimate aviator aesthetic with its impressive sunburst blue dial, bright white Super Lumi-Nova hands, and the dash of red of the second hand.
Inside, it lives up to expectations too, with a Swiss-made caliber 79320 with a 44-hour power reserve. The IWC Schaffhausen Pilot's Le Petit Prince Chronograph also features a soft-iron inner case to protect the movement against magnetic fields—as per all the best pilot watches.
On the dial, you've got a day and date window—plus a chronograph for additional time measurements. The sapphire crystal is anti-reflective as well as being one of the most scratch-resistant materials out there.
The model takes its name from The Little Prince, a 1943 novel by Antoine de Saint-Exupéry. Aside from writing poetry and novels, Saint-Exupéry was also a pioneer in the world of aviation. Flying was both a source of literary inspiration and his life's pursuit. You'll find an engraving of the Little Prince on the back—a charming final detail.
Accuracy, reliability, and extreme functionality—plus a touch of aviation-inspired romance? We're sold. Standby for take off.
Best for: a classic mechanical aviator watch with a unique literary twist.
| | |
| --- | --- |
| Case size: | 43 millimeters |
| Material: | stainless steel |
| Movement type: | mechanical automatic |
Casio EF52RD-1AV Edifice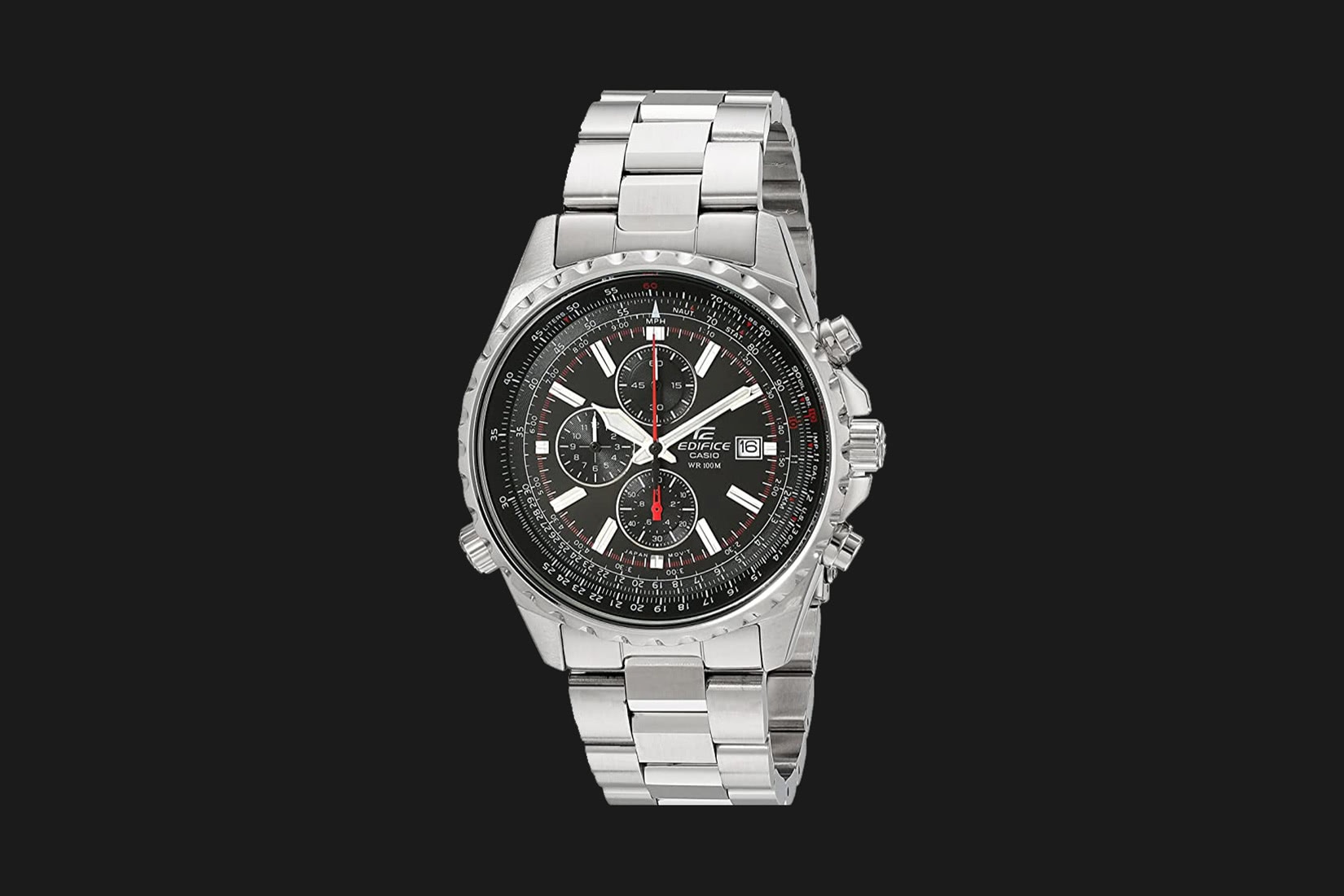 Let's be honest. Few of us are ever going to be chartering a Boeing 787 and flying across the Atlantic. We simply want an aviator's watch because, one, they look so undeniably elegant, and two, the best pilot's watches are a demonstration of serious technical skill.
The Edifice is just that: a display of high-tech ingenuity. Designed and created by Japanese brand Casio, it combines the best of comfort, style, and horology skill to deliver pilot-worthy timekeeping to your wrist.
Casio has certainly cut no corners when it comes to engineering and mechanics in the Edifice. The proof is there for you to see in all the masterfully crafted additional features, including a 1/20-second chronograph, slide-rotating inner bezel for technical calculations, and a date window too. Plus, it's water-resistant up to 100 meters, for added reassurance.
This pilot watch is also easy on the eye with its silver-toned hour markers and hands matching the stainless steel case and bracelet. The Casio EF52RD-1AV Edifice offers a sophisticated aesthetic that's perfect for wearing to the office or on formal occasions. It's the best value pilot watch on our list.
Best for: popular pilot watch bringing the latest technology to your wrist.
| | |
| --- | --- |
| Case size: | 45.5 millimeters |
| Material: | stainless steel |
| Movement type: | quartz |
Oris Big Crown ProPilot GMT Automatic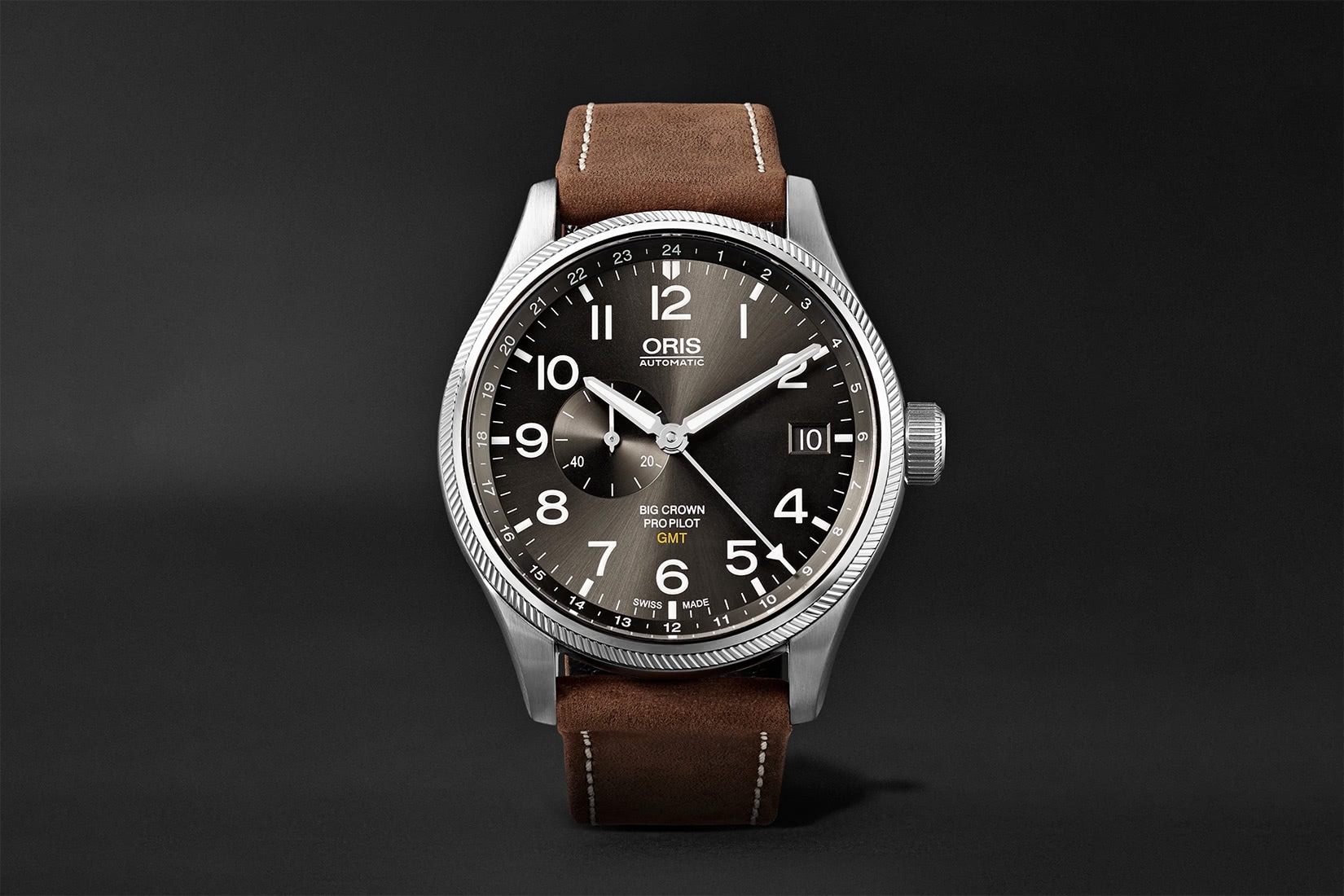 Looking for a watch with a clear spirit of adventure? One befitting a fighter pilot? The Oris Big Crown ProPilot GMT looks like it might have seen a few sunrise takeoffs or the occasional stealth fly-by in its time.
Sure, you might not actually be planning to wear this watch in a cockpit. More like a cocktail bar. But you'll still appreciate this timepiece's superlative functionality.
It features a date window, a second dial at 9 o'clock, and a GMT complication for international travel. Meanwhile, the combination of a matte dial and large numerals with Super-LumiNova coating means you'll be able to check the time even in the dead of night.
The rounded hands resemble propeller hands—a clever and visually pleasing touch—and anti-reflective sapphire crystal protects the dark brown dial.
Like many aviator-style watches, the Oris Big Crown ProPilot GMT Automatic is large in size, at 45 millimeters, but feels compact on the wrist thanks to its slimness and thin bezel. The suede strap ensures optimum wearability.
All that's left to do is to don a good pair of shades and throw on your bomber jacket.
Best for: a utilitarian watch that both looks good and does a good job.
| | |
| --- | --- |
| Case size: | 45 millimeters |
| Material: | stainless steel |
| Movement type: | mechanical automatic |
IWC Big Pilot's Heritage automatic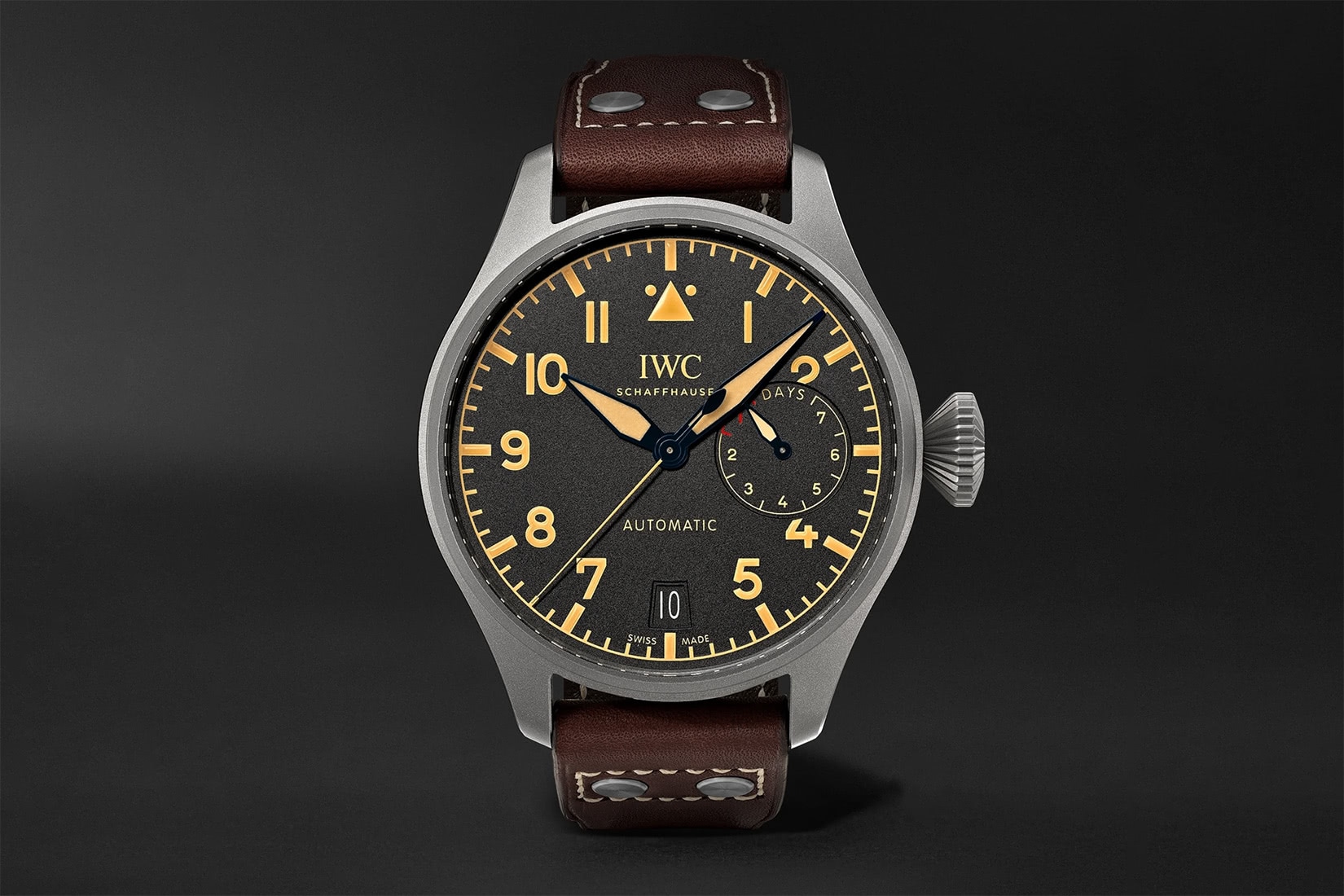 There are few brands that do aviation-inspired watches better than IWC. Aviation runs in their blood. As a result, the IWC Big Pilot's Heritage model captures the spirit of the aviator timepiece like no other.
This looks like a watch made by people who know their military history thanks to its oversized crown, a reference back to the original pilot's watches (onion crowns were extra big to make it easier for servicemen to use them while wearing thick gloves). And it's no coincidence that the beige hands resemble propellers too.
There's also a chapter ring—the marking on the dial indicating hours and minutes—while the brown calf leather strap complements and completes the overall look.
With its sharp-looking titanium case and large dial, the IWC Big Pilot's Heritage automatic has all the confidence and poise you'd associate with a pilot. And although it's unlikely that most wearers will be using this watch for military operations up in the clouds, it's still a highly practical and superbly stylish mechanical pilot watch to accompany on your daily missions.
Best for: the quintessential pilot's watch—hard-wearing, understated, and practical.
| | |
| --- | --- |
| Case size: | 46.2 millimetres |
| Material: | titanium |
| Movement type: | mechanical automatic |
Panerai Luminor Base 8 Days Titanio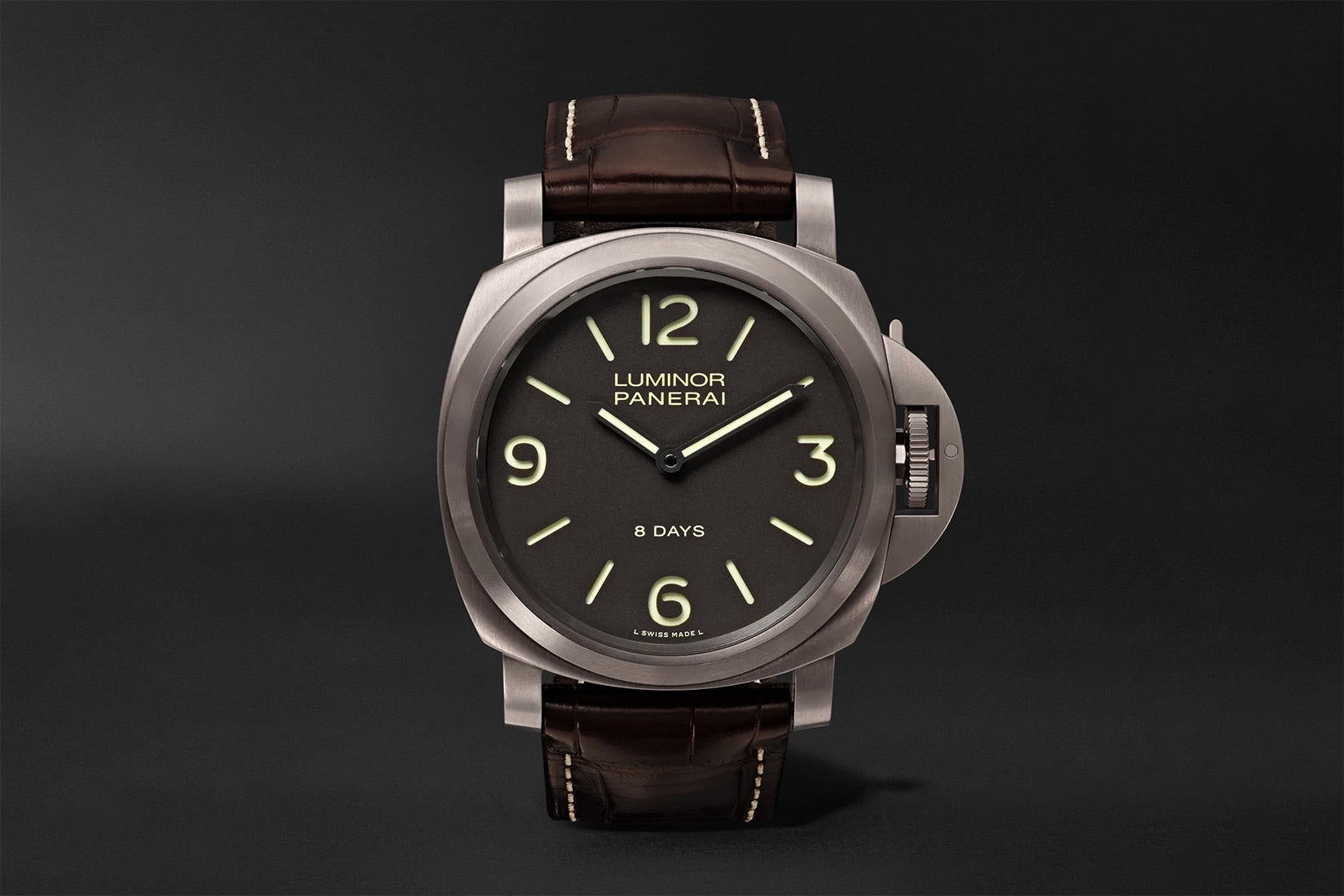 Panerai is behind some of the world's most famous and instantly recognizable luxury timepieces.
Any watch enthusiast will be more than familiar with Panerai's iconic Luminor watch and this is a sleek and modern take on that 1950s classic. It has indices finished in Super-LumiNova—just like any good flight watch. It also retains that distinct crown-protecting bridge of the first models. But the Panerai Luminor Base 8 Days Titanio is smaller than the original, and created in lightweight titanium, which makes it a great choice for carrying on your wrist every day.
The P.5000 caliber movement is hand-wound and has an eight-day power reserve. And the alligator strap is a glorious finishing touch, allowing this aviation timepiece to transition from casual daywear to evening cocktail attire without even breaking a sweat.
Best for: style-hungry watch-wearers seeking something fashionable and functional.
| | |
| --- | --- |
| Case size: | 44 millimeters |
| Material: | titanium |
| Movement type: | mechanical hand-wind |
Rolex Pepsi GMT-Master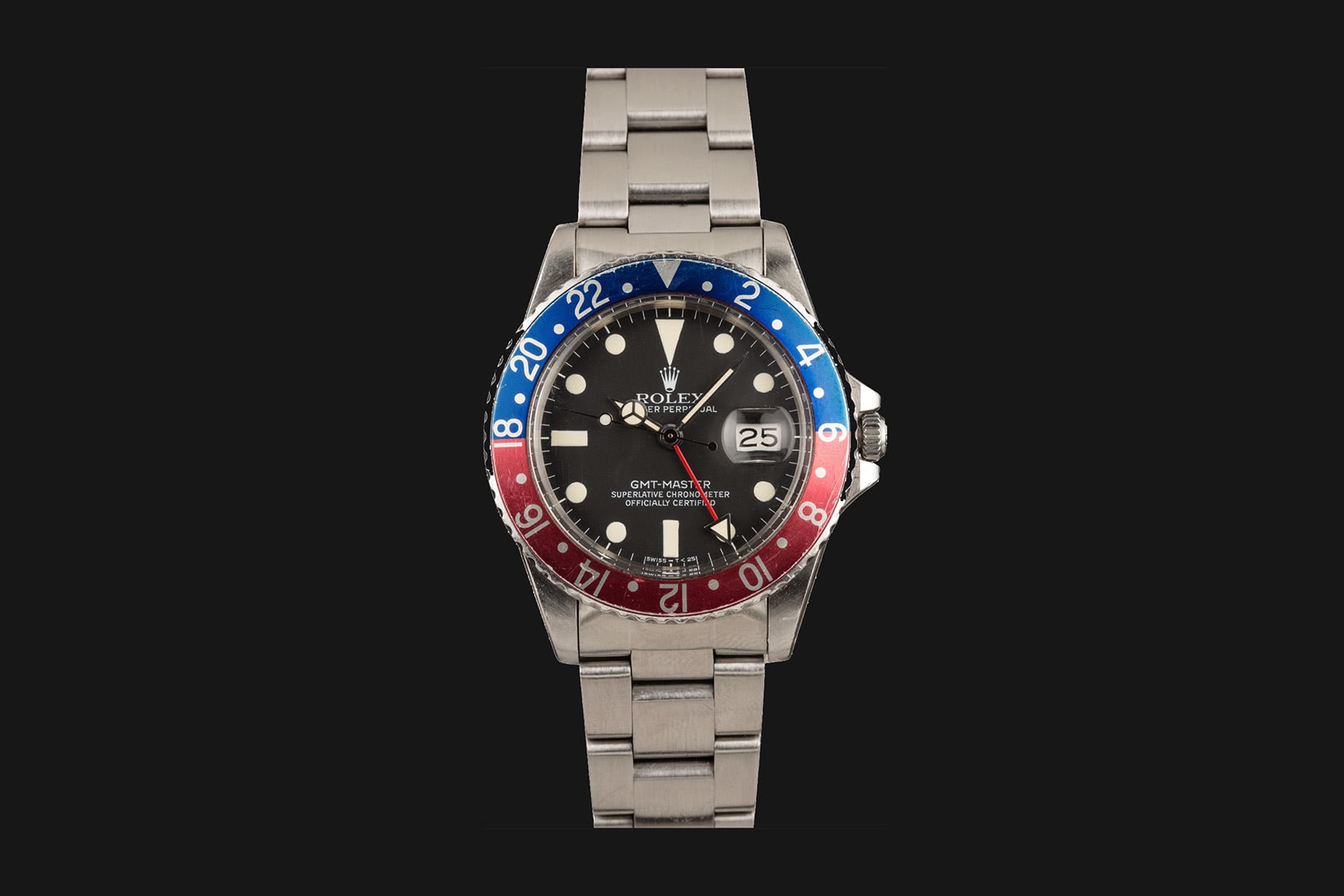 Launched in 1955, Rolex's first GMT-Master was originally designed for use by professional pilots on their long-haul flights across the globe and indicated the time in two different time zones simultaneously. But today Rolex's aviation watches are designed not just for use by pilots but anyone with a penchant for international air travel.
This particular model is refined and sleek to look at with its stainless steel case and bracelet. The matte black dial is a rare feature while the immediately recognizable 24-hour Pepsi bezel serves to separate daytime and night-time into 12-hour segments.
With its 3075 caliber movement, beating at 28,800 vibrations per hour, this GMT-Master watch can be counted on for precise timekeeping. The second-hand stops when the crown is pulled out to allow for more accurate time setting.
We particularly like the 1982 Rolex Pepsi GMT-Master. It certainly looks like the kind of watch that might have a tale or two to tell. And, there's no better promise of long-lasting quality than a Rolex watch.
Best for: those seeking history and authenticity to go with their timepiece.
| | |
| --- | --- |
| Case size: | 40 millimeters |
| Material: | stainless steel |
| Movement type: | mechanical automatic |
Zenith Pilot Type 20 Extra Special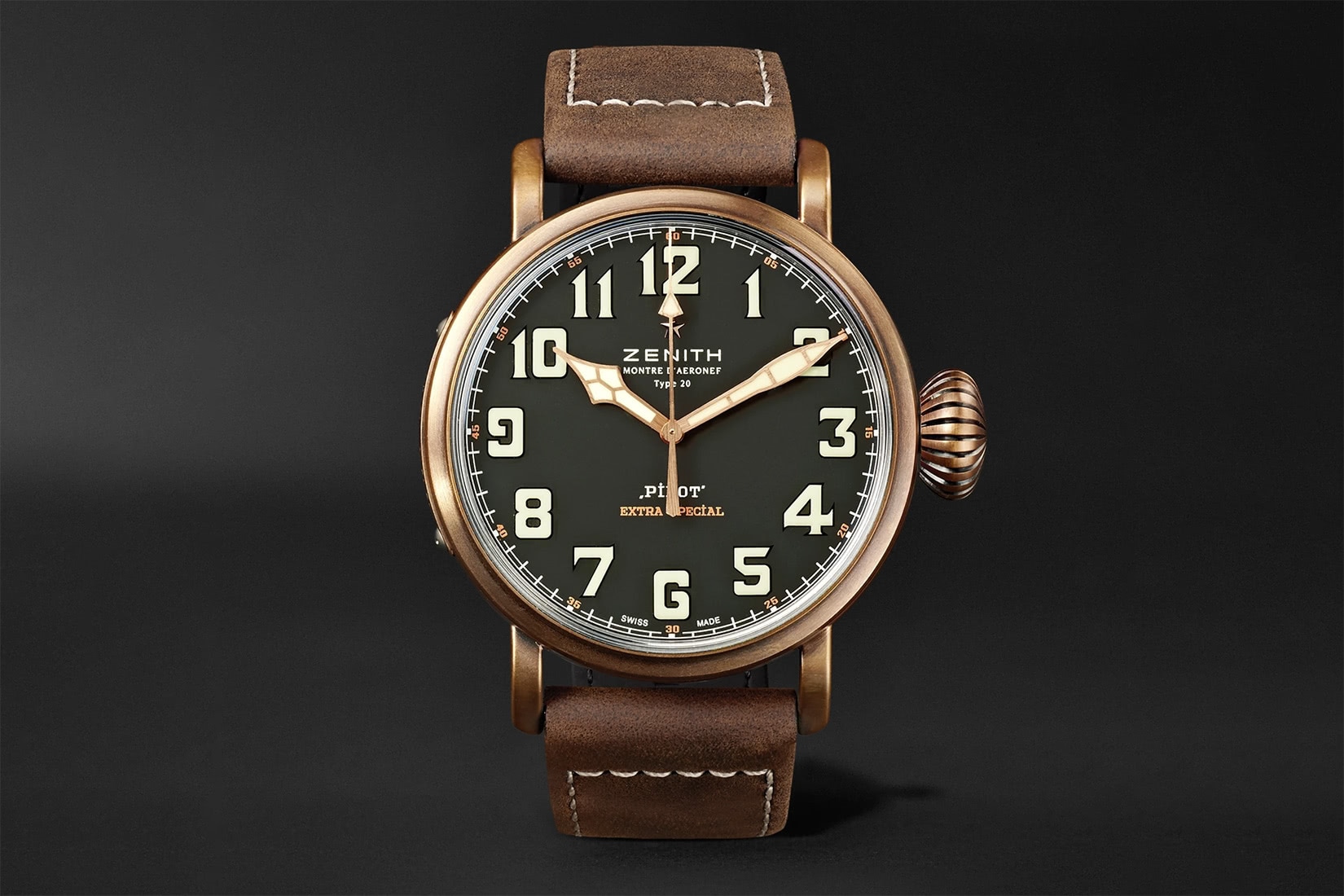 Fancy yourself an airman flying over snowy peaks or glimpsing the ocean far below? Then you need a watch to accompany you on all your wildest daydreams. The Zenith Pilot Type 20 has some serious aviation-inspired panache to complement your favorite aeronautical fantasies.
Zenith understands what makes an exceptional pilot's watch. Aviation is in the brand's DNA and they've been making watches for airmen since the early 20th century when aviation itself really took off. Louis Blériot, the first man to fly across the Channel, wore a Zenith on his wrist.
This particular model makes no secret of its aeronautical influences with its extra-large dial—to help with legibility—and high-contrast white numerals finished in Super-LumiNova.
The bronze case is unusual and eye-catching. Bronze develops a patina as it ages which will add to the retro feel of the watch. On the back, you'll find an engraving of Zenith's flying instruments logo, while a nubuck strap completes the mood.
Finally, the distinct onion-shaped crown, perfect for gripping with pilot gloves on, also adds to the sense that, in wearing a Zenith Pilot Type 20, you're wearing a unique military relic on your wrist.
Best for: a pilot's watch with some military vintage allure.
| | |
| --- | --- |
| Case size: | 45 millimeters |
| Material: | Bronze |
| Movement type: | mechanical automatic |
Bremont ALT1-Classic/CR Automatic Chronograph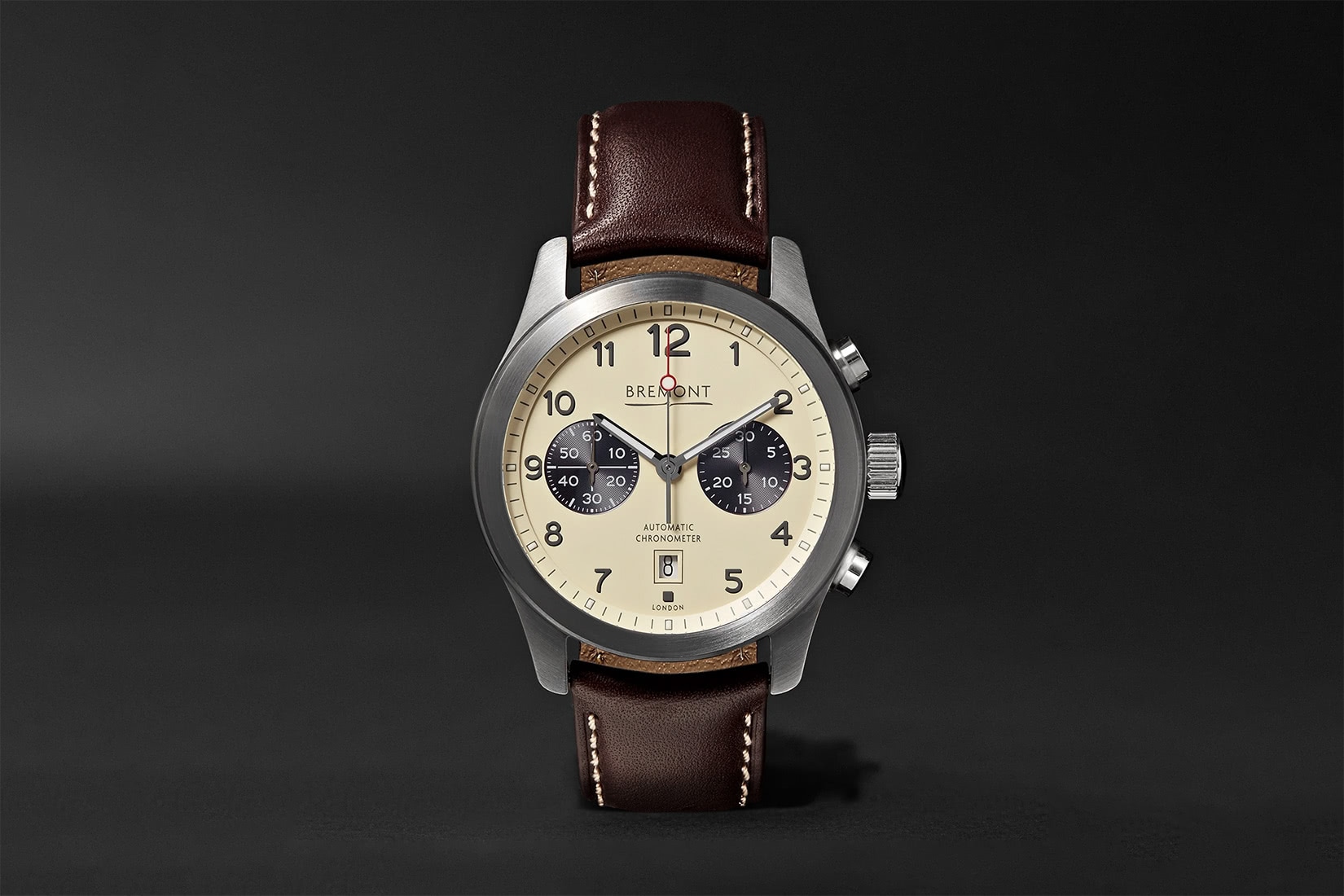 Whether you're gearing up for your first solo flight or simply want a reliable and robust timekeeper on your wrist, then you want to take a look at the Bremont ALT1-Classic.
It has a 42-hour power reserve—enough for two days or so—and also features a second-hand sub-dial, date window, and world time zone function. Plus there's a chronograph stop-watch.
As with most pilot watches, the hands and markers are coated in Super-LumiNova for night-time visibility. A hardened stainless steel case plus a scratch-resistant and anti-reflective sapphire crystal lens ensure this watch is hard-wearing and long-lasting.
Aesthetically, the AL1-Classic/CR takes the British Royal Air Force as its primary source of inspiration, with its cream dial—distinct and memorable—plus the dark brown leather strap. While many Bremont watches feature the more modern applied index markers, this model retains the traditional Arabic numerals.
All in all, the Bremont ALT1-Classic/CR Automatic Chronograph is a great vintage-style pilot watch and a lesson in how to pull off understated chic.
Best for: a reliable and stylish watch that could take command of the skies if necessary.
| | |
| --- | --- |
| Case size: | 43 millimeters |
| Material: | stainless steel |
| Movement type: | mechanical automatic |
Montblanc 1858 Automatic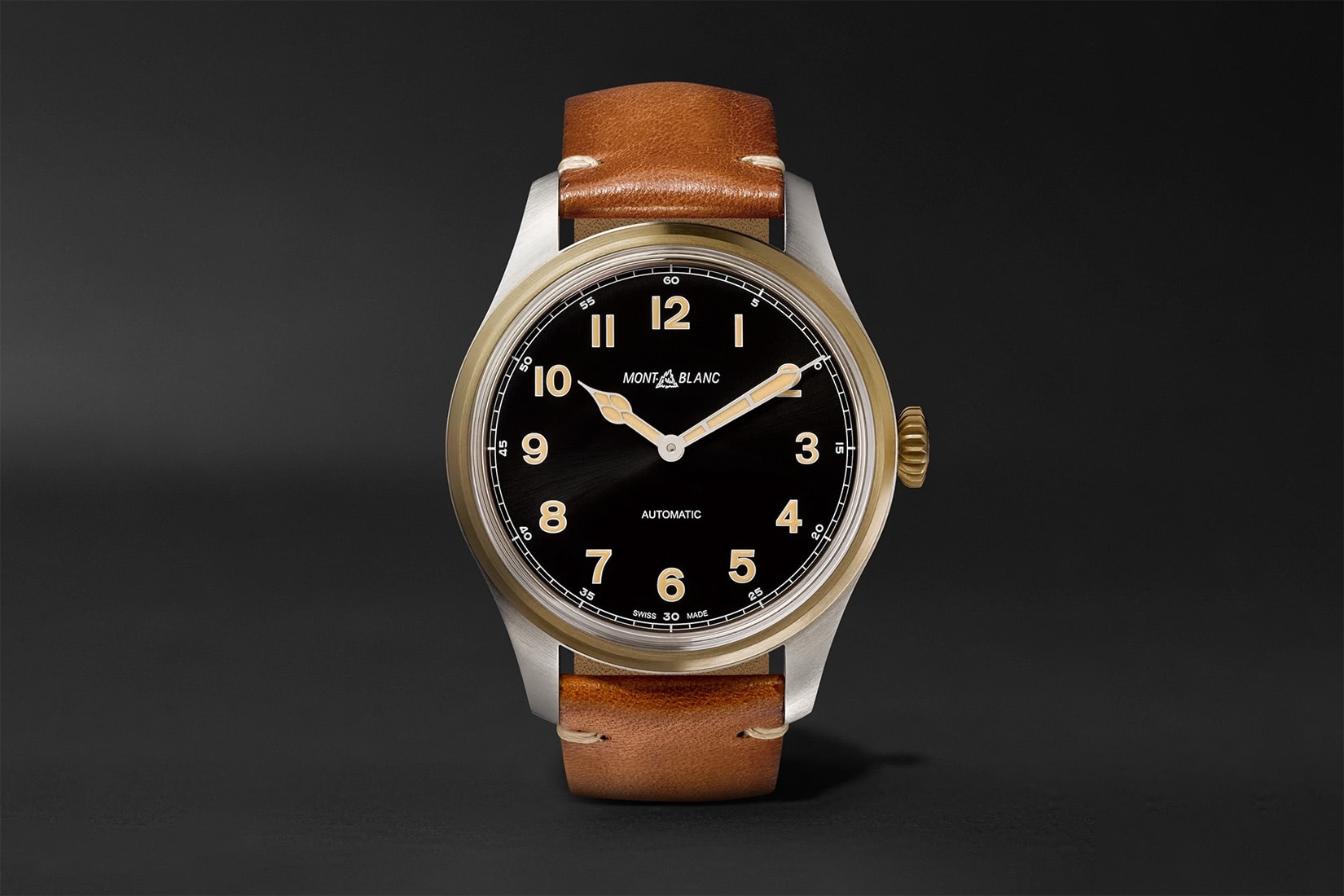 Montblanc's 1858 collection takes its inspiration from Minerva, the famous Swiss watchmaking brand best known for its chronographs. Minerva merged with Montblanc in 2006 and since then has elevated the brand's watchmaking capacities to new heights.
This particular model deliberately alludes to those original Minerva timepieces with its vintage aesthetic combined with a more contemporary size and durability. It establishes itself from the get-go as a pilot's watch with its large dial and bronze bezel for navigation calculations.
Particularly eye-catching on this timepiece are the 'cathedral' hands, which resemble cathedral windows—a traditional feature among military watches. Meanwhile, the fluted crown and large Arabic numerals are the finishing touches on a watch that is the very definition of restrained glamour.
Montblanc's 1858 Automatic would fit right in on the wrist of any 1930s fighter pilot. It's a remarkable rendition—and one sure to be a hit for anyone seeking the same functional elegance of those original aviator watches. And, for a luxury watch, it's not badly priced either.
Best for: a well-priced luxury pilot watch.
| | |
| --- | --- |
| Case size: | 44 millimeters |
| Material: | stainless steel |
| Movement type: | mechanical automatic |
Baume & Mercier Clifton Club Automatic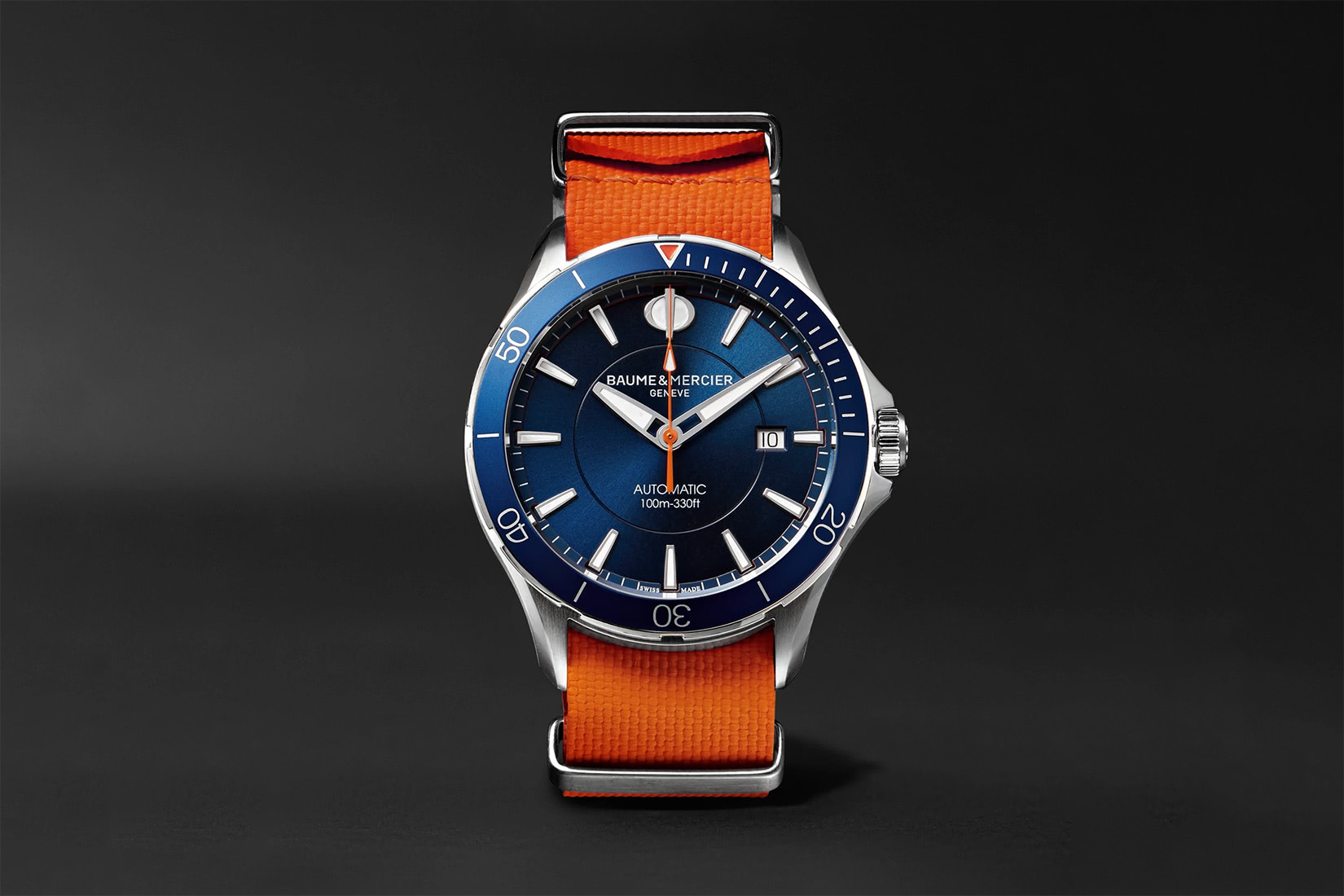 Looking for an aviation-style watch that pulls no punches in the style arena? You'll certainly be flying high with this dashing pilot-inspired diving-ready watch on your wrist.
There are few modern watches as memorable and attention-grabbing on our list as this luxury pilot's watch with its daring storm-blue and orange combination. In fact, the bright orange rubber is not only one of the most distinctive features of the watch, but also a NATO strap—developed by the British Ministry of Defence for military professionals. Comfortable, hard-wearing, unique—what else could you want?
Like any good pilot's tool, the Clifton Club also features Super-LumiNova coated hands and markers, plus an engraved unidirectional rotating bezel for timing events and making calculations. That gleaming case is made of polished and satin-finished stainless steel, while the glass is scratch-resistant sapphire.
With its aviation-oriented aesthetic and military-grade mechanics, the Baume & Mercier Clifton Club Automatic offers the full package, with a touch of high-end glamour too.
Best for: fashion-conscious jet-setters looking for an aviation-style timepiece.
| | |
| --- | --- |
| Case size: | 42 millimeters |
| Material: | stainless steel |
| Movement type: | mechanical automatic |
Garmin D2 Delta PX Aviator Smartwatch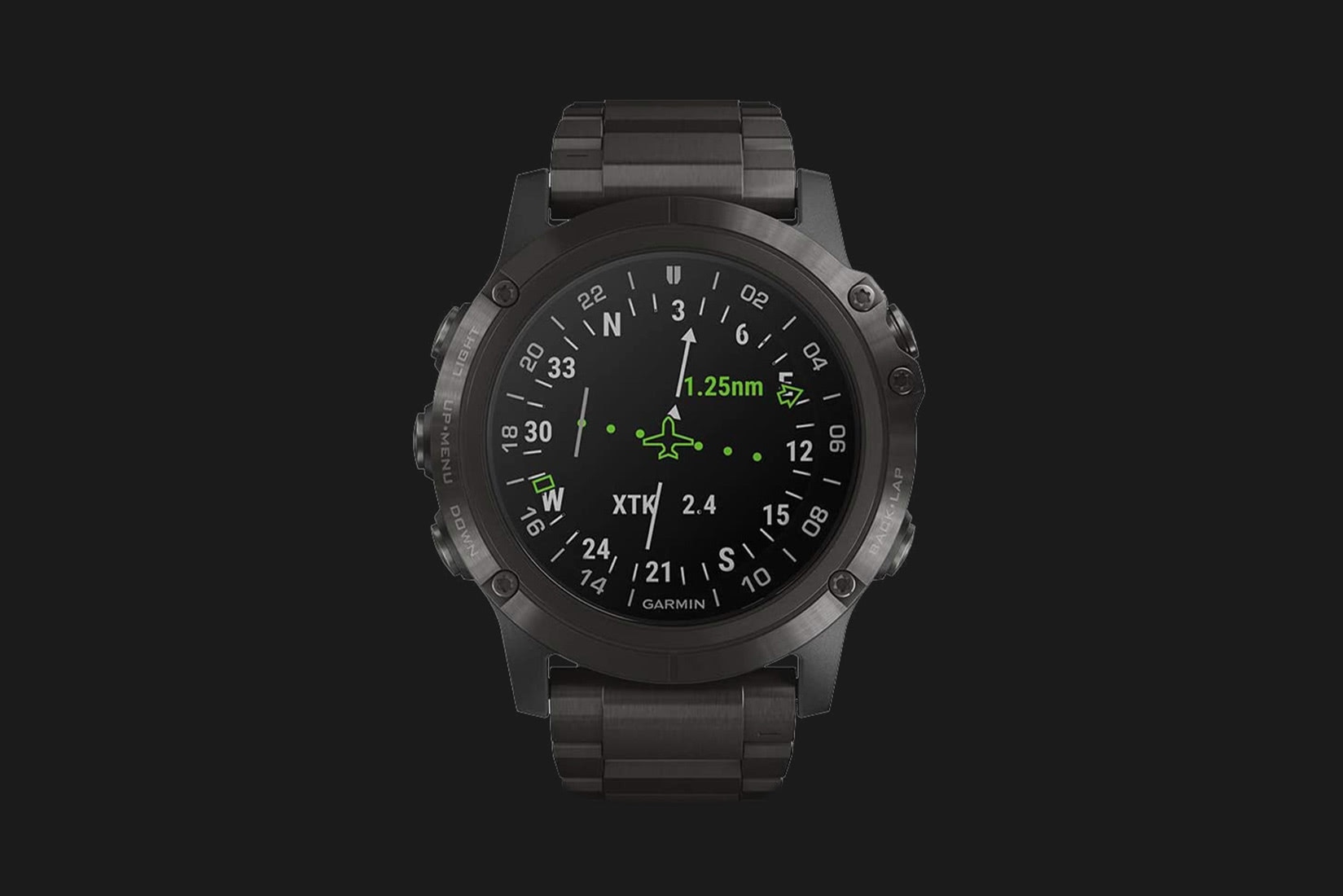 Some pilot watches are designed more for frequent flyers than professional pilots. Not the D2 Delta. This is a proper aviator watch.
For one thing, there are no other watches on our list with a Pulse Ox sensor to track blood oxygen saturation and let you know the percentage of hemoglobin in your bloodstream. It's serious stuff.
Then there's the dynamic color mapping, NEXRAD weather feature, airport data, automatic logging of flights, and connectivity with avionics and your smartphone.
This isn't just a watch for professional pilots, though. Even if you're just an aviation enthusiast looking for a sports watch with some aeronautical credentials thrown in too, the D2 Delta could be perfect. The Garmin D2 Delta PX Aviator Smartwatch can also track heart rate, making this a great option for fitness fans too.
All that is packed into a lightweight and comfortable watch that you could wear all day without a problem. Did we mention it can also play music? So you can listen to the Top Gun soundtrack as you wear it.
Best for: serious watch-wearers looking for function first and foremost.
| | |
| --- | --- |
| Case size: | 42 millimeters, 47 millimeters, and 51 millimeters |
| Material: | fiber-reinforced polymer with metal rear |
| Movement type: | quartz |
High-end pilot watch buying guide: What to look for when shopping for a modern aviator watch?
When shopping for a modern aviator watch, there are a couple of features you want to pay attention to. These include:
Large dial – to make it easy to see the time. The dial is usually round and black with contrasting hands to further improve legibility.
Indices – luminous for night-time visibility.
Hands – visible, prominent, and sometimes elongated too.
Bezel markings – to help with calculations.
Triangle at 12 o'clock – to indicate if the plane is flying upside down.
Oversized crown – the larger size makes it easier to use without removing gloves.
GMT function – displays time in both local and other time zones.
Circular slide rule – for navigation calculations.
Anti-magnetic seal – to ensure minimal time deviation when the watch is exposed to magnetic fields. This might include a Faraday cage—a soft iron protective layer built around the movement to block electromagnetic fields.
Chronograph function – used for precision timing and to determine the amount of fuel burned and other calculations.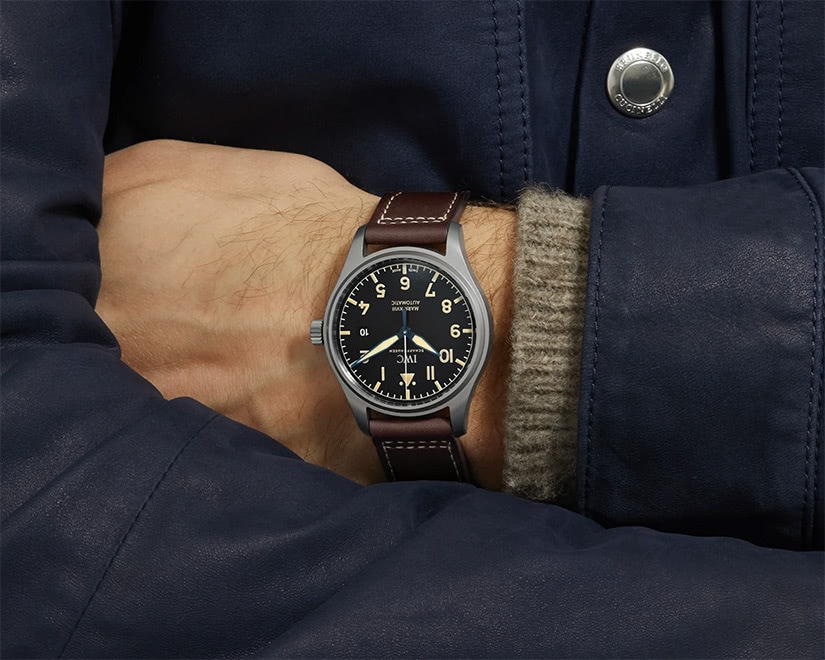 Pilot watches come in a diverse range of materials that are chosen for their durability and high quality. There are two materials that you frequently come across in pilot watches, however:
Sapphire crystal – scratch-resistant, anti-reflective, and shatter-proof
Canvas – a preferred material for the strap as a reference to the original standard-issue pilot watches from the First World War. You will also find straps in leather and stainless steel too, though.
The top aviation watches are made by brands like IWC Schaffhausen and Breitling. Pilot watches by Rolex and Oris are also well-regarded and popular.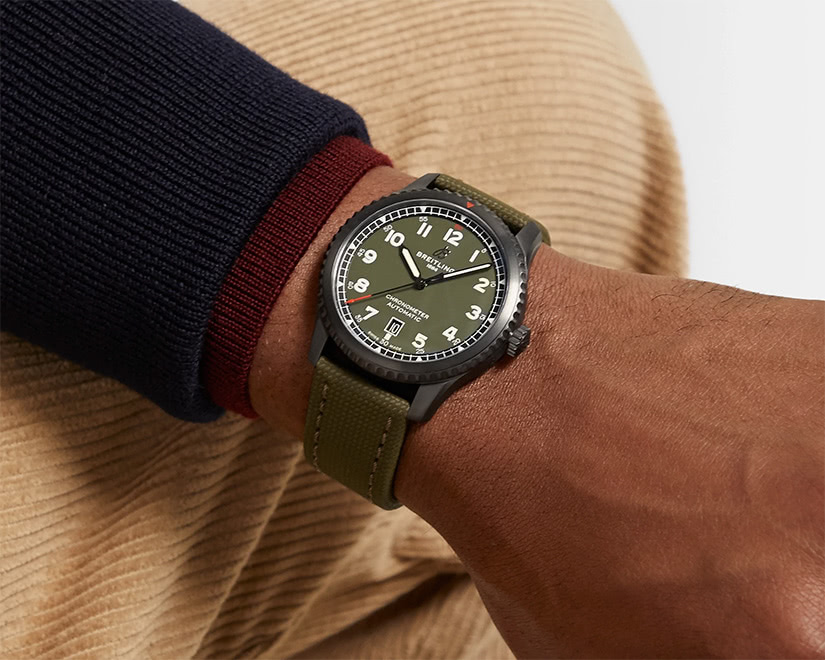 How and when to wear a pilot watch?
Pilot watches were originally designed for use in the cockpit by aviation professionals such as fighter pilots and airline pilots.
However, they are stylish and elegant in appearance, with streamlined profiles and eye-catching dials. This means you can wear a pilot watch as part of casual, smart casual, or business casual attire and it will integrate well into your overall look. In fact, a pilot's watch can add personality and edge to an outfit.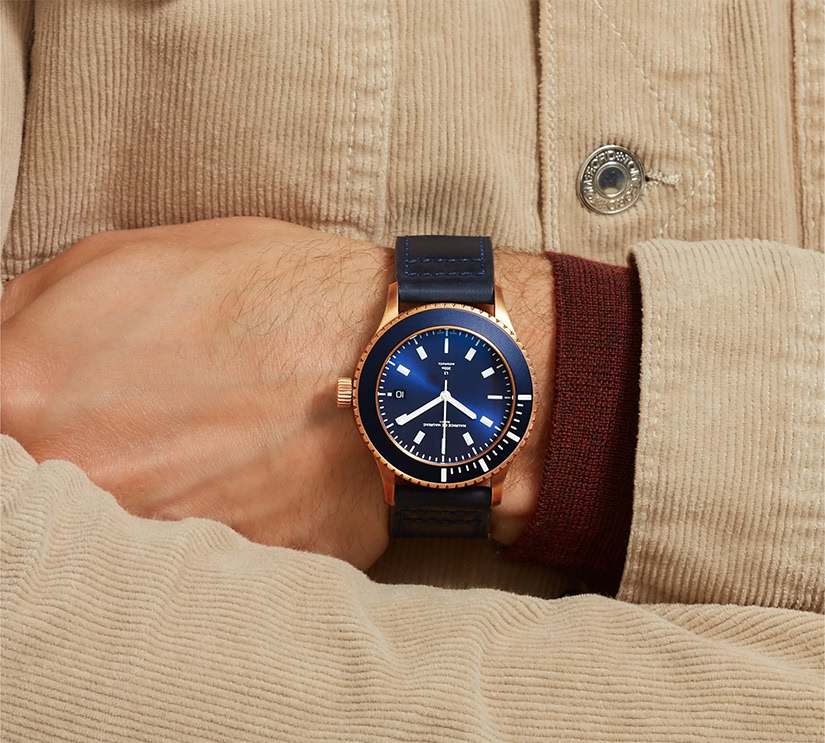 High-end pilot watches: Frequently asked questions
What kind of watches do pilots wear?
Professional pilots wear watches by brands like Garmin. Fighter pilots have a preference for timepieces by Casio. Luxury watches by brands like IWC and Rolex are also popular choices among mechanical aviator watches amateurs.
What is a pilot watch?
A pilot watch is designed to fulfill the needs of aircraft pilots. For this reason, a pilot's watch is highly legible, sometimes with oversized or easy-to-read indices, and can withstand dramatic changes in temperatures and pressure. Pilot watches are also protected from magnetic fields.
Why are pilot watches big?
Pilot watches are typically quite big with large dials in order to improve the legibility of the watch so the pilot can quickly glance at the time, whatever the situation, and get the information he needs without any fumbling or hassle.
Are aviator watches any good?
Aviator watches are a good choice if you want a high-quality watch that is durable, looks distinct and stylish on your wrist, and comes with an intriguing history too.