Whether you're a scuba novice, about to plunge into the big blue for the first time, or a seasoned diver looking for a stylish accompaniment on your underwater missions, sporting one of the best dive watches on your wrist can elevate your subaquatic adventure to the next level.
Admittedly, dive computers have more or less taken over the job traditionally held by diving watches—that of measuring depth and time spent in the water and using this information to plan ascents.
That said, diving timepieces continue to be highly popular choices when it comes to men's luxury wristwatches. Perhaps it's the knowledge that you have a high-tech tool on your wrist—one with an exhilarating history of being used by military professionals and underwater explorers. 
Maybe it's the reassurance that comes with knowing that if you took an accidental dive—perhaps falling into a swimming pool on holiday, for example—your watch would survive and live to tell the tale.
Or perhaps you're simply in the market for a rugged and robust tool watch that will withstand life's beatings and batterings. Not to mention a watch that could serve as a lifeline in itself—if you ever got into deep water (quite literally).
Budget-friendly or high-end, exclusive, modern and minimalist or full of vintage flair—here are the best dive watches on the market today.
The 21 best dive watches
Check our special dive watches buyers' guide after the list to see exactly what you should pay attention to before purchasing a diver's watch. We also share our fashion editors' tips on how and when to wear a dive watch, because you should enjoy your watch when you're above the sea level too.
LIV GX-DIVER: Overall best diver watch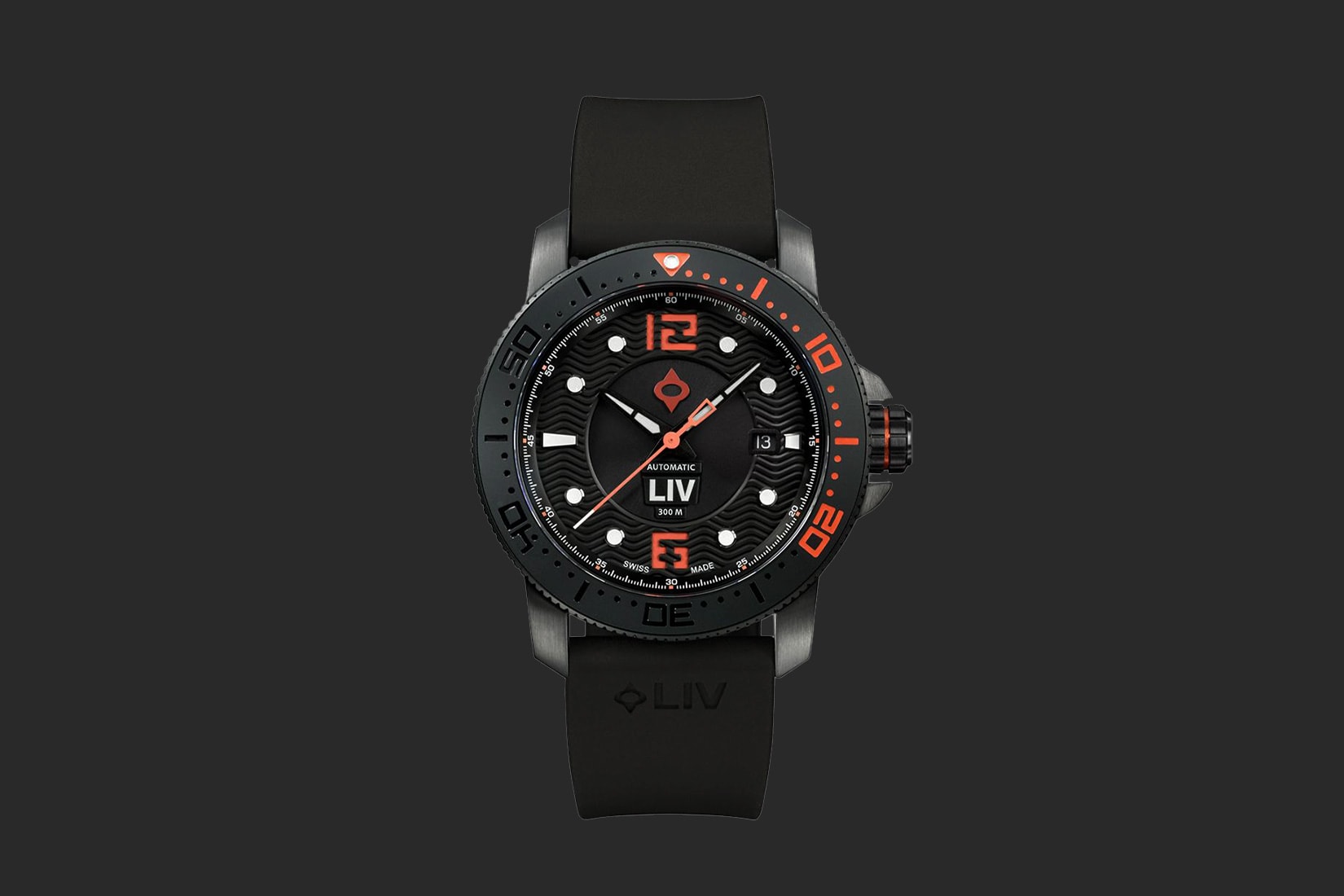 The best diving watches have no problem making the leap from subaquatic scuba missions to the city sidewalk. Case in point? The LIV GX-DIVER. This limited-edition dive watch has earned itself the accolade of best dive watch on our list thanks to its impressive functionality and sleek styling.
Featuring a precision 25 jewel automatic movement, neatly packaged inside a 41 mm stainless steel case, this watch also has a scratch-resistant sapphire crystal that will survive wear, tear, and the general ravages of time. It's also anti-reflective, ensuring legibility even when the sun's beating overhead.
Even though it hasn't been certified to the ISO 6425 standard, water-resistance up to 300 meters means you can take this timekeeper with you on dives, no worries. Read our in-depth LIV Swiss Watches review to learn more about the brand.
Got your eye on the Tudor divers watches but don't want to shell out so much money? The LIV GX-DIVER is the perfect inexpensive dive watch alternative, offering all the same advantages, for less than $1,000.
Best for: Dependable functionality for whenever you find yourself in deep waters.
Case size: 41 millimetres
Material: stainless steel
Movement type: automatic
Water resistance: up to 300 metres
Citizen Eco-Drive Promaster: Best value dive watch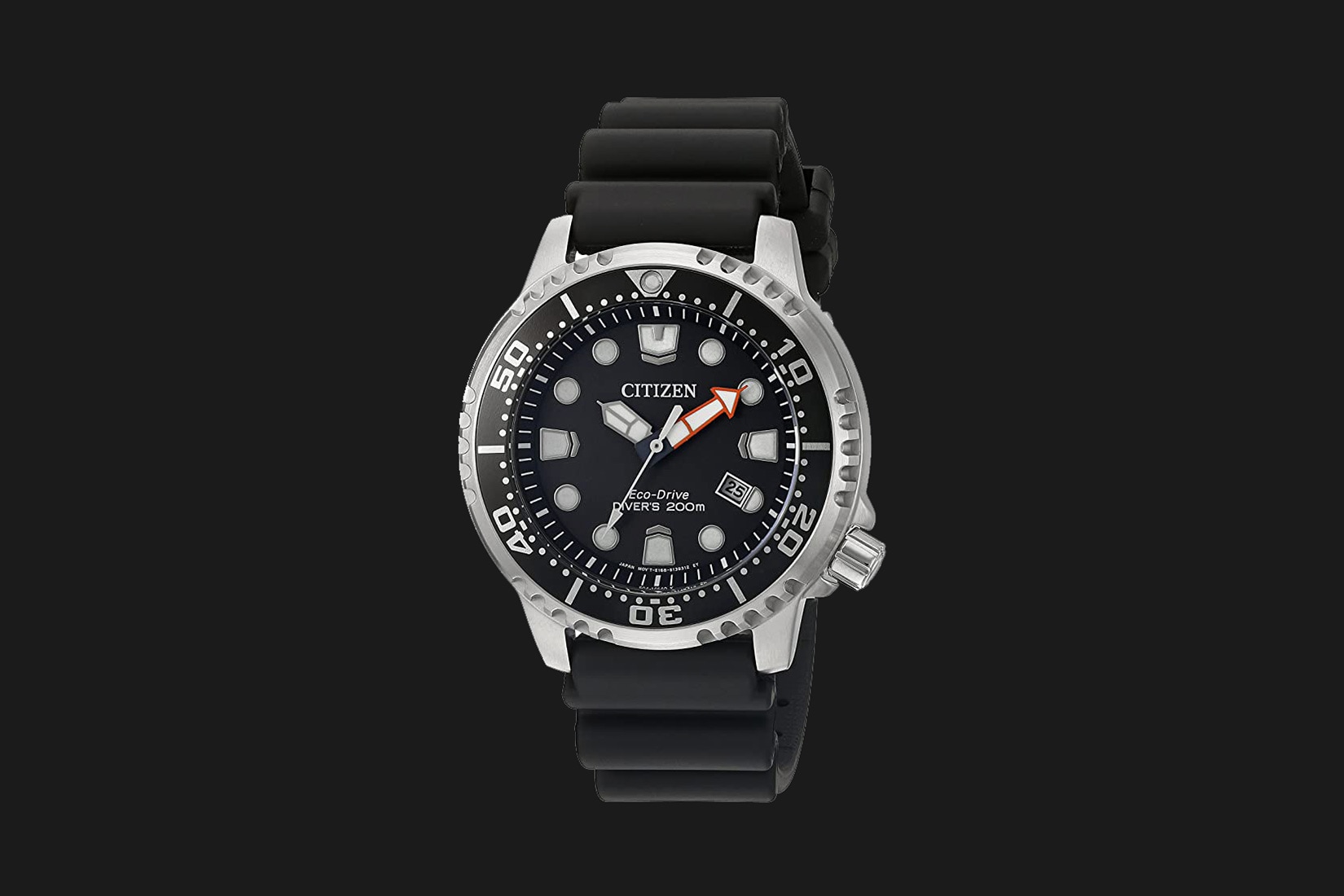 If you want a watch that takes advantage of pioneering developments in engineering and the best new technology, then you want to take a good look at the Citizen Eco-Drive Promaster.
This ISO-compliant professional diver watch features Eco-Drive technology which means it's powered by light—from either the sun or an artificial source. What does this mean? It means you'll never have to change the batteries of your Eco-Drive Promaster—a major bonus.
Not only is harnessing renewable energy eco-friendly but it has an added advantage in that, by never opening your watch, you'll never compromise the factory seal. You can therefore be assured of its long-term water-resistance.
But the fun doesn't stop there with the Citizen Eco-Drive Promaster. You've also got a one-way rotating elapsed-time bezel—vital in any good diver watch. There's also a day-date indicator, luminous hands so you can read the time at any depth, and an anti-reflective mineral crystal display. Finally, a screw-down crown stops water and dust from penetrating the movement.
Best for: tech-whizzes seeking a men's diver watch with exciting new features.
Case size: 44 millimetres
Material: stainless steel
Movement type: quartz
Water resistance: up to 200 metres
IWC Aquatimer Expedition Jacques-Yves Cousteau: Best luxury diver's watch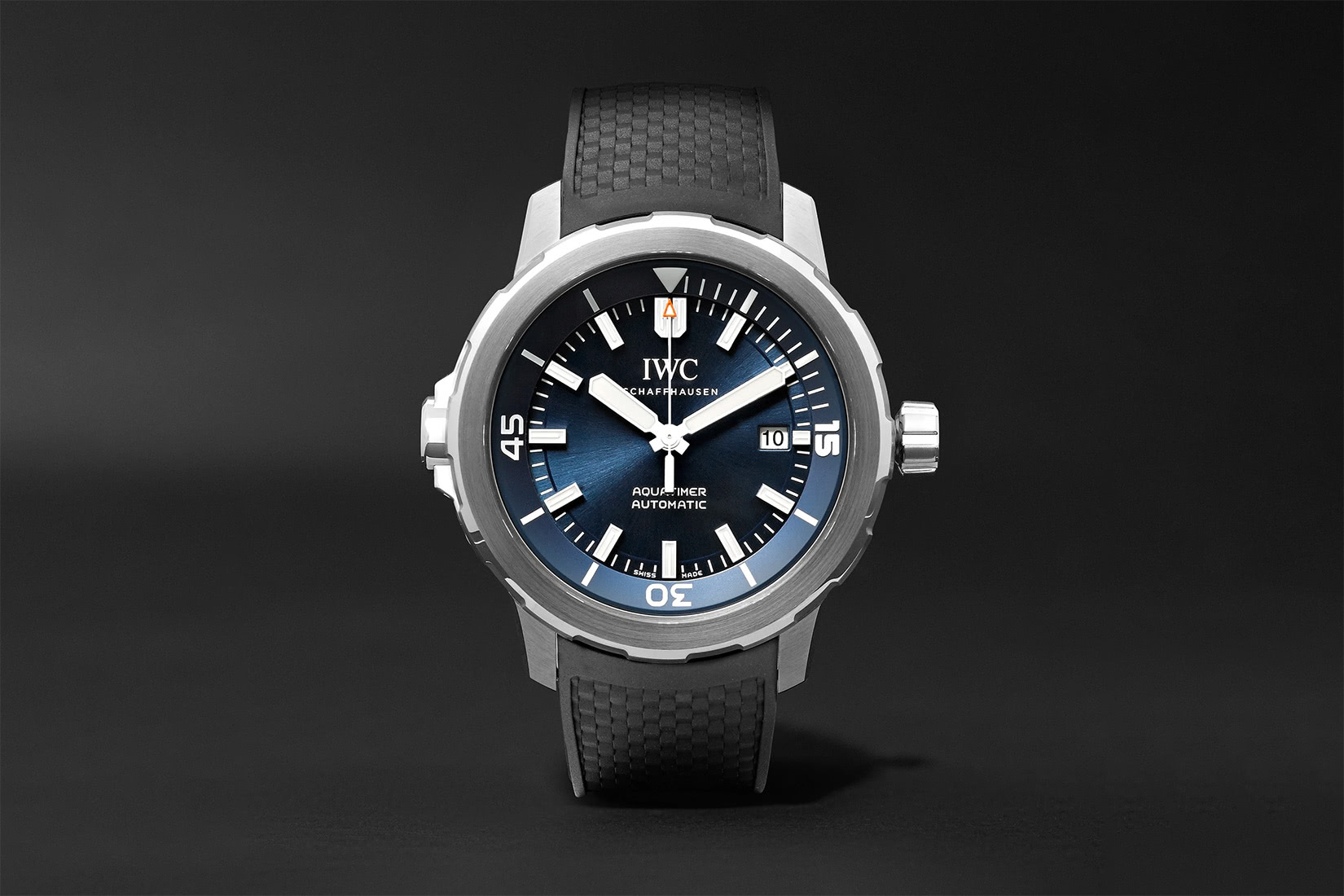 For anyone in the least bit familiar with the world of diving, Jacques Cousteau will need little introduction. This French oceanographer, inventor, and ultimate diving icon is behind a whole host of diving and scuba devices, including the Aqua Lung.
Hard to think of a better namesake for a dive watch than this aquatic explorer. And you can take inspiration from the underwater adventurer himself every time you put it on as there's an engraving of Cousteau on the case back.
The timepiece features an internal and external bezel with a SafeDive system incorporated to prevent any timing errors out in the water. It's also a chronograph dive watch, and features a day and date indication, and the 30120 caliber movement has a 42-hour power reserve. 
A blue dial combined with white luminescent indices ensures easy legibility in any condition. And at 42 millimeters wide and 14 millimeters thick, this Aquatimer is a solid but wrist-friendly size too. Finally, in terms of visuals, this scuba dive watch nails the classic diver aesthetic—but with a touch of modern minimalism. 
Even if you plan to just be lounging on a deckchair, poolside, this IWC Aquatimer Expedition model offers a robust and sporty timepiece that would look great with a laidback casual attire—perhaps a summer shirt and sunglasses.
Best for: an underwater timekeeper named after one of diving's great champions.
Case size: 42 millimetres
Material: stainless steel
Movement type: mechanical automatic
Water resistance: up to 300 metres
Vincero Vessel: Best affordable dive watch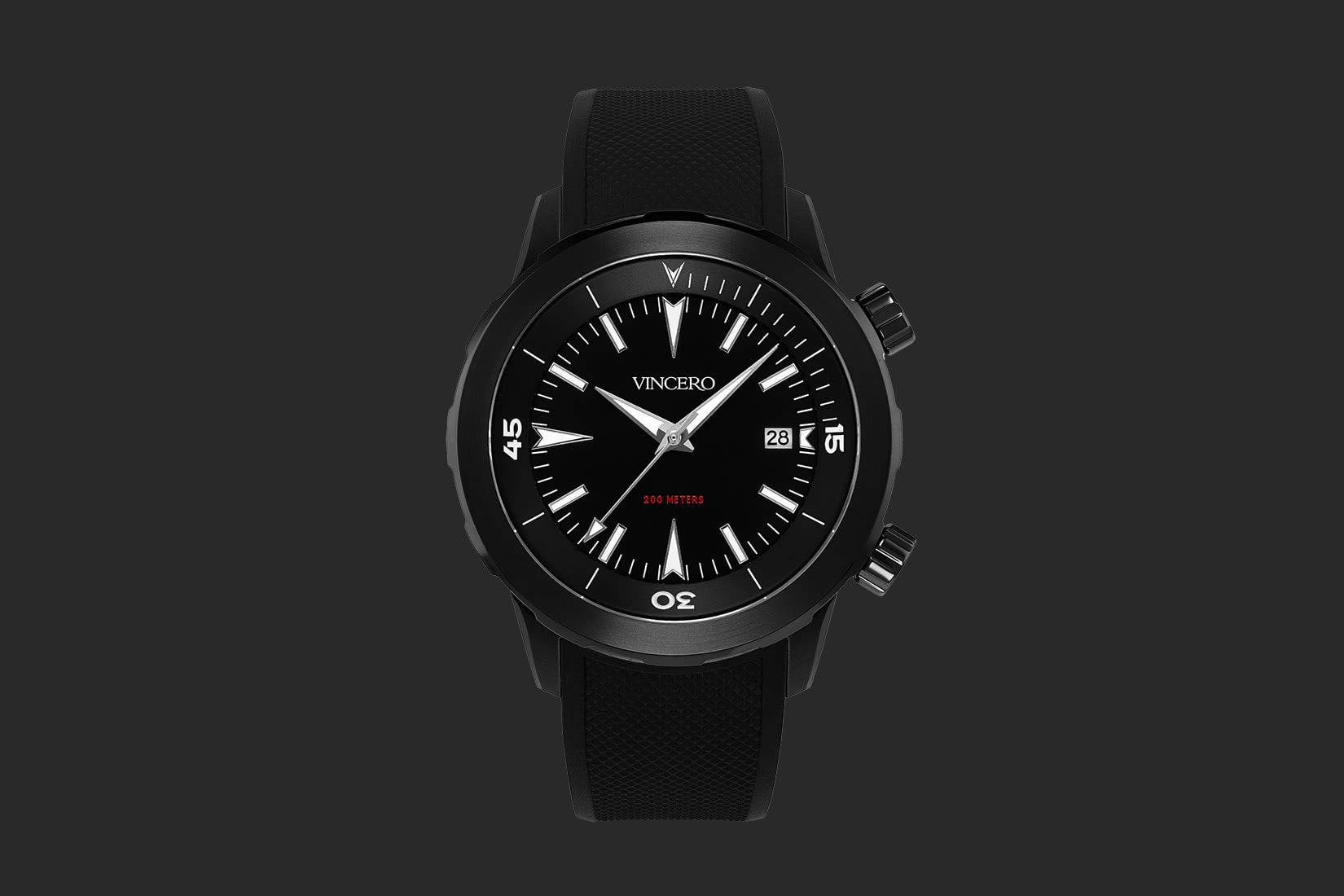 Why spend all your life savings on a dive watch when you pick one up for a tiny percentage of the price—and no one will be any the wiser? With Vincero's The Vessel, you get the strongman aesthetic and indestructible durability of the best dive watches—and you'll have money left over to actually go on a beach holiday!
It may be cheap but this is still a proper diving watch. Taking inspiration from classic dive watches, the appropriately named The Vessel offers 20 ATM water-resistance, delivering the necessary sea-exploring functionality as well as style factor for back on dry land.
The Vessel features a reliable quartz movement housed inside a 44 mm surgical stainless steel case. This rotating bezel watch also allows you to monitor your time and oxygen while Swiss lume ensures legibility, even in shadowy waters. A silicone rubber strap provides extra durability.
Best for: An aesthetically striking and accessibly-priced aquatic ally.
Case size: 44 millimetres
Material: stainless steel
Movement type: quartz
Water resistance: up to 200 metres
Spinnaker Croft Automatic: Best stealth diver's watch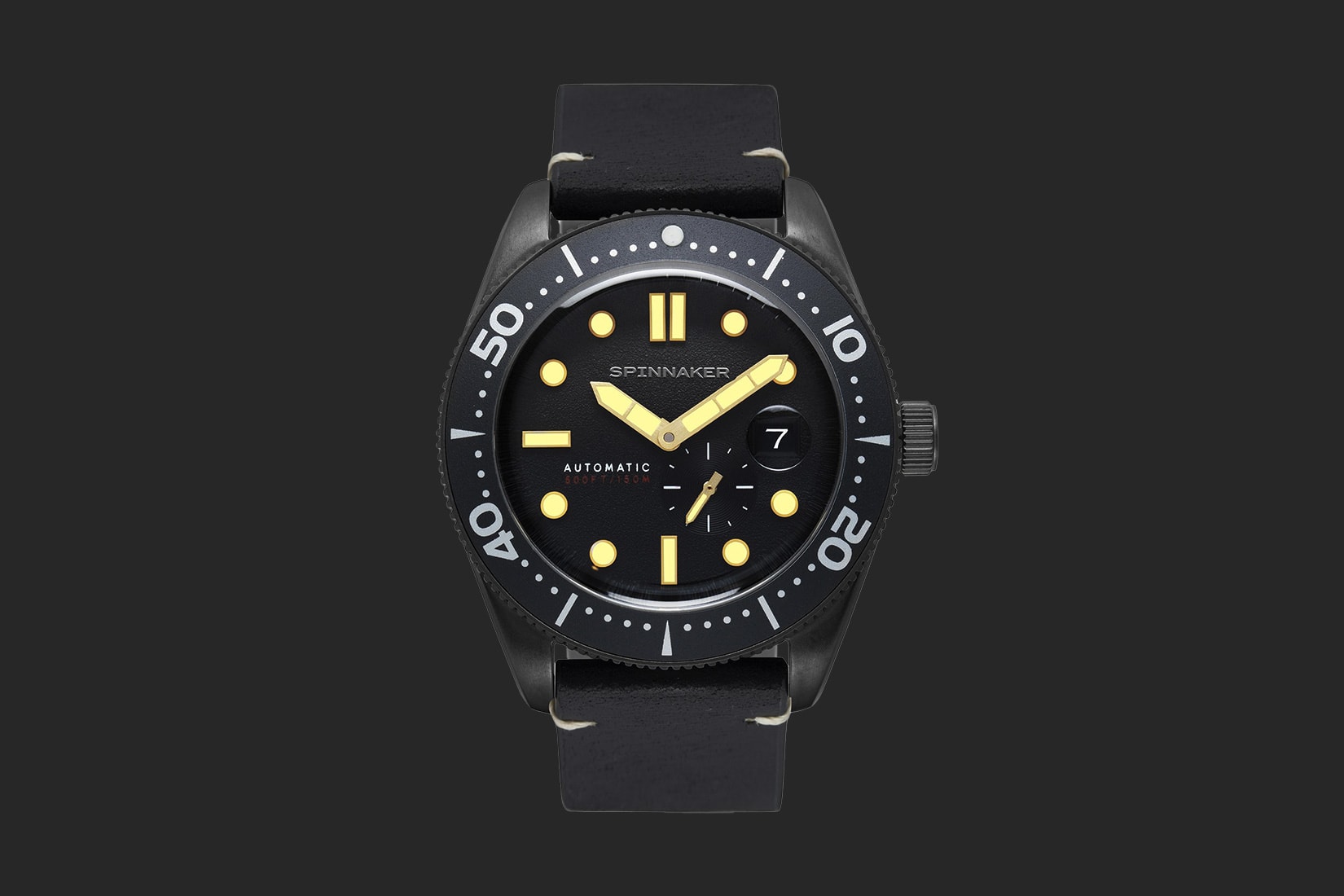 If you're drawn to dive watches because of their military heritage, then you don't want something fussy and extravagant that might draw unwanted attention. You need something suited to secret assignments and confidential undertakings.
Another affordable dive watch, this Spinnaker timekeeper is both a low-key fashion accessory and a high-performing instrument. It features a cyclops date magnifier and a seconds subdial display, as well as a unidirectional bezel. Muted colors and a 43 mm case combine to create a timepiece that's subtly intriguing without being clunky or conspicuous. 
Unlike most dive watch straps, this one is made of genuine leather, which gives it extra style points in our eyes. As an automatic dive watch, the Spinnaker Croft is also dependable and low-maintenance.
Best for: covert operations, whether they're maritime or more mundane.
Case size: 43 millimetres
Material: stainless steel
Movement type: automatic
Water resistance: up to 150 metres
Casio Sports: Best diving sports watch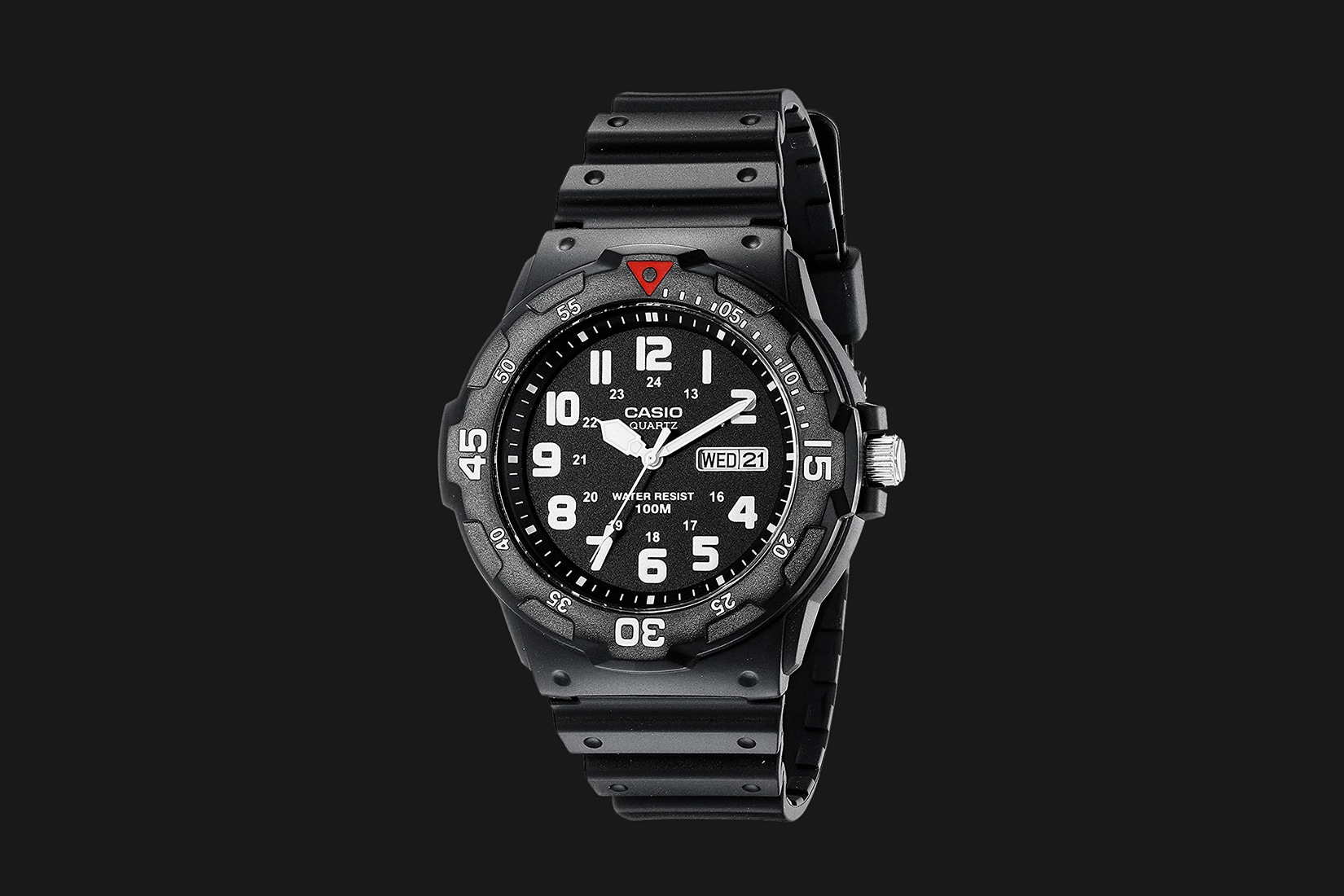 Japanese watch manufacturer Casio has made a name for itself producing comfortable, function-packed, and reliable timepieces. Their watches are affordable but still deliver top-quality and feature-heavy timekeeping.
With this analogue sports watch, you've got a 12/24-hour function, a day and date display at 3 o'clock, a bi-directional rotating bezel, and large indexes so you can read the time with a quick glance. It's corrosion and water-resistant, and, with its quartz movement, can be depended on for precision and accuracy.
Visually, this Casio watch definitely errs on the side of function over fashion. With its no-frills aesthetic and chunky profile, it's a good choice for outdoorsmen and adventurers who prioritize practicality above all else. 
As it's only water-resistant up to 100 meters, it's not a good option for avid scuba divers, but if you're more into water sports like surfing, snorkeling, or sailing, then this is the perfect aquatic companion. 
And, when all's said and done, you really can't go wrong with a price tag like that, which makes Casio's Analog sport watch the best budget dive watch on our list. 
Best for: watersports enthusiasts seeking a reliable and practical timekeeping accessory.
Case size: 43 millimetres
Material: resin
Movement type: quartz
Water resistance: up to 100 metres
Seiko Prospex Padi Solar: Best dive watch with a quartz movement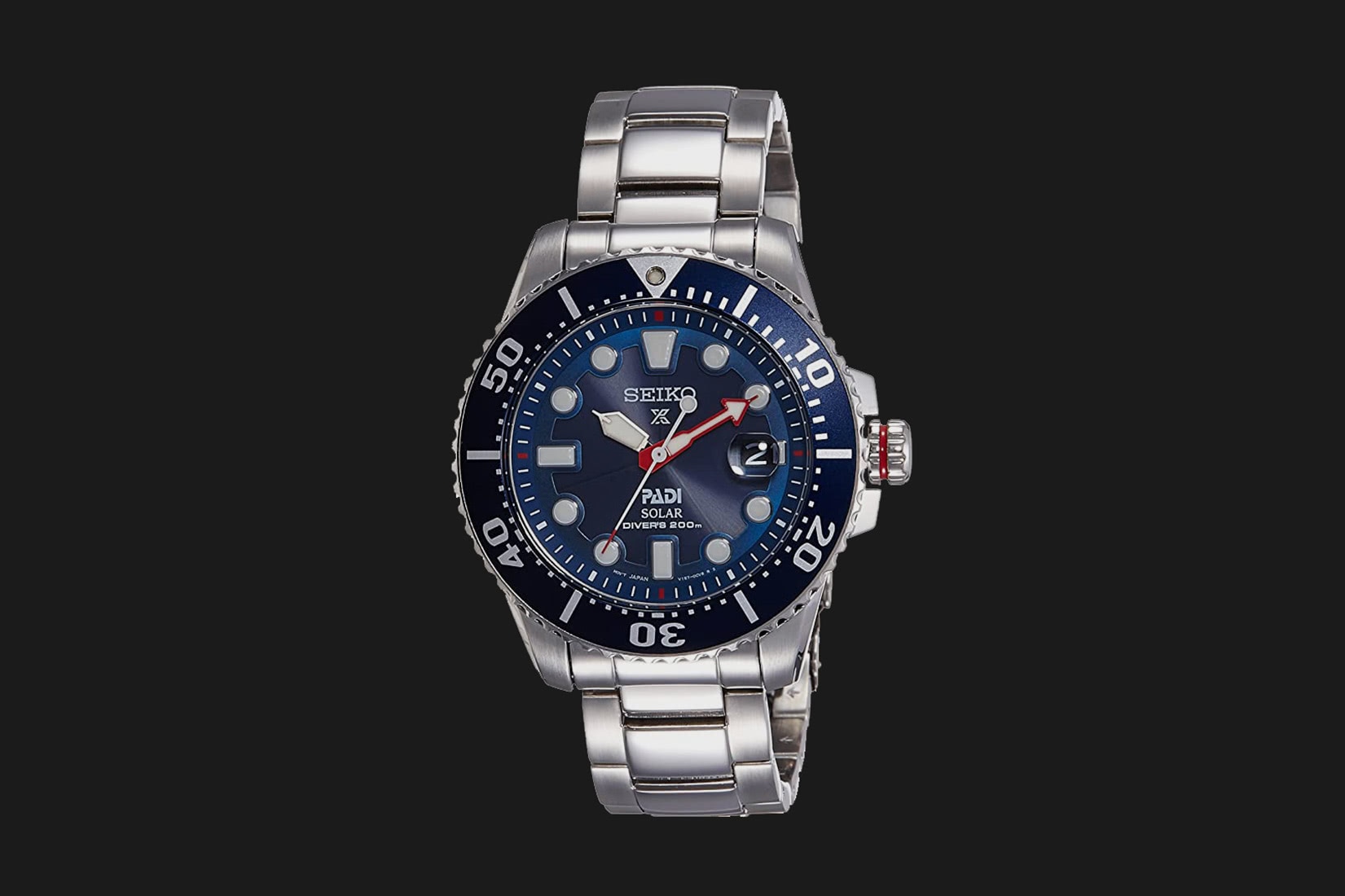 Serious divers seek practicality above all else when it comes to watches. And the Prospex Padi Solar is certainly a pragmatic choice in this regard. After all, it was produced in partnership with world-famous diving organization, PADI—the very people who probably awarded you your first diving certification. 
No surprise, then that the Padi Solar ticks all the boxes of a superb dive watch.
A Japanese solar quartz movement delivers precise timekeeping powered by the sun. When fully charged, it can deliver up to 10 months of power. A one-way rotating bezel allows you to time your immersions, while LumiBrite hands and markers allow for optimum visibility in all light conditions. The date display also has a magnifier in the style of a Rolex cyclops for improved legibility.
But it's not all functionality with the Prospex Padi Solar. It also nails the no-nonsense aesthetic. The stainless steel case and band are sleek and tough-looking while the 43.5-millimeter size is chunky and bold. 
Whether you're diving coral reefs or exploring deep-sea wrecks, this is the perfect timepiece to take with you. It's also pretty affordable. Hence why we consider this Seiko Prospex Padi Solar the best overall diving watch on our list.
Best for: an incredibly capable watch with an accessible price tag.
Case size: 43.5 millimetres
Material: stainless steel
Movement type: quartz
Water resistance: up to 200 metres
Panerai Submersible: Best automatic movement diver's watch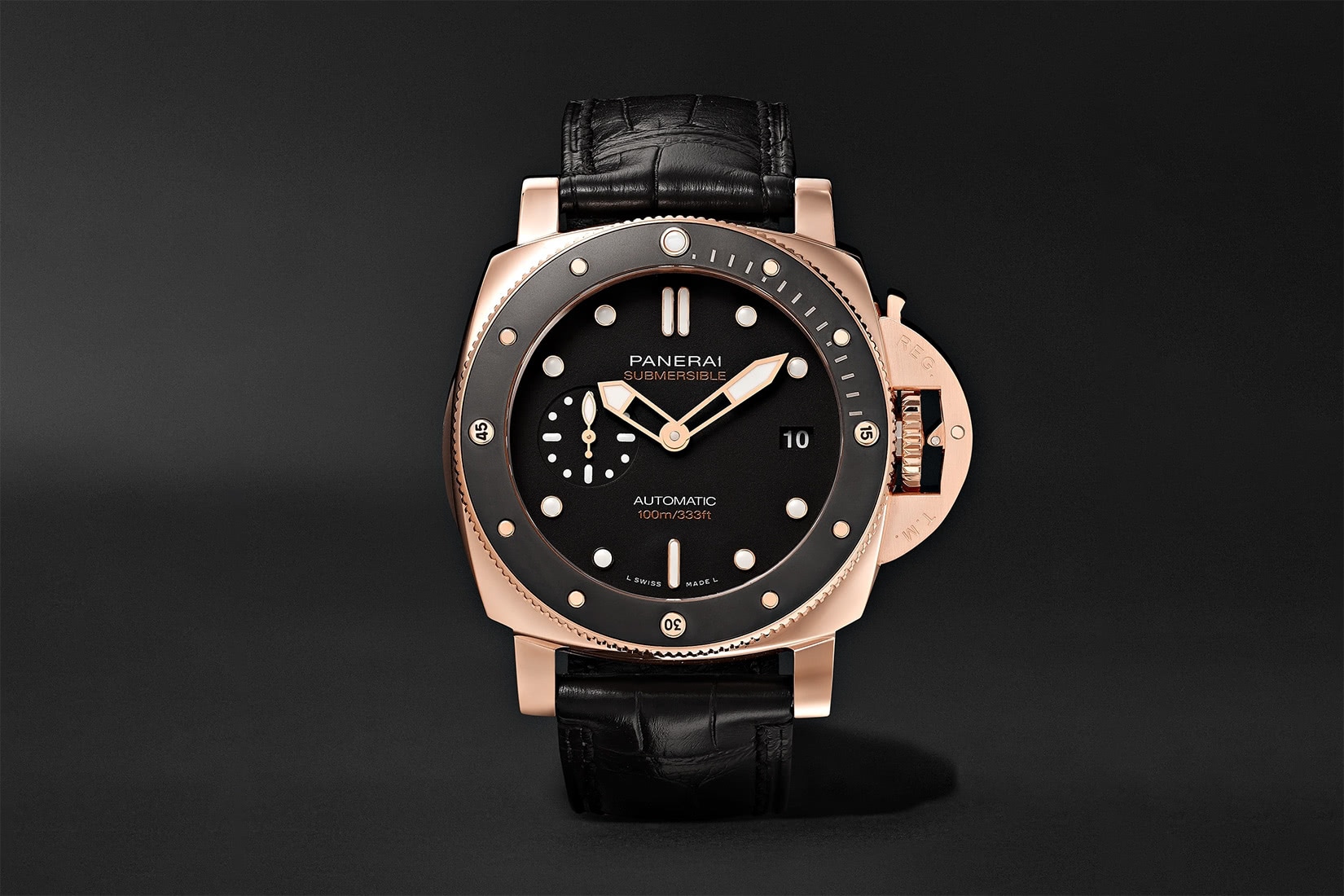 Panerai's Submersible collection is a homage to the brand's distinguished history as a supplier of watches to the Italian Navy. This particular version of the Submersible takes that military heritage and adds a major dose of high-end luxury.
The first thing that will strike you about this particular model is that gleaming gold material. It's called Goldtech and it's a combination of copper and platinum. With its reddish glow, it's certainly visually arresting and highly original.
But not only does Goldtech look like the height of luxury. Because it contains platinum, it's also resistant to oxidation, so will last even longer.
Panerai is renowned around the world for its unimpeachable craftsmanship and this watch is a fine example. With its ceramic bezel, protective shield over the crown, and sapphire crystal glass, it's pretty much unbreakable.
Want to see what's going on inside for yourself? Flip over the Panerai Submersible Automatic and you'll be able to see the movement at work through the case-back.
Best for: lovers of luxury after a high-end dive watch.
Case size: 42 millimetres
Material: Goldtech
Movement type: mechanical automatic
Water resistance: up to 100 metres
Oris Divers Sixty-Five: Best vintage-inspired dive watch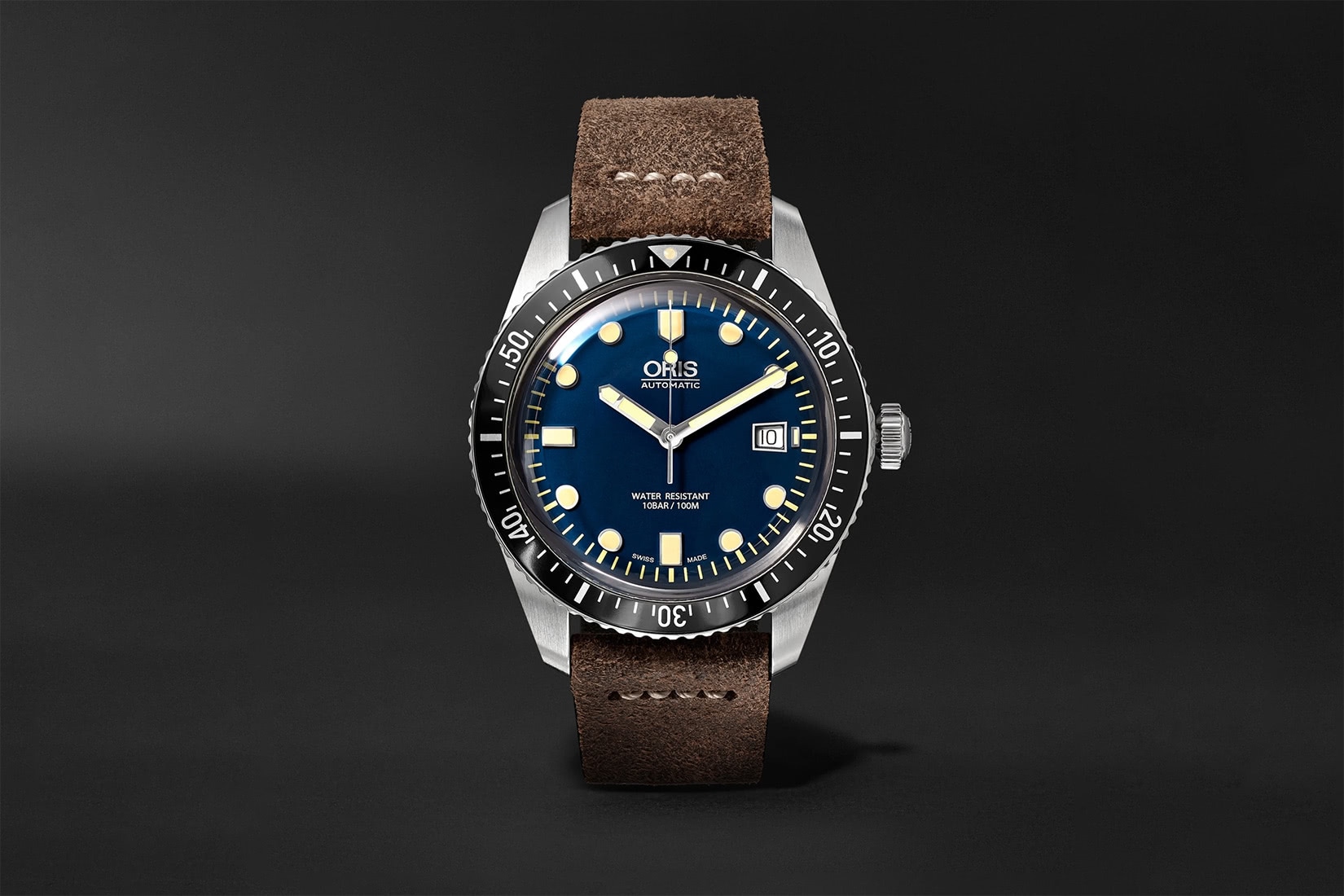 Ready to make waves with a diving timepiece that truly stands out of the crowd? This heritage model by Oris is inspired by the brand's first diving model, launched back in 1965.
But while paying homage to diving tradition, Oris has also opted for a larger and more modern case as well as an improved automatic mechanical movement. The result is a reliable, robust, and stylish watch with a go-anywhere, survive-anything kind of vibe.
Inside the case, you've got a Swiss-made Oris 733 movement, beating at 28,800 vibrations per hour, and with a 38-hour power reserve. Outside, you've got a unidirectional black bezel and Super-LumiNova coated hands and indices for low-light visibility.
Superior durability is guaranteed thanks to the sapphire crystal lens and the screw-down case back. The combination of the midnight-blue dial with the beige hands and brown leather strap conveys a retro mood that also feels highly sophisticated.
With water resistance only up to 100 meters, this is a dive watch better suited to doing lengths in a swimming pool or laidback holiday snorkeling than deep-sea dives. Not even planning to enter the water? The Oris Divers Sixty-Five Automatic is also a hard-wearing yet stylish watch to sport on a day-to-day basis. 
Best for: vintage-inspired timekeeping combined with modern technology.
Case size: 42 millimetres
Material: stainless steel
Movement type: mechanical automatic
Water resistance: up to 100 metres
Tag Heuer Aquaracer: Best military-inspired dive watch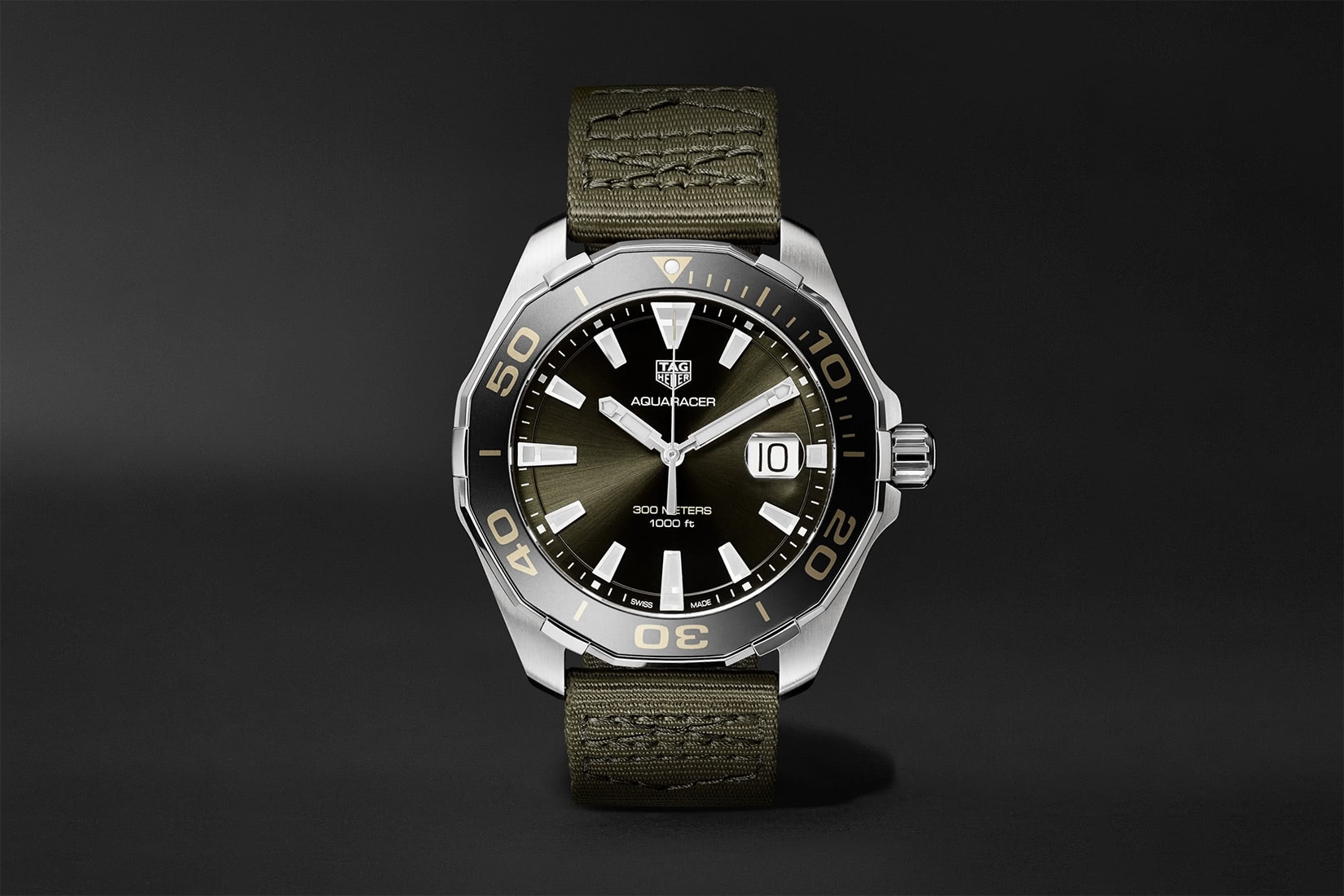 The Aquaracer was first introduced by highly-regarded luxury watch manufacturer Tag Heuer in the 1980s. These were watches designed to be worn to depth by experienced divers on their extreme underwater missions. And this particular model is no exception: a diving watch made not just to survive but to enhance subaquatic explorations.
Firstly, it has a quartz movement rather than mechanical, a popular choice among divers because of its exceptional accuracy and precision. You've got indexes and hands coated with Super-LumiNova so you can read the time in poor visibility or low light. The bezel is unidirectional—essential in a dive watch to avoid any accidental calculations that might put you at risk. Meanwhile, the glass is sapphire crystal—scratch-resistant and hard-wearing.
The army-green webbing strap is the final touch, adding some military-style panache to a watch that effortlessly captures the pragmatic, tough-minded, but adventurous attitude you'd associate with a dive watch.
Taking this all into account, this Tag Heuer Aquaracer diving watch is definitely a great value choice, costing far less than some of the other high-end brands while still offering exceptional quality and functionality.
Best for: a top-quality men's diver watch offering accessible luxury.
Case size: 43 millimetres
Material: stainless steel
Movement type: quartz
Water resistance: up to 300 metres
Breitling Superocean Héritage II: Best minimalist dive watch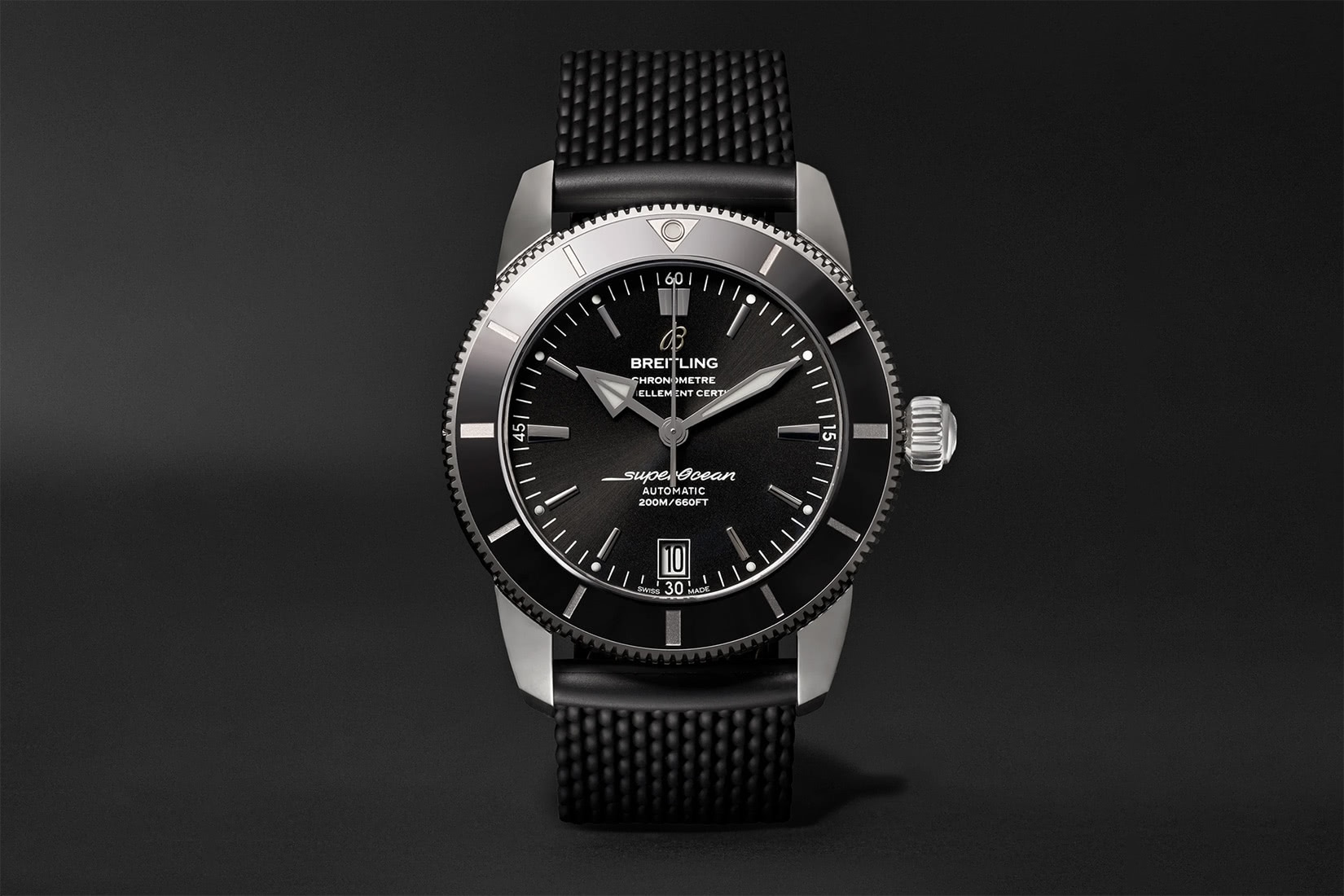 The Superocean Héritage II takes its name from Breitling's original 1957 Superocean line of watches—iconic diving timepieces that have been catching the attention of watch enthusiasts for decades now.
The creation of this model has been masterfully executed, from the mechanics to the aesthetic. Inside, you've got a COSC-certified chronometer and a self-winding B20 movement. On the outside, you've got a mixture of materials—rubber, ceramic, and stainless steel—that combine to realize a highly modern design that will certainly get noticed. 
The red gold hands aren't just pleasing on the eye. They're also coated in Super-LumiNova for optimum night-time visibility. Meanwhile, a stainless steel case will ensure your watch survives the occasional bash and knock.
The ceramic bezel is unidirectional to ensure nothing messes up your measuring. And the sapphire crystal is domed and anti-reflective. Finally, the strap is black rubber: comfortable and long-lasting, even with use in water.
The Superocean Héritage II feels like an authentic dive watch—solid and sturdy, but with a cool retro air that makes it a unique choice. Want a watch that will (excuse the pun) create a splash? Breitling Superocean Héritage II is the one for you. It's available in black as shown above, or silver blue.
Best for: watersports fans seeking a hard-wearing and attention-grabbing timepiece.
Case size: 42 millimetres
Material: stainless steel
Movement type: mechanical automatic
Water resistance: up to 200 metres
Garmin Instinct Solar: Best diving smartwatch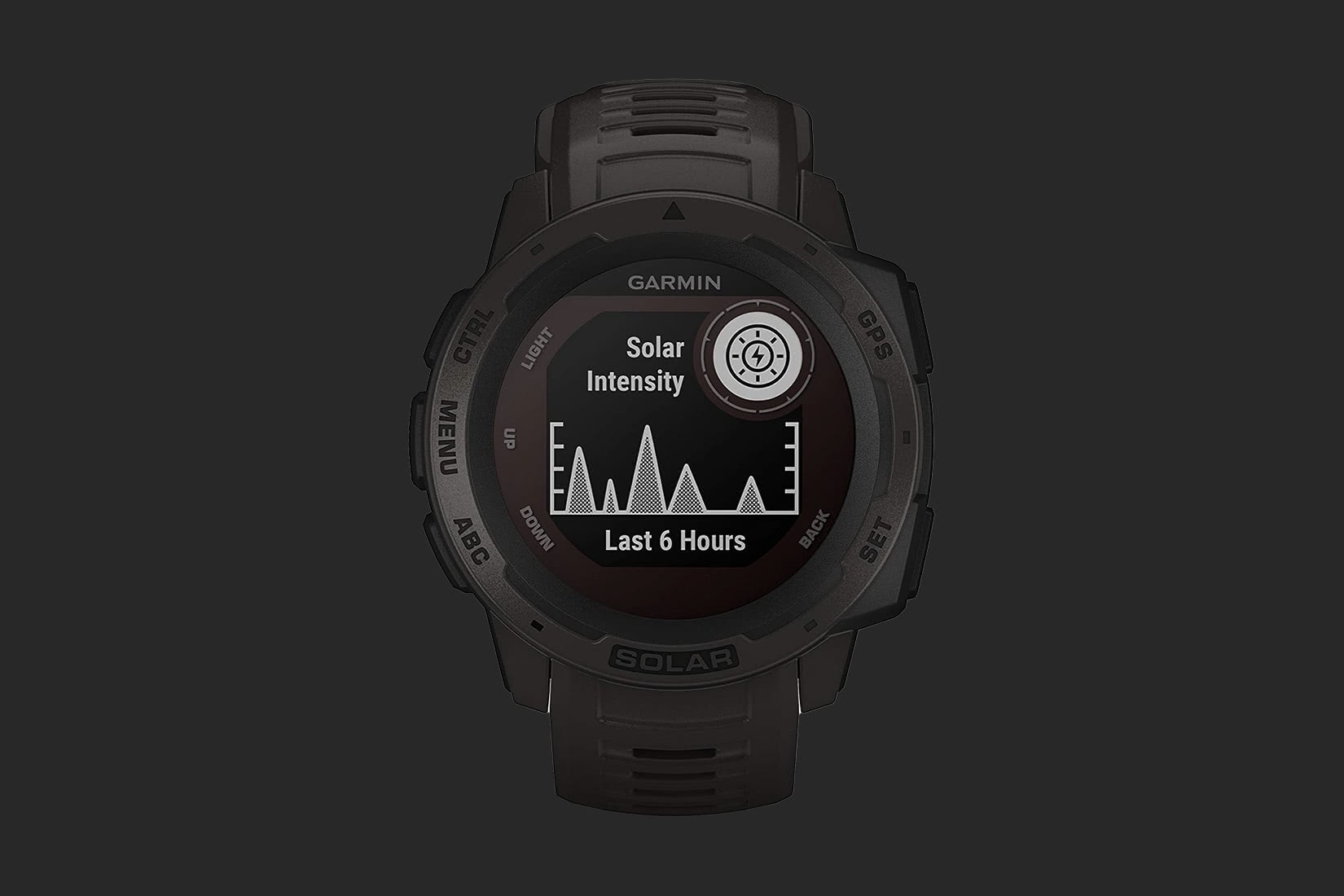 Smart dive watches like the Garmin Instinct Solar give the modern diver access to highly insightful analytics to optimize their performance and maximize the quality of their outdoor excursions. 
Like all the best sports watches, the Instinct Solar has different apps for different activities (including swimming and surfing) and provides heart rate data and information on your blood oxygen levels. But our favorite feature has to be the solar battery. Renewable technology, right on your wrist. 
If you're a fan of Seiko dive watches but you want something with GPS technology too, then Garmin is the brand for you. This watch, for example, has access to multiple global navigation satellite systems.
And, going beyond your standard power reserve indicator, the Instinct Solar also has a power manager, which means you can make battery-extending changes on the go. No wonder it's such a hit among Amazon dive watches.
Best for: A highly intelligent timekeeper for a more data-driven day-to-day.
Case size: 45 millimetres
Material: fibre-reinforced polymer
Movement type: quartz
Water resistance: up to 100 metres
Omega Seamaster: Best Swiss dive watch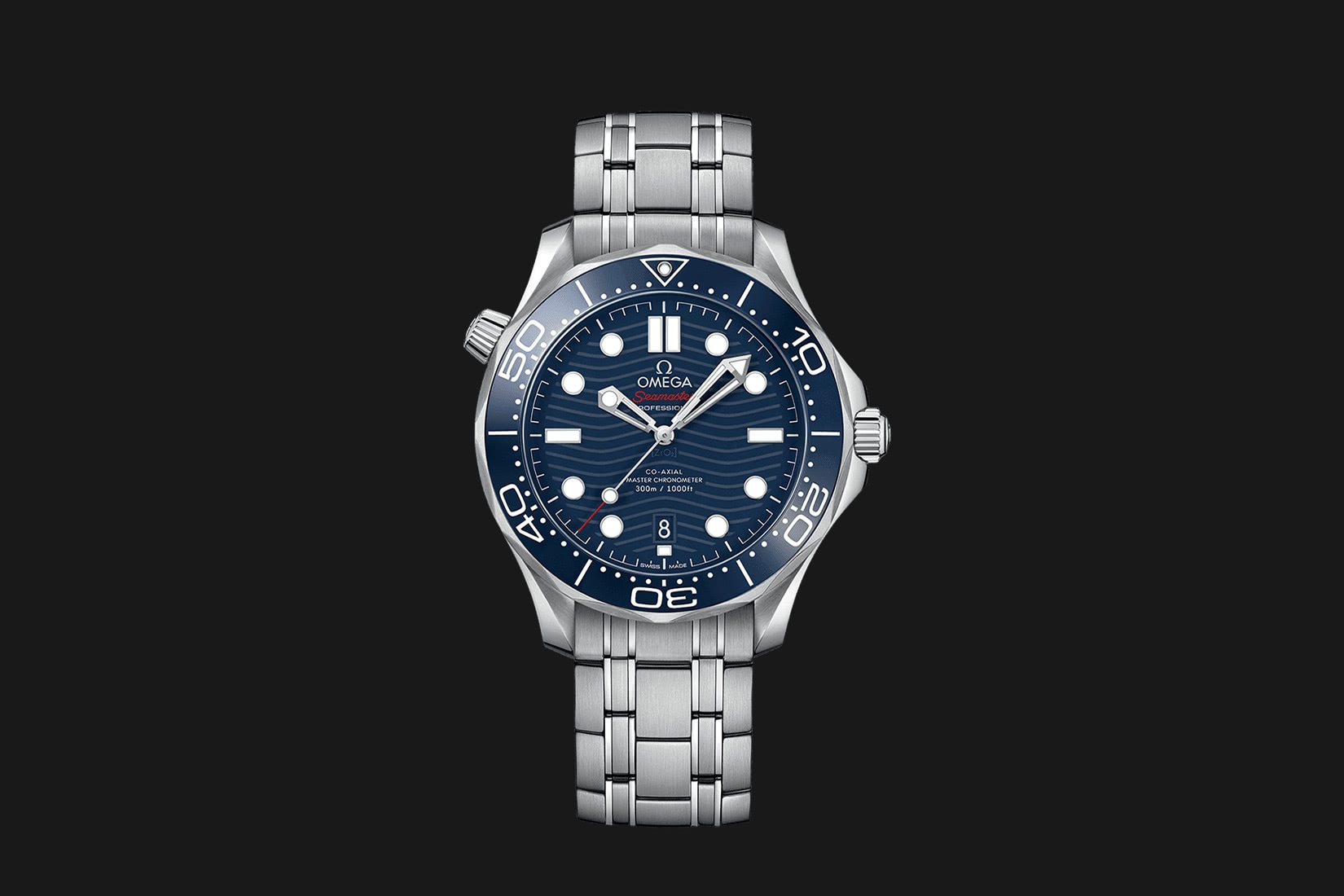 An edition of Omega's iconic Seamaster dive watch, the Seamaster Diver 300M was a big hit when it emerged on the dive scene in 1993, complete with what has become the brand's signature blue dial. The addition of those mesmerizing waves in the background captures the aquatic mood perfectly.
Water-resistant up to 300 meters, from scuba holidays to deep-sea discoveries, this is the perfect underwater timekeeping accessory. It's also pretty slim at only 36 millimeters, making it a highly versatile buy. If you want a dive watch under 40mm, this is one of the rare gems on our list.
As for the other specifications, the bezel measures time in 60-minute increments, and the watch's battery life is 42 months. But there's also an end-of-life battery life indicator so you won't be caught by surprise when it does finally go.
This vintage model, dating from 1993, has a clean and classic aesthetic with its stainless steel finish and skeleton arrow-shaped hands. And, with its anti-reflective and scratch-resistant sapphire crystal, plus the helium release valve, it's durable and dependable too.
The most important part? Even with a scuba mask on, the Omega Seamaster diver watch looks exceptional. It would also make an incredible gift for any diving enthusiast or lover of luxury watches.
Best for: an iconic and durable diving timepiece that will last you a lifetime.
Case size: 36.25mm
Material: stainless steel
Movement type: quartz
Water resistance: up to 300 metres
Casio MDV106-1AV: Best dive watch for beginners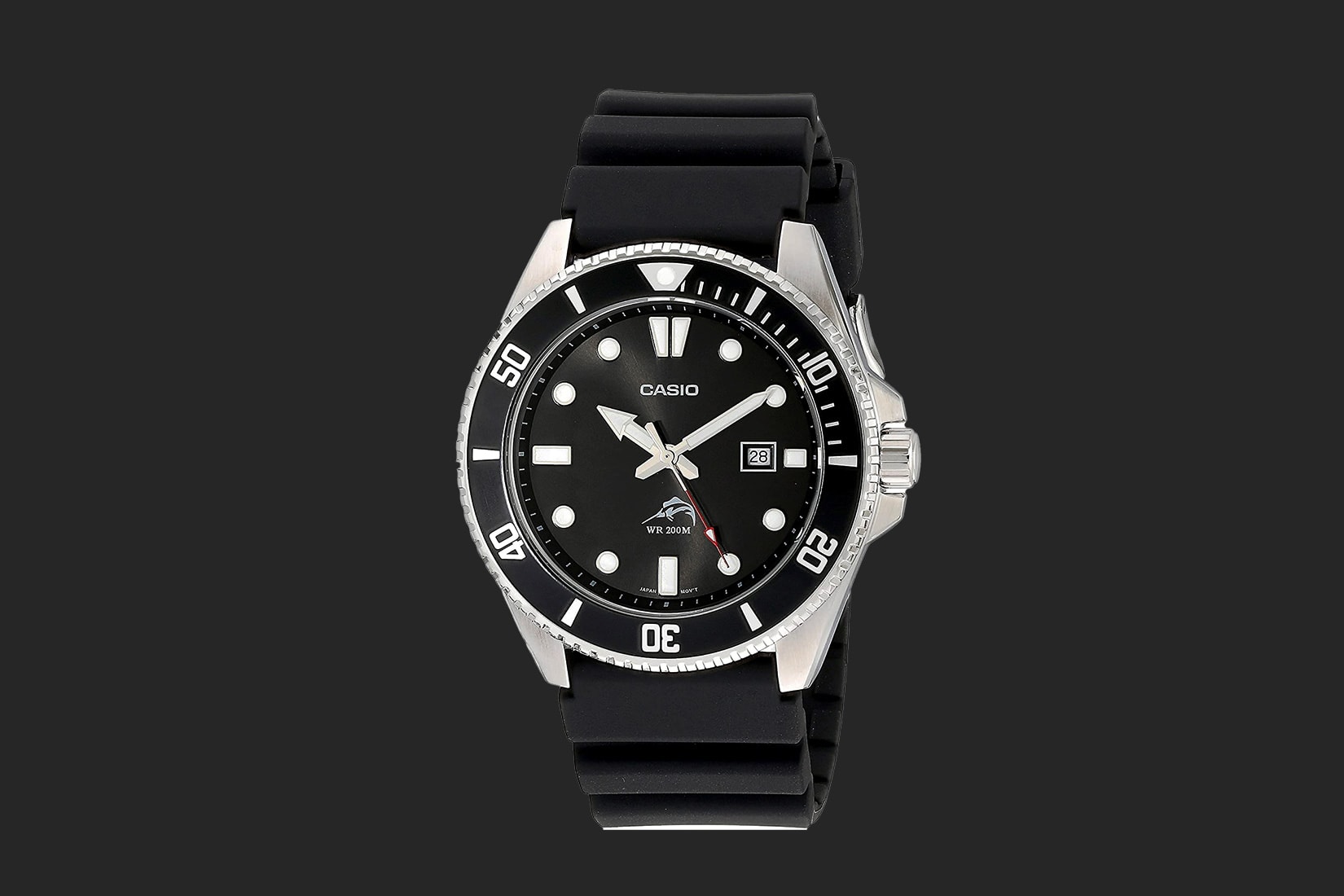 New to the intimidating world of dive watches with all its definitions, specifications, and accreditations? This Casio watch is easy to use and approachable, perfect for those getting to grips with underwater timekeeping.
This Casio watch has the profile of a classic and iconic dive watch with its anti-reverse bezel, black resin band, and stainless steel case, plus a straightforward 3-hand analog display with luminous markers, hour hands, and a date at 3 o'clock.
The bezel has both Arabic numeral and dot indexes as well as a one-way rotation so you can time your dives accurately. We like the cog-like edge, which adds industrial grit.
This made in USA Casio watch will carry you from the boardroom through to your much-deserved beach holiday and down below the ocean surface too—even up to a depth of 200 meters. Forget the best dive watches under $2,000. This is one of the best dive watches under $100.
Best for: Intuitive functionality and fool-proof durability.
Case size: 44mm
Material: stainless steel
Movement type: quartz
Water resistance: up to 200 metres
Tudor Pelagos: Best diving watch with a helium escape valve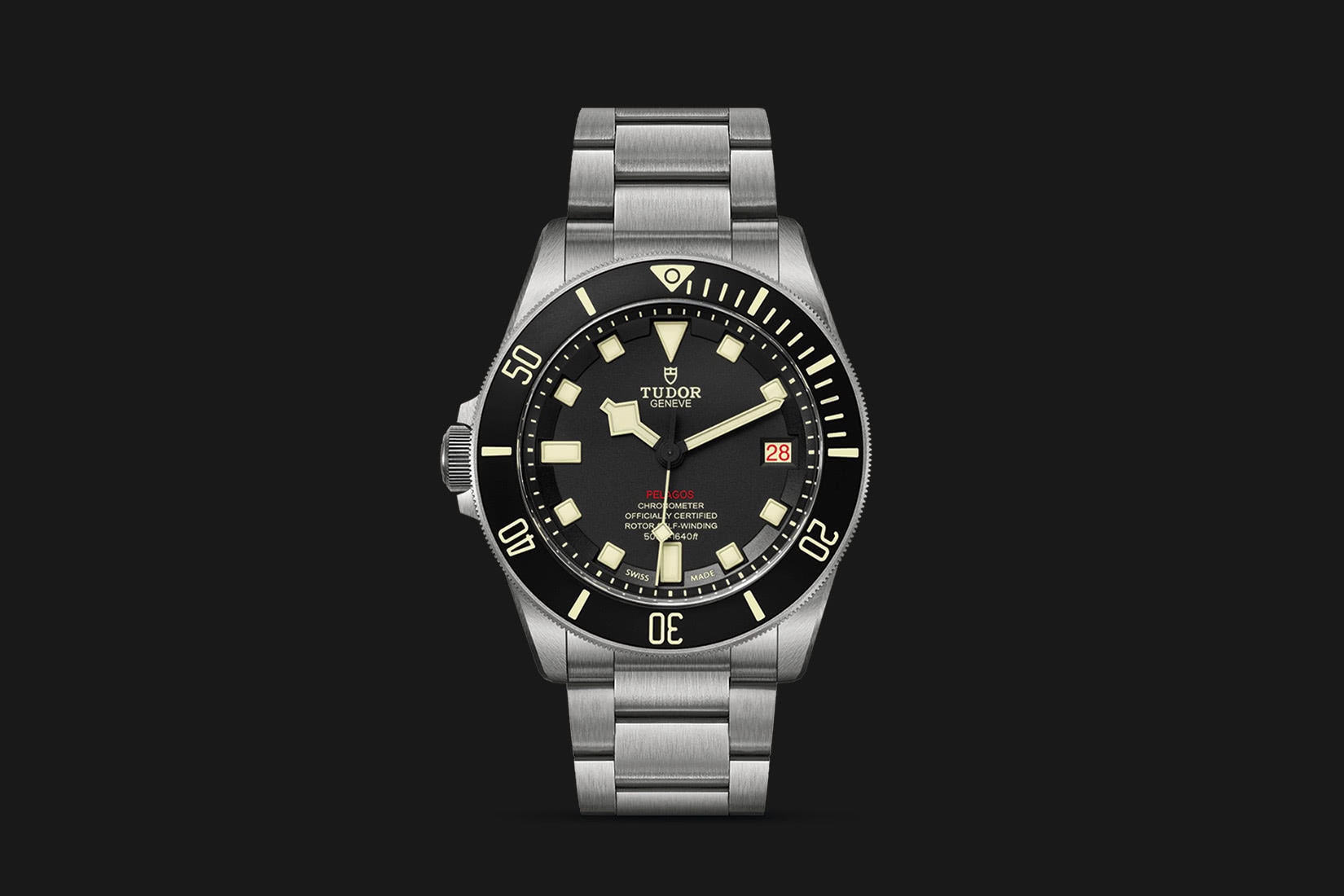 The first thing that will catch your eye when you come across the Tudor Pelagos is probably not even the watch itself but its specifications. This is a timepiece that boasts a depth rating of up to 500 meters. That's quite a feat. 
But when you've regained your composure over this incredible level of water-resistance, you'll be equally impressed by the rest of the watch.
The titanium strap and the titanium and stainless steel case feel sleek, masculine, and business-like. Titanium was chosen for being lightweight and resistant to saltwater corrosion. Meanwhile, the sapphire crystal over the dial is the apex of long-lasting durability.
The Pelagos has a matte black dial with luminous hour markers, plus a red and black roulette date wheel. It's also a left-hand drive, with the crown positioned at 9 o'clock. But what really makes this model special is the helium escape valve—a necessity on any professional diving watch.
This is a timepiece certain to catch the eye of your dive buddy and—let's be honest—that counts for a lot. Tudor's dive watches are just built that way.
Best for: with its mega depth rating, the Tudor Pelagos is the perfect companion for any aquatic adventure.
Case size: 42 millimetres
Material: titanium and steel with ceramic bezel
Movement type: mechanical automatic
Water resistance: up to 500 metres
Rolex Sea Dweller Deepsea: Best deep dive watch (beyond 1,000M)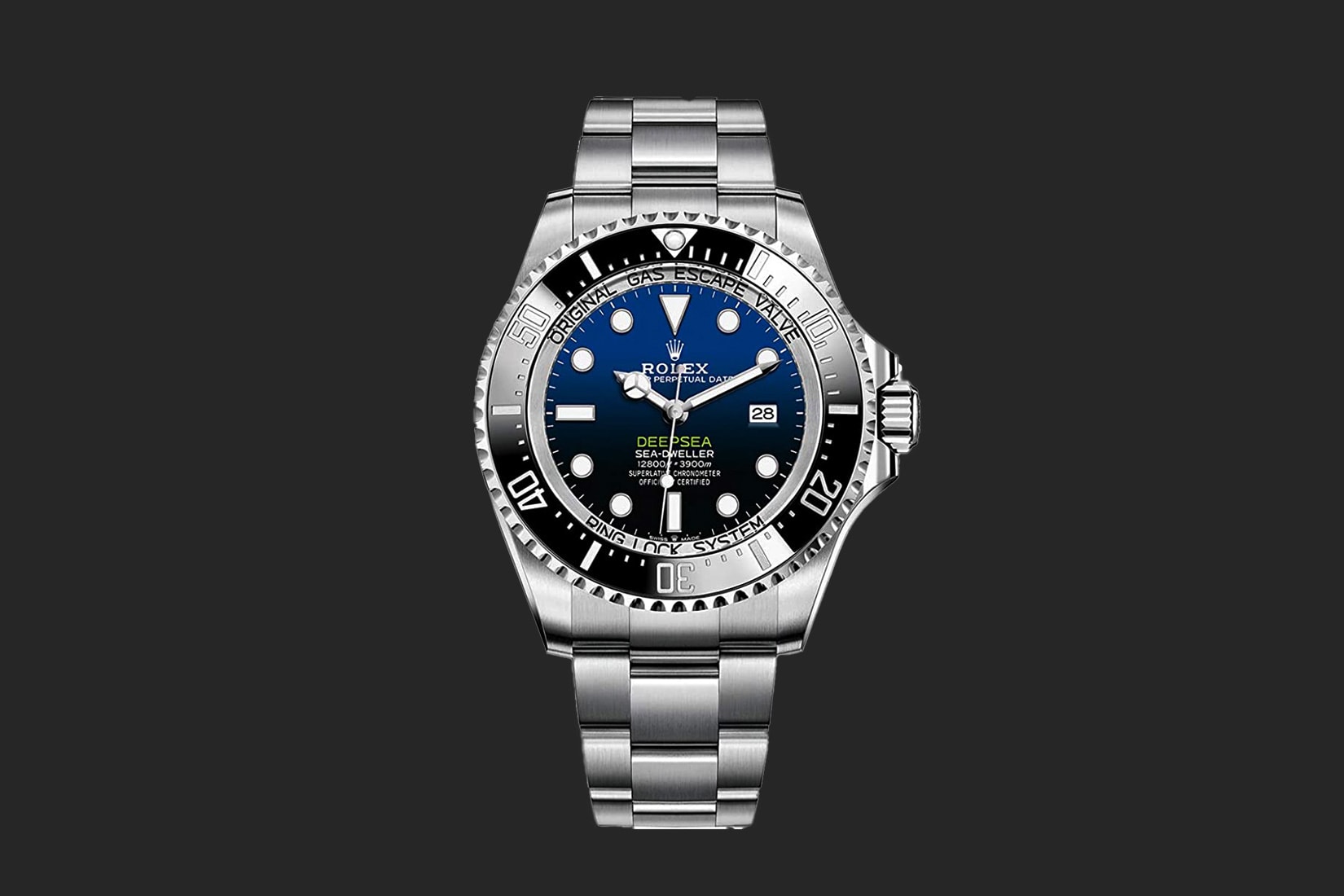 Water resistance to 300 meters is cool. Water resistance to 1,000 meters is even better. But water resistance to 3900 meters? Now that's what we're talking about. 
If you're an experienced diver with aspirations to take your abilities to new depths, then you need a timekeeper that can handle serious submersion i.e. a beyond 300 m diver watch. And wouldn't it be nice if it was also one of the most legendary Swiss diver watches in the world?
Made of Rolex's unique Oystersteel alloy, the Rolex Deepsea is super corrosion-resistant and features a ceramic bezel with a luminescent display for easy reading. The 3235 movement and unidirectional 60-minute rotating bezel combine for impeccable performance while a helium escape valve releases any pressure that might have built up during your dive.
Most notably, the Rolex Deepsea features a dial that graduates from blue to black in commemoration of James Cameron's historic solo dive to the bottom of the Mariana Trench.
Best for: Serious divers seeking superlative performance.
Case size: 44mm
Material: stainless steel
Movement type: automatic
Water resistance: up to 3,900 metres
SUUNTO D5: Best diving wrist computer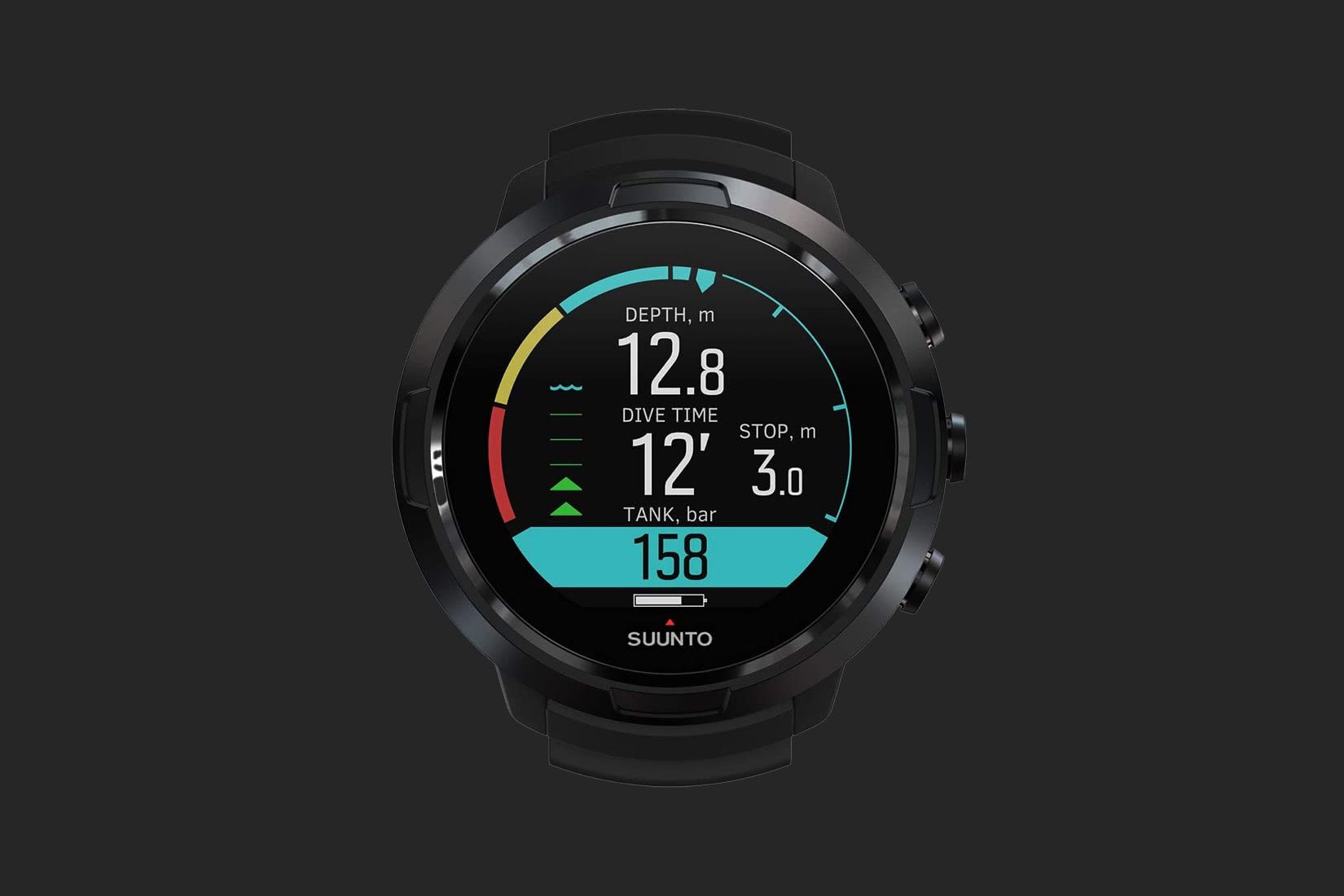 These days, a true dive watch has to have some digital capabilities. In other words, it needs to be a dive computer, providing real-time dive information as you venture below the swell. Our top pick? The SUUNTO D5.
This diving smartwatch features a simple design and a high-contrast screen, making it easy to use. There are three dive modes, a location feature so you can map your dives, and users can also transfer their dive logs over Bluetooth afterwards.
There's no question about it. This is a proper diving watch. But when you're not diving, you can also use the watch to receive mobile notifications, offering around the clock functionality for landlubbers and sea-dwellers alike.
Plus, at under $1000, the SUUNTO D5 is still in the world of inexpensive dive watches.
Best for: The next best thing after taking an Apple Mac on ocean escapades.
Case size: 53mm
Material: reinforced composite
Movement type: quartz
Water resistance: up to 100 metres
Longines HydroConquest: Best affordable luxury diver's watch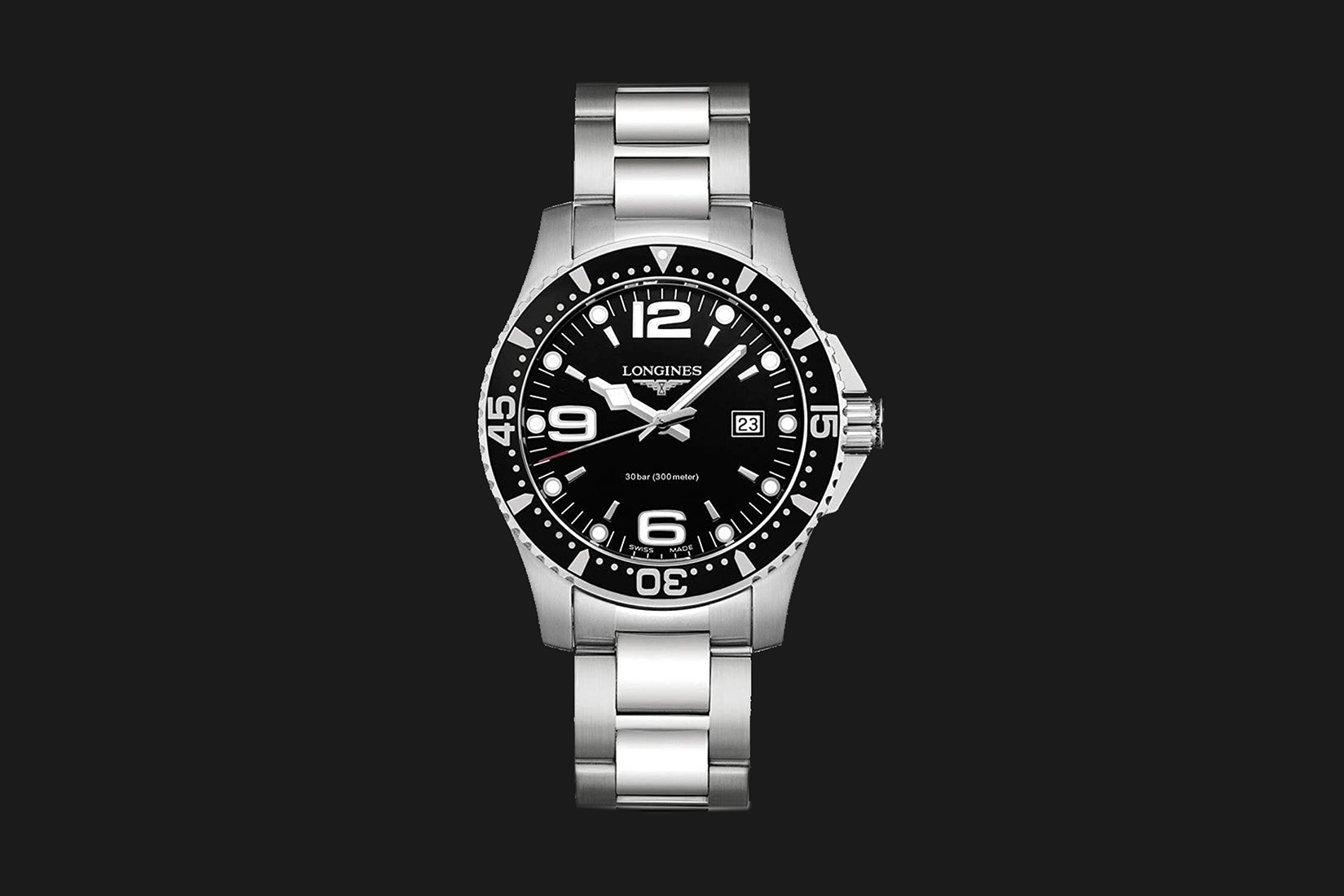 Whether you're freediving coral reefs or wreck diving far from the coast, you need a watch that won't be out of its depth, and the Longines HydroConquest will do more than keep up with you. With its 300-meter water resistance and screw-down crown too, you'll have no problem taking this timepiece out on your underwater explorations. 
The black bezel is made from aluminum—lightweight and UV resistant—and is unidirectional. The dial has luminous hands, and there's a date display at 3 o'clock. The L263 movement is highly reliable and precise. 
At only 39 millimeters, the HydroConquest is slim and compact, a comfortable watch to wear on a daily basis as well as out in the water. The stainless steel case and link bracelet is as stylish as it is practical and wouldn't look out of place with a suit. That's the benefit of wearing a sub-40mm dive watch.
When you consider everything you're getting with the HydroConquest, you'd expect a far higher price point. Instead, this luxury dive watch costs much less than some of the better-known dive watches on this list—but still provides solid functionality. 
A Swiss-quality movement, extra durable materials, and a rather dashing profile—as the name suggests, you really will be conquering the seas with this Longines HydroConquest timepiece.
Best for: a classic pro diving watch at an accessible price, we think this is the best affordable luxury dive watch of the year.
Case size: 39 millimetres
Material: stainless steel
Movement type: quartz
Water resistance: up to 300 metres
Rolex Submariner 16800: The most iconic dive watch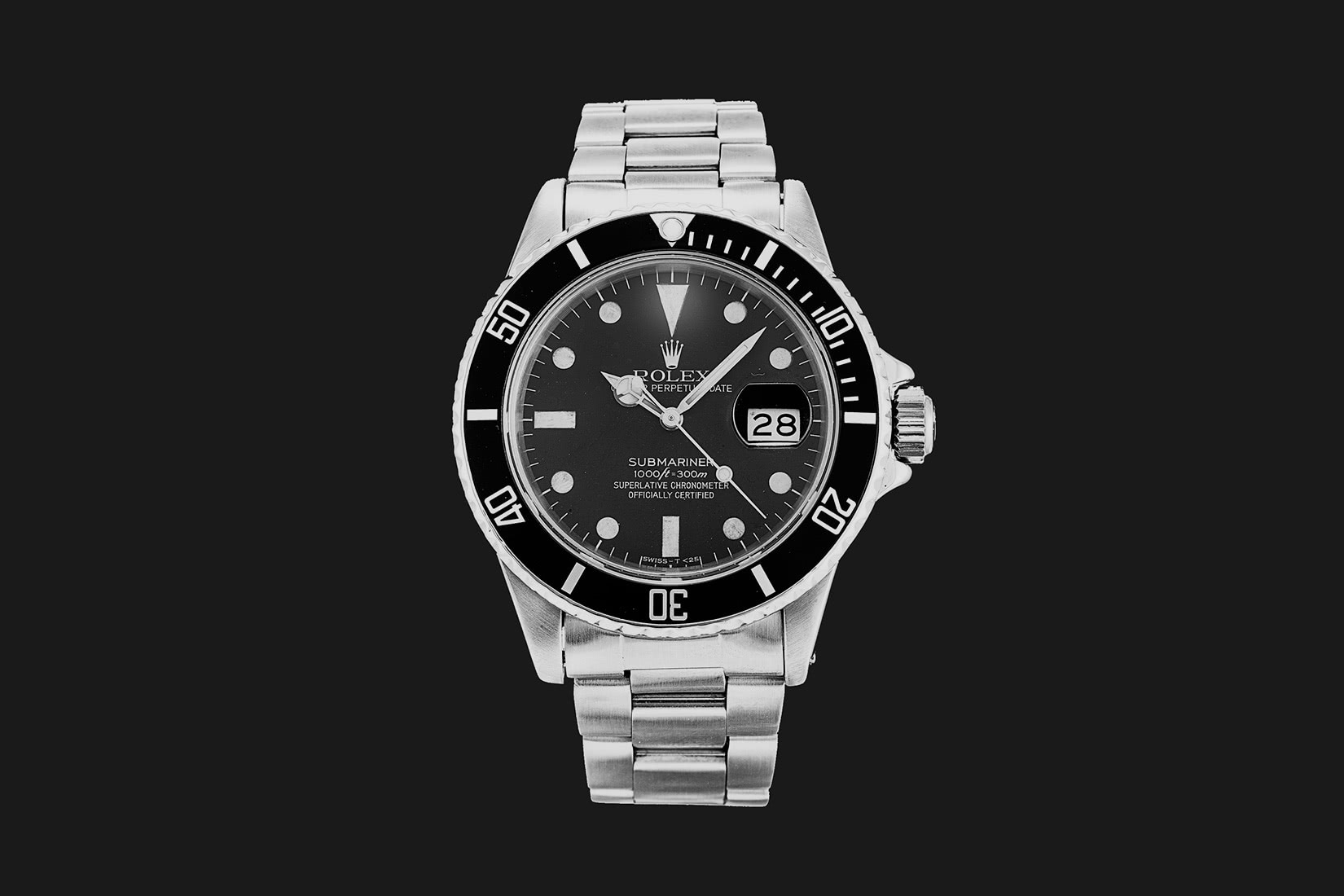 One Swiss diver watch guaranteed to cause a stir among anyone who knows anything about watches is the Rolex Submariner. There's just no other scuba dive watch out there that has the same instantaneous name recognition. It helps, of course, that it was also the original James Bond watch.
Within the Rolex Submariner collection, however, there's one model in particular that has a devoted following of fans: the Rolex Submariner 16800. Known as the transitional Submariner, this specific edition offered watch-wearers totally new features while also retaining aspects of the original.
For example, it was the first Submariner to be created with sapphire crystal, rather than acrylic, and the first to have a depth rating of up to 300 meters, rather than 200 meters. The 16800 also introduced the world to Rolex's caliber 3035 and added a quickset date function.
But Rolex also decided to keep certain traits of the watch's predecessors; namely, the matte dial with painted hour markers, which lends it some additional vintage charm.
Indeed, this is a vintage Rolex Submariner, but one that effortlessly meets contemporary standards thanks to that impeccable durability for which Rolex is famous. There aren't many things dating from 1985 that you could wear scuba diving in the Bahamas, after all.
Best for: that unique modern-meets-retro mood.
Case size: 40 millimetres
Material: stainless steel
Movement type: mechanical automatic
Water resistance: up to 300 metres
Timex Navi: Best budget dive watch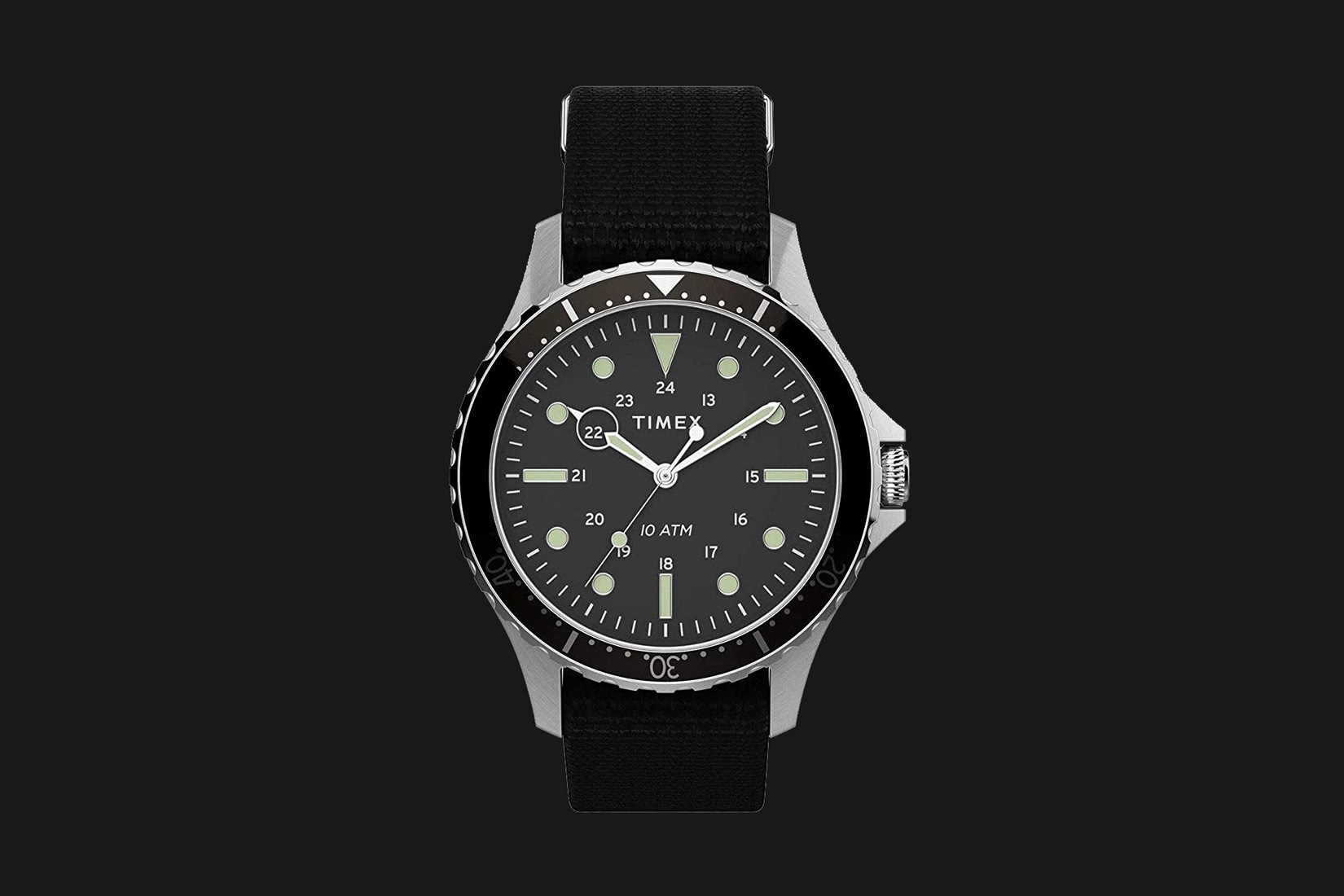 Timex makes everyday watches favored by wearers for their affordability, high-quality, and reliability. They are best known for their pioneering Indiglo technology—an electroluminescent panel that serves as a backlight. 
The Navi XL is the best value dive watch on our list, at under $150. However, it's worth pointing out straight away that this is a diver-inspired watch, not a professional diver watch. It's water-resistant, of course, but it's better suited to snorkeling than scuba diving. 
However, if it's diver style you're looking for, the Navi XL has that—in abundance. With its large dial, distinct markers, unidirectional bezel—contrasting with the dark green face—plus its perfect proportions, it's chunky without being clunky, and noticeable without being overly showy.
Inside, you've got a Miyota movement with a 40-hour power reserve, and, on the dial, 24-hour markers, semi-skeletonized hour hands, and a date window. There's also the brand's signature Indiglo backlight.
This is a feature-filled watch that looks just as good with business attire as it does with casual wear, such as a bomber jacket. Finally, with a price like that, the Timex Navi XL is easily one of the best dive watches under $500.
Best for: style-savvy watch-wearers looking to capture that adventurous diver mood.
Case size: 41 millimetres
Material: stainless steel
Movement type: quartz
Water resistance: up to 100 metres
Ulysse Nardin: The most expensive dive watch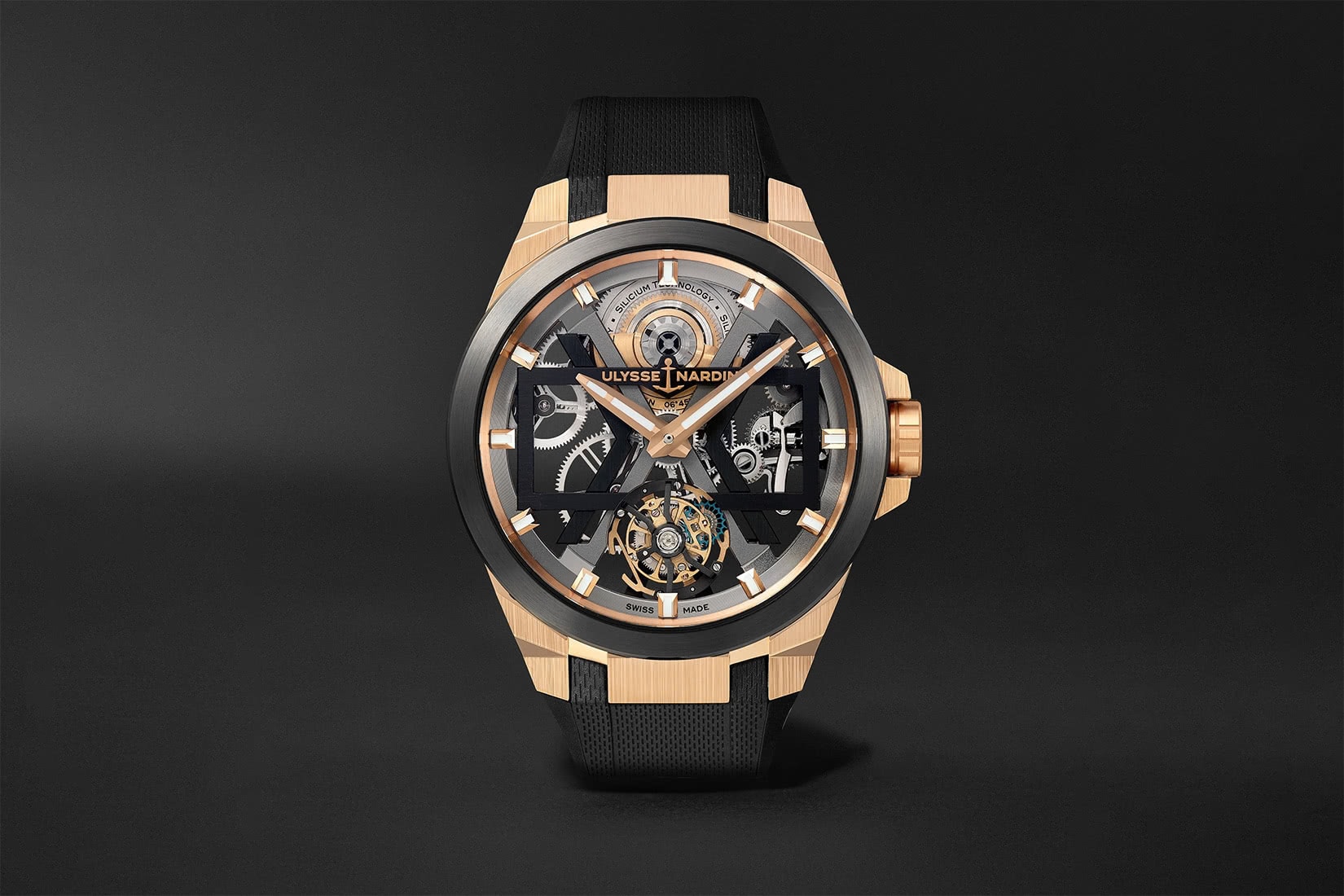 Attracted to dive watches more for their unique aesthetic than their capacity to survive submersion? We don't blame you. You can get all the rugged glamour of the best dive watches with a bit of high fashion flamboyance thrown in too with this Ulysse Nardin luxury dive watch.
The brand's Blast timepiece is only water-resistant up to 50 meters so you might not find members gushing over it in the WatchUSeek dive watch forums. But if you don't plan to wear it underwater, all that matters is that Blast boasts a sophisticated and innovative design with an 18-karat rose gold and titanium case. 
The movement is revealed beneath a skeletonized dial in the brand's signature X-shape. Pay particular attention to the Blast's flying tourbillon at six o'clock and the micro-rotor at 12 o'clock. World-class engineering—and a great conversation starter. 
Best for: Plunging into exclusive events and parties rather than forbidding ocean depths.
Case size: 45 millimetres
Material: 18-karat gold and titanium
Movement type: automatic
Water resistance: up to 50 metres
High-end dive watch buying guide: what to look for when shopping for a modern diver's watch?
When buying a modern dive watch, there are a few key features to pay attention to:
Illuminated dials – usually featuring lume, a luminous glowing solution
Rotating dive bezel – used to time water immersions. In dive watches, these are usually unidirectional so they can't turn in the opposite way and mess up calculations.
Gasket – a rubber or synthetic ring inside a watch to create a seal that keeps water out
Helium escape valve – some divers use helium tanks and this gas can find its way inside a watch case. The valve allows the diver to let the gas escape after returning to the surface, stopping pressure from building up.
Screw-down crown – a type of crown that can be screwed down so tightly that it creates a seal, meaning no moisture can enter.
It goes without saying that dive watches need to be seriously water-resistant. Beyond that, and in terms of materials, the best luxury diving timepieces are usually made from the following:
Stainless steel – corrosion-resistant and extremely strong.
Titanium – exceptionally corrosion-resistant and more lightweight but also more expensive.
Natural, silicon, PU, or PVC rubber – lightweight, comfortable, highly durable, waterproof, and resistant to UVA radiation.
The display is likely to be made of either sapphire crystal, which is scratch-resistant, or hardened mineral glass, which scratches more easily, but is less likely to break.
As for brands, famous watch manufacturers like Rolex and Omega make some of the top dive watches. Montblanc and Panerai are also known for creating high-quality scuba dive watches.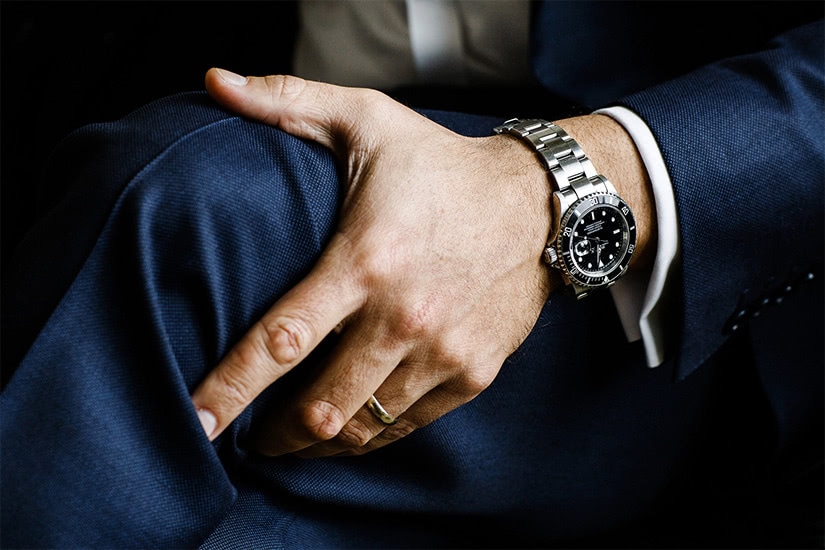 How and when to wear a dive watch?
Dive watches are designed for water sports and underwater activities like snorkeling and scuba diving. However, the best luxury dive watches have also been created with an understanding of aesthetics and are therefore visually striking as well as functional, making them a great timekeeping accessory to wear as part of casual or smart casual attire.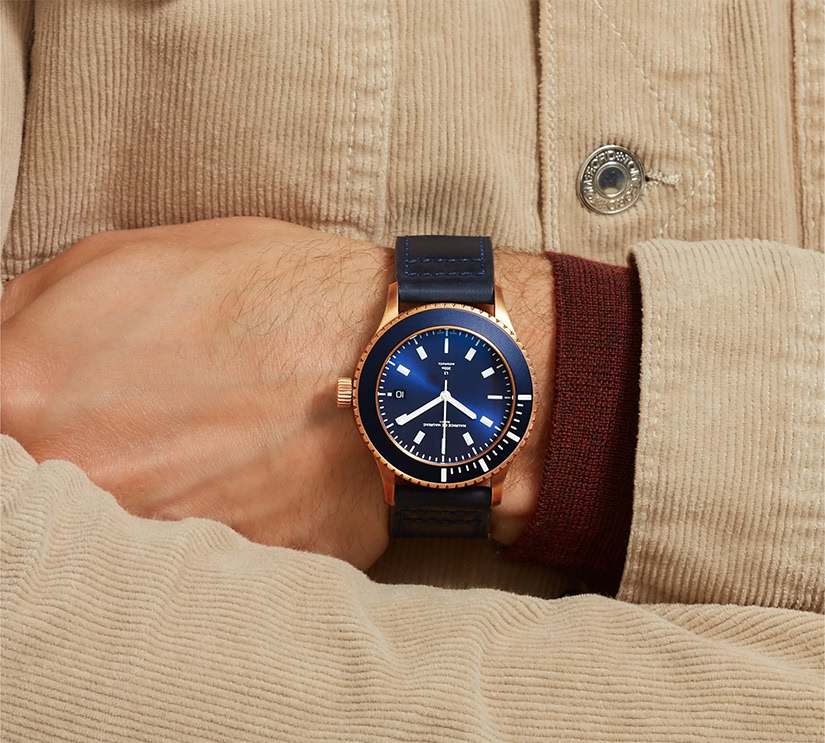 Dive watch frequently asked questions