Reaching new peaks in luxury adventure apparel, Western Rise takes conscious, elevated living to a new level—the key emphasis being on elevation. Inspired by its roots, the Rocky Mountains, the brand's instantly recognizable Elevation Mark logo explores the relentless pursuit of rising to the top. And its collection of high-performance men's apparel empowers us to pioneer new paths by which we achieve that. Be it in the wild, in your career, or even just in everyday encounters.
At a glance
| | |
| --- | --- |
| Brand: Western Rise | |
| Founded: 2013 | Founder: Kelly Watters and Will Watters |
| Origin: United States | Industry: Fashion |
| Collections: Menswear and accessories | Website: westernrise.com |
| Shipping: International | Headquarters: Colorado, United States |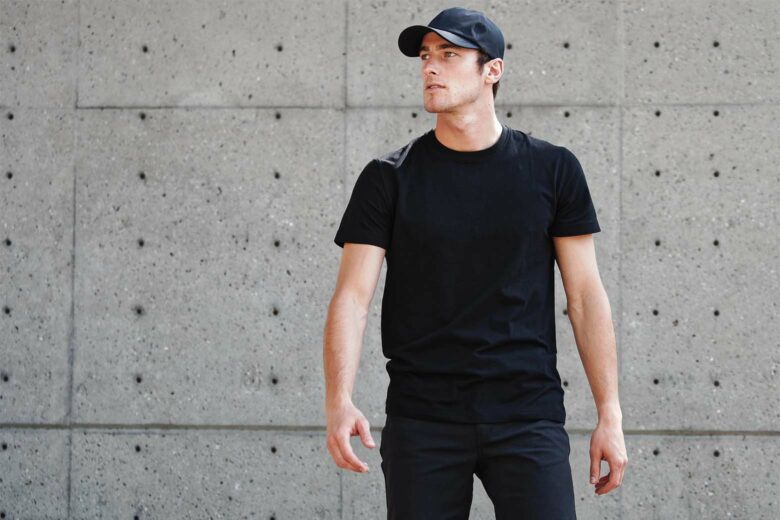 Behind the brand
History of Western Rise
Founded in 2013 by husband and wife, Will and Kelly Watters, the Colorado-born brand was created to slim down our cases and fuel adventure. Will and Kelly were both working as outdoor guides in Vail, Colorado. Hopping from work to the slopes to apres ski bars, they required a multi-faceted wardrobe to fit their multi-faceted lifestyles.
At the time, they found the clothing options to be sport-specific, over-branded, low-quality or totally uncool. Whatever it was, they failed to find apparel that could be worn on (almost) all occasions. And so they went from one activity to the next with a mini closet on their backs—a highly unrecommended lifestyle. When Kelly and Will realized that they needed to own less in order to do more, they launched Western Rise to achieve their lofty goals.
Western Rise apparel is carefully designed with infinite possibilities in mind. With technical fabrics, timeless styles, durable construction and sustainable manufacturing, it allows us to move freely without compromising on style—regardless of the weather, location or occasion. Ok, your sister may not be impressed if you rock up at her wedding in joggers. But otherwise, everything else goes.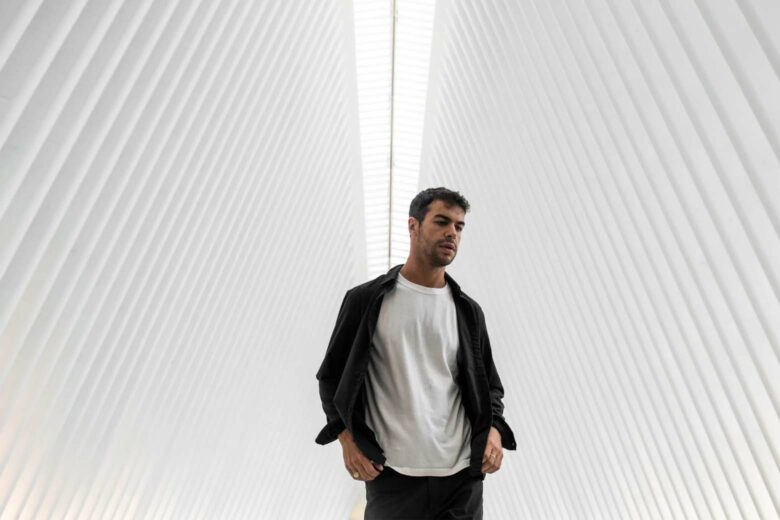 Interesting facts about Western Rise
The name Western Rise pays homage to the Rocky Mountains—the craggy, wanderlusting terrain that ultimately inspired the rise of the brand. But it also speaks to the indomitable spirit of explorers, adventurers and entrepreneurs, all of whom aren't afraid to explore the unknown. And all of whom pioneer new ways to break boundaries and create opportunities. Just like the brand itself empowers its wearers to do.
Sticking to the theme of rising to the top, the Western Rise's contemporary Elevation Mark logo echoes the elevation survey marker used to denote the highest point of elevation. Not only does it represent the relentless pursuit to do more, achieve more and go higher, but the minimalist line drawing further nods towards the art of simplicity. In the case of Western Rise apparel, that being: few, versatile pieces that take the place of many overcomplicated iterations.
Besides its ability to embark on inexhaustible explorations, Western Rise is dedicated to protecting the planet that it sets out to explore. By reducing its footprint and offsetting the difference, the sustainable brand is, in fact, a Climate Neutral Certified company. And as a member of 1% for the Planet, it gives back a percentage of proceeds to support environmental and social organizations.
Western Rise product range
Renowned for its versatile, high-performance collection of menswear, Western Rise's product range includes everything you'd need to spend a week on the mountain—with only one backpack to see you through.
Western Rise pants are most famous for its Evolution silhouette, hailed as the ultimate everyday pants. And the brand makes some of our best joggers for men and shorts that know no bounds. Amongst its collection of minimalist tops are simple tees, polo shirts, long sleeves and hoodies. Whilst all-in-one jackets take care of icy climates. And smaller accessories such as the best men's socks, hats and belts prove that smaller details can make a huge impact.
Signature materials and craftsmanship
As third-generation textile manufacturers, Western Rise founders are experts in technical fabric development. And with an incredible eye for detail, they use nothing but the best of the best. The brand only incorporates high-quality materials that are both performance-enhancing and planet-protective. Whilst their timeless, durable products are designed to avoid landfills and outlive a lifetime of adventure.
Every material is carefully chosen to fulfill the specific needs of the product. For many of their tops, Western Rise uses natural fibers such as Merino, making them odor-neutralizing and temperature-regulating. And for many of their pants, the menswearbrand uses synthetic fibers such as Polyester, making them lightweight, stain-resistant, quick-drying and anti-microbial. It also often uses a blend of natural and synthetic fibers to produce high-performing fabrics that are both breathable and durable.
Marrying timeless styles, premium construction and technical fabrics with a deep-rooted consideration for the planet, all Western Rise materials are sustainably sourced and consciously manufactured, contributing to the brand's impressive Climate Neutral status. It uses natural fibers wherever appropriate, to produce materials that are renewable and biodegradable. Whilst many of its technical fabrics derive from recycled synthetic fibers, such as recycled polyester.
Where is Western Rise made?
Designed in Oakland, California, Western Rise apparel speaks to the fast-paced, multi-faceted spirit of the Cali lifestyle. And whilst all of the brand's pieces are dreamt up in one space, they're manufactured all around the world—depending on what exactly is required for each specific piece. Western Rise partners are chosen for their high-quality standards, sustainable practices, technological superiority, and positive social commitment.
Western Rise brand values
| | |
| --- | --- |
| Vegan options | Yes |
| Carbon-neutral | Yes |
| Gives back | Yes |
Our favorite finds from Western Rise
We've shortlisted the most popular Western Rise clothes to help you understand the clothing brand's collection and the recommended retail prices of each model.
Western Rise Evolution Pant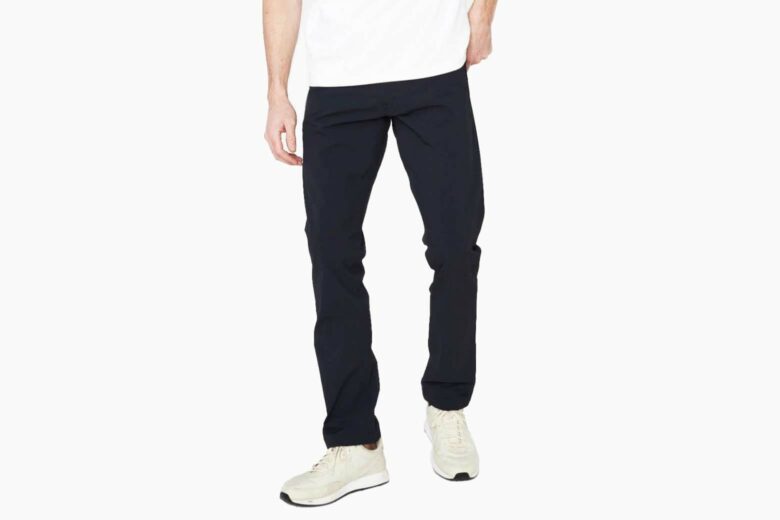 Born to pioneer new levels of versatility, the Western Rise Evolution Pant epitomizes the brand's vision. The durable, four-way stretch, stain-resistant fabric is engineered to tackle craggy hiking trails. While the sophisticated black silhouette is equally equipped to demand respect in boardrooms. And as our ultimate travel staple, we particularly love that these sleek Western Rise pants are also chic enough to wear out for dinner—styled with a trendy Western Rise jacket, of course.
Western Rise Cotton Tee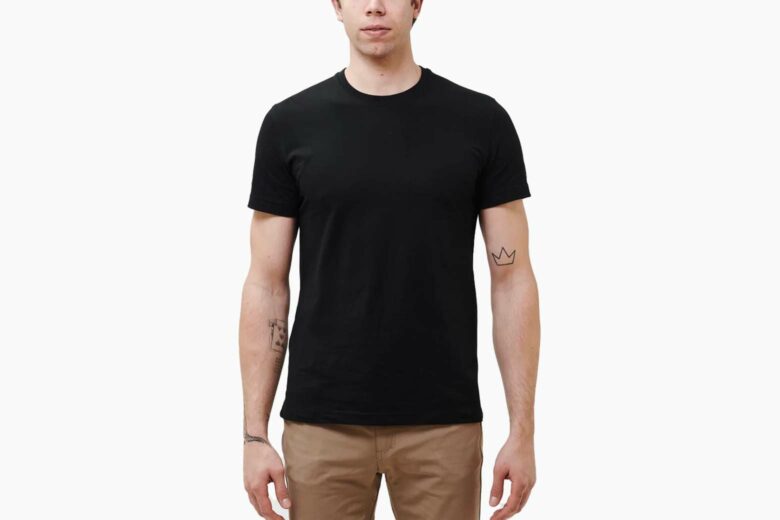 Receiving as much wear as they do, many of us rotate through cotton tees after only one season. As one of our best t-shirts for men, Western Rise's iteration is helping us change that. This chic cotton tee is perfectly stretchy, moisture-wicking and odor resistant. So naturally, you'll want to wear it every day. But even if you do, we can almost guarantee that the durable, timeless silhouette will never have to see a landfill.
Western Rise Limitless Merino Shirt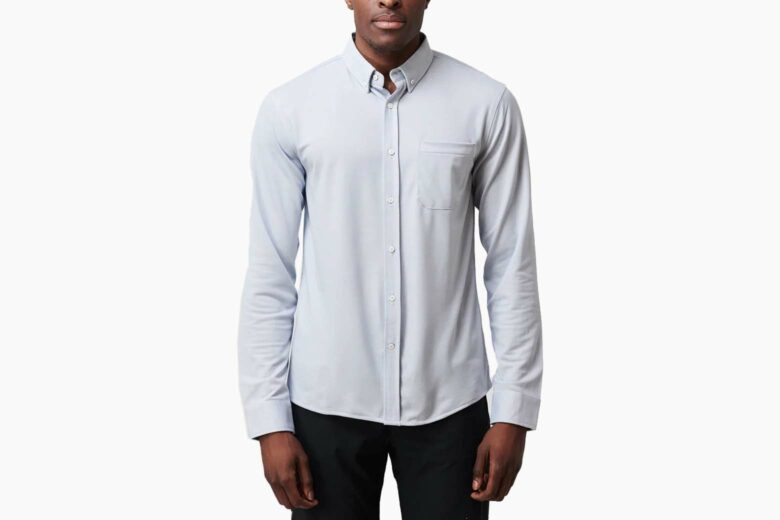 Usually we wouldn't consider our long-flight attire appropriate for the office. But when it looks this good, we'll wear it any chance we get. The Western Rise Limitless Shirt literally has no limits when it comes to wearability. Made from merino wool, it's temperature regulating and odor resistant. Whilst the button-down silhouette pairs brilliantly with anything from our best shorts from men to the brand's signature Evolution Pant.
Where to buy Western Rise
Western Rise is sold on many reputable platforms such as Huckberry, and Poshmark. However, our best place to shop for the brand remains the Western Rise official website. Featuring their full collection of styles, sizes and colorways, it's seamless to have exactly what you're looking for delivered straight to your door.
Western Rise price
Whilst Western Rise is priced below many of its competitors, the quality of the brand's products makes it a luxury-quality label. In fact, looking at Western Rise vs Lululemon, we found it to come out on top regarding performance and comfort. And as a result, we consider Western Rise apparel to be excellent value for money. The prices of the brand's pants range from $88 to $128. Whilst their tops range from $54 to $158.
Western Rise discount
The Western Rise official website offers exclusive discounts. The Last Call page features older silhouettes marked down by 40-60%. The Bundles page offers reduced prices for buying more than one product—our go-to for bulk gift buying. And the Kits page puts together items that work well together and offers the entire kit at a big discount—consider it a stylist and sales page.
Western Rise shipping
Western Rise offers free shipping on all U.S. orders over $150. For domestic orders under $150, the standard flat rate is $7 and takes 2 weeks. Priority shipping is priced at an extra $7 and arrives in 1 week. And express shipping costs an extra $15 and arrives within 2-3 business days.
The brand also offers international shipping to most countries in North America, Europe and Asia. International shipping costs are dependent on where the order is placed. But all costs are made clear during the checkout process.
Western Rise return policy
Personally, we've never considered returning any Western Rise apparel. But you can shop with the confidence that the brand does offer a full refund return policy on all domestic purchases returned in their original condition within 30 days of purchase. The return or exchange process is easy to follow on the official Western Rise website. However, international purchases are final and cannot be exchanged or returned.
Frequently asked questions about Western Rise
Who owns Western Rise?
Western Rise is owned and managed by husband and wife, Will and Kelly Watter. The concept was born when the founders were working as outdoor guides in Vail, Colorado and failed to find a clothing brand that fitted into their multi-faceted lifestyles. To discover more about Western Rise, see Luxe Digital's full Western Rise review and guide.
Is Western Rise made in USA?
Western Rise apparel is designed in Oakland, California. But it is manufactured all around the world, depending on the unique requirements of each individual garment. Western Rise only uses the highest quality, sustainably-sourced materials and only partners with ethical manufacturers.
Where is Western Rise located?
Designed in California, Western Rise headquarters are located in Colorado, where the brand first began. Paying homage to its roots, the Rocky Mountains, the minimalist line was born to reach new heights in quality, versatile menswear.