A masterclass in Italian minimalism, Luca Faloni is the sartorial equivalent of sitting on a Baroque-inspired terrace, aperitivo in hand. Showing us what it means to live a la dolce vita lifestyle, the luxury menswear brand's handcrafted approach to slow fashion epitomizes the all-hailed Italian mentality. And every considered stitch pays homage to the century-old trade run by small family-owned businesses.  
At a glance
| | |
| --- | --- |
| Brand: Luca Faloni | |
| Founded: 2014 | Founder: Luca Faloni |
| Origin: United Kingdom | Industry: Fashion |
| Collections: Menswear and accessories | Website: lucafaloni.com |
| Shipping: International | Headquarters: London, United Kingdom |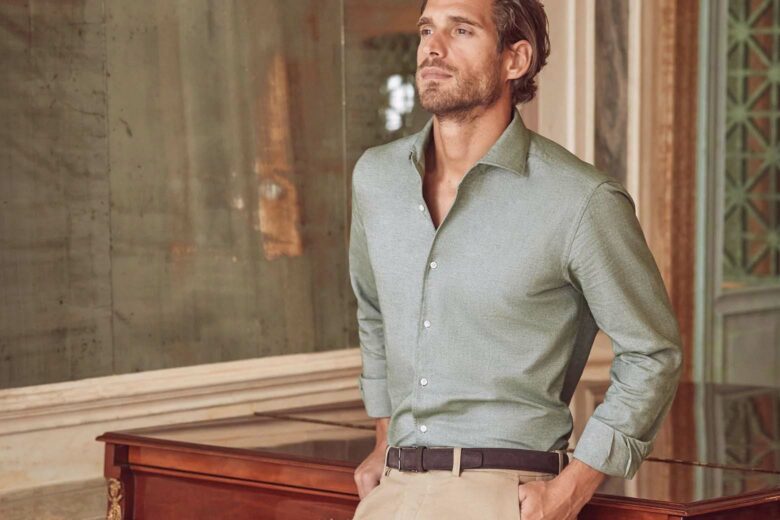 Behind the brand
History of Luca Faloni
Founded in 2014 by Luca Faloni, the eponymous label echoes the soulful craftsmanship inherent to Italian artisans. Born and raised in Turin, Luca grew up with a closetful of beautiful Italian fabrics and hand-stitched ensembles. And it wasn't until he moved to London that he truly understood just how unique Italy is in its generational approach to timeless sartorial pieces.
Despite living and working in London, Luca bought all his clothes from Italy as he struggled to find anything of equal quality and value in the fast-paced city. Later, he started consulting in San Francisco. And surrounded by passionate entrepreneurs, he felt inspired and empowered to address the frustration he had been experiencing for years: the lack of time-honored Italian clothing anywhere but the sophisticated style mecca itself.
Luca launched Luca Faloni in London with the vision to share Italy's style secrets with the rest of the world. And according to our Insta-feeds, we think it's safe to say that he's done just that. Plus, it doesn't hurt that members of the British royal family have signed off the brand as palace-worthy. And other trendsetting celebs all seem to deem the label A-list-approved. 
Interesting facts about Luca Faloni
When you buy a Luca Faloni cashmere piece, you buy it for life. Not only is the style timeless, but if maintained correctly, it'll never have to see a landfill. As experts in diverting sartorial pieces from landfills, Luca Faloni offers complimentary repairs on all of its cashmere garments at any of its stores. So no matter how many times a week you grab your Luca Faloni sweater—and it's usually a lot—you never have to fear the day it begins to look worn out. 
Retaining the artisanal magic of generational Italian craftsmanship, Luca Faloni only supports small family-run businesses. Paying careful attention to every detail, the brand and its partners are strong advocates for moving away from fast fashion. And as a result, none of their garments are produced in masses. While this means zero waste, it also means no clearance sales—or any sales at all, for that matter. In fact, the brand's slow, seasonless attitude towards style means that you'll never find a Luca Faloni item discounted to make space for something new.
Luca Faloni is undeniably one of our favorite menswear labels. But perhaps of more interest to you, is the Prince of Wales' affiliation with the brand. Whether touring new cities or vacationing on the coast, Luca Faloni linen shirts and shorts are a key component of Prince William's unofficial off-duty uniform.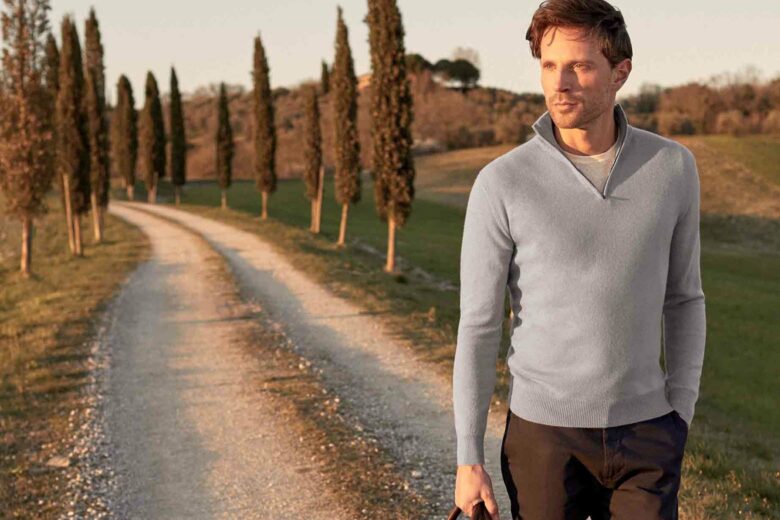 Luca Faloni product range
Renowned for its timeless, sophisticated style, Luca Faloni epitomizes relaxed elegance. Luca Faloni shirts feature an array of neutral hues in cottons and linens. The brand's collection of knits range from silk cashmere polos to cashmere zip-ups. Cashmere blazers are also a Luca Faloni signature. While silk cotton tees marry nonchalance with class. 
Naturally, all of the brand's tops pair flawlessly with its range of versatile bottoms—from denims to chinos to cotton shorts. And if your vacation looks more like lounging on the couch, well Luca Faloni's cashmere joggers are the perfect excuse to do just that.
Signature materials and craftsmanship
Born to showcase true Italian craftsmanship, 100% of Luca Faloni's collections are handcrafted in Italy. Partnering with small family-run businesses, each piece reflects the attention to detail that goes into every stitch. And in doing so, it supports the generational trade that the country is so well known for.
Luca Faloni only uses premium materials—all of which are carefully selected for their longevity, versatility, comfort and sustainability. The brand's collections include cashmere, silk cashmere, cotton, silk cotton, leather and linen. And whilst all of the fabrics are impossibly sumptuous, it's Luca Faloni's luxurious use of linen—one of the most sustainable materials—that has acquired cult-favorite status. 
Linen is renowned for its temperature-regulating breathability, making it a sophisticated favorite for al fresco soirees. Timeless by nature, the versatile material is also pile-resistant and long-lasting, only getting better with age. While its hypoallergenic and water-absorbent properties make it a lot stronger than other fibers.
Only using natural fibers, Luca Faloni's other materials all share similar eco-friendly properties.
Where is Luca Faloni made?
Designed in London and 100% made in Italy, Luca Faloni addresses the contemporary man's multifaceted lifestyle with versatile pieces for every occasion. Whilst the designs themselves speak to modern minimalism, handcrafted in Italy, each piece pays homage to the century-old artisanal trade. +
Luca Faloni brand values
| | |
| --- | --- |
| Vegan options | Yes |
| Carbon-neutral | No |
| Gives back | Yes |
Our favorite finds from Luca Faloni
We've shortlisted the most popular Luca Faloni products to help you understand the luxury menswear brand's large collection and the recommended retail prices of each model.
Luca Faloni Oxford Shirt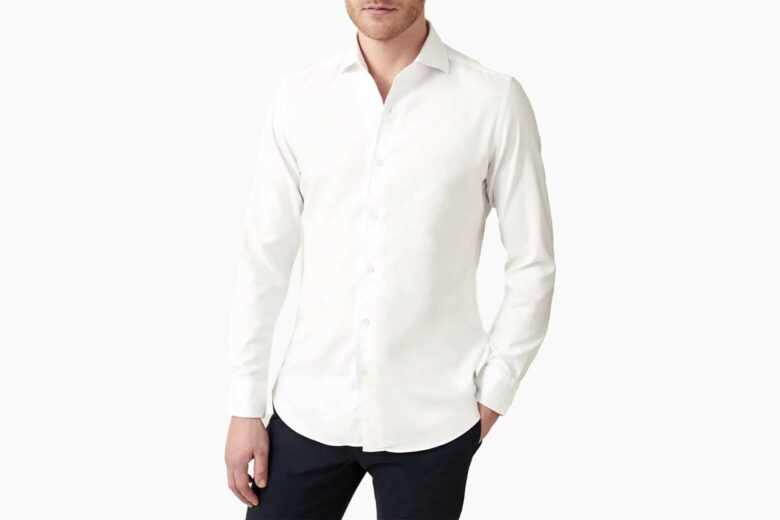 Take a masterclass in modern minimalism with Luca Faloni's Oxford Shirt. Crafted from the finest Egyptian cotton, the fabric is fresh, breathable, and naturally hypoallergenic. This Oxford shirt is a blank canvas, making space for us to express our individual style. As one of our best dress shirts for men, it looks fantastic under any suave suit. Whilst dressed with denim, it takes on an elegant-but-relaxed persona.
Luca Faloni Portofino Shirt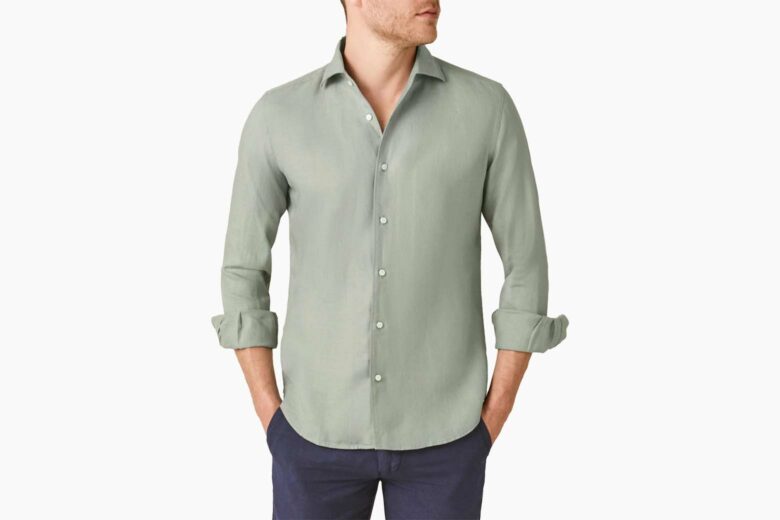 If it's good enough for Prince William, it's good enough for us. Actually, who are we kidding? We were going to buy this Luca Faloni linen shirt whether endorsed by the Prince of Wales or not.
As the brand's signature shirt and one of our best linen shirts for men, the Portofino encapsulates everything that Luca Faloni is. Hand-stitched in Italy from the highest quality linen, this blue capri shirt is naturally breathable and temperature-regulating, making it the perfect choice for casual vacation days or more sophisticated soirees (read: yachting around the Amalfi coast).
Luca Faloni Chinos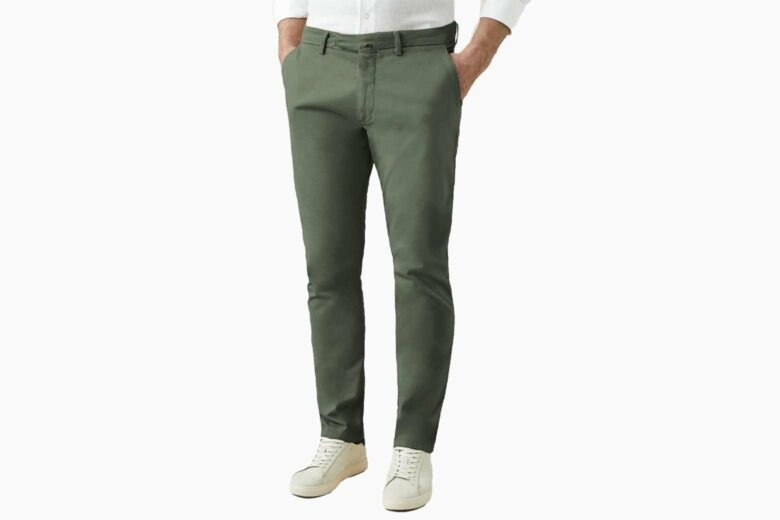 It doesn't matter how many chinos you own, every man needs a Luca Faloni pair in his rotation. Distinguishing themselves from all other luxury iterations, these Luca Faloni chinos encapsulate the Italian eye for detail. The concealed triple-button closure ensures that your patterned underpants don't steal the show during your best man's speech. The internal waistband keeps your shirt tucked in. And the internal fastener secures your belt in place. So even if you're more of a Mike Ross, you always come across as a Harvey Specter.
Luca Faloni Cashmere Cardigan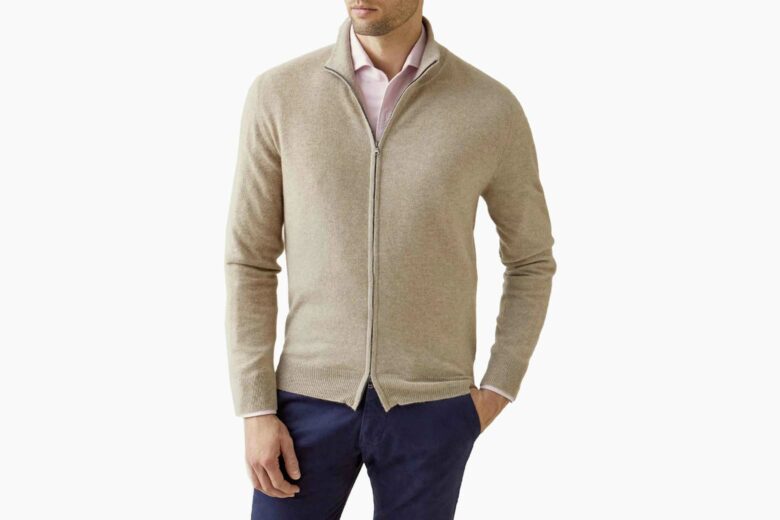 As snug as your favorite hoodie and as sophisticated as your blazer, this cashmere zip cardigan by Luca Faloni marries the two worlds with elegance and class. From the couch to Baroque-inspired terraces, the suave silhouette is a seasonless essential. And the impossibly soft fabric pairs beautifully with denim, chinos, or shorts. Whilst the slim fit and neutral hues make this temperature-regulating cashmere cardigan one of our best men's cardigan sweaters for layering under Autumn coats and Winter jackets.
Luca Faloni Belt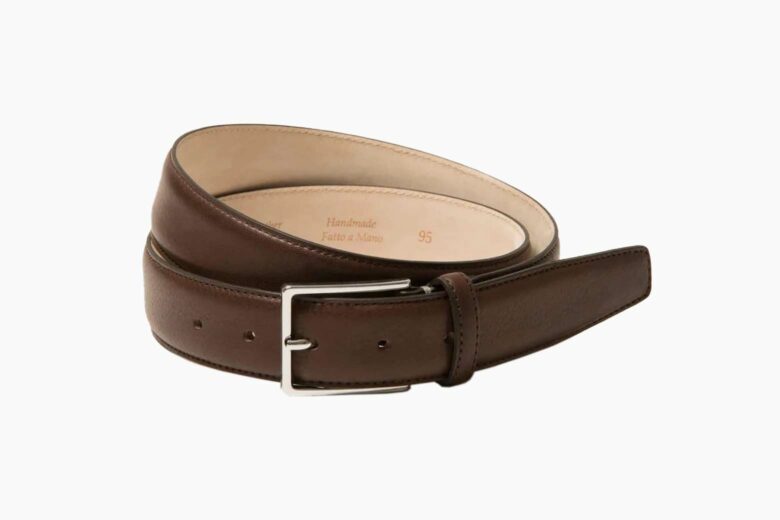 Finding a luxury belt to match your sophisticated sense of style is no small feat. And even harder is the need to do it every couple of years when your go-to begins to wear out. Not in this case. This Luca Faloni belt is made from premium quality leather. And the timeless accessory is specifically hand-stitched to ensure maximum strength, making it one of our best belts for men. Plus, as frequent travelers, we really appreciate that the metal doesn't ring at airport security, and we never have to endure those intimidating search-downs.
Where to buy Luca Faloni
Cutting out the middleman, Luca Faloni is a direct-to-consumer brand which means that you can only shop the label on the Luca Faloni official website or in Luca Faloni stores. Scattered around Europe and the U.S., Luca Faloni stores offer complimentary repairs on all cashmere products. But our best place to shop for the brand is still its official website. Featuring a complete collection of all Luca Faloni styles, sizes, and colorways, we love that we can have all our favorite products delivered straight to our door.
Luca Faloni price
Showcasing impeccable hand-stitched Italian craftsmanship, premium materials, and timeless designs, Luca Faloni is undeniably a luxury brand. However, its price points say otherwise. By cutting out the middleman and reducing unnecessary costs, Luca Faloni makes premium garments more affordable and more accessible. Luca Faloni's signature linen shirts range from $165 to $185. Trousers and shorts range from $130 to $390. And smaller accessories like a belt are priced around $120.
Luca Faloni shipping
Luca Faloni offers free shipping to all countries in the UK, US, and Europe, as well as most other countries. Luca Faloni delivers incredibly quickly. And standard deliveries to the UK and Europe usually take 2-3 business days. While deliveries to the rest of the world take 2-4 business days.
Luca Faloni return policy
Luca Faloni has a full refund guarantee. And returns and exchanges online are seamless and hassle-free. All garments can be exchanged or returned for a full refund within 60 days from the delivery date, provided that they are returned in their original packaging in the same condition that they were received.
Luca Faloni social media
Frequently asked questions about Luca Faloni
Who is Luca Faloni?
Luca Faloni is a fashion designer with an appreciation for Italian style. In 2014, he founded the eponymous brand, Luca Faloni, to bring true Italian craftsmanship to the rest of the world with relaxed-but-elegance sartorial pieces.
Where are Luca Faloni clothes made?
All Luca Faloni clothes are made in Italy. Paying homage to authentic, Italian craftsmanship, the luxury menswear label only supports small family-run businesses. And all of its materials are of the highest quality with a timeless aesthetic. To discover more about the brand's prices, product range, and story, see Luxe Digital's Luca Faloni review and guide.
When was Luca Faloni founded?
Luca Faloni was founded in 2014 by Italian-born fashion designer Luca Faloni. Celebrating his roots and the generational artisanal trade of handcrafted Italian goods, Luca Faloni is a sartorial escape from fast fashion and seasonal trends.
Does Luca Faloni have a sale?
Luca Faloni garments are carefully hand-stitched by small family-run businesses in Italy. And showcasing impeccable attention to detail, nothing is mass-produced. As a result, Luca Faloni doesn't have any sales. Instead, its timeless pieces are sold directly to the consumer, making them fairly priced sartorial investments year-round.