Never underestimate the intrinsic power of a superlative pair of sunnies. The best pair of Aviators infuses a certain Tom Cruise-cool into your everyday aesthetic. A classic pair of Wayfarers transforms us into James Bond look-alikes in an instant. Not to mention the retro-inspired round silhouette popularized by Lennon in the 60s. And the instant success imposed by a gentleman's pair of Clubmasters—David Beckham fans, we see you.
However, as important as style is when it comes to picking your desired shade of cool, there is so much more than meets the eye regarding a perfect pair of sunnies. Like our best sunglasses for women (with Randolph USA topping the list), the best sunglasses for men are as functional as they are fashionable. Lest we forget, that the trendy accessory is also solely responsible for protecting our pupils from the sun's harsh UV rays. Or that the elevated everyday essentials need to be able to withstand heavy use (guaranteed by our rigorous testing methods.)
From square shades to reflective lenses, there are so many different types of sunglasses to choose from. But after trying hundreds of different brands and styles, there were only a few that truly caught our eyes—in utility and style. See: our favorite sunglasses for men.
Suave, sophisticated, and sustainable, we think that these quality shades are straight-up visionaries—literally.
The 31 best sunglasses for men
The shades below are our favorite options after researching all sorts of sunglasses for men. We ranked them according to different categories, so you can easily find the best sunglasses for you and your lifestyle.
We also have dedicated guides to the best blue light blocking glasses, the best sunglasses for women, and the best places to buy glasses online if you're looking for prescription glasses.
Randolph Aviator: Best overall men's sunglasses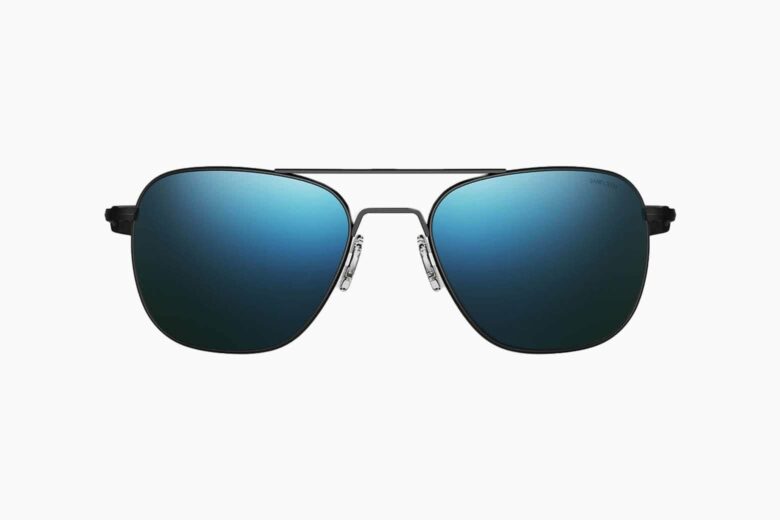 Fit to fight your daily battles; you won't need an army of sunglasses when you invest in a reliable pair of military-spec Randolph. With a talent for coaxing out the adventurer in all of us, the Randolph Aviators are top-dog shades for top-dog guys. Winking at their fighter-pilot heritage, this pair of aviator sunglasses will endure the test of time—well, if the last century is anything to go by. Randolph Engineering literally builds its sky-ready frames to precise and rigorous military specifications (read: the highest possible standards). No wonder Randolph's aviators caught the eyes of US Air Force and Army pilots for decades.
Combining sleek matte-black metal frames with scratch-resistant polarized lenses that will stand up to the most unforgiving elements, these stylish and sturdy Randolph Aviators merit a place in your daily armory. And as any pair of Randolph, a medal for exemplary durability.
Best for: A timeless style that commands authority.
| | |
| --- | --- |
| Polarized: | Yes |
| Frame: | Metal |
| Fit: | Regular/Large |
| Protection: | 100% UVA/UVB protection |
| VLT% / Lens Category: | Polarized |
Gucci Aviator sunglasses: Best luxury sunglasses for men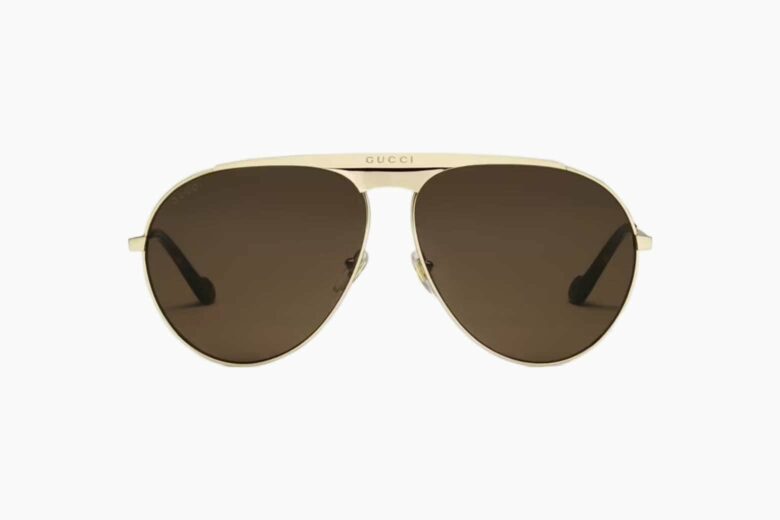 When it comes to luxury, in Gucci sunglasses for men, we trust. Boasting a runway-worthy aviator style, these stand-out frames will literally tempt you to wear these Gucci men's sunglasses indoors (but please don't). The retro shape remains en vogue and will see you through season after season, while the Gucci logo subtly lets onlookers know you're into your haute couture—without being ostentatious.
Best for: A high-fashion statement to elevate any outfit.
| | |
| --- | --- |
| Polarized: | Yes |
| Frame: | Metal |
| Fit: | Large |
| Protection: | 100% UVA/UVB protection |
| VLT% / Lens Category: | Solid |
Yesglasses Sheldon: Best value men's sunglasses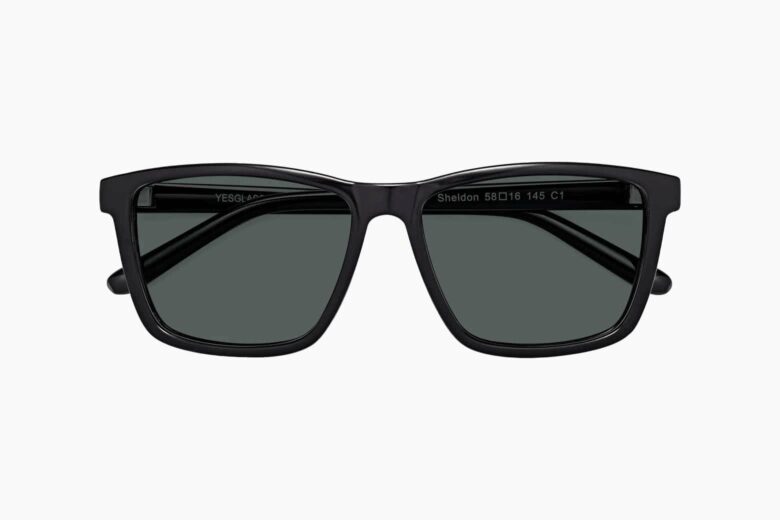 Crafted in the iconic wayfarer style, the Sheldon sunglasses by Yesglasses make neat and sleek style accessible to all. Mirroring high-end styles, the beauty of these big sunglasses for men lies in their simplicity. No-muss, no-fuss, and easy to pair with your outfit du jour, these oversized sunglasses by Yesglasses don't scrimp on features, finished with anti-glare and anti-scratch coatings.
(Yesglasses is known for their wide range of high-quality, affordable glasses. See our Yesglasses review for more details).
Best for: Maximum charm for minimal cost.
| | |
| --- | --- |
| Polarized: | Yes |
| Frame: | Plastic |
| Fit: | Narrow/Medium/Wide |
| Protection: | 100% UV400 (UVA & UVB) Protection |
| VLT% / Lens Category: | Dark/Medium/Light |
Tomahawks The Seaports: Best polarized cheap sunglasses for men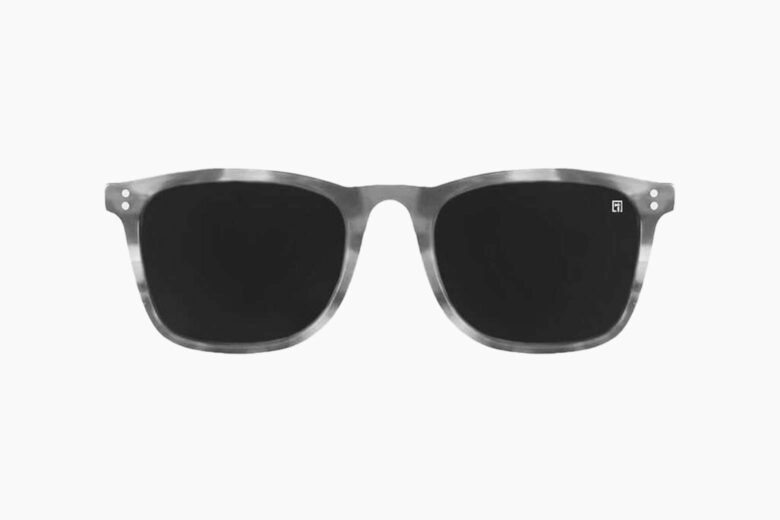 Typically polarized sunglasses come with a relatively hefty price tag, so naturally, we were intrigued by these popular sunglasses by Tomahawks. Is it possible to buy a high-quality pair of polarized sunglasses for under $100? Beforehand, we would have said no, but after wearing this pair daily for a couple of weeks, we retract that statement.
If you're anything like us, we prefer to keep two types of sunglasses—the pair that you take to garden weddings and the pair that you keep in the car (and occasionally sit on.) This pair is the latter. Made from cellulose acetate, the frame is strong and sturdy. While the polarized lenses offer ample eye protection, alongside increased clarity and comfort. The fact that the Seaports are also sleek and stylish makes them a no-brainer. 
Best for: Sailing through life in affordable luxury.
| | |
| --- | --- |
| Polarized: | Yes |
| Frame: | Cellulose acetate |
| Fit: | Wide |
| Protection: | 100% UVA/UVB protection |
| VLT% / Lens Category: | Dark tint |
Vincero The Villa: Best black sunglasses for men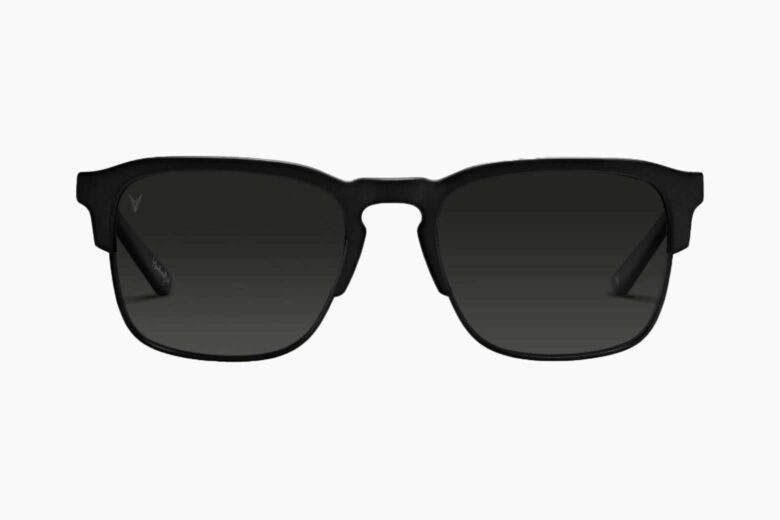 You may have these sunglasses in any color as long as it's black. But there's something special about the Vincero The Villa—shades: notice the temples? It's Italian marble. Yes, channel your inner signore and rock this coveted style with absolute confidence. Understated, lightweight, and with a decidedly premium feel, these are our favorite black sunglasses.
Best for: Channelling your inner minimalist.
| | |
| --- | --- |
| Polarized: | Yes |
| Frame: | Cellulose acetate |
| Fit: | Wide |
| Protection: | 100% UVA/UVB protection |
| VLT% / Lens Category: | Dark |
Axel Arigato Jet Square: Best clear sunglasses for men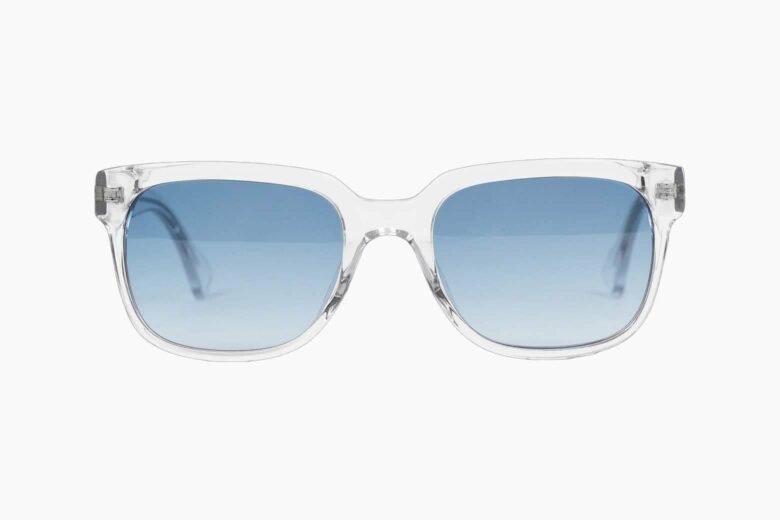 The perfect accompaniment to any get-up, clear sunglasses let your outfit (and your vibe) do the talking while quietly affirming your place on the style podium. Axel Arigato shines with their Jet Square Sunglasses, with contrasting blue lenses and crystal clear cellulose frames. Of course, just like the brands' uber-cool sneakers, there's a hint of luxe: in the form of the subtle Arigato logo adorning both temples. Our thoughts? 1,000 times yes. (Disclaimer: we are big fans of Axel Arigato and its playful take on Scandi-Japanese minimalism).
Best for: Effortless poise with a cerebral flair.
| | |
| --- | --- |
| Polarized: | Yes |
| Frame: | Cellulose acetate |
| Fit: | Oversized |
| Protection: | 100% UV protection |
| VLT% / Lens Category: | Light |
Warby Parker Durand: Best personalizable sunglasses for men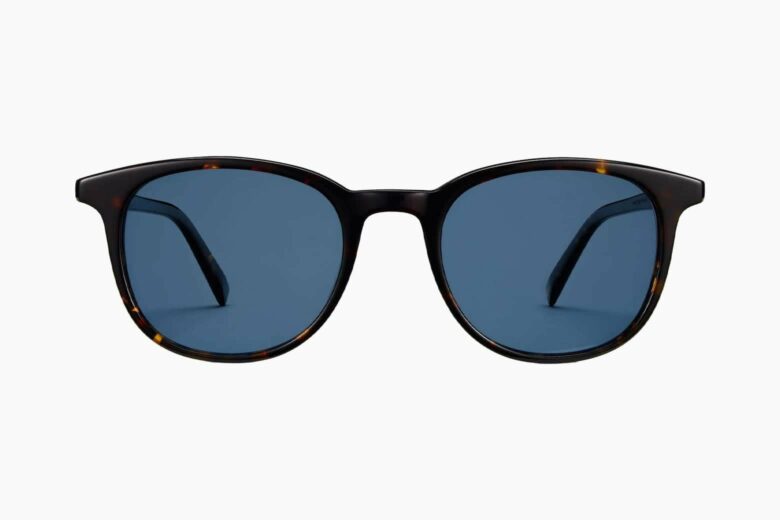 Sunglasses—but make them yours. You're free to design everything from frame width to prescription type, and even the lens material. Made by you, for you, these not-quite-square-not-quite-round Warby Parker sunglasses also ensure your peepers stay protected in blazing sunshine. Not to mention the impact-resistant materials, ideal for mirroring your go-getter corinthian spirit.
Best for: Manifesting your perfect pair.
| | |
| --- | --- |
| Polarized: | Yes |
| Frame: | Cellulose acetate |
| Fit: | Regular |
| Protection: | 100% UVA/UVB protection |
| VLT% / Lens Category: | Medium |
Hugo Boss: Best designer sunglasses for men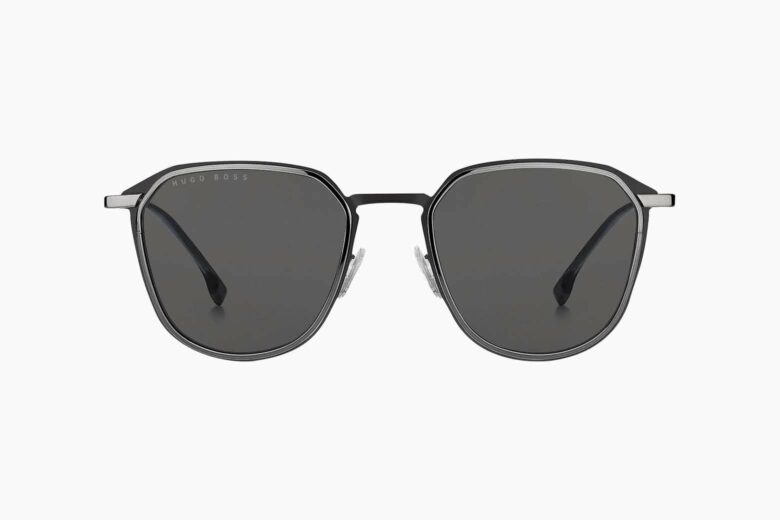 Want to rock the finest designer shades? Just ask the Boss. Boasting double-rimmed frames and Italian workmanship, these designer sunglasses serve up flexible nose pads for comfy all-day wear, too. Injecting a deluxe accent to any look, be it a casual tee-and-jeans or a dapper suit, the Hugo Boss Titanium Sunglasses channel a "just stepped off my billion-dollar yacht" vibe. Into it? We certainly are.
Best for: Quenching your lust for a splurge.
| | |
| --- | --- |
| Polarized: | No |
| Frame: | Titanium |
| Fit: | Regular |
| Protection: | N/A |
| VLT% / Lens Category: | Medium |
Rimowa Pilot Sunglasses: Best foldable men's sunglasses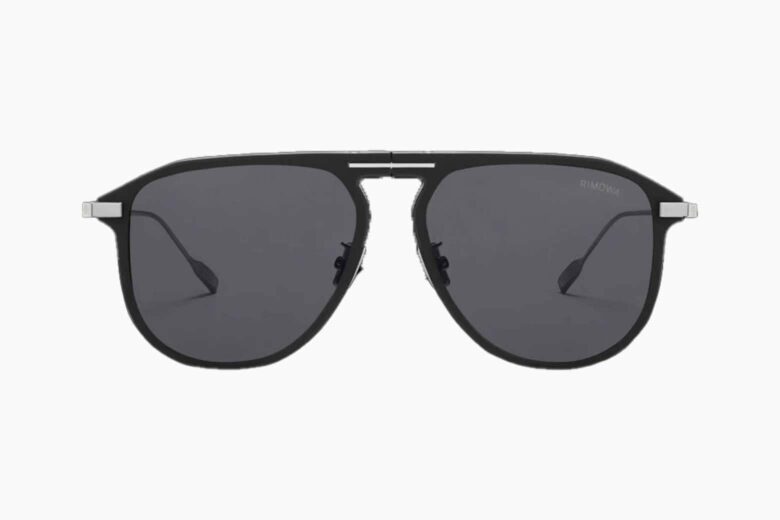 Compact and portable, Rimowa's Foldable Matte Black Sunglasses place functionality at the core of design (well, just under unbeatable style, naturally). So, it'll come as no surprise that they're designed in Germany, and made in Italy. Crafted from strong aluminum, steel, and with a pilot design, you'll be ready to take to the skies—or just the terrace—in these handsome sunnies. Plus, they can be folded neatly and easily packed in your pocket or one of Rimowa's Never Still bags.
Best for: Casual convenience in a luxury package.
| | |
| --- | --- |
| Polarized: | Yes |
| Frame: | Aluminum and stainless steel |
| Fit: | Regular |
| Protection: | 100% UVA/UVB protection |
| VLT% / Lens Category: | Dark |
Robert Graham Wyatt Sunglasses: Best tortoiseshell men's sunglasses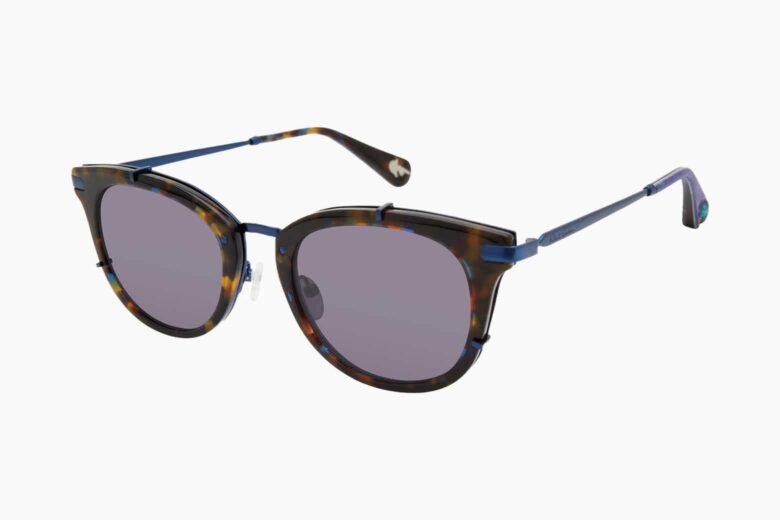 Shaking up classic tortoiseshell with hints of rich blue, the Robert Graham Wyatt Sunglasses pack a punch. Giving old-school style a nu-wave chic, these retro-cum-modern metal sunglasses hit an elusive sweet spot. Putting the "fun" in functional, the Wyatt sunglasses are The Ones for the guy who doesn't take life too seriously.
Best for: A generous dash of avant-garde.
| | |
| --- | --- |
| Polarized: | Yes |
| Frame: | Metal and acetate |
| Fit: | Large |
| Protection: | 100% UVA/UVB protection |
| VLT% / Lens Category: | Medium |
Liingo Eyewear Newton: Best men's sunglasses with prescription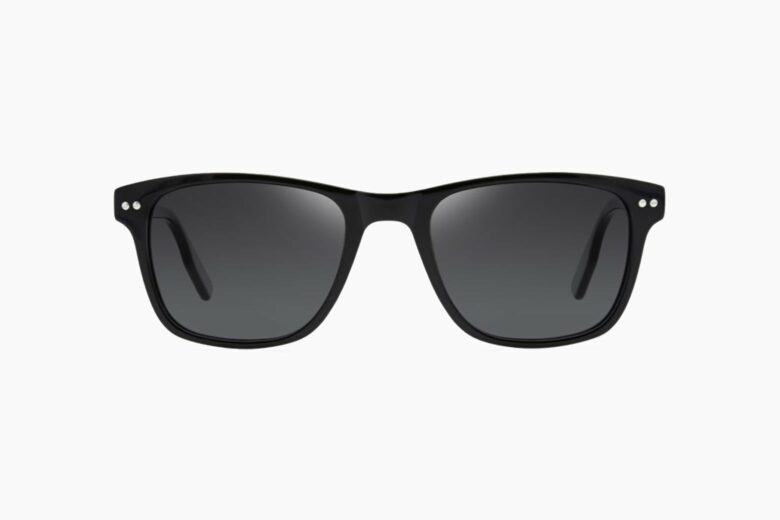 Not quite got the 20.20 vision you'd hoped for? Don't fret: you'll still look the business in Liingo Eyewear's men's prescription sunglasses. 30% lighter than run-of-the-mill lenses, these supply that barely-there feel. Oh, and the style? Just teetering on the cool side of hipster. Practical for driving and moonlighting as smart eyewear, the Liingo Eyewear Sunglasses are eye-deal.
Best for: Indulging the hipster within.
| | |
| --- | --- |
| Polarized: | Yes |
| Frame: | Premium polycarbonate |
| Fit: | Large |
| Protection: | 100% UVA/UVB protection |
| VLT% / Lens Category: | Optional |
Oliver Peoples Forman L.A Sunglasses: Best round sunglasses for men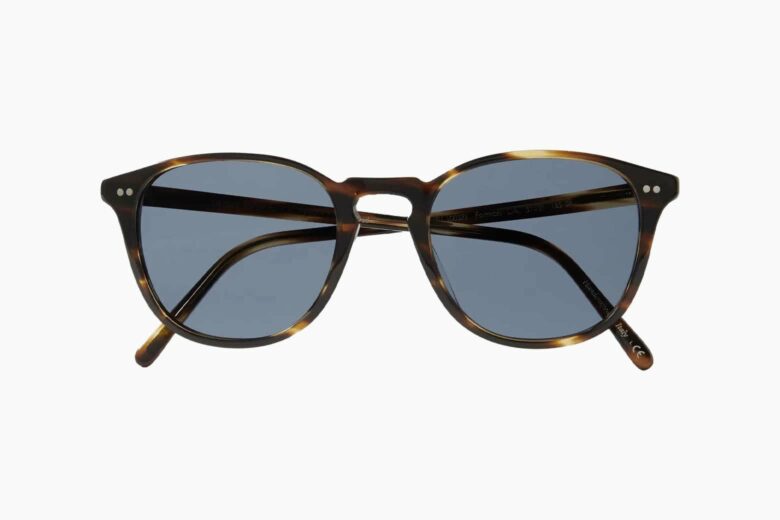 Your new look is just a-round the corner; Oliver Peoples Forman L.A sunglasses are on-hand to give your wardrobe a vintage-inspired boost. Combining failsafe tortoiseshell with subtly-rounded frames, these are a match made in heaven—but don't worry, there's room for one more. Dashing and debonair, these Oliver Peoples sunglasses will see your style skyrocket.
Best for: Softening a knife-sharp suit.
| | |
| --- | --- |
| Polarized: | Yes |
| Frame: | Acetate |
| Fit: | Large |
| Protection: | 100% UV protection |
| VLT% / Lens Category: | Medium |
Nordgreen Samso: Best brown sunglasses for men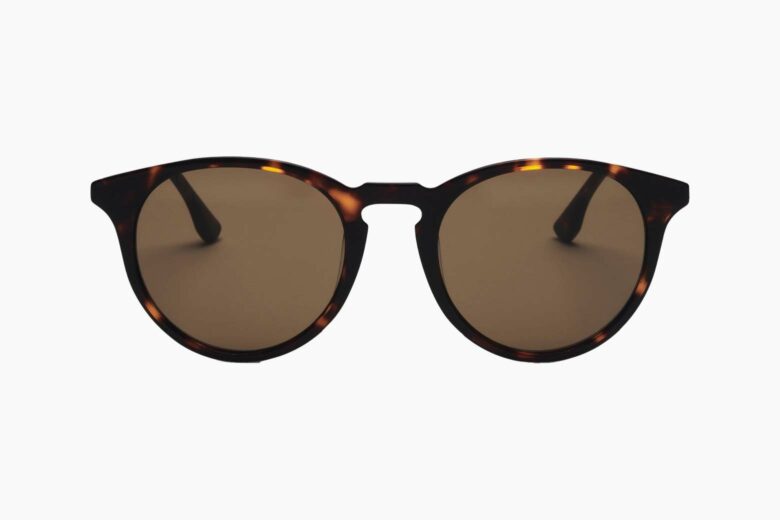 Brown sunglasses are equally versatile, but allow for a slightly softer aesthetic. And if you want to steer clear of the sleek and stealthy James Bond aesthetic we recommend this understated (yet sophisticated pair.) Featuring rounded edges, the Scandi shade takes its style cues from Denmark's evergreen slopes, taking on a classical-but-contemporary aesthetic. And we love that you can pop them on anytime without feeling OTT.
Like our other favorite Nordgreen shades, this Samso pair offers full UV protection, making them a win for outdoor adventures. Plus, the bio acetate frame is durable enough to take the occasional accidental tumble (emphasis on accidental, we don't advocate intentionally throwing your shades around.)
Best for: A contemporary take on all-time classics.
| | |
| --- | --- |
| Polarized: | No |
| Frame: | Bio acetate |
| Fit: | Medium |
| Protection: | 100% UVA/UVB protection |
| VLT% / Lens Category: | Medium tint |
Nordgreen Bornholm: Best square shades for men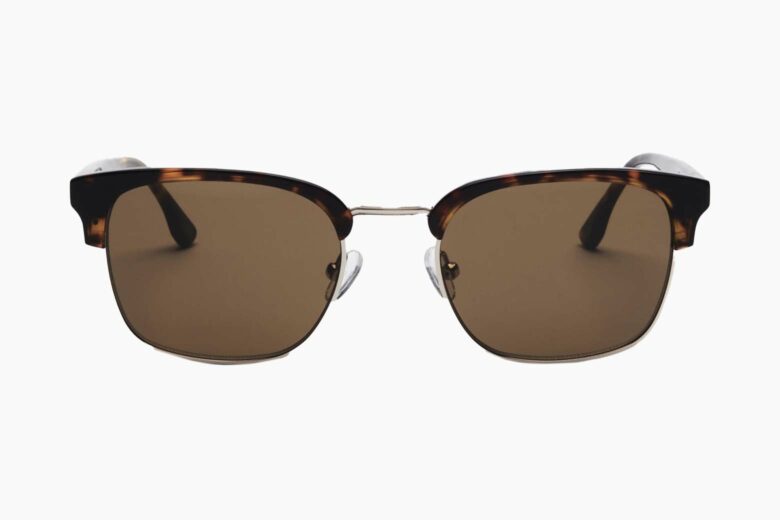 It's hip to be square—or so the bohemians say. And whilst these square shades aren't too different from your traditional sunnies, we appreciate that the Nordic brand is doing something different. Nordgreen's Giving Back program means that a portion of every purchase is contributed to various charity organizations.
But how do the actual sunglasses hold up? We were immensely impressed with the elegant and durable unisex design of these Scandi shades. Affordably priced, the cool sunglasses aren't polarized, but bio-based polyamide lenses do offer full UV protection, which is good enough for us most of the time. And even though the silhouette is considered square, the rounded edges make these Bornholm sunnies more versatile for different face shapes. 
Best for: It's hip to be square—but make it timeless.
| | |
| --- | --- |
| Polarized: | No |
| Frame: | Bio acetate |
| Fit: | Medium |
| Protection: | 100% UVA/UVB protection |
| VLT% / Lens Category: | Medium tint |
Yesglasses Wall-E: Best mirrored sunglasses for men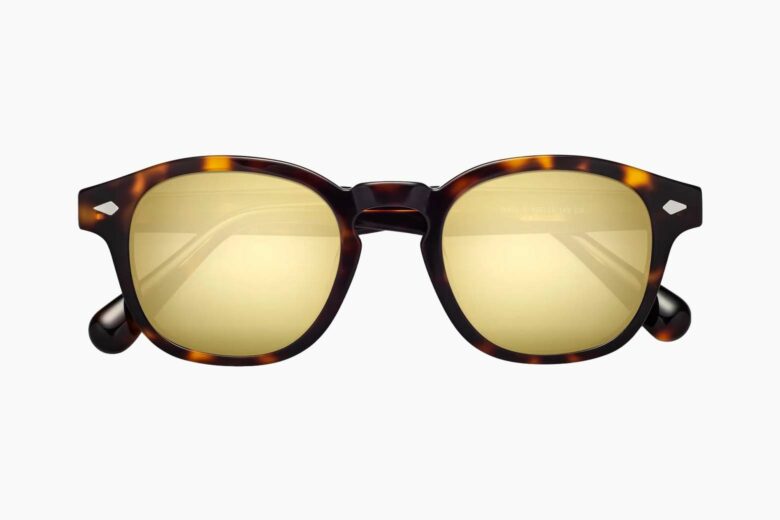 As much as mirrored shades are a fashion statement—and that they are, just ask Brad Pitt or Zac Efron—they are also highly functional. Mirrored sunglasses reflect sunlight, allowing for a soothing effect on our eyes. But not all mirrored sunglasses are made equal, and some are definitely purely for style (with minimal utility.) If that's why you're after, you won't be short of options, but if you're looking for a pair that reflects (pun intended) quality and style, we recommend this pair by Yesglasses.
As one of our best sunglass styles, Yesglasses' square frame is great for highlighting contours in rounder faces. We appreciate that you can have them fitted with prescription lenses. And that these Yesglasses are affordable enough to invest in more than one pair—an investment we wholeheartedly endorse, especially if you're particularly prone to breaking glasses (guilty as charged.)
Best for: Mirroring your inner functional fashion.
| | |
| --- | --- |
| Polarized: | No |
| Frame: | Acetate |
| Fit: | Medium |
| Protection: | 100% UVA/UVB protection |
| VLT% / Lens Category: | Mirrored |
Retrosuperfuture Sunglasses: Best retro men's sunglasses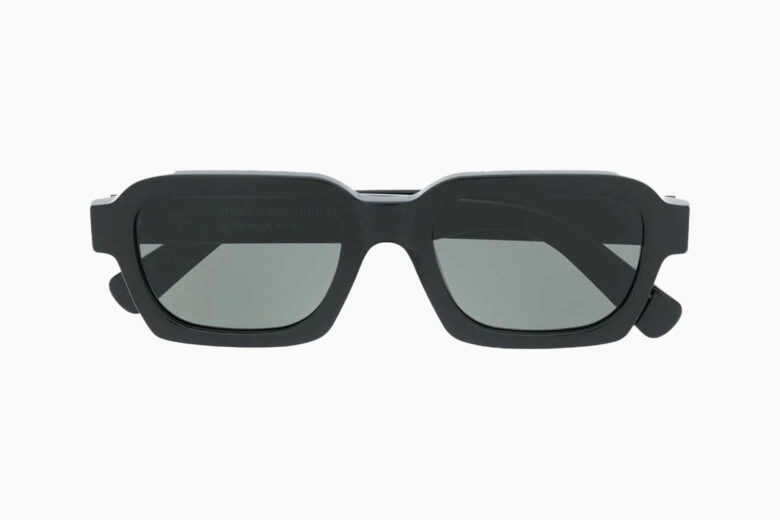 Razzle-dazzle and retro, and the Retrosuperfuture sunglasses achieve a solidly retro vibe—with a hint of futurism for extra beguile. The back-to-the-future stand-out frames are a statement in themselves, working to rewind your outfit to a funky-fresh era. Finished with tinted lenses, wide temples, and gold-tone hardware, these retro men's sunglasses are nostalgia, reworked.
Best for: A dapper jaunt down memory lane.
| | |
| --- | --- |
| Polarized: | No |
| Frame: | Acetate |
| Fit: | Large |
| Protection: | 100% UV protection |
| VLT% / Lens Category: | Dark |
Vincero The Marshall: Best men's gold sunglasses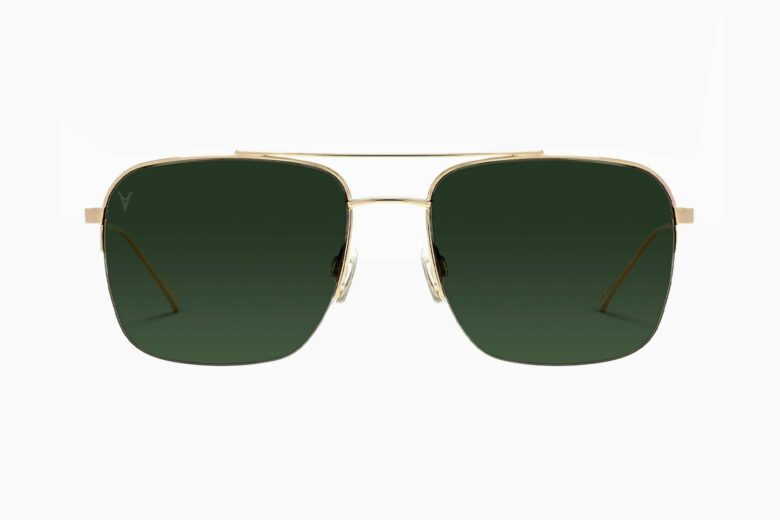 Aptly named The Marshall, these power sunnies exude an air of authoritative sophistication. Featuring a hardcore top bar and gold frames, the navigator silhouette speaks to the iconic '80s style. The polarized lenses reduce glare, enhancing visual clarity and comfort. While the scratch-resistant coating means that you don't have to stress about the odd accident.
But the most notable feature of these Vincero shades—and why they are undoubtedly some of our favorite sunglasses for men—is the brand's customizable fit. Constructed with a stainless steel core and 5-barrel hinges, the flexible temples allow for a tailored fit, meaning that they always stay on, regardless of how many times you shake your head (yep, we got a little dizzy testing that one for you.)
Best for: Power dressing comfortably.
| | |
| --- | --- |
| Polarized: | Yes |
| Frame: | Stainless steel |
| Fit: | Wide |
| Protection: | 100% UVA/UVB protection |
| VLT% / Lens Category: | Medium tint |
Ray-Ban Aviator Classic: Best aviator sunglasses for men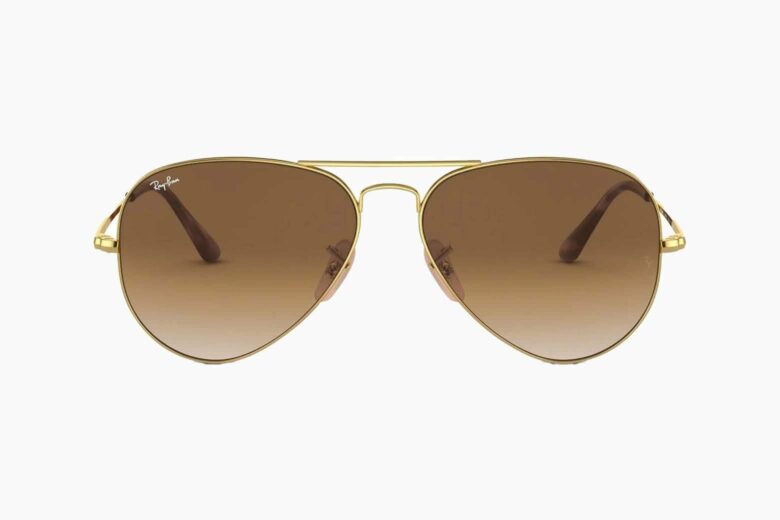 For a smooth-sailing look that's universally flattering, opt for one of the most iconic designer sunglasses in the world—Ray-Ban Aviator Classic sunglasses. Originally designed for U.S. aviators in 1937, these men's raybans are as handsome and timeless as ever. The iconic gold frames and brown gradient lenses provide a hint of retro, while the classic shape salutes to their military inception. Whether you're flying Concord or hitting the town, the Ray-Ban Aviator Classics will be your faithful co-pilot, keeping you looking fly.
Best for: Connoisseurs of all things cool and classic.
| | |
| --- | --- |
| Polarized: | Yes, optional |
| Frame: | Metal |
| Fit: | Oversized |
| Protection: | 100% UV protection |
| VLT% / Lens Category: | Optional |
Axel Arigato Tonia: Best cat eye sunglasses for men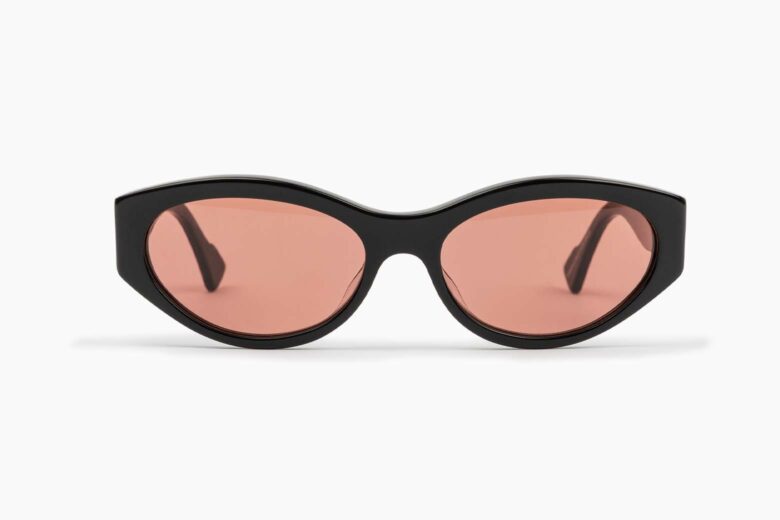 If you're looking for a fashion pair of shades that are also well-made, these designer sunglasses by Axel Arigato are unrivaled. Detailed with a contrasted white logo along the temples, the black frame embodies the avant-garde brand's signature style. And the dark UV protection lenses take looking at life through rose-tinted glasses seriously.
The silhouette is unmistakably cat eye, albeit more subtle than most. The unisex frame hits the elusive sweet spot between understated and obvious. And while the modern details guarantee style-icon status, the minimalist design is also easy to wear on many occasions. Pair them with an oversized hoodie and sneakers. Or dress these Axel Arigato shades up with a blazer and slacks. Either way, you'll be taken seriously in fashionable circles. 
Best for: Letting the next in fashion cat out of the bag.
| | |
| --- | --- |
| Polarized: | No |
| Frame: | Cellulose acetate |
| Fit: | Medium |
| Protection: | 100% UVA/UVB protection |
| VLT% / Lens Category: | Dark tint |
Tom Ford Eyewear Dunning Sunglasses: Most stylish sunglasses for men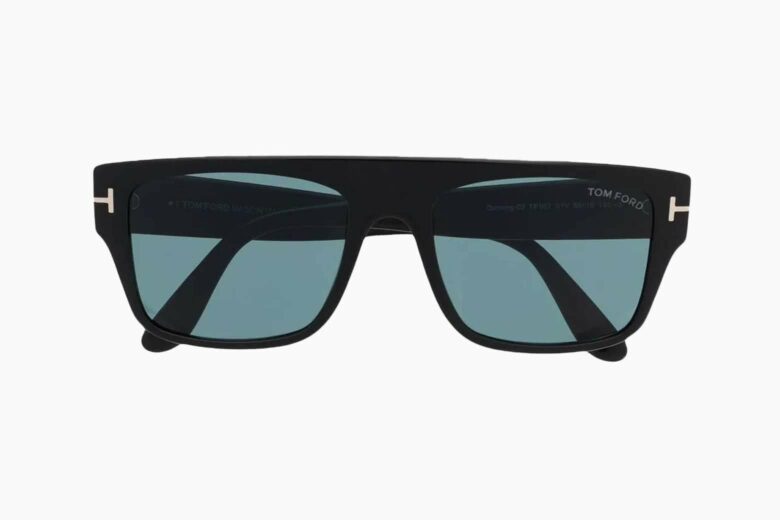 Guys, if you're seeking style for miles (and who isn't?), you know who to consult: Tom Ford. These rectangle-frame sunglasses by Tom Ford are the ultimate in easy-breezy styling. With universally-flattering angular frames, low-key logo plaques, and tinted lenses (naturally), you need only to add these shades to your look with a spray (or two) of Tom Ford cologne, and you're sizzling.
Best for: Refining your style to the T.
| | |
| --- | --- |
| Polarized: | Yes |
| Frame: | Acetate |
| Fit: | Oversized |
| Protection: | 100% UV protection |
| VLT% / Lens Category: | Dark tint |
Gucci: Best rimless sunglasses for men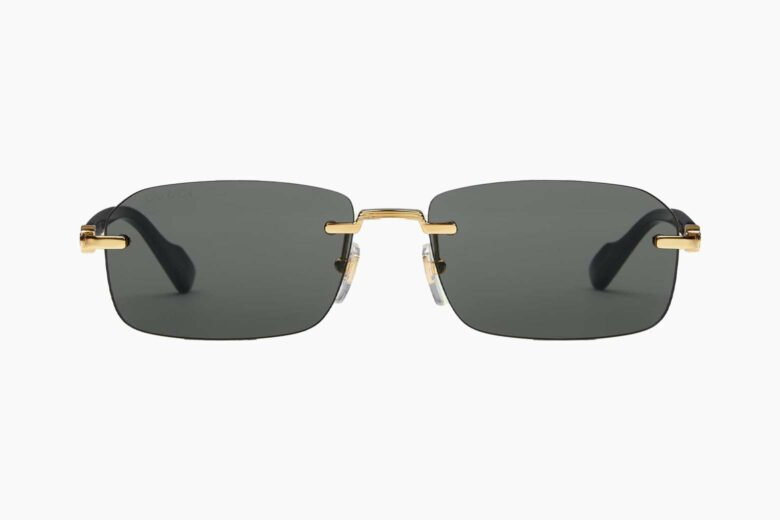 A nod to the classic 90s style, we could definitely see Harry Styles in these luxury sunglasses. The elegant rectangular frame is unimposing yet totally on-trend. And we adore the decadent detailing, such as the brand's signature Web enamel and interlocking Gs on gold-toned temples.
When it comes to durability, these aren't the sunglasses that we're taking up a mountain—they're simply too special for that—but they are the kind we'll wear aboard a cruise ship or whilst sipping cocktails on the terrace. The solid gray lens offers 100% UV protection and the satin-lined velvet case is just a bonus. Naturally, Gucci sunglasses are more expensive, but if you're looking to invest in a lifetime designer pair, these timeless shades are well worth the price tag. 
Best for: Channeling your inner '90s style.
| | |
| --- | --- |
| Polarized: | No |
| Frame: | Gold-toned metal |
| Fit: | Medium |
| Protection: | 100% UVA/UVB protection |
| VLT% / Lens Category: | Light and dark tint. |
Ray-Ban Wayfarer: Best classic sunglasses for men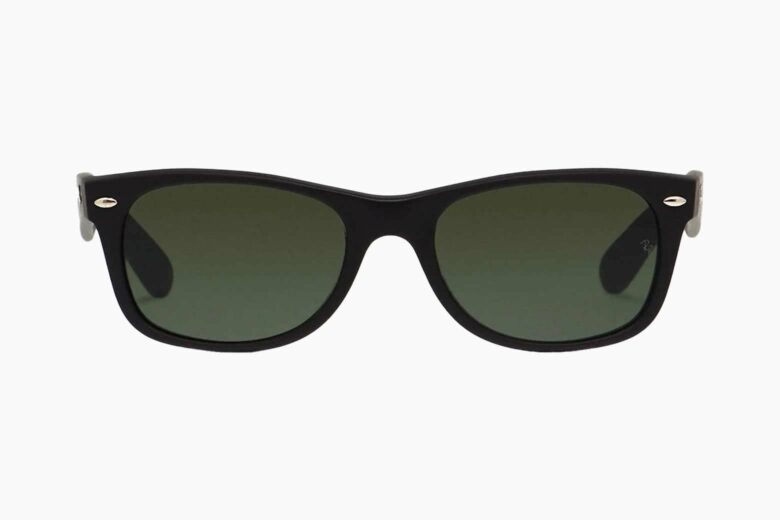 In case you needed a reminder: Ray-Ban Wayfarers are the ultimate cool sunglasses. Period. Your street cred spins into overdrive as soon as you slip them on, propelling your look from drab to dapper in a split second. Pairing with any outfit like Barolo with Wagyu, every man needs a pair of iconic men's Ray-Ban sunglasses to rock a classic look, every day.
Best for: Channelling your inner icon.
| | |
| --- | --- |
| Polarized: | Yes, optional |
| Frame: | Acetate |
| Fit: | Large |
| Protection: | 100% UV protection |
| VLT% / Lens Category: | Medium |
Randolph Aviator II: Most durable men's sunglasses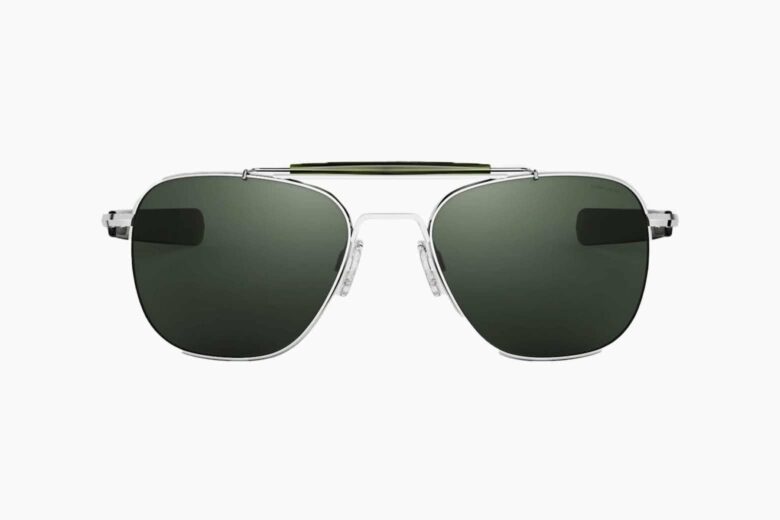 Hey, if you're a man about town, you need sunglasses that can keep up with your tempo. As far as quality goes, you can't do better than handcrafted sunglasses by Randolph Engineering—literally designed for U.S military personnel. Built to army specs (meaning: the highest-flying standards) but slightly modified for comfort, it's the sweat bar that seals the deal for us. Classic. Cool. Confident. Trust us: they'll see you through a desert storm in suave style and colossal attitude. With their enduring style and durable materials, these Randolph's Aviator II will see you through virtually anything and will last you forever—every pair comes with a lifetime warranty. Well, if that doesn't convince you of the uncompromising quality, maybe Tom Cruise will…
Best for: High-flying guys who never stop moving.
| | |
| --- | --- |
| Polarized: | Yes |
| Frame: | Chrome or 23k Gold |
| Fit: | Regular and Large |
| Protection: | 100% UVA/UVB protection |
| VLT% / Lens Category: | Optional |
Persol 649 Original: Best timeless sunglasses for men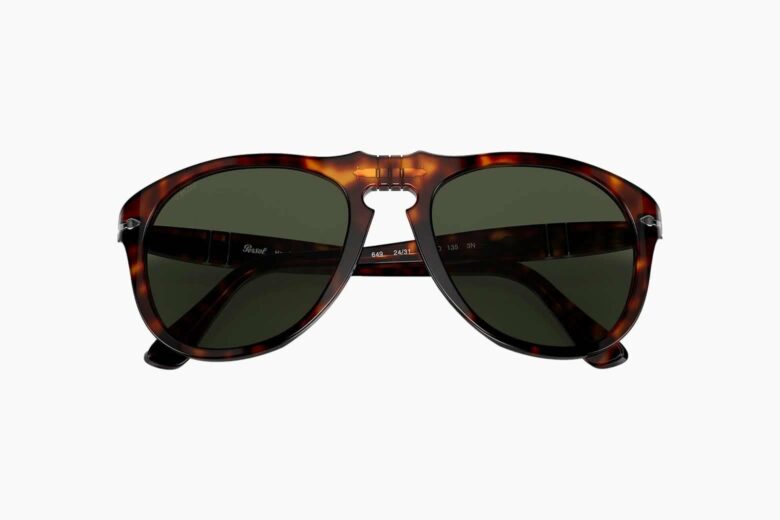 Like your classic suit, sleek pair of Oxfords, and your watch, timelessness is vital when it comes to shades. Enter: Persol. Outliving blink-and-you'll-miss-it trends, so you can go back to them year after year. And don't worry—you'll still be as à la mode as the day you bought them. Boasting green lenses, Havana frames, and inherent Italian finesse, the Persol 649s are a mood of their own.
Best for: Keeping your style soaring above fickle trends.
| | |
| --- | --- |
| Polarized: | No |
| Frame: | Acetate |
| Fit: | Large |
| Protection: | 100% UV protection |
| VLT% / Lens Category: | Optional |
Saint Laurent SL364: Best mask sunglasses for men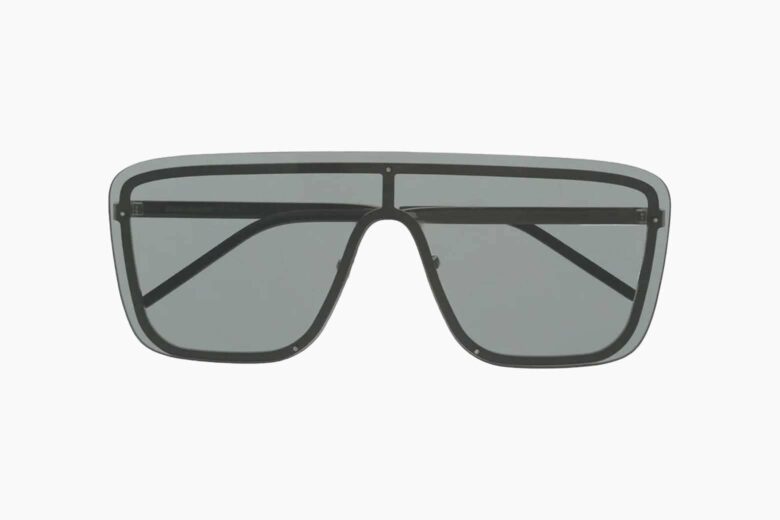 The Saint Laurent Mask Sunglasses are a one-and-done accessory for slick street style. Not only will they obscure tired eyes after a raucous night, but the subtle Saint Laurent logo and stand-out shape will propel you firmly into the realms of high-fashion, no effort necessary.
Best for: The morning after the night before.
| | |
| --- | --- |
| Polarized: | No |
| Frame: | Acetate |
| Fit: | Oversized |
| Protection: | 100% UV protection |
| VLT% / Lens Category: | Dark |
Gentle Monster Six Bears 01 Sunglasses: Best oversized sunglasses for men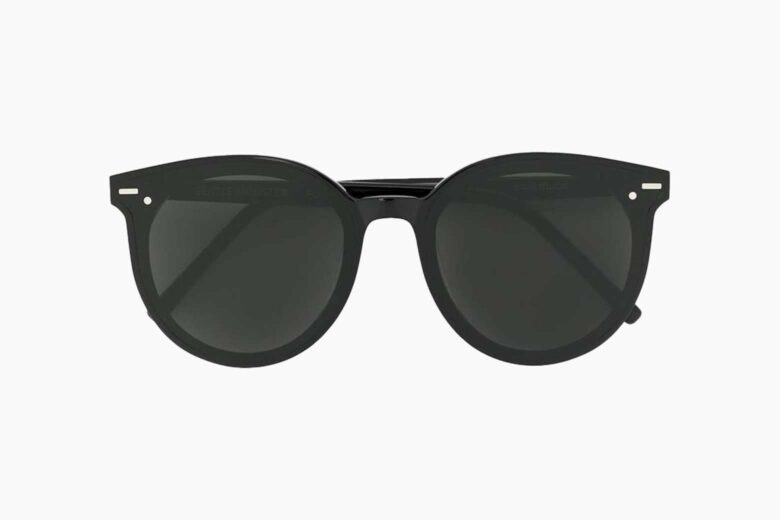 Big, bold, and oozing enviable bravado, these oversized sunglasses for men are a statement and a half. Understated frames offset the swagger-level size, so you stay decidedly on the right side of sophisticated. We love the lightweight acetate structure, giving the Gentle Monster sunglasses a barely-noticeable feel—but don't worry, unnoticed is the last thing you'll be.
Best for: Turning heads left, right, and center.
| | |
| --- | --- |
| Polarized: | Yes |
| Frame: | Acetate |
| Fit: | Oversized |
| Protection: | 100% UV protection |
| VLT% / Lens Category: | Dark |
Ray-Ban Clubmaster: Best sunglasses for driving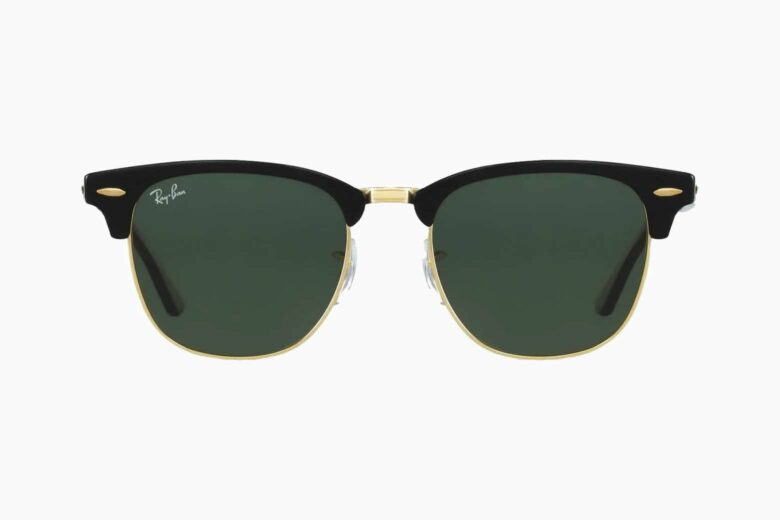 Guys, we know you (probably) feel your coolest when you're driving—one of the fastest cars in the world (a man can dream). So, don't ruin the vibe with inferior sunglasses. Slip on the Clubmaster Ray-Bans, and you'll feel like a new man, even without new wheels. Iconic, effortless, and with the inexplicable ability to turn any man into a Pulp Fiction extra, your eyewear 'drobe needs these Clubmaster Ray Bans.
Best for: Road-tripping with the boys.
| | |
| --- | --- |
| Polarized: | Yes |
| Frame: | Acetate |
| Fit: | Medium |
| Protection: | 100% UVA/UVB protection |
| VLT% / Lens Category: | Medium |
Oakley Holbrook: Best men's sunglasses for skiing and snowmobiling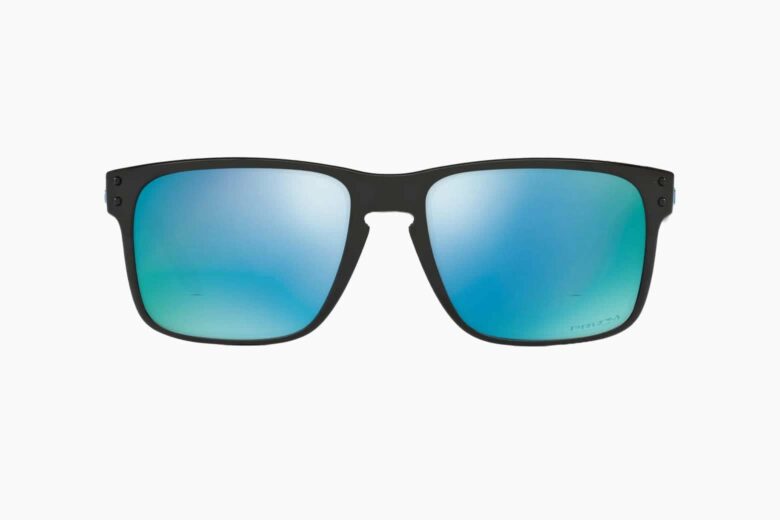 Could we talk about the best sunglasses for men without giving Oakley the stage? Of course not. Their Holbrook sunglasses are made for the slopes, featuring a lightweight yet solid design that'll stay put while you carve up those pistes. Complete with HD optics, you'll see every glacial glint and mountain peak—no squint necessary.
Best for: Staying suave on the slopes.
| | |
| --- | --- |
| Polarized: | Yes |
| Frame: | Plastic |
| Fit: | Extra Large |
| Protection: | 100% UVA/UVB protection |
| VLT% / Lens Category: | Polarized |
Oakley Half-Jacket 2.0: Best sunglasses for paramedics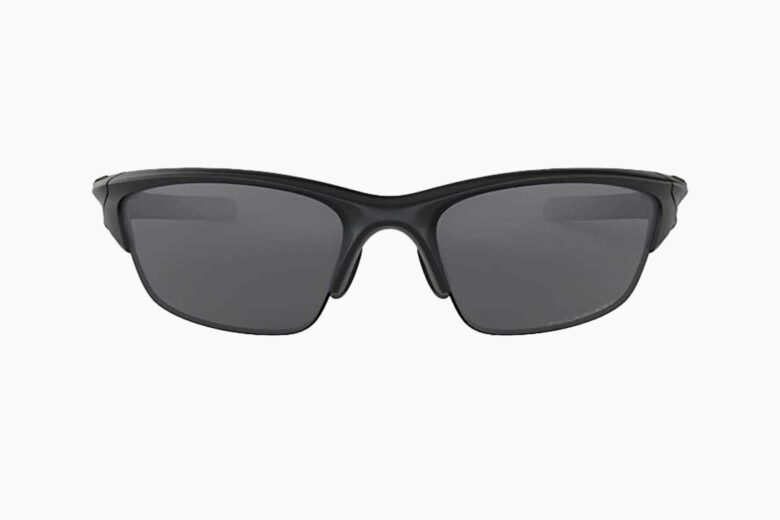 Everyone loves a guy in uniform—are we right? But of course, in high-pressure environments (go you, seriously), practicality must come first. However, with the Oakley Half-Jacket 2.0 sunglasses, you can enjoy panache and practicality by the ambulance load. With sturdy plastic frames and an authoritative aesthetic, these are a set of serious shades.
Best for: Staying cool under pressure.
| | |
| --- | --- |
| Polarized: | Yes |
| Frame: | Acetate |
| Fit: | Large |
| Protection: | 100% UVA/UVB protection |
| VLT% / Lens Category: | Dark |
Huckberry Weekenders: Best men's sunglasses for travel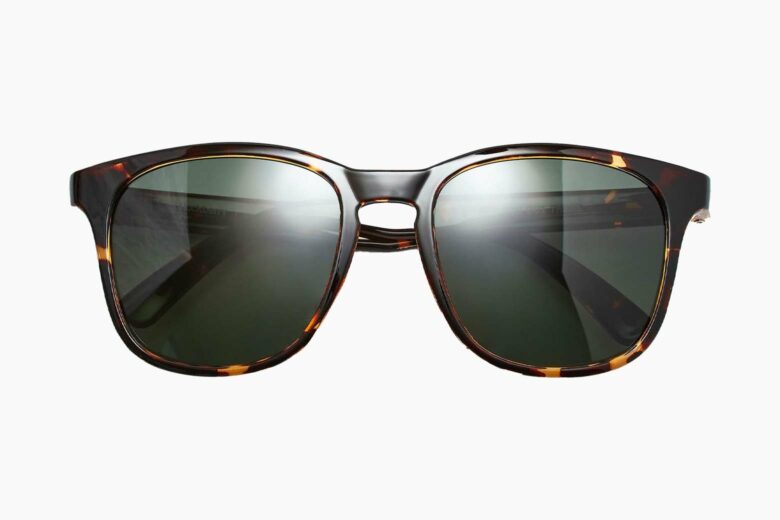 More than anything else, the pair of sunglasses that you take traveling have to be able to endure confined spaces (like overpacked suitcases), countless falls (along the trail), and the odd sit-on (because, let's be honest, that's unavoidable.) And depending on where exactly you're taking this accessory, you probably don't want to risk cracking your designer pair. Our solution? This affordable pair by Huckberry.
These trendy sunglasses are the perfect compromise between sporty and stylish. The wayfarer frame is lightweight and easy to wear. And we couldn't believe that the under $50 dollar price tag came with polarized lenses. Our only regret? Only buying one pair. Because if you happen to lose your Huckberry Weekenders along the way, you almost certainly won't find a quality polarized pair anywhere close to this price point. 
Best for: Cycling along the Seine.
| | |
| --- | --- |
| Polarized: | Yes |
| Frame: | Heavy-duty plastic |
| Fit: | Wide |
| Protection: | 100% UVA/UVB protection |
| VLT% / Lens Category: | Medium tint |
Tomahawk Neuralyzers: Best budget sunglasses for men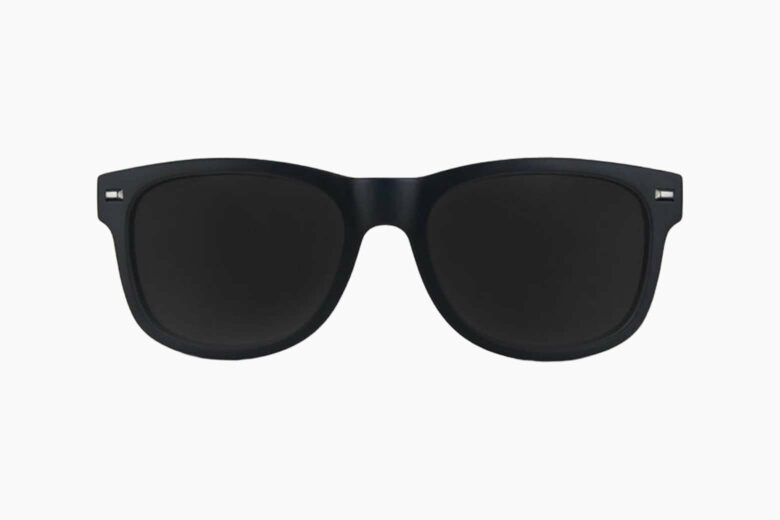 Break hearts without breaking the bank with the Tomahawk Neuralyzers, coming in a classic wayfarer shape that we all know and love. One of the lower-priced sunglass brands—yet overflowing with style, we can't fault these men's sunglasses under $50. Serving up a clean, crisp, and together aesthetic and impact-resistant smoke lenses to survive the occasional bash, nobody would suspect these Tomahawk shades for men cost less than a couple of cocktails. But seeing is believing. (You're welcome.)
Best for: Modish look for a modest cost.
| | |
| --- | --- |
| Polarized: | Yes |
| Frame: | Acetate |
| Fit: | Large |
| Protection: | 100% UVA/UVB protection |
| VLT% / Lens Category: | Dark |
The top 3 most popular sunglasses brands
We narrowed down the top 3 men's sunglasses brands, so you don't have to spend days researching your next pair of sunglasses.
Yesglasses
Founded in 2017, Yesglasses not only has some of our best sunglasses for men, but the online brand is also one of the most seamless shopping experiences. Featuring an extensive range of eyewear—including sunglasses—you can almost always find exactly what you're looking for. From tinted, gradient, mirrored or polarized lenses to rimless, oversized, cat eye, square or aviator frames, we took to the site in search of stylish prescription sunnies and found it incredibly easy to customize a pair to our exact preferences.
Yesglasses is also one of our most affordable quality eyewear brands. Priced at under $100, these shades come with a 365-day quality guarantee, making it an easy decision to try out a pair (or two or three.)
Nordgreen
Founded in 2017, the Danish brand epitomizes Scandinavian attention to detail with modern minimalist designs that are flawlessly engineered.
Featuring bio acetate frames and bio-based polyamide lenses, the sustainable sunnies offer full protection. We also love that a percentage of every pair purchased goes towards education in India, clean drinking water in Africa, and rainforest preservation in Latin America. If we needed another excuse to purchase another pair of our best sunglasses—which we didn't—Nordrgeen's sustainable and philanthropic efforts are it.
Vincero
Since the brand's inception in 2012, we have been huge advocates of Vincero's luxury timepieces. But now we're discovering that Vincero's quality watches aren't the only thing worth visiting the brand's website for. And as one of our best sunglasses brands, we are equally impressed by its collection of handcrafted shades.
Vincero sunglasses are made from high-quality materials. They are sophisticated, stylish and made to last. All Vincero sunglasses are polarized and feature customizable fitting. Vincero is also carbon-neutral certified and goes to extreme measures to ensure that all its products are ethical and sustainably manufactured. Basically, the brand ticks all our boxes.
What to look for when buying sunglasses online
Shopping online is convenient and simple. No crowded malls to wade through. No long lines to test your patience.
But, shopping online does have some of its own challenges. Without the ability to try on sunglasses or look at details in person, it can be easy to feel uncertain about your purchase. Don't worry. We have compiled our top tips for purchasing sunglasses online.
How to make sure they fit right
When shopping online, finding the right fit can feel mission impossible, but it's not as complicated as it may seem. There are a few key things to consider that will help you find a perfect pair.
What size is your face?
Knowing the size of your face can be a big help in choosing the best sunglasses. Sunglasses companies usually list the frame width with each pair. By measuring the distance between your temples, you can determine a good frame width for your face.
If your face is between 10cm and 12cm wide, go for a frame width of up to 50mm. For a face that measures between 12cm and 14cm wide, choose a frame width that is between 51mm and 55mm. If your measurement is any higher than 14cm wide, choose frames that have a width of 56mm or above.
Adjustable features
High-quality sunglasses often have features that are adjustable or can be made custom to you. Take advantage of these features, especially when ordering online.
Options such as adjustable nose bridges or arms that fit your face perfectly are great ways to make sure that your frames will fit you well. These features can help you adjust your shades well once you receive them.
Another option when ordering online is to go visit a professional adjusting service once you receive them. Most optical providers will adjust any glasses or sunglasses to your face for free or for a small fee. You may even be able to go into a store of the company you purchased your sunglasses from to have them adjusted.
What's the shape of your face?
Face shape plays an important role in deciding what sunglasses will fit best. In the next section, we will discuss which sunglasses shapes work best for each face shape.
The right sunglasses for your face shape
Finding the right pair of sunglasses for you depends on your face shape. For each shape, there are certain pairs that will look better and certain pairs that will look worse. By knowing your face shape and what works well for you, you can avoid ordering the wrong style online.
Round face
Go with a shape like aviators or something square. Stay away from circles as this will draw out the roundness in your face.
Oval face
If you have an oval face, you are one of the lucky ones. Most frame shapes will look great on you. The only thing you should stay away from is sunglasses that are bigger than your face.
Square face
If you have a square face, think soft lines and round shapes. These types of frames will offset the hard lines in your face shape.
Oblong face
Similar to square face shapes, oblong faces look good with soft lines and round shapes. The only thing to stay away from is smaller frames.
Heart-shaped face
If your face is heart-shaped, you will want to choose sunglasses with sharp corners and lines. Steer clear of anything teardrop-shaped or oversized.
Diamond-shaped face
Most frame shapes will work with this face shape. The only thing to avoid with a diamond-shaped face are frames that don't fit within the proportions of your face.
Triangular face
Your sunglasses should mirror the proportions of your face shape. That means choosing sunglasses frames that are larger on top than they are on the bottom. Something teardrop-shaped will work well.
Finding shades with the right features
When purchasing sunglasses, there are a few different types of features to know about. Knowing what you want in each type of feature will help you narrow down your decision. The important thing to remember is to find the features that work best for your face and your lifestyle.
Fit
Finding the right fit means finding sunglasses that fit your face shape and facial features. You don't want frames that go beyond your temples, but you also don't want them too small for your face. Measure facial width and use this to help you find the right size sunglasses for you.
Shape
There are so many different shapes of sunglasses. You can find aviators, square shades, circular sunglasses, and everything in between. The key to finding the right shape frame for your face is knowing your face shape. As we discussed earlier, there are certain frame shapes that look good on each facial shape.
Material
The material of your sunglasses makes a substantial impact on their durability. Most sunglasses are made of plastic or metal, but not all plastics and metals are created equal.
Tint
You can find lenses that are tinted in all sorts of colors. The color of the tint impacts how the light is filtered through the lens. Amber lenses help to filter blue light. Gradient lenses block the light from above but don't change your view straight ahead. Red or pink lenses may look cool but they can alter colors and make it difficult to see traffic signals. Figure out how you will most often use your sunglasses and decide which lens tint will work best from there.
How do you protect your eyes from UV rays?
Cataracts, corneal sunburn, and a range of other eye problems can all be caused by prolonged exposure to UV rays. Nobody wants that.
Still, protecting your eyes from the UV rays of the sun can feel like a daunting task. We know, it seems like there are about 756 different types of lenses that claim they protect you from the sun the best. We are here to help you get the different types of lenses straight, so you can protect your eyes well.
What's the secret to keeping your eyes safe from UVs? Choose lenses that have 100% UV protection. These types of lenses are also sometimes called UV400 lenses. These are hands-down the best way to protect your eyes.
Now, some of you might be wondering about the other types of lenses that claim the best eye protection. Let's clear up some misconceptions.
Polarised lenses do not protect your eyes from UV rays. They do minimize the glare of the sun off of reflective surfaces, and this can be helpful. However, these are not the answer if you are trying to avoid eye damage caused by UV rays.
Getting darker lenses does not mean you are better protected from UV rays. The only way these lenses help you is by making it easier to see in bright light. Go with UV-protected lenses for the best protection.
Frequently asked questions about men's sunglasses
What men's sunglasses are in style this year?
Men's sunglasses that are in style this year include everything from classic aviators to retro frames. Other popular styles include tortoiseshell and black sunglasses, metal frames, oversized silhouettes, and mirror coatings. Check our list of the best sunglasses for men for the latest fashion sunglasses and forever classics you need.
What is the most popular style of sunglasses for men?
Some of the most popular sunglasses for men include the Aviators and Wayfarers from brands such as Ray-Ban, Persol, and Randolph. Check our list of the shades for men for all the latest types of sunglasses.
What is the best UV protection for sunglasses?
The best UV protection for sunglasses are sunglasses that have 100% UV protection. Additionally, sunglasses with frames that wrap around the side of the eye offer the best protection because they even protect UV rays from getting in the side of your eye.