More than just a means of transporting your daily essentials, the best minimalist wallets for men are also an opportunity to express your taste and style while keeping it light and simple.
The perfect minimalist wallet is a marriage of form and function. It's hard-wearing, able to withstand everyday use, and has high-end design appeal. The ideal men's wallet is one you can take delight in whipping out at the end of a meal with a client or the in-laws. This one's on me!
Your wallet should complement your lifestyle. Perhaps you're an on-the-go professional rushing from an office meeting to a cocktail bar. Or maybe you're a stay-at-home parent who takes pride in your fashion-forward accessories. No single wallet owner is the same. Your wallet should say something about your unique personality. Whether you're seeking an eye-catching luxury accessory or something more understated and practical, there's a wallet that's got your name on it.
In a rush? No problem! Here's our shortlist of the absolute best minimalist wallets for men available right now:
BEST OVERALL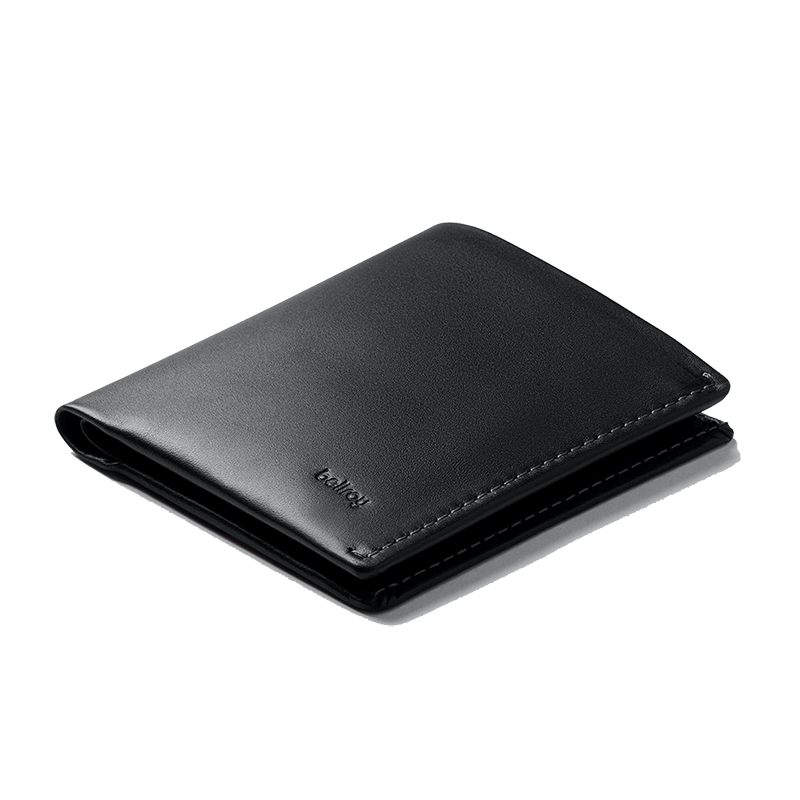 Bellroy
Note Sleeve
Holds 11 cards
Stores flat bills
Coin pouch
RFID Protection
Premium leather
BEST lUXURY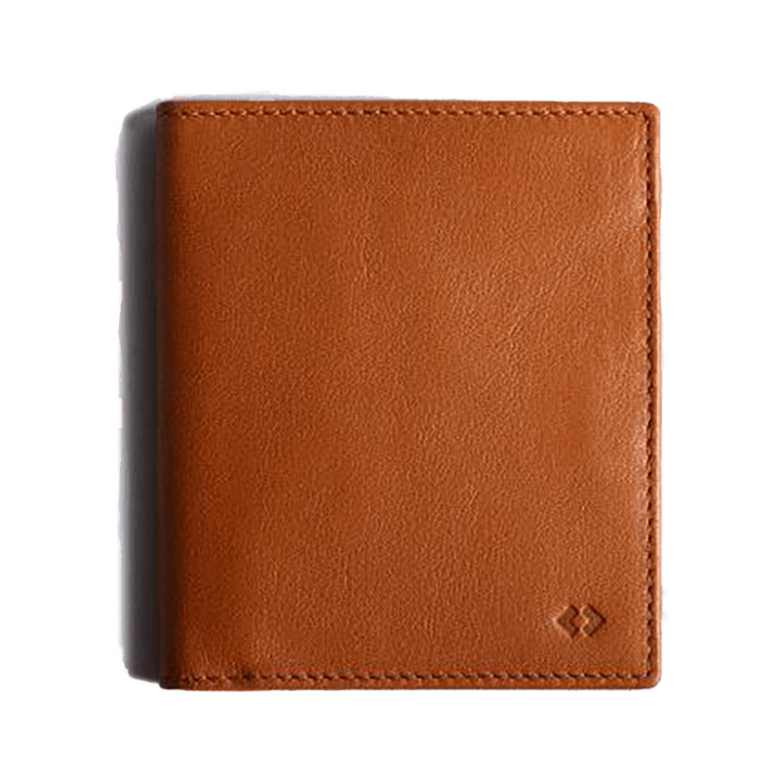 Harber London
Leather Bifold
Holds 18 cards
Stores flat bills
Magnetic closure
RFID Protection
Premium leather
The 18 best wallets for men
Here's the entire list of wallets for men that we've handpicked. Each model excels in at least one crucial area. You can directly jump to the winner for the category you're most interested in:
Bellroy Note Sleeve: Overall best wallet for men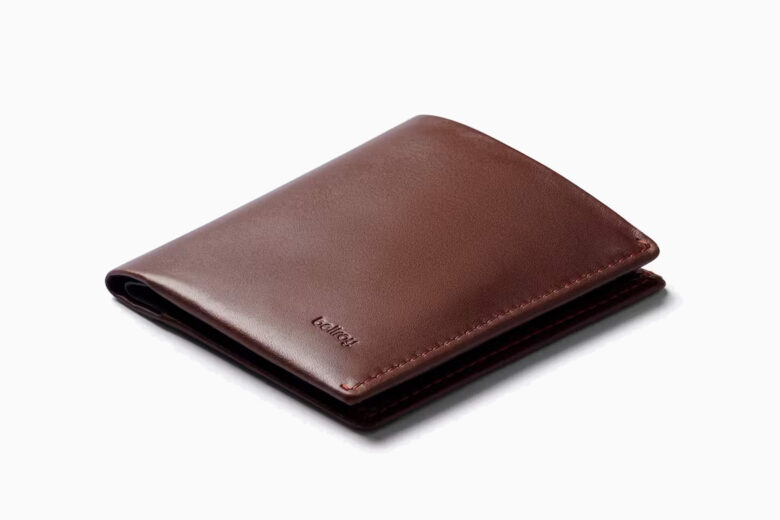 We love Bellroy. There's a good reason why the brand's super smart collection of wallets is featured multiple times on our list. Everything they create is well-thought-out to make it as simple and easy as possible to use their products in your everyday life. But take a closer look at their slim wallets, and you'll see that they are incredibly well built to pack many features in a small and compact size.
The Note Sleeve is simply the best all-around wallet in Bellroy's collection. If you don't want to spend a ton of time (or money) researching the best wallets for men, you can stop here. This one has everything you need. And it looks good too!
This wallet will easily fit your cash, coins, and up to eleven cards in a slim profile. The Note Sleeve also has quick-access slots for your daily cards and a storage area with a convenient pull tab for the credit cards you use less frequently. There's even a coin pouch that doubles as a business card protector, so you no longer hand a poorly-looking business card.
Look at our in-depth Bellroy wallets review to discover the other models from the brand and find the best one for you.
Who it's best for: Every guy out there. Really. If you only get one wallet, this is the one.
Our verdict
Outstanding — The perfect wallet to carry your daily essentials in a slim and elegant package.
Harber London Leather Bifold: Best luxury wallet for men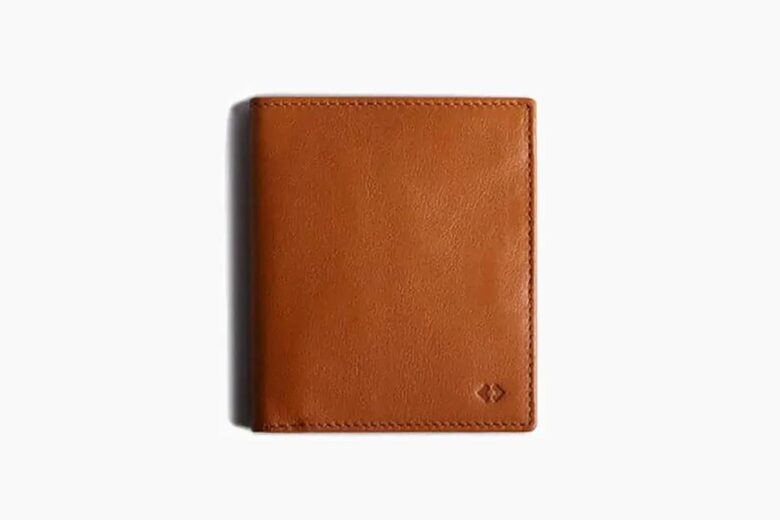 Harber London is known for its classically luxurious designs, high-quality materials, and functional features. This innate understanding of high-end men's accessories extends to the brand's line of wallets. And so it's no surprise that the best premium wallet on our list is this Harber London bifold wallet with RFID protection.
Made in Spain from soft and durable full-grain leather, this thin wallet exudes quality and luxury. The designer emblem in the bottom right corner subtly affirms the high-end status of this accessory.
While many of the options on this list are black—a minimalist wallet favorite—this Harber London wallet stands out in its rich color options. We particularly love the tan leather hue featured above. The bifold wallet is also available in gorgeous deep dark-brown, black, or navy blue. These colors are memorable and unique and create a mood of down-to-earth sophistication.
The wallet's slim profile means you can carry it in your pocket. Yet, at the same time, you'll find space inside for up to 18 cards, notes, and a coin compartment. Reliable and stylish simultaneously, this is undoubtedly a wallet you'll carry for years to come.
Who it's best for: Men seeking a luxurious feeling with premium materials and design yet elegance and simplicity at an honest price.
Our verdict
Excellent — The perfect luxury bifold for those looking for a classic but with a twist.
Vaultskin Manhattan: Best value wallet for men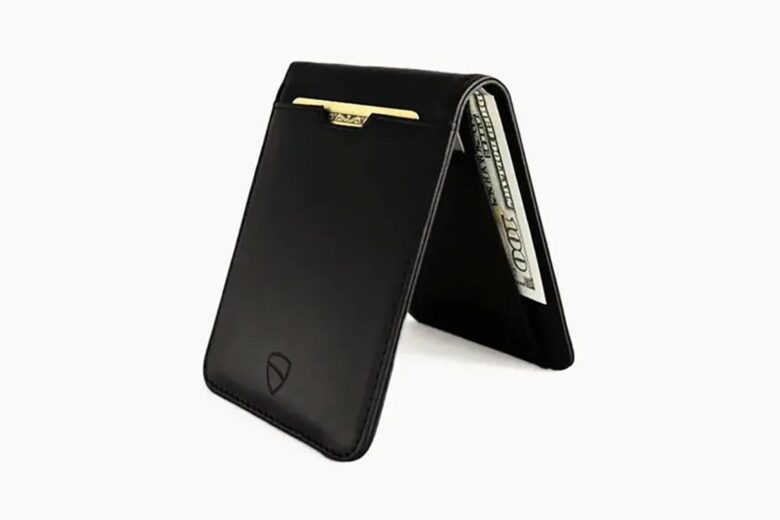 Designed in Britain by Vaultskin and crafted with real leather, this gorgeous Manhattan wallet offers superb value for money. At less than $60, you get a smart yet minimalist wallet that packs tons of features.
It comes built with RFID-shielding technology, so you can relax knowing that your credit cards and other important documents are protected against identity theft.
Next, there's the design itself. Vaultskin's Manhattan wallet is engineered to be slim in your pocket while offering space to hold all your cards and bills. There's also an external pocket to access the credit card you most often use easily.
Finally, there's the premium material. The wallet's soft leather ages and adapts to how you use it. The more you use it, the better it will look.
Vaultskin's Manhattan wallet is available in a range of colors and is best suited for US dollar bills. For EUR or GBP banknotes, opt for the City wallet.
Who it's best for: Men seeking a minimalist yet functional wallet without breaking the bank.
Our verdict
Great value — A slim wallet that delivers exceptional value for money in a clean and minimalist package.
The Ridge: Best minimalist wallet for men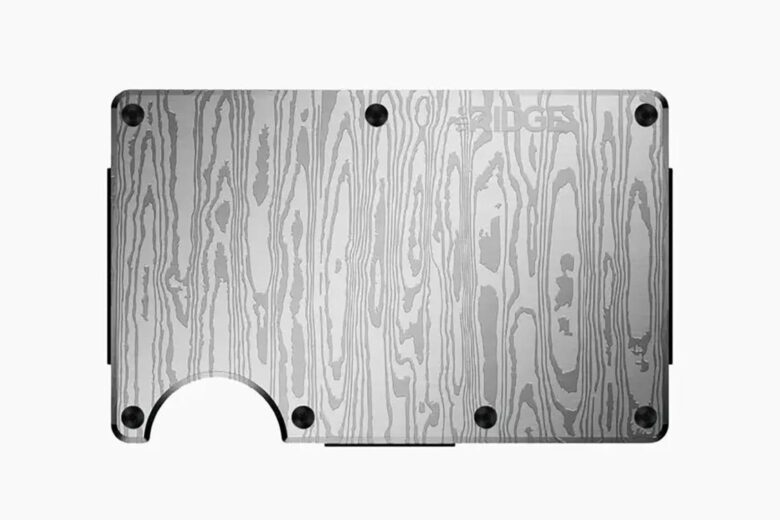 From the company that's arguably at the forefront of the EDC minimalist trend, we pick the Ridge Wallet as the best minimalist wallet for men. Their classic and timeless wallet is available in a range of colors and finishes, but there's something quite special about this Damascus pattern design that we find mesmerizing.
The laser-engraved steel pattern is inspired by the forge-welding technique of Modern Damascus. Often forged into swords and other blades, the iconic Damascus pattern makes for a bold, textured surface.
You can hardly beat this slim front-pocket wallet for its value and minimalist practicality (read our in-depth Ridge Wallet review for more details). It offers a thin, modern look to carry your daily essentials in style. The Ridge Wallet can hold 1 to 12 cards without stretching out. It also comes with RFID-blocking technology to keep your data safe and secure.
P.S. Ridge also started to craft minimalist and durable watches. Look at our hands-on Ridge Titanium Field Watch review to learn more.
Who it's best for: The minimalist men looking for quality, craftsmanship, and just a hint of luxury.
Our verdict
Outstanding — The Ridge Wallet is everything you should expect from a premium minimalist wallet. It's elegant, efficient, and highly functional.
Nomad ​​Card Wallet Plus: Best front pocket wallet for men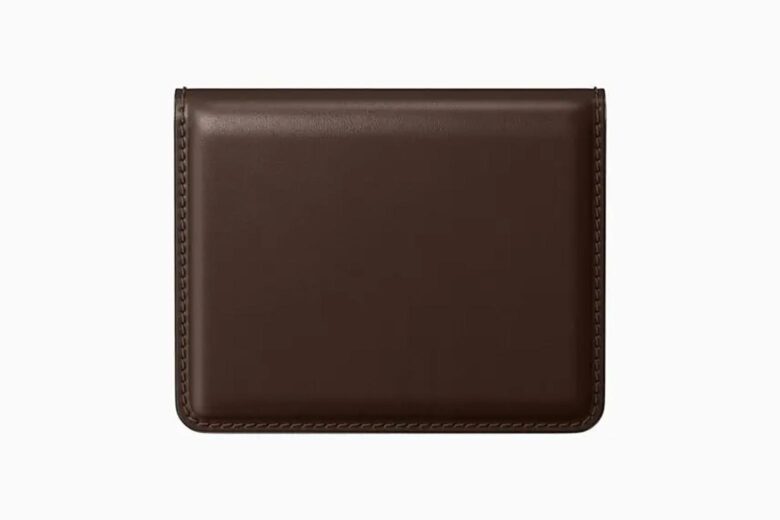 Not all wallets are slim enough to fit in a front pocket without creating an uncomfortable bulkiness. Hence the appeal of Nomad's ​​Card Wallet Plus, whose design is as slim and straightforward as feasibly possible, making it the perfect front pocket wallet.
Available in a rustic brown and black, this super slick money solution is ideal for those who want to keep clutter to a minimum.
Ditch all the coins, notes, and receipts, and head out with just your cards. Because in this day and age, what else do you really need apart from a credit card and a driver's license? If anything, opting for a cardholder over a wallet forces you to be more efficient and organized.
The front pocket wallet is also compatible with Nomad's card for Apple AirTag, so you know you'll never lose it.
Who it's best for: Minimalists who like to leave the house with the bare minimum.
Our verdict
Effective — The last word in easygoing elegance.
Hugo Boss Leather Card Holder: Best money clip wallet for men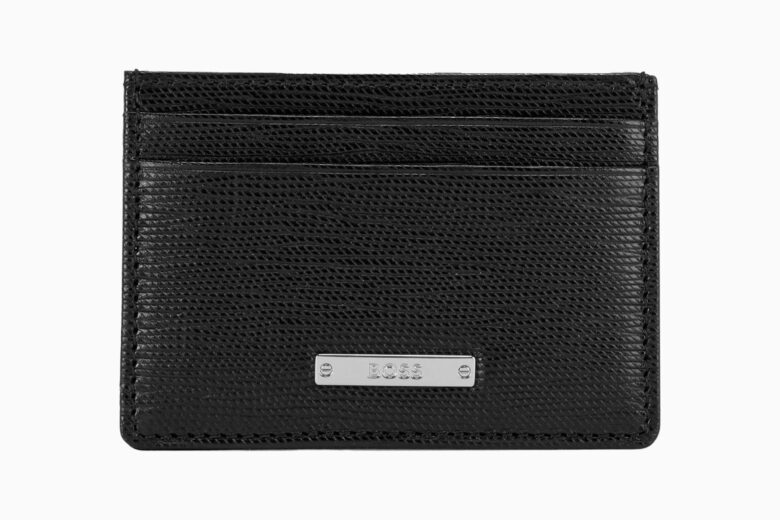 If you want a minimalist wallet that is compact enough to fit anywhere, this sweet hybrid that combines the sleekness and practicality of a cardholder with the minimalism of a money clip is the perfect option.
Simple yet stylish, this designer wallet is crafted in responsible Italian leather and is trimmed with the Hugo Boss logo plate.
A streamlined take on a gentleman's essential, this Hugo Boss leather cardholder is sure to become your favorite companion.
Who it's best for: Men who want simplicity yet sophistication from their staples.
Our verdict
Luxury meets simplicity — This Hugo Boss's wallet with a money clip is an easygoing alternative to an overstuffed wallet.
Montblanc Sartorial Pocket: Most stylish wallet for men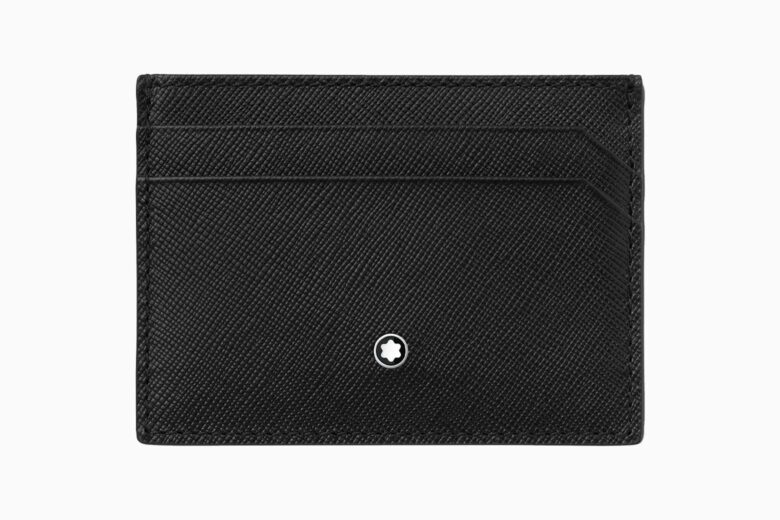 This Montblanc Sartorial Pocket wallet is one of the best options out there when it comes to designer minimalist wallets. If you're looking for a simple and slim money carrier, this black cardholder is a neat little option.
This model is about clean lines and simplicity, paring the traditional wallet design down to the essentials. It is small and compact yet has five credit card slots—which is all that most gentlemen really need.
A perfect example of laidback luxury, this pocket wallet is high-quality, yet its design is low-key.
The cardholder is made from Saffiano leather. Saffiano refers to the crosshatch print pressed into the wax that coats the leather. This print, combined with the full-grain calfskin leather, makes the wallet extra durable and stain-resistant.
Montblanc prides itself on providing customers with long-lasting lifestyle companions that offer next-level durability and high-end design appeal. This wallet is a fine demonstration of the brand's commitment to artisan craftsmanship and timeless style.
Who it's best for: The sartorially-smart shopper looking for something different.
Our verdict
Stylish and functional — The commitment to quality and the slimline profile of this card wallet make it a top choice for those looking for the perfect minimalist wallet.
Bellroy Hide & Seek: Best RFID-blocking wallet for men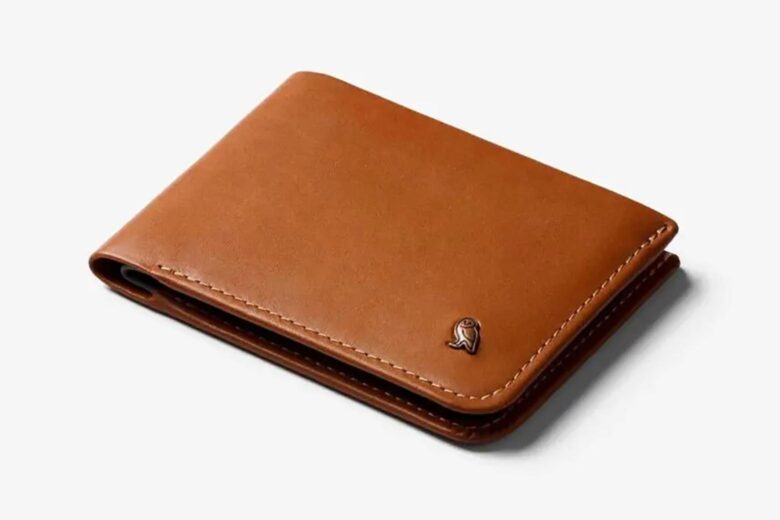 Bellroy's Hide & Seek wallet is the perfect minimalist wallet. The name says it all, really. You can hide away up to 12 cards inside, and yet, from the outside, you'd have no idea. It still looks slim and compact—nothing like the bulky wallets people used to carry a few decades ago.
Most importantly, however, the Hide & Seek has RFID protection. This means it's been specially designed to protect you against RFID skimming—using RFID card readers by digital pick-pocketers to pick up your card details remotely. RFID wallets impede the signals emitted by your cards, making reading harder.
Made from environmentally certified and sustainable leather, the Hide & Seek wallet ticks all the eco-conscious consumer boxes. It's also particularly hard-wearing and durable. We particularly like the quick-access card slots—for those days you're running late.
About 50% bigger than a credit card, the Hide & Seek is the perfect size for fitting in your jeans back pocket when you're out and about at the weekend in casual wear.
Who it's best for: The on-the-go professional looking for something sleek, smart, and RFID-protected.
Our verdict
Neat and tidy — A great example of how simple but smart design can offer a lot of bang for your buck, the Hide & Seek is a stylish and secure way to carry your money around.
Bottega Veneta Intrecciato: Best leather wallet for men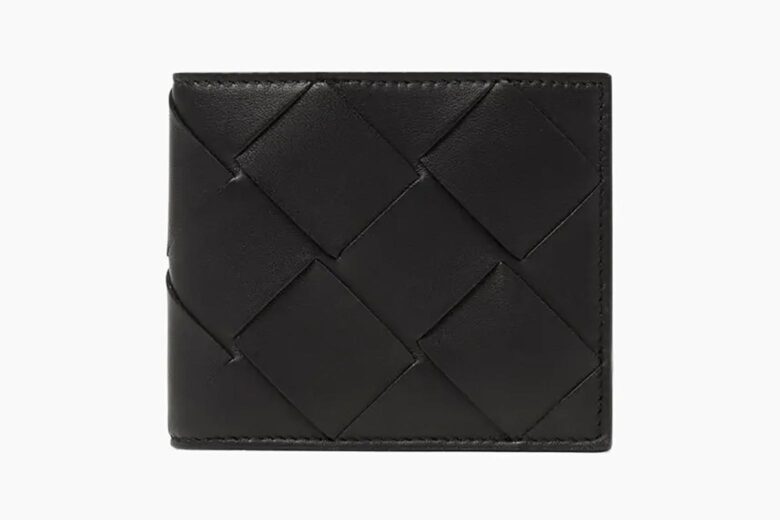 The Intrecciato wallet by Bottega Veneta has been expertly crafted in Italy using the brand's signature intrecciato, which involves meticulously weaving together leather strips. The result is a striking design that's discreet yet very stylish. The premium quality genuine leather will also hold for years and age beautifully.
The Bottega Veneta Intrecciato wallet is indeed elegant without being conspicuous. It demonstrates how attention to detail and an intuitive understanding of leather and forms can create a high-end accessory without being ostentatious.
Inside, you'll find plenty of room to store up to eight cards, a bill sleeve, and two receipt pockets.
Who it's best for: The jet setter who wants extra room in an elegant package.
Our verdict
Big in every way that counts — A generous size wallet that retains a low-key and minimalist vibe, the Bottega Veneta Intrecciato is great for those requiring more storage space.
Comme des Garçons Zip-Around Leather Wallet: Best men's wallet with zipper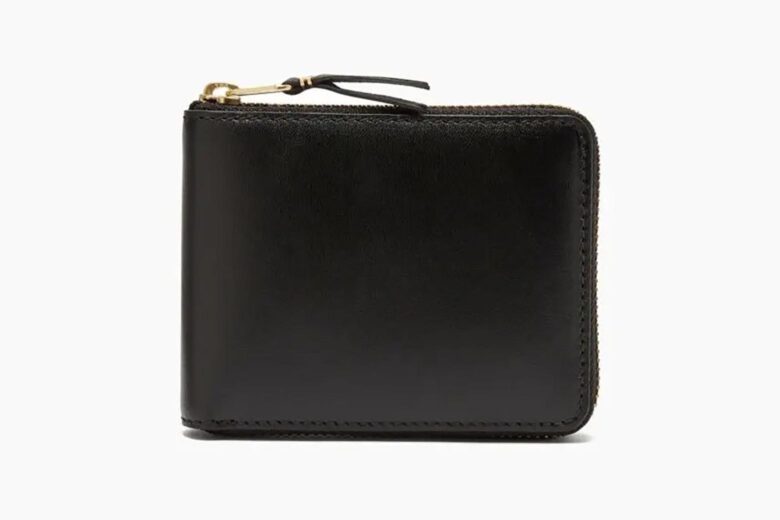 Just because you're after a minimalist wallet doesn't mean you must compromise on versatility and storage. Case in point: this understated bifold wallet by Comme des Garçons can hold both cards and cash.
Crafted from gorgeous calfskin leather in a modern square silhouette, the small wallet packs a wealth of style credentials into a nice compact dimension.
It's lightweight, slim enough to slip neatly inside your jacket pocket, and comes with a wraparound zip to keep everything secure.
The interior is neatly compartmentalized: three card slots, a coin pocket, and an internal sleeve for cash and receipts offer more than enough storage in an easy-to-handle space.
Who it's best for: Those who like to keep their essentials in place, with style.
Our verdict
Zip it — A very practical bi-fold wallet that safely and effortlessly holds all your daily necessities.
Tom Ford Full-Grain Leather Cardholder: Best cardholder for men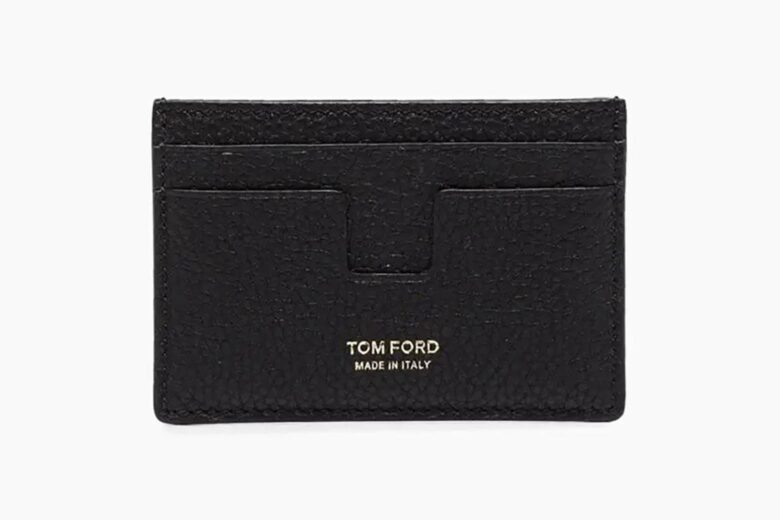 If it's not yet time for a Tom Ford tuxedo, start with this minimalist cardholder. Just like the label's impeccable tailoring, this leather card holder feels luxurious and exquisitely made.
Crafted in Italy from full-grain leather, this go-anywhere-do-anything wallet will make you feel put together every time you pull it out, whether you're wearing jeans or a suit (and maybe even matches your favorite cologne —Looking at you, Tuscan Leather).
It's sleek, slim, and streamlined. It fits discreetly in a front or back pocket and features 4 card slots to keep your business and credit cards in check.
Buy this today and use it forever.
Who it's best for: The minimalists at heart who only settle for the best.
Our verdict
Stealth mode — Masterful minimalism in an ultra-sleek luxury wallet that earns big on style.
Nomad Bifold Wallet: Best EDC wallet for men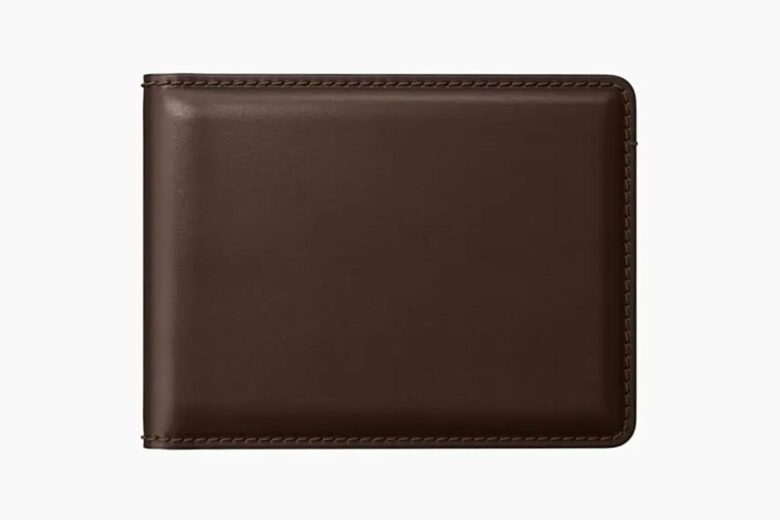 Looking for an everyday carry wallet that allows you to transport all your essentials with minimum hassle and maximum organization? Nomad offers some of the best EDC men's wallets and accessories out there.
The Nomad bifold wallet is designed for maximum storage capacity. And it's smartly designed too, so people wouldn't know by looking at it that you're carrying 15 cards comfortably with an external quick access card slot too.
Durability is the name of the game when it comes to the Nomad bifold wallet. Nomad uses a custom thermoforming process to treat the leather so the wallet won't stretch over time. It will age with a beautiful patina over time, giving it a look that is uniquely yours.
The slim wallet is available in rustic brown and black and is also compatible with Nomad's card for Apple AirTag, so you know you'll never lose it.
Finally, it also features RFID Blocking, protecting you and your cards against RFID scanning.
Who it's best for: Adventurous individuals who need extra storage space.
Our verdict
Simple but effective — It's no surprise that the Nomad Bifold wallet is one of the top-rated wallets on the market. It has a tough yet sophisticated look and, most importantly, keeps all your personal effects safe.
Maison Margiela: Best money clip for men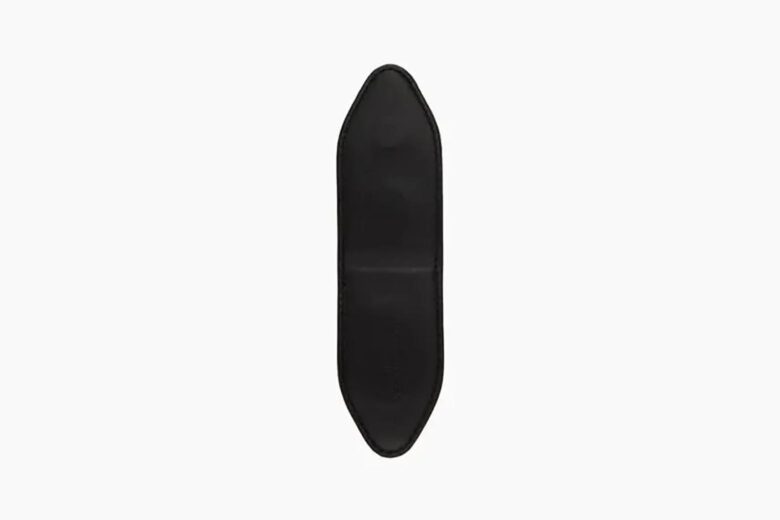 This money clip by luxury French couture house Maison Margiela is ideal for progressive fashion lovers. It's supremely understated yet will signal to style-conscious passersby that you're a style connoisseur.
This grained leather money clip comes in black—which is the epitome of elegance. It features an embossed logo at the interior, while the fastening is magnetic for ease, efficiency, and security. We particularly like the grained texture which is very tactile.
For sophisticated soirées and black tie events, you don't want the bulky outline of a wallet ruining your silhouette. Such situations call for a compact and sleek money clip.
By opting for a money clip, you'll be forced to be economic about what you take out with you. That means no more pointless clutter. Time to throw out those months-old receipts.
Who it's best for: The style-savvy shopper looking for sleek, minimal, and luxurious.
Our verdict
Down to the essential — A lesson in understated elegance, Maison Margiela's black leather money clip shows how less really can be more.
Acne Studios: Best trifold wallet for men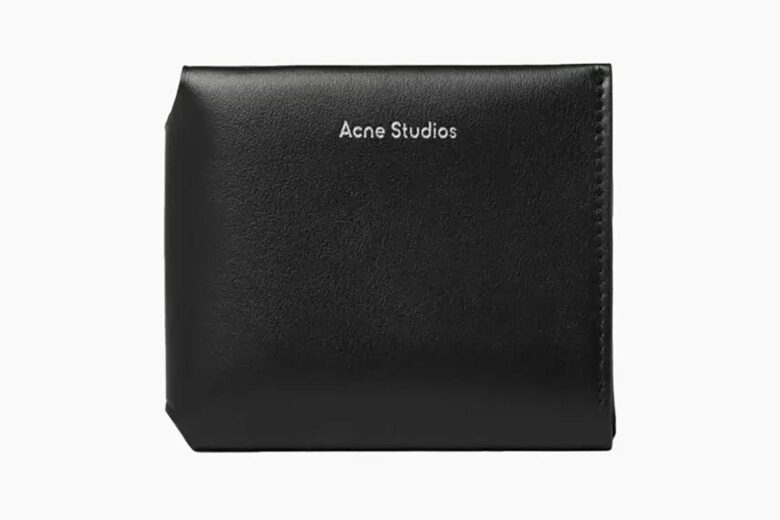 This black leather trifold wallet by Stockholm-based brand Acne Studios is ideal if you want plenty of space to organize your essentials—but without compromising on style.
Acne Studios has cleverly designed a wallet that, from the outside, appears simple and minimal, while on the inside boasts ample storage space for cash, cards, and other necessities. It has a coin compartment, two card slots, pockets for receipts, and a bill sleeve. And yet this design is also one of the smallest wallets on our list.
This wallet is a great option for those who frequently hit the road. There's plenty of space inside to carry foreign currencies and additional cards—all while taking up minimum space.
While cash is being used less and less, coins are still a daily reality for many, and so this wallet's snap-fastening coin compartment is ideal for holding hard currency.
Acne Studios is known for its quintessentially Scandanavian design aesthetic: simple, minimalist, with lots of clean straight lines. This wallet, made from a sleek and supple black cow leather, is a low-key style statement from a brand that knows that the key to cool is not trying too hard.
Who it's best for: Those seeking a minimalist appearance but with lots of storage options.
Our verdict
Organization superstar — This impeccably sophisticated trifold wallet from the effortlessly hip Acne Studios is one of the coolest wallets on this list, offering elegance, resilience, and high-quality functionality.
Fossil Bifold: Best budget wallet for men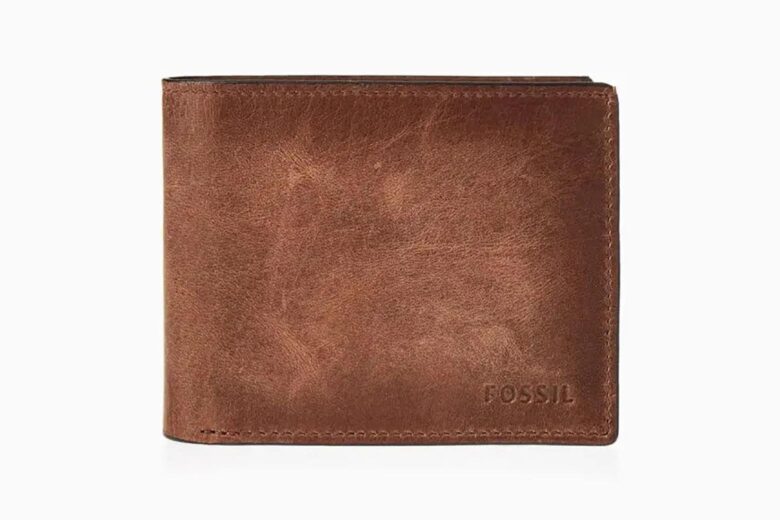 This incredibly budget-friendly wallet by Fossil is one of the top-rated wallets on Amazon. Fossil's wallet for men is praised for its quality, craftsmanship, and practicality. Yet despite its accessible pricing, Fossil's men's bifold wallet is made of high-quality materials and offers tons of functionality. The lining and stitching have both been done to a high standard, making this a durable and long-lasting choice.
It's also a thin wallet, perfect for putting in your pocket, front or back, and yet also contains six card slots, two slide pockets, two ID windows, and a note compartment that can hold bigger notes with ease. It also has RFID blocking, which means your cards are safe from digital pick-pocketers stealing your credit card and ID details remotely.
The wallet is available in a range of colors, including black and brown. Opt for black if you favor a classic minimalist mood or brown for something a little more traditional.
Who it's best for: Shoppers on a budget who don't want to skimp on quality or style.
Our verdict
Crowd-pleaser — One of the most popular men's wallets on Amazon, for the price, this one is hard to beat.
Access Denied Vegan Leather: Best vegan leather wallet for men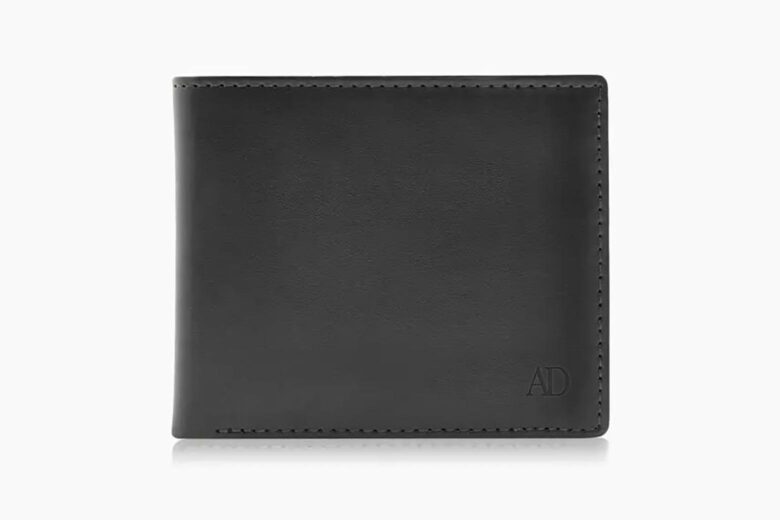 Today it's more important than ever for us to put our money where our mouth is. This means buying from companies with a commitment to sustainable and eco-friendly practices. One way you can do this is by purchasing vegan leather goods, such as this wallet made from faux leather.
Unlike traditional wallets, this vegan wallet by Access Denied is created from high-quality vegan faux leather. You'd have no idea it wasn't real leather from touching the wallet, however. The feel of the leather is just the same as the real deal. It's soft and durable, ideal for everyday use.
This eco-friendly bifold wallet is handmade and has been created with impressive attention to detail. It features two different cash compartments, 9 credit card slots, and an ID window, so you don't have to pull your card out whenever someone asks for proof of identity.
Yet from the outside, this wallet still looks elegant and slimline. Only ¾ of an inch thick, it's perfect for slipping into your pocket. Plus it's budget-friendly.
The cherry on the top? This wallet is also RFID protected.
Who it's best for: Shoppers looking to reduce their environmental footprint with a stylish but eco-friendly wallet.
Our verdict
Sustainably conscious — This is a functional wallet made in an eco-friendly way that won't weigh on your conscience.
Ridge Titanium: Best metal wallet for men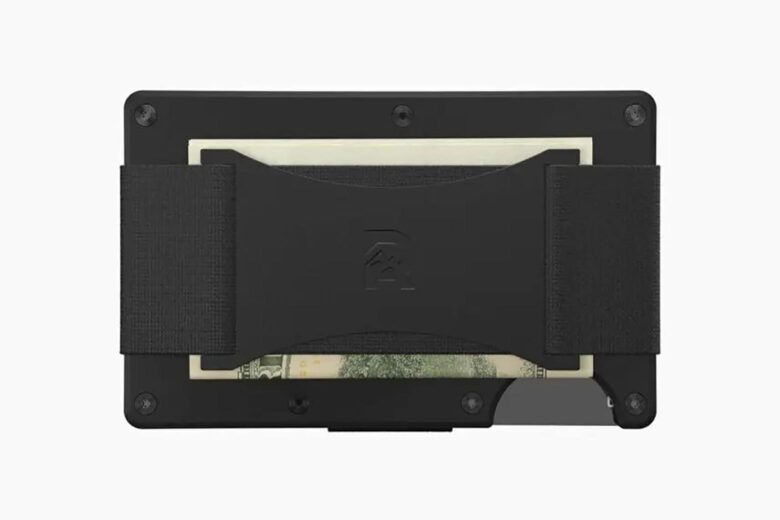 For something more unusual, but equally sleek and minimalist, check out this unique metal wallet by Ridge, made from a smooth piece of pure aluminum.
Titanium is known for its extreme durability, corrosion-resistance, and for being both exceptionally strong and exceptionally light. Perfect wallet material, in other words.
Stripping away everything except for the absolute basics, the Ridge Titanium wallet is as slim as it gets—and the result is striking and stylish. It can expand to carry up to 12 cards if needed though, so you can have room when you need it.
Like all the other wallets from Ridge, this Titanium model comes with RFID protection and the brand's lifetime warranty. And being just slightly larger than a credit card, this metal wallet will fit in your pocket—front or back—without any problem.
You can choose from a range of materials and colors. The best bit? You can personalize the wallet with a cash strap or a money clip to make it yours.
Who it's best for: Those looking for something minimalist but memorable.
Our verdict
Indestructible — Just as the brand name suggests, the Ridge Titanium is both robust and minimalist.
Govo: Best tactical wallet for men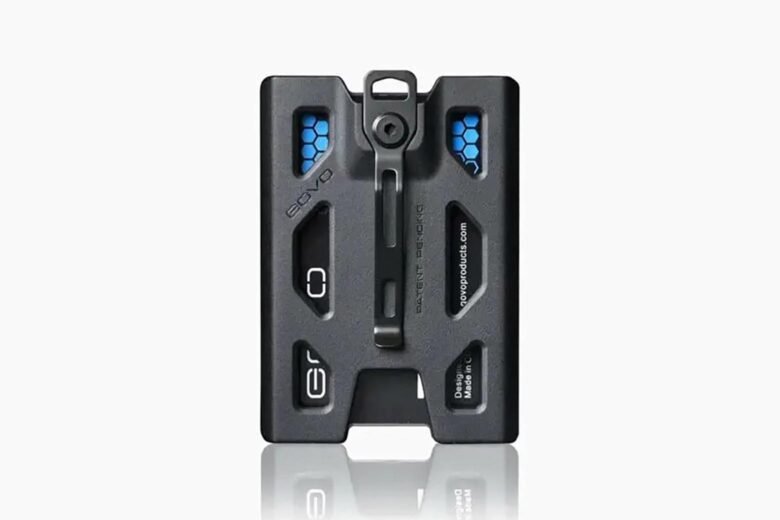 Some wallets are very much what you see is what you get. Others hold intriguing secrets and exciting features that take a wallet from a useful money carrier to an essential toolkit. Yes, we're talking about tactical wallets.
Take this Govo tactical wallet designed in Ohio, USA. On the surface, it appears to be just a slim badge holder, perfect for slipping into your trouser or jacket pocket when going to the office.
But inside you'll also find room for up to four hidden credit cards. In addition, you'll get an extra-strong manganese steel money clip that can double as a clip to fix the wallet on your belt, pocket, key chain, backpack, or lanyard.
But it's not all about extreme functionality. Despite its multitude of different gadgets, this wallet retains an inconspicuous and sleek look.
Still not sure? What if we told you that this wallet is on sale for less than $20?
Who it's best for: the gadget-lover who likes to be prepared for any scenario.
Our verdict
Ready for anything — Unlike other tactical wallets that can be clunky and unattractive, this version by Govo shows that a tactical wallet can be simultaneously practical and stylish.
Buying guide: Things to consider before purchasing your next wallet
Before purchasing a men's wallet, there are a few things you need to consider. After all, a wallet is one of your most important possessions. So buying a good wallet that is long-lasting, stylish, and fulfills all your needs is imperative.
You want a wallet that matches your lifestyle. Are your days fast-paced and hectic? In that case, you need a wallet that is simple, streamlined, and with plenty of storage space to organize all that clutter.
Or are you a man about town, looking for something that will catch people's eye when you pull it out at the cocktail bar? Perhaps you're trying to be more environmentally-conscious, keen to find the most sustainable wallet on the market? Or perhaps you just want something to keep your cards and cash safe and secure?
When looking for a wallet, there are several things you want to think about:
How many compartments does it have?
Do you often carry coins and notes? Or would a card holder do nicely?
Does your wallet need to withstand frequent wear and tear? In which case, would a metal or plastic wallet be a good choice?
Or are you all about making a style statement, ready to prioritize fashion appeal above everything else?
Make a quick list of what your wallet needs to include. Note down a few key priorities—such as price, preferred color, and material—in order to stay focused when shopping.
Top 5 best men's wallet brands
When it comes to finding the perfect minimalist wallet, it really comes down to selecting the right brand first. Here are the brands that we think make the best men's wallets at the moment.
Bellroy
For thoughtful design and timeless style, Bellroy's range of wallets is an excellent place to start. Alongside offering customers a great choice of minimalist wallets, Bellroy also makes a concerted effort to reduce its environmental impact and deliver long-lasting products.
Vaultskin
Vaultskin's mission is to create RFID-protected and smartly designed premium wallets that are a pleasure to hold day after day. Shopping their line of innovative designs, you'll wonder why anyone would opt for anything other than these compact, colorful, durable, and unique creations.
Harber London
On a mission to help people carry better, Harber London is one of our favorite brands for high-quality and functional bags and leather goods. Each piece is handcrafted in Spain by skilled craftsmen and women.
The Ridge
Ridge is a father and son team that takes craftsmanship and quality seriously. If you're in the market for a new wallet and you want something minimalist but high-end, their range of wallets is absolutely worth a browse. Launched on Kickstarter in 2013, Ridge wallets are now in the front pockets of over a half-million men and women worldwide.
Tom Ford
Tom Ford needs no introduction. The brand and the man have become synonymous with timeless cool. The label's range of luxury wallets includes everything from classic black bifold to alligator money clips. If you're looking for a truly luxurious wallet, you'll want to take a look.
Montblanc
Montblanc is associated with luxury pens and pencils (sorry, we mean "writing instruments"). But their wallets are equally high-quality and stylish. With its team of master craftsmen, the company creates products that last a lifetime. Their premium men's leather wallets are created in the famous leather region of Florence, Italy.
Frequently asked questions about wallets for men